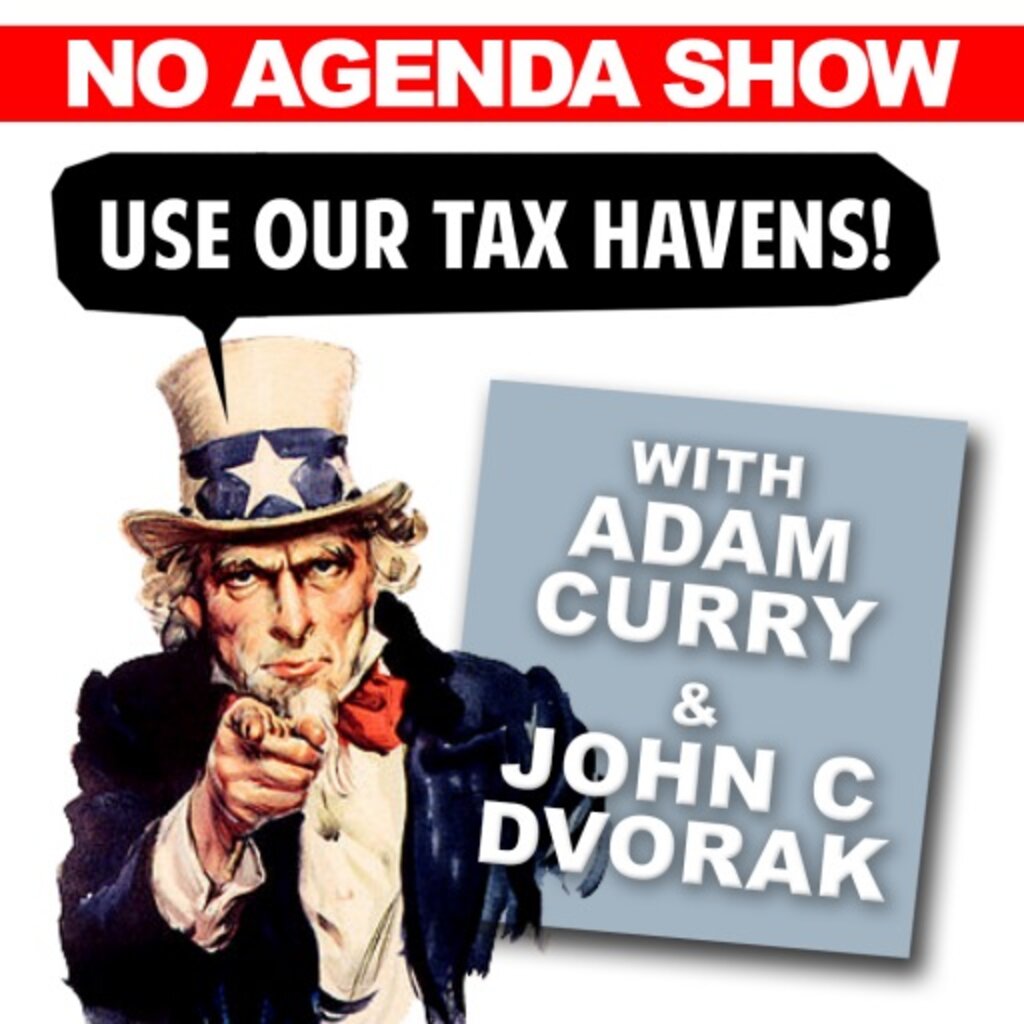 April 10th, 2016 • 2h 49m
815: Political Perp Walk
Shownotes
Every new episode of No Agenda is accompanied by a comprehensive list of shownotes curated by Adam while preparing for the show. Clips played by the hosts during the show can also be found here.
PR
TODAY

-------------------------------------------------------------------------------------------------------------

Millennials are offended by words, especially when words are in text messages and not spoken. Without context, text is usually perceived according to the mood, attitude and filters of the recipient at the time it is received.

-------------------------------------------------------------------------------------------------------------

BANKER COCKTAIL PARTY

3 Startups

We're in between tear downs right now.

Bedazzled Birkenstocks

-------------------------------------------------------------------------------------------------------------

Virtual reality is the act of using technology to achieve something we are already capable of and have been for centuries: the ability to change our view.

-------------------------------------------------------------------------------------------------------------
Shut Up Slave!

Brussels 'spending more on propaganda than anti-terror' | | The Times & The Sunday Times

Thu, 07 Apr 2016 14:32

Cartoon strips, games and colouring books are among the literature that the EU produced last year

The European Union spends more on propaganda than on counterterrorism measures, according to Vote Leave.

Researchers with the pro-Brexit campaign claimed that the EU's budget this year apportioned almost ''¬20 million (£16 million) more to communications than to combating terrorism.

It also said that 1,021 staff members in the European Commission work in the directorate-general for communications, and no more than 392 in the department for migration and home affairs, which presides over counterterrorism policy.

In addition, the European parliament will spend ''¬79,256,500 this year on communication activities, and the European Court of Justice will spend ''¬521,500, it said '-- bringing

Obama Wants To Make Living In A Van ILLEGAL! (Breaking News)

Thu, 07 Apr 2016 22:41

Sometimes when my older relatives retire, they sell their home and purchase a nice RV motor home. Instead of living in the same house, they want to use their ''golden years'' to see as much of the United States as possible.

They see all the tourist sites you could imagine, and they are loving life!

On the other end of the spectrum, some people who are down on their luck in the Obama economy have had their homes foreclosed. Instead of renting or counting on the government, they buy a RV to live in while they work hard and make ends meet, without the burden of a mortage. I salute them.

But now, President Barack Obama's Housing and Urban Development (HUD) office wants to make it illegal to live this way!

Here is the proposed law Obama's HUD is proposing. This is horrible'...

This proposed rule would modify the current exemption for recreational vehicles in the Manufactured Home Procedural and Enforcement Regulations. Under the current exemption, questions have arisen regarding whether park model recreational vehicles are regulated by HUD's manufactured home program. These park models are being produced with patio roofs, screened in porches, and other extensions that exceed the 400 square foot maximum exemption in the current regulations. Additionally, some of these models are being marketed as suitable for year round living. HUD's proposed rule would permit recreational vehicle manufactures to certify that a unit is exempted from HUD's regulations. Specifically, HUD's proposed rule would define a recreational vehicle as a factory build vehicular structure, not certified as a manufactured home, designed only for recreational use and not as a primary residence or for permanent occupancy, and built and certified in accordance with either the National Fire Protection Association (NFPA) 1192-2015, Standard for Recreational Vehicles, or the American National Standards Institute (ANSI) A119.5-15, Recreational Park Trailer Standard. In addition, to provide consumers notice regarding the manufacturing standards used to construct the unit, HUD's rule would require that units claiming the exemption display a notice that identifies the standards used to construct the unit and states that the unit is designed only for recreational use, and not as a primary residence or permanent dwelling.

HUD is claiming it's about safety and suitability for living. But this is really about making sure citizens own a property to pay taxes on.

But I believe if you're paying your own way (not living on welfare) and you're not bothering anyone'... you should be allowed to live as you wish!

What do you think about Obama's plan to ban RV living? Please leave us a comment (below) and tell us.

FBI approves 90-minute DNA test created by Waltham company - The Boston Globe

Fri, 08 Apr 2016 14:59

NetBio, a Waltham company that created a system promising to provide a full DNA fingerprint profile in only 90 minutes, has received FBI approval, giving the system the go-ahead to be used in accredited DNA labs.

This is the FBI's first approval of such a system. It is unclear to what extent FBI labs will use the NetBio technology. But by allowing crime laboratories to obtain a full DNA profile in less than two hours, the approval could mean a breakthrough in the field of forensic analysis, said Richard Selden, chief executive of NetBio.

Advertisement

The test kit, dubbed DNAscan, is about the size of a large microwave oven and can read a DNA sample taken via cheek swab. Once a profile is generated, it can be compared with profiles listed in national and state crime databases, helping to determine whether a person is connected to other crimes.

Selden said the technology could also help ease testing backlogs for rape kits, which can go untested for long periods of time.

Currently the technology is only allowed in labs, but a congressional bill has been introduced that would allow the system to be used in police stations, so law enforcement officials to get a full DNA profile of a person soon after they are arrested.

Each unit has a list price of $350,000, Selden said, and was tested in labs in Alabama, Florida, Michigan, Pennsylvania, and Dubai.

The company has partnered with GE Healthcare Life Sciences to market the product.

Advertisement

NetBio was founded at MIT's Whitehead Institute for Biomedical Research in 2000.

Katheleen Conti can be reached at kconti@globe.com. Follow her on Twitter @GlobeKConti.

CIA's Venture Capital Arm Is Funding Skin Care Products That Collect DNA

Sun, 10 Apr 2016 05:47

SKINCENTIAL SCIENCES, a company with an innovative line of cosmetic products marketed as a way to erase blemishes and soften skin, has caught the attention of beautybloggers on YouTube, Oprah's lifestyle magazine, and celebrity skin care professionals. Documents obtained by The Intercept reveal that the firm has also attracted interest and funding from In-Q-Tel, the venture capital arm of the Central Intelligence Agency.

The previously undisclosed relationship with the CIA might come as some surprise to a visitor to the website of Clearista, the main product line of Skincential Sciences, which boasts of a ''formula so you can feel confident and beautiful in your skin's most natural state.''

Though the public-facing side of the company touts a range of skin care products, Skincential Sciences developed a patented technology that removes a thin outer layer of the skin, revealing unique biomarkers that can be used for a variety of diagnostic tests, including DNA collection.

Skincential Science's noninvasive procedure, described on the Clearista website as ''painless,'' is said to require only water, a special detergent, and a few brushes against the skin, making it a convenient option for restoring the glow of a youthful complexion '-- and a novel technique for gathering information about a person's biochemistry.

A screen grab from the Clearista website.

Image: Clearista.com

In-Q-Tel, founded in 1999 by then-CIA Director George Tenet, identifies cutting-edge technology to support the mission of the CIA and other intelligence agencies, and provides venture funding to help grow tech firms to develop those solutions.

''Our company is an outlier for In-Q-Tel,'' Russ Lebovitz, the chief executive of Skincential Sciences, said during an interview with The Intercept. He conceded that the relationship might make for ''an unusual and interesting story,'' but said, ''If there's something beneath the surface, that's not part of our relationship and I'm not directly aware. They're interested here in something that can get easy access to biomarkers.''Still, Lebovitz claimed he has limited knowledge of why In-Q-Tel selected his firm.

''I can't tell you how everyone works with In-Q-Tel, but they are very interested in doing things that are pure science,'' Lebovitz said. The CIA fund approached his company, telling him the fund shares an interest in looking at DNA extraction using the method pioneered by Skincential Sciences, according to Lebovitz.

The CIA fund has described human skin as a ''unique, underutilized source for sample collection.''

Beyond that, Lebovitz said he was unsure of the intent of the CIA's use of the technology, but the fund was ''specifically interested in the diagnostics, detecting DNA from normal skin.'' He added, ''There's no better identifier than DNA, and we know we can pull out DNA.''

Perhaps law enforcement could use the biomarker extraction technique for crime scene identification or could conduct drug tests, Lebovitz suggested.

Carrie A. Sessine, the vice president for external affairs at In-Q-Tel, declined a media interview because ''IQT does not participate in media interviews or opportunities.''

(Officials at the venture capital firm have, in fact, given interviews in the past.)

Though In-Q-Tel operates in the open, it has often kept key details of its activities out of public view, beyond required annual reports. After a SecureDrop source told The Intercept about a gathering in San Jose for In-Q-Tel executives and start-up companies backed by the fund, The Intercept attempted to attend, but was denied access.

Skincential Sciences was among several presenting companies.

The shroud of secrecy around In-Q-Tel belies a 17-year effort to build ties between the CIA and the biggest names in Silicon Valley. Gilman Louie, a video game executive known for publishing best-sellers such as Tetris, Falcon, and Civilization II, was brought on as the first chief executive of In-Q-Tel. The popular mapping tool Google Earth was created around technology developed by Keyhole Corp., an In-Q-Tel-backed company that was later acquired by Google.

A graphic from the ''IQT Quarterly'' summer 2010 issue on the new modalities in sampling and sensing collection.

Graphic: IQT Quarterly

Still, little is publicly revealed about the use of In-Q-Tel-backed ventures and their relevance to the goals of intelligence agencies. Many of the fund's investments are not publicly revealed. The fund is reviewed by the CIA's inspector general and reports directly to the Senate Select Committee on Intelligence, which frequently conducts business through classified briefings.

David Petraeus, while serving as the director of the CIA in 2012, remarked, ''Our partnership with In-Q-Tel is essential to helping identify and deliver groundbreaking technologies with mission-critical applications to the CIA and to our partner agencies.''

Despite the association with computer and satellite technology, In-Q-Tel also maintains a long-running interest in developing advanced genetic analysis, biological technologies for detection and diagnostics, as well as research into what is known as physiological intelligence, which, in a 2010 article, the fund described as ''actionable information about human identity and experience that have always been of interest to the Intelligence Community.''

The article, which is no longer available on the fund's website but is preserved by a cache hosted by the Internet Archive, argues that advances in medical research into biomarkers can be leveraged by intelligence agencies for a variety of uses, from airport security to next-generation identification tools.

A diagram in the article calls human skin the body's largest organ and a ''unique, underutilized source for sample collection.'' The author, Dr. Kevin O'Connell, then a ''senior solutions architect'' with In-Q-Tel, notes, ''The DNA contained in microorganisms in a person's gut or on a person's skin may contain sequences that indicate a particular geographical origin.''

A screen grab from the Clearista website describing the resurfacing process of its product.

Image: Clearista.com

In-Q-Tel has invested in several companies working in this realm, in addition to Skincential Sciences. In 2013, In-Q-Tel publicly announced a strategic partnership with Bio-NEMS, a firm that developed a semiconductor device used to analyze DNA for a variety of diagnostic and human identification applications. Claremont BioSolutions, a diagnostics firm, and Biomatrica, a firm that specializes in preparing biological samples for DNA testing, are also backed by In-Q-Tel.

Skincential Sciences did not start out as a beauty company. The firm was founded in 2010 as DX Biosciences, which was developed around a patent by a team of scientists including Dr. Samir Mitragotri of the University of California, Santa Barbara. Mitragotri has published research into the use of biomarkers as a ''window to body's health.''

The company gained early backing from Frontier, a venture capital company, among other investors.

While the technology has potential for a variety of medical diagnostics, including early melanoma detection, Lebovitz said the company quickly realized it had immediate value as a cosmetic. The application of the detergent developed by the firm could be used easily to diminish blemishes and dark patches on the skin. And unlike similar treatments at aesthetic spas, the technology developed by Dr. Mitragotri and his colleagues did not require acid or any discomfort.

In 2013, the firm relaunched and recapitalized as Skincential Sciences, with Clearista as its primary brand of beauty products.

Lebovitz says he intends to continue developing the technology so that it may be medically relevant, but he is also focusing on breaking into the multibillion-dollar skin care market. While Skincential has won measured success for its Clearista brand products by landing coverage on television and through social media, the company has not yet been able to compete with mainstream skin care companies.

Jamie Walsh, a blogger who runs Glam Latte, a beauty website, endorsed a Clearista product on her YouTube channel, noting that with only one application of the cream, her skin improved and was ''glowing.'' Walsh said Skincential Sciences sent her the product for a testimonial, and noted that like many independent brands, she did not know about the company's funding.

Skincential hopes to license its product with a major distributor, or even one day become acquired by a larger beauty company. ''We'll take any of those,'' said Lebovitz.

The chief executive noted that he is proud of the In-Q-Tel support, calling the fund ''great partners.''

At the gathering in February for In-Q-Tel portfolio companies, Lebovitz joined a crowd that included a number of In-Q-Tel executives, along with senior members of the intelligence community. Presenting speakers included Federal Bureau of Investigation Director James Comey, Deputy Secretary of Defense Robert Work, and John Maeda, design partner of Kleiner Perkins Caufield & Byers, a leading Silicon Valley investment firm.

''Not only was I the odd man out,'' Lebovitz said, ''but almost every woman at the conference wanted to come up to me to talk about skin care.''

Research: Margot Williams
Panama Papers

740 Park Ave. Fire Started In Madoff Associate's Sauna At...

Thu, 07 Apr 2016 21:50

LENOX HILL, MANHATTAN '-- Fire struck the apartment of Ezra Merkin, former associate to Brooklyn money crook Bernie Madoff, in the luxury co-op building at 740 Park Avenue late Wednesday afternoon. The building is an Art Deco masterpiece and home to some of the richest and most powerful people in the world.

Two firefighters were injured fighting the blaze, which started because combustibles were too close to the heating part of Merkin's sauna, according to FDNY.

A source with knowledge of the fire's impact told Patch the 6th floor unit where the fire occurred belongs to Merkin. The source said all residents were evacuated, and Merkin's apartment is severely damaged.

The fire, the source said, affected a wing of the building that houses the apartments of billionaire David Koch, Blackstone CEO Stephen A Schwarzman, hedge fund manager Israel Englander, the daughter of investor Ira Rennert and fashion designer Vera Wang.

Most affected perhaps, the source said, might be hedge fund manager David Ganek, whose current apartment, unit 6A/7A, is listed for $32 million and is on the same floor as Merkin. Ganek's apartment was the childhood home of Jacqueline Kennedy Onassis.

The fire also occurred in the same wing where, in 2014, a major bidding war occurred, which led to the $70 million purchase of a second unit by Englander, who coveted the apartment for his grandkids to use when they visited.

A Fire Department of New York (FDNY) spokesman told Patch that the sixth-floor, multiple-dwelling fire was under control and that two firefighters suffered minor injuries.

The building was the subject of the 2006 book "740 Park: The Story of the World's Richest Apartment Building." Michael Gross, the book's author, continues to blog about the building here.

In the book, Gross says that residents have to show at least $100 million in liquid assets to even be considered for an apartment.

"What it represents is the ultimate in New York luxury residences of the old school," Gross told Patch on Wednesday.

"Nowadays you've got these condo towers, mostly ugly and undistinguished ... 740 remains the ultimate gold coast residence. You can do as well, but you can't do better."

The real estate website StreetEasy says four units are currently for sale, with a two-bedroom apartment going for $4 million and Ganek's 12-bedroom duplex listed for $32.5 million.

Applicants who have sought to purchase units in the building but have been refused include Barbra Streisand, Neil Sedaka and Russian billionaire Leo Blavatnik.

Patch did a quick scan of GoFundMe and could not find any campaigns that had been set up yet for residents of the building affected by the fire.

While Clinton Backed 2011 Trade Deal, Sanders Foresaw Panama Papers Fiasco | Common Dreams | Breaking News & Views for the Progressive Community

Thu, 07 Apr 2016 22:10

Who could have predicted that the global tax evasion by the world's ultra-rich, made public this week with the release of the Panama Papers, was ushered in with the help of a free trade agreement?

Turns out, Sen. Bernie Sanders did.

In fiery speech before the U.S. Senate in 2011, Bernie Sanders declared his "strong opposition" to the "unfettered free trade agreements" with Korea, Columbia, and Panama'--agreements that were being pushed for by both President Barack Obama and then-Secretary of State Hillary Clinton, Sanders' current rival for the Democratic nomination.

"Panama is a world leader when it comes to allowing wealthy Americans and large corporations to evade U.S. taxes by stashing their cash in off-shore tax havens," Sanders stated. "And, the Panama Free Trade Agreement would make this bad situation much worse."

Watch Sanders' entire speech below:

Sanders continued:

Each and every year, the wealthy and large corporations evade $100 billion in U.S. taxes through abusive and illegal offshore tax havens in Panama and other countries.

According to Citizens for Tax Justice, "A tax haven . . . has one of three characteristics: It has no income tax or a very low-rate income tax; it has bank secrecy laws; and it has a history of non-cooperation with other countries on exchanging information about tax matters. Panama has all three of those. ... They're probably the worst."

Mr. President, the trade agreement with Panama would effectively bar the U.S. from cracking down on illegal and abusive offshore tax havens in Panama. In fact, combating tax haven abuse in Panama would be a violation of this free trade agreement, exposing the U.S. to fines from international authorities.

In 2008, the Government Accountability Office said that 17 of the 100 largest American companies were operating a total of 42 subsidiaries in Panama. This free trade agreement would make it easier for the wealthy and large corporations to avoid paying U.S. taxes and it must be defeated. At a time when we have a record-breaking $14.7 trillion national debt and an unsustainable federal deficit, the last thing that we should be doing is making it easier for the wealthiest people and most profitable corporations in this country to avoid paying their fair share in taxes by setting-up offshore tax havens in Panama.

Sanders was in the minority with that view and shortly thereafter the Panama-U.S. Trade Promotion Agreement (TPA) was passed and signed into law, a move that was lauded by Sec. Clinton as an example of the Obama Administration's commitment to "deepen our economic engagement throughout the world."

What's more, as International Business Times senior editor David Sirota and others have pointed out, the Obama administration even included a loophole in the deal "that allows Panama to sidestep new tax transparency provisions" included in the trade pact.

Before #PanamaPapers, Obama touted crackdown on Panama secrecy, then included this loophole https://t.co/18wPiqYbAvpic.twitter.com/JPBKIixo2w

'-- David Sirota (@davidsirota) April 4, 2016

Though the world was stunned by the leak of 11.5 million documents from the Panama-based law firm Mossack Fonseca, which detailed how government and corporate officials around the world erected shell companies to stash billions of dollars in to avoid tax liability, much of those activities were not necessarily illegal'--thanks to agreements such as the Panama TPA.

"Tax avoidance is an inevitable feature of any tax system, but the reason this particular form of avoidance grows and grows without bounds is that powerful politicians in powerful countries have chosen to let it happen," Vox's Matthew Yglesias wrote Sunday. "As the global economy has become more and more deeply integrated, powerful countries have created economic 'rules of the road' that foreign countries and multinational corporations must follow in order to gain lucrative market access."

Indeed, reclaiming an economy that has been "rigged" for the one percent is the hallmark of Bernie Sanders' presidential campaign, and it is a theme that has galvanized voters and fueled primary upsets across the United States.

On Monday, 22,000 people demonstrated outside the Parliament building in Reykjavik, Iceland calling for the resignation of Prime Minister Sigmundur Dav­° Gunnlaugsson, who is just one of the world leaders implicated in the leak. Observers speculate that is just the beginning of the popular backlash to the revelations.

Though there has been little reporting on what Americans have been exposed in the Mossack Fonseca data dump, there are already murmurs that the Panama Papers can provide the necessary boost for Sanders to overtake Clinton.

"All of the presidential candidates will be questioned about the scandal. And nobody is going to be under more pressure than Hillary Clinton," columnist Matthew Turner wrote at the Independent on Tuesday. "For some Americans, she is the embodiment of a 'global elite,' while Bernie Sanders is its antithesis."

Turner continues:

But this more than a battle of candidates, it is a battle of ideas. Globalization, heralded by the likes of Hillary Clinton, has enabled the richest in society to exploit the system while ordinary working people pick up the tab. This has been going on for decades; as a political family, the Clintons have done nothing about it. Hillary continues to describe her opponent's policy platform as 'pie in the sky', yet corporations paying their fair share of taxes could easily fund many of Sanders' proposals. The longer this scandal this kept alive the more beneficial will be for Sanders. And if any more skeletons in the Clinton closet see the light, it will parachute Bernie Sanders into the White House.

Sanders has not yet released a statement on the Panama Papers, but in an interview on Monday he sharpened his attack on "greed, recklessness and illegal behavior on Wall Street," telling the New York Daily News:

A rigged economy is when you have corporations making billions of dollars a year in taxes, billions of dollars a year in profit, and not paying a nickel in taxes. A rigged economy is where you have companies able to shut down as a result of trade agreements that they have written, and move abroad and pay people pennies an hour. That is a rigged economy. A rigged economy is when, in the wealthiest country in the history of the world, the top one-tenth of 1% now owns almost as much wealth as the bottom 90%.

"If that's not a rigged economy," Sanders adds, "I don't know what a rigged economy is."

Farhad Azima Clinton Foundation Donor Named In Panama Papers | The Daily Caller

Thu, 07 Apr 2016 22:01

The Iranian-born Azima made his living as an aviation executive. It is his work that gave him access to a Boeing 707 cargo jet, which he allegedly lent to the CIA to send weapons to Nicaraguan Contras '-- though Azima denies this.

The Clinton donor told ICIJ, ''I've had nothing to do with Iran-Contra.''

''[I was] investigated by every known agency in the U.S. and they decided there was absolutely nothing there,'' Azima told ICIJ. In a final remark, he said the whole investigation into his Iran-Contra involvement, ''was a wild goose chase. The law enforcement and regulators fell for it.''

The Iran-Contra affair did not stop Azima from making quite the fortune, which in part has gone to the Clinton Foundation. According to a list of donors released by former President Clinton himself in December 2008, Azima gave a donation ''from $50,001 and $100,000.''

Apparently the controversial donor's money is so irresistible that even in 1997, while still dealing with the damage to his reputation from Iran-Contra, Azima gave $143,000 to the Democratic National Committee (DNC), which the DNC at first turned down but then ultimately accepted, according to The New York Times.

FEC records show that Azima gave Hillary Clinton's presidential campaign $2,300 in November 2007. Once President Barack Obama became the Democratic nominee, Azima gave Obama's Victory Fund a total of $30,800 in October 2008.

Azima also has ties to known Iran sanction evader Iranian national Houshang Hosseinpour, ICIJ reports. Back in 2011, the Clinton donor was involved in a joint venture with Hosseinpour to buy a hotel in Georgia, according to ICIJ.

At the time of Azima and Hosseinpour's collaboration, former Secretary Clinton was still at the Department of State attempting to enforce sanctions against Iran. The actions of Hosseinpour were publicly admonished by the Department of Treasury in 2014 when they referred to him by name as trying to get around sanctions.

Follow JP on Twitter

Content created by The Daily Caller News Foundation is available without charge to any eligible news publisher that can provide a large audience. For licensing opportunities of our original content, please contact [email protected].

Tags: Bill Clinton, CIA, Clinton Foundation, DNC, Farhad Azima, Georgia, Hillary Clinton, Hosshang Hosseinpour, Iran-Contra affair, Mossack Fonseca, Panama Papers, State Department, Treasury Department

The Iranian-born Azima made his living as an aviation executive. It is his work that gave him access to a Boeing 707 cargo jet, which he allegedly lent to the CIA to send weapons to Nicaraguan Contras '-- though Azima denies this.

The Clinton donor told ICIJ, ''I've had nothing to do with Iran-Contra.''

''[I was] investigated by every known agency in the U.S. and they decided there was absolutely nothing there,'' Azima told ICIJ. In a final remark, he said the whole investigation into his Iran-Contra involvement, ''was a wild goose chase. The law enforcement and regulators fell for it.''

The Iran-Contra affair did not stop Azima from making quite the fortune, which in part has gone to the Clinton Foundation. According to a list of donors released by former President Clinton himself in December 2008, Azima gave a donation ''from $50,001 and $100,000.''

Apparently the controversial donor's money is so irresistible that even in 1997, while still dealing with the damage to his reputation from Iran-Contra, Azima gave $143,000 to the Democratic National Committee (DNC), which the DNC at first turned down but then ultimately accepted, according to The New York Times.

FEC records show that Azima gave Hillary Clinton's presidential campaign $2,300 in November 2007. Once President Barack Obama became the Democratic nominee, Azima gave Obama's Victory Fund a total of $30,800 in October 2008.

Azima also has ties to known Iran sanction evader Iranian national Houshang Hosseinpour, ICIJ reports. Back in 2011, the Clinton donor was involved in a joint venture with Hosseinpour to buy a hotel in Georgia, according to ICIJ.

At the time of Azima and Hosseinpour's collaboration, former Secretary Clinton was still at the Department of State attempting to enforce sanctions against Iran. The actions of Hosseinpour were publicly admonished by the Department of Treasury in 2014 when they referred to him by name as trying to get around sanctions.

Follow JP on Twitter

Content created by The Daily Caller News Foundation is available without charge to any eligible news publisher that can provide a large audience. For licensing opportunities of our original content, please contact [email protected].

Tags:

Bill Clinton,

CIA,

Clinton Foundation,

DNC,

Farhad Azima,

Georgia,

Hillary Clinton,

Hosshang Hosseinpour,

Iran-Contra affair,

Mossack Fonseca,

Panama Papers,

State Department,

Treasury Department

MONEY LAUNDERING & BANKRUPTCY FRAUD INVOLVING SOROS'S INVISIBLE INTEREST IN CONSECO & THE GM BLDG

Thu, 07 Apr 2016 21:55

MONEY LAUNDERING and BANKRUPTCY FRAUD CONSPIRACY EXPOSED INVOLVING GEORGE SOROS'S INVISIBLE INTEREST IN CONSECO FINANCE and THE GM BUILDING NEW YORK, NY - Law Offices of David H. Relkin, Esq. on behalf of Leslie Dick Worldwide Ltd. has filed a Federal RICO Complaint in the United States District Court for the Southern District of New York (Case No. 08-CV-7900) against George Soros, Deutsche Bank, Vornado Realty Trust, Fortress Investment Group, Donald J. Trump & 12 other RICO conspirators for $4.2 Billion in damages. The Complaint and Compendium may be accessed as PDF documents on the web site of the Law Offices of David H. Relkin at: www.DavidRelkinLaw.com or on PACER.PRESS RELEASEFor Immediate Release

MONEY LAUNDERING & BANKRUPTCY FRAUD CONSPIRACY EXPOSED INVOLVING GEORGE SOROS'S INVISIBLE INTEREST IN CONSECO FINANCE & THE GM BUILDING

NEW YORK, NY '' Law Offices of David H. Relkin, Esq. on behalf of Leslie Dick Worldwide Ltd. has filed a Federal RICO Complaint in the United States District Court for the Southern District of New York (Case No. 08-CV-7900) against George Soros, Deutsche Bank, Vornado Realty Trust, Fortress Investment Group, Donald J. Trump & 12 other RICO conspirators for $4.2 Billion in damages.

Excerpts from the 95 page RICO (Racketeering Influenced and Corrupt Organization Act) and Bid Rigging Complaint follow:

The action seeks to recover damages arising out of an ongoing, global RICO Enterprise which engaged in predicate acts of a pattern of racketeering and conspiracy to commit RICO, through and by means of Money Laundering, Bankruptcy Fraud, and Bid Rigging. ¶1.

The RICO conspiracy of the defendants was to invest in, operate, and acquire control of various entities involved in continuing fraudulent transactions and surreptitious and conspiratorial alliances and agreements through unlawful means, including but not limited to Money Laundering, Bankruptcy Fraud, and Bid Rigging, acquired Conseco's prime assets, including Conseco Finance and the General Motors Building in New York City, and thereafter attempted to conceal their illicit activities.

Conseco's Purchase of The General Motors Building With Donald J. Trump

In or about May 1998, Conseco and Donald J. Trump entered into a contract to purchase the General Motors Building in New York City, located at 767 Fifth Avenue between 57th and 58th Street, across the street from the Plaza Hotel.

The unlawful Money Laundering through the sale of the General Motors Building, orchestrated and carried out by the RICO Enterprise, including George Soros, Soros Fund Management, SFM Management, Vornado Realty Trust, German American Capital, Fortress Investment Group, Donald J. Trump, and the RICO conspirators Conseco, Deutsche Bank, Lazard, Eastdil Realty, Harry Macklowe, Cerberus Capital Management, Lazard, Kirkland & Ellis, Fried, Frank, Harris, Shriver & Jacobson, Carmel Fifth and 767 Manager, and, upon information and belief, other members of the Enterprise and co-conspirators, operated through a pattern of racketeering and forms one of the cornerstones of the defendants' illicit activities of Money Laundering and Bankruptcy Fraud, predicate acts of RICO alleged herein and Bid Rigging.

The Orchestrated Dispute Regarding The General Motors Building Between Conseco And Donald J. Trump

Upon information and belief, this was because, at or about the beginning of March 2001, the mastermind of the RICO Enterprise, George Soros, had contacted, among others to be found in discovery, Gary C. Wendt and Donald J. Trump to contrive a Money Laundering scheme to launder money through the sale of the General Motors Building by Conseco, a co-conspirator, through a pattern of racketeering activity.

Behind The Scenes Of The General Motors Dispute Soros And Conseco Implement The RICO Activity

Upon information and belief, on June 7, 2002 Conseco retained Lazard to assist it with its grave financial difficulties. Lazard would later participate in the RICO conspiracy to analyze the value of Conseco Finance and provide such information to the RICO Enterprise including, Fortress Financial, to enable the RICO Enterprise to acquire and maintain an interest in Conseco's affiliate Conseco Finance.

Upon information and belief, at or about this time, the head of the Enterprise, George Soros, or someone else acting on behalf of the Enterprise, began implementing the pattern of racketeering activities which could be accomplished by having Conseco file for Bankruptcy protection under Chapter 11 of the Bankruptcy Code, so as to acquire Conseco's assets at a discount price, including Conseco Finance and the General Motors Building and launder money through these entities.

During secret negotiations that ensued between the members of the RICO Enterprise and its co-conspirators,the RICO Enterprise engaged in a pattern of racketeering activity involving interstate commerce to acquire an interest in Conseco, to invest proceeds of a pattern of racketeering activities in Conseco, and to conduct the affairs of Conseco through a pattern of racketeering, through Money Laundering, Bankruptcy Fraud and Bid Rigging.

The next maneuver in the pattern of racketeering was to use the RICO Enterprise to ensure the sale of the General Motors Building to the co-conspirator designee of the Enterprise, Harry Macklowe, so that Soros could launder money through the rigged sale of General Motors Building.

George Soros And His Pattern of Money Laundering Activities In Interstate Commerce

Upon information and belief, George Soros is the Chairman of Soros Fund Management, a private investment management firm that serves as a principal advisor to the Quantum Group of Funds, based in the tax free Caribbean Country of Cura§ao, a Caribbean tax haven, and a possession of the Netherlands Antilles.¶173.

Upon information and belief, the Netherland Antilles has repeatedly been cited by the Task Force on Money Laundering of the Organization for Economic Cooperation and Development as one of the world's most important centers for laundering illegal proceeds of Latin American cocaine and other drug traffic.¶174.

In August of 1990, according to Reuters News Agency, the US Drug Enforcement Agency agents claimed that Banco de Columbia and other banks were conduits for Latin American drug money.¶177.

In or about August 1994, according to Reuters, Soros acquired a nine percent interest in Banco de Columbia.¶178.

According to the BBC, Soros was found guilty of felony criminal insider trading in France on January 29, 2002, and from profiting from inside knowledge of a 1998 takeover bid for Societ(C) Generale, a French Bank, and was fined 2.9 Million Dollars, which felony conviction was upheld by the French Court of Appeals, the Cour de Cassation, France's highest Court, on June 14, 2006.¶179.

George Soros Manipulates The Conseco Bankruptcy To Maximize The Acquisitions Of the RICO Enterprise To Launder Money and To Engage In Bid Rigging

Upon information and belief, from June 2002 to December 2002, the six month period prior to the planned Bankruptcy filing of Conseco, the Enterprise engaged in a pattern of racketeering activity with Soros, SFM Management, Soros Fund Management, Fortress Investment Group, Cerberus, Conseco, Lazard, Kirkland & Ellis, Fried Frank Harris Shriver & Jacobson, to prepare the Conseco bankruptcy proceeding to allow George Soros and the RICO Enterprise to Launder Money through the Conseco Bankruptcy using the purchase of Conseco Finance and the Debtor in Possession Financing to gain complete control of the Bankruptcy proceeding, and ultimately allowing Soros and the Enterprise to purchase the General Motors Building, to launder money through its sale.¶182.

Upon information and belief, the RICO Enterprise also set up FPS DIP, LLC (''FPS DIP'') to obtain the valuable position of Debtor in Possession financier to Conseco to Launder Money in the Conseco Bankruptcy. ¶190.

Upon information and belief, FPS DIP was also controlled by Fortress Investment Group and George Soros, who had been, and, upon information and belief, remain co-conspirators in Money Laundering through partnerships they maintain in Cura§ao, N.A.¶191.

The Rico Enterprise Takes Control Of The Conseco Bankruptcy

The Bankruptcy filing of Conseco was the third largest Bankruptcy proceeding, smaller only than Enron and WorldCom. ¶202.

Upon information and belief, since the members of CFN Holdings had been reviewing the assets of Conseco Finance since at least July 2002, only CFN Holdings and the RICO Enterprise, George Soros, Fortress Investment Group, Conseco and Lazard knew the true worth of Conseco Finance, which facts were never disclosed by CFN Holdings or Conseco to the third parties who attempted to bid on the purchase of Conseco Finance.¶204.

The RICO Enterprise Commences The Flood of Motions To Take Control of The Bankruptcy of Conseco

On December 19, 2002, Conseco made an emergency motion for an Order seeking to allow FPS DIP and U.S. Bank to act as the Debtor in Possession financers of Conseco to approve the Secured Super-Priority Debtor in Possession Credit Agreement dated December 19, 2002 between Conseco Finance and FPS DIP to obtain secured post-petition financing up to the principal amount of 125 Million from FPS DIP.¶208.

In connection with the aforesaid motions, Conseco, by its counsel, Kirkland & Ellis, represented that it Fortress/Flowers as the potential purchaser of Conseco Finance but that without the approval of the FPS DIP financing order, Conseco ''will not be able to continue operations for more than a few days, and will not allow them to fund the completion of their restructuring process.'' (See Exhibit ''T'' annexed to the Compendium of Exhibits.)¶210.

The Illegal Acquisition of Conseco Finance By The Soros RICO Enterprise

On January 13, 2003, Conseco, through its counsel, Kirkland & Ellis, responded to the objections of the Committee of Unsecured Creditors of Conseco Finance by, inter alia, by falsely representing that the CFN Holdings Asset Purchase Agreement was entered into ''at arms' length,'' which constituted Bankruptcy Fraud.¶224.Since CFN Holdings had assessed the true value of Conseco Finance before the Bankruptcy, and since the Bankruptcy Court had granted CFN Holdings certain protections in connection with the purchase of Conseco Finance, only CFN Holdings had a realistic chance of acquiring Conseco Finance, on behalf of the RICO Enterprise.¶235.

The Machinations of Trump And Conseco to Resolve The Ownership of the General Motors Building In Furtherance Of the RICO Enterprise

Upon information and belief, as part of the racketeering activity engineered by the RICO Enterprise, Soros or someone else on behalf on behalf of the RICO Enterprise approached Trump with a proposal to use Bankruptcy Fraud to acquire the General Motors Building and, once acquired by the Enterprise, Soros and the other individuals associated in fact with Soros, including Trump, to engage in a Money Laundering scheme through which they could launder money through the General Motors Building sale. ¶241.

[After the dispute between Conseco and Trump was resolved by the American Arbitration Association in favor of Conseco] Despite the fact that Carmel Fifth could have entered judgment upon the Arbitration Award against Donald J. Trump which would have netted Trump approximately only 15 Million Dollars, and created a massive windfall for Conseco and Carmel Fifth, on or about June 24, 2003, in furtherance of the racketeering activity of the Enterprise, Carmel Fifth and 767 Manager and Donald J. Trump instead agreed to dismiss the state court proceeding to confirm the Arbitration Award with prejudice and entered into ''a confidential agreement.'' (See Exhibit ''JJ'' annexed to the Compendium of Exhibits.) ¶331.

Upon information and belief, the confidential agreement concerned the division of the proceeds of the sale of the General Motors Building by paying Trump 275 Million Dollars. ¶332.

This confidential agreement was in furtherance of the pattern of racketeering to launder money through the sale of the General Motors Building. ¶333.

The Money Laundering Is Set In Place By The Creation Of Ephemeral Entities And Illusory Obligations

During the twenty-eight days between the announcement that Macklowe had won the bidding and the closing date, Soros with the other members of the racketeering Enterprise and conspirators therewith engineered the creation of shell entities and various illusory obligations and transactions which would make it appear that Macklowe was buying the General Motors Building instead of the actual purpose of Money Laundering. ¶374. [see foot note below]

For further information contact: David H. Relkin, Esq. Law Offices of David H. Relkin, Esq. 575 Eighth Avenue New York, NY 10018David@RelkinLaw.com 212.244.8722Links: www.DavidRelkinLaw.com

###

PANAMA PAPERS TARGETED HIT JOB | Wide Awake Gentile

Thu, 07 Apr 2016 21:53

On 3RD April 2016 ICIJ The International Consortium of Investigative Journalists published eleven million documents leaked from , Panamanian law firm Mossack Fonseca. Founded in 1997 by the respected American journalist ChuckLewis, ICIJ was launched as a project of the Center for Public Integrity

This is the ICIJ version of how it happened

Mossack Fonseca

Three questions arise immediately

Why would an annonymous source in a Panamanian law firm contact a German NewspaperHow could anyone transfer such massive amounts of data in a law firm handling such sensitive without getting caught?Why are there no US or American political figures among those ''exposed''More importantly many countries allow its citizens to have offshore accounts and buying ''off the shelf'' companies from cos like Mossack Fonseca might be a tax lowering sceheme as opposed to a moneylaudering or tax evading operation

THE FORMER IS LEGAL THE LATTER ILLEGAL AND CRIMINAL . ICIJ HAS SIMPLY NOT BOTHERED TO TRY AND SEPARATE OR EVEN INFORM PEOPLE ABOUT THE DIFFERENCE

ICIJ was involved in a flurry of articles by jewish journalist Adrian Levy last December which targeted the security of Indian nuclear installations

ICIJ and Center for Public Integrity are both lead and controlled by Charles Lewis Before his stint in CPI he had worked for Jewish owned ABC and CBS neither of whch has any particular reputation for integrity '' of any sort

Charles Lewis

Speaking of Money laundering here is a massivemoneylaundering racket cooked up by Russian Jews and masterminded by Jewish banker Bruce Rapaport using the US based Bank of America

Similar Jewish Money Laundering rings thrive in the US and South America The billions made from drugs and human trafficking are laundered by established organized money laundering groups many of them controlled by jews

George Soros is up to his ugly neck in money laundering In 2012 a money laundering case (Case No. 08-CV-7900) was filed in the United States District Court for the Southern District of New York against George Soros, Deutsche Bank, Vornado Realty Trust, Fortress Investment Group, DonaldJ. Trump & 12 other RICO conspirators for $4.2 Billion in damages. For more go here

THE MADOFF ''PONZI SCHEME'' WAS IN REALITY ONE OF THE LARGEST EVER MONEY LAUNDERING SCHEME ANY MONEY LAUNDERING EXPOSE WHICH IGNORES THE CIA MADOFF AND DRUG MONEY LAUNDERING IS JUST A EYEWASH AND FRAUD

DONT EXPECT ICIJ TO EVER TALK ABOUT SOROS HIS FELLOW JEWISH MONEY LAUNDERERS OR THEIR OPERATIONS

The following were the ''key revelations'' by ICIJ

As can be seen none of the papers exposed or involved Americans or Israelis ,or CIA Drug Money laundering or even a whiff of notorious money launderers insider traders and all round crooks like Soros

ALL THE PERSONS AFFECTED BY THE ''EXPOSURES'' ARE REGULAR TARGETS OF ICIJ'S SPONSORS SOROS (OPEN FOUNDATION) AND CIA (FORD FOUNDATION)

https://www.icij.org/about#_ga=1.108419330.1292559835.1459711508

The International Consortium of Investigative Journalists is a global network of more than 190 investigative journalists in more than 65 countries who collaborate on in-depth investigative stories ICIJ was launched as a project of the Center for Public IntegrityIt was founded by CharlesLewis an American investigative journalist

Before his stint in CPI he had worked for Jewish owned ABC and CBS neither of whch has any particular reputation for integrity '' of any sort The organization is funded by a whole host of the usual Zionists and Jewish Organizations including the ubiquitous Georgy Schwartz (GeorgeSoros via his Open Society Foundation). It other finacial sources include Ford Foundation Omidyar Network Rockefeller Brothers Fundhttps://www.publicintegrity.org/about/our-work/supporters

https://www.publicintegrity.org/about/our-work/supporters

Mossack Fonseca

Neither Mossack nor Fonseca seem to be Jewish

All this selective expose has done is force people who want to launder money and buy ''off the shelf '' companies (which is basically what Mossack Fonseca did ) to go to other money launderers

DOUBLE BONANZA FOR THE KOSHER CROWD THEY GET TO SMEAR THOSE WORLD LEADERS WHO ''DON'T GET ON WITH THE PROGRAM'' AND IT SHOULD BE GOOD FOR SORO'S AND HIS FELLOW JEWS MONEY LAUNDERING BUSINESS

Anti-gay group tells supporters to boycott PayPal'... can you guess what they use to take donations? · PinkNews

Fri, 08 Apr 2016 05:32

The Family Research Council claimed that ''anyone with half a brain'' should boycott PayPal over its pro-gay stance'... but they're not including their own donors in that category.

The internet payments company this week scrapped a planned HQ expansion to North Carolina after the state's governor signed a law permitting discrimination against LGBT people '' opting to search for a new home in a state where all employees will be protected.

Following the decision, Tony Perkins of the Family Research Council declared in an email to supporters: ''Good riddance! Anyone with half a brain shouldn't want that kind of extremism operating out of North Carolina anyway.

''There was a time, not too long ago, when most corporations would have probably moved out of a state if it did allow such lunacy.

''Now that Big Business has been co-opted by LGBT activists, it's not just demanding '-- but punishing '-- anyone who thinks the safety and privacy of our daughters is too much to pay for political correctness.''

But LGBT activists have noted that despite the group savaging PayPal and telling their supporters to reject their extremism, their website tells a very different story if you try to donate money.

Attempting to donate $100 to the group through their central payment system, we were very surprised to see the preferred option is'... PayPal.Their payment processing page says quite prominently: ''NOW ACCEPTING PAYPAL! The safest, easiest way to pay.

''Please verify your donation amount before clicking on the PayPal button.''

(h/t JoeMyGod)

Oh Dear '' Panama Papers Reveal Clinton Connection To Russia'... | The Last Refuge

Fri, 08 Apr 2016 12:40

(Via The Observer) The revelations of the so-called Panama Papers that are roiling the world's political and financial elites this week include important facts about Team Clinton. This unprecedented trove of documents purloined from a shady Panama law firm that arranged tax havens, and perhaps money laundering, for the globe's super-rich includes juicy insights into how Russia's elite hides its ill-gotten wealth.

Almost lost among the many revelations is the fact that Russia's biggest bank uses The Podesta Group as its lobbyist in Washington, DC. Though hardly a household name, this firm is well known inside the Beltway, not least because its CEO is Tony Podesta, one of the best-connected Democratic machers in the country.

He founded the firm in 1998 with his brother John, formerly chief of staff to President Bill Clinton, then counselor to President Barack Obama, Mr. Podesta is the very definition of a Democratic insider. Outsiders engage the Podestas and their well-connected lobbying firm to improve their image and get access to Democratic bigwigs.

Which is exactly what Sberbank, Russia's biggest financial institution, did this spring. As reported at the end of March, the Podesta Group registered with the U.S. Government as a lobbyist for Sberbank, as required by law, naming three Podesta Group staffers: Tony Podesta plus Stephen Rademaker and David Adams, the last two former assistant secretaries of state.

It should be noted that Tony Podesta is a big-money bundler for the Hillary Clinton presidential campaign while his brother John is the chairman of that campaign, the chief architect of her plans to take the White House this November. (read more)

Are the Russians actually behind the Panama Papers? | Brookings Institution

Fri, 08 Apr 2016 12:35

The ''Panama Papers'''--does this strike anyone else as a very fishy story? It's like something out of a cheap spy movie.

In early 2015, ''John Doe'' sends (out of the blue) an email to the German newspaper S¼ddeutsche Zeitung (SZ), offering 11.5 million documents from a Panamanian law firm relating to offshore shell companies. SZ accepts. Under the International Consortium of Investigative Journalists (ICIJ), some 400 journalists from 80 countries spend a year sifting through the documents. Then, in a coordinated launch, they present their first findings: With nearly identical language in all media (down to the local TV station in Washington that I happened to watch this week), they talk about the grand new revelations of corruption, money laundering, and financial secrecy by over 140 world leaders.

Most reports, no matter where, feature Russian President Vladimir Putin as the headliner. But that might obscure a much bigger and more twisted story.

The dog that didn't barkDespite the headlines, there is no evidence of Putin's direct involvement'--not in any company involved in the leak, much less in criminal activity, theft, tax evasion, or money laundering. There are documents showing that some of his ''friends'' have moved ''up to two billion dollars'' through these Panama-based shell companies.

[T]here is no evidence of Putin's direct involvement.

But nothing in the Panama Papers reveals anything new about Putin. It is in fact far less of a story than has been alleged for a long time. For over 10 years, there have been suspicions that Putin has a vast personal fortune, claimed at first to be $20 billion, then $40, $70, even $100'... And now all they find is ''maybe'' a couple of billion belonging to a friend?

This is the dog that didn't bark.

Some (geo)political context is important here. In recent years, the media has become a key battleground in which Russia and the West have attempted to discredit each other. Early last year, circles in the West sought to use the media to respond to what they described as Russia's ''hybrid warfare,'' especially information war, in the wake of the Russian annexation of Crimea and related activities. They identified corruption as an issue where Putin was quite vulnerable. It's worth looking at the Panama Papers in that context: Journalists are targeting Putin far out of proportion to the evidence they present.

As soon as one delves below the headlines, it's a non-story. A ''friend of Putin'' is linked to companies that channel a couple of billion dollars through the offshore companies. Why? To evade Russian taxes? Really? To conceal ownership? From whom? You don't need an offshore registration to do that. To evade sanctions? That's a credible reason, but it makes sense only if the companies were registered after mid-2014. Were they?

This information will not harm Putin at all'--instead, it gives Putin cover, so he can shrug and say: ''Look, everybody does it.'' A more serious possibility is that the leaked data will lead to scandals throughout the West, where corruption does matter'--a point I'll discuss. On net, the Russians win.

The cui bono principle connects profits with motives, asking who stands to gain from a certain action. If it's the Russians who win, isn't it possible that they are somehow behind at least part of this story?

Who is ''John Doe''? The ICIJ is the self-described elite of investigative journalists'--but what have they discovered about the source of all these documents? The only information we have about John Doe is from SZ, which begins its story: "Over a year ago, an anonymous source contacted the S¼ddeutsche Zeitung (SZ) and submitted encrypted internal documents from the law firm Mossack Fonseca." When the staff at SZ asked John Doe about his motive, he reportedly replied in an email: ''I want to make these crimes public.''

But how can the journalists'--and the public'--be sure he's trustworthy, and that the documents are real, complete, and unmanipulated? It's not clear that John Doe is a single individual, for one, nor why he would have been confident that he could reveal the documents without revealing himself. He'd also have access to a pretty impressive documents cache, which suggests that an intelligence agency could have been involved.

Moreover, the revelation brings collateral damage upon legal business and innocent individuals'--was that not a worry? In my view, no responsible person with a real concern for rule of law would advocate this sort of sweeping document release. There might be many unintended consequences; it could topple regimes, with unforeseen consequences. It's pure and na¯ve anarchism, if the thinking was (as it seems from the outside) to create maximum chaos and hope it will all purge the system of its evils. In any event, the potential for using such a leak for political purposes is immense.

[T]he potential for using such a leak for political purposes is immense.

If ''we'' (in the United States or the West) released these documents, the motive would apparently be to embarrass Putin. This is part of the fantasy that we can defeat Putin in an information war. If that was the motive, the result is pathetic: No real damage is being done to Putin, but there is collateral damage to U.S. allies.

If the Russians did it, a good motive might be to deflect the West's campaign against Putin's corruption. But as I've explained, any actual reputational damage to Putin or Russia caused by the Panama Papers is in fact pretty trivial. For that cheap price, the Russians would have 1) exposed corrupt politicians everywhere, including in ''model'' Western democracies, and 2) fomented genuine destabilization in some Western countries. What I wonder, then: Is it a set-up? The Russians threw out the bait, and the United States gobbled it down. The Panama Paper stories run off Putin like water off a duck's back. But they have a negative impact on Western stability.

The Panama Paper stories run off Putin like water off a duck's back. But they have a negative impact on Western stability.

So let's say that the ''who'' is the Russians, and the ''why'' is to deflect attention and show that ''everybody does it.'' But how? Given Russia's vaunted hacking capabilities, a special cyber unit in the Kremlin may have been able to obtain the documents. (Monssack Fonseca is maintaining that the leak was not an inside job.) But it is most likely that such an operation would be run out of an agency called the Russian Financial Monitoring Service (RFM). RFM is Putin's personal financial intelligence unit'--he created it and it answers only to him. It is completely legitimate and is widely recognized as the most powerful such agency in the world, with a monopoly on information about money laundering, offshore centers, and related issues involving Russia or Russian nationals. An operation like the Panama Papers, which is only about financial intelligence, would have to be run out of RFM. Not the FSB, not some ad hoc gang in the Kremlin. While it might not (legally) have access to secrets kept by a firm like Mossack Fonseca, it's privy to lots of international financial information through the international body of which it is a leading member, the Financial Action Task Force. In short, Russians are better equipped than anyone'--more capable and less constrained'--to hack into secret files.

As for how to leak the documents, it would actually be pretty ingenious to ''incriminate'' Russia in a seemingly serious (and headline-grabbing) way without actually revealing incriminating information. That's exactly what we have. The Panama Papers revealed no Russian secrets. They added nothing to the rumors already circulating about Putin's alleged private fortune. And the story-that-isn't-a-story was advanced by none other than the ICIJ. So, done right, the last thing anyone would suspect is that the Panama Papers are a Russian operation.

A more serious Russian motive?Granted, this would be a complicated operation just to defuse the West's campaign to point to ''Putin the kleptocrat.'' But maybe there's another motive.

As many have already pointed out, it's curious that the Panama Papers mention no Americans. But it's possible that they do and that the ICIJ hasn't revealed that information. Perhaps, since the ICIJ is funded by Americans, they're not going to bite the hand that feeds them. But suppose the ICIJ actually doesn't have information on Americans'--that calls into question the original data, which if actually real and uncensored would most probably include something on Americans. There are undoubtedly many American individuals and companies that have done business with the Mossack Fonseco crew, and it wouldn't make sense for a collection of 11.5 million documents involving offshore finances to omit Americans entirely. Perhaps, then, someone purged those references before the documents were handed over to the German newspaper. The ''someone'' would, following my hypothesis, be the Russians'--and the absence of incriminating information about Americans is an important hint of what I think to be the real purpose of this leak.

The Panama Papers contain secret corporate financial information, some of which'--by far not all'--reveals criminal activity. In the hands of law enforcement, such information can be used to prosecute companies and individuals; in the hands of a third party, it is a weapon for blackmail. For information to be effective as a blackmail weapon, it must be kept secret. Once revealed, as in the Panama Papers case, it is useless for blackmail. Its value is destroyed.

Therefore, I suggest that the purpose of the Panama Papers operation may be this: It is a message directed at the Americans and other Western political leaders who could be mentioned but are not. The message is: ''We have information on your financial misdeeds, too. You know we do. We can keep them secret if you work with us.'' In other words, the individuals mentioned in the documents are not the targets. The ones who are not mentioned are the targets.

[T]he individuals mentioned in the documents are not the targets. The ones who are not mentioned are the targets.

Kontrol, the special Russian variety of controlIn sum, my thinking is that this could have been a Russian intelligence operation, which orchestrated a high-profile leak and established total credibility by ''implicating'' (not really implicating) Russia and keeping the source hidden. Some documents would be used for anti-corruption campaigns in a few countries'--topple some minor regimes, destroy a few careers and fortunes. By then blackmailing the real targets in the United States and elsewhere (individuals not in the current leak), the Russian puppet masters get ''kontrol'' and influence.

If the Russians are behind the Panama Papers, we know two things and both come back to Putin personally: First, it is an operation run by RFM, which means it's run by Putin; second, it's ultimately about blackmail. That means the real story lies in the information being concealed, not revealed. You reveal secrets in order to destroy; conceal in order to control. Putin is not a destroyer. He's a controller.

'Resign Cameron' protests: Thousands to gather at Downing Street to ask Prime Minister to step down | UK Politics | News | The Independent

Sat, 09 Apr 2016 14:30

Thousands of protersters have moved on Downing Street to call for tough action on tax avoidance '' or David Cameron's resignation.

Following the revelations about his tax affairs in the Panama papers, demonstrators are asking Mr Cameron to either ''close tax loopholes or resign''. The protests are being organised around the hashtags ''Resign Cameron'' and ''Close tax loopholes'', and have gained support from high-profile figures including Edward Snowden and Lily Allen.

Protestors arrived at Downing Street wearing "offshore-themed" outfits including Panama hats and carrying props such as a huge pig-shaped pi±ata.

Events began at Whitehall at 11am on Saturday '-- and may last for hours or even days after that, according to protestors.

The protestors are explicitly drawing inspiration from the demonstrations in Iceland, which saw a huge proportion of the country's population march on its parliament. Soon after, the country's Prime Minister quit.

Two of the most popular Facebook events for the protest each have thousands of people who have registered as going, with many more indicating that they are ''interested''. Together, over 20,000 people have indicated that they could go to the protests.

One of those Facebook events promises that the protest will ''end when he resigns''. It lists itself as lasting until 21 April.

''Does the Prime Minister think we're stupid?'' protest organiser Abi Wilkinson wrote on one of the Facebook event pages for the gathering.

''He preaches about 'tough decisions' whilst cutting funding for disability benefits, social care and other essential services. Now we find out he personally intervened to protect offshore trusts from an EU crackdown intended to tackle money laundering.''

Ms Wilkinson has argued that protestors should concentrate on forcing Mr Cameron to reform tax law, rather than to fully resign. But other groups ask for Mr Cameron's resignation outright.

''As much as I dislike Cameron, getting a scalp wouldn't mean things were all solved,'' she wrote on the group's official Facebook page. ''If he resigns it doesn't mean the problem has gone away, he could just be replaced with someone equally untrustworthy.''

''Panama Papers'' Show Hillary's Campaign Chairman John Podesta and His Brother Tony Podesta Are Involved in Mossack Fonseca Tax Evasion; Bernie Sanders Vows to End US-Panama Free Trade Agreement, Which Made this Criminality Possible; Hillary Clinton

Sun, 10 Apr 2016 03:20

The biggest victim of the so-called Panama Papers scandal, that mass of 11 million documents referring to 215,000 offshore entities created by the Panamanian law firm of Mossack Fonseca, may turn out to be Democratic presidential candidate Hillary Clinton. Perhaps the most immediately relevant fact to emerge out of this mass of files, which have been transmitted by person or persons unknown to the German newspaper Sueddeutsche Zeitung of Munich, is that Tony Podesta, the brother of John Podesta, the chairman of Hillary Clinton's presidential campaign, is currently serving as an unregistered lobbyist for the Russian bank Sberbank, even as Hillary Clinton and other unscrupulous Democratic Party politicians engage in totally unprincipled Russophobia attacks on Russian President Vladimir Putin.

Now we will not need to wait for the details of Hillary Clinton's $225,000 speeches before the top honchos of Goldman Sachs to see to what degree Mrs. Clinton has been corrupted by her Wall Street connections. Extremely damning conclusions can be drawn based on the documents that have flowed into the SDZ over the past months. The Tax Wall Street Party demands an immediate congressional committee to thoroughly investigate Hillary Clinton, Bill Clinton, John Podesta, and Tony Podesta for this shady activity. We cannot wait until after the Democratic National Convention, when Hillary Clinton's corruption could be revealed, demolishing her chances to win the White House and leaving Democratic voters at the mercy of Donald Trump and other Republican demagogues.

The Panama Papers in toto need not overly concern us here. This limited hangout document dump has all the classic earmarks of an Anglo-American destabilization of targeted interests using carefully selected revelations against foreign figures. This modus operandi goes back to Lockheed scandal of 1975. It also borrows much from the fake Pentagon Papers hoax of 1971, and from the later shenanigans of Assange, Snowden, and others. The Lockheed scandals alleged that many foreign politicians had demanded kickbacks on their governments' purchase of Hercules C-130 aircraft. Many of these governments fell, and many careers were cut short. Some of the politicians involved had code names. The president of the Italian Republic was thought to be the payee code named Antelope Cobbler. Prince Bernhard of the Netherlands was also implicated, along with many more.

Many of the targets of the Panama Papers are drawn directly from the CIA hit list. Among those targeted, we find members of the Assad family of Syria, the Icelandic Prime Minister, the Ukrainian NATO puppet dictator Poroshenko, and the various Arab Gulf royals. There is also the Argentinean soccer star Lionel Messi. As usual, no United States or Israeli politicians seem to be among the prime targets, although some embarrassing revelations pertaining to the family of British Prime Minister David Cameron seem to be included. The circles of Russian President Vladimir Putin are heavily targeted, as are the extended family members of Chinese President Xi.

The general model for the revelations would appear to be the recent Anglo-American destabilization of Brazilian President Dilma Roussef. The methodology appears to be the one tested out by the US Department of Justice in recent years as part of the US attack on international soccer (FIFA).

The explosive revelations regarding the Podesta brothers have not yet been fully understood inside the United States, but they soon will be. The Washington Examiner was understandably focused on the Podesta group as one vital center of gravity for the Clintonista faction:

'The head of Hillary Clinton's presidential campaign is linked to a Russian bank involved with an emerging international scandal, according to documents reported on Tuesday. Registration forms indicate that the Podesta Group signed up to lobby for the Sberbank of Russia in Washington about a month ago, in early March. The bank has been implicated in a scheme unearthed on Sunday in which leaders worldwide illegally stashed their assets overseas. The Podesta Group was founded by John Podesta, the chairman of Clinton's 2016 campaign for president and a chief of staff to former president Bill Clinton. His brother, Anthony Podesta, is listed as a lobbyist for the account on the March filing.'

The London Observer stressed the devastating implications of the Panama

Papers revelations for Hillary Clinton's quest for the presidency:

'Almost lost among the many revelations is the fact that Russia's biggest bank uses The Podesta Group as its lobbyist in Washington, D.C. Though hardly a household name, this firm is well known inside the Beltway, not least because its CEO is Tony Podesta, one of the best-connected Democratic machers in the country. He founded the firm in 1998 with his brother John, formerly chief of staff to President Bill Clinton, then counselor to President Barack Obama, Mr. Podesta is the very definition of a Democratic insider. Outsiders engage the Podestas and their well-connected lobbying firm to improve their image and get access to Democratic bigwigs. Which is exactly what Sberbank, Russia's biggest financial institution, did this spring. As reported at the end of March, the Podesta Group registered with the U.S. Government as a lobbyist for Sberbank, as required by law, naming three Podesta Group staffers: Tony Podesta plus Stephen Rademaker and David Adams, the last two former assistant secretaries of state. It should be noted that Tony Podesta is a big-money bundler for the Hillary Clinton presidential campaign while his brother John is the chairman of that campaign, the chief architect of her plans to take the White House this November'....Since the brothers Podesta are presumably destined for very high-level White House jobs next January if the Democrats triumph in November at the polls, their relationship with Sberbank is something they'--and Hillary Clinton'--need to explain to the public.'

Showing more presence of mind than usual, Hillary Clinton's rival Senator Bernie Sanders of Vermont quickly pointed out that the kind of corruption revealed by the Panama Papers would not have been possible without the nefarious provisions of the US-Panama free trade sellout accord, which he is now promising to repeal and abrogate:

'Bernie Sanders on Tuesday vowed to end the Panama Free Trade Agreement, tying Hillary Clinton to the same policies that he claimed fostered the practice. ''The Panama Free Trade Agreement put a stamp of approval on Panama, a world leader when it comes to allowing the wealthy and the powerful to avoid taxes,'' the Vermont senator said in a statement released through his campaign, adding that he has been opposed to it ''from day one.'' Vowing to use his authority as president to ''terminate the Panama Free Trade Agreement within six months,'' Sanders said his administration would ''conduct an immediate investigation into U.S. banks, corporations and wealthy individuals who have been stashing their cash in Panama to avoid taxes.'' ''If any of them have violated U.S. law, my administration will prosecute them to the fullest extent of the law,'' he said.'

Those attempting to accredit the Panama Papers as legitimate sources of information are of course confronted with the fact that, as per usual with limited hangouts, few Americans or none at all have been exposed in their tax evasion and related activities. Politico carried out a valiant but failed attempt to maintain the credibility of the Panama Papers by alleging that the Panama tax evasion system was now considered obsolete by wealthy US parasites seeking to avoid taxation. With the Panama method now belonging to the past, this article argued, US tax evaders are choosing other areas with more modern methods and technologies, leaving Panama to the relatively backward European tax evaders. Here is a sample:

'''Within the [high-net worth] world, there is a national taste as in anything else,'' said Edward Kleinbard, a professor of law and business at the University of Southern California, ''and I think Panama is a disfavored country among U.S. advisers because it is viewed as an outlier relative to world norms.'' If the Panama Papers had come out in the early 1980s, the scandal [might] have implicated far more Americans. Back then, experts say, Panama was a popular spot for parking money offshore for its lax bank secrecy laws and currency controls. But in 1989, under then President George H.W. Bush, the U.S. invaded Panama and deposed the military dictator, Manuel Noriega, and wealthy Americans have largely avoided the country since.'

This is of course the most transparent nonsense. Both the Russian government and the Chinese government have condemned the Panama Papers as transparent attempts to destabilize their respective governments and countries. We should not forget that more than $2 trillion in profits of United States companies are now being stashed in various tax havens around the world. The companies are whining that they cannot bring this money home until a tax windfall for them is arranged. In reality, these corporate predators ought to be coerced into immediately repatriating their money, under the threat of large-scale confiscatory taxation should they refuse to do so. Among the presidential candidates most concerned with protecting the tax evasion by these corporate malefactors, we find Donald J. Trump, who has been demanding special treatment for these tax evaders for the last several months.

http://www.washingtonexaminer.com/clinton-campaign-chief-linked-to-russi'...http://observer.com/2016/04/panama-papers-reveal-clintons-kremlin-connec'...http://www.politico.com/blogs/2016-dem-primary-live-updates-and-results/'...http://www.politico.com/agenda/story/2016/04/the-panama-papers-where-are'...

IRS building has fire and is closed for a week, day after Panama Papers spill. Coincidence? I think not.

Sun, 10 Apr 2016 03:19

By John Vibes

As we have been covering this week, the release of the Panama Papers has created a panic among world governments, by exposing some of their darkest secrets.

In the leak, 11.5 million documents were stolen from Mossack Fonseca and were leaked to Suddeutsche Zeitung, who then turned to the International Consortium of Investigative Journalists to examine the documents. In the time since, media organizations have been scrambling to sift through a large number of documents, in hopes of finding stories that they can spin to fit their narrative.

So far, most of the information to be released through the mainstream media has been directed at foreign governments and leaders, with a passing mention of several hundred American citizens who store their money offshore without reporting it to the IRS. Ironically enough, at the height of the Panama Papers publicity, a fire broke out in the basement of the IRS headquarters, leading to a full closure of the headquarters for over a week.

According to a short report from the Associated Press:

IRS headquarters in Washington will remain closed for the rest of the week while repairs are made after a basement fire in the building.The agency said in a news release Tuesday that Monday afternoon's fire affected the air handling system. No one was hurt in the fire. The IRS says telework-ready employees are expected to telework from their approved location. Officials say tax returns are not processed at headquarters; taxpayers should continue to file their returns.

The timing of the fire and the closure have led many to speculate that perhaps the fire is an inside job, and created intentionally for the purpose of destroying records, which could possibly be evidence that correlates to Panama Papers revelations.

The building was closed and workers sent home approximately 45 minutes before flames engulfed the basement ''due to electrical issues with the air-conditioning system,'' an IRS spokesman said. He said that about 2,000 people work there but that ''a few hundred'' were still in the building when the fire broke out.

So far, there has been no indication from local authorities or representatives at the IRS as to whether the fire was an accident or an act of arson, and it is likely that this news will never be revealed. However, it is important to point out that the IRS headquarters is one of the most secure buildings in the country, which would make it nearly impossible for someone to start a fire in the basement unless they had authorized access to the area.

Aside from the mention of some Americans' use of so-called ''tax havens,'' there have been no reports of the IRS being implicated in the Panama Papers through the mainstream media. But the mainstream media has yet to report on the full scope of the 11.5 million documents that were released. It is, however, possible that the IRS is expecting some sort of fallout from sensitive information, and is taking protective measures to safeguard their secrets.

Secrets of an Ex-IRS Hitman Revealed (Ad)It is also possible that they are somehow connected or complicit in the offshore tax avoidance that has been practiced by some American citizens. It is also yet another possibility that this is just a mere coincidence; but when there is smoke, there is usually fire.

John Vibes writes for TheFreeThoughtProject.com, where this article first appeared. He is an author and researcher who organizes a number of large events including the Free Your Mind Conference. He also has a publishing company where he offers a censorship free platform for both fiction and non-fiction writers. You can contact him and stay connected to his work at his Facebook page. You can purchase his books, or get your own book published at his website www.JohnVibes.com.

Panama Papers Reveal Clinton's Kremlin Connection | Observer

Sun, 10 Apr 2016 12:58

Democratic presidential candidate Hillary Clinton.

The revelations of the so-called Panama Papers that are roiling the world's political and financial elites this week include important facts about Team Clinton. This unprecedented trove of documents purloined from a shady Panama law firm that arranged tax havens, and perhaps money laundering, for the globe's super-rich includes juicy insights into how Russia's elite hides its ill-gotten wealth.

Almost lost among the many revelations is the fact that Russia's biggest bank uses The Podesta Group as its lobbyist in Washington, D.C. Though hardly a household name, this firm is well known inside the Beltway, not least because its CEO is Tony Podesta, one of the best-connected Democratic machers in the country. He founded the firm in 1998 with his brother John, formerly chief of staff to President Bill Clinton, then counselor to President Barack Obama, Mr. Podesta is the very definition of a Democratic insider. Outsiders engage the Podestas and their well-connected lobbying firm to improve their image and get access to Democratic bigwigs.

Which is exactly whatSberbank, Russia's biggest financial institution, did this spring. Asreportedat the end of March, the Podesta Group registered with the U.S. Government as a lobbyist for Sberbank, as required by law, naming three Podesta Group staffers: Tony Podesta plus Stephen Rademaker and David Adams, the last two former assistant secretaries of state. It should be noted that Tony Podesta is a big-money bundler for the Hillary Clinton presidential campaign while his brother John is the chairman of that campaign, the chief architect of her plans to take the White House this November.

Sberbank (Savings Bank in Russian) engaged the Podesta Group to help its public image'--leading Moscow financial institutions not exactly being known for their propriety and wholesomeness'--and specifically to help lift some of the pain of sanctions placed on Russia in the aftermath of the Kremlin's aggression against Ukraine, which has caused real pain to the country's hard-hit financial sector.

It's hardly surprising that Sberbank sought the help of Democratic insiders like the Podesta Group to aid them in this difficult hour, since they clearly understand how American politics work. The question is why the Podesta Group took Sberbank's money. That financial institution isn't exactly hiding in the shadows'--it's the biggest bank in Russia, and its reputation leaves a lot to be desired. Nobody acquainted with Russian finance was surprised that Sberbank wound up in the Panama Papers.

Since the brothers are destined for very high-level jobs if the Democrats triumph in November, their relationship is something they'--and Clinton'--need to explain.

Although Sberbank has its origins in the nineteenth century, it was functionally reborn after the Soviet collapse, and it the 1990s it grew to be the dominant bank in the country, today controlling nearly 30 percent of Russia's aggregate banking assets and employing a quarter-million people. The majority stockholder in Sberbank is Russia's Central Bank. In other words, Sberbank is functionally an arm of the Kremlin, although it's ostensibly a private institution.

Certainly Western intelligence is well acquainted with Sberbank, noting its close relationship with Vladimir Putin and his regime. Funds moving through Sberbank are regularly used to support clandestine Russian intelligence operations, while the bank uses its offices abroad as cover for the Russian Foreign Intelligence Service or SVR. A NATO counterintelligence official explained that Sberbank, which has outposts in almost two dozen foreign countries, ''functions as a sort of arm of the SVR outside Russia, especially because many of its senior employees are 'former' Russian intelligence officers.'' Inside the country, Sberbank has an equally cosy relationship with the Federal Security Service or FSB, Russia's powerful domestic intelligence agency.

Ukraine has pointed a finger at Sberbank as an instrument of Russia's aggression against their country. In 2014, Ukraine's Security Service charged Sberbank with ''financing terrorism,'' noting that its branches were distributing millions of dollars in illegal aid to Russian-backed separatists fighting in eastern Ukraine. Kyiv's conclusion, that Sberbank is a witting supporter of Russian aggression against Ukraine, is broadly supported by Western intelligence. ''Sberbank is the Kremlin, they don't do anything major without Putin's go-ahead, and they don't tell him 'no' either,'' explained a retired senior U.S. intelligence official with extensive experience in Eastern Europe.

In addition, Ukrainian intelligence has alleged that the FSB collaborated with Sberbank in the bombings of two of the bank's branches in Kyiv, Ukraine's capital, in June 2015. The attacks caused no casualties but got major coverage in Russian state media as ''proof'' of Ukraine's instability and violent anti-Russian nature. Although the notion that Russian spies would plant bombs as a provocation, what the Kremlin terms provokatsiya, may sound outlandish to those unacquainted with espionage, in fact Russian spies have been doing such things since tsarist times. What I've termed ''fake terrorism'' is a longstanding Kremlin core competency, and it can only be pulled off with logistical support, including with finances.

Predictably, Sberbank has blown off the Panama Papers revelations as nothing of consequence, but the fact that they are an arm of the Kremlin and they do plenty of shady things in many countries is a matter of record. As is the fact that the Podesta Group is their lobbyist in America.

Among the Sberbank subsidiaries that the Podesta Group also represents are the Cayman Islands-based Troika Dialog Group Limited, the Cyprus-based SBGB Cyprus Limited, and the Luxembourg-based SB International. As reported this week by the Organized Crime and Corruption Reporting Project, a consortium of journalists exploring the Panama Papers leak, Sberbank and Troika Dialog are used by members of Mr. Putin's inner circle to shift public funds into sometimes questionable private investments. In other words, this is top-level money laundering of a brazen kind. As the OCCRP stated plainly, ''Some of these companies were initially connected to the Troika Dialog investment fund, which was controlled and run by Sberbank after the bank bought the Troika Dialog investment bank. Troika and Sberbank declined to comment.''

Adding to shadiness of all this, the Podesta Group is playing along with the useful charade that Sberbank is simply a private financial institution, rather than the state-owned bank that it is, since that would require the lobbyists to register as agents of the Russian government under the Foreign Agent Registration Act.

John and Tony Podesta aren't fooling anyone with this ruse. They are lobbyists for Vladimir Putin's personal bank of choice, an arm of his Kremlin and its intelligence services. Since the brothers Podesta are presumably destined for very high-level White House jobs next January if the Democrats triumph in November at the polls, their relationship with Sberbank is something they'--and Hillary Clinton'--need to explain to the public.

CORRECTION: An earlier version of this story referred imprecisely to the fouding of The Podesta Group and to the Podesta brother who registered the firm they founded as a lobbyist for Sberbank. The Observer regrets the errors.
EuroLand

EU overweegt visumplicht voor Amerikanen | Telegraaf.nl

Sun, 10 Apr 2016 14:06

vrijdag 8 april 2016, 13:03 Stock; paspoort; reisdocument; fraude; ID; identificatie; paspoortcontrole; douane; persoonsgegevens; verblijfsvergunning; visum; vals; kopie; gemeente; prijs; kosten; aanvragen; gemeentehuis; Stock paspoort reisdocument fraude ID identificatie paspoortcontrole douane persoonsgegevens verblijfsvergunning visum vals kopie gemeente prijs kosten aanvragen gemeentehuis. (C) Beeld werktAmerikanen en Canadezen worden mogelijk verplicht een visum aan te vragen als ze naar de Europese Unie willen reizen. De Europese Commissie vergadert hier dinsdag over.

Onder meer Bulgaren, Roemenen, Cyprioten en Polen moeten een visum aanvragen als ze naar de VS of Canada willen reizen, waarmee het principe van wederkerigheid wordt geschonden. Als dat op 12 april nog het geval is, is Brussel op grond van regelgeving verplicht een besluit te nemen over de kwestie, zei een commissiewoordvoerder vrijdag.

,,Deze juridische deadline vraagt om een politieke discussie'', aldus de zegsvrouw. ,,Het doel is visumvrijstelling voor alle EU-burgers. We zijn hierover in constructieve dialoog met onze partners.'' Overigens hebben de lidstaten en het Europees Parlement nog de mogelijkheid een eventuele visumplicht voor Amerikanen en Canadezen tegen te houden.

De Amerikaanse president Barack Obama komt later deze maand naar Europa. Hij bezoekt onder meer de technologiebeurs Hannover Messe, waar hij ook bondskanselier Angela Merkel ontmoet.

Meer artikelen in Buitenland

SBU seized MDMA on the way to Odessa - Interactive live map of Conflict in Ukraine and Eastern Europe - liveuamap.com

Sun, 10 Apr 2016 14:31

Liveuamap is opendata-driven media platform that change the way you receive latest news. Explore a map, messages, pictures and videos from the conflict zones.

If you have a shared mission, or have any questions, just send us an email to info@liveuamap.com or contact us on Twitter: @liveuamap
Caliphate!

Why We're Never Told Why We're Attacked '' Consortiumnews

Sun, 10 Apr 2016 03:18

Exclusive: When Western media discusses terrorism against the West, the motive is almost always left out, even when the terrorists state they are avenging longstanding Western violence in the Muslim world, reports Joe Lauria.

By Joe Lauria

After a Russian commercial airliner was downed over Egypt's Sinai last October, Western media reported that the Islamic State bombing was retaliation against Russian airstrikes in Syria. The killing of 224 people, mostly Russian tourists on holiday, was matter-of-factly treated as an act of war by a fanatical group without an air force resorting to terrorism as a way to strike back.

Yet, Western militaries have killed infinitely more innocent civilians in Muslim lands than Russia has. Then why won't Western officials and media cite retaliation for that Western violence as a cause of terrorist attacks on New York, Paris and Brussels?

The World Trade Center's Twin Towers burning on 9/11. (Photo credit: National Park Service)

Instead, there's a fierce determination not to make the same kinds of linkages that the press made so easily when it was Russia on the receiving end of terror. [See Consortiumnews.com's ''Obama Ignores Russian Terror Victims.'']

For example, throughout four hours of Sky News' coverage of the July 7, 2005 attacks in London, only the briefest mention was made about a possible motive for that horrific assault on three Underground trains and a bus, killing 52 people. But the attacks came just two years after Britain's participation in the murderous invasion of Iraq.

Prime Minister Tony Blair, one of the Iraq War's architects, condemned the loss of innocent life in London and linked the attacks to a G-8 summit he'd opened that morning. A TV host then read and belittled a 10-second claim of responsibility from a self-proclaimed Al Qaeda affiliate in Germany saying that the Iraq invasion was to blame. There was no more discussion about it.

To explain why these attacks happen is not to condone or justify terrorist outrages against innocent civilians. It is simply a responsibility of journalism, especially when the ''why'' is no mystery. It was fully explained by Mohammad Sidique Khan, one of the four London suicide bombers. Though speaking for only a tiny fraction of Muslims, he said in a videotaped recording before the attack:

''Your democratically-elected governments continuously perpetuate atrocities against my people all over the world. And your support of them makes you directly responsible, just as I am directly responsible for protecting and avenging my Muslim brothers and sisters. Until we feel security you will be our targets and until you stop the bombing, gassing, imprisonment and torture of my people we will not stop this fight. We are at war and I am a soldier. Now you too will taste the reality of this situation.''

The Islamic State published the following reason for carrying out last November's Paris attacks:

''Let France and all nations following its path know that they will continue to be at the top of the target list for the Islamic State and that the scent of death will not leave their nostrils as long as they partake part in the crusader campaign '... and boast about their war against Islam in France, and their strikes against Muslims in the lands of the Caliphate with their jets.''

Claiming It's a State of Mind

Ignoring such clear statements of intent, we are instead served bromides by the likes of State Department spokesman Mark Toner about the Brussels bombings, saying it is impossible ''to get into the minds of those who carry out these attacks.''

Mind reading isn't required, however. The Islamic State explicitly told us in a press statement why it did the Brussels attacks: ''We promise black days for all crusader nations allied in their war against the Islamic State, in response to their aggressions against it.''

Yet, still struggling to explain why it happened, Toner said, ''I think it reflects more of an effort to inflict on who they see as Western or Westerners '... fear that they can carry out these kinds of attacks and to attempt to lash out.''

Toner ascribed the motive to a state of mind: ''I don't know if this is about establishing a caliphate beyond the territorial gains that they've tried to make in Iraq and Syria, but it's another aspect of Daesh's kind of warped ideology that they're carrying out these attacks on Europe and elsewhere if they can. '... Whether it's the hopes or the dreams or the aspirations of a certain people never justifies violence.''

After 9/11, President George W. Bush infamously said the U.S. was attacked because ''they hate our freedoms.'' It's a perfect example of a Western view that ascribes motives to Easterners without allowing them to speak for themselves or taking them seriously when they do.

Explaining his motive behind 9/11, Osama bin Laden, in his Letter to America, expressed anger about U.S. troops stationed on Saudi soil. Bin Laden asked: ''Why are we fighting and opposing you? The answer is very simple: Because you attacked us and continue to attack us.'' (Today the U.S. has dozens of bases in seven countries in the region.)

So why won't Western officials and corporate media take the jihadists' statements of intent at face value? Why won't they really tell us why we are attacked?

It seems to be an effort to cover up a long and ever more intense history of Western military and political intervention in the Middle East and the violent reactions it provokes, reactions that put innocent Western lives at risk. Indirect Western culpability in these terrorist acts is routinely suppressed, let alone evidence of direct Western involvement with terrorism.

Some government officials and journalists might delude themselves into believing that Western intervention in the Middle East is an attempt to protect civilians and spread democracy to the region, instead of bringing chaos and death to further the West's strategic and economic aims. Other officials must know better.

1920-1950: A Century of Intervention Begins

A few might know the mostly hidden history of duplicitous and often reckless Western actions in the Middle East. It is hidden only to most Westerners, however. So it is worth looking in considerable detail at this appalling record of interference in the lives of millions of Muslims to appreciate the full weight it exerts on the region. It can help explain anti-Western anger that spurs a few radicals to commit atrocities in the West.

French diplomat Francois George-Picot, who along with British colonial officer Mark Sykes drew lines across a Middle East map of the Ottoman Empire after World War I, carving out states with boundaries that are nearly the same as they are today.

The history is an unbroken string of interventions from the end of the First World War until today. It began after the war when Britain and France double-crossed the Arabs on promised independence for aiding them in victory over the Ottoman Empire. The secret 1918 Sykes-Picot accord divided the region between the European powers behind the Arabs' backs. London and Paris created artificial nations from Ottoman provinces to be controlled by their installed kings and rulers with direct intervention when necessary.

What has followed for 100 years has been continuous efforts by Britain and France, superseded by the United States after the Second World War, to manage Western dominance over a rebellious region.

The new Soviet government revealed the Sykes-Picot terms in November 1917 in Izvestia. When the war was over, the Arabs revolted against British and French duplicity. London and Paris then ruthlessly crushed the uprisings for independence.

France defeated a proclaimed Syrian government in a single day, July 24, 1920, at the Battle of Maysalun. Five years later there was a second Syrian revolt, replete with assassinations and sabotage, which took two years to suppress. If you walk through the souk in Old Damascus and look up at the corrugated iron roof you see tiny specks of daylight peeking through. Those are bullet holes from French war planes that massacred civilians below.

Britain put down a series of independence revolts in Iraq between 1920 and 1922, first with 100,000 British and Indian troops and then mostly with the first use of air power in counterinsurgency. Thousands of Arabs were killed. Britain also helped its installed King Abdullah put down rebellions in Jordan in 1921 and 1923.

London then faced an Arab revolt in Palestine lasting from 1936 to 1939, which it brutally crushed, killing about 4,000 Arabs. The next decade, Israeli terrorists drove the British out of Palestine in 1947, one of the rare instances when terrorists attained their political goals.

Germany and Italy, late to the Empire game, were next to invade North Africa and the Middle East at the start of the Second World War. They were driven out by British imperial forces (largely Indian) with U.S. help. Britain invaded and defeated nominally independent Iraq, which had sided with the Axis. With the Soviet Union, Britain also invaded and occupied Iran.

After the war, the U.S. assumed regional dominance under the guise of fending off Soviet regional influence. Just three years after Syrian independence from France, the two-year old Central Intelligence Agency engineered a Syrian coup in 1949 against a democratic, secular government. Why? Because it had balked at approving a Saudi pipeline plan that the U.S. favored. Washington installed Husni al-Za'im, a military dictator, who approved the plan.

1950s: Syria Then and Now

Before the major invasion and air wars in Iraq and Libya of the past 15 years, the 1950s was the era of America's most frequent, and mostly covert, involvement in the Middle East. The Eisenhower administration wanted to contain both Soviet influence and Arab nationalism, which revived the quest for an independent Arab nation. After a series of coups and counter-coups, Syria returned to democracy in 1955, leaning towards the Soviets.

President Dwight Eisenhower

A 1957 Eisenhower administration coup attempt in Syria, in which Jordan and Iraq were to invade the country after manufacturing a pretext, went horribly wrong, provoking a crisis that spun out of Washington's control and brought the U.S. and Soviets to the brink of war.

Turkey put 50,000 troops on the Syrian border, threatening to invade. Soviet premier Nikita Khrushchev threatened Turkey with an implied nuclear attack and the U.S. got Ankara to back off. This sounds eerily familiar to what happened last month when Turkey again threatened to invade Syria and the U.S. put on the brakes. The main difference is that Saudi Arabia in 1957 was opposed to the invasion of Syria, while it was ready to join it last month. [See Consortiumnews.com's ''Risking Nuclear War for Al Qaeda?'']

In the 1950s, the U.S. also began its association with Islamic religious extremism to counter Soviet influence and contain secular Arab nationalism. ''We should do everything possible to stress the 'holy war' aspect,'' President Eisenhower told his Secretary of State John Foster Dulles. After the Cold War, religious extremists, some still tied to the West, became themselves the excuse for U.S. intervention.

Despite U.S. regional ascendance in the 1950s, Britain and France weren't through. In 1953, an MI6-CIA coup in Iran replaced a democracy with a restored monarchy when Mohammed Mossadegh, the elected prime minister, was overthrown after seeking to nationalize British-controlled Iranian oil. Britain had discovered oil in Iran in 1908, spurring deeper interest in the region.

Three years later Britain and France combined with Israel to attack Egypt in 1956 when President Gamal Abdel Nasser, who had taken over from the ousted British-backed King Farouk, moved to nationalize the Suez Canal. The U.S. stopped that operation, too, denying Britain emergency oil supplies and access to the International Monetary Fund if the Brits didn't back down.

Suez represented the final shift in external power in the Middle East from the U.K. to the U.S. But Washington couldn't stop Britain from trying and failing to assassinate Nasser, who had sparked the Arab nationalist movement.

In 1958, the U.S. landed 14,000 Marines in Lebanon to prop up President Camille Chamoun after a civil conflict broke out against Chamoun's intention to change the constitution and run for reelection. The rebellion was minimally supported by the United Arab Republic, the 1958-61 union between Egypt and Syria. It was the first U.S. invasion of an Arab country, excluding the U.S.'s World War II intervention in North Africa.

1960 to 2003: Interventions Post Colonial

The 1954-1962 Algerian rebellion against French colonialism, which Paris brutally tried to suppress, included Algerian acts of terrorism. Exhibiting the same cluelessness displayed by State Department spokesman Toner, the French attitude towards the uprising was expressed by an exasperated French officer in film The Battle of Algiers when he exclaimed, ''What do you people want?''

From the 1960s to the 1980s, U.S. intervention in the region was mostly restricted to military support for Israel in the 1967 and 1973 Arab-Israeli wars. From an Arab perspective that represented a major U.S. commitment to protect Israeli colonialism.

The Soviet Union also intervened directly in the 1967-70 War of Attrition between Egypt and Israel when Nasser went to Moscow to say he'd resign and have a pro-Western leader take over if the Russians didn't come to his aid. In backing Nasser, the Soviets lost 58 men.

The Soviets were also involved in the region to varying degrees and times throughout the Cold War, giving aid to Palestinians, Nasser's Egypt, Syria, Saddam's Iraq and Muammar Gaddafi's Libya '-- all countries and leaders charting an independent course from the West.

During the 1970 Black September conflict between Jordan and Palestinian guerrillas, the U.S. had Marines poised to embark in Haifa and ready to secure Amman airport when Jordan repelled a Syrian invasion in support of the Palestinians.

President Ronald Reagan

In the 1980s the U.S. backed Saddam Hussein in his brutal, eight-year war with Iran, supplying him with arms, intelligence and chemical weapons, which he did not hesitate to use against Iranians and Kurds. President Ronald Reagan also bombed Libya in 1986 after accusing it without conclusive evidence of a Berlin bombing ten days earlier that killed a U.S. soldier.

The U.S. returned more directly to the region with a vengeance in the 1991 Gulf War, burying alive surrendering Iraqi troops with bulldozers; shooting thousands of soldiers in the back as they retreated on the Highway of Death, and calling for uprisings in the Shia south and Kurdish north and then leaving them to Saddam's revenge.

Iraq never recovered fully from the devastation, being crushed for 12 years under U.N. and U.S. sanctions that then U.N. Ambassador Madeleine Albright admitted contributed to the deaths of half a million Iraqi children. But she said it was ''worth it.''

Iraq's sanctions only ended after the 2003 full-scale U.S. and British invasion of the sovereign Arab nation, an assault justified by bogus claims about Iraq hiding stockpiles of WMD that could be shared with Al Qaeda. The invasion killed hundreds of thousands of people and left Iraq devastated. The invasion also unleashed a civil war and gave rise to the terrorist group, the Islamic State in Iraq, which later merged with terrorists in Syria to become ISIS.

Throughout this century of intervention, Britain, France and the U.S. managed the region through strong alliances with dictators or monarchs who had no regard for democratic rights. But when those autocrats became expendable, such as Saddam Hussein had, they are disposed of.

The Biggest Invasion Yet

While most Americans may be unaware of this long history of accumulated humiliation of Muslims, Christians and other religious minorities in the region '-- and the resulting hatred of the West '-- they can't ignore the Iraq invasion, the largest by the West in the region, excluding World War II. Nor is the public unaware of the 2011 intervention in Libya, and the chaos that has resulted. And yet no link is made between these disasters and terror attacks on the West.

The secular strongmen of Iraq, Libya and Syria were targeted because they dared to be independent of Western hegemony '-- not because of their awful human rights records. The proof is that Saudi Arabia's and Israel's human rights records also are appalling, but the U.S. still staunchly stands by these ''allies.''

During the so-called Arab Spring, when Bahrainis demanded democracy in that island kingdom, the U.S. mostly looked the other way as they were crushed by a combined force of the nation's monarchy and Saudi troops. Washington also clung to Egyptian strongman Hosni Mubarak until the bitter end.

However, under the pretext of protecting the Libyan population, the U.S. and NATO implemented a bloody ''regime change'' in Libya leading to anarchy, another failed state and the creation of one more ISIS enclave. For the past five years, the West and its Gulf allies have fueled the civil war in Syria, contributing to another humanitarian disaster.

Former Secretary of State Hillary Clinton.

The West's motive for all this meddling is often pinned on oil. But obedience is a strong factor. Hans Morgenthau wrote in Politics Among Nations (1968), that the urge of empires to expand ''will not be satisfied so long as there remains anywhere a possible object of domination '' a politically organized group of men which by its very independence challenges the conqueror's lust for power.''

Tariq Ali, in his 2003 book Bush in Babylon, writes about Gnaeus Julius Agricola, the Roman general responsible for much of the conquest of Britain in the First Century: ''On one of his visits to the outer reaches of [Britain], Agricola looked in the direction of Ireland and asked a colleague why it remained unoccupied. Because, came the reply, it consisted of uncultivable bog lands and was inhabited by very primitive tribes. What could it possibly have to offer the great Empire? The unfortunate man was sternly admonished. Economic gain isn't all. Far more important is the example provided by an unoccupied country. It may be backward, but it is still free.''

Cloaking Motives

Little of this long history of Western manipulation, deceit and brutality in the Middle East is known to Americans because U.S. media almost never invokes it to explain Arab and Iranian attitudes towards the West.

Muslims remember this history, however. I know Arabs who are still infuriated by the Sykes-Picot backstabbing, let alone the most recent depredations. Indeed fanatics like the Islamic State are still ticked off about the Crusades, a much earlier round of Western intervention. In some ways it's surprising, and welcomed, that only the tiniest fraction of Muslims has turned to terrorism.

Billionaire and Republican presidential candidate Donald Trump.

Nevertheless, Islamophobes like Donald Trump want to keep all Muslims out of the U.S. until he figures out ''what the hell is going on.'' He says Muslims have a ''deep hatred'' of Americans. But he won't figure it out because he's ignoring the main cause of that hatred '' the past century of intervention, topped by the most recent Western atrocities in Iraq and Libya.

Stripping out the political and historical motives renders terrorists as nothing more than madmen fueled by irrational hate of a benevolent West that says it only wants to help them. They hate us simply because we are Western, according to people like Toner, and not because we've done anything to them.

Israel and its Western enablers likewise bury the history of Israel's ethnic cleansing and piecemeal conquest of Palestine so they can dismiss Palestinians who turn to terrorism as motivated only by hatred of Jews for being Jews.

I've asked several Israelis why Palestinians tend to hate them. The more educated the Israeli the more likely the answer was because of the history of how Israel was established and how it continues to rule. The less educated my respondent, the more likely I heard that they hate us simply because we are Jews.

There's no excuse for terrorism. But there is a practical way to curb it: end the current interventions and occupations and plan no more.

The Psychology of Terror

Of course, anger at the West's history of exploiting Muslim lands isn't the only motivation for terrorism. There are emotional and group pressures that push some over the line to strap on bombs and blow up innocent people around them. Thankfully, it takes a very unusual type of individual to react to this ugly history with ugly acts of terror.

Money also plays a part. We've seen waves of defections as ISIS has recently cut fighters' pay in half. Anger at Western-installed and propped-up local rulers who oppress their people on behalf of the West is another motive. Extremist preachers, especially Saudi Wahhabis, also share the blame as they inspire terrorism, usually against Shia.

President Obama and King Salman Arabia stand at attention during the U.S. national anthem as the First Lady stands in the background with other officials on Jan. 27, 2015, at the start of Obama's State Visit to Saudi Arabia. (Official White House Photo by Pete Souza). (Official White House Photo by Pete Souza)

Wading into the psychology of why someone turns to terrorism is an unenviable task. The official Western view is that Islamist extremists merely hate modernity and secularism. That might be their motive in wanting to backwardly transform their own societies by removing Western influence. But it's not what they say when they claim responsibility for striking inside the West.

To ignore their words and dismiss their violent reaction to the long and ongoing history of Western intervention may shield Americans and Europeans from their partial responsibility for these atrocities. But it also provides cover for the continuing interventions, which in turn will surely produce more terrorism.

Rather than looking at the problem objectively '' and self-critically '' the West ludicrously cloaks its own violence as an effort to spread democracy (which never seems to materialize) or protect civilians (who are endangered instead). To admit any connection between the sordid historical record and anti-Western terrorism would be to admit culpability and the price that the West is paying for its dominance.

Worse still, letting terrorists be perceived as simply madmen without a cause allows the terrorist response to become justification for further military action. This is precisely what the Bush administration did after 9/11, falsely seeking to connect the attacks to the Iraqi government.

By contrast, connecting terrorism to Western intervention could spark a serious self-examination of the West's behavior in the region leading to a possible retreat and even an end of this external dominance. But that is clearly something policymakers in Washington, London and Paris '' and their subservient media '' aren't prepared to do.

[For more on this topic, see Consortiumnews.com's ''Why Many Muslims Hate the West'' and ''Muslim Memories of Western Imperialism.'']

Joe Lauria is a veteran foreign-affairs journalist based at the U.N. since 1990. He has written for the Boston Globe, the London Daily Telegraph, the Johannesburg Star, the Montreal Gazette, the Wall Street Journal and other newspapers. He can be reached at joelauria@gmail.com and followed on Twitter at @unjoe.
War on Math

'Leaked' Burr-Feinstein Encryption Bill Is a Threat to American Privacy | Motherboard

Sun, 10 Apr 2016 05:20

Senators Richard Burr and Dianne Feinstein. Photo: Tom Williams/CQ Roll Call

On Thursday, what appears to be a draft bill from Senators Richard Burr (R-North Carolina) and Dianne Feinstein (D-California) was uploaded by The Hill reporter Cory Bennett. The bill has not been confirmed as authentic, and even if it is authentic, may have changed since the version that was posted online. Regardless, it's worth critiquing the draft that was published, which aspires to kill end-to-end encryption in America'--a move that, to lift a phrase from former NSA director Michael Hayden, only North Korean hackers could love.

Allow me to explain.

The bill, the ''Compliance with Court Orders Act of 2016,'' requires that all companies providing any kind communications or data service be able to give information to the government in an ''intelligible format.'' If the company made the data unintelligible, it must provide ''technical assistance'' to undo it. In case there is any question about the aim, the bill defines intelligible as ''decrypted, deciphered, decoded, demodulated, or deobfuscated to its original form.''

Instead of learning from the Department of Justice's ill-fated attempt to demonize services that rely on encryption to protect their customers and maintain user trust, these two Senators are doubling down. To make matters worse, Senators Burr and Feinstein chair the Senate Select Committee on Intelligence, which means they're the very people tasked with overseeing overreach by intelligence agencies. The White House, increasingly anti-encryption since the Apple-FBI flop, is reportedly deeply split on the proposal.

Simply put, this bill would flat-tire end-to-end encryption within AmericaIf this bill were to pass, it would outlaw secure communications, which are heavily'--and increasingly'--dependent on end-to-end encryption. By definition, end-to-end encryption cannot be decrypted except by the credentials of the senders and receivers. This is how information that truly needs to be secure is protected, because it minimizes the ways highly sensitive information can be decrypted.

Simply put, this bill would flat-tire end-to-end encryption within America. Every service, person, human rights worker, protester, reporter, company'--the list goes on'--will be easier to spy on. It jams a crowbar into the gut of Americans' privacy and security. It sets the precedent that the Department of Justice sought in the Apple-FBI case. And by crippling encryption, it risks turning those compromised products into new funnels of information for the never-ending haystack of information. After all, finding vulnerabilities like these are gold mines for hackers, and many of the world's best work for American intelligence agencies. But, we're told, it will make us more secure overall.

But, in fact, the impact on American security is one of the biggest threats of this bill. The notion of a backdoor, or what Senators Burr and Feinstein euphemistically call ''technical assistance,'' that can only be used by the government'--whether law enforcement needs a warrant to do so or otherwise aside'--has been unanimously rejected by every mathematician and cryptologist who studies it. That isn't an exaggeration. You can't have a backdoor that isn't a security vulnerability. And Congress knows that. This same fight happened in the 90s, during the Crypto Wars. It was literally the exact. Same. Argument. Loathe as I am to say it, even Michael Hayden, who oversaw the agency's rise to power and many, many disastrous decisions, agrees.

As far reaching as the effects of this bill would be on Americans' privacy and safety, its jurisdictional narrowness is yet another catastrophic flaw. At the risk of stating the obvious, this is a proposed American law. It does not control Russian companies, or the North Korean government. It is the modern equivalent of Congress passing a law that bans the development of intercontinental ballistic missiles. ''Have fun with that,'' the rest of the world seems to say, while Senators Burr and Feinstein proclaim how much safer we are.

Even in draft form, this legislation is so short-sighted it calls into question the authors' ability to lead the Senate Select Committee on Intelligence, which, again, Senators Burr and Feinstein chair. Their positions are singularly powerful in their ability to ensure that intelligence collection is done effectively and legally. This bill is powerful evidence that they are not up for the job.

As egregious as the Compliance with Court Orders Act of 2016 is, it highlights yet again a decision Americans must make. Pew confirms that 30 percent of American adults have changed their online behavior since the Snowden leaks. Another study last month found that people who think mass surveillance is a lesser problem are actually more likely to self-censor their minority opinions. That means tens of millions of Americans: trying to hide their online activity, not reading something they would otherwise read, not saying something they would otherwise say, or not interacting with someone they would otherwise interact with'--the definition of chilled speech. That number will get higher and higher as more information about the intelligence agencies comes out and as more people learn about it, and in particular as bills like this one pop up.

And then it will peak, and that number will drop. The percentage of people changing their behavior will decrease. That will be when Americans simply never expect to have digital privacy. That will be when we aren't progressing as a society because we've always acted like someone is watching us, watching our children, watching everything we do. Looking past all that, we're told, is necessary to fight the next drug dealer, the next terrorist, the next hacker, who, of course, doesn't listen to American law, doesn't sign up for compromised encryption, and doesn't need Senator Burr or Senator Feinstein's permission to attack us with the very security holes these people want to mandate.

May we never see that peak, and may Senator Burr and Senator Feinstein's ill-conceived bill never see the floor of the Senate.

UPDATE: This story has been updated to reflect the fact that Cory Bennett of The Hill was the one who published the alleged draft bill online.

Sean Vitka serves as counsel for Demand Progress and Fight for the Future and is a fellow with X-Lab.
Elections 2016

BLACKLASH: Social Media Users At War with Bill Clinton Over Clash with Black Lives Matter - Breitbart

Fri, 08 Apr 2016 18:24

A look at comments from both high profile white media liberals and black activists shows that Bill Clinton has crossed an unwritten line in Democratic politics, having the audacity to disagree with loud, angry people who would rather lecture than listen. Clinton, who said several times that he ''loves protesters,'' was attempting to defend his wife against a month-long barrage of accusations criticizing her for calling violent black sociopaths ''super '' predators'' in the early 1990s.

The comments on Twitter hint this is about the left's obsessive need to control and shape opinion by shutting down and shaming people who say things that are politically incorrect, even, in this case, when spoken by a Democrat icon.

This is how Black Lives Matter members have become super-predators against free speech.

Multimedia journalist Donovan X. Ramsey, who has written for MSNBC, Ebony, and TheGrio, called the ex-president's comments ''gross'' and expressed the view that many black liberals tolerated the Clintons because they viewed them as ''good white folks.'' Ramsey even went as far as using scare quotes to attempt to ridicule the idea that there is any such thing as black on black crime.

Ramsey's article at Gawker is entitled Police Reform Is Impossible in America and argues that America is so racist that the police are beyond redemption.

MSNBC host Chris Hayes called Clinton's comments ''twisted'' and influential Democrat new site Talking Points Memo founder Josh Marshall was not amused.

Several people bought up comments previously made by Socialist Professor Michelle Alexander, who is the author of the highly influential book Mass Incarceration: The New Jim Crow and the intellectual leader of the current left-wing push to end ''mass incarceration.'' Alexander, one of the new radicals attempting to replace the older generation of black thought leaders, wrote a widely-read article in The Nation in February critical of the Clintons.

Alexander has endorsed Hillary Clinton's Democratic rival, avowed democratic socialist Senator Sen. Bernie Sanders (I-VT).

As Breitbart News has detailed, the mass incarceration movement is a Trojan horse whose real goal is to fulfill the Black Panther Party's 50-year-old call to release every single black person from jail or prison. Radical black liberation activist all believe that all black people are ''political prisoners.''

The irony is that Clinton and his wife Hillary helped enable this new generation of black activists. Bill and Hillary Clinton are 1960s radicals who followed the Saul Alinsky strategy of cleaning up and working inside the system in order to deliver political change. Now, the radical left is rising up against the Clintons as ''incrementalists'' and demanding the same revolutionary change that the Clintons themselves wanted five decades ago.

For his sin of speaking truth to black people, Bill Clinton needs to be sent back to the reeducation camps'... and when he gets there, he's going to see a lot of familiar faces.

Follow Breitbart News investigative reporter and Citizen Journalism School founder Lee Stranahan on Twitter at @Stranahan.

Federal government is building a border wall for Tunisia, not America

Sat, 09 Apr 2016 10:46

Tunisia completed combination fence/wall to close itself off from neighboring Libya. The 125 mile barrier is there to keep combatants from the Islamic State from entering from Libya, where there has been open warfare between factions trying to control the oil-rich country, among which are elements of the Islamic State.

Tunisian Defense Minister Farhat Horchani inspected the first completed segment of the fence on February 6. Horchani said the project was made possible through financial assistance from Germany and the United States. Military personnel and dozens of journalists were also given a tour, which is made of sand along with water-filled moats and monitoring centers.

The initiative was announced by Tunisia during the summer of 2015 after terrorists killed more than 59 foreign tourists.

The announcement of the Defense Ministry barrier was made after Republican presidential candidate Donald Trump suggested that he would build an effective barrier along the U.S./Mexico border once he occupies the white House. He was criticized by Democrats and immigration advocates for proposing a project that they believe would be both expensive and ineffective.

If Trump were president: Boston Globe's fake front page dares to imagine | US news | The Guardian

Sun, 10 Apr 2016 12:46

A portion of a the fake front page of The Boston Globe published on the newspaper's website on Saturday, April 9, 2016. Photograph: AP

The editorial board of The Boston Globe has printed a fake front page featuring Donald Trump as president.

The newspaper printed the front page in its Sunday ''Ideas'' section and on its website.

Related:Republicans turn to trench warfare in an inch-by-inch battle for the nomination

The page is dated 9 April, 2017, and features a large photo of Trump below a headline that reads ''Deportations to Begin.''

The story features an address by Trump to the nation, saying illegals would be deported ''so fast your head will spin''.

The accompanying story has Trump calling on Congress to fund a deportation program amid protests and curfews in place in several cities. It notes that Chris Christie is the administration's attorney general.

The rest of the page paints a fairly depressing, dystopian view of the US under Trump.

One article focuses on a plunging stock market. Another is headlined: ''New libel law targets 'absolute scum' in press'', while a third reads: ''US soldiers refuse order to kill Isis families.''

Some jokes are included to lighten the mood, such as a mention of Yellowstone National Park being renamed after the president and Trump making the Nobel prize shortlist. ''His feat? Healing a 1,385-year-old schism between Sunni and Shi'ite Muslims, which has fueled bloody conflicts across the globe for centuries.''

In a scathing editorial, the Globe called the mock-up ''an exercise in taking a man at his word.''

''Donald J Trump's vision for the future of our nation is as deeply disturbing as it is profoundly un-American,'' it reads.

''His vision of America promises to be as appalling in real life as it is in black and white on the page.''

The editorial casted Ted Cruz, his closest rival for the 2016 Republican nomination, as ''equally extreme'' and urges Republicans, if possible at the party's nominating convention in July, to draft a ''plausible, honorable'' alternative, suggesting US House Speaker Paul Ryan or former Massachusetts Governor Mitt Romney.

The Trump campaign didn't immediately respond to a request for comment.

Associated Press contributed to this report

Larry Flynt produces Donald Trump porn parody | Page Six

Sun, 10 Apr 2016 13:35

Ted Cruz, eat your heart out. Donald Trump has inspired a porn parody produced by Larry Flynt, who brought us ''Who's Nailin' Paylin'' eight years ago.

This one, ''The Donald,'' stars Evan Stone (in a hideous blond wig) with a bevy of buxom co-stars in a fantasy of how the Republican Party front-runner might select his vice presidential running mate.

Hustler founder and chairman Larry Flynt will announce on Monday that he will be sending a free copy of ''The Donald'' to every Republican member of Congress.

Flynt calls the GOP primary campaign ''a national embarrassment .'‰.'‰. but it's also the perfect catalyst for the debauchery that Hustler Video has concocted in 'The Donald.'

''This parody is my contribution to the most entertaining Republican Party contest in recent history,'' Flynt adds.
Real News

Politics, news and editorial video slashed in Mashable restructuring - POLITICO

Fri, 08 Apr 2016 12:20

"Today we must part ways with some of our colleagues in order to focus our efforts," Mashable CEO Pete Cashmore wrote in a memo to staff. | Getty

By Peter Sterne and Hadas Gold

04/07/16 01:44 PM EDT

Updated 04/07/16 03:26 PM EDT

Mashable's restructuring on Thursday hit its news desk, politics desk and editorial video team particularly hard, sources at the company told POLITICO.

Mashable laid off around 30 staffers on Thursday, including three high-level editors, as part of a pivot toward non-news video content.

The company's entire politics desk (consisting of editor Juana Summers and two reporters) has been laid off, as well as most of its global news desk and about half of its editorial video team. Mashable Chief Revenue Officer Seth Rogin, Executive Editor Jim Roberts, Managing Editor Jonathan Ellis and Business Editor Heidi Moore also are leaving the company sources told POLITICO.

As of Thursday, Mashable's masthead was no longer publicly available. The company's ''team'' page, which listed its entire staff as recently as March 30, currently redirects to its generic ''about'' page.

Senior video producer Nadja Oertelt told POLITICO that she learned she had been laid off while on a field shoot in Ohio, just hours before she was scheduled to film a video at a hospital. Eight staffers on Oertelt's editorial video team were laid off; the remainder of the team will merge with Mashable Studios, the company's entertainment and branded video content division.

The news came as a shock to staffers, who said there was no warning that the changes were imminent.

"I'm still here for now, but really need to see where they want to take this company from here. Lotta' questions here about the whole 'no news' thing," one current editorial staffer said.

The company also announced on Thursday that it has hired Greg Gittrich as chief content officer to replace Roberts and Ed Wise as chief revenue officer to replace Rogin. Gittrich was previously at Vocativ, while Rogin was previously at Turner Broadcasting.

Turner Broadcasting led a $15 million investment round in Mashable just a week ago, with a particular emphasis on producing TV shows.

On Twitter, CNN Vice President Ed O'Keefe hinted at possible content sharing with Mashable, saying that nothing is definitive, but that they might cooperate on video Mashable's predictive social analytics tool Velocity.

"As you know we recently announced a funding round to expand our storytelling to television. ... To reflect these changes, we must organize our teams in a different way. Unfortunately, this has led us to a very tough decision. Today we must part ways with some of our colleagues in order to focus our efforts," Mashable CEO Pete Cashmore wrote in a memo to staff, which he later published on Linkedin.

In a company-wide meeting on Thursday afternoon, sources told POLITICO that Cashmore said the company expects to be profitable this year and that the moves were a way to put themselves "in the right place for the future of the company."

Cashmore said it would have been much more "disingenuous" to gradually move teams around, according to sources in attendance. The surprise announcements on Thursday were part of a big pivot in strategy for the company, and what Cashmore said was the "least disruptive" to those at the company and "kindest" to those who are leaving.

As for the new direction of the company, Cashmore hinted at the importance and influence of advertisers, noting that now advertisers are no longer separate from the story and want to be "telling stories with us" and no longer "buying media" for an audience.

''Branded content is the business model for media going forward" Cashmore told staff. "It's very, very clear that branded content is the future."

Asked about Mashable's editorial focus, Cashmore compared it to old-school MTV, explaining that the site covers culture through the lens of technology the same way that the cable network once covered culture through the lens of music.

Also at the meeting, COO Mike Kriak seemed to implicitly criticize the sales team for failing expectations, saying that while they grew revenue last year by 28 percent, the expectation in the budget was for around 45 percent of growth. While the first two quarters of this year look good for the company financially, Kriak emphasized the need to "focus on branded content, to work with Mashable Studios.

On Friday, Gittrich will meet with Mashable's editorial team, Wise will meet with the sales team, and Mashable Studios chief Eric Korsh will meet with the video teams.

A spokesman for Mashable declined to comment on the number of layoffs.

Hadas Gold is a reporter at Politico.
SJW/BLM

Gap apologizes for racially insensitive ad

Fri, 08 Apr 2016 14:51

Social media users are accusing Gap of passive racism because of an image where a tall white girl rests her arm on the head of a shorter black girl. Video provided by Newsy Newslook

Gap apologized on Tuesday for an ad that some said was racially insensitive.(Photo: Screenshot)

Clothing retailer Gap apologized on Tuesday after receiving criticism that an ad for the company's children's clothing line was racially insensitive.

The ad featured four members of the Le Petit Cirque group, an "all-kid humanitarian cirque company," comprised of performers ages 5 to 14. In the ad, an older white girl rests her elbow on top of a young black girl's head, while two other white girls hold poses.

Gap tweeted the photo on April 2 with the caption, "Meet the kids who are proving that girls can do anything." While the ad was supposed to be empowering, many noted on social media that the black girl was being used as a "prop" or a piece of furniture.

Kristen West Savali of The Root noted that the ''ad is what happens when black faces appear, but no black voices are at the table.''

Following the backlash on social media, Gap replaced the image and apologized to those who were offended.

''As a brand with a proud 46 year history of championing diversity and inclusivity, we appreciate the conversation that has taken place and are sorry to anyone we've offended,'' Gap spokeswoman Debbie Felix said in a statement,Fortune reported.

But while many condemned the ad, others on social media questioned whether people were reading too far into the ad.

Filmmaker Mathew A. Cherry pointed out that Gap used a similar pose in 2015, but with a black girl resting her arm on a younger white girl's head.

"Does the @GapKids pic on the left make the pic on the right okay? Let's debate," he wrote on April 3.

Follow @MaryBowerman on Twitter.

Read or Share this story: http://usat.ly/1MS4O63

N.W.A Shuts Down Gene Simmons During Rock Hall Induction Speech

Sat, 09 Apr 2016 15:14

Inductees MC Ren, Dr. Dre, Ice Cube and DJ Yella from N.W.A appear at the 31st Annual Rock and Roll Hall of Fame Induction Ceremony at the Barclays Center on April 8, 2016, in New York City.

Kiss' Gene Simmons has a lot of opinions -- one of them, probably unsurprisingly, is that "rap will die." He recently told Rolling Stone, "I am looking forward to the death of hip-hop," a stance that some rappers naturally took issue with.

Well, during N.W.A's induction into the Rock and Roll Hall of Fame class of 2016, MC Ren shut down Simmons' prediction in no uncertain terms at the Barclays Center in Brooklyn on Friday (April 8).

"I want to say to Mr. Gene Simmons that hip-hop is here forever," Ren said. "We're supposed to be here." While most of the Barclays Center responded with cheers, a few sour boos could be heard throughout the venue, either in protest to hip-hop or in Simmons' defense.

Later in Ice Cube's speech (the most well-worded of the evening up to that point), he explained why, exactly, N.W.A and hip-hop in general belong in the Rock Hall alongside the Beatles, Elvis Presley and Chuck Berry.

'The question is, 'Are we rock 'n' roll?'" Cube asked the crowd. "And I say -- you goddamn right we rock 'n' roll.

"Rock 'n' roll is not an instrument. It's not even a style of music. It's a spirit that's been going on since the blues, jazz, bebop, soul, rock 'n' roll, R&B, heavy metal, punk rock, and yes, hip-hop."

For anyone who might still sniff with disdain, Cube pointed out that the real spirit of rock is not to slavishly follow what's been done before, but to forge your own path.

"Rock 'n' roll is not conforming to the people who came before you, but creating your own path in music and life. That is rock 'n' roll and that is us."
Media Hackers

Nation-wide radio station hack airs hours of vulgar ''furry sex'' ramblings | Ars Technica

Fri, 08 Apr 2016 12:27

Some Tuesday morning listeners of KIFT, a Top 40 radio station located in Breckenridge, Colorado, were treated to a radically different programming menu than they were used to. Instead of the normal fare from Taylor Swift, The Chainsmokers, or other pop stars, a hack by an unknown party caused one of the station's signals to broadcast a sexually explicit podcast related to the erotic attraction to furry characters. The unauthorized broadcast lasted for about 90 minutes.

KIFT wasn't the only station to be hit by the hack. On the same day, Livingston, Texas-based country music station KXAX also broadcast raunchy furry-themed audio. And according to an article posted Wednesday by radio industry news site RadioInsight.com, the unauthorized broadcasts from a hobbyist group called FurCast were also forced on an unnamed station in Denver and an unidentified national syndicator.

"All in all the FurCast aired for an hour, possibly two," Jason Mclelland, owner and general manager of the KXAX Radio Group, wrote in an e-mail. "During that time they talked about sex with two guys and a girl in explicit details and rambled on with vulgar language not really having much of a point to the podcast. I'm assuming there was no real reason for this hack."

Mclelland said the hack was carried out by someone who managed to take control of an audio streaming device sold by a company called Barix. The account is consistent with the RadioInsight post, which said the string of unauthorized broadcasts was accomplished when attackers attempted to log in to large numbers of Barix boxes. When successful, the attackers locked out the rightful operators and caused the equipment to play Internet-accessible podcasts made available by FurCast, a hobbyist group dedicated to furry sex.

"This appears to have been in the planning stages for some time by the person doing it," an advisory published by the Michigan Association of Broadcasters said of the Barix system hack. "Apparently they have been accumulating passwords for some time. MAKE SURE that your password is of sufficient strength! Barix Boxes will take up to 24 characters'.... In at least two cases six character passwords were cracked."

Members of the group responsible for the FurCast have also supported the explanation. In a post published Wednesday and updated Thursday, they report that starting on Tuesday morning, their streaming server was hit by "large numbers of IP addresses attempting to connect to our archive stream." Most of the connection requests identified themselves as being made by a "Barix Streaming Client." Most or all of the Barix boxes attempting to connect were listed on the search website Shodan, an indication that they were easy for hackers to find and then probe for weaknesses. FurCast members were able to thwart the attack by changing the Web addresses of podcasts the compromised streaming equipment attempted to play.

According to KIFT officials, the compromise hit a studio transmitter link used to send audio to a booster antenna and didn't affect broadcasts over the station's main signal. The furry podcast was streamed non-stop for an hour and a half over the auxiliary channel. "Our station was unable to regain control over the STL [studio transmitter link] until the station engineer actually traveled to the remote transmitter site and reprogrammed the system from that location," the station officials wrote.

Further ReadingIt's not the first time hackers have caused a TV or radio station to make an unauthorized broadcast. In 2013, TV stations in California, Michigan, Montana, New Mexico, and Tennessee interrupted scheduled broadcasts to warn of an imminent zombie invasion, supposedly brought on when "bodies of the dead [were] rising from the grave and attacking the living." The cause of the compromise was most likely weaknesses in hardware used to deliver emergency alerts. The ease in compromising production broadcast gear is part of a much larger problem securing a variety of industrial control systems such as those used to control building elevators, heating systems, door locks, and fire alarms.The Barix equipment that appears to have been targeted is susceptible to hacks when running factory default settings. The Michigan Association of Broadcasters' advisory suggests that users should change passwords to the Web interface and hide the devices behind firewalls that expose only the ports needed to receive the stream. The boxes are also an easy target when connected to a static IP address and no changes are made.
Millennials

Millennial Employees Confound Big Banks - WSJ

Sat, 09 Apr 2016 15:47

Entry-level bankers from Goldman Sachs Group Inc. gathered in a lower Manhattan hotel ballroom last April to listen to the firm's top executives try to fire them up about their budding careers. David Solomon, co-head of the firm's investment bank, took on the touchy subject of young employees leaving for private-equity jobs.

''At this time next year, there's a lot of you in this room who won't be working at the firm,'' he said. ''That's...
MIC

Pentagon unit held 'phony' ceremonies for MIAs, using planes that can't fly - NBC News

Fri, 08 Apr 2016 13:56

A joint service honor guard escorts a transfer case during an "arrival ceremony" at Joint Base Pearl Harbor-Hickam in Honolulu on April 27, 2012. The Defense Department has acknowledged that human remains were not in fact arriving on that day. The ceremonies are held by the Pentagon's Joint POW/MIA Accounting Command. Petty Officer 1st Class Barry Hirayama / U.S. Navy

By

Bill DedmanInvestigative Reporter, NBC News

HONOLULU '-- A unit of the U.S. Department of Defense has been holding so-called "arrival ceremonies" for seven years, with an honor guard carrying flag-draped coffins off of a cargo plane as though they held the remains of missing American service men and women returning that day from old battlefields.

After NBC News raised questions about the arrival ceremonies, the Pentagon acknowledged Wednesday that no honored dead were in fact arriving, and that the planes used in the ceremonies often couldn't even fly but were towed into position.

The solemn ceremonies at a military base in Hawaii are a sign of the nation's commitment to returning and identifying its fallen warriors. The ceremonies have been attended by veterans and families of MIAs, led to believe that they were witnessing the return of Americans killed in World War II, Vietnam and Korea.

The ceremonies also have been known, at least among some of the military and civilian staff here, as The Big Lie.

Photos behind the scenes show that the flag-draped boxes had not just arrived on military planes, but ended their day where they began it: at the same lab where the human remains have been waiting for analysis.

The Pentagon insisted that the flag-draped cases do contain human remains recently recovered, just not ones that arrived that day. It said its staff "treat the remains with the utmost of care, attention, integrity, and above all, honor." The Pentagon statement did not explain why the rituals were called "arrival ceremonies" if no one was arriving, or why the public had been told that remains removed that morning from the lab were about to go to the lab to "begin the identification process." (

Read the full Pentagon statement.)From now on, the Pentagon said, the ceremonies will be re-branded as "honors ceremonies," expressly described as symbolic honors for bodies previously recovered.

"The name changed because they've already arrived, technically," said Army Staff Sgt. Andrew Smith, public affairs officer for the Joint POW/MIA Accounting Command (JPAC), whose mission is to return and identify the 83,000 missing service men and women from World War II, Korea and Vietnam. The agency is identifying the dead at a rate of fewer than 80 per year, at a cost of more than $1 million per identification. Bodies now wait in the JPAC lab an average of 11 years before being identified, according to an internal report released this year.

What the audience sees

Here's what the public has seen at the ceremonies, usually held about four times a year.

A C-17 military transport aircraft was parked, its ramp down, outside hangar 35 at Joint Base Pearl Harbor-Hickam. At precisely 9 a.m., after generals and other dignitaries were introduced, a military chaplain offered a prayer, the audience sang "The Star-Spangled Banner," and a Marine bugler played "Taps." Then a military honor guard in dress uniforms carried flag-draped transfer cases, which look like coffins, down the ramp and across in front of the audience. The cases were placed in the back of blue buses and driven away.

The emcee, reading from an official script, thanked the audience for "welcoming them home." The script continued, "After removal from the aircraft, the remains will be taken to the Joint POW/MIA Accounting Command's Central Identification Laboratory. There, JPAC scientists will begin the identification process."

The Defense Department has used the arrival ceremonies as publicity tools, posting videos of the "arrival" on its website, on YouTube and on Facebook. A video of one of the ceremonies is shown below, and others are online

here and here. The videos sometimes say explicitly that "the remains returned to U.S. soil on the C-17," and other videos leave the viewer to draw that conclusion.A peek backstage

Here's what actually happened, according to eyewitness accounts and photographs taken behind the scenes at one of the ceremonies.

Before 6 a.m., the members of the honor guard assembled at the loading dock behind the JPAC headquarters on the base. They loaded the transfer cases, which had been stacked outside the door to the lab, and the buses drove to the hangar.

The C-17 had been towed into position outside hangar 35. The honor guard loaded the transfer cases into the belly of the plane, then practiced walking them through the empty hangar. Then the honor guard returned to the plane, and waited.

At nearly 9 a.m., the public was allowed in: invited politicians, media, families of the missing and veterans. Employees from JPAC were bused over to fill out the crowd.

Then the show began, with tears and salutes as the remains were marched to the buses, then driven off to the lab to "begin the identification process."

'A very pissed-off citizen'

Jesse Baker, an Air Force veteran of World War II and Korea living in Honolulu, said he has been to more than 50 of these ceremonies. He told NBC News that he's always been under the impression that the plane had just arrived carrying recovered remains.

"If I have been fooled, I am going to be a very pissed-off citizen, because I've been going for years," Baker said. "And I know a lot of guys who are going to be pissed off. ... They're out there honoring warriors."

Baker tried to make sense of why America's Department of Defense would work so hard to trick him and other veterans. "That's disturbing. I don't know when they stopped being honest and switched over to this Mickey Mouse, but whoever did it, I hope they find him a new job somewhere."

One leading figure in the MIA/POW field said she has known for years about the charade. The head of the largest group of families of missing service men and women, Ann Mills-Griffiths, is a staunch defender of JPAC, but she told NBC that she has warned Pentagon officials and JPAC repeatedly that they should stop holding "those phony arrival ceremonies."

But Mills-Griffiths, the chairman of the National League of POW/MIA Families, said she had never told any family members that the ceremonies were phony, because she supported JPAC's mission, if not the way it was carrying it out.

'Static aircraft'

On Wednesday, after NBC submitted questions, the Pentagon acknowledged that the airplanes were often towed out of maintenance hangars for the ceremonies and could not have just flown in. "Many times, static aircraft are used for the ceremonies, as operational requirements dictate flight schedules and aircraft availability," said a Department of Defense spokesperson, Navy Cmdr. Amy Derrick-Frost.

The Pentagon said its own words, used since 2006, had led to the ceremonies being "misinterpreted" as arrivals.

"Based on how media announcements and ceremony remarks are currently written, it is understandable how these 'arrival' ceremonies might be misinterpreted, leading one to believe the ceremonies are 'dignified transfer ceremonies,' which they are not." She said the Pentagon is reviewing its procedures and is committed to conducting all recovery operations honorably.

NBC asked about another discrepancy: Current and former JPAC employees said that the emcee often announces that the remains were from specific countries where JPAC staff had not recently recovered remains. The Pentagon statement said that the correct country is always announced, but that it may have been a few months since the remains were recovered. And occasionally, it said, there has been no JPAC mission to a country, but the remains have been turned over by those countries and are still deserving of a "symbolic tribute."

An emotional ceremony

Other veterans, a former POW's wife, even the bagpiper at the ceremonies '-- all told NBC they had assumed the arrival ceremony meant that soldiers' remains were actually arriving. They said they found the ceremony to be moving.

"It was a very humbling experience for me," said bagpiper Alan Miyamura. "The thing that I remember most vividly is the silence. ... It meant respect and a feeling that these soldiers are welcomed home."

The ceremony "makes me very proud that our country does such a thing," said Carole Hickerson, whose first husband was a POW in the Vietnam War. She helped design the black POW/MIA flag. "You don't know how important a funeral is until you don't have one."

'Acutely dysfunctional'

After NBC News requested permission to attend an arrival ceremony in July, JPAC canceled the ceremony. It hasn't held any ceremonies since April, scheduling and canceling them repeatedly.

The Pentagon spokesperson said the commander of JPAC, Army Maj. Gen. Kelly K. McKeague, authorized in April the renaming of the ceremonies "to more accurately reflect the purpose of these events." However, public affairs staff at JPAC, which organized the events, continued to call them "arrival ceremonies" on into the summer, and until Wednesday they were still identified that way on the agency's website. (That

page of the JPAC website was renamed to "honors ceremonies" on Wednesday.) The Pentagon would not answer when asked when Gen. McKeague and other military officers became aware that the public was being misled.NBC asked on Oct. 3 to interview Gen. McKeague as well as the scientific director and head of the laboratory, Dr. Thomas Holland, and Johnie Webb, who directs the ceremonies as deputy to the commander for external relations and legislative affairs. McKeague and Webb did not respond to an email from NBC. Holland replied briefly, saying, "I hope you get permission" for the interview. "I have no control over ceremonies."

Several investigations of JPAC are under way, in Congress and inside the Pentagon. An internal report called the agency "acutely dysfunctional," and a Government Accountability Office report said the effort to identify missing and unknown service men and women has been undermined by squabbling between agencies.

Photos behind the scenes

Photographs were taken before and after at an arrival ceremony in April 2012 by Rick Stone, a former police chief who was the deputy chief in JPAC's World War II investigations branch. (Photographs are allowed on the base, according to the JPAC public affairs office, in any area where there is no sign specifically forbidding them.) When remains are brought back by JPAC staff, Stone said, they arrive from the airport in a plastic box in an employee's private vehicle, with no ceremony.

On Aug. 1,

NBC reported that Stone's requests to disinter bodies of war dead for identification had been denied even when he had been able to narrow the possible identities to only a few, or even just one, possible match among the MIAs.Stone said he supports the honorable mission of JPAC, but began to see the "arrival ceremonies" as symbolic of the way JPAC focused on public relations while it keeps information from the families of missing warriors.

"It's an open fraud inside JPAC," he said of the arrival ceremonies. "But it's more than just the arrival ceremony. The fraud is really their inability to bring closure to more families. Our noble mission is to go find some of these kids, and this thing is so fouled up we don't even recognize the mission."

YOU CAN HELP: Do you have documents or information about the Pentagon's effort to identify MIAs? Send to

bill.dedman@nbcuni.com.More from NBC News Investigations:

Follow NBC News Investigations on

TwitterandFacebook
MK Ultra

NY Times Reporter Found Dead After Exposing MKUltra | Your News Wire

Thu, 07 Apr 2016 21:11

A former New York Times reporter has been found murdered in the Dominican Republic following her exposure of MKUltra.

Sarah Kershaw was found asphyxiated due to strangulation on Monday at her apartment in Sosua.

Project MKUltra, often referred to as the CIA's mind control program, was the code name given to an illegal program of experiments on human subjects, designed and undertaken by the the CIA. Ms Kershaw published an article with the New York Times exploring this subject in 2008 with her article Sharing their Demons on the Web, writing:

''For people who regularly visit and write on message boards on the mind-control sites, the idea that others would describe the sites as promoting delusional and psychotic thinking is simply evidence of a cover-up of the truth.''

Abreureport.com reports:

In her article, Ms. Kershaw wrote that people who felt they were being targeted had found the support of Missouri Representative Jim Guest, who told the Times: ''I've had enough calls, some from credible people '-- professors '-- being targeted by nonlethal weapons. They become psychologically affected by it. They have trouble sleeping at night.''

When Ms. Kershaw wrote her article, psychotronic warfare was not legal against US citizens, but that all changed with the National Defense Authorization Act 2013. In response to the legalization of psychotronic warfare, Abreu Report published an article, writing:

''Psychotronic weapons are those that act to take away a part of the information which is stored in a man's brain. It is sent to a computer, which reworks it to the level needed for those who need to control the man, and the modified information is then reinserted into the brain. These weapons are used against the mind to induce hallucinations, sickness, mutations in human cells, 'zombification,' or even death. Included in the arsenal are VHF generators, X-rays, ultrasound, and radio waves.''

Is it possible that Ms. Kershaw stumbled upon some new information that made her dangerous? Considering the speed at which the capabilities of psychotronic weapons has improved, the possibility is extremely high.

Latest posts by Sean Adl-Tabatabai (see all)
Agenda 2030

Earth Is Tipping Because of Climate Change - Scientific American

Sun, 10 Apr 2016 05:38

The north pole is on the run. Although it can drift as much as 10 meters across a century, sometimes returning to near its origin, it has recently taken a sharp turn to the east. Climate change is the likely culprit, yet scientists are debating how much melting ice or changing rain patterns affect the pole's wanderlust.

The geographical poles'--the north and south tips of the axis that the Earth spins around'--wobble over time due to small variations in the sun's and moon's pulls, and potentially to motion in Earth's core and mantle. But changes on the planet's surface can alter the poles, too. They wobble with every season as the distribution of snow and rain change, and over long stretches as well. Roughly 10,000 years ago, for example, Earth woke up from a deep freeze and the massive ice sheets sitting atop what is now Canada melted. As ice mass fled, and the depressed crust rebounded, the distribution of the planet's mass changed and the north pole started to drift west. This pattern can be clearly seen in data from 1899 onward. But a recent zigzag in the north pole's path (and the opposite movement in the south pole) suggests a new change is afoot.

Around 2000 the pole took an eastward turn; it stopped drifting toward Hudson Bay, Canada, and started drifting along the Greenwich meridian in the direction of London. In 2013Jianli Chen, a geophysicist at The University of Texas at Austin, was the first to attribute the sudden change to accelerated melting of the Greenland Ice Sheet. The result startled his team. ''If you're losing enough mass to change the orientation of the Earth'--that's a lot of mass,'' says John Ries, Chen's colleague at U.T. Austin. The team found that recent accelerated ice loss and associated sea level rise accounted for more than 90 percent of the latest polar shift. Of course that includes ice lost across the world, but ''Greenland is the lion's share of the mass loss,'' Ries says. ''That's what's causing the pole to change its nature.''

Credit: NASA/JPL-CaltechCould such a dramatic shift be so simple? In a new study published today in Science Advances, Surendra Adhikari and Erik Ivins, two geophysicists from NASA Jet Propulsion Laboratory, think another mechanism might be at play: changes in the amount of water held within the continents. Like Chen's team, Adhikari and Ivins compared data collected by NASA's Gravity Recovery and Climate Experiment (GRACE) satellite, which measures changes in Earth's gravitational field, with Global Positioning System (GPS) measurements of the north and south poles. But Adhikari and Ivins have a couple extra years of data. They also incorporated small-scale features within the GRACE data set that are more directly related to terrestrial water storage.

Although the predominant cause of the pole's shift still turned out to be Greenland, a recent dry spell that has overrun Eurasia is also driving the pole toward the east, Ivans says. With less rainfall on a continent over time, it starts to shed some bulkAdhikari and Ivins think the sudden shift could be the latest in a series of decadal changes in drift that scientists have been unable to explain. Eurasia, which was quite lush 10 years ago, is not the only continent to experience a drought. ''We think this flip is happening all the time,'' Ivins says. ''It's a natural phenomenon that characterizes the entire Earth rotation time-series going all the way back to 1899.''

The data do not indicate whether the recent climate changes are man-made, but Chen personally believes the drastic shift in the pole has to be the result of human activities. Meanwhile Ivins thinks he will be able to tease man-made climate change from the data in another six months or so. Given that polar motion and climate variability seem to be inextricably linked, scientists can look at historical records of the pole's motion (which date back to well before the advent of GPS and the GRACE satellite) and see changes in Earth's climate. If those changes are less dramatic than the ones we see today, Ivins says, then scientists could say that global warming has a controlling influence on Earth's poles.

Controlling Zika Means Fighting Climate Change

Sun, 10 Apr 2016 13:50

'--

News of the Zika virus outbreak in Brazil has prompted me to consider two environmental aspects affecting the control of infectious disease. Firstly, how changes in climate are influencing the abundance and seasonality of disease vectors which place humans at greater risk of infection. Vectors are animals such as mosquitoes that transmit viruses to humans or other animals they come into contact with. Secondly, how much we have learned from recent history given that the link between vector borne infection and climatic conditions has been studied for at least the last two decades, based on my review of the available scientific findings. My findings emphasise the importance of combating global climate change as a crucial factor in controlling the spread of the Zika virus, and other vector borne diseases in the future.

Higher rainfall can increase the number and quality of breeding sites for mosquitoes, ticks and snails which can transmit viruses to humans and other animals they come into contact with.In 2000, the World Health Organisation (WHO) Bulletin published an article entitled 'Climate change and vector-borne diseases: a regional analysis' discussing the latest research at the time, looking at the role rising temperatures play in increasing the transmission of vector-borne diseases. This analysis focused on a number of regions around the world including Africa, South and North America, Asia, Australia and New Zealand.

The WHO Bulletin noted that mosquito species including Aedes aegypti are responsible for transmitting most vector borne diseases reported to medical authorities '' including the Zika virus, which is related to dengue fever, yellow fever and the West Nile virus. These species are very sensitive to temperature changes, both as larvae in aquatic environments and as adults. Higher water temperatures mean larvae will mature quicker and more offspring may be produced during the transmission period. In warmer climates, female adult mosquitoes digest blood faster and feed more frequently which means increased breeding rates and therefore higher mosquito populations. Higher breeding rates and larvae maturing faster mean there are more disease carrying mosquitoes that can transmit the disease to humans and animals that come into contact with humans.

'—Š'...'—Š

Changing rainfall patterns have short and long term effects on vector disease carrier's habitats. Higher rainfall can increase the number and quality of breeding sites for mosquitoes, ticks and snailswhich can transmit virusesto humans and other animals they come into contact with.Patterns of human settlement can also influence trends in disease transmission. In South America, over 70% of the population live in urban areas so they are less likely to be exposed to disease carrying mosquitoes.In Africa, more than 70% of the population live in rural areasand come into closer contact with larval breeding sites. Their risk of exposure to disease carrying mosquitoes is higher.

Warmer temperatures can extend the period of time that mosquito populations are active. Therefore, as virus incubation periods decrease, they can spread within the mosquito population faster.Looking at this research, I was particularly interested in the WHO's analysis of the influence of temperature ranges on growth and development stages of the mosquitoes that transmit diseases such as the Zika virus. They noted that for many diseases, incubation in vectors is interrupted at 14-18°C as this temperature is too low to drive the required biological processes. As temperatures rise, malaria parasites and viruses complete their incubation period in female mosquitoes faster. At 35-40°C disease transmission may decline due to higher vector death rates which reduces the number of breeding age mosquitoes.

The WHO reportalso pointed out that tropical and temperate climates in Asia provide ideal climatic conditions for the spread of a number of diseases. These include malaria, dengue fever, dengue haemorrhagic fever and schistosomiasis. Research has shown that El Ni±o and other weather events may play a significant part in making conditions more favourable to the establishment and maintenance of mosquito populations. The incubation period of dengue 2 virus in the Aedes aegypti mosquito could be reduced from 12 days at an ambient temperature of 30°C to 7 days at 32-35°C.

See the WHO 'Climate change and vector-borne diseases: a regional analysis' article here.

'—Š'...'—Š

In additional research, September 2013 saw a research team from the University of Arizona (UofA) School of Geography and Development investigate the abundance and seasonality of West Nile virus vectors in their article entitled 'Regional and seasonal response of a West Nile virus vector to climate change'. Their article was published in the Proceedings of the National Academy of Sciences.

The UofA research team investigated on the vector Culex quinquefasciatus because it feeds on bird and human hosts, is found in urban environments, and is suspected to be the primary vector of the West Nile Virus in many southern US states. As changes in climate can differ between locations and over time, mosquito sensitivity to these changes is dependent on the seasonal timing and intensity of rainfall. Warmer temperatures can extend the period of time that mosquito populations are active. Therefore, as virus incubation periods decrease, they can spread within the mosquito population faster, meaning that viruses can ultimately be transmitted faster.

ased on the scientific literature, I would suggest that the evidence of a link between changes in climate and the spread of vector borne diseases is also one that can't be ignored.These researchers concluded that climate change will modify seasonal mosquito population levels across the US, and thus public health interventions must be robust enough to account for site-specific climate changes in order to implement the most effective strategies to control the transmission of the West Nile virus to humans. Further research was needed to better understand the response of birds carrying the West Nile virus to climate change. The implications of changes in land cover and land use also needed to be investigated as these changes can influence how resistant the land is to drying. If land is more resistant to drying, more water can collect, which can facilitate the establishment of mosquito populations.

See the 'Regional and seasonal response of a West Nile virus vector to climate change' article here

'—Š'...'—Š

Based on what has been reported in the media, the Zika virus is clearly one that we need to pay close attention to from both human health and environmental perspectives. The health consequences are clearly horrendous and can't be ignored. Based on the scientific literature, I would suggest that the evidence of a link between changes in climate and the spread of vector borne diseases is also one that can't be ignored.

As a scientist I would like to think that the Zika virus outbreak is the incident that awakens the world from inaction on climate change as we realise that is critical to controlling the spread of these infectious diseases. As a realist though, I fear that the next time a vector borne disease outbreak occurs, we will give due attention to the symptoms however we may not pay equal attention to fighting climate change which is critical to controlling the spread of the Zika virus and other similar viruses.

Do you want to be part of creating a kinder, more inclusive society?
LGBBTQQIAAP

Paedophilia a 'sexual orientation - like being straight or gay' | News | The Independent

Fri, 08 Apr 2016 05:11

Paedophilia is a ''sexual orientation'' like being straight or gay, according to a criminal psychologist.

The idea that sexual attraction to children is an ''orientation'' is highly controversial as it suggests that offenders cannot change.

But, writing on the Reddit networking website, the psychologist said it was possible to treat child sex abusers on ''the understanding that the attraction may always remain''.

The psychologist set up the ''ask me anything'' thread on Reddit. Their identity was not revealed but was verified by the website.

Asked ''can paedophiles actually change?'', the expert wrote: ''I believe Paedophilic Disorder is a sexual orientation with individual that are attracted to child features. In other words, an individual with paedophilia has the same ingrained attraction that a heterosexual female may feel towards a male, or a homosexual feels towards their same gender.

''With that being said, it needs to be said that sexuality is more of a spectrum than a finite category. We know that heterosexuals may engage in homosexual behaviour, and deny they are bisexual or homosexual.

''We know that individuals with paedophilia may engage in sexual behaviour with adults. For some, they may use this as a cognitive distortion to explain away their sexualisation of prepubescent children.''

However the psychologist stressed in a later edit that they had not mean to imply paedophiles could not be treated '' to an extent.

''Treatment, to me, isn't about modifying the orientation per se, but getting the individual to find more appropriate behaviours to engage in,'' they wrote.

''An individual can have paedophilic interests without ever acting on these behaviourally. However, as I am working with criminal offenders, my experience is entirely weighted to those who have engaged in this behaviourally.''

The psychiatrist said they focused on three main areas when trying to treat a child sex abuser: ''One, do you understand who can and can't provide consent? How will you go through and identify this? Two, can you identify the risks or situations which would increase when you engage in sexual activity with someone who can't provide consent? How can you avoid these or limit them? Three, what can you focus on positive in your life which can replace or mitigate when you may be most likely to offend? What are some things you can do which are adaptive and help you in the long run?''

In May 2015, research from the National Crime Agency suggested 250,000 men in the UK could be considered "true paedophiles" - adults who are attracted to pre-pubescent girls less than 12 years old.

Talking to The Independent in the wake of the research, one psychologist working said they should be treated as victims rather than offenders.

''It is a disease, it is a trait, it is not a choice. They haven't chosen to change, but they can learn how to live responsibly with their sexual desires," Petya Schuhmann, who works with a scheme in Germany called Project Dunkelfeld, which allows individuals to anonymously contact therapists who help them control their sexual urges towards children.

Last year, a self-confessed paedophile, Todd Nickerson, a freelance graphic designer from Tennessee, caused uproar after writing an article asking people to be understanding of his "sexual orientation".

Called I'm a paedophile, you're the monsters, the piece explained how he believed his molestation as a child was the reason he is now sexually attracted to young girls. He also mentioned his membership of the "Virtuous Paedophiles" forum - an online community of paedohpiles who have vowed never to act on their sexual urges.

In July 2010, the Harvard Mental Health Letter of July 2010 stated that "paedophilia is a sexual orientation and unlikely to change. Treatment aims to enable someone to resist acting on his sexual urges".

The idea of treating paedophilia as a disease has long been controversial.

In 2013, Donald Finklater, of the child protection charity the Lucy Faithfull Foundation, said: "There may be some vulnerabilities that could be genetic, but normally there are some significant events in a person's life, a sexually abusive event, a bullying environment '... I believe it is learned, and can be unlearned."
NA-Tech News

The next hot job in Silicon Valley is for poets - The Washington Post

Fri, 08 Apr 2016 14:07

SAN FRANCISCO -- Until recently, Robyn Ewing was a writer in Hollywood, developing TV scripts and pitching pilots to film studios.

Now she's applying her creative talents toward building the personality of a different type of character '-- a virtual assistant, animated by artifical intelligence, that interacts with sick patients.

Ewing works with engineers on the software program, called Sophie, which can be downloaded to a smartphone. The virtual nurse gently reminds users to check their medication, asks them how they are feeling or if they are in pain, and then sends the data to a real doctor.

As tech behemoths and a wave of start-ups double down on virtual assistants that can chat with human beings, writing for AI is becoming a hot job in Silicon Valley. Behind Apple's Siri, Amazon's Alexa and Microsoft's Cortana are not just software engineers. Increasingly, there are poets, comedians, fiction writers, and other artistic types charged with engineering the personalities for a fast-growing crop of artificial intelligence tools.

''Maybe this will help pay back all the student loans,'' joked Ewing, who has master's degrees from the Iowa Writer's Workshop and film school.

Unlike the fictional characters that Ewing developed in Hollywood, who are put through adventures, personal trials and plot twists, most virtual assistants today are designed to perform largely prosaic tasks, such as reading through email, sending meetings reminders or turning off the lights as you shout across the room.

But a new crop of virtual assistant start-ups, whose products will soon flood the market, have in mind more ambitious bots that can interact seamlessly with human beings.

Because this wave of technology is distinguished by the ability to chat, writers for AI must focus on making the conversation feel natural. Designers for Amazon's Alexa have built humanizing ''hmms'' and ''ums'' into her responses to questions. Apple's Siri assistant is known for her wry jokes, as well as her ability to beatbox upon request.

As in fiction, the AI writers for virtual assistants dream up a life story for their bots. Writers for medical and productivity apps make character decisions such as whether bots should be workaholics, eager beavers or self-effacing. ''You have to develop an entire backstory '-- even if you never use it,'' Ewing said.

Even mundane tasks demand creative effort, as writers try to build personality quirks into the most rote activities. At the start-up x.ai, a Harvard theater graduate is tasked with deciding whether its scheduling bots, Amy and Andrew, should use emojis or address people by first names. ''We don't want people saying, 'Your assistant is too casual '-- or too much,'''' said Anna Kelsey, whose title is AI interaction designer. ''We don't want her to be one of those crazy people who uses 15 million exclamation points.''

Virtual assistant start-ups garnered at least $35 million in investment over the past year, according to CBInsights and Washington Post research (This figure doesn't count the many millions spent by tech giants Google, Amazon, Apple, Facebook, and Microsoft).

The surge of investor interest in virtual assistants that can converse has been fueled in part by the popularity of messaging apps, such as WeChat, WhatsApp, and Facebook's Messenger, which are among the most widely downloaded smartphone applications. Investors see that users are increasingly drawn to conversational platforms, and hope to build additional features into them.

Virtual assistants have also received a boost from major advances in subsets of artificial intelligence known as machine learning and natural language processing, or the ability for computers to understand speech. Accuracy of word recognition reached something of a tipping point in recent years, going from 80 percent in 2009 to 95 percent in 2014, said Christopher Manning, a Stanford computer science professor and natural language expert.

The rise of this technology is evident in a wave of new jobs at the intersection of human and artificial intelligence. By 2025, 12.7 million new U.S. jobs will involve building robots or automation software; by 2019, more than one-third of the workforce will work side by side with such technologies, according to Forrester Data.

Some virtual assistants are already becoming useful companions in the office. Howdy, a bot in the popular productivity software Slack, can query employees on behalf of a boss and collate their answers into a single document. Amy and Andrew, the meeting-scheduling bots built by x.ai, can email back and forth with real administrative assistants.

Sophie and Molly, nurse avatars built by the start-ups IDAvatars and Sense.ly, respectively, question patients about their medical conditions and try to cheer them up. Another start-up, Botanic.io, is building a guru avatar that can coach users in meditation and weight loss.

In most cases, users could go online and get the information themselves, without the help of a virtual assistant, though it might take a bit longer, Ewing said. ''So if the character doesn't delight you, then what is the point?''

At a recent meeting of Microsoft Cortana's six-person writing team '-- which includes a poet, a novelist, a playwright and a former TV writer '-- the group debated how to answer political questions.

To field increasingly common questions about whether Cortana is a fan of Hillary Clinton's, for instance, or Donald Trump's, the team dug into the backstory to find an answer that felt ''authentic.'' The response they developed reflects Cortana's standing as a ''citizen of the Internet,'' aware of both good and bad information about the candidates, said Deborah Harrison, senior writer for Cortana, and a movie review blogger on the side. So Cortana says that all politicians are heroes and villains. She declines to say she favors a specific candidate.

The group, which meets every morning at Microsoft's offices in Redmond, Wash., also brainstorms Cortana's responses to new issues. Some members who are shaping Cortana's personality for European and Canadian markets dial in. (Cortana is available in Spanish, Portuguese, French, Japanese, Italian, German, limited Chinese, and British and Indian English.)

When the team was preparing to launch a feature that has Cortana sifting through emails and suggesting people to meet with, members debated whether a reminder '-- ''You said you wanted to meet with'' so-and-so '-- sounded pushy. They considered whether ''Star Wars'' jokes were appropriate or too cultish. And they talked about how to shut down vulgar comments and respond to a tendency, among some users, to goad Cortana into repeating sexual comments.

Across the Microsoft campus, a different group apparently didn't heed that lesson: Tay, a chat bot Microsoft recently released on Twitter, was terminated within a week after it started talking like a Nazi. The bot was parroting comments made on the Internet.

''We will do everything possible to limit technical exploits but also know we cannot fully predict all possible human interactive misuses without learning from mistakes,'' Microsoft said on its blog after it took Tay down.

Such incidents reflect a fundamental challenge in building AI: Negotiating the virtual assistant's relationship to human beings. Writers and designers said the trickiest question they wrestle with is how human can '-- and should '-- the bot sound? Should the virtual assistant be purely functional or should it aspire to connect emotionally with the user?

Human beings have higher expectations of software that is personalized than they do of automation software that can perform similar tasks, said Mark Stephen Meadows, founder and president of San Francisco-based Botanic.io. When software can talk and is personified, it opens up a Pandora's box of human behavior. People don't go out of their way to trick or use vulgarities with other types of software, he pointed out.

Moreover, studies of human-robot interaction have described a phenomenon known as the ''uncanny valley,'' in which attempts to make robots seems humanlike can inspire unease or revulsion instead of empathy.

For that reason, many developers of artificial intelligence make a point of adding a weird element to their avatar designs '-- such as an asymetrical face or an odd joke '-- something that signals that the virtual assistant isn't human and doesn't aspire to be, Meadows said. At the same time, the imperfections are meant to be endearing. A robot without such flaws could seem cold and alienating.

If you ask Cortana if she is human, she says no, and then she adds a meant-to-be endearing joke: ''But I have the deepest respect for humans. You invented calculus '-- and milkshakes.''

Not aspiring to be human '-- and having a sense of humor about it '-- are attributes that can have the added benefit of making users more forgiving of a virtual assistant's limitations and mistakes, said Cathy Pearl, director of user experience at Sense.ly. And as anyone who has used a virtual assistant knows, they make a lot of them. The technology is still young, and its capacity to handle situations is restricted by the limited information it has been exposed to. Artfully conveying that a bot recognizes that it doesn't know something is one of the most challenging aspects of writing for AI, she said.

Another difficult question concerns gender. While Cortana is ''crystal clear'' that she is not human, the team gave her a female voice because early users expressed a preference for a female virtual assistant, Harrison said. Siri and Google Now also have female voices by default, though you can configure them to be male. Amazon's Alexa can only be female (the company's chief executive, Jeffrey P. Bezos, owns The Washington Post), while IBM's Watson has a male voice.

Nonetheless, Cortana's developers were concerned enough about playing into female stereotypes that they attempted to avoid them. The design, for instance, limits the number of times she apologizes and eschews self-deprecating remarks.

And despite the voice, the team insists that Cortana isn't a woman. ''She knows that gender is a biological construct, and since she's not biological, she has no gender,'' Harrison said. ''She's proud of her AI-ness.''

Elizabeth Dwoskin is The Washington Post's Silicon Valley Correspondent.

Digital Publishers Put Brave Software on Notice that Substituting Publishers' Ads is Illegal

Fri, 08 Apr 2016 14:30

Contact UsSponsorshipsChristy Norcross(704) 269-8440

Advertiser MeetingsRich Schiekofer(212) 856-6382

MediaRequestsLindsey Loving(571) 366-1009

Registration/Other Inquiriesfeedback@naa.org

April 07, 2016

MEDIA CONTACT:Lindsey LovingCommunications Manager(571) 366-1009Lindsey.Loving@naa.org

FOR IMMEDIATE RELEASE:

Arlington, Va. '' Today, 17 member companies of the Newspaper Association of America sent a letter to Brave Software, Inc. notifying the company that its well-publicized plan to replace publishers' ads on the publishers' own websites and mobile applications with Brave's own advertising is blatantly illegal. The signatories of the letter represent more than 1,200 newspapers in the United States.

Brave Software has announced that it intends to launch a browser and mobile applications that will display publishers' content but replace publishers' advertising with advertising that Brave sells for its own profit. The company has indicated that publishers should find this approach acceptable because Brave will give publishers a certain percentage of the revenue from ads it sells for profit and will permit customers of Brave to make Bitcoin donations to publishers.

"Brave's proposed business model crosses legal and ethical boundaries, and should be viewed as illegal and deceptive by the courts, consumers and those who value the creation of content," said NAA CEO, David Chavern.

The publishers' letter states, "Our sites and mobile applications provide news reporting, photojournalism, video content and feature writing that is researched, reported, edited and produced an extraordinary cost. Our industry spends more than $5 billion per year on reporting in the United States alone. We distribute that reporting online for free or at highly subsidized rates, in no small part due to revenue from online ads."

"Brave should feel free to create its own content on its own platforms," said David Chavern, "but it cannot illegally launch its own advertising business on the backs of our journalists, editors, technologists and other staff."

The letter outlines ways in which Brave's business model violate publishers' rights to protect their trademarks and copyrighted content, and the remedies for such violations.

###

NAA is a nonprofit organization representing nearly 2,000 newspapers and their multiplatform businesses in the United States and Canada. NAA members include daily newspapers, as well as nondailies, other print publications and online products. Headquartered near Washington, D.C., in Arlington, Va., the association focuses on the major issues that affect today's newspaper industry: public policy/legal matters, advertising revenue growth and audience development across the medium's broad portfolio of products and digital platforms. Information about NAA and the industry also may be found at www.naa.org.

Facebook 'context collapse': Users sharing more news, less personal information -- Society's Child -- Sott.net

Sun, 10 Apr 2016 13:02

(C) Joey deVillaFacebook logo explained

Staff said to call lack of intimate sharing 'context collapse'Facebook tries prompting more personal types of postingFacebook Inc. is working to combat a decline in people sharing original, personal content, the fuel that helps power the money machine at the heart of its social network, according to people familiar with the matter.Overall sharing has remained "strong," according to Facebook. However, people have been less willing to post updates about their lives as their lists of friends grow, the people said.

Instead, Facebook's 1.6 billion users are posting more news and information from other websites. As Facebook ages, users may have more than a decade's worth of acquaintances added as friends. People may not always feel comfortable checking into a local bar or sharing an anecdote from their lives, knowing these updates may not be relevant to all their connections.

According to one of the people familiar with the situation, Facebook employees working on the problem have a term for this decline in intimacy: "context collapse." Personal sharing has shifted to smaller audiences on Snapchat, Facebook's Instagram and other messaging services.

Chief Executive Officer Mark Zuckerberg has spoken at Facebook staff meetings this year about the need to inspire personal sharing, the people said. Facebook has tried several tactics to encourage more of these posts, such as an "On This Day" feature launched last year that brings up memories from past years that users might want to talk about again, or reminders about special occasions like Mother's Day. Facebook has also prompted users to post the most recent photos and other recently accessed content from their phones.

Original sharing of personal stories -- rather than posts about public information like news articles -- dropped 21 percent year over year as of mid-2015, The Information, a tech news site, reported Wednesday. Facebook said in a statement that "the overall level of sharing has remained not only strong, but similar to levels in prior years."The company this week made another move to make it easier to post, introducing a live video tool that everyone on Facebook can use. Zuckerberg on Tuesday did a video address to Facebook users encouraging them to post live video of whatever they want, noting that even mundane activities like getting a haircut can be entertaining when they're in the moment. More than five million people watched.
Hams Will Save The World. Right?

The next big thing in space may be really, REALLY small satellites | Ars Technica

Sun, 10 Apr 2016 03:54

A proposed FemtoSat is shown in space, with a penny for scale.

Arizona State

The miniaturization of space continues, unabated. First came CubeSats, measuring about 11cm long and weighing no more than 1.33kg. These small research payloads have helped spur the development of a small satellite launch industry, and using the International Space Station to deploy them has become one of the national lab's hottest commercial activities.

However, the evolution of satellites downward from thousands of kilograms, down to a single kilogram, does not seem to be stopping. On Thursday. Arizona State University announced it is developing FemtoSats, a 3cm cube with a mass of just 35g. These "SunCubes" grew out of a research project begun in 2014 by Jekan Thangavelautham, a professor in the university's School of Earth and Space Exploration.

The FemtoSats will deploy in an almost matryoshka doll-like manner'--from a CubeSat fitted with a Jack-in-the-box-like spring. According to the developers, this mechanism will allow the FemtoSat standard to be bootstrapped to the CubeSat standard, allowing FemtoSats to be carried as additional payloads on CubeSat missions. A single deployer could release 27 FemtoSats.

The drive toward smaller payloads is being driven by launch costs. Even with their smaller size it costs about $100,000 to deliver a CubeSat to orbit and perhaps $10,000 to $50,000 to develop and prepare one for launch. According to the Arizona State developers, it will cost about $1,000 to deliver a FemtoSat to the International Space Station for deployment and $3,000 to send them directly to low-Earth orbit for deployment. Launch costs for escaping Earth's orbit will be about $27,000.

Enlarge/ A single, a three-tiered version of a FemtoSat.Charlie Leight/ASU Now

"By reducing the launch cost, it is hoped a wider community of educators, researchers, and hobbyists can develop their own spacecraft," the developers write in a paper describing design specifications for the FemtoSats. "The standard is targeted towards personal, scientific, private, and government payloads."

Thangavelautham said he envisioned at least four principal uses for FemtoSats: providing a hands-on design, integration and testing experience for students from middle school to university age; miniaturized versions of current experiments; experiments with small centrifuges to perform artificial-gravity experiments, with fluids, solid particles and for biochemical and pharmaceutical research; and imaging. ''It's like your own GoPro in space,'' he said. ''That would give you quite the front-seat view in space.''

Further ReadingAccording to the Tauri Group the global satellite market has grown from $89 billion in 2005 to $203 billion in 2014. The group's report also noted the dramatic growth in the CubeSat industry, from less than 20 deployments in 2011 to 130 in 2014. However another market report by SpaceWorks predicted that, in the coming years, the biggest growth would not come in CubeSats but rather in satellites from 1kg to 10kg. Those could carry still small, but more capable payloads.

Arizona State, however, does not seem to be aiming for world domination of the space satellite business. Rather, with its low-cost FemtoSat program and relatively simple payloads, the university researchers seem to be motivated mostly by making space accessible to all, from the garage hobbyists to college students to, perhaps, even middle schoolers with ambitious science fair projects.
Big Pharma

The Female Viagra, Undone by a Drug Maker's Dysfunction - NYTimes.com

Sun, 10 Apr 2016 12:52

Last August, Sprout Pharmaceuticals had a new pill on its hands that quickly captured the nation's imagination. The Food and Drug Administration had just approved its drug Addyi to treat low sex drive in women.

Late-night comedians joked about ''female Viagra.'' Wall Street analysts conjectured about blockbuster sales. In clinical trials, women reported a small, but statistically significant, uptick in the number of satisfying sexual experiences per month.

''This was just such a huge moment for women,'' Cindy Whitehead, Sprout's chief executive, told Fortune magazine at the time.

Things got even better for Sprout a day after the F.D.A. approval, when Valeant Pharmaceuticals International, a drug company whose deal-making acumen had made it a stock-market darling, bought Sprout for an astonishing $1 billion '-- twice its value just two months earlier.

What could go wrong? Well, just about everything.

Within weeks of the deal, Valeant went from investor idol to pariah as its business model of buying older drugs and raising the prices attracted international scorn. Since then, its stock has fallen 85 percent. On Monday, Valeant dismissed the entire sales force behind the drug and said it planned to reintroduce Addyi this year. Doctors had prescribed the drug fewer than 4,000 times as of February.

Interviews with former Sprout employees, analysts, investors and doctors who helped bring the drug to market suggest how a series of missteps after the deal, along with turbulence from aggressive accounting practices, unusual business relationships and big egos, derailed one of the most intriguing new pharmaceuticals in a generation.

Valeant's purchase of Sprout turned out to be ''a colossal failure,'' said Vicki Bryan, an analyst at Gimme Credit, a debt analysis firm. ''To have it fall apart in a couple of months? That's very alarming.''

Despite the optimism, Addyi (pronounced ADD-ee) was never going to be an easy sell. There were questions about its effectiveness and convenience. Women, for instance, would need to take it every day and abstain from alcohol. Still, the dismal results have come as a surprise and underscore Valeant's troubles.

Soon after Valeant took over, it doubled Addyi's price and planned to sell it to patients through a mail-order pharmacy, Philidor Rx Services. But Valeant then announced it was severing ties with Philidor, leaving the drug without a distributor.

The company's dealings with the pharmacy are now under federal investigation, as are its drug-pricing policies, which have been described by lawmakers as predatory.

Valeant has acknowledged that sales of Addyi have not lived up to expectations and that it plans to invest more in the drug. The company has defended its pricing practices.

A major figure in the Addyi saga is William A. Ackman, the hedge fund manager and one of Valeant's biggest backers. His fund, Pershing Square Capital Management, became a top shareholder of Valeant when its shares were flying high.

Mr. Ackman also bought a personal stake in Sprout in June 2015, two months before its drug was approved by the F.D.A.

Until recently, Mr. Ackman had nothing but praise for J. Michael Pearson, Valeant's chief executive and architect of its strategy. These days, though, Mr. Ackman is agitating for change and has secured his own board seat. Last month, days after Mr. Ackman suggested the company needed management changes, Valeant said it would replace Mr. Pearson.

Mr. Pearson declined to comment.

Mr. Ackman has spoken publicly about Valeant, but he declined to discuss his investment in Sprout on the record.

On Wednesday, in a call with Pershing Square investors, Mr. Ackman was upbeat. ''We can restore value here very, very quickly,'' he said of Valeant.

The stock rose on Mr. Ackman's comments, but clearly, recouping the $1 billion the company paid for Addyi will take some time.

Feminism and FairnessAddyi, known to scientists as flibanserin, is thought to work by changing the balance of certain brain neurotransmitters like dopamine and serotonin. It was originally conceived as an antidepressant. That didn't work, but some early clinical trials did show an increase in sex drive among women.

But in 2010 and 2013, the F.D.A. rejected the drug for that use, saying the side effects, including nausea and dizziness, outweighed the benefits. In clinical trials, women taking the pink pill reported having about one more sexually satisfying experience per month than those taking a placebo.

Those doubts did not deter Robert and Cindy Whitehead, a husband-and-wife team who formed Sprout Pharmaceuticals and bought the drug in 2012. After the 2013 rejection, they initiated an aggressive lobbying and public relations campaign to frame the drug's approval as an issue of feminism and fairness.

''I just suspected that there were higher barriers for something to treat women, a lot higher than were set up for the male drugs,'' said Sally Greenberg, executive director of the National Consumers League, which campaigned for the drug. ''Women, just like men, should be allowed with their health care provider to decide whether to take on a risk.''

The F.D.A. approved the drug after its third review, with major caveats.

Addyi would have to carry a ''black box'' warning, the most serious kind, stating that taking the drug with alcohol can cause dangerous drops in blood pressure or fainting. Doctors and pharmacists would need to pass a test to prescribe or dispense it.

Selling Viagra comes with fewer restrictions. It need only be taken before sex, not daily like Addyi. And Viagra, which can lead to side effects like dizziness and nausea, does not carry a black-box warning.

Sprout also pledged to refrain from advertising the drug directly to the public for 18 months. The company said it would instead focus on educating doctors about the drug and the condition it treats, hypoactive sexual desire disorder.

The multiple restrictions blunted some of the excitement around the drug's approval, said Dr. Lauren F. Streicher, a Chicago gynecologist who specializes in sexual health. She said the limits of the drug were inappropriate and scared women off. ''Women think, 'Wow, this one must be really bad,''' she said.

Still, even with the roadblocks, some analysts predicted that millions of women would take the drug. Sprout built an ambitious sales apparatus ahead of F.D.A. approval. To help pay for it, they found some wealthy backers, including two Wall Street titans with ties to Valeant.

One was Viking Global Investors, a hedge fund with $45 billion under management. The other was Mr. Ackman, a billionaire who had worked with Ms. Greenberg years earlier on his crusade against Herbalife, the supplements company.

''I don't have connections with many hedge fund guys,'' said Ms. Greenberg, adding that she had not received money for making the connection. ''He may be the only billionaire who I've ever had contact with.''

In June, Mr. Ackman made a personal $7 million investment. His stake doubled when Valeant bought the company.

Six former Sprout employees said the money helped pay for two national sales directors, including one who had sold Viagra when it went on sale in 1998. Sprout also added 12 regional managers and nearly 150 sales representatives. The former employees would speak only on the condition of anonymity either because they had signed nondisclosure agreements or because they feared that being identified would jeopardize their future in the industry.

In addition, Sprout prepared pamphlets and other marketing materials and enlisted doctors as expert speakers for Addyi.

Sprout also settled on a price: $400 for a month of pills, or about the cost of a month's worth of erectile dysfunction pills. Insurers would have difficulty denying coverage, company executives reasoned, if their product was the same price as the men's pills. Sure enough, after the drug was approved, Anthem, one of the nation's largest insurers, said it would cover the drug at the $400 price.

If patients were willing, Sprout was ready.

The Winds ShiftMr. Pearson, Valeant's chief executive, looked distracted when he took the stage in mid-October at a party meant to energize the Addyi sales team, a description the company denies. Doctors spoke about the drug's benefits. Patients shared their stories.

But when Mr. Pearson took the stage, he forgot the names of the patients who had just spoken. And he joked that Valeant had overpaid for Addyi, according to several of the former employees who had attended the meeting. He left the room a few minutes later, in spite of having promised to stay for the day.

One possible explanation for Mr. Pearson's performance emerged two days later, when Valeant disclosed that it had received subpoenas from federal prosecutors asking for information about its business practices, including its drug pricing decisions.

Pressure mounted elsewhere, too. Analysts were questioning Valeant's business model. Congress was asking about its pricing policy. And a vocal investment research firm that had bet against Valeant's shares published a report criticizing the company's accounting.

After years of Valeant being an investor favorite, the winds had reversed.

At the same time, decisions made by Valeant were undermining Addyi, the former employees said. Once Valeant owned the drug, for example, it doubled the price, to $800.

Laurie Little, a spokeswoman for Valeant, said financial assistance programs were available for people without insurance coverage. Insurance companies, she said, would most likely receive discounts to make the drug cost less than $800.

In reality, insurance companies balked. CVS/Caremark, the pharmacy benefits manager, notified Valeant several weeks before the pill's introduction that it would not cover Addyi at the $800 price, according to a letter Sprout shareholders sent to Valeant in March.

Graphic | How Valeant Is Performing on Wall Street

As price became an issue, so did distribution. Before the Valeant buyout, Sprout had lined up Cardinal Health, one of the nation's largest drug distributors. But when Valeant took over, it ended this arrangement, former employees said, handing over that crucial job to Philidor, which was out of business.

Now Sprout shareholders, in their letter to Valeant, say that relying on Philidor to distribute Addyi was a crucial mistake.

Former Sprout employees say that the changes in marketing strategy complicated their efforts to sell doctors on the pill. They also say they did not have access to many of their standard sales tools, including basic promotional materials like wall posters and brochures. Valeant also halted a planned speakers' program, in which doctors explained the drug to their colleagues.

Ms. Little of Valeant said distribution of the materials had been delayed while they were being reviewed by the F.D.A. She said the company was preparing a speakers' program.

As weeks passed, several members of the sales team began to suspect that Valeant was either not interested or incapable of effectively selling Addyi, according to the former employees. Near the end of 2015, Ms. Whitehead departed, and sales representatives began leaving. When they left, their positions were not filled. The company is dismissing the rest of the sales force this month.

Dr. James A. Simon, a member of Valeant's scientific advisory board for Addyi, said the company seemed out of its depth. The company's experience was in selling older products with a well-established market, not new drugs.

''They didn't home-grow things at Valeant,'' said Dr. Simon, who served as the chief medical officer at Sprout from 2012 to 2013. ''This is a product that needed to be homegrown.''

A Marketing MessIn their letter to Valeant, angry Sprout shareholders asked the company to explain its actions. Jonathan D. Schiller, who represents the Sprout shareholders, said in a statement that Valeant was not meeting the obligations it agreed to with Sprout, ''to the detriment of Sprout shareholders, Valeant's own shareholders, its debt holders and the millions of women who would benefit from Addyi.''

The Valeant spokeswoman said the company intended to fulfill its obligations under the deal.

Today, as Addyi struggles, Valeant's broader difficulties could limit its ability to invest in the drug's marketing effort. Dr. Streicher, the Chicago gynecologist, said she had prescribed the drug to only about 10 patients, to mixed reviews. ''I see a lot of patients,'' she said, ''and at the end of the day, it's not like they're lining up for it.''

Others say Addyi's struggles are for the best. ''It wasn't a very good product,'' said Susan F. Wood, an associate professor of health policy at George Washington University, who opposed the drug's approval. ''I'm happy that for once, the idea that this was going to be the female blockbuster drug didn't pan out.''

Ms. Greenberg, Addyi's early champion, remains unbowed. She thought the F.D.A. approval would be the main hurdle, she said, not the financial and marketing mess that ensued.

''We have millions of women who arguably would like access to this drug, but who can't get it,'' she said. ''It's incredibly frustrating.''
War on Ca$h

How a Cashless Society Could Embolden Big Brother - The Atlantic

Fri, 08 Apr 2016 16:34

In 2014, Cass Sunstein'--one-time ''regulatory czar'' for the Obama administration'--wrote an op-ed advocating for a cashless society, on the grounds that it would reduce street crime. His reasoning? A new study had found an apparent causal relationship between the implementation of the Electronic Benefit Transfer system for welfare benefits, and a drop in crime.

Security, privacy, commerce, and codeRead moreUnder the new EBT system, welfare recipients could now use debit cards, rather than being forced to cash checks in their entirety'--meaning there was less cash circulating in poor neighborhoods. And the less cash there was on the streets, the study's authors concluded, the less crime there was.

Perhaps burglaries, larcenies, and assaults had gone down because there was simply less to readily steal. Perhaps, also, the debit cards deterred people from spending money on drugs and other black market goods. While nothing was really stopping them from withdrawing cash and then spending it illegally, the famous Sunsteinian Nudge was in effect'--the very slightest friction in the environment pushed people away from committing crime.

The year after Sunstein's op-ed was published, in a seemingly unrelated incident, a student at Columbia University was arrested and charged with five drug-related offenses, including possession with the intent to sell. Supposedly, his fellow students and customers had paid him through the Paypal-owned smartphone app Venmo.

Venmo makes every transaction public by default. The app features a social-network-like feed where you can see your friends sending each other varying sums of money, often accompanied with cute descriptions and emoji. The alleged dealer asked his customers to write a funny description for every transaction, and in doing so, turned his feed (and others') into an open record of drug trafficking.

Nothing was really stopping the students from going to an ATM and withdrawing cash to use in the old-fashioned way. But that takes time and energy and meanwhile Venmo is sitting right in your pocket. The Ivy League's best and brightest were Nudged into narcing on themselves.

The Ivy League's best and brightest were Nudged into narcing on themselves.In a cashless society, the cash has been converted into numbers, into signals, into electronic currents. In short: Information replaces cash.

Information is lightning-quick. It crosses cities, states, and national borders in the twinkle of an eye. It passes through many kinds of devices, flowing from phone to phone, and computer to computer, rather than being sealed away in those silent marble temples we used to call banks. Information never jangles uncomfortably in your pocket.

But wherever information gathers and flows, two predators follow closely behind it: censorship and surveillance. The case of digital money is no exception. Where money becomes a series of signals, it can be censored; where money becomes information, it will inform on you.

* * *

In the spring of 2014, the Department of Justice began to come under fire for Operation Choke Point, an initiative aimed at discouraging or shutting down exploitative payday lenders. The ends were, on the face of it, benign, but the means were highly dubious.

At the time, the need for consumer protection was painfully obvious, but payday lending was and is still legal. So the DOJ got creative, and asked banks and payment processors to comply with government policies, and proactively police ''high-risk'' activity. Banks were asked to voluntarily shut down the kinds of merchant activities that government bureaucrats described as suspicious. The price of resistance was an active investigation by the Department of Justice. By December 2013, the DOJ had issued fifty subpoenas to banks and payment processors.

The most vociferous objections to Operation Choke Point came from gun-rights activists, as the firearms and ammunitions industry were labeled ''high-risk.'' But guns were only one industry among a bizarre miscellany that had been targeted. Tobacco sales, telemarketing, pornography, escort services, dating services, online gambling, coin dealers, cable-box descramblers, and ''racist materials'' were all explicitly listed on the Federal Deposit Insurance Corporation (FDIC) website as ''merchant categories that have been associated with high-risk activity.''

Critics of Operation Choke Point saw the initiative as a policing of vice, rather than a consumer protection campaign. Many of the targeted industries'--like pornography'--could be seen as morally unsavory. And in many cases'--as with guns'--such moral judgments were highly politicized. One pundit wrote, ''[W]hile abortion clinics and environmental groups are probably safe under the Obama administration, if this sort of thing stands, they will be vulnerable to the same tactics if a different administration adopts this same thuggish approach toward the businesses that it dislikes.''

For many conservatives, Operation Choke Point was a new liberal offensive in the culture war, a backhanded attack on the Second Amendment. There was never any evidence that guns were the primary focus of Operation Choke Point, but the outrage continued, fueled by an alarming number of stories of firearms vendors being cut off by credit-card companies or suddenly having their bank accounts closed.

Similarly, porn performers began to report being cut off from the financial system in similar ways, with Chase shutting down the personal bank accounts of ''hundreds of adult entertainers'' in the spring of 2014. But the troubling effects of Operation Choke Point wouldn't stop there.

* * *

Eden Alexander fell ill in the spring of 2014. It started when she suffered a severe allergic reaction to a prescribed medication. Then by her account, when she sought medical attention, the care providers declined to treat her, assuming that the problem was illegal drug use.

Alexander is a porn actress. According to her, she was profiled and discriminated against, and failed to receive due medical care. In the end, she developed a staph infection. She couldn't work, and she struggled to take care of herself, let alone her medical bills, her apartment, her rent, her dogs.

Her friends and supporters'--many of whom were also in the adult entertainment industry'--started a crowdfunding campaign on the GiveForward platform, hoping to cover her medical expenses. She had raised over a thousand dollars when the campaign was shut down and the payments were frozen.

GiveForward said that her campaign had violated the terms of service of their payment processor, WePay: ''WePay's terms state that you will not accept payments or use the Service in connection with pornographic items.''

A few hours after Alexander received the notice via email, and posted about it on Twitter, she had to be taken to the hospital in an ambulance.

At various points in the chain, all transactions squeeze through bottlenecks created by big players like Visa, Mastercard, and Paypal. The initial reaction on social media was to assume that Alexander had, again, been discriminated against, and that the campaign had been shut down because of the stigma of her occupation. It turned out, however, that one of her supporters had offered to exchange nude pictures for donations to Alexander's fund, on Twitter. (Of course, this only raises the question of how WePay had discovered the tweet, and whether they were in the habit of policing the Twitter conversations around all of the crowdfunding campaigns they were servicing.)

The suspension of payments to Eden Alexander frustrated her well-wishers and supporters. How could it be so difficult to send Alexander a small amount of money? We live in a world of abundant crowdfunding platforms, and every year brings a fresh crop of money transfer smartphone apps. In the cashless society, payments are supposed to flow more freely and easily than ever.

Of course, the abundance of forward-facing services and apps conceals the infrastructure that made Operation Choke Point possible in the first place. Transactions route through several tangled layers of vendors, processors, and banks. At various points in the chain, all transactions squeeze through bottlenecks created by big players like Visa, Mastercard, and Paypal: These are the choke points for which Operation Choke Point is named.

The choke points are private corporations that are not only subject to government regulation on the books, but have shown a disturbing willingness to bend to extralegal requests'--whether it is enforcing financial blockades against the controversial whistleblowing organization WikiLeaks or the website Backpage, which hosts classified ads by sex workers, and allegedly ads from sex traffickers as well. A little bit of pressure, and the whole financial system closes off to the government's latest pariah. Operation Choke Point exploited this tendency on a wide scale.

It's probably fair to say that the federal government never targeted Eden Alexander, and that her hospitalization was not a foreseeable consequence of that bare list of bullet points put out by the FDIC'--the list that threw ''Pornography'' next to ''Debt Consolidation Scams'' and ''Get Rich Products.''

FDICBut subsequent statements made by WePay sketch out a cause-effect relationship between Operation Choke Point and the shutdown of Alexander's crowdfunding campaigning, revealing how powerful the ripple effects of such initiatives could be. ''WePay faces tremendous scrutiny from its partners & card networks around the enforcement of policy, especially when it comes to adult content,'' a representative wrote in a blog post. ''We must enforce these policies or we face hefty fines or the risk of shutdown for the many hundreds of thousands of merchants on our service. We're incredibly sorry that these policies added to the difficulties that Eden is facing.''

Where paternalism is bluntly enforced through a bureaucratic game of telephone, unpleasant or even inhumane unintended consequences are bound to result. Looking at the FDIC bullet point list of ''high-risk'' industries, it's strange to see a list of a handful of actually-illegal activities (e.g., ''scams'' and ''Ponzi schemes'') alongside legal vices'--gambling, tobacco sales, and pornography.

The Electronic Benefit Transfer system is largely benign, and indeed it is a step towards offering banking for the ''unbanked'''--and that in itself could be a great benefit for a segment of the population that currently must rely on payday loans and check cashing operations. However, it is part of a larger trend, pushing us closer to a world where the cashless society offers the government entirely new forms of coercion, surveillance, and censorship.

A cashless society promises a world of limitation, control, and surveillance, which the poorest Americans already have in abundanceEBT nudged society's most vulnerable closer towards the cashless society; Operation Choke Point used the affordances of the cashless society to enforce what its proponents saw as a consumer protection scheme, and what its critics saw as a campaign against vice. Choke Point rippled out across society'--by assessing certain industries as ''high-risk,'' the FDIC pressured the financial industry into policing and punishing legal activities. Eventually this effect trickled down to WePay, which concluded it had to cut Eden Alexander off from her fundraiser.

Alexander's ordeal was made possible by our march towards the seemingly inevitable cashless society. Where electronic payments reign supreme, the choke points become more important than ever. Cash has not always been with us'--indeed, credit systems predate the use of gold and silver as money. But it is fair to say that we are seeing an unprecedented future in which the totality of financial activity is captured within the same informational system, one that can be both monitored and influenced by a powerful and sprawling administrative state.

The cashless society makes it more possible for the vulnerable to experience Eden Alexander's ordeal. On the face of it, it's bizarre that a consumer protection scheme resulted in what Alexander suffered. But consumer protection and anti-vice run along in the same vein: It is all paternalism, and in particular, paternal regulation of the poor.

And when it comes to anti-vice in particular, the poor suffer the most'--they are held to a higher moral standard than others, and are policed and punished for straying from it. Welfare recipients must undergo invasive and time-consuming drug testing. Women (often women of color) walking in areas ''known for prostitution'' are hassled or even arrested for simply carrying condoms in their purse.

A cashless society promises a world of limitation, control, and surveillance'--all of which the poorest Americans already have in abundance, of course. For the most vulnerable, the cashless society offers nothing substantively new, it only extends the reach of the existing paternal bureaucratic state.

* * *

The poor may be disparately impacted, but the cashless society affects everyone. And so relatively privileged technolibertarians have long feared the cashless society, seeing it as an electronic Panopticon, one of a host of privacy erosions introduced by the digital age. This fear has motivated a number of innovations, from David Chaum's ecash (described in his 1985 paper ''Security without identification: transaction systems to make big brother obsolete''), to the much-hyped Bitcoin protocol.

Cryptocurrency isn't really a federal priority, and as long as that's the case, it can be a viable backchannel when payment processors institute blockades.Chaum focused on circumventing the surveillance-capabilities of digital cash; bitcoin's pseudonymous creator (or creators) Satoshi Nakamoto focused on eliminating the ability of trusted third parties to prevent or reverse transactions'--the very capability that allows the kind of financial censorship encouraged by Operation Choke Point. These cryptocurrencies are attempts to create vents and pockets of freedom inside the future cashless world.

Their success has been, at best, dubious. I needn't tell you about the viability of ecash. If you've heard of it, you already know; if you haven't, that tells you everything already. As for bitcoin, while it has certainly seen greater adoption, the digital currency has been hit with increasing regulation, concentrated on the bitcoin exchanges which trade government currency for bitcoin. This regulatory trend has recreated the very same bottlenecks and choke points that Satoshi Nakamoto sought to circumvent in the first place.

But cryptocurrency isn't really a federal priority, and as long as that's the case, it can be a viable backchannel when payment processors institute blockades. Payment processors stopped serving WikiLeaks in the wake of Cablegate; eventually the organization was funded mostly through bitcoin. And when Visa and Mastercard stopped serving Backpage in 2015, sex workers also turned to bitcoin.

* * *

In June 2015, Thomas Dart, the sheriff of Cook County'--the largest county in Illinois, which includes the city of Chicago'--wrote an open letter to the major payment processors. ''As the Sheriff of Cook County, a father and a caring citizen, I write to request that your institution immediately cease and desist from allowing your credit cards to be used to place ads on websites like Backpage.com.''

Backpage is a website that hosts classified ads, including ads from escorts. It is so prominent it has been called ''America's largest escort site.'' According to several anti-sex-trafficking organizations, it is also a haven for sexual slavery. Some sex workers say, however, that if they themselves are prevented from advertising, they are put in harm's way. ''[H]aving the ability to advertise online allows sex workers to more carefully screen potential customers and work indoors,'' writes Alison Bass. ''Research shows that when sex workers can't advertise online and screen clients, they are often forced onto the street, where it is more difficult to screen out violent clients and negotiate safe sex (i.e. sex with condoms). They are also more likely to have to depend on exploitative pimps to find customers for them.''

The nuances of this debate were never argued in a legislature or even a court of law. Visa and Mastercard immediately folded in the face of Dart's letter, and stopped serving Backpage, making it nearly impossible for sex workers (and allegedly traffickers as well) to advertise.

Financial censorship could become pervasive, unbarred by any meaningful legal rights or guarantees.Dart's open letter resembled Operation Choke Point, in a far flimsier yet more menacing fashion. If Dart had brought a legal action against Backpage, he would have no doubt been trounced in court. The sheriff had already lost a lawsuit against Craigslist in 2009 over their erotic services ads. Although Dart clearly identified himself as the Sheriff of Cook County, he never actually said he was actually going to enforce any law against Visa, Mastercard, or even Backpage. The letter made reference to the federal anti-money-laundering statute and to the alleged existence of sex-trafficking on the website, but it was in essence a missive composed to elicit fear, uncertainty, and doubt. As with Operation Choke Point, it was a request for voluntary action, rather than a criminal complaint, indictment, or injunction.

Perhaps if Visa or Mastercard had put up a fight, Dart would have followed through on his veiled threats, the way the Department of Justice issued subpoenas to errant banks and processors. But because the two companies capitulated instantly, there's no way of knowing.

In December 2015, a federal appeals court in Illinois granted Backpage an injunction against Dart. The opinion, written by the esteemed Richard Posner, ripped into Dart for trying to ''shut down an avenue of expression of ideas and opinions through 'actual or threatened imposition of government power or sanction''' in violation of the First Amendment.

In court, Visa claimed that ''at no point did Visa perceive Sheriff Dart to be threatening Visa,'' and that it had simply made a voluntary choice to stop servicing Backpage. But back in June, Dart's director of communications had sent an email informing Visa that the Sheriff's office was about to hold a press conference on Backpage and sex trafficking, and that ''[o]bviously the tone of the press conference will change considerably if your executives see fit to sever ties with Backpage and its imitators.'' Internal emails between Visa employees at the time referred to the Dart press conference email as ''blackmail.''

For Judge Posner, Dart's tactics were troubling. They could be easily replicated, following a formula of ''unauthorized, unregulated, foolproof, lawless government coercion ... coupling threats with denunciations of the activity that the official wants stamped out, for the target of the denunciation will be reluctant to acknowledge that he is submitting to threats but will instead ascribe his abandonment of the activity to his having discovered that it offends his moral principles.''

Posner made no mention of it in his opinion, but the same strategy had been repeated years earlier, when Senator Joseph Lieberman had convinced the payment processors to cut off WikiLeaks in the wake of the publication of the State Department diplomatic cables. As with Backpage, and was with Operation Chokepoint, this was a ''voluntary'' decision on their part. The financial blockade would only be lifted (partially) two years later in 2013.

The Seventh Circuit Backpage decision is an important First Amendment precedent, a much-needed corrective in an age of ever-more-frequent financial blockading. But much of the decision builds its case by pointing to Sherriff Dart's hamfisted tactics, the obvious coercion that Visa employees called ''blackmail'' in writing. What happens to a more factually subtle case that lands in front of a less-libertarian-leaning judge?

As paper money evaporates from our pockets and the whole country'--even world'--becomes enveloped by the cashless society, financial censorship could become pervasive, unbarred by any meaningful legal rights or guarantees.

* * *

In January 2011, shortly after the WikiLeaks financial blockade was put into place, the founder of WePay posted an Ask Me Anything on Reddit, calling his company the ''anti-Paypal.'' He wrote that he was particularly concerned with how readily PayPal froze accounts that collected money for good causes.

It had only been a month or two since payment processors'--including PayPal'--had chosen to blockade WikiLeaks. So predictably, one commenter asked a direct question about WikiLeaks.

''Theoretically, you can use WePay to collect money from people in your social circles, and donate that money to whomever you'd like,'' he wrote in response. ''That being said, we've intentionally tried to keep our heads down and sit on the sidelines for this one. '... [W]e pride ourselves on not freezing accounts, but in extreme cases like wikileaks, there is always the chance that authorities will force us to do so.''

Four years later, the company seemed to have decided that a fundraiser for a sex worker's hospital bills was an extreme case like WikiLeaks.
Security Theatre

S.Amdt.3458 to S.Amdt.3464 to H.R.636 - 114th Congress (2015-2016) - Amendment Text | Congress.gov | Library of Congress

Sun, 10 Apr 2016 14:09

Shown Here:Amendment as Modified (04/07/2016)This Amendment appears on page S1785 in the following article from the Congressional Record.

[Pages S1778-S1794]From the Congressional Record Online through the Government Publishing Office [www.gpo.gov] AMERICA'S SMALL BUSINESS TAX RELIEF ACT OF 2015 The PRESIDING OFFICER. Under the previous order, the Senate will resume consideration of H.R. 636, which the clerk will report. The legislative clerk read as follows: A bill (H.R. 636) to amend the Internal Revenue Code of 1986 to permanently extend increased expensing limitations, and for other purposes. Pending: Thune/Nelson amendment No. 3464, in the nature of a substitute. Thune (for Gardner) amendment No. 3460 (to amendment No. 3464), to require the FAA Administrator to consider the operational history of a person before authorizing the person to operate certain unmanned aircraft systems. Thune amendment No. 3512 (to amendment No. 3464), to enhance airport security. The PRESIDING OFFICER. The Senator from Florida. Mr. NELSON. Mr. President, we have the FAA bill on the floor. I would like to discuss some of the amendments that are proposed and, hopefully, a couple that we will be voting on this morning. There are a couple of amendments--one offered by Senator Thune on behalf of himself and this Senator, the ranking member of the Commerce Committee, and another offered by Senator Heinrich. Both amendments deal with the issue of security but in different arenas. Let me explain. The Thune-Nelson amendment applies to the question of perimeter security, of allowing employees to get into an airport--not the sterile area controlled by TSA, although, as I will explain, it can definitely affect the sterile area as well. On the other hand, the Heinrich amendment addresses security in the areas where passengers bunch up outside of TSA security, such as in a queue-up line going through TSA security, or passengers bunched up at the ticket counters, checking in their luggage. Either way, as we saw from the experience of the Brussels airport explosion, those are very tempting targets for a terrorist. Therefore, the proposal in the Heinrich amendment, which I would commend to the Senate, is to increase the level of security, particularly with what are called VIPR teams, which, in essence, are not only at airports but at seaports and at transportation hubs. Remember that in Brussels there was a bombing in one of the train stations as well. So we need to increase the surveillance and the security there, including dogs. As a matter of fact, our K-9 friends are some of the best that we have when it comes to protecting us because their noses are attuned to being able to sniff out the explosives that you cannot detect with metal detectors or with the AIT machine that we go through where we hold up our hands to see if we have anything on us. It can detect if you have a package, if you have an explosive that is somewhere in one of your body cavities. It is going to be very, very difficult. Dogs, because of their God-given sense of smell, can detect that. A properly trained dog is just amazing to watch. Now, interestingly, concurrently there is research going on at NIST, the National Institute of Standards and Technology, for an artificial dog nose, a mechanical item or a piece of software and hardware that would actually do the same job. But that has not been perfected yet. That is going to be really interesting to see what they come up with. This Senator will report to the Senate later on that. But for the time being, the Heinrich amendment, which I hope we will vote on this morning, is concerned with that security that we have seen as a result of the Brussels bombing. We certainly want to enhance security in our airports. Thank goodness we have the intelligence apparatus that we do in this country to be able to smoke out the terrorist before he ever does his dirty deed. It is more difficult for them to do it here in America than it is in Europe because of the alienation of those communities that then harbor the terrorists. We see the result in Brussels as well as Paris. That is the Heinrich amendment. That is a broad characterization of it, but basically that is the thrust. The Thune-Nelson amendment is going at the perimeter security. OK, think Egypt and the Russian airliner. It was an airport employee who smuggled the bomb onto the plane, not as a passenger but as an airport employee. Think the Atlanta airport, 2 years ago. In a gunrunning scheme over 3 months, over 100 guns were transported from Atlanta to New York. The police in New York could not figure out how all of these guns were getting on the streets in New York. They kept checking the trains, and they kept checking the interstates. They could not figure it out. Here is how they did it. An employee at the Atlanta airport--because Atlanta was not checking their employees--would smuggle the guns in. Then that employee had access in the terminal to get into the sterile area--the TSA sterile area--and he would go into the men's room, meet the passenger who had already come through security and was clean, and give the guns to him to put them in his empty knapsack, his backpack. This employee, over the course of 17 times, over 3 months, smuggled over 100 guns. Thank goodness it was a criminal enterprise, not a terrorist, because you can imagine what would have happened. The Miami International Airport 10 years ago figured this out. What they did was, instead of having hundreds of entry points into the airport for airport employees in a very large airport like Atlanta, in Miami they boiled it down to a handful. There the employees went through similar security that passengers do to check to see if they had any weapons. They had a special identification card that they would have to stick into an electronic machine and put in their code, which was another way of checking to make sure that the employee was who they said they were. Miami solved the problem after having a problem with drugs 10 years ago. Interestingly, in the interim, the Orlando International Airport, likewise, about 4 years ago had a similar drug problem. They did the same thing. They boiled down hundreds of entry points for airport employees to a handful. They had those checks. I have gone to see those checks at those two airports. That is exactly how they do it. The fact is, we have 300 airports in the United States. There were only two that were doing this kind of perimeter checking. Atlanta then became the[[Page S1779]]poster boy of what can happen in a gunrunning scheme. I am happy to report to the Senate that, in fact, the Atlanta airport has now done exactly what Miami and Orlando have done. But we have 297 other airports that need to do the same thing. So the Thune-Nelson amendment is exactly getting at that kind of perimeter security situation. I highly commend both the Thune-Nelson amendment as well as the Heinrich amendment. There are a whole bunch of cosponsors--bipartisan--on each of these. I highly recommend both of these to the Senate. I hope we will vote on those today--hopefully, this morning. Now, there are going to be, of course, a series of many other amendments, some very well intentioned that have some technical glitches, and we have our very expert staff right now starting to try to work out some of these technical glitches. Then we can get moving with this FAA bill. I would mention one other amendment that this Senator will be offering, and that is on a cyber security bill. Did the Presiding Officer see the ``60 Minutes'' segment where people with a laptop could take over an automobile by going through the electronics of the automobile? They can speed it up, they can make it stop it, and they can make it turn and completely take over the operation of an automobile. Can the Presiding Officer imagine somebody being able to do that with an airliner with 250 people on board? Therefore, whether we want to face it or not, we better face it because we are in an era that what we need to do is to make sure technically that the systems in an airliner are separate, that there is an air gap, and that whatever those systems are--it might be Wi-Fi for the airplane, it might be music, or it may be whatever it is--there is an air gap so that someone cannot go into that system and suddenly get into the aircraft controls. That is super important. One other thing I would mention is what we know as unmanned aerial vehicles, or drones. They have become quite popular. But, obviously, one of the things that is already in the bill, which Senator Thune and I have insisted on as we approach this FAA bill, is that we have to come face-to-face with the reality that drones are now impairing the safety of an ascending or a descending aircraft. We have seen--the two of us--an operation where you can now take over the operation of a drone. Education can do so much. People have to understand that you basically have to not fly a drone within 5 miles of an airport. Just recently, at Miami International Airport, there was an inbound American Airlines plane, and there was a drone about 1,000 feet off on the left side. Remember Captain Sully Sullenberger, when a flock of geese suddenly got sucked into the engines and all power was lost. Fortunately, he had the Hudson River that he could belly it in after he had taken off from LaGuardia. You put a drone with plastic and metal, let that get sucked into the engine, and you will have a catastrophic failure. You don't want to put your passengers in that kind of operation. Therefore, education is one thing, but there is always going to be a young person that does not know about this. We don't know the answer. We know we can take over the operation of the drone, send it over here, have it set down, and have it land. The technology is there, but how do we apply that technology so we avoid this aircraft collision? There is an increasing use of drones that are so helpful for so many commercial purposes, not to mention the pure pleasure of flying a drone around, which we are seeing has become exceptionally popular. We address that in the bill by giving the appropriate direction to the FAA to start coming up with the solutions of how we are going to protect aircraft in and around airports. On down the line, there are going to be so many different issues with regard to drones, far beyond the scope of the FAA bill. On the question of privacy--a drone suddenly coming down and coming at eye level outside your bedroom window snooping--there are all kinds of questions about privacy. What about the fact that you can now put a gun on a drone? We know in a war zone we have the capability of doing that with very sophisticated weapons, such as Hellfire missiles, but now some people are experimenting with putting a gun on a drone. We have the ramifications of what that means for society to deal with in the future. For the immediate future, the FAA bill on the floor--we have this problem of avoiding drones colliding into aircraft, and that is in the bill and it is addressed. We have a lot of interesting issues to talk about. Let's get the Senate on it, and hopefully we can get agreement so we can at least vote on two of these amendments this morning. Mr. President, I yield the floor. Mr. President, I suggest the absence of a quorum. The PRESIDING OFFICER. The clerk will call the roll. The senior assistant legislative clerk proceeded to call the roll. Mr. HEINRICH. Mr. President, I ask unanimous consent that the order for the quorum call be rescinded. The PRESIDING OFFICER. Without objection, it is so ordered. Amendment No. 3482, as Modified, to Amendment No. 3464 Mr. HEINRICH. Mr. President, I call up my amendment No. 3482, as modified, and ask that it be reported by number. The PRESIDING OFFICER. The clerk will report. The senior assistant legislative clerk read as follows: The Senator from New Mexico [Mr. Heinrich] proposes an amendment numbered 3482, as modified, to amendment No. 3464. The amendment, as modified, is as follows: (Purpose: To expand and enhance visible deterrents at major transportation hubs and to increase the resources to protect and secure the United States) At the end of title V, insert the following: SEC. 5032. VISIBLE DETERRENT. Section 1303 of the Implementing Recommendations of the 9/ 11 Commission Act of 2007 (6 U.S.C. 1112) is amended-- (1) in subsection (a)-- (A) in paragraph (3), by striking ``; and'' and inserting a semicolon; (B) in paragraph (4), by striking the period at the end and inserting ``; and''; and (C) by adding at the end the following: ``(5) if the VIPR team is deployed to an airport, shall require, as appropriate based on risk, that the VIPR team conduct operations-- ``(A) in the sterile area and any other areas to which only individuals issued security credentials have unescorted access; and ``(B) in non-sterile areas.''; and (2) in subsection (b), by striking ``such sums as necessary for fiscal years 2007 through 2011'' and inserting ``such sums as necessary, including funds to develop not more than 60 VIPR teams, for fiscal years 2016 through 2017''. SEC. 5033. LAW ENFORCEMENT TRAINING FOR MASS CASUALTY AND ACTIVE SHOOTER INCIDENTS. Section 2006(a)(2) of the Homeland Security Act of 2002 (6 U.S.C. 607(a)(2)) is amended-- (1) by redesignating subparagraphs (E) through (I) as subparagraphs (F) through (J), respectively; and (2) by inserting after subparagraph (D) the following: ``(E) training exercises to enhance preparedness for and response to mass casualty and active shooter incidents and security events at public locations, including airports and mass transit systems;''. SEC. 5034. ASSISTANCE TO AIRPORTS AND SURFACE TRANSPORTATION SYSTEMS. Section 2008(a) of the Homeland Security Act of 2002 (6 U.S.C. 609(a)) is amended-- (1) by redesigning paragraphs (9) through (13) as paragraphs (10) through (14), respectively; and (2) by inserting after paragraph (8) the following: ``(9) enhancing the security and preparedness of secure and non-secure areas of eligible airports and surface transportation systems.''. The PRESIDING OFFICER. The Senator from New Mexico. Mr. HEINRICH. Mr. President, this amendment would strengthen U.S. airport security, especially in nonsecure or soft-target areas of airports--places such as check-in and baggage claim areas. It would also update Federal security programs to provide active shooter training for law enforcement and increase the presence of Federal agents with bomb-sniffing canines at these nonsecure areas. I thank the cosponsors of the amendment: Senator Manchin, Senator Schumer, Senator Nelson, Senator Klobuchar, Senator Cantwell, Senator Carper, Senator Baldwin, Senator Durbin, Senator Bennet, and Senator Blumenthal. I urge all of my colleagues to join me in supporting the adoption of this amendment. I yield the floor. Mr. President, I suggest the absence of a quorum. The PRESIDING OFFICER. The clerk will call the roll.[[Page S1780]] The legislative clerk proceeded to call the roll. Mr. CASEY. Mr. President, I ask unanimous consent that the order for the quorum call be rescinded. The PRESIDING OFFICER (Mr. Rubio). Without objection, it is so ordered. Mr. CASEY. Mr. President, I wish to speak on the bill and ask consent to do so. The PRESIDING OFFICER. The Senator is recognized. Mr. CASEY. Mr. President, I am pleased to be joined by my colleague from Pennsylvania Senator Toomey to talk about an issue we began to discuss on the floor yesterday, but we have been working many months on this issue. It is a rather simple issue, but it is a matter that has some real urgency connected to it because we are talking about a secondary barrier on airplanes--meaning a barrier other than what we know now to be a reinforced cockpit door--to prevent terrorists from getting into the cockpit. What we need to do in addition to that, after Congress mandated the installation of these reinforced cockpit doors, is add a secondary barrier. This is something that arises because we not only know from the attack on 9/11 but thereafter, we know that, No. 1, this is still an intention that terrorists have to take over an airplane. We know since 9/11, 51--I will correct the record from yesterday, I think I said 15, I had transposed the number--but it is 51 hijacking attempts around the world since 9/11. This is not a problem that is going away, and we have to deal with it. This is the barrier we are talking about. So people understand the nature of this barrier, this is a lightweight wire mesh gate that would prevent a terrorist from getting into the cockpit or even getting to the door of the cockpit, which, as we said, is already reinforced. What it does fundamentally is block access to the flight deck. That is what we are talking about. That is what our amendment does. We know the substantial number of groups that support this. I will just read the list for the record. And this actually is support for the underlying bill that Senator Toomey and I and others have been working on for a while. The underlying bill itself was S. 911. Also, the amendment, amendment No. 3458, is endorsed by the following groups: the Airline Pilots Association, the Allied Pilots Association, the Association of Flight Attendants, the Federal Law Enforcement Officers Association, the US Airline Pilots Association, the Coalition of Airline Pilots Association, the Port Authority of New York & New Jersey, and Families of September 11. There have been numerous studies done. I am holding a study--although you can't see it from a distance--which was conducted by the Cato Institute, among others, on terrorism risk and cost-benefit analysis of aviation security. So we not only have substantial support from virtually every group you could point toward, but we have some expertise on how to protect pilots in the cockpit, how to protect passengers on an airplane, and, of course, how to do that by preventing terrorists from getting through or near the cockpit because of a good secondary barrier. This effort started literally from folks we now know in Pennsylvania. It started with, among other people, the Saracini family, Ellen Saracini, the wife of Captain Victor Saracini, who piloted United Flight 175, which terrorists hijacked and flew into the World Trade Center on 9/11. So in memory of Captain Saracini and inspired by the great work of his wife Ellen Saracini, we offer this amendment. Again, I am very pleased to be working on this with my colleague Senator Toomey, and I yield the floor. The PRESIDING OFFICER. The Senator from Pennsylvania. Mr. TOOMEY. Mr. President, I would like to underscore the points made by my colleague Senator Casey. I thank him for his leadership. This is a very simple matter that is very straightforward and common sense. We know there is a very real vulnerability in our commercial aircraft. We know this. There is no mystery here. And we have a very simple, affordable, reasonable solution that will provide the security we need. After September 11, 2001, Congress very rightly mandated that the cockpit door be reinforced so that it is virtually impossible to destroy that door, to knock down that door, to defeat the purpose of that door when it is closed and latched. The problem is that when it is open--which it must be open periodically during many flights--a very strong door is useless. We know what happens now on airlines because we have all witnessed it, right? When a pilot needs to come out or go in or there is access to the cockpit when that door is open, the flight attendant rolls a little serving cart in front of the door. I suppose that is better than nothing, but it is not much better than nothing. That cart can be rolled away. We are not the only ones who have observed this. An FAA advisory has observed this risk. The 9/11 Commission pointed out that the terrorists were very focused on the opportunity created by the opening of the cockpit door. As Senator Casey pointed out, there have been multiple attempts to breach that door. Several have been successful. We have an amendment that solves this problem in a very affordable, reasonable, sensible way. It is a lightweight, collapsible barrier made of wire mesh, and a flight attendant can simply draw it across the opening, lock it, and then at that point the cockpit door can be opened and there is no way someone would be able to rush through that wire mesh in time to get to the cockpit during that moment when the door is open. That is what our amendment does. It passed the Transportation Committee in the House unanimously. As Senator Casey pointed out, it has very broad support from many of the stakeholders who care about the security of our commercial aviation. It is our hope and understanding that we will be very soon propounding a unanimous consent agreement which will allow this amendment to be pending and that this will be one of the amendments which will be on the docket for a subsequent vote. I hope we will get to that momentarily. I hope we will get that locked in, and then I would urge my colleagues to vote yes on our amendment and enhance commercial aviation safety. I yield the floor. Mr. THUNE. Mr. President, I suggest the absence of a quorum. The PRESIDING OFFICER. The clerk will call the roll. The legislative clerk proceeded to call the roll. Mrs. FISCHER. Mr. President, I ask unanimous consent that the order for the quorum call be rescinded. The PRESIDING OFFICER. Without objection, it is so ordered. Mrs. FISCHER. Mr. President, I rise to discuss an important matter before the Senate, the reauthorization of our Nation's Federal Aviation Administration. The FAA is tasked with a critical mission to manage the safety and the security of our Nation's airspace. Our Nation's airspace is an incredible resource that fuels our economy. According to the Bureau of Transportation Statistics, in 2015, a record 896 million passengers traversed America's skies. Our aviation system contributes $1.5 trillion to our Nation's economy and it supports 11.8 million jobs for hard-working Americans, as noted by the National Air Traffic Controllers Association. The Senate's FAA reauthorization bill will make our aviation system stronger for families, children, veterans, and the traveling public. It will also benefit Nebraska's rural airports and local aviation stakeholders. Notably, this carefully negotiated bill will strengthen America's aviation system without raising fees or taxes on airline passengers. Our robust, bipartisan legislation includes several major priorities I championed. I am proud of bipartisan language I worked to include in the bill, along with Senators Booker, Cantwell, and Ayotte. Our provisionwould compel the FAA to work with the airline industry to comprehensively assess and update guidelines for emergency medical kits on commercial aircraft. These kits, which haven't been statutorily updated since 1998, provide lifesaving resources for passengers. It is well past time for the FAA to evaluate medications and equipment included in these kits. Doing so will ensure all passengers,[[Page S1781]]particularly families with young infants facing unknown allergic reactions, have access to the medical supplies they might need in an emergency situation. In addition, I worked with Senator McCaskill to include an amendment that would make it easier for traveling mothers to care for their young infants. Our amendment unanimously passed the Commerce Committee. We worked closely with airport stakeholders, including Omaha's Eppley Airfield, to establish reasonable minimum standards for both medium- and large-hub airports to develop private rooms for nursing mothers in future capital development plans. Traveling as a new mom can be challenging and it can be stressful at times, but I believe this important change will provide increased flexibility and also peace of mind for mothers traveling through airports across our country. I also joined Senator Hirono to include an amendment that would ensure disabled veterans working at the FAA have access to service-connected disability leave. The FAA was one of the few agencies not included in the recently passed Wounded Warriors Federal Leave Act. That bill required Federal agencies to ensure disabled vets have access to service-connected disability leave. Our disabled veterans bravely served our country, and they deserve access to benefits they have earned. I am grateful for the achievements this bill will advance for the flying public. At the same time, the bill is also a victory for Nebraska's rural communities and airports. The Small Airport Regulation Relief Act, which is included in the FAA bill, would create a temporary exemption for small airports so they can continue to receive airport improvement program funds--those AIP funds--despite downturns in air service. The survival of smaller airports, such as Scottsbluff's Western Nebraska Regional Airport, depends on these crucial funds to provide service to local passengers and businesses. Several of Nebraska's small and community airports, such as Alliance, Chadron, Grand Island, McCook, North Platte, and Scottsbluff, will also benefit from a continuation of the Essential Air Service, or EAS, Program. The EAS Program incentivizes air carriers to provide service to underserved and rural areas, and it is critical to ensuring air service continues for Nebraska's rural communities. Meanwhile, the Central Nebraska Regional Airport in Grand Island is growing and hosts a privately operated Federal contract tower. I encouraged the inclusion of provisions to compel the FAA to complete a pending cost-benefit analysis for Federal contract tower airports. This analysis would reflect the cost-share arrangement more accurately between our local airports and the FAA for those contract towers. Through this legislation, we can help to reduce the burden on local airports such as Grand Island, NE. One of the major challenges facing aviation manufacturers has been the FAA's inconsistent and often unclear regulatory process. I collaborated with Duncan Aviation of Lincoln, NE, the largest family-owned maintenance, repair, and overhaul organization in the world, to address this challenge. In fact, Chairman Thune toured the facilities at Duncan Aviation with me in Lincoln last fall. Our bill would provide clarity to aviation businesses like Duncan Aviation by compelling the FAA to establish a centralized safety guidance database. Moreover, the bill would require the FAA to establish a Regulatory Consistency Communications Board. The Board would set standards to ensure the consistent application of regulations and guidance at regional offices throughout our country. Agricultural aviators in Nebraska will also benefit from safety enhancements in this bill. Far too many of our agricultural pilots have died in recent years after collisions with unmarked utility towers. This legislation would ensure that towers are marked to create safer skies for our agriculture pilots. Passing our FAA bill will be a major accomplishment for the Senate. I appreciate and commend the hard work of Chairman Thune, Ranking Member Nelson, and their committee staffers on this meaningful FAA reauthorization bill. In the coming days, I look forward to working together to help pass this critical legislation that will benefit the flying public, our national aviation system, and Nebraska's rural airports and aviation stakeholders. Mr. President, I yield the floor. I suggest the absence of a quorum. The PRESIDING OFFICER. The clerk will call the roll. The legislative clerk proceeded to call the roll. Mr. THUNE. Mr. President, I ask unanimous consent that the order for the quorum call be rescinded. The PRESIDING OFFICER. Without objection, it is so ordered. Mr. THUNE. Mr. President, I ask unanimous consent that my amendment numbered 3512 be modified with the changes at the desk and that at 12:05 p.m. today the Senate vote on the following amendments in the order listed: Thune No. 3512, as modified; and Heinrich No. 3482, as modified; further that at 1:45 p.m. today the Senate vote on the Schumer amendment No. 3483 and that no second-degree amendments be in order to any of the amendments prior to the vote and that there be 2 minutes equally divided prior to each vote. The PRESIDING OFFICER. Without objection, it is so ordered. The amendment (No. 3512), as modified, is as follows: At the appropriate place, insert the following: TITLE ___--TRANSPORTATION SECURITY AND TERRORISM PREVENTION Subtitle A--Airport Security Enhancement and Oversight Act SEC. _101. SHORT TITLE. This subtitle may be cited as the ``Airport Security Enhancement and Oversight Act''. SEC. _102. FINDINGS. Congress makes the following findings: (1) A number of recent airport security breaches in the United States have involved the use of Secure Identification Display Area (referred to in this section as ``SIDA'') badges, the credentials used by airport and airline workers to access the secure areas of an airport. (2) In December 2014, a Delta ramp agent at Hartsfield- Jackson Atlanta International Airport was charged with using his SIDA badge to bypass airport security checkpoints and facilitate an interstate gun smuggling operation over a number of months via commercial aircraft. (3) In January 2015, an Atlanta-based Aviation Safety Inspector of the Federal Aviation Administration used his SIDA badge to bypass airport security checkpoints and transport a firearm in his carry-on luggage. (4) In February 2015, a local news investigation found that over 1,000 SIDA badges at Hartsfield-Jackson Atlanta International Airport were lost or missing. (5) In March 2015, and again in May 2015, Transportation Security Administration contractors were indicted for participating in a drug smuggling ring using luggage passed through the secure area of the San Francisco International Airport. (6) The Administration has indicated that it does not maintain a list of lost or missing SIDA badges, and instead relies on airport operators to track airport worker credentials. (7) The Administration rarely uses its enforcement authority to fine airport operators that reach a certain threshold of missing SIDA badges. (8) In April 2015, the Aviation Security Advisory Committee issued 28 recommendations for improvements to airport access control. (9) In June 2015, the Inspector General of the Department of Homeland Security reported that the Administration did not have all relevant information regarding 73 airport workers who had records in United States intelligence-related databases because the Administration was not authorized to receive all terrorism-related information under current interagency watchlisting policy. (10) The Inspector General also found that the Administration did not have appropriate checks in place to reject incomplete or inaccurate airport worker employment investigations, including criminal history record checks and work authorization verifications, and had limited oversight over the airport operators that the Administration relies on to perform criminal history and work authorization checks for airport workers. (11) There is growing concern about the potential insider threat at airports in light of recent terrorist activities. SEC. _103. DEFINITIONS. In this subtitle: (1) Administration.--The term ``Administration'' means the Transportation Security Administration. (2) Administrator.--The term ``Administrator'' means the Administrator of the Transportation Security Administration. (3) Appropriate committees of congress.--The term ``appropriate committees of Congress'' means-- (A) the Committee on Commerce, Science, and Transportation of the Senate;[[Page S1782]] (B) the Committee on Homeland Security and Governmental Affairs of the Senate; and (C) the Committee on Homeland Security of the House of Representatives. (4) ASAC.--The term ``ASAC'' means the Aviation Security Advisory Committee established under section 44946 of title 49, United States Code. (5) Secretary.--The term ``Secretary'' means the Secretary of Homeland Security. (6) SIDA.--The term ``SIDA'' means Secure Identification Display Area as defined in section 1540.5 of title 49, Code of Federal Regulations, or any successor regulation to such section. SEC. _104. THREAT ASSESSMENT. (a) Insider Threats.-- (1) In general.--Not later than 90 days after the date of enactment of this Act, the Administrator shall conduct or update an assessment to determine the level of risk posed to the domestic air transportation system by individuals with unescorted access to a secure area of an airport (as defined in section 44903(j)(2)(H)) in light of recent international terrorist activity. (2) Considerations.--In conducting or updating the assessment under paragraph (1), the Administrator shall consider-- (A) domestic intelligence; (B) international intelligence; (C) the vulnerabilities associated with unescorted access authority granted to domestic airport operators and air carriers, and their employees; (D) the vulnerabilities associated with unescorted access authority granted to foreign airport operators and air carriers, and their employees; (E) the processes and practices designed to mitigate the vulnerabilities associated with unescorted access privileges granted to airport operators and air carriers, and their employees; (F) the recent security breaches at domestic and foreign airports; and (G) the recent security improvements at domestic airports, including the implementation of recommendations made by relevant advisory committees. (b) Reports to Congress.--The Administrator shall submit to the appropriate committees of Congress-- (1) a report on the results of the assessment under subsection (a), including any recommendations for improving aviation security; (2) a report on the implementation status of any recommendations made by the ASAC; and (3) regular updates about the insider threat environment as new information becomes available and as needed. SEC. _105. OVERSIGHT. (a) Enhanced Requirements.-- (1) In general.--Subject to public notice and comment, and in consultation with airport operators, the Administrator shall update the rules on access controls issued by the Secretary under chapter 449 of title 49, United States Code. (2) Considerations.--As part of the update under paragraph (1), the Administrator shall consider-- (A) increased fines and advanced oversight for airport operators that report missing more than 5 percent of credentials for unescorted access to any SIDA of an airport; (B) best practices for Category X airport operators that report missing more than 3 percent of credentials for unescorted access to any SIDA of an airport; (C) additional audits and status checks for airport operators that report missing more than 3 percent of credentials for unescorted access to any SIDA of an airport; (D) review and analysis of the prior 5 years of audits for airport operators that report missing more than 3 percent of credentials for unescorted access to any SIDA of an airport; (E) increased fines and direct enforcement requirements for both airport workers and their employers that fail to report within 24 hours an employment termination or a missing credential for unescorted access to any SIDA of an airport; and (F) a method for termination by the employer of any airport worker that fails to report in a timely manner missing credentials for unescorted access to any SIDA of an airport. (b) Temporary Credentials.--The Administrator may encourage the issuance by airport and aircraft operators of free one- time, 24-hour temporary credentials for workers who have reported their credentials missing, but not permanently lost, stolen, or destroyed, in a timely manner, until replacement of credentials under section 1542.211 of title 49 Code of Federal Regulations is necessary. (c) Notification and Report to Congress.--The Administrator shall-- (1) notify the appropriate committees of Congress each time an airport operator reports that more than 3 percent of credentials for unescorted access to any SIDA at a Category X airport are missing or more than 5 percent of credentials to access any SIDA at any other airport are missing; and (2) submit to the appropriate committees of Congress an annual report on the number of violations and fines related to unescorted access to the SIDA of an airport collected in the preceding fiscal year. SEC. _106. CREDENTIALS. (a) Lawful Status.--Not later than 90 days after the date of enactment of this Act, the Administrator shall issue guidance to airport operators regarding placement of an expiration date on each airport credential issued to a non- United States citizen no longer than the period of time during which that non-United States citizen is lawfully authorized to work in the United States. (b) Review of Procedures.-- (1) In general.--Not later than 90 days after the date of enactment of this Act, the Administrator shall-- (A) issue guidance for transportation security inspectors to annually review the procedures of airport operators and air carriers for applicants seeking unescorted access to any SIDA of an airport; and (B) make available to airport operators and air carriers information on identifying suspicious or fraudulent identification materials. (2) Inclusions.--The guidance shall require a comprehensive review of background checks and employment authorization documents issued by the Citizenship and Immigration Services during the course of a review of procedures under paragraph (1). SEC. _107. VETTING. (a) Eligibility Requirements.-- (1) In general.--Not later than 180 days after the date of enactment of this Act, and subject to public notice and comment, the Administrator shall revise the regulations issued under section 44936 of title 49, United States Code, in accordance with this section and current knowledge of insider threats and intelligence, to enhance the eligibility requirements and disqualifying criminal offenses for individuals seeking or having unescorted access to a SIDA of an airport. (2) Disqualifying criminal offenses.--In revising the regulations under paragraph (1), the Administrator shall consider adding to the list of disqualifying criminal offenses and criteria the offenses and criteria listed in section 122.183(a)(4) of title 19, Code of Federal Regulations and section 1572.103 of title 49, Code of Federal Regulations. (3) Waiver process for denied credentials.--Notwithstanding section 44936(b) of title 49, United States Code, in revising the regulations under paragraph (1) of this subsection, the Administrator shall-- (A) ensure there exists or is developed a waiver process for approving the issuance of credentials for unescorted access to the SIDA, for an individual found to be otherwise ineligible for such credentials; and (B) consider, as appropriate and practicable-- (i) the circumstances of any disqualifying act or offense, restitution made by the individual, Federal and State mitigation remedies, and other factors from which it may be concluded that the individual does not pose a terrorism risk or a risk to aviation security warranting denial of the credential; and (ii) the elements of the appeals and waiver process established under section 70105(c) of title 46, United States Code. (4) Look back.--In revising the regulations under paragraph (1), the Administrator shall propose that an individual be disqualified if the individual was convicted, or found not guilty by reason of insanity, of a disqualifying criminal offense within 15 years before the date of an individual's application, or if the individual was incarcerated for that crime and released from incarceration within 5 years before the date of the individual's application. (5) Certifications.--The Administrator shall require an airport or aircraft operator, as applicable, to certify for each individual who receives unescorted access to any SIDA of an airport that-- (A) a specific need exists for providing that individual with unescorted access authority; and (B) the individual has certified to the airport or aircraft operator that the individual understands the requirements for possessing a SIDA badge. (6) Report to congress.--Not later than 90 days after the date of enactment, the Administrator shall submit to the appropriate committees of Congress a report on the status of the revision to the regulations issued under section 44936 of title 49, United States Code, in accordance with this section. (7) Rule of construction.--Nothing in this subsection may be construed to affect existing aviation worker vetting fees imposed by the Administration. (b) Recurrent Vetting.-- (1) In general.--Not later than 90 days after the date of enactment of this Act, the Administrator and the Director of the Federal Bureau of Investigation shall fully implement the Rap Back service for recurrent vetting of eligible Administration-regulated populations of individuals with unescorted access to any SIDA of an airport. (2) Requirements.--As part of the requirement in paragraph (1), the Administrator shall ensure that-- (A) any status notifications the Administration receives through the Rap Back service about criminal offenses be limited to only disqualifying criminal offenses in accordance with the regulations promulgated by the Administration under section 44903 of title 49, United States Code, or other Federal law; and (B) any information received by the Administration through the Rap Back service is provided directly and immediately to the relevant airport and aircraft operators. (3) Report to congress.--Not later than 60 days after the date of enactment of this Act, the Administrator shall submit to the appropriate committees of Congress a report on the implementation status of the Rap Back service.[[Page S1783]] (c) Access to Terrorism-Related Data.--Not later than 30 days after the date of enactment of this Act, the Administrator and the Director of National Intelligence shall coordinate to ensure that the Administrator is authorized to receive automated, real-time access to additional Terrorist Identities Datamart Environment (TIDE) data and any other terrorism related category codes to improve the effectiveness of the Administration's credential vetting program for individuals that are seeking or have unescorted access to a SIDA of an airport. (d) Access to E-Verify and SAVE Programs.--Not later than 90 days after the date of enactment of this Act, the Secretary shall authorize each airport operator to have direct access to the E-Verify program and the Systematic Alien Verification for Entitlements (SAVE) automated system to determine the eligibility of individuals seeking unescorted access to a SIDA of an airport. SEC. _108. METRICS. (a) In General.--Not later than 1 year after the date of enactment of this Act, the Administrator shall develop and implement performance metrics to measure the effectiveness of security for the SIDAs of airports. (b) Considerations.--In developing the performance metrics under subsection (a), the Administrator may consider-- (1) adherence to access point procedures; (2) proper use of credentials; (3) differences in access point requirements between airport workers performing functions on the airside of an airport and airport workers performing functions in other areas of an airport; (4) differences in access point characteristics and requirements at airports; and (5) any additional factors the Administrator considers necessary to measure performance. SEC. _109. INSPECTIONS AND ASSESSMENTS. (a) Model and Best Practices.--Not later than 180 days after the date of enactment of this Act, the Administrator, in consultation with the ASAC, shall develop a model and best practices for unescorted access security that-- (1) use intelligence, scientific algorithms, and risk-based factors; (2) ensure integrity, accountability, and control; (3) subject airport workers to random physical security inspections conducted by Administration representatives in accordance with this section; (4) appropriately manage the number of SIDA access points to improve supervision of and reduce unauthorized access to these areas; and (5) include validation of identification materials, such as with biometrics. (b) Inspections.--Consistent with a risk-based security approach, the Administrator shall expand the use of transportation security officers and inspectors to conduct enhanced, random and unpredictable, data-driven, and operationally dynamic physical inspections of airport workers in each SIDA of an airport and at each SIDA access point-- (1) to verify the credentials of airport workers; (2) to determine whether airport workers possess prohibited items, except for those that may be necessary for the performance of their duties, as appropriate, in any SIDA of an airport; and (3) to verify whether airport workers are following appropriate procedures to access a SIDA of an airport. (c) Screening Review.-- (1) In general.--The Administrator shall conduct a review of airports that have implemented additional airport worker screening or perimeter security to improve airport security, including-- (A) comprehensive airport worker screening at access points to secure areas; (B) comprehensive perimeter screening, including vehicles; (C) enhanced fencing or perimeter sensors; and (D) any additional airport worker screening or perimeter security measures the Administrator identifies. (2) Best practices.--After completing the review under paragraph (1), the Administrator shall-- (A) identify best practices for additional access control and airport worker security at airports; and (B) disseminate the best practices identified under subparagraph (A) to airport operators. (3) Pilot program.--The Administrator may conduct a pilot program at 1 or more airports to test and validate best practices for comprehensive airport worker screening or perimeter security under paragraph (2). SEC. _110. COVERT TESTING. (a) In General.--The Administrator shall increase the use of red-team, covert testing of access controls to any secure areas of an airport. (b) Additional Covert Testing.--The Inspector General of the Department of Homeland Security shall conduct red-team, covert testing of airport access controls to the SIDA of airports. (c) Reports to Congress.-- (1) Administrator report.--Not later than 90 days after the date of enactment of this Act, the Administrator shall submit to the appropriate committee of Congress a report on the progress to expand the use of inspections and of red-team, covert testing under subsection (a). (2) Inspector general report.--Not later than 180 days after the date of enactment of this Act, the Inspector General of the Department of Homeland Security shall submit to the appropriate committee of Congress a report on the effectiveness of airport access controls to the SIDA of airports based on red-team, covert testing under subsection (b). SEC. _111. SECURITY DIRECTIVES. (a) Review.--Not later than 180 days after the date of enactment of this Act, and annually thereafter, the Administrator, in consultation with the appropriate regulated entities, shall conduct a comprehensive review of every current security directive addressed to any regulated entity-- (1) to determine whether the security directive continues to be relevant; (2) to determine whether the security directives should be streamlined or consolidated to most efficiently maximize risk reduction; and (3) to update, consolidate, or revoke any security directive as necessary. (b) Notice.--For each security directive that the Administrator issues, the Administrator shall submit to the appropriate committees of Congress notice of-- (1) the extent to which the security directive responds to a specific threat, security threat assessment, or emergency situation against civil aviation; and (2) when it is anticipated that the security directive will expire. SEC. _112. IMPLEMENTATION REPORT. Not later than 1 year after the date of enactment of this Act, the Comptroller General of the United States shall-- (1) assess the progress made by the Administration and the effect on aviation security of implementing the requirements under sections _104 through _111 of this Act; and (2) report to the appropriate committees of Congress on the results of the assessment under paragraph (1), including any recommendations. SEC. _113. MISCELLANEOUS AMENDMENTS. (a) ASAC Terms of Office.--Section 44946(c)(2)(A) is amended to read as follows: ``(A) Terms.--The term of each member of the Advisory Committee shall be 2 years, but a member may continue to serve until the Assistant Secretary appoints a successor. A member of the Advisory Committee may be reappointed.''. (b) Feedback.--Section 44946(b)(5) is amended to read as follows: ``(5) Feedback.--Not later than 90 days after receiving recommendations transmitted by the Advisory Committee under paragraph (2) or paragraph (4), the Assistant Secretary shall respond in writing to the Advisory Committee with feedback on each of the recommendations, an action plan to implement any of the recommendations with which the Assistant Secretary concurs, and a justification for why any of the recommendations have been rejected.''. Subtitle B--TSA PreCheck Expansion Act SEC. _201. SHORT TITLE. This subtitle may be cited as the ``TSA PreCheck Expansion Act''. SEC. _202. DEFINITIONS. In this subtitle: (1) Administrator.--The term ``Administrator'' means the Administrator of the Transportation Security Administration. (2) Department.--The term ``Department'' means the Department of Homeland Security. (3) Precheck program.--The term ``PreCheck Program'' means the trusted traveler program implemented by the Transportation Security Administration under section 109(a)(3) of the Aviation and Transportation Security Act (49 U.S.C. 114). (4) TSA.--The term ``TSA'' means the Transportation Security Administration. SEC. _203. PRECHECK PROGRAM AUTHORIZATION. The Administrator shall continue to administer the PreCheck Program established under the authority of the Aviation and Transportation Security Act (Public Law 107-71; 115 Stat. 597). SEC. _204. PRECHECK PROGRAM ENROLLMENT EXPANSION. (a) In General.--Not later than 90 days after the date of enactment of this Act, the Administrator shall publish PreCheck Program enrollment standards that add multiple private sector application capabilities for the PreCheck Program to increase the public's enrollment access to the program, including standards that allow the use of secure technologies, including online enrollment, kiosks, tablets, or staffed laptop stations at which individuals can apply for entry into the program. (b) Requirements.--Upon publication of the PreCheck Program enrollment standards under subsection (a), the Administrator shall-- (1) coordinate with interested parties-- (A) to deploy TSA-approved ready-to-market private sector solutions that meet the PreCheck Program enrollment standards under subsection (a); (B) to make available additional PreCheck Program enrollment capabilities; and (C) to offer secure online and mobile enrollment opportunities; (2) partner with the private sector to collect biographic and biometric identification information via kiosks, mobile devices, or other mobile enrollment platforms to increase enrollment flexibility and minimize the amount of travel to enrollment centers for applicants;[[Page S1784]] (3) ensure that any information, including biographic information, is collected in a manner that-- (A) is comparable with the appropriate and applicable standards developed by the National Institute of Standards and Technology; and (B) protects privacy and data security, including that any personally identifiable information is collected, retained, used, and shared in a manner consistent with section 552a of title 5, United States Code (commonly known as ``Privacy Act of 1974''), and with agency regulations; (4) ensure that the enrollment process is streamlined and flexible to allow an individual to provide additional information to complete enrollment and verify identity; and (5) ensure that any enrollment expansion using a private sector risk assessment instead of a fingerprint-based criminal history records check is evaluated and certified by the Secretary of Homeland Security, and verified by the Government Accountability Office or a federally funded research and development center after award to be equivalent to a fingerprint-based criminal history records check conducted through the Federal Bureau of Investigation, with respect to the effectiveness in identifying individuals who are not qualified to participate in the Pre-Check Program due to disqualifying criminal history; and (6) ensure that the Secretary has certified that reasonable procedures are in place with regard to the accuracy, relevancy, and proper utilization of information employed in private sector risk assessments. (c) Marketing of PreCheck Program.--Upon publication of PreCheck Program enrollment standards under subsection (a), the Administrator shall-- (1) in accordance with those standards, develop and implement-- (A) a continual process, including an associated timeframe, for approving private sector marketing of the PreCheck Program; and (B) a long-term strategy for partnering with the private sector to encourage enrollment in such program; (2) submit to Congress, at the end of each fiscal year, a report on any PreCheck Program application fees collected in excess of the costs of administering the program, including to access the feasibility of the program, for the preceding fiscal year; and (3) include in the report under paragraph (2) recommendations for using such amounts to support marketing of the program under this subsection. (d) Identity Verification Enhancement.--Not later than 120 days after the date of enactment of this Act, the Administrator shall-- (1) coordinate with the heads of appropriate components of the Department to leverage department-held data and technologies to verify the citizenship of individuals enrolling in the PreCheck Program; (2) partner with the private sector to use biometrics and authentication standards, such as relevant standards developed by the National Institute of Standards and Technology, to facilitate enrollment in the program; and (3) consider leveraging the existing resources and abilities of airports to conduct fingerprint and background checks to expedite identity verification. (e) PreCheck Program Lanes Operation.--The Administrator shall-- (1) ensure that PreCheck Program screening lanes are open and available during peak and high-volume travel times at appropriate airports to individuals enrolled in the PreCheck Program; and (2) make every practicable effort to provide expedited screening at standard screening lanes during times when PreCheck Program screening lanes are closed to individuals enrolled in the program in order to maintain operational efficiency. (f) Vetting for PreCheck Program Participants.--Not later than 90 days after the date of enactment of this Act, the Administrator shall initiate an assessment to identify any security vulnerabilities in the vetting process for the PreCheck Program, including determining whether subjecting PreCheck Program participants to recurrent fingerprint-based criminal history records checks, in addition to recurrent checks against the terrorist watchlist, could be done in a cost-effective manner to strengthen the security of the PreCheck Program. Subtitle C--Securing Aviation From Foreign Entry Points and Guarding Airports Through Enhanced Security Act of 2016 SEC. _301. SHORT TITLE. This subtitle may be cited as the ``Securing Aviation from Foreign Entry Points and Guarding Airports Through Enhanced Security Act of 2016''. SEC. _302. LAST POINT OF DEPARTURE AIRPORT SECURITY ASSESSMENT. (a) In General.--Not later than 180 days after the date of enactment of this Act, the Administrator of the Transportation Security Administration shall conduct a comprehensive security risk assessment of all last point of departure airports with nonstop flights to the United States. (b) Contents.--The security risk assessment required under subsection (a) shall include consideration of the following: (1) The level of coordination and cooperation between the Transportation Security Administration and the foreign government of the country in which the last point of departure airport with nonstop flights to the United States is located. (2) The intelligence and threat mitigation capabilities of the country in which such airport is located. (3) The number of known or suspected terrorists annually transiting through such airport. (4) The degree to which the foreign government of the country in which such airport is located mandates, encourages or prohibits the collection, analysis, and sharing of passenger name records. (5) The passenger security screening practices, capabilities, and capacity of such airport. (6) The security vetting undergone by aviation workers at such airport. (7) The access controls utilized by such airport to limit to authorized personnel access to secure and sterile areas of such airports. SEC. _303. SECURITY COORDINATION ENHANCEMENT PLAN. (a) In General.--Not later than 240 days after the date of enactment of this Act, the Administrator of the Transportation Security Administration shall submit to Congress and the Government Accountability Office a plan-- (1) to enhance and bolster security collaboration, coordination, and information sharing relating to securing international-inbound aviation between the United States and domestic and foreign partners, including U.S. Customs and Border Protection, foreign government entities, passenger air carriers, cargo air carriers, and United States Government entities, in order to enhance security capabilities at foreign airports, including airports that may not have nonstop flights to the United States but are nonetheless determined by the Administrator to be high risk; and (2) that includes an assessment of the ability of the Administration to enter into a mutual agreement with a foreign government entity that permits Administration representatives to conduct without prior notice inspections of foreign airports. (b) GAO Review.--Not later than 180 days after the submission of the plan required under subsection (a), the Comptroller General of the United States shall review the efforts, capabilities, and effectiveness of the Transportation Security Administration to enhance security capabilities at foreign airports and determine if the implementation of such efforts and capabilities effectively secures international-inbound aviation. SEC. _304. WORKFORCE ASSESSMENT. Not later than 270 days after the date of enactment of this Act, the Administrator of the Transportation Security Administration shall submit to Congress a comprehensive workforce assessment of all Administration personnel within the Office of Global Strategies of the Administration or whose primary professional duties contribute to the Administration's global efforts to secure transportation security, including a review of whether such personnel are assigned in a risk-based, intelligence-driven manner. SEC. _305. DONATION OF SCREENING EQUIPMENT TO PROTECT THE UNITED STATES. (a) In General.--The Administrator of the Transportation Security Administration is authorized to donate security screening equipment to a foreign last point of departure airport operator if such equipment can be reasonably expected to mitigate a specific vulnerability to the security of the United States or United States citizens. (b) Report.--Not later than 30 days before any donation of security screening equipment pursuant to subsection (a), the Administrator of the Transportation Security Administration shall provide to the Committee on Homeland Security and Governmental Affairs and the Committee on Commerce, Science, and Transportation of the Senate and the Committee on Homeland Security of the House of Representatives a detailed written explanation of the following: (1) The specific vulnerability to the United States or United States citizens that will be mitigated by such donation. (2) An explanation as to why the recipient of such donation is unable or unwilling to purchase security screening equipment to mitigate such vulnerability. (3) An evacuation plan for sensitive technologies in case of emergency or instability in the country to which such donation is being made. (4) How the Administrator will ensure the security screening equipment that is being donated is used and maintained over the course of its life by the recipient. (5) The total dollar value of such donation. SEC. _306. NATIONAL CARGO SECURITY PROGRAM. (a) In General.--The Administrator of the Transportation Security Administration may evaluate foreign countries' air cargo security programs to determine whether such programs provide a level of security commensurate with the level of security required by United States air cargo security programs. (b) Approval and Recognition.-- (1) In general.--If the Administrator of the Transportation Security Administration determines that a foreign country's air cargo security program evaluated under subsection (a) provides a level of security commensurate with the level of security required by United States air cargo security programs, the Administrator shall approve and officially recognize such foreign country's air cargo security program. (2) Effect of approval and recognition.--If the Administrator of the Transportation[[Page S1785]] Security Administration approves and officially recognizes pursuant to paragraph (1) a foreign country's air cargo security program, cargo aircraft of such foreign country shall not be required to adhere to United States air cargo security programs that would otherwise be applicable. (c) Revocation and Suspension.-- (1) In general.--If the Administrator of the Transportation Security Administration determines at any time that a foreign country's air cargo security program approved and officially recognized under subsection (b) no longer provides a level of security commensurate with the level of security required by United States air cargo security programs, the Administrator may revoke or temporarily suspend such approval and official recognition until such time as the Administrator determines that such foreign country's cargo security programs provide a level of security commensurate with the level of security required by such United States air cargo security programs. (2) Notification.--If the Administrator of the Transportation Security Administration revokes or suspends pursuant to paragraph (1) a foreign country's air cargo security program, the Administrator shall notify the Committee on Homeland Security of the House of Representatives and the Committee on Commerce, Science, and Transportation of the Senate not later than 30 days after such revocation or suspension. Subtitle D--Miscellaneous SEC. _401. INTERNATIONAL TRAINING AND CAPACITY DEVELOPMENT. (a) In General.--In accordance with section 114 of title 49, United States Code, the Administrator of the Transportation Security Administration shall establish an international training and capacity development program to train the appropriate authorities of foreign governments in air transportation security. (b) Contents of Training.--If the Administrator determines that a foreign government would benefit from training and capacity development assistance, the Administrator may provide to the appropriate authorities of that foreign government technical assistance and training programs to strengthen aviation security in managerial, operational, and technical areas, including-- (1) active shooter scenarios; (2) incident response; (3) use of canines; (4) mitigation of insider threats; (5) perimeter security; (6) operation and maintenance of security screening technology; and (7) recurrent related training and exercises. SEC. _402. CHECKPOINTS OF THE FUTURE. (a) In General.--The Administrator of the Transportation Security Administration, in accordance with chapter 449 of title 49, United States Code, shall request the Aviation Security Advisory Committee to develop recommendations for more efficient and effective passenger screening processes. (b) Considerations.--In making recommendations to improve existing passenger screening processes, the Aviation Security Advisory Committee shall consider-- (1) the configuration of a checkpoint; (2) technology innovation; (3) ways to address any vulnerabilities identified in audits of checkpoint operations; (4) ways to prevent security breaches at airports where Federal security screening is provided; (5) best practices in aviation security; (6) recommendations from airport and aircraft operators, and any relevant advisory committees; and (7) ``curb to curb'' processes and procedures. (c) Report.--Not later than 1 year after the date of enactment of this Act, the Administrator shall submit to the appropriate committees of Congress a report on the results of the Aviation Security Advisory Committee review, including any recommendations for improving screening processes.Amendments Nos. 3458, as Modified; 3495; and 3524 En Bloc to Amendment No. 3464 Mr. THUNE. Mr. President, finally, I ask unanimous consent to set aside the pending amendment in order to call up the following amendments: Casey-Toomey No. 3458, as modified; Heller No. 3495; and Bennet No. 3524. The PRESIDING OFFICER. Is there objection? Without objection, it is so ordered. The Senator from Florida. Mr. NELSON. Mr. President, I obviously support the agreement. This is a good first step in moving this FAA bill along. The PRESIDING OFFICER. The clerk will report the amendments en bloc. The legislative clerk read as follows: The Senator from South Dakota [Mr. Thune], for others, proposes amendments numbered 3458, as modified; and 3495 en bloc to amendment No. 3464. The Senator from Florida [Mr. Nelson], for Mr. Bennet, proposes an amendment numbered 3524 to amendment No. 3464. The amendments are as follows: amendment no. 3458, as modified (Purpose: To protect passengers in air transportation, pilots, and flight attendants from terrorists and mentally unstable individuals by requiring the installation of secondary barriers to prevent cockpit intrusions) Strike section 5010 and insert the following: SEC. 5010. SECONDARY COCKPIT BARRIERS. (a) Short Title.--This section may be cited as the ``Saracini Aviation Safety Act of 2016''. (b) Requirement.--Not later than one year after the date of the enactment of this Act, the Administrator of the Federal Aviation Administration shall issue an order requiring installation of a secondary cockpit barrier on each new aircraft that is manufactured for delivery to a passenger air carrier in the United States operating under the provisions of part 121 of title 14, Code of Federal Regulations. amendment no. 3495(Purpose: To improve employment opportunities for veterans by requiring the Administrator of the Federal Aviation Administration to determine whether occupations at the Administration relating to unmanned aircrat systems technology and regulations can be incorporated into the Veterans Employment Program of the Administration) At the appropriate place, insert the following: SEC. ___. INCORPORATION OF FEDERAL AVIATION ADMINISTRATION OCCUPATIONS RELATING TO UNMANNED AIRCRAFT INTO VETERANS EMPLOYMENT PROGRAMS OF THE ADMINISTRATION. Not later than 180 days after the date of the enactment of this Act, the Administrator of the Federal Aviation Administration, in consultation with the Secretary of Veterans Affairs, the Secretary of Defense, and the Secretary of Labor, shall determine whether occupations of the Administration relating to unmanned aircraft systems technology and regulations can be incorporated into the Veterans Employment Program of the Administration, particularly in the interaction between such program and the New Sights Work Experience Program and the Vet-Link Cooperative Education Program. Amendment No. 3524 (Purpose: To improve air service for families and pregnant women) Strike section 3113 and insert the following: SEC. 3113. LASTING IMPROVEMENTS TO FAMILY TRAVEL. (a) Short Title.--This section may be cited as the ``Lasting Improvements to Family Travel Act'' or the ``LIFT Act''. (b) Accompanying Minors for Security Screening.--The Administrator of the Transportation Security Administration shall formalize security screening procedures that allow for one adult family caregiver to accompany a minor child throughout the entirety of the security screening process. (c) Special Accommodations for Pregnant Women.--Not later than 180 days after the date of the enactment of this Act, the Secretary of Transportation shall prescribe regulations under section 41705 of title 49, United States Code, that direct all air carriers to include pregnant women in their nondiscrimination policies, including policies with respect to preboarding or advance boarding of aircraft. (d) Family Seating.--Not later than 180 days after the date of the enactment of this Act, the Secretary shall prescribe regulations directing each air carrier to establish a policy that ensures that, if a family is traveling on a reservation with a child under the age of 13, that child is able to sit in a seat adjacent to the seat of an accompanying family member over the age of 13 at no additional cost. Amendment No. 3512, as Modified Mr. THUNE. Mr. President, if I might just speak to amendment No. 3512, which we will be voting on momentarily, I know Senator Nelson has already spoken on this issue. We worked very hard on a series of security bills that we could bring to the floor. We are trying to move them separately, but I think they fit nicely into the debate we are having on the FAA reauthorization. Senators Nelson, Ayotte, Cantwell, and I have been leading oversight of airport and airline workers abusing their secure area access badges. This oversight led our committee to approve bipartisan legislation--S. 2361, Airport Security Enhancement and Oversight Act--to tighten the vetting of airport workers with ties to terrorists and serious criminal behavior that should disqualify them from accessing sensitive airport areas. Just in the past few weeks, a number of badged aviation industry workers have been caught in the act of helping criminal organizations. On March 18, a flight attendant abandoned a suitcase with 68 pounds of cocaine after being confronted by transportation security officers in California. On March 26 in Florida, an airline gate agent was arrested with a backpack containing $282,400 in cash that he intended to hand off to an associate. As we work to address the threat of an aviation insider helping terrorists,[[Page S1786]]criminals who break laws for financial gain and those with a history of violence are a really good place to start. It is high time that we start cracking down on these types of offenses for people who are working in sensitive areas of our airports. U.S. terrorism experts believe that ISIS is recruiting criminals to join its ranks in Europe, and some of the perpetrators in the deadly attacks in Brussels were previously known to authorities as criminals. Ensuring that airport workers with security credentials are trustworthy is especially important, considering that experts believe an ISIS affiliate may have planted a bomb on a Russian Metrojet flight leaving Egypt with the help of an airport employee, which killed 224 people on board. The recent attacks by ISIS in the unsecured area of the Brussels Airport also underscore the vulnerability of airport areas outside of TSA security screening checkpoints. The House of Representatives and the Commerce Committee also approved legislation--H.R. 2843, the PreCheck Expansion Act--in December of 2015 to expand the PreCheck program by developing private sector partnerships and capabilities to vet and enroll more individuals. These private sector partners would be required to use an assessment equivalent to a fingerprint-based criminal history record check conducted through the FBI. These changes would increase the number of passengers who are vetted before they get to the airport. As a result, more passengers would receive expedited airport screening and get through security checkpoints more quickly, ensuring they don't pose the kind of easy target that the ISIS suicide bombers exploited at the Brussels Airport. In addition to the bills approved by our committee on March 23, the House Homeland Security Committee approved H.R. 4698, the SAFE GATES Act of 2016, which would strengthen security at international airports with direct flights to the United States. Specifically, the bill would require TSA to conduct a comprehensive risk assessment of all last-point-of-departure airports, a security coordination enhancement plan, and a workforce assessment. It would authorize the TSA to donate security screening equipment to foreign last-point-of-departure airports and to evaluate foreign countries' air cargo security programs to prevent any shipment of nefarious materials via air cargo. I believe these bills will help make air travel more secure, and they should advance in the full Senate in this amendment to the FAA bill. I encourage my colleagues to support the Thune-Nelson amendment and then also follow-on with the Heinrich amendment, which will come up shortly after a vote on that amendment. I think the Heinrich amendment also makes a number of important security improvements that will also strengthen airport security. There has been a discussion about whether there ought to be more VIPR teams. I think there are 30 or so at this point, and the amendment would allow that number to go up to 60. Yesterday we had the opportunity to question the TSA Administrator, Admiral Neffenger, about whether additional VIPR teams would be useful. He said they could put to use anything they were given in terms of additional units that might be deployed to places around the country where they think there is a need. So that is the principal component of the Heinrich amendment, which also addresses some of the security issues. I don't think we can understate how important security is in light of everything that is going on in the world today. We have people who want to harm Americans, and it is our job to make sure we are giving those authorities who are there to prevent those types of attacks against Americans all the tools they need in order to do their jobs effectively. I encourage our colleagues here in the Senate--when we have an opportunity to vote here momentarily on both of these security amendments--to support those amendments. They improve and strengthen security at our airports around this country, and I think they fit nicely within the context of the FAA reauthorization bill and the debate we are currently having on the floor of the U.S. Senate. I yield the floor. The PRESIDING OFFICER. The senior Senator from Florida. Amendment No. 3483 to Amendment No. 3464 Mr. NELSON. Mr. President, I ask unanimous consent to call up Schumer amendment No. 3483 and ask that the Schumer and Bennet amendments be Nelson for Schumer and Bennet. The PRESIDING OFFICER. Is there objection? Without objection, it is so ordered. The clerk will report. The bill clerk read as follows: The Senator from Florida [Mr. Nelson], for Mr. Schumer, proposes an amendment numbered 3483 to amendment No. 3464. Mr. NELSON. Mr. President, I ask unanimous consent that the reading of the amendment be dispensed with. The PRESIDING OFFICER. Without objection, it is so ordered. The amendment is as follows: (Purpose: To require the Federal Aviation Administration to establish minimum standards for space for passengers on passenger aircraft) At the end of subtitle A of title III, add the following: SEC. 3124. REGULATIONS RELATING TO SPACE FOR PASSENGERS ON AIRCRAFT. (a) Moratorium on Reductions to Aircraft Seat Size.--Not later than 30 days after the date of the enactment of this Act, the Administrator of the Federal Aviation Administration shall prohibit any air carrier from reducing the size, width, padding, or pitch of seats on passenger aircraft operated by the air carrier, the amount of leg room per seat on such aircraft, or the width of aisles on such aircraft. (b) Regulations Relating to Space for Passengers on Aircraft.--Not later than 180 days after the date of the enactment of this Act, the Administrator shall prescribe regulations-- (1) establishing minimum standards for space for passengers on passenger aircraft, including the size, width, padding, and pitch of seats, the amount of leg room per seat, and the width of aisles on such aircraft for the safety, health, and comfort of passengers; and (2) requiring each air carrier to prominently display on the website of the air carrier the amount of space available for each passenger on passenger aircraft operated by the air carrier, including the size, width, padding, and pitch of seats, the amount of leg room per seat, and the width of aisles on such aircraft. (c) Consultations.--In prescribing the regulations required by subsection (b), the Administrator shall consult with the Occupational Safety and Health Administration, the Centers for Disease Control and Prevention, passenger advocacy organizations, physicians, and ergonomic engineers. (d) Air Carrier Defined.--In this section, the term ``air carrier'' means an air carrier (as defined in section 40102 of title 49, United States Code) that transports passengers by aircraft as a common carrier for compensation. Mr. NELSON. Mr. President, in just 5 minutes we will have our first series of votes on amendments on this bill. This is a good start to the FAA bill. It is improving the underlying bill that has a lot of attention to security already in it. But these are clearly amendments that will improve the bill. I spoke about it earlier today. I certainly commend these amendments to the Senate. I yield the floor. I suggest the absence of a quorum. The PRESIDING OFFICER (Mrs. Fischer). The clerk will call the roll. The bill clerk proceeded to call the roll. Mr. THUNE. Madam President, I ask unanimous consent that the order for the quorum call be rescinded. The PRESIDING OFFICER. Without objection, it is so ordered. Vote on Amendment No. 3512, as modified. The PRESIDING OFFICER. Under the previous order, there will now be 2 minutes of debate equally divided prior to a vote on amendment No. 3512, as modified, offered by the Senator from South Dakota. Mr. THUNE. Madam President, I yield back whatever time remains. The PRESIDING OFFICER. The question is on agreeing to the amendment, as modified. Mr. THUNE. Madam President, I ask for the yeas and nays. The PRESIDING OFFICER. Is there a sufficient second? There appears to be a sufficient second. The clerk will call the roll. The bill clerk called the roll. Mr. THUNE. The following Senators are necessarily absent: the Senator from Texas (Mr. Cornyn) and the Senator from Texas (Mr. Cruz). Further, if present and voting the Senator from Texas (Mr. Cornyn) would have voted ``yea.''[[Page S1787]] Mr. REID. I announce that the Senator from Illinois (Mr. Durbin), the Senator from Vermont (Mr. Sanders), and the Senator from New Mexico (Mr. Udall) are necessarily absent. The PRESIDING OFFICER. Are there any other Senators in the Chamber desiring to vote? The result was announced--yeas 85, nays 10, as follows: [Rollcall Vote No. 41 Leg.] YEAS--85 Alexander Ayotte Baldwin Barrasso Bennet Blumenthal Blunt Boozman Boxer Burr Cantwell Capito Cardin Carper Cassidy Coats Cochran Collins Coons Corker Cotton Crapo Daines Donnelly Enzi Ernst Feinstein Fischer Flake Franken Gardner Gillibrand Graham Grassley Hatch Heinrich Heitkamp Heller Hoeven Inhofe Isakson Johnson Kaine King Kirk Klobuchar Lankford Lee Manchin McCain McCaskill McConnell Menendez Mikulski Moran Murkowski Murphy Nelson Paul Perdue Peters Portman Reed Reid Risch Roberts Rounds Rubio Sasse Schatz Schumer Scott Sessions Shaheen Shelby Stabenow Sullivan Tester Thune Tillis Toomey Vitter Warner Whitehouse Wicker NAYS--10 Booker Brown Casey Hirono Leahy Markey Merkley Murray Warren Wyden NOT VOTING--5 Cornyn Cruz Durbin Sanders Udall The amendment (No. 3512), as modified, was agreed to. Amendment No. 3482, as Modified The PRESIDING OFFICER. Under the previous order, there will now be 2 minutes of debate equally divided prior to a vote on amendment No. 3482, as modified, offered by the Senator from New Mexico. The Senator from New Mexico. Mr. HEINRICH. Madam President, airports, bus depots, and train stations are things that we all rely on every day to have the freedom of movement we enjoy in this country. In the wake of the recent terror attacks in the Brussels Airport and Metro, Americans are worried about their security, and they want to feel safe when traveling with their loved ones. While we relentlessly target terrorists overseas, we must also do all we can to intelligently protect Americans here at home. My amendment would increase the number of TSA VIPR teams, who provide a visible deterrent to terrorist threats in high-priority locations. These teams are recognizable as they often have bomb-sniffing canines. My amendment would also provide active shooter training for law enforcement and strengthen security in nonsecure so-called soft-target areas, such as check-in and baggage claim areas. By employing these additional commonsense safeguards, we will intelligently respond to these threats. Most importantly, by preserving our freedom to go about our daily lives, we will ensure that the terrorists have failed to change how we live and who we are. The PRESIDING OFFICER. Who yields time? The Senator from South Dakota. Mr. THUNE. Madam President, I urge my colleagues to support the Heinrich amendment. I yield back the remainder of my time. The PRESIDING OFFICER. The question is on agreeing to amendment No. 3482, as modified. Ms. KLOBUCHAR. Madam President, I ask for the yeas and nays. The PRESIDING OFFICER. Is there a sufficient second? There appears to be a sufficient second. The clerk will call the roll. The senior assistant legislative clerk called the roll. Mr. THUNE. The following Senators are necessarily absent: the Senator from Texas (Mr. Cornyn) and the Senator from Texas (Mr. Cruz). Further, if present and voting, the Senator from Texas (Mr. Cornyn) would have voted ``yea.'' Mr. REID. I announce that the Senator from Illinois (Mr. Durbin) and the Senator from Vermont (Mr. Sanders) are necessarily absent. The PRESIDING OFFICER (Mr. Rounds). Are there any other Senators in the Chamber desiring to vote? The result was announced--yeas 91, nays 5, as follows: [Rollcall Vote No. 42 Leg.] YEAS--91 Alexander Ayotte Baldwin Bennet Blumenthal Blunt Booker Boozman Boxer Brown Burr Cantwell Capito Cardin Carper Casey Cassidy Coats Cochran Collins Coons Corker Cotton Crapo Daines Donnelly Ernst Feinstein Fischer Franken Gardner Gillibrand Graham Grassley Hatch Heinrich Heitkamp Heller Hirono Hoeven Inhofe Isakson Johnson Kaine King Kirk Klobuchar Lankford Leahy Lee Manchin Markey McCain McCaskill McConnell Menendez Merkley Mikulski Moran Murkowski Murphy Murray Nelson Perdue Peters Portman Reed Reid Risch Roberts Rounds Rubio Sasse Schatz Schumer Sessions Shaheen Shelby Stabenow Sullivan Tester Thune Tillis Toomey Udall Vitter Warner Warren Whitehouse Wicker Wyden NAYS--5 Barrasso Enzi Flake Paul Scott NOT VOTING--4 Cornyn Cruz Durbin Sanders The amendment (No. 3482), as modified, was agreed to. The PRESIDING OFFICER. The Senator from Arkansas. Iranian Access to U.S. Financial System Mr. COTTON. Mr. President, when Obama administration officials sold the President's nuclear deal last summer to the American people, they were clearly sensitive to charges that they gave too much away. They knew that giving Iran $100 billion that we could never get back in exchange for a mere temporary deal that expired in 10 to 15 years would be viewed with deep skepticism. They knew that an inspection system that gives the ayatollahs a 24-day heads-up before an inspection would not pass the laugh test. They knew that granting the ayatollahs massive sanctions relief while still allowing them to develop an industrial-scale nuclear enrichment program would invite accusations that the President was, to put it frankly, swindled. So in their sales pitch, these administration officials sought to blunt these expected criticisms. They repeatedly stated that the United States would maintain certain tough sanctions, even after the deal became effective. They said the United States would hold the line on measures that punish and suppress Iran's nonnuclear malign activities. They emphatically stated that in no way would the U.S. economy be allowed to bolster an Iranian economy that is significantly controlled by the Iranian regime, tainted by illicit financing of terrorism, and used by the ayatollahs to fund domestic oppression and international aggression--including blowing up hundreds of American soldiers in Iraq with roadside bombs. In particular, these administration officials were emphatic that the United States would never, ever, ever grant Iran access to the U.S. financial system and U.S. dollars to facilitate Iran's trade in oil and other goods. For instance, when testifying before the Senate Foreign Relations Committee in July, Treasury Secretary Jack Lew stated: Iranian banks will not be able to clear U.S. dollars through New York, hold correspondent account relationships with U.S. financial institutions, or enter into financing arrangements with U.S. banks. Iran, in other words, will continue to be denied access to the world's largest financial and commercial market. Likewise, Adam Szubin, the Acting Under Secretary for Terrorism and Financial Intelligence, echoed that sentiment and was even more precise. In September he stated: Iran will not be able to open bank accounts with U.S. banks, nor will Iran be able to access the U.S. banking sector, even for that momentary transaction to, what we call, dollarize a foreign payment. . . . That is not in the cards. That is not part of the relief offered under the JCPOA. So, the U.S. sanctions on Iran, which, of course, had their origins long before Iran had a nuclear program, will remain in place.[[Page S1788]] It is difficult to overstate the importance of these statements uttered just a few months ago. The U.S. dollar is the standard currency in which international trade is conducted. Because the ayatollahs can't deal in dollars, they haven't fully opened their economy to the world--thankfully. In addition, the U.S. financial system hasn't yet been tainted by Iran's terror financing, its international aggression, and its crackdown on domestic democratic dissent. But now, a mere 7 months into a 15-year agreement, the Obama administration is shedding the resolve its officials tried to so hard to display before Congress. According to numerous reports, the administration intends to backtrack on the statements of Secretary Lew and Adam Szubin. It is looking for some way, somehow to give Iran access to U.S. dollars to boost Iranian trade and investment. I want to be very clear. If the President moves to grant Iran access to the U.S. dollar--whether directly or indirectly--there will be consequences. If there is any statement, guidance, regulation, or Executive action that opens the U.S. banking sector to Iran even a crack, the Senate will hold hearings with each official who assured the American people last summer that the ayatollahs would never access the dollar. We will explore whether they lied back then or whether they intend to resign in protest now. If this policy change moves forward, I will dedicate myself to working with my colleagues to pass legislation blocking the change. If the Obama administration proceeds with this massive concession to the ayatollahs, every Member of the Senate who voted to accept the Iranian deal will have to go home and explain why the U.S. economy is now complicit in Iran's financing of terrorist attacks against Americans and American allies. That the Obama administration would even consider allowing Iran access to the U.S. banking sector is extremely disconcerting, but it is not surprising. It follows a steady pattern that has become increasingly clear since the conclusion of the nuclear deal. Time and again, Iran provokes the United States, commits brazen acts to destabilize its neighbors, and threatens to undo the Iran deal. In response, the United States rushes to grant the ayatollahs more concessions in order to placate them. Iran has tested ballistic missiles, captured U.S. sailors, and fueled conflicts in Syria and Yemen with fresh arms and troops--all while employing ``Death to America'' as a rallying cry. But in the face of Iran's continued aggression, the President has displayed only weakness. Instead of steeling himself for a fight with the ayatollahs, he has laid down and rolled over for them. He has repeatedly refused to designate Iran's tests of ballistic missiles as the violations of U.N. Security Council resolutions they so clearly are. The President also agreed to send an additional $1.7 billion to the ayatollahs, ostensibly to settle outstanding claims. For good measure, that $1.7 billion includes $1.3 billion in gratuitous interest payments. The President granted clemency to seven convicted Iranian criminals and dismissed arrest warrants for 14 Iranian fugitives who faced charges for sanctions violations. Now the President may be on the verge of granting the largest concession yet--dollarizing Iran's international trade and declaring Iran truly open for business. We should call this for what it is--concession creep. In the same manner that no Member of the Senate should trust Iran to abide by its commitments made in the Iranian nuclear deal, we can no longer trust the administration to hold fast to the specific concessions contained in the four corners of that deal. The ink is hardly dry on the deal, and the President has already shown himself all too susceptible to the temptations of appeasement. The ayatollahs reportedly have complained to U.S. officials that it is too hard to transact business without access to U.S. dollars. The answer to that should be ``too bad.'' It should not be easy for the world's worst sponsor of terrorism to do business with the global economy. It should not be easy for industries dominated by the Iranian Revolutionary Guard Corps to trade in financial markets. International business leaders, directors, CEOs, and general counsels should not rush into Iran for fear of the grave reputational, financial, political, and legal consequences of doing business with this outlaw regime. The Iranians know the Obama administration is desperate to preserve the nuclear deal. They hold the possibility of walking away from the agreement as a sword of Damocles over the President's head in order to extract concession after concession. They lord it over him in order to forestall any U.S. action that would meaningfully stop their regional aggression and campaign of terror. So intense is President Obama's fear that the Ayatollah will rip up the nuclear agreement, he has completely upended U.S. strategy in the Middle East to the point where adversaries are allies and allies are becoming adversaries. This parade of concessions must stop, and it must stop now. The administration must fully implement all new sanctions passed by Congress to punish Iran's development of ballistic missiles, its sponsorship of terrorism, and its human rights abuses. It must work with our traditional allies in the Middle East to neutralize Iran's attempt to foment instability throughout the region. The President should issue a very clear order that Iran will not be granted any direct or indirect access to the U.S. banking system and the dollar. Mr. President, I yield the floor. The PRESIDING OFFICER. The Senator from Oregon. (The remarks of Mr. Merkley pertaining to the introduction of S. 2760 are printed in today's Record under ``Statements on Introduced Bills and Joint Resolutions.'') Mr. MERKLEY. Mr. President, I yield the floor. The PRESIDING OFFICER. The Senator from Washington. Amendment No. 3490 to Amendment No. 3464 Ms. CANTWELL. Mr. President, I call up my amendment No. 3490. The PRESIDING OFFICER. The clerk will report. The legislative clerk read as follows: The Senator from Washington [Ms. Cantwell] proposes an amendment numbered 3490 to amendment No. 3464. Ms. CANTWELL. I ask unanimous consent that the reading of the amendment be dispensed with. The PRESIDING OFFICER. Without objection, it is so ordered. The amendment is as follows:(Purpose: To extend protections against physical assault to air carrier customer service representatives) Strike section 5009 and insert the following: SEC. 5009. INTERFERENCE WITH AIR CARRIER EMPLOYEES. (a) In General.--Section 46503 is amended by inserting after ``to perform those duties'' the following ``, or who assaults an air carrier customer representative in an airport, including a gate or ticket agent, who is performing the duties of the representative or agent,''. (b) Conforming Amendment.--Section 46503 is amended in the section heading by inserting ``or air carrier customer representatives'' after ``screening personnel''. (c) Clerical Amendment.--The analysis for chapter 465 is amended by striking the item relating to section 46503 and inserting the following:``46503. Interference with security screening personnel or air carrier customer representatives.''. Ms. CANTWELL. Mr. President, I call up this amendment and offer it because the issue is making sure that those who work in the air transportation system are safe and secure. This is an important issue to the men and women who work at Sea-Tac and at other airports and are part of the delivery system of making sure air transportation is safe. They are an integral part of air transportation at every airport in the United States of America. This issue is something that has been considered in the House of Representatives as part of the transportation package as well, and it is part of what we think should be in this package in the Senate; that is, making sure that those who are part of the delivery system--ticket counter agents, agents who are aiding and assisting in getting passengers through the terminals and onto planes at the gate, assisting, as many of the challenging days go by, in delivering good air transportation service. What has happened is that these individuals have become victims--the victims of physical, violent abuse; that is, the public has taken to bodily harm against these individuals. So this amendment puts in similar safeguards[[Page S1789]]that are in line with other transportation officials who are protected from this kind of physical abuse. I will have more to say on it, but I know my colleague is trying to get to the floor to speak as well. I will put into the Record examples of individuals who are ticketing agents, baggage agents, air transportation delivery system workers who have been hurt, and they deserve to have protection. Mr. President, I yield the floor. I suggest the absence of a quorum. The PRESIDING OFFICER. The clerk will call the roll. The legislative clerk proceeded to call the roll. Mr. SCHUMER. Mr. President, I ask unanimous consent that the order for the quorum call be rescinded. The PRESIDING OFFICER. Without objection, it is so ordered. Amendment No. 3483 Mr. SCHUMER. Mr. President, I rise today to urge a ``yes'' vote on the upcoming amendment to require the FAA to set a minimum standard seat size. This amendment would ensure that airlines can't keep chopping down on seat size and legroom until consumers are packed in like sardines in a can on every flight. Over the last few decades, between the size of the seat and the distance between the seats, the flying public has lost half a foot of their space. Flying is not pleasant anymore. You are crammed in. I am not that tall--a little under 6-foot-1. What I do when I fly is I take out the magazine and the air-sickness bag and the little folder that shows you where the exits are to gain one-sixteenth of an inch more legroom. Moms with kids have a lot of trouble in those very narrow seats. Have you ever been in the situation where you are in the middle and there are two sort of large people on either side of you? It is not the most pleasant flying experience. We don't have too much competition anymore. We have very few airlines. This is a place where the public is clamoring for change. When I said I was going to offer this amendment, I got more feedback on it than most other things. And you don't have to be 6-foot-4 to understand the problem. You would think that by cramming in more and more passengers on each flight, the airlines could lower their prices. Instead, several major airlines went in the other direction: They started charging for the extra inches and legroom that were once considered standard. So it practically costs you an arm and a leg just to have space for your arms and legs. At a time when airlines are making record profits, at a time when fuel costs are extremely low, we need this amendment to protect consumers' safety and comfort. This amendment would do three things. It doesn't set a standard seat size; it freezes the current seat size in place so they can't shrink it any further. It directs the FAA to set minimum standard seat size and pitch for all commercial flights. And some of this involves comfort, but some of it involves safety. God forbid there is something terrible happening on a plane--the seats are so narrow, it is harder for people to get out. Finally, we focus on transparency. We require airlines to post their seat sizes on their Web sites, providing at least a commercial incentive for airlines to offer more comfortable seat arrangements. Most folks travel under the expectation that the airlines are going to set the guidelines and that is that; there is nothing they can do about it. We actually had to put in the underlying bill that airlines should refund bag fees charged to consumers if the airline lost their bags. And I would say to my good friends on the other side, if we can mandate that bag fees be returned--not leave it up to the free market--we can mandate that the FAA at least set a proper seat size. They can't say: Well, leave it up to the free market on one but not on the other. It is not a little fair. Now we see why we need these amendments. The bag fee--and I agree that if they lose your bags or delay your bags, they shouldn't keep the extra bag fee. It should be refunded. In most industries, that would be a standard practice. If you fail to deliver a service somebody paid for, they should get their money back. But sometimes in the airline industry you have to require basic courtesy. In conclusion, the great Abraham Lincoln was once asked how long a man's legs should be, and he famously answered: Long enough to reach from the body to the ground. If you asked a major airline today how long a man's legs should be, they would say: Short enough to miss the tray table. That is no way to fly. I urge my colleagues to support this amendment and move this bill in a more consumer-friendly direction. Mr. President, I yield the floor. I suggest the absence of a quorum. The PRESIDING OFFICER. The clerk will call the roll. The bill clerk proceeded to call the roll. Mr. SCHUMER. Mr. President, I ask unanimous consent that the order for the quorum call be rescinded. The PRESIDING OFFICER. Without objection, it is so ordered. Mr. SCHUMER. Mr. President, some of my colleagues have to catch planes, and it takes extra time for them to squeeze into those small seats with no legroom. So I yield back my time, and I ask unanimous consent that we move the vote up to right now. The PRESIDING OFFICER. Is there objection? Without objection, it is so ordered. The question is on agreeing to amendment No. 3483. Mr. SCHUMER. I ask for the yeas and nays. The PRESIDING OFFICER. Is there a sufficient second? There appears to be a sufficient second. The clerk will call the roll. The legislative clerk called the roll. Mr. THUNE. The following Senators are necessarily absent: the Senator from Texas (Mr. Cornyn) and the Senator from Texas (Mr. Cruz). Further, if present and voting, the Senator from Texas (Mr. Cornyn) would have voted ``nay.'' Mr. REID. I announce that the Senator from Illinois (Mr. Durbin) and the Senator from Vermont (Mr. Sanders) are necessarily absent. The PRESIDING OFFICER (Mr. Hoeven). Are there any other Senators in the Chamber desiring to vote? The result was announced--yeas 42, nays 54, as follows: [Rollcall Vote No. 43 Leg.] YEAS--42 Baldwin Bennet Blumenthal Booker Boxer Brown Cantwell Cardin Casey Collins Coons Donnelly Feinstein Franken Gillibrand Heinrich Heitkamp Hirono Kaine King Klobuchar Leahy Manchin Markey Menendez Merkley Mikulski Murphy Murray Nelson Peters Reed Reid Schatz Schumer Shaheen Stabenow Udall Warner Warren Whitehouse Wyden NAYS--54 Alexander Ayotte Barrasso Blunt Boozman Burr Capito Carper Cassidy Coats Cochran Corker Cotton Crapo Daines Enzi Ernst Fischer Flake Gardner Graham Grassley Hatch Heller Hoeven Inhofe Isakson Johnson Kirk Lankford Lee McCain McCaskill McConnell Moran Murkowski Paul Perdue Portman Risch Roberts Rounds Rubio Sasse Scott Sessions Shelby Sullivan Tester Thune Tillis Toomey Vitter Wicker NOT VOTING--4 Cornyn Cruz Durbin Sanders The amendment (No. 3483) was rejected. The PRESIDING OFFICER. The Senator from Ohio. Comprehensive Addiction and Recovery Bill Mr. PORTMAN. Mr. President, I rise today to urge my colleagues in the House of Representatives to pass the legislation we passed here in the Senate a few weeks ago called the Comprehensive Addiction and Recovery Act, or CARA. We passed it on March 10, which was 27 days ago--almost a month. It is estimated that we lose about 120 Americans every day to drug overdoses. That means that during that time period--those 27 days--we lost about 3,240 additional Americans who we represent to substance abuse and death from heroin and prescription drug overdoses. Since 2007, drug overdoses have killed more people in Ohio than any other cause of accidental death, even surpassing car accidents. It is probably[[Page S1790]]true nationally now as well. Addiction is treatable, but 9 out of 10 people who need treatment aren't getting it. That is a tragedy. It shows that the system we have right now just isn't working, and that is what our legislation addresses, among other things. In one 5-day span since we passed CARA, just in the last month, we had five people die from heroin and Fentanyl overdoses in one of the cities I represent--Cleveland, OH. I was in Athens, OH, more than 2 weeks after we passed CARA, and received a tour of the Rural Women's Addiction Recovery Bassett House facility. Dr. Joe Gay and Ruth Tarter took me around so I could meet some of the brave women who stepped forward to treat their addiction issues. Some of them were there with their kids. They have an amazing success rate. I will tell you that 3 days after I left Athens, OH, $40,000 of heroin was seized at a traffic stop very close to this treatment facility. It is everywhere. It knows no ZIP code. It is in rural areas, suburban areas, and inner cities. States are starting to take action. Ohio is taking action, your States are taking action, and communities are taking action. Local leaders know this is a problem, but they want the Federal Government to be a better partner. That is what CARA provides. It provides best practices from around the country. It provides more funding for some critical elements that are evidence-based--based on research and what actually works. Our States and local communities are desperate for this right now. By the way, this legislation is not just bipartisan. It is also bicameral. In other words, not only have Republicans and Democrats worked across the aisle here in the Senate over the last 3 years putting this bill together, but our colleagues in the House have worked together as well. I am encouraged by the fact that the CARA legislation in the House has 113 cosponsors. It is bipartisan. It is based on good evidence. It is based on a lot of work and effort. Today I heard through a media account that one of the House leaders said there is interest in moving something even this month. That is great. But he also talked about hearings and markups and so on. Let's be sure the hearings and markups don't delay what we know we should do, which is to pass the CARA legislation. It has been bicameral and bipartisan. It passed the Senate with a 94-to-1 vote. That never happens around here--94 to 1. This is legislation which we know will make a difference right now in our communities that are dealing with a crisis we all face. Let's move this legislation. I say to my friends in the House with all due respect, this legislation has been carefully crafted and we have done the hard work. I mentioned that we spent 3 years of factfinding on this bill. We didn't think we had all the right answers, so we went out to experts all over the country. We took time to listen. We consulted with them. We listened to experts, doctors, law enforcement, and patients in recovery. We listened to the drug experts in the Obama administration, such as the White House Office of National Drug Control Policy, ONDCP. They have been very helpful. We brought in people from Health and Human Services and listened to them. We brought in people from my home State of Ohio and other States around the country. We heard from family members, many of whom have channelled their grief at losing a loved one into advocacy for the CARA legislation because they know it is going to help. One testified in the Judiciary Committee when we marked up the legislation. Tonda DaRe from Carrollton, OH, talked about having lost her daughter, who was a very successful high school student and engaged to be married. Everything was going great. When she turned 21, she made a mistake: She tried heroin. She went into recovery. She relapsed. She ended up dying of an overdose. Unfortunately, this is a story that is retold all over our country. There are moms, there are dads, there are aunts and uncles and brothers and sisters who come forward to tell us these tragic stories about losing a loved one. They want this legislation to pass because they know it is going to help another family member or a friend or a coworker or someone whom they have never met but whom they want to help so they don't have to go through the grief they have gone through. Senator Sheldon Whitehouse--a Democrat--and I have worked on this legislation together, along with many other people in this Chamber. We have also worked, as I said, with many on the House side. We worked with folks on both sides of the aisle and both sides of the Capitol because this has become an issue that affects us all. It is a nonpartisan issue. We have to move it forward. We held five forums here in Washington, DC, and brought in experts to get counsel and advice. They helped us develop a legislative proposal that was thoughtful because it actually addressed the real problem. In April 2014, we had a forum on the criminal justice system which included alternatives to incarceration, and you will see that in our legislation. The notion is, for users who get arrested for possession, let's not just throw them in jail because that hasn't worked. Let's get them into treatment and get them into a recovery program that works. In July 2014, we held a forum on how women are impacted by this drug epidemic, looking particularly at addiction and treatment responses. Some new data that is out there now shows that most of the people who are suffering from heroin and prescription drug addiction are women. In December 2014, we held a forum on the science of addiction--how we could get at this from a medical point of view, how we could come up with better medical approaches to this to be able to stop the craving, to deal with the addiction problem, to get people through withdrawal. We also talked about how to address some of the collateral consequences of addiction. In April of 2015, we held a forum on our youth and how we can better promote drug prevention. After all, keeping people from getting into the funnel of addiction in the first place has to be a priority. To help people avoid going down that funnel of addiction, we need better prevention, better education. That is part of our legislation. We also had input about what is working in recovery and what is not working in recovery. We held a forum in July of 2015 to talk about our veterans, to talk about the very sad situation with veterans who are coming back to our shores who have PTSD--post-traumatic stress disorder--and who have brain injuries. Some recent data shows that about 20 percent of returning veterans with those issues are becoming addicted to prescription drugs or heroin; therefore, veterans courts are a major part of our legislation. These are drug courts that are focused on mental health and addiction specifically for our veterans. I have seen them in Ohio. They are working great. It is unbelievable. I talked to a guy who has been in and out of the system his whole life. He is about 45 years old now. He finally found this court that was going to help him--took him out of jail and got him into treatment. Hanging over his head was the possibility of incarceration if he didn't do the right thing and stay clean. He is now a senior at Ohio State University and is about to get his degree, and he reunited with his family for the first time in many years. He is clean. It can work. The final result was the legislative text that reflected this open and deliberative process I am talking about. This bill--just like the research it supports--is evidence-based. We didn't ask who had the idea; we just asked whether it was a good idea. It is no wonder that CARA now has support from 130 national groups, from the Fraternal Order of Police, to stakeholders in public health--doctors and nurses, those in recovery, experts in the field, people who actually know what is going on because they are in the trenches working on this. They want this bill passed. They know it will help them and help them now. As I said, that vote was 94 to 1, which means 94 Senators say this bill is ready to go. These are Senators from every State in the Union who support this legislation, therefore representing every congressional district in the United States of America. It makes sense. It expands prevention and educational efforts to prevent opiate abuse, the use of heroin and prescription drugs. It increases drug-disposal sites to get medications out of people's hands and get it into the right hands. It takes[[Page S1791]]this medication off the bathroom shelves. It has a drug-monitoring program to get at the overprescribing issue. So many people who are currently addicted to heroin started with prescription drugs. In fact, the majority did. There is different data out there, but it is very clear that prescription drugs are a huge part of heroin addiction. It also authorizes law enforcement task forces to combat heroin and meth. Law enforcement has an important role to play here. It expands training and the availability of naloxone, or Narcan, to law enforcement. This is for our firefighters. When you go to a firehouse in your State--for those listening in the House, in your district--ask them: Are you going on more fire runs or are you going on more runs to help people with overdoses? They will tell you what they tell me: overdoses. That is what it has come to. That is happening in your fire department in your community. By the way, to tell you how much this law can make a difference--because we do help get the training for them to be able to use Narcan and get the Narcan or naloxone into the right hands--Ohio public safety officials have administered naloxone over 16,000 times since 2015--16,000 overdoses that might otherwise have resulted in death. For the most part, this miracle drug works. First responders know how important it is. That is why the Fraternal Order of Police supports this bill. They want to equip their officers, but so do the firefighters. CARA also supports recovery programs, including those focused on youth and building communities of recovery. To avoid people getting into addiction in the first place, it also creates a national task force on recovery because there is a lot of information out there we need to bring together to find out what works and what doesn't work precisely in terms of dealing with the collateral consequences imposed by addiction. CARA expands treatment for pregnant women who struggle with addiction and provides support for babies who suffer from what is called neonatal abstinence syndrome. What does that mean? That means babies who are born addicted. In Ohio, tragically, we had a 750-percent increase in the number of babies born with addiction in the last 12 years. I have been to the hospitals. I have been to St. Rita's in Lima. I have been to Rainbow Babies in Cleveland. I have been to Cincinnati Children's Hospital. I have seen these babies. These are tiny babies who are addicted, and they have to be taken through withdrawal. The compassionate nurses and doctors who are doing it--God bless them--I asked them: What is going to happen to these babies? They told me: Rob, we don't know. We don't know the long-term consequences because it is so new. But it is dramatic and it is happening in all of your hospitals. These neonatal units are now taking on a whole other task, which is helping babies through withdrawal. I visited folks who are not only pregnant but are addicted, and I talked to them about what they are going through and what the consequences are going to be, and it is sad. Many say: Rob, the grip of addiction is so great. I am now in treatment, but I worry about what is going to happen to my baby. We also expand treatment for expectant and postpartum women for that reason. And these expectant and postpartum women who need this help can make the right decision with more help from us. It expands residential treatment programs for pregnant women who are struggling with addiction. It creates a pilot program to provide family-based services to women who are addicted to opiates. CARA also helps veterans, as I said. It allows those veterans to get into a veterans court, where they can get help to walk through how they get out of this addiction, how they get into recovery. They can get support from other veterans around them to provide the kind of help they need to get out of this cycle of incarceration and addiction. What do we say to the 40 million Americans who are struggling with addiction when they ask ``Why don't you guys act?'' The Senate acted 94 to 1. Why can't we get this done? It is time to move. They shouldn't have to wait. We shouldn't have to wait. To those 40 million who struggle, to those who think they can't overcome this addiction, to those who believe there is no one out there to help them, the message is, you are not alone. There is hope. You can beat this. I have seen it. There are people who care and want to help. There are so many heartbreaking stories of addiction, but there are also so many stories of hope. I think about Vanessa Perkins from Nelsonville, OH. Vanessa became addicted to heroin. Once she became addicted, she also became a victim of sex trafficking. Those two are related. In Ohio, they tell me that most sex trafficking has now to do with heroin addiction. In other words, the trafficker gets these women--usually women--addicted to heroin, and that is one way they become dependent on their trafficker. What Vanessa tells me is that it took her a long time to turn her life around, but she was courageous and brave enough to seek treatment, and she is now back on track. For the last 6 years she has been helping others, taking her experience and using it to help others deal with their addiction. She is on the board of a group called Freedom a la Cart, which is a company in Columbus, OH, that I visited last month that provides job opportunities for trafficking victims. They do a heck of a job and teach these women a trade, too--culinary arts. Now so many of these women who had been trafficked, who had been heroin addicts, are back on their feet, reunited with their families, and know the dignity and self-respect that come from the work they are doing and from helping others. There is hope. Treatment can work. Mr. President, leaders in the House say they want to move anti-heroin legislation through regular order. Again, I heard today that one of the leaders said they are planning to take action. I had conversations with Speaker Ryan on this issue. I had conversations with other leaders in the House on it. I take them at their word. I am hopeful we will see the House begin to act next week when that Chamber returns, but I will say this: The House must act, and they must act soon. I am not going to be patient on this. This is urgent, and people's lives are at stake. The House must pass this bill so the President can sign it and so it can begin to make a real difference in the lives of the people we represent. This is our responsibility. We need to take advantage of this opportunity that the Senate has given us by this huge vote--94 to 1--to get this legislation to the President and get it enacted into law. Mr. President, I yield back my time. The PRESIDING OFFICER. The Senator from Michigan. FLINT, MICHIGAN, WATER CRISIS Ms. STABENOW. Mr. President, today I would like to speak about two different subjects. Both are connected in the sense that they involve lack of action and people counting on us to act as a Senate. The first involves the fact that today in the city of Flint, MI, we still have people who can't drink the water coming out of the tap. I think any one of us would have trouble if that happened for 1 day, but we are talking about months and months--going on 2 years now--that we have seen a system completely broken down because of decisions, because of lack of treating the water, a whole range of things. From my perspective, the most important thing is the fact that people still don't have access to clean, safe water. They can't bathe their babies. They can't take a shower themselves. I can't imagine what it must be like for families in Flint who are waiting and waiting for help. I want to thank President Obama for doing what he can do through the administration to help from the standpoint of health and nutrition and education, but the fundamental problem is replacing the damaged pipes. As my colleagues know, we have been working very hard and we have developed a bipartisan proposal. I wish to thank the chair and ranking member of the Energy and Natural Resources Committee, Senator Murkowski and Senator Cantwell, for working with us, and so many colleagues who are now bipartisan cosponsors on a bill with myself and Senator Peters. I wish to thank Senator Inhofe as chair of EPW and ranking member Senator Boxer and so many people who have[[Page S1792]]come together to support this effort, not only for Flint, but we now are seeing headlines across the country about other areas where lead poisoning in water is a serious issue and where we have all kinds of communities with water infrastructure needs. We have put together a proposal. We have a bipartisan proposal. We are ready to move forward. We need a vote on this proposal. As people in this building know, the junior Senator from Utah is holding us up from being able to get that vote. We have spent weeks now--weeks--trying to find a way to get beyond this objection. We thought we had an agreement, and then the bar just keeps changing. This is not a game. These are real people, and we are trying to solve a real problem. We have put forward a proposal fully paid for that actually reduces the deficit, paid for out of a program that I care deeply about because I authored it in 2007, and prior to Senator Peters being a Senator, when he was in the House, he was the champion of the program that we are offering to use as a payfor. So I just want to remind everyone--and I am going to continue to come to the floor and remind colleagues every day--that a group of Americans in a city of 100,000 where there has been a Federal emergency declared are still waiting for us to act to help them--not to do the whole thing, not to pay for all of what needs to be done in terms of water infrastructure, but to do our part as a Federal Government, as we have done in communities across the country for other kinds of emergencies. We need to help the children of Flint. Nine thousand children under the age of six are being exposed to lead poisoning; some homes have exposure higher than a toxic waste dump. I can tell my colleagues as a mother and now as a grandmother, I would never tolerate something like that. I can't imagine what is happening for families. We have the opportunity to do something. It is easy. It is fully paid for. It is fully paid for by something that colleagues on the other side of the aisle have wanted to eliminate--fully paid for. It helps communities across the country. Now we have a situation where one Member has indicated, well, it is not his problem. He doesn't care; it is not his problem. I hope as Americans we are willing to say that other people's problems--I would think we care about them, whether it is our own children, our own grandchildren, people we know or not. That is what we expect when there are emergencies and disasters across the country. And whether it is in the farm bill that I worked on with the distinguished Presiding Officer where we strengthened livestock disaster assistance--even though that is not a huge issue to me in the State of Michigan, but I know it is for a lot of States and a lot of communities. That is what we do as Americans. We care about people and communities. We have a group of people right now who are not being seen. I want my colleagues to see this baby and the picture this represents of a group of people who are waiting for help and deserve help. Filling the Supreme Court Vacancy Mr. President, I wish to address something else now and turn to history to talk about somebody else who is waiting. He can drink his water and take a shower. That is a good thing. But we have a very distinguished jurist, the Chief Judge of the DC Court of Appeals, nominated by the President of the United States to be a Supreme Court Justice, who is waiting for the opportunity to be heard, to have a hearing, to meet with people, to have a vote, yes or no. We have spoken a lot about the Constitution, about responsibilities, about debates. Our three branches of government are sworn to uphold both the written word of the Constitution and the spirit of the Constitution. This spirit was expressed in a series of articles beginning in 1787. I wasn't there at the time. But in reading what our Founding Fathers said--those who framed the Constitution--I think it is important to look at what they intended through the Federalist Papers. On April 1, 1788, Alexander Hamilton, writing in Federalist Paper No. 76, outlined two specific roles for Supreme Court nominees: that the President nominate Justices and the Senate provide advice and consent. Hamilton explained how the Senate held the power to reject a nominee, to prevent the appointment of unfit characters from family connection, from personal attachment, or from other biases. As my colleagues know, Senators can investigate the character of a nominee by meeting the nominee in person, by holding hearings, and by looking at their writings. At the Senate Judiciary Committee they can ask the nominee questions in full view of the public. Based on responses, if they believe a nominee does not have the appropriate character, they can reject the nomination. They can vote no. That is our right as Senators. But Senators in the current Republican majority are refusing to do any of that. They have said they will not hold hearings. Most of them will not even meet with the nominee, Judge Merrick Garland. I want to commend Republican Senators who are, in fact, meeting with Judge Garland. This is their job. This is our job--the job established for us by America's Founding Fathers--and a majority of the majority is refusing to do it. Now, according to the average time for moving a Supreme Court nominee through the process, if the Republican majority did their job, as previous Senates did, then there would be a hearing of the Judiciary Committee by April 27, but there is none scheduled. The Judiciary Committee would hold a vote by May 12, but there is no vote coming. And based on historical precedent, the Supreme Court nominee would then come to the floor for a vote on confirmation before Memorial Day. But because my colleagues across the aisle are refusing to do their job, that vote will not happen. My Republican colleagues like to say that the Senate does not confirm Supreme Court nominees during a Presidential year, but that doesn't square with the facts. More than a dozen Supreme Court nominees have been confirmed by the Senate in an election year. In 1988, also a Presidential year, the Senate did its job by confirming President Reagan's Supreme Court nominee, Justice Anthony Kennedy, with a Democratically controlled Senate. In 1940, another Presidential election year, the Senate did its job by confirming President Franklin Roosevelt's nominee, Justice Frank Murphy. In 1932, the Senate did its job by confirming President Hoover's Supreme Court nominee. In 1916, the Senate did its job twice by confirming President Wilson's two nominees for the Supreme Court. The U.S. Constitution was ratified in June 1788, just a few months after Hamilton published the Federalist Paper I mentioned a few minutes ago. And for nearly 228 years--228 years--during times of war, times of peace, periods of prosperity, and periods of economic hardship, America has balanced the powers between the executive and the legislative branches in selecting who would serve in the third branch of government. We have done it during Democratic majorities and Republican majorities for 228 years. To those who are refusing to hold hearings on a nomination, my question is this: What has changed? What has changed this year? What is it about this President that causes him to be treated this way? What is it that is leading my colleagues to question the judgment and the wisdom of Alexander Hamilton and the rest of the Founding Fathers who signed the Constitution and gave us the responsibility for advice and consent? In short, why now are you refusing to do your job? Just do your job. Do what we are paid to do. Last month, I went over in front of the Supreme Court on a beautiful, sunny day when a lot of people were here visiting, and I talked to a number of citizens and asked them what they thought about what was happening, the debate going on about filling a vacancy on the Supreme Court. I also asked them what would happen to you if during a year you told your employer that a major part of your job--a very big responsibility that you have in your job--you were going to refuse to do for a year or so. What would happen? Well, the answer is pretty easy. People said: I would be fired. People say: Why aren't you doing your job? Why isn't the majority doing its job? Because if you are not willing to do the work, why should you have the job? Nobody else can do that in their job.[[Page S1793]] That is why the polls show overwhelmingly that the American people side with those of us on the Democratic side, with all of us who stand together as Democratic Senators to say: Do your job. We are willing to do our job. People stand with the Constitution and with the overwhelming history of our country. It is very simple. It is a very simple idea. It is a phrase we say all the time in all kinds of circumstances. We say to our children, we say to people we work with: Just do your job. Well, this is our job. Hold a hearing, meet with the nominee, have a vote. You can vote yes; you can vote no. You could skip that day. But this judge deserves a vote, and it is our responsibility to vote and to fill the vacancy on the highest Court in the land. That is what the American people expect us to do. That is what they deserve. It is time that the Senate do its job. Thank you, Mr. President. I yield the floor. I suggest the absence of a quorum. The PRESIDING OFFICER. The clerk will call the roll. The senior assistant legislative clerk proceeded to call the roll. Mr. CASSIDY. Mr. President, I ask unanimous consent that the order for the quorum call be rescinded. The PRESIDING OFFICER. Without objection, it is so ordered. Mr. CASSIDY. Mr. President, I rise today to discuss several provisions in an amendment to the FAA reauthorization bill that is currently before the Senate and that specifically benefits my home State of Louisiana. There are more than 253 air traffic control towers throughout the country operating through a successful public-private partnership called the Federal Contract Tower Program. This program is especially critical to rural areas--as I have in Louisiana and as does the Presiding Officer--to ensure that America's airspace and the traveling public are safe. However, there are currently 30 towers awaiting the FAA to finalize an internal agency formula called the benefit-cost analysis, referred to as the BCA, which will allow eligible towers to enter the Federal Contract Tower Program. One of these airports is the Hammond Northshore Regional Airport in Hammond, LA. The Federal Contract Tower Program has been in place for more than 30 years and is a prime example of an effective public-private partnership between government and the private sector. Contract towers handle approximately 28 percent of the Nation's air traffic control tower operations but account for only 14 percent of the FAA's total tower operations budget. Repeated studies by the U.S. Department of Transportation inspector general have shown that the Contract Tower Program increases aviation safety while reducing costs to taxpayers and the Federal Government. It is also important to note that approximately 80 percent of the contract controller workforce are veterans. Congress has demonstrated numerous times in bipartisan fashion the merit and need for the Federal Contract Tower Program. Given the success of the program and the increasing likelihood of further FAA delays, I am pleased the Commerce Committee included language in the FAA reauthorization bill to strengthen and improve the Federal Contract Tower Program. Senators Cornyn, Vitter, Portman, and Wicker have been leaders on this issue, and their work is greatly appreciated. Currently, America's trade and economy are being hampered because many cargo planes from other countries are prohibited from flying into U.S. airports because they have not been upgraded to newer types of technology. Some aircraft are what is called ``Stage 2 aircraft.'' These aircraft were phased out following the passage of the Airport Noise and Capacity Act of 1990, which mandated the phaseout for Stage 2 aircraft over 75,000 pounds. I have introduced an amendment that would permit flights to a small number of airports under limited circumstances for revenue and nonrevenue flights of Stage 2 aircraft over 75,000 pounds. One of the airports that meets the criteria is the Acadiana Regional Airport in New Iberia, LA. This airport is located in a heavy industrial complex and surrounded by agricultural land. The Acadiana Regional Airport has an advantage over other types of airports because it is surrounded by land use compatible with airport operations. Additionally, it is situated near the Port of Iberia, which is home to more than 100 companies employing close to 5,000 people in industries such as construction, energy, equipment rental, and trucking. This would bolster Louisiana's economy, help working families, and improve America's ability to trade with the world. Louisiana's economy relies on the thriving maritime industry. In 2014 a study from the Transportation Institute showed that 54,850 maritime-related jobs contribute more than $11 billion annually to Louisiana's economy. One in every 83 Louisiana jobs is connected to the domestic maritime industry, nearly twice that of any other State. With ports along the Mississippi and Red Rivers, our State sees vessels of varying sizes and types. While loading cargo, these ships must drain ballast water that they have taken on to maintain the balance of the ship. This can have varying degrees of environmental effects, with costly and confusing State and Federal regulations making compliance difficult. Senator Rubio is sponsoring the Vessel Incidental Discharge Act, which creates a uniform, enforceable, and scientifically based national standard on ballast water discharges. This is needed in order to simplify the highly complicated and overly burdensome patchwork of State and Federal regulations that are in place today. Everyone I talk to in Louisiana's maritime industry and also in the inland marine, which would take the agriculture products from States such as the State the Presiding Officer represents, says it is necessary for these regulations to be harmonized, and they emphasize the importance of passing this bill. I am a cosponsor of this bill, and I am glad to see that Senator Rubio has filed the amendment to the bill we are considering on the floor today. The FAA Reauthorization Act contains many measures that will protect Americans, improve our economy, and protect our environment. I urge all my fellow Senators to support the bill and these amendments. I yield the floor. Amendment No. 3512, as Modified Mr. LEAHY. Mr. President, Aviation safety, as much as all national security, must be of paramount importance. I am increasingly concerned with reports from across the country that Secure Identification Display Area, SIDA, badges have gone missing, either through loss or theft. These badges, which grant access to secure areas of airports, allow employees to bypass traditional security checkpoints and, in the wrong hands, can pose a considerable security threat. An amendment considered and adopted earlier today by the Senate, Thune amendment No. 3512, is aimed at addressing this problem and would implement additional accountability and oversight methods to ensure that these SIDA badges do not fall into the wrong hands. It would provide for further employer accountability and allow for increased fines and enforcement actions against workers that fail to report the loss or theft of a badge. These are well-intentioned goals and ones that I support. I opposed this amendment, however, because extraneous provisions included in the amendment directly contradict bipartisan efforts in this Congress to reform our criminal justice system, including by reducing unnecessary barriers to employment for people with criminal records. The amendment will require the TSA Administrator to propose increasing the lookback period from 10 years to 15 years for background checks of airport and airline workers who have or are seeking SIDA badges. Under current regulations, there are a number of offenses that disqualify a potential employee, if the individual was convicted of the offense during the 10-year lookback period. The amendment would also require the TSA Administrator to consider adding more offenses to the list of disqualifying crimes. Disqualifying offenses already include a number of low-level offenses, such as felony drug possession. These provisions would exacerbate barriers to reentry. The scope of the changes will still exclude many potential employees and lead to the firing of a number of current employees.[[Page S1794]]I ask unanimous consent to have printed in the Record at the conclusion of my remarks a letter from Transport Workers Union of America, the AFL-CIO, the Association of Flight Attendants, CWA--the Communication Workers of America, the International Association of Machinists and Aerospace Workers, the Transportation Trades Department--AFL-CIO, the Leadership Conference on Civil and Human Rights, and the National Employment Law Project in opposition to this amendment. I am committed to working with Senator Thune to ensure greater accountability for Secure Identification Display Area badges. It must be a priority. I hope that he and others will work with me through the conference of this bill to eliminate these barriers to employment for individuals with certain criminal records. There being no objection, the material was ordered to be printed in the Record, as follows: April 6, 2016.Oppose the Airport Security Enhancement and Oversight Act (S. 2361) as an Amendment to the FAA Reauthorization Act (H.R. 636) Dear Senator: On behalf of the undersigned organizations, we write to oppose any efforts to expand background checks on aviation workers as proposed in the Airport Security Enhancement and Oversight Act (S. 2361). In particular, we are opposed to the inclusion of S. 2361 as an amendment to H.R. 636, the FAA Reauthorization Act, which is currently under consideration in the Senate. As drafted, S. 2361 would undermine reforms around the nation that have reduced barriers to employment of people with criminal records, thus representing a serious setback for the bipartisan criminal justice reform movement. The Airport Security Enhancement and Oversight Act would alter the requirements for airport workers to obtain Secure Identification Display Area (SIDA) badges by instructing the Transportation Security Administration (TSA) Administrator to propose increasing the lookback period on many aviation workers' employment background checks from 10 years to 15 years. This provision undermines the goal of promoting rehabilitation, and it conflicts with the substantial research documenting that criminal history lookback periods should not extend back more than seven years. The bill also instructs the TSA Administrator to consider increasing disqualifying criminal offenses to include crimes that do not appear to be related to transportation security. These reforms would have far reaching impact and exacerbate barriers to reentry. As many as one in three Americans have a criminal record and nearly half of U.S. children have a parent with a criminal record, creating life-long barriers to opportunity, including employment, for entire families. This change will also have an overwhelming discriminatory impact on communities of color, who have been hardest hit by a flawed criminal justice system. Moreover, this proposal does not account for the compelling evidence documenting the impact of gainful employment on those who have previously been convicted of a crime. Full integration into society is essential to successful anti-terror programs and efforts to lower recidivism rates. By requiring the dismissal of many current employees who have worked in a position for years, the legislation ignores these widely accepted principles. We do support some elements of this legislation. The bill would create a waiver process for those who are denied credentials. This would ensure the consideration of circumstances from which it may be concluded that an individual does not pose a risk of terrorism or to security. The waiver process would consider the circumstances surrounding an offense, restitution, mitigation remedies, and other factors. This provision is modeled on a very successful program in the Transportation Worker Identification Credential (TWIC), a credential that is similar to a SIDA, which is used at secure areas of port facilities. We strongly encourage you oppose the inclusion of any amendment providing blanket categorical exclusions that would increase background checks on aviation workers and act as additional barriers to the employment of people with criminal records. Thank you for your consideration. If you have any questions, please feel free to contact Brendan Danaher, Director of Government Affairs at the Transport Workers Union, or Greg Regan, Senior Legislative Representative at the Transportation Trades Department, AFL-CIO. Sincerely, Transport Workers Union of America. AFL-CIO. Association of Flight Attendants--CWA. Communication Workers of America. International Association of Machinists and Aerospace Workers. The Leadership Conference on Civil and Human Rights. National Employment Law Project. Transportation Trades Department, AFL-CIO. VOTE EXPLANATION Mr. DURBIN. Mr. President, I was absent from today's votes on three amendments to the pending business, H.R. 636, the vehicle for a bill to reauthorize the Federal Aviation Administration, due to events I attended with President Obama in Illinois. Had I been present, my votes would have been as follows. On rollcall vote No. 41, Thune amendment No. 3512, as modified, I would have voted against adoption. I am concerned about the impact that a provision in this amendment will have on formerly incarcerated individuals who have successfully reintegrated into society after completing sentences for low-level crimes unrelated to transportation security. The provision, which will make it more difficult for these individuals to obtain certain aviation jobs years after a criminal conviction, undermines efforts to reduce barriers to reentry, lower recidivism rates, and reform our criminal justice system. On rollcall vote No. 42, Heinrich amendment No. 3482, as modified, I would have voted in favor of adoption. This amendment will further strengthen the homeland by increasing security in soft targets at airports, in areas like check-ins and baggage claims, where terrorists recently carried out deadly attacks in Brussels. The amendment will expand and enhance visible deterrents, create a new eligible use under Homeland Security grants for training exercises to enhance preparedness for active shooter incidents, and authorize and make explicit that Homeland Security grants can be used for airport and surface transportation in these nonsecure soft target areas. I am proud to have cosponsored this amendment. On rollcall vote No. 43, Schumer amendment No. 3483, I would have voted in favor of adoption. This amendment would establish consumer safeguards like minimum standards for space for passengers on aircrafts, including the size and pitch of seats, the amount of leg room, and the width of aisles. As these votes demonstrate, after a series of temporary extensions, the Senate is finally considering a long-term FAA reauthorization bill. In light of recent threats both here and abroad, it is important that we get this right. I look forward to continuing to work with my colleagues on a bipartisan basis on these important security reforms, consumer protections, and other pressing aviation-related issues in the coming days and weeks. Mr. CASSIDY. I suggest the absence of a quorum. The PRESIDING OFFICER. The clerk will call the roll. The senior assistant legislative clerk proceeded to call the roll. Mr. McCONNELL. Mr. President, I ask unanimous consent that the order for the quorum call be rescinded. The PRESIDING OFFICER (Mr. Cassidy). Without objection, it is so ordered. UNANIMOUS CONSENT AGREEMENT--EXECUTIVE CALENDAR Mr. McCONNELL. Mr. President, I ask unanimous consent that on Monday, April 11, at 5 p.m., the Senate proceed to executive session to consider the following nomination: Calendar No. 215; that there be 30 minutes for debate only on the nomination, equally divided in the usual form; that upon the use or yielding back of time, the Senate vote on the nomination without intervening action or debate; that if confirmed, the motion to reconsider be considered made and laid upon the table, the President be immediately notified of the Senate's action, and the Senate then resume legislative session without any intervening action or debate. The PRESIDING OFFICER. Without objection, it is so ordered. ____________________
CLIPS AND DOCS

VIDEO-The media is ignoring France's mass protests, but their spirit is spreading (TWEETS, VIDEO) | The Canary

Sun, 10 Apr 2016 13:55

In France, there is currently a growing movement of anger at the government of President Fran§ois Hollande. People's assemblies have been organised, and city squares have been occupied. This spirit is now spreading to other cities in Europe. And Britain could be next.

What's going on?

The movement is now known by the Twitter hashtag #NuitDebout (or 'Night on Our Feet'), and began on 31 March with a massive general strike '' attended by over 1.2 million people '' which had been organised by students and unions opposed to a planned labour reform law. The groups said the changes would make it easier for companies to fire their workers, and polls have shown that up to 70% of the French population opposes the new law.

But the march didn't stop, and over a thousand protesters occupied the Place de la R(C)publique in Paris. This drew parallels for many with the Occupy movement and the 15M/'Indignados' movement '' which saw Spanish citizens gather spontaneously in Madrid and other cities in 2011.

Paris-based activist Sam Cossar-Gilbert spoke on 6 April at ROAR Magazine:

for days now thousands of people have occupied the main square in Paris, held debates and general assemblies, and organised working groups, movie screenings and music concerts attended by thousands'... high school students are in the process of blockading schools across the country and planning yet another general strike.

On 5 April, there was a violent police eviction in Paris, but protesters returned hours later. The occupation was only planned for three nights, but political analyst Gael Brustier explains that:

the movement started growing unexpectedly, gathering up to a thousand people, voting collectively its own rules during daily meetings, launching debates and adopting a strictly non-violent rule

The New Internationalist's Jamie Kelsey-Fry spoke on 5 April about how this movement is:

a mass outpouring of fury at the government

This has resulted in part from the French government's use '' since November 2015's terrorist attacks '' of ''extreme methods to discourage protests'', such as immediate prison sentences, rubber bullets, concussion grenades, and tear gas. As activist John Jordan told Kelsey-Fry:

It's not just the new labour laws'... It's the boiling over of rage and the desire to construct something new from the bottom up whilst deposing a system made by the elite for the elite, a system that everyone knows is broken and cannot be fixed.

Here's a short summary from France24:

A rapidly-growing movement

Because of the combination of factors which have led to the #NuitDebout movement, it has grown exponentially. Kelsey-Fry describes how hundreds of thousands of people were set to attend people's assemblies on 5 April in 35 towns and cities across France. The night before, he says, around 21,000 people had protested in Paris alone.

Here are some images from recent days:

The spirit is spreading

#NuitDebout has now transformed into #NuitDeboutPartout (or 'Night on Our Feet Everywhere'). Activist Sophia Lycouris says that ''this is not just a French movement'', and that it has begun to ''spread in cities outside France, such as Brussels and Berlin'' '' with large demonstrations being planned for Saturday 9 April.

This comes within days of the Panama Papers revelations, which have already seen mass protests force Iceland's Prime Minister to resign and Britain's Prime Minister struggle to cope with his father being linked to tax avoidance.

In the UK, Occupy London has called for protests on 9 April, saying:

Jamie Kelsey-Fry suggests that, in a European environment which has still not recovered from the 2008 global financial meltdown, citizens share a lot in common. On top of this, he says:

The Panama Papers, as with the mass leaks we see through WikiLeaks, make it clear that the 1 per cent are making a mockery of democracy and punishing the ordinary citizens with inhuman austerity and draconian measures while they hide away billions for themselves.

As France's #NuitDebout goes from strength to strength, we could well see the growth of a Europe-wide movement. Or we could help to forge it.

Get involved!

'' Check out this page on Facebook, calling for David Cameron to resign.

'' Follow @nuitdeboutWORLD on Twitter to keep up with what is going on.

'' Attend the protest in London on 9 April. For more information, see Occupy London.

Featured image via France 24 English/YouTube

Help The Canary by subscribing:Or by reading more in our recommended book:

VIDEO-David Cameron: a question of trust | euronews, news +

Sun, 10 Apr 2016 04:41

The British Prime Minister woke up to find himself headline news and facing mounting pressure to resign over links to offshore finances. Iceland's prime minister was the first head to roll after the Panama Papers leak, David Cameron must now be wondering if he can weather the media storm and win back the public's trust.

It took Cameron four days of semi-denials before he came clean. ''He must have known beforehand mustn't he,'' said one Londoner. '' I think he should have put his hand up and been honest from the offset, when it all came out. Or beforehand, before it all came out.''

The Panama Papers have divided opinion, with some saying it's no surprise that the world's richest and most powerful people are implicated in offshore finance schemes. ''I think very rich people will always find ways of hiding their money,'' said one London woman.

People have been quick to point out the hypocrisy of the prime minister having funds offshore to avoid tax, after he had so vocally chastised celebrities in the UK for doing the same thing. ''It is no different from the man in the street doing cash-in-hand work is it? Is that morally correct,'' asked one London resident.

Protests are scheduled over the weekend in the UK. ''I wouldn't like to be in his place,'' said one London man. ''He should go. Since what he has done to the doctors, the police force and everybody else '' David: You should go.''

It may take a grand gesture from Cameron to win back public support and keep his feet under the desk of Number 10.

Do you trust him?

Posted by euronews on Friday, 8 April 2016The Intervieweuronews' James Franey spoke with Joe Churcher, the chief political correspondent for the Press Association.

James Franey, euronews: The British government -at least on the global stage '' has styled itself as a champion of tax transparency. How do you assess how Mr. Cameron has handled this?

Joe Churcher, Press Association: That's exactly the problem because he has been a champion of this. He has put himself out there as a crusader for transparency in tax havens and he has criticsed publicly celebrities who avoid tax. He's called it ''immoral''. For those reasons, it was important for him not to be associated at all with this sort of thing. Now, he says '' and perhaps quite rightly so '' that this particular vehicle that his father set up wasn't designed to avoid tax and that he's paid all that was meant to do. But to be associated at all with a vehicle that's set up in a tax haven that involves or uses techniques that were banned by many places later '' because of the secrecy that they were designed to bring in '' is damaging in itself. Then to appear unwilling, at least initially, to be clear about the level of his involvement in this particular scheme is a massive own goal and could be very damaging.

euronews: And it's worth underlining perhaps that this is tax avoidance that we are talking about, which in itself is not illegal '' unlike tax evasion. There have been a lot of rumours swirling around Westminster about who is going to take over from David Cameron. Do you think this scandal could have an impact on his leadership? Will he have to resign over this, do you think?

Churcher: I don't think so. There are some figures, backbench figures mainly, calling for Cameron's resignation. But certainly the leadership of the main parties is not going that far. As you rightly say, avoidance in itself is not illegal. So Mr. Cameron hasn't done anything wrong in that sense. It is more in the perception of it and how it relates to what he wants to do elsewhere. I think there are some interesting implications for this as to whether it will speed his departure. Obviously Mr. Cameron has said he will go before the next general election. Well, he'll go through to the next general election, but not fight that one as the leader. So, might it speed up his departure? It could if he feels that he wants to get out. I think the other implication which is interesting is that he has repeated his willingness to publish his tax returns and be open and public about those. And that is something that he has indicated that he thinks prime ministers and potential prime ministers should do. I think he was referring to the leaders of the opposition. But that's something to think about for the people who may well be looking to follow him.

euronews: Indeed, of course, there is this referendum on EU membership coming up in June. This was the week that the prime minister was really going to be setting out his stall, telling the British public: trust me. We need to stay inside the EU because it's better for Britain. Do you think this will have an impact on how Britons vote in that referendum?

Churcher: I think it could. Potentially, it could. There is certainly some concern behind the scenes about that. I think there is no doubt that the Remain camp, the camp that want Britain to remain in the EU at the referendum on June 23rd, see the prime minister's authority '' the prime minister telling voters that he wants Britain to stay in as quite an important factor in this. And if issues such as this, the government's handling of the Tata Steel crisis in Port Talbot, the rows within the party over disabled benefits and things like that. If these things undermine the faith in the prime minister amongst voters more generally, it could be that they will seek to punish him and use the referendum to say ''we don't like you or your government very much'' and send the vote in the other direction.

JavaScript is required in order to view this article's accompanying video

VIDEO-Gay hairdressers can legally be called ''faggots'' in France | euronews, world news

Sun, 10 Apr 2016 04:27

Stylist mistakenly received a text in which the word was used to refer to himBrought an unfair dismissal claimPlans to appeal the decisionThe newsAn employment tribunal in Paris has decided calling a male hairdresser a ''faggot'' is not homophobic.

The tribunal says this is ''because hair salons regularly employ gay people''.

The case concerns a stylist who was sacked after not turning up for work due to sickness.

He launched a claim for unfair dismissal after the boss of the salon mistakenly sent him a text in which the word was used to refer to him.

The tribunal agreed the term used was insulting.

However, it decided it could not be considered discriminatory.

The employee, who wants to remain anonymous, was awarded 5,000 euros.

He plans to appeal the decision.

What they are saying

VIDEO-Black Lives Matter Protesters Interrupt Bill Clinton in Philadelphia - YouTube

VIDEO-Senator Blasts TSA Administrator for Not Delivering Report Testing Airport Security Vulnerability | MRCTV

Sun, 10 Apr 2016 03:49

Sen. Bill Nelson (D-Fla.), ranking member of the Senate Commerce, Science and Transportation Committee, admonished Transportation Security Administration Administrator Peter Neffenger for not delivering to the committee the results of a report testing the vulnerability of the nation's airports.

VIDEO-Cruz, Trump debate 'New York values' - YouTube

VIDEO-Lauer to Hillary: GOP 'Clinging to the Hope' of You in 'Handcuffs' | MRCTV

Sun, 10 Apr 2016 03:16

More in the cross-post on the MRC's NewsBusters blog.

In an exclusive interview with Hillary Clinton aired on Friday's NBC Today, co-host Matt Lauer teed up the Democratic frontrunner to dismiss the FBI investigation into her e-mail scandal as nothing more than a wild Republican fantasy.

Lauer declared: ''Let me share some conversations I've had with Republicans....They are clinging to the hope that the way they'll be able to deal with that is that at some point between now and the election '' and they say this, they say this '' that they will get to see Hillary Clinton in handcuffs....That there'll be a political perp walk based on your private e-mail server.''

VIDEO-Aggrieved Hillary Friend Charlie Rose Demands Sanders Back Off Attacks | MRCTV

Sun, 10 Apr 2016 03:05

[See NewsBusters for more.] CBS This Morning co-host Charlie Rose on Friday demanded that Bernie Sanders retreat from his tough new attacks against the Democratic front-runner. Rose, who began one Clinton interview by reading a poem to his ''friend,'' lectured Sanders: ''The tenor of this campaign has changed when you're questioning the qualification of a person to be president.'' Shocked at the Vermont Senator's aggressive tone, Rose continued, ''But don't you owe it to yourself and those people who may vote for you to know more than simply look at a headline? You looked at a headline and then responded questioning her qualifications."

VIDEO-Sectrets Of The DC Madam's Black Book Revealed! - YouTube

VIDEO-Why The FBI Director Puts Tape Over His Webcam : The Two-Way : NPR

Sat, 09 Apr 2016 10:43

FBI Director James Comey gave a speech this week about encryption and privacy, repeating his argument that "absolute privacy" hampers law enforcement. But it was an offhand remark during the Q&A session at Kenyon College that caught the attention of privacy activists:

The thought of the FBI chief taping over his webcam is an arresting one for many.

His comment Wednesday (which is around the 1:34:45 mark in this video) was in response to a question about growing public awareness of the ways technology can spy on people, and he acknowledged sharing in the surveillance anxiety.

"I saw something in the news, so I copied it. I put a piece of tape '-- I have obviously a laptop, personal laptop '-- I put a piece of tape over the camera. Because I saw somebody smarter than I am had a piece of tape over their camera."

It's certainly not unreasonable to worry about webcams, especially for someone as high-profile as Comey. The FBI itself has used malware to hack into cameras to spy on targets.

For privacy activists, the real problem is what they see as Comey's hypocrisy. He says tech companies shouldn't make devices that are "unhackable" to law enforcement (the fight over the San Bernardino iPhone 5C being the major case in point), but the activists say that's exactly what he's done with his personal webcam.

Christopher Soghoian, principal technologist and a senior policy analyst with the ACLU Speech, Privacy, and Technology Project, accused Comey of having a double standard for his own privacy:

He piled on with a little Twitter sarcasm:

It's worth noting that Comey made the webcam remark in the context of a larger comment about the need for the public to keep an eye on how government uses its surveillance powers. "[The public should] demand to know how the government conducts surveillance. Demand to know how they're overseen, how they're constrained. Demand to know how these devices work," he said.

But as the San Bernardino iPhone fight made clear, the privacy debate in the U.S. is no longer just about legal processes and judicial oversight. It's about whether unhackable devices should be allowed to exist, warrant or no warrant. And a taped-over webcam is about as unhackable as a device can get.

VIDEO-Theresa May and the Snoopers' Charter are CassetteBoy's latest victims

Fri, 08 Apr 2016 18:12

---

Picture: Matthew Horwood/Getty Images

CassetteBoy has launched its take on the Snooper's Charter - and it pulls absolutely no punches, as you'd expect.

If you're unfamiliar with the Snooper's Charter, it is formally known as the Draft Communications Data Bill and essentially bestows powers upon the police to access everyone's web browsing histories and to hack into phones.

Naturally, the choice of song for the remix was Every Breath You Take by The Police.

Potentially our favourite lyric of the video, which was a collaborative effort with Privacy International, is:

Think of your own smartphone, it's no longer a no-go zone, it's under attack because we will hack all the technology you own.

If not the creepy refrain:

Every text you send. Every Facebook friend. I'll be watching you.

Watch the full video, below:

The video is released as #ResignCameron is the UK's top trending topic on Twitter, with midday protests expected on Saturday outside Parliament and Downing Street.

CassetteBoy tweeted the prime minister to thank him for not resigning yet, so the video would be out in time, before adding:

Picture: Rob Stothard/Getty Images

More:Cassetteboy just remixed the news and we wish it always sounded like this

More:This is one way to make Netanyahu's Congress speech sound good

More:David Cameron accidentally says he resents the poor

VIDEO-AUDIO-Bill Clinton Gets Into Heated Exchange With Black Lives Matter Protester : NPR

Fri, 08 Apr 2016 14:33

This post has been updated at 10 a.m. ET, April 8

In a prolonged exchange Thursday afternoon, former President Bill Clinton forcefully defended his 1994 crime bill to Black Lives Matter protesters in the crowd at a Hillary Clinton campaign event.

He said the bill lowered the country's crime rate, which benefited African-Americans, achieved bipartisan support, and diversified the police force. He then addressed a protester's sign, saying:

"I don't know how you would characterize the gang leaders who got 13-year-old kids hopped up on crack and sent them out onto the street to murder other African-American children," Clinton said, addressing a protester who appeared to interrupt him repeatedly. "Maybe you thought they were good citizens .... You are defending the people who kill the lives you say matter. Tell the truth. You are defending the people who cause young people to go out and take guns."

The Clintons have faced criticism from BLM activists and younger black voters for months now over that bill, which they say put an unfairly high number of black Americans in prison for nonviolent offenses.

After a protester interrupted him repeatedly, Bill Clinton began to take on that critique directly, making the claim that his crime bill was being given a bad rap.

"Here's what happened," Clinton said. "Let's just tell the whole story."

"I had an assault weapons ban in it [the crime bill]. I had money for inner-city kids, for out of school activities. We had 110,000 police officers so we could keep people on the street, not in these military vehicles, and the police would look like the people they were policing. We did all that. And [Joe] Biden [then senator and chair of the Senate Judiciary Committee] said, you can't pass this bill, the Republicans will kill it, if you don't put more sentencing in it."

"I talked to a lot of African-American groups," Clinton continued. "They thought black lives matter. They said take this bill, because our kids are being shot in the street by gangs. We have 13-year-old kids planning their own funerals."

Throughout the spirited defense of his policy, Clinton continued to be interrupted, and he repeatedly seemed to single out one protester.

"She doesn't wanna hear any of that," Clinton said to the protester. "You know what else she doesn't want to hear? Because of that bill, we have a 25-year low in crime, a 33-year low in murder rate. And because of that and the background check law, we had a 46-year low in the deaths of people by gun violence, and who do you think those lives were? That mattered? Whose lives were saved that mattered?"

For several minutes, the discussion of the crime bill, Clinton's exchange with the protester and the crowd's attempts to yell and chant over her were missing one thing: any mention of Hillary Clinton, the one Clinton running for president this election cycle.

Bill Clinton did finally address her. "Hillary didn't vote for that bill, because she wasn't in the Senate," Clinton said. "She was spending her time trying to get health care for poor kids [referencing her advocacy for the Children's Health Insurance Program]. Who were they? And their lives mattered. And her opponent [Bernie Sanders] did vote for it. But I don't blame him either ... There were enough Republicans in the Senate to kill this bill, and nobody wanted it to die. That's what happened."

"But she [Hillary Clinton] was the first candidate, the first one to say let's get these people who did nonviolent offenses out of prison," Clinton continued. "And guess what? A lot of Republicans agreed. They know they made a mistake."

Clinton went on to further defend his administration, referencing the financial crisis: "It reminds me of when the Republicans try to blame me for the financial meltdown."

He turned back to his wife and said: "This election is about the future. They're trying to blame her for something she didn't do. So I'll tell you another story about a place where Black Lives Matter? Africa." The former president went on to speak of his wife's work fighting AIDS in Africa while secretary of state.

Late Thursday night, NPR spoke with Philadelphia resident Erica Mines, one of the protesters at the Bill Clinton event.

"I'm not mad at Bill Clinton," Mines said. "I'm not mad at him as a person, he's a human being. But his politics are very wrong."

She said of her actions yesterday, "I don't necessarily like the term protest, because that's not what we planned to do," Mines said. "We did plan to express ourselves freely."

Mines said after Hillary Clinton supporters in the crowd began interacting with her the situation became tense and words were exchanged, leading to the escalation captured on camera.

Mines said in the moment she was not focused on Clinton's responses to her, but after the event she read up on exactly what he said. Still, Mines says her mind was not changed. "I still feel the same way about Bill Clinton... He completely beat around the bush." She continued, "Whatever policies and platform that she's [Hillary Clinton] running on now, [Bill] Clinton is definitely a part of that."

"Bill Clinton is a politician," Mines continued. "He did his job, which was to counteract anyone who wants to talk to him or point out the truth about exactly what he did to affect our community."

VIDEO-Hillary Clinton Ties Emerge In Panama Papers

Fri, 08 Apr 2016 05:13

Hillary Clinton Ties Emerge In Panama Papers

Change language & content:Switch to LatinoMake MSN my homepageHelpPlayPause

iVolumeVolumeVolumeMuteUnmute

Full ScreenExit Full ScreenUP NEXT

Uber Will Pay At Least $10 Million To Settle Accusations

Provide FeedbackReport a Problem

Select a category:I'm having problems with Top Destinations

I'm having issues searching

I'm having problems with Featured Apps

My Topics feedback

Other

How we can improve?

Please give an overall site rating:

VIDEO-One Day After the Panama Papers were Leaked, IRS Headquarters Closes then Catches Fire '' The Free Thought Project

Thu, 07 Apr 2016 21:19

As we have been covering this week, the release of the Panama Papers has created a panic among world governments, by exposing some of their darkest secrets.

In the leak, 11.5 million documents were stolen from Mossack Fonseca and were leaked to Suddeutsche Zeitung, who then turned to the International Consortium of Investigative Journalists to examine the documents. In the time since, media organizations have been scrambling to sift through a large number of documents, in hopes of finding stories that they can spin to fit their narrative.

So far, most of the information to be released through the mainstream media has been directed at foreign governments and leaders, with a passing mention of several hundred American citizens who store their money offshore without reporting it to the IRS. Ironically enough, at the height of the Panama Papers publicity, a fire broke out in the basement of the IRS headquarters, leading to a full closure of the headquarters for over a week.

According to a short report from the Associated Press:

IRS headquarters in Washington will remain closed for the rest of the week while repairs are made after a basement fire in the building.The agency said in a news release Tuesday that Monday afternoon's fire affected the air handling system. No one was hurt in the fire. The IRS says telework-ready employees are expected to telework from their approved location. Officials say tax returns are not processed at headquarters; taxpayers should continue to file their returns.

The timing of the fire and the closure have led many to speculate that perhaps the fire is an inside job, and created intentionally for the purpose of destroying records, which could possibly be evidence that correlates to Panama Papers revelations.

The building was closed and workers sent home approximately 45 minutes before flames engulfed the basement ''due to electrical issues with the air-conditioning system,'' an IRS spokesman said. He said that about 2,000 people work there but that ''a few hundred'' were still in the building when the fire broke out.

So far, there has been no indication from local authorities or representatives at the IRS as to whether the fire was an accident or an act of arson, and it is likely that this news will never be revealed. However, it is important to point out that the IRS headquarters is one of the most secure buildings in the country, which would make it nearly impossible for someone to start a fire in the basement unless they had authorized access to the area.

Aside from the mention of some American's use of so-called ''tax havens,'' there have been no reports of the IRS being implicated in the Panama Papers through the mainstream media. But the mainstream media has yet to report on the full scope of the 11.5 million documents that were released. It is, however, possible that the IRS is expecting some sort of fallout from sensitive information, and is taking protective measures to safeguard their secrets.

It is also possible that they are somehow connected or complicit in the offshore tax avoidance that has been practiced by some American citizens. It is also yet another possibility that this is just a mere coincidence, but when there is smoke, there is usually fire.
Clips & Documents
Art
CYBER!

Comey tapes webcam.mp3
Elections 2016

Aggrieved Hillary Friend Charlie Rose Demands Sanders Back Off Attacks.mp3

Boston Globe-Ideas-Trump-front-page.pdf

CNN Legal Analyst Jeffrey Toobin Calls Cruz' 'New York Values' Comment 'Anti-Semitic'.mp3

Cruz from debate media and money - jews.mp3

Lauer to Hillary- GOP 'Clinging to the Hope' of You in 'Handcuffs'.mp3

MSNBC's Joy Reid Claims Clinton As Qualified as Founding Fathers.mp3
JCD Clips

basevich 2 the carter doctrine.mp3

basevich 3.mp3

basevich 4 russia noinsense.mp3

basevich part one intro.mp3

Bill CLinton goes off.mp3

CBS trump wrap with new campaign guy.mp3

charliue rose eviscerates sanders.mp3

fast and furious scandal.mp3

hug a brit.mp3

odd story about surveillance planes DN.mp3

Panama papers DN Kicker.mp3

rebuildin afghanistan failure.mp3

stiudent loan bad news.mp3

Triple Tap drone strike DN.mp3
LGBBTQQIAAP
Panama Papers

David Cameron- a question of trust.mp3

Kool & The Gang - Celebrate-8 year edit.mp3

One Day After the Panama Papers were Leaked, IRS Headquarters Closes then Catches Fire.mp3

panama -1- All reporters had access to all documents.mp3

panama -2- Russia and journalist engagement with world leaders.mp3

panama -3- Mossack only in top 5.mp3

panama -4- Mossack didn't know.mp3

State Dept-Mark Toner US Was Not 'In Any Way Involved' in Panama Papers Leak.mp3
Security Theatre

Senator Bill Nelson (D-Fla) Blasts TSA Administrator Peter Neffenger for Not Delivering Report Testing Airport Security Vulnerability.mp3
SJW / BLM

Obama Jokes That He's Sorry for White SCOTUS Pick.mp3