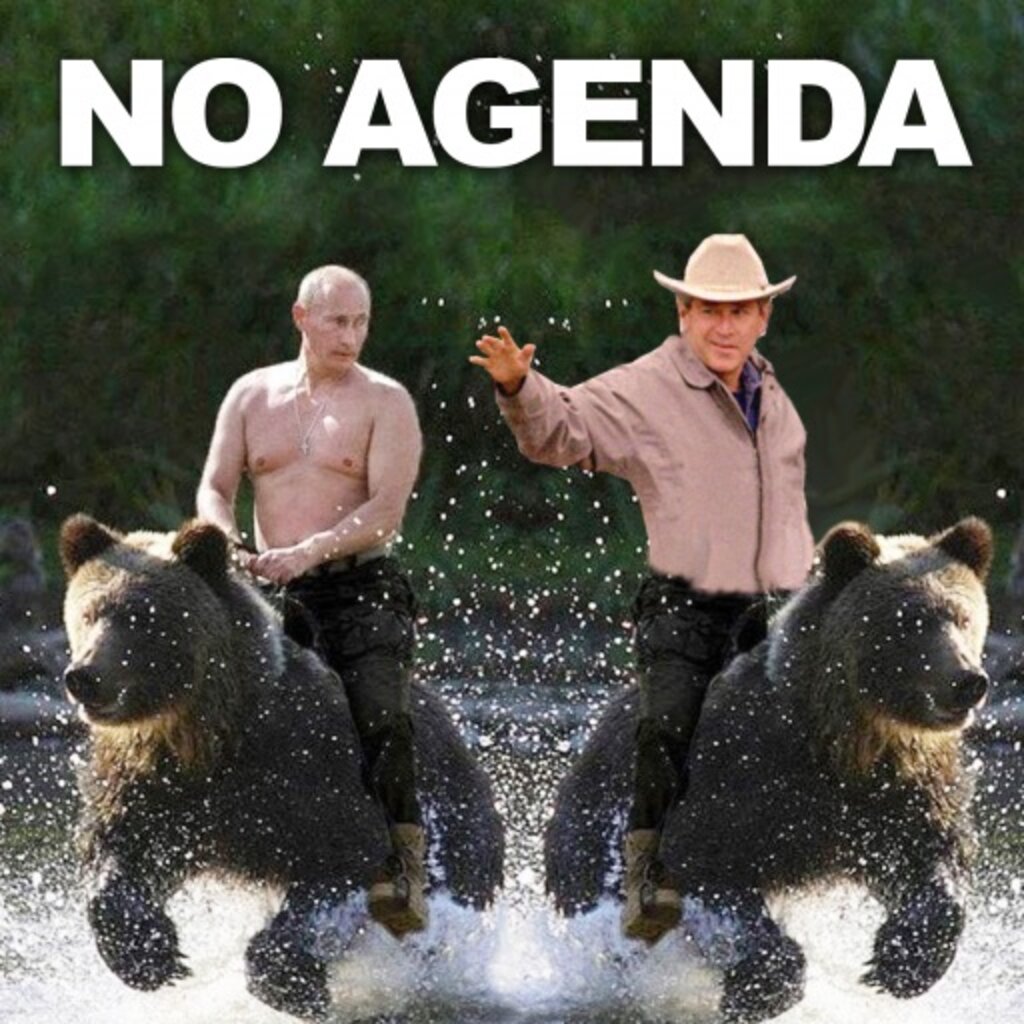 September 15th, 2016 • 3h 4m
860: Power Through
Shownotes
Every new episode of No Agenda is accompanied by a comprehensive list of shownotes curated by Adam while preparing for the show. Clips played by the hosts during the show can also be found here.
Elections 2016

The subtle misogyny in Matt Lauer's interview with Hillary Clinton was appalling.

Mon, 12 Sep 2016 13:05

Matt Lauer listens as Democratic presidential nominee Hillary Clinton answers a question aboard the aircraft carrier USS Intrepid on September 7, 2016.Photo by BRENDAN SMIALOWSKI/AFP/Getty Images

Let's talk about the misogyny in the traveling carnival that is the presidential race, shall we? I don't mean the obvious strain of the disease, the DTs. Donald Trump sickness is a well-known contagion by now, a virus that attacks the especially vulnerable: aging, white men who never went to college. Their withdrawal from the elixir of power granted by the accident of birth has been painful to watch, and perhaps we should not be surprised when they raise their voices in a barking chorus to the good old days of Jim Crow and sodomy laws and no abortion rights, back when America was great, remember? A caterwauling, red-faced, orange-haired, psychopathic buffoon presides over a sea of followers trembling with deprivation, and in their delirium they hallucinate unclean spirits wielding the glittering knives of castration: Mexicans and blacks and Muslims and menstruating women. No, Donald Trump's overt hatred of women'--his reference to breastfeeding as ''disgusting,'' to various women as ''fat pigs,'' as 9s or 10s, as ''dogs,'' his suggestion that sexual assault in the military should be expected if men and women serve together, his routine humiliations of young women in beauty pageants, his references to Hillary Clinton as ''a nasty, mean enabler'' in her marriage, as a bigot, liar, and cheat'--has been well documented.

No, I am interested in the far more subtle variation of the misogyny illness, the one that lurks behind phrases such as ''even-handed'' and ''fair-minded,'' that low-grade fever that caused Matt Lauer to continually interrupt Hillary Clinton's sharp, specific answers to his questions in the Commander in Chief Forum on NBC (thank god Clinton stood up and ignored him), and which also prompted him to allow Donald Trump to ramble on in incoherent sentence fragments about secret plans for defeating ISIS in thirty days, as if such nonsense were serious political discourse. Would our ''fair-minded'' journalist have treated a male candidate the way he treated Hillary Clinton? I ask you to search your souls, men and women alike. My answer is no.

I can hear the yowls of opposition. As with racism, it is easy to blame sexism on something'--anything'--else. She's so unpopular. People don't trust her. What about the emails? Whatever errors were made, they seem to be more about appearance than reality. (See Fred Kaplan's explanation in Slate, ''The Hillary Clinton Email Scandal Was Totally Overblown.'') It has further been forgotten by the press that Clinton was a well-liked Secretary of State, that she had a high ''popularity rating.'' But a woman appointed to a cabinet position is different from a woman whose very presence on the campaign trail screams ambition. The woman has a quality alarming to many: Hillary Clinton believes she can be President of the United States. That in itself is an emasculating proposition. Men don't like to take orders from women. Perhaps you have noticed this. Many women don't like to take orders from women either. What appears attractive and natural in a man'--an aggressive defense of his principles, issuing decrees, rulings, proclamations, even firing people from their jobs on TV'--is perceived as unseemly, loud, uppity, grating, unnatural and even ugly in a woman.

It fascinates me that although few Democrats would deny that deep-seated prejudices against women exist in our culture, the sexism that has dogged Hillary Clinton her entire career, the absurd scrutiny of her hair and clothing and cleavage, has not elicited the outrage one might expect in the popular media, despite the fact that feminist sites on the Internet have kept a scrupulous record of the ongoing petty assaults on Secretary Clinton. Matt Lauer has done the country a service, and I thank him for it. Interrupting women, treating them with condescension and disdain are symptoms of the low-grade infection caused by the virus that has afflicted millions of people in the United States, and not only in red states. Watching it play out on national television caused countless women and men to express justifiable fury. There is no pill for the virus. What is required of every one of us is self-examination and a high degree of reflective consciousness about who we are as citizens of the United States and who we want to be in the future.

Fourteen Medal of Honor recipients endorse Trump

Tue, 13 Sep 2016 20:08

Fourteen Medal of Honor recipients publicly backed Republican Donald Trump's presidential bid on Monday, the latest set of military-themed endorsements in what has become a campaign arms race over support from notable veterans.The group includes retired Army Mst. Sgt. Leroy Petry, awarded the honor for heroism in Afghanistan, 11 Vietnam veterans, and a two Marines who earned their respective medals for actions in the Korean War and World War II.

In a statement, Trump called the endorsements a tremendous honor.

''These soldiers are the personification of courage under fire, they are the best of us all,'' he said. ''I thank each of these Medal of Honor recipients for their faith in me to serve as our next president and commander in chief.''Retired Army Capt. Florent Groberg, who received a Medal of Honor for heroism in Afghanistan, was among the military-themed speakers at the Democratic Party convention in July in support of Democratic presidential candidate Hillary Clinton, calling her ''ready to lead.''

The spate of Republican endorsements from veteran heroes is just the latest complication for military voices in the already contentious political campaign.

Last week, Trump announced the backing of 88 former generals and admirals who called him the best candidate to serve as the next commander in chief. Within days, Clinton's campaign announced the names of 110 flag and general officers who endorsed her as the responsible, safe choice to lead the country. In response, Trump announced his list had topped 120. At the Republican convention in July, retired Army Lt. Gen. Michael Flynn, former Defense Intelligence Agency director, was a featured speaker who attacked Clinton as a liar and a dangerous leader.

Following Groberg's speech at the Democratic event, retired Marine Corps Gen. John Allen offered praise for Clinton and veiled warnings about Trump's unstable, unpredictable personality.

Several polls have shown Trump leading among troops and veterans, but Democrats have called that mostly traditional conservative leanings among the community rather than a show of support for Trump.And several prominent former military leaders have suggested veterans are playing too prominent a role in the divisive presidential campaign.

In August, retired Army Gen. Martin Dempsey, former chairman of the Joint Chiefs of Staff, decried the practice of former military brass stepping into the political arena, advising that ''politicians should take the advice of senior military leaders but keep them off the stage.''

Leo Shane III covers Congress, Veterans Affairs and the White House for Military Times. He can be reached at lshane@militarytimes.com.

N.Y. Times editor: I'd risk jail to publish Donald Trump's taxes

Tue, 13 Sep 2016 04:59

He made the remark during a Harvard University forum Sunday, when he was asked about the legal risks tied to publishing a leaked or hacked copy of Trump's taxes.

"I think every journalist on the planet wants Donald Trump's tax returns," said Laura Poitras, a filmmaker who made an Academy Award-winning documentary about NSA leaker Edward Snowden.

Related: Why Trump owes it to voters to release his tax returns

But she told both Baquet and Washington Post Associate Editor Bob Woodward, who was also there, that the lawyers for their newspapers would probably warn them that they'd face jail time for publishing such information.

"If the Post or the Times were to get Donald Trump's tax returns, would you publish them?" she asked.

Both said yes, that they'd argue with the attorneys to do so.

Baquet said Trump's taxes are important because he is "a presidential candidate whose whole campaign is built on his success as a business man, and his wealth," and that his taxes could cast light on whether that's true.

Woodward joked that if a judge handed down a five-year jail sentence to the Post for publishing the taxes, he'd have everyone at the paper serve a single day of the sentence. But he also stressed that it's very important to report on the taxes."Some things you have to do. Dean is exactly right. This defines Donald Trump," Woodward said.

CNNMoney (New York)First published September 12, 2016: 11:26 AM ET

Colin Powells leaked emails slam Hillary Clinton and Donald Trump - Page 2 - CBS News

Thu, 15 Sep 2016 02:22

Former Secretary of State Colin Powell ripped into Hillary Clinton in several personal emails over the years, according to a document dump of hacked emails on the website DCLeaks.com.

The document batch, which included emails from June of 2014 to August of 2016, gave a revealing look into the former secretary's thoughts on the 2016 election.

In one 2015 email, Powell commented on Clinton's use of a private email server during her tenure at the State Department and charged that "everything HRC touches she kind of screws up."

In another message from 2014, Powell said of a still-potential Clinton presidential run: "I would rather not have to vote for her." A spokesperson for Powell confirmed to CBS News that his email had been hacked.

CBS News waded through the documents and picked out some of the most interesting emails blasting the Democratic presidential nominee. Take a look:

WikiLeaks Demands More Than Getting Rid of Wasserman Schultz | Observer

Thu, 15 Sep 2016 02:09

Outgoing chairperson of the Democratic National Committee, Debbie Wasserman Schultz.

In Austria, following a close election between Green Party candidate Alexander Van der Bellen and Freedom Party candidate Norbert Hofer, the country's highest court annulled the results on July 1 due to voting irregularities. After losing by 0.6 percent, Hofer challenged the election results, alleging postal ballots were illegally handled in most districts, votes were opened earlier than permitted, and not everyone who counted the ballots was authorized to do so. The court found election rules to broken in ways that could have influenced the outcome.

''The decision I am announcing today has no winner and no loser, it has only one aim: to strengthen trust in the rule of law and democracy,'' said Gerhard Holzinger, head of Austria's Constitutional Court. A new election will be held in September or October.

In the United States, public trust in the rule of law and democracy reached all-time lows during the Democratic primaries. WikiLeaks and Guccifer 2.0 proved the Democratic presidential nomination process was rigged to ensure Hillary Clinton won the nomination. DNC staff members pitched stories to mainstream media outlets to discredit Bernie Sanders while providing public relations support for Clinton.

The Democratic National Committee's charter obligates the DNC chair, Debbie Wasserman Schultz, and the DNC staff to ''maintain impartiality and evenhandedness during the Democratic Party Presidential nominating process.'' Because the DNC overtly failed to maintain impartiality during the Democratic primaries, Hillary Clinton's nomination is fraudulent.

In his first interview since the leaks, Sanders reverberated calls for Wasserman Schultz to resign. ''I think she should resign, period'' he said in an interview with ABC News' George Stephanopoulos (who donated $75,000 personally to The Clinton Foundation in 2015.)

''I told you a long time ago that the DNC was not running a fair operation, that they were supporting Secretary Clinton'--so what I suggested to be true six months ago turned out to be true.''

However, full blame cannot be placed on Wasserman Schultz, as it is highly unlikely the Clinton campaign was unaware that the DNC was working to help them beat Sanders.

Following her formal resignation as DNC chair, Wasserman Schultz's speaking slot at the Democratic convention was removed and a temporary replacement was appointed: DNC vice chair Donna Brazile, who has also overtly favored Clinton. In a 2013 interview with ABC News, Brazile said if Clinton entered the race ''there will be a coronation of her.'' She also mocked Sanders' campaign on Twitter after he won the Indiana Democratic Primary.

''Sen. Sanders is glad that Indiana is an open primary, at a time when his path seems to be closing,'' she tweeted.

Brazile frequently broke the impartiality demanded by the DNC charter in criticizing the Sanders campaign during debate analysis and on Twitter throughout the primaries. After three more DNC staffers resigned on August'--including CEO Amy Dacey, CFO Brad Marshall and Communications Director Luis Miranda'--Donna Brazile and the DNC applauded their service instead of confirming their violations of the DNC charter.

The Democratic primaries were a dangerous farce, with indefensible evidence now available to support that claim. The WikiLeaks drop of 20,000 DNC emails is just the first of many more leaks that will follow. More evidence will be released implicating the DNC and mainstream media united to ensure Clinton beat Sanders.

Voters should take it upon themselves to annul the primary results by refusing to recognize Clinton as the Democratic nominee, as she should not be rewarded with for undermining democracy.

Wikileaks and Guccifer 2.0 have revealed the extent to which those in power preserve the corrupt system that gives donors political influence and power. Allowing DNC chair Debbie Wasserman Schultz and DNC staff to maintain their positions with impunity sets a dangerous precedent for the future of democracy in this country. If the DNC is permitted to get away with rigging the Democratic primaries for Hillary Clinton, our right to vote is virtually meaningless.

There is nothing democratic about a major political party feeding propaganda to mainstream media outlets in favor of their preferred candidate, while discrediting their opponent within the same party. The DNC's role in helping Clinton win the Democratic presidential nomination was extensive, and allegations of voter fraud and voter suppression from Sanders supporters suddenly have even greater credibility.

Major reforms within the Democratic National Committee are necessary to ensure corruption of this magnitude is no longer permitted to influence our presidential primaries.

US diplomats cry foul as Obama donors take over top embassy jobs | US news | The Guardian

Thu, 15 Sep 2016 02:03

US officials are increasingly concerned about the size of donations raised by political supporters who go on to take up top foreign postings. Photograph: Alamy

Barack Obama has rewarded some of his most active campaign donors with plum jobs in foreign embassies, with the average amount raised by recent or imminent appointees soaring to $1.8m per post, according to a Guardian analysis.

The practice is hardly a new feature of US politics, but career diplomats in Washington are increasingly alarmed at how it has grown. One former ambassador described it as the selling of public office.

On Tuesday, Obama's chief money-raiser Matthew Barzun became the latest major donor to be nominated as an ambassador, when the White House put him forward as the next representative to the Court of St James's, a sought-after posting whose plush residence comes with a garden second only in size to that of Buckingham Palace.

As campaign finance chairman, Barzun helped raise $700m to fund President Obama's 2012 re-election campaign. More than $2.3m of this was raised personally by Barzun, pictured, according to party records leaked to the New York Times, even though he had only just finished a posting as ambassador to Sweden after contributing to Obama's first campaign.

Obama's chief money-raiser, Matthew Barzun. Photograph: AlamyState Department veterans are increasingly concerned about the size of donations raised by political supporters who go on to take up top foreign postings. Thomas Pickering, who recently led the investigation into lethal attacks on the US embassy in Libya and represented the US at the United Nations, claimed the practice had become nothing more than "simony" '' the selling of public office.

"All these people want to go to places where the lifestyle issues [are pleasant], and to some extent that produces this notion that life in these western European embassies is like Perle Mesta," he told the Guardian, referring to the "hostess with the mostest" who was ambassador to Luxembourg between 1949 and 1953 and who was known for her lavish parties.

"It has the effect of diminishing perhaps the sense that the US is treating these countries with the respect they deserve," Pickering said.

Susan Johnson, president of the American Foreign Service Association (AFSA), which represents career US diplomats, added: "The giving of ambassadorships to people who have raised a lot of money for the campaign has increased and that's a concern to us in particular.

"There was some thought that with Obama being such a 'change agent' that he might really do things differently '' but it has just been a bigger let down."

Clutch of foreign appointmentsObama has made a clutch of foreign appointments recently. The 16th century Villa Taverna in Rome has just gone to John Phillips, a Washington lawyer who raised at least $500,000. John Emerson, a Los Angeles fund manger, will get to meet future contacts as ambassador to Germany after he raised $1.5m. Jane Stetson, heiress to the IBM fortune, is tipped as frontrunner for Paris after she raised $2.4m for Obama.

In total, nine sought-after postings in Europe, the Caribbean or Asia have been given to major donors in recent weeks, with a further three in France, Switzerland and Hungary earmarked to come soon. Of these 12, the precise bundling data is available for 10. According to a Guardian analysis, using the figures leaked to the New York Times, the average amount raised by each donor is $1.79m.

Official campaign finance records give only minimum figures for how much each donor raised among friends and family (a process known as bundling). Even using the published 'minimum' donations declared for these bundlers, the amount raised by donors rewarded with foreign postings has soared. The appointees to those same 10 embassies raised at least $5m in 2013, compared to a minimum of $3.3m in 2009, at least $1.3m under George W Bush in 2005 and at least $800,000 for Bush donors in 2001.

Many of the capitals have grown resigned to the process. "All that really matters is that the ambassador is close to the White House '' and his top fundraiser usually is," said one British diplomat, speaking anonymously about Barzun's appointment.

But to State Department veterans, the notion that only fundraisers can get messages through the West Wing is even more alarming. "To some extent, this question of having the ear of the president, and who has it, shows the seriousness of the issue," said Ambassador Pickering.

Johnson, the AFSA president, said many donors have less political influence than their host countries like to imagine. "Some foreign countries like the idea that they are getting a friend of the president, but our experience has been that genuine friends are pretty small; most of these people are friends of friends; and they don't get to call the president right away," she said.

"In a few exceptional cases they are not detracting from credibility of diplomatic service, but at the scale it's being done it is undermining the concept of a career diplomatic service and weakening the strength and capacity of the diplomatic service."

Johnson estimates the percentage of ambassador posts given to political appointees rather than career diplomats has remained roughly steady under Obama at around 30%, but most of these are in parts of the world unattractive to wealthy donors. The share taken by political appointees in western Europe and wealthier Asian capitals has reached between 70% and 85%, the AFSA estimates.

One factor cited by defenders of the practice is that private means are needed to fund the lifestyle led by ambassadors, but the importance of this is disputed by State Department veterans.

"In the embassies I've been in, normally you have a representation budget," said Johnson. "Whether we skimp on it in places like London and Paris and these people add to it so they can serve the best champagne and canapes I don't know, but I don't think it's necessary to be wildly wealthy any more."

She also said many are disappointed by the reality of embassy life. "If the dog ruins the furniture, you have to pay for it. It's like being a guest in someone's house."

Dysfunctional leadershipThis can cause problems of its own. A report by the State Department inspector general into a crisis at the embassy in the Bahamas found that Obama campaign finance chair Nicole Avant presided over "an extended period of dysfunctional leadership and mismanagement, which has caused problems throughout the embassy". Prior to her appointment as ambassador, Avant was vice president of Interior Music Publishing and was absent from the embassy 276 days between September 2009 and November 2011, according to the report. In response to the report Avant said she "had inherited a dysfunctional embassy".

Another official report into the Obama campaign donor appointed to Luxembourg, Cynthia Stroum, found she had been "aggressive, bullying, hostile and intimidating" and left her embassy in a "state of dysfunction". Stroum resigned after the report.

State Department veterans say motivations vary among political donors. "Some go to pleasant islands where the climate and residence are delightful, others just want the title, like British people lust after peerages," said AFSA's Johnson. "People think: gee, I really want to call myself ambassador, so I can go buy myself one. Others are perceived to want to just meet people, broaden their contacts of future business contacts people who can help them in their day job."

The White House insists all its ambassadors are well qualified, regardless of their campaign history. "I am proud that such experienced and committed individuals have agreed to serve the American people in these important roles," said Obama in a statement issued with Barzun's appointment.

The Foreign Service Act of 1980, states that "contributions to political campaigns should not be a factor in the appointment of an individual as a chief of mission."

At at time when the US is reaching the limits of its "hard power", career foreign service staff argue it is time for professional diplomacy to mount a comeback.

"We tried a lot of military stuff and have we come to the realisation that not every problem out there can be solved by troops, no-fly zones and drones," concludes Johnson.

"Diplomacy and managing the inter-relationships between countries is actually important, and we ought to be taking it more seriously, preparing people for it and seeing it as a long-term career '' not as just something you do for a few years while you are preparing to do something else."

Pay To Play email-WikiLeaks - Search the DNC email database

Thu, 15 Sep 2016 02:00

From:ComerS@dnc.org To: JacquelynLopez@perkinscoie.com Date: 2016-05-19 16:59 Subject: Re: SEC letters and donationsYes, that's perfect. Thanks Sent from my iPhone On May 19, 2016, at 2:59 PM, Lopez, Jacquelyn K. (Perkins Coie) wrote: Great, that time works for me as well. Scott, good on your end? Jacquelyn Lopez | Perkins Coie LLP ASSOCIATE* 700 Thirteenth Street, N.W. Suite 600 Washington, DC 20005-3960 D. +1.202.654.6371 F. +1.202.654.9949 E. JacquelynLopez@perkinscoie.com *Admitted in State of Florida; Admission to DC Bar pending. From: Brad Marshall [mailto:MARSHALL@dnc.org] Sent: Thursday, May 19, 2016 2:59 PM To: Alan Reed; Lopez, Jacquelyn K. (Perkins Coie); Comer, Scott Subject: RE: SEC letters and donations same From: Alan Reed Sent: Thursday, May 19, 2016 2:55 PM To: Jacquelyn Lopez; Comer, Scott; Brad Marshall Subject: RE: SEC letters and donations We've been doing the Operating Acct process set up by Graham for a while now but happy to do a call. Perhaps Tuesday around 4 pm? From: Lopez, Jacquelyn K. (Perkins Coie) [mailto:JacquelynLopez@perkinscoie.com] Sent: Wednesday, May 18, 2016 3:35 PM To: Alan Reed; Comer, Scott; Brad Marshall Subject: SEC letters and donations Hi all, Can we set up a time for a very brief call to go over our process for handling donations from donors who have given us pay to play letters? Want to make sure we have a robust process in place to make sure that donations that come in from those donors, in any form, get put into the operating account. Let me know when would be a good time for you all. Thanks, Jackie Jacquelyn Lopez | Perkins Coie LLP ASSOCIATE* 700 Thirteenth Street, N.W. Suite 600 Washington, DC 20005-3960 D. +1.202.654.6371 F. +1.202.654.9949 E. JacquelynLopez@perkinscoie.com *Admitted in State of Florida; Admission to DC Bar pending. ________________________________ NOTICE: This communication may contain privileged or other confidential information. If you have received it in error, please advise the sender by reply email and immediately delete the message and any attachments without copying or disclosing the contents. Thank you. ________________________________ NOTICE: This communication may contain privileged or other confidential information. If you have received it in error, please advise the sender by reply email and immediately delete the message and any attachments without copying or disclosing the contents. Thank you.

Revealed: The State Department's Hidden Hillary Donors - The Daily Beast

Thu, 15 Sep 2016 03:35

Clinton's super-donors poured millions into the State Department. Why was the government so reluctant to release the names of these high-rollers and socialites?

Hillary Clinton may have suspended her political career temporarily when she became secretary of state. But the Clinton fundraising machine was in full swing and raising millions of dollars for the State Department under her watch, an analysis by The Daily Beast has found.

More than a dozen donors to Clinton's non-profit foundation and her various political campaigns poured money into an endowment she launched into 2010 to pay for the upkeep of the Diplomatic Reception Rooms. The 42 sumptuous salons at State Department headquarters in Washington, decorated with 18th and 19th century American furnishings, are used to welcome foreign dignitaries, conduct diplomatic meetings and swearing-in ceremonies, and host official dinners.

By the following year, the campaign had raised more than $20 million to permanently fund restoration and maintenance for the rooms and their collections of rare American artwork, thanks largely to reliable Clinton donors.

Nearly half of the 37 people and organizations who donated to the State Department campaign, known as Patrons of Diplomacy, also gave money to the Clinton Foundation, according to State Department and foundation records. Of the 11 people who served as co-chairs for the campaign, agreeing to contribute their own money or to help raise funds from others, six also gave to the Clinton Foundation, a global charity started by former President Bill Clinton.

Until this week the State Department seemed inclined to keep the names of these patrons private. When The Daily Beast initially asked to see the donor list, a department spokesperson said that it was already the subject of a Freedom of Information Act lawsuit by the Republican National Committee, and therefore couldn't yet be released. (The RNC has filed six lawsuits against the State Department related to Clinton's tenure, focused on potential conflicts of interest with her and her aides' work for the foundation, as well as her use of a private email server for official business.)

But if the State Department wanted to keep the donors from public scrutiny, it's not clear why their names are inscribed on a wall, located on a terrace off one of the reception rooms, with a sweeping view of the National Mall.

Only when The Daily Beast pointed out that an article in a 2012 issue of an internal State Department magazine mentions the donor wall was a reporter allowed to see it.

Having a name etched in stone was one of several donor perks, according to a glossy 22-page brochure that describes the important restoration and maintenance work that private contributions have funded over the years (PDF). Taxpayer funds may not be used for the reception rooms, which are open to the public and house a museum-quality collection of furniture, paintings, and documents.

''By becoming a Patron of Diplomacy, you are supporting the ongoing business of American diplomacy and investing in our nation's future. Gifts to the campaign are tax deductible,'' the brochure states.

Donors also receive ''invitations to campaign events and ongoing activities,'' as well as recognition on a website that has apparently been awaiting an update for the better part of four years. The Daily Beast was able to find an archived section of the website that contains the names of hundreds of donors who have given over the years, most of them before Clinton took office.

The Daily Beast found no evidence that donors to Patrons of Diplomacy had been offered favors or special access to the State Department, beyond what's spelled out in the brochure. And there's nothing nefarious about the raising of private funds to pay for public works. Indeed, private donors have been pitching in to support the rooms since 1961.

''The State Department and the Clinton Foundation are separate entities, and we can only speak to our programs and policies,'' department spokesperson Mark Toner told The Daily Beast. ''All donations to the Patrons of Diplomacy initiative were reviewed by the Department in accordance with applicable rules and regulations.''

But the overlap between the campaign and donors to the Clinton Foundation, as well as Clinton's political campaigns, may be problematic for the Democratic presidential frontrunner. Along with her husband, Clinton has faced repeated criticism over the years that the foundation serves as a conduit for influencing official decision-making.

In addition to suing for the names of the donors, the RNC has also demanded information that its staff thinks could indicate some quid-pro-quo between donors and those seeking to get on Clinton's good side (PDF). That information includes solicitations to the patrons campaign, invitations to the Diplomatic Reception Rooms, and visitor logs for Clinton's ''formal quarters'' and personal office at State Department headquarters.

Thank You!

You are now subscribed to the Daily Digest and Cheat Sheet. We will not share your email with anyone for any reason

''The overlap between donors to the Clinton Foundation and this project raise more questions about influence buying at the Clinton State Department,'' Raj Shah, the deputy communications director for the RNC, told The Daily Beast. ''It's becoming clearer by the day that reason Hillary Clinton set up her email server was to conceal unseemly conflicts of interest that were prevalent during her tenure. Now we see that evidence of these conflicts are literally carved in stone.''

Regardless of the RNC's allegations, it's clear that even when Clinton is not on the campaign trail, her family's money-raising machine follows her. Clinton's fundraising prowess dwarfed previous efforts at the State Department. Tax returns for a non-profit organization that has managed funds for the reception rooms since the 1980s show that, on average, it had about $4.8 million in assets on hand in the four years before Clinton took office. The fund was also losing money. Clinton and her friends and donors raised four times the fund's assets, for a grand total of $20.3 million.

Clinton also personally pitched donors in a promotional video about the reception rooms and the patrons campaign.

''These rooms are completely paid for and furnished by private donations,'' she noted. ''The Patrons of Diplomacy is our effort to reach out and include people today who wish to make a contribution to keep these rooms going, to make sure that they remain as beautiful, historically significant, as they are right now.''

''The Diplomatic Reception Rooms enable the Secretary of State and other senior U.S. Government officials to receive distinguished foreign visitors with a touch of our nation's history,'' State Department spokesperson Mark Toner told The Daily Beast in a written statement. ''In October 2011, the campaign was successfully completed'... thereby ensuring that the Diplomatic Rooms and their Collection will continue to provide an extraordinary venue for American diplomacy for generations to come'Ž.''

Neither the Clinton Foundation nor the Clinton campaign responded to requests for comment.

State Department spokesman John Kirby also said that the department is currently processing the RNC's request for the donor names and related information. But there has been a surge in requests under the Freedom of Information Act in recent years, with approximately 22,000 last year alone, he said. The department processes those requests ''in an entirely nonpartisan manner,'' Kirby added.

The patrons are collectively responsible for at least $33 million in contributions to the Clinton Foundation, according to publicly available records. Many gave donations in the five- and six-figures, with a handful of seven- and eight-figure donors responsible for the lion's share of the total. Those donors include some of the biggest Clinton fundraisers around, who've been supporting her and her husband's political careers for years.

The Indiana philanthropist Bren Simon was deemed a ''Grand Patron'' of the patrons campaign, having contributed $1 million or more. She was also named a co-chair of the overall fundraising effort. Simon has also given between $1 million and $5 million to the Clinton Foundation, records show. Her philanthropic foundation, which shares the name of her late husband, the shopping mall magnate Melvin Simon, also gave the foundation between $250,000 and $500,000. And Bren Simon has personally donated the maximum amount under law to Clinton's 2016 presidential campaign, as well as to her 2008 run and her earlier campaign for the U.S. Senate.

Several of the patrons donors are among the most devout of the Clinton network over the past few decades. At least three, Fred Eychaner, Virginia Governor Terry McAuliffe, and Dan Abraham, were among 63 people who gave $10,000'--the maximum'--to Bill Clinton's legal defense fund, which was set up to pay his legal bills amid the various scandals that dogged his presidency, as well as his impeachment.

(McAuliffe's own fundraising is now the subject of scrutiny. The FBI is investigating the onetime Clinton Foundation board member for potentially taking illegal campaign contributions, it was reported this week. Investigators are reportedly scrutinizing donations to McAuliffe's gubernatorial campaign by Chinese billionaire Wang Wenliang, who also gave $2 million to the Clinton Foundation through his company, Rilin Enterprises. McAuliffe formerly served on the foundation's board.)

At least 18 patrons also gave to Clinton's various political campaigns ranging from her Senate campaign in 2000 to her current bid for president.

Eychaner, a reclusive media entrepreneur and so-called Hillblazer, has raised at least $100,000 in contributions to Clinton's presidential campaign. She personally thanked him for serving as a co-chair for Patrons of Diplomacy in her remarks at a 2011 reception to celebrate the 50th anniversary of the Diplomatic Reception Rooms.

Eychaner is a rarity among Clinton donors, being one of only seven people who has given $25 million or more to the Clinton Foundation. A 2015 analysis by Politico found confusion over whether Eychaner had personally given the money or donated through his own foundation, Alphawood. But Eychaner's prominent donor status isn't in doubt. In the 2016 election cycle, he has personally given just over $4 million to Democratic outside spending groups, including political action committees, according to data compiled by the Center for Responsive Politics. Eychaner gave $2 million to Priorities USA Action, the main super PAC backing Clinton for president.

Henry Laufer and his wife, Marsha, whose names are also on the patrons wall, held a fundraiser for Clinton's presidential run this past April in their South Florida home. And in February, Laufer, a vice president at Renaissance Technologies, donated $500,000 to pro-Clinton Super PAC Correct the Record.

And Ewa and Dan Abraham, a longtime donor for both Bill and Hillary Clinton, underwrote an endowment to care for the terrace at the State Department where the Patrons of Diplomacy memorial wall hangs.

The patrons campaign also drew on the ranks of Washington's moneyed society, including those who have a long history of giving to cultural and artistic causes.

One of the co-chairs, philanthropist Adrienne Arsht, is a fixture among Washington's social scene and a major benefactor of the performing arts. She gave $500,000 to the patrons campaign, qualifying her for ''Major Philanthropist'' statuts. She also hired a Miami marketing firm with which she does business, Republica, to create that glossy brochure brochure (PDF), which was used to pitch other donors.

Arsht, who made her money in Florida banking, also has given the maximum amount allowed to Clinton's presidential campaign. But she has mostly spent her millions on the city of Miami's Center for the Performing Arts, the largest in Florida, which bears her name, as well as on major donations to New York's Lincoln Center and the Metropolitan Opera. Last Saturday, Arsht attended the annual gala for the Washington National Opera, striding confidently in a floor-length blue beaded gown through the hall of the Organization of American States, as members of the city's arts and philanthropy establishment greeted one of their own.

Arsht is also a preeminent figure in the rarified world of money and society that Clinton herself knows well as a longtime, on-again-off-again resident of the District of Columbia. And the two have socialized together. In July 2012, Clinton attended a small dinner that Arsht hosted at her Washington home for Adm. James Stavridis, the then-commander of U.S. European Command and NATO's Supreme Allied Commander, and Stavridis's wife, according to a copy of Clinton's schedule that was released along with some of the emails she kept on a private server in her New York home.

Another bastion of the Washington philanthropic establishment, David Rubenstein, was also a co-chair of the patrons campaign and gave at least $1 million. (He has given modestly to the Clinton Foundation, between $5,000 and $10,000, records show.) Rubenstein's passion'--some might say mission'--is the preservation of American history and priceless treasures. He personally ponied up half the cost to repair the Washington Monument after it was damaged and closed following a 2012 earthquake, about $7.5 million. And Rubenstein, one of Washington's few billionaires, lent the State Department a rare 1823 copy of the Declaration of Independence to display in the Diplomatic Reception Rooms. (He has also given an original copy of the Magna Carta that he bought for $21 million to the National Archives, which has a Rubenstein gallery.)

The Daily Beast reached out to several of the top donors to the patrons campaign, including the co-chairs. Rubenstein, the only person to respond, told The Daily Beast that he had been approached to give to the Patrons of Diplomacy campaign, but he didn't recall by whom.

''There is a long standing program to raise funds to outfit the public rooms at State,'' Rubenstein said, noting that the effort first got underway in the early 1960s, when what are now the grand reception rooms were drab, modernist affairs with low ceilings and harsh lighting.

The wife of Secretary of State Christian Herter, who served in the Eisenhower administration from 1959 to 1961, reportedly wept when she first saw the rooms, believing the United States would be humiliated to host heads of state and foreign dignitaries in such a garish venue.

''It looked like a gangster's molls headquarters on the Twentieth Century-Fox lot,'' State Department curator Clement Conger, who is widely credited as the guiding force behind the original plan to remodel the rooms and the subsequent upkeep, told the Christian Science Monitor in 1985. ''It was done in completely modern furniture, covered in purple, red, and turquoise, with red at the windows.''

The fundraising campaign that Clinton started, which was overseen by her then chief of protocol, Capricia Marshall, raised Conger's efforts to a new level and may ensure that the rooms have a reliable source of funds for years to come. Of the $20.3 million raised, $18 million will be used for preservation and the remainder will pay for efforts to ''educate people worldwide about the rooms,'' which are open for public tours, according to an article in the State Department's internal magazine.

But Republicans' suspicions about Clinton's fundraising efforts are unlikely to be allayed by the work she did to ensure the rooms' future. And it's doubtful that her friends and reliable donors would have given so generously were Clinton not running the State Department.

'--with additional reporting by Andrew Desiderio

A Brief Analysis of the Clinton and Trump Foundations

Thu, 15 Sep 2016 14:18

Nonprofits are a cornerstone of American democracy. They reflect the political diversity of the American people. That diversity is well illustrated by two institutions currently in the news: the Bill, Hillary and Chelsea Clinton Foundation and the Donald J. Trump Foundation.

GuideStar takes no position on elections and we will not comment on Hillary Clinton or Donald Trump as candidates for the presidency. We have, however, been repeatedly asked about the Trump and Clinton Foundations. Accordingly, we would like to offer a few notes of analysis on their structure, size, strategy, and transparency practices.

StructureLet us begin with a comparison of the basic facts. The Trump Foundation is legally categorized as a ''private non-operating foundation'' whereas the Clinton Foundation is a ''public charity.'' In simple terms that means the Trump Foundation is meant primarily as a vehicle for distributing grants from the Trump family fortune'--although it also accepts funding from other donors. The Clinton Foundation is meant primarily as a vehicle for directly operating programs for the social good'--while also making some grants to other organizations.

Despite these differences, both organizations are, in a (non-legal) sense, ''celebrity foundations.'' They are seeded by money donated by their founders and also serve as a vehicle for members of the public to demonstrate their support of a prominent person. At their worst, celebrity foundations are vanity projects with negligible impact. At their best, such organizations channel fragmented resources and yield extraordinary impact for society. For example, the Michael J. Fox Foundation is known as one of the most sophisticated players in the fight against Parkinson's Disease.

Both the Trump Foundation and the Clinton Foundation are filed under section 501(c)(3) of the U.S. tax code, meaning they legally cannot engage in electoral activity. In general, they appear to have followed this requirement. There is at least one exception, though. The Trump Foundation made one donation to a political action committee associated with Florida Attorney General Bondi. It is not legal for a foundation to make a donation to a PAC; the Trump Foundation has paid a $2,500 IRS fine for this infraction. The Trump Foundation characterized this as a clerical error although others have described it as a case of "pay-to-play politics." At the very least, this incident indicates insufficient controls and lax managerial oversight.

SizeOne thing is indisputable: the Clinton Foundation is far larger than the Trump Foundation. The latest comparable data from December 31st, 2014 shows the Clinton Foundation with assets of $354 million, compared with the Trump Foundation's $1 million. The Clinton Foundation had total expenses of $91,281,145, versus $596,450 for the Trump Foundation. The Clinton Foundation had 486 staff compared to zero staff at the Trump Foundation.

The Clinton family's tax returns suggest that the majority of its charitable giving has been through the Clinton Foundation. Without access to Mr. Trump's tax forms it is difficult to know the scale of his charitable activities outside the Trump Foundation. But it does appear that the dollars have not matched the pledges. An investigation by the Washington Posthas not been able to validate that Trump has actually donated the money he pledged, instead finding, ''Trump promised millions to charity. We found less than $10,000 over 7 years.'' In addition, the last donation to the Trump Foundation by any of its trustees'--family or otherwise'--was in 2008. Indeed, David Farhenthold of the Post has suggested that the Trump Foundation has transformed over the last decade from "standard-issue rich person's philanthropy into a charity that allowed a rich man to be philanthropic for free."

All told, the data at hand would suggest that the Clinton family has'--at least over the last several years'--donated more money (and at a far higher proportion of their wealth) than the Trump family.

Similarly, it appears clear that the Clintons have out-raised Trump. The Clintons' fundraising for their foundation is one aspect of a broader fundraising portfolio totaling $3 billion over the last four decades. This is a remarkable number but they are not alone operating at this level: the Bush family raised $2.4 billion over a similar period. Trump has certainly helped raise money for both charitable and electoral efforts, but the total is undoubtedly less than the Clintons'.

Fundraising at this scale takes place in a rarefied social circle. Each of these families'--the Clintons, the Bushes, and the Trumps'--must navigate a tangle of relationships with wealthy individuals. These relationships have caused some to claim that fundraising for the Clinton Foundation compromised Clinton's role as Secretary of State. There appears, though, to be little evidence to support this claim. The Clinton Foundation signed an MOU in 2008 clarifying that Hillary Clinton would not have a role with the Foundation during her tenure at the State Department. And, indeed, funding for the Clinton Foundation decreased significantly during that period (2009-2013). A fair argument can be made that the Clinton Foundation should have been more aggressive in dealing with the perception of potential conflict. To its credit, the Foundation now proactively shares its key legal and audit documentation and has built a tool on its website to provide an additional layer of transparency about its donors (including both Donald and Ivanka Trump).

Transparency and StrategyTransparency is not a guarantee of effectiveness'--but, in general, we believe that transparency is correlated with excellence in nonprofits. Transparency indicates an openness to questions and accountability. And, importantly, the act of transparency can force an organization to be clear about its goals and strategy.

Most nonprofits'--including the Trump and Clinton Foundations'--are required by law to file a regulatory document with the IRS, the Form 990. The 990 provides important baseline information but does not give a full view of the nuances of nonprofit work. Accordingly, GuideStar invites nonprofits and foundations to share additional data. Approximately 128,000 have done so. Some 34,997 organizations have provided enough to get one of GuideStar's four ''transparency seals''; of those, 1,061 have earned the highest level, Platinum. The Clinton Foundation is one of them. The Trump Foundation has provided no additional information and so has not earned a transparency seal.

As a part of achieving a Platinum seal, the Clinton Foundation has provided a set of quantitative metrics about its programs. For example, one metric, ''number of farmers benefitting from access to improved agricultural practices, increased yields, and enhanced market access,'' rose from 66,124 in 2014 to 114,825 in 2015. Another, the ''number of girls and women provided access to job skills training and livelihood support,'' rose from 35,587 in 2014 to 48,696 in 2015. The fact that the Clinton Foundation provides such metrics makes it far easier for donors and citizens to meaningfully analyze the institution's value to society.

The Trump Foundation provides no such metrics. Any analysis must therefore be based on the content of publicly available tax forms. These forms appear to indicate an unfocused generosity. For example, the below sample from the Trump Foundation's 2014 tax return includes grants to the Orthopaedic Foundation, the Palm Beach Opera, the Police Athletic League, Protect our Winters, and the Ronald McDonald House of New York. There is nothing inherently wrong with sprinkling many small grants in unrelated areas. But the Trump Foundation's approach would certainly not meet the standard of focused, proactive grantmaking commonly called ''strategic philanthropy.''

CONCLUSIONBoth the Clinton and Trump Foundations have been the subject of controversy while seeking to contribute to social good. They are undoubtedly different from each other in size, structure, and openness. Indeed, the two organizations reflect the perceived styles of the two candidates: one systematized, the other improvisational. Donors regularly decide which approach they prefer for their giving. Later this year voters will decide which approach they prefer for their leadership.

Want to continue the discussion? Share your comments, questions, and thoughts regarding this article in The GuideStar Community.

Jacob Harold is GuideStar's president and CEO. Harold came to GuideStar from the Hewlett Foundation, where he led grantmaking for the Philanthropy Program. Between 2006 and 2012, he oversaw $30 million in grants that, together, aimed to build a 21st-century infrastructure for smart giving. Jacob was named to the NonProfit Times (NPT) Power and Influence Top 50 list in 2014, 2015, and 2016. He has written extensively on climate change and philanthropic strategy; his essays have been used as course materials at Stanford, Duke, Wharton, Harvard, Oxford, and Tsinghua. Harold earned an AB from Duke and an MBA from Stanford. He grew up in Winston-Salem, NC where his parents ran small, community-based nonprofits.

NOTES:The data on the two foundations' sizes comes from the Forms 990 filed by the two foundations in 2015 reflecting the period from January 1-December 31, 2014. Because the Trump Foundation is categorized as a private non-operating foundation, it files a Form 990-PF. As a public charity, the Clinton Foundation files a 990.The Donald J. Trump Foundation is not to be confused with the Israel-based Trump Foundation or the Eric Trump Foundation.The majority of organizations with transparency seals on GuideStar do direct service in their communities. But many policy and advocacy organizations across the political spectrum also share additional data, including the Heritage Foundation (Platinum) or the ACLU Foundation (Gold). GuideStar's data comes from three primary sources, including the IRS Form 990 that most nonprofits are required to file. We have posted and digitized millions of 990s. Data about individual political contributions above $250 by American citizens can be found at www.opensecrets.org. Further sources:Richard W. Painter, "The Real Clinton Foundation Revelation," The New York Times, August 31, 2016.Eugene Robinson, "Hillary Clinton must learn from her mistakes," The Washington Post, August 29, 2016.Jim Rutenberg, "Trump is Testing the Norms of Objectivity in Journalism," The New York Times, August 7, 2016.Ben Davis, "Donald Trump: The Least Charitable Billionaire In The World," News Examiner, September 2015.Ruth McCambridge, ''Clinton Foundation 'Doles Out Funds to Friends': Is There a ''There'' There?'' Nonprofit Quarterly, May 16, 2016.
Hills Health

Ponti deconstruction

You would have to be an idiot, not to see the following:

1) Her aides show zero panic, or concern, as if this is a common occurrence.

2) No police were called, no paramedics, no anything. Which would be typical protocol for anyone having a "heatstroke", or "passing out" in public, let alone a presidential candidate.

3) Why no taken to a hospital for evaluation? Because they know it's an underlying medical condition, and this is the effect of that.

4) The standard reaction, to seeing an event like this, would not be taking her to her daughter's apartment, unless you knew exactly what caused it.

5) It was not hot, or humid enough, in NYC this morning, to cause fainting or a heat related issue.

The public is not being told the truth, simple as that.

The faithful refuse to even see the facts.

My first concern is for her health, I wish her the very best.

My second concern in potentially electing a president with serious health issues that could affect their judgment or, God forbid, have them pass away in office.

My biggest concern is the abject stupidity of people, who live in denial of any kind.

Clinton falls ill during 9/11 memorial service in New York - The Washington Post

Sun, 11 Sep 2016 20:37

A video shared on Twitter shows Democratic presidential candidate Hillary Clinton being held up by her staff and helped into a van as she leaves the 9/11 memorial service because she was feeling "overheated." (Twitter/Zdenek Gazda via Storyful)

NEW YORK -- Hillary Clinton fell ill during a New York memorial service marking the 15th anniversary of the Sept. 11, 2001, terrorist attacks, and video of her unexpectedly early departure showed her buckling and stumbling as she got into her van.

The video, circulated on Twitter, appeared to show the Democratic presidential nominee leaving the commemoration at Ground Zero. Flanked by several Secret Service agents who are regulars on her detail, Clinton can be seen leaning against a security bollard while agents prepare to help her into a black van. As she steps forward, Clinton can be seen falling as agents help lift her into the van.

A campaign spokesman confirmed that Clinton, 68, had suffered from overheating and left the ceremony early.

"Secretary Clinton attended the September 11th Commemoration Ceremony for just an hour and thirty minutes this morning to pay her respects and greet some of the families of the fallen," spokesman Nick Merrill said. "During the ceremony, she felt overheated, so departed to go to her daughter's apartment and is feeling much better."

The incident quickly renewed attention to Clinton's health. Her rival, Republican Donald Trump, has repeatedly questioned her well-being, saying that she doesn't have the "strength" or "stamina" for the presidency and accusing her of being "exhausted" and sleeping too much.

Neither Trump, who is 70, nor his aides responded immediately for requests for comment Sunday. But the attacks have intensified in the past month as unverified and often debunked theories about Clinton's health have floated around the Internet. And Sunday's incident prompted an avalanche of speculation on social media.

One individual familiar with the incident confirmed that Clinton felt ill and wobbly at the event.

And a former agent said that the detail's movements show they had not planned for her to leave that early and had to make up some rushed security plans on the fly. The detail leader, normally in charge of sticking by her side at all times, had to leave her momentarily to open the door of her van.

"However, all details were reporting heat related matters/issues," the first individual said. "This is actually common and anticipated for events such as this."

Hillary Clinton left a New York memorial service marking the 15th anniversary of the Sept. 11 attacks early after feeling "overheated," according to a campaign spokesman. She emerged from her daughter's New York apartment later and said she feels better. (The Washington Post; Photo: Yana Paskova, The Post)

Later, shortly before noon, Clinton was seen leaving daughter Chelsea's apartment. She hugged a child, waved and departed in her motorcade.

"I'm feeling great, it's a beautiful day in New York," Clinton said as she walked out of her daughter's apartment.

Clinton arrived at the memorial at 8:18 am and greeted Sen. Joe Manchin (D-W.Va.) and his wife as she exited her van, according to the pool.

"Hillary and I chatted for quite a while about our remembrances of 9/11/01 and our families," said Sen. Chuck Schumer (D-N.Y.), who also attended the ceremony, in an emailed statement. "It was pretty hot out there, but she seemed fine to me, and left on her own accord."'Ž

Reporters traveling with Clinton became aware about 9:36 a.m. that she was no longer in the place where she had been standing. By 9:48 a.m., her campaign confirmed that Clinton had left the viewing area but offered no more details until about 11 a.m.

Clinton's daughter lives on East 26th Street, in the Gramercy neighborhood of lower Manhattan -- about a 15-minute drive from Ground Zero.

Just before noon, it was 82 degrees and humid at Ground Zero, though it was probably a bit cooler when Clinton left two hours earlier. Reporters traveling with Clinton could not see her directly, but the politicians around her were all standing and packed tightly together. It was not clear if she was standing in direct sunlight, but there was not much shade anywhere at the service.

Rep. Joe Crowley (D-N.Y.), who stood near Clinton at the ceremony, said ''everything seemed normal when I greeted her. She gave me a big hug and a kiss.''

''I'm not shocked to hear she got a little light-headed because of the stifling heat,'' Crowley said, adding that he and others were sweating through their shirts. ''I needed a gallon of water myself.''

Crowley said it is unfortunate that this episode will feed into conspiracies about Clinton's health. He said anyone could have been similarly affected and Clinton tends to be held to her own ''demigod'' status.

Clinton walked out of Chelsea Clinton's apartment wearing the same dark blue suit and sunglasses she had been wearing at the memorial. She waved, smiled and paused to talk to a young child.

''Yes, thank you, very much,'' Clinton responded when asked by a reporter whether she was feeling better.

Clinton has been generally healthy as an adult, with the exception of clotting in one leg in 1996 and a concussion and associated health problems from a fall in December 2012. But she has been repeatedly criticized by conservatives and accused of hiding more serious health issues.

Former New York City mayor Rudy Giuliani, a close adviser to Trump who is regularly at his side on the campaign trail, said last month that he thinks Clinton is "tired" and "looks sick."

"What you've got to do is go online," Giuliani said on "Fox News Sunday'' in late August, accusing the media of hiding information about Clinton's health. "So, go online and put down Hillary Clinton illness, take a look at the videos for yourself."

If he wins, Trump would become the oldest president ever elected. In December, Trump released a four-paragraph letter signed by Dr. Harold N. Bornstein of Lenox Hill Hospital in Manhattan that contained few specifics but declared that Trump would "be the healthiest individual ever elected to the presidency."

A coughing episode on Labor Day, meanwhile, prompted a fresh round of questions about Clinton's health. During a speech during a festival in Cleveland, Clinton started coughing repeatedly at the outset of her remarks, took several sips of water and a lozenge and continued to sound hoarse as she spoke. Later that day, she interrupted a question-and-answer session with reporters in the back of her plane after she started coughing. Clinton told reporters her condition was due to ''seasonal allergies.''

The 2012 episode led to a brief hospitalization for a blood clot in Clinton's head. Details on Clinton's condition were initially hard to come by, but her State Department office eventually provided extensive medical information.

Clinton wore special corrective glasses for some months afterward, and her husband, former president Bill Clinton, told an audience in 2014 that it had taken about six months for his wife to recover fully. Clinton herself has said she was surprised by the illness, because she had not experienced anything like it before.

Clinton's campaign released a memo from her personal physician, Lisa Bardack, last summer, pronouncing the candidate healthy and suffering no lasting effects from the concussion.

The 2012 concussion caused concern among Clinton friends and supporters who hoped she would make a second run for the presidency, and some of whom predicted correctly that the episode would fuel speculation that Clinton was too frail to be commander in chief.Her campaign dismisses any suggestion that the candidate, who is 68, is not up to the job, while suggesting that the speculation is an example of a sexist double standard not applied to male candidates.

Clinton seemed upbeat and sometimes jovial as she engaged with reporters several times on her campaign plane last week. However, as rumors have mounted about Clinton's health in recent weeks, her running mate, Sen. Tim Kaine of Virginia, has inserted a short section into his speeches about how much stamina she has.

During a keynote address Saturday night at a Human Rights Campaign dinner, Kaine said he is ''amazed when Donald Trump makes fun of Hillary Clinton's stamina and energy because I got added to the ticket 100 days out, and I'm already getting lapped by her.''''I can't imagine the stamina and energy it takes to run this campaign for 18 months,'' Kaine added. ''This is one determined lady.''

Sarah Dirkes, Jamie Relle, Caitlyn Cockran, and Elizabeth Ward were sitting at brunch at the Black Barn, a restaurant next door to Chelsea Clinton's building, when they saw Hillary Clinton emerge at about 11:45 a.m.

"She looked fine," said Ward, who was just finishing up her brunch.

"Great sunglasses," added Dirkes.

A little girl also ran up to Clinton and asked for a photo with her. The Democratic nominee obliged, and waved to other brunchers at Black Barn before getting in a car and departing.

Gearan reported from Washington. Kayla Epstein and Philip Bump in New York, and Jenna Johnson, Carol D. Leonnig and John Wagner in Washington contributed to this report.

Clinton campaign says she left 9/11 event feeling overheated | 9news.com

Sun, 11 Sep 2016 20:35

AP , KUSA1:32 PM. MDT September 11, 2016

NEW YORK (AP) - Hillary Clinton's campaign says the Democratic presidential nominee left a 9/11 anniversary ceremony in New York after feeling "overheated."

The campaign says she's "feeling much better."

Clinton spokesman Nick Merrill says in a statement Sunday that the former secretary of state attended the morning ceremony for 90 minutes "to pay her respects and greet some of the families of the fallen.

He adds, "During the ceremony, she felt overheated so departed to go to her daughter's apartment, and is feeling much better."

The statement offered no additional details, including whether Clinton required medical attention.

(Copyright 2016 The Associated Press. All rights reserved. This material may not be published, broadcast, rewritten or redistributed.)

Copyright 2016 KUSA

'Overheated' Clinton leaves 9/11 event early

Sun, 11 Sep 2016 20:34

A video posted on Twitter shows Hillary Clinton from behind held closely by a member of her staff, before slumping and being helped into a waiting van as she leaves the 9/11 memorial service in New York. (Sept. 11) AP

New York City Mayor Bill de Blasio speaks to US Democratic presidential nominee Hillary Clinton during a memorial service at the National 9/11 Memorial.(Photo: BRENDAN SMIALOWSKI, AFP/Getty Images)

Hillary Clinton unexpectedly left a 9/11 event in New York City because she didn't feel well, her campaign said Sunday.

"During the ceremony, she felt overheated so departed to go to her daughter's apartment, and is feeling much better," said Clinton spokesman Nick Merrill.

He said Clinton "attended the September 11th Commemoration Ceremony for an hour and thirty minutes this morning to pay her respects and greet some of the families of the fallen."

A Twitter video posted under the account Zdenek Gazda showed a wobbly looking Clinton being helped into a van upon leaving the memorial service.

New York temperatures on Sunday were in the low 80s, with humidity in the mid-40s.

The Democratic nominee left her daughter Chelsea's apartment shortly after 11:45 a.m., waving at people gathered on the sidewalks.

Clinton also hugged and took a picture with a little girl who was allowed past the security line.

Video of Clinton leaving Chelsea's apartment:

Hillary Clinton unexpectedly left Sunday's 9/11 anniversary ceremony in New York after feeling "overheated" and retreated to her daughter's nearby apartment. As she exited the apartment shortly before noon, Clinton said, "I'm feeling great." (Sept. 11) AP

Asked if she was feeling better, she said: "Yes ... thank you very much."

Clinton also told reporters: "I'm feeling great. It's a beautiful day in New York."

The incident came as the campaign of Republican nominee Donald Trump has made various claims about Clinton's health. In a column in USA TODAY, former New York major Rudy Giuliani said there are unanswered questions about Clinton's health, although he added that "I hope Secretary Clinton is perfectly healthy."

USA TODAY

Rudy Giuliani: I'm performing a public service

Read or Share this story: http://usat.ly/2cQvk3g

Mysterious piece of metal flings out of Hillary's pant leg - YouTube

Hillary mystery: Why doesn't she ever sweat? - NY Daily News

Sun, 11 Sep 2016 21:52

Even as she sprints through India in the scorching summertime, Hillary Clinton doesn't break a sweat '-- she doesn't even glisten.

So says Kevin Doyle in a feature about the secretary of state in Conde Nast Traveler magazine, where he reveals this quirky abnormality.

PHOTOS: STARS WORK UP A SWEAT

''There's one very intimate detail that most people still don't know about Hillary Clinton, and which I shall divulge,'' Doyle writes.

''She does not sweat. Literally. She does not even glow. No matter how high the heat, not a drop nor a drip nor a bead nor so much as the faintest glisten can be detected anywhere about her person.''

A Clinton associate told the Daily News that the former First Lady's sweatlessness is well known to those privy to the politics scene.

"There's been a fair amount of commentary about that," in Hillaryland, the associate said.

Doyle joined Clinton for nine days as she traveled through China, Bangladesh and India early in May.

He notes that her lack of perspiration has been ''cited more than once (along with superhuman stamina, uncommon thoughtfulness, and a steel-trap mind) by longtime aides and members of the press corps.''

Phil Reisman of The Journal News says he broke the sweat story in 2006, when reporting on Clinton at a press conference held in Valhalla, N.Y., during a blistering heat wave.

''Everyone was wringing wet, Hillary shimmered like the the frost in a beer commercial,'' Resiman wrote, brushing off Doyle's report as ''old news.''

On the last day of Doyle's trip, he writes that he met Clinton for a photo shoot at Humayun's tomb in New Delhi.

''It was 95 degrees,'' he wrote. ''Her staff, the photo crew, and I were wilting in the heat.

But as she headed to the next meeting on her schedule, Hillary Clinton looked every bit as cool as that white marble dome.''

Of course, it's unlikely that Clinton doesn't actually sweat -- perspiration is the body's way of cooling itself.

There are a number of reasons why some people sweat more than others, says Dr. Kenneth Williams, an Irvine, Calif.-based surgeon who treats patients with sweating issues.

Older women may experience a small drops in their core body temperature after menopause.

There are a few medical conditions, such as hypthyroidism, that causes sufferers to feel constantly chilly.

On the flip side, stress and anxiety may trigger the nervous system to produce more sweat.

''Hillary may just manage to stay calm, cool and collected, when her colleagues aren't,'' he said.

Clinton appears on cover of the September issue of Conde Nast Traveler.

rmurray@nydailynews.com

Send a Letter to the EditorJoin the Conversation:facebookTweet

Hillary Clinton has pneumonia, doctor says - POLITICO

Sun, 11 Sep 2016 21:56

Hillary Clinton is due in California for a series of fundraisers on Monday and Tuesday. | AP Photo

NEW YORK '-- Hillary Clinton was diagnosed with pneumonia on Friday, her doctor said in a statement Sunday after the Democratic nominee left a 9/11 memorial ceremony due to what her campaign said was overheating.

"Secretary Clinton has been experiencing a cough related to allergies. On Friday, during follow up evaluation of her prolonged cough, she was diagnosed with pneumonia," her doctor, Lisa Bardack, said. "She was put on antibiotics, and advised to rest and modify her schedule. While at this morning's event, she became overheated and dehydrated. I have just examined her and she is now re-hydrated and recovering nicely."

Story Continued Below

Bardack examined Clinton at her home in Chappaqua after she returned from New York City on Sunday afternoon.

Clinton is due in California for a series of fundraisers on Monday and Tuesday.

Hillary Clinton Is Being Treated for Pneumonia, Leaves 9/11 Ceremony Feeling 'Overheated' - NYTimes.com

Sun, 11 Sep 2016 22:19

Hillary Clinton on Sunday abruptly left a ceremony in New York marking the 15th anniversary of the Sept. 11 attacks, and a video appeared to show her struggling to maintain her balance as a pair of Secret Service agents lifted her into a van. The incident, according to a statement from her physician, was related to pneumonia and dehydration.

''Secretary Clinton has been experiencing a cough related to allergies. On Friday, during follow up evaluation of her prolonged cough, she was diagnosed with pneumonia,'' said Dr. Lisa R. Bardack, who examined Mrs. Clinton at her house in Chappaqua on Sunday. ''She was put on antibiotics, and advised to rest and modify her schedule. While at this morning's event, she became overheated and dehydrated. I have just examined her and she is now re-hydrated and recovering nicely.''

Mrs. Clinton was taken from the morning event at ground zero to the Manhattan apartment of her daughter, Chelsea. About 90 minutes after arriving there, Mrs. Clinton emerged from the apartment in New York's Flatiron district and waved to onlookers, posing for pictures with a little girl on the sidewalk.

''I'm feeling great,'' Mrs. Clinton said. ''It's a beautiful day in New York.''

Mrs. Clinton left in her motorcade without the group of reporters that is designated to travel with her in public. A campaign spokesman, Nick Merrill, indicated that she returned to her Chappaqua, N.Y., residence after 1 p.m., but did not give an exact time.

Mr. Merrill described the Democratic presidential nominee as feeling ''overheated'' during the commemoration ceremony.

But a video of Mrs. Clinton taken by an attendee appears to show her legs buckling as she struggles to steady herself and walk toward her waiting van. She requires assistance from two Secret Service agents, who held her on either side, to get off a curb and into the van. Close-up images revealed her feet were dragging as she was hoisted into the vehicle.

Mrs. Clinton arrived at the commemoration event around 8 a.m. and left at about 9:30. But for over an hour after that, her campaign would not offer any information about why she had left early or where she was.

Mr. Merrill did not respond to multiple inquiries about whether Mrs. Clinton was treated by a doctor or took any medications.

''During the ceremony, she felt overheated, so she departed to go to her daughter's apartment, and is feeling much better,'' Mr. Merrill said.

Donald J. Trump, the Republican presidential nominee, also attended the event, as did a host of other dignitaries. Temperatures were in the high 70s on Sunday morning in New York, and it was humid.

Others at the event said afterward that Mrs. Clinton did not appear ill when she first arrived at the former site of the World Trade Center.

''She seemed fine,'' said Representative Peter T. King, Republican of New York, who recalled greeting and speaking briefly with the former secretary of state around 8:30 a.m.

But about an hour later there was a minor commotion, Mr. King said. A number of New York's current and former elected officials had been standing in silence as the names of the victims of the attacks were read. Suddenly, Mrs. Clinton, herself a former New York senator, left her position.

Senator Chuck Schumer, Democrat of New York, who was standing alongside Mrs. Clinton, indicated that she was not carried away. ''It was pretty hot out there, but she seemed fine to me, and left on her own accord,'' Mr. Schumer said in a statement, recalling that he and Mrs. Clinton had ''chatted for quite a while about our remembrances of Sept. 11 and our families.''

Mr. King said it was hot enough that officials working at the event offered the dignitaries bottles of water as they stood. But he noted that he did not see anybody accept a bottle.

The congressman, who served alongside Mrs. Clinton when she was in the Senate, said he could not recall Mrs. Clinton suffering any medical episodes at any of the public events he had attended with her.

Mr. Trump and his supporters have aggressively sought to raise questions about Mrs. Clinton's health in recent months. The nominee himself has highlighted his rival's recurring cough and wrote on Twitter last month that ''both candidates'' should ''release detailed medical records'' (Mr. Trump has issued only a limited summary of his own health).

Mrs. Clinton has been bothered by allergy attacks since she emerged from an August fund-raising swing for a series of post-Labor Day campaign events. On Monday, in Cleveland, she could hardly get through a rally because of a coughing attack. ''Every time I think of Trump, I get allergic,'' she told the crowd to laughter.

Interactive Feature | Sign Up for the First Draft Newsletter Subscribe for updates on the 2016 presidential race, the White House and Congress, delivered to your inbox Monday through Friday.

The following day on her campaign plane, Mrs. Clinton told reporters that her allergies flared up twice a year and that she was on antihistamines. ''I just upped my antihistamine load to try to break through it,'' she said. ''It lasts a couple days, and then it disappears.''

A campaign spokesman didn't immediately respond to questions about whether Sunday's incident was related to her medication or allergies.

Mrs. Clinton's campaign has tried to bat away rumors about the candidate's health, releasing a letter from Mrs. Clinton's doctor saying she was in ''excellent health.'' Aides have dismissed such questions as a way to distract from the issue of Mr. Trump not releasing his tax returns.

Both Mrs. Clinton, 68, and Mr. Trump, 70, have shared less information about their health than many previous presidential candidates, though Mrs. Clinton has provided more information than Mr. Trump.

In July 2015, Mrs. Clinton issued a detailed two-page letter from her physician that included the concussion Mrs. Clinton suffered while she was the secretary of state in 2012; it left her with a blood clot in her head and double vision. Mrs. Clinton's physician, Dr. Lisa Bardack, said those symptoms had been resolved within two months.

Her husband, Bill Clinton, however, has said that Mrs. Clinton ''required six months of very serious work to get over'' the concussion '-- a statement that helped feed conspiracy theories among Republicans that Mrs. Clinton's concussion was worse than initially disclosed, though there is no medical evidence to support those theories.

Asked whether she was concerned such questions about her health would affect the election, as the polls have tightened, Mrs. Clinton said, ''I'm not concerned about the conspiracy theories. There are so many of them I've lost track of them.''

Hillary Clinton Is Taking Heat For Saying Half of Donald Trump's Supporters Are Prejudiced, But Her Numbers Are Just Too Low - The Atlantic

Sun, 11 Sep 2016 22:08

This week Matt Lauer was subject to withering criticism for his ineffectual interrogation of Donald Trump and Hillary Clinton. In a litany of complaints, one rose above all'--Lauer's failure to challenge Trump's mendacious claim that he opposed the Iraq War. That Trump was lying is not a matter of opinion, but demonstrable fact.

Lauer's inability to cite the record was a striking journalistic failure'--but one related to the larger failures implicit in political reporting today. Political reporting, as it is now practiced, is a not built for a world where outright lying is one candidate's distinguishing feature. And the problem is not limited to the lies the candidate tells, but encompasses the lies we tell ourselves about why the candidate exists in the first place.

Yesterday, Hillary Clinton claimed that roughly ''half of Trump's supporters'' could be characterized as either ''racist, sexist, homophobic, xenophobic, Islamaphobic '-- you name it.'' Clinton hedged by saying she was being ''grossly generalistic'' but given that no one appreciates being labeled a bigot, that statement still feels harsh''''or if you prefer, ''politically incorrect.''

Clinton later said that she was ''wrong'' to say ''half,'' but reiterated that ''it's deplorable that Donald Trump has built his campaign largely on prejudice and paranoia.''

Latest from PoliticsThe Conservative Churches Resettling Refugees

One way of reporting on Clinton's statement is to weigh its political cost, ask what it means for her campaign, or attempt to predict how it might affect her performance among certain groups. This path is in line with the current imperatives of political reporting and, at least for the moment, seems to be the direction of coverage. But there is another line of reporting that could be pursued'--Was Hillary Clinton being truthful or not?

Much like Trump's alleged opposition to the Iraq War, this not an impossible claim to investigate. We know, for instance, some nearly 60 percent of Trump's supporters hold ''unfavorable views'' of Islam, and 76 percent support a ban on Muslims entering the United States. We know that some 40 percent of Trump's supporters believe blacks are more violent, more criminal, lazier, and ruder than whites. Two-thirds of Trump's supporters believe the first black president in this country's history is not American. These claim are not ancillary to Donald Trump's candidacy, they are a driving force behind it.

When Hillary Clinton claims that half of Trump's supporters qualify as ''racist, sexist, homophobic, xenophobic, Islamophobic,'' data is on her side. One could certainly argue that determining the truth of a candidate's claims is not a political reporter's role. But this is not a standard that political reporters actually adhere to.

Determining, for instance, whether Hillary Clinton has been truthful about her usage of e-mail while she was secretary of state has certainly been deemed part of the political reporter's mission. Moreover, Clinton is repeatedly'--and sometimes validly'--criticized for a lack of candor. But all truths are not equal. And some truths simply break the whole system.

Open and acknowledged racism is, today, both seen as a disqualifying and negligible feature in civic life. By challenging the the latter part of this claim, Clinton inadvertently challenged the former. Thus a reporter or an outlet pointing out the evidenced racism of Trump's supporters in response to a statement made by his rival risks being seen as having taken a side not just against Trump, not just against racism, but against his supporters too. Would it not be better, then, to simply change the subject to one where ''both sides'' can be rendered as credible? Real and serious questions about intractable problems are thus translated into one uncontroversial question: ''Who will win?''

It does not have to be this way. Indeed, one need not even dispense with horse-race reporting. One could ask, all at once, if Clinton was being truthful, how it will affect her chances, and what that says about the electorate. But that requires more than the current standard for political media. It means valuing more than just a sheen of objectivity but instead reporting facts in all of their disturbing reality.

Hillary Clinton Has Pneumonia: What That Means - NYTimes.com

Mon, 12 Sep 2016 03:41

Hillary Clinton, the Democratic presidential nominee, has pneumonia, her doctor said in a statement on Sunday.

Here are some facts about the illness: what it is, what it does and how people recover.

What is pneumonia?Pneumonia is a common lung infection that affects millions of people each year. It is most often caused by bacteria, though viruses account for up to one-third of the cases in the United States each year, according to the National Heart, Lung and Blood Institute. Fungi and other germs can also cause pneumonia.

When germs reach the lungs, the immune system responds by sending cells to attack them. Those cells can cause air sacs in the lungs, known as alveoli, to become inflamed or fill with fluid and pus, causing the symptoms of pneumonia.

Who is at risk?While pneumonia is a common lung infection that most healthy people overcome, the illness can be more serious for people age 65 or older, according to the National Heart, Lung, and Blood Institute. Mrs. Clinton is 68. The illness also tends to be more serious for infants, young children and people with other health problems.

What are the symptoms?The severity of symptoms depends on the type of pneumonia a person has, as well as the person's age and overall health.

Typical symptoms include coughing, fever, chills and shortness of breath, according to the American Lung Association. Other symptoms can also include chest pains, headache, excessive sweating, clammy skin, loss of appetite and low energy. Older people sometimes experience confusion.

Bacterial pneumonia can drive the body's temperature as high as 105 degrees Fahrenheit, resulting in sweating, rapid breathing and confusion or delirium. With viral pneumonia, symptoms are typically more similar to influenza: fever, dry cough, headache or muscle pain.

While treatment for pneumonia can act quickly, related fatigue can last for a month or more, according to the National Heart, Lung and Blood Institute.

How does recovery occur?Bacterial pneumonia can be treated with antibiotics, with most people showing signs of improvement within one to three days of treatment. Antibiotics do not fight viral infections, but doctors may prescribe them for viral pneumonia in order to prevent further infection. Drinking fluids and resting can also help.

In the statement, Mrs. Clinton's doctor did not identify the type of pneumonia the candidate has, but said she was prescribed antibiotics and advised to rest.

It can take as little as a week for a healthy young person to feel normal again, according to the lung association. But it can be weeks before a middle-age person fully regains strength. Older adults are also one group that is more likely to have complications in recovery.

Hillary Clinton's Pneumonia Spread to Campaign Staffers

Mon, 12 Sep 2016 18:44

Hillary Clinton walks from her daughter's apartment building Sept. 11, 2016, in New York / AP

BY:Charlie HoffmannSeptember 12, 2016 10:56 am

Hillary Clinton's pneumonia, which caused her to collapse on the way out of a 9/11 memorial ceremony Sunday morning, has reportedly spread to her campaign staff.

''A debilitating bug'' hit Clinton's staff at her campaign headquarters and aides traveling with the Democratic nominee two weeks before she was diagnosed with pneumonia, a campaign source told People.

No one on the campaign staff seemed to be spared from the bug, Peoplereported Monday.

At least half a dozen senior staff were felled, including campaign manager Robby Mook. Two top advisers even needed emergency medical treatment, the source says. One top adviser diagnosed at a Brooklyn urgent-care center with a respiratory infection was being treated with antibiotics in the days before Clinton's diagnosis. Another top adviser was taken by ambulance to the ER by ambulance after collapsing from what turned out to be severe dehydration, the source said.

Others noted that Clinton staffers came down with the sickness.

Clinton collapsed Sunday morning after leaving a 9/11 remembrance ceremony at the World Trade Center site. The campaign initially said that she had overheated but later in the day said she had been diagnosed with pneumonia on Friday.

"I Protected Hillary Clinton In The Secret Service - Here's Why Her 'Fainting' Video Really Scares Me" | Zero Hedge

Wed, 14 Sep 2016 06:30

Submitted by Gary Byrne via Independent Journal Review

I protected First Lady Hillary Clinton, President Bill Clinton, and their family while I served in the Secret Service Uniform Division as an officer from 1991-2003.

By now, you have most likely seen the startling video of Hillary Clinton 'fainting.' Through the lens of my 29-year-career in The Service, I can see what a naked-eyed media pundit cannot: There is something seriously wrong with Mrs. Clinton.

Pneumonia or overheating are highly suspect excuses and I'll explain why.

My analysis is not partisan. I cared for and protected the Clintons for many years. It was my duty to guard Mrs. Clinton in the Secret Service and I was so close to the First Family that the Supreme Court subpoenaed me to testify on the details of Bill Clinton's late-term scandals.

These are the facts.

Watch Clinton's Secret Service's detail in the video. Their behavior is extremely professional and very telling. Each agent is to be commended.

At the beginning of the video, Hillary is with a protective detail of Secret Service agents, as well as two female staffers. One staffer stands very close at her back and another is shoulder-to-shoulder and arm-in-arm with Mrs. Clinton to give her balance and prop her up.

Mrs. Clinton leans against a ''ballard,'' the metal columns we use to stop incoming 5-ton vehicles, and ''bicycle racks'' (our nickname for the portable metal fences) to restrict pedestrian access to an area.

As the van pulls up, she has a rigid wavering posture. She awkwardly leans on the ballard and stares straight ahead with her neck craned and extended up as her body is supported at the side and rear by her staffers.

One agent gets the door, but no one moves to enter. The Secret Service doesn't like to wait'--standing still in the eyes of the Service is waiting for an attack to happen. But the staffer can't move Mrs. Clinton. Anything that holds up a motorcade is extremely dangerous and anything that ties up a Secret Service agent's hands from drawing their pistol or intervening a threat is a hazard.

The female agent at the front of the van is scanning. She sees Mrs. Clinton odd behavior as well. The female agent begins backing up to the entrance of the van to shield both sight and anyone approaching'--as is procedure. She keys her mic signaling that the van is about to move. The agent is to be commended for maintaining her blank expression.

The agent who opened the door moves to take the place of the staffer and take Mrs. Clinton's arm, but as they switch control, she nearly falls completely. The bald agent, who I believe is the shift leader, knows what is going on with Mrs. Clinton and - this oddity is very telling - crosses between her and her exit (the van door).

As Mrs. Clinton jerks back and forth and her legs fold, the bald agent takes her right arm. The staffer also tries to also grab underneath Mrs. Clinton's armpits to lift Mrs. Clinton.

Close examination of Mrs. Clinton's legs reveal her feet and legs have extended and are not holding her weight at all. The toes of her right foot drag and skid on the pavement. As they lift and push her forward, her legs don't keep up and she falls forward again, yet they can't lift her too high as to risk smacking her head. Any Officer or protection agent knows the risk of that.

That is when all the other agents, especially this young jet-black haired one, convene to shield her from view completely. We call this ''collapsing on'' the protectee. They left in such a hurry to get her from the public view that her shoe'--which she could not retain'--was left behind.

After 9/11, Dick Cheney spoke of how his security detail, when moving him to a secure area, lifted him by his Secret Service issued un-snap-able belt, which is used to lift and move a protectee to where they wanted the person to go.

Hillary Clinton was not wearing this standard issue belt.

So what did we hear after? At first it was that she overheated and dehydrated. Now it's pneumonia. Before, videos of her similar spastic bizarre movement were blamed on allergies and other excuses. Clearly, the totality of her prior blood clots and deep vein thrombosis, along with her concussion and related broken elbow, tell a different story.

Here's what was very disturbing to me: after the medical episode, she went to her daughter's apartment and not to an Emergency Room. Secret Service procedure for each detail dictates that everyone knows which hospital to go to depending on the event - heart failure, gunshot, you name it. It is very revealing that, whatever is wrong with her, she is being treated by her own private medical specialists in secret and, judging by the ballet-like reaction by her detail, they have dealt with this before.

Her detail knew that there was something very wrong with her and they were prepared.

When I protected her, I witnessed her irate behavior and, frankly, I don't think anyone can operate with such uncontrollable fits of anger and not have it take a toll on a person's health'--I think that's exactly what has resulted. I can't help but feel sorry for her detail, because I know from personal experience that they will bear the burden for as long as their mental and physical resilience will tolerate. I bet that night they got berated for letting this ''leak,'' but it has nothing to do with their performance and everything to do with her character.

When I worked at the White House, a man exhibited the same exact behavior as he froze inside a medical detector. On his full time nurse's request, I held him under the armpits and stood by him until his seizure passed. He was an average American and, while it was embarrassing for him in front of all those people, I was employed to protect and serve. All he had to do was be straight with me and all was well. I expect Hillary to do the same and I expect my media to do like I did, ask what's going on so we know how to respond.

She's putting herself, her party, and her Secret Service detail at risk. Her health is directly tied to the health of our country and we deserve treatment.

BREAKING: WikiLeaks Releases Email Showing Hillary Receiving Info On Drug That Counters Effects Of Parkinson's, Alzheimer's | RedFlag News

Wed, 14 Sep 2016 21:15

RELEASE IN FULL

From: Sullivan, Jacob J Sent:Tuesday, October 25, 2011 9:29 PM To: Subject:Provigil

So I was wrong that it was invented by the military, but right about military use of/interest in it. Background on the drug below.

Provigil (Modafinil)

' Provigil is used to treat excessive sleepiness caused by narcolepsy or shift work sleep disorder (sleepiness during scheduled waking hours among people who work at night or on rotating shifts).

It is also often prescribed to treat excessive sleepiness in patients with Parkinson's, Alzheimer's, and multiple sclerosis. Additionally, it has also gained a following among students, truckers, and others who want to stay awake for extended periods of time.

...

Here is the email in its entirety:

Hillary Faints Zoomed in and Slow Motion during 911 ceremony - YouTube

People Don't Know What to Make of 'Metal Object' That Fell From Hillary's Pants in 'Medical Episode'

Thu, 15 Sep 2016 03:29

During Hillary Clinton's frightening health scare on Sunday at the Ground Zero 9/11 memorial service, you could hear something metal fall on the sidewalk as she was being rustled into her special 'Scooby Van'.

A careful inspection of a video of the event shows that the object appears to fall from Mrs. Clinton's pant leg:

And that has led to speculation '-- wild and otherwise '-- of what that thing was:

A law enforcement official had an explanation for why there was a metal sound from an object coming from her pants, which Fox News reported:

People had a hard time believing that the broken arm of a pair of glasses would make such a loud ping:

Then, as social media is wont to do, things got a little nutty:

This guy started asking what was up her pants awhile ago and 'MacGyvered' up a device that he imagined was up Mrs. Clinton's pant leg:

He wasn't the only one who imagined that metal thing was part of a catheter.

Over on 4Chan, one commenter hoped it would be a flash drive:

"Some New York anon needs to look and see if it's still there. Imagine if it's a flash drive."

Allies of Mrs. Clinton are not taking the speculation about Mrs. Clinton's health problems well.

The Huffington Post declared reportage on Mrs. Clinton collapse a "low" moment:

Image Credit: Screenshot/Huffington Post

But others, such as The Washington Post's Chris Cillizza, couldn't ignore Mrs. Clinton's health problems anymore:

Cillizza previously declared the issue of the former Secretary of State's health off limits until her episode Sunday:

Whatever that thing was, Mrs. Clinton was seen wearing the same broken glasses 90 minutes later that supposedly fell apart and down her pant leg.

Donald Trump says he'll be releasing new health information this week. Clinton's camp says it will, too.

What's in Hillary Clinton's Pants? : snopes.com

Thu, 15 Sep 2016 03:26

The seemingly bottomless well of Hillary Clinton health-related conspiracy theories offered up yet another bucket of conjecture after the Democratic nominee left a 9/11 memorial ceremony due to a medical event (originally described as her "feeling overheated" and later attributed to pneumonia).

The event produced an endlessly replayed video that showed Clinton being helped into a van by members of her security detail and apparently stumbling as she stepped off the curb to enter the vehicle, rekindling medicals rumors ranging from claims that she is prone to seizures to an assertion that she is suffering from Parkinson's disease:

That video later prompted yet another conspiracy-theory-within-a-rumor when intense scrutiny of it revealed what looked to be a tubular metallic object plopping out of her right pants leg onto the ground as she was being assisted into a curbside vehicle:

Of course, it wasn't possible to determine from the video whether the object in question actually fell out of her pants leg or was dropped by someone else around her, much less identify exactly what that "mysterious" object might have been. That didn't prevent a wide range of speculation, however, everything from claims that the curious incident proves Hillary Clinton wears leg or hip braces to suggestions that it demonstrates she is really a cyborg or robot with a metal endoskeleton:

Other suggestions (veering from the plausible to the absurd) about what the object might have been included:

car keysa microphonean inhalera phaser or communicatora lipsticka carabineran ostomy bag clipa cathetera lightera thumb drive (holding either deleted Benghazi e-mails or Donald Trump's tax returns)a mind control receivera subdermal microchipa (Diazepam) pena religious medala crack pipeOriginally published: 12 September 2016

What happens if a U.S. presidential candidate withdraws (or dies) before the election is over? - The Washington Post

Thu, 15 Sep 2016 04:50

As I was wrapping up a phone call with my mother recently, she mentioned she had just one more question for me: Exactly what happens if a U.S. presidential candidate decides to withdraw from the race after the nominating convention has passed?

After about 15 minutes of trying to go through the various scenarios, I realized that I needed some expert help. Fortunately, my colleague Richard Pildes, a New York University School of Law professor who is one of the nation's leading authorities on election law and author of ''Romanticizing Democracy, Political Fragmentation, and the Decline of American Government'' was kind enough to answer my questions via email. What follows is a lightly edited version of our discussion.

Let's work backward in time. What happens if the winner of the election either dies or withdraws after Congress has counted the votes from the electoral college in January, but before the president-elect assumes office?

The first part is easy, if a president-elect dies before assuming office. The 20th Amendment resolves this problem directly: The vice president-elect becomes president.

[Could a third-party candidate win the U.S. presidency? Here's why that's so unlikely.]

The 20th Amendment only specifically addresses the death of the president-elect, not the voluntary withdrawal of a president-elect. Presumably, a president-elect who wanted to withdraw could wait until Jan. 20 and do it then. At that point, Article 2 and the 25th Amendment make it clear the vice president would become president.

So what happens if this takes place instead after the electoral college has voted in December, but before Congress formally has received and counted those votes?

Now things start getting more unclear. If the person who wins the electoral-college vote is considered ''the president-elect'' even before Congress officially receives and counts the vote, then the answer is the same as in the previous circumstance.

[Yes, you do have an obligation to vote for the lesser of two evils. Here's why.]

But legally, it would not be clear whether someone is the president-elect before Congress formally receives and counts the votes of the electors in January. If the winner of the November election and in the December electoral-college tally is not considered the president-elect and dies before January, then no clear legal answer is provided by the Constitution or by statute.

I would think there would be tremendous popular pressure to treat the electoral-college winner as the president-elect '-- and that courts would not stand in the way of the system resolving the situation here the same way as before, with the vice president-elect becoming president.

[To win, Trump needs to get non-college grads to the polls. Here's why that's so hard.]

So how about if the winner of the November election dies or withdraws before the electoral college meets in December?

Now things become even messier.

The issue is how an elector should or can cast their vote. Should the elector vote for the dead winner of the election, if the elector otherwise would be obligated to do so? Should he or she vote for the vice-presidential candidate of that party instead? How would these votes be tallied in Congress?

In addition, there are questions about what various state laws would permit. Do they permit, for example, an electoral-college representative to vote for the vice-presidential winner in this circumstance?

And beyond that, there are serious questions about whether it is even constitutional for state laws to purport to bind their state electors to vote in a certain way, which would also come into play at this point.

So that leaves the scenario people are talking about at the moment. What if a party's nominee dies or voluntarily withdraws before the November election?

Three layers have to be unraveled on this question. First, and probably most important, is how a party goes about replacing its nominee. In the Democratic Party, the formal decision-making body is clear. The chair of the Democratic National Committee (currently Donna Brazile) would call a special meeting of the DNC, which is roughly a 447-person body. That body has the power to replace the party nominee, as far as the party is concerned. This is how the Democratic Party replaced Thomas Eagleton with Sargent Shriver as the VP candidate after the 1972 convention.

But how the DNC goes about making the choice '-- under what rules, through what process '-- is not spelled out further in the party rules.

On the Republican side, it would also be the Republican National Committee that would have the power to choose a replacement nominee (though the RNC is a smaller body, around 150 members, than the DNC).

[How the vice president became a powerful White House player]

Second, once the party comes up with a new nominee, the question becomes whether that candidate can now get on the ballot in various states to replace the convention's nominee. This is an issue of state law, handled differently in different states. In some states, it is formally too late at this point to replace a party nominee for the presidential election. But the courts might well conclude that state laws that allow too short a time for replacement in the case of death or withdrawal, in a presidential election, are themselves unconstitutional.

Third, and finally, we are back to the question of how the electors vote. Suppose the convention's nominee cannot be replaced on the ballot in time but has died or withdrawn. The party has chosen an alternative, through the process above, but that person can't get on the ballot. And now voters who support the party '-- let's say Democrats '-- vote for the Democratic candidate on the ballot, even though he or she has withdrawn, to express their support for the Democratic Party. What does the elector do?

We are now more or less back to the question and the scenario I described in the third case. Presumably the elector would like to vote for the person the Democratic Party has chosen to replace its nominee and does so. If state law prohibits that, is the state law unconstitutional? Is Congress obligated to accept this vote?

Any final thoughts or recommendations for where people can go to learn more about this topic?

There should not be this much uncertainty about such momentous questions, even if the events involved are low-probability events. The political parties need to clarify their rules after this election. Congress should consider legislation to resolve some of the remaining uncertainties.

For more information, see the article ''Presidents, Vice Presidents, and Death: Closing the Constitution's Succession Gap'' by Akhil Reed Amar.

Life with Zeiss Z1 F133 protective lenses | Seizures from Video Games

Thu, 15 Sep 2016 04:22

Posted: 03/11/2012| Author:jsolodar|Filed under:Health Consequences, Medical Research, Photosensitive Seizure Prevention, Protective Lenses| Tags:flash, flicker, photosensitive epilepsy, photosensitivity, seizure prevention, seizures, Z1 F133, Zeiss|The Zeiss F133 lenses are a deep cobalt blue. They filter out a lot of light, and block out the color red, the most seizure-provoking color.

I promised to share information about my daughter's experience with the blue Zeiss Z1 F133 lenses that I've written about previously. In the past we got prescription glasses made with these lenses. But her prescription has changed every year and that meant ordering them all over again. So this last time we got her a new pair, we went with clip-ons. Here's what I can tell you:

They absolutely do prevent seizures while Alice watches TV! They also prevent the seizures that happen when she reads uninterrupted for very long periods. And they're handy for unexpected events out in the community'--emergency lights, flash photography, and flickering fluorescent bulbs.

Alice can feel that her eyes are under less stress as soon as she puts the glasses on. I guess it's similar to feeling less uncomfortable when putting on regular sunglasses in bright sunlight.No hard data, but we suspect that even with the lenses, there is still some effect on her brain that sneaks through. We can't say for sure, but we have a hunch that she has more unprovoked seizures in the day or days after watching TV. So we currently limit TV to a couple of half-hour sessions per day.I can't report on the lenses' effectiveness for preventing seizures from video games because we aren't going there. Alice cannot be around video games, period, because she very quickly becomes intensely addicted. If left unsupervised with a computer, she will find a game site. If left alone to play video games with blue glasses on, she invariably removes the glasses when no one is around. There is something about that pre-seizure trance that her brain finds irresistible, even though her mind knows she'll regret bringing on a seizure.The world looks kind of eerie all in the dim blue light that gets through the lenses. You can't really discern color very well except for yellow, blue, and green.As expected, clip-ons are hard to keep track of when they're not attached. (This is especially true for people with the attention and memory issues that often are associated with seizures). I just ordered another pair!If you get prescription glasses made from the Zeiss lenses, you'll be switching off with your non-tinted regular prescription glasses''one pair on top of your head or hanging around your neck or at large and at risk of getting lost.About the lenses

Z1 is the name of a filtering lens, made by Zeiss in Germany, that blocks out 80 percent of light. (I've previously said they are cross-polarized, which is incorrect.) These are the lenses used in the Capovilla studies. F133 refers to the particular shade of blue that was found in clinical tests to be most effective for photosensitive patients. Zeiss does the tinting. It's a lens that was already commercially available in Italy, where the study was done. Researchers have looked at some other lenses as well, and I hope to learn more about those and pass along what I find out. Given how effective the Zeiss lenses are, though, there hasn't been a lot of other investigation. Like everything else having to do with seizures, what works for one person may not help another. Before investing in these you might want to just try polarized sunglasses to see how helpful those are. For some people that may be good enough protection.

How to obtain/order F133 lenses ***

In the past we were able to order them via Canada, but last year our optician said the Canadian supplier he was using couldn't provide these lenses anymore. Through this blog I became aware of Antonio Bernabei, an optician in Rome who sells these. Contact him via email at info@otticabernabei.com. He responds quickly, and his email English is quite good. You can order these lenses from him in any of several ways:

If you don't wear prescription glasses, order blank F133 lenses and pick out a pair of eyeglass frames from an optician who will fit them for you. The optician can cut and insert the non-prescription F133 lenses when they arrive.

Cost for blank F133 lenses (like the two round lenses above):

Plain lenses, for clip-ons: 99 Euros (as of this writing, approx. $130) plus shipping and insurance.Fee to cut blank lenses to fit into (most) sunglasses frames that you send: 20 Euros (as of this writing, approx. $26).If you wear prescription eyeglasses and want a pair of prescription glasses made with the Zeiss lenses:

Send Antonio your eye doctor's prescription and a pair of frames. Antonio will make tinted prescription glasses for you. Wear them as needed as you would wear any prescription sunglasses.

OR

Send him your prescription and provide the designer name, color, and model number of a pair of frames you've chosen from your optician, and purchase the frames and lenses together from Antonio. He'll send the assembled glasses, and this way you don't need to ship him the frames first.

Cost: Varies according to the prescription, whether you need bifocals, etc.

If you want to wear the Zeiss lenses as a clip-on for your prescription glasses:

These clip-ons attach magnetically to your eyeglasses at the top. Tiny screws visible on the lower half of the frame allow standard shades to be replaced with the Zeiss lens.

Order blank F133 lenses that your local optician can insert into a clip-on frame that attaches magnetically or hooks on to to your prescription glasses. Note that because Z1 F133 lenses are 2mm thick, most clip-on sunglasses frames cannot accommodate them. Typical custom clip-ons that match your eyeglass frame are made with a thin plastic lens that can't be replaced without breaking either the lens or the frame. Ask your optician about clip-ons that have a tiny screw that allows the Zeiss lens to be inserted. We ended up buying an EasyTwist frame for the prescription glasses, which comes with a matching magnetic clip-on like the dark green one shown above.

Cost: see costs for non-prescription, blank lenses above

Antonio BernabeiOttica BernabeiVia Del Corso, 4RomeItalyPhone: +39 06.3610190www.otticabernabei.it info@otticabernabei.comOur optician replaced the standard green shade with the F133. The next time Alice needs new prescription lenses, we can still use the same clip-ons.

Please send in comments to share your experience! I've learned a lot from some of you (especially L.H.) who also have been tracking these down. Have you been able to order the lenses from an optician closer to where you live? How well do the lenses work?

Additional sources

There are 2 sources I've recently heard about in North America. I believe they both have contacts with Canadian Zeiss representatives. Both optometrists can order the lenses and mail them to you.

Richard L. Silver, O.D.Professional VisionCare Associates14607 Ventura Blvd.Sherman Oaks, CA, USA 91403Office: (818) 789-3311Fax: (818) 789-1047

drsilver@provisioncare.com

Dr. Silver charges $400 for a pair of lenses, either blank or corrective. Thanks to L.L. for locating him and sharing contact information

Norm Johnson, managerOptometrists' Clinic Inc.12318 Jasper Ave.Edmonton, AlbertaCanada T5N 3K5Phone: 800-661-9976

njohnson@optometristsclinic.com

The clinic provides the lenses for $250 (March 2012 price). You can order them as uncut lenses or, with a prescription and frame (or frame information), make up a pair of prescription glasses. In December 2013 Larra H. reports that you can also order them in a fit-over, standalone frame that covers the field of view more thoroughly. Cost for the Zeiss lenses has apparently dropped, so the plain Zeiss lenses in a fit-over frame is now down to $165.

*** May 5, 2012''After posting this, I found out about another way to get blue lenses that work just fine. You can work with your local optician and a blue tint they can use. See https://videogameseizures.wordpress.com/2012/04/27/seizure-protection-in-a-bottle/

Like this:LikeLoading...

Related

Finding Zeiss Z1 blue lenses to treat photosensitive epilepsy | Epilepsy Foundation

Thu, 15 Sep 2016 04:20

Staff NoticeFor about 3 percent of people with epilepsy, exposure to flashing lights at certain intensities or to certain visual patterns can trigger seizures. This condition is known as photosensitive epilepsy.

Read more: http://www.epilepsy.com/learn/triggers-seizures/photosensitivity-and-seizures

I found a study which shows that Carl Zeiss brand z1 blue lenses are highly effective in treating photosensitive epilepsy. The study is at: http://www.blackwell-synergy.com/doi/full/10.1111/j.1528-1167.2006.00463.x?prevSearch=allfield%3A%28z1%29.

These lenses are available in Europe, but I haven't been able to find them in the US or on the internet. I emailed Zeiss customer service about this, but I got no response. Does anyone know where I can find these lenses. I suffer from photosensitivity (as well as temporal lobe epilepsy). I use polarized glasses, and these help some, but I'd really love to try these lenses.

Also, has anyone with photosensitivity tried using any kind of blue tinted glasses, or cross polarized glasses? If you have had good results, would you please tell me which brand you used and where I can find them?

UPDATE: I found out from another website that these lenses are not available in North America. This came from Carl Zeiss customer service.

Mystery woman who rushed to Hillary Clinton's aid is public relations expert | Daily Mail Online

Thu, 15 Sep 2016 03:39

Hillary Clinton was helped by a former aide turned public relations expert as she collapsed at a memorial in New York.

Christine Falvo, who had worked closely with Clinton in the past, was the woman who was at her side as she became increasingly unwell - and whose identity became the subject of intense speculation online.

Questions were raised over whether Clinton was accompanied by a nurse, or even her personal physician, to whom Falvo, 38, appeared to bear a passing resemblance.

Amid massive internet speculation, the Clinton campaign said nothing, at a time of mounting questions over her trustworthiness and its handling of her illness.

Clinton's campaign finally told DailyMail.com almost 24 hours after they were first asked that the woman was a former aide who had helped plan her appearance at the memorial.

Then they declined to name her. She was however named by Page Six.

SCROLL DOWN FOR VIDEO

Mystery solved: Christine Falvo, the chief operating officer of Howard Rubenstein public relations, was at Clinton's side (left) during her collapse at Sunday's 9/11 memorial.

Taking her pulse? Questions have been raised over whether the woman seen here on NBC footage of Clinton at the memorial was checking her vital signs and therefore medically trained. In fact she is a public relations worker who was a long-term Clinton aide

Holding her hand: A photograph of the immediate seconds after Clinton left the front row of the memorial showed Christine Falvo holding the candidate's hand

Close to the candidate: As Clinton made her way through the crowd, Christine Falvo was close by

The public relations form for which she works as chief operating officer, Howard Rubenstein, declined to comment and the woman who answered her cellphone declined to comment.

The Clinton campaign had already admitted mishandling the collapse and said that the failure to deal with it was 'on us'.

When Clinton collapsed, around 10am, it did not tell reporters that anything had happened; then claimed she had over-heated; then that she had been dizzy; and waited until 5pm to tell the truth that she had pneumonia.

Jennifer Palmieri, the campaign's director of communications, had responded to criticism from David Axelrod, Barack Obama's campaign boss, about her 'unhealthy penchant for secrecy' by saying the campaign 'could have done better'.

But it spent Monday night and most of Tuesday declining to identify the woman being suggested to be a nurse or doctor who was in fact Falvo.

Falvo has a long acquaintance with Clinton, having volunteered for her when the Democratic candidate was a New York senator, then worked as a State Department staffer.

She then went to work for USAID, before moving in 2012 to Howard Rubenstein, the New York public relations firm.

Such was her relationship to Clinton that the then-Secretary of State was told about the former aide's move to the PR firm in June 2012, a cache of emails published by Wikileaks revealed.

The Clinton aide told DailyMail.com that the woman later named as Falvo had previously dealt with 9//1 issues. That appears to include assistance on post-9/11 legislation.

Falvo was seen whispering to Clinton as names of the dead of 9/11 were read out.

A series of Twitter users had questioned whether the dark-haired woman was Dr Lisa Bardack, the physician who diagnosed her with pneumonia.

Hillary Clinton's campaign offered a half-hearted apology on Monday for keeping the public in the dark during the Democratic presidential candidate's health scare a day before

Diagnosis: Dr Lisa Bardack, who confirmed on Sunday that Clinton was diagnosed with pneumonia Friday. It has been suggested that she was at Clinton's side at the memorial

Present throughout: The woman was with Clinton as she arrived for Sunday's 9/11 commemoration ceremony. Clinton had been diagnosed with pneumonia on Friday but kept it secret

Clinton-whisperer: As names beginning with the letter B were read out at the ceremony, the woman whispered at length in Clinton's ear

Front-row place: Clinton was beside New York senator Chuck Schumer (left) and in the same row as (from right) Chris Christie, the New Jersey governor; Donald Trump, her presidential rival, Rudolph Giliuani, New York mayor during 9/11; Bill de Blasio, the city's current mayor; and Michael Bloomberg, the mayor in between Giuliani and de Blasio

CLINTON'S DOCTORLisa Bardack has been Hillary Clinton's 'long time' personal physician.

Exactly how long is unknown, as the candidate has not published her full medical records.

Dr Bardack, 52, works for CareMount Medical, a network of 400 physicians in New York State, where the Clinton have their home.

A New York University medical graduate, she is the group's chair of internal medicine and usually works at its Mount Kisco campus, close to Chappaqua.

The presence of someone with medical training would raise concern that Clinton went to the event knowing her health was at risk.

Clinton was already facing criticism for keeping her diagnosis with pneumonia two days earlier secret - and for her campaign taking hours to admit the truth.

The campaign's changing story on Sunday saw aides claim first that she was 'overheated' and then that she was suffering because of heat and humidity - on a day in New York which other people thought was a pleasant late summer morning.

Finally, at 5pm on Sunday, there was an admission that she had pneumonia, which the campaign said had been diagnosed by Dr Bardack.

Twitter was already alight with rumors that someone is keeping tabs on Clinton's health at all times, and that the candidate may even be suffering neurological damage.

Those were fueled by a picture which showed Falvo holding Clinton's hand in a way which it was suggested was consistent with her taking the candidate's pulse, or even cons

Supporting role: As Clinton collapsed getting into the Secret Service 'Scooby van', the woman was to her left holding her

Escort: The woman was directly beside Clinton as she was led away from the memorial, to the surprise of other people there

'Undercover': This photo appears to show a woman, described as an 'undercover nurse' checking Clinton's pulse prior to her collapse on Sunday, while Clinton clutches her heart

Rumors: Pictures apparently showing Clinton squeezing the woman's fingers also revived much derided rumors that Clinton is suffering from Parkinson's disease

Clinton collapsed outside her van during Sunday's 9/11 memorial service in New York and was rushed to her daughter's apartment.

Although the collapse was initially written off as 'overheating' by the Clinton camp, Dr Bardack, later confirmed that she had been diagnosed with pneumonia on Friday.

A Twitter account titled 'Tennessee GOP' posted a picture of Clinton with her right hand on her heart and her left hand and wrist clasped by Falvo.

'Undercover nurse checking Hillary's pulse?!' the tweet asked.

And a second picture, posted by Mathijs Koenraadt showed Clinton talking to the woman, apparently holding her fingers.

'#Hillary squeezing her nurse's fingers,' the user wrote. 'Clearly, she's disoriented. Final stages of Parkinson's disease?'

The sentiments in both Tweets were echoed by numerous other users, under the hashtags #HillaryHealth and #ClintonCollapse.

Claims that Clinton has been suffering from Parkinson's disease have long circulated, although they have never been taken seriously outside of conspiracy theory groups.

Similar concerns also emerged about the presidential candidate having suffered brain or neurological damage as a result of her 2012 diagnoses of a blood clot in her brain, which came after she collapsed due to dehydration and suffered concussion.

She had also suffered two previous blood clots, in 1998 and 2009, as well as suffering a fractured elbow in 2009 after suffering a fall.

Clinton also collapsed in January 2005, reportedly due to a GI virus.

However she has consistently said she is fit to run for the White House and hold the office of president. Her campaign has been contacted for comment.

Hillary's 'nurse' is actually a p.r. bigwig and a former aide | New York Post

Thu, 15 Sep 2016 03:38

The mystery woman identified in some news accounts as a nurse who could be seen helping Hillary Clinton after she passed out cold at the 9/11 ceremony was identified Tuesday as a former top aide who now works for a leading New York p.r. firm.

Christine Falvo was a senior adviser at Foggy Bottom from July 2009 until January 2010, when Hillary was secretary of state, and also served as a special assistant to the Democratic nominee from 2001 to 2007, when Clinton was New York's junior senator.

Sources said Falvo was working as a volunteer advance person for Clinton at the 9/11 event.

Falvo, like Hillary a Wellesley College grad, now works as chief operating officer on government and public relations for Rubenstein Communications.

The Daily Mail and other news outlets mistakenly described Falvo as a nurse after she sprang to Clinton's side Sunday when the former first lady felt faint and had to be helped to her waiting SUV.

Clinton later revealed that she had been diagnosed with pneumonia the Friday before the event.

Video courtesy of Zdenek Gazda

Howard Rubenstein-GOOD BIO

Thu, 15 Sep 2016 03:38

This image was lost some time after publication.WhoArguably the most powerful publicist in New York, Rubenstein is the founder of Rubenstein Associates and the man whom New York's most influential turn to when they want to get a deal done, crush an enemy, announce good news, or deflect bad news. His son (and heir apparent) is Steve Rubenstein.

BackstoryA streetwise kid from the Bensonhurst section of Brooklyn, Rubenstein initially considered becoming a lawyer and headed off to Harvard Law after graduating from Penn. He quickly changed his mind and dropped out, returning home to Brooklyn. (He eventually finished up law school at St. John's.) It was Rubenstein's father, a newspaper crime reporter who did PR work for various local politicos, who first piqued his interest in the profession. Duly inspired, Howard set up his PR firm from his mother's kitchen in 1954. (He asked his mother to answer the family phone "Rubenstein Associates." She refused.) His first client wasn't the least bit glamorous: He repped the Menorah Home and Hospital for the Aged and Infirm in Brooklyn. Of course, he's done a bit better for himself since then. Today he provides counsel to New York's most notable business leaders, politicians, and celebrities.

Of noteJust a few of Rubenstein's clients over the years: George Steinbrenner, Rupert Murdoch, Donald Trump, Ron Perelman, Larry Silverstein, Leonard Lauder, Michael Bloomberg, Leona Helmsley, Charles Kushner, Jerry Speyer, Dan Tishman, Burton Resnick, and Bill Rudin. Rubenstein's repped the last six mayors (including Ed Koch and Rudy Giuliani), the last four governors (including Mario Cuomo and George Pataki), one of the two sitting senators (Chuck Schumer), and the city's most important arts institutions (Guggenheim, Metropolitan Opera, New York Philharmonic).

So what does Rubenstein actually do? He often acts as a fixer and go-between, someone who negotiates behind the scenes to make things happen. It was Rubenstein, for example, who found a suitable rental for longtime client Rupert Murdoch while his $44 million Fifth Avenue apartment was under renovation. (He dialed up another client, Donald Trump, who was more than happy to help out.) Rubenstein also negotiated the pact between Murdoch and Mort Zuckerman to keep their private lives out of their respective papers. He's often called to assist with some of the most impossible PR situations (such as rehabilitating Naomi Campbell's reputation after she beat her assistant for the umpteenth time) and he's typically the first person other publicists (such as Lizzie Grubman) call when they need a spin doctor.

Not everyone, of course, appreciates his influence. ("An evil, duplicitous samurai," is how a less-than-impressed peer described him to New York.) One of the most frequent complaints is Rubenstein's willingness to disregard conflicts of interests: His firm, for example, simultaneously represented the Tobacco Institute and a cancer hospital, and he represented both Leona Helmsley and Donald Trump when the two were publicly sparring.

On the jobFixing problems, in case you're wondering, pays quite nicely: Rubenstein Associates generates revenues of more than $40 million a year and has more than 200 employees. The firm's Midtown office'--which is decorated with a statue of Rubenstein's reporter father wearing a fedora and standing in front of a typewriter'--is home to two other members of the family. Howard's younger son, Steven, who reps the likes of David Letterman, Robert De Niro, and Jerry Seinfeld, is expected to take over the agency when he retires. Rubenstein's other son, Richard, branched out and started his own boutique firm called RPR. It operates out of the same office as Rubenstein Associates.

PersonalRubenstein is married to Amy Forman Rubenstein. In addition to Steve and Richard, the couple has a daughter, Roni, a former assistant district attorney. (A third son, David, died of a brain tumor in 1971.) Rubenstein and his wife live in a co-op on Fifth Avenue in the 80s and also own a home in Pound Ridge, NY.

Family tiesRubenstein's wife runs the famed steakhouse Peter Luger's with her sister, Marilyn Forman Spiera. The restaurant was founded by Amy and Marilyn's father, and the two daughters remain responsible for selecting the choice meat that's served to diners every week. Interestingly, the Rubensteins say they keep a kosher home, but make an exception when they're at the family restaurant, in which case they allow themselves to indulge in a Peter Luger porterhouse.

After Dead Lawmaker Wins Primary, GOP Leaders Pick New Nominee - WSJ

Thu, 15 Sep 2016 13:14

On Friday, New York state Assemblyman Bill Nojay shot and killed himself in a cemetery.

Four days later, Mr. Nojay won the Republican primary for his upstate seat.

On Wednesday night, a trio of GOP leaders gathered at a Greek restaurant to decide over a family-style meal who will replace Mr. Nojay as the party's nominee in the 133rd...
Earon

Never Mind Oil, Iran's About to Shake the World Pistachio Market - Bloomberg

Mon, 05 Sep 2016 14:48

Iran is ready to return to the global commodities market, flooding it with fresh supplies and risking a slump in prices.

Oil? Possibly, but there's a second industry that could be even more disrupted by a nuclear pact between Iran and the west: pistachio nuts.

Iran has far more clout in the market for cocktail nibbles than it does in crude trading. While it ranks only as the world's seventh-largest oil producer, the Middle Eastern country vies with the U.S. to be the biggest pistachio grower.

As with oil, Iranian sales of pistachios to the U.S. and Europe have been hampered by sanctions. As the talks between Washington and Tehran to resolve the decade-long nuclear dispute head toward the June 30 deadline for a final agreement, traders are predicting lower prices.

''The new supply will have an impact,'' said Hakan Bahceci, chief executive officer of Hakan Agro DMCC, a grain, nuts and pulses trading house based in Dubai.

The biggest losers may be Californian farmers who have doubled pistachio acreage over the past ten years despite drought conditions. Pistachio production in California started in earnest in 1979 and output hit 513 million pounds last year, more than triple the harvest in 2004, according to the U.S. Administrative Committee for Pistachios.

Nut LoversFor nut lovers, more supply would be good news: prices have risen 40 percent over the last five years due to supply shortages.

Yet, so far, the California pistachio industry is unconcerned. Bob Klein, manager of the Fresno-based Administrative Committee for Pistachios, said Iran would struggle to sell into Europe and the U.S. because of high levels of contamination from aflatoxin, a toxic chemical caused by fungus.

''I am not hearing a great deal of concern within the industry about the return of Iran,'' he said in an interview. Even if prices decline a bit, farmers will still thrive in California.

''Prices had been good. Pistachios are among the most profitable perennial crops'' in the U.S., he said.

The U.S. pistachio crop was worth about $1.3 billion last year. For Iran, the crop is worth more or less the same, but has more importance for the country because it's the second-largest export of the country, behind crude oil.

Hostage CrisisThe U.S. has banned Iranian pistachios intermittently over the last three decades. The first embargo dates from 1979 following the takeover of the U.S. embassy in Tehran and the hostage crisis. The ban was lifted four years later, but re-introduced in 1987 during the Iran-Iraq war before it was lifted again in 2000.

Ten years later, President Barack Obama approved legislation that effectively blocked imports of Iranian pistachios into the U.S. again.

''Currently, you cannot import into the U.S. Iranian-origin pistachios,'' said Erich Ferrari, whose Washington-based firm Ferrari & Associates has lobbied the U.S. government on behalf of commodities traders on Iran.

Other Western sanctions, designed to stop oil and gas trading, are also limiting Iran's ability to sell pistachios in Europe because of restrictions on banking and shipping, traders said. China, India and Turkey remain big buyers, and some Iranian pistachios are finding their way into the European market from Turkey.

Tehran is eager to use the end of the nuclear sanctions to increase commodity production. On Wednesday, Oil Minister Bijan Namdar Zanganeh the country could lift oil output within 10 days after the easing of the sanctions.

Before it's here, it's on the Bloomberg Terminal.LEARN MORE

It's Going to Be a Bad Year for Pistachios

Mon, 05 Sep 2016 14:47

Eat them while you can, people. Pistachios are about to become a whole lot less available.

The USDA recently released a report showing that the United States, one of the world's two main pistachio producers, would cut the number of pistachios it harvested by nearly half this year, due mainly to California's punishing drought. This means a loss of over 100,000 tons of pistachios in the U.S. alone'--an amount equal to nearly a fifth of the world's entire 520,000 ton pistachio crop for this year.

Now, a worsening drought in Iran, the other top producer of pistachios in the world, has farmers there predicting that their pistachio harvest is also going to continue to fall dramatically'--perhaps even further than the 20,000-ton drop that was already predicted for this year.

USDA says worldwide we're going to lose 86,000 tons of pistachios this year. That figure sounds unsettlingly big, but the losses would look heavier yet if Turkey hadn't had a surprise bumper crop which nearly tripled its expected harvest. Even that anomaly, though, still wasn't enough to offset the loses.

Pistachios join chocolate, red wine, IPAs, salmon, coffee, almonds, and so much more on the list of foods that are going to get harder to come by in our hotter and drier world. On the plus side, however, the world market for edible insects continues to grow.
No There There

LEAKED PENTAGON MEMO... [Disturbing] - Allen B. West - AllenBWest.com

Thu, 08 Sep 2016 05:18

I've often wondered what would happen if Barack Obama saw the real enemies of the State as he does his political opposition. If that were the case, we'd certainly have a more stable and secure global environment. When Obama tries to give Vladimir Putin a ''stare down,'' Putin knows there is no there, there.

However, one thing's for sure, Obama despises his political opposition and will do anything to destroy, denigrate and discredit them, and that includes damaging our national security'...as a recently uncovered Pentagon memo brings to light.

As reported by Politicopro.com, ''The Pentagon has crafted a secret plan to play ''hardball'' against House Speaker Paul Ryan's defense spending proposal, according to a memo obtained by POLITICO that calls for pitting the House and Senate against each other, capitalizing on the ''discomfort'' of one key Republican lawmaker and finding ways to undermine the chairman of the House Armed Services Committee.

Advertisement - story continues belowThe five-page strategy blueprint also suggests possibly enlisting top military brass to help make the case that the Republican speaker's budget ''gimmick'' would weaken the nation's defenses.

The memo, prepared for Defense Secretary Ash Carter and Deputy Secretary Bob Work, reads at times like an intelligence assessment of congressional leaders. It provides an unusually clear window into the tactics the Defense Department's top officials are using in an increasingly partisan feud over their budget '' particularly striking for an agency that seeks to avoid the perception of involvement in election-year politics.

The strategy it lays out will come to a head as Congress returns Tuesday, and will probably spill into the lame-duck session, as the House and Senate decide whether to include an extra $18 billion in war funding in the final defense authorization and appropriations bills they send to President Barack Obama.The White House strongly objects to Ryan's proposal to boost the Pentagon's budget without increasing domestic spending, both of which are under tight caps imposed by a 2011 spending deal.''We should attack'' Ryan's plan ''and be prepared to play hardball opposing it,'' says the May 13 memo, which calls for applying both ''public and private pressure'' on lawmakers to ensure the House Republican proposal doesn't become law. That includes appealing to ''media commentators'' to help make the department's case and possibly having Carter lobby congressional Democrats at one of their caucus meetings '' a step that it acknowledges ''risks the appearance of partisanship.''

In assessing the motivations of House Armed Services Chairman Mac Thornberry , the memo says the Texas Republican is ''still smarting'' from tactics the White House used in last year's bout with Congress over defense spending. Asked to respond to the memo, a Republican aide to Thornberry's panel said it was striking ''how cynical it is.''

''This isn't a game of poker '' this is national security,'' said the aide, speaking on the condition of anonymity. ''They see the chairman's legitimate oversight concerns and policy concerns that he is trying to address in the bill as nothing more than a talking point.'' Pentagon press secretary Peter Cook said he would not discuss ''internal department deliberations'' but added the department's ''strong opposition to the House proposal should not be a surprise.''

If there's one thing that shouldn't be politicized, it's our national security. We're coming up on the 15th anniversary of 9-11 '-- sadly many don't even recall that fateful day. It's a day I'll never forget, watching the plane on a live feed, strike the second tower in NYC and then seeing the crash at the Pentagon, where a very close friend, retired LTC and Texas State Senator Brian Birdwell, was horribly burned and scarred for life.

On that day, the Islamic jihadists didn't seek out a building with Democrats or Republicans, they sought to kill Americans. And how utterly sad '-- pathetic actually '-- that we have a memo from the very same Pentagon using the terminology of ''attacking'' funding for our military. And how dare this ''president'' '' still struggling with that '-- hold our men and women in uniform and their families hostage for increased domestic spending for his vision of expanding the welfare nanny-state and the dependency society?

I will ask a simple question, what freaking rock did this guy crawl out from under? And even worse, how could we, this great nation, America, elect and reelect someone so seemingly demented and misguided in upholding the most vital oath, to protect the American people? What type of person is Barack Obama and his progressive socialist acolytes that they'd play Russian roulette with our national security?

And let me be very blunt: whom does Secretary of Defense Ash Carter serve?

So, this person masquerading as our SecDef is going up on Capitol Hill to lobby against our men and women in uniform? It appears he's nothing more than a puppet caring little about those in uniform who stand upon freedom's rampart, dedicated to safeguarding our way of life, liberty, and our pursuit of happiness.

We can ill afford to allow this scourge to hold power in America any more. Now, I've written on countless occasions about how we need to rein in the Department of Defense and make it fiscally accountable. I support auditing the DoD. But, who among you can agree with this memo '-- which obviously some brave person in the Pentagon leaked '-- someone with a conscience. And I can only imagine the witch hunt going on to find the leak. May God bless them and protect them.

There can be no debate that the sequestration has adversely affected our defense readiness. I abhor budget gimmicks, but at this time when we have combat aviation maintenance crews scouring bone yards and museums for spare parts we're at a critical moment. And instead of playing partisan political games, we should be ''providing for the common defense.''

''The newly obtained strategy memo spells out the Pentagon's tactics in greater detail. The blueprint '' written by Pentagon Comptroller Mike McCord and legislative affairs chief Stephen Hedger, both former congressional aides '' describes Obama's threat to veto this year's defense policy and spending bills as ''the principal weapon at our disposal.''

But it also says Carter might have to take an ''all in'' approach to opposing the House GOP plan. At times, the memo appears to step up to the edge of what tactics are considered acceptable for the Pentagon as it lobbies Congress.

In discussing its efforts to keep outside experts ''informed'' about its opposition to Ryan's plan, for example, it adds that ''the department cannot advocate that such individuals take any specific actions.''

At issue is a move by House leaders this year and last year to use a supplemental war spending account, called ''Overseas Contingency Operations,'' to increase overall defense spending while leaving other federal agencies under strict congressional budget caps. The Defense Department's base budget is subject to these caps, but its war-spending account is not '' so Republicans have sought to game the system by using overseas money to fund base programs.''Now, perhaps if we had a commander in chief who didn't do as he did last year, and veto the first draft of last year's defense authorization bill over the very same issue, it wouldn't come to this. But obviously Obama doesn't understand we provide for the common defense'...not provide for the common welfare, in the Constitution.

Barack Obama and his minions have reached some very low lows, but this one beats them all, in my assessment. He's dispatching the Secretary of Defense to Capitol Hill to lobby against his political opposition seeking to strengthen our defense posture and care for those who bear the burden of our national security.

This memo reflects such a depraved state of mind and existence that it's unconscionable to believe this is happening in our America. So, let me close by saying, the day Obama departs the White House cannot come soon enough'...and think as you may, he must not be replaced by someone like Hillary Clinton who is even more corrupt, deceitful and destructive.
Shut Up Slave!

The Depression Radically Changed the Way Americans Ate - The New York Times

Sun, 11 Sep 2016 20:10

PhotoDinner during wheat harvest time, central Ohio, 1938.Credit Photograph by Ben Shahn/U.S. Farm Security Administration, via The Library of CongressA SQUARE MEALA Culinary History of the Great DepressionBy Jane Ziegelman and Andrew CoeIllustrated. 314 pp. Harper/HarperCollins Publishers. $26.99.

During his presidential campaign of 1928, Herbert Hoover declared that the United States was ''nearer to the final triumph over poverty than ever before in the history of any land.'' The country was giddy with postwar prosperity, and the country's mood was reflected on America's dinner tables. As people flocked to cities and moved to small apartments, delicatessens, cafeterias and other purveyors of grab-and-go food began to proliferate. In rural communities, efficiency experts encouraged farm wives to lighten their loads with a range of new conveniences. When President Hoover and his wife, Lou, arrived in the White House, they set a regal tone, presiding over elaborate multicourse banquets and requiring dinner jackets even en famille.

The Depression brought all that to an end. And as Jane Ziegelman and Andrew Coe show in their engaging and often moving cultural history, ''A Square Meal,'' those years also changed the way America thought about food. We are what we eat '-- or in the case of the Depression, didn't.

As in other respects, the gastronomic effects of Black Tuesday were not immediate. Warring reports and ''slippery'' statistics made the full impact of the stock market crash hard to gauge, and long into the crisis, the Hoover administration remained staunchly optimistic. In New York, increased numbers of people in the city's bread lines were an early bellwether. The institution of the bread line dated back to the turn of the 20th century, when tourists would journey to the Bowery to gawk at the seasonal workers who queued up for ''promenade breakfasts'' of dry bread and coffee in the winter months. The official city charity '-- the dreaded ''Muni'' '-- imposed punitive ''work tests'' on its clientele and was regarded as a last resort. However, even the private bread lines carried a distinct whiff of the moralistic English poor laws: to ensure that only the most desperate benefited, officials generally distributed these meager meals in the middle of the night.

In the spring of 1930, the bread lines did not disperse as usual. They grew. As increasing numbers of urban workers were laid off and agricultural laborers began flooding the city in search of employment, makeshift bread lines popped up all over New York; by 1931 they were serving some 85,000 meals a day. The socialite Marian Spore handed out Y.M.C.A. meal tickets on the Bowery, while William Randolph Hearst funded '-- and publicized '-- two Army trucks serving hungry men sandwiches and crullers.

Hoover and his advisers had an unshakable faith in the spirit of private philanthropy and a constitutional aversion to any form of direct relief. But as the months passed and the waves of financial collapse reached farther, it became clear to city administrators that a more organized system was needed. The bread lines, with their dubious nutritional standards and uncertain supplies, had never been intended as more than a stopgap. On the right, critics charged that the ready food was making able men soft and encouraging freeloaders to flood the city. Social workers complained that amateurish handouts diverted funds from more organized efforts. Because it was socially unacceptable for young women to patronize bread lines, ''business girls'' often went hungry.

The suffering was not, of course, limited to the cities. Despite Hoover's 1931 claim that ''nobody is actually starving,'' the country was desperately hungry. As the Depression deepened, for most Americans the question became not whether one suffered, but in what way. Ziegelman and Coe draw on a range of primary sources to produce grim pictures of subsistence diets across the country. An Arkansas widow and her seven children were found by a relief worker to have little more than ''a pint of flour and a few scraps of chicken bones'' in the larder; out-of-work West Virginia coal miners were limited to ''potatoes, bread, beans, oleomargarine.'' In the Dust Bowl, families ''pared back their daily diet to the bare minimum of flour, lard and potatoes,'' often supplemented by Russian thistle '-- better known as tumbleweed. Pellagra, rickets and other diseases of malnutrition were rampant. The effects of vitamin deficiency could be felt into the war years, when a startling number of young draftees failed their physicals.

Continue reading the main story

Misogyny could be treated as a hate crime by police across UK | The Independent

Sun, 11 Sep 2016 20:25

Misogyny could be treated as a hate crime by police forces across England and Wales in a bid to tackle sexist abuse.

The move comes after Nottinghamshire Police reportedly launched 20 investigations in the first two months of its pioneering scheme to tackle misogyny.

The Fawcett Society, which campaigns for women's rights, praised the development but called for the policy to be entereed in to the law.

Treating abuse targeting women as a hate crime would bring it in line with attacks motivated by hostility and prejudice towards race, religion and sexuality.

Police in Devon and Cornwall are among those interested in the reclassification as are those in Durham and Lincolnshire, according to The Observer, which reported that specially-trained officers investigated misogyny every three days in July and August.

Dave Alton, Nottingham Police's hate crime manager, told the newspaper: ''The number of reports we are receiving is comparable with other, more established, categories of hate crime.

"We have received numerous reports and have been able to provide a service to women in Nottinghamshire who perhaps wouldn't have approached us six months ago. The reality is that all of the reports so far have required some form of police action.

''There has been quite a lot of interest in the action we have taken. Both our chief constable and our commissioner have been contacted by forces and commissioners nationally to discuss how we have made the changes and what the impact has been so far.''

So far, officers in Nottinghamshire say they have received reports ranging from verbal harassment to sexual abuse, while two men have been arrested for public order offences and actual bodily harm, which were recorded as misogynistic.

Sam Smethers, chief executive of the Fawcett Society, told The Independent: "This is what the Fawcett Society has been calling for. It is good to see other police forces now looking to follow Nottinghamshire's lead. But we need a change in the law.

''We need to call out misogyny for what it is - a hate crime. Women and girls face a tidal wave of abuse and harassment every day. Our law has to send a clear signal that this is not acceptable. It is a crime.''

Recording the abuse of women as a hate crime will allow charities and policymakers to analyse the scale of incidents.

It also means victims can report incidents that might not be considered a crime and officers will investigate.

Officers will then consider how a victim can be supported and how repeat abuse can be prevented.

Nottinghamshire Police defines misogyny hate crime as ''incidents against women that are motivated by an attitude of a man towards a woman and includes behaviour targeted towards a woman by men simply because they are a woman''.

The force's chief constable, Sue Fish, said the move would make the county a safer place when it was announced in July.

''What women face, often on a daily basis, is absolutely unacceptable and can be extremely distressing,'' she said.

''It's a very important aspect of the overall hate crime work being conducted and one that will make Nottinghamshire a safer place for all women.''

Reuse content
BLM

Cal State LA offers segregated housing for black students - The College Fix

Thu, 08 Sep 2016 03:25

Cal State LA offers segregated housing for black students

'A safe space for Black CSLA students '...'

California State University Los Angeles recently rolled out segregated housing for black students.

The arrangement comes roughly nine months after the university's Black Student Union issued a set of demands in response to what its members contend are frequent ''racist attacks'' on campus, such as ''racially insensitive remarks'' and ''microaggressions'' by professors and students. One demand was for a ''CSLA housing space delegated for Black students.''

''[It] would provide a cheaper alternative housing solution for Black students. This space would also serve as a safe space for Black CSLA students to congregate, connect, and learn from each other,'' the demand letter stated.

The newly debuted Halisi Scholars Black Living-Learning Community ''focuses on academic excellence and learning experiences that are inclusive and non-discriminatory,'' Cal State LA spokesman Robert Lopez told The College Fix via email.

The public university has 192 furnished apartments in a residential complex on campus, and the Halisi community will be located there, Lopez said, adding it joins other themed living-learning communities already housed there.

Lopez declined to answer any additional questions or provide more details on the new community, such as how many rooms it encompasses, and whether it's a whole floor or just a few rooms.

Cal State LA joins UConn, UC Davis and Berkeley in offering segregated housing dedicated to black students. While these housing options are technically open to all students, they're billed and used as arrangements in which black students can live with one another.

MORE: 'Orwellian,' 'ghettoization': Criticisms mount against UConn's dorm wing for black males

MORE: Universities, students of color embrace segregated spaces on campus

Meanwhile, at Cal State LA, campus leaders took down much of the online information on the new housing that it posted in late July. And university housing officials and other campus officials rebuffed requests by The College Fix for more details.

If campus leaders are proud of the new housing, they appear disinclined to talk about it.

CSULA's Housing Services page offers one paragraph on the new black living-learning community, calling it an effort to ''enhance the residential experience for students who are a part of or interested in issues of concern to the black community living on campus by offering the opportunity to connect with faculty and peers, and engage in programs that focus on academic success, cultural awareness, and civic engagement.''

In addition to the Black Student Union's housing demand, the group also demanded a $30 million dollar scholarship endowment to aid black students, three new black faculty counselors, a new anti-discrimination policy and cultural competency course for faculty and students, and finally, a meeting with the president for them to discuss the ''fulfillment and implementation of each demand.''

After the Halisi housing community was announced, the Black Student Union celebrated on its Instagram page, calling it a ''long overdue, but well deserved'' achievement, Young America's Foundation reports.

Members of Cal State LA's Black Student Union declined requests for comment from The College Fix.

Young America's Foundation quoted from the Halisi housing application prior to university officials taking it offline. Rules students who seek to live in Halisi must agree to include ''respect the differences of others that live in my community and look for positive thing to learn from them,'' ''be an advocate for change if the tools and resources available are deemed inadequate,'' and ''accept that I am still learning and need to be open to new ideas and experiences.''

Like The College Fix on Facebook / Follow us on Twitter

IMAGE: Shutterstock

About the Author

Jeremy Beaman studies English and Philosophy at the University of Mobile, AL. He writes for The College Conservative, Positive Press Mobile and contributes regularly to the university magazine, The Torch. He has also contributed to the state's major news organization, AL.com, as well as the Alabama Baptist state newspaper. His major interests include politics, languages, religion and public life. He is originally from Huntsville, AL.
EuroLand

De Tweede Kamer heeft het medisch beroepsgeheim gisteren stilletjes afgeschaft | Motherboard

Thu, 15 Sep 2016 13:23

Terwijl iedereen zich druk aan het maken was om een maatregel die heel veel mensen alleen maar ten goede kan komen, heeft de Tweede Kamer ook stilletjes een veel ingrijpender voorstel aangenomen: een afkalving van het medisch beroepsgeheim ten behoeve van zorgverzekeraars en ten koste van patinten.

Het voorstel van Minister Schippers (VVD) dat gisteren door CDA, PvdA, PVV, SGP en VVD door de kamer is gewerkt, geeft zorgverzekeraars de mogelijkheid om zonder toestemming het medisch dossier van patinten in te zien, als ze het vermoeden hebben dat er gefraudeerd wordt.

Nogmaals: zorgverzekeraars kunnen dus voortaan zonder jouw toestemming in je medisch dossier kijken. De enige reden die ze hoeven te hebben is een verdenking van fraude. En ze moeten binnen drie maanden nadat ze hebben gesnuffeld in de meest persoonlijke informatie die je bezit, jou vertellen dat ze dat gedaan hebben.

Dit is uiteraard compleet krankzinnig, maar wacht even tot je de argumentatie hoort waarmee dit wetsvoorstel is aangenomen. Het idee is dat zorgverzekeraars hiermee fraude bij het declareren van kosten kunnen inperken. Die fraude kostte ze in 2015 namelijk 11 miljoen euro. Dat klinkt als veel, maar het komt volgens Privacy Barometer neer op 0,015% van het zorgbudget. Daar komt nog bij dat 9,4 miljoen van die 11 miljoen fraude gepleegd wordt door tussenpersonen of zorgverleners. Patinten zelf '' degenen die geraakt worden door deze maatregel '' frauderen dus in totaal voor 1,4 miljoen.

Komt 'ie: De Tweede Kamer heeft dus het medisch beroepsgeheim voor patinten opgeheven om iets te kunnen doen aan een verspilling van 0,002% van het zorgbudget. Twee duizendste van een procent! Krankzinnig is een woord dat de lading niet dekt.

Nog een totaal gestoord feit: in de wet '' die dus al is aangenomen '' is nergens geregeld in hoeverre zorgverzekeraars inzage krijgen in het medisch dossier van mensen. In feite is het nu dus zo dat ze ongelimiteerd kunnen browsen in je medische geschiedenis, omdat ze ergens denken dat je een heel klein deel van hun budget verkeerd gedeclareerd hebt.

Begrijp me niet verkeerd. Fraude, vooral bij verzekeringen, is verkeerd en moet vooral aangepakt worden. Maar begin dan godverdomme met het aanpakken van de instellingen die de meeste fraude plegen en niet bij het afpakken van basisrechten van normale burgers.

Dit is weer een voorbeeld van het afpakken van de privacy van heel veel mensen omdat een nauwelijks te bevatten kleine groep dingen verkeerd doet. Dit is een reflex die in vrijwel alle gevallen (wereldwijde totaalsurveillance, war on drugs, ik noem maar wat) nauwelijks effect heeft.

Bovendien is dit probleem hartstikke makkelijk op te lossen zonder een wetswijziging die alleen maar ten nadele van het overgrote deel van de patinten kan werken. Een zorgverzekeraar zou bij vermoeden van fraude een andere dokter '' die ook beroepsgeheim heeft '' in kunnen schakelen om het dossier van een patint te controleren. Maar dat vindt de Kamer blijkbaar niet goed genoeg. Die wil blijkbaar liever dat winstge¶rienteerde bedrijven onbeperkt inzage kunnen krijgen in vertrouwelijke informatie.

Misschien moeten we ons hier even over laten horen, in plaats van ons zo druk te maken om een maatregel die met een simpele handeling op te lossen is. Dit is iets wat voorbij politieke principes gaat. Het afbrokkelen van het medisch beroepsgeheim in het voordeel van zorgverzekeraars is een stap richting een staat die niet gecontroleerd wordt door een gekozen overheid, maar door megacorporaties die geen fuck om jou of je organen geven, maar wel om het verdienen van meer geld.

Het voorstel kan nog in de Eerste Kamer sneuvelen, maar dan moet het wel heel duidelijk zijn dat we hier als burgers met zijn allen tegen zijn. En dat kan alleen als iedereen dit leest.Volg ons op Facebook, we brengen best vaak ook leuk nieuws:
F-Russia

WADA Confirms Attack by Russian Cyber Espionage Group | World Anti-Doping Agency

Thu, 15 Sep 2016 13:50

The World Anti-Doping Agency (WADA) confirms that a Russian cyber espionage group operator by the name of Tsar Team (APT28), also known as Fancy Bear, illegally gained access to WADA's Anti-Doping Administration and Management System (ADAMS) database via an International Olympic Committee (IOC)-created account for the Rio 2016 Games. The group accessed athlete data, including confidential medical data -- such as Therapeutic Use Exemptions delivered by International Sports Federations (IFs) and National Anti-Doping Organizations (NADOs) -- related to the Rio Games; and, subsequently released some of the data in the public domain, accompanied by the threat that they will release more.

While it is an evolving situation, at present, we believe that access to ADAMS was obtained through spear phishing of email accounts; whereby, ADAMS passwords were obtained enabling access to ADAMS account information confined to the Rio 2016 Games. At present, we have no reason to believe that other ADAMS data has been compromised.

''WADA deeply regrets this situation and is very conscious of the threat that it represents to athletes whose confidential information has been divulged through this criminal act,'' said Olivier Niggli, Director General, WADA. ''We are reaching out to stakeholders, such as the IOC, IFs and NADOs, regarding the specific athletes impacted,'' he continued.

''WADA condemns these ongoing cyber-attacks that are being carried out in an attempt to undermine WADA and the global anti-doping system,'' said Niggli. ''WADA has been informed by law enforcement authorities that these attacks are originating out of Russia,'' he continued. ''Let it be known that these criminal acts are greatly compromising the effort by the global anti-doping community to re-establish trust in Russia further to the outcomes of the Agency's independent McLaren Investigation Report,'' Niggli continued.

WADA is taking this attack very seriously. The Agency extended its investigation with the relevant law enforcement authorities; is conducting internal and external security vulnerability checks; and, is taking the necessary measures to ensure that stakeholders securely manage ADAMS passwords and its usage.

This attack comes on the heels of the early August incident; whereby, Yuliya Stepanova's password for ADAMS was illegally obtained, which allowed a perpetrator to access her account on ADAMS. Ms. Stepanova was the key whistleblower for WADA's Independent Pound Commission that exposed widespread doping in Russian athletics.
MIC

US, Israel sign massive military aid deal; $38B, 10 years

Thu, 15 Sep 2016 03:02

WASHINGTON (AP) '-- The United States on Wednesday signed an unprecedented new security agreement with Israel that will give the Israeli military $38 billion over 10 years.

The deal, the largest such agreement the U.S. has ever had with any country, amounts to $3.8 billion a year beginning in budget year 2019, compared with $3.1 billion the U.S. gave Israel annually under the current 10-year deal that expires in 2018.

"This commitment to Israel's security has been unwavering and is based on a genuine and abiding concern for the welfare of the Israeli people and the future of the state of Israel," President Barack Obama said in a statement.

After months of negotiations that took place after a particularly tense time in the relationship amid disputes over the Iran nuclear deal, the memorandum of understanding was signed at the State Department by Israel's national security adviser, Jacob Nagel, and Thomas Shannon, the third-highest ranking U.S. diplomat.

Israeli Prime Minister Benjamin Netanyahu noted those tensions but stressed that the agreement proves that "relations between Israel and the United States are strong, powerful."

"This doesn't mean there are not disagreements from time to time, but these are disagreements within the family," he said. "They do not impact the great friendship between Israel and the U.S., friendship that is evidenced in this agreement that will greatly help in forging Israel's power in the coming decade."

Obama's national security adviser Susan Rice, who witnessed the signing, called it a sign of Washington's "unshakable commitment" to the security of the Jewish state.

She said the agreements makes clear that the U.S. "will always be there for the state of Israel and its people today, tomorrow and for generations to come."

Nagel hailed the agreement as an indication of the "rock-solid alliance" between Israel and the United States.

"Israel has no better friend, no more reliable strategic ally, no more important partner than the United States of America," he said. "Everyone can see and feel the special relationship between our countries and our people."

Under the agreement, Israel's ability to spend part of the funds on Israeli military products will be phased out and eventually all of the money must be spent on American military industries. Israel's preference for spending some internally had been a major sticking point in the deal.

The total includes $33 billion in foreign military financing funds '-- which is money used to buy materiel and ammunition '-- as well as $5 billion in missile defense funding. Under the previous arrangement, Congress approved funds for Israel's "Iron Dome" missile defense system separately and on an annual basis.

The new agreement eliminates Israel's ability to spend a fraction of the funds on fuel for its military. In another apparent concession, Israel has agreed not to ask Congress to approve more funds than are included in the deal unless a new war breaks out, according to U.S. officials.

The agreement concludes many months of negotiations that involved a delicate calculation by Israel about whether to strike a deal with the outgoing U.S. president. In February, Prime Minister Benjamin Netanyahu quietly floated the prospect of waiting for Obama's successor in hopes of securing a better deal.

But the Obama administration was eager to lock in the agreement before leaving office to help bolster Obama's legacy and undercut the criticism that his administration was insufficiently supportive of Israel.

Obama's relationship with Netanyahu has been tense for years, and ties between the countries worsened significantly when the U.S. and world powers struck the nuclear deal with Iran. Israel considers a nuclear-armed Iran to be an existential threat and disagreed sharply with Obama's contention that the deal actually made Israel safer by limiting Iran's nuclear program.

___

Daniella Cheslow contributed to this report from Jerusalem.
National Anthem

The Real Controversy over the National Anthem | Huffington Post

Sun, 11 Sep 2016 20:38

Colin Kaeperneck's refusal to stand during the playing of the "Star Spangled Banner" is only the latest in a series of rows over Francis Scott Key's verses that were set to the melody of an 18th-century drinking song from an English gentlemen's club. It was more than a century after Key wrote the lyrics that Congress finally designated the song as our national anthem, and only then after six attempts and lots of opposition.

For a long time, "Hail Columbia" and "My Country 'Tis of Thee" were used at official occasions. It was only in 1889 that the Navy approved the "Star-Spangled Banner" for use at naval celebrations. However, the real rival for the status of the national anthem was "America the Beautiful."

First written as a verse by Katharine Lee Bates, a professor at the all-women's Wellesley College, in 1893 as she gazed out over the vast American plain from the top of Pike's Peak in Colorado. The poem by Bates, who lived in a so-called "Boston marriage" with her lifelong companion Katharine Conan, struck a chord with the American public. Its uplifting stanzas and vision of America as a land of great beauty, blessed by God with the hope of brotherhood for all mankind, made it instantly popular throughout the country.

It was not until 1910 - after many attempts to set Bates' verse to music - that a hymn by an obscure choirmaster, Samuel Ward, was published with Bates' lyrics. Even then, despite Ward's eminently sing-able tune and the power of Bates' lyrics, there were continuous, and often contentious, efforts to set Bates' verse to many different melodies.

As the popularity of "America the Beautiful" grew, there was a strong movement to establish it as our national anthem. When compared to "Star-Spangled Banner," it is clearly more musically and lyrically powerful, at the same time easier to sing and orchestrate. Who can forget, for example, Ray Charles' moving rendition of the song, or the multiple orchestrations and vocal performances of the song in every genre. For the most part, "Star-Spangled Banner" is notable for its lyrics that are regularly mangled by everyone from celebrities to the average Joe. Who can forget, for example, the Roseanne Barr ear-piercing rendition at a major league baseball game?

Another objection to the "Star-Spangled Banner" - aside from its obvious musical and lyrical inferiority - is its militaristic and nationalistic tone, which is not surprising since it was original considered solely a military anthem. Objections have also been raised more recently to its subtle references to slavery, which some observers consider an indirect defense of the institution.

What is clear is that the United States has a lousy national anthem. While it may have its defenders, it is difficult to dispute the fact that the "Star Spangled Banner" is inferior both musically and lyrically to the emotionally powerful "America the Beautiful." And while there may be arguments on both sides about the content of the two anthems, it is hard to argue that the current anthem is anywhere near as inspiring or uplifting as the Bates/Ward anthem. Perhaps now is the time for a better piece of music for America's national anthem.

Hoyt Hilsman is a screenwriter, author and journalist. His latest play, America the Beautiful, is the story of the struggle to have the Bates/Ward song chosen as the national anthem.

This Blogger's Books and Other Items from...

Idonomics: How the Pleasure Principle is Destroying the American Dream

by Hoyt Hilsman

19 Angels

by Hoyt Hilsman
Elite$

Daily Caller: Kerry's State Dept. Directed $9M to Daughter's Nonprofit

Thu, 15 Sep 2016 03:12

Warning!This page uses Javascript. Your browser either doesn't support Javascript or you have it turned off. To see this page as it is meant to appear please use a Javascript enabled browser.

back to top

Contact | Advertise

Privacy Policy Terms & Conditions
2TTH

'Crazy Eddie,' electronics chain kingpin with 'insaaane' prices, dead at 68 | NJ.com

Mon, 12 Sep 2016 01:39

BROOKLYN'--He was known as Crazy Eddie.

Eddie Antar, the electronics kingpin who once presided over a retail empire spanning four states, died Saturday, according to a family member. Antar's company was known for its frenetic television advertising of a seemingly crazed pitchman'--before it all collapsed like a house of cards in a multi-million-dollar securities fraud.

He was 68. Funeral services are scheduled today in New Jersey.

Antar, who first went into business with his father out of a storefront on Kings Highway in Brooklyn, turned Crazy Eddie into the largest electronics chain in the New York metropolitan area.

Later headquartered in Edison, it grew to 43 stores in four states, fueled by its aggressive sales tactics and over-the-top late-night TV ads'--at a time when manufacturers fought hard to set retail prices.

Indeed, not many knew what Antar looked like. Most mistakenly believed that former New York radio disc jockey Jerry Carroll, whose spastic, over-the-top delivery that promised the lowest "insane prices" anywhere, for everything from VCRs, stereos, televisions and speakers'--and became the face of the Crazy Eddie business'--was in fact Eddie himself.

But because of those commercials, seemingly everyone in the New York metropolitan area knew Crazy Eddie, a store that some said had greater name recognition than Coca-Cola.

The pitch was simple: Shop around. Get the best prices you can find. Then go to Crazy Eddie and he'll beat it! Crazy Eddie's prices are insaaane!

It was marketing genius; a highly successful hook.

"People still use Crazy Eddie as the gold standard of what a real deal is," Antar said years later. "They say, 'I want a Crazy Eddie-type deal.'"

He was helped in part by the fact that he had almost single-handedly broken the rules of the game that had allowed electronics giants like Sony and Panasonic set the price for their goods.

Early on, Crazy Eddie had found a way around the so-called Fair-Trade laws that prohibited retailers from selling products below suggested retail price.

Crazy Eddie grew into a three hundred million dollar business. It quickly opened 43 stores in four states, and then decided to go for the brass ring'--taking the company public in a Wall Street stock offering.

But what no one realized was that despite the sales and stores and commercials that branded Crazy Eddie for a generation, what was going on behind the scenes was a massive scam.

Antar wasn't crazy. He was skimming profits, cheating the IRS and scamming customers, in what was then the biggest retail financial fraud in U.S. history, by adding imaginary stock and falsifying accounts to make it look like sales were surging.

Antar while on trial in Newark in 1991 (George McNish | Star-Ledger file photo)After an outside investor group gained control of Crazy Eddie in late 1987, it all began to fall apart as auditors started going through the books The business filed for bankruptcy, Antar disregarded a court order to return more than $50 million that the government contended represented illegal profits.

In a federal indictment unsealed after he was taken into custody, Antar and other family members were charged with securities fraud, mail fraud and conspiracy to commit securities fraud. They were also charged with obstructing justice by destroying and hiding Crazy Eddie's business records.

Eddie was also charged by authorities with skimming millions of dollars in cash from the sales of Crazy Eddie stores, using the money to fund an extravagant lifestyle for his family.

"By any measure, this is a staggering securities fraud," declared Michael Chertoff, then the U.S. Attorney for New Jersey, who told reporters that the Antars had created "a giant bubble" of a company by creating false inventory reports, as well as forged bills for money it owed and was owed.

Before being eclipsed by the much larger Ponzi scheme of con artist Bernie Madoff, and the accounting scandals at Enron, the shell game at Crazy Eddie was considered one of the largest securities frauds ever uncovered. The Securities and Exchange Commission charged that the company's false financial statements propelled its stock to $79 a share from an initial public offering price of $8 a share.

Eddie Antar's long court case finally ends

As the probe by the SEC and U.S. Attorney's Office grew, Eddie Antar fled the country in 1990 and remained a fugitive until his arrest in Israel in June 1992.

He and his brother, Mitchell, were convicted of stock fraud in 1993, but their convictions were overturned in 1995 on a finding of judicial bias. Both subsequently pleaded guilty instead of facing retrial and Eddie Antar went to jail. After he was released, he returned home to Brooklyn and stayed out of the public eye.

The Crazy Eddie stores

Antar is survived by daughters Simone, Nicole, Noelle and Gabrielle; a son Sammy E. Antar; brothers Mitchell and Allen, and a sister, Ellen Kuszer.

In an interview with The Star-Ledger, Antar would say little about the fraud that brought down his empire, but acknowledged his business would not be soon forgotten.

"Everybody knows Crazy Eddie. What can I tell you?" he remarked. "I changed the business. I changed the whole business."

Ted Sherman may be reached at tsherman@njadvancemedia.com. Follow him on Twitter @TedShermanSL. Facebook: @TedSherman.reporter. Find NJ.com on Facebook.
pr0n Report

>> Sex Before Kissing: How 15-Year-Old Girls Are Dealing With Porn-Addicted Boys

Sun, 11 Sep 2016 22:01

This post comes from an article originally posted by Collective Shout

''[I want] better education regarding sex for both boys and girls [and] information about pornography, and the way it influences harmful sexual practices.''

These are the words of Lucy, aged 15, one of 600 young Australian women and girls who took part in a just-released survey commissioned by Plan Australia and Our Watch. The survey, conducted by Ipsos, gathered responses from the girls and young women aged 15-19 in all states and territories.

In the survey report, entitled Don't send me that pic, participants reported that online sexual abuse and harassment were becoming a normal part of their everyday interactions. And while the behavior seemed so common, more than 80% said it was unacceptable for boyfriends to request naked images.

Sexual bullying and harassment are part of daily life for many girls growing up as a part of this digital generation. Young girls are speaking out more and more about how these practices have links with pornography'--because it's directly affecting them.

Pornography is molding and conditioning the sexual behaviors and attitudes of boys, and girls are being left without the resources to deal with these porn-saturated boys.

If there are still any questions about whether porn has an impact on young people's sexual attitudes and behaviors, perhaps it's time to listen to young people themselves. Girls and young women describe boys pressuring them to provide acts inspired by the porn they consume routinely. Girls tell of being expected to put up with things they don't enjoy.

Some see sex only in terms of performance, where what counts most is the boy enjoying it. I asked a 15-year-old about her first sexual experience. She replied: ''I think my body looked OK. He seemed to enjoy it.'' Many girls seem cut off from their own sense of pleasure or intimacy. The main marker of a ''good'' sexual encounter is only if he enjoyed it. Girls and young women are under a lot of pressure to give boys and men what they want, to become a real life embodiment of what the boys have watched in porn, adopting exaggerated roles and behaviors and providing their bodies as mere sex aids. Growing up in today's porn culture, girls quickly learn that they are service stations for male gratification and pleasure.

When asked, ''How do you know a guy likes you?,'' an 8th grade girl replied: ''He still wants to talk to you after you [give him oral sex].'' A male high school student said to a girl: ''If you [give me oral sex] I'll give you a kiss.'' Girls are expected to provide sex acts for tokens of affection, and are coached through it by porn-taught boys. A 15-year-old girl said she didn't enjoy sex at all, but that getting it out of the way quickly was the only way her boyfriend would stop pressuring her and watch a movie.

7th grade girls are increasingly seeking help on what to do about requests for naked images. Receiving texts like ''send me a picture of your tits'' is an almost daily occurrence for many young girls. The girl asks: ''How do I say no without hurting his feelings?''

As the Plan Australia/Our Watch report found, girls are tired of being pressured for images they don't want to send, but they seem resigned to send them anyways because of how normal the practice has become. Boys then typically use the images as a form of currency, to swap and share with their friends. Often times boys will use the revealing pics to humiliate girls publicly if there is a bad break up.

7th grade girls are asking questions about bondage and S&M. Many of them have seen 50 Shades of Grey, and wonder if a boy wants to hit me, tie me up and stalk me, does that mean he loves me? Girls are tolerating demeaning and disrespectful behaviors, and thereby internalizing pornography's messages about their submissive role.

Girls describe being groped in the school yard, and being routinely sexually harassed at school or on the school bus on the way home. They are saying that boys act like they are entitled to girls' bodies, like girls are only there to pleasure them. It is partially true what defenders of porn often say, porn does provide sex education'--but not in the way they think. It teaches middle school boys that women and girls are there for his pleasure and that they are always up for sex. To them, no just means persuade me.

Girls describe being ranked at school on their bodies, and are sometimes compared to the bodies of porn stars. They know they can't compete, but that doesn't stop them from thinking that they have to. Requests for genital surgery have tripled in a little over a decade among young women aged 15-24. Girls who don't undergo porn-inspired waxing are often considered ugly, dirty, or gross by boys, as well as by other girls.

Some girls suffer physical injury from porn-inspired sexual acts, including anal sex. The director of a domestic violence centre on the Gold Coast wrote to Collective Shout about the increase in porn-related injuries to girls aged 14 and up, from acts including torture:

''In the past few years we have had a huge increase in intimate partner rape of women from 14 to 80+. The biggest common denominator is consumption of porn by the offender. With offenders not able to differentiate between fantasy and reality, believing women are 'up for it' 24/7, ascribing to the myth that 'no means yes and yes means anal,' oblivious to injuries caused and never ever considering consent. We have seen a huge increase in deprivation of liberty, physical injuries, torture, drugging, filming and sharing footage without consent.''

The Australian Psychological Society estimates that adolescent boys are responsible for around 20% of rapes of adult women and between 30% and 50% of all reported sexual assaults of children. Just last week, Emeritus Professor Freda Briggs argued that online pornography is turning children into copycat sexual predators, acting out on other children what they are seeing in porn.

A 2012 review of research on ''The Impact of Internet Pornography on Adolescents'' found that adolescent consumption of internet porn was linked to attitudinal changes, including acceptance of male dominance and female submission as the primary sexual paradigm, with women viewed as ''sexual playthings eager to fulfill male sexual desires.'' The authors found that ''adolescents who are intentionally exposed to violent sexually explicit material were six times more likely to be sexually aggressive than those who were not exposed.''

The proliferation and globalization of hypersexualized imagery and pornographic themes makes healthy sexual exploration almost impossible. Sexual conquest and domination are untempered by the bounds of respect, intimacy and authentic human connection. Young people are not learning about intimacy, friendship and love, but about cruelty and humiliation. As a recent study found:

''Online mainstream pornography overwhelmingly centered on acts of violence and degradation toward women, the sexual behaviors exemplified in pornography skew away from intimacy and tenderness and typify patriarchal constructions of masculinity and femininity.''

It is intimacy and tenderness that so many girls and young women say they are looking for. But how will young women find these sensual, slow-burn experiences in men indoctrinated by pornography? Psychologist Philip Zimbardo says of young men: ''They don't know the language of face to face contact '... Constant arousal, change, novelty excitement makes them out of sync with slow developing relationships '' relationships which build slowly.''

Most importantly, it's young people themselves demanding change. Josie, 18, is quoted in the Plan Australia/Our Watch report:

''We need some sort of crack down on the violent pornography that is currently accessible to boys and men. This violent pornography should be illegal to make or view in Australia as we clearly have a problem with violence and boys are watching a lot of pornography which can be very violent '... This is influencing men's attitude towards women and what they think is acceptable. Violent pornography is infiltrating Australian relationships.''

Girls like Lucy and Josie deserve our response. It is wrong to leave sexual formation in the hands of the global sex industry. We need to do more to help young people stand up against warped notions of sexuality conveyed in pornography.

Fight the New Drug is all about pro-love and pro-healthy sexuality. That is why we are anti-porn. Porn is full of ideals and beliefs that are completely opposite of what real relationships, real sex, and real love are like. Healthy relationships are built on equality, honesty, respect, and love. But in porn, it's the reverse; interactions are based on domination, disrespect, abuse, violence, and detachment. Our generation is the first to deal with the issue of pornography to this intensity and scale. And, as we've seen with today's society, if we don't take a stand, the problem is only going to get worse and worse. By being informed and understanding porn's harmful effects, we can make a much needed change to our perceptions about love, sex, and relationships.

What YOU Can Do

SHARE this article and help spread the facts on the harmful effects of pornography on individuals, relationships, and society.

Support the movement, rep a tee. Click here to take a stand:

PORN IS HARMFUL.Are you with us? Join the movement.By submitting above you agree to the Fight the New Drug Privacy Policy.
War on Men

Women at the Obama White House have started using the trick of "amplification" to get heard, not interrupted '-- Quartz

Wed, 14 Sep 2016 20:20

The challenges of a job at the White House are tough and manifold, but at least one of them'--the challenge of getting heard'--has historically been tougher for women.

For one thing, there are fewer of them at the table: all presidents so far have been men, and among their top aides men have to date heavily outnumbered women. But another factor that weighs on how much women's ideas get heard and credited isn't confined to politics. Across sectors, and both in and outside work, women get interrupted more often than men'--by people of both genders.

The interruption disparity, backed up by decades of research, is now so recognized there's a word for it: manterrupting.

But at the White House, one former staffer explained to the Washington Post, women started using a simple rhetorical technique to stop interruptions and reinforce points made by other women. When a woman made a good point, another woman would repeat it, and give credit to the originator. This made the idea harder to ignore, or to steal. The women called the technique ''amplification.''

''We just started doing it, and made a purpose of doing it,'' one of president Barack Obama's former aides told the Post. ''It was an everyday thing.'' She said that Obama noticed and began calling on women more often.

The women, perhaps unconsciously, had noticed two things. First, that repetition is one of the simplest ways of reinforcing any point'--which can be seen through history across oratory and poetry. But secondly, that simply hammering a point home by repeating it oneself has limitations, especially in a competitive environment where everyone is clamoring to be heard. Some researchers have hypothesized that women are interrupted more because their conversational style tends to be collaborative, where men tend to be more competitive.

The trick may have come about organically, but it's by no means a given than women should support each others' ideas that way. The presence of only a few women in a room historically gave rise to a different response, noted Facebook COO Sheryl Sandberg in her book Lean In:

In the days of tokenism, women looked around the room and instead of bonding against an unfair system, they often viewed one another as competition'...women wound up being ignored, undermined, and in some cases even sabotaged by other women.

It's a safe bet that many Obama staffers, and those who come after them, will have read books like Lean In and taken the lessons away. The ideas of cooperation they promote are already making their way into the wider workplace.
NA-Tech News

Where Apple Has Quietly Built Its Biggest Campus

Thu, 15 Sep 2016 02:31

September 1, 2016, 8:32 PM EDTE-mailTweetFacebookLinkedinShare iconsApple has quietly moved thousands of employees into a campus that is bigger than any other that the company currently has'--and it's not its Cupertino, Calif. headquarters.

The iPhone maker last week moved into a massive 1.1-million-square-foot campus in north Austin, as well as another smaller 216,000 square foot campus in southwest Austin, the company has confirmed. In total, Apple AAPL now has more than 6,000 employees in Texas' capital.

Apple's presence in Austin, which dates back to 1992, has fluctuated over time. But in recent years, the city has become a major hub for the company as it expanded outside its Silicon Valley base.

In 2010, Apple announced plans to add to its then 100-person team in Austin by making it a base for microchip design. Those engineers have since played a major role in developing the company's ''A'' series processors as well as other components for the iPhone to the iPad.

Get Data Sheet, Fortune's technology newsletter

Today, Apple has 500 workers in its Austin engineering operations who report to Johny Srouji, Apple's senior vice president of hardware technologies. In an interview with the Austin American Statesman, he said the group would eventually double in size expand to 1,000 employees.

Meanwhile, Apple's massive 1.1-million-square-foot campus in Austin is home to a customer service center, human resources functions, and its online store.

Still, it's the hardware engineering center in Austin that may be the most important in Apple's expansion. Over the last several years, the company has built a large workforce in Austin without many people knowing. Indeed, the Austin American Statesman acknowledged in its report that Apple's employee growth in the city has been ''discreet.'' What's more, those employees are hard at work on some of Apple's most important products.

''We have been quietly building out this team, which is one of our most important engineering groups,'' Srouji told the Austin newspaper. ''They play a very critical and integral role'--they are designing chips that go into all the devices we sell.''

He added that the chips designed at Apple's Austin facilities are included in ''hundreds of millions of devices'' that Apple sells each year.

Austin is also home to a Mac Pro manufacturing facility, where the company's high-end desktop is constructed.

So, why did Apple choose Austin over its California home for such a big workforce that it plans to add to in coming years? The company says that city has a large contingent of tech workers who have the expertise that it needs for engineering and support.

However, Apple is also getting financial incentives to expand in Austin. The city, county, and state have agreed to give the company $35 million in tax breaks over time, the Statesman reported after reviewing tax documents. Apple has already received $10.5 million in tax incentives, the report said.

Apple declined to comment on the move to Fortune.

For more about iPhone, watch:

But alas, the Austin campus will only hold onto its title as Apple's largest campus site for a short period. After Apple moves into its new space-ship-like Silicon Valley headquarters in 2017, its 2.8 million square feet will dwarf the 1.1-million-square-foot facility in Austin. A second Silicon Valley campus will house more than 12,000 employees.

Regardless, there's more to Apple's Austin campus than just work: It features everything from the usual restaurants to a wellness center where employees can get acupuncture for their aches and pains. Apple Campus 2 will have similar amenities, including a huge fitness center and restaurants.
CLIPS AND DOCS

VIDEO-Don't Worry, Hillary Clinton Will Power Through | SUPERcuts! #360 - YouTube

VIDEO-Top US athletes deny cheating after hackers show usage of banned substances '-- RT Sport

Thu, 15 Sep 2016 13:52

Hacktivists have released files claiming that top US athletes received a green light from WADA to take banned substances. The US anti-doping agency, sports federations and athletes themselves have gone public to deny any wrongdoing.

The allegations were published on the website of the hacktivist group Fancy Bear, which described the revelations as being ''just the tip of the iceberg.''

The World Anti-Doping Agency (WADA) has released a statement confirming and condemning the cyber attack. It noted that the cyber intrusion was conducted by a Russian hacker team and that it is taking the attack ''very seriously.''

''The group accessed athlete data, including confidential medical data - such as Therapeutic Use Exemptions delivered by International Sports Federations (IFs) and National Anti-Doping Organizations (NADOs) - related to the Rio Games.''

According to the body, the information was obtained ''through spear phishing of email accounts.''

''WADA condemns these ongoing cyber-attacks that are being carried out in an attempt to undermine WADA and the global anti-doping system,'' said Olivier Niggli, WADA director general.

Kremlin spokesman Dmitry Peskov has strongly denied any possible Russian involvement in the hacking attack on WADA.

READ MORE: Kremlin denies Russian involvement in WADA hack

The United States Anti-Doping Agency (USADA) has also issued a response, saying that ''the athletes have done nothing wrong.''

''In fact, in each of the situations, the athlete has done everything right in adhering to the global rules of obtaining permission to use a needed medication,'' USADA CEO Travis T. Tygart stated.

He added that all the medications were approved by the respective international federations, WADA and the International Olympic Committee (IOC).

The documents the group says it hacked from WADA's Anti-Doping Administration and Management System (ADAMS) database contain information that Serena Williams, one of the world's greatest ever tennis players, was taking a number of banned substances.

Williams was allowed to take oxycodone, hydromorphone, prednisone and methylprednisolone in 2010, 2014 and 2015, despite the substances being placed on WADA's list of banned substances.

However, the documents released also showed that Williams had been given special permission to take some of the drugs. The authorization was given by Dr. Stuart Miller from the International Tennis Federation (ITF).

Serena's older sister Venus was found to have taken prednisone, prednisolone, triamcinolone and formoterol, which are also on WADA's banned list. However, she was given special dispensation to take the substances as long as she adhered to various conditions regarding the use of the drugs.

Both Serena and Venus Williams were allowed to take the prohibited drugs, the ITF says.

"The Williams sisters had permission for the therapeutic use of banned drugs," the ITF is quoted as saying by TASS.

Meanwhile, American gymnast Simone Biles tested positive for methylphenidate after giving a urine sample. However, like the Williams sisters, she was given special dispensation to take the drug.

RT has contacted the International Federation of Gymnastics for comment, with its representative saying the body followed the current rules and that there is ''no problem.''

''She [Biles] has a therapeutic use exemption, there is nothing we have to mention about that, everything is absolutely clear and according to the rules.''

Reacting to the leak, Simone Biles issued a statement on Twitter, saying that she has ''nothing to be ashamed of,'' since she suffers from attention deficit hyperactivity disorder (ADHD).

''I have ADHD and I have taken medicine for it since I was kid. Please know, I believe in clean sport, have always followed the rules, and will continue to do so,'' Biles stressed, adding that sporting ethics are very important to her.

According to the leaked papers, US basketball star Elena Delle Donne's drug test revealed that she had used amphetamine.

The athlete also reached out to the public on social media ''thanking'' the hackers for their move.

''I'd like to thank the hackers for making the world aware that I legally take a prescription for a condition I've been diagnosed with, which WADA granted me an exemption for,'' Donne wrote.

The revelations also pointed out that since 2014 the athlete has been taking hydrocortisone, which falls into the glucocorticoids bracket (banned by WADA), which is classified as doping.

The leaked documents do not contain any diagnoses for the affected athletes, with the respective fields in the papers marked as "confidential."

VIDEO-SuperStation95 - WABC-TV Ch. 7 in NYC Reports "Hillary Clinton's DEATH"

Thu, 15 Sep 2016 13:49

UPDATED 14 Sept at 11:05 AM EDT -- See Bottom -- A video clip of WABC-TV Channel 7 "Eyewitness News" in New York City opened last night with Anchorman Joe Torre saying "more on Hillary Clinton's Death." The opening line, however, seems edited-OUT of the video archive!

Did Hillary die after leaving the 9-11 Ceremony in New York . . . and the information is being concealed? A whole slew of irregularities have cropped-up indicating that may actually be the case!

Here is the video segment from the 11:00 PM "Eyewitness News" broadcast of September 11, 2016 in which Anchorman Joe Torre seems to say Hillary Clinton is DEAD:

As most of you know by now, Hillary Clinton attended the September 11 Memorial Ceremony at Ground Zero, the World Trade Center in Manhattan on Sunday morning. Despite a heatwave which had BROKEN overnight, allowing temperatures in Manhattan to fall into the comfortable mid 70's, Clinton was forced to depart the ceremony early due to a "medical episode." The video below shows Hillary leaning up against a security barrier waiting for her motorcade to pull up.

As it arrives, Hillary had to be helped to move toward the vehicle, and her movements were stiff and unsteady. As her security detail grabs her under both arms to assist, Hillary collapses forward and is literally dragged into the motorcade; so abruptly, she even lost one of her shoes! Watch the quick video below:

For ninety minutes after this took place, the media was forced to cease all recordings at the 9-11 ceremony and were also prevented from leaving to follow the Clinton motorcade -- both very unusual developments. Later, the Clinton campaign said that Hillary was "overheated" but had been taken to her daughter's home on East 26th Street where she was "doing fine." Shortly after that, the campaign released a statement from Hillary's Doctor saying she had been "diagnosed with Pneumonia on Friday, was given antibiotics and told to rest." Strange how the story changed.

BODY DOUBLE?A short time later, a person ALLEGED to be Hillary, is seen leaving the East 26th Street home of Chelsea Clinton, but there are problems with this person.

First, the person who was allegedly Hillary Clinton, looked about thirty pounds lighter in body weight than the Hillary who was at the 9-11 ceremony! Here's the video of "Hillary" leaving Chelsea Clinton's home on East 26th Street:

Notice the body weight? Clearly, this person is significantly thinner than Hillary appeared just two hours earlier at the 9-11 memorial ceremony. Moreover, the gait of this person is dramatically different than the gait of Hillary Clinton seen just two hours earlier. It's almost as though this "Hillary" is ten years younger, with a strong, assured stride, versus the slower, meandering walk usually displayed by the real Hillary.

Oh, and did you see her embrace the small child on the street? How nice . . . . wait . . . . she has Pneumonia and she's embracing a kid? Way to spread the Pneumonia germs! ! !

Next, this person is carrying her handbag over her RIGHT shoulder, whereas Hillary typically carried her handbag over her LEFT shoulder, and did so at the 9-11 Ceremony. Why would a woman who typically carries her handbag over her left shoulder, suddenly be seen carrying it on her right?

Still-photos of the "Hillary" seen leaving Chelsea Clinton's home provide even more questions.

The "Hillary" who left Chelsea Clinton's home has different length fingers than the actual Hillary Clinton! Here are photos of the person alleged to be Hillary, leaving Chelsea Clinton's home. Note the length of the index finger versus the ring finger. On this person, those two fingers are identical in length!

Here's a better view -- equal finger lengths of the Index and ring finger. There's no question about it:

But these other photos of Hillary Clinton, taken at other events, show that the real Hillary's Index finger is longer than her ring finger! Clearly longer. See for yourself (Click image to enlarge):

So if the person leaving Chelsea Clinton's home on East 26th St is Hillary Clinton, how did her fingers change length?

This last photo of the person leaving Chelsea Clinton's home not only dramatically shows the change in finger length, the face of this person is clearly NOT the real Hillary! See for yourself:

Then there's the side profile comparison of the real Hillary versus the "Hillary" seen leaving Chelsea Clinton's Apartment. Compare the nose and chin:

Then, there's an issue about the Wedding ring on the finger of the "Hillary" seen leaving Chelsea Clinton's home. Look at the Wedding ring on the "Hillary" leaving Chelsea Clinton's home (Click image to enlarge to see it better):

Now look at the Wedding ring worn by Hillary Clinton in the past; (Click image to enlarge for a better look at the ring):

Why the different wedding ring? Who do YOU know that wears different Wedding Rings?

As an aside, a bit of Journalistic investigating turned up an interesting fact about Chelsea Clinton's "home" on East 26th St:

It used to be a . . . New York State HOSPITAL!

Here's a link to the old web page for the old hospital at that exact same address: https://profiles.health.ny.gov/home_health/view/18676

Apparently, Hillary has her own private Hospice, paid for by the Clinton Foundation no doubt, that the "deplorables" are not allowed into. And it is conveniently located in the building where her daughter Chelsea lives. HMMMMMM.

It Gets Even Stranger!A few months ago, the London Daily Mail Newspaper did a story about a woman who earns $10,000 a month as a Hillary Clinton Impersonator. The woman's name is Teresa Barnswell. Here's a photo of Ms. Barnswell:

The London Daily Mail, one of the oldest, largest and most well-respected newspapers in London, England, called her "greatest Hillary lookalike in the world" and you can still read their story HERE

Teresa Barnswell has her own Twitter feed, and guess what she Tweeted late Sunday afternoon? Get a load of this:

Yes, she's hinting that she's in New York City . . . and what is the building in the background? Chelsea Clinton's Home on East 26th St!

Lest anyone accuse us of being "Conspiracy Theorists" it should be noted that late Sunday, the Clinton Campaign announced Hillary was canceling campaign activities for the next two days -- to get rest. Shortly after that announcement, MSNBC Reporter David Shuster tweeted that the Democratic National Committee was "expected to meet in Emergency Meeting to "consider" replacing Hillary as a candidate for President." Here is Shuster's Tweet and below it, a link to OUR earlier story on this stunning announcement:

SuperStation95's earlier story about Emergency DNC Meeting to replace Hillary, HERE.

You don't replace a candidate for President who is merely sick. But you sure have to do something if that candidate is DEAD. And last night, on WABC-TV, Channel 7, Eyewitness News in New York City, Anchorman Joe Torre seemed to say "more on Hillary Clinton's DEATH."

Is Hillary dead? Did the Clinton Campaign use a Body Double to make it APPEAR that Hillary is still OK? Did the Body Double screw-up by carrying her handbag on the right instead of the left shoulder? What about the differing finger lengths? What about the different Wedding Rings? And how about that Tweet from the Hillary Impersonator showing she's in NYC, in front of Chelsea's House?????

Is the country being kept in the dark that Hillary is actually DEAD, until the powers-that-be can figure out what to do? Would any of it surprise you nowadays?

Stay tuned.

UPDATE 14 SEPTEMBER AT 11:05 AM EDT --To our shock and dismay, SNOPES.com has published a completely fraudulent criticism of the article above, and declared it "FALSE." Their logic was that since WABC-TV has more viewers than any other TV station in the entire USA, if our story was true, "it would have been big news." They declared our story FALSE because they found it "implausible" that Eyewitness News Anchor Joe Torre would have siad what we claimed.

On September 13, WABC-TV and McClatchy News Service in Washington DC confirmed that Eyewitness News Anchor Joe Torre DID, IN FACT, say "we begin tonight with details about Hillary Clinton's death." and those remarks did, in fact, go out over the air! Here is the link to our follow-up story containing the links to the McClatchy and WABC-TV confirmation.

SNOPES.com never bothered to call, fax, write or email us before they published their shameful article about us. They also never called, faxed, wrote or even emailed WABC-TV. They simply decided on their own that since THEY found our story to be "implausible" they could declare it FALSE.

Turns out SNOPES.com was wrong and we were right.

The next time you see SNOPES.com decalring anything to be "false" ask them if they even bothered to check or if they're just giving their own OPINION.

SNOPES.com is terribly unreliable and you should not take their publication seriously as they do not use Journalistic standards.

VANDERBILT-U-Definitions | The Office of Lesbian, Gay, Bisexual, Transgender, Queer, and Intersex Life | Vanderbilt University

Thu, 15 Sep 2016 13:46

LESBIAN: Women who experience sexual, romantic, physical, and/or spiritual attraction to other women.

GAY: Used in some cultural settings to represent men who are attracted to men in a romantic, erotic and/or emotional sense. Not all men who engage in same gender sexual behavior identify as gay, and as such this label should be used with caution.

BISEXUAL or BI: A person who experiences sexual, romantic, physical, and/or spiritual attraction to people of their own gender as well as other genders, not necessarily at the same time, in the same way, or to the same degree.

TRANSGENDER: A person who lives as a member of a gender other than that expected based on sex or gender assigned at birth. Sexual orientation varies and is not dependent on gender identity.

TRANS WOMAN: An identity label sometimes adopted by male to female trans people to signify that they are women while still affirming their transgender history.

TRANS MAN: An identity label sometimes adopted by female to male trans people to signify that they are men while still affirming their transgender history.

QUEER:A political statement, as well as a sexual orientation, which advocates breaking binary thinking and seeing both sexual orientation and gender identity as potentially fluid. The term is asimple label to explain a complex set of sexual behaviors and desires. For example, a person who is attracted to multiple genders may identify as queer.Many older LGBT people feel the word has been hatefully used against them for too long and are reluctant to embrace it. ''Queer'' can be used as an umbrella term to refer to all LGBTQI people.

QUESTIONING: An individual who is unsure of and/or exploring their gender identity and/or sexual orientation.

INTERSEX: Intersex is a set of medical conditions that feature congenital anomaly of the reproductive and sexual system. That is, intersex people are born with ''sex chromosomes,'' external genitalia, or internal reproductive systems that are not considered ''standard'' for either male or female. The existence of intersexuals shows that there are not just two sexes and that our ways of thinking about sex (trying to force everyone to fit into either the male box or the female box) is socially constructed.

ASEXUAL: A person who does not experience sexual attraction. They may or may not experience emotional, physical, or romantic attraction. Asexuality differs from celibacy in that it is a sexual orientation, not a choice. People who are asexual may call themselves 'ace.

AROMANTIC: A person who experiences little or no romantic attraction to others.

HETEROSEXISM: Prejudice against individuals and groups who display non-heterosexual behaviors or identities, combined with the majority power to impose such prejudice. Usually used to the advantage of the group in power. Any attitude, action, or practice' backed by institutional power that subordinates people because of their sexual orientation.

CISGENDER: someone who feels comfortable with the gender identity assigned to them based on their sex assigned at birth.

LGBTQI ALLY: Someone who confronts heterosexism, anti- LGBTQIA biases, heterosexual and cisgender privilege in themselves and others; believes that heterosexism, homophobia, biphobia and transphobia are social justice issues.

VIDEO-Juncker proposes EU military headquarters - BBC News

Thu, 15 Sep 2016 13:39

Media captionMr Juncker said an EU military force would be a complement to NatoThe European Union needs a military headquarters to work towards a common military force, the Commission president has told MEPs in Strasbourg.

Jean-Claude Juncker said the lack of a "permanent structure" resulted in money being wasted on missions.

Part of his annual state of the union address was devoted to the UK's unexpected vote to leave the EU.

He insisted that the bloc was not at risk but called for Brexit negotiations to take place as quickly as possible.

Modelled on the state of the union address by the US president, the Commission president's annual speech was introduced in 2010 to detail the state of the EU and future legislative plans.

Won't a common military force interfere with Nato?The Brexit vote has given added impetus to plans for greater defence co-operation, because the UK has always objected to the potential conflict of interest with Nato.

But Mr Juncker said a common military force "should be in complement to Nato". "More defence in Europe doesn't mean less transatlantic solidarity."

A European Defence Fund would stimulate military research and development, he said.

Why a military HQ? By BBC defence correspondent Jonathan MarcusAll EU members have military forces; most are also members of Nato; and several have extensive experience of operations abroad, from peace-keeping to war-fighting.

The real question is how to organise these component parts to get greater security. Mr Juncker insists that the EU must have a role here.

Image copyrightEunavforImage caption Many member states are taking part in an EU naval mission off the coast of Libya He wants to improve EU command and control facilities and appears to be suggesting that EU civil and military aspects of a given mission should be run out of the same headquarters.

He also insists that whatever the EU does it should not detract from Nato. But defence resources are finite. His critics will say nothing should be done that duplicates existing Nato activities, as that sends a signal of disarray in Western ranks to Moscow.

Read more here: Brexit vote revives dream of EU army

Europe's media unimpressed by Juncker

What sort of missions does the EU run?Since 2003 the EU has launched some 30 civilian and military operations in Europe, Africa and Asia - under the Common Security and Defence Policy (CSDP). Sixteen are still going on, including six military operations::

Its mission in Bosnia and Herzegovina oversees the implementation of the 1995 Dayton Agreement which ended the Balkan Wars. It replaced Nato forces in 2004Counter-piracy operation Atalanta began off the coast of Somalia in 2008In 2015, Operation Sophia began targeting migrant-traffickers in the MediterraneanThe EU also has military training programmes in Somalia, Mali and the Central African RepublicWhat did we learn on Brexit?On future Brexit negotiations, Mr Juncker warned that the UK could only have unlimited access to the single market if it accepted free movement of people and goods. "There can be no a la carte access to the single market," he said.

The single market has dominated the Brexit debate in the UK.

Prime Minister Theresa May distanced herself last week from remarks by Brexit minister David Davis, when he said remaining in the single market would be "very improbable" if it meant giving up control of British borders.

What was Juncker's main message? By BBC Europe Editor Katya AdlerJean-Claude Juncker and his team agonised over the wording of Wednesday's speech.

The UK's vote to leave the EU is undoubtedly one of the biggest crises the bloc has ever faced but Mr Juncker was determined not to dwell on it.

Media captionJean-Claude Juncker: No "a la carte" access to EU internal market for UKThere were few words on Brexit. His main message: "The European project continues. Let's choose to look forward. Be positive."

Applause resounded around the chamber of the European Parliament but how will the voters outside react?

Are they even listening? The drumbeat of nationalist, Eurosceptic populism reverberates around the continent.

Public trust in the establishment is low - whether traditional politicians, bankers or EU bureaucrats - and Mr Juncker is an unelected president.

Brexit: All you need to know about the UK leaving the EU

What else did he say?Mr Juncker admitted the EU was facing an "existential crisis", and he also warned that splits in the union had left space for "galloping populism".

In a blunt criticism of recent attacks on immigrants in the UK, he said he would "never accept Polish workers being beaten up, harassed or even murdered on the streets of Essex".

Mr Juncker said the EU had to deliver "concrete results" including:

Maintaining stability and sharing the burden of economic downturn, such as doubling investment in the EU to ''¬500bn (£425bn; $560bn) in the next five years and creating an investment fund for AfricaCreating solidarity in the Union - such as protecting unaccompanied minors migrating to the EU - but Mr Juncker said this must "come from the heart" and could not "be forced or imposed"Promoting security including strengthening the EU's borders and promoting greater security co-operation between member states, as well as greater military centralisation.He urged a renewed focus on the EU as a "driving force that can bring about unification, for instance in Cyprus".

How did MEPs react?Image copyrightReutersImage caption Mr Farage accused the European Commission president of "sticking to dogma" Anti-EU MEPs lined up to criticise Mr Juncker's rallying cry:

UKIP leader Nigel Farage said it was "the usual recipe: more Europe, in this particular case, more military Europe'' Peter Lundgren of the anti-migrant Sweden Democrats said his country had always been neutral militarily. "We don't want to be forced into this type of military co-operation," he saidBut Belgian MEP Guy Verhofstadt, the European Parliament's lead negotiator on Brexit, said the EU still offered the "cure" for "the cancer of nationalism"

VIDEO-WATCH: New ISIS Video Hangs 'US Spies' From Meat Hooks & Slaughters Them Like Sheep | Heavy.com

Thu, 15 Sep 2016 02:28

WATCH: New ISIS Hangs 'US Spies' From Meat Hooks & Slaughters Them Like SheepJavaScript required to play WATCH: New ISIS Hangs 'US Spies' From Meat Hooks & Slaughters Them Like Sheep.

A new video purportedly released by the Islamic State titled ''The Making of Illusion'' comes out on the first day of the Muslim holy time of Eid al-Adha, and shows men being slaughtered like lambs. Eid al-Adha celebrates when Allah stopped Abraham from sacrificing his son and gave him a lamb to slaughter instead.

The video was released on September 12 from ''Wilayat al-Khayr,'' aka the Deir ez-Zor area of Syria.

The video begins by showing a montage of alleged ''spy'' footage, stolen from television shows and movies including what appears to be a clip of Simon Pegg in Mission: Impossible '' Rogue Nation.

Footage of past ISIS executions and recent terrorist attacks done by the group is then shown. The footage includes a photograph of the Eiffel Tower and the images of the aftermath of the Bastille Day terror attack in Nice, France.

The rest of the violence in the video shows men having their throats slit and hung from meat hooks. The men are alleged to be ''US spies.''

A recently passed US-Russian deal negotiated a ceasefire in Syria. According to CNN, United States Secretary of State John Kerry ''said the pact calls for the Syrian government and the opposition to respect a nationwide ceasefire scheduled to take effect at sundown [today].''

The ceasefire will provide an opportunity for both Russia and the American coalition to target Islamist militias in the region, specifically the al-Qaeda affiliate Jabhat Fateh Al-Sham, formerly known as al-Nusra Front, and ISIS.

Heavy is an independent news organization. We report acts of terror and violence so that the public may be fully informed. This may include content considered graphic, which is identified. We do not support, in any way, the individuals or organizations involved.

Find more ISIS news, photos and videos here.

PHOTOS: ISIS Beheads 'Sahwat' Near Homs, SyriaA new photo report shared on Islamic State terrorist channels shows a man named Muhammad Awwad, allegedly a member of the Sahwat "apostasy," being beheaded in "Wilayat Hims," Syria.

Click here to read moreRead more about ISIS in Spanish at AhoraMismo.com:

VER: ISIS Cuelga 'Esp­as Americanos' de Ganchos de Carne Antes de Ejecutarlos [V­deo]Un nuevo video publicado por ISIS muestra c"mo los militantes cuelgan a presuntos esp­as americanos en ganchos de carne antes'...

Click here to read more

VIDEO-Ben Bernanke says it is premature to count out negative rates

Thu, 15 Sep 2016 02:17

More recently, some Fed officials '-- most notably John Williams, the head of the San Francisco branch '-- have entertained the idea of raising the inflation target above the current 2 percent level. In theory, that would give the Fed more leeway before having to raise rates and effectively lower the real interest rate, or the level of nominal rates compared to inflation.

Bernanke said there are problems with that approach that do not occur with using negative rates.

"Negative interest rates are easy to implement," he wrote. "In contrast, while the Fed could announce at any time that it is raising its inflation target, the announcement would not increase the Fed's ability to lower the real interest rate unless the public's inflation expectations changed accordingly."

Bernanke said political issues also would dog the Fed in trying to raise the inflation rate.

Washington lawmakers, particularly Republicans, have been critical of the Fed's dual mandate '-- price stability and full employment '-- and want the central bank to focus solely on controlling inflation. The Fed might have an easier time politically with instituting negative rates.

"In the political sphere, the fact that negative rates would be temporary and deployed only during severely adverse economic conditions would be an advantage," he said. "Like quantitative easing, which was also unpopular in many quarters, a period of negative rates would probably be tolerated by politicians if properly motivated and explained."

The full text of Bernanke's post is here.

VIDEO-Rights Groups Ask Obama To Pardon Snowden - YouTube

VIDEO-Kristen Bell Has The Cheap Labor Your Company Is Looking For: Women! | Huffington Post

Thu, 15 Sep 2016 01:48

HTTP/1.1 200 OK Content-Encoding: gzip Accept-Ranges: bytes Age: 28 Cache-Control: max-age=300, public, must_revalidate=false Content-Type: text/html; charset=utf-8 Date: Thu, 15 Sep 2016 01:48:57 GMT Last-Modified: Thu, 15 Sep 2016 01:48:29 GMT Server: ECD (iad/199B) Status: 200 OK Vary: Accept-Encoding X-Cache: HIT X-Content-Type-Options: nosniff X-Frame-Options: ALLOWALL X-GEO-URL-AU: http://www.huffingtonpost.com.au/entry/kristen-bell-has-the-cheap-labor-your-company-is-looking-for-women_us_57d94fa0e4b09d7a6880a4b8 X-GEO-URL-IN: http://www.huffingtonpost.in/entry/kristen-bell-has-the-cheap-labor-your-company-is-looking-for-women_us_57d94fa0e4b09d7a6880a4b8 X-HP-Trace-ID: 43GwuuHC X-HP-Trace-Project: HPMW/production/711cc03 X-Mobile-URL: http://m.huffpost.com/us/entry/us_57d94fa0e4b09d7a6880a4b8 X-Request-Id: f0cf126b-4e88-4662-8a1a-dc7850a1851a X-Runtime: 0.068454 X-XSS-Protection: 1; mode=block Content-Length: 37227

Is your business not as profitable as you'd like it to be? If only there was a way to get cheap labor here in the United States ...

Well, now there is! With Kristen Bell's Pinksourcing, you'll get the cheapest, most affordable workforce in America: Women!

Bell may joke, but women's rights '-- equal pay, maternity leave, healthcare '-- are still something we struggle with as a nation. This is the first episode in HuffPost's new series, ''Celebs Have Issues,'' where famous people use comedy to raise awareness about important issues.

Learn more about empowering girls by going to I Am That Girl, an organization that helps women build confidence in who they are, and ignore the daily messages attacking them for who they are not.

Kristen Bell Has The Cheap Labor Your Company Is Looking For: Women!

VIDEO-Boss S01E01 Listen - YouTube

VIDEO-Kerry's State Dept Sent MILLIONS To Daughter's Group | The Daily Caller

Wed, 14 Sep 2016 06:17

Seed also received almost $1 million from a modification to the first award, as well as from Department of State funds the group secured outside the Peace Corps.

The Peace Corps program '-- called the Global Health Service Partnership (GHSP) '-- sends volunteer physicians and nurses to medical and nursing schools in Malawi, Tanzania, Uganda and Liberia, according to Seed's website. More than 40 clinical educators worked at 13 sites in the 2014-2015 program.

Kerry and government officials colluded to launch the program and ensure that Seed would get the contract.

''Vanessa, Buck, and Sarah are meeting with Ambassador Goosby on the morning of 9/16/11 to discuss next steps for the GHSP,'' said a memo from September 16, 2011 '-- one year before Seed received its first award. ''Conversations with OGAC leadership confirm that Ambassador Goosby is very supportive of the initial proposal.''

The memo was referring to Peace Corps Directors Buck Buckingham and Sarah Morgenthau and Ambassador Eric Goosby, who then headed the Office of the US Global AIDS Coordinator (OGAC) '-- the State Department office that later funded GHSP.

A meeting one month later unveiled the strategy to send tax dollars to Seed.

''The public funding to start the GHSP is secured, it will come from OGAC through [Peace Corps] to support core HQ and field based activities, and to develop a sub-agreement to provide support to the foundation for contributions for their work in this partnership,'' minutes from a Nov. 18, 2011, meeting said. The ''foundation'' refers to Seed, which was then called the Foundation for Global Health Service.

Officials in that meeting also assured Kerry that she would not have to compete with other groups for Department of State funds.

''Buck obtained clarity of the mechanism by which federal money will be provided to'' Seed, the minutes said. ''The process can be fast tracked and non-competed through a specific grant mechanism.''

Meanwhile, the State Department buried its intent to transfer funds to the Peace Corps in its required congressional notification.

''The GHSP is a smaller line item in a multi-page document with multi-million dollar programs,'' minutes from the November 2011 meeting said.

Seed received its first award less than one year later. Peace Corps later provided another nearly $900,000, noting it underestimated the program's expenses, especially travel and salary costs.

It's unclear when that modification was added, but Kerry drew a salary from Seed for the first time in 2014. She was the only officer listed on the nonprofit's 990 tax form to receive compensation '-- some $140,000 for a reported 30 hours per week.

Discussion about the $6.4 million extension also provides questionable details. Peace Corps officials noted that contracts could not extend beyond five years and considered competing the next award, but decided they would ''go forward with sole-source option if mandated by OGAC,'' minutes from a July 17, 2014 meeting said.

Ultimately, the extension was awarded without competition on Sept. 10, 2015. It's unclear why the Peace Corps violated its five-year policy by giving Seed seven years of non-competitively awarded funding.

Peace Corps justified the decision to forgo competition by arguing Seed was already burrowed into the program, and that replacing it out would cause problems.

''As such, if a cooperative agreement were to be awarded to a new partner, applicants that were recruited and vetted by Seed may be unable to be placed in the field,'' a Sept. 10 2015 document stated. The document further noted that ''Peace Corps has been unable to identify any potential partners which satisfy the needs of the GHSP program'' other than Seed, which was created based around the program's needs.

Seed spokesman Mark Marino denied any conflicts of interest, telling TheDCNF:

No conflict of interest exists in our partnership with Peace Corps and the US government. Dr. Vanessa Kerry is primarily employed by and paid through Massachusetts General Hospital and Harvard Medical School. Dr. Kerry receives no financial compensation from the Peace Corps or US government. Funding from the Peace Corps, an independent agency in the federal government, represents about 27% of Seed's total $6.3 million budget this fiscal year.

Marino also claimed that ''Seed is the only organization that provides debt repayment for US doctors, nurses, and midwives to serve internationally, something Seed does entirely through private philanthropy. Seed specifically works in the areas of medical, nursing and midwifery education focused on human resource capacity building, making it different than many other non-government organizations.''

A Peace Corps spokesman who demanded anonymity told TheDCNF that the ''Peace Corps is proud of the continued work we have done in collaboration with Seed Global Health and the President's Emergency Plan for AIDS Relief (PEPFAR) to send qualified health professionals abroad to teach and expand clinical capacity.''

''Since the agency's early years, Peace Corps has sought to improve health outcomes in the countries it serves. The Global Health Service Partnership is an innovative continuation of the Peace Corps' commitment to global health.''

Department of State spokesman John Kirby told TheDCNF that ''there is absolutely no conflict of interest here. Secretary Kerry played no role in this decision making while in the Senate or subsequently while at the State Department.''

Kirby said ''Kerry's work on the Senate Foreign Relations Committee allotted funding to PEPFAR generally '-- not directly to this program. Using funds appropriated by Congress for PEPFAR, the State Department directs funds through an interagency process to seven implementing agencies.''

''The Peace Corps recommended the GHSP for funding support, and approval of that support went through the standard interagency budgeting and review process. The GHSP was one element supporting PEPFAR's Human Resources for Health Strategy, which was developed in part to meet the goal set by the U.S. Congress of 140,000 new health care workers trained by PEPFAR under its fiscal year 2009-2013 reauthorization.''

Follow Ethan on Twitter

Content created by The Daily Caller News Foundation is available without charge to any eligible news publisher that can provide a large audience. For licensing opportunities of our original content, please contact [email protected].

Seed also received almost $1 million from a modification to the first award, as well as from Department of State funds the group secured outside the Peace Corps.

The Peace Corps program '-- called the Global Health Service Partnership (GHSP) '-- sends volunteer physicians and nurses to medical and nursing schools in Malawi, Tanzania, Uganda and Liberia, according to Seed's website. More than 40 clinical educators worked at 13 sites in the 2014-2015 program.

Kerry and government officials colluded to launch the program and ensure that Seed would get the contract.

''Vanessa, Buck, and Sarah are meeting with Ambassador Goosby on the morning of 9/16/11 to discuss next steps for the GHSP,'' said a memo from September 16, 2011 '-- one year before Seed received its first award. ''Conversations with OGAC leadership confirm that Ambassador Goosby is very supportive of the initial proposal.''

The memo was referring to Peace Corps Directors Buck Buckingham and Sarah Morgenthau and Ambassador Eric Goosby, who then headed the Office of the US Global AIDS Coordinator (OGAC) '-- the State Department office that later funded GHSP.

A meeting one month later unveiled the strategy to send tax dollars to Seed.

''The public funding to start the GHSP is secured, it will come from OGAC through [Peace Corps] to support core HQ and field based activities, and to develop a sub-agreement to provide support to the foundation for contributions for their work in this partnership,'' minutes from a Nov. 18, 2011, meeting said. The ''foundation'' refers to Seed, which was then called the Foundation for Global Health Service.

Officials in that meeting also assured Kerry that she would not have to compete with other groups for Department of State funds.

''Buck obtained clarity of the mechanism by which federal money will be provided to'' Seed, the minutes said. ''The process can be fast tracked and non-competed through a specific grant mechanism.''

Meanwhile, the State Department buried its intent to transfer funds to the Peace Corps in its required congressional notification.

''The GHSP is a smaller line item in a multi-page document with multi-million dollar programs,'' minutes from the November 2011 meeting said.

Seed received its first award less than one year later. Peace Corps later provided another nearly $900,000, noting it underestimated the program's expenses, especially travel and salary costs.

It's unclear when that modification was added, but Kerry drew a salary from Seed for the first time in 2014. She was the only officer listed on the nonprofit's 990 tax form to receive compensation '-- some $140,000 for a reported 30 hours per week.

Discussion about the $6.4 million extension also provides questionable details. Peace Corps officials noted that contracts could not extend beyond five years and considered competing the next award, but decided they would ''go forward with sole-source option if mandated by OGAC,'' minutes from a July 17, 2014 meeting said.

Ultimately, the extension was awarded without competition on Sept. 10, 2015. It's unclear why the Peace Corps violated its five-year policy by giving Seed seven years of non-competitively awarded funding.

Peace Corps justified the decision to forgo competition by arguing Seed was already burrowed into the program, and that replacing it out would cause problems.

''As such, if a cooperative agreement were to be awarded to a new partner, applicants that were recruited and vetted by Seed may be unable to be placed in the field,'' a Sept. 10 2015 document stated. The document further noted that ''Peace Corps has been unable to identify any potential partners which satisfy the needs of the GHSP program'' other than Seed, which was created based around the program's needs.

Seed spokesman Mark Marino denied any conflicts of interest, telling TheDCNF:

No conflict of interest exists in our partnership with Peace Corps and the US government. Dr. Vanessa Kerry is primarily employed by and paid through Massachusetts General Hospital and Harvard Medical School. Dr. Kerry receives no financial compensation from the Peace Corps or US government. Funding from the Peace Corps, an independent agency in the federal government, represents about 27% of Seed's total $6.3 million budget this fiscal year.

Marino also claimed that ''Seed is the only organization that provides debt repayment for US doctors, nurses, and midwives to serve internationally, something Seed does entirely through private philanthropy. Seed specifically works in the areas of medical, nursing and midwifery education focused on human resource capacity building, making it different than many other non-government organizations.''

A Peace Corps spokesman who demanded anonymity told TheDCNF that the ''Peace Corps is proud of the continued work we have done in collaboration with Seed Global Health and the President's Emergency Plan for AIDS Relief (PEPFAR) to send qualified health professionals abroad to teach and expand clinical capacity.''

''Since the agency's early years, Peace Corps has sought to improve health outcomes in the countries it serves. The Global Health Service Partnership is an innovative continuation of the Peace Corps' commitment to global health.''

Department of State spokesman John Kirby told TheDCNF that ''there is absolutely no conflict of interest here. Secretary Kerry played no role in this decision making while in the Senate or subsequently while at the State Department.''

Kirby said ''Kerry's work on the Senate Foreign Relations Committee allotted funding to PEPFAR generally '-- not directly to this program. Using funds appropriated by Congress for PEPFAR, the State Department directs funds through an interagency process to seven implementing agencies.''

''The Peace Corps recommended the GHSP for funding support, and approval of that support went through the standard interagency budgeting and review process. The GHSP was one element supporting PEPFAR's Human Resources for Health Strategy, which was developed in part to meet the goal set by the U.S. Congress of 140,000 new health care workers trained by PEPFAR under its fiscal year 2009-2013 reauthorization.''

Follow Ethan on Twitter

Content created by The Daily Caller News Foundation is available without charge to any eligible news publisher that can provide a large audience. For licensing opportunities of our original content, please contact [email protected].

VIDEO-Ace of Spades HQ

Wed, 14 Sep 2016 05:59

qdpsteve: "Well sheeeeooooot, I was posting at a dead thread. ..."98ZJUSMC Staring at the Lake in the rain : "[i]The more I know people the better I like dogs. ..."

Stateless Infidel: "It's going to be Korean Thanksgiving soon. Here's ..."

Kindltot: "[i]Nobody could rip off Mooch's arm. Posted by: B ..."

Mr. Peebles: "Priorities of the Left: Close Guantanamo, Open ..."

Anon Y. Mous: "Reagan wanted 3 main things:1. Cut tax rates2. Inc ..."

qdpsteve: "I've even been avoid Facebook and Twitter for the ..."

publius (not Breitbart publius): "Let's see, Speaker Ryan orders the Sergeat-at-Arms ..."

freaked: "And it was TV MA???? WTF? Stanley was smoki ..."

qdpsteve: "Hey everybody. Lately I've been avoiding most o ..."

Infidel: "Had a conversation/beatdown on labor day about Cub ..."

Misanthropic Humanitarian: "Woot woot ONT Whats not to like, you have shape ..."

VIDEO-LiveLeak.com - Northern Europe sizzles in sunshine but it's all down to greenhouse gases

Wed, 14 Sep 2016 05:58

Much of northern Europe has been sizzling in unseasonably high temperatures sending people scurrying into parks and onto the beach.

In the UK, the Met Office recorded the warmest September day since 1911 with the mercury rising to over 34 degrees Celsius in the south.

''I love it because we don't really have it during the summer, so just having it during September makes it nicer, to catch up on the sun that we missed out on later on,'' said one female sunbather.

Not everywhere was #hot today. Check out the contrast in maximum temperatures between the different ends of the UK! pic.twitter.com/VltB8rf78R'-- Met Office (@metoffice) 13 September 2016

Not to be out done, in Brussels people also sought ways to cool off '' finding the odd park fountain to dip into and slurping on ice creams.

September is not usually a hot month but some northern regions are experiencing temperatures around 9-12 degrees above normal.

Journalists/broadcasters commenting on record high temperatures without mentioning climate change are letting the public down'-- Francis Wight (@FrancisWight) September 13, 2016

In the Netherlands and Berlin, as health experts warned people to slap on the sun cream and to drink lots of water, for the children it was play time in local rivers.

Worldwide, this year is set to be the hottest since records began in the 19th century. According to the experts it's due to a build-up of man-made greenhouse gases and an El Nino event that has warmed the Pacific Ocean.

So much for #LaNina cooling after record setting #ElNino; global temperatures stay high. #climatechange #climate pic.twitter.com/hGGzLNifHw'-- Paul Beckwith (@PaulHBeckwith) September 13, 2016

Loading the player ...

VIDEO-MSNBC's incredibly defensive coverage of Hillary Clinton's fainting episode | SUPERcuts! #359 - YouTube

VIDEO-'Hillary Clinton Dead': New York News Station Reports of Her Death In Error? - YouTube

VIDEO-The inside story of Clinton's sick day - POLITICO

Tue, 13 Sep 2016 20:31

The ailing Democratic nominee vows to release records, return to the trail this week.

By Glenn Thrush and Brianna Ehley

09/12/16 12:38 PM EDT

Updated 09/12/16 07:28 PM EDT

Hillary Clinton never lost consciousness, and never stopped talking on her phone '-- and never put anyone else in danger '-- after her near swoon at a Sept. 11 memorial on Sunday in New York, according to accounts offered by several people close to the candidate.

The near-fainting spell, according to Clinton's staff, is a greater political problem than a physical one '-- and the centerpiece of its Monday pushback strategy was a vow to release a far more detailed medical history of the 68-year-old candidate that proves she suffers from no previously undisclosed conditions.

Story Continued Below

Clinton's pneumonia isn't severe, according to two people with direct knowledge of the candidate's condition, and she is expected to return to the campaign trail as early as this week. The real issue is chronic dehydration, exacerbated by her lung problem and Clinton's reluctance to drink water, which has become a source of tension with her staff.

''She won't drink water, and you try telling Hillary Clinton she has to drink water,'' said a person in her orbit '' who described a frenzied rehydration mission that included multiple bottles of water and Gatorade.

On Monday, Bill Clinton told Charlie Rose that his wife has suffered from similar bouts over the years '--an account supported by at least one of her staffers interviewed by POLITICO. ''Rarely, on more than one occasion, over the last many, many years, the same sort of thing's happened to her when she got severely dehydrated, and she's worked like a demon, as you know, as secretary of state, as a senator, and in the years since,'' Clinton said.

On Sunday, Clinton began showing signs of light-headedness standing at the Sept. 11 memorial service next to New York Sens. Charles Schumer '-- who on Monday disclosed that he too just got over a bout of pneumonia '-- and Kirsten Gillibrand, the sources said, and they flagged aides to get her water. After a few minutes, the candidate and her staff determined that she needed to get out of the heat and headed to a pick-up area, where she was seen '-- and filmed '' stumbling into her van in a near swoon.

But the two Clinton confidantes told POLITICO that Clinton, drinking water while sitting in the air-conditioned backseat, quickly recovered and began making calls to tell staff and family what had happened, and almost immediately began assessing the political fallout.

By the time her motorcade arrived at daughter Chelsea's apartment, she was feeling better '-- and was given a big bottle of Gatorade. She didn't rest much while there, one of the sources said, but played with her grandchildren and made more phone calls. Clinton was ready to head back to her house in Chappaqua after about an hour at the apartment '-- but she had to remain in place to wait for her traveling press pool '-- which had been penned in at ground zero '-- to arrive so they could witness her walk out to an SUV, under her own steam.

Even before the episode, Clinton had suffered from a persistent hacking cough '-- and so did several members of her top staff, including Communications Director Jennifer Palmieri, who was briefly hospitalized with a severe upper respiratory infection and dehydration last month.

The campaign also moved to shut down reports by right-wing websites speculating that Clinton may have infected her grandkids Charlotte and Aidan and a little girl she hugged on a Manhattan sidewalk on Sunday.

''She is not contagious, she's been told by her doctors,'' Clinton press secretary Brian Fallon said during a round of TV interviews. ''She was playing with her grandkids yesterday and they don't have anything to worry about because she's not contagious at this point.''

Fallon added that members of the senior staff knew about the Friday diagnosis and that other campaign members were notified shortly after.

The confusion about Clinton's condition wasn't limited to people on the outside. Clinton's inner circle '-- Huma Abedin, Cheryl Mills and her family '-- knew about the pneumonia diagnosis first. Just when others learned is still an open question: During an appearance on MSNBC Monday afternoon Robby Mook refused to say that he knew about the candidate's condition on Friday, as Fallon suggested.

That rosy portrait of Clinton's health '' reinforced by a Sunday note from Clinton's personal physician Lisa Bardack '-- was a tough sell outside the Clinton camp, where trust in such pronouncements is often met with skepticism. Even as the campaign hit the talking points, Twitter filled up with conspiracy theories about the ''real'' source of the episode, which conservatives suggest stems from a serious head injury Clinton suffered in late 2012.

But reporters and even some Clinton supporters questioned the campaign's hours-long stonewall of reporters on Sunday '-- which stoked suspicions that there was more to the health scare than a spokesman's original claim that the former secretary of state had simply been ''overheated.''

''Antibiotics can take care of pneumonia. What's the cure for an unhealthy penchant for privacy that repeatedly creates unnecessary problems?'' tweeted David Axelrod, President Barack Obama's former top campaign strategist.

Clinton's aides moved to stem the tide of skepticism '-- and to counter Donald Trump, who on Monday vowed to release the results of his own physical exam '-- by announcing that she would soon make public a more detailed version of a two-page clean bill of health issued by Bardack last year.

"We'll release additional medical information about Hillary Clinton,'' Fallon said during one of several appearances on cable TV meant to reassure nervous Democrats and assuage prying-eyed reporters. "We have been in touch with her physician this morning to get the materials together. We'll release that to further put to rest any lingering concerns about what you saw yesterday," he said of footage of a wobbly-looking Clinton struggling to get into a van that was widely circulated on Sunday.

Clinton's campaign also issued a partial mea culpa, with Palmieri tweeting in response to Axelrod's burn, "We could have done better yesterday, but it is a fact that public knows more about HRC than any nominee in history."

Fallon also provided a few more details about the incident, saying Clinton did not lose consciousness at any point. "I think as she was getting into the vehicle she got a little bit dizzy. She was helped into the vehicle but immediately upon being seated there, she was talking to staff and making calls," he said.

Clinton canceled plans to travel to California on Monday and instead will teleconference in to a fundraiser.

Fallon said that pneumonia is the extent of Clinton's condition. "I can attest that her doctor stated that there was nothing here in terms of anything that was caused by what happened in 2012. So all of that, I think, will be indicated in the further material that we are going to release this week."

In an afternoon interview with CNN's Wolf Blitzer, Fallon said Clinton is ''resting comfortably'' and predicted that she should be back on the campaign trail by mid-week.

''At her doctor's advice she changed her schedule, taking a couple days to rest and the staff prevailed upon her to do that,'' he said. ''I think by the middle of the week she'll be out there campaigning as aggressively as ever.''

Fallon insisted that Clinton was following her doctor's orders, but added that if it were up to her she would have carried on with her usual schedule.

''Up to her, she would have pressed on. That's the Hillary Clinton that people saw as secretary of state in terms of traveling the country at a break-neck pace representing us abroad. She fits more into it than most Americans,'' he said.

Blitzer went on to ask Fallon whether Clinton should have told Americans about her diagnosis of pneumonia, which she received from a personal doctor on Friday.

''As soon as yesterday happened, Wolf, and her doctor visited her again and confirmed that what caused her to have to leave the event early on Sunday was related to the pneumonia and dehydration,'' he said. ''At that point we did make the decision to change the schedule, and we put out a statement in the doctor's name indicating the condition she was in.''

VIDEO-BIAS ALERT: CBS edits out Bill Clinton slip on Hillary health | Fox News

Tue, 13 Sep 2016 20:19

CBS Evening News edited out what sure sounded like a Freudian slip and a lawyerly correction when Bill Clinton was talking about how often his wife collapses from dehydration.

''She's been well, if it is it's a mystery to me and all of her doctors, because frequently, not frequently, rarely, but on more than one occasion, over the last many, many years, the same sort of thing has happened to her where she got severely dehydrated,'' the former president said of Hillary Clinton, who is seeking the office he once held.

The CBS News website posted video showing the exchange, and Clinton's mid-sentence correction. But when the exchange with Charlie Rose occurred during the nightly newscast, the ''frequently, not frequently, rarely'' part edited out.

For folks who wonder if the public is being told all there is to know about the former secretary of state's health, Clinton's full sentence seemed to hold a tantalizing clue. By the time other news channels, including Fox, picked up the comment, the slipup was gone.

The Daily Caller was first to compare the ex-president's full statement to the one that aired, and NewsBusters followed up with a side-by-side comparison.

CBS backpedaled Tuesday and included the full quote on their morning newscast. NewsBusters claimed it was only the latest example of deft editing by the liberal media to make Hillary Clinton look good, or her opponent, Donald Trump, look bad.

Last month, CNN edited Trump Campaign Manager Kellyanne Conway speaking on ABC's ''This Week with George Stephanopoulos,'' to make it appear that Conway promised Trump would refrain from personal attacks. In fact, Conway said she didn't approve of personal insults by candidates, but made no pledges on behalf of Trump.

Click for more from The Daily Caller

VIDEO-Petraeus fainted at a congressional hearing. Chuckles ensued. General faints at DOD briefing. Same.

Tue, 13 Sep 2016 20:14

Petraeus faints at a hearing. Sitting. In a room comfy enough for our geriatric senate elite.

Look how the congressmen in an alarum immediately demanded that General Petraeus prove he was healthy enough to serve. Just kidding! They laughed it off.

This Major General fainted at the podium of a DOD presser. At least HE was standing. Petraeus was sitting down.

In the same way that Clinton is expected to be an IT expert because she's head of a department that uses computers, she's expected to have more than military grade stamina because she's running for the office of commander in chief.

In the meantime, other candidates aren't expected to do more than haul their flabby, taco bowl shaped gut around in a light schedule determined by how quickly they can get home to sleep in their own bed.

VIDEO- lDon't Worry, Hillary Clinton Will Power Through | SUPERcuts! #360 - YouTube

VIDEO-Anderson Cooper Phone Interview With Hillary Clinton'... | The Last Refuge

Tue, 13 Sep 2016 06:07

Hillary Clinton called in to Anderson Cooper for an interview discussing her medical condition.

VIDEO-Muppet Elevator: Battle Hymn of the Republic - YouTube

VIDEO-14Mins-Watch Face the Nation - 9/11: Nunes, Salvanto, Brennan Online - TV.com

Mon, 12 Sep 2016 01:31

Important: You must only upload images which you have created yourself or that you are expressly authorised or licensed to upload. By clicking "Publish", you are confirming that the image fully complies with TV.com's Terms of Use and that you own all rights to the image or have authorization to upload it.Please read the following before uploadingDo not upload anything which you do not own or are fully licensed to upload. The images should not contain any sexually explicit content, race hatred material or other offensive symbols or images. Remember: Abuse of the TV.com image system may result in you being banned from uploading images or from the entire site '' so, play nice and respect the rules!

VIDEO-"Hillary Clinton has 1 Year to Live," says Medical School Professor - YouTube

VIDEO-Hillary Clinton FAINTS At 9/11 Ceremony - YouTube

VIDEO-Jason Chaffetz Made FBI ADMIT That They Covered Up Hillary's LIES On LIVE TV | EndingFed News Network

Thu, 15 Sep 2016 05:11

It's one thing to be able to dance around the question, despite several attempts by Congress to get the truth, as was seen by Attorney General Loretta Lynch. It's a whole 'nother can of beans when you actively don't know the answers to questions and it's obvious that you're covering up a massive scandal.

That's what we have for you today.

The Clinton email scandal was re-opened and FBI agents were grilled as to why Hillary Clinton, a former Secretary of State, did not know that 'C' stood for 'Classified' if the FBI had another story. Jason Chaffetz, a Republican Utah Representative, absolutely demolished a clueless FBI agent, who by the looks of things was new to his job.

Chaffetz blew up because the FBI didn't deliver all of their 302 reports, which are summaries from FBI agents on this specific case.

According to the FBI, Chaffetz would have to fill out a Freedom Of Information Act (FOIA) request to get the entire story, which rubbed Chaffetz the wrong way, because before his time was over, he SUED the FBI agent for the withheld documents.

Man, this is GOOD.

Not only did Chaffetz give the FBI agent ample time to dig himself out of the hole, he proved, without a shadow of a doubt, that the FBI is hiding things from Congress that would be devastating to the Clinton campaign.

The sooner we out this crook in a court of law, the sooner we can get our country back on track. Who's with me?

H/T: YesImRight.com

Please follow us on Facebook to get news like this. Click on thebutton.Leave a comment...
Clips & Documents
Art
Agenda 2030

Northern Europe sizzles in sunshine but it's all down to greenhouse gases.mp3
Elections 2016

Jason Chaffetz Made FBI ADMIT That They Covered Up Hillary's LIES On LIVE TV.mp3
EuroLand

Juncker proposes EU military headquarters.mp3
F-Russia
Hills Health

Brit Hume on MSM reporting of Hillary Clinton Collapse 911.mp3

CBS Edits Bill-1-Clinton Frequently.mp3

CBS Edits Bill-2-The EDIT.mp3

Chuck Shumer covers for HIllary with not feeling well bug.mp3

CNN-Gloria Borger-Clinton blood clot INCIDENT.mp3

Don't Worry, Hillary Clinton Will Power Through.mp3

Fox news Reporter on NYC 911 weather.mp3

MSNBC-Mix of HOT DAY WARM WOOOOO.mp3

Pooper-Clinton Int-1-Welcome and power through it.mp3

Pooper-Clinton Int-2-Bills aid how many times has this happened.mp3

Pooper-Clinton Int-3-never fainted.mp3

Pooper-Clinton Int-5-pneumonia-schumer-going around.mp3

Pooper-Clinton Int-FULL.mp3

WABC-TV Reports on Hillary's Death.mp3
JCD Clips

40 billion to israel 2.mp3

40 billion to israel.mp3

ABC report on hacked powell emails ONE blame the ruskies.mp3

email rundown birther comment.mp3

email rundown Lemon hampton party.mp3

email rundown lemon powell benghazi.mp3

email rundown Powell on Hillary 1.mp3

LATEST ABC cutaway to Clinton.mp3

LATEST ABC Trump rundown.mp3

megtn and flynn --why A TARGET.mp3

megyn and flynn on emails one.mp3

no jews netanyahu.mp3

ON RUSSI aT THE ORESS CONFERENCE.mp3

pence on blitzer.mp3

pence on deplorable.mp3

Power through medly.mp3

REPLACE HILLARY STORY flub.mp3

REPLACE HILLARY STORY ISO.mp3

steubenville rape.mp3

tax code trap question.mp3

trudeau on ethnic clensing.mp3

trump -- guy punched in audience.mp3

Trump Foundation.mp3

wells Fargo Bonus.mp3

woolsey.mp3
National Anthem

ESPN-Soccer player Megan Rapinoe-Limit 1st Amendment-Gnonymous.m4a
Snowden