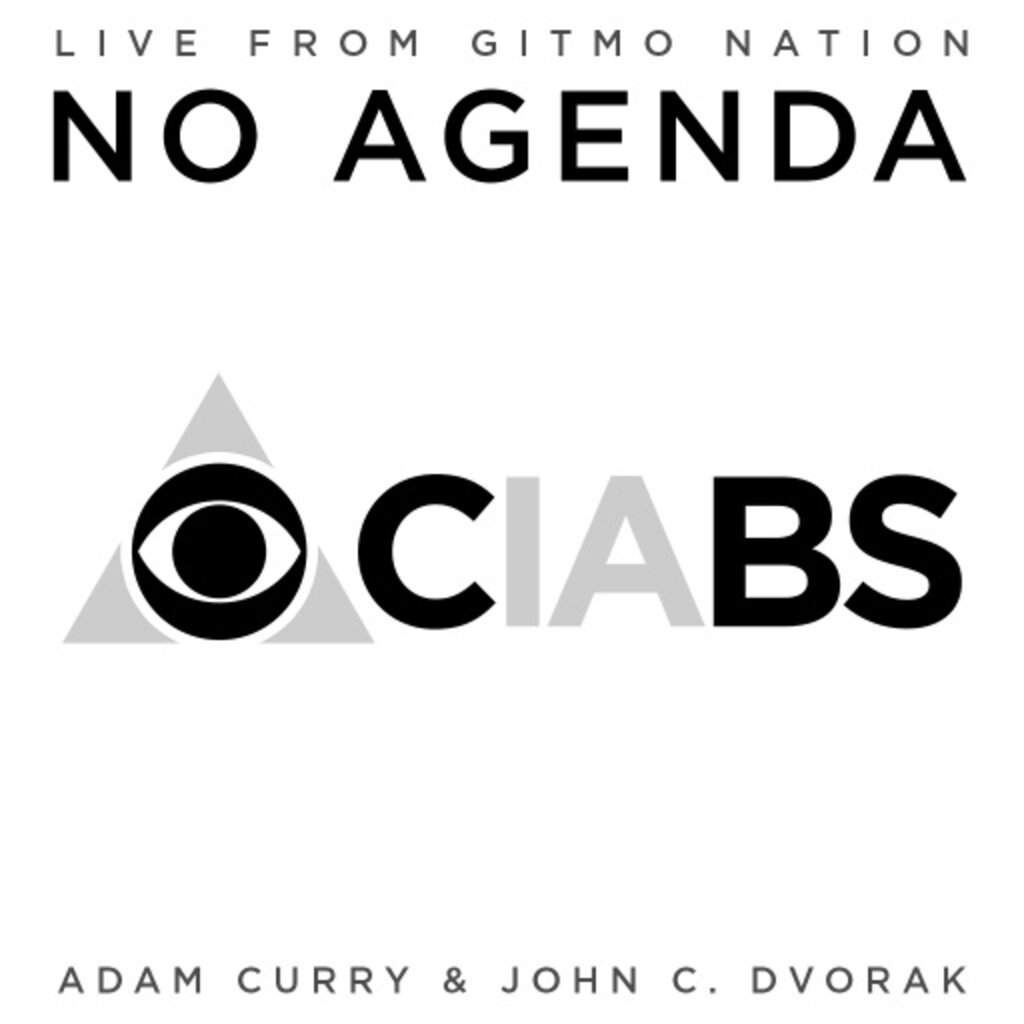 February 23rd, 2017 • 2h 58m
906: Hitler's Playbook
Shownotes
Every new episode of No Agenda is accompanied by a comprehensive list of shownotes curated by Adam while preparing for the show. Clips played by the hosts during the show can also be found here.
PR

Amazon Echo

Adam,

The "NoAgenda" Alexa skill is now deployed and available to download to all Amazon devices via the Alexa app. It's a flash briefing skill (morning news information). Once installed a user simply needs to ask "Alexa, What's my flash briefing?" to invoke the stream.

Thanks for letting me publish this!

- James Chapman
Agenda 2030

Lawrence Solomon: Finally it's safe for the whistleblowers of corrupted climate science to speak out

Mon, 20 Feb 2017 14:18

Lawrence Solomon: Finally it's safe for the whistleblowers of corrupted climate science to speak out

Lawrence SolomonThursday, Feb. 16, 2017

Whistleblowers at the U.S. government's official keeper of the global warming stats, the National Oceanic and Atmospheric Administration (NOAA), claim their agency doctored temperature data to hide the fact that global temperatures plateaued almost 20 years ago.

Can the whistleblowers be believed in this claim, originally made in 2015? And in the further claim that NOAA then rushed this doctored data into print in time for the UN's Paris global warming summit of world leaders, to dupe any doubters that the planet was in fact overheated?

Of course the whistleblowers can be believed, and not just because NOAA repeatedly stonewalled inquiries, even failing to comply with a congressional subpoena. No one paying attention can have any doubt that the governmental global warming enterprise has been a fraud. It's been lies from the start, starting with the very mandate of the UN's Intergovernmental Panel on Climate Change, which astonishingly ruled out factors like the sun as being worthy of investigation.

Among those astonished was the Danish delegation to the IPCC. It discovered at one of the IPCC's early meetings a quarter-century ago that its scientists could not present their study, newly published in the prestigious journal Science, showing a remarkable correlation between global warming and solar activity. To their further astonishment, to squelch dissent the IPCC cabal set out to destroy the reputation of its chief author, falsely accusing him of fabricating data.

Whistleblowers now know they will no longer be silenced.

Dissenters from the climate change orthodoxy soon learned that, if they refused to recant, they stood to lose their jobs, their funding, and their reputations. They also learned the corollary: to get hired, to get funded, to get promoted, they needed to produce the science the authorities wanted. Governments annually spent billions of dollars on climate change research, virtually all of it commissioned to prove that the science was settled '-- that man-made climate change represented an existential threat to the planet.

None of the billions spent on research amounted to anything '-- none of the models proved reliable, none of the predictions were borne out, none of the expected effects materialized. The Arctic ice cap hasn't disappeared, polar bear populations haven't declined, hurricanes haven't become more common, malaria hasn't spread, temperatures haven't continued to climb. What did materialize was fraud after fraud.

Climategate '-- the 2009 revelations of hacked emails showing scientists labouring to manipulate data and cover their tracks '-- was followed by Climategate 2.0 (a second damning batch of hacked emails), by Amazongate (the revelation that the IPCC's claim of coming devastation in the Amazon was based on non-peer-reviewed research by WWF eco-activists), Glaciergate (here the IPCC relied on speculation in a popular magazine) and other scandals.

The mega-fraud was the assertion that the science was settled, which the IPCC trumpeted with claims that 2,500 scientists from around the world endorsed its findings. Except those 2,500 '-- a number that was soon inflated to 3,000 and then 4,000 '-- didn't endorse anything. They merely reviewed some of the studies heaved into the IPCC's maw, many of them giving the research the thumbs down.

Likewise, a much heralded claim that 97 per cent of scientists believed the planet was overheating came from a 2008 master's thesis by a student at the University of Illinois who obtained her results by conducting a survey of 10,257 earth scientists, then discarding the views of all but 77 of them. Of those 77 scientists, 75 thought humans contributed to climate change. The ratio 75/77 produced the 97-per-cent figure that global warming activists then touted.

In fact, major surveys show that scientists in the tens of thousands do not believe that global warming represents a threat. With the departure of president Obama and his administration, which had blocked independent investigations from being pursued, whistleblowers in greater numbers will now dare to come forward, knowing they will no longer be silenced.

One of them is Dr. John Bates, a recently retired principal scientist at NOAA, who described how his agency manipulated data to manufacture a non-existent increase in global temperatures. In a press release last week, U.S. House Science, Space, and Technology Committee chairman Lamar Smith thanked ''Dr. John Bates for courageously stepping forward to tell the truth about NOAA's senior officials playing fast and loose with the data in order to meet a politically predetermined conclusion.'' This week a second press release from the same committee indicated that NOAA will be brought to account.

The blizzard of lies from NOAA and other corrupted agencies will soon be outed in excruciating detail. The greatest scientific fraud of the century will thus be laid bare, along with its craven and corrupt enablers in government, academia, industry and the media.

Lawrence Solomon is executive director of Energy Probe, a Toronto-based environmental group.

LawrenceSolomon@nextcity.com

Hey Greenpeace, could you find us Finns a warm place to live in? | The unpublished notebooks of J. M. Korhonen

Thu, 23 Feb 2017 13:16

Pictured: Finland. Not pictured: radiation levels exceeding those Greenpeace deems ''emergency radiological situation'' and ''an unacceptable radiation risk.'' (Picture credit: SeppVei/Wikimedia)

A recent Greenpeace news release leads to an inescapable conclusion: that us Finns need to be evacuated immediately, because radiation hazards of living in Finland exceed those encountered in Fukushima evacuation zones. I therefore humbly ask Greenpeace to find a place for 5.5 million Finns, or at the very least for those 549 000 of us who now have to live in a radiated wasteland where annual radiation doses are at least two times higher than what Greenpeace deems ''emergency radiological situation'' and ''an unacceptable radiation risk'' in Japan. If possible, could we also find a place that's warm and without slush?

According to Greenpeace's press release, ''2017/02/21 Greenpeace exposes high radiation risks in Fukushima village as government prepares to lift evacuation order'', radiation levels measured in Iitate village would equate to an annual dose of 2.5 millisieverts per year (mSv/a), and levels as high as 10.4 mSv/a have been measured indoors. Since millisieverts are a measure of radiation danger that already accounts for the differences between different sources of radiation and for the differences in exposure pathways (e.g. internal or external), we can use these measurements to compare directly the risks of living in Iitate to risks of living in Finland. The comparison is simple: for the purposes of radiation hazard, higher millisievert count means greater risk.

According to Finnish estimates, the 5.5 million people living in Finland are at a greater risk than inhabitants of Iitate, receiving on average 3.2 millisieverts per year.

The mean annual radiation dose for Finnish people. Source: Finnish Radiation Safety Authority (STUK), Muikku et al. (2014) p. 6.

But this is not the whole truth, oh no! In many places in Finland, actual radiation doses are far higher than that. The ice ages scraped our soil down to bedrock, and bedrock contains considerable quantities of uranium. As it decays, one of the decay products is an odorless, invisible and radioactive gas known as radon. With little soil above to hold it, radon tends to rise into air and collect within our dwellings. As the pie chart above shows, radon and its decay products are a major factor in the radiation dose of an average Finn, but radon exposures can vary widely, from almost zero to as high as 340 (yes, three hundred and fourty) millisieverts per year (Muikku et al. 2014, p. 12).

According to measurements conducted by the Finnish Radiation Safety Authority (STUK), there are about 549 000 Finns who receive at least 5 millisieverts per year from radon and other sources. Of those, perhaps 70 000 receive annual doses that exceed the highest doses Greenpeace managed to measure at Iitate (10.4 mSv/a) (Muikku et al. 2014, p. 15). (Note: it is unclear whether radon might in fact account for the high indoors radiation doses Greenpeace measured in Iitate. It is well known from Finland and other areas with high radon concentrations that without very good basement ventilation, radon can easily collect in houses and result to very high dose rates.)

Even though extensive studies have failed to find any clear links between these dose rates and incidence of health problems (a link likely exists, but is so weak that clear connection cannot be established), it should be by now clear to anyone that if anyone deserves an evacuation because of radiation hazards, it is us Finns. (See also the picture at the top of this post.)

Preferably to somewhere warm.

The Fukushima disaster was a needless tragedy that sundered apart entire communities. It is despicable for any organization to continue to prolong this tragedy and exploit people's understandable fears for the purposes of propagating its outdated, probably disastrous energy policy that puts opposition to nuclear power at front and center even when evidence of the dangers of runaway climate change becomes clearer by day. It is especially despicable to use utterly misleading propaganda like Greenpeace currently does '' to solicit donations.

References

Muikku et al. (2014). Suomalaisten keskim¤¤r¤inen efektiivinen annos. STUK publication A259. (PDF link)

Advertisements
CYBER!

House Dem Staffers Took Iraqi Politician's Cash | The Daily Caller

Tue, 21 Feb 2017 12:07

5487378

Rogue congressional staffers took $100,000 from an Iraqi politician while they had administrator-level access to the House of Representatives' computer network, according to court documents examined by The Daily Caller News Foundation's Investigative Group.

The money was a loan from Dr. Ali al-Attar, an Iraqi political figure, and was funneled through a company with ''impossible''-to-decipher financial transactions that the congressional information technology (IT) staffers controlled.

Imran Awan, ringleader of the group that includes his brothers Abid and Jamal, has provided IT services since 2005 for Florida Democrat Rep. Debbie Wasserman Schultz, the former Democratic National Committee (DNC) chairwoman. The brothers are from Pakistan.

The trio also worked for dozens of other House Democrats, including members of the intelligence, foreign affairs and homeland security committees. Those positions likely gave them access to congressional emails and other sensitive documents.

The brothers, whose access to House IT networks has been terminated, are under criminal investigation by the U.S. Capitol Police.

Wasserman Schultz resigned from her DNC post following a disastrous email hack during the 2016 campaign. Her House spokesman did not respond to TheDCNF's question Monday about Imran's employment status. As of Feb. 6, she had declined to fire Imran.

Investigators found that congressional information was being copied to an off-site server and they suspect the brothers of improperly accessing information and stealing congressional property. Chiefs of staff for the employing Democrats were notified Feb. 2.

Soon after Imran began working for members of Congress, Imran's and Abid's wives '-- Hina Alvi and Natalia Sova '-- also began receiving congressional paychecks, TheDCNF found. Imran's employers included two members of the intelligence committee, Indiana Democrat Rep. Andre Carson and California Democrat Rep. Jackie Speier.

By 2009, the family was simultaneously managing a full-time car dealership in Virginia, with Abid running day-to-day operations after contributing $250,000 in startup cash. It was called Cars International A, LLC, referred to as ''CIA'' in court documents.

Imran boasted unusual clout among House Democrats, and was even pictured conversing with former President Bill Clinton. After Rao Abbas, who was owed money by the dealership, threatened to sue amidst allegations of deception and theft, Abbas appeared on the congressional payroll and received $250,000 in taxpayer payments.

Abid had ''100% control'' of the dealership, a one-time business partner said in court documents, in addition to his $165,000-a-year job working full-time for multiple representatives, including Ohio Democrat Tim Ryan and California Democrat Jim Costa.

''He had the dealer license and sole responsibility of running it. Abid would put cars on the lot, take them in consignment, sell them, do all the title work and get money from the retail sale,'' according to court documents. Multiple emails show the Awan brothers conducting business such as attending car auctions on weekdays.

''Imram later acted as owner since CIA was considered family business by the Awans,'' Abid's one-time business partner, Nasir Khattak, said in court documents. The car dealership's finances consisted of byzantine transfers in which staff and cars were often swapped between it and a dealership next door, Khattak said.

Despite numerous family members making $160,000 congressional salaries, debts went unpaid by the brothers, including to the Congressional Federal Credit Union.

''It was very bad record-keeping in Cars International '... it is close to impossible to make any sense out of all the transactions that happened,'' Khattak said in court documents.

The $100,000 loan came as the dealership continued to rack up debt, court records show.

''Ali Al-Attar was out of the country as he was involved in politics and the formation of the Iraqi government,'' Khattak said in court documents.

In addition to his other jobs, Imran is a real estate agent, and Khattak is also a realtor who obtained the cash from Al-Attar and passed it through bank accounts used for real estate deals in Fairfax County, Va.

''Having lost my and Abid's collective investment of $500k due to Awan's mismanagement, [CIA] was further in debt $400k to other creditors,'' Khattak said in a lawsuit.

Khattak said Imran masterminded the family's finances and by late 2010, Imran ''was running the business in full control'' and ''instructed Abid not to even speak to anyone.''

The Iraqi cash disappeared amidst a dispute between Khattak and the Awans. Khattak said defaulting on the loan meant Al-Attar now owned the business, but the Awans refused to relinquish control.

In 2012, Abid declared personal bankruptcy listing more than $1 million in liabilities. While debts to others went unpaid, he kept ownership of two houses, and Imran kept his own substantial property, despite his admitted role in the failed business.

Bankruptcy documents listed Abbas as a creditor and said he might sue Abid, but Abbas later took the brothers' side in a lawsuit against Khattak, who said that the Awans had somehow manipulated him to do so. Not long after, Abbas appeared for the first time on the congressional payroll, and collected $250,000 from taxpayers through the end of last year.

Four out of the six Democrats he worked for also employed Imran. His employers included a member of the intelligence committee, Patrick Murphy of Florida; a member of the foreign affairs committee, Theodore Deutch of Florida; and Brad Ashford of Nebraska, who is on the armed services committee.

Abbas' congressional email was cut off in early February, around the time the Capitol Police revealed that they had uncovered a scheme involving a network of IT aides. The Awans' access has also been cut off. Reached at a personal email address, Abbas did not respond to repeated questions from TheDCNF.

Abid claimed the Iraqi doctor may never have existed. ''If as suspected, all of this is a charade, particularly if it is learned the mysterious Dr. Al-Attar doesn't exist or didn't sign the documents, then the whole matter rises to a higher level,'' he said in court documents.

The youngest Awan brother, Jamal, was also placed on the House payroll at 20 years of age and makes $160,000, far higher than others in similar jobs.

TheDCNF was the first to identify the brothers and Alvi, and now, Sova and Abbas.

Follow Luke on Twitter. Send tips to luke@dailycallernewsfoundation.org.

Content created by The Daily Caller News Foundation is available without charge to any eligible news publisher that can provide a large audience. For licensing opportunities of our original content, please contact licensing@dailycallernewsfoundation.org.
Milo

Milo-George Takei-A Gay must be Sacrificed

It's Not About Milo '' It's About The Existential Threat That Milo Represents'... | The Last Refuge

Tue, 21 Feb 2017 12:32

Those who hold power will never relinquish power; a simple and timeless truth. The current attacks against an increasingly less obscure gay man named Milo Yiannopoulos (it appears he is most known simply by ''Milo'') are not about Milo Yiannopoulos per se', anyone who has followed the construct of the swamp should see the transparency.

Take this guy Milo out of the picture and replace him with any politically incorrect name you choose, and you'll see the concerted effort to remove his influence is not about him, it's about the underlying threat he represents.

Those who control the levers of the DC Swamp municipal system are determined to defeat the highly outlined objectives of a President Trump administration. Milo is merely a concentric circle outlier of their real target. The transparent objective here is to isolate, ridicule and marginalize Mr. Milo to create a door to the next circle.

Pass through the door that is Milo and proceed to the door that is Breitbart Media. Deploy detonation devices'..... open door. Pass through the door that is Breitbart Media and proceed to the door that is Steve Bannon. Deploy same detonation devices (same approach)'.... open door. Pass through the door that is Steve Bannon and eventually they get to the desired destination, President Trump.

It would be severely intellectually dishonest not to admit this road map.

There are trillions of dollars at stake.

I don't know much, almost nothing, about Mr. Yiannopoulos '' but I do know enough to spot a political UniParty approach that is as historic and familiar as the Swamp itself. Mr. Yiannopoulos has all the same enemies as President Trump; that cannot be coincidental.

Apparently Mr. Milo Yiannopoulos has a considerable following amid a young and vibrant counter-culture, and appears exceptionally effective at opening their eyes to the Deep State constructs who utilize Hollywood, Pop Culture and various social constructs to manipulate the psyche.

He appears flamboyant, though no more alarmingly so that the goth kids hanging out in front of the local movie theater; and if he can connect with them -and more- in a language they can appreciate and understand'.... well, there's the threat.

And when the UniParty GOPe want to utilize the useful tools of the religious right, they know just the right triggers to begin their onslaught. Quick, to the bathroom drums'.... the bizarre thing is how many people don't realize the stagehands are the Marxist left greasing the skids to reinforce a hate narrative and steady the divisions. Gays, like blacks, must remain on a very specific -and purposeful- political plantation.

Freedom by it's very nature has a rather diverse set of potential allies. The ability to reach those allies and rally them toward a standard of effectiveness is a threat to the order of those who deploy inequity and hopelessness as tools toward the more preferred strategy of ambivalence.

No, I don't know this Milo person at all; but I do know the methods of those who seek to retain ultimate power well enough to spot when those interests rise up out of the swamp and unify in common cause.

Currently Milo is facing all the right enemies'....

Advertisements

Milo Yiannopoulos Has Resigned From Breitbart Citing His 'Poor Choice of Words' | Mediaite

Tue, 21 Feb 2017 22:26

After days of speculation, it is official: Milo Yiannopoulos is out at Breitbart, with news of his resignation reaching social media just minutes ago via Michael Grynbaum of The New York Times.

In a statement published minutes ago, Yiannopoulos said, ''Breitbart News has stood by me when others caved,'' continuing, ''I would be wrong to allow my poor choice of words to detract from my colleagues' important reporting, so today I am resigning from Breitbart, effective immediately.'' After Yiannopoulos was slated to speak at the Conservative Political Action Conference (CPAC), a video of him discussing pedophilia made the rounds on Twitter and earned pretty widespread condemnation.

Yiannopoulos responded to the outcry insisting that he has an ''utter disgust [for] adults who sexually abuse minors'' while acknowledging that ''these videos, even though some of them are edited deceptively, paint a different picture.''

Hours after CPAC uninvited him on Monday, Simon & Schustercancelled the publication of Yiannopoulos's highly-anticipated book Dangerous; Matt Schlapp, the chair of the American Conservative Union, said Tuesday morning, ''Over the weekend I was made aware of these comments and it just broke through very important boundaries and we felt like the CPAC stage was not an appropriate place for this any longer.''

Fox Business Network's Charlie Gasparino reported Monday afternoon that Breitbart was ''weighing dismissal'' of the outspoken Yiannopoulos, indicating that ''bolting'' advertisers were a point of consideration.

''When your friends have done right by you,'' the former Breitbart editor's statement continued Tuesday, ''you do right by them. For me, now, that means stepping aside so my colleagues at Breitbart can get back to the great work they do.''

Yiannopoulos is in New York City today and is expected to hold a press conference of his own at 3 p.m. EST.

[image via screengrab]

Have a tip we should know? tips@mediaite.com

Milo touched the Pedo rail -The rise and fall of Milo Yiannopoulos '' how a shallow actor played the bad guy for money | World news | The Guardian

Wed, 22 Feb 2017 21:12

So there is, after all, a line that you cannot cross and still be hailed by conservatives as a champion of free speech. That line isn't Islamophobia, misogyny, transphobia or harassment. Milo Yiannopoulos, the journalist that Out magazine dubbed an ''internet supervillain'', built his brand on those activities. Until Monday, he was flying high: a hefty book deal with Simon & Schuster, an invitation to speak at the American Conservative Union's CPac conference and a recent appearance on Real Time with Bill Maher. But then a recording emerged of Yiannopoulos cheerfully defending relationships between older men and younger boys, and finally it turned out that free speech had limits. The book deal and CPac offer swiftly evaporated. The next day, he resigned his post as an editor at Breitbart, the far-right website where he was recruited by Donald Trump's consigliere Steve Bannon, and where several staffers reportedly threatened to quit unless he was fired.

In the incriminating clip, Yiannopoulos prefaces his remarks with a coy, ''This is a controversial point of view, I accept'', this being his default shtick. Maher absurdly described him as ''a young, gay, alive Christopher Hitchens'' '' a contrarian fly in the ointment, rattling smug liberal certainties '' but Hitchens had wit, intellect and principle, while Yiannopoulos has only chutzpah and ruthless opportunism. Understanding Yiannopoulos requires a version of Occam's Razor: the most obvious answer is the correct one. What does he actually believe in? Nothing except his own brand and the monetisable notoriety that fuels it. That's Milo's Razor. Understanding how he got this far is more unnerving.

Yiannopoulos was born Milo Hanrahan in Kent in 1984 and grew up in a financially comfortable but emotionally fraught family. He later adopted his beloved Greek grandmother's surname, but prefers the pop-starry mononym Milo. On Twitter, before he was permanently banned last July, he operated as @nero. After dropping out of two universities '' Manchester and Cambridge '' he wrote for the Catholic Herald and covered technology for the Daily Telegraph. On the Telegraph's blog pages, under editor Damian Thompson, he became a professional troll; a clickbait provocateur who hated the left more than he loved anything.

In 2011, having left the Telegraph, Yiannopoulos co-founded the tech journalism website the Kernel. ''Tech's gadfly continues to provoke and irritate, often for its own sake'' was Wired's judgment, but that only helped Yiannopoulos paint himself as a thorn in the side of a complacent tech establishment. The more people he insulted, the more attention he got. But his vindictiveness wasn't just an act. In 2013, the Kernel was successfully sued by former editor Jason Hesse for non-payment of wages and one female staffer publicly complained about similar treatment. In a vicious email, Yiannopoulos threatened to ruin her career and called her ''a common prostitute''. Many profile-writers have noted that his critics won't speak on the record for fear of vendettas. Iain Martin, the Telegraph's former comment editor, remembered ''talk of him being someone who should not be crossed'' and was shocked by the cruelty of his mob-like followers, which included rape threats and doxing.

Yiannopoulos found his stepping stone to America in Gamergate, an online movement that claimed to campaign for ethics in videogame journalism while subjecting women in the industry to brutal harassment. Unlike older conservatives, Yiannopoulos understood what was bubbling up on platforms such as Reddit and 4chan: a new gamified form of hard-right discourse based not on ideas but on memes, harassment and ''saying the unsayable'', driven by white male resentment toward minorities and so-called ''social justice warriors'', the au courant name for political correctness. It didn't matter that he had recently mocked gamers as ''unemployed saddos living in their parents' basements''. For Milo, Gamergate was an exciting new front in the culture wars and the career boost he craved.

As an informal movement, Gamergate didn't have a figurehead so Yiannopoulos gave himself the job and turned into an outlaw antihero. Gamergate's activists and opponents both agreed that without his advocacy the movement would have fizzled out. Profile-writers and shows such as Newsnight expanded his celebrity beyond the internet. Young, handsome, charismatic and eloquent '' the writer Laurie Penny called him ''a charming devil and one of the worst people I know'' '' he was far more alluring to the media than, say, James Delingpole.

Milo Yiannopoulos speaking on campus at the University of Colorado in Boulder, Colorado in January 2017. Photograph: Jeremy Papasso/APYiannopoulos preached the topsy-turvy gospel of the ''alt-right'': liberals, feminists and people of colour were the oppressors and bigotry was a rebel yell. ''I always thought journalism was about sticking up for the many against the powerful few,'' he told Fusion in 2015. Yet in the same interview he implied it was all a show: ''I didn't like me very much and so I created this comedy character. And now they've converged.'' Whenever he gets into trouble, he blames the character. On Monday, he attributed his justification of child abuse to his ''usual blend of British sarcasm, provocation and gallows humour''. Last year, he flippantly told Bloomberg Business Week: ''I'm totally autistic or sociopathic. I guess I'm both.''

In 2015 Yiannopoulos spotted his next opportunity, and perhaps a kindred spirit, in Donald Trump, a man he calls ''Daddy''. (He rarely speaks to his own parents.) With Trump, the backlash against political correctness went nuclear and via Bannon's Breitbart, Yiannopoulos became a far-right hero and gleeful scourge of liberal ''snowflakes''. The Southern Poverty Law Center calls him ''the person who propelled the alt-right movement into the mainstream''.

Most people who are no-platformed or shamed on Twitter didn't set out to inspire outrage, but outrage is Yiannopoulos's lifeblood; without it, he is nothing. He boasted that being banned from Twitter made him more famous than ever, and endeared himself to mainstream conservatives when protesters shut down his appearance at UC Berkeley on 1 February. (At previous campus events, he had targeted individual students for harassment.) Even Trump, the US's first troll-in-chief, tweeted his support. CPac billed him as a ''brave conservative standard-bearer'' and an ''important perspective'', not because he said anything valuable but because protesters hated him. That's the level to which the debate over free speech has sunk.

So what is his ''important perspective''? What does he stand for? It's telling that he was banned from Twitter (no easy feat) for ringleading a campaign of harassment against actor Leslie Jones for the crime of daring to appear in the female-led reboot of Ghostbusters '' hardly a vital cause. He is a gay man who hates the gay rights movement. A libertarian who calls an authoritarian president ''Daddy''. A vigorous opponent of Black Lives Matter who says he can't be racist because ''I just like fucking blacks''. A self-styled second-wave feminist who sells hoodies reading ''Feminism is cancer''. A conservative pin-up who claims: ''I don't care about politics.'' A writer and speaker who claims his provocative statements are just ''facts'' while celebrating the ''post-fact era''. Penny wrote that she wouldn't debate him in public, ''because I know I'll lose, because I care and he doesn't '' and that means he has already won''. If he is indeed a supervillain, then he's Ben Kingsley's character in Iron Man 3: a shallow, amoral actor who plays the bad guy for money.

How was this smirking void ever taken seriously? He had enablers. Not just CPac, Breitbart and Simon & Schuster, but his editors at the Telegraph, magazines who cooed over him, and every TV producer who booked him to say something outrageous while batting his eyelashes like Princess Diana. Like Trump, he is the logical outcome of a grotesque convergence of politics, entertainment and the internet in which an empty vessel can thrive unchecked by turning hate speech into showbusiness. Well, until now. Until the clown prince of outrage finally outraged the wrong people.

''Everyone who knows Milo has been absolutely shocked by his rise,'' his friend James Cook told Fusion in 2015. ''I think we're all scared that one day he's going to go a bit too far.'' Milo's true nature has been obvious for years. The vanity, the cynicism, the bullying, the financial skulduggery, the hate speech, the harassment '' they're all public knowledge. Even the incriminating podcast interview came out a year ago. It's too late to act shocked. Doubtless his fans will stand by him in the mistaken belief that he actually cares about them, but his high-profile enablers should be asking themselves why they have only now decided that Milo Yiannopoulos has gone too far. It takes a village to raise a monster.

The Reagan Battalion - HOME

Thu, 23 Feb 2017 05:48

''•

The 96 hours that brought down Milo Yiannopoulos

Thu, 23 Feb 2017 05:46

Self-described troll and conservative writer Milo Yiannopoulos resigned from Breitbart News on Feb. 21, but his far-right speeches and provocative comments aren't going anywhere. (Peter Stevenson/The Washington Post)

Before Milo Yiannopoulos gained (and lost) a Conservative Political Action Conference (CPAC) invitation, a book deal and a job, the now-former Breitbart News writer had already said and written many offensive things. That's his appeal to the people who admire and elevate him: ''Milo,'' the personality, is built on the idea of triggering liberals. His Breitbart archives contain a regular stream of articles arguing all sorts of things designed to demean and offend: that feminism makes women ugly, that he would prefer it if teenagers self-harmed rather than discuss trans issues on Tumblr, and that women will be happy only if we ''un-invent'' the birth control pill and the washing machine.

None of these things, including the fact that the writer had already been banned from Twitter for, the platform said, inciting harassment against actress Leslie Jones, stopped Yiannopoulos from becoming a voice that CPAC felt was of value to their movement on free-speech grounds. Or for that matter, from appearing on Bill Maher's HBO show and finding common ground with the more liberal comedian. Those opportunities for Yiannopoulos came right after the University of California at Berkeley canceled a speaking engagement of his because of intense protests '-- gaining him at least one indirect tweet from President Trump.

But about 96 hours after his appearance on Maher's ''Real Time'' program, Yiannopoulos's most considerable step yet toward leaving his alt-right adjacency and entering into mainstream conservative discourse, he became a castaway.

Yiannopoulos resigned from Breitbart on Tuesday. The day before that, he lost his book deal with Simon & Schuster, and his invitation to speak at CPAC was rescinded. The reason, as CPAC put it, was ''the revelation of an offensive video in the past 24 hours condoning pedophilia.'' That's in reference to a series of videos that the Reagan Battalion, a conservative site, tweeted out days ago, showing examples of Yiannopoulos's past comments on pedophilia and consent. Yiannopoulos has claimed that the videos were ''selectively edited'' to make it appear as if he was defending child abuse, and that their release was part of a ''co-ordinated effort to discredit me.''

Here is a rough timeline of how Yiannopoulos went from a breakthrough moment to the opposite in a matter of days.

Friday night, Feb. 17, 10 p.m.: Yiannopoulos appears on ''Real Time with Bill Maher.'' The two sit down for a one-on-one interview, which is mostly friendly. The interview follows days of controversy over the very fact that Yiannopoulos is appearing on the show at all. He also sits down for a panel discussion with Maher's other guests. It is substantially less chummy.

Saturday, Feb. 18, 1:40 p.m.: Matt Schlapp, chairman of the American Conservative Union, announces that Yiannopoulos will be a speaker at CPAC:

In the minutes following, several prominent conservative writers and leaders start to protest the decision on Twitter, pointing to Yiannopoulos's long history of remarks that, in their opinion, don't fit with the values of CPAC.

Sunday, Feb. 19, 2:30 a.m.: The Twitter account for the conservative blog Reagan Battalion, which had been tweeting and re-tweeting criticism of CPAC's invitation to Yiannopoulos, tweets a link to a video interview between Yiannopoulos and Joe Rogan, saying that it shows him ''defend [ing] pedophilia and pedophiles.'' In the 2015 clip, Yiannopoulos discusses a parish priest who had a sexual relationship with him when he was a teen, declines to name the priest, and says, ''It was perfectly consensual.'' He adds: ''When I was the 14, I was the predator.''

Sunday, Feb. 19: 11 a.m.: The Reagan Battalion tweets out another video, which edits together several of Yiannopoulos's more controversial remarks. It includes a long segment from a separate statement Yiannopoulos has made about pedophilia in the past.

That statement comes from a January 2016 episode of the podcast Drunken Peasants, in which Yiannopoulos appears to defend sexual relationships between adults and ''younger boys'' in their teens.

Specifically, he says: ''Some of those relationships between younger boys and older men, the sort of coming-of-age relationships, the relationships in which those older men help those young boys to discover who they are, and give them security and safety and provide them with love and a reliable and sort of a rock where they can't speak to their parents.''

''I'm grateful for Father Michael,'' he said, in what appears to be an attempt at a joke. ''I wouldn't give nearly such good [oral sex] if it wasn't for him.'' He then argues that ''pedophilia is attraction to children who have not reached puberty. Pedophilia is attraction to people who don't have functioning sex organs yet who have not gone through puberty,'' and not someone who is 13 years old and ''sexually mature.''

The videos start to gain traction, and soon the outrage about Yiannopoulos starts to focus on these statements.

It starts to appear the writer is becoming the subject of a tactic he helped to popularize, that is, making noise about your opponents until it becomes unavoidable. In his case, the noise he began about one of his ''enemies'' could escalate into mob abuse. That's why he was banned from Twitter months ago, after the platform said he broke their rules against inciting harassment.

[Just how offensive did Milo Yiannopoulos have to be to get banned from Twitter?]

In July, Yiannopoulos mocked actress Leslie Jones as she received an onslaught of viciously racist tweets. The harassment, it seemed, stemmed from the fact that she was one of the co-stars of the ''Ghostbusters'' remake. In one tweet, Yiannopoulos shared faked screenshots that made it appear as if Jones had tweeted profane and offensive things. Yiannopoulos called his suspension from the platform ''cowardly'' and disputed that he was directly involved in the harassment.

His use of Twitter was an extension of the sort of journalism for which he was known: opposition research-style investigations into the personal lives of people he sees as enemies, with the intention of discrediting them. His Breitbart archives include articles based on unverified claims that social justice activist Shaun King, who identifies as biracial, is lying about his ethnicity. King has said that the evidence cited by Yiannopoulos and other conservative writers is incorrect, and that the reports are ''lies.'' He has also written similar pieces, framed as expos(C)s, about several feminist activists. At a December campus visit to University of Wisconsin at Milwaukee, he spent time during a speech there to mock a transgender student by name, displaying her photograph on a screen.

Sunday, Feb. 19, 9 p.m.: Yiannopoulos posts a statement denying that his remarks were a defense of pedophilia. It reads, in part:

The videos do not show what people say they show. I *did* joke about giving better head as a result of clerical sexual abuse committed against me when I was a teen. If I choose to deal in an edgy way on an internet livestream with a crime I was the victim of that's my prerogative. It's no different to gallows humor from AIDS sufferers.

The rest is here.

Sunday, Feb. 19: 9:45 p.m.: CNN's Jake Tapper starts tweeting about the videos:

In response, Yiannopolos offers to go on Tapper's show to ''clear all this up.''

Monday, Feb. 20, 1 p.m.: CPAC announces that Yiannopoulos will no longer be speaking at CPAC.

Monday, Feb. 20, 1:30 p.m.: Yiannopoulos releases another statement on Facebook, which reads, in part:

''I've repeatedly expressed disgust at pedophilia in my feature and opinion writing. My professional record is very clear.

But I do understand that these videos, even though some of them are edited deceptively, paint a different picture.

I'm partly to blame. My own experiences as a victim led me to believe I could say anything I wanted to on this subject, no matter how outrageous. But I understand that my usual blend of British sarcasm, provocation and gallows humor might have come across as flippancy, a lack of care for other victims or, worse, ''advocacy.'' I deeply regret that. People deal with things from their past in different ways.''

The rest of that statement is here.

Monday, Feb. 20, about 5:15 p.m.: Simon & Schuster cancels Yiannopoulos's book. Meanwhile, discussions are reportedly building at Breitbart about Yiannopoulos's future there. Here's what Dave Weigel and Robert Costa reported for us at the time:

By late Monday afternoon, there were ongoing discussions at Breitbart about Yiannopoulos's future at the company, according to two people familiar with the organization who were not authorized to speak. Inside the newsroom, several staffers made clear to senior leadership that they felt uncomfortable and may decide to leave if he stays, the people said. There was also an aggressive liberal campaign to get advertisers to quit Breitbart News.

Tuesday, Feb. 21, 2:30 p.m.: Shortly before a news conference, Yiannopoulos announces that he is resigning from Breitbart.

''Breitbart News has stood by me when others caved. They have allowed me to carry conservative and libertarian ideas to communities that would otherwise never have heard them,'' Yiannopoulos said in a statement. ''They have been a significant factor in my success. I'm grateful for that freedom and for the friendships I forged there.''

''I would be wrong to allow my poor choice of words to detract from my colleagues' important reporting, so today I am resigning from Breitbart, effective immediately. This decision is mine alone.''

At 3 p.m., he held a news conference.

More reading:
Alternate Universes

-------------------------------------------------------------------------------------------------------------

New Book 'The Pumpkin And The Pantsuit' Explains The 2016 Election To Kids | The Huffington Post

Mon, 20 Feb 2017 14:28

''How do I explain this election to my kids?'' For many parents, that was the question reverberating in their heads on Nov 9th, 2016 and for the months afterward.

Now a new kids' book called The Pumpkin And The Pantsuit, the brainchild of a San Francisco advertising agency barrettSF, aims to answer that question in a simple format kids can understand.

''Our inspiration was two-fold,'' Jamie Barrett, one of the book's authors and Executive Creative Director at barettSF, told The Huffington Post. ''The first was witnessing Donald Trump pull off the unthinkable and become the president of our country. The second was the question posed by Van Jones, 'How do I explain this election to my children?' We thought it was a good question, and tried to come up with an answer.''

The children's book was conceived of by the employees of barretSF, a few of whom '-- Todd Eisner, Jamie Barrett and Pete Harvey '-- wrote the story. It was illustrated by the STUDIO in New York. The book was self-published three days before Inauguration Day, just two months after they had the idea.

The book's subtitle reads ''Based on a true story,'' and it's not hard to see how the narrative relates to the 2016 presidential election. ''A short, short time ago in a land not very far away, there lived a Pumpkin and a Pantsuit,'' it begins. ''The Pumpkin and The Pantsuit each had the same, shiny dream. They both wanted to live in a big white house.''

barrettsf

barettSF

The inspiration for the characters is clear. Mike Ocasio, the lead illustrator on the project, told HuffPost, ''The Pumpkin's headspace was easy to access: He's a petulant bully who desperately craves attention. The Pantsuit is a more complex character and the true protagonist. She's peppy and a bit of an overachiever seeking validation from her peers.''

The story goes on to tell the tale of the Hillary Clinton and Donald Trump stand-ins and how they campaigned for president by ''making speeches,'' ''answering questions'' and ''telling everyone what they believed in.''

barettSF

barettSF

Of course, Election Day comes and the Pumpkin wins the election and becomes president. And while the book notes that many people felt ''bummed out,'' ''bewildered'' and ''befuddled,'' the book ends on a positive note, reminding us that The Pantsuit has ''inspired the little pantsuits to believe that some day, very soon, one of them would live in the big white house.'' The dedication page reads, ''Dedicated to everyone who isn't giving up.''

While the book is for children, the creators hope that parents get a sense of hope and catharsis out of it as well.

''For children, this message could be as simple as it sounds. You won't always win, but you never lose as long as you don't give up. Keep going, keep trying, keep believing,'' Todd Esiner, one of the book's authors and Creative Director at barettSF, told HuffPost. ''For parents, the message may be a bit more pointed. The Pumpkin may not be the president you wanted to see, but look for the positive. Hillary Clinton may not have 'won,' but she inspired. The future is still everyone's to shape, so carry on.''

barretSF

The Pumpkin and the Pantsuit is available for $12 on Amazon, and all proceeds go to the Children's Defense Fund.

-------------------------------------------------------------------------------------------------------------

A Medical Theory for Donald Trump's Bizarre Behavior | New Republic

Mon, 20 Feb 2017 19:25

Al Franken recently raised a provocative question about Donald Trump: Is he mentally ill? On HBO's Real Time with Bill Maher last week, the Minnesota senator claimed that some of his Republican colleagues have ''great concern about the president's temperament,'' adding that ''there's a range in what they'll say, and some will say that he's not right mentally. And some are harsher.'' Two days later, he told CNN's Jake Tapper, ''We all have this suspicion that'--you know, that he's not'--he lies a lot'...And, you know, that is not the norm for a president of the United States, or, actually, for a human being.''

Franken is not alone in his suspicions. Last year, Jeb Bush said of his Republican primary opponent, ''I'm not a psychiatrist or a psychologist, but the guy needs therapy.'' Senator Bernie Sanders recently called Trump ''delusional in many respects, a pathological liar.'' And Congressman Ted Lieu, a California Democrat, is introducing legislation that would require the White House to have a psychiatrist on staff. ''I'm looking at it from the perspective of, if there are questions about the mental health of the president of the United States, what may be the best way to get the president treatment?'' he told the Huffington Post.

Meanwhile, a debate is raging among mental health professionals about Trump's mental state, and whether it's unethical of them to speculate publicly about someone whom they haven't examined (doing so violates psychiatrists' code of ethics, the relevant section of which is called ''the Goldwater rule'' because of its association with a magazine survey of psychiatrists about Barry Goldwater, the Republican presidential nominee, in 1964). One online petition with nearly 24,000 signatures calls for Trump's removal because he ''manifests a serious mental illness that renders him psychologically incapable of competently discharging the duties of President.'' Another with 36,000 signatures declares that ''Trump appears unable to control his compulsion and displays characteristics of all nine criteria to officially diagnose an individual with Narcissistic Personality Disorder.''

Physicians like me have also taken notice of Trump's bizarre, volatile behavior. Given our experience, we can't help but wonder if there's a medical diagnosis to be made. After all, many medical conditions exhibit their first symptoms in the form of psychiatric issues and personality changes. One condition in particular is notable for doing so: Neurosyphilis.

Syphilis, a sexually transmitted infection, is sometimes referred to as ''The Great Imposter'' because of its ability to mimic many other conditions. Itis commonly broken down into three stages. Primary syphilis is the most widely recognized form of the disease. It is characterized by the development of an ulcer, usually genital, a few weeks to a few months after sexual contact with an infected person. If the ulcer is not noticed, or not treated, it heals on its own, and the disease enters a dormant phase. But during this time, the bacteria'--a spirochete calledTreponema pallidum'--spreads throughout the body without causing any symptoms.

A secondary stage of the disease is seen in some patients weeks or months later. These patients may develop a variety of systemic symptoms, such as rash, fever, and swollen glands. If not treated, the infection enters a prolonged latent phase, which can last decades. During this time, it is asymptomatic and it is not contagious. In some cases, this is followed by a tertiary stage, which is the most serious and may involve any organ in the body. It is seen 10 to 30 years after the initial infection, and is best known for causing neurologic and neuropsychiatric disease: Neurosyphilis.

The symptoms of neurosyphilis are protean, varying widely from one individual to another. Commonly recognized symptoms include irritability, loss of ability to concentrate, delusional thinking, and grandiosity. Memory, insight, and judgment can become impaired. Insomnia may occur. Visual problems may develop, including the inability of pupils to react to the light. This, along other ocular pathology, can result in photophobia, dimming of vision, and squinting. All of these things have been observed in Trump. Dementia, headaches, gait disturbances. and patchy hair loss can also be seen in later stages of syphilis.

Does Trump suffer from this condition? I cannot, of course, establish this diagnosis from a distance. There's a great deal of information I don't have access to, which could be critical in reaching the correct conclusion. In Trump's case, there are many diagnostic possibilities, and we have very little background information because the slim medical summary he released was vague, unverifiable, and possibly outdated.

On the other hand, every time I see a new patient, he or she comes to me with incomplete information, or sometimes no information at all. Part of my training is to ask the right questions to get a sense of what the problem might be and make a list of possible diagnoses that could explain the problem. This is called the ''differential diagnosis.'' From there, additional questions, examinations, and tests are performed that narrow down the list, usually to one unifying diagnosis.

Trump poses with Miss America contestants on his yacht in Atlantic City, New Jersey, in 1988.JACK KANTHAL/ASSOCIATED PRESSGiven the limited information available, neurosyphilis belongs in the differential diagnosis. We know Trump was potentially exposed to syphilis based on his own statements that he was sexually promiscuous in the 1980s, a period when syphilis cases were rapidly increasing in the U.S. ''I've been so lucky in terms of that whole world,'' he told Howard Stern in 1997, referring to his dating life the decade prior. ''It is a dangerous world out there'--it's scary, like Vietnam. Sort of like the Vietnam era. It is my personal Vietnam. I feel like a great and very brave solider.''

If indeed Trump has neurosyphilis, he'd be in famous company. Al Capone had it. So did composers Frederick Delius and Franz Schubert. Many others were suspected of having it, including Hitler, Mussolini, and Ivan the Terrible. What might enable us to eliminate Trump from this group? Two simple blood tests, in combination, can determine whether a patient has syphilis now or had it in the past. If both tests are negative, then he doesn't have neurosyphilis. If one or both tests are positive, further evaluation, probably including a spinal tap, would be in order.

The importance'--both to Trump and the nation'--of establishing or ruling out this diagnosis cannot be overstated, because this infection is treatable. Without treatment, however, the disease is progressive: It can make for a rather ugly end to one's life.Whether Trump emerged unscathed from his ''personal Vietnam'' is now a question that he should explore with his personal physician.

Long-winded speech could be early sign of Alzheimer's disease, says study | Society | The Guardian

Thu, 23 Feb 2017 03:05

Sherman cites studies of the vocabulary in Iris Murdoch's later works, which showed signs of Alzheimer's years before her diagnosis. Photograph: Daily Mail/Rex/Shutterstock

Rambling and long-winded anecdotes could be an early sign of Alzheimer's disease, according to research that suggests subtle changes in speech style occur years before the more serious mental decline takes hold.

The scientists behind the work said it may be possible to detect these changes and predict if someone is at risk more than a decade before meeting the threshold for an Alzheimer's diagnosis.

Janet Cohen Sherman, clinical director of the Psychology Assessment Center at Massachusetts General Hospital, said: ''One of the greatest challenges right now in terms of Alzheimer's disease is to detect changes very early on when they are still very subtle and to distinguish them from changes we know occur with normal ageing.''

Speaking at the American Association for the Advancement of Science in Boston, Sherman outlined new findings that revealed distinctive language deficits in people with mild cognitive impairment (MCI), a precursor to dementia.

''Many of the studies to date have looked at changes in memory, but we also know changes occur in language,'' she said. ''I'd hope in the next five years we'd have a new linguistic test.''

Sherman cites studies of the vocabulary in Iris Murdoch's later works, which showed signs of Alzheimer's years before her diagnosis, and the increasingly repetitive and vague phrasing in Agatha Christie's final novels '' although the crime writer was never diagnosed with dementia. Another study, based on White House press conference transcripts, found striking changes in Ronald Reagan's speech over the course of his presidency, while George HW Bush, who was a similar age when president, showed no such decline.

''Ronald Reagan started to have a decline in the number of unique words with repetitions of statements over time,'' said Sherman. ''[He] started using more fillers, more empty phrases, like 'thing' or 'something' or things like 'basically' or 'actually' or 'well'.''

Worsening ''mental imprecision'' was the key, rather than people simply being verbose, however. ''Many individuals may be long-winded, that's not a concern,'' said Sherman.

Sherman and colleagues had initially set out to test the ''regression hypothesis'', the idea that language is lost in a reverse trajectory to how it was acquired during childhood, with sophisticated vocabulary being the first thing to go.

The hypothesis turned out to be wrong, but the team did find that dementia is accompanied by characteristic language deficits. In a study, the scientists compared the language abilities of 22 healthy young individuals, 24 healthy older individuals and 22 people with MCI.

When given an exercise in which they had to join up three words, for instance ''pen'', ''ink'' and ''paper'', the healthy volunteers typically joined the three in a simple sentence, while the MCI group gave circuitous accounts of going to the shop and buying a pen.

''They were much less concise in conveying information, the sentences they produced were much longer, they had a hard time staying on point and I guess you could say they were much more roundabout in getting their point across,'' said Sherman. ''It was a very significant difference.''

In another test, people were asked to repeat phrases read out by the investigator. Complex vocabulary or grammar was not a problem, but those with MCI appeared to have a mental block when they were given phrases involving ambiguous pronouns, such as ''Fred visited Bob after his graduation'', which the scientists said required more mental agility to assign a meaning.

The prospect of an effective treatment for Alzheimer's has had knockbacks in the past year as a string of drugs designed to sweep away the amyloid plaques seen in the brains of patients have each been shown to make no difference to the rate of cognitive decline in trials. Between 2002 and 2012, 99.6% of drugs studies aimed at preventing, curing or improving Alzheimer's symptoms were either halted or discontinued.

Some believe that these failures may be, in part, because by the time Alzheimer's is diagnosed, the disease has already caused irreparable damage to the brain, making it too late for treatment to help.

''So we are trying to push the detection period back to the very subtle, early changes in in Alzheimer's disease,'' said Sherman.

There are 850,000 people with dementia in Britain and this figure is expected to reach 1 million by 2025. Last year, dementia overtook heart disease as the leading cause of death in England and Wales.

-------------------------------------------------------------------------------------------------------------

11-Year-Old Grade Dropped For Not Bashing Trump

Tue, 21 Feb 2017 11:09

To say that some people dislike Donald Trump may well be the understatement of the year. It's hard to imagine any duly elected president seeing so many protests in his first two months in office, yet here we are.

It's so bad that now an 11-year-old in Annadale, New York, was docked 15 points on a homework assignment because she failed to answer a question demanding students bash Trump:

Vincent Ungro, a dad from Annadale, New York, has an 11-year-old daughter who attends I.S. (Intermediate School) 75. She asked him for help with her vocabulary homework last Friday night because she was trying to fill in the blanks from a word bank to complete her assignment -- and was really puzzled.

''President Trump speaks in a very superior and _________ manner insulting many people. He needs to be more __________ so that the American people respect and admire him,'' read one homework sentence.

The next question was: ''Barack Obama set a _________ when he became the first African-American president.''

And what were the choices for the two questions, you ask? These three words: ''haughty,'' ''humble,'' and ''precedent.'' You can guess which ones were meant to be the ''correct'' answers in this teacher's mind.

Ungro, 46, told his daughter not to fill in those blanks -- and wrote a note to the teacher, Adria Zawatsky, on the homework sheet, as The Post noted. ''Please keep your political views to yourself and do not try to influence my children on them. Thank you,'' he wrote.

The teacher docked the points -- which Ungro called "vindictive."

The teacher emailed Ungro and defended her question, stating that she was addressing his personality rather than his ability to serve in the office of president. She went on to add that the media makes similar references to Trump, and that she believes she has the same right.

Unfortunately, people can either stop reading or change the channel when the media pontificates in an unwelcome way. An 11-year-old can't.

-------------------------------------------------------------------------------------------------------------

Historian says Trump's presidency likely to be second shortest in history

Tue, 21 Feb 2017 11:12

Donald Trump could be the first president to be successfully impeached, according to Professor Ronald L. Feinman.REUTERS/Kevin Lamarque

Donald Trump's presidency is likely to be the second shortest ever, a leading historian and author has claimed.

Professor Ronald L Feinman predicted that the former reality TV star will stay in the top job "between the 31 days of William Henry Harrison in 1841," who died pneumonia and the "199 days of James A. Garfield in 1881," who died 79 days after he was shot by an assassin "after terrible suffering and medical malpractice."

Even if his time in office is "dragged out," Feinman predicted that Trump is unlikely to last the 16 months and 5 days of 12th president Zachary Taylor, who died of a digestive ailment while Head of State in 1850.

The 20th-century American history professor, who recently published a book about the unfortunate fates of US leaders, added that he thought the "Pence Presidency" was inevitable. He was referring to Trump's Vice President, Mike Pence, who would take over if Trump was to leave the leadership.

In a blog post, he added that he thought it was likely that Trump will be impeached or forced to resign in a matter of weeks.

Feinman predicts Trump won't last as long as President James A. Garfield, who died 199 days into office.Wikimedia

His prediction comes shortly after the White House admitted the President was told several weeks ago that his National Security Adviser Michael Flynn had not told the truth about a telephone call with a Russian diplomat.

The news fuelled broader concerns about his closeness to Russian President Vladimir Putin and the role his country may have played in helping Trump's election.

Feinman, who teaches at Florida Atlantic University, suggested the businessman turned politician is more generally unsuitable for office.

"Many foreign policy professionals are shaking their head at Trump's inappropriate behavior and language every time he speaks in public, or issues a Twitter comment, and his instability and recklessness," he said, citing Trump's decision to hold a security meeting over the North Korean missile test in a public space in earshot of other people as "a sign of his failure to act responsibly."

"The fact that Vice President Mike Pence played a major role in pushing Flynn out is a sign that Pence is already asserting himself with Trump," he said, adding the Vice President often appears uncomfortable with Trump's "freewheeling and careless behavior."

No US president has ever been successfully impeached, although an attempt was made to Bill Clinton but he was acquitted by the Senate.

Richard Nixon also resigned before he could be impeached for serious wrongdoing in the Watergate scandal.

-------------------------------------------------------------------------------------------------------------

Donald Trump moving forward with plans to kill National Endowment for the Arts, PBS and NPR | Consequence of Sound

Wed, 22 Feb 2017 16:58

Next month, the Trump administration is expected to reveal its proposed federal budget for 2018. As many have feared, federally funded arts programs are on the chopping block.

According to the New York Times, the White House budget office has compiled a list of nine programs worthy of elimination. Among them: the National Endowment for the Arts, the National Endowment for the Humanities, and the Corporation for Public Broadcasting. A final budget '-- including a list of the eliminated programs '-- is expected around March 13th.

Funding for the national endowments currently makes up a minuscule portion '-- 0.003% (!) '-- of the nearly $4 trillion federal budget. In 2016, the NEA and NEH each received $148 million, money which provides crucial government grants for arts education and enrichment programs.

The Corporation for Public Broadcasting supports PBS, NPR, and other public TV and radio outlets. Its annual budget stands at less than $500 million.

If that sounds like peanuts, that's because it is. It's all the more striking when visualized in pie chart form, as The Washington Post has done:

Nevertheless, conservatives have long targeted these programs, and under a Trump presidency, they may finally get their wish. Stephen Moore, a Heritage Foundation economist who serves as an advisor to President Trump, told the Times, ''I think it's an important endeavor to try to get rid of things that are unnecessary. The American public has a lot of contempt for how government is run in Washington, in no small part because there is so much waste.'' For what it's worth, in his first month in office, Trump wasted $11.3 million of tax payers' money playing golf in Florida on three consecutive weekends.

When it first came apparent that Trump was eyeing an elimination of the NEA, NEH, and CPB, we launched a petition through the White House's We the People portal. Despite accruing over 100,000 signatures, the White House has yet to formally respond to the petition. Repeated emails to the White House press office have also gone unanswered.

Previous Story

Oscars 2017 Predictions: Who Should Win, Who Will Win

Next Story

Kyle Chandler to play Millie Bobby Brown's father in Godzilla movie

-------------------------------------------------------------------------------------------------------------
Migrants

-------------------------------------------------------------------------------------------------------------

Petition · J.K. Rowling: Petition for J.K. Rowling to take in muslim refugees in her 18 spare bedrooms · Change.org

Mon, 20 Feb 2017 16:23

J.K. Rowling has often announced her solidarity with Middle-Eastern refugees on twitter. She is well-known advocate of open borders and often stated, that Europe has the duty to give every single one of these refugees from all over the middle east, rarely warzones, asylum and welfare. Everyone who represented a different opinion was viciously attacked by her, and she is not alone. Many other multi-millionaires and billionaires seem to be fond of virtue-signaling about refugees. Since she is a sheltered member of the rich elite, who is very much disconnected from the ugly reality of rape, murder and destruction which many of these refugees bring with them, we think that it is time for her to show some true solidarity. J.K. Rowling has 18 spare bedrooms in her mansions in Britain and could easily give 18 refugees a long-time housing, not to mention the space available on her giant property to erect refugee shelters.

The refugee crisis will require 250000 homes to be built every year in her homeland Britain. Helping refugees in Europe will cost 10 times as much as helping them in neighbouring countries would. Donations by the superrich, even in the millions, are a drop in the ocean, as the taxpayer will have to pay billions for the following decades. Elites, that echo the MSM narrative, defending open borders, are hypocrites that will never share the outlook of the working class, which has to encounter refugees every day. So let's bring one of the loudest virtue-signaling apologists of globalism back to reality and give her some new roommates.

We demand that J.K. Rowling grants no less than 18 refugees shelter in her mansions for at least 8 years. She rejects safe immigration, which is why we also demand, that there will be no additional vetting process for these refugees. Her virtue-signaling stems from ignorance, and the 100% effective cure of it will be this drastic change of perspective. To make this group of refugees representative of the situation Europe, we also demand that the group consists of 14 men and 4 women, since over 75% of the millions of refugees are male.

-------------------------------------------------------------------------------------------------------------

In election year, Germany to tap asylum-seekers' phones for ID checks

Mon, 20 Feb 2017 18:59

BERLIN The German government has drafted a law to allow authorities to tap into the phone and computer data of asylum-seekers if there are doubts about their nationalities - an unusual move in a country where data protection is sacred.

According to a draft of the bill obtained by Reuters, officials at the Federal Office for Migration and Refugees (BAMF) will receive legal clearance to scan the cellphones, tablets and laptops of applicants for asylum.

BAMF officials have said many present false documents in the hope of being granted asylum. Some have no documents.

The Interior Ministry, which hammered out the draft with the Justice Ministry, estimated that more than 50 percent of the 280,000 asylum applications in 2016 should have undergone closer scrutiny, such as an examination of phone data.

They were not, because officials did not have the legal authority to do it. Officials have instead resorted to language experts to try to determine the true origins of applicants.

"We need to establish the identities of the applicants," said Volker Bouffier, state premier in Hesse and a conservative ally of Chancellor Angela Merkel. "To eliminate any doubts of a person's origin, we need to use all information available."

The measure is one of several steps Merkel's government has taken to demonstrate its determination to crack down on abuse of the country's liberal asylum rules.

More than a million migrants have flooded into Germany in the last 18 months. Public support for refugees remains high but reports of abuse have alarmed voters and political leaders.

Germany goes to great lengths to protect data privacy following the abuses of the Gestapo in the Third Reich and the Stasi security police in Communist East Germany.

Merkel, fighting a tight battle to win re-election for a fourth term on Sept. 24, is under pressure from her party's right wing to win back conservative voters by cracking down on abuse.

An Interior Ministry spokesman, Johannes Dimroth, said Merkel's cabinet was likely to endorse the measure within weeks.

There are currently 213,000 asylum seekers whose applications have been rejected and are awaiting deportation but who have been allowed to stay temporarily for a variety of reasons.

On Sunday, a Merkel ally said Germany deported a record 80,000 migrants denied asylum last year and that figure would rise in 2017. Nearly half of 700,000 asylum requests made in 2016 were rejected, according to chief of staff Peter Altmaier.

(Additional reporting by Thorsten Severin; editing by Andrew Roche)

Next In World NewsEU welcomes Pence assurance of Trump's supportBRUSSELS U.S. Vice President Mike Pence assured the European Union in Brussels on Monday that the Trump administration will develop their cooperation in trade and security and backs the EU as a partner in its own right.

Norway pledges $10 million to counter Trump's global anti-abortion moveOSLO Norway has joined an international initiative to raise millions of dollars to replace shortfalls left by U.S. President Donald Trump's ban on U.S.-funded groups worldwide providing information on abortion.

Turkish soldiers accused of trying to kill Erdogan go on trialMUGLA, Turkey Prosecutors called for life sentences for more than 40 Turkish soldiers on Monday at the start of their trial for attempting to assassinate President Tayyip Erdogan during last year's failed coup, according to the indictment obtained by Reuters.

-------------------------------------------------------------------------------------------------------------

Swedish veteran cop rants about immigrant crimes on Facebook, ignites nationwide row '-- RT News

Tue, 21 Feb 2017 11:58

A Swedish police investigator triggered a media tsunami with a Facebook post linking violent crimes with immigrants. Peter Springare received an outpouring of support from fellow officers and common Swedes, as well as some accusations of racism.

Springare is a senior investigator at the serious crimes division at the –rebro Police Department with 47 years under his belt. In the Saturday post he said what he was going to say would not be politically correct and that saying such things could harm an officer's position or pay grade, but he was about to retire and didn't care.

''Here we go; this is what I've handled from Monday-Friday this week: rape, rape, robbery, aggravated assault, rape-assault and rape, extortion, blackmail, assault, violence against police, threats to police, drug crime, drugs, crime, felony, attempted murder, rape again, extortion again and ill-treatment,'' he wrote.

Read more

''Suspected perpetrators; Ali Mohammed, Mahmod, Mohammed, Mohammed Ali, again, again, again. Christopher'... what, is it true? Yes, a Swedish name snuck in on the edges of a drug crime. Mohammed, Mahmod Ali, again and again,'' he added.

The post goes on to identify the origins of the suspects.

''Countries representing all the crimes this week: Iraq, Iraq, Turkey, Syria, Afghanistan, Somalia, Somalia, Syria again, Somalia, unknown, unknown country, Sweden. Half of the suspects, we can't be sure because they don't have any valid papers. Which in itself usually means that they're lying about their nationality and identity.''

The post steered waves in Sweden and has since received over 36,000 'likes' and 16,000 'shares' by Tuesday. People supporting Springare's words started a group on Facebook with over 75,000 members. Among the people voicing support of the opinion were fellow police officers, both serving and retired.

According to news website Nyheter Idag, the police station where Springare works received at least 60 bouquets of flowers addressed to him on Monday '' a ''bloombomb'' from admirers.

Others were not happy with the investigator's remark, calling him right-wing or even racist. The post was referred to the special prosecutors' office, which handles crimes involving law enforcement, to see whether it violated police regulations, according to Swedish media.

National Police Commissioner Dan Eliasson said that it was important to distinguish what an officer does in the line of duty and outside of it.

''When he acts in his professional capacity, he should be extremely careful with issues of ethnicity. If he wants to talk about the problems of crime among immigrants in his spare time, he has freedom of expression like any other,'' he told P4 Extra radio, adding that he knows Springare as a ''very good person.''

In a second post, Springare denied accusations of right-wing sympathies.

''If you can't discuss the problem of crime among immigrants without somebody attributing it to racist propaganda, we are in deep trouble,'' he said. ''The problem is that nobody wants to talk about this.''

Establishing facts about how crime rates correlate with perpetrators belonging to the immigrant community is not the same thing as branding all immigrants criminals, Springare said explaining his position.

READ MORE: Swedish police lose control amid refugee crisis as number of 'no-go zones' rises to 55

Swedish police reportedly has significant problems tackling crime in some parts of the country. There are allegedly at least 55 areas in Sweden, where the law cannot be fully upheld, which are dubbed 'no-go zones' by the media.

MINA Breaking News - Irony: Migrant Riots in Sweden day after 'Outrage' over Trump Comment

Tue, 21 Feb 2017 11:58

It would appear the fakestream media (along with several celebrities and Swedish politicians) is going to be apologizing to US President Trump once again. As a reminder, Trump this weekend mentioned Sweden has turned into a security mess due to their out of control muslim migration.

Having spent the entire news cycle trying to ignore the massive immigrant crisis facing Sweden, and pin the ignorant tail on Trump, the biggest Swedish daily newspapers, Dagbladet and Expressen report riots breaking out in the highly immigrant concentrated Stockholm borough of Rinkeby, with police firing warning shots as 100s of young muslim migrants threw stones and burned cars.

During the evening hundreds of people gathered in the center of Rinkeby, well known for its high concentration of immigrants and people with immigrant ancestry.

The Swedish leftists politicians who were "outraged" by Trump's statement, claimed Sweden had no issues with migrants and offered their usual liberal lectures, but are now nowhere to be found, their twitter accounts on fire over the weekend, are now silent.

In June 2010, Rinkeby was the scene of riots and attacks against the local police station and Rinkeby is the region in which the '60 Minutes' crew were attacked in 2016.

The problems Sweden faces integrating large numbers of Muslim immigrants is a subject on which Nordstjernan columnist Ulf Nilson has written many times. His warnings of increasing radicalization among Sweden's Muslims '' warnings he started to broadcast a decade ago '' now seem eerily prophetic in light of an Associated Press investigation that found Stockholm to be a breeding ground for jihadists among Swedish Somalis.

According to the AP report, which first ran Jan. 24, an al-Qaida-linked group is busy recruiting anti-government fighters among Somali youths living in Rinkeby. A suburb of Stockholm, Rinkeby has earned the nickname of ''Little Mogadishu'' because of the number of Somalis living there. Rinkeby is also the center of the recruiting efforts of al-Shabab, a group with ties to al-Qaida.

EMS Units are blocked and unable to get in to render assistance to the injured#RInkebyhttps://t.co/X99l8ocbzVpic.twitter.com/fFJfZrVtaI

'-- TrumpTracker (@DaveNYviii) February 21, 2017

Not just police, but EMS is not allowed to enter the neighborhood.Rinkeby is a known problem area in Stockholm. It was here NRK journalist Anders Magnus was attacked with stones last spring, and here the police never go in the evenings without reinforcements from other patrols according to Dabladet. A freelancer the newspaper spoke to, described the situation as serious.

"I've been in some turmoil, but this is something extra. It looks like a war zone here", he was quoted as saying.

Freelance Photographer Janne …kesson has also been at the site Monday night and early Tuesday. "They threw stones at police and police fired warning shots. I got out when it was at its worst" he said to Dagbladet. He added that there were many youths with hoods and hats on.

"It was very chaotic. I have seen much in Rinkeby: they burn cars all the time - unfortunately this was beyond the ordinary."

Zweedse politie slaat alarm: 'Rechtsstaat staat op instorten' - Elsevier.nl

Thu, 23 Feb 2017 13:44

Door de grote toestroom van migranten, de aanwezigheid van criminele bendes en het religieus extremisme staat de rechtsstaat in Zweden 'op instorten'. De Zweedse politie luidt daarom de noodklok.

Hoofdinspecteur Lars Alvarsj¶ in Stockholm waarschuwt dat zijn land met 20.000 politieagenten tot de Europese landen met de minste agenten per hoofd van de bevolking behoort, schrijft de krant Svenska Dagbladet. Daar moeten minstens 10.000 extra agenten bij, vindt de politiechef.

In 2015 nam Zweden inwoner hoogste aantal migranten op van heel Europa: er kwamen 150.000 asielzoekers het land binnen. Hierdoor heeft het gastvrije land uiteindelijk maatregelen moeten treffen, en zijn de grenscontroles bij de grens met Denemarken opnieuw ingevoerd. En met succes, want in januari daalde het aantal asielzoekers dat het land binnenkwam met 90 procent.

BelastToch zorgt dit voor nieuwe problemen bij de politie. Alvarsj¶ wijst naar de Europese migratiecrisis, die een zware druk legt op de politiecapaciteit. Hierdoor kan reguliere criminaliteit minder goed bestreden worden. Politieagenten worden belast met extra taken, zoals grensbewaking, het uitvoeren van immigratiecontroles, en het helpen bij de opvang van migranten.

Andere belangrijke taken, zoals de aanwezigheid bij belangrijke sportevenementen, staatsbezoeken en de prijsuitreiking van de Nobelprijs, komen daardoor in het geding. 'De politie staat op het punt te bezwijken', zegt Alvarsj¶.

Zweden moet niet alleen investeren in extra politiemensen, maar in het gehele rechtssysteem, zegt hij. Door de grootschalige aanwezigheid van criminele bendes zou ook het Openbaar Ministerie de werkdruk niet aankunnen, waardoor leden van bendes vaak vrijuit gaan. Vooral misdrijven die in grote mate voorkomen, zoals inbraak, zouden daardoor nauwelijks onderzocht worden.

Zweedse regering: duizenden overheidsbanen voor migranten

ApathischMagnus Randstorp, onderzoeker aan de Zweedse Defensieacademie, bevestigt de analyse van Alvarsj¶. 'Het hele rechtssysteem wordt bedreigd en Zweden kijkt apathisch toe,' zegt hij tegen de Deense krant Kristeligt Dagblad. De situatie is een 'ramp', vindt Randstorp.

Volgens hem is de oorzaak dat voorsteden met grote groepen allochtonen, hoge werkloosheid, lage opleidingsniveaus en veel radicalisering een te lange tijd zijn genegeerd. 'De gewone Zweed zit in het centrum van de stad en weigert te zien wat er gebeurt. In hun wereld bestaan er geen problemen,' zegt de onderzoeker.

-------------------------------------------------------------------------------------------------------------

World Relief Corp. of National Association of Evangelicals - GuideStar Profile

Thu, 23 Feb 2017 04:18

Program 3

Anti-Trafficking - Cambodia

In 2008, World Relief launched aninitiative to reduce and prevent the exploitation and abuse of women andchildren in Cambodia. It is designed to address the root causes of traffickingof vulnerable adults, adolescents and children through community-leveltraining. The program seeks to stop trafficking before it starts by educatingcommunities and church and village leaders about the dangers of trafficking andthe ways in which the community can work together to prevent it. It empowersvillage members to respond to potential traffickers and teaches them how toseek safe employment when they migrate from the village for work.

Program long term success

40,000children receive anti-trafficking training; 7,500 teenagers receive training onanti-trafficking; 4,000 adults receive training on anti-trafficking; 900community leader participants committed to raising awareness and serving asadvocates in their local community on issues of trafficking prevention.

Program success monitored by

World Reliefmonitors the success of this project by tracking the numbers of children, youthand adults which attend the anti-trafficking training sessions. Interviews aremade within the cell churches and community to identify areas where thetraining messages are understood by their audience and the effect that theyhave on awareness of trafficking and how to prevent it.

Program success examples

Kom Yong grew up in Takeo Provinceduring the Khmer Rouge. Her father left and her mother later died under PolPot's reign. Three of her four siblings died at an early age, but she remainedclose with her older sister, and was joyfully reunited with her after workingand starving in separate camps under The Communist Regime.

Reflecting on the rampant socialissues around her, Kom Yong admitted, ''there are many cases of rape in thearea, especially of migrants.'' She recounted the case of a young girl who hadbeen raped in the village recently. ''This is bad, because children areinnocent. They don't know anything.'' Cases like these raise concern for her,and remind her that they do not live in safety.

''Some tricky people have come to ourvillage,'' continued Kom Yong, ''to take women and force them to work across theborder.'' She described cases of women who she had known, who jumped at theopportunity to make money, but she had heard about their abuse and forcedprostitution, or never heard from them again. She spoke with a dry,matter-of-fact tone that made the truth even more horrifying. These injusticeswere as much a part of every-day life as sweeping out her small wooden house orswatting the malaria mosquitos around her. Each of the deep furrows in her browtold a story of the worry and pain that all of these tragedies had caused.

One man had come to her houseearlier looking for women who wanted to go work in Thailand and make a goodsalary. Kom Yong was desperate for money, but when she inquired further, hetold her that he was only looking for young virgins.

''Some people in our district go towork in Thailand and come back safely, with no abuse,'' said Kom Yong, ''butsometimes they don't.'' Her voice trailed off. There was so much left unsaid,and yet the pain behind her eyes said it all. The tragedies cannot be denied,but the best thing the village can do is spread knowledge of these traps toprevent it from happening in the future. The local authorities have begunspreading information about this prevalent issue.

''It's not just local authority,''said Kom Yong, ''World Relief programs spread a lot of information about it oncea week and I go to those meetings.'' ''They don't just teach. They listen to usalso,'' she continued. She has learned that ''the human traffickers come withsweet words. They try to persuade, manipulate. They promise to give a goodsalary. They promise the girls will go work in a restaurant or somewhere niceand get paid well.'' Imagine the heartbreak that each of these women experienceswhen they get to Thailand and realize that their opportunity of rising out ofpoverty been shattered, along with every shred of dignity and hope in theirlives.From World Relief, Kom Yong learned thatif she sees someone that looks dangerous, or hears about a bad situation, sheshould call services for intervention, to stop the trafficking before it canoccur. At the World Relief staff's suggestion, she now has the phone numbers ofthe police and World Relief written on the beams of her house. The worriedfurrows in Kom Yong's face melted into a smile as she reached towards thesenumbers, this hope in a place of turmoil.

''The teachers help us understand alot of things. If they didn't come to teach, train, and show us this, wewouldn't know any of these things, and the bad things, the tragedies, mighthappen in our lives as well.'' Human trafficking is a true tragedy amongtragedies. The slavery these girls experience feels more confining than the bondageof a Communist war camp, and the words of the traffickers, more conniving thanhidden landmines. Kom Yong does not want to see that happen to her family orvillage members. She is hopeful about the prevention of this tragedy througheducation programs. ''I really appreciate and thank World Relief,'' she said,''and hope they can continue to work so we can learn.''

-------------------------------------------------------------------------------------------------------------
DPRK

North Korean officials are preparing to come to U.S. for talks with former officials - The Washington Post

Mon, 20 Feb 2017 14:27

KUALA LUMPUR, Malaysia '-- Preparations are underway to bring senior North Korean representatives to the United States for talks with former American officials, the first such meeting in more than five years and a sign that Pyongyang sees a potential opening with the Trump administration.

Arranging the talks has become a lot more complicated over the past eight days, with North Korea testing a ballistic missile and the assassination of Kim Jong Un's half brother in Malaysia, an act that many suspect was ordered by the leader of North Korea. Malaysian police on Sunday named as suspects four North Koreans who left the country on the day of the attack.

Analysts also say they highly doubt that Pyongyang, which has insisted on being recognized as a nuclear state, would be willing to moderate its position on its weapons program.

If the talks do take place, they could offer a glimmer of hope for an already-hostile relationship that has only deteriorated as the Kim government works aggressively to develop a nuclear-tipped missile capable of reaching the continental United States.

The planning for the ''Track 1.5'' talks '-- with the U.S. side made up of the former officials who usually take part in Track 2 talks, but the North Korean side composed of government officials '-- is still in a preparatory stage, according to people with knowledge of the arrangements.

The State Department has not approved the North Koreans' visas for the talks, which would take place in New York within the next few weeks.

''The North Koreans have expressed an interest in engagement, but nothing's been approved yet,'' said one person familiar with the preparations, speaking on the condition of anonymity because they were not authorized to discuss them.

Others who have been in touch with North Koreans describe an intense interest in what President Trump might do.

''If this happens, it would be an interesting signal to the new administration,'' one person said of the discussions.

[ Malaysia arrests North Korean man in connection with death of Kim Jong Un's half brother ]

The talks would be the clearest indication yet that Kim wants to talk with the Trump administration. ''If this happens, I would take it as a very positive sign from both sides,'' said another person with knowledge of the arrangements.

In recent years, there have been sporadic Track 1.5 talks that have taken place in Kuala Lumpur, Geneva, Berlin and Ulaanbaatar, Mongolia. But these talks have not taken place in the United States since July 2011, before Kim succeeded his father in North Korea.

The planned talks are being organized by Donald S. Zagoria of the National Committee on American Foreign Policy, who served as a consultant on Asia during the Carter administration and has organized previous rounds of such talks. Zagoria declined to comment on the preparations.

The talks would be run independently of the State Department, where officials have privately questioned the utility of such discussions. But if the administration issued the visas, it would be an implicit seal of approval. And if the discussions go well, they could pave the way for official talks.

Choe Son Hui, the director of the U.S. affairs department in North Korea's Foreign Ministry, is likely to lead the delegation from Pyongyang. She is well known to American officials, having participated in official meetings including the six-party talks on denuclearization, as well as in other Track 1.5 talks.

Choe has a direct line to Kim, according to Thae Yong Ho, the North Korean deputy ambassador to London who defected to South Korea last year.

[ Malaysian airport assassination focuses new attention on N. Korean leader ] ]

Since Trump was elected, there has been a notable change in North Korea's usually bombastic rhetoric.

Pyongyang had been sharply critical of the Obama administration, saying its policy of ''strategic patience'' '-- waiting for North Korea to change its nuclear calculations '-- was ''an aggressive and heinous 'strategic suffocation' policy'' against North Korea.

But in its announcement of its missile launch Feb. 12, the North's state media did not include its usual bluster about needing a deterrent against the United States and its ''hostile policies.''

In his own statement after the launch, Trump notably did not condemn Pyongyang. The new president has, in fact, said very little about how he plans to deal with North Korea. ''North Korea '-- we'll take care of it folks, we're going to take care of it all,'' he said at his news conference last week, without elaborating.

His administration is conducting a review of North Korea policy. This provides space to broaden the options for dealing with Pyongyang and an opportunity to influence the new president, analysts say.

While some expect him to take a hard-line approach, encouraged by hawkish advisers, others say that Trump, who prides himself on making deals, could be open to dialogue with the North Korean regime.

''U.S. policy is hanging in the balance,'' said Adam Cathcart, an expert on North Korea at the University of Leeds in Britain.

''I think the North Koreans ought to be pretty happy, because the Americans have laid off criticizing them too much and have, in fact, been making things quite easy for them,'' Cathcart said. ''But at some point, they are going to have to decide whether to pick up the cudgel.''

[ What life looks like inside North Korea ]

For those favoring an even tougher approach to North Korea, recent events have provided plenty of ammunition.

On Feb. 12, North Korea tested a ballistic missile for the first time since Trump was elected. The missile appeared to show significant technological advances, with upgraded power and range, and could mark another step in the push toward the capacity to hit Alaska or Washington state.

Then, on Feb. 13, Kim Jong Nam, the estranged half brother of the North Korean leader, was attacked and apparently poisoned at Kuala Lumpur International Airport. He died shortly afterward.

Although the investigation is ongoing, the South Korean government has blamed the assassination on Kim Jong Un, who has systematically eliminated potential rivals to his power over the past four years.

Malaysian police have arrested one North Korean man in connection with the attack '-- he is said to have a background in chemistry '-- and on Sunday named four other North Koreans suspected of being involved.

The four had been in Malaysia for several weeks, but all left on the day of the attack, said Noor Rashid Ibrahim, Malaysia's deputy national police chief, on Sunday at a news conference.

Complicating the environment further, the South Korean and U.S. militaries are due to start annual joint exercises next month, an event that always elicits an angry response from Pyongyang, which sees the drills as a pretext for an invasion.

In the past year or two, the exercises have become more overtly offensive, with the two militaries practicing ''decapitation strikes'' on the North Korean leadership.

Read more:

China suspends North Korean coal imports, striking at regime's financial lifeline

A not-that-short history of North Korean assassinations and attempts

Ex-diplomat: 'I've known that there was no future for North Korea for a long time'

Today's coverage from Post correspondents around the world

Like Washington Post World on Facebook and stay updated on foreign news
EuroLand

-------------------------------------------------------------------------------------------------------------

After seven years of bailouts, Greeks sink yet deeper in poverty

Mon, 20 Feb 2017 17:27

ATHENS Greek pensioner Dimitra says she never imagined a life reduced to food handouts: some rice, two bags of pasta, a packet of chickpeas, some dates and a tin of milk for the month.

At 73, Dimitra - who herself once helped the hard-up as a Red Cross food server - is among a growing number of Greeks barely getting by. After seven years of bailouts that poured billions of euros into their country, poverty isn't getting any better; it's getting worse like nowhere else in the EU.

"It had never even crossed my mind," she said, declining to give her last name because of the stigma still attached to accepting handouts in Greece. "I lived frugally. I've never even been on holiday. Nothing, nothing, nothing."

Now more than half of her 332 euro ($350) monthly income goes to renting a tiny Athens apartment. The rest: bills.

The global financial crisis and its fallout forced four euro zone countries to turn to international lenders. Ireland, Portugal and Cyprus all went through rescues and are back out, their economies growing again. But Greece, the first into a bailout in 2010, has needed three.

Rescue funds from the European Union and International Monetary Fund saved Greece from bankruptcy, but the austerity and reform policies the lenders attached as conditions have helped to turn recession into a depression.

Prime Minister Alexis Tsipras, whose leftist-led government is lagging in opinion polls, has tried to make the plight of Greeks a rallying cry in the latest round of drawn-out negotiations with the lenders blocking the release of more aid.

"We must all be careful towards a country that has been pillaged and people who have made, and are continuing to make, so many sacrifices in the name of Europe," he said this month.

Much of the vast sums in aid money has simply been in the form of new debt used to repay old borrowings. But regardless of who is to blame for the collapse in living standards, poverty figures from the EU statistics agency are startling.

Greece isn't the poorest member of the EU; poverty rates are higher in Bulgaria and Romania. But Greece isn't far behind in third place, with Eurostat data showing 22.2 percent of the population were "severely materially deprived" in 2015.

And whereas the figures have dropped sharply in the post-communist Balkan states - by almost a third in Romania's case - the Greek rate has almost doubled since 2008, the year the global crisis erupted. Overall, the EU level fell from 8.5 percent to 8.1 percent over the period.

GRAPHIC-Greece in the poverty table tmsnrt.rs/2m0GiHW

THE NEEDS ARE HUGE

The reality of such statistics becomes clear at places like the food bank run by the Athens municipality where Dimitra collects her monthly handouts.

Here, dozens more Greeks waited solemnly with a ticket in hand to get their share. All are registered as living below the poverty line of about 370 euros a month.

"The needs are huge," said Eleni Katsouli, a municipal official in charge of the center.

Figures for the food bank, which serves central Athens, show a similar trend on a local scale to the wider Eurostat data. About 11,000 families - or 26,000 people - are registered there, up from just 2,500 in 2012 and 6,000 in 2014, Katsouli said. About 5,000 are children.

Many of the shelves and refrigerators in its stock room stood empty. What they give away depends on what sponsors - themselves often struggling businesses - can donate.

"We're worried because we don't know if we'll be able to meet these people's needs," Katsouli said. "There are families with young children and on some days we haven't even got milk to give them."

'WE JUST EXIST'

International organizations, including the Organisation for Economic Co-operation and Development, have urged the government to prioritize tackling poverty and inequality.

Unemployment has slipped from a peak of 28 percent of the workforce to 23 percent but the rate remains the highest in the EU. Since the crisis began, the economy has shrunk by a quarter and thousands of businesses have closed for good.

Hopes are high the economy can pick up this year but data last week showed it contracted again from October to December after two straight quarters of growth.

Better living standards seem as far away as ever. Over 75 percent of households suffered a significant income reduction last year, a survey by business confederation GSEVEE and Marc pollsters found. A third had at least one unemployed member and 40 percent said they had to cut back on food spending.

The Greek Ombudsman says a growing number of people struggle to pay utility bills. In a no-frills Athens neighborhood, a soup kitchen run by the Orthodox church serves 400 meals a day over four sittings in under two hours.

"Everyone is going through hard times - all of Greece is," said Eva Agkisalaki, 61, a former teacher who volunteers there.

Agkisalaki did not qualify for a pension because her contract ended when the retirement age was lifted to 67 under the bailout program and she could not find work, she said. Part of her husband's pension, cut to 600 euros from 980 also under reforms demanded by the international lenders, goes to her son and daughter's families.

In return for volunteering, Agkisalaki receives handouts from the soup kitchen which she shares among her unemployed daughter and her son.

"We're vegetating," she said between setting a long wooden table for the next meal of bean soup, bread, an egg, a slice of pizza and an apple. "We just exist. Most Greeks just exist."

Evangelia Konsta, who oversees the center and whose business supplies the meat, said the number of people eating at the soup kitchen has more than doubled in two years and the church often also helps cover people's electricity or water bills too.

"Things are getting worse, they're not getting better and that's reflected in people's needs," Konsta said. "There are people who haven't even got 1 euro."

Across Athens, the number of Greeks sleeping rough is a testament to that. Volunteers drive a van with two washing machines and two dryers to neighborhoods where the homeless gather to help them clean up.

"You see the same faces, but also new ones," said Fanis Tsonas, co-founder of the Ithaca mobile laundry, as destitute men and women brought bags of laundry.

Few are hopeful of better days.

"I don't think there's one person who's not afraid of the future," said Dimitra, the pensioner, clutching her plastic bag of rationed goods.

($1 = 0.9422 euros)

(Editing by David Stamp)

Next In World NewsNorway pledges $10 million to counter Trump's global anti-abortion moveOSLO Norway has joined an international initiative to raise millions of dollars to replace shortfalls left by U.S. President Donald Trump's ban on U.S.-funded groups worldwide providing information on abortion.

Malaysian PM says probe into airport killing will be fairKUALA LUMPUR Malaysia's Prime Minister Najib Razak said on Monday his government's investigation of the killing of the North Korean leader's half-brother, Kim Jong Nam, will be "objective", as tensions rose between the countries.

Ex-president's supporters arrested as tensions flare in GambiaBANJUL Gambian police said they arrested 51 people in a former stronghold of ex-president Yahya Jammeh for harassing followers of new leader Adama Barrow, amid lingering tensions following Jammeh's flight into exile.

-------------------------------------------------------------------------------------------------------------

EU Stormtroopers Raid Offices of Marine Le Pen'...

Tue, 21 Feb 2017 12:26

'...and those who hold power are growing increasingly desperate.

(Via Bloomberg) French investigators searched the headquarters of the National Front as part of a probe into whether party leader Marine Le Pen used European Parliament money to pay for jobs related to domestic politics.

In a statement, the party characterized the search as ''a media operation whose only goal is to disrupt the smooth operation of'' Le Pen's presidential campaign ''at a moment when she's made major advances in the polls.''

The European Parliament has ordered Le Pen to repay the amount, estimating the improper payments at 336,146 euros ($357,000). She has refused to give the money back, saying the jobs weren't fictitious, and has appealed the decision. French prosecutors who got a report from the EU's anti-fraud office, OLAF, have opened a legal probe of their own.

A year ago, the FN's offices in Nanterre, a few kilometers west of Paris, were raided as part of the same probe opened by Paris prosecutors in March 2015.

Meanwhile, Monday's daily OpinionWay poll showed that first-round support the for anti-euro, anti-immigration Le Pen rose 1 percentage point to 27 percent, with independent Emmanuel Macron and Republican Francois Fillon unchanged at 20 percent each. (read more)

Advertisements

-------------------------------------------------------------------------------------------------------------
Science!

Political Correctness Prevents Advancement of Science | American Council on Science and Health

Tue, 21 Feb 2017 12:02

Science can make us uncomfortable. Astronomy proved that the Earth goes around the sun, upending centuries of geocentric theology. Physics tells us that our universe will someday come to an end. DNA sequencing can reveal our true ancestry or genetic predispositions to cancer and Alzheimer's disease, forever changing our life's trajectory.

As unsettling as those discoveries have been for society, some research is so politically controversial that few dare to speak of it in public for fear of running afoul of the PC police. And this fear, argues Nathan Cofnas in the journal Foundations of Science, obstructs the self-correcting nature of scientific inquiry.

Mr. Cofnas begins the paper with the story of Socrates, who was executed for "corrupting the youth" of Greece. Forebodingly, he adds, "[T]he philosophy of his prosecutors '-- that morality-threatening scientific investigation should be prohibited '-- flourishes even today."

To support his case, Mr. Cofnas focuses on the taboo subject of group differences in intelligence, which he says is suppressed by those who believe that even discussing the topic is "morally wrong or morally dangerous."

Those who embrace such a viewpoint obviously do so with the honorable intention of preventing discrimination. However, the proverbial road to hell is paved with good intentions. Such misguided efforts to maintain perfect equality can hamper the advancement of knowledge. Mr. Cofnas states:

"[W]hen hypotheses are regarded as supporting certain moral values or desirable political goals, scientists often refuse to abandon them in the light of empirical evidence."

Is he right? Absolutely, yes.

Not only do intellectuals refuse to abandon politically correct beliefs in the face of contradictory evidence, but simply questioning them can ruin a person's career. Lawrence Summers' tenure as president of Harvard was cut short because he suggested that there are intellectual differences between men and women. As a result of such punitive pushback, some researchers are afraid to investigate differences between male and female brains, which certainly exist. Without a doubt, this reticence is holding back the field of neuroscience.

A similar chilling effect can be seen in climatology. The only politically correct belief regarding the climate is that humans are 100% responsible for everything bad that happens and that the Four Horsemen are already marching toward Earth. Questioning that apocalyptic and unscientific belief has resulted in multiple researchers being labeled "climate deniers." Climatology would greatly benefit from the more skeptical approach of so-called "lukewarmers," but far too many are ostracized and demonized.

Discussions about the causes of homelessness also fall under the purview of the PC police. The politically correct explanation is that homelessness is the result of poverty. While obviously a factor, often left out of the debate is the fact that, according to the National Coalition for the Homeless, 20% to 25% of homeless people are severely mentally ill, a prevalence that is roughly four times that of the general population. The same group estimates that 38% and 26% of homeless people are dependent on alcohol and drugs, respectively. In fact, NCH states that, "Substance abuse [is] the single largest cause of homelessness for single adults."

Certainly, many -- perhaps most -- people prefer to ignore reality in favor of feel-good fallacies. Mr. Cofnas believes this phenomenon is rooted in a "deep human impulse to conflate facts and moral values." In other words, (positive) statements that describe the world as it is are often interpreted by people as (normative) statements that prescribe the world as it ought to be.

This fundamental confusion distorts debate and impedes progress. If Mr. Cofnas is correct that this cognitive dissonance is hardwired into us, then that makes the goal of evidence-based policy sadly unattainable.

Source: Nathan Cofnas. "Science Is Not Always 'Self-Correcting': Fact''Value Conflation and the Study of Intelligence." Found Sci 21: 477. Published online: 1-Feb-2015. DOI: 10.1007/s10699-015-9421-3
Shut Up Slave!

PostNL wil postbodes inzetten als wijkverkenners | NOS

Thu, 23 Feb 2017 13:13

PostNL wil postbodes gaan inzetten als wijkverkenners. Het postbedrijf wil dat ze de "ogen en oren van de wijk" worden en gemeenten alarmeren over bijvoorbeeld overlast en afval op straat. Volgens PostNL kennen bodes de buurt als geen ander en kunnen zij, tijdens hun dagelijkse ronde, de toestand op straat goed in de gaten houden.

Volgens een woordvoerder van PostNL onderzoekt het postbedrijf of het op deze manier nieuwe diensten kan aanbieden. Sinds oktober loopt er een proef in Schiedam, waarbij postbodes de gemeente op de hoogte stellen wanneer zij bijvoorbeeld overvolle vuilcontainers zien. De proef loopt tot half december.

De bodes die meedoen aan de proef worden door PostNL betaald voor de extra werkzaamheden. Het bedrijf hoopt dat gemeenten op termijn geld beschikbaar stellen voor de wijkverkenning.
Six Week Cycle

Trump's First Terror Arrest: A Broke Stoner the FBI Threatened at Knifepoint

Thu, 23 Feb 2017 06:03

The Department of Justice proudly announced the first FBI terror arrest of the the Trump administration on Tuesday: An elaborate sting operation that snared a 25-year old Missouri man who had no terrorism contacts besides the two undercover FBI agents who paid him to buy hardware supplies they said was for a bomb '-- and who at one point pulled a knife on him and threatened his family.

Robert Lorenzo Hester of Columbia, Missouri, didn't have the $20 he needed to buy the 9-volt batteries, duct tape, and roofing nails his new FBI friends wanted him to get, so they gave him the money. The agents noted in a criminal complaint that Hester, who at one point brought his two small children to a meeting because he didn't have child care, continued smoking marijuana despite professing to be a devout Muslim.

One of the social media posts that initially caught the FBI's attention referred to a group called ''The Lion Guard''. Hester told one of the undercover agents the name came from ''a cartoon my children watch.''

But according to the DOJ press release, Hester had plans to conduct an ''ISIS-sponsored terrorist attack'' on President's Day that would have resulted in mass casualties had it succeeded.

News reports breathlessly echoed the government's depiction of Hester as a foiled would-be terrorist. But the only contact Hester had with ISIS was with the two undercover agents who suggested to him that they had connections with the group. The agents, who were in contact with him for five months, provided him with money and rides home from work as he dealt with the personal fallout of an unrelated arrest stemming from an altercation at a local grocery store.

Hester, who had briefly enlisted in the U.S. Army before being discharged in 2013, had posted images of weapons and a flag sometimes associated with terrorist groups on a social media platform. He had also written ''Burn in hell FBI'' and ''Brothers in AmurdiKKKa we need to get something going here all those rednecks have their little militias why shouldn't we do the same.'' In another post, he asserted that ISIS was created as part of a conspiracy by the United States and Israel.

Hester was arrested by local police in October after getting into a dispute with his wife in the parking lot of a grocery store, allegedly damaging store property. The FBI complaint says that when store employees confronted Hester ''he assumed an aggressive stance, forcefully placed his hand into the diaper bag he was carrying, in a manner that appeared to be reaching for a weapon.'' Police, they said, later recovered a 9-millimeter handgun from the diaper bag.

Hester was taken into custody and released 10 days later, placed under electronic monitoring and subject to drug testing until his court appearance.

According to the complaint, the FBI undercover agent began communicating with him a day before he was arrested, and continued after Hester left jail '-- commenting on Hester's anti-government social media posts (which included news articles about a U.S. military strike in Yemen) and offering to help Hester with his expressed desire of ''hitting [the government] hard''. The agent told Hester that he knew some individuals he had met recently who shared these ideas.

In subsequent private messaging conversations, Hester told the agent that he wanted to do something to hurt the U.S. economy, adding that ''we need some big help.'' The agent offered to introduce Hester to ''some brothers'' who could assist.

The agent also ''raised the subject of firearms,'' sending Hester pictures of assault rifles that ''the brothers'' had transported for someone else recently.

The complaint reports that a few weeks later, the first agent set up a meeting for Hester with a second agent, who posed as someone with direct terrorist connections. The meeting was in an FBI car. Hester brought his two young children, which he said ''could not be avoided, given his child care responsibilities that day.''

''I don't like America, like for my kids,'' Hester said, according to a recording.

On November 30, the second undercover agent gave Hester a ride home from his job and gave him $100, telling him that ''this is one job that one brother is supposed to do to another'....it's my duty to make sure that the brother is okay.'' Two days later, the agent gave him a ride home from work again. Hester said he ''was thinking about oil lines, hitting oil pipelines and oil markets,'' or targeting ''computer systems and stuff.'' He also said he would be willing to help train others in the tactics that he had learned during his short stint in the Army.

The agent cautioned Hester that once he decided to proceed there was ''no turning back.'' He also told Hester that under no circumstances was he to do conduct any sort of operation on his own. The agent, referred to in the complaint as UC-2, then ''threatened to come back and find HESTER if he learned that HESTER reneged on the promise. For emphasis, and for the purpose of mitigating the security threat posed by HESTER, UC-2 displayed a knife and reminded HESTER that UC-2 knew where HESTER and his family lived, among other forceful words.''

Hester later complained to the first undercover agent that the second agent had threatened to harm him if he ''talked about any plans'' or ''planned without letting him know.'' According to the complaint, Hester told the first agent that it was wrong for the second agent to threaten his family.

During December, the second agent continued giving Hester rides home. He gave Hester a new cellphone and free minutes.

Meanwhile, a warrant was issued for Hester after he violated the terms of his bond by testing positive for marijuana. He pled guilty in January to charges stemming from the incident in the grocery store parking lot.

On January 31, the second agent met Hester and gave him a list of items to buy, including 9-volt batteries, duct tape, copper wire, and roofing nails, telling Hester that these would used to build an explosive. According to the criminal complaint, the agent gave him $20 to buy the items, after they had ''confirmed that HESTER could not get the money.'' Hester agreed to repay the money when he could.

The next day the agent came to Hester's house, where Hester gave him the requested items, except the copper wire which he had been unable to find. The agent said he was planning to conduct a violent terrorist attack for the Islamic State and asked if Hester was willing to take part. Hester replied ''I'm down.'' The agent then opened the trunk of his car to display several assault rifles and bomb components, all of which had been rendered inoperable by the FBI.

Hester promised that he would help buy ammunition for the weapons once he had received the money from his tax refund.

Over the next few weeks, Hester also continued communicating with the first undercover agent, messaging to say that he was ''happy to be part'' of the coming attack. The first agent told Hester the attack would take place on President's Day '' Feb. 20 '' ''and that the targets of the operation would include buses, trains and a train station in Kansas City, Missouri.''

Hester ''expressed approval,'' according to the complaint, and asked if supplies were needed. The first agent said they needed shrapnel, including nails and screws.

When the second agent picked Hester up at his house on Feb. 17, Hester had some roofing nails. The two then drove to a nearby storage facility where Hester was arrested.

While Hester clearly appears to be a troubled and volatile individual, as evidenced by the incident at the grocery store parking lot, there appears to be little to suggest that he had the wherewithal or capacity to carry out a terrorist attack without the guidance and assistance provided by the two agents. His case is similar to many others in which individuals in financial, legal or psychological distress have been befriended by undercover FBI agents or government informants and coaxed into developing a terrorist plot.

Hester agreed to go along with the agents' plans, even when they described to him in detail their violent intentions. But that '' and buying the hardware supplies requested by the agents '' appears to be all he did. There is no evidence that he had ever been in touch with actual terrorists or had developed a plot of his own. Some of what he agreed to go along with in this case also came after an undercover agent had pulled out a knife and threatened to kill him and his family.

Regardless, Hester is now in federal custody on charges of attempting to provide material support to a terrorist organization. If convicted on the charges, he faces up to 20 years in prison.
PUTIN!

Yes, Cash Flowed to Clinton Foundation Amid U.S. Russian Uranium Deal | The Huffington Post

Tue, 21 Feb 2017 11:14

My latest Counter Propa article highlights the U.S. Russia uranium deal that sent 20% uranium capacity to Russia. In 2015, The New York Times stated ''As the Russians gradually assumed control of Uranium One in three separate transactions from 2009 to 2013, Canadian records show, a flow of cash made its way to the Clinton Foundation.''

Has Vox or POLITIFACT analyzed this quote?

Or just Trump's wild accusations?

The next paragraph in this New York Times piece states ''And shortly after the Russians announced their intention to acquire a majority stake in Uranium One, Mr. Clinton received $500,000 for a Moscow speech from a Russian investment bank with links to the Kremlin that was promoting Uranium One stock.''

Vox, POLITIFACT, and others haven't commented on the two quotes above and have only pontificated against President Trump's awkwardly worded claims.

Hillary Clinton didn't ''give up'' 20% of U.S. uranium to Russia, but Uranium One donations to the Clinton Foundation might have influenced the State Department and Obama's administration to approve the deal.

Was it merely coincidence that Uranium One officials were Clinton Foundation donors, or is there legitimate conflict of interest?

Also, did the FBI tape Bill Clinton's speech at a Moscow bank?

There's absolutely no way for Vox or any other Clinton public relations firm to spin the fact Bill Clinton received $500,000 from a Moscow bank with ties to the Kremlin.

Also, nothing said at Trump's press conference refutes the fact Uranium One officials donated millions to the Clinton Foundation amid the sale of U.S. uranium to Russia.

After Trump's recent press conference, millions of Clinton loyalists gleefully read a POLITIFACT piece titled Donald Trump repeats his Mostly False claim about Hillary Clinton, Russia and uranium.

That POLITIFACT piece references another POLITIFACT article titled In a nuclear claim, Donald Trump says Hillary Clinton 'gave up' one-fifth of U.S. uranium to Russia.

Both articles rate the truthfulness of Trump's accusation that Clinton ''gave up'' (or was solely responsible) for the uranium sale.

As with all Clinton scandals, the entire story is far more complicated (with defenders focusing on semantics and plausible deniability more than possible foul play), and leads to a major conflict of interest; especially in today's neo-McCarthy Democratic Party.

Frist, Clinton didn't even intentionally use a private server, so she didn't ''give up'' 20% of U.S. uranium all by herself.

The issue POLITIFACT, Vox and others conveniently circumvent is the New York Times quote stating ''As the Russians gradually assumed control of Uranium One in three separate transactions from 2009 to 2013, Canadian records show, a flow of cash made its way to the Clinton Foundation.''

Did millions of dollars to her Foundation influence Clinton?

Furthermore, three FBI field offices wanted to investigate the Clinton Foundation. The Clinton Foundation has been the subject of quid pro quo controversies, from an AP report to weapons deals. Last year's AP Report states millions in donations correlated with access to America's Secretary of State:

At least 85 of 154 people from private interests who met or had phone conversations scheduled with Clinton while she led the State Department donated to her family charity or pledged commitments to its international programs, according to a review of State Department calendars released so far to The Associated Press. Combined, the 85 donors contributed as much as $156 million. At least 40 donated more than $100,000 each, and 20 gave more than $1 million.

If you replace Clinton with Trump in the story above, how would Washington Post journalists react? 85 people give $156 million to Trump's foundation and nobody questions the transfer of money?

This story (if Trump were the subject) would spark outrage today. Instead, Vox and others defended Clinton and denied any possible conflict to interest.

As for the uranium deal (approved under an Obama administration that eventually sanctioned Russia for alleged election tampering), it's similar to Clinton's weapons deal scandal reported by the International Business Times. Read the International Business Times article titled Clinton Foundation Donors Got Weapons Deals From Hillary Clinton's State Department.

This all gets back to the POLITIFACT articles.

POLITIFACT states ''The State Department did approve the Uranium One deal, but it didn't act unilaterally.''

And'... this is supposed to be a good thing?

The New York Times states ''The deal made Rosatom one of the world's largest uranium producers and brought Mr. Putin closer to his goal of controlling much of the global uranium supply chain.''

Vox recently called Trump a Russian stooge, yet it was Clinton's State Department that approved a deal bringing ''Mr. Putin closer to his goal of controlling much of the global uranium supply chain.''

President Obama's administration approved a uranium deal that motivated Pravda to write ''Russian Nuclear Energy Conquers the World.''

If Putin is America's great adversary, why did Clinton's State Department and eight other agencies approve the deal?

Why didn't President Obama veto the deal?

Why did Uranium One officials feel the need to donate millions to the Clinton Foundation amid the sale?

This blind spot within American media is the reason Trump won the White House. Clinton engages in an overt controversy, and the American press focuses solely on the semantics within Trump's accusation. With Clinton, it's never using a private server to hide information. Everything is merely a coincidence, or there's enough semantic leeway for plausible deniability. Yoga emails were deleted, not Clinton Foundation emails.

As for the billions lost in Haiti linked to Bill and Hillary Clinton, Hatian-born journalist Daddy Cherry demands the Clintons ''Return Haiti's Earthquake Billions.''

Congratulations, vigilant and daring American press, whose only goal is to defeat Trump. You've again focused on Trump's wild accusations, while ignoring the giant elephant in the room.

Once again, America is playing Trump's game (fact checking based on semantics, as opposed to the overall picture) and refusing to hold Hillary Clinton accountable for a genuine conflict of interest. This paved the way for Trump's recent conflicts of interest.

Sure, Hillary Clinton didn't ''give up'' 20% of U.S. uranium.

Trump is wrong about Clinton ''giving'' the uranium to Putin.

Also, it's 20% of U.S. uranium capacity, that's true.

There, feel better now DNC?

You shouldn't if you think Russia influenced the election and fear the implications of General Flynn's phone calls, or Trump's contacts with Russia.

I highlight the impact of the Obama administration's uranium deal with Russia in the following segment on H. A. Goodman YouTube:

In the McCarthy era atmosphere of today's Democratic Party, what if Trump approved the sale of 20% of U.S. uranium capacity to Russia, as his foundation received millions?

For every fact-checking piece mocking Trump's claims, simply reread the original NYT story. The New York Times explains the possible quid pro quo arrangement in a now legendary piece by Jo Becker and Mike McIntire titled Cash Flowed to Clinton Foundation Amid Russian Uranium Deal:

As the Russians gradually assumed control of Uranium One in three separate transactions from 2009 to 2013, Canadian records show, a flow of cash made its way to the Clinton Foundation. Uranium One's chairman used his family foundation to make four donations totaling $2.35 million. Those contributions were not publicly disclosed by the Clintons, despite an agreement Mrs. Clinton had struck with the Obama White House to publicly identify all donors. Other people with ties to the company made donations as well.

And shortly after the Russians announced their intention to acquire a majority stake in Uranium One, Mr. Clinton received $500,000 for a Moscow speech from a Russian investment bank with links to the Kremlin that was promoting Uranium One stock.

Again, would this be condoned if Trump's foundation had accepted millions from uranium one?

Also, why were Uranium One donations ''not publicly disclosed by the Clintons, despite an agreement Mrs. Clinton had struck with the Obama White House to publicly identify all donors''?

There'd be widespread calls for impeachment if this happened with Trump, and people would be right.

The Clinton Foundation received millions of dollars, as the Podesta Group lobbied on behalf of Uranium One. Uranium One was already owned by the Kremlin, while the Podesta Group was lobbying on behalf of Uranium One. The Obama administration sold U.S. uranium to a company that was essentially owned by Putin.

The fact 9 agencies had to sign off on the deal is irrelevant. If Clinton's State Department, under Obama approved the deal, this shows Hillary Clinton was never worried about Russian aggression or influence.

Uranium One officials felt the need to donate to Clinton's Foundation during the uranium deal, and that brings up the question of Clinton's influence on Obama's administration.

Most importantly, the Clinton Foundation coincidentally shut down its Global Initiative, shortly after Clinton lost, and no longer accepts foreign donations.

Why did Bill and Hillary shut down the Clinton Global Initiative?

Could it be that the Clintons no longer have access to give to donors?

Or is it only Trump who has conflicts of interest?

The Clinton Foundation did accept millions of dollars from Uranium One during the sale, approved under Obama's administration, while the Podesta Group lobbied on behalf of company owned by Russia. In addition, the Panama Papers reveal Clinton's ties to the Kremlin. Therefore, it's a fact Clinton and President Obama presided over the sale of 20% of U.S. uranium capacity to Russia. If the fact Uranium One officials donated millions amid the deal doesn't bother you, then there's a job waiting for you at Vox.

H. A. Goodman is the creator ofCounter Propaand the thoughts above are inspired by his new publication.

FOK.nl / Nieuws / Kamer steunt oplossing Oekra¯neverdrag

Wed, 22 Feb 2017 13:17

De cookie is een klein stukje tekst dat door een website op je computer wordt geplaatst om bijvoorbeeld bij te houden of je bent ingelogd, wanneer je laatste bezoek was etc. Cookies zijn niet eng, maar onderdeel van de HTTP-specificatie. Het HyperText Transfer Protocol wordt door iedereen gebruikt die een website bezoekt: het regelt de communicatie tussen een webserver en een browser.

De reden dat FOK.nl alleen bezocht kan worden als je aangeeft alle cookies te accepteren, is dat het voor ons onmogelijk is te garanderen dat er geen cookies geplaatst worden. Onze bezoekers kunnen bijvoorbeeld zelf reacties plaatsen waarin plaatjes opgenomen kunnen zijn. Zelfs via die plaatjes kunnen er cookies op jouw computer terechtkomen. Ook zijn delen van onze content onmisbaar voor ons, zoals video's op ons weblog, maar ook reclamebanners en wij kunnen niet garanderen dat dergelijke partijen nooit een cookie zullen plaatsen. Het is voor ons onmogelijk te voldoen aan de wet, tenzij je ons toestaat gebruik te maken van cookies. Je kunt je browser overigens zo instellen dat je cookies regelmatig worden verwijderd.

Meer informatie over cookies>> Wikipedia>> Leerwiki>> Consumentenbond

Wil je geen cookies van partijen anders dan FOK!, dan is het mogelijk om via deze pagina een groot aantal externe cookies uit te schakelen. Je kunt dan hieronder toch alle cookies accepteren. De meeste cookies van adverteerders worden dan geblokkeerd, maar FOK.nl blijft wel functioneren.

Cookies kunnen nooit gebruikt worden om priv(C)gegevens van je computer uit te lezen of wachtwoorden te onderscheppen. Ook kunnen ze een computer niet infecteren met een virus of trojan. Ze zijn dus volkomen veilig en worden al sinds de jaren 90 zonder incident gebruikt op bijna ALLE websites in de wereld.

Je hebt nog geen toestemming gegeven(Deze melding krijg je ook als de voorkeur uit je browser is verdwenen, of als je gebruik maakt van een andere browser. Je moet dan opnieuw toestemming verlenen)

Ja, Ik wil een goed werkende site......en accepteer de cookiesNatuurlijk accepteer ik de cookies!

Wat Doen Cookies?Bezoekers van websites krijgen te maken met cookies. Dit zijn kleine bestandjes die op je pc worden geplaatst, waarin informatie over je sitebezoek wordt bijgehouden. Ondanks negatieve geluiden in de media, zijn cookies erg handig. Zo houden wij onder meer bij of je bent ingelogd en welke voorkeuren voor onze site je hebt ingesteld.Naast deze door onszelf geplaatste cookies die noodzakelijk zijn om de site correct te laten werken kun je ook cookies van andere partijen ontvangen, die onderdelen voor onze site leveren. Cookies kunnen bijvoorbeeld gebruikt worden om een bepaalde advertentie maar ¯Å'¯Å'n keer te tonen.Cookies kunnen nooit gebruikt worden om priv(C)gegevens van je computer uit te lezen of wachtwoorden te onderscheppen. Ook kunnen ze een computer niet infecteren met een virus of trojan. Ze zijn dus volkomen veilig en worden al sinds de jaren 90 zonder incident gebruikt op bijna ALLE websites in de wereld.

Bij het bezoeken van FOK.nl (en bijna alle andere websites) kun je de volgende soorten cookies verwachten:

- Functionele cookiesCookies die noodzakelijk zijn voor het gebruik van FOK!, bijvoorbeeld om in te kunnen loggen en je voorkeuren te onthouden.FOK! plaatst cookies met je userid, je sessie, instellingen voor bepaalde trackers en weergaveopties, een 'token' die gebruikt wordt om gegeven toestemming voor het plaatsen van cookies te controleren, 'allowallcookies' om je cookiekeuze in op te slaan

- Cookies van AdvertentiebedrijvenAdvertentiebedrijven meten het succes van hun campagnes, de mogelijke interesses van de bezoeker en eventuele voorkeuren (wil je het geluid uit hebben, heb je de reclameuiting al eerder gezien of moet hij worden weergegeven etc) door cookies uit te lezen. Heeft een advertentiebedrijf banners op meerdere websites dan kunnen de gegevens van deze websites worden gecombineerd om een beter profiel op te stellen. Zo kunnen adverteerders hun cookies op meerdere sites plaatsen en zo een gedetailleerd beeld krijgen van de interesses van de gebruiker. Hiermee kunnen gerichter en relevantere advertenties worden weergegeven. Zo kun je na het bezoeken van een webwinkel op andere sites banners krijgen met juist de door jezelf bekeken producten of soortgelijke producten. De websitehouder kan die cookies overigens niet inzien.Op FOK! kunnen advertenties met cookies worden geplaatst van onder meer webads, groupm server, turn, openx, zoom.in, truste, doubleclick spotlight, bluekai, adnetik, valueclick, emediate, evidon, hottraffic, adnexus, m4n, daisycon, viglink, adsense, doubleclick, criteo, appnexus, zanox, google, stir, valueclick, linkedin, digidip, inpagevideo, vmg, sanoma.

- Cookies voor Website-analyseOm onze bezoekersstatistieken bij te houden maken we gebruik van Google Analytics. Dit systeem houdt bij welke pagina's onze bezoekers bekijken, waar zij vandaan komen en op klikken, welke browser en schermresolutie ze gebruiken en nog veel meer. Deze informatie gebruiken we om een beter beeld te krijgen van onze bezoekers en om onze site hierop te optimaliseren. Google, die deze dienst levert, gebruikt de informatie om een relevant, anoniem advertentieprofiel op te bouwen waarmee men gerichter advertenties kan aanbieden.FOK! maakt gebruik van Google Analytics, hottraffic, bluekai en Scorecard.

- Cookies van overige externe partijenNaast bovenstaande zijn er meer onderdelen die een cookie kunnen opleveren. Veelal worden deze gebruikt door de content-partners om te analyseren op welke sites hun gebruikers actief zijn en hoe hun diensten presteren. Denk hierbij aan filmpjes van bijvoorbeeld youtube, foto's van diensten als flickr of picasa, en 'like' knoppen van sociale mediasites als twitter en facebook.Op FOK! gebruiken we onderdelen (en dus cookies) van onder andere Facebook, Hyves, Twitter, truste, Google+, Youtube, Vimeo Flickr, LastFM, Google Maps, AppNexus, AddThis

Voor het bezoeken van FOK.nl is het noodzakelijk dat je ons toestaat dergelijke externe cookies te laten plaatsen. Je kunt vervolgens bij veel externe bedrijven gebruik maken van de opt-out mogelijkheid zodat cookies van die specifieke aanbieder niet langer worden toegestaan. Op http://www.youronlinechoices.com/be-nl/ kan dat voor veel adverteerders tegelijk. Je kunt daar ook lezen waar dergelijke cookies voor gebruikt worden. Ook is het mogelijk om je browser zo in te stellen dat alleen cookies van de site die je bezoekt worden geaccepteerd. Hoe je dit doet kun je vinden in de help functie van je browser.

Scroll omlaag voor een gedetailleerder overzicht van de door FOK! gebruikte cookies.

Ja, Ik wil een goed werkende site......en accepteer de cookiesNatuurlijk accepteer ik de cookies!

Welke cookies plaatsen wij zelf?FOK! plaatst zelf diverse cookies, die gebruikt worden om aan te geven dat je bent ingelogd, of om bij te houden welke instellingen je hebt ingesteld (bijvoorbeeld; het aantal headlines in de update tracker). Deze cookies zijn essentieel voor het correct functioneren van de site.Functionele cookiesHieronder vind je een overzicht van mogelijke cookies en hun betekenis. Dit zijn cookies die noodzakelijk zijn voor een goede werking van de site, danwel het bijhouden van je persoonlijke voorkeuren en instellingen.

Naam v/d cookieDoelsessid,fokInitSessionDit is een hash van je huidige session id. Deze wordt gebruikt om te voorkomen dat anderen zich door middel van browsermanipulatie kunnen voordoen als jou.tokenDeze cookie zorgt ervoor dat er een controle plaats kan vinden op het accepteren van cookies.userIn dit cookie staat je userid opgeslagen. Deze werkt alleen in combinatie met het sessid cookie dat hierboven al vermeld staat.screenHier wordt de schermbreedte van je device opgeslagen. Op basis hiervan kunnen bepaalde elementen wel of niet worden ingeladen of van een passende weergave worden voorzien.__cfduidDit cookie wordt door cloudserverdienst Cloudflare gebruikt om de juiste bezoekers naar onze server door te sturen. Zonder dit id zou je geen pagina te zien krijgen.__utma, __utmb en andere cookies die beginnen met __utmDeze cookies worden gebruikt door Google Analytics en zij geven ons inzicht in onze (overigens anonieme) bezoekersstatistieken.3rd party cookiesHieronder vind je een overzicht van mogelijke third party cookies (cookies die niet door FOK! zelf geplaatst worden). Je kunt deze eenvoudig zelf in je browser blokkeren. Zie hiervoor de handleiding van je browser. Vanwege de wijze waarop sommige externe diensten werken is het onmogelijk een volledige lijst te leveren, maar de werking van deze cookies verschilt niet wezenlijk van de vermelde cookies.Aanbieder / URLDoelAnalyticsGoogle Analytics wordt door FOK! gebruikt om statistieken over het gebruik van FOK! bij te houden. Deze cijfers worden gebruikt om de site verder te optimaliseren.ComScore / scorecardresearch.comDeze onafhankelijke dienst meet het advertentiebereik van FOK.nlYoutube, Vimeo, Liveleak, Dumpert en andere videohostersBij video's die op onze site gebruikt worden worden door de aanbieder (vaak youtube, maar er zijn meer aanbieders) cookies geplaatst om bijvoorbeeld het aantal bekeken video's te meten.Flickr, Facebook, TinyImg en andere afbeeldinghostersBij de afbeeldingen die op de site geplaatst worden door onze bezoekers kunnen cookies geplaatst worden door de gebruiker zelf, danwel door de gebruikte hostingprovider. Deze worden bijvoorbeeld gebruikt om het bereik van de afbeeldingen te meten.Doubleclick, Appnexus, Webads, Adnxs, Sanoma, Digidip, Zanox, Criteo, inpagevideo, strossle en andere advertentienetwerkenDeze advertentienetwerken verkopen ook advertentieruimte aan andere partijen. Welke partij gebruikt wordt kan per advertentie verschillen. De adverteerders plaatsen cookies om onder meer het bereik te meten. Deze cookies worden niet door FOK! beheerd.Facebook, Google+, Twitter, LinkedIn, PinterestMet deze social media knoppen kunnen gebruikers onze inhoud delen op de bekende Sociale netwerken. Met de cookies kan bijvoorbeeld worden bijgehouden of je een item al gedeeld of geliked hebt.Ja, Ik wil een goed werkende site......en accepteer de cookiesNatuurlijk accepteer ik de cookies!
Ottomania

-------------------------------------------------------------------------------------------------------------

In Syria, Turkey Finds Itself Boxed In: What's Next?

Mon, 20 Feb 2017 17:26

In Syria, Turkey Finds Itself Boxed In: What's Next?Aaron Stein and Rao KomarFebruary 20, 2017After months of halting and costly progress, the Turkish military and allied Syrian rebels are in a good position to take the Syrian city of al-Bab from the Islamic State in Iraq and the Levant (ISIL). With the capture of al-Bab, Turkey will have accomplished the clearly defined goals of its ''Operation Euphrates Shield'' intervention in northern Aleppo governorate: driving ISIL from the Turkish border and blocking hostile Kurdish forces from linking their territory to Turkey's south.

More:In Syria, Turkey Finds Itself Boxed In: What's Next?

-------------------------------------------------------------------------------------------------------------

Company Wins Contract for Pipeline Construction Project

Tue, 21 Feb 2017 18:24

Photo courtesy of Gazprom.Allseas Group has received a contract from South Stream Transport B.V. to construct the second string of the TurkStream gas pipeline's offshore section.

The company plans to utilize its Pioneering Spirit, the world's largest construction vessel, to lay more than 559 miles of pipe across the seabed for the second string of the pipeline.

Once finished, the TurkStream pipeline will encompass 410 miles along the old route of South Stream and 155 miles of a new route toward the European part of Turkey.

-------------------------------------------------------------------------------------------------------------
The 25th

How Can We Get Rid of Trump? - NYTimes.com

Mon, 20 Feb 2017 18:00

Nicholas Kristof

We're just a month into the Trump presidency, and already so many are wondering: How can we end it?

One poll from Public Policy Polling found that as many Americans '-- 46 percent '-- favor impeachment of President Trump as oppose it. Ladbrokes, the betting website, offers even odds that Trump will resign or leave office through impeachment before his term ends.

Sky Bet, another site, is taking wagers on whether Trump will be out of office by July.

There have been more than 1,000 references to ''Watergate'' in the news media in the last week, according to the Nexis archival site, with even some conservatives calling for Trump's resignation or warning that he could be pushed out. Dan Rather, the former CBS News anchor who covered Watergate, says that Trump's Russia scandal isn't now at the level of Watergate but could become at least as big.

Maybe things will settle down. But what is striking about Trump is not just the dysfunction of his administration but also the '-- vigorously denied '-- allegations that Trump's team may have cooperated with Vladimir Putin to steal the election. What's also different is the broad concern that Trump is both: A) unfit for office, and B) dangerously unstable. One pro-American leader in a foreign country called me up the other day and skipped the preliminaries, starting with: ''What the [expletive] is wrong with your country?''

So let's investigate: Is there any way out?

Trump still has significant political support, so the obstacles are gargantuan. But the cleanest and quickest way to remove a president involves Section 4 of the 25th Amendment and has never been attempted. It provides that the cabinet can, by a simple majority vote, strip the president of his powers and immediately hand power to the vice president. The catch is that the ousted president can object, and in that case Congress must approve the ouster by a two-thirds vote in each chamber, or the president regains office.

The 25th Amendment route is to be used when a president is ''unable'' to carry out his duties. I asked Laurence Tribe, the Harvard professor of constitutional law, whether that could mean not just physical incapacity, but also mental instability. Or, say, the taint of having secretly colluded with Russia to steal an election?

Tribe said that he believed Section 4 could be used in such a situation.

''In the unlikely event that Pence and a majority of Trump's bizarre cabinet were to grow the spine needed to do the right thing with the process set up by that provision, we would surely be in a situation where a very large majority of the public, including a very substantial percentage of Trump's supporters, would back if not insist upon such a move,'' Tribe said. ''In that circumstance, I can't imagine Trump and his lawyers succeeding in getting the federal courts to interfere.''

The better known route is impeachment. But for now it's hard to imagine a majority of the House voting to impeach, and even less conceivable that two-thirds of the Senate would vote to convict so that Trump would be removed. Moreover, impeachment and trial in the Senate would drag on for months, paralyzing America and leaving Trump in office with his finger on the nuclear trigger.

My take is that unless things get much worse, removal may be a liberal fantasy. Progressives thought that Trump would never win the nomination or the election. He survived the ''Access Hollywood'' tape and countless crises that pundits thought would doom him, so it's not clear why Republicans would desert him now that he's president.

Some people believe that the 2018 midterm elections will be so catastrophic for the G.O.P. that everyone will be ready to get rid of him. I'm skeptical. In the Senate, the map is disastrous for Democrats in 2018: The Republicans will be defending only eight Senate seats, while Democrats will in effect be defending 25.

So while Democrats can gnash their teeth, it'll be up to Republicans to decide whether to force Trump out. And that won't happen unless they see him as ruining their party as well as the nation.

''The only incentive for Republicans to act '-- with or without the cabinet '-- is the same incentive Republicans had in 1974 to insist on Nixon's resignation,'' Larry Sabato of the University of Virginia told me. ''The incentive is survival.''

Trump does have one weakness, and it's parallel to Nixon's. Republicans in Congress were willing to oust Nixon partly because they vastly preferred his vice president, Gerald Ford '-- just as congressional Republicans prefer Mike Pence today.

If I were betting, I'd say we're stuck with Trump for four years. But as Sabato says: ''Lots of things about Donald Trump's election and early presidency have been shocking. Why should it stop now?''

And what does it say about a presidency that, just one month into it, we're already discussing whether it can be ended early?
/ SJW / BLM / LGBBTQQIAAP /

-------------------------------------------------------------------------------------------------------------

Chinese students in the US are using "inclusion" and "diversity" to oppose a Dalai Lama graduation speech '-- Quartz

Mon, 20 Feb 2017 16:31

Chinese students are joining their peers on American campuses in getting woke. Their cause? Defending the official line of the Communist Party.

On Feb. 2, the University of California, San Diego (UCSD) formally announced that the Dalai Lama would make a keynote speech at the June commencement ceremony.

The announcement triggered outrage among Chinese students who view the exiled Tibetan spiritual leader as an oppressive figure threatening to divide a unified China.A group of them now plans to meet with the university chancellor to discuss the content of the upcoming speech.

The awkwardness doesn't end there. As the aggrieved students have trumpeted their opposition, their rhetoric has borrowed elements from larger campus activist movements across the United States. The upshot: What Westerners might perceive as Communist Party orthodoxy is mingling weirdly with academia's commitment to diversity, political correctness, and other championed ideals.

Opposition to the Dalai Lama among Chinese authorities is nothing new, of course. Less recognized in the West is that many Chinese citizens feel the same way as the government. At UCSD, the Chinese-student opposition to the invitation came instantly. Just hours after the announcement, the Chinese Students and Scholars Association (CSSA) issued a lengthy, Chinese-language note on WeChat saying it had communicated with the Chinese consulate about the matter.

UCSD is a place for students to cultivate their minds and enrich their knowledge. Currently, the various actions undertaken by the university have contravened the spirit of respect, tolerance, equality, and earnestness'--the ethos upon which the university is built. These actions have also dampened the academic enthusiasm of Chinese students and scholars. If the university insists on acting unilaterally and inviting the Dalai Lama to give a speech at the graduation ceremony, our association vows to take further measures to firmly resist the university's unreasonable behavior. Specific details of these measures will be outlined in our future statements.

Comments from Chinese students on Facebook were also couched in rhetoric commonly used to rally for inclusivity on campus. One simply read #ChineseStudentsMatter. Some argued that the invitation goes against ''diversity'' and ''political correctness.'' Others contended the university was acting hypocritically by inviting an ''oppressive'' figure like the Dalai Lama while fostering a climate of anti-racism and anti-sexism.

In a letter addressed to the university's chancellor, the UCSD Shanghai Alumni Group used similar rhetoric, invoking ''diversity'' to justify its opposition.

As Chinese alumni, we are proud to be part of the growing UC community because of its diversity and inclusiveness. When addressing such a diverse community, there is a greater responsibility to spread a message that brings people together, rather than split them apart. During the campus commencement, there will be over a thousand Chinese students, families, and friends celebrating this precious moment with their loved ones. If Tenzin Gyatso expresses his political views under the guise of ''spirituality and compassion,'' the Chinese segment of this community will feel extremely offended and disrespected during this special occasion.

This is not the first time that overseas Chinese students at US colleges have voiced opposition to certain campus events perceived as disrespectful to China. In 2008, hundreds gathered at the University of Washington to rally against the Dalai Lama's acceptance of an honorary degree. But typically, criticism is couched in familiar tropes like ''hurting the feelings of the Chinese people,'' rather than failing to account for diversity.

''There is a borrowing of rhetorical strategies.'' ''If there were an objection to the Dalai Lama speaking on campus 10 years ago, you would not have seen the objection from Chinese students being framed within the rhetoric of diversity and inclusion,'' says professor Jeffrey Wasserstrom, who researches modern Chinese history at the University of California, Irvine. ''There is a borrowing of rhetorical strategies.''

Dr. Tsering Topgyal, a Tibetan native who received his master's degree at UCSD and now lectures at the UK's University of Birmingham, called diversity ''an expedient notion to latch onto given its importance in both rhetoric and substance in the US and academia.'' But he questions its appropriateness as a framing device for this specific grievance:

If the Chinese students wish to exploit diversity, they would come across as more convincing if they were more committed and supportive of this principle back home. If they are so committed to diversity, it behooves them to be more accepting of the Dalai Lama's talk, especially since I am sure that many of the non-Chinese student community would wish to hear the Dalai Lama.

John Li, a UCSD student and principal member of the CSSA who requested Quartz not use his real name, says the chancellor invited a group of overseas Chinese students for a meeting on Feb. 15. According to him, the group won't ask the chancellor to disinvite the Dalai Lama. But it will request that he ''send out statements that clarify the content of Dalai Lama's speech,'' ''make sure his speech has nothing to do with politics,'' and ''stop using words like 'spiritual leader' or 'exile''' to describe the Dalai Lama.

None of professors Quartz contacted in the UCSD Chinese Studies program replied to requests for comments.

Holy man, or terrorist?Tibet and the Dalai Lama remains one of a handful of topics where the Communist Party of China espouses a specific orthodoxy, inside and outside of China. It will counter or suppress opposing views in academia and the media, and retains control over Tibet's depiction in history textbooks. Consequently, most native Chinese hold views that conform with the party's preferred narrative.

Central to many objections in China toward the Dalai Lama is the perception that he advocates for separatism. He fled to India during the 1959 Tibetan uprising against Chinese forces. For decades, he advocated for Tibet's full independence. He has since moderated his stance, advocating for a ''high degree of autonomy'' as a region that's still part of the People's Republic of China.

In China, the government and a majority of citizens view the Dalai Lama as a relic of the country's feudal past. Says Dr. Topgyal:

The Chinese view is that before the Chinese 'liberation' of Tibet, Tibet used to be a backward feudal society where the Dalai Lama held most of the Tibetans as slaves. This is a blatant misrepresentation of Tibetan history. Tibet did practise a variant of a feudal system complete with serfs of different levels of social status and degrees of landownership. It was unequal and exploitative just like in any other feudal society, but it was definitely not a slavery system. No society, including China's own by the way, is without a dark and abusive past.

Chinese critics call the Dalai Lama a ''terrorist'' (which explains the frequent comparisons to Osama bin Laden) and blame him for inciting the self-immolations that aggrieved Tibetans continue to commit. The Dalai Lama blames the Chinese government's ''cultural genocide'' and oppressive rule over the region.

These views stand in stark contrast to how the Dalai Lama is portrayed in the West'--primarily as an advocate for religious freedom and human rights.

Li, the CSSA member, says that he hasn't engaged with any non-Chinese student in person regarding Tibetan history and the nature of the Dalai Lama's politics. But he's nevertheless frustrated by a lack of consideration toward the arguments his Chinese peers share on Facebook.

''They are basically rejecting every evidence we provide'' of historical slavery in Tibet, says Li. ''How can we argue about it if the other side refuses to listen to your points?''

A sizeable minorityThe Chinese students' objections to the Dalai Lama's graduation speech sits at the junction of several trends taking place across American universities. Campus activism in the US has swelled in recent years, as students stage movements intended to provide more voice and representation to groups that have historically faced institutionalized or culturally entrenched discrimination.

Just this week, students at Yale successfully completed a campaign to change the name of Calhoun College, named after a 19th-century senator and strong advocate of slavery. It will now be named after Grace Hopper, a computer scientist who served in the US Navy. A similar campaign was defeated at Princeton last year.

Data suggests that Asian students have typically remained the least politically active of all student groups on US campuses. According to a survey by the University of California, Los Angeles of first-year students across nearly 200 universities, students who identify as ''Asian'' remain less likely to participate in protests compared to whites, blacks, and Latinos.

Yet several factors could cause Chinese overseas students to grow more vocal in expressing their opinions in matters of politics, which at times may or may not conform with views held by most Westerners.

For one thing, more overseas Chinese students are studying in the US than ever before. According to the Institute of International Education, more than 304,000 international students were attending university in the US during the 2014-2015 academic year, marking a nearly fivefold increase from a decade prior.

UCSD, along with other public universities in California and in the Midwest, has seen some of the highest uptake in admissions from Chinese international students. Data published in the fall of 2015 placed the school's total overseas Chinese student population at 3,569'--marking 10.6% of the total student population, and 55.7% of the international student population.

These students also tend to pay full tuition. Indeed, some of the complaints among Chinese students on Facebook center around how they find it unfair that that their monetary contributions to the school aren't reflected in the choice of the speaker.

In addition, xenophobic sentiment that has increased since Trump's victory has evidently affected at least some Chinese college students. In early February, Chinese students at Columbia University reported that their name tags were ripped off the doors of their dorm rooms. The news prompted Chinese overseas students to create a wildly successful viral video, in which they explained the meaning of their given Chinese names.

Indeed, some xenophobic sentiment has spilled out in online discussions about the speaking invitation. In addition to accusations that Chinese students are ''brainwashed,'' others trumpeted the familiar ''if you don't like it, you can get out'' refrain.

Topgyal, who lived and studied with mainland Chinese students at UCSD in the early 2000s, believes that inviting the Dalai Lama back then wouldn't have stirred up such controversy. While many Chinese students would have felt discomfort privately, he says, ''they were certainly not as organized as they are today, or [as emboldened] on account of their country's rise in the global hierarchy.'' He adds that social media has played a role in this empowerment, as it ''enables even Chinese students in other universities and countries to join the conversation on a single platform.''

There's also suspicion among some academics that CSSA, which represents students at UCSD and dozens of other US universities, sometimes serves as a conduit for Chinese consulates to promulgate Communist Party orthodoxy on overseas campuses. Last week, an official at the Chinese embassy in London reportedly phoned Durham University's debate society, urging it to cancel an appearance by Anastasia Lin, a Chinese-Canadian beauty queen and vocal human rights activist. The school's CSSA issued a statement also condemning Lin's appearance.

In its initial statement opposing the Dalai Lama's appearance, UCSD's CSSA wrote that it had ''been in contact with the People's Republic of China Consulate General in Los Angeles at the earliest opportunity since the matter arose,'' and ''was waiting for the advice of the Consulate General.''

Li tells Quartz that this part of the letter is ''a mistake.''

''We only worked with the Chinese consulate on cultural events such as spring festival gala. Besides that, we don't have any relationship with the consulate,'' he says. ''Lots of people believe that we are the consulate's agent, but we are actually not. We are a 100% student-run organization.''

The need for nuanceWhile the CSSA and other Chinese students have expressed opposition to the Dalai Lama's appearance at commencement, views on his invitation are not uniform among the Chinese student community.

Lisa Hou, a sophomore studying math and computer science, says that of her Chinese peer group, about 60% oppose the Dalai Lama's invitation, and 30% support it, while 10% have no opinion. She says that when she first heard of the speaking invitation, she felt motivated to conduct her own research about him, which led to her view on him becoming more nuanced.

''We were kind of all taught to be against the Dalai Lama.'' ''We were kind of all taught to be against the Dalai Lama,'' she notes. ''And then I searched online, and I realized I didn't know why I was against him. Although he is a political person, he did so many good things.'' She says her schedule will determine whether or not she attends his commencement speech.

Hou and Li's main objection to the Dalai Lama's invitation stems primarily from the fact that the Dalai Lama remains a divisive figure, who will speak at the most important annual campus-wide event in front of thousands of Chinese people. Many attendees will be parents, who will travel thousands of miles to celebrate their child's graduation.

''My focus is never who Dalai Lama is and the political philosophy that Dalai Lama stands for. As long as this decision upsets my Chinese peers and their parents, I believe there is probably something wrong,'' Li says. ''Since my parents and my grandparents are coming, I will not attend his speech under any circumstances.''

It's not clear whether the Chinese students against the speech will take further action beyond meeting with the chancellor'--say, staging a public protest, the kind ubiquitous across UC campuses. Li believes that a CSSA protest will be unlikely, and if it were to happen, he wouldn't participate despite his objections to the Dalai Lama's upcoming appearance, he says. ''I don't believe I have the obligation or capacity to challenge the mainstream belief of Western societies,'' he says.

But Hou says that even though she might attend the Dalai Lama's speech, she would also willingly participate in a protest if one were organized. ''Chinese students have spoken out a lot but haven't done anything. If we don't do anything, that really makes us a minority,'' she says. ''China is kind of defined in Western culture as a brainwashed society: People are totally brainwashed, and we don't have self-judgment. So we want to use this as an opportunity to clarify this.''

-------------------------------------------------------------------------------------------------------------

Sec. Mattis ''Make Killing Great Again'' Poster Goes Viral; V.A. Employees Frightened | American Military News

Tue, 21 Feb 2017 01:10

Some staff members at a local Department of Veterans Affairs office in Georgia announced that they were troubled after one staffer put up poster on his door that featured the image of Secretary of Defense Jim Mattis with the slogan ''Make Killing Great Again.'' One Employee at the department in Dekalb County told a local news reporter that she was ''truly afraid'' by the presence of the poster.

The image on the door was a print-out of a poster made by the Facebook page Awesome Sh*t My Drill Sergeant Says that produces a line of military-themed merchandise called ASMDSS Gear.

American Military News spoke to Dan Caddy, the founder of Awesome Sh*t My Drill Sergeant Said, who said he finds the situation both funny and sad.

''I find it simultaneously both hilarious and extremely sad that staff at an organization solely dedicated to serving veterans cannot see obvious veteran humor for what it is,'' Caddy told American Military News. ''This is not 'hate speech,' it is humor. Those tasked with closing with and engaging the enemy naturally have a darker sense of humor than most and find ways to make light of otherwise depressing situations. I guarantee you that any combat veteran that saw this poster on that employee's door thought to himself: 'This guy gets us. I want to talk to HIM'.''

''I'm afraid. I'm truly afraid,'' a staffer at the V.A. who wished to remain anonymous told Channel 2 Investigative reporter Aaron Diamant.

''I thought that he would come in there any day and at any time and start shooting the office up,'' the employee continued, adding that she believed that she believes the one that put up the poster should receive a mental evaluation.

The woman alerted her union about the matter and the poster was subsequently taken down.

''You need to be sending him to a fitness of duty to see what his mindset is,'' she said. ''Something needs to be done.''

She also added that if he was a person of color, she believes he would have been taken out of the building in handcuffs.

''I really feel like if was black or if was from Middle East, they would have took him out of the building in handcuffs,'' she said.

Dan Caddy argued that while some employees were bothered by the poster at the V.A. and found the language threatening, ''Make Killing Great Again'' is actually a positive message that brings hope to those that have served.

''The perception of the rank and file has been that previous Secretaries of Defense have focused more on politics and social issues as opposed to focusing on being a highly trained and lethal force of rough men and women,'' Caddy told American Military News. ''When it was announced that Chaos Actual himself was being appointed as Secretary of Defense, the troops went wild. 'Make Killing Great Again' may sound off-putting to some, but to most it sums up the hope of a return to a focus on lethality and killing the enemies of the United States.''

V.A. whistleblower Scott Davis told Channel 2 that the employee responsible putting up the poster is still employed at the facility.

''No action was taken by any management official until I notified them the day after they were already notified by VA employees,'' Davis said.

''The appropriate action for VA is to at least put the employee on administrative leave until an investigation is completed,'' he added.

With the employee who posted the poster still being employed, the unnamed coworker says she is upset that nothing more has been done.

''To be told if you see something say something and you say something and nothing happens, and he's still allowed to come in the building and put all our lives at risk, then I have a problem with that,'' she said.

-------------------------------------------------------------------------------------------------------------
BUGS

Green ants giving Australian gin and goats cheese extra bite - ABC News (Australian Broadcasting Corporation)

Mon, 20 Feb 2017 14:31

Adelaide Hills distiller Sacha La Forgia making green ant gin.

Native green ants are the hero ingredient in a new gin being launched in South Australia next week.

The insect-inspired beverage has been created by Adelaide Hills distiller Sacha La Forgia, who won gold for his first commercial gin at the San Francisco World Spirits Competition last year.

Despite working with a lot of native plants, he was not initially enthused about using green ants when they were first brought to his attention.

"I didn't want to eat ants and I had these pictures of little ants in my still just dying and popping," he said.

"Finally I ate one and that was it. They're just incredible little packets of flavour."

The gin is a joint venture with Something Wild, an Adelaide-based company that supplies a range of indigenous food and wild game meat and has a permit to harvest green ants in the Northern Territory.

The business is run by high-profile football family the Motlops.

Brothers Shannon and Daniel Motlop, who both played in the Australian Football League, collect the ants by cutting their nests out of trees.

It can be painful work.

"The ant packs a bit of a punch when it bites," Shannon Motlop said.

"And when you do get bitten you get bitten by 10 or 20 of them."

Pain paying off at $650 per kiloGreen ants are gaining momentum in culinary circles, with growing interest from influential Australian and international chefs including Rene Redzepi from Noma restaurant.

Daniel Motlop said he was surprised by the demand for an insect that traditionally was used as more of a bush medicine and is now selling to restaurants for the wholesale price of $650 per kilogram.

"As a kid going out in the bush, we used to mess around and taste a few and bite their backsides off," Daniel Motlop said.

"It's just got that little hit I suppose. But we never ever thought of it as a commercial food industry."

Photo Daniel Motlop packaging green ants at his Something Wild store in Adelaide.Landline: Kerry StaightSomeone who has thought about it as a high-end commercial food is South Australian cheese maker Kris Lloyd.

The Adelaide Hills producer has released a goats cheese topped with green ants.

"I like to see them whole. I actually think they're very beautiful," she said.

At $350 a kilo, the insect-encrusted chevre is one of the most expensive cheeses in the country.

It received a super gold award at the World Cheese Awards late last year, beating more than 3,000 other entries.

Its creator says the critters taste like a combination of kaffir lime and lemon grass.

"It's like a sherbet bomb exploding in your mouth," she said.

Sacha La Forgia also has not been shy in displaying his hero ingredient.

As well as using green ants during the distilling process, he's saved a few for the bottling.

"They've got a really nice acidic zing in their abdomen," he said.

"So instead of losing that in the distillation we thought we'd include the ants and it just lifts the gin a little bit.

"And the brave people at the party can eat them at the end."

Posted Fri Feb 17 11:20:06 EST 2017Related
NA-Tech News

Marco Arment's Overcast 3 testing in-house ads as new app monetization strategy '' 9to5Mac

Thu, 23 Feb 2017 14:15

Marco Arment's Overcast podcast player updated to version 3.0 this week and includes a new design with a novel monetization strategy: in-house advertising. Overcast has relied in in-app purchases and subscriptions in the past as well as Google-based advertising, but Arment is now rolling his own ads starting with the latest version.

Arment's podcast player, Overcast, has seen a major update this week to version 3.0, bringing new UI changes and a significantly updated watchOS 3 app. In a blog post Arment describes the process of designing the app for the larger screen devices in use today. However, one of the more interesting pieces to note from the update is that Arment has now moved to using in-house ads.

The decision came after a ''failed'' attempt in getting a patronage-only model to work, and running through the difficulties that various ad platforms provide. He mentions that he didn't feel comfortable running closed-source code that had ''uncomfortable requirements'' in his apps.

This made me a little uneasy in September, but then November happened, and by late January, I wasn't comfortable embedding unnecessary closed-source code from a U.S advertising company in my app anymore.

This meant dropping previous ad platforms and third-party analytic companies and moving to what he calls ''tasteful in-house ads with class-leading privacy.''

In-app adsOvercast's iOS app includes ads for non-Premium subscribers. No personal data is used to target these ads except the directory categories of podcasts that you're subscribed to (such as ''Technology,'' ''Business,'' etc.).

The only data collected by each ad is the number of times it has been viewed and tapped, and for podcast ads, the number of new subscriptions resulting from viewing it. For modern app monetization, it's a novel approach especially with Apple exiting the in-app ad space with iAds.

Arment has decided to show different ads in two different scenarios within the application. When in the Now Playing screen, ads for various websites, apps, podcasts, and even Overcast Premium will show. When a user is in the Add Podcast screen they'll only see ads for podcasts. As Arment puts it, ''What better place to advertise a podcast successfully than in a podcast player?''

Arment introducing in-house ads in favor of relying on an external ad network follows his controversial decision to publish then pull an iOS ad blocker of his own in 2015.

After just 48 hours in the App Store, Arment decided to pull the app after saying that it ''just doesn't feel good'' to [profit from] the negative impact to ''many who don't deserve the hit.''

As readers of 9to5Mac, we actively encourage you to reach out to us and provide feedback on the ads presented on the site. If you do choose to use an ad blocker, whitelisting our sites helps to provide our writers with the revenue they need to continue their work. If you ever find a distasteful or inappropriate ad, feel free to email me directly at greg@9to5mac.com. We're continuously working on improving the ad experience presented on our sites, and want to improve that experience for the readers as well.

You can grab the 3.0 update to the Overcast podcast app in the iOS App Store for free. Overcast also offers a premium upgrade that will remove ads and add file uploads for only $9.99 a year.

Related:
CLIPS AND DOCS

VIDEO - Trump revokes rules on transgender students' use of segregated toilets | Euronews

Thu, 23 Feb 2017 05:55

world news

22/02/2017Newly-discovered Earth-sized exoplanets could host life

]]>

\n \n {{ more.more_ranking_label }}'}),i.init=function(e){i.getDataContextAndClearStaticDom(e,"ranking",!0);var t=JSON.parse(document.querySelector(".js-sport").getAttribute("data-more"));e.$set("more",t),window.addEventListener("update-league-ranking",function(t){e.$set("ranking",t.detail.ranking)},!1)},i.config={data:function(){return{ranking:[],more:[]}},created:function(){s.init(this),a.filter("pointify",function(e){return e=e.replace(/W/g,''),e=e.replace(/D/g,''),e=e.replace(/L/g,'')})}},n=i,o(i,n)}return a(t,e),t}(l.default);t.exports=u},{"./component-abstract":15}],17:[function(e,t,n){"use strict";function i(e){return e&&e.__esModule?e:{default:e}}function r(e,t){if(!(e instanceof t))throw new TypeError("Cannot call a class as a function")}function o(e,t){if(!e)throw new ReferenceError("this hasn't been initialised - super() hasn't been called");return!t||"object"!=typeof t&&"function"!=typeof t?e:t}function a(e,t){if("function"!=typeof t&&null!==t)throw new TypeError("Super expression must either be null or a function, not "+typeof t);e.prototype=Object.create(t&&t.prototype,{constructor:{value:e,enumerable:!1,writable:!0,configurable:!0}}),t&&(Object.setPrototypeOf?Object.setPrototypeOf(e,t):e.__proto__=t)}var s=e("./component-abstract"),l=i(s),u=function(e){function t(e){var n;r(this,t);var i=o(this,(t.__proto__||Object.getPrototypeOf(t)).call(this,e));i.storage=Euronews.Tools.storage,i.$=Euronews.Tools.$;var a=JSON.parse(document.querySelector(".js-sport").getAttribute("data-more")),s=JSON.parse(document.querySelector(".js-sport").getAttribute("data-league")),l=s.id,u=Euronews.Tools.Vue,c=i;return i.elementsArr=[],i.setComponentConfig({tagName:"football-fixtures",template:"#football-fixtures-template"}),i.init=function(e){i.getDataContextAndClearStaticDom(e,"fixturesList",!0),c.initDatas(e),e.$set("more",a),e.$set("league",s),window.addEventListener("update-league-fixtures",function(t){e.$set("fixturesList",t.detail.fixtures),e.$set("league",t.detail.league),l=t.detail.leagueId,c.initDatas(e)},!1)},i.initDatas=function(e){var t=e.$get("fixturesList"),n=t[0],i=[];$.each(t,function(){i.push(this.round)}),e.$set("fixture",n),e.$set("loadedRounds",i),e.$set("currentResultRound",0)},i.config={data:function(){return{fixturesList:[],fixture:[],loadedRounds:[],endRound:!1,isLoading:!1,currentResultRound:0,more:[],league:[]}},created:function(){c.init(this),u.filter("toLocalizedTime",function(e){var t=new Date(e),n=6e4*t.getTimezoneOffset(),i=t.getTime();t=i-n;var r=new Date(t),o=r.getHours().toString()+":"+(r.getMinutes()=0&&(this.fixture=this.fixturesList[this.currentResultRound-1],this.currentResultRound--)},nextResult:function(){if(!this.isLoading){if(this.isLoading=!0,this.endRound&&"undefined"==typeof this.fixturesList[this.currentResultRound+1])return void(this.isLoading=!1);if(this.fixture=this.fixturesList[this.currentResultRound+1],this.currentResultRound++,"undefined"==typeof this.fixturesList[this.currentResultRound+1]){var e="/api/sport/football/"+l+"/"+(this.currentResultRound+1)+"/fixtures/";this.$http({url:e,method:"GET",async:!1}).then(function(e,t,n){return this.isLoading=!1,""===e.data.data.fixtures?void(this.endRound=!0):(this.fixturesList.push(e.data.data.fixtures[0]),void this.loadedRounds.push(e.data.data.fixtures[0].round))},function(e,t,n){console.warn("Football - ERROR LOADING JSON")})}else this.isLoading=!1}}}},n=i,o(i,n)}return a(t,e),t}(l.default);t.exports=u},{"./component-abstract":15}],18:[function(e,t,n){"use strict";function i(e){return e&&e.__esModule?e:{default:e}}function r(e,t){if(!(e instanceof t))throw new TypeError("Cannot call a class as a function")}function o(e,t){if(!e)throw new ReferenceError("this hasn't been initialised - super() hasn't been called");return!t||"object"!=typeof t&&"function"!=typeof t?e:t}function a(e,t){if("function"!=typeof t&&null!==t)throw new TypeError("Super expression must either be null or a function, not "+typeof t);e.prototype=Object.create(t&&t.prototype,{constructor:{value:e,enumerable:!1,writable:!0,configurable:!0}}),t&&(Object.setPrototypeOf?Object.setPrototypeOf(e,t):e.__proto__=t)}var s=e("./component-abstract"),l=i(s),u=function(e){function t(e){var n;r(this,t);var i=o(this,(t.__proto__||Object.getPrototypeOf(t)).call(this,e));i.storage=Euronews.Tools.storage,i.$=Euronews.Tools.$;var a=i,s=JSON.parse(document.querySelector(".js-sport").getAttribute("data-league"));return i.elementsArr=[],i.setComponentConfig({tagName:"football-ranking",template:"#football-ranking-template"}),i.init=function(e){i.getDataContextAndClearStaticDom(e,"ranking",!0);var t=JSON.parse(document.querySelector(".js-sport").getAttribute("data-more"));e.$set("more",t),e.$set("league",s),window.addEventListener("update-league-ranking",function(t){e.$set("ranking",t.detail.ranking)},!1)},i.config={data:function(){return{ranking:[],league:[],more:[]}},created:function(){a.init(this)}},n=i,o(i,n)}return a(t,e),t}(l.default);t.exports=u},{"./component-abstract":15}],19:[function(e,t,n){"use strict";function i(e){return e&&e.__esModule?e:{default:e}}function r(e,t){if(!(e instanceof t))throw new TypeError("Cannot call a class as a function")}function o(e,t){if(!e)throw new ReferenceError("this hasn't been initialised - super() hasn't been called");return!t||"object"!=typeof t&&"function"!=typeof t?e:t}function a(e,t){if("function"!=typeof t&&null!==t)throw new TypeError("Super expression must either be null or a function, not "+typeof t);e.prototype=Object.create(t&&t.prototype,{constructor:{value:e,enumerable:!1,writable:!0,configurable:!0}}),t&&(Object.setPrototypeOf?Object.setPrototypeOf(e,t):e.__proto__=t)}var s=e("./component-abstract"),l=i(s),u=function(e){function t(e){var n;r(this,t);var i=o(this,(t.__proto__||Object.getPrototypeOf(t)).call(this,e));i.storage=Euronews.Tools.storage,i.$=Euronews.Tools.$;var a=i,s=JSON.parse(document.querySelector(".js-sport").getAttribute("data-more")),l=JSON.parse(document.querySelector(".js-sport").getAttribute("data-league")),u=l.id;return i.elementsArr=[],i.setComponentConfig({tagName:"football-results",template:"#football-results-template"}),i.init=function(e){i.getDataContextAndClearStaticDom(e,"resultsList",!0),a.initDatas(e),e.$set("more",s),e.$set("league",l),window.addEventListener("update-league-results",function(t){e.$set("resultsList",t.detail.results),e.$set("league",t.detail.league),u=t.detail.leagueId,a.initDatas(e)},!1)},i.initDatas=function(e){var t=e.$get("resultsList"),n=t[0],i=[];$.each(t,function(){i.push(this.round)}),e.$set("result",n),e.$set("loadedRounds",i),e.$set("currentResultRound",0)},i.config={data:function(){return{resultsList:[],result:[],loadedRounds:[],endRound:!1,isLoading:!1,currentResultRound:0,more:[],league:[]}},created:function(){a.init(this)},methods:{previousResult:function(){if(!this.isLoading){if(this.isLoading=!0,this.endRound)return void(this.isLoading=!1);if(this.result=this.resultsList[this.currentResultRound+1],this.currentResultRound++,"undefined"==typeof this.resultsList[this.currentResultRound+1]){var e="/api/sport/football/"+u+"/"+(this.currentResultRound+1)+"/results";this.$http({url:e,method:"GET"}).then(function(e,t,n){return""===e.data.data.results?(this.endRound=!0,void(this.isLoading=!1)):(this.resultsList.push(e.data.data.results[0]),this.loadedRounds.push(e.data.data.results[0].round),void(this.isLoading=!1))},function(e,t,n){console.warn("Football - ERROR LOADING JSON")})}else this.isLoading=!1}},nextResult:function(){this.currentResultRound-1>=0&&(this.result=this.resultsList[this.currentResultRound-1],this.currentResultRound--)}}},n=i,o(i,n)}return a(t,e),t}(l.default);t.exports=u},{"./component-abstract":15}],20:[function(e,t,n){"use strict";function i(e){return e&&e.__esModule?e:{default:e}}function r(e,t){if(!(e instanceof t))throw new TypeError("Cannot call a class as a function")}function o(e,t){if(!e)throw new ReferenceError("this hasn't been initialised - super() hasn't been called");return!t||"object"!=typeof t&&"function"!=typeof t?e:t}function a(e,t){if("function"!=typeof t&&null!==t)throw new TypeError("Super expression must either be null or a function, not "+typeof t);e.prototype=Object.create(t&&t.prototype,{constructor:{value:e,enumerable:!1,writable:!0,configurable:!0}}),t&&(Object.setPrototypeOf?Object.setPrototypeOf(e,t):e.__proto__=t)}var s=function(){function e(e,t){for(var n=0;n=3&&37!==e.keyCode&&38!==e.keyCode&&39!==e.keyCode&&40!==e.keyCode&&(this.isLoading=!0,this.$http.get(this.apiurl+this.inputSearch,function(e){}).then(function(e,n,i){return e.data.length?(this.isLoading=!1,this.noResult=!1,this.items=e.data,$.each(e.data,function(e,n){t.push({label:n.title,value:n.urlSafeValue})}),void(a.awesomplete.list=t)):(this.isLoading=!1,this.noResult=!0,void(a.awesomplete.list=t))},function(e,t,n){console.warn("Just In - ERROR LOADING JSON")}))},launchSearch:function(e){"1"===this.eventisallowed&&window.location.replace("/search?query="+this.inputSearch)}}},n=i,o(i,n)}return a(t,e),s(t,[{key:"setAwesomplete",value:function(e){return this.awesomplete=e,this}}]),t}(u.default);t.exports=c},{"./component-abstract":15}],23:[function(e,t,n){"use strict";function i(e){return e&&e.__esModule?e:{default:e}}function r(e,t){if(!(e instanceof t))throw new TypeError("Cannot call a class as a function")}function o(e,t){if(!e)throw new ReferenceError("this hasn't been initialised - super() hasn't been called");return!t||"object"!=typeof t&&"function"!=typeof t?e:t}function a(e,t){if("function"!=typeof t&&null!==t)throw new TypeError("Super expression must either be null or a function, not "+typeof t);e.prototype=Object.create(t&&t.prototype,{constructor:{value:e,enumerable:!1,writable:!0,configurable:!0}}),t&&(Object.setPrototypeOf?Object.setPrototypeOf(e,t):e.__proto__=t)}var s="function"==typeof Symbol&&"symbol"==typeof Symbol.iterator?function(e){return typeof e}:function(e){return e&&"function"==typeof Symbol&&e.constructor===Symbol&&e!==Symbol.prototype?"symbol":typeof e},l=function(){function e(e,t){for(var n=0;n\n \n \n {{article.allViewsMeta.pointOfView.author}}\n {{article.allViewsMeta.pointOfView.description}}\n \n

\n ',props:["article"]}),"sticky-allviews-survey":a.extend({tagName:"sticky-allviews-survey",template:'

',props:["article"]}),"sticky-allviews-twitter":a.extend({tagName:"sticky-allviews-twitter",template:'

',props:["article"]}),"sticky-allviews-map":a.extend({tagName:"sticky-allviews-map",template:'

',props:["article"]}),"allviews-logo":a.extend({tagName:"allviews-logo",template:'

").addClass(n).attr({role:"tooltip","aria-hidden":!0,"data-is-active":!1,"data-is-focus":!1,id:t});return i}},{key:"_reposition",value:function(e){this.usedPositions.push(e?e:"bottom"),!e&&this.usedPositions.indexOf("top")-1&&this.usedPositions.indexOf("left")-1&&this.usedPositions.indexOf("left")-1&&this.usedPositions.indexOf("bottom")-1&&this.usedPositions.indexOf("bottom")=t.windowDims.width||!this.counter&&!Foundation.Box.ImNotTouchingYou(this.template))return this.template.offset(Foundation.Box.GetOffsets(this.template,this.$element,"center bottom",this.options.vOffset,this.options.hOffset,!0)).css({width:n.windowDims.width-2*this.options.hOffset,height:"auto"}),!1;for(this.template.offset(Foundation.Box.GetOffsets(this.template,this.$element,"center "+(e||"bottom"),this.options.vOffset,this.options.hOffset));!Foundation.Box.ImNotTouchingYou(this.template)&&this.counter;)this._reposition(e),this._setPosition()}},{key:"show",value:function(){if("all"!==this.options.showOn&&!Foundation.MediaQuery.atLeast(this.options.showOn))return!1;var e=this;this.template.css("visibility","hidden").show(),this._setPosition(),this.$element.trigger("closeme.zf.tooltip",this.template.attr("id")),this.template.attr({"data-is-active":!0,"aria-hidden":!1}),e.isActive=!0,this.template.stop().hide().css("visibility","").fadeIn(this.options.fadeInDuration,function(){}),this.$element.trigger("show.zf.tooltip")}},{key:"hide",value:function(){var e=this;this.template.stop().attr({"aria-hidden":!0,"data-is-active":!1}).fadeOut(this.options.fadeOutDuration,function(){e.isActive=!1,e.isClick=!1,e.classChanged&&(e.template.removeClass(e._getPositionClass(e.template)).addClass(e.options.positionClass),e.usedPositions=[],e.counter=4,e.classChanged=!1)}),this.$element.trigger("hide.zf.tooltip")}},{key:"_events",value:function(){var e=this,t=(this.template,!1);this.options.disableHover||this.$element.on("mouseenter.zf.tooltip",function(t){e.isActive||(e.timeout=setTimeout(function(){e.show()},e.options.hoverDelay))}).on("mouseleave.zf.tooltip",function(n){clearTimeout(e.timeout),(!t||!e.isClick&&e.options.clickOpen)&&e.hide()}),this.options.clickOpen&&this.$element.on("mousedown.zf.tooltip",function(t){t.stopImmediatePropagation(),e.isClick?e.hide():(e.isClick=!0,!e.options.disableHover&&e.$element.attr("tabindex")||e.isActive||e.show())}),this.options.disableForTouch||this.$element.on("tap.zf.tooltip touchend.zf.tooltip",function(t){e.isActive?e.hide():e.show()}),this.$element.on({"close.zf.trigger":this.hide.bind(this)}),this.$element.on("focus.zf.tooltip",function(n){return t=!0,!e.isClick&&void e.show()}).on("focusout.zf.tooltip",function(n){t=!1,e.isClick=!1,e.hide()}).on("resizeme.zf.trigger",function(){e.isActive&&e._setPosition()})}},{key:"toggle",value:function(){this.isActive?this.hide():this.show()}},{key:"destroy",value:function(){this.$element.attr("title",this.template.text()).off(".zf.trigger .zf.tootip").removeAttr("aria-describedby").removeAttr("data-yeti-box").removeAttr("data-toggle").removeAttr("data-resize"),this.template.remove(),Foundation.unregisterPlugin(this)}}]),t}();t.defaults={disableForTouch:!1,hoverDelay:200,fadeInDuration:150,fadeOutDuration:150,disableHover:!1,templateClasses:"",tooltipClass:"tooltip",triggerClass:"has-tip",showOn:"small",template:"",tipText:"",touchCloseText:"Tap to close.",clickOpen:!0,positionClass:"",vOffset:10,hOffset:12},Foundation.plugin(t,"Tooltip")}(jQuery)},{}],37:[function(e,t,n){"use strict";!function(e){function t(e,t,i,r){var o,a,s,l,u=n(e);if(t){var c=n(t);a=u.offset.top+u.height=c.offset.top,s=u.offset.left>=c.offset.left,l=u.offset.left+u.width=u.windowDims.offset.top,s=u.offset.left>=u.windowDims.offset.left,l=u.offset.left+u.width0&&t-1 in e)}function r(e,t,n){return he.isFunction(t)?he.grep(e,function(e,i){return!!t.call(e,i,e)!==n}):t.nodeType?he.grep(e,function(e){return e===t!==n}):"string"!=typeof t?he.grep(e,function(e){return ae.call(t,e)>-1!==n}):Ce.test(t)?he.filter(t,e,n):(t=he.filter(t,e),he.grep(e,function(e){return ae.call(t,e)>-1!==n&&1===e.nodeType}))}function o(e,t){for(;(e=e[t])&&1!==e.nodeType;);return e}function a(e){var t={};return he.each(e.match(Oe)||[],function(e,n){t[n]=!0}),t}function s(e){return e}function l(e){throw e}function u(e,t,n){var i;try{e&&he.isFunction(i=e.promise)?i.call(e).done(t).fail(n):e&&he.isFunction(i=e.then)?i.call(e,t,n):t.call(void 0,e)}catch(e){n.call(void 0,e)}}function c(){te.removeEventListener("DOMContentLoaded",c),e.removeEventListener("load",c),he.ready()}function d(){this.expando=he.expando+d.uid++}function p(e){return"true"===e||"false"!==e&&("null"===e?null:e===+e+""?+e:$e.test(e)?JSON.parse(e):e)}function f(e,t,n){var i;if(void 0===n&&1===e.nodeType)if(i="data-"+t.replace(je,"-$&").toLowerCase(),n=e.getAttribute(i),"string"==typeof n){try{n=p(n)}catch(e){}Ie.set(e,t,n)}else n=void 0;return n}function h(e,t,n,i){var r,o=1,a=20,s=i?function(){return i.cur()}:function(){return he.css(e,t,"")},l=s(),u=n&&n[3]||(he.cssNumber[t]?"":"px"),c=(he.cssNumber[t]||"px"!==u&&+l)&&He.exec(he.css(e,t));if(c&&c[3]!==u){u=u||c[3],n=n||[],c=+l||1;do o=o||".5",c/=o,he.style(e,t,c+u);while(o!==(o=s()/l)&&1!==o&&--a)}return n&&(c=+c||+l||0,r=n[1]?c+(n[1]+1)*n[2]:+n[2],i&&(i.unit=u,i.start=c,i.end=r)),r}function m(e){var t,n=e.ownerDocument,i=e.nodeName,r=Ve[i];return r?r:(t=n.body.appendChild(n.createElement(i)),r=he.css(t,"display"),t.parentNode.removeChild(t),"none"===r&&(r="block"),Ve[i]=r,r)}function g(e,t){for(var n,i,r=[],o=0,a=e.length;o

-1)r&&r.push(o);else if(u=he.contains(o.ownerDocument,o),a=v(d.appendChild(o),"script"),u&&y(a),n)for(c=0;o=a[c++];)Xe.test(o.type||"")&&n.push(o);return d}function w(){return!0}function x(){return!1}function _(){try{return te.activeElement}catch(e){}}function T(e,t,n,i,r,o){var a,s;if("object"==typeof t){"string"!=typeof n&&(i=i||n,n=void 0);for(s in t)T(e,s,n,i,t[s],o);return e}if(null==i&&null==r?(r=n,i=n=void 0):null==r&&("string"==typeof n?(r=i,i=void 0):(r=i,i=n,n=void 0)),r===!1)r=x;else if(!r)return e;return 1===o&&(a=r,r=function(e){return he().off(e),a.apply(this,arguments)},r.guid=a.guid||(a.guid=he.guid++)),e.each(function(){he.event.add(this,t,r,i,n)})}function C(e,t){return he.nodeName(e,"table")&&he.nodeName(11!==t.nodeType?t:t.firstChild,"tr")?e.getElementsByTagName("tbody")[0]||e:e}function E(e){return e.type=(null!==e.getAttribute("type"))+"/"+e.type,e}function S(e){var t=it.exec(e.type);return t?e.type=t[1]:e.removeAttribute("type"),e}function k(e,t){var n,i,r,o,a,s,l,u;if(1===t.nodeType){if(ze.hasData(e)&&(o=ze.access(e),a=ze.set(t,o),u=o.events)){delete a.handle,a.events={};for(r in u)for(n=0,i=u[r].length;n1&&"string"==typeof h&&!pe.checkClone&&nt.test(h))return e.each(function(n){var o=e.eq(n);m&&(t[0]=h.call(this,n,o.html())),N(o,t,i,r)});if(p&&(o=b(t,e[0].ownerDocument,!1,e,r),a=o.firstChild,1===o.childNodes.length&&(o=a),a||r)){for(s=he.map(v(o,"script"),E),l=s.length;d=0&&nT.cacheLength&&delete e[t.shift()],e[n+" "]=i}var t=[];return e}function i(e){return e[H]=!0,e}function r(e){var t=M.createElement("fieldset");try{return!!e(t)}catch(e){return!1}finally{t.parentNode&&t.parentNode.removeChild(t),t=null}}function o(e,t){for(var n=e.split("|"),i=n.length;i--;)T.attrHandle[n[i]]=t}function a(e,t){var n=t&&e,i=n&&1===e.nodeType&&1===t.nodeType&&e.sourceIndex-t.sourceIndex;if(i)return i;if(n)for(;n=n.nextSibling;)if(n===t)return-1;return e?1:-1}function s(e){return function(t){var n=t.nodeName.toLowerCase();return"input"===n&&t.type===e}}function l(e){return function(t){var n=t.nodeName.toLowerCase();return("input"===n||"button"===n)&&t.type===e}}function u(e){return function(t){return"form"in t?t.parentNode&&t.disabled===!1?"label"in t?"label"in t.parentNode?t.parentNode.disabled===e:t.disabled===e:t.isDisabled===e||t.isDisabled!==!e&&Ce(t)===e:t.disabled===e:"label"in t&&t.disabled===e}}function c(e){return i(function(t){return t=+t,i(function(n,i){for(var r,o=e([],n.length,t),a=o.length;a--;)n[r=o[a]]&&(n[r]=!(i[r]=n[r]))})})}function d(e){return e&&"undefined"!=typeof e.getElementsByTagName&&e}function p(){}function f(e){for(var t=0,n=e.length,i="";t1?function(t,n,i){for(var r=e.length;r--;)if(!e[r](t,n,i))return!1;return!0}:e[0]}function g(e,n,i){for(var r=0,o=n.length;r-1&&(i[u]=!(a[u]=d))}}else b=v(b===a?b.splice(h,b.length):b),o?o(null,a,b,l):Q.apply(a,b)})}function b(e){for(var t,n,i,r=e.length,o=T.relative[e[0].type],a=o||T.relative[" "],s=o?1:0,l=h(function(e){return e===t},a,!0),u=h(function(e){return ee(t,e)>-1},a,!0),c=[function(e,n,i){var r=!o&&(i||n!==N)||((t=n).nodeType?l(e,n,i):u(e,n,i));return t=null,r}];s1&&m(c),s>1&&f(e.slice(0,s-1).concat({value:" "===e[s-2].type?"*":""})).replace(se,"$1"),n,s0,o=e.length>0,a=function(i,a,s,l,u){var c,d,p,f=0,h="0",m=i&&[],g=[],y=N,b=i||o&&T.find.TAG("*",u),w=F+=null==y?1:Math.random()||.1,x=b.length;for(u&&(N=a===M||a||u);h!==x&&null!=(c=b[h]);h++){if(o&&c){for(d=0,a||c.ownerDocument===M||(D(c),s=!z);p=e[d++];)if(p(c,a||M,s)){l.push(c);break}u&&(F=w)}r&&((c=!p&&c)&&f--,i&&m.push(c))}if(f+=h,r&&h!==f){for(d=0;p=n[d++];)p(m,g,a,s);if(i){if(f>0)for(;h--;)m[h]||g[h]||(g[h]=K.call(l));g=v(g)}Q.apply(l,g),u&&!i&&g.length>0&&f+n.length>1&&t.uniqueSort(l)}return u&&(F=w,N=y),m};return r?i(a):a}var x,_,T,C,E,S,k,A,N,O,P,D,M,L,z,I,$,j,R,H="sizzle"+1*new Date,B=e.document,F=0,W=0,V=n(),q=n(),Y=n(),X=function(e,t){return e===t&&(P=!0),0},U={}.hasOwnProperty,G=[],K=G.pop,J=G.push,Q=G.push,Z=G.slice,ee=function(e,t){for(var n=0,i=e.length;n+~]|"+ne+")"+ne+"*"),ce=new RegExp("="+ne+"*([^\\]'\"]*?)"+ne+"*\\]","g"),de=new RegExp(oe),pe=new RegExp("^"+ie+"$"),fe={ID:new RegExp("^#("+ie+")"),CLASS:new RegExp("^\\.("+ie+")"),TAG:new RegExp("^("+ie+"|[*])"),ATTR:new RegExp("^"+re),PSEUDO:new RegExp("^"+oe),CHILD:new RegExp("^:(only|first|last|nth|nth-last)-(child|of-type)(?:\\("+ne+"*(even|odd|(([+-]|)(\\d*)n|)"+ne+"*(?:([+-]|)"+ne+"*(\\d+)|))"+ne+"*\\)|)","i"),bool:new RegExp("^(?:"+te+")$","i"),needsContext:new RegExp("^"+ne+"*[>+~]|:(even|odd|eq|gt|lt|nth|first|last)(?:\\("+ne+"*((?:-\\d)?\\d*)"+ne+"*\\)|)(?=[^-]|$)","i")},he=/^(?:input|select|textarea|button)$/i,me=/^h\d$/i,ge=/^[^{]+\{\s*\[native \w/,ve=/^(?:#([\w-]+)|(\w+)|\.([\w-]+))$/,ye=/[+~]/,be=new RegExp("\\\\([\\da-f]{1,6}"+ne+"?|("+ne+")|.)","ig"),we=function(e,t,n){var i="0x"+t-65536;return i!==i||n?t:i>10|55296,1023&i|56320)},xe=/([\0-\x1f\x7f]|^-?\d)|^-$|[^\0-\x1f\x7f-\uFFFF\w-]/g,_e=function(e,t){return t?"\0"===e?"½":e.slice(0,-1)+"\\"+e.charCodeAt(e.length-1).toString(16)+" ":"\\"+e},Te=function(){D()},Ce=h(function(e){return e.disabled===!0&&("form"in e||"label"in e)},{dir:"parentNode",next:"legend"});try{Q.apply(G=Z.call(B.childNodes),B.childNodes),G[B.childNodes.length].nodeType}catch(e){Q={apply:G.length?function(e,t){J.apply(e,Z.call(t))}:function(e,t){for(var n=e.length,i=0;e[n++]=t[i++];);e.length=n-1}}}_=t.support={},E=t.isXML=function(e){var t=e&&(e.ownerDocument||e).documentElement;return!!t&&"HTML"!==t.nodeName},D=t.setDocument=function(e){var t,n,i=e?e.ownerDocument||e:B;return i!==M&&9===i.nodeType&&i.documentElement?(M=i,L=M.documentElement,z=!E(M),B!==M&&(n=M.defaultView)&&n.top!==n&&(n.addEventListener?n.addEventListener("unload",Te,!1):n.attachEvent&&n.attachEvent("onunload",Te)),_.attributes=r(function(e){return e.className="i",!e.getAttribute("className")}),_.getElementsByTagName=r(function(e){return e.appendChild(M.createComment("")),!e.getElementsByTagName("*").length}),_.getElementsByClassName=ge.test(M.getElementsByClassName),_.getById=r(function(e){return L.appendChild(e).id=H,!M.getElementsByName||!M.getElementsByName(H).length}),_.getById?(T.filter.ID=function(e){var t=e.replace(be,we);return function(e){return e.getAttribute("id")===t}},T.find.ID=function(e,t){if("undefined"!=typeof t.getElementById&&z){var n=t.getElementById(e);return n?[n]:[]}}):(T.filter.ID=function(e){var t=e.replace(be,we);return function(e){var n="undefined"!=typeof e.getAttributeNode&&e.getAttributeNode("id");return n&&n.value===t}},T.find.ID=function(e,t){if("undefined"!=typeof t.getElementById&&z){var n,i,r,o=t.getElementById(e);if(o){if(n=o.getAttributeNode("id"),n&&n.value===e)return[o];for(r=t.getElementsByName(e),i=0;o=r[i++];)if(n=o.getAttributeNode("id"),n&&n.value===e)return[o]}return[]}}),T.find.TAG=_.getElementsByTagName?function(e,t){return"undefined"!=typeof t.getElementsByTagName?t.getElementsByTagName(e):_.qsa?t.querySelectorAll(e):void 0}:function(e,t){var n,i=[],r=0,o=t.getElementsByTagName(e);if("*"===e){for(;n=o[r++];)1===n.nodeType&&i.push(n);return i}return o},T.find.CLASS=_.getElementsByClassName&&function(e,t){if("undefined"!=typeof t.getElementsByClassName&&z)return t.getElementsByClassName(e)},$=[],I=[],(_.qsa=ge.test(M.querySelectorAll))&&(r(function(e){L.appendChild(e).innerHTML="",e.querySelectorAll("[msallowcapture^='']").length&&I.push("[*^$]="+ne+"*(?:''|\"\")"),e.querySelectorAll("[selected]").length||I.push("\\["+ne+"*(?:value|"+te+")"),e.querySelectorAll("[id~="+H+"-]").length||I.push("~="),e.querySelectorAll(":checked").length||I.push(":checked"),e.querySelectorAll("a#"+H+"+*").length||I.push(".#.+[+~]")}),r(function(e){e.innerHTML="";var t=M.createElement("input");t.setAttribute("type","hidden"),e.appendChild(t).setAttribute("name","D"),e.querySelectorAll("[name=d]").length&&I.push("name"+ne+"*[*^$|!~]?="),2!==e.querySelectorAll(":enabled").length&&I.push(":enabled",":disabled"),L.appendChild(e).disabled=!0,2!==e.querySelectorAll(":disabled").length&&I.push(":enabled",":disabled"),e.querySelectorAll("*,:x"),I.push(",.*:")})),(_.matchesSelector=ge.test(j=L.matches||L.webkitMatchesSelector||L.mozMatchesSelector||L.oMatchesSelector||L.msMatchesSelector))&&r(function(e){_.disconnectedMatch=j.call(e,"*"),j.call(e,"[s!='']:x"),$.push("!=",oe)}),I=I.length&&new RegExp(I.join("|")),$=$.length&&new RegExp($.join("|")),t=ge.test(L.compareDocumentPosition),R=t||ge.test(L.contains)?function(e,t){var n=9===e.nodeType?e.documentElement:e,i=t&&t.parentNode;return e===i||!(!i||1!==i.nodeType||!(n.contains?n.contains(i):e.compareDocumentPosition&&16&e.compareDocumentPosition(i)))}:function(e,t){if(t)for(;t=t.parentNode;)if(t===e)return!0;return!1},X=t?function(e,t){if(e===t)return P=!0,0;var n=!e.compareDocumentPosition-!t.compareDocumentPosition;return n?n:(n=(e.ownerDocument||e)===(t.ownerDocument||t)?e.compareDocumentPosition(t):1,1&n||!_.sortDetached&&t.compareDocumentPosition(e)===n?e===M||e.ownerDocument===B&&R(B,e)?-1:t===M||t.ownerDocument===B&&R(B,t)?1:O?ee(O,e)-ee(O,t):0:4&n?-1:1)}:function(e,t){if(e===t)return P=!0,0;var n,i=0,r=e.parentNode,o=t.parentNode,s=[e],l=[t];if(!r||!o)return e===M?-1:t===M?1:r?-1:o?1:O?ee(O,e)-ee(O,t):0;if(r===o)return a(e,t);for(n=e;n=n.parentNode;)s.unshift(n);for(n=t;n=n.parentNode;)l.unshift(n);for(;s[i]===l[i];)i++;return i?a(s[i],l[i]):s[i]===B?-1:l[i]===B?1:0},M):M},t.matches=function(e,n){return t(e,null,null,n)},t.matchesSelector=function(e,n){if((e.ownerDocument||e)!==M&&D(e),n=n.replace(ce,"='$1']"),_.matchesSelector&&z&&!Y[n+" "]&&(!$||!$.test(n))&&(!I||!I.test(n)))try{var i=j.call(e,n);if(i||_.disconnectedMatch||e.document&&11!==e.document.nodeType)return i}catch(e){}return t(n,M,null,[e]).length>0},t.contains=function(e,t){return(e.ownerDocument||e)!==M&&D(e),R(e,t)},t.attr=function(e,t){(e.ownerDocument||e)!==M&&D(e);var n=T.attrHandle[t.toLowerCase()],i=n&&U.call(T.attrHandle,t.toLowerCase())?n(e,t,!z):void 0;return void 0!==i?i:_.attributes||!z?e.getAttribute(t):(i=e.getAttributeNode(t))&&i.specified?i.value:null},t.escape=function(e){return(e+"").replace(xe,_e)},t.error=function(e){throw new Error("Syntax error, unrecognized expression: "+e)},t.uniqueSort=function(e){var t,n=[],i=0,r=0;if(P=!_.detectDuplicates,O=!_.sortStable&&e.slice(0),e.sort(X),P){for(;t=e[r++];)t===e[r]&&(i=n.push(r));for(;i--;)e.splice(n[i],1)}return O=null,e},C=t.getText=function(e){var t,n="",i=0,r=e.nodeType;if(r){if(1===r||9===r||11===r){if("string"==typeof e.textContent)return e.textContent;for(e=e.firstChild;e;e=e.nextSibling)n+=C(e)}else if(3===r||4===r)return e.nodeValue}else for(;t=e[i++];)n+=C(t);return n},T=t.selectors={cacheLength:50,createPseudo:i,match:fe,attrHandle:{},find:{},relative:{">":{dir:"parentNode",first:!0}," ":{dir:"parentNode"},"+":{dir:"previousSibling",first:!0},"~":{dir:"previousSibling"}},preFilter:{ATTR:function(e){return e[1]=e[1].replace(be,we),e[3]=(e[3]||e[4]||e[5]||"").replace(be,we),"~="===e[2]&&(e[3]=" "+e[3]+" "),e.slice(0,4)},CHILD:function(e){return e[1]=e[1].toLowerCase(),"nth"===e[1].slice(0,3)?(e[3]||t.error(e[0]),e[4]=+(e[4]?e[5]+(e[6]||1):2*("even"===e[3]||"odd"===e[3])),e[5]=+(e[7]+e[8]||"odd"===e[3])):e[3]&&t.error(e[0]),e},PSEUDO:function(e){var t,n=!e[6]&&e[2];return fe.CHILD.test(e[0])?null:(e[3]?e[2]=e[4]||e[5]||"":n&&de.test(n)&&(t=S(n,!0))&&(t=n.indexOf(")",n.length-t)-n.length)&&(e[0]=e[0].slice(0,t),e[2]=n.slice(0,t)),e.slice(0,3))}},filter:{TAG:function(e){var t=e.replace(be,we).toLowerCase();return"*"===e?function(){return!0}:function(e){return e.nodeName&&e.nodeName.toLowerCase()===t}},CLASS:function(e){var t=V[e+" "];return t||(t=new RegExp("(^|"+ne+")"+e+"("+ne+"|$)"))&&V(e,function(e){return t.test("string"==typeof e.className&&e.className||"undefined"!=typeof e.getAttribute&&e.getAttribute("class")||"")})},ATTR:function(e,n,i){return function(r){var o=t.attr(r,e);return null==o?"!="===n:!n||(o+="","="===n?o===i:"!="===n?o!==i:"^="===n?i&&0===o.indexOf(i):"*="===n?i&&o.indexOf(i)>-1:"$="===n?i&&o.slice(-i.length)===i:"~="===n?(" "+o.replace(ae," ")+" ").indexOf(i)>-1:"|="===n&&(o===i||o.slice(0,i.length+1)===i+"-"))}},CHILD:function(e,t,n,i,r){var o="nth"!==e.slice(0,3),a="last"!==e.slice(-4),s="of-type"===t;return 1===i&&0===r?function(e){return!!e.parentNode}:function(t,n,l){var u,c,d,p,f,h,m=o!==a?"nextSibling":"previousSibling",g=t.parentNode,v=s&&t.nodeName.toLowerCase(),y=!l&&!s,b=!1;if(g){if(o){for(;m;){for(p=t;p=p[m];)if(s?p.nodeName.toLowerCase()===v:1===p.nodeType)return!1;h=m="only"===e&&!h&&"nextSibling"}return!0}if(h=[a?g.firstChild:g.lastChild],a&&y){for(p=g,d=p[H]||(p[H]={}),c=d[p.uniqueID]||(d[p.uniqueID]={}),u=c[e]||[],f=u[0]===F&&u[1],b=f&&u[2],p=f&&g.childNodes[f];p=++f&&p&&p[m]||(b=f=0)||h.pop();)if(1===p.nodeType&&++b&&p===t){c[e]=[F,f,b];break}}else if(y&&(p=t,d=p[H]||(p[H]={}),c=d[p.uniqueID]||(d[p.uniqueID]={}),u=c[e]||[],f=u[0]===F&&u[1],b=f),b===!1)for(;(p=++f&&p&&p[m]||(b=f=0)||h.pop())&&((s?p.nodeName.toLowerCase()!==v:1!==p.nodeType)||!++b||(y&&(d=p[H]||(p[H]={}),c=d[p.uniqueID]||(d[p.uniqueID]={}),c[e]=[F,b]),p!==t)););return b-=r,b===i||b%i===0&&b/i>=0}}},PSEUDO:function(e,n){var r,o=T.pseudos[e]||T.setFilters[e.toLowerCase()]||t.error("unsupported pseudo: "+e);return o[H]?o(n):o.length>1?(r=[e,e,"",n],T.setFilters.hasOwnProperty(e.toLowerCase())?i(function(e,t){for(var i,r=o(e,n),a=r.length;a--;)i=ee(e,r[a]),e[i]=!(t[i]=r[a])}):function(e){return o(e,0,r)}):o}},pseudos:{not:i(function(e){var t=[],n=[],r=k(e.replace(se,"$1"));return r[H]?i(function(e,t,n,i){for(var o,a=r(e,null,i,[]),s=e.length;s--;)(o=a[s])&&(e[s]=!(t[s]=o))}):function(e,i,o){return t[0]=e,r(t,null,o,n),t[0]=null,!n.pop()}}),has:i(function(e){return function(n){return t(e,n).length>0}}),contains:i(function(e){return e=e.replace(be,we),function(t){return(t.textContent||t.innerText||C(t)).indexOf(e)>-1}}),lang:i(function(e){return pe.test(e||"")||t.error("unsupported lang: "+e),e=e.replace(be,we).toLowerCase(),function(t){var n;do if(n=z?t.lang:t.getAttribute("xml:lang")||t.getAttribute("lang"))return n=n.toLowerCase(),n===e||0===n.indexOf(e+"-");while((t=t.parentNode)&&1===t.nodeType);return!1}}),target:function(t){var n=e.location&&e.location.hash;return n&&n.slice(1)===t.id},root:function(e){return e===L},focus:function(e){return e===M.activeElement&&(!M.hasFocus||M.hasFocus())&&!!(e.type||e.href||~e.tabIndex)},enabled:u(!1),disabled:u(!0),checked:function(e){var t=e.nodeName.toLowerCase();return"input"===t&&!!e.checked||"option"===t&&!!e.selected},selected:function(e){return e.parentNode&&e.parentNode.selectedIndex,e.selected===!0},empty:function(e){for(e=e.firstChild;e;e=e.nextSibling)if(e.nodeType=0;)e.push(i);return e}),gt:c(function(e,t,n){for(var i=n2&&"ID"===(a=o[0]).type&&9===t.nodeType&&z&&T.relative[o[1].type]){if(t=(T.find.ID(a.matches[0].replace(be,we),t)||[])[0],!t)return n;u&&(t=t.parentNode),e=e.slice(o.shift().value.length)}for(r=fe.needsContext.test(e)?0:o.length;r--&&(a=o[r],!T.relative[s=a.type]);)if((l=T.find[s])&&(i=l(a.matches[0].replace(be,we),ye.test(o[0].type)&&d(t.parentNode)||t))){if(o.splice(r,1),e=i.length&&f(o),!e)return Q.apply(n,i),n;break}}return(u||k(e,c))(i,t,!z,n,!t||ye.test(e)&&d(t.parentNode)||t),n},_.sortStable=H.split("").sort(X).join("")===H,_.detectDuplicates=!!P,D(),_.sortDetached=r(function(e){return 1&e.compareDocumentPosition(M.createElement("fieldset"))}),r(function(e){return e.innerHTML="","#"===e.firstChild.getAttribute("href")})||o("type|href|height|width",function(e,t,n){if(!n)return e.getAttribute(t,"type"===t.toLowerCase()?1:2)}),_.attributes&&r(function(e){return e.innerHTML="",e.firstChild.setAttribute("value",""),""===e.firstChild.getAttribute("value")})||o("value",function(e,t,n){if(!n&&"input"===e.nodeName.toLowerCase())return e.defaultValue}),r(function(e){return null==e.getAttribute("disabled")})||o(te,function(e,t,n){var i;if(!n)return e[t]===!0?t.toLowerCase():(i=e.getAttributeNode(t))&&i.specified?i.value:null}),t}(e);he.find=be,he.expr=be.selectors,he.expr[":"]=he.expr.pseudos,he.uniqueSort=he.unique=be.uniqueSort,he.text=be.getText,he.isXMLDoc=be.isXML,he.contains=be.contains,he.escapeSelector=be.escape;var we=function(e,t,n){for(var i=[],r=void 0!==n;(e=e[t])&&9!==e.nodeType;)if(1===e.nodeType){if(r&&he(e).is(n))break;i.push(e)}return i},xe=function(e,t){for(var n=[];e;e=e.nextSibling)1===e.nodeType&&e!==t&&n.push(e);return n},_e=he.expr.match.needsContext,Te=/^:\x20\t\r\n\f]*)[\x20\t\r\n\f]*\/?>(?:|)$/i,Ce=/^.[^:#\[\.,]*$/;he.filter=function(e,t,n){var i=t[0];return n&&(e=":not("+e+")"),1===t.length&&1===i.nodeType?he.find.matchesSelector(i,e)?[i]:[]:he.find.matches(e,he.grep(t,function(e){return 1===e.nodeType}))},he.fn.extend({find:function(e){var t,n,i=this.length,r=this;if("string"!=typeof e)return this.pushStack(he(e).filter(function(){for(t=0;t1?he.uniqueSort(n):n},filter:function(e){return this.pushStack(r(this,e||[],!1))},not:function(e){return this.pushStack(r(this,e||[],!0))},is:function(e){return!!r(this,"string"==typeof e&&_e.test(e)?he(e):e||[],!1).length}});var Ee,Se=/^(?:\s*()[^>]*|#([\w-]+))$/,ke=he.fn.init=function(e,t,n){var i,r;if(!e)return this;if(n=n||Ee,"string"==typeof e){if(i=""===e[e.length-1]&&e.length>=3?[null,e,null]:Se.exec(e),!i||!i[1]&&t)return!t||t.jquery?(t||n).find(e):this.constructor(t).find(e);if(i[1]){if(t=t instanceof he?t[0]:t,he.merge(this,he.parseHTML(i[1],t&&t.nodeType?t.ownerDocument||t:te,!0)),Te.test(i[1])&&he.isPlainObject(t))for(i in t)he.isFunction(this[i])?this[i](t[i]):this.attr(i,t[i]);return this}return r=te.getElementById(i[2]),r&&(this[0]=r,this.length=1),this}return e.nodeType?(this[0]=e,this.length=1,this):he.isFunction(e)?void 0!==n.ready?n.ready(e):e(he):he.makeArray(e,this)};ke.prototype=he.fn,Ee=he(te);var Ae=/^(?:parents|prev(?:Until|All))/,Ne={children:!0,contents:!0,next:!0,prev:!0};he.fn.extend({has:function(e){var t=he(e,this),n=t.length;return this.filter(function(){for(var e=0;e-1:1===n.nodeType&&he.find.matchesSelector(n,e))){o.push(n);break}return this.pushStack(o.length>1?he.uniqueSort(o):o)},index:function(e){return e?"string"==typeof e?ae.call(he(e),this[0]):ae.call(this,e.jquery?e[0]:e):this[0]&&this[0].parentNode?this.first().prevAll().length:-1},add:function(e,t){return this.pushStack(he.uniqueSort(he.merge(this.get(),he(e,t))))},addBack:function(e){return this.add(null==e?this.prevObject:this.prevObject.filter(e))}}),he.each({parent:function(e){var t=e.parentNode;return t&&11!==t.nodeType?t:null},parents:function(e){return we(e,"parentNode")},parentsUntil:function(e,t,n){return we(e,"parentNode",n)},next:function(e){return o(e,"nextSibling")},prev:function(e){return o(e,"previousSibling")},nextAll:function(e){return we(e,"nextSibling")},prevAll:function(e){return we(e,"previousSibling")},nextUntil:function(e,t,n){return we(e,"nextSibling",n)},prevUntil:function(e,t,n){return we(e,"previousSibling",n)},siblings:function(e){return xe((e.parentNode||{}).firstChild,e)},children:function(e){return xe(e.firstChild)},contents:function(e){return e.contentDocument||he.merge([],e.childNodes)}},function(e,t){he.fn[e]=function(n,i){var r=he.map(this,t,n);return"Until"!==e.slice(-5)&&(i=n),i&&"string"==typeof i&&(r=he.filter(i,r)),this.length>1&&(Ne[e]||he.uniqueSort(r),Ae.test(e)&&r.reverse()),this.pushStack(r)}});var Oe=/[^\x20\t\r\n\f]+/g;he.Callbacks=function(e){e="string"==typeof e?a(e):he.extend({},e);var t,n,i,r,o=[],s=[],l=-1,u=function(){for(r=e.once,i=t=!0;s.length;l=-1)for(n=s.shift();++l-1;)o.splice(n,1),n-1:o.length>0},empty:function(){return o&&(o=[]),this},disable:function(){return r=s=[],o=n="",this},disabled:function(){return!o},lock:function(){return r=s=[],n||t||(o=n=""),this},locked:function(){return!!r},fireWith:function(e,n){return r||(n=n||[],n=[e,n.slice?n.slice():n],s.push(n),t||u()),this},fire:function(){return c.fireWith(this,arguments),this},fired:function(){return!!i}};return c},he.extend({Deferred:function(t){var n=[["notify","progress",he.Callbacks("memory"),he.Callbacks("memory"),2],["resolve","done",he.Callbacks("once memory"),he.Callbacks("once memory"),0,"resolved"],["reject","fail",he.Callbacks("once memory"),he.Callbacks("once memory"),1,"rejected"]],i="pending",r={state:function(){return i},always:function(){return o.done(arguments).fail(arguments),this},catch:function(e){return r.then(null,e)},pipe:function(){var e=arguments;return he.Deferred(function(t){he.each(n,function(n,i){var r=he.isFunction(e[i[4]])&&e[i[4]];o[i[1]](function(){var e=r&&r.apply(this,arguments);e&&he.isFunction(e.promise)?e.promise().progress(t.notify).done(t.resolve).fail(t.reject):t[i[0]+"With"](this,r?[e]:arguments)})}),e=null}).promise()},then:function(t,i,r){function o(t,n,i,r){return function(){var u=this,c=arguments,d=function(){var e,d;if(!(t=a&&(i!==l&&(u=void 0,c=[e]),n.rejectWith(u,c))}};t?p():(he.Deferred.getStackHook&&(p.stackTrace=he.Deferred.getStackHook()),e.setTimeout(p))}}var a=0;return he.Deferred(function(e){n[0][3].add(o(0,e,he.isFunction(r)?r:s,e.notifyWith)),n[1][3].add(o(0,e,he.isFunction(t)?t:s)),n[2][3].add(o(0,e,he.isFunction(i)?i:l))}).promise()},promise:function(e){return null!=e?he.extend(e,r):r}},o={};return he.each(n,function(e,t){var a=t[2],s=t[5];r[t[1]]=a.add,s&&a.add(function(){i=s},n[3-e][2].disable,n[0][2].lock),a.add(t[3].fire),o[t[0]]=function(){return o[t[0]+"With"](this===o?void 0:this,arguments),this},o[t[0]+"With"]=a.fireWith}),r.promise(o),t&&t.call(o,o),o},when:function(e){var t=arguments.length,n=t,i=Array(n),r=ie.call(arguments),o=he.Deferred(),a=function(e){return function(n){i[e]=this,r[e]=arguments.length>1?ie.call(arguments):n,--t||o.resolveWith(i,r)}};if(t0||De.resolveWith(te,[he]))}}),he.ready.then=De.then,"complete"===te.readyState||"loading"!==te.readyState&&!te.documentElement.doScroll?e.setTimeout(he.ready):(te.addEventListener("DOMContentLoaded",c),e.addEventListener("load",c));var Me=function(e,t,n,i,r,o,a){var s=0,l=e.length,u=null==n;if("object"===he.type(n)){r=!0;for(s in n)Me(e,t,s,n[s],!0,o,a)}else if(void 0!==i&&(r=!0,he.isFunction(i)||(a=!0),u&&(a?(t.call(e,i),t=null):(u=t,t=function(e,t,n){return u.call(he(e),n)})),t))for(;s1,null,!0)},removeData:function(e){return this.each(function(){Ie.remove(this,e)})}}),he.extend({queue:function(e,t,n){var i;if(e)return t=(t||"fx")+"queue",i=ze.get(e,t),n&&(!i||he.isArray(n)?i=ze.access(e,t,he.makeArray(n)):i.push(n)),i||[]},dequeue:function(e,t){t=t||"fx";var n=he.queue(e,t),i=n.length,r=n.shift(),o=he._queueHooks(e,t),a=function(){he.dequeue(e,t)};"inprogress"===r&&(r=n.shift(),i--),r&&("fx"===t&&n.unshift("inprogress"),delete o.stop,r.call(e,a,o)),!i&&o&&o.empty.fire()},_queueHooks:function(e,t){var n=t+"queueHooks";return ze.get(e,n)||ze.access(e,n,{empty:he.Callbacks("once memory").add(function(){ze.remove(e,[t+"queue",n])})})}}),he.fn.extend({queue:function(e,t){var n=2;return"string"!=typeof e&&(t=e,e="fx",n--),arguments.length\x20\t\r\n\f]+)/i,Xe=/^$|\/(?:java|ecma)script/i,Ue={option:[1,""],thead:[1,""],col:[2,""],tr:[2,""],td:[3,""],_default:[0,"",""]};Ue.optgroup=Ue.option,Ue.tbody=Ue.tfoot=Ue.colgroup=Ue.caption=Ue.thead,Ue.th=Ue.td;var Ge=/x",pe.noCloneChecked=!!t.cloneNode(!0).lastChild.defaultValue}();var Ke=te.documentElement,Je=/^key/,Qe=/^(?:mouse|pointer|contextmenu|drag|drop)|click/,Ze=/^([^.]*)(?:\.(.+)|)/;he.event={global:{},add:function(e,t,n,i,r){var o,a,s,l,u,c,d,p,f,h,m,g=ze.get(e);if(g)for(n.handler&&(o=n,n=o.handler,r=o.selector),r&&he.find.matchesSelector(Ke,r),n.guid||(n.guid=he.guid++),(l=g.events)||(l=g.events={}),(a=g.handle)||(a=g.handle=function(t){return"undefined"!=typeof he&&he.event.triggered!==t.type?he.event.dispatch.apply(e,arguments):void 0}),t=(t||"").match(Oe)||[""],u=t.length;u--;)s=Ze.exec(t[u])||[],f=m=s[1],h=(s[2]||"").split(".").sort(),f&&(d=he.event.special[f]||{},f=(r?d.delegateType:d.bindType)||f,d=he.event.special[f]||{},c=he.extend({type:f,origType:m,data:i,handler:n,guid:n.guid,selector:r,needsContext:r&&he.expr.match.needsContext.test(r),namespace:h.join(".")},o),(p=l[f])||(p=l[f]=[],p.delegateCount=0,d.setup&&d.setup.call(e,i,h,a)!==!1||e.addEventListener&&e.addEventListener(f,a)),d.add&&(d.add.call(e,c),c.handler.guid||(c.handler.guid=n.guid)),r?p.splice(p.delegateCount++,0,c):p.push(c),he.event.global[f]=!0)},remove:function(e,t,n,i,r){var o,a,s,l,u,c,d,p,f,h,m,g=ze.hasData(e)&&ze.get(e);if(g&&(l=g.events)){for(t=(t||"").match(Oe)||[""],u=t.length;u--;)if(s=Ze.exec(t[u])||[],f=m=s[1],h=(s[2]||"").split(".").sort(),f){for(d=he.event.special[f]||{},f=(i?d.delegateType:d.bindType)||f,p=l[f]||[],s=s[2]&&new RegExp("(^|\\.)"+h.join("\\.(?:.*\\.|)")+"(\\.|$)"),a=o=p.length;o--;)c=p[o],!r&&m!==c.origType||n&&n.guid!==c.guid||s&&!s.test(c.namespace)||i&&i!==c.selector&&("**"!==i||!c.selector)||(p.splice(o,1),c.selector&&p.delegateCount--,d.remove&&d.remove.call(e,c));a&&!p.length&&(d.teardown&&d.teardown.call(e,h,g.handle)!==!1||he.removeEvent(e,f,g.handle),delete l[f])}else for(f in l)he.event.remove(e,f+t[u],n,i,!0);he.isEmptyObject(l)&&ze.remove(e,"handle events")}},dispatch:function(e){var t,n,i,r,o,a,s=he.event.fix(e),l=new Array(arguments.length),u=(ze.get(this,"events")||{})[s.type]||[],c=he.event.special[s.type]||{};for(l[0]=s,t=1;t=1))for(;u!==this;u=u.parentNode||this)if(1===u.nodeType&&("click"!==e.type||u.disabled!==!0)){for(o=[],a={},n=0;n-1:he.find(r,this,null,[u]).length),a[r]&&o.push(i);o.length&&s.push({elem:u,handlers:o})}return u=this,l\x20\t\r\n\f]*)[^>]*)\/>/gi,tt=/

VIDEO - German government approves measures to fast-track deportations | Euronews

Thu, 23 Feb 2017 05:52

world news

22/02/2017Syrian rebels clash with ISIL in northern Syria

]]>

\n \n {{ more.more_ranking_label }}'}),i.init=function(e){i.getDataContextAndClearStaticDom(e,"ranking",!0);var t=JSON.parse(document.querySelector(".js-sport").getAttribute("data-more"));e.$set("more",t),window.addEventListener("update-league-ranking",function(t){e.$set("ranking",t.detail.ranking)},!1)},i.config={data:function(){return{ranking:[],more:[]}},created:function(){s.init(this),a.filter("pointify",function(e){return e=e.replace(/W/g,''),e=e.replace(/D/g,''),e=e.replace(/L/g,'')})}},n=i,o(i,n)}return a(t,e),t}(l.default);t.exports=u},{"./component-abstract":15}],17:[function(e,t,n){"use strict";function i(e){return e&&e.__esModule?e:{default:e}}function r(e,t){if(!(e instanceof t))throw new TypeError("Cannot call a class as a function")}function o(e,t){if(!e)throw new ReferenceError("this hasn't been initialised - super() hasn't been called");return!t||"object"!=typeof t&&"function"!=typeof t?e:t}function a(e,t){if("function"!=typeof t&&null!==t)throw new TypeError("Super expression must either be null or a function, not "+typeof t);e.prototype=Object.create(t&&t.prototype,{constructor:{value:e,enumerable:!1,writable:!0,configurable:!0}}),t&&(Object.setPrototypeOf?Object.setPrototypeOf(e,t):e.__proto__=t)}var s=e("./component-abstract"),l=i(s),u=function(e){function t(e){var n;r(this,t);var i=o(this,(t.__proto__||Object.getPrototypeOf(t)).call(this,e));i.storage=Euronews.Tools.storage,i.$=Euronews.Tools.$;var a=JSON.parse(document.querySelector(".js-sport").getAttribute("data-more")),s=JSON.parse(document.querySelector(".js-sport").getAttribute("data-league")),l=s.id,u=Euronews.Tools.Vue,c=i;return i.elementsArr=[],i.setComponentConfig({tagName:"football-fixtures",template:"#football-fixtures-template"}),i.init=function(e){i.getDataContextAndClearStaticDom(e,"fixturesList",!0),c.initDatas(e),e.$set("more",a),e.$set("league",s),window.addEventListener("update-league-fixtures",function(t){e.$set("fixturesList",t.detail.fixtures),e.$set("league",t.detail.league),l=t.detail.leagueId,c.initDatas(e)},!1)},i.initDatas=function(e){var t=e.$get("fixturesList"),n=t[0],i=[];$.each(t,function(){i.push(this.round)}),e.$set("fixture",n),e.$set("loadedRounds",i),e.$set("currentResultRound",0)},i.config={data:function(){return{fixturesList:[],fixture:[],loadedRounds:[],endRound:!1,isLoading:!1,currentResultRound:0,more:[],league:[]}},created:function(){c.init(this),u.filter("toLocalizedTime",function(e){var t=new Date(e),n=6e4*t.getTimezoneOffset(),i=t.getTime();t=i-n;var r=new Date(t),o=r.getHours().toString()+":"+(r.getMinutes()=0&&(this.fixture=this.fixturesList[this.currentResultRound-1],this.currentResultRound--)},nextResult:function(){if(!this.isLoading){if(this.isLoading=!0,this.endRound&&"undefined"==typeof this.fixturesList[this.currentResultRound+1])return void(this.isLoading=!1);if(this.fixture=this.fixturesList[this.currentResultRound+1],this.currentResultRound++,"undefined"==typeof this.fixturesList[this.currentResultRound+1]){var e="/api/sport/football/"+l+"/"+(this.currentResultRound+1)+"/fixtures/";this.$http({url:e,method:"GET",async:!1}).then(function(e,t,n){return this.isLoading=!1,""===e.data.data.fixtures?void(this.endRound=!0):(this.fixturesList.push(e.data.data.fixtures[0]),void this.loadedRounds.push(e.data.data.fixtures[0].round))},function(e,t,n){console.warn("Football - ERROR LOADING JSON")})}else this.isLoading=!1}}}},n=i,o(i,n)}return a(t,e),t}(l.default);t.exports=u},{"./component-abstract":15}],18:[function(e,t,n){"use strict";function i(e){return e&&e.__esModule?e:{default:e}}function r(e,t){if(!(e instanceof t))throw new TypeError("Cannot call a class as a function")}function o(e,t){if(!e)throw new ReferenceError("this hasn't been initialised - super() hasn't been called");return!t||"object"!=typeof t&&"function"!=typeof t?e:t}function a(e,t){if("function"!=typeof t&&null!==t)throw new TypeError("Super expression must either be null or a function, not "+typeof t);e.prototype=Object.create(t&&t.prototype,{constructor:{value:e,enumerable:!1,writable:!0,configurable:!0}}),t&&(Object.setPrototypeOf?Object.setPrototypeOf(e,t):e.__proto__=t)}var s=e("./component-abstract"),l=i(s),u=function(e){function t(e){var n;r(this,t);var i=o(this,(t.__proto__||Object.getPrototypeOf(t)).call(this,e));i.storage=Euronews.Tools.storage,i.$=Euronews.Tools.$;var a=i,s=JSON.parse(document.querySelector(".js-sport").getAttribute("data-league"));return i.elementsArr=[],i.setComponentConfig({tagName:"football-ranking",template:"#football-ranking-template"}),i.init=function(e){i.getDataContextAndClearStaticDom(e,"ranking",!0);var t=JSON.parse(document.querySelector(".js-sport").getAttribute("data-more"));e.$set("more",t),e.$set("league",s),window.addEventListener("update-league-ranking",function(t){e.$set("ranking",t.detail.ranking)},!1)},i.config={data:function(){return{ranking:[],league:[],more:[]}},created:function(){a.init(this)}},n=i,o(i,n)}return a(t,e),t}(l.default);t.exports=u},{"./component-abstract":15}],19:[function(e,t,n){"use strict";function i(e){return e&&e.__esModule?e:{default:e}}function r(e,t){if(!(e instanceof t))throw new TypeError("Cannot call a class as a function")}function o(e,t){if(!e)throw new ReferenceError("this hasn't been initialised - super() hasn't been called");return!t||"object"!=typeof t&&"function"!=typeof t?e:t}function a(e,t){if("function"!=typeof t&&null!==t)throw new TypeError("Super expression must either be null or a function, not "+typeof t);e.prototype=Object.create(t&&t.prototype,{constructor:{value:e,enumerable:!1,writable:!0,configurable:!0}}),t&&(Object.setPrototypeOf?Object.setPrototypeOf(e,t):e.__proto__=t)}var s=e("./component-abstract"),l=i(s),u=function(e){function t(e){var n;r(this,t);var i=o(this,(t.__proto__||Object.getPrototypeOf(t)).call(this,e));i.storage=Euronews.Tools.storage,i.$=Euronews.Tools.$;var a=i,s=JSON.parse(document.querySelector(".js-sport").getAttribute("data-more")),l=JSON.parse(document.querySelector(".js-sport").getAttribute("data-league")),u=l.id;return i.elementsArr=[],i.setComponentConfig({tagName:"football-results",template:"#football-results-template"}),i.init=function(e){i.getDataContextAndClearStaticDom(e,"resultsList",!0),a.initDatas(e),e.$set("more",s),e.$set("league",l),window.addEventListener("update-league-results",function(t){e.$set("resultsList",t.detail.results),e.$set("league",t.detail.league),u=t.detail.leagueId,a.initDatas(e)},!1)},i.initDatas=function(e){var t=e.$get("resultsList"),n=t[0],i=[];$.each(t,function(){i.push(this.round)}),e.$set("result",n),e.$set("loadedRounds",i),e.$set("currentResultRound",0)},i.config={data:function(){return{resultsList:[],result:[],loadedRounds:[],endRound:!1,isLoading:!1,currentResultRound:0,more:[],league:[]}},created:function(){a.init(this)},methods:{previousResult:function(){if(!this.isLoading){if(this.isLoading=!0,this.endRound)return void(this.isLoading=!1);if(this.result=this.resultsList[this.currentResultRound+1],this.currentResultRound++,"undefined"==typeof this.resultsList[this.currentResultRound+1]){var e="/api/sport/football/"+u+"/"+(this.currentResultRound+1)+"/results";this.$http({url:e,method:"GET"}).then(function(e,t,n){return""===e.data.data.results?(this.endRound=!0,void(this.isLoading=!1)):(this.resultsList.push(e.data.data.results[0]),this.loadedRounds.push(e.data.data.results[0].round),void(this.isLoading=!1))},function(e,t,n){console.warn("Football - ERROR LOADING JSON")})}else this.isLoading=!1}},nextResult:function(){this.currentResultRound-1>=0&&(this.result=this.resultsList[this.currentResultRound-1],this.currentResultRound--)}}},n=i,o(i,n)}return a(t,e),t}(l.default);t.exports=u},{"./component-abstract":15}],20:[function(e,t,n){"use strict";function i(e){return e&&e.__esModule?e:{default:e}}function r(e,t){if(!(e instanceof t))throw new TypeError("Cannot call a class as a function")}function o(e,t){if(!e)throw new ReferenceError("this hasn't been initialised - super() hasn't been called");return!t||"object"!=typeof t&&"function"!=typeof t?e:t}function a(e,t){if("function"!=typeof t&&null!==t)throw new TypeError("Super expression must either be null or a function, not "+typeof t);e.prototype=Object.create(t&&t.prototype,{constructor:{value:e,enumerable:!1,writable:!0,configurable:!0}}),t&&(Object.setPrototypeOf?Object.setPrototypeOf(e,t):e.__proto__=t)}var s=function(){function e(e,t){for(var n=0;n=3&&37!==e.keyCode&&38!==e.keyCode&&39!==e.keyCode&&40!==e.keyCode&&(this.isLoading=!0,this.$http.get(this.apiurl+this.inputSearch,function(e){}).then(function(e,n,i){return e.data.length?(this.isLoading=!1,this.noResult=!1,this.items=e.data,$.each(e.data,function(e,n){t.push({label:n.title,value:n.urlSafeValue})}),void(a.awesomplete.list=t)):(this.isLoading=!1,this.noResult=!0,void(a.awesomplete.list=t))},function(e,t,n){console.warn("Just In - ERROR LOADING JSON")}))},launchSearch:function(e){"1"===this.eventisallowed&&window.location.replace("/search?query="+this.inputSearch)}}},n=i,o(i,n)}return a(t,e),s(t,[{key:"setAwesomplete",value:function(e){return this.awesomplete=e,this}}]),t}(u.default);t.exports=c},{"./component-abstract":15}],23:[function(e,t,n){"use strict";function i(e){return e&&e.__esModule?e:{default:e}}function r(e,t){if(!(e instanceof t))throw new TypeError("Cannot call a class as a function")}function o(e,t){if(!e)throw new ReferenceError("this hasn't been initialised - super() hasn't been called");return!t||"object"!=typeof t&&"function"!=typeof t?e:t}function a(e,t){if("function"!=typeof t&&null!==t)throw new TypeError("Super expression must either be null or a function, not "+typeof t);e.prototype=Object.create(t&&t.prototype,{constructor:{value:e,enumerable:!1,writable:!0,configurable:!0}}),t&&(Object.setPrototypeOf?Object.setPrototypeOf(e,t):e.__proto__=t)}var s="function"==typeof Symbol&&"symbol"==typeof Symbol.iterator?function(e){return typeof e}:function(e){return e&&"function"==typeof Symbol&&e.constructor===Symbol&&e!==Symbol.prototype?"symbol":typeof e},l=function(){function e(e,t){for(var n=0;n\n \n \n {{article.allViewsMeta.pointOfView.author}}\n {{article.allViewsMeta.pointOfView.description}}\n \n

\n ',props:["article"]}),"sticky-allviews-survey":a.extend({tagName:"sticky-allviews-survey",template:'

',props:["article"]}),"sticky-allviews-twitter":a.extend({tagName:"sticky-allviews-twitter",template:'

',props:["article"]}),"sticky-allviews-map":a.extend({tagName:"sticky-allviews-map",template:'

',props:["article"]}),"allviews-logo":a.extend({tagName:"allviews-logo",template:'

").addClass(n).attr({role:"tooltip","aria-hidden":!0,"data-is-active":!1,"data-is-focus":!1,id:t});return i}},{key:"_reposition",value:function(e){this.usedPositions.push(e?e:"bottom"),!e&&this.usedPositions.indexOf("top")-1&&this.usedPositions.indexOf("left")-1&&this.usedPositions.indexOf("left")-1&&this.usedPositions.indexOf("bottom")-1&&this.usedPositions.indexOf("bottom")=t.windowDims.width||!this.counter&&!Foundation.Box.ImNotTouchingYou(this.template))return this.template.offset(Foundation.Box.GetOffsets(this.template,this.$element,"center bottom",this.options.vOffset,this.options.hOffset,!0)).css({width:n.windowDims.width-2*this.options.hOffset,height:"auto"}),!1;for(this.template.offset(Foundation.Box.GetOffsets(this.template,this.$element,"center "+(e||"bottom"),this.options.vOffset,this.options.hOffset));!Foundation.Box.ImNotTouchingYou(this.template)&&this.counter;)this._reposition(e),this._setPosition()}},{key:"show",value:function(){if("all"!==this.options.showOn&&!Foundation.MediaQuery.atLeast(this.options.showOn))return!1;var e=this;this.template.css("visibility","hidden").show(),this._setPosition(),this.$element.trigger("closeme.zf.tooltip",this.template.attr("id")),this.template.attr({"data-is-active":!0,"aria-hidden":!1}),e.isActive=!0,this.template.stop().hide().css("visibility","").fadeIn(this.options.fadeInDuration,function(){}),this.$element.trigger("show.zf.tooltip")}},{key:"hide",value:function(){var e=this;this.template.stop().attr({"aria-hidden":!0,"data-is-active":!1}).fadeOut(this.options.fadeOutDuration,function(){e.isActive=!1,e.isClick=!1,e.classChanged&&(e.template.removeClass(e._getPositionClass(e.template)).addClass(e.options.positionClass),e.usedPositions=[],e.counter=4,e.classChanged=!1)}),this.$element.trigger("hide.zf.tooltip")}},{key:"_events",value:function(){var e=this,t=(this.template,!1);this.options.disableHover||this.$element.on("mouseenter.zf.tooltip",function(t){e.isActive||(e.timeout=setTimeout(function(){e.show()},e.options.hoverDelay))}).on("mouseleave.zf.tooltip",function(n){clearTimeout(e.timeout),(!t||!e.isClick&&e.options.clickOpen)&&e.hide()}),this.options.clickOpen&&this.$element.on("mousedown.zf.tooltip",function(t){t.stopImmediatePropagation(),e.isClick?e.hide():(e.isClick=!0,!e.options.disableHover&&e.$element.attr("tabindex")||e.isActive||e.show())}),this.options.disableForTouch||this.$element.on("tap.zf.tooltip touchend.zf.tooltip",function(t){e.isActive?e.hide():e.show()}),this.$element.on({"close.zf.trigger":this.hide.bind(this)}),this.$element.on("focus.zf.tooltip",function(n){return t=!0,!e.isClick&&void e.show()}).on("focusout.zf.tooltip",function(n){t=!1,e.isClick=!1,e.hide()}).on("resizeme.zf.trigger",function(){e.isActive&&e._setPosition()})}},{key:"toggle",value:function(){this.isActive?this.hide():this.show()}},{key:"destroy",value:function(){this.$element.attr("title",this.template.text()).off(".zf.trigger .zf.tootip").removeAttr("aria-describedby").removeAttr("data-yeti-box").removeAttr("data-toggle").removeAttr("data-resize"),this.template.remove(),Foundation.unregisterPlugin(this)}}]),t}();t.defaults={disableForTouch:!1,hoverDelay:200,fadeInDuration:150,fadeOutDuration:150,disableHover:!1,templateClasses:"",tooltipClass:"tooltip",triggerClass:"has-tip",showOn:"small",template:"",tipText:"",touchCloseText:"Tap to close.",clickOpen:!0,positionClass:"",vOffset:10,hOffset:12},Foundation.plugin(t,"Tooltip")}(jQuery)},{}],37:[function(e,t,n){"use strict";!function(e){function t(e,t,i,r){var o,a,s,l,u=n(e);if(t){var c=n(t);a=u.offset.top+u.height=c.offset.top,s=u.offset.left>=c.offset.left,l=u.offset.left+u.width=u.windowDims.offset.top,s=u.offset.left>=u.windowDims.offset.left,l=u.offset.left+u.width0&&t-1 in e)}function r(e,t,n){return he.isFunction(t)?he.grep(e,function(e,i){return!!t.call(e,i,e)!==n}):t.nodeType?he.grep(e,function(e){return e===t!==n}):"string"!=typeof t?he.grep(e,function(e){return ae.call(t,e)>-1!==n}):Ce.test(t)?he.filter(t,e,n):(t=he.filter(t,e),he.grep(e,function(e){return ae.call(t,e)>-1!==n&&1===e.nodeType}))}function o(e,t){for(;(e=e[t])&&1!==e.nodeType;);return e}function a(e){var t={};return he.each(e.match(Oe)||[],function(e,n){t[n]=!0}),t}function s(e){return e}function l(e){throw e}function u(e,t,n){var i;try{e&&he.isFunction(i=e.promise)?i.call(e).done(t).fail(n):e&&he.isFunction(i=e.then)?i.call(e,t,n):t.call(void 0,e)}catch(e){n.call(void 0,e)}}function c(){te.removeEventListener("DOMContentLoaded",c),e.removeEventListener("load",c),he.ready()}function d(){this.expando=he.expando+d.uid++}function p(e){return"true"===e||"false"!==e&&("null"===e?null:e===+e+""?+e:$e.test(e)?JSON.parse(e):e)}function f(e,t,n){var i;if(void 0===n&&1===e.nodeType)if(i="data-"+t.replace(je,"-$&").toLowerCase(),n=e.getAttribute(i),"string"==typeof n){try{n=p(n)}catch(e){}Ie.set(e,t,n)}else n=void 0;return n}function h(e,t,n,i){var r,o=1,a=20,s=i?function(){return i.cur()}:function(){return he.css(e,t,"")},l=s(),u=n&&n[3]||(he.cssNumber[t]?"":"px"),c=(he.cssNumber[t]||"px"!==u&&+l)&&He.exec(he.css(e,t));if(c&&c[3]!==u){u=u||c[3],n=n||[],c=+l||1;do o=o||".5",c/=o,he.style(e,t,c+u);while(o!==(o=s()/l)&&1!==o&&--a)}return n&&(c=+c||+l||0,r=n[1]?c+(n[1]+1)*n[2]:+n[2],i&&(i.unit=u,i.start=c,i.end=r)),r}function m(e){var t,n=e.ownerDocument,i=e.nodeName,r=Ve[i];return r?r:(t=n.body.appendChild(n.createElement(i)),r=he.css(t,"display"),t.parentNode.removeChild(t),"none"===r&&(r="block"),Ve[i]=r,r)}function g(e,t){for(var n,i,r=[],o=0,a=e.length;o

-1)r&&r.push(o);else if(u=he.contains(o.ownerDocument,o),a=v(d.appendChild(o),"script"),u&&y(a),n)for(c=0;o=a[c++];)Xe.test(o.type||"")&&n.push(o);return d}function w(){return!0}function x(){return!1}function _(){try{return te.activeElement}catch(e){}}function T(e,t,n,i,r,o){var a,s;if("object"==typeof t){"string"!=typeof n&&(i=i||n,n=void 0);for(s in t)T(e,s,n,i,t[s],o);return e}if(null==i&&null==r?(r=n,i=n=void 0):null==r&&("string"==typeof n?(r=i,i=void 0):(r=i,i=n,n=void 0)),r===!1)r=x;else if(!r)return e;return 1===o&&(a=r,r=function(e){return he().off(e),a.apply(this,arguments)},r.guid=a.guid||(a.guid=he.guid++)),e.each(function(){he.event.add(this,t,r,i,n)})}function C(e,t){return he.nodeName(e,"table")&&he.nodeName(11!==t.nodeType?t:t.firstChild,"tr")?e.getElementsByTagName("tbody")[0]||e:e}function E(e){return e.type=(null!==e.getAttribute("type"))+"/"+e.type,e}function S(e){var t=it.exec(e.type);return t?e.type=t[1]:e.removeAttribute("type"),e}function k(e,t){var n,i,r,o,a,s,l,u;if(1===t.nodeType){if(ze.hasData(e)&&(o=ze.access(e),a=ze.set(t,o),u=o.events)){delete a.handle,a.events={};for(r in u)for(n=0,i=u[r].length;n1&&"string"==typeof h&&!pe.checkClone&&nt.test(h))return e.each(function(n){var o=e.eq(n);m&&(t[0]=h.call(this,n,o.html())),N(o,t,i,r)});if(p&&(o=b(t,e[0].ownerDocument,!1,e,r),a=o.firstChild,1===o.childNodes.length&&(o=a),a||r)){for(s=he.map(v(o,"script"),E),l=s.length;d=0&&nT.cacheLength&&delete e[t.shift()],e[n+" "]=i}var t=[];return e}function i(e){return e[H]=!0,e}function r(e){var t=M.createElement("fieldset");try{return!!e(t)}catch(e){return!1}finally{t.parentNode&&t.parentNode.removeChild(t),t=null}}function o(e,t){for(var n=e.split("|"),i=n.length;i--;)T.attrHandle[n[i]]=t}function a(e,t){var n=t&&e,i=n&&1===e.nodeType&&1===t.nodeType&&e.sourceIndex-t.sourceIndex;if(i)return i;if(n)for(;n=n.nextSibling;)if(n===t)return-1;return e?1:-1}function s(e){return function(t){var n=t.nodeName.toLowerCase();return"input"===n&&t.type===e}}function l(e){return function(t){var n=t.nodeName.toLowerCase();return("input"===n||"button"===n)&&t.type===e}}function u(e){return function(t){return"form"in t?t.parentNode&&t.disabled===!1?"label"in t?"label"in t.parentNode?t.parentNode.disabled===e:t.disabled===e:t.isDisabled===e||t.isDisabled!==!e&&Ce(t)===e:t.disabled===e:"label"in t&&t.disabled===e}}function c(e){return i(function(t){return t=+t,i(function(n,i){for(var r,o=e([],n.length,t),a=o.length;a--;)n[r=o[a]]&&(n[r]=!(i[r]=n[r]))})})}function d(e){return e&&"undefined"!=typeof e.getElementsByTagName&&e}function p(){}function f(e){for(var t=0,n=e.length,i="";t1?function(t,n,i){for(var r=e.length;r--;)if(!e[r](t,n,i))return!1;return!0}:e[0]}function g(e,n,i){for(var r=0,o=n.length;r-1&&(i[u]=!(a[u]=d))}}else b=v(b===a?b.splice(h,b.length):b),o?o(null,a,b,l):Q.apply(a,b)})}function b(e){for(var t,n,i,r=e.length,o=T.relative[e[0].type],a=o||T.relative[" "],s=o?1:0,l=h(function(e){return e===t},a,!0),u=h(function(e){return ee(t,e)>-1},a,!0),c=[function(e,n,i){var r=!o&&(i||n!==N)||((t=n).nodeType?l(e,n,i):u(e,n,i));return t=null,r}];s1&&m(c),s>1&&f(e.slice(0,s-1).concat({value:" "===e[s-2].type?"*":""})).replace(se,"$1"),n,s0,o=e.length>0,a=function(i,a,s,l,u){var c,d,p,f=0,h="0",m=i&&[],g=[],y=N,b=i||o&&T.find.TAG("*",u),w=F+=null==y?1:Math.random()||.1,x=b.length;for(u&&(N=a===M||a||u);h!==x&&null!=(c=b[h]);h++){if(o&&c){for(d=0,a||c.ownerDocument===M||(D(c),s=!z);p=e[d++];)if(p(c,a||M,s)){l.push(c);break}u&&(F=w)}r&&((c=!p&&c)&&f--,i&&m.push(c))}if(f+=h,r&&h!==f){for(d=0;p=n[d++];)p(m,g,a,s);if(i){if(f>0)for(;h--;)m[h]||g[h]||(g[h]=K.call(l));g=v(g)}Q.apply(l,g),u&&!i&&g.length>0&&f+n.length>1&&t.uniqueSort(l)}return u&&(F=w,N=y),m};return r?i(a):a}var x,_,T,C,E,S,k,A,N,O,P,D,M,L,z,I,$,j,R,H="sizzle"+1*new Date,B=e.document,F=0,W=0,V=n(),q=n(),Y=n(),X=function(e,t){return e===t&&(P=!0),0},U={}.hasOwnProperty,G=[],K=G.pop,J=G.push,Q=G.push,Z=G.slice,ee=function(e,t){for(var n=0,i=e.length;n+~]|"+ne+")"+ne+"*"),ce=new RegExp("="+ne+"*([^\\]'\"]*?)"+ne+"*\\]","g"),de=new RegExp(oe),pe=new RegExp("^"+ie+"$"),fe={ID:new RegExp("^#("+ie+")"),CLASS:new RegExp("^\\.("+ie+")"),TAG:new RegExp("^("+ie+"|[*])"),ATTR:new RegExp("^"+re),PSEUDO:new RegExp("^"+oe),CHILD:new RegExp("^:(only|first|last|nth|nth-last)-(child|of-type)(?:\\("+ne+"*(even|odd|(([+-]|)(\\d*)n|)"+ne+"*(?:([+-]|)"+ne+"*(\\d+)|))"+ne+"*\\)|)","i"),bool:new RegExp("^(?:"+te+")$","i"),needsContext:new RegExp("^"+ne+"*[>+~]|:(even|odd|eq|gt|lt|nth|first|last)(?:\\("+ne+"*((?:-\\d)?\\d*)"+ne+"*\\)|)(?=[^-]|$)","i")},he=/^(?:input|select|textarea|button)$/i,me=/^h\d$/i,ge=/^[^{]+\{\s*\[native \w/,ve=/^(?:#([\w-]+)|(\w+)|\.([\w-]+))$/,ye=/[+~]/,be=new RegExp("\\\\([\\da-f]{1,6}"+ne+"?|("+ne+")|.)","ig"),we=function(e,t,n){var i="0x"+t-65536;return i!==i||n?t:i>10|55296,1023&i|56320)},xe=/([\0-\x1f\x7f]|^-?\d)|^-$|[^\0-\x1f\x7f-\uFFFF\w-]/g,_e=function(e,t){return t?"\0"===e?"½":e.slice(0,-1)+"\\"+e.charCodeAt(e.length-1).toString(16)+" ":"\\"+e},Te=function(){D()},Ce=h(function(e){return e.disabled===!0&&("form"in e||"label"in e)},{dir:"parentNode",next:"legend"});try{Q.apply(G=Z.call(B.childNodes),B.childNodes),G[B.childNodes.length].nodeType}catch(e){Q={apply:G.length?function(e,t){J.apply(e,Z.call(t))}:function(e,t){for(var n=e.length,i=0;e[n++]=t[i++];);e.length=n-1}}}_=t.support={},E=t.isXML=function(e){var t=e&&(e.ownerDocument||e).documentElement;return!!t&&"HTML"!==t.nodeName},D=t.setDocument=function(e){var t,n,i=e?e.ownerDocument||e:B;return i!==M&&9===i.nodeType&&i.documentElement?(M=i,L=M.documentElement,z=!E(M),B!==M&&(n=M.defaultView)&&n.top!==n&&(n.addEventListener?n.addEventListener("unload",Te,!1):n.attachEvent&&n.attachEvent("onunload",Te)),_.attributes=r(function(e){return e.className="i",!e.getAttribute("className")}),_.getElementsByTagName=r(function(e){return e.appendChild(M.createComment("")),!e.getElementsByTagName("*").length}),_.getElementsByClassName=ge.test(M.getElementsByClassName),_.getById=r(function(e){return L.appendChild(e).id=H,!M.getElementsByName||!M.getElementsByName(H).length}),_.getById?(T.filter.ID=function(e){var t=e.replace(be,we);return function(e){return e.getAttribute("id")===t}},T.find.ID=function(e,t){if("undefined"!=typeof t.getElementById&&z){var n=t.getElementById(e);return n?[n]:[]}}):(T.filter.ID=function(e){var t=e.replace(be,we);return function(e){var n="undefined"!=typeof e.getAttributeNode&&e.getAttributeNode("id");return n&&n.value===t}},T.find.ID=function(e,t){if("undefined"!=typeof t.getElementById&&z){var n,i,r,o=t.getElementById(e);if(o){if(n=o.getAttributeNode("id"),n&&n.value===e)return[o];for(r=t.getElementsByName(e),i=0;o=r[i++];)if(n=o.getAttributeNode("id"),n&&n.value===e)return[o]}return[]}}),T.find.TAG=_.getElementsByTagName?function(e,t){return"undefined"!=typeof t.getElementsByTagName?t.getElementsByTagName(e):_.qsa?t.querySelectorAll(e):void 0}:function(e,t){var n,i=[],r=0,o=t.getElementsByTagName(e);if("*"===e){for(;n=o[r++];)1===n.nodeType&&i.push(n);return i}return o},T.find.CLASS=_.getElementsByClassName&&function(e,t){if("undefined"!=typeof t.getElementsByClassName&&z)return t.getElementsByClassName(e)},$=[],I=[],(_.qsa=ge.test(M.querySelectorAll))&&(r(function(e){L.appendChild(e).innerHTML="",e.querySelectorAll("[msallowcapture^='']").length&&I.push("[*^$]="+ne+"*(?:''|\"\")"),e.querySelectorAll("[selected]").length||I.push("\\["+ne+"*(?:value|"+te+")"),e.querySelectorAll("[id~="+H+"-]").length||I.push("~="),e.querySelectorAll(":checked").length||I.push(":checked"),e.querySelectorAll("a#"+H+"+*").length||I.push(".#.+[+~]")}),r(function(e){e.innerHTML="";var t=M.createElement("input");t.setAttribute("type","hidden"),e.appendChild(t).setAttribute("name","D"),e.querySelectorAll("[name=d]").length&&I.push("name"+ne+"*[*^$|!~]?="),2!==e.querySelectorAll(":enabled").length&&I.push(":enabled",":disabled"),L.appendChild(e).disabled=!0,2!==e.querySelectorAll(":disabled").length&&I.push(":enabled",":disabled"),e.querySelectorAll("*,:x"),I.push(",.*:")})),(_.matchesSelector=ge.test(j=L.matches||L.webkitMatchesSelector||L.mozMatchesSelector||L.oMatchesSelector||L.msMatchesSelector))&&r(function(e){_.disconnectedMatch=j.call(e,"*"),j.call(e,"[s!='']:x"),$.push("!=",oe)}),I=I.length&&new RegExp(I.join("|")),$=$.length&&new RegExp($.join("|")),t=ge.test(L.compareDocumentPosition),R=t||ge.test(L.contains)?function(e,t){var n=9===e.nodeType?e.documentElement:e,i=t&&t.parentNode;return e===i||!(!i||1!==i.nodeType||!(n.contains?n.contains(i):e.compareDocumentPosition&&16&e.compareDocumentPosition(i)))}:function(e,t){if(t)for(;t=t.parentNode;)if(t===e)return!0;return!1},X=t?function(e,t){if(e===t)return P=!0,0;var n=!e.compareDocumentPosition-!t.compareDocumentPosition;return n?n:(n=(e.ownerDocument||e)===(t.ownerDocument||t)?e.compareDocumentPosition(t):1,1&n||!_.sortDetached&&t.compareDocumentPosition(e)===n?e===M||e.ownerDocument===B&&R(B,e)?-1:t===M||t.ownerDocument===B&&R(B,t)?1:O?ee(O,e)-ee(O,t):0:4&n?-1:1)}:function(e,t){if(e===t)return P=!0,0;var n,i=0,r=e.parentNode,o=t.parentNode,s=[e],l=[t];if(!r||!o)return e===M?-1:t===M?1:r?-1:o?1:O?ee(O,e)-ee(O,t):0;if(r===o)return a(e,t);for(n=e;n=n.parentNode;)s.unshift(n);for(n=t;n=n.parentNode;)l.unshift(n);for(;s[i]===l[i];)i++;return i?a(s[i],l[i]):s[i]===B?-1:l[i]===B?1:0},M):M},t.matches=function(e,n){return t(e,null,null,n)},t.matchesSelector=function(e,n){if((e.ownerDocument||e)!==M&&D(e),n=n.replace(ce,"='$1']"),_.matchesSelector&&z&&!Y[n+" "]&&(!$||!$.test(n))&&(!I||!I.test(n)))try{var i=j.call(e,n);if(i||_.disconnectedMatch||e.document&&11!==e.document.nodeType)return i}catch(e){}return t(n,M,null,[e]).length>0},t.contains=function(e,t){return(e.ownerDocument||e)!==M&&D(e),R(e,t)},t.attr=function(e,t){(e.ownerDocument||e)!==M&&D(e);var n=T.attrHandle[t.toLowerCase()],i=n&&U.call(T.attrHandle,t.toLowerCase())?n(e,t,!z):void 0;return void 0!==i?i:_.attributes||!z?e.getAttribute(t):(i=e.getAttributeNode(t))&&i.specified?i.value:null},t.escape=function(e){return(e+"").replace(xe,_e)},t.error=function(e){throw new Error("Syntax error, unrecognized expression: "+e)},t.uniqueSort=function(e){var t,n=[],i=0,r=0;if(P=!_.detectDuplicates,O=!_.sortStable&&e.slice(0),e.sort(X),P){for(;t=e[r++];)t===e[r]&&(i=n.push(r));for(;i--;)e.splice(n[i],1)}return O=null,e},C=t.getText=function(e){var t,n="",i=0,r=e.nodeType;if(r){if(1===r||9===r||11===r){if("string"==typeof e.textContent)return e.textContent;for(e=e.firstChild;e;e=e.nextSibling)n+=C(e)}else if(3===r||4===r)return e.nodeValue}else for(;t=e[i++];)n+=C(t);return n},T=t.selectors={cacheLength:50,createPseudo:i,match:fe,attrHandle:{},find:{},relative:{">":{dir:"parentNode",first:!0}," ":{dir:"parentNode"},"+":{dir:"previousSibling",first:!0},"~":{dir:"previousSibling"}},preFilter:{ATTR:function(e){return e[1]=e[1].replace(be,we),e[3]=(e[3]||e[4]||e[5]||"").replace(be,we),"~="===e[2]&&(e[3]=" "+e[3]+" "),e.slice(0,4)},CHILD:function(e){return e[1]=e[1].toLowerCase(),"nth"===e[1].slice(0,3)?(e[3]||t.error(e[0]),e[4]=+(e[4]?e[5]+(e[6]||1):2*("even"===e[3]||"odd"===e[3])),e[5]=+(e[7]+e[8]||"odd"===e[3])):e[3]&&t.error(e[0]),e},PSEUDO:function(e){var t,n=!e[6]&&e[2];return fe.CHILD.test(e[0])?null:(e[3]?e[2]=e[4]||e[5]||"":n&&de.test(n)&&(t=S(n,!0))&&(t=n.indexOf(")",n.length-t)-n.length)&&(e[0]=e[0].slice(0,t),e[2]=n.slice(0,t)),e.slice(0,3))}},filter:{TAG:function(e){var t=e.replace(be,we).toLowerCase();return"*"===e?function(){return!0}:function(e){return e.nodeName&&e.nodeName.toLowerCase()===t}},CLASS:function(e){var t=V[e+" "];return t||(t=new RegExp("(^|"+ne+")"+e+"("+ne+"|$)"))&&V(e,function(e){return t.test("string"==typeof e.className&&e.className||"undefined"!=typeof e.getAttribute&&e.getAttribute("class")||"")})},ATTR:function(e,n,i){return function(r){var o=t.attr(r,e);return null==o?"!="===n:!n||(o+="","="===n?o===i:"!="===n?o!==i:"^="===n?i&&0===o.indexOf(i):"*="===n?i&&o.indexOf(i)>-1:"$="===n?i&&o.slice(-i.length)===i:"~="===n?(" "+o.replace(ae," ")+" ").indexOf(i)>-1:"|="===n&&(o===i||o.slice(0,i.length+1)===i+"-"))}},CHILD:function(e,t,n,i,r){var o="nth"!==e.slice(0,3),a="last"!==e.slice(-4),s="of-type"===t;return 1===i&&0===r?function(e){return!!e.parentNode}:function(t,n,l){var u,c,d,p,f,h,m=o!==a?"nextSibling":"previousSibling",g=t.parentNode,v=s&&t.nodeName.toLowerCase(),y=!l&&!s,b=!1;if(g){if(o){for(;m;){for(p=t;p=p[m];)if(s?p.nodeName.toLowerCase()===v:1===p.nodeType)return!1;h=m="only"===e&&!h&&"nextSibling"}return!0}if(h=[a?g.firstChild:g.lastChild],a&&y){for(p=g,d=p[H]||(p[H]={}),c=d[p.uniqueID]||(d[p.uniqueID]={}),u=c[e]||[],f=u[0]===F&&u[1],b=f&&u[2],p=f&&g.childNodes[f];p=++f&&p&&p[m]||(b=f=0)||h.pop();)if(1===p.nodeType&&++b&&p===t){c[e]=[F,f,b];break}}else if(y&&(p=t,d=p[H]||(p[H]={}),c=d[p.uniqueID]||(d[p.uniqueID]={}),u=c[e]||[],f=u[0]===F&&u[1],b=f),b===!1)for(;(p=++f&&p&&p[m]||(b=f=0)||h.pop())&&((s?p.nodeName.toLowerCase()!==v:1!==p.nodeType)||!++b||(y&&(d=p[H]||(p[H]={}),c=d[p.uniqueID]||(d[p.uniqueID]={}),c[e]=[F,b]),p!==t)););return b-=r,b===i||b%i===0&&b/i>=0}}},PSEUDO:function(e,n){var r,o=T.pseudos[e]||T.setFilters[e.toLowerCase()]||t.error("unsupported pseudo: "+e);return o[H]?o(n):o.length>1?(r=[e,e,"",n],T.setFilters.hasOwnProperty(e.toLowerCase())?i(function(e,t){for(var i,r=o(e,n),a=r.length;a--;)i=ee(e,r[a]),e[i]=!(t[i]=r[a])}):function(e){return o(e,0,r)}):o}},pseudos:{not:i(function(e){var t=[],n=[],r=k(e.replace(se,"$1"));return r[H]?i(function(e,t,n,i){for(var o,a=r(e,null,i,[]),s=e.length;s--;)(o=a[s])&&(e[s]=!(t[s]=o))}):function(e,i,o){return t[0]=e,r(t,null,o,n),t[0]=null,!n.pop()}}),has:i(function(e){return function(n){return t(e,n).length>0}}),contains:i(function(e){return e=e.replace(be,we),function(t){return(t.textContent||t.innerText||C(t)).indexOf(e)>-1}}),lang:i(function(e){return pe.test(e||"")||t.error("unsupported lang: "+e),e=e.replace(be,we).toLowerCase(),function(t){var n;do if(n=z?t.lang:t.getAttribute("xml:lang")||t.getAttribute("lang"))return n=n.toLowerCase(),n===e||0===n.indexOf(e+"-");while((t=t.parentNode)&&1===t.nodeType);return!1}}),target:function(t){var n=e.location&&e.location.hash;return n&&n.slice(1)===t.id},root:function(e){return e===L},focus:function(e){return e===M.activeElement&&(!M.hasFocus||M.hasFocus())&&!!(e.type||e.href||~e.tabIndex)},enabled:u(!1),disabled:u(!0),checked:function(e){var t=e.nodeName.toLowerCase();return"input"===t&&!!e.checked||"option"===t&&!!e.selected},selected:function(e){return e.parentNode&&e.parentNode.selectedIndex,e.selected===!0},empty:function(e){for(e=e.firstChild;e;e=e.nextSibling)if(e.nodeType=0;)e.push(i);return e}),gt:c(function(e,t,n){for(var i=n2&&"ID"===(a=o[0]).type&&9===t.nodeType&&z&&T.relative[o[1].type]){if(t=(T.find.ID(a.matches[0].replace(be,we),t)||[])[0],!t)return n;u&&(t=t.parentNode),e=e.slice(o.shift().value.length)}for(r=fe.needsContext.test(e)?0:o.length;r--&&(a=o[r],!T.relative[s=a.type]);)if((l=T.find[s])&&(i=l(a.matches[0].replace(be,we),ye.test(o[0].type)&&d(t.parentNode)||t))){if(o.splice(r,1),e=i.length&&f(o),!e)return Q.apply(n,i),n;break}}return(u||k(e,c))(i,t,!z,n,!t||ye.test(e)&&d(t.parentNode)||t),n},_.sortStable=H.split("").sort(X).join("")===H,_.detectDuplicates=!!P,D(),_.sortDetached=r(function(e){return 1&e.compareDocumentPosition(M.createElement("fieldset"))}),r(function(e){return e.innerHTML="","#"===e.firstChild.getAttribute("href")})||o("type|href|height|width",function(e,t,n){if(!n)return e.getAttribute(t,"type"===t.toLowerCase()?1:2)}),_.attributes&&r(function(e){return e.innerHTML="",e.firstChild.setAttribute("value",""),""===e.firstChild.getAttribute("value")})||o("value",function(e,t,n){if(!n&&"input"===e.nodeName.toLowerCase())return e.defaultValue}),r(function(e){return null==e.getAttribute("disabled")})||o(te,function(e,t,n){var i;if(!n)return e[t]===!0?t.toLowerCase():(i=e.getAttributeNode(t))&&i.specified?i.value:null}),t}(e);he.find=be,he.expr=be.selectors,he.expr[":"]=he.expr.pseudos,he.uniqueSort=he.unique=be.uniqueSort,he.text=be.getText,he.isXMLDoc=be.isXML,he.contains=be.contains,he.escapeSelector=be.escape;var we=function(e,t,n){for(var i=[],r=void 0!==n;(e=e[t])&&9!==e.nodeType;)if(1===e.nodeType){if(r&&he(e).is(n))break;i.push(e)}return i},xe=function(e,t){for(var n=[];e;e=e.nextSibling)1===e.nodeType&&e!==t&&n.push(e);return n},_e=he.expr.match.needsContext,Te=/^:\x20\t\r\n\f]*)[\x20\t\r\n\f]*\/?>(?:|)$/i,Ce=/^.[^:#\[\.,]*$/;he.filter=function(e,t,n){var i=t[0];return n&&(e=":not("+e+")"),1===t.length&&1===i.nodeType?he.find.matchesSelector(i,e)?[i]:[]:he.find.matches(e,he.grep(t,function(e){return 1===e.nodeType}))},he.fn.extend({find:function(e){var t,n,i=this.length,r=this;if("string"!=typeof e)return this.pushStack(he(e).filter(function(){for(t=0;t1?he.uniqueSort(n):n},filter:function(e){return this.pushStack(r(this,e||[],!1))},not:function(e){return this.pushStack(r(this,e||[],!0))},is:function(e){return!!r(this,"string"==typeof e&&_e.test(e)?he(e):e||[],!1).length}});var Ee,Se=/^(?:\s*()[^>]*|#([\w-]+))$/,ke=he.fn.init=function(e,t,n){var i,r;if(!e)return this;if(n=n||Ee,"string"==typeof e){if(i=""===e[e.length-1]&&e.length>=3?[null,e,null]:Se.exec(e),!i||!i[1]&&t)return!t||t.jquery?(t||n).find(e):this.constructor(t).find(e);if(i[1]){if(t=t instanceof he?t[0]:t,he.merge(this,he.parseHTML(i[1],t&&t.nodeType?t.ownerDocument||t:te,!0)),Te.test(i[1])&&he.isPlainObject(t))for(i in t)he.isFunction(this[i])?this[i](t[i]):this.attr(i,t[i]);return this}return r=te.getElementById(i[2]),r&&(this[0]=r,this.length=1),this}return e.nodeType?(this[0]=e,this.length=1,this):he.isFunction(e)?void 0!==n.ready?n.ready(e):e(he):he.makeArray(e,this)};ke.prototype=he.fn,Ee=he(te);var Ae=/^(?:parents|prev(?:Until|All))/,Ne={children:!0,contents:!0,next:!0,prev:!0};he.fn.extend({has:function(e){var t=he(e,this),n=t.length;return this.filter(function(){for(var e=0;e-1:1===n.nodeType&&he.find.matchesSelector(n,e))){o.push(n);break}return this.pushStack(o.length>1?he.uniqueSort(o):o)},index:function(e){return e?"string"==typeof e?ae.call(he(e),this[0]):ae.call(this,e.jquery?e[0]:e):this[0]&&this[0].parentNode?this.first().prevAll().length:-1},add:function(e,t){return this.pushStack(he.uniqueSort(he.merge(this.get(),he(e,t))))},addBack:function(e){return this.add(null==e?this.prevObject:this.prevObject.filter(e))}}),he.each({parent:function(e){var t=e.parentNode;return t&&11!==t.nodeType?t:null},parents:function(e){return we(e,"parentNode")},parentsUntil:function(e,t,n){return we(e,"parentNode",n)},next:function(e){return o(e,"nextSibling")},prev:function(e){return o(e,"previousSibling")},nextAll:function(e){return we(e,"nextSibling")},prevAll:function(e){return we(e,"previousSibling")},nextUntil:function(e,t,n){return we(e,"nextSibling",n)},prevUntil:function(e,t,n){return we(e,"previousSibling",n)},siblings:function(e){return xe((e.parentNode||{}).firstChild,e)},children:function(e){return xe(e.firstChild)},contents:function(e){return e.contentDocument||he.merge([],e.childNodes)}},function(e,t){he.fn[e]=function(n,i){var r=he.map(this,t,n);return"Until"!==e.slice(-5)&&(i=n),i&&"string"==typeof i&&(r=he.filter(i,r)),this.length>1&&(Ne[e]||he.uniqueSort(r),Ae.test(e)&&r.reverse()),this.pushStack(r)}});var Oe=/[^\x20\t\r\n\f]+/g;he.Callbacks=function(e){e="string"==typeof e?a(e):he.extend({},e);var t,n,i,r,o=[],s=[],l=-1,u=function(){for(r=e.once,i=t=!0;s.length;l=-1)for(n=s.shift();++l-1;)o.splice(n,1),n-1:o.length>0},empty:function(){return o&&(o=[]),this},disable:function(){return r=s=[],o=n="",this},disabled:function(){return!o},lock:function(){return r=s=[],n||t||(o=n=""),this},locked:function(){return!!r},fireWith:function(e,n){return r||(n=n||[],n=[e,n.slice?n.slice():n],s.push(n),t||u()),this},fire:function(){return c.fireWith(this,arguments),this},fired:function(){return!!i}};return c},he.extend({Deferred:function(t){var n=[["notify","progress",he.Callbacks("memory"),he.Callbacks("memory"),2],["resolve","done",he.Callbacks("once memory"),he.Callbacks("once memory"),0,"resolved"],["reject","fail",he.Callbacks("once memory"),he.Callbacks("once memory"),1,"rejected"]],i="pending",r={state:function(){return i},always:function(){return o.done(arguments).fail(arguments),this},catch:function(e){return r.then(null,e)},pipe:function(){var e=arguments;return he.Deferred(function(t){he.each(n,function(n,i){var r=he.isFunction(e[i[4]])&&e[i[4]];o[i[1]](function(){var e=r&&r.apply(this,arguments);e&&he.isFunction(e.promise)?e.promise().progress(t.notify).done(t.resolve).fail(t.reject):t[i[0]+"With"](this,r?[e]:arguments)})}),e=null}).promise()},then:function(t,i,r){function o(t,n,i,r){return function(){var u=this,c=arguments,d=function(){var e,d;if(!(t=a&&(i!==l&&(u=void 0,c=[e]),n.rejectWith(u,c))}};t?p():(he.Deferred.getStackHook&&(p.stackTrace=he.Deferred.getStackHook()),e.setTimeout(p))}}var a=0;return he.Deferred(function(e){n[0][3].add(o(0,e,he.isFunction(r)?r:s,e.notifyWith)),n[1][3].add(o(0,e,he.isFunction(t)?t:s)),n[2][3].add(o(0,e,he.isFunction(i)?i:l))}).promise()},promise:function(e){return null!=e?he.extend(e,r):r}},o={};return he.each(n,function(e,t){var a=t[2],s=t[5];r[t[1]]=a.add,s&&a.add(function(){i=s},n[3-e][2].disable,n[0][2].lock),a.add(t[3].fire),o[t[0]]=function(){return o[t[0]+"With"](this===o?void 0:this,arguments),this},o[t[0]+"With"]=a.fireWith}),r.promise(o),t&&t.call(o,o),o},when:function(e){var t=arguments.length,n=t,i=Array(n),r=ie.call(arguments),o=he.Deferred(),a=function(e){return function(n){i[e]=this,r[e]=arguments.length>1?ie.call(arguments):n,--t||o.resolveWith(i,r)}};if(t0||De.resolveWith(te,[he]))}}),he.ready.then=De.then,"complete"===te.readyState||"loading"!==te.readyState&&!te.documentElement.doScroll?e.setTimeout(he.ready):(te.addEventListener("DOMContentLoaded",c),e.addEventListener("load",c));var Me=function(e,t,n,i,r,o,a){var s=0,l=e.length,u=null==n;if("object"===he.type(n)){r=!0;for(s in n)Me(e,t,s,n[s],!0,o,a)}else if(void 0!==i&&(r=!0,he.isFunction(i)||(a=!0),u&&(a?(t.call(e,i),t=null):(u=t,t=function(e,t,n){return u.call(he(e),n)})),t))for(;s1,null,!0)},removeData:function(e){return this.each(function(){Ie.remove(this,e)})}}),he.extend({queue:function(e,t,n){var i;if(e)return t=(t||"fx")+"queue",i=ze.get(e,t),n&&(!i||he.isArray(n)?i=ze.access(e,t,he.makeArray(n)):i.push(n)),i||[]},dequeue:function(e,t){t=t||"fx";var n=he.queue(e,t),i=n.length,r=n.shift(),o=he._queueHooks(e,t),a=function(){he.dequeue(e,t)};"inprogress"===r&&(r=n.shift(),i--),r&&("fx"===t&&n.unshift("inprogress"),delete o.stop,r.call(e,a,o)),!i&&o&&o.empty.fire()},_queueHooks:function(e,t){var n=t+"queueHooks";return ze.get(e,n)||ze.access(e,n,{empty:he.Callbacks("once memory").add(function(){ze.remove(e,[t+"queue",n])})})}}),he.fn.extend({queue:function(e,t){var n=2;return"string"!=typeof e&&(t=e,e="fx",n--),arguments.length\x20\t\r\n\f]+)/i,Xe=/^$|\/(?:java|ecma)script/i,Ue={option:[1,""],thead:[1,""],col:[2,""],tr:[2,""],td:[3,""],_default:[0,"",""]};Ue.optgroup=Ue.option,Ue.tbody=Ue.tfoot=Ue.colgroup=Ue.caption=Ue.thead,Ue.th=Ue.td;var Ge=/x",pe.noCloneChecked=!!t.cloneNode(!0).lastChild.defaultValue}();var Ke=te.documentElement,Je=/^key/,Qe=/^(?:mouse|pointer|contextmenu|drag|drop)|click/,Ze=/^([^.]*)(?:\.(.+)|)/;he.event={global:{},add:function(e,t,n,i,r){var o,a,s,l,u,c,d,p,f,h,m,g=ze.get(e);if(g)for(n.handler&&(o=n,n=o.handler,r=o.selector),r&&he.find.matchesSelector(Ke,r),n.guid||(n.guid=he.guid++),(l=g.events)||(l=g.events={}),(a=g.handle)||(a=g.handle=function(t){return"undefined"!=typeof he&&he.event.triggered!==t.type?he.event.dispatch.apply(e,arguments):void 0}),t=(t||"").match(Oe)||[""],u=t.length;u--;)s=Ze.exec(t[u])||[],f=m=s[1],h=(s[2]||"").split(".").sort(),f&&(d=he.event.special[f]||{},f=(r?d.delegateType:d.bindType)||f,d=he.event.special[f]||{},c=he.extend({type:f,origType:m,data:i,handler:n,guid:n.guid,selector:r,needsContext:r&&he.expr.match.needsContext.test(r),namespace:h.join(".")},o),(p=l[f])||(p=l[f]=[],p.delegateCount=0,d.setup&&d.setup.call(e,i,h,a)!==!1||e.addEventListener&&e.addEventListener(f,a)),d.add&&(d.add.call(e,c),c.handler.guid||(c.handler.guid=n.guid)),r?p.splice(p.delegateCount++,0,c):p.push(c),he.event.global[f]=!0)},remove:function(e,t,n,i,r){var o,a,s,l,u,c,d,p,f,h,m,g=ze.hasData(e)&&ze.get(e);if(g&&(l=g.events)){for(t=(t||"").match(Oe)||[""],u=t.length;u--;)if(s=Ze.exec(t[u])||[],f=m=s[1],h=(s[2]||"").split(".").sort(),f){for(d=he.event.special[f]||{},f=(i?d.delegateType:d.bindType)||f,p=l[f]||[],s=s[2]&&new RegExp("(^|\\.)"+h.join("\\.(?:.*\\.|)")+"(\\.|$)"),a=o=p.length;o--;)c=p[o],!r&&m!==c.origType||n&&n.guid!==c.guid||s&&!s.test(c.namespace)||i&&i!==c.selector&&("**"!==i||!c.selector)||(p.splice(o,1),c.selector&&p.delegateCount--,d.remove&&d.remove.call(e,c));a&&!p.length&&(d.teardown&&d.teardown.call(e,h,g.handle)!==!1||he.removeEvent(e,f,g.handle),delete l[f])}else for(f in l)he.event.remove(e,f+t[u],n,i,!0);he.isEmptyObject(l)&&ze.remove(e,"handle events")}},dispatch:function(e){var t,n,i,r,o,a,s=he.event.fix(e),l=new Array(arguments.length),u=(ze.get(this,"events")||{})[s.type]||[],c=he.event.special[s.type]||{};for(l[0]=s,t=1;t=1))for(;u!==this;u=u.parentNode||this)if(1===u.nodeType&&("click"!==e.type||u.disabled!==!0)){for(o=[],a={},n=0;n-1:he.find(r,this,null,[u]).length),a[r]&&o.push(i);o.length&&s.push({elem:u,handlers:o})}return u=this,l\x20\t\r\n\f]*)[^>]*)\/>/gi,tt=/

VIDEO - Tucker Carlson - 'Refuse Fascism' Organizer protests to Overthrow Trump Nazi Regime - Sunsara Taylor - YouTube

VIDEO - "Protesters aren't paid, you just SUCK" Whoopi Goldberg DESTROYS Donald Trump - YouTube

VIDEO - Tucker Carlson Tonight February 22 Full Show Ann Coulter - YouTube

VIDEO - CNN Finds Humor in UK Parliament Insulting Trump to Downgrading Visit | MRCTV

Thu, 23 Feb 2017 04:05

Debate raged in the United Kingdom's Parliament Monday over whether or not President Donald Trump should be extended the warm welcome of a full state visit. As insults targeting Trump flew back and forth, CNN seemed to get a good laugh out it all. ''Insults flying over Trump's invitation for a formal state visit to the UK,'' hyped Erin Burnett during her show OutFront, ''One Member of Parliament today likening it to quote, ''pimping out the queen.''' All while the on-screen headline read ''can God save the queen '... from Trump?''

''President Trump doesn't just get people stirred up at home. Look what happened in the British parliament. All because Britain's prime minister invited President Trump to [a state visit],'' reported CNN's Jeanne Moos as she played clips of members of Parliament yelling and screaming. ''I'm standing here as a woman being shouted down by women,'' Anne Main of the Conservative Party can be heard saying.

Moos seemed in awe of the number of Britons who were opposed to the President getting the chance to meet and have dinner with the queen of England. ''Over 1.8 million UK residents signed a petition saying it was okay for President Trump to come visit, but that he should not get an official state visit, 'because it would cause embarrassment to her majesty the queen,''' she said while quoting the petition.

She also seemed amused by Labour Party MP Paul Flynn who hammered Trump with disparaging comments about his intelligence. ''Like a petulant child. The intellectual capacity of the president is protozoan,'' he exclaimed. ''Protozoan? Like, ''a single-celled microscopic animal,'' Moos asked inquisitively as she literally read the result of a Google search.

''Members of parliament went there,'' she touted as clips played of MPs talking about Trump's controversial comments to Billy Bush:

TULIP SIDDIQ [Labour]: Can you really lay out the red carpet for someone who talked about grabbing women by the [ bleep ]?

'...

DAVID LAMMY [Labour]: I think about a man who thinks it's okay to go and grab [ bleep ].

CAROL MONAGKAN [Scottish National Party]: I became concerned when I heard comments like ''grab them by the [ bleep ].''

JEANNE MOOS: The Scottish lilt helped.

The CNN reporter even remarked on the creativity of the anti-Trump protesters outside the Parliament building. ''Outside parliament, protesters rallied, 'God save the queen from Donald Trump,''' she noted, ''The president was portrayed as King Kong, clutching the monarch as he scaled Big Ben.'' Moos got in on the fun too, jokingly saying, ''God save the queen from this debate.''

After watching clips of Flynn stating that the visit was equivalent to ''pimping out the queen for the Donald Trump,'' CNN cut back to a giggling Burnett who admitted, ''there's just something about that.''

VIDEO - MSNBC 'Conservative' Pundit Demands 'Sick' Trump Get 'Mental Health Checkup' | MRCTV

Thu, 23 Feb 2017 04:01

While President Trump visited the National African American Museum of History and Culture Tuesday morning, MSNBC took the opportunity to bash the president for his word choices as evidence that he was mentally ill. On top of that, MSNBC analysts stated that Trump had ran out of chances with the black community and admitted this visit wouldn't change any opinions about him.

Read more on Newsbusters here.

VIDEO - Nets Excited by British Parliament Trashing Trump | MRCTV

Thu, 23 Feb 2017 03:56

More in the cross-post on the MRC's NewsBusters blog.

After all three of Monday's network evening newscasts hyped left-wing ''Not My Presidents' Day'' protests across the country, on Tuesday, the ABC, CBS, and NBC morning shows took the anti-Trump fervor international as they promoted similar demonstrations in London and the British Parliament debating whether or not President Trump should be permitted a state visit to the U.K.

On ABC's Good Morning America, co-host Robin Roberts introduced a full report on the topic by announcing: ''And overseas, President Trump is facing public anger and attacks from the British Parliament...'' Chief foreign correspondent Terry Moran proclaimed: ''Across Europe, President Trump is stirring controversy and unease. Parliament debating a petition signed by nearly 2 million Britons demanding that Mr. Trump's trip here later this year be downgraded.''

VIDEO - On MSNBC, USA Today's Przybyla Argues Anti-Semitism Is Now 'Mainstream' on the Right | MRCTV

Thu, 23 Feb 2017 03:50

See more in the cross-post on the NewsBusters blog.

Appearing as a guest on Tuesday's Hardball, MSNBC political analyst and USA Today senior political reporter Heidi Przybyla brazenly argued that anti-Semitism is becoming ''mainstream'' on the right after having been only a ''fringe, alt-right, white nationalist movement.''

Przybyla continued the liberal media's obsession with normalizing white supremacists such as Richard Spencer by again touting his small gathering in late 2016 as a representation of where an entire portion of the country is heading with its core values and ideology.

VIDEO - Whoopi: Affordable Care Act Not to Blame for Premiums Rising! | MRCTV

Thu, 23 Feb 2017 03:36

As Republicans work to repeal the Affordable Care Act, the left is fighting tooth and nail to keep it alive, from hyping scare stories of what could happen if it is repealed, to flat-out denying the devastating effects it has caused on so many families. On Thursday's the View, the liberal hosts on the panel staunchly defended the universal health care law, arguing in circles with the only host critical of the law, Jedediah Bila. Whoopi Goldberg even tried to reason away the negative effects of the law as the insurance companies' fault.

Read more on Newsbusters here.

VIDEO - Sure: CNN's Baldwin Says It's 'Dangerous' to Wonder If Town Hall Protesters Are Organized | MRCTV

Thu, 23 Feb 2017 03:29

See more in the cross-post on the NewsBusters blog.

The double standard continues, folks. On Tuesday afternoon's CNN Newsroom, host Brooke Baldwin seemed dismayed and testy when it came to questioning whether or not the attendees at solid congressional Republican town halls are liberal protesters, bemoaning the idea as ''dangerous'' rhetoric to be articulating.

Of course, NewsBusters readers will find this story to be quite humorous after recalling how this same network dismissed conservatives at town halls in 2009 and 2010 as astroturf or paid brown shirts.

VIDEO - April Ryan Accuses Trump of Saying White People Made America. What Is She Talking About? | Mediaite

Thu, 23 Feb 2017 03:22

Please enable Javascript to watch.

American Urban Radio Networks reporter April Ryan asked a particularly odd question of White House press secretary Sean Spicer following President Donald Trump's visit to the African-American History Museum Tuesday that I wanted to flag: [Emphasis added]

RYAN: What did the president gain from his tour today? You talked about where he visited, the exhibits that he visited. Did he also visit [the slavery exhibit]? And the reason why I'm asking this is because when he was candidate Trump, he said things like, you know, 'We made this country,' meaning white America, not necessarily black.

SPICER: I don't know why you would say that. What do you mean''?

RYAN: No, no, no. He said that. I heard him say that.

I actually have to side with Spicer here. What on earth is Ryan talking about? When did she hear that?

Earlier I posted the transcript of this remark to Twitter and asked if anyone knew what incident she was talking about '-- no one did. Someone who saw that tweet asked Ryan about on Twitter. Here's her response:

Okay, but it seems like it ought to be Ryan's responsibility to back up her claims, not for others to search for proof. Reporters wouldn't accept it if Spicer backed up every single factual claim with ''look it up.''

Anyway, I tried to look it up. I searched up and down for any evidence that candidate Trump ever intimated that white America specifically deserved credit for building America, or that he ever said something like ''we made this country'' in a context where ''we'' obviously referred to white Americans. I came up short.

Given that this would've certainly caused an immediate uproar and would've been seized on by the Clinton campaign, I have to conclude that my memory isn't failing and it never happened. But I'm willing to suggest that I might be a victim to my own ideological blinders, and I might have never seen this story because I don't peruse liberal or African-American news sources. Is there an incident here I'm missing?

My sneaking suspicion is that Ryan might have seen an opinionated take on Trump's comments and mistaken it for news. That is to say, Trump said something generic about how ''we'' made America, someone else wrote a snarky tweet or headline about how that obviously only applied to whites, and Ryan saw it. I certainly don't think there was any malice on her part.

Mediaite's tip line is always open. If anyone knows what Ryan was referring to, we'd love to clear it up. But I wonder if she might owe the president an apology.

Watch above, via MSNBC.

[Image via screengrab]

'--'--

>>Follow Alex Griswold (@HashtagGriswold) on Twitter

This is an opinion piece. The views expressed in this article are those of just the author.

VIDEO - CNN Allows Left-Wing Guest to Accuse Trump of Creating 'Cancer of Anti-Semitism'

Thu, 23 Feb 2017 03:15

During a softball interview on CNN Tuesday afternoon, Steven Goldstein, director of the Anne Frank Center for Mutual Respect bashed and lambasted President Donald Trump for his statement that morning denouncing bigotry, especially anti-Semitism, and pinned recent Jew hatred on Trump's campaign, and now, administration. Beforehand, a panel on the network's Inside Politics discussed Trump's campaign and presidency's possible affect on hate crimes against Jews.

On CNN Newsroom With Brooke Baldwin Goldstein said, "Our president is creating an incubator of hatred. When you don't respond to anti-Semitism as well as Islamophobia and racism in a real time, when you wait days and sometimes week to respond to attacks, you are sending a signal to the haters that hate is okay."

Goldstein said, "Brooke, these incidents didn't occur to the same extent before President Trump took office. So, of course, we see a night and day difference. The night and day difference began with his election -- accelerated with his inauguration."

"I want him to fire [Chief Strategist] Steve Bannon. Second, I want the President to give a major address to anti-Semitism to the far right that is responsible for anti-Semitism in his administration. And I want him to appoint an independent commission with members appointed by Congress that will look at anti-Semitism apart from the President's influence," Goldstein added.

The discussion came in the midst of almost a dozen Jewish community centers temporarily closing after receiving phone threats, which were later deemed as a hoax. At the African American History Museum earlier in the day, the President remarked that the threatening calls to Jewish communities "horrible" and "painful."

However, the Anne Frank Center for Mutual Respect was not satisfied. "MR. PRESIDENT, YOUR [sic] TOO LITTLE, TOO LATE ACKNOWLEGMENT OF #Antisemitism TODAY IS NOT ENOUGH," the New York-based center posted in a typo-laden statement on Facebook. "[Trump's] statement today is a pathetic asterisk of condescension after weeks in which he and his staff have committed grotesque acts and omissions reflecting Antisemitism, yet day after day have refused to apologize and correct the record.''

Five hours later after posting the statement, Goldstein said on CNN, "

A few hours beforehand, the Inside Politics panel-- The Federalist's Mollie Hemingway, The Atlantic's Molly Ball, National Public Radio's Domenico Montanaro, and CNN political analyst Jeff Zeleny--discussed the latest anti-Semitic incidents, which includes a St. Louis Jewish cemetery vandalized Monday, and connected it to President Trump's reaction Tuesday morning.

"[In] today's other top stories, the Jewish Community Center Association says 48 senators in 26 states and one province received just shy of 60 bomb threats last month," host John King said. "You might recall President Trump got testy last week when he was asked about an increase in anti-Semitism, but this morning after a tour of the Smithsonian African-American History Museum, the president spoke out. You might recall President Trump got testy last week when he was asked about an increase in anti-Semitism, but this morning after a tour of the Smithsonian African-American History Museum, the president spoke out."

VIDEO - "Trump's Administration is Xenophobic" Sean Spicer Slams Liberal Reporter - YouTube

VIDEO - In A Film Industry Focused On Youth, Older Characters Are Tough To Find : NPR

Thu, 23 Feb 2017 02:58

Of the 25 Best Picture nominees Stacy Smith examined, she found only two examples of an actor over 60 who was essential to the story. The characters appeared in Birdman and Spotlight -- and both were played by Michael Keaton. Atsushi Nishijima/ Fox Searchlighthide caption

toggle captionAtsushi Nishijima/ Fox SearchlightOf the 25 Best Picture nominees Stacy Smith examined, she found only two examples of an actor over 60 who was essential to the story. The characters appeared in Birdman and Spotlight -- and both were played by Michael Keaton.

Atsushi Nishijima/ Fox SearchlightWhen the Academy Award nominations were announced in 2015 '-- and again in 2016 '-- there was swift backlash against the Academy for the lack of racial diversity among the nominees. Now, a new study of Best Picture nominees has revealed yet another demographic that's been chronically underrepresented in Hollywood '-- older people.

In the 25 films nominated for Best Picture Oscars over the past three years, less than 12 percent of the characters were people over the age of 60. Of those, very few were women or minorities. This is according to a new study by Stacy Smith, who directs the Media, Diversity and Social Change initiative at the University of Southern California.

Smith had previously looked at the age of characters in popular films, and was curious to see if critically acclaimed, Best Picture nominees might have a different proportion of older characters.

Turns out, they don't.

Even when there are older characters, Smith found they rarely drive the plot. In the 25 best picture nominees she examined, she found only two examples of an actor over 60 who was essential to the story. Both of those characters were played by Michael Keaton. (He played the title role in Birdman in 2014 and a Boston Globe editor in Spotlight in 2015.)

Arguably, there was a third character over 60 integral to the plot in one of 2017's Best Picture nominees '-- Jeff Bridges played a Texas ranger in pursuit of bank robbers in Hell or High Water. Then again, he had to put up with dialogue like this from his deputy: "You wanna hear about these bank robberies or just sit there at let Alzheimer's run its course?"

"For those films that had leading or supporting characters that were 60 or above, over 40 percent had ageist comments within them," Smith says.

If I don't see myself in the movies, what does that say about me? Am I not a valued person? Should I be preparing for a future, or will I just sort of disappear at a certain time?

Dr. Yogi Hernandez Suarez

Concern over portraying older people as infirm or feeble-minded isn't just about protecting hurt feelings. Studies show that embracing negative stereotypes about age can lead to poor health and even a shorter lifespan. This is why Humana, the health insurance giant, funded Smith's study. Dr. Yogi Hernandez Suarez, chief medical officer for a division of Humana, says that movies can reinforce negative stereotypes.

"If I don't see myself in the movies, what does that say about me?" Suarez asks. "Am I not a valued person? Should I be preparing for a future, or will I just sort of disappear at a certain time?"

The AARP has actually been looking at this issue since 2001. Movies made that year were the first to be recognized with the organization's Movies for Grownups Awards, which honor films and actors portraying characters 50 and older.

Bill Newcott, who founded the program, says he's seen some progress '-- when the awards began back in 2001, just seven of the top 100 box office movies featured a character 50 or older in a central role. In 2016 that number had jumped to 26. Why's that?

"111 million people in the U.S. are over 50," Newcott says. "They buy 25 percent of movie tickets and that number's rising."

So if we see an increase in older characters on the big screen in coming years, it'll likely be because Hollywood does what it's always done '-- focus on the bottom line.

VIDEO - Bill Maher Defends Teacher That Raped 12 Year Old Student #MiloGate - YouTube

VIDEO - Maxine Waters on Trump's Cabinet: They're a 'Bunch of Scumbags' | Fox News Insider

Wed, 22 Feb 2017 20:19

U.S. Rep. Maxine Waters (D-CA) took her repeated calls for President Donald Trump's impeachment one step further on Tuesday.

In an interview with Chris Hayes on MSNBC's "All In," Waters had some harsh words for members of Trump's cabinet and other associates with alleged ties to Russia.

"I just think the American people had better understand what's going on. This is a bunch of scumbags. That's what they are. Who are all organized around making money," she said.

Waters, who represents a south Los Angeles district and has been in Congress since 1991, proudly tweeted the video clip following the interview.

'More Dangerous Than Hitler'?! Tucker Battles Anti-Trump Protester

O'Reilly to Trump: 'Facts Will Win the Culture War, Not Opinion'

WATCH: Sparks Fly Over Trump Wall Plans at 'First 100 Days' Town Hall

Hayes pressed Waters on the "scumbags" remark, asking her who exactly she was referencing. She then brought up Secretary of State Rex Tillerson.

"Well I tell you this, [Secretary of State Rex] Tillerson is there to get these sanctions lifted," Waters said. "I believe it, just watch him. He's gonna [sic] continue to work on it. This is important for him. He was there because he negotiated the deal with Exxon, with [Russian President Vladimir] Putin."

This namecalling is the latest in a string of anti-Trump rhetoric sweeping through the Democratic Party, which Steve Doocy called a "coastal party" given the strongholds in California, New York and Massachusetts.

Watch the "Fox & Friends" hosts' reaction below.

'The Election Is Over': Cain Slams Clinton Team for Attempting to 'Delegitimize' Trump

Trump: 'Liberal Activists' Behind Chaos at GOP Town Halls

NYT: Protests, Celeb Critics Could Push Moderate Conservatives Toward Trump

Stay connected with the most-trusted name in cable news through exclusive videos, show highlights and behind-the-scenes details.

VIDEO - Henry Rollins on Politically Incorrect with Bill Maher, 3/20/98 - YouTube

VIDEO - Tucker Carlson Tonight Full Show HD 2/21/17 - YouTube

VIDEO - SJW Gets Triggered On Tucker Carlson Tonight 2/21/17 - YouTube

VIDEO - Morning Joe: We Control What You Think - YouTube

VIDEO - Fake News Site Lets Readers Pretend Hillary Won The Election | The Daily Caller

Tue, 21 Feb 2017 18:29

5492570

Liberals seeking refuge from reality now have a fake news website where they can pretend to live in a world where Hillary Clinton is president.

''Approval ratings for President Clinton hit 89 percent,'' ''Confused by fake news, Redditers think Trump is president'' and ''DOJ considers charging Trump with treason'' are just a few headlines featured on HillaryBeatTrump.org, a satirical news site devoted to covering stories from an alternate universe where Hillary won last November's election.''In the midst of a Constitutional crisis, this is our response,'' the site's description reads. ''Long live the true president, Hillary Rodham Clinton.''

The site's proprietors do not identify themselves online, and did not return TheDC's request for comment, but their articles suggest they have liberal leanings.

The site's articles single out prominent Republicans like Texas Sen. Ted Cruz and White House press secretary Sean Spicer for mockery.

Democratic presidential nominee former Secretary of State Hillary Clinton waves to the crowd as she walks on the stage during the third U.S. presidential debate at the Thomas & Mack Center on October 19, 2016 in Las Vegas, Nevada. (Drew Angerer/Getty Images)

''On Monday, Senator Ted Cruz went on Ellen to confess that he, of course, killed Deputy White House Counsel Vince Foster in 1993,'' reads one recent article, which refers to Cruz as ''the Republican front-runner to take on President Hillary Rodham Clinton in 2020.''

Follow Hasson on Twitter @PeterJHasson

VIDEO - Pablo Escobar's Son Reveals His Dad "Worked for the CIA Selling Cocaine" '-- Media Silent

Tue, 21 Feb 2017 14:04

Juan Pablo Escobar Henao, son of notorious Medell­n cartel drug kingpin, Pablo Escobar, now says his father''worked for the CIA.''

In a new book, ''Pablo Escobar In Fraganti,'' Escobar, who lives under the pseudonym, Juan Sebastin Marroqu­n,explainshis''father worked for the CIA selling cocaine to finance the fight against Communism in Central America.''

''The drug business is very different than what we dreamed,''he continues.''What the CIA was doing was buying the controls to get the drug into their country and getting a wonderful deal.''

''He did not make the money alone,''Marroqu­nelaboratedin an interview,''but with US agencies that allowed him access to this money. He had direct relations with the CIA.''

Notably, Marroqu­n added,''the person who sold the most drugs to the CIA was Pablo Escobar.''

Where his first book primarily covered Escobar, the man as a father, Marroqu­n's second '-- which has just been released in Argentina '-- delves into the kingpin's''international ties of corruption in which my father had an active participation, among them with the American CIA,''hesaidin a recent interview.

Those government associates''were practically his partners,''which allowed Escobar to defy the law, and gave him nearly the same power as a government.

Predictably, this information is conveniently absent from media headlines in America.

If the CIA trafficking cocaine into the United States sounds like some tin foil conspiracy theory, think again. Their alleged role in the drug trade was exposed in 1996 in an explosive investigative series ''Dark Alliance'' by Gary Webb for the San Jose Mercury News. The investigation, headed up by Webb revealed ties between the CIA, Nicaraguan contras and the crack cocaine trade ravaging African-American communities.

READ MORE: Dozens of Congressmen Speak Out Against Tyranny -- Tell DEA Not to Ban Kratom

The investigation provoked massive protests and congressional hearings, as well as overt backlash from the mainstream media to discredit Webb's reporting. However, decades later, officials would come forward to back Webb's original investigation up.

Then-senator John Kerry even released a detailed report claiming that not only was there ''considerable evidence'' linking the Contra effort to trafficking of drugs and weapons '-- but that the U.S. government knew about it.

El Patron, as Escobar came to be known, amassed more wealth than almost any drug dealer in history '-- at one point raking in around $420 million a week in revenue '-- and reportedly supplied about 80 percent of the world's cocaine. EscobarlandedonForbes' list of international billionaires for seven straight years, and '-- though the nature of the business makes acquiring solid numbers impossible '-- hisestimatedworth was around $30 billion.

Escobar and the Medell­n cartelsmuggled15 tons of cocaine into the U.S. '--every day'-- and left a trail of thousands of dead bodies to do so.

''It was a nine-hundred-mile run from the north coast of Colombia and was simply wide-open,''journalist Ioan Grillowrotein the book, ''El Narco: Inside Mexico's Criminal Insurgency.''''The Colombians and their American counterparts would airdrop loads of blow out to sea, from where it would be rushed ashore in speedboats, or even fly it right onto the Florida mainland and let it crash down in the countryside.''

If what Marroqu­n reveals in the new book is, indeed, true, it would mean the CIA played a major role in ensuring Americans had access to boundless quantities of cocaine '-- while the U.S. government sanctimoniously railed against drugs to promote the drug war.

In fact, as Marroqu­n keenly observes, drug prohibition makes for the best pro-drug propaganda '-- the nature of something being illegal naturally gives it greater appeal.

That prohibition guaranteed Escobar's bloody reign would be all the more violent. Marroqu­n now believes''his path of healing is reconciliation with the relatives of those whom his father ordered to kill.''

While Escobar certainly used violence, or ordered others to use violence, to effectively foment and maintain power, he wasn't without a charitable bone in his body. AsBusiness Insidernotes,''He was nicknamed 'Robin Hood' after handing out cash to the poor, building housing for the homeless, constructing 70 community soccer fields, and building a zoo.''

El Patron met his fate in 1993 '-- by gunshot as he attempted to flee after his house was surrounded. However, thecircumstancessurrounding his death are still being debated today. Marroqu­n insists his father committed suicide rather than be shot or captured by police forces sent to hunt him down; while others believe Escobar was absolutely slain by police.

Either way, Escobar's accumulation of wealth could be viewed as incidental to the role he played for the CIA and the war on drugs '-- a massive hypocrisy serving to keep people hooked on a substance deemed illegal by the State, so the State can then reap the profits generated by courts, prisons, and police work 'necessary' to 'fight' the 'war on drugs.'

''My father was a cog in a big business of universal drug trafficking,''Marroqu­n explains, and when he no longer served a purpose for those using him that way, killers were sent to do away with the problem '-- the problem so many had a hand in creating.

Marroqu­n, who onlyrevealedhimself as Escobar's son in 2009, says he's had to forgive members of his family for their involvement in the drug business and betrayal of his father '-- but notes that forgiveness doesn't mean forgetting what happened.

But he has measured perspective about the man who brutally ruled the cocaine industry.

''Pablo Escobar is by no means a role model,''he asserts.

''I admire Pablo, my father, who educated me. Not Escobar, the mafioso.''

Marroqu­n noted drug lords like his father might appear to have everything as their status and name garner attention, but these material gains, in actuality, take control in the end.

''The more power my father had, the poorer he lived.''

VIDEO - Tucker Carlson takes on Gay 'Not My President' Protestor who attacks Trump - YouTube

VIDEO - Tucker Carlson DESTROYS Former US Ambassador To Sweden Azita Raji - YouTube

VIDEO - Ex-teen idol David Cassidy says he has dementia | Reuters.com

Tue, 21 Feb 2017 12:47

Designers offer winter romance at London Fashion Week - 00:52

Oscars 2017: Show Me The Money - Part One - 07:23

Oscars 2017: Show Me The Money - Part Two - 10:50

Oscars 2017: Show Me The Money - Part Three - 07:50

Hugh Jackman hangs up Wolverine's claws in Berlin - 01:39

Fashion Week hits London amid Brexit fears - 01:49

Oscar prepares to party - 01:24

'La La Land' seen as a lock for big Oscars win - 02:00

Cher and Las Vegas have got each other again, babe - 01:01

Force Friday to return for 'The Last Jedi' - 01:04

Marc Jacobs takes over a city sidewalk for his fall 2017 fashion show - 00:54

VIDEO - Fareed Zakaria's Discuss with Sergy Karagnov About Former National Sec. Michael Flynn. #GPS - YouTube

VIDEO - [15/02/2017] CIA Expose Pizzagate THE HUNT IS ON - MUST WATCH!! - YouTube

VIDEO - Russia Wants to Work with Trump Despite CIA-MI6 Sabotage Efforts - YouTube

VIDEO - I Was An Abuse Victim. Laughter Is How I Cope. - YouTube

VIDEO - 4chan knew of the media's attacks on Milo before-hand

Tue, 21 Feb 2017 11:08

Yesterday, several mainstream websites ran a series of personality attacks on Milo Yiannopoulos, accusing him of promoting pedophilia and demanding that he be dropped and dis-invited from this year's CPAC (Conservative Political Action Conference). Almost all the left-wing mainstream press ran the story, including some right wing ones like the Blaze. The articles ultimately achieved their purpose, and Milo was dis-invited from CPAC. His books deal was also canceled earlier this morning. If the articles seemed like a calculated attack to discredit Milo, that's because they were '' and now we have archived posts from 4chan that prove it.

Yesterday, Monday, at 5:54 am, several hours before the articles appeared on any of the mainstream websites, a post appeared on 4chan's /pol/ board from someone who claimed to be on a mailing list, detailing how the media planned to slander Milo. The poster, who refused to give his name, claimed that the media had been sitting on the pedophile story for quite some time now, and were only now running it because Milo has gained infamy.

The mainstream media has several reasons for trying to discredit Milo. They hate that he got a book deal from the same publishers who dropped Zoe Quinn, they want to hurt him, which will hurt Steve Bannon '' the owner of Breitbart, and they hate that the general public agreed with Milo over the violent protesters who disrupted his events.

The journalists are pissed the fuck off Maher put him on the air and more so, pissed off his book deal had not been revoked (and some are pissed that Milo got a book deal from the same publisher who dropped Zoe Quinn's book, along with a larger signing bonus than most of the publisher's social justice authors).

There are also those who want to hurt him simply as a proxy to hurt Steve Bannon/Breitbart. since their attempts to attack Bannon have largely failed. Not to mention people on the left being pissed off that most people sided with Milo over the rioters. Rioters, that were paid for by Soros through a variety of fronts and laundered through companies that can't be traced back to him.

''Expect a steady drumbeat of ''Milo is a pedophile'' and ''Milo must be dropped from CPAC'''' the poster warned, explaining that the purpose of the attacks was to create a divide in the republican party in order to take them down in 2018:

Expect a steady drumbeat of ''Milo is a pedophile'' and ''Milo must be dropped from CPAC''. The later is especially important, in terms of the divide and conquer long game the press is playing: the press wants a civil war with the McCain/Graham wing of the GOP and the Trump/Ryan wing so as to weaken the Republicans in 2018. The overall plan is to make the Republicans fear social shaming from the media and the left more than they do their actual constituents who love Trump, in hopes of regaining the House and enough Senate seats to pull off an impeachment of Trump.

This sounds like something straight out of a movie right?

Don't worry, you don't have to take our word for it, as we have evidence to back it up. The original thread can be found HERE and an archive of the thread can be found HERE. Note the time the thread was posted. This thread went up long before any of the articles run, and the poster knew exactly how the take-down would go down with such precision.

The post received mixed reactions from users at the time, with some of the more radicalized users celebrating joy at the thought of a gay Jewish man being expunged from the right wing.

Others lamented the thought of the mainstream media taking down someone they didn't like, and succeeding at it. ''Not a fan of Milo, but this takedown is bullshit'' one user said.

Whether you are personally a fan of Milo or not, one things is for sure; the mainstream media is scared of him and they will do anything to take him down.

Commentscomments

VIDEO - Angelina Jolie exclusive: Cooking bugs in Cambodia - BBC News

Tue, 21 Feb 2017 05:35

Freedom ControllerHTTP/1.1 200 OK Date: Tue, 21 Feb 2017 05:35:19 GMT Server: Apache X-Powered-By: PHP/5.3.10-1ubuntu3.25 Vary: Accept-Encoding Content-Encoding: gzip Content-Length: 6907 Content-Type: text/html

This site doesn't work without javascript.

VIDEO - Video: Black Trump Supporter Goes Off In Town Hall Meeting Regardng Immigration! "When My People Do A Crime, It's 3 Strikes, When You Do It, You Get Amnesty"

Mon, 20 Feb 2017 17:41

Video: Black Trump Supporter Goes Off In Town Hall Meeting Regardng Immigration! "When My People Do A Crime, It's 3 Strikes, When You Do It, You Get Amnesty"

Black Trump Supporter Goes Off In Town Hall Meeting Regardng Immigration! "When My People Do A Crime, It's 3 Strikes, When You Do It, You Get Amnesty"

VIDEO - MUST SEE: John Oliver Connects The Dots On Putin, Trump | Crooks and Liars

Mon, 20 Feb 2017 17:25

You can't do a news segment anymore that isn't about Donald Trump. Or as John Oliver said last night, ''Trump dominates the news cycle like a fart dominates the interior of a Volkswagen Beetle.'' he said at the start of his Sunday night show.

And so what if that means real, fact-based, important international news, like the death of Kim Jong-un's half brother, gets buried under the fake news Trump lie of Sweden's "terrorist attack?"

''Here's where we're at right now: Trump can dominate the news merely by referencing something that didn't happen in Sweden,'' said Oliver.

The highlight of the week was, of course, ''a presidential press conference [that] elicited the same reaction you get from people who have just seen someone shoot fireworks out of his arse.'' Oliver showed the universal one-word media reaction to the presser: "Wow."

But the key argument of last night's show was that Trump is either Putin's idiot stooge or willing collaborator. So many times Trump has said in public, ''it would be nice if we got along with Russia.''

''It would also be nice if you could walk right up to a bear and hug it, that would be really, really nice but unfortunately it's not that f*cking easy.''

Most jaw dropping was an interview clip with a Russian journalist, who pointed out that Putin uses problems in America to convince his own citizens that democracy fails everywhere, and it's just not possible for the world to be a better place than it is.

That is followed up with Trump's statement in his most recent O'Reilly interview: "You think America's so great?" in which Trump intimated that our government officials may have people killed, too.

It plays right into Putin's narrative and is either conscious or unconscious. Either way, it's terrifying.

VIDEO-Globalist-Minded Media Fraught Over ''Deliberate'' and ''Well Prepared'' Acumen of Secretary T-Rex'...

Mon, 20 Feb 2017 17:20

We are so fortunate Rex Tillerson was willing to take on the role of Secretary of State. T-Rex's approach is giving the pearl-clutching leftists fits, as outlined in this article by ABC which displays their collective angst.

(Via ABC) [..] In his first weeks as America's top diplomat, Tillerson has gone to great lengths to avoid attracting attention, despite a growing perception in Washington that the State Department is being sidelined by a power-centric White House.

Some State Department officials have been told by the White House to expect drastic budget cuts, with much of the reduction potentially coming out of U.S. foreign aid money. Trump and his team have also told those interviewing for top State Department jobs that significant staffing cuts will come. Some appear to have started already.

While Tillerson was in Germany, several senior management and advisory positions were eliminated. The staffers were reassigned. Some other top posts are vacant, and there are no signs they'll be quickly filled.

While Tillerson has met or spoken with dozens of foreign counterparts in his first weeks, the White House is driving the front-page diplomacy. The lack of State Department involvement has flustered many long-time diplomats.

['...] It's a sharp contrast with the Obama administration's last secretary of state, John Kerry, who routinely found his way to the center of global crises, enthusiastically fulfilling the ''public diplomacy'' part of the job. Whereas Kerry exhausted staff with impromptu, whirlwind foreign trips and constant press appearances, Tillerson has made it known to his staff that he wants a lower profile.

In private, the Texas oilman with the booming baritone voice is deliberate, independent and cool-headed, according to U.S. and foreign diplomats who have interacted with him and spoke on condition of anonymity in order to avoid possible diplomatic fallout from discussing private conversations. A common thread in Tillerson's meetings with diplomats has been an emphasis on safety of U.S. personnel, State Department officials said.

It's a continuation of a theme Tillerson touched on when he spoke to staffers on his first day, and one he plans to echo this coming week on a trip to Mexico City with Homeland Security Secretary John Kelly. Tillerson will stop at the U.S. Embassy to meet with American diplomats, officials said.

Diplomats from several foreign countries said Tillerson is playing it safe in high-level meetings so far, avoiding extemporaneous comments. He shows up seeming well-prepared and confident on the substance of issues, rarely consulting his aides or written notes, they reported.

In Germany last week, Tillerson urged China to help address North Korea's nuclear threat. He called on Russia to honor a 2015 peace plan for Ukraine.

While those signs of continuity in U.S. policy may have assuaged some foreign leaders' concerns about Trump, Tillerson's tight-lipped nature unsettled others.

After meeting Tillerson, French Foreign Minister Jean-Marc Ayrault lamented the ''vague'' U.S. position on issues such as the Israeli-Palestinian conflict. Tillerson told several of his international partners the U.S. is still in ''listening mode,'' leaving some with the perception that Trump may craft U.S. foreign policy on the fly.

In a rare interaction with reporters, Tillerson said before leaving Germany he was bringing home ''many'' messages for Trump. Asked to share a few, he demurred.

''Not until I share it with him,'' he said. (link)

Everything T-Rex has done so far is absolutely pitch perfect; this guy is buckets of pure American awesome. Deliberate, focused, steadfast and intensely well-grounded, Tillerson is a walking example of just the right person at just the right time.

Out of all the Trump cabinet appointments that will be recorded in history, Secretary T-Rex will be at the very top of the list.

And to remind everyone, Rex Tillerson was the cabinet nominee that Mark Levin said was the worst possible selection in history. HERE and HERE '' Think about that level of disconnected idiocy the next time anyone gives you an opinion from Old Yeller.

The globalist-liberals are having fits over the impenetrable approach being taken by Secretary Tillerson. T-Rex is in the center of the global elitist power structure, The Department of State.

The U.S. State Department is the epicenter of all globalist ideological enterprise, and T-Rex is thoughtfully, unemotionally, deconstructing the entire DoS system '' worst parts first, while they watch.

One of the greatest attributes of legendary leaders is their mastery of the silent power that exists in the space between words. When you witness those who exhibit this skill-set you know immediately you are seeing a person of consequence, yet you can't quite put your finger on why.

We are very fortunate to be living in such consequential times.

Advertisements

VIDEO - Lena Dunham 'Penis' Comment Derails Live 'Today' Interview

Mon, 20 Feb 2017 16:50

SIGN UP FOR OUR NEWSLETTER

Dunham was on the NBC morning show to promote the final season of her HBO coming-of-age dramedy Girls.

SIGN UP FOR OUR NEWSLETTER

Shriver, who was guest co-hosting, said she enjoyed watching the show.

''You saw a penis, right?'' Dunham asked, apparently catching Shriver off guard.

''Well, I saw more than that,'' a startled Shriver responded. ''You caught me there for a second. I'm not sure if you're allowed to say that on television, but you did.''

''I won't be coming back!'' Dunham said. ''Going out with a bang!''

With laughter resounding through the set, Shriver begged Today co-host Matt Lauer to bail her out. ''Matt, help! She just threw me off!''

Dunham began to apologize for the bizarre back-and-forth, to which Shriver responded, ''That's okay. That's the difference between generations. I wasn't brought up talking like that.''

The Golden Globe-winning actress and die-hard Hillary Clinton supporter recently revealed that the ''soul-crushing pain'' of Donald Trump's election caused her to lose a significant amount of weight.

The sixth and final season of Girls premieres on HBO Sunday, February 12.

Follow Jerome Hudson on Twitter @jeromeehudson

VIDEO - Boyfriend of reporter killed on live TV eyes Virginia House seat | Fox News

Mon, 20 Feb 2017 15:04

BLACKSBURG, Va. '' A former Virginia news anchor whose girlfriend was fatally shot during a live broadcast in 2015 says he plans to run for a seat in the House of Delegates.

Chris Hurst tells The Roanoke Times that he will seek the Democratic nomination for the 12th House District seat. The seat is currently held by Republican Del. Joseph Yost, who says he will run for re-election.

Hurst left WDBJ-TV on Friday. He was dating reporter Alison Parker in August 2015 when she was fatally shot while conducting an interview on live TV. WDBJ cameraman Adam Ward was also killed.

Hurst has never held public office. He says that while reducing gun violence will be a big part of his campaign, he is also interested in many other issues.

VIDEO - Trump aide Sebastian Gorka accuses BBC of 'fake news' on 'BBC Newsnight' < BRUTAL - MUST WATCH! LMAO! - 12160

Mon, 20 Feb 2017 13:34

Published on Feb 16, 2017Following Donald Trump's press conference, his deputy assistant Sebastian Gorka accuses the BBC and Newsnight of being "fake news" in this heated extended interview with Evan Davis.

Newsnight is the BBC's flagship news and current affairs TV programme - with analysis, debate, exclusives, and robust interviews.

VIDEO - Angela Merkel says Europe must take MORE refugees and Islam 'isn't source of terror' | Daily Star

Sun, 19 Feb 2017 20:51

GERMAN Chancellor Angela Merkel has launched a staunch defence of her refugee policy.

The embattled leader says Europe has an obligation to take displaced people from Syria and Iraq.

She also said Islam "is not the cause of terrorism" and that combatting extremism needs the cooperation of Muslim countries.

In a wide-ranging speech at a Munich security conference, the German chief also vowed to work closely with Vladimir Putin's Russia in the fight with ISIS in the Middle East.

Migrant Crisis: Riot police swarm as migrant camp destruction provokes fierce clashesMonday, 31st October 2016A growing migrant crisis all over Europe as desperate refugees live in camps struggling to survive.

1 / 218

GETTY

STANCE: Angela Merkel has remained committed to taking in more Middle East refugeesMrs Merkel has come under fire for taking in up to one million refugees amid security concerns and a string of migrant sex attacks across Germany.

After the Berlin lorry attack at a Christmas market in December, ex-UKIP leader Nigel Farage said events such as that will be "Merkel's legacy".

Mrs Merkel had been a strong critic of Brexit, saying she had "deep regrets" about it.

Daily Star Online has revealed how Brexit may not reduce migration, with 650,000 immigrants set to head to our shores anyway.

She will go to the polls in September against Social Democrat candidate Martin Schulz, the former European Parliament President.

On Putin, she said Europe's ties with Russia remained challenging, but it was important to work with them in the fight against Islamist terrorism.

Brexit aftershocks: Who's next to leave the EU?Wednesday, 29th June 2016After Britain voted to leave the EU, we look at which European countries want to hold their own EU referendum.

1 / 10

Frexit, Nexit or Auxit? Who will be next to leave the EU

She said: "The joint fight against Islamic terrorism is one area where we have the same interests and we can work together."

Her comments about Islam and refugees follow her criticism of Donald Trump's travel ban on people from seven Muslim-majority countries.

New US Vice-President Mike Pence was in the audience and reaffirmed the US' commitment to NATO in a speech of his own.

Germany is under increasing pressure to increase military spending, would do "everything possible" meet a NATO target for spending two percent of economic output on defence by 2024, Merkel told the conference.

Only last week, a student was dragged into woods and raped by a migrant who spoke no English near the campus of Bochum University.

Related articles

VIDEO - BONO from U2 Speaks at the Munich Security Conference in Germany - YouTube
Clips & Documents
Art
/SJW / BLM / LGBBTQQIAAP /

Tucker Carlson takes on Gay 'Not My President' Protestor who attacks Trump.mp3

Tucker Carlson-1-Intro to her stance-'Refuse Fascism' Organizer protests to Overthrow Trump Nazi Regime - Sunsara Taylor.mp3

Tucker Carlson-2-Hitlers PlayBook-'Refuse Fascism' Organizer protests to Overthrow Trump Nazi Regime - Sunsara Taylor.mp3

Tucker Carlson-3-Criminal In Chief-'Refuse Fascism' Organizer protests to Overthrow Trump Nazi Regime - Sunsara Taylor.mp3
Alternate Universes

CBS This Morning-Excited by British Parliament Trashing Trump.mp3

CNN Jeanne Most-Finds Humor in UK Parliament Insulting Trump to Downgrading Visit.mp3

CNN-Brooke Baldwin-Steven Goldstein, director of the Anne Frank Center for Mutual Respect bashed and lambasted President Donald Trump.mp3

GMA- Excited by British Parliament Trashing Trump.mp3

Maxine Waters on Trump's Cabinet- They're a 'Bunch of Scumbags'.mp3

MSNBC 'Louis Mensch-CIA SHILL-Demands 'Sick' Trump Get 'Mental Health Checkup'.mp3

On MSNBC, USA Today's Heidi Przybyla Argues Anti-Semitism Is Now 'Mainstream' on the Right.mp3

Today Show-Excited by British Parliament Trashing Trump.mp3
BUGS

Angelina Jolie Cooking bugs in Cambodia.mp3
EuroLand
F-Russia

Podesta on Russian Hacks and the other colluders-Blame Comey!!.mp3
JCD Clips

bias response team.mp3

black unemployment and illegals.mp3

boots on the ground medly.mp3

Brazil China Visa Carnival.mp3

CalExit RT.mp3

chinese crooks in SPain.mp3

dakota access removed.mp3

ex-cia guy on Tucker carlson.mp3

isreal ambassador testimony.mp3

Italy France China Fudon.mp3

john guandolo on Brennan.mp3

LBC trump visit large protests.mp3

lohan muslim.mp3

Maher irked and a pedofile.mp3

Maxine Waters scumbags.mp3

mexican corn.mp3

milo hit by CBS.mp3

new planets.mp3

noloxone gouge.mp3

not my president rally.mp3

Paid protestors CBS.mp3

Paid protestors TK.mp3

TWO STATE ONE STATE solution.mp3

white helmets oscar bound.mp3
Migrants

Black Trump Supporter Goes Off In LA Town Hall Meeting Regardng Sancuary Cities.mp3

CNN's Lemon Tries to Argue Not Really a Crime Increase in Sweden with Ami Horowitz (doc maker).mp3

Sure- CNN's Baldwin Says It's 'Dangerous' to Wonder If Town Hall Protesters Are Organized.mp3

Tucker iwth Refugee Resettlement Director-Scott Arbeider-World Relief-ALL ABOUT THE MONEY.mp3
Milo
Resist We Much
Shut Up Slave

Lena Dunham with Maria Shriver- 'Penis' Comment Derails Live 'Today' Interview.mp3
The 25th

On CNN, NYT's Kristof Discusses How to Get Rid of President Trump.mp3