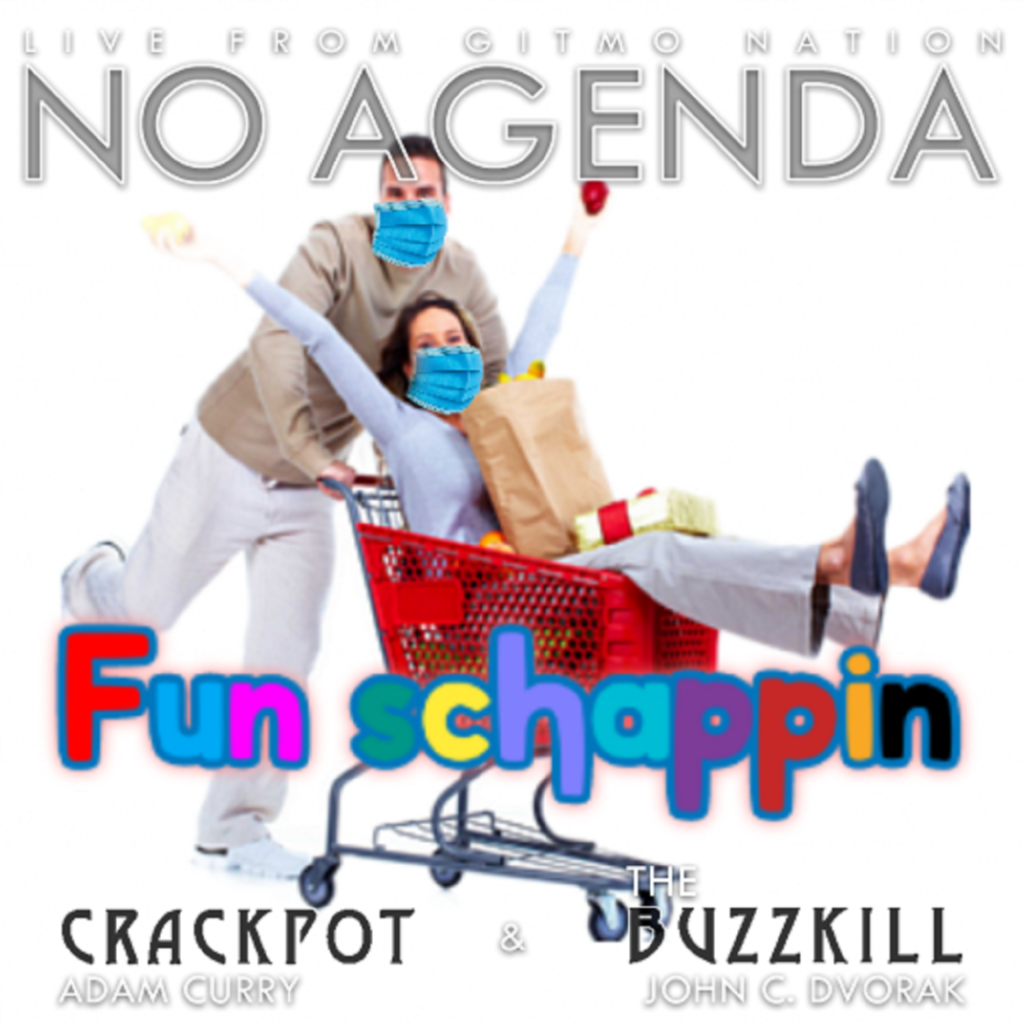 February 7th, 2021 • 3h 11m
1319: Cluster Five
Shownotes
Every new episode of No Agenda is accompanied by a comprehensive list of shownotes curated by Adam while preparing for the show. Clips played by the hosts during the show can also be found here.
AOC

Jake Tapper lies about MTG
Mink

NC lab identifies state's first case of Denmark 'Cluster Five' variant largely linked to minks

Sun, 07 Feb 2021 12:31

NORTH CAROLINA '-- MAKO Medical Labs have identified North Carolina's first case of the Denmark ''Cluster Five'' variant, which has been largely linked to minks.

Researchers are concerned because early data shows that strain appears to be stronger against antibody treatments.

According to the World Health Organization, initial observations of the variant suggest the severity and transmission are similar to that of other circulating SARS-CoV-2 viruses.

Health officials said this variant, however, had a combination of mutations that had not been previously seen and are not as well understood.

The lab also identified additional cases of the variant that originally emerged in the United Kingdom, bringing the total number of cases in North Carolina to five.

COVID-19 variants: What you need to know

Officials at MAKO Laboratory said the UK variant appears to be the predominant variant and makes up the overwhelming majority of the latest variant cases.

''As we continue our sequencing of indicated samples, we have found a continued rise in variant occurrences,'' Steve Hoover, Vice President of Laboratory Operations at MAKO Medical said. ''Over the past week, indicated samples are now returning positive variant cases at a fifty-percent rate, up from a twenty-five percent rate last week. The information we are collecting is shared directly with state health officials to assist in understanding the presence of the variants in communities across the country.''

(C) 2021 Cox Media Group
Let us out!

German lockdown lawsuit - collusion

Hi Adam,

hope all is well with you guys. Here's a funny one, fresh off today's press: https://www.welt.de/politik/deutschland/article225864597/Interner-E-Mail-Verkehr-Innenministerium-spannte-Wissenschaftler-ein.html

German, obviously, but here's the gist: A group of lawyers sued the Robert Koch Institute (RKI) (something like Germany's CDC) for freedom of information documents regarding the initial lockdown in March 2020. They finally got the communication between the RKI and the Ministry of the Interior. And it turns out the ministry pressured the RKI and other scientists (who we trust, obviously) to deliver the worst possible case (millions of dead in the street, basically) to justify a lockdown, and, here's the best part, deliver that analysis as a 'top secret' document with the _intent_ to be leaked to the press.

Heads should roll, but I predict 'Heads' will instead be moved into the EU beaurocracy.

Anywaaaayz... looking forward to the show, as usual

Cheers

Holland May 2022

Rijksoverheid: All(C)(C)n sneeuwballengevecht met eigen huishouden of (C)(C)n vriend | Winter in Amersfoort | AD.nl

Sat, 06 Feb 2021 15:05

Privacy

Africa covid BOTG report

Hey guys,

Just wanted to give you some barely educated information about the situation in Africa at the moment.

My super liberal Zimbabwean keeper would hate that I'm passing this on to my far right conspiracy podcast, but what she doesn't know......

People "of wealth" around my family are dying at an alarming rate. Could be of Covid, who knows. People don't get tested, so that would explain the lack of numbers John keeps using. As it was a couple of weeks ago, a Covid test cost $40US in Zimbabwe. (Side note $US is the current currency in Zimbabwe, as the shithole country is corrupt as all hell)

A quick Google search before writing, the minimum wage for a domestic worker is $85-100 a month and the "living wage" for those who employ the villagers as servants (domestic workers) is $305p/m. So who is taking the test?

Doctor Bill made his reputation in getting the good vaccines to the continent, but the tests aren't made available to those that need it most?

As for the people, it seems as though they don't really give a shit. For a long time the attitude seemed to be "it's only killing white people in rich countries", but since the South African variant, they have realised that it can hit them too.

Zimbabwe has also had a humanitarian crisis over the last few months, with the South African border requiring Covid checks and serious paperwork at the few crossings. The Beitbridge crossing in particular over Christmas/New Year had a 3 week long queue, people were dying during the wait, and literally being left on the street. Generally because they were crossing to the home countries, the ambulance would come and pronounce death and then the funeral home or family would have to come across the border to collect the bodies.

Both countries have curfews, and have for months, but that in the case of South Africa is reasonably well known.

As happened, my keepers stepmom was in South Africa and travelled home, by bus, which took, as we understand a few days. The day after she returned she died, presumably of Covid but could have been anything. Her children, mostly in SA, couldn't get a test and fly for her funeral, the rigmarole and cost was ridiculous.

So before you say no one is dying in Africa (John😉) because the numbers are low, know that for one the tests are prohibitively expensive and for two, people in Africa have more to worry about than Covid. Just saying

About me: I'm a douchebag in Sydney Australia, a truckie (truck driver) and a listener since Adam pulled the guns on Twit. Somewhere around ep 650 or so. You'll get a donation soon, promise.

Love you both, no homo.

Byeee

Dan

Bermuda mutant covid bracelet

My British cousin is in Bermuda for work. After having to quarantine in a hotel room for 5 days, he was slapped with a neon orange wrist band he has to wear until day 14. See attach pic. He said people are acting like he has the plague when they see the band. Just thought I would share...

Switzerland to hold a referendum on ending coronavirus restrictions - The Local

Sun, 07 Feb 2021 14:15

You will be connected to www.thelocal.ch in just a moment...

Learn about Project Shield

California to revise indoor church guidelines after ruling

Sun, 07 Feb 2021 12:20

Coronavirus In two cases before the Supreme Court, churches argued that the restrictions violated their religious liberty.

One hundred faithful sit while minding social distancing, listening to Los Angeles Archbishop Jose H. Gomez celebrate Mass at Cathedral of Our Lady of the Angels in Los Angeles. APFeb. 6, 2021, 10:49 PM EST / Source: Associated Press

By The Associated Press

SAN FRANCISCO '-- California Gov. Gavin Newsom's office said Saturday it will issue revised guidelines for indoor church services after the Supreme Court lifted the state's ban on indoor worship during the coronavirus pandemic but left in place restrictions on singing and chanting.

In the most significant legal victory against California's Covid-19 health orders, the high court issued rulings late Friday in two cases where churches argued the restrictions violated their religious liberty. The justices said for now California can't continue with a ban on indoor church services, but it can limit attendance to 25 percent of a building's capacity and restrict singing and chanting inside.

California had put the restrictions in place because the virus is more easily transmitted indoors, and singing releases tiny droplets that can carry the disease.

Newsom's office said those measures were imposed to protect worshippers from getting infected.

"We will continue to enforce the restrictions the Supreme Court left in place and, after reviewing the decision, we will issue revised guidelines for worship services to continue to protect the lives of Californians,'' the governor's press secretary, Daniel Lopez, said in a statement.

Before the ruling, indoor worship services were banned in purple-tiered counties '-- those deemed to be at widespread risk of coronavirus transmission. This tier accounts for the vast majority of the state.

The justices were acting on emergency requests to halt the restrictions from South Bay United Pentecostal Church in Chula Vista and Pasadena-based Harvest Rock Church and Harvest International Ministry, which has more than 160 churches across the state.

''You can go to your house of worship, as of now! You can go back to church, we're excited about that,'' Pastor Art Hodges of the South Bay United Pentecostal Church told NBC SanDiego.

The church has defied state orders since last May by holding service indoors while following COVID-19 safety protocols, Hodges said. He said he was thankful to hold services on Sunday ''without any pressure or threat or concern'' and added that the 25 percent attendance limit will make him add two or three more services to accommodate church members.

''It at least allows us some wiggle room to operate," he said.

On Instagram, Harvest Rock's ministry in downtown Los Angeles announced it would hold an in-person service Saturday evening.

Recommended''Bring the kiddos! We'd love to see the whole family for service tonight!'' the announcement said, followed by the hashtag #inpersonservice.

The church said in a statement it will continue to petition for the right to sing during indoor services, arguing the state was unfairly allowing the entertainment industry to film a singing competition but not during indoor worship.

''While it is one thing to lock down based on data, it is an entirely different motive to allow some groups a right that is denied to others.'' the statement said.

The court's newest justice, Amy Coney Barrett, said in her first signed opinion that it was up to churches to demonstrate that they were entitled to relief from the singing ban. Writing for herself and Justice Brett Kavanaugh, she said it wasn't clear at this point whether the singing ban was being applied ''across the board.''

Not all places of worships plan to reopen right away.

The head of Grace Cathedral in San Francisco said the Supreme Court was ''not doing anyone a favor'' by lifting the ban.

''We're trying to follow the science and we're trying to be patient,'' said Dean Malcolm Clemens Young told The San Francisco Chronicle.

The Archdiocese of Los Angeles, the largest of its kind in the U.S. with more than 5 million Catholics, cautiously advised ''parishes who choose to return'' to indoor worship to follow the singing and room-capacity rules, in addition to requiring physical distancing and face masks.

''The Archdiocese of Los Angeles is gratified by the Supreme Court's decision to allow indoor worship services,'' it said in a statement.

Coming Soon: The 'Vaccine Passport' - The New York Times

Sun, 07 Feb 2021 05:04

In the near future, travel may require digital documentation showing that passengers have been vaccinated or tested for the coronavirus. Answers to your questions.

Credit... Lloyd Miller Published Feb. 4, 2021 Updated Feb. 5, 2021 Among governments and those in the travel industry, a new term has entered the vocabulary: vaccine passport.

One of President Biden's executive orders aimed at curbing the pandemic asks government agencies to ''assess the feasibility'' of linking coronavirus vaccine certificates with other vaccination documents, and producing digital versions of them.

Denmark's government said on Wednesday that in the next three to four months, it will roll out a digital passport that will allow citizens to show they have been vaccinated.

It isn't just governments that are suggesting vaccine passports. In a few weeks, Etihad Airways and Emirates will start using a digital travel pass, developed by the International Air Transport Association, to help passengers manage their travel plans and provide airlines and governments documentation that they have been vaccinated or tested for Covid-19.

The challenge right now is creating a document or app that is accepted around the world, that protects privacy and is accessible to people regardless of their wealth or access to smartphones.

Here's what we know about the current status of digital vaccine passports.

What is a vaccine pass or passport? A vaccination pass or passport is documentation proving that you have been vaccinated against Covid-19. Some versions will also allow people to show that they have tested negative for the virus, and therefore can more easily travel. The versions being worked on now by airlines, industry groups, nonprofits and technology companies will be something you can pull up on your mobile phone as an app or part of your digital wallet.

''It's about trying to digitize a process that happens now and make it into something that allows for more harmony and ease, making it easier for people to travel between countries without having to pull out different papers for different countries and different documents at different checkpoints,'' said Nick Careen, senior vice president for airport, passenger, cargo and security at I.A.T.A. Mr. Careen has been leading I.A.T.A.'s travel pass initiative.

I.A.T.A. is one of several organizations that have been working on digital solutions to streamline the travel credentialing process for years; during the pandemic, these groups have focused on including vaccination status. The idea is that if you have all the pertinent information on your phone, a significant amount of time will be saved.

In addition to I.A.T.A., IBM has been developing its own Digital Health Pass that would enable individuals to present proof of vaccination or a negative test to gain access to a public location, such as a sports stadium, airplane, university or workplace. The pass, built on IBM's blockchain technology, can utilize multiple data types, including temperature checks, virus exposure notifications, test results and vaccine status. The World Economic Forum and the Commons Project Foundation, a Swiss nonprofit group, have been testing a digital health passport called CommonPass, which would allow travelers to access testing or vaccination information. The pass would generate a QR code that could be shown to authorities.

Why would I need a vaccine pass or passport? As more people are inoculated, there will likely be aspects of public life in which only people who have been vaccinated are allowed to participate. Take the upcoming Super Bowl LV in Tampa, Fla., where a significant portion of attendees will be vaccinated health care workers. (Mr. Careen of I.A.T.A. said that sporting organizations, concert venues and tourism agencies have all reached out for identification tech support.)

In order to travel internationally, government and health authorities will need to know if you have been vaccinated or have tested negative for the virus. Many countries are already requiring proof of a negative test for entry. Such passes could be essential to restarting the tourism industry, said Zurab Pololikashvili, secretary general of the United Nations World Tourism Organization.

''One key element vital for the restart of tourism is consistency and harmonization of rules and protocols regarding international travel,'' he said in an email. ''Evidence of vaccination, for example, through the coordinated introduction of what may be called 'health passports' can offer this. They can also eliminate the need for quarantine on arrival, a policy which is also standing in the way of the return of international tourism.''

Dakota Gruener, executive director of ID2020, a global public-private partnership, said that there are three scenarios regarding digital credentialing for the coronavirus response. The first, which is largely off the table, is the creation of immunity certificates. These are documents that would show that people have developed some kind of immunity to the virus. The second scenario is being able to prove you've tested negative for the virus; the third is being able to show that you have been vaccinated. The last two scenarios, experts agree, are the most important for getting the travel industry going again.

''We're seeing a lot of interest from airlines, airline industry groups, customs and border control agencies and travelers, all saying, 'how do I safely get on a plane or as a condition of entry into a country, get on a train, whatever the case may be, and prove that I have been tested or vaccinated?''' Ms. Gruener said.

Ms. Gruener is one expert in a World Health Organization-sponsored group tasked with establishing global standards for digital vaccination certificates.

Image For decades, people traveling to certain countries have had to prove that they have been vaccinated against yellow fever, rubella and other diseases. Often, those vaccinated received a signed and stamped ''yellow card.'' Credit... Juan Mabromata/AFP via Getty Images Has this been done before? Having to prove you've been vaccinated in order to participate in activities or enter certain countries is not a new concept. For decades, people traveling to some countries have had to prove that they have been vaccinated against diseases such as yellow fever, rubella and cholera. Often, after being vaccinated, travelers received a signed and stamped ''yellow card,'' known as an International Certificate of Vaccination or Prophylaxis, which the Centers for Disease Control and Prevention still urge people to take on relevant trips.

''Everybody who has traveled internationally to countries that require vaccination against malaria, diphtheria and other things has had yellow cards,'' said Brian Behlendorf, executive director of Linux Foundation Public Health, a technology-focused organization helping public health authorities combat Covid-19 around the world. Its focus is helping projects, communities and companies build open-source technology. ''Parents with kids in public school have had to prove their kids have been vaccinated. This is not something new.''

But a major difference between the yellow card of years past and what is being worked on now is the digital component, which comes with new concerns around privacy and accessibility. The Linux Foundation is working in partnership with the Covid-19 Credentials Initiative, a collective of more than 300 people from five continents to help develop universal standards for vaccine credential apps that make them accessible and equitable. The foundation is also working with IBM and CommonPass.

''As these things get rolled out, it's important for citizens to ask governments and airlines: How do we make this easy so I have one vaccination record to book a flight, hotel and so I can use that to do some other things,'' Mr. Behlendorf said. ''It should work like email. If it doesn't, agitate for it.''

Do vaccine passports have to be digital? Vaccine passports don't have to be digital, but they would make the travel process smoother.

''Imagine a future where a plane lands in an airport and a hundred people have a travel pass, 100 have another health wallet, 50 have bits of paper and another 25 have some kind of government document,'' said Jamie Smith, senior director of business development at Evernym, a developer that has been working with I.A.T.A. and others on developing a vaccine pass. ''What does the airport do? How do they process all those people in a standard, simple way?''

The European Union's law enforcement agency said this week that sales of fake negative test results are becoming more widespread, another reason the industry is trying to develop digital passes that are secure.

What are the objections to vaccine passports? In a world where more than a billion people aren't able to prove their identity because they lack passports, birth certificates, driver's licenses or national identification cards, digital documents that show vaccine status may heighten inequality and risk, leaving many people behind. That concern has been at the heart of Ms. Gruener's work.

''Long predating Covid, we were working on the intersection of digital credentials and immunization,'' she said. ''It'll be years before vaccines are universally available on a global level and thus widespread testing is going to continue and must continue alongside vaccination to enable a safe and equitable return to travel and other public activities.''

For those without smartphones, the industry says it will accept paper proof, but even that needs to be standardized.

In addition, there are concerns about privacy and data sharing.

''There are ways this could be done right or done terribly wrong and the wrong ways could lead us to a techno dystopia,'' said Jenny Wanger, director of programs at the Linux Foundation, adding that it's important that the tech-building aspect of these apps be done in the open and doesn't end up in the control of any one government or company. The technology should be open source and accessible to technologists, no matter who they are or where they are, she and others said.

What are the challenges to creating these digital passes? Technologists and travel industry experts said that although it is possible to rush tech solutions that allow people to have one-use apps, creating long-lasting ethical technology or systems that will not store people's data, or make it possible to track where they are, takes time.

''The global passport system took 50 years to develop,'' said Drummond Reed, chief trust officer for Evernym. ''Even when they wanted to add biometrics to that to make it stronger, that took over a decade to agree on just how you're going to add a fingerprint or a facial biometric to be verified on a passport. Now, in a very short period of time, we need to produce a digital credential that can be as universally recognized as a passport and it needs an even greater level of privacy because it's going to be digital.''
Vaccines and such

J&J Vaccine is Subunit vaccine

These may contain a part of the virus like the spike protein, usually

requiring the addition of an adjuvant, or just the empty shell of the

virus.Induces antibody-mediated immunity only.

Attenuated****vaccine*

The whole virus in a weakened state. Inducesboth cell-mediated and

antibody-mediated immunity. Possibility of causing disease in

immunocompromised people.

*Inactivated vaccine*

The whole, "dead" virus. Induces antibody-mediated immunity only.

COVID vaccines: CoronaVac (China), Covaxin (India)

*Subunit vaccine*

These may contain a part of the virus like the spike protein, usually

requiring the addition of an adjuvant, or just the empty shell of the

virus.Induces antibody-mediated immunity only.

COVID vaccine: EpiVacCorona (Russia)

*Nucleic acid vaccines*

These introduce viral DNA directly into the cell's nucleus. This raises

the possibility of integration into human DNA, but it's claimed that the

frequency is well below that of natural mutation (as seen in animals).

The DNA in the nucleus produces mRNA, which then leaves the nucleus to

assemble the viral protein. The cell "wears" the protein on its surface,

similarly to the virus itself. Induces both cell-mediated and

antibody-mediated immunity. Included are naked DNA and viral-vector

vaccines.

*Naked DNA vaccine*

Requires a special delivery system to get the DNA into the nucleus.

*V**iral-vector vaccine*

Uses a harmless, unrelated virus (chimpanzee adenovirus in this case) to

deliver the DNA.

COVID vaccines: Oxford-AstraZeneca, Johnson & Johnson, Sputnik V (Russia)

*mRNA**vaccine*

Instead of introducing the viral DNA itself into the cell's nucleus,

these put the mRNA into the cell through a new technology called lipid

nanoparticles (LNPs). Since it's only the mRNA, there's supposedly

little chance of causing disease, but I don't know of any data on the

long-term effects of LNPs. What's undoubtedly problematic is the

vaccines' perishability.

Jabbits Center
The Purge

The Secret Bipartisan Campaign That Saved the 2020 Election | Time

Fri, 05 Feb 2021 13:21

A weird thing happened right after the Nov. 3 election: nothing.

The nation was braced for chaos. Liberal groups had vowed to take to the streets, planning hundreds of protests across the country. Right-wing militias were girding for battle. In a poll before Election Day, 75% of Americans voiced concern about violence.

Instead, an eerie quiet descended. As President Trump refused to concede, the response was not mass action but crickets. When media organizations called the race for Joe Biden on Nov. 7, jubilation broke out instead, as people thronged cities across the U.S. to celebrate the democratic process that resulted in Trump's ouster.

A second odd thing happened amid Trump's attempts to reverse the result: corporate America turned on him. Hundreds of major business leaders, many of whom had backed Trump's candidacy and supported his policies, called on him to concede. To the President, something felt amiss. ''It was all very, very strange,'' Trump said on Dec. 2. ''Within days after the election, we witnessed an orchestrated effort to anoint the winner, even while many key states were still being counted.''

In a way, Trump was right.

There was a conspiracy unfolding behind the scenes, one that both curtailed the protests and coordinated the resistance from CEOs. Both surprises were the result of an informal alliance between left-wing activists and business titans. The pact was formalized in a terse, little-noticed joint statement of the U.S. Chamber of Commerce and AFL-CIO published on Election Day. Both sides would come to see it as a sort of implicit bargain''inspired by the summer's massive, sometimes destructive racial-justice protests''in which the forces of labor came together with the forces of capital to keep the peace and oppose Trump's assault on democracy.

The handshake between business and labor was just one component of a vast, cross-partisan campaign to protect the election''an extraordinary shadow effort dedicated not to winning the vote but to ensuring it would be free and fair, credible and uncorrupted. For more than a year, a loosely organized coalition of operatives scrambled to shore up America's institutions as they came under simultaneous attack from a remorseless pandemic and an autocratically inclined President. Though much of this activity took place on the left, it was separate from the Biden campaign and crossed ideological lines, with crucial contributions by nonpartisan and conservative actors. The scenario the shadow campaigners were desperate to stop was not a Trump victory. It was an election so calamitous that no result could be discerned at all, a failure of the central act of democratic self-governance that has been a hallmark of America since its founding.

Their work touched every aspect of the election. They got states to change voting systems and laws and helped secure hundreds of millions in public and private funding. They fended off voter-suppression lawsuits, recruited armies of poll workers and got millions of people to vote by mail for the first time. They successfully pressured social media companies to take a harder line against disinformation and used data-driven strategies to fight viral smears. They executed national public-awareness campaigns that helped Americans understand how the vote count would unfold over days or weeks, preventing Trump's conspiracy theories and false claims of victory from getting more traction. After Election Day, they monitored every pressure point to ensure that Trump could not overturn the result. ''The untold story of the election is the thousands of people of both parties who accomplished the triumph of American democracy at its very foundation,'' says Norm Eisen, a prominent lawyer and former Obama Administration official who recruited Republicans and Democrats to the board of the Voter Protection Program.

For Trump and his allies were running their own campaign to spoil the election. The President spent months insisting that mail ballots were a Democratic plot and the election would be ''rigged.'' His henchmen at the state level sought to block their use, while his lawyers brought dozens of spurious suits to make it more difficult to vote''an intensification of the GOP's legacy of suppressive tactics. Before the election, Trump plotted to block a legitimate vote count. And he spent the months following Nov. 3 trying to steal the election he'd lost''with lawsuits and conspiracy theories, pressure on state and local officials, and finally summoning his army of supporters to the Jan. 6 rally that ended in deadly violence at the Capitol.

The democracy campaigners watched with alarm. ''Every week, we felt like we were in a struggle to try to pull off this election without the country going through a real dangerous moment of unraveling,'' says former GOP Representative Zach Wamp, a Trump supporter who helped coordinate a bipartisan election-protection council. ''We can look back and say this thing went pretty well, but it was not at all clear in September and October that that was going to be the case.''

Biden fans in Philadelphia after the race was called on Nov. 7 - Michelle Gustafson for TIME Biden fans in Philadelphia after the race was called on Nov. 7 Michelle Gustafson for TIME

This is the inside story of the conspiracy to save the 2020 election, based on access to the group's inner workings, never-before-seen documents and interviews with dozens of those involved from across the political spectrum. It is the story of an unprecedented, creative and determined campaign whose success also reveals how close the nation came to disaster. ''Every attempt to interfere with the proper outcome of the election was defeated,'' says Ian Bassin, co-founder of Protect Democracy, a nonpartisan rule-of-law advocacy group. ''But it's massively important for the country to understand that it didn't happen accidentally. The system didn't work magically. Democracy is not self-executing.''

That's why the participants want the secret history of the 2020 election told, even though it sounds like a paranoid fever dream''a well-funded cabal of powerful people, ranging across industries and ideologies, working together behind the scenes to influence perceptions, change rules and laws, steer media coverage and control the flow of information. They were not rigging the election; they were fortifying it. And they believe the public needs to understand the system's fragility in order to ensure that democracy in America endures.

THE ARCHITECTSometime in the fall of 2019, Mike Podhorzer became convinced the election was headed for disaster''and determined to protect it.

This was not his usual purview. For nearly a quarter-century, Podhorzer, senior adviser to the president of the AFL-CIO, the nation's largest union federation, has marshaled the latest tactics and data to help its favored candidates win elections. Unassuming and professorial, he isn't the sort of hair-gelled ''political strategist'' who shows up on cable news. Among Democratic insiders, he's known as the wizard behind some of the biggest advances in political technology in recent decades. A group of liberal strategists he brought together in the early 2000s led to the creation of the Analyst Institute, a secretive firm that applies scientific methods to political campaigns. He was also involved in the founding of Catalist, the flagship progressive data company.

The endless chatter in Washington about ''political strategy,'' Podhorzer believes, has little to do with how change really gets made. ''My basic take on politics is that it's all pretty obvious if you don't overthink it or swallow the prevailing frameworks whole,'' he once wrote. ''After that, just relentlessly identify your assumptions and challenge them.'' Podhorzer applies that approach to everything: when he coached his now adult son's Little League team in the D.C. suburbs, he trained the boys not to swing at most pitches''a tactic that infuriated both their and their opponents' parents, but won the team a series of championships.

Trump's election in 2016''credited in part to his unusual strength among the sort of blue collar white voters who once dominated the AFL-CIO''prompted Podhorzer to question his assumptions about voter behavior. He began circulating weekly number-crunching memos to a small circle of allies and hosting strategy sessions in D.C. But when he began to worry about the election itself, he didn't want to seem paranoid. It was only after months of research that he introduced his concerns in his newsletter in October 2019. The usual tools of data, analytics and polling would not be sufficient in a situation where the President himself was trying to disrupt the election, he wrote. ''Most of our planning takes us through Election Day,'' he noted. ''But, we are not prepared for the two most likely outcomes''''Trump losing and refusing to concede, and Trump winning the Electoral College (despite losing the popular vote) by corrupting the voting process in key states. ''We desperately need to systematically 'red-team' this election so that we can anticipate and plan for the worst we know will be coming our way.''

It turned out Podhorzer wasn't the only one thinking in these terms. He began to hear from others eager to join forces. The Fight Back Table, a coalition of ''resistance'' organizations, had begun scenario-planning around the potential for a contested election, gathering liberal activists at the local and national level into what they called the Democracy Defense Coalition. Voting-rights and civil rights organizations were raising alarms. A group of former elected officials was researching emergency powers they feared Trump might exploit. Protect Democracy was assembling a bipartisan election-crisis task force. ''It turned out that once you said it out loud, people agreed,'' Podhorzer says, ''and it started building momentum.''

He spent months pondering scenarios and talking to experts. It wasn't hard to find liberals who saw Trump as a dangerous dictator, but Podhorzer was careful to steer clear of hysteria. What he wanted to know was not how American democracy was dying but how it might be kept alive. The chief difference between the U.S. and countries that lost their grip on democracy, he concluded, was that America's decentralized election system couldn't be rigged in one fell swoop. That presented an opportunity to shore it up.

THE ALLIANCEOn March 3, Podhorzer drafted a three-page confidential memo titled ''Threats to the 2020 Election.'' ''Trump has made it clear that this will not be a fair election, and that he will reject anything but his own re-election as 'fake' and rigged,'' he wrote. ''On Nov. 3, should the media report otherwise, he will use the right-wing information system to establish his narrative and incite his supporters to protest.'' The memo laid out four categories of challenges: attacks on voters, attacks on election administration, attacks on Trump's political opponents and ''efforts to reverse the results of the election.''

Then COVID-19 erupted at the height of the primary-election season. Normal methods of voting were no longer safe for voters or the mostly elderly volunteers who normally staff polling places. But political disagreements, intensified by Trump's crusade against mail voting, prevented some states from making it easier to vote absentee and for jurisdictions to count those votes in a timely manner. Chaos ensued. Ohio shut down in-person voting for its primary, leading to minuscule turnout. A poll-worker shortage in Milwaukee''where Wisconsin's heavily Democratic Black population is concentrated''left just five open polling places, down from 182. In New York, vote counting took more than a month.

Suddenly, the potential for a November meltdown was obvious. In his apartment in the D.C. suburbs, Podhorzer began working from his laptop at his kitchen table, holding back-to-back Zoom meetings for hours a day with his network of contacts across the progressive universe: the labor movement; the institutional left, like Planned Parenthood and Greenpeace; resistance groups like Indivisible and MoveOn; progressive data geeks and strategists, representatives of donors and foundations, state-level grassroots organizers, racial-justice activists and others.

In April, Podhorzer began hosting a weekly 2½-hour Zoom. It was structured around a series of rapid-fire five-minute presentations on everything from which ads were working to messaging to legal strategy. The invitation-only gatherings soon attracted hundreds, creating a rare shared base of knowledge for the fractious progressive movement. ''At the risk of talking trash about the left, there's not a lot of good information sharing,'' says Anat Shenker-Osorio, a close Podhorzer friend whose poll-tested messaging guidance shaped the group's approach. ''There's a lot of not-invented-here syndrome, where people won't consider a good idea if they didn't come up with it.''

The meetings became the galactic center for a constellation of operatives across the left who shared overlapping goals but didn't usually work in concert. The group had no name, no leaders and no hierarchy, but it kept the disparate actors in sync. ''Pod played a critical behind-the-scenes role in keeping different pieces of the movement infrastructure in communication and aligned,'' says Maurice Mitchell, national director of the Working Families Party. ''You have the litigation space, the organizing space, the political people just focused on the W, and their strategies aren't always aligned. He allowed this ecosystem to work together.''

Protecting the election would require an effort of unprecedented scale. As 2020 progressed, it stretched to Congress, Silicon Valley and the nation's statehouses. It drew energy from the summer's racial-justice protests, many of whose leaders were a key part of the liberal alliance. And eventually it reached across the aisle, into the world of Trump-skeptical Republicans appalled by his attacks on democracy.

SECURING THE VOTEThe first task was overhauling America's balky election infrastructure''in the middle of a pandemic. For the thousands of local, mostly nonpartisan officials who administer elections, the most urgent need was money. They needed protective equipment like masks, gloves and hand sanitizer. They needed to pay for postcards letting people know they could vote absentee''or, in some states, to mail ballots to every voter. They needed additional staff and scanners to process ballots.

In March, activists appealed to Congress to steer COVID relief money to election administration. Led by the Leadership Conference on Civil and Human Rights, more than 150 organizations signed a letter to every member of Congress seeking $2 billion in election funding. It was somewhat successful: the CARES Act, passed later that month, contained $400 million in grants to state election administrators. But the next tranche of relief funding didn't add to that number. It wasn't going to be enough.

Private philanthropy stepped into the breach. An assortment of foundations contributed tens of millions in election-administration funding. The Chan Zuckerberg Initiative chipped in $300 million. ''It was a failure at the federal level that 2,500 local election officials were forced to apply for philanthropic grants to fill their needs,'' says Amber McReynolds, a former Denver election official who heads the nonpartisan National Vote at Home Institute.

McReynolds' two-year-old organization became a clearinghouse for a nation struggling to adapt. The institute gave secretaries of state from both parties technical advice on everything from which vendors to use to how to locate drop boxes. Local officials are the most trusted sources of election information, but few can afford a press secretary, so the institute distributed communications tool kits. In a presentation to Podhorzer's group, McReynolds detailed the importance of absentee ballots for shortening lines at polling places and preventing an election crisis.

The institute's work helped 37 states and D.C. bolster mail voting. But it wouldn't be worth much if people didn't take advantage. Part of the challenge was logistical: each state has different rules for when and how ballots should be requested and returned. The Voter Participation Center, which in a normal year would have deployed canvassers door-to-door to get out the vote, instead conducted focus groups in April and May to find out what would get people to vote by mail. In August and September, it sent ballot applications to 15 million people in key states, 4.6 million of whom returned them. In mailings and digital ads, the group urged people not to wait for Election Day. ''All the work we have done for 17 years was built for this moment of bringing democracy to people's doorsteps,'' says Tom Lopach, the center's CEO.

The effort had to overcome heightened skepticism in some communities. Many Black voters preferred to exercise their franchise in person or didn't trust the mail. National civil rights groups worked with local organizations to get the word out that this was the best way to ensure one's vote was counted. In Philadelphia, for example, advocates distributed ''voting safety kits'' containing masks, hand sanitizer and informational brochures. ''We had to get the message out that this is safe, reliable, and you can trust it,'' says Hannah Fried of All Voting Is Local.

At the same time, Democratic lawyers battled a historic tide of pre-election litigation. The pandemic intensified the parties' usual tangling in the courts. But the lawyers noticed something else as well. ''The litigation brought by the Trump campaign, of a piece with the broader campaign to sow doubt about mail voting, was making novel claims and using theories no court has ever accepted,'' says Wendy Weiser, a voting-rights expert at the Brennan Center for Justice at NYU. ''They read more like lawsuits designed to send a message rather than achieve a legal outcome.''

In the end, nearly half the electorate cast ballots by mail in 2020, practically a revolution in how people vote. About a quarter voted early in person. Only a quarter of voters cast their ballots the traditional way: in person on Election Day.

THE DISINFORMATION DEFENSEBad actors spreading false information is nothing new. For decades, campaigns have grappled with everything from anonymous calls claiming the election has been rescheduled to fliers spreading nasty smears about candidates' families. But Trump's lies and conspiracy theories, the viral force of social media and the involvement of foreign meddlers made disinformation a broader, deeper threat to the 2020 vote.

Laura Quinn, a veteran progressive operative who co-founded Catalist, began studying this problem a few years ago. She piloted a nameless, secret project, which she has never before publicly discussed, that tracked disinformation online and tried to figure out how to combat it. One component was tracking dangerous lies that might otherwise spread unnoticed. Researchers then provided information to campaigners or the media to track down the sources and expose them.

The most important takeaway from Quinn's research, however, was that engaging with toxic content only made it worse. ''When you get attacked, the instinct is to push back, call it out, say, 'This isn't true,''' Quinn says. ''But the more engagement something gets, the more the platforms boost it. The algorithm reads that as, 'Oh, this is popular; people want more of it.'''

The solution, she concluded, was to pressure platforms to enforce their rules, both by removing content or accounts that spread disinformation and by more aggressively policing it in the first place. ''The platforms have policies against certain types of malign behavior, but they haven't been enforcing them,'' she says.

Quinn's research gave ammunition to advocates pushing social media platforms to take a harder line. In November 2019, Mark Zuckerberg invited nine civil rights leaders to dinner at his home, where they warned him about the danger of the election-related falsehoods that were already spreading unchecked. ''It took pushing, urging, conversations, brainstorming, all of that to get to a place where we ended up with more rigorous rules and enforcement,'' says Vanita Gupta, president and CEO of the Leadership Conference on Civil and Human Rights, who attended the dinner and also met with Twitter CEO Jack Dorsey and others. (Gupta has been nominated for Associate Attorney General by President Biden.) ''It was a struggle, but we got to the point where they understood the problem. Was it enough? Probably not. Was it later than we wanted? Yes. But it was really important, given the level of official disinformation, that they had those rules in place and were tagging things and taking them down.''

SPREADING THE WORDBeyond battling bad information, there was a need to explain a rapidly changing election process. It was crucial for voters to understand that despite what Trump was saying, mail-in votes weren't susceptible to fraud and that it would be normal if some states weren't finished counting votes on election night.

Dick Gephardt, the Democratic former House leader turned high-powered lobbyist, spearheaded one coalition. ''We wanted to get a really bipartisan group of former elected officials, Cabinet secretaries, military leaders and so on, aimed mainly at messaging to the public but also speaking to local officials''the secretaries of state, attorneys general, governors who would be in the eye of the storm''to let them know we wanted to help,'' says Gephardt, who worked his contacts in the private sector to put $20 million behind the effort.

Wamp, the former GOP Congressman, worked through the nonpartisan reform group Issue One to rally Republicans. ''We thought we should bring some bipartisan element of unity around what constitutes a free and fair election,'' Wamp says. The 22 Democrats and 22 Republicans on the National Council on Election Integrity met on Zoom at least once a week. They ran ads in six states, made statements, wrote articles and alerted local officials to potential problems. ''We had rabid Trump supporters who agreed to serve on the council based on the idea that this is honest,'' Wamp says. This is going to be just as important, he told them, to convince the liberals when Trump wins. ''Whichever way it cuts, we're going to stick together.''

The Voting Rights Lab and IntoAction created state-specific memes and graphics, spread by email, text, Twitter, Facebook, Instagram and TikTok, urging that every vote be counted. Together, they were viewed more than 1 billion times. Protect Democracy's election task force issued reports and held media briefings with high-profile experts across the political spectrum, resulting in widespread coverage of potential election issues and fact-checking of Trump's false claims. The organization's tracking polls found the message was being heard: the percentage of the public that didn't expect to know the winner on election night gradually rose until by late October, it was over 70%. A majority also believed that a prolonged count wasn't a sign of problems. ''We knew exactly what Trump was going to do: he was going to try to use the fact that Democrats voted by mail and Republicans voted in person to make it look like he was ahead, claim victory, say the mail-in votes were fraudulent and try to get them thrown out,'' says Protect Democracy's Bassin. Setting public expectations ahead of time helped undercut those lies.

Amber McReynolds, Zach Wamp and Maurice Mitchell - Rachel Woolf for TIME; Erik Schelzig'--AP/Shutterstock; Holly Pickett'--The New York Times/Redux Amber McReynolds, Zach Wamp and Maurice Mitchell Rachel Woolf for TIME; Erik Schelzig'--AP/Shutterstock; Holly Pickett'--The New York Times/Redux

The alliance took a common set of themes from the research Shenker-Osorio presented at Podhorzer's Zooms. Studies have shown that when people don't think their vote will count or fear casting it will be a hassle, they're far less likely to participate. Throughout election season, members of Podhorzer's group minimized incidents of voter intimidation and tamped down rising liberal hysteria about Trump's expected refusal to concede. They didn't want to amplify false claims by engaging them, or put people off voting by suggesting a rigged game. ''When you say, 'These claims of fraud are spurious,' what people hear is 'fraud,''' Shenker-Osorio says. ''What we saw in our pre-election research was that anything that reaffirmed Trump's power or cast him as an authoritarian diminished people's desire to vote.''

Podhorzer, meanwhile, was warning everyone he knew that polls were underestimating Trump's support. The data he shared with media organizations who would be calling the election was ''tremendously useful'' to understand what was happening as the votes rolled in, according to a member of a major network's political unit who spoke with Podhorzer before Election Day. Most analysts had recognized there would be a ''blue shift'' in key battlegrounds'' the surge of votes breaking toward Democrats, driven by tallies of mail-in ballots'' but they hadn't comprehended how much better Trump was likely to do on Election Day. ''Being able to document how big the absentee wave would be and the variance by state was essential,'' the analyst says.

PEOPLE POWERThe racial-justice uprising sparked by George Floyd's killing in May was not primarily a political movement. The organizers who helped lead it wanted to harness its momentum for the election without allowing it to be co-opted by politicians. Many of those organizers were part of Podhorzer's network, from the activists in battleground states who partnered with the Democracy Defense Coalition to organizations with leading roles in the Movement for Black Lives.

The best way to ensure people's voices were heard, they decided, was to protect their ability to vote. ''We started thinking about a program that would complement the traditional election-protection area but also didn't rely on calling the police,'' says Nelini Stamp, the Working Families Party's national organizing director. They created a force of ''election defenders'' who, unlike traditional poll watchers, were trained in de-escalation techniques. During early voting and on Election Day, they surrounded lines of voters in urban areas with a ''joy to the polls'' effort that turned the act of casting a ballot into a street party. Black organizers also recruited thousands of poll workers to ensure polling places would stay open in their communities.

The summer uprising had shown that people power could have a massive impact. Activists began preparing to reprise the demonstrations if Trump tried to steal the election. ''Americans plan widespread protests if Trump interferes with election,'' Reuters reported in October, one of many such stories. More than 150 liberal groups, from the Women's March to the Sierra Club to Color of Change, from Democrats.com to the Democratic Socialists of America, joined the ''Protect the Results'' coalition. The group's now defunct website had a map listing 400 planned postelection demonstrations, to be activated via text message as soon as Nov. 4. To stop the coup they feared, the left was ready to flood the streets.

STRANGE BEDFELLOWSAbout a week before Election Day, Podhorzer received an unexpected message: the U.S. Chamber of Commerce wanted to talk.

The AFL-CIO and the Chamber have a long history of antagonism. Though neither organization is explicitly partisan, the influential business lobby has poured hundreds of millions of dollars into Republican campaigns, just as the nation's unions funnel hundreds of millions to Democrats. On one side is labor, on the other management, locked in an eternal struggle for power and resources.

But behind the scenes, the business community was engaged in its own anxious discussions about how the election and its aftermath might unfold. The summer's racial-justice protests had sent a signal to business owners too: the potential for economy-disrupting civil disorder. ''With tensions running high, there was a lot of concern about unrest around the election, or a breakdown in our normal way we handle contentious elections,'' says Neil Bradley, the Chamber's executive vice president and chief policy officer. These worries had led the Chamber to release a pre-election statement with the Business Roundtable, a Washington-based CEOs' group, as well as associations of manufacturers, wholesalers and retailers, calling for patience and confidence as votes were counted.

But Bradley wanted to send a broader, more bipartisan message. He reached out to Podhorzer, through an intermediary both men declined to name. Agreeing that their unlikely alliance would be powerful, they began to discuss a joint statement pledging their organizations' shared commitment to a fair and peaceful election. They chose their words carefully and scheduled the statement's release for maximum impact. As it was being finalized, Christian leaders signaled their interest in joining, further broadening its reach.

The statement was released on Election Day, under the names of Chamber CEO Thomas Donohue, AFL-CIO president Richard Trumka, and the heads of the National Association of Evangelicals and the National African American Clergy Network. ''It is imperative that election officials be given the space and time to count every vote in accordance with applicable laws,'' it stated. ''We call on the media, the candidates and the American people to exercise patience with the process and trust in our system, even if it requires more time than usual.'' The groups added, ''Although we may not always agree on desired outcomes up and down the ballot, we are united in our call for the American democratic process to proceed without violence, intimidation or any other tactic that makes us weaker as a nation.''

SHOWING UP, STANDING DOWNElection night began with many Democrats despairing. Trump was running ahead of pre-election polling, winning Florida, Ohio and Texas easily and keeping Michigan, Wisconsin and Pennsylvania too close to call. But Podhorzer was unperturbed when I spoke to him that night: the returns were exactly in line with his modeling. He had been warning for weeks that Trump voters' turnout was surging. As the numbers dribbled out, he could tell that as long as all the votes were counted, Trump would lose.

The liberal alliance gathered for an 11 p.m. Zoom call. Hundreds joined; many were freaking out. ''It was really important for me and the team in that moment to help ground people in what we had already known was true,'' says Angela Peoples, director for the Democracy Defense Coalition. Podhorzer presented data to show the group that victory was in hand.

While he was talking, Fox News surprised everyone by calling Arizona for Biden. The public-awareness campaign had worked: TV anchors were bending over backward to counsel caution and frame the vote count accurately. The question then became what to do next.

The conversation that followed was a difficult one, led by the activists charged with the protest strategy. ''We wanted to be mindful of when was the right time to call for moving masses of people into the street,'' Peoples says. As much as they were eager to mount a show of strength, mobilizing immediately could backfire and put people at risk. Protests that devolved into violent clashes would give Trump a pretext to send in federal agents or troops as he had over the summer. And rather than elevate Trump's complaints by continuing to fight him, the alliance wanted to send the message that the people had spoken.

So the word went out: stand down. Protect the Results announced that it would ''not be activating the entire national mobilization network today, but remains ready to activate if necessary.'' On Twitter, outraged progressives wondered what was going on. Why wasn't anyone trying to stop Trump's coup? Where were all the protests?

Podhorzer credits the activists for their restraint. ''They had spent so much time getting ready to hit the streets on Wednesday. But they did it,'' he says. ''Wednesday through Friday, there was not a single Antifa vs. Proud Boys incident like everyone was expecting. And when that didn't materialize, I don't think the Trump campaign had a backup plan.''

Activists reoriented the Protect the Results protests toward a weekend of celebration. ''Counter their disinfo with our confidence & get ready to celebrate,'' read the messaging guidance Shenker-Osorio presented to the liberal alliance on Friday, Nov. 6. ''Declare and fortify our win. Vibe: confident, forward-looking, unified''NOT passive, anxious.'' The voters, not the candidates, would be the protagonists of the story.

The planned day of celebration happened to coincide with the election being called on Nov. 7. Activists dancing in the streets of Philadelphia blasted Beyonc(C) over an attempted Trump campaign press conference; the Trumpers' next confab was scheduled for Four Seasons Total Landscaping outside the city center, which activists believe was not a coincidence. ''The people of Philadelphia owned the streets of Philadelphia,'' crows the Working Families Party's Mitchell. ''We made them look ridiculous by contrasting our joyous celebration of democracy with their clown show.''

The votes had been counted. Trump had lost. But the battle wasn't over.

THE FIVE STEPS TO VICTORYIn Podhorzer's presentations, winning the vote was only the first step to winning the election. After that came winning the count, winning the certification, winning the Electoral College and winning the transition''steps that are normally formalities but that he knew Trump would see as opportunities for disruption. Nowhere would that be more evident than in Michigan, where Trump's pressure on local Republicans came perilously close to working''and where liberal and conservative pro-democracy forces joined to counter it.

It was around 10 p.m. on election night in Detroit when a flurry of texts lit up the phone of Art Reyes III. A busload of Republican election observers had arrived at the TCF Center, where votes were being tallied. They were crowding the vote-counting tables, refusing to wear masks, heckling the mostly Black workers. Reyes, a Flint native who leads We the People Michigan, was expecting this. For months, conservative groups had been sowing suspicion about urban vote fraud. ''The language was, 'They're going to steal the election; there will be fraud in Detroit,' long before any vote was cast,'' Reyes says.

Trump supporters seek to disrupt the vote count at Detroit's TCF Center on Nov. 4 - Elaine Cromie'--Getty Images Trump supporters seek to disrupt the vote count at Detroit's TCF Center on Nov. 4 Elaine Cromie'--Getty Images

He made his way to the arena and sent word to his network. Within 45 minutes, dozens of reinforcements had arrived. As they entered the arena to provide a counterweight to the GOP observers inside, Reyes took down their cell-phone numbers and added them to a massive text chain. Racial-justice activists from Detroit Will Breathe worked alongside suburban women from Fems for Dems and local elected officials. Reyes left at 3 a.m., handing the text chain over to a disability activist.

As they mapped out the steps in the election-certification process, activists settled on a strategy of foregrounding the people's right to decide, demanding their voices be heard and calling attention to the racial implications of disenfranchising Black Detroiters. They flooded the Wayne County canvassing board's Nov. 17 certification meeting with on-message testimony; despite a Trump tweet, the Republican board members certified Detroit's votes.

Election boards were one pressure point; another was GOP-controlled legislatures, who Trump believed could declare the election void and appoint their own electors. And so the President invited the GOP leaders of the Michigan legislature, House Speaker Lee Chatfield and Senate majority leader Mike Shirkey, to Washington on Nov. 20.

It was a perilous moment. If Chatfield and Shirkey agreed to do Trump's bidding, Republicans in other states might be similarly bullied. ''I was concerned things were going to get weird,'' says Jeff Timmer, a former Michigan GOP chair turned anti-Trump activist. Norm Eisen describes it as ''the scariest moment'' of the entire election.

The democracy defenders launched a full-court press. Protect Democracy's local contacts researched the lawmakers' personal and political motives. Issue One ran television ads in Lansing. The Chamber's Bradley kept close tabs on the process. Wamp, the former Republican Congressman, called his former colleague Mike Rogers, who wrote an op-ed for the Detroit newspapers urging officials to honor the will of the voters. Three former Michigan governors''Republicans John Engler and Rick Snyder and Democrat Jennifer Granholm''jointly called for Michigan's electoral votes to be cast free of pressure from the White House. Engler, a former head of the Business Roundtable, made phone calls to influential donors and fellow GOP elder statesmen who could press the lawmakers privately.

The pro-democracy forces were up against a Trumpified Michigan GOP controlled by allies of Ronna McDaniel, the Republican National Committee chair, and Betsy DeVos, the former Education Secretary and a member of a billionaire family of GOP donors. On a call with his team on Nov. 18, Bassin vented that his side's pressure was no match for what Trump could offer. ''Of course he's going to try to offer them something,'' Bassin recalls thinking. ''Head of the Space Force! Ambassador to wherever! We can't compete with that by offering carrots. We need a stick.''

If Trump were to offer something in exchange for a personal favor, that would likely constitute bribery, Bassin reasoned. He phoned Richard Primus, a law professor at the University of Michigan, to see if Primus agreed and would make the argument publicly. Primus said he thought the meeting itself was inappropriate, and got to work on an op-ed for Politico warning that the state attorney general''a Democrat''would have no choice but to investigate. When the piece posted on Nov. 19, the attorney general's communications director tweeted it. Protect Democracy soon got word that the lawmakers planned to bring lawyers to the meeting with Trump the next day.

Reyes' activists scanned flight schedules and flocked to the airports on both ends of Shirkey's journey to D.C., to underscore that the lawmakers were being scrutinized. After the meeting, the pair announced they'd pressed the President to deliver COVID relief for their constituents and informed him they saw no role in the election process. Then they went for a drink at the Trump hotel on Pennsylvania Avenue. A street artist projected their images onto the outside of the building along with the words THE WORLD IS WATCHING.

That left one last step: the state canvassing board, made up of two Democrats and two Republicans. One Republican, a Trumper employed by the DeVos family's political nonprofit, was not expected to vote for certification. The other Republican on the board was a little-known lawyer named Aaron Van Langevelde. He sent no signals about what he planned to do, leaving everyone on edge.

When the meeting began, Reyes's activists flooded the livestream and filled Twitter with their hashtag, #alleyesonmi. A board accustomed to attendance in the single digits suddenly faced an audience of thousands. In hours of testimony, the activists emphasized their message of respecting voters' wishes and affirming democracy rather than scolding the officials. Van Langevelde quickly signaled he would follow precedent. The vote was 3-0 to certify; the other Republican abstained.

After that, the dominoes fell. Pennsylvania, Wisconsin and the rest of the states certified their electors. Republican officials in Arizona and Georgia stood up to Trump's bullying. And the Electoral College voted on schedule on Dec. 14.

HOW CLOSE WE CAMEThere was one last milestone on Podhorzer's mind: Jan. 6. On the day Congress would meet to tally the electoral count, Trump summoned his supporters to D.C. for a rally.

Much to their surprise, the thousands who answered his call were met by virtually no counterdemonstrators. To preserve safety and ensure they couldn't be blamed for any mayhem, the activist left was ''strenuously discouraging counter activity,'' Podhorzer texted me the morning of Jan. 6, with a crossed-fingers emoji.

Trump addressed the crowd that afternoon, peddling the lie that lawmakers or Vice President Mike Pence could reject states' electoral votes. He told them to go to the Capitol and ''fight like hell.'' Then he returned to the White House as they sacked the building. As lawmakers fled for their lives and his own supporters were shot and trampled, Trump praised the rioters as ''very special.''

It was his final attack on democracy, and once again, it failed. By standing down, the democracy campaigners outfoxed their foes. ''We won by the skin of our teeth, honestly, and that's an important point for folks to sit with,'' says the Democracy Defense Coalition's Peoples. ''There's an impulse for some to say voters decided and democracy won. But it's a mistake to think that this election cycle was a show of strength for democracy. It shows how vulnerable democracy is.''

The members of the alliance to protect the election have gone their separate ways. The Democracy Defense Coalition has been disbanded, though the Fight Back Table lives on. Protect Democracy and the good-government advocates have turned their attention to pressing reforms in Congress. Left-wing activists are pressuring the newly empowered Democrats to remember the voters who put them there, while civil rights groups are on guard against further attacks on voting. Business leaders denounced the Jan. 6 attack, and some say they will no longer donate to lawmakers who refused to certify Biden's victory. Podhorzer and his allies are still holding their Zoom strategy sessions, gauging voters' views and developing new messages. And Trump is in Florida, facing his second impeachment, deprived of the Twitter and Facebook accounts he used to push the nation to its breaking point.

As I was reporting this article in November and December, I heard different claims about who should get the credit for thwarting Trump's plot. Liberals argued the role of bottom-up people power shouldn't be overlooked, particularly the contributions of people of color and local grassroots activists. Others stressed the heroism of GOP officials like Van Langevelde and Georgia secretary of state Brad Raffensperger, who stood up to Trump at considerable cost. The truth is that neither likely could have succeeded without the other. ''It's astounding how close we came, how fragile all this really is,'' says Timmer, the former Michigan GOP chair. ''It's like when Wile E. Coyote runs off the cliff''if you don't look down, you don't fall. Our democracy only survives if we all believe and don't look down.''

Democracy won in the end. The will of the people prevailed. But it's crazy, in retrospect, that this is what it took to put on an election in the United States of America.

''With reporting by LESLIE DICKSTEIN, MARIAH ESPADA and SIMMONE SHAH

Correction appended, Feb. 4: The original version of this story misstated the name of Norm Eisen's organization. It is the Voter Protection Program, not the Voter Protection Project.

This appears in the February 15, 2021 issue of TIME.

Write to Molly Ball at molly.ball@time.com.

Opinion | They Stormed the Capitol. Their Apps Tracked Them. - The New York Times

Sat, 06 Feb 2021 16:11

In 2019, a source came to us with a digital file containing the precise locations of more than 12 million individual smartphones for several months in 2016 and 2017. The data is supposed to be anonymous, but it isn't. We found celebrities, Pentagon officials and average Americans.

It became clear that this data '-- collected by smartphone apps and then fed into a dizzyingly complex digital advertising ecosystem '-- was a liability to national security, to free assembly and to citizens living mundane lives. It provided an intimate record of people whether they were visiting drug treatment centers, strip clubs, casinos, abortion clinics or places of worship.

Surrendering our privacy to the government would be foolish enough. But what is more insidious is the Faustian bargain made with the marketing industry, which turns every location ping into currency as it is bought and sold in the marketplace of surveillance advertising.

Now, one year later, we're in a very similar position. But it's far worse.

A source has provided another data set, this time following the smartphones of thousands of Trump supporters, rioters and passers-by in Washington, D.C., on January 6, as Donald Trump's political rally turned into a violent insurrection. At least five people died because of the riot at the Capitol. Key to bringing the mob to justice has been the event's digital detritus: location data, geotagged photos, facial recognition, surveillance cameras and crowdsourcing.

From Trump's Rally to Congress This time-lapse animation shows smartphones as they moved from Donald Trump's rally to the Capitol.White House

WASHINGTON, D.C.

Rally Stage

U.S. Capitol

Trump supporters

attend the rally

Trump supporters

attend the protest

WASHINGTON, D.C.

N

U.S. Capitol

Satellite Imagery: Microsoft Corporation, Maxar.

The sacking of the Capitol was a shocking assault on the republic and an unwelcome reminder of the fragility of American democracy. But history reminds us that sudden events '-- Pearl Harbor, the Soviet Union testing an atomic bomb, the Sept. 11 attacks '-- have led to an overreach in favor of collective security over individual liberty that we'd later regret. And more generally, the data collected on Jan. 6 is a demonstration of the looming threat to our liberties posed by a surveillance economy that monetizes the movements of the righteous and the wicked alike.

The data we were given showed what some in the tech industry might call a God-view vantage of that dark day. It included about 100,000 location pings for thousands of smartphones, revealing around 130 devices inside the Capitol exactly when Trump supporters were storming the building. Times Opinion is only publishing the names of people who gave their permission to be quoted in this article.

About 40 percent of the phones tracked near the rally stage on the National Mall during the speeches were also found in and around the Capitol during the siege '-- a clear link between those who'd listened to the president and his allies and then marched on the building.

While there were no names or phone numbers in the data, we were once again able to connect dozens of devices to their owners, tying anonymous locations back to names, home addresses, social networks and phone numbers of people in attendance. In one instance, three members of a single family were tracked in the data.

The source shared this information, in part, because the individual was outraged by the events of Jan. 6. The source wanted answers, accountability, justice. The person was also deeply concerned about the privacy implications of this surreptitious data collection. Not just that it happens, but also that most consumers don't know it is being collected and it is insecure and vulnerable to law enforcement as well as bad actors '-- or an online mob '-- who might use it to inflict harm on innocent people. (The source asked to remain anonymous because the person was not authorized to share the data and could face severe penalties for doing so.)

''What if instead of going to you, I wanted to publish it myself?'' the source told us. ''What if I were vengeful? There's nothing preventing me from doing that. It's totally available. If I had different motives, all it would take is a few clicks, and everyone could see it.''

There is an argument to be made that this data could be properly used by law enforcement through courts, warrants and subpoenas. We used it ourselves as a journalistic tool to bring you this article. But to think that the information will be used against individuals only if they've broken the law is na¯ve; such data is collected and remains vulnerable to use and abuse whether people gather in support of an insurrection or they justly protest police violence, as happened in cities across America last summer.

The data presented here is a bird's-eye view of an event that posed a clear and grave threat to our democracy. But it tells a second story as well: One of a broken, surreptitious industry in desperate need of regulation, and of a tacit agreement we've entered into that threatens our individual privacy. None of this data should ever have been collected.

This is Ronnie Vincent.

We traced a phone inside the Capitol to Mr. Vincent's home in Kentucky. Confirming his identity led us to his Facebook page, where we found a few photos of him standing on the steps of the building during the siege. Another photo shows a crowd standing in front of the Capitol, its doors wide open.

A phone ''ping'' tied

to Ronnie Vincent

A phone ''ping'' tied

to Ronnie Vincent

U.S. Capitol

A phone ''ping'' tied

to Ronnie Vincent

A phone ''ping'' tied

to Ronnie Vincent

U.S. Capitol

''Yes we got inside. One girl was shot by the DC cops as she was knocking on the glass. She probably will die. We stopped the voting in the house,'' he wrote.

Shortly after he posted the photos, Mr. Vincent, a pest control business owner in Kentucky who goes by the nickname Ole Woodsman, took them down. When we reached him by phone, he insisted he never entered the Capitol.

''There is no way that my phone shows me in there,'' he said. Yet it did.

Image A now-deleted Facebook post by Ronnie Vincent shows pro-Trump demonstrators advancing toward the open doors of the Capitol. Credit... Screenshot from Facebook For all its appearance of omniscience, the data can be imprecise. In a situation such as the Capitol riot, exact locations matter. A few feet can be the difference between a participant who committed a serious crime and an onlooker.

While some location data is accurate to within a few feet, other data is not. Location companies can work with data derived from GPS sensors, Bluetooth signals and other sources. The quality depends on the settings of the phone and whether it is connected to Wi-Fi or a cell tower. Issues like population and building density can sometimes play a role in the quality of the data.

Mr. Vincent told us that when he wrote ''we got inside,'' he meant ''we the people got in.''

He added, ''I did not go in.''

Can we say definitively Mr. Vincent was inside the Capitol on Jan. 6? No, and that is one of the problems with this type of data.

The trip to Washington, D.C.

OHIO

Home

VIRGINIA

KENTUCKY

Home location has been obscured.

The day of the protest

Hyatt Regency

hotel at 1:48 p.m.

7:30 a.m.

Rally stage

8:17 a.m.

Around the Capitol

Building at 3:00 p.m.

At the Capitol

Accuracy

322 feet

187 feet

The trip to Washington, D.C.

OHIO

Home

VIRGINIA

KENTUCKY

Home location has been obscured.

The day of the protest

Hyatt Regency

hotel at 1:48 p.m.

7:30 a.m.

Rally stage

8:17 a.m.

Around the Capitol

Building at 3:00 p.m.

At the Capitol

Accuracy

322 feet

187 feet

The trip to Washington, D.C.

KENTUCKY

Home

OHIO

VIRGINIA

N

Home location has been obscured.

The day of the protest

Rally stage

8:17 a.m.

7:30 a.m.

Hyatt Regency

hotel at

1:48 p.m.

Around the Capitol

Building at 3:00 p.m.

N

At the Capitol

Accuracy

322 feet

187 feet

N

While the power and scope of this commercial surveillance come into sharp focus when we look at the specific time of the attack on the Capitol, it's important to remember that it is recording the movements of millions of Americans all day, all night, all year, wherever they are.

The data set Times Opinion examined shows how Trump supporters traveled from South Carolina, Florida, Ohio and Kentucky to the nation's capital, with pings tracing neatly along major highways, in the days before the attack. Stops at gas stations, restaurants and motels dot the route like bread crumbs, each offering corroborating details.

In many cases, these trails lead from the Capitol right back to their homes.

Florida

Florida

New Hampshire

New York

Florida

New Hampshire

Florida

Florida

New Hampshire

New York

In the hands of law enforcement, this data could be evidence. But at every other moment, the location data is reviewed by hedge funds, financial institutions and marketers, in an attempt to learn more about where we shop and how we live.

Unlike the data we reviewed in 2019, this new data included a remarkable piece of information: a unique ID for each user that is tied to a smartphone. This made it even easier to find people, since the supposedly anonymous ID could be matched with other databases containing the same ID, allowing us to add real names, addresses, phone numbers, email addresses and other information about smartphone owners in seconds.

The IDs, called mobile advertising identifiers, allow companies to track people across the internet and on apps. They are supposed to be anonymous, and smartphone owners can reset them or disable them entirely. Our findings show the promise of anonymity is a farce. Several companies offer tools to allow anyone with data to match the IDs with other databases.

The ''anonymous'' mobile advertising ID can be matched across databases, creating a new deanonymized database.

First name

Last name

Home address

Mobile Ad ID

Phone number

Mobile Ad ID

Email address

App name

ANONYMOUS

LOCATION

DATABASE

Mobile Ad ID

First name

Last name

Home address

Phone number

Email address

App name

Precise location

Date

Time

Mobile Ad ID

Precise location

Date

Time

The ''anonymous'' mobile advertising ID can be matched across databases ...

... creating a new

deanonymized

database

ANONYMOUS

LOCATION

DATABASE

First name

Last name

Home address

Mobile Ad ID

Phone number

Mobile Ad ID

Email address

App name

Mobile Ad ID

Precise location

Date

Time

Mobile Ad ID

First name

Last name

Home address

Phone number

Email address

App name

Precise location

Date

Time

The ''anonymous'' mobile advertising ID can be matched across databases, creating a new deanonymized database.

First name

Last name

Home address

Mobile Ad ID

Phone number

Mobile Ad ID

Email address

App name

ANONYMOUS

LOCATION

DATABASE

Mobile Ad ID

First name

Last name

Home address

Phone number

Email address

App name

Precise location

Date

Time

Mobile Ad ID

Precise location

Date

Time

We were quickly able to match more than 2,000 supposedly anonymous devices in the data set with email addresses, birthdays, ethnicities, ages and more.

One location data company, Cuebiq, publishes a list of customers that may receive the ID with precise smartphone locations. Companies listed there include household names like Adobe and Google, alongside a litany of lesser-known upstarts, like Hivestack, Mogean, Pelmorex and Ubimo.

In an emailed statement, Cuebiq said it prohibits attempts to merge location data with personally identifiable information and requires customers to undergo yearly third-party audits.

Smartphone users will never know if they are included in the data or whether their precise movements were sold. There are no laws forcing companies to disclose what the data is used for or for how long. There are no legal requirements to ever delete the data. Even if anyone could figure out where records of their locations were sold, in most states, you can't request that the data be deleted.

Their movements could be bought and sold to innumerable parties for years. And the threat that those movements could be tied back to their identity will never go away.

Image Credit... Mark Peterson for The New York Times If the Jan. 6 rioters didn't know before, they surely know now the cost of leaving a digital footprint. Tip lines at the Federal Bureau of Investigation have been flooded for weeks in an effort to identify participants, and detectives in Miami and other police departments are using facial recognition software. Amateur investigators on TikTok, Instagram and other platforms have launched their own identification efforts.

Law enforcement has used cellphone footage from the siege to identify participants. As of February 4, there were 181 federal cases pending against individuals involved in the Capitol Hill siege, according to an analysis by George Washington University's program on extremism. Affidavits show that federal investigators were easily able to cross-reference footage with public social media posts.

A leak of data from the social media platform Parler also helped investigators and journalists place rioters in the building, using posts that were geotagged with GPS location data. For some, like 38-year-old Oath Keepers member Jessica Watkins, there was no need for precise location data. Her words tell the story: ''Yeah. We stormed the Capitol today. Teargassed, the whole, 9. Pushed our way into the Rotunda. Made it into the Senate even,'' she wrote on Parler.

Which is to say that law enforcement may not need this data. But as a recent Wall Street Journal report shows, military agencies use these data sets '-- without a warrant, no less. How? They purchase it. Because we have seen what's in the data, that revelation is deeply troubling.

While some Americans might cheer the use of location databases to identify Trump supporters who converged on the Capitol, the use of commercial databases has worrying implications for civil liberties. The American criminal justice system is set up for a judge or jury to determine whether, in fact, Ronnie Vincent broke any laws on Jan. 6. But the data leads us directly to him, and in the hands of law enforcement officials '-- or rogue employees of the company that collected the data '-- it could narrow their search for participants and offer clues about their activity.

To focus attention only on those people present at the deadly sacking of the Capitol is to lose sight of the larger context of the campaign of incitement and lies from Mr. Trump, right-wing media and members of Congress that set the stage for it. Just as focusing on the movements of Mr. Vincent's cellphone is to lose sight of the larger surveillance ecosystem that he '-- and all of us '-- are trapped in.

The location-tracking industry exists because those in power allow it to exist. Plenty of Americans remain oblivious to this collection through no fault of their own. But many others understand what's happening and allow it anyway. They feel powerless to stop it or were simply seduced by the conveniences afforded in the trade-off. The dark truth is that, despite genuine concern from those paying attention, there's little appetite to meaningfully dismantle this advertising infrastructure that undergirds unchecked corporate data collection.

This collection will only grow more sophisticated. This new data set offers proof that not only is there more interest in location data than before, but it is also easier to deanonymize. It gets easier by the day. As the data from Jan. 6 eerily demonstrates, it does not discriminate. It harvests from the phones of MAGA rioters, police officers, lawmakers and passers-by. There is no evidence, from the past or current day, that the power this data collection offers will be used only to good ends. There is no evidence that if we allow it to continue to happen, the country will be safer or fairer.

In our previous investigation, we wrote that Americans deserve the freedom to choose a life without surveillance and the government regulation that would make that possible. While we continue to believe the sentiment, we fear it may soon be obsolete or irrelevant. We deserve that freedom, but the window to achieve it narrows a little more each day. If we don't act now, with great urgency, it may very well close for good.

It's Time to Talk About Violent Christian Extremism

Sun, 07 Feb 2021 12:24

POLITICO illustration/Getty Images

Zack Stanton is digital editor of Politico Magazine.

For two decades, the U.S. government has been engaging with faith leaders in Muslim communities at home and around the world in an attempt to stamp out extremism and prevent believers vulnerable to radicalization from going down a path that leads to violence.

Now, after the dangerous QAnon conspiracy theory helped to motivate the insurrection at the U.S. Capitol, with many participants touting their Christian faith '-- and as evangelical pastors throughout the country ache over the spread of the conspiracy theory among their flocks, and its very real human toll '-- it's worth asking whether the time has come for a new wave of outreach to religious communities, this time aimed at evangelical Christians.

Advertisement''I personally feel a great burden, since I came from these communities, to try to figure out how to help the leaders,'' says Elizabeth Neumann, a former top official at the Department of Homeland Security who resigned from Trump administration in April 2020. The challenge in part is that, in this ''particular case, I don't know if the government is a credible voice at all,'' she says. ''You don't want 'Big Brother' calling the local pastor and saying, 'Hey, here's your tips for the week.'''

Neumann, who was raised in the evangelical tradition, is a devout Christian. Her knowledge of that world, and her expertise on issues of violent extremism, gives her a unique insight into the ways QAnon is driving some Christians to extremism and violence.

She sees QAnon's popularity among certain segments of Christendom not as an aberration, but as the troubling-but-natural outgrowth of a strain of American Christianity. In this tradition, one's belief is based less on scripture than on conservative culture, some political disagreements are seen as having nigh-apocalyptic stakes and ''a strong authoritarian streak'' runs through the faith. For this type of believer, love of God and love of country are sometimes seen as one and the same.

Christian nationalism is ''a huge theme throughout evangelical Christendom,'' Neumann says, referring to teachings that posit America as God's chosen nation. Christians who subscribe to those teachings believe the United States has a covenant with God, and that if it is broken, the nation risks literal destruction '-- analogous to the siege of Jerusalem in the Hebrew Bible. In the eyes of these believers, that covenant is threatened by cultural changes like taking prayer out of public schools and legalizing abortion and gay marriage, Neumann says.

Advertisement''[Christian nationalists] see it in cataclysmic terms: This is the moment, and God's going to judge us,'' she says. ''When you paint it in existential terms like that, a lot of people feel justified to carry out acts of violence in the name of their faith.''

How should the country, and the new administration, approach concerns about extremism among American Christians? What role can faith leaders play in trying to keep vulnerable believers from the temptations of conspiracy theories? And do the totems of American evangelicalism look at all different through the eyes of a national security expert?

To sort through all of this, POLITICO Magazine spoke with Neumann this week. A condensed transcript of that conversation follows, edited for length and clarity.

In May 2019, an FBI memo described QAnon as a domestic terror threat. You were still working at the Department of Homeland Security at the time. Do you remember when you first became aware of QAnon?

AdvertisementI remember asking my staff about it. I'd probably seen a news article about it and said, ''Hey, are we concerned?'' At the time, it struck us as this very random set of conspiracy theories. People in this country have followed conspiracy theories for years, and there are always those fringe elements you worry could be motivated to do something violent. It was definitely not seen as a high-level threat. It was kind of localized '-- you're informing state and local law enforcement, ''Hey, we're seeing this activity,'' so they might be better equipped to understand what's driving it.

The DHS and FBI often put out bulletins that are just: ''This is an incident that happened, this is what we assess it to mean, and here are the motivations or ideology.'' It's really there to provide context for law enforcement. In 2019, QAnon was more of the ''huh, that's new, but not really of concern'' category.

When did it become a security concern for you?

The pandemic. QAnon was this fringe thing, it was concerning. Then, in 2020, it went on steroids.

In March, even before the shutdowns, I had my staff look at the research we use for developing behavioral indicators of individuals who might mobilize to violence. If we go down this path of having to all stay home, does that increase stress factors? Does it increase risk factors known to be common in people who carry out attacks? The answer was yes.

''QAnon was this fringe thing, it was concerning. Then, in 2020, it went on steroids.''

You started hearing the anti-government conspiracies '-- which was totally predictable. Anybody who has spent any time in Republican or libertarian politics knows you're going to have people unhappy about the government. That's fine; you can predict that. The question then is that if you know that's going to be a challenge, what can the government do to help individuals understand why it is issuing stay-at-home orders, why it's necessary, why it's legal and constitutional? If the government had done a better job at that, we would have seen slightly less anger, slightly less of that victim-persecution complex.

With the pandemic, you had what was perceived to be government overreach; you had social isolation, which is a known risk factor [for extremism]; you had some people with a lot more time on their hands because they were not commuting, not taking kids to ballgames and not going to happy hour after work; you had economic stress '-- another known risk factor '-- as people lost jobs or moved to part-time status; you had people who lost loved ones. There was this great sense that people had lost control; our lives as we knew them had been upended.

People who had a strong, healthy sense of self or community were able to mitigate their isolation. But for individuals already on the cusp, this made them vulnerable. We use that word, ''vulnerable,'' to describe people who are not necessarily radicalized yet, but have factors in their lives that make it easier for them to move on a pathway towards extreme radicalized thought '-- and then, for a smaller subset, mobilizes them to violence.

AdvertisementThat's what we saw in 2020. We saw any number of people spending more time online looking for answers. You had increases in militia movements. The Moonshot CVE Group, which studies radicalization, said that in states with stay-at-home orders that lasted 10 days or longer, [online] searches for white-supremacist content increased by 21 percent. In states where there either weren't stay-at-home orders or they lasted nine days or fewer, that increase was only 1 percent. We weren't sure how it was going to happen, but we predicted that we would see violence in some form or fashion. The militia that attempted to kidnap Michigan Gov. Gretchen Whitmer '-- that was horrible, but not really shocking. The violence at protests? Not surprising. And the fact that you had white-supremacist groups using the protests to commit accelerationist violence was also not surprising '-- even though the president thought it was Antifa. We knew we were going to see more radicalization and violence.

''For people who studied disinformation, it became clear that the call was coming from inside the house.''

The combination of that on top of a pandemic, on top of a campaign where the president was sowing his own conspiracy theories and laying the groundwork for what eventually became [the lie] that the election had been stolen '-- well, some would say he started laying the groundwork four years ago. For people who studied disinformation, it became clear that the call was coming from inside the house. That kind of primordial soup makes conditions ripe for vulnerable individuals to move into this space. QAnon is not designed to be logical; it's designed to meet these emotional and psychological needs.

Over the last year or so, a number of evangelical Christian leaders have shared their alarm at what they're seeing with members of their churches being pulled into the QAnon world. You are a Christian raised in the evangelical faith. Do you see anything about the evangelical tradition that could make its believers more susceptible to QAnon?

I really struggle with this question. I've been trying to figure out how it is so obvious to me '-- and I don't mean to pat myself on the back. I actually do read the Bible. Yet there are people who read scripture and attend church but are also die-hard into believing the election was stolen or have gone down the QAnon rabbit hole. What's the distinction there? I find that hard to answer.

There is, in more conservative Christian movements, a strong authoritarian streak, where they don't believe in the infallibility of their pastor, but they act like it; they don't believe in the infallibility of the head of the home, but they sometimes act like it; where you're not allowed to question authority. You see this on full display in the criticisms of the way the Southern Baptist Convention is dealing with sexual abuse, which is so similar to the Catholic Church [sex abuse scandal]. There is this increasing frustration that church leaders have [this view]: ''If we admit sin, then they won't trust us to lead anymore.'' But if the church is not a safe place to admit that you messed up, then I don't know where is '-- or you clearly don't believe what you preach.

''There is, in more conservative Christian movements, a strong authoritarian streak.''

The authoritarian, fundamentalist nature of certain evangelical strands is a prominent theme in the places where you see the most ardent Trump supporters or the QAnon believers, because they've been told: ''You don't need to study [scripture]. We're giving you the answer.'' Then, when Rev. Robert Jeffress [a prominent conservative Baptist pastor in Dallas] says you've got to support Donald Trump, and makes some argument that sounds ''churchy,'' people go, ''Well, I don't like Trump's language, but OK, that's the right thing.'' It creates people who are not critical thinkers. They're not necessarily reading scripture for themselves. Or if they are, they're reading it through the lens of one pastor, and they're not necessarily open to hearing outside perspectives on what the text might say. It creates groupthink.

Another factor is Christian nationalism. That's a huge theme throughout evangelical Christendom. It's subtle: Like, you had the Christian flag and the American flag at the front of the church, and if you went to a Christian school, you pledged allegiance to the Christian flag and the American flag. There was this merger that was always there when I was growing up. And it was really there for the generation ahead of me, in the '50s and '60s. Some people interpreted it as: Love of country and love of our faith are the same thing. And for others, there's an actual explicit theology.

There was this whole movement in the '90s and 2000s among conservatives to explain how amazing [America's] founding was: Our founding was inspired by God, and there's no explanation for how we won the Revolutionary War except God, and, by the way, did you know that the founders made this covenant with God? It's American exceptionalism but goes beyond that. It says that we are the next version of Israel from the Old Testament, that we are God's chosen nation, and that is a special covenant '-- a two-way agreement with God. We can't break it, and if we do, what happened to Israel will happen to us: We will be overrun by whatever the next Babylon is, taken into captivity, and He will remove His blessing from us.

AdvertisementWhat [threatens] that covenant? The moment we started taking prayer out of [public] schools and allowing various changes in our culture '-- [the legalization of] abortion is one of those moments; gay marriage is another. They see it in cataclysmic terms: This is the moment, and God's going to judge us. They view the last 50 years of moral decline as us breaking our covenant, and that because of that, God's going to remove His blessing. When you paint it in existential terms like that, a lot of people feel justified to carry out acts of violence in the name of their faith.

''When you paint it in existential terms like that, a lot of people feel justified to carry out acts of violence in the name of their faith.''

The elections in 2016 and 2020 were a fight in existential terms for believers of this teaching '-- meaning, if we allow Hillary Clinton or Joe Biden to be president, they are going to put the nail in the coffin [of the covenant], and the next thing we're going to see is that Christianity is going to be outlawed, pastors will not be able to teach the Bible and Christians will become persecuted.

Now, here's the caveat: Some of that fear is not out of thin air. There is a real ''cancel culture,'' where you see a mob mentality swarm on somebody who holds a biblically based viewpoint on, say, gay marriage, and you see someone forced out of a position or lose sponsorships or advertising. But they follow that to what they think is a logical conclusion '-- that eventually, pastors will not be able to preach against homosexuality or abortion, and if [they do], they're going to end up arrested and unable to preach. I've heard that argument made multiple times over the last 10 years. The irrationality is the idea that there are no protections, that the courts wouldn't step in and say, ''No, the First Amendment applies to Christians as well.''

It tries to assert that they are losing power and must regain that power by any means necessary '-- which is why you can justify voting for Trump, so that we can, for God's purposes, maintain this Christian nation. But that's nowhere in scripture. Scripture, when it talks about what ''Israel'' is in the New Testament, it explains that it's the church '-- which is not owned by any one nation; it's a global church. And even if somehow you wanted to say that the American church is what [scripture is] referencing, [the Bible] tells us [to do] the exact opposite of what they're talking about. We are told not to seek power. We're told to be humble. We're told to turn the other cheek. Jesus, in confronting Caesar's representative at his trial, says, ''My kingdom is not of this world.'' ''My fight is not here,'' basically. Our purpose as believers is to be salt and light; it's not to force everybody else to hold our beliefs.

To fix that, you really have to go back to scripture. You can't just be like, ''Christian nationalism is wrong.'' You have to go back to what the Bible says, versus what you were taught as an American Christian, where it was so interwoven. It took me a while to even discover it. Once somebody pointed it out, [I was] like, ''Oh, my gosh. I was taught that, and you're right, that's not correct.''

But it's a very hard thing for people to [address], because it requires acknowledging that how you were raised or the people that you trusted either intentionally lied to you or were just wrong. It's hard. It takes humility to go there. It's a hard thing for people to recognize and escape from. But sadly, it's a security issue that we have to address, because it has led to this.

''It requires acknowledging that how you were raised or the people that you trusted either intentionally lied to you or were just wrong.''

It sounds like you're describing a reality for some evangelical Christians where their church is based more in culture than scripture '-- and that this makes them more susceptible to things like QAnon?

Oh, absolutely. Here's the thing, and I will do my best to explain it from a secular perspective: There's text in the New Testament where the Apostle Paul is admonishing a church he helped establish: ''You should be mature adults now in your faith, but I'm still having to feed you with milk.'' He's basically saying, you should be 18, but you're still nursing, and we need you to get it together.

AdvertisementThere was a big movement in the '90s called Seeker-Friendly Churches. Willow Creek [one of the most prominent of these churches] did a self-assessment about 10 or 15 years ago, and one of the things that they found is while they had converted people to Christians, there was a lack of growth in their faith. They were not learning the scriptures. They were not engaged in community. They were not discipling anybody. And [Willow Creek's] assessment was: We failed. We baptized some people, but they're not actually maturing.

One of my questions is: Are we seeing in the last four years one of the consequences of that failure? They didn't mature [in their faith], and they're very easily led astray by what scripture calls ''false teachers.'' My thesis here is that if we had a more scripturally based set of believers in this country '-- if everybody who calls themselves a ''Christian'' had actually read through, I don't know, 80 percent of the Bible '-- they would not have been so easily deceived.

For the nearly 20 years since 9/11, to counter violent extremism, the U.S. government has done outreach to imams and other faith leaders in Muslim communities. In light of the QAnon problem, should we be doing the same with leaders in evangelical Christian communities?

I think we need to learn from the mistakes of the last 20 years. And I am very mindful that there are places where things went very well [with Countering Violent Extremism outreach], and there are also places where things did not go well. It's a mixed bag.

I personally feel a great burden, since I came from these communities, to try to figure out how to help the leaders in those communities. I don't know that I'm a credible voice anymore because of my political outspokenness, but there certainly are pastors who are struggling with these questions: How do I help somebody that has gone down the QAnon rabbit hole? Or, to put it in biblical terms, how do I help somebody who has made Trump an idol?

Pastors, church leaders, faith leaders '-- when you frame it that way for them, the answers start to come: ''Oh, we know how to do this.'' Usually, pastors have done a lot of counseling or shepherding in their lifetimes. They know that you don't approach people head-on with dogmatic arguments; that tends to not work. You need to recognize that there's often something else going on that has made somebody vulnerable to being deceived, and coming out of that deception can be painful and humbling. But faith leaders '-- the good ones, at least '-- are perfect for that kind of work. So even though the particular topic itself may be different than they're used to, they have many of the skill sets you need.

''For QAnon, January 20 may historically be looked at as a light-switch moment.''

Some of [what we need to do is] supporting them, because it's disheartening work. It takes a long time for somebody to disengage. It's usually not a light switch '-- although for QAnon, January 20 may historically be looked at as a light-switch moment. [QAnon lore has long held that on January 20th, Joe Biden would not be inaugurated, Donald Trump would remain president, declare martial law and many prominent political leaders would be arrested.] You've seen many people go, ''Oh, I was conned,'' and they're out. But for others, it may be a longer journey.

Certainly, what they teach from their pulpits [is relevant], even going back to the basics. Scripture teaches us not to spend time in conspiracies. You don't have to say anything about ''stop the steal'' or whatever. Or teach the Ten Commandments and the fact that bearing false witness and slander are actually what conspiracy theories do: You are believing made-up sets of ''facts'' about people you don't have firsthand knowledge of.

AdvertisementThere are ways pastors can address it. But it's hard, and they need a community where they feel safe to be encouraged to do this work.

Your question is about the government. And I'm intentionally avoiding that '-- in part because, in this particular case, I don't know if the government is a credible voice at all. They probably would do more harm than good. The best thing they can do is provide fact-based resources '-- for example, threat briefings to educate [ordinary citizens] on signs of individuals who might be radicalizing into violence. Providing that information would be helpful, but you kind of want there to be a cut-out. You don't want ''Big Brother'' calling the local pastor and saying, ''Hey, here's your tips for the week.'' That's just going to breed more conspiracies.

What can government do? Well, they're resourced to help state and local governments, to do research, to identify best practices, to keep us informed about the threats, to give grant funding for prevention work. But those concepts are inherently built around the idea that it's a multidisciplinary approach. And when we say ''multidisciplinary,'' it's mental health, it's human services, it's education.

The disinformation problem is not going away. We can build more resilience. We can put more guardrails in place. But it's going to be a problem for us for a long time.

David Hogg launching pillow company to 'put MyPillow out of business'

Fri, 05 Feb 2021 16:16

Parkland school shooting survivor and gun control advocate David Hogg plans to launch his own pillow company with the goal of competing against embattled bedding company MyPillow.

The idea was posed to Hogg, 20, in a tweet from entrepreneur William LeGate on Thursday that questioned whether the duo should start a pillow company to ''put MyPillow out of business."

The CEO and founder of MyPillow, Mike Lindell, is a vocal supporter of Donald Trump and has repeatedly promoted false claims of fraud about the 2020 presidential election.

"Mike the 'my pillow guy' ... This pillow fight just got very real," Hogg tweeted on Thursday.

Key parts of the company-Union made in America to create good jobs that support American families.

-Have an emphasis on supporting progressive causes-Not attempt a white supremacist overthrow of the United States governmentSo you can sleep at night Relieved face

'-- David Hogg (@davidhogg111) February 4, 2021Though it might have initially seemed like a joke, Hogg later said that he was serious about the business venture. He tweeted a list of goals for the future company, which included supporting progressive causes and hiring formerly incarcerated Americans.

''The website will be up in a couple weeks we are very much in the early stages right now,'' Hogg said. ''But we really are doing this if you have cool name ideas dm me- we think we have one but we are still open.''

Hogg became a household name in 2018 after a school shooting at Marjory Stoneman Douglas High School in Parkland, Florida, where 17 people were killed. Hogg has since become an outspoken advocate for reforming gun laws and joined several of his classmates in the founding of March for Our Lives, a student-led gun control organization.

LeGate also tweeted about the venture, asking any US-based manufacturers with experience making pillows to reach out to him.

We MAY have our pillow manufacturing partner sorted-out'... hopefully will know one way or the other by the end of the night! Like we promised, will be American-made by union workers :D

'-- William LeGate (ig: @legate) (@williamlegate) February 5, 2021Lindell told NBC News last month that "a group has attacked my vendors" and that retailers called him saying they had been threatened with "a boycott if they don't comply" and drop his products. Major chains such as Bed Bath & Beyond and Kohl's dropped MyPillow products amid backlash to Lindell's outspoken support for election fraud conspiracy theories.

The MyPillow Twitter account was suspended after Lindell attempted to use it when his own personal account was banned over false claims. Twitter confirmed to NBC news on Monday that the corporate account was removed for a violation of Twitter's ''ban evasion policy.''

Lindell did not immediately respond to a request for comment from NBC News.

Doha Madani Doha Madani is a breaking news reporter for NBC News.

FBI criminal complaint for MAGA rioter has VERY lewd viral image photoshopped in the background | Daily Mail Online

Sun, 07 Feb 2021 13:00

FBI criminal complaint for MAGA rioter has VERY lewd viral image photoshopped in the background where a painting of 19th century GOP leader Henry Clay should beHanging on the wall behind the MAGA mob is a lewd meme known as 'Wood Sitting on a Bed' where a 19th century painting of a Kentucky Senator should beThe viral photo is often sent to unsuspecting recipients without context who then open a link to be greeted by the sight of a man with his penis hanging downIt was submitted as evidence to identify Brian P. McCreary, a 33-year-old who was arrested by the FBI in Massachusetts last night for breaching the CapitolImage was sent to the FBI by one of McCreary's co-workers but it's not clear how it ended up being published in the warrant submitted on Wednesday By Ross Ibbetson For Mailonline

Published: 04:42 EST, 5 February 2021 | Updated: 09:36 EST, 5 February 2021

The FBI has used a viral image of a man with a colossal penis in a doctored photo from the Capitol siege submitted as evidence in an arrest warrant.

Brian P. McCreary was detained in Massachusetts last night after the FBI filed a criminal complaint which featured a lewd meme known as 'Wood Sitting on a Bed.'

The 33-year-old Domino's Pizza employee is pictured inside the Capitol alongside the horn-headed QAnon Shaman on January 6.

But behind the MAGA mob, hanging on the wall where a 19th century painting of Kentucky Senator Henry Clay should be, is a fully nude man well known across the internet.

The meme is often sent to unsuspecting recipients who are directed to open a link where they are greeted by the sight of the man sitting on the edge of a bed with his penis hanging down.

The edited image was sent to the FBI by one of McCreary's co-workers but it's not clear how it ended up being published in the warrant submitted on Wednesday.

Brian P. McCreary (left with an arrow over his head) was arrested in Massachusetts last night after the FBI filed a criminal complaint which featured a lewd meme known as 'Wood Sitting on a Bed.' The naked man is seen in the background where a 19th century painting of a Kentucky Senator should be

The original photograph shows a painting of Kentucky Senator Henry Clay which was pasted over by the viral internet meme

Wood Sitting on a Bed: The meme is often sent without context to unsuspecting recipients who then open a link to be greeted by the sight of a man sitting on the edge of a bed with his penis hanging down

The warrant was filed by special agent Emily Eckert and includes two photos of McCreary inside the building with an arrow identifying him.

In one of the photographs McCreary is seen filming the chaos on his phone as a band of men led by the QAnon Shaman Jake Angeli stand in the halls of the Capitol.

The original painting can be seen hanging on the wall to the left of an archway.

Further down in the arrest warrant another image is used to illustrate McCreary's presence in the Capitol which shows the same archway but the painting to the left has been replaced by 'Wood Sitting on a Bed.'

Eckert's criminal complaint says the image was sent to the FBI by one of McCreary's co-workers who reported him to law enforcement after he returned from D.C.

Seamus Hughes, deputy director of George Washington University's Program on Extremism, tweeted: 'I've studied extremism for 15 years, I've reviewed mostly every court record for decades. I can honestly say very little surprises me.

'That said, I have absolutely no idea what to say about the Internet image the FBI used in a criminal complaint of the picture hanging on the wall.'

The FBI last night said McCreary, a Domino's Pizza Delivery driver from North Adams, Massachusetts, was arrested and charged with two counts of illegal entry and three counts of violent entry and disorderly conduct on Capitol grounds.

In an ironic twist the 33-year-old was one of the first to contact the Bureau to provide evidence of those who breached the Capitol.

He claims he was more of an observer than a participant in the riot which left five people dead, including a police officer.

But many of his Domino's co-workers reached out to the FBI later when they saw photos of McCreary in the Capitol, telling the agency he was a Trump supporter.

He expressed political views, including that the presidential election was fraudulent and told a co-worker that he 'raided' the Capitol, the complaint says.

McCreary told the FBI he travelled to D.C. to attend Donald Trump's rally on the National Mall because he was upset that an audit had not been carried out into voter fraud.

He said that as the mob descended on the Capitol he was observing and recording them on his phone because it 'felt like Antifa.'

Another image from the FBI's criminal complaint against McCreary shows him standing at the side of the hallway wearing a blue surgical mask and filming on his phone. The painting to the rear has not been doctored in this image

He joined them in breaching the building and was seen standing alongside the QAnon Shaman with his phone out and wearing a blue surgical mask.

McCreary said he was present when a woman was shot trying to breach a door in the building and that he left shortly after.

He is the fourth Massachusetts resident arrested since the riot.

The FBI has identified 400 suspects since the building was stormed by hundreds of Trump supporters and has arrested more than 130 people.

Advertisement

'Euphemism for censorship'? Twitter permanently bans Gateway Pundit founder Jim Hoft for violations of 'civic integrity policy' '-- RT USA News

Sun, 07 Feb 2021 12:58

The founder and editor of the right-wing Gateway Pundit website has been permanently banned from Twitter, leaving the liberal left ''thrilled'' and conservatives wondering who will be silenced next.

The @gatewaypundit Twitter handle belonging to Jim Hoft with more than 375,000 followers was abruptly banned on Saturday night. ''The account was permanently suspended for repeated violations of our civic integrity policy,'' a Twitter spokesperson confirmed in a brief statement.

Twitter did not clarify which violation was the last straw, as the account seemed to be not very active recently. The conservative publication itself has long faced criticism from the left for pushing ''lies'' and ''conspiracies.''

I don't agree with Twitter banning people for sharing posts with people that chose to follow us...It's not like we're making people who don't follow us read our posts...Twitter's "community guidelines" are a euphemism for censorship

'-- SIGMA ALDO (@HindlesKitchen) February 7, 2021Twitter's recently updated civic integrity policy introduces a system of strikes and increasingly severe punishments, among other things, for pushing ''disputed claims that could undermine faith in the process itself, such as unverified information about election rigging, ballot tampering, vote tallying, or certification of election results.''

That's a full blown banning. Jim Hoft and his team have been among the few in conservative who still have the guts to call out voter fraud.One by one the remaining dissenters will be removed.

'-- JD Rucker (@JDRucker) February 7, 2021''Oh s**t they got my boss,'' journalist and Pundit contributor Cassandra Fairbanks tweeted. In response to 'you're next!' threats, she quipped that from now on she will be careful not to wrongthink and will only tweet the opposite of what she believes.

Liberals are great. Biden won fairly. They totally don't want us all dead.

'-- Cassandra Fairbanks (@CassandraRules) February 6, 2021Liberals celebrated the ban, many openly delighting, while others wondered what took Twitter so long.

Thrilled to see the Gateway Pundit has been suspended.

'-- ðŸ'­ (@samthielman) February 7, 2021Some sought to justify the move, not as the latest act of censorship of conservative voices, but rather a sincere desire by a private corporation to ''limit the spread of dangerous disinformation.''

All of this deleting of accounts by Twitter is troubling, but I understand a private company believing they have an ethical responsibility to try to prevent the spread to millions of the sort of lies that caused the Jan 6 insurrection. @gatewaypundit@CassandraRules

'-- Ross Kaminsky (@Rossputin) February 7, 2021Think your friends would be interested? Share this story!

Red Scare Podcast: Propaganda w/ Mark Crispin Miller

Sun, 07 Feb 2021 12:48

Dec 26, 2020

The ladies talk to Mark Crispin Miller, the NYU professor suinghis colleagues for libel over a classroom masking controversy,about covid heresy, academic freedom, conspiracy theories, EdwardBernays, and the changing face of propaganda in the internetage.

Read and sign Professor Miller's Change.org petitionhere and donate tohisgofundme.

Senior Anti-Marjorie Greene Republican Staffer Arrested for Running Pedophile Ring - News Punch

Sat, 06 Feb 2021 18:58

A senior anti-Marjorie Greene Republican staffer was arrested on Friday by D.C. police for operating a massive pedophile ring.

According to the Metropolitan Police Department, 27 year-old Ruben Verastigui, of Northeast, DC, was arrested on Friday and charged with Distribution of Child Pornography, which included sickening videos of babies being raped.

Per their statement:

Detectives from the Metropolitan Police Department's Youth and Family Services Division, Internet Crimes Against Children Unit, the Northern Virginia Internet Crimes Against Children Task Force, and Homeland Security Investigations announce an arrest has been made in a Distribution of Child Pornography offense that occurred in Washington, DC.

Between March 2020 and February 2021, an investigation revealed the suspect distributed, received and possessed images of child pornography.

On Friday, February 5, 2021, 27 year-old Ruben Verastigui, of Northeast, DC, was arrested and charged with Distribution of Child Pornography.

Ruben A. Verastigui, is currently Communications Manager at Citizens For Responsible Energy Solutions Former Senior Digital Strategist for Senate Republicans and RNC.

We have researched the identity of an individual mentioned to us, who was just arrested in Washington D.C. for child pornography.We have found a unique name and age match in DC, matching a public profile indicating the individual has recently worked as a senior GOP staffer.

'-- An Open Secret (@AnOpenSecret) February 6, 2021Ruben A. Verastigui, 27 of Washington, DC, was arrested and charged with Distribution of Child PornographyVerastigui is currently Communications Manager at Citizens For Responsible Energy Solutions

Former Senior Digital Strategist for Senate Republicans and RNC pic.twitter.com/fHDhjUlmJ0

'-- An Open Secret (@AnOpenSecret) February 6, 2021According to his Instagram, Verastigui was at the White House on Dec 8 and Oct 19 last year.

His last tweet, just hours before his arrest for distribution of child porn, cheered the 11 Republican Congressmen who voted to remove Rep. Marjorie Taylor Greene from committees.

Rockstar list if you ask me. 👏👏👏Now it's the Dems turn to hold their people accountable for their words and actions. https://t.co/bka0gbTC0g

'-- Ruben A. Verastigui (@RubenVerastigui) February 5, 2021Reuben Verastigui said in a group chat that he liked images of babies being sexually abused. ''Babies are some of my biggest turn ons'' he said.

''I have been wanting to see videos of guys hardcore raping a baby,'' he added.

''when a baby screams it's my favorite.''

Reuben A. Verastigui said in a group chat that he liked images of BABIES being sexually abused''babies are some of my biggest turn ons''

''I have been wanting to see videos of guys hardcore raping a baby''

''when a baby screams it's my favorite'' pic.twitter.com/Tgsnr4tryg

'-- An Open Secret (@AnOpenSecret) February 6, 2021Verastigui also requested that someone join him in D.C. to sexually abuse a minor.

Verastigui allegedly requested that someone join him in Washington, D.C., to sexually abuse a minor.''one video file depicts an infant / toddler who is anally raped by an adult male'' pic.twitter.com/5GoWGa83RF

'-- An Open Secret (@AnOpenSecret) February 6, 2021Verastigui was also very active in the pro-life movement.

He worked at multiple pro-life organizations & spoke at the March for Life in 2013.

In what can only be described as a sick and twisted perversionVerastigui was very active in the pro-life movement

He worked at multiple pro-life organizations & spoke at the March for Life in 2013https://t.co/A1GNYqMPAc

'-- An Open Secret (@AnOpenSecret) February 6, 2021
The Millennials

Sofie with an F feedback

Excellent

Just a long-time producer saying, I really enjoyed the Hammer clips, I need to know that shit like that is going on and I wouldn't have even known about that story without John's clips...

BPD

In regard to the note you received from Kate Millenial in Chicago, I recently realized that the explanation for the phenomena she described is that these people are suffering from "borderline personality disorder". I think these points will sound familiar:

- A pattern of intense and unstable relationships with family, friends, and loved ones, often swinging from extreme closeness and love (idealization) to extreme dislike or anger (devaluation)

- Inappropriate, intense anger or problems controlling anger

- Difficulty trusting, which is sometimes accompanied by irrational fear of other people's intentions

I think the explanation for the larger Social Justice Warrior phenomena is that a fault line in the human psyche was found and hammered on by social media, among other techniques. Mental illness was thus weaponized.

https://www.nimh.nih.gov/health/topics/borderline-personality-disorder/index.shtml

Keep up the great work! Your loyal knight... Matt

BDSM

I'd like to make a few comments on John's clips regarding Armie Hammer and cannibalism. My standing on the subject? My wife is a professional dominatrix, and while I'm not a player in the scene, I study and discuss it.

1. Cannibalism is not an un-common kink. A lot of people have it. For the vast majority, elaborate and detailed planning is enough to satisfy them. I suspect that category is where Armie Hammer falls. Others will go as far as simulating with animal flesh. Beyond that, you leave BDSM and enter mental illness.

2. The young women in the clips have no clue what they're talking about. It's so very typical for a young woman to claim to be into BDSM, but then are immediately repulsed by anything beyond rough sex (or what they consider to be rough) and beginners master-slave dynamics.

Rape fantasy is incredibly common for both men and women, so those two being disgusted by it is very telling of their ignorance.

Also, more often than not, it's men who want to be dominated by a woman, so their assertion that women are the victim in smothering/crushing fantasys, as if it's a power play exclusive to men, is not true.

3. John's reaction is classic voyeurism. He's tantalized by the taboo of BDSM, but is too ashamed or scared to act on it. So he watches. And when he shares clips, he may be asking for permission from you to explore the scene in person, as if doing so in the name of the show is rationalization.

80% of my wife's clients are older, married men who have a healthy relationship with their spouse, except they are unable to share their kinks. They may be scared of their wife's reaction, or they tried it together and she just isn't into it. The other clients are younger guys who like being tickled or dominated, and cannot open up with partners because young women will call them pussies. It's actually sad when you think about it.

My wife and I travel to Silicon Valley about four times a year for her work (big surprise, I know), so if John ever wants to research for the show...

Thanks for your time, Adam.

Millennials and phone behavior BOTG

Hey John and Adam

I just want to go ahead and give you my highlight as someone who works with people's phones all day. I'm a wireless specialist for a big tech company and as someone to personally goes through Peoples phones to help transfer their information and get new plans through service providers, I can verify that the information you talked about when it comes to people being addicted to your phone is absolutely true. The addiction to likes, shares, reposts, and everything else is almost maddening. It doesn't surprise me that Sofia is where she is now. She has the looks for someone my age enjoys. I think she can get the information out of people cause she just sits there and listens, and let's their own information flow without fact checks or degrading comments. My generation is all about attention, and by being apart of these movements they get their 15 minutes of fame incredibly easy. Look at bhad bhabie for example, got for to pubically humiliate herself on Dr Phil, made a name for herself then cashed out by being on rap videos you know she never wrote a word of.

I've been doing this job a while and when I transfer information from a person of my age group (25y/o), they definitely have some questionable stuff on there. A lot of the apps they have track a literal ton of what they're doing, where they're going, and how they use their phones, etc, and have no worry in the world cause they honestly think their phone is the most secure in the world. Believe it or not but older men of women of all age groups do have significant ties to being on their phone 24/7. More specifically Facebook. I've had a pair of 60y/o couples say they only trust Facebook as their only source of information. Solely cause I don't want to lose the customers as I am selling them a phone, I tell them there are definitely better alternatives to get important information. One is your podcast, another is Timcast on YouTube, solely cause I know the information they get from Facebook is not relevant or true 90% of the time.

I see this day by day. It's almost saddening cause all my customers get my loyal treatment. Meaning any information that can be snooped or spied on from apps or carriers, I've always turned off. It's always in the setup where they get you. I'm always making sure this stuff is never turned on by default. Tell the producers of the show, if it is read on the show, never let your wireless specialist keep everything turned on! You only ever have to agree to the terms and conditions and privacy policies, anything that says optional or has a slider for uploading information doesn't have to be agreed to when setting up your devices.

Understandably I can be looked at as hypocritical cause of my job, but I've been working on phones since the early days of Android beta, in both hardware and software. Repairs, with small time development, however I what I do because I don't like the way some of these carriers treat their customers to reach quotas.

ANYWAYZZZZZ! Back to listening to the best podcast in the universe, as I haven't finished 1319, just wanted to give my boots on the ground report for something I have active involvement in every single day
SJW

UT apologizes after faculty member writes racist acronym on whiteboard | wbir.com

Sun, 07 Feb 2021 13:07

UT officials said a faculty member wrote a racist acronym on a whiteboard during an Africana Studies class.

KNOXVILLE, Tenn. '-- Officials with the University of Tennessee are apologizing after a faculty member wrote a racist acronym on a whiteboard during an Africana Studies class during a discussion about the complexity of language in the context of race relations.

They said on Thursday that college leadership was talking with students and faculty members about the incident and that they were working to fully understand the situation.

On Wednesday, a student posted a tweet showing the acronym and tagged the University of Tennessee in it.

"Now was this acronym necessary?" the student wrote in the tweet. The lecturer was pictured in front of the acronym wearing a University of Tennessee facemask.

The acronym is also the name of a song by Tupac, a renowned rap artist. Officials said the faculty member has focused their research on Hip Hop and Africana Studies. The class discussion included another one of Tupac's songs.

"The 'take-away' message was not supposed to be the acronym, but the context in which Tupac devised it'--to counteract racially-oppressive acts such as treating people discriminatorily and suppressing their fullest potential," officials said in a release.

Officials with the Africana Studies program also said the lesson was about how complex language can be in any form and the significance of race, politics and cultural appropriation when using language. They said the lesson was rooted in knowledge about the power dynamics of race and the history of race relations.

They said that it would be disingenuous to the body of knowledge in Africana Studies if they did not engage in those concepts.

"People will be unsettled and uncomfortable with the hard truths of our discussions, but we also want to be cognizant and tone-hearing of (re-)traumatization to communities that have faced trauma, over time," officials with the program said in a release.

Officials with the university said that they were still gathering information about the incident and that additional actions could be taken.

Last summer, the University of Tennessee also faced several issues with racist behavior. In June, a student who made a "violent and disturbing racist" video lost their enrollment with the university. That same month, a cheerleader was barred from joining the team after a video of her using racist slurs was posted on Twitter.

And in July a student posted a racist image on Instagram. In the post, they implied that they could use racial slurs because of it. They said they were addressing the image directly with the student involved.

WBIR chose not to show the original tweet due to its sensitive nature.

College and department leadership is actively talking with our students and faculty member about an Africana Studies class in which the faculty member wrote a racially charged acronym on the whiteboard. (1/4)

'-- UT Arts & Sciences (@ArtsSciencesUT) February 4, 2021

It's Official: Linguistic Intent No Longer Matters at The New York Times '' Reason.com

Sun, 07 Feb 2021 12:41

The New York Times on Friday forced out its lead pandemic reporter, 45-year* newsroom veteran Donald McNeil Jr., because the Grey Lady's management, under public pressure from more than 150 employees, decided that when it comes to speaking certain radioactive words, not only does intent not matter, any utterance is potentially a one-strike offense.

"We do not tolerate racist language regardless of intent," Times Executive Editor Dean Baquet and Managing Editor Joe Kahn explained bluntly in a memo Friday.

McNeil, 67, went as a representative of the Times on a 2019 trip with American high school students in Peru. There, according to his farewell note to colleagues'--which, tellingly, was the first time the context of his career-ending comments had ever been reported during the 8-day life cycle of this journalism-world controversy'--McNeil "was asked at dinner by a student whether I thought a classmate of hers should have been suspended for a video she had made as a 12-year-old in which she used a racial slur. To understand what was in the video, I asked if she had called someone else the slur or whether she was rapping or quoting a book title. In asking the question, I used the slur itself."

After receiving complaints back then from at least six parents or students'--one of whom said "He was a racist'....He used the 'N' word, said horrible things about black teenagers, and said white supremacy doesn't exist"'--the Times "conducted a thorough investigation and disciplined Donald for statements and language that had been inappropriate and inconsistent with our values," according to a company statement January 28. "We found he had used bad judgment by repeating a racist slur in the context of a conversation about racist language."

Added Baquet in an internal memo: "During the trip, he made offensive remarks, including repeating a racist word in the context of discussing an incident that involved racist language. When I first heard the story, I was outraged and expected I would fire him. I authorized an investigation and concluded his remarks were offensive and that he showed extremely poor judgment, but that it did not appear to me that his intentions were hateful or malicious. I believe that in such cases people should be told they were wrong and given another chance."

That's what Baquet believed last week, anyway.

This week, the newsroom revolted via a remarkable group letter in which more than 150 staffers at one of the country's leading newspapers argued that word-choice intentions are "irrelevant," because "what matters is how an act makes the victims feel." Signees, declaring themselves "outraged and in pain" and "disrespected," demanded a reinvestigation of the 2019 incident, an apology to the newsroom, and an organizational study into how racial biases affect editorial decisions. They also alleged that the controversy had surfaced new internal complaints about McNeil demonstrating "bias against people of color in his work and in interactions with colleagues over a period of years."

Rather than blanch at that suggested new journalistic standard'--if the paper is no longer recognizing the linguistic use-mention distinction, then all it will take to prompt a vast scrubbing of the archives are enough offended "victims" of articles like these'--The New York Times Company leadership (Baquet, Publisher A.G. Sulzberger, Chief Executive Meredith Kopit Levien) responded to the letter with anguished obsequiousness.

"We welcome this input. We appreciate the spirit in which it was offered and we largely agree with the message," they wrote. "We are determined to learn the right lessons from this incident and take concrete actions to improve our workplace culture, ensure the integrity of our journalism, and examine the way we manage behavioral problems among members of the staff."

The writing was on the wall. And not just for Donald McNeil.

Friday also saw the resignation of Times podcast producer Andy Mills, co-creator of The Daily and producer of the initially acclaimed and then heavily criticized series Caliphate, one of whose central characters turned out to be a probable fabulist. The two personnel cases (which like all personnel cases are very difficult to assess accurately from the outside looking in), while being vastly different in underlying causes, nevertheless contain important overlap and even connective tissue.

After the Times began to distance itself away from Caliphate in December, many journalists inside and outside the newsroom began grumbling that Mills was not being punished enough, especially compared to the series's star reporter, Rukmini Callimachi, who was demoted and subject to a lengthy internal review. There was, critics alleged, a "sexist double standard," made all the more intolerable by a re-popularized 2018 New York magazine article about Mills' aggressive sexual flirtations with colleagues years before at WNYC, for which he had been punished at the time.

In January, more than 20 National Public Radio affiliates signed a joint letter of complaint about The Daily and Mills, citing among a litany of complaints his workplace relationships with women.

It was this months-long controversy, much of it played out on social media, that Dean Baquet was alluding to in his initial responses to the public Donald McNeil revelations. "Some people think we have been too tolerant in disciplining high-profile journalists," he wrote in his January 28 memo. "I also welcome that conversation. Fair treatment has to be the foundation of the diverse and equitable newsroom we are building."

Further connecting the two cases, and perhaps even influencing what was likely an internal Times leak to The Daily Beast about a typically confidential personnel matter, is the fact that McNeil himself starred on The Daily literally the two days before the Beast story ran. Times journalists, reflecting the zeitgeist of modern newsrooms, place an exalted emphasis on the value of their "platforms," and The Daily is among the paper's most prestigious.

"Despite The Times's seeming commitment to diversity and inclusion," Times staffers wrote in their letter, "we have given a prominent platform'--a critical beat covering a pandemic disproportionately affecting people of color'--to someone who chose to use language that is offensive and unacceptable by any newsroom's standards."

Mills in his resignation letter emphasized that his decision was not over the Caliphate controversy, but the way that his past workplace behavior was being re-scrutinized and tendentiously characterized, including publicly by his own colleagues.

"The allegations on Twitter quickly escalated to the point where my actual shortcomings and past mistakes were replaced with gross exaggerations and baseless claims," he maintained. "Several people have even alleged that I am a predator and a dangerous threat to my colleagues. I have been transformed into a symbol of larger societal evils. As a journalist, it has been especially discouraging and upsetting to see fellow journalists make such claims or retweet them'.... As the pressure of this online campaign has grown to encompass some staffers of The Times, it has led to a climate where, even though I still love the mission of this important institution, I feel it is in the best interest of both myself and my team that I leave the company at this time."

McNeil's resignation letter, meanwhile, exudes the unsettling aroma of a struggle session.

"Originally, I thought the context in which I used this ugly word could be defended. I now realize that it cannot," he wrote. "It is deeply offensive and hurtful. The fact that I even thought that I could defend it itself showed extraordinarily bad judgment. For that I apologize'....My lapse of judgment has hurt my colleagues in Science, the hundreds of people who trusted me to work with them closely during this pandemic, the team at 'The Daily' that turned to me during this frightening year, and the whole institution, which put its confidence in me and expected better."

If McNeil thought his prostration would engender grace from his workplace executioners, he was likely mistaken, going by this article from NPR media reporter David Folkenflik:

In each case, however, the actions of Times news leaders appeared to baffle many of their colleagues. For several who spoke to NPR, it was the fact these circumstances were allowed to fester for so long. For others, the reversals defied common sense.

In the words of one knowledgeable Times newsroom staffer, who spoke on condition of anonymity, "two boils were lanced today."

These developments have import far beyond midtown Manhattan. The collapse of the use-mention distinction with certain words (evident in the Times' own pre-firing headline about how McNeil had "used" a "racial slur"), combined with a zero-tolerance approach toward offenders who haven't caught up to the new rules, has been a growing phenomenon in and outside of media for several years now. As I wrote in a 2019 piece,

John Schnatter, the outspoken conservative founder of pizza chain Papa John's, was forced to resign as chairman of his own company in 2018 after vividly describing acts of racist violence during a role-playing exercise that was designed to increase workplace sensitivity. Netflix fired Chief Communications Officer Jonathan Friedland that year not for being a racist, but by using the n-word in a company meeting about what words to avoid. A 23-year-old Chipotle employee named Dominique Moran was fired in late 2018 after a video went viral of her telling two black customers, "You gotta pay 'cause you never have money when you come in." (It turned out later that one of the men indeed specialized in making videos of himself dining and dashing from restaurants, after which Chipotle offered Moran her job back. She declined.)

You can get suspended from university jobs for even saying words that sound like a racial slur, but are not. Placing that level of consequence-heavy fraughtness on speech does not encourage productive conversations about negative collective demonization of certain groups based on their immutable characteristics.

Scores of professional journalists have asserted publicly as a matter of plain fact that Donald McNeil is a "racist," one of the most grave accusations in contemporary life. This is the extent of his bosses' generosity toward his career, after their abrupt, pressure-induced reversal of disciplinary policy: "Donald joined The Times in 1976 and has done much good reporting over four decades. But we feel that this is the next right step."

I have almost never used the N-word in my private life, let alone in my public work. (It is not hard to find video of me on television wincing at its mention.) I do not seethe with even one drop of resentment that it would probably be frowned upon if I walked down the street shouting N.W.A. lyrics. But on those few occasions that I have written the word, it was not to "use a racial slur," it was to highlight the too-common evil of racism in my childhood environment, and to attempt to have an honest conversation about where we are today.

It is gratifying to work for a publication that not only values free speech, but considers the subject a core coverage area. What's truly regretful, even alarming, is that that approach has become the exception, not the rule, in modern journalism.

* (Originally said "45-year".)

Donald McNeil and Andy Mills Leave The New York Times - The New York Times

Sat, 06 Feb 2021 16:07

Donald McNeil, a veteran science reporter, and Andy Mills, who helped make the ''Caliphate'' podcast, were the focus of complaints inside and outside The Times.

Donald G. McNeil Jr., a veteran science correspondent, was the public face of The New York Times's coverage of the coronavirus. Credit... Tony Cenicola/The New York Times Published Feb. 5, 2021 Updated Feb. 6, 2021, 9:50 a.m. ET Two journalists responsible for some of The New York Times's most high-profile work of the last three years have left the paper after their past behavior was criticized inside and outside the organization.

In two memos on Friday afternoon, Dean Baquet, the paper's executive editor, and Joe Kahn, the managing editor, informed the staff of the departures of Donald G. McNeil Jr., a science correspondent who reported on the coronavirus pandemic, and Andy Mills, an audio journalist who helped create ''The Daily'' and was a producer and co-host of ''Caliphate,'' a 2018 podcast that was found to have serious flaws after an internal investigation.

Mr. McNeil, a veteran of The Times who has reported from 60 countries, was an expert guide on a Times-sponsored student trip to Peru in 2019. At least six students or their parents complained about comments he had made, The Daily Beast reported last week. The Times confirmed he used a ''racist slur'' on the trip.

In their memo, Mr. Baquet and Mr. Kahn wrote that Mr. McNeil ''has done much good reporting over four decades'' but added ''that this is the right next step.''

The statement was a turnabout from last week, when Mr. Baquet sent a note to the staff defending his decision to give Mr. McNeil ''another chance.''

''I authorized an investigation and concluded his remarks were offensive and that he showed extremely poor judgment,'' Mr. Baquet wrote, ''but that it did not appear to me that his intentions were hateful or malicious.''

Days after that note, a group of Times staff members sent a letter to the publisher, A.G. Sulzberger, that was critical of the paper's stance on Mr. McNeil. ''Despite The Times's seeming commitment to diversity and inclusion,'' said the letter, which was viewed by a Times reporter, ''we have given a prominent platform '-- a critical beat covering a pandemic disproportionately affecting people of color '-- to someone who chose to use language that is offensive and unacceptable by any newsroom's standards.''

Mr. Sulzberger, Mr. Baquet and Meredith Kopit Levien, the chief executive of The New York Times Company, replied to the group in a letter on Wednesday, saying: ''We welcome this input. We appreciate the spirit in which it was offered and we largely agree with the message.''

In a statement to Times staff on Friday, Mr. McNeil wrote that he had used the slur in a discussion with a student about the suspension of a classmate who had used the term.

''I should not have done that,'' he wrote. ''Originally, I thought the context in which I used this ugly word could be defended. I now realize that it cannot. It is deeply offensive and hurtful.''

Mr. McNeil concluded, ''For offending my colleagues '-- and for anything I've done to hurt The Times, which is an institution I love and whose mission I believe in and try to serve '-- I am sorry. I let you all down.''

The departure of Mr. Mills, the audio journalist, was announced nearly two months after The Times published an editors' note on the mistakes in ''Caliphate.'' The note said the series, about the Islamic State, had put too much credence in the false or exaggerated account of one of its main subjects.

In an interview with Michael Barbaro, the host of the Times podcast ''The Daily,'' Mr. Baquet attributed the show's flaws to ''an institutional failing.'' The editors' note and interview followed a monthslong internal investigation into the ''Caliphate'' reporting.

Image Andy Mills helped create ''The Daily'' and was a producer and co-host of the troubled ''Caliphate'' podcast. Credit... Mike Pont/Getty Images After the correction, people who worked with Mr. Mills in his previous job, at the WNYC show ''Radiolab,'' posted complaints on Twitter about his behavior toward women in the ''Radiolab'' workplace and in social settings.

In February 2018, two months before ''Caliphate'' made its debut, an article in New York Magazine's The Cut on sexual harassment in New York public radio reported that Mr. Mills had been the subject of complaints during his time at ''Radiolab.''

Women interviewed for the article said that he had asked them for dates, given unsolicited back rubs and poured beer on the head of a woman he worked with, and that he had said a woman in the office had been hired over a man because of her gender. WNYC's human resources department investigated Mr. Mills's behavior, The Cut reported, and gave him a warning while allowing him to keep his job. In an interview for The Cut, Mr. Mills admitted to much of the behavior described in WNYC's human resources report.

In an online post on Friday, Mr. Mills said that his departure from The Times did not stem from the problems with ''Caliphate,'' and that leaders at the paper ''did not blame us'' for its flaws.

After the publication of the editors' note, ''another story emerged online: that my lack of punishment came down to entitlement and male privilege,'' he wrote. ''That accusation gave some the opportunity to resurface my past personal conduct.''

He wrote that he had told The Times about his past mistakes when he was hired and had received good reviews for his work at the paper. He also said he received a promotion in December. But in the weeks after the mistakes of ''Caliphate'' were made public, he wrote, the ''allegations on Twitter quickly escalated to the point where my actual shortcomings and past mistakes were replaced with gross exaggerations and baseless claims.''

In the end, ''I feel it is in the best interest of both myself and my team that I leave the company at this time,'' he wrote. ''I do this with no joy and a heavy heart.''
Build Back Better

Amsterdam to move its famed Red Light District in tourism 'reset'

Sun, 07 Feb 2021 14:21

Advertiser Disclosure

Many of the credit card offers that appear on the website are from credit card companies from which ThePointsGuy.com receives compensation. This compensation may impact how and where products appear on this site (including, for example, the order in which they appear). This site does not include all credit card companies or all available credit card offers. Please view our advertising policy page for more information.

Editorial Note: Opinions expressed here are the author's alone, not those of any bank, credit card issuer, airlines or hotel chain, and have not been reviewed, approved or otherwise endorsed by any of these entities.

Off-road, off-grid: the modern nomads wandering America's back country | Life and style | The Guardian

Sun, 07 Feb 2021 14:21

If you look closely on city streets, campgrounds and stretches of desert run by the Bureau of Land Management, you'll see more Americans living in vehicles than ever before. It was never their plan.

''I wasn't prepared when I had to move into my SUV. The transmission was going. I had no money saved. I was really scared,'' said April Craren, 52, bundled in blankets atop a cot inside her new minivan, a 2003 Toyota Sienna.

She flipped the camera on her phone to show me the camp stove she uses to make coffee and her view of the sun rising over the Colorado River. She has no toilet, shower or refrigeration.

After separating from her husband, April found herself homeless in June 2020, exacerbating the depressive disorder for which she receives $1,100 a month in disability benefits.

''I could have gotten an apartment but in a crappy unsafe place with no money to do anything at all,'' she explained.

Last year, where April lived in Nixa, Missouri, the average rent for an apartment was $762, slightly less than the national average. Like nearly half of American renters, she would have been crippled by the cost.

April and Cliff, a veteran nomad, camped next to each other on Bureau of Land Management lands. Photograph: April CrarenIt's not surprising, then, that job loss, divorce or, say, the sudden onset of a global health or financial crisis can push so many over the edge.

''If the Great Recession was a crack in the system, Covid and climate change will be the chasm,'' says Bob Wells, 65, the nomad who plays himself in the film Nomadland, an early Oscar contender starring Frances McDormand. Bob helped April to adopt the nomad way of life and change her life in the process.

Today, he lives exclusively on public lands in his GMC Savana fitted with 400 watts of solar power and a 12-volt refrigerator. His life mission is to promote nomadic tribalism in a car, van or RV as a way to prevent homelessness and live more sustainably.

'''

Before becoming a nomad in 1995, Bob lived in Anchorage, Alaska, with his wife and two boys. He worked as a union clerk at the same Safeway where his father had worked until retirement, only to die two years later.

Bob didn't want his father's fate, but there he was. As days became decades, he went to a job he hated, worked with people he didn't like, to buy things he didn't want. By his own telling, he was the living embodiment of Thoreau's ''quiet desperation''. He knew he wasn't happy, but it never occurred to him to live differently.

After all, this was the American dream, right?

Then, when he was 40 years old, the divorce happened. After paying alimony and child support, he was taking home $1,200 a month, $800 of which went towards rent.

Bob Wells: by his own telling, he was the living embodiment of Thoreau's 'quiet desperation'. Photograph: Bob WellsOne day, fretting about impossible finances, he saw a green box van for sale and thought: ''Why don't I buy that van and move into it?'' The idea struck him as crazy, but with the prospect of homelessness closing in, he drained the last $1,500 in his savings account and bought the van that was just ''too ratty-looking'' for its previous owner. He gave his landlord notice that night, threw a sleeping pad in the back of his new home, and cried himself to sleep.

Then came the first of the month, and something clicked: he didn't have to pay rent. As his finances improved, he installed insulation, a proper bed, even a dream-come-true PlayStation fortress for his boys. He started working only 32 hours a week, and since every weekend was a three-day weekend, he spent more time camping with his kids, which ''tremendously helped'' his mental outlook on life.

Finally, he was truly happy.

Realizing he had something valuable to share, he bought the domain name Cheap RV Living in 2005. He posted tips and tricks about better vehicle-dwelling, but what he was really offering was a road map to a better life.

Four years later, when close to 10 million Americans were displaced after the Great Recession, traffic to his site exploded. Finding himself at the center of a growing online community, he decided to create a meet-up in Quartzsite, Arizona. He dubbed it the Rubber Tramp Rendezvous (RTR), and in January 2011, 45 vehicles showed up. Eight years later, an estimated 10,000 vehicles convened for what was said to be the largest nomad gathering in the world.

The event's explosive growth is undoubtedly a reflection of America's increasing interest in van life as an answer to the affordable housing crisis, an idea made accessible by Bob on his YouTube channel, also named Cheap RV Living, created in 2015.

Whether he's sharing a philosophical exploration, as in Why I Live in a Van, or explaining the mechanics of Pooping in a Car, Van, or RV, Bob's videos are a prized free resource, making him a beloved celebrity in the nomad community. With 460,000 subscribers, the videos are also making him money via ad and affiliate sales. His most popular video, Living in a Car on $800 a month, has more than 4m views.

Fame, however, isn't Bob's jam. He doesn't like the term ''follower'' and definitely doesn't want to be thought of as a guru. Rather, he's driven by a quieter demon-cum-angel. After the devastating loss of his eldest son in 2011, he was plagued by despair and, for the first time, suicidal thoughts.

''Why am I alive when my son isn't?'' he asked himself obsessively.

With a desperate plea to a higher power, he finally found the will to bear the pain by being of service and building a community.

''If I'm going to be alive, there'd better be a reason, and this is the reason. You are the reason,'' he said to a crowd at the RTR in 2020, in what was published later as a video about mental illness for his online audience.

The culmination of this drive to serve is the Home on Wheels Alliance (Howa), a charitable 501(c)(3) non-profit he founded in 2018. With the help of his team and volunteers, Bob helps advance clients who are being squeezed out of traditional housing from a state of crisis to financial stability to finally being contributing members of the mobile community.

To date, funded by sponsors and donations, Howa has given away seven minivans, two trailers, one skoolie (a converted school bus) and too many tents, brake pads and tires to count.

April had been watching Bob's videos for years when a nomad friend online suggested she apply to Howa for assistance.

''That's really for someone more needy,'' she replied.

April's car. Photograph: April CrarenAt the time, she was living in her car with the faulty transmission.

''I don't know, April, you're pretty needy,'' her friend prodded.

April conceded and applied.

''When I found out I was awarded the minivan, that changed everything,'' she said.

To join Howa's program, April had to sign a three-year contract, prove she had sufficient income to regularly maintain her vehicle, and agree to put $200 a month in an escrow account until she reached the value of the minivan, after which the vehicle title and escrow account would be released to her.

''Most of Howa's applicants are older women. They're disabled, or retired and divorced without sufficient SSI [supplemental security income] because they were homemakers, or simply don't earn enough to afford rent,'' Bob explained.

By learning to save money and live rent-free in their vehicles, Howa's clients preserve their independence, self-sufficiency and dignity while also making friends within the larger nomad community.

'''

Today, April camps on public land alongside Cliff, a veteran nomad and Howa volunteer. Together, they make runs to a nearby laundromat, grocery store and gym where she works out and showers. She's lost 20lb and feels healthier, thanks to eating fresh foods at Cliff's urging and living a more active outdoor lifestyle.

''I'm not just surviving, I'm thriving,'' she said.

After Covid, she'd like to volunteer and join a caravan, a popular program Howa organized to help nomads stay safe and fend off loneliness. Howa vets establish camping locations and then members use Meetup to learn where groups are headed. Some caravans are small, while others have gotten as big as 45 rigs.

''I heard it's like a party,'' April chirped.

Expecting homelessness to continue rising, in part due to climate disaster, Bob's dream for the tribe is to see the expansion of Long-Term Visitor Land (LTVA), including areas in national forests. Most public lands allow visitors to camp for only two weeks, but LTVA campers can stay for as long as seven months. These campgrounds don't offer hookups '' most nomads use solar power, anyway '' though a few do have dump stations and fresh water.

''Thousands of nomads could winter in the south and summer in the forest for longer stretches of time,'' he explained.

While Bob concedes the limits of his solution '' it doesn't address PTSD, mental illness or drug addiction, three main causes of homelessness '' he does see it as a way to lower our carbon footprint and make ourselves more financially resilient in trying times ahead.

''I want to leave a world behind that's habitable. For every person I'm able to help into a vehicle, that's one less person in a house,'' he reasoned.

Greta Thunberg Triggers Criminal Investigation In India After Twitter Debacle | ZeroHedge

Sat, 06 Feb 2021 17:04

Environmental activist Greta Thunberg sparked a criminal police investigation in India after she accidentally tweeted - and quickly deleted - a cheat-sheet of "Suggested Posts" regarding the ongoing violent farmers' revolt, according to the NY Post, while the list was archived by Breaking 911.

Teenage climate activist Greta Thunberg posted a document to Twitter containing tweets that she was told to post and actions she should take regarding the current protests in India. She quickly deleted the tweet. pic.twitter.com/ruEfp4Ypg1

'-- Breaking911 (@Breaking911) February 3, 2021The "toolkit" of suggested content gave a series of tips on what to post, and asks the 18-year-old Thunberg to repost and tag celebrities - including pop star Rihanna.

why aren't we talking about this?! #FarmersProtest https://t.co/obmIlXhK9S

'-- Rihanna (@rihanna) February 2, 2021The "toolkit" also shared and suggested publicizing planned demonstrations at Indian embassies.

The campaign material and social media template was created by Canada's Poetic Justice Foundation, which claims to be a grassroots group creating ''events to provoke, challenge and disrupt systemic inequities and biases,'' Times Now said. The group's website confirms it is ''most actively involved in the #FarmersProtest.''

The group then shared to Facebook a series of screenshots of the posts it appears to have gotten celebrities to share. -NY Post

After deleting the original "toolkit," Thunberg then shared a supposedly newer version along with the message "We stand in solidarity with the #FarmersProtest in India."

Tens of thousands of farmers have gathered at the fringes of India's capital to protest new agricultural laws which they say strip them of income and at the mercy of corporations. On Jan. 26, India's Republic Day, the farmers led a violent clash where hundreds of police officers were injured and a protester died. Several farmers were also injured.

Indian officials are not happy.

In a rare statement, India's foreign ministry accused "foreign individuals" and celebrities of "sensationalism" and "trying to enforce their agenda," while Deli police on Thursday confirmed that a criminal case had been launched against the creators of the "Toolkit document" shared by Thunberg.

"The call was to wage economic, social, cultural and regional war against India," said police of the activists.

The force filed a First Information Report (FIR) '-- a preliminary formal investigation '-- with a specialist cyber-crimes squad leading the investigation, according to NDTV.

Numerous Indian newspapers and TV stations initially reported that a FIR had also been filed against Thunberg herself. However, Delhi Special Commissioner of Police Praveer Ranjan later clarified that nobody had been identified and that the probe was looking into those behind the toolkit, Indian news agency ANI said. -NY Post

The official investigation is focusing on the 'spreading of disaffection' against the Indian government, promoting hatred and criminal conspiracy.

According to VK Singh, a government minister, Thunberg's deleted tweet "revealed the real designs of a conspiracy at an international level against India."

."Instructions were laid out clearly as to the 'how', 'when' and 'what,'" wrote Singh, who added "Conspiracies at this scale often get exposed and ultimately it took the hasty tweet of Greta, who with other international celebrities suddenly turned sensitive towards farmer issues."

The conspiracy against India lies exposed. This needs to be investigated and the guilty should be held accountable.#IndiaAgainstPropaganda #IndiaTogether #TheEnemyWithin #AxisOfEvil #GenerallySaying pic.twitter.com/8JJ8J3MqlJ

'-- Vijay Kumar Singh (@Gen_VKSingh) February 4, 2021Bollywood actors are now telling Thunberg and Rihanna to mind their own business - with actress Kangana Ranaut calling the farmers "terrorists," and Rihanna a "fool" for asking her 100 million Twitter followers: "Why aren't we talking about this?"

On Thursday morning, Thunberg tweeted "I still #StandWithFarmers and support their peaceful protest," adding "No amount of hate, threats or violations of human rights will ever change that.''

I still #StandWithFarmers and support their peaceful protest.No amount of hate, threats or violations of human rights will ever change that. #FarmersProtest

'-- Greta Thunberg (@GretaThunberg) February 4, 2021We wonder if the creators of the toolkit she instigated a criminal investigation against have the luxury of such open defiance.
Farmer Protests

Indian Farmers protest BOTG

The short of it is that the economy is screwed and Modi is selling the country to big business.

I'll try to be brief.

Farmers in India get or are supposed to get an MSP (minimum support price) for certain essential crops. Hence it is the minimum price at which the government will buy the produce, at government buying centres, if no one else buys it.

This is to support farmers as 70% of farmers have land sizes less than 3 acres and are very very very poor.

Unfortunately, the farmers never get even the MSP and constantly are in loss and in debt and are committing suicide.

The government forced 3 laws through our legislature without proper voting in September 2020, in the middle of the pandemic, surprise surprise!

These laws basically allow big Corporations to setup these buying centres where they can buy farm produce, but without taxes. So government buying centre levy taxes and corporate centre do not.

The farmers fear that in the long run this will make the government buying centers with their MSP, obsolete. Why would anyone not go to the tax free market.

Eventually there will be no other place to sell for the farmers except to corporations. Once this happens then the big corporations will start deciding prices and screwing the farmers.

This is further made worse as the laws also now allow hoarding of corps, which was not allowed previously. So the corporations can buy cheap from the farmers, hoard the crop and drive up prices then sell at higher prices.

So the farmers demands are simple. Repeal these laws. They want a law on MSP. No one should be able to buy at a price lower than the Minimum Support price.

The government continues to assure farmers that MSP will continue but refuses to put in writing.

There are other issues to with the law such as absolutely no legal recourse for farmers in case a contract with the corporations is broken. How can that be law?!?

It's complicated but the famers have literally set up homes at the protest sites. They will not move till they get these laws reversed. They are there in the hundred thousands.

You might read in the news that it's only some rich farmers or only farmers from a state in India, Punjab that are against these laws ... firstly, that is bullshit and secondly the reason the people from Punjab are leading this protest cuz they are the only state that made the MSP system work well and got decent prices. The rest of the farmers don't even get half the MSP.

These laws will destroy agriculture in the country and make the poor, poorer and the rich, richer.

Again it's the same theme, the country will be run by 2 or 3 giant corporations. Fuck that shit!

If you need more info I can share talks on the laws by prominent Indian journalists.

Love the show, you guys are legends.

Thanks
OTG

Google Reverses Course In Australia - Opens Paid Platform For (Some) Australian News | ZeroHedge

Sun, 07 Feb 2021 13:54

The Australian government has possibly obtained a rare, partial victory in its standoff with Google. The US-based tech giant has appeared to reverse course as Australia holds hearings aimed at enacting legislation that would effectively force Google to pay local sources for news it links to and features in its search engine.

Google last month threatened to pull its search engine off the continent altogether, with Canberra counter-threatening that they won't budge. But on Thursday Google made the following official announcement: "To meet growing reader and publisher needs, last year we increased our investment in news partnerships and launched Google News Showcase."

The 'Showcase' app is the result of the company negotiating to pay some Australian news producers who sign up for the program. It's an attempt to undercut legislation being proposed to require the company to pay for all such content. It's not likely to stop the new legislation, however, but Google is offering it as an 'alternative'. The move shows that the tech giant is arguably feeling the pressure and is looking to compromise.

Image via Search Engine Roundtable The Google announcement continued, "Today we are happy to announce we are rolling out an initial version of the product to benefit users and publishers in Australia, with a keen focus on leading regional and independent publishers given the importance of local information and the role it plays in people's everyday lives."

"News Showcase is designed to bring value to both publishers and readers by providing a licensing program that pays publishers to curate content for story panels across Google services, and gives readers more insights into the stories that matter," it said.

While the details have yet to be revealed, for example just which publishers will eventually be enabled to join the platform, it's being reported as a significant compromise which is likely to first reward major national Australian outlets, as Reuters details:

With the legislation now before a parliamentary inquiry, Friday's launch of News Showcase in Australia will see it pay seven domestic outlets, including the Canberra Times, to use their content.

Financial details of the content deals weren't disclosed, and Canberra Times publisher Australian Community Media didn't immediately respond to a request for comment.

The months in the making Australian initiative seeks to ensure companies and content providers are compensated fairly for the value their content generates for Google and parent company Alphabet Inc. at a moment the domestic industry is in crisis, with traditional newspapers and content producers under threat of having to shut down altogether.

WATCH: As Google considers pulling out of Australia due to a recent legal tussle with the government, companies are looking at how to reshape their online business models to survive https://t.co/ySzE4cTLCX $GOOGL pic.twitter.com/BKxfOxzWXh

'-- Reuters India (@ReutersIndia) February 4, 2021Last month Australia Prime Minister Scott Morrison hit back in the wake of the threatened Google shutdown in the country, saying, "We don't respond to threats." He added at the time: "Let me be clear. Australia makes our rules for things you can do in Australia."

It's commonly estimated that Alphabet Inc. oversees at least 94% of all search traffic in Australia, similar to many other countries globally, at a time it's coming under increased accusations of using its monopoly power to bully content providers and smaller competitors.

Now It's The Democrats Turn To Destroy The Open Internet: Mark Warner's 230 Reform Bill Is A Dumpster Fire Of Cluelessness | Techdirt

Sun, 07 Feb 2021 12:44

from the what-the-fuck-is-this-I-don't-even... deptFor the past few months we've been seeing a ton of terrible/ridiculous/awful/unconstitutional bills coming from mostly Republicans to try to wipe out or undermine Section 230. Most of those were focused on trying to force websites to do less content moderation. Now that the Democrats are back in power, it appears we're going to be getting the opposite. Senator Mark Warner has introduced his new Section 230 reform bill, called the SAFE TECH Act ("Safeguarding Against Fraud, Exploitation, Threats, Extremism, and Consumer Harms Act" co-sponsored by Senators Mazie Hirono and Amy Klobuchar), and it is one of the worst Section 230 bills I've seen. It is difficult to explain just how bad this bill is concisely, because it has so many bad ideas crammed into one single bill. It's as if none of these three Senators or their staff spoke to anyone who actually understands how the internet works, or how content moderation/trust and safety works. It's stunning in the ignorance it displays.

About the only good thing I'll say about it, is that (unlike most bills) at least Warner released a redline version to show how it would actually (massively) change Section 230. He also put out an incredibly disingenuous FAQ that flat out lies about... nearly everything. We'll go through that in a bit.

Basically, this bill takes nearly every single idea that people who want there to be less speech online have had, and dumped it all into one bill. There's a lot in there, and nearly all of it is bad. Last week I wrote about a draft bill in the House that suggested carving out civil rights law from Section 230. In my analysis of that bill, I noted that it appeared to come from a well meaning place, but was simply misguided. This bill, which also includes a carveout for civil rights law, does not come from a well meaning place. The drafters of the bill are either malicious or ignorant. It's not a good look for Senators Warner, Hirono, and Klobuchar.

A key thing to recognize is that it's obvious that the drafters of this bill believe the myth that 230 protects "big" tech companies. The bill is written as if it is only talking about Facebook, YouTube, and Twitter. Warner handwaves away the idea that the bill would destroy smaller companies in his announcement by ridiculously (and against all evidence to the contrary) saying that startups are too small to sue, so it would only be used against larger companies.

The most devious and nefarious part of this is that the bill effectively wipes out Section 230 protections for the entire internet while pretending it's just a minor change. This bill is about as close to a full repeal of Section 230 as you can get realistically. In the press release about the bill, Warner claims that it's just a tweak to 230 because "these changes to Section 230 do not guarantee that platforms will be held liable in all, or even most, cases," but that would also be true with repeal. Because most things that people want to blame on internet websites are not actually violations of the law. And, assuming a form of distributor liability is what the courts decide on, that would mean websites wouldn't be liable for most things on their site anyway -- but would result in long and costly legal battles before they could prove that.

And this bill guarantees the same exact thing. The biggest, most consequential change, is that it takes the famous "26 words," which are Section (c)(1) of the current law, removes the protections entirely if money exchanges hands, and then changes it from an immunity to merely "an affirmative defense." That may not seem like much, but it basically wipes out all of the actual benefits of 230.

Saying that you don't get (c)(1) if money exchanges hands, basically wipes out Section 230 for many, many services. All web hosting would no longer be protected by Section 230. If, as many people have been demanding, social media offers up paid options (say, to remove ads), doing so would remove their 230 protections. Incredibly, this bill is coming from the same people who have been saying that Facebook and Twitter should offer a "paid version" without ads or tracking -- but, under this bill, if they do that, they'd lose 230! Incredibly, under this bill, the two cases that inspired Section 230 -- the CompuServe case and the Prodigy case -- would not be eligible for 230 protections, because both were paid services!

The switch from (c)(1) being an immunity to being "an affirmative defense" in which the website "has a burden of proving by a preponderance of the evidence" basically erases the key procedural benefits of Section 230 -- which is that it gets cases tossed right up front. This gets somewhat deep in the weeds of civil procedure, but having (c)(1) as an immunity allows companies to file a relatively straightforward motion to dismiss upfront, without having to do a lot of expensive legal work, and argue that, because of 230, there is no legitimate claim in the complaint, even if everything in that complaint is accurate. This is the key benefit of 230 in protecting websites.

But by making it an affirmative defense, which the website has to prove by a preponderance of evidence, you've just made everything a lot more expensive and it will take a lot longer to deal with. Not only are you going to have to pay a lot of expensive lawyers a lot more money to make a preponderance of the evidence claim, many courts find that such determinations are issues of fact, not law, meaning that they need to go to a jury. If a case goes to trial and has a jury, you're talking about it costing at least a million dollars for any company, and probably a lot more.

This wipes out the entire benefit of Section 230 by itself. Most companies, of course, will then try to avoid just having to face this by quickly taking down anything even remotely questionable or anything that people complain about. And they'll still get sued. This bill would absolutely destroy most of the open web.

The second massive change, is that it would exclude Section 230 entirely from "injunctive relief" claims for failing to remove "harmful" content. In other words, this would allow a bevy of lawsuits from people who just want something taken offline (and aren't asking for monetary damages), that they will claim creates "harm" to them, and the websites can no longer respond with 230. While supporters of this bill might argue that filing such a lawsuit alone would be expensive, so this wouldn't be abused, that ignores how frequently we've seen especially the rich and powerful try to use any legal means possible to remove content they dislike from the internet. This clause is like a free shot for the rich and powerful to silence criticism. It's like a pro-SLAPP clause!

The bill then adds a bunch of other carveouts from 230: civil rights law, antitrust, harassment, stalking, human rights law and wrongful death. As we already discussed, while it may sound good to say this can't be used to block civil rights cases, in actual practice a bunch of recent "civil rights" cases have involved white supremacists, out-and-out misogynists, and other terrible people claiming that their civil rights were violated by being kicked off of platforms. Enabling such lawsuits seems incredibly short sighted.

This bill is dangerous.

And what's truly obnoxious about it is that in the FAQ about it, Mark Warner pretends otherwise.

Q: Won't removing Section 230 immunity bring back the perverseincentive structure Section 230 was meant to address and actually lead toless content moderation?

A: No. Section 230 effectively cut off the development of case law for the past25 years based on the flawed reasoning of a single state court judge. By peelingback Section 230 immunity for particularly serious harms'--such as civil rightsviolations, stalking, and harassment'--internet platforms will be incentivized toramp up their address problems in these areas, problems that have otherwisebeen allowed to fester and grow without exposure to potential liability. Thesereforms do not render ICS providers liable for all '' or even most '' third-partycontent, including where they engage in moderation activity. Nor do these reformsalter the already-steep hill plaintiffs must already climb. Rather, these reformsallow victims an opportunity to seek redress where they can potentially show thata platform has directly contributed to their injury.

This is magic wand thinking. Oh, if we just make websites potentially liable for what people do on them, won't the websites magically fix these societal level problems? No, that's not what happens. Instead, smaller websites decide it's not worth the hassle at all and stop accepting 3rd party content, and larger companies just get more aggressive in policing all sorts of protected speech. Would a "#MeToo" situation ever be allowed to happen if this law was in place? No fucking way. Harvey Weinstein and all sorts of powerful rich men would sue the shit out of Facebook and Twitter to stop that.

The final sentence above is the most pernicious of all. Section 230 already does not apply if the platform contributed to the injury. It already doesn't apply if the platform helped to create the injurious content. What this bill does is not allow for that which is already allowed. It completely wipes most 230 protections off the map.

Q: Will making internet platforms liable for third-party content leadinternet platforms to overreach in their content moderation efforts therebychilling speech from the very groups you're looking to protect?

A: No. The SAFE TECH Act was developed in partnership with, and has thestrong support of, a wide array of civil rights groups. We need to recognize thatthreats, harassment, and targeted intimidation silence the voices of far too manyracial minorities, women, and other marginalized groups by driving them fromsocial media and other online platforms. Under the status quo, platforms havebeen able to ignore these harms '' even where their continued inaction, and eventheir product design, contributes to these injustices. As these online harms spreadto the real world'--in places like Charlottesville, Kenosha, and at the U.S.Capitol'--their negative impact has only become more unmistakable. The SAFETECH Act simply allows victims an opportunity to hold platforms accountablewhen their deliberate inaction or product design decisions produce real-worldharm, making the online world a more open and welcoming environment for all toparticipate.

What?!? Note that they don't say that the bill was developed with actual content moderation experts. To say that this wouldn't be used to stifle and chill speech from vulnerable groups and people is ludicrous. Of course it will. Everything about the bill is designed in a way that opens it up to abuse by the rich, powerful and privileged. Everything about the bill allows them to file costly lawsuits (or threaten to do so) and pressure websites to pull down all sorts of criticism.

That Warner and his co-sponsors deny this suggests that they have absolutely no understanding about how any of this works.

Q: Will exposing small tech companies and startups to liability andincreased litigation costs drive them out of business and simply entrenchthe dominant player (e.g., Google, Facebook)?

A: This concern is gravely exaggerated. As an initial matter, smaller players donot have the reach of the Googles and Facebooks of the world and, as a result,are less likely to cause significant harm. Moreover, potential plaintiffs are unlikelyto bring an action against a small tech company or startups out of fear being ableto collect sufficient damages to make the effort and cost of litigation worthwhile.Indeed, in many cases plaintiffs' attorneys would not even take these cases giventhe low likelihood of meaningful damages. In addition, a string of judicial decisionson standing requirements over the last 10 years, along with a range of tort reformsenacted by state legislatures (including anti-SLAPP laws to penalize frivolous orbad faith lawsuits), have significantly altered the legal landscape since Section230 was enacted in 1996.

More importantly, things like protecting civil rights and preventing harassmentshould be built into internet platforms by design. Today's online giants claim thattheir massive scale makes it too difficult to effectively moderate content '' a socialcost borne by users and vulnerable communities. Had these companies beenexposed to potential liability from their inception, in many cases they would havedesigned their platforms

This is... again... completely disconnected from reality. There are so many stories of smaller platforms being sued for 3rd party speech. Hell, I was sued for third party speech and protected by 230. Under this bill, that case would have been a lot more expensive and almost certainly would have bankrupted us. Many of these lawsuits are not about "collecting sufficient damages" but about forcing the small tech company or startup to have to waste all their money on the lawsuit. How disconnected from reality are these Senators?

And, sure, it might not be as bad if there were strong anti-SLAPP laws in every state and a strong federal anti-SLAPP law, but we don't have that. In fact, many courts won't even apply state anti-SLAPP laws in federal court. At best, I'd say maybe 20% of cases that should be protected by anti-SLAPP laws have access to them. So to say "oh, no big deal, anti-SLAPP will cover it" is again nonsense.

That final paragraph is also completely disconnected from reality. This country has spent decades trying to solve for systemic racism and civil rights violations, and we're still failing. The government has failed in so many ways on this, and now Warner's saying "oh, tech companies can magically solve this if only they could be sued." This is fantasy land thinking.

Q: What is the scope of the carve-out for paid content? Does it coveranything beyond paid advertisements?

A: The SAFE TECH Act makes clear that Section 230 immunity does not applyto any paid content. This would include advertisements as well as things likemarketplace listings.

Uh, no. From the language of the bill itself, it says:

"... except to the extent the provider or user hasaccepted payment to make the speech available..."

That certainly looks like it applies to all paid content. And, even worse, to things like web hosting. Or if Facebook or Twitter ever offered accounts where you pay to remove ads. Or, hell, to us on Techdirt, where some of our community have paid to support us, and we provide them extra features. Based on this, if any of our financial supporters (a key source of revenue for us) says anything that we get sued over, we can no longer claim 230 protections against it. That's ludicrous. Not only would we have to shut down our comments, we'd likely be unable to let people support us directly any more (meaning we'd likely shut down entirely).

Q: Will the SAFE TECH Act break the internet?

A: No! The internet was a far different place when Section 230 was passed.The scope, influence, and impact of modern internet platforms were unimaginablein 1996. Like all regulation, Section 230 must be updated to address the currentstate of affairs '' including the unintended consequences of the law. The SAFETECH Act brings Section 230 into the modern age by addressing those areas inwhich the law has been abused by platforms'--such as civil rights, stalking, andharassment'--in a targeted way. It is also important to remember, that even withthe changes proposed in the SAFE TECH Act, Section 230 does not imposeliability on anyone. There must still be a violation of some law and plaintiffs muststill prove causation, harm, and damages. And the application of that law to aninternet platform still cannot run afoul of the First Amendment.

To say this after misunderstanding (1) how content moderation works, (2) how civil liability works, and (3) the nature of vexatious lawsuits works... is just astounding. This bill would absolutely gut much of the internet. Smaller websites would likely have to shut down key services (and may have to shut down entirely). A massive wave of ambulance chasing, SLAPP suits would come next. Trolls and racists would flip the law on its head to sue companies. This would be an utter disaster.

And tragically, reporters are falling for Warner's framing. The Washington Post's article on this claims that the bill "preserves the thrust of Section 230." It absolutely does no such thing. It guts every bit of 230 to its core.

Thank you for reading this Techdirt post. With so many things competing for everyone's attention these days, we really appreciate you giving us your time. We work hard every day to put quality content out there for our community.

Techdirt is one of the few remaining truly independent media outlets. We do not have a giant corporation behind us, and we rely heavily on our community to support us, in an age when advertisers are increasingly uninterested in sponsoring small, independent sites '-- especially a site like ours that is unwilling to pull punches in its reporting and analysis.

While other websites have resorted to paywalls, registration requirements, and increasingly annoying/intrusive advertising, we have always kept Techdirt open and available to anyone. But in order to continue doing so, we need your support. We offer a variety of ways for our readers to support us, from direct donations to special subscriptions and cool merchandise '-- and every little bit helps. Thank you.

''The Techdirt Team

Filed Under: affirmative defense, amy klobuchar, antitrust, civil rights, mark warner, mazie hirono, preponderance of the evidence, section 230

Opinion | They Stormed the Capitol. Their Apps Tracked Them. - The New York Times

Sat, 06 Feb 2021 16:11

In 2019, a source came to us with a digital file containing the precise locations of more than 12 million individual smartphones for several months in 2016 and 2017. The data is supposed to be anonymous, but it isn't. We found celebrities, Pentagon officials and average Americans.

It became clear that this data '-- collected by smartphone apps and then fed into a dizzyingly complex digital advertising ecosystem '-- was a liability to national security, to free assembly and to citizens living mundane lives. It provided an intimate record of people whether they were visiting drug treatment centers, strip clubs, casinos, abortion clinics or places of worship.

Surrendering our privacy to the government would be foolish enough. But what is more insidious is the Faustian bargain made with the marketing industry, which turns every location ping into currency as it is bought and sold in the marketplace of surveillance advertising.

Now, one year later, we're in a very similar position. But it's far worse.

A source has provided another data set, this time following the smartphones of thousands of Trump supporters, rioters and passers-by in Washington, D.C., on January 6, as Donald Trump's political rally turned into a violent insurrection. At least five people died because of the riot at the Capitol. Key to bringing the mob to justice has been the event's digital detritus: location data, geotagged photos, facial recognition, surveillance cameras and crowdsourcing.

From Trump's Rally to Congress This time-lapse animation shows smartphones as they moved from Donald Trump's rally to the Capitol.White House

WASHINGTON, D.C.

Rally Stage

U.S. Capitol

Trump supporters

attend the rally

Trump supporters

attend the protest

WASHINGTON, D.C.

N

U.S. Capitol

Satellite Imagery: Microsoft Corporation, Maxar.

The sacking of the Capitol was a shocking assault on the republic and an unwelcome reminder of the fragility of American democracy. But history reminds us that sudden events '-- Pearl Harbor, the Soviet Union testing an atomic bomb, the Sept. 11 attacks '-- have led to an overreach in favor of collective security over individual liberty that we'd later regret. And more generally, the data collected on Jan. 6 is a demonstration of the looming threat to our liberties posed by a surveillance economy that monetizes the movements of the righteous and the wicked alike.

The data we were given showed what some in the tech industry might call a God-view vantage of that dark day. It included about 100,000 location pings for thousands of smartphones, revealing around 130 devices inside the Capitol exactly when Trump supporters were storming the building. Times Opinion is only publishing the names of people who gave their permission to be quoted in this article.

About 40 percent of the phones tracked near the rally stage on the National Mall during the speeches were also found in and around the Capitol during the siege '-- a clear link between those who'd listened to the president and his allies and then marched on the building.

While there were no names or phone numbers in the data, we were once again able to connect dozens of devices to their owners, tying anonymous locations back to names, home addresses, social networks and phone numbers of people in attendance. In one instance, three members of a single family were tracked in the data.

The source shared this information, in part, because the individual was outraged by the events of Jan. 6. The source wanted answers, accountability, justice. The person was also deeply concerned about the privacy implications of this surreptitious data collection. Not just that it happens, but also that most consumers don't know it is being collected and it is insecure and vulnerable to law enforcement as well as bad actors '-- or an online mob '-- who might use it to inflict harm on innocent people. (The source asked to remain anonymous because the person was not authorized to share the data and could face severe penalties for doing so.)

''What if instead of going to you, I wanted to publish it myself?'' the source told us. ''What if I were vengeful? There's nothing preventing me from doing that. It's totally available. If I had different motives, all it would take is a few clicks, and everyone could see it.''

There is an argument to be made that this data could be properly used by law enforcement through courts, warrants and subpoenas. We used it ourselves as a journalistic tool to bring you this article. But to think that the information will be used against individuals only if they've broken the law is na¯ve; such data is collected and remains vulnerable to use and abuse whether people gather in support of an insurrection or they justly protest police violence, as happened in cities across America last summer.

The data presented here is a bird's-eye view of an event that posed a clear and grave threat to our democracy. But it tells a second story as well: One of a broken, surreptitious industry in desperate need of regulation, and of a tacit agreement we've entered into that threatens our individual privacy. None of this data should ever have been collected.

This is Ronnie Vincent.

We traced a phone inside the Capitol to Mr. Vincent's home in Kentucky. Confirming his identity led us to his Facebook page, where we found a few photos of him standing on the steps of the building during the siege. Another photo shows a crowd standing in front of the Capitol, its doors wide open.

A phone ''ping'' tied

to Ronnie Vincent

A phone ''ping'' tied

to Ronnie Vincent

U.S. Capitol

A phone ''ping'' tied

to Ronnie Vincent

A phone ''ping'' tied

to Ronnie Vincent

U.S. Capitol

''Yes we got inside. One girl was shot by the DC cops as she was knocking on the glass. She probably will die. We stopped the voting in the house,'' he wrote.

Shortly after he posted the photos, Mr. Vincent, a pest control business owner in Kentucky who goes by the nickname Ole Woodsman, took them down. When we reached him by phone, he insisted he never entered the Capitol.

''There is no way that my phone shows me in there,'' he said. Yet it did.

Image A now-deleted Facebook post by Ronnie Vincent shows pro-Trump demonstrators advancing toward the open doors of the Capitol. Credit... Screenshot from Facebook For all its appearance of omniscience, the data can be imprecise. In a situation such as the Capitol riot, exact locations matter. A few feet can be the difference between a participant who committed a serious crime and an onlooker.

While some location data is accurate to within a few feet, other data is not. Location companies can work with data derived from GPS sensors, Bluetooth signals and other sources. The quality depends on the settings of the phone and whether it is connected to Wi-Fi or a cell tower. Issues like population and building density can sometimes play a role in the quality of the data.

Mr. Vincent told us that when he wrote ''we got inside,'' he meant ''we the people got in.''

He added, ''I did not go in.''

Can we say definitively Mr. Vincent was inside the Capitol on Jan. 6? No, and that is one of the problems with this type of data.

The trip to Washington, D.C.

OHIO

Home

VIRGINIA

KENTUCKY

Home location has been obscured.

The day of the protest

Hyatt Regency

hotel at 1:48 p.m.

7:30 a.m.

Rally stage

8:17 a.m.

Around the Capitol

Building at 3:00 p.m.

At the Capitol

Accuracy

322 feet

187 feet

The trip to Washington, D.C.

OHIO

Home

VIRGINIA

KENTUCKY

Home location has been obscured.

The day of the protest

Hyatt Regency

hotel at 1:48 p.m.

7:30 a.m.

Rally stage

8:17 a.m.

Around the Capitol

Building at 3:00 p.m.

At the Capitol

Accuracy

322 feet

187 feet

The trip to Washington, D.C.

KENTUCKY

Home

OHIO

VIRGINIA

N

Home location has been obscured.

The day of the protest

Rally stage

8:17 a.m.

7:30 a.m.

Hyatt Regency

hotel at

1:48 p.m.

Around the Capitol

Building at 3:00 p.m.

N

At the Capitol

Accuracy

322 feet

187 feet

N

While the power and scope of this commercial surveillance come into sharp focus when we look at the specific time of the attack on the Capitol, it's important to remember that it is recording the movements of millions of Americans all day, all night, all year, wherever they are.

The data set Times Opinion examined shows how Trump supporters traveled from South Carolina, Florida, Ohio and Kentucky to the nation's capital, with pings tracing neatly along major highways, in the days before the attack. Stops at gas stations, restaurants and motels dot the route like bread crumbs, each offering corroborating details.

In many cases, these trails lead from the Capitol right back to their homes.

Florida

Florida

New Hampshire

New York

Florida

New Hampshire

Florida

Florida

New Hampshire

New York

In the hands of law enforcement, this data could be evidence. But at every other moment, the location data is reviewed by hedge funds, financial institutions and marketers, in an attempt to learn more about where we shop and how we live.

Unlike the data we reviewed in 2019, this new data included a remarkable piece of information: a unique ID for each user that is tied to a smartphone. This made it even easier to find people, since the supposedly anonymous ID could be matched with other databases containing the same ID, allowing us to add real names, addresses, phone numbers, email addresses and other information about smartphone owners in seconds.

The IDs, called mobile advertising identifiers, allow companies to track people across the internet and on apps. They are supposed to be anonymous, and smartphone owners can reset them or disable them entirely. Our findings show the promise of anonymity is a farce. Several companies offer tools to allow anyone with data to match the IDs with other databases.

The ''anonymous'' mobile advertising ID can be matched across databases, creating a new deanonymized database.

First name

Last name

Home address

Mobile Ad ID

Phone number

Mobile Ad ID

Email address

App name

ANONYMOUS

LOCATION

DATABASE

Mobile Ad ID

First name

Last name

Home address

Phone number

Email address

App name

Precise location

Date

Time

Mobile Ad ID

Precise location

Date

Time

The ''anonymous'' mobile advertising ID can be matched across databases ...

... creating a new

deanonymized

database

ANONYMOUS

LOCATION

DATABASE

First name

Last name

Home address

Mobile Ad ID

Phone number

Mobile Ad ID

Email address

App name

Mobile Ad ID

Precise location

Date

Time

Mobile Ad ID

First name

Last name

Home address

Phone number

Email address

App name

Precise location

Date

Time

The ''anonymous'' mobile advertising ID can be matched across databases, creating a new deanonymized database.

First name

Last name

Home address

Mobile Ad ID

Phone number

Mobile Ad ID

Email address

App name

ANONYMOUS

LOCATION

DATABASE

Mobile Ad ID

First name

Last name

Home address

Phone number

Email address

App name

Precise location

Date

Time

Mobile Ad ID

Precise location

Date

Time

We were quickly able to match more than 2,000 supposedly anonymous devices in the data set with email addresses, birthdays, ethnicities, ages and more.

One location data company, Cuebiq, publishes a list of customers that may receive the ID with precise smartphone locations. Companies listed there include household names like Adobe and Google, alongside a litany of lesser-known upstarts, like Hivestack, Mogean, Pelmorex and Ubimo.

In an emailed statement, Cuebiq said it prohibits attempts to merge location data with personally identifiable information and requires customers to undergo yearly third-party audits.

Smartphone users will never know if they are included in the data or whether their precise movements were sold. There are no laws forcing companies to disclose what the data is used for or for how long. There are no legal requirements to ever delete the data. Even if anyone could figure out where records of their locations were sold, in most states, you can't request that the data be deleted.

Their movements could be bought and sold to innumerable parties for years. And the threat that those movements could be tied back to their identity will never go away.

Image Credit... Mark Peterson for The New York Times If the Jan. 6 rioters didn't know before, they surely know now the cost of leaving a digital footprint. Tip lines at the Federal Bureau of Investigation have been flooded for weeks in an effort to identify participants, and detectives in Miami and other police departments are using facial recognition software. Amateur investigators on TikTok, Instagram and other platforms have launched their own identification efforts.

Law enforcement has used cellphone footage from the siege to identify participants. As of February 4, there were 181 federal cases pending against individuals involved in the Capitol Hill siege, according to an analysis by George Washington University's program on extremism. Affidavits show that federal investigators were easily able to cross-reference footage with public social media posts.

A leak of data from the social media platform Parler also helped investigators and journalists place rioters in the building, using posts that were geotagged with GPS location data. For some, like 38-year-old Oath Keepers member Jessica Watkins, there was no need for precise location data. Her words tell the story: ''Yeah. We stormed the Capitol today. Teargassed, the whole, 9. Pushed our way into the Rotunda. Made it into the Senate even,'' she wrote on Parler.

Which is to say that law enforcement may not need this data. But as a recent Wall Street Journal report shows, military agencies use these data sets '-- without a warrant, no less. How? They purchase it. Because we have seen what's in the data, that revelation is deeply troubling.

While some Americans might cheer the use of location databases to identify Trump supporters who converged on the Capitol, the use of commercial databases has worrying implications for civil liberties. The American criminal justice system is set up for a judge or jury to determine whether, in fact, Ronnie Vincent broke any laws on Jan. 6. But the data leads us directly to him, and in the hands of law enforcement officials '-- or rogue employees of the company that collected the data '-- it could narrow their search for participants and offer clues about their activity.

To focus attention only on those people present at the deadly sacking of the Capitol is to lose sight of the larger context of the campaign of incitement and lies from Mr. Trump, right-wing media and members of Congress that set the stage for it. Just as focusing on the movements of Mr. Vincent's cellphone is to lose sight of the larger surveillance ecosystem that he '-- and all of us '-- are trapped in.

The location-tracking industry exists because those in power allow it to exist. Plenty of Americans remain oblivious to this collection through no fault of their own. But many others understand what's happening and allow it anyway. They feel powerless to stop it or were simply seduced by the conveniences afforded in the trade-off. The dark truth is that, despite genuine concern from those paying attention, there's little appetite to meaningfully dismantle this advertising infrastructure that undergirds unchecked corporate data collection.

This collection will only grow more sophisticated. This new data set offers proof that not only is there more interest in location data than before, but it is also easier to deanonymize. It gets easier by the day. As the data from Jan. 6 eerily demonstrates, it does not discriminate. It harvests from the phones of MAGA rioters, police officers, lawmakers and passers-by. There is no evidence, from the past or current day, that the power this data collection offers will be used only to good ends. There is no evidence that if we allow it to continue to happen, the country will be safer or fairer.

In our previous investigation, we wrote that Americans deserve the freedom to choose a life without surveillance and the government regulation that would make that possible. While we continue to believe the sentiment, we fear it may soon be obsolete or irrelevant. We deserve that freedom, but the window to achieve it narrows a little more each day. If we don't act now, with great urgency, it may very well close for good.

How Google can have its privacy cake while eating its data tracking, too | Android Central

Sat, 06 Feb 2021 15:01

Source: Jerry Hildenbrand / Android Central

Some of us are more concerned about our digital privacy than others, but no matter how you feel about sharing your information online, this area is where the next Big Tech wars are going to be fought. We're already seeing how companies like Apple are just going hard in the paint and giving options to share nothing while others like Facebook merge even more tracking into WhatsApp. Both are doing it wrong, but Google could do it right.

Source: Apple

As someone who is concerned about digital privacy (both mine and yours), part of me loves how Apple is moving in for the kill. The App Store has privacy nutrition labels (such a bad name) that tell you what an app could do and settings that allow you to completely sandbox an app you've installed so only Apple gets a peek at what you're doing and how you're doing it. And yes, Apple needs some data like that to keep improving its products.

VPN Deals: Lifetime license for $16, monthly plans at $1 & more

What Apple doesn't seem to care about is an entire industry built on the old way of doing things, where every app just tracked everything and only a few people ever seemed to think about it. Facebook is a great example here. Facebook has an ad platform as big as Google's and it works the same way '-- collect personal data and serve ads for things you might find interesting. Folks buying ad space love targeted advertising because they know more interested people will end up clicking on one. This makes a company that can place targeted ads pretty valuable.

Facebook is in meltdown mode over Apple's new changes because it stands to lose a significant chunk of its value once people realize they can toggle a setting and opt-out of ad tracking. Google's not immune here and has already advised customers using its ad engine to brace themselves for a significant impact once iOS 14's privacy updates go into effect.

Nobody is predicting that developers will stop making apps for iOS and leave in droves. But Apple is making it very difficult to track usage metrics and performance as well as make some money through digital ads. Making things harder for developers is never a good look, though, and that's where Google might have an ace up its sleeve by taking the individual out of the tracking process.

FLoC is a weird name for an amazing idea.

The idea of FLoC (Federated Learning of Cohorts) is a great idea with a horrible name and it's being worked on right now for the Chrome browser and Chromebooks, because the web is even worse when it comes to tracking than any app store is.

How it works is that you now become a unique and anonymous ID, and based on what you do on the internet, you can be placed in a group. Once it's up and running, I'll quickly be placed into a group that likes fishing, for example. Google is still collecting data from an individual, but I'm not being individually targeted or tracked by any outside company.

Browsers would need a way to form clusters that are both useful and private: Useful by collecting people with similar enough interests and producing labels suitable for machine learning, and private by forming large clusters that don't reveal information that's too personal, when the clusters are created, or when they are used.

A FLoC cohort is a short name that is shared by a large number (thousands) of people, derived by the browser from its user's browsing history. The browser updates the cohort over time as its user traverses the web. The value is made available to websites via a new JavaScript API.

This is all related to web ads right now, and nobody even knows if the idea will work. But we do know that Google and Apple were able to find a way to track users without exposing any private information with their joint-effort COVID-19 tracking API. This uses a system where your phone checks in with a server and just says "Hi, I am right here right now" periodically. Nothing else has access to that and even the back end that powers it can't track you through your small encrypted server ping.

Source: Android Central / Alex Dobie

But it can track that someone pinged from a location and a certain time, and if one of those people came in contact with COVID-19 and voluntarily informed the server on the next ping, a flag is raised and everyone else who checked in at the same place at the same time gets notified that they have potentially come in contact with COVID-19. Everything is anonymous and neither Google nor Apple has access to anything more than blobs of encrypted data.

These ideas don't fix the root issue, but they show that Google can do something if it wants to.

This isn't a magic solution to the coming data tracking storm, because ads for fishing products aren't the same as sending encrypted data to a server that monitors COVID. But it does show that a bridge between the need for personal data being used and staying anonymous is completely doable. This is exactly what Google needs.

These ideas are much laxer than Apple's outright war on data tracking, but Google needs rules in place that are a bit more relaxed because Google is an advertising company. These two examples show how far Google is willing to go so that it can protect as much of our privacy as possible but still make buckets of money selling ads.

Source: Android Central

I mentioned that I hold up data privacy as one of the most important things about using a smartphone. Right now, nobody is doing it right, and overreaching and mostly ineffective (click yes to agree to cookies is a great example) methods are not going to be the solution. Neither is digging in and gobbling up even more data; there has to be a middle ground.

There has to be a middle ground when it comes to data sharing.

I think this is where Google can find a balance that does enhance and preserve our privacy while still offering both developers and advertisers a way to track specific metrics through anonymity by obscuration '-- use new techniques to centralize and aggregate data into relevant clusters that aren't easily tied to your specific phone.

Google is always going to track Android users somehow. As mentioned, it's a big part of the company's business model. Now is the chance for the company to keep working on the issues of privacy and being developer-friendly in a way that only it can.

How Google can have its privacy cake while eating its data tracking, too
Clips

VIDEO-This as MSNBC's Nicole Wallace suggests we use domestic Drone strikes on Americans as a solution to lockdown protestors! https://t.co/LiyaiYthx5" / Twitter

Sun, 07 Feb 2021 12:34

Luke Rudkowski : So....... they are pretty much saying they have to stop incitement of violence by inciting violence themselves!Th'... https://t.co/oYZzqWX0YO

Fri Feb 05 16:47:38 +0000 2021

lefties are Looney : @Lukewearechange You need a hearing aid. Maybe your Twitter acct should be locked for spreading misinformation??

Sun Feb 07 11:56:37 +0000 2021

MF : @Lukewearechange I am fairly convinced that modern-day politics turns people into dangerous psychopaths that try to'... https://t.co/XLdjWIDc9C

Sun Feb 07 10:31:27 +0000 2021

VIDEO-NBC shows a market in Naples, FL where many customers and employees are not wearing face masks. Florida does not have a mask mandate, but the CDC has said that wearing masks can help control the Covid pandemic. https://t.co/WFatRrjnYa https://t.co/I

Sun, 07 Feb 2021 12:34

The News with Shepard Smith : WATCH: This shocking video from @SamBrockNBC shows a market in Naples, FL where many customers and employees are no'... https://t.co/nKc2ryEspc

Thu Feb 04 00:33:18 +0000 2021

The Real Jack : @thenewsoncnbc @SamBrockNBC Ever heard of herd immunity?

Sun Feb 07 12:16:43 +0000 2021

Maiz Rapaz : @thenewsoncnbc @SamBrockNBC The state of what this new reader says. Cometely brainwashed pushing an agenda. Controlled by the cabal.

Sun Feb 07 11:17:53 +0000 2021

VIDEO-numbers don't lie...tony robbins will explain https://t.co/L58WH2zSUS" / Twitter

Sun, 07 Feb 2021 12:32

Better Tomorrow 'ž : @pjengel02 @Cleavon_MD numbers don't lie...tony robbins will explain https://t.co/L58WH2zSUS

Thu Feb 04 06:02:26 +0000 2021

VIDEO - Climate change "may have played a key role" in coronavirus pandemic, study says - CBS News

Sun, 07 Feb 2021 00:35

Human-caused climate change "may have played a key role" in the coronavirus pandemic. That's the conclusion of a new study which examined how changes in climate have transformed the forests of Southeast Asia, resulting in an explosion of bat species in the region.

The researchers found that, due to changes in vegetation over the past 100 years, an additional 40 species of bat have moved into the region, carrying with them 100 more types of bat-borne coronaviruses. Bats are known carriers of coronaviruses, with various species carrying thousands of different types. Many scientists believe the virus that started the worldwide COVID-19 pandemic originated in bats in southern China's Yunnan province or neighboring areas before it crossed paths with humans.

These findings have scientists concerned about the probability that climate change will make future pandemics more likely.

"If bats carrying around 100 coronaviruses expanded into a new area due to climate change, then it would seem likely that this increases, rather than decreases, the chance that a coronavirus harmful to humans is present, transmitted, or evolves in this area," explains Dr. Robert Beyer, lead author of the study and a researcher at the University of Cambridge.

Visitors look inside the abandoned Wanling cave in southern China's Yunnan province on Dec. 2, 2020. Contact between bats and people alarms scientists as a potential source of disease outbreaks. Ng Han Guan / AP The researchers used climate records to create a map of the world's vegetation as it was a century ago. Using knowledge of the type of vegetation required by different bat species, they determined the global distribution of each species in the early 1900s.

They then compared this to current bat populations. Their results reveal that bat species richness '-- the number of different bat species found in a given area '--has flourished in this pocket of Southeast Asia more than any other place on Earth.

The image below, from the study, shows how the forests of southern China, Myanmar and Laos have changed over the past century, enhancing the habitat favored by bats and allowing more species to proliferate. This distinct bullseye over the region shows the increase in bat species richness. (The study does not consider overall population sizes, just the diversity of bat species in the area.)

Dr. Robert Beyer According to the authors, climate changes such as increases in temperature, sunlight and carbon dioxide, which affect the growth of plants and trees, have shifted the makeup of vegetation in southern China, turning tropical shrubland into tropical savannah and deciduous woodland. This type of forest, the authors contend, is more suitable to bat species.

The study calls this area in Southeast Asia "a global hotspot" for bat species and points to genetic data suggesting that SARS-CoV-2, the virus that causes COVID-19, originated in this region.

This, the authors say, provides the first evidence of a way that climate change could have played a direct role in the emergence of the virus.

"We estimate that, over the past century, climate change caused a significant increase in the number of bat species in the location where SARS-CoV-2 likely originated," said Beyer. "This increase suggests a possible mechanism for how climate change could have played a role in the origin of the pandemic."

A team of researchers from the World Health Organization was finally allowed into Wuhan , China, in January to investigate the source of the outbreak, which was first reported in that city a little over one year ago . A leading theory among scientists is that the virus originated in bats before making the jump to humans, potentially through an animal host like pangolins . Some of the first cases were linked to a wildlife market in Wuhan. But as of now, this is only a theory, and researchers are just beginning to formally investigate the origins of the pandemic.

WHO investigators begin work in Wuhan, China 05:58 Dr. Rick Ostfeld, a disease ecology expert from the Cary Institute of Ecosystem Studies in Millbrook, New York, finds the research compelling, even though he doesn't agree with all of its conclusions. He says it is not surprising that climate change was found to have transformed forests and bat communities. He also agrees with the study authors that the movement of animals can help spread viruses.

"Moving animal communities around a region can have strong impacts on disease transmission by exposing animal hosts to new pathogens," he said.

But he is cautious about drawing conclusions beyond that.

"The link to emergence of coronaviruses is highly speculative and seems unlikely," said Ostfeld.

"What the study apparently gets wrong is the assumption that the increased diversity of bats (which they postulate) leads to an increased risk of a bat-borne virus jumping to humans. This is simply not the case," he said. "The vast majority of bats are harmless to humans '-- they don't harbor viruses that can make us sick. So adding more of those species doesn't increase risk."

Kate Jones, a professor of ecology and biodiversity at University College London, is also somewhat cautious. She said, "Climate change certainly has a role to play in changing species distributions to increase ecological hazard. However, spillover risk is a complex interplay of not only ecological hazard but human exposure and vulnerability."

Beyer does agree that "caution is well-justified" when it comes to connecting climate change directly to the pandemic because, as he explains, assessing the degree to which climate change contributed to any stage between a bat carrying the virus and a human getting infected will take a lot more work. In particular, he says, this involves the use of epidemiological models that analyze the interactions of different species and viruses across space and time.

While it's widely understood that exponential growth of the human population, and our rampant exploitation of the natural world, like destroying forests and expanding the animal trade , is increasing the risk that contagious pathogens can more easily make the jump from animals to humans, it has been less clear the extent to which climate change factors in .

Health officials inspect bats to be confiscated and culled in the wake of coronavirus outbreak at a live animal market in Solo, Central Java, Indonesia, on March 14, 2020. AP However, over the past century, because of human-caused climate change, many ecosystems have have warmed '-- sometimes by several degrees '-- and precipitation patterns have shifted, with some areas getting less and others getting more. These ecosystem changes are shifting the habitat of many species, putting more species in contact with one another, potentially allowing viruses to spread more easily.

When asked about the climate connections to the spread of disease, most experts agree there is an impact, but some say direct human actions like deforestation, development, or industrial-scale animal agriculture, are a bigger concern.

"It may turn out that increases in human populations, human movement and degrading natural environments through agricultural expansion have a more important role to play in understanding the spillover process of SARS-CoV-2," explained Jones.

Ostfeld observed, "We can predict which wildlife species are most likely to carry pathogens that can make people ill. These are generally the ones that thrive when we replace natural habitat (like forests and savannas) with agriculture, residential developments, and strip malls."

Beyer does not take issue with those assessments. "We absolutely agree that the expansion of urban areas, farmland, and hunting grounds into natural habitats is a key driver of zoonotic disease transmissions '-- they are what puts many pathogen-carrying animals and humans into contact in the first place," he said.

But given the findings of his research on how climate reshaped the region, Beyer feels climate change can be a significant driver.

"Climate change can drive where these animals occur; in other words, climate change can move pathogens closer to humans. It can also move a species that carries a virus into the habitat of another species that the virus can then jump to '-- a step that might not have occurred without climate change, and that might have major long-term consequences for where the virus can go next."

Beyer also sees climate connections beyond just the increase in bat species. "In some cases, higher temperatures can increase the viral load in species, which can make it more likely that the virus is transmitted," he said. "And: Increased temperature can increase the tolerance of viruses to heat, which in turn can increase infection rates since one of our primary defense systems to infectious diseases is to raise our body temperature (fever)."

While there is some caution in the scientific community about the specific impact of climate change on the current coronavirus pandemic, there is widespread agreement that, in the future, climate change will be a growing driver of emerging infectious disease and pandemics.

"Climate change will shift the geographic distributions of pathogen-carrying species in such a way that they overlap with species that they did not overlap with before," said Beyer. "These new interactions will provide dangerous opportunities for viruses to spread and evolve."

"Climate change definitely is an important driver in disease emergence and spread. It can increase transmission in a number of ways," said Ostfeld. "So, yes, climate change definitely concerns me as a driver of future pandemics."

VIDEO-SJPD Assigns New Mental Health Unit '' NBC Bay Area

Sat, 06 Feb 2021 18:34

The San Jose Police Department is making a big change in the way it deals with some of the most controversial calls they get.

The department now has a dedicated team, exclusively for situations involving mental health issues and they've already got their first high profile case -- the arrest of a man who broke into a preschool school and drove a spike through it's 70-year-old pet tortoise.

NBC Bay Area first reported on this new Mobile Crisis Response Team as a pilot program in the fall of 2020, and on Thursday, police say that program, with more staffing, is now permanent and led to a peaceful arrest in that tortoise attack.

George Robles, 40, was arrested Monday after he returned to the Play n Learn preschool with a brick, police said, to attempt a second attack on the school's tortoise Michelangelo A.

By this point, Robles had already been arrested for allegedly stabbing and bludgeoned the 70-year-old tortoise after breaking into the school on Saturday.

He was released to await charges, and police say that's when he tried to return to the school, but this time, they sent one of their Mobile Crisis Response Team units which specialize in dealing with calls involving mental health issues. The team focuses on de-escalation rather than confrontation.

''I think a lot of it had to do with our tone,'' said team commander Sgt. Mike Porter. ''And just with our approach from a distance, calling him out by name, he was more receptive to that.''

The Mobile Crisis Response Team is now a permanent part of the department with two sergeants and eight officers dealing exclusively with suspected mental health cases.

''Having a permanent unit allows us more time. I mean that's the biggest thing here is the time,'' said James Cerniglia, mobile unit administrator. ''The time to spend with people when they need it at the time to direct them to appropriate levels of care.''

But community activist Shaunn Cartwright, who helps people living on the streets, is skeptical.

''The people who should be leading a program like this are the people who are already trained to do it,'' said Unhoused Response Group advocate Shaunn Cartwright. ''The social workers, the advocates, the people who work with the unhoused community all day long have not previously caused them trauma.''

The new mobile unit is still setting up as a permanent part of the department and will be responding full time, as well as trying to win over skeptics starting in March.

VIDEO-"Tony Robbins just called out the scamdemic hypocrisy https://t.co/5LPmNPHWRZ" / Twitter

Sat, 06 Feb 2021 17:25

Yous : Tony Robbins just called out the scamdemic hypocrisy https://t.co/5LPmNPHWRZ

Sat Jan 30 21:46:35 +0000 2021

Sed : @YousXPB @Jaydenator1 @ASHILinRealLife

Sat Feb 06 08:47:16 +0000 2021

Ryan McKenna : @YousXPB @RobSchneider @katt_mck

Sat Feb 06 04:15:37 +0000 2021

oil gas and chemicals : @YousXPB DEAD BODIES IN FREEZER TRUCKS...

Sat Feb 06 03:44:01 +0000 2021

oil gas and chemicals : @YousXPB He is NOT A DOCTOR OR SCIENTIST!

Sat Feb 06 03:40:27 +0000 2021

Mark Bardi : @YousXPB @Tonycardyn

Sat Feb 06 02:54:55 +0000 2021

I am NORBERTðŸ‡"🇬🇮🇪 : @YousXPB @MichelleMaison7 '›--I will FOLLOW Back ðŸ'¯%'›--

Sat Feb 06 00:44:25 +0000 2021

iouoxen : @YousXPB @RobSchneider Woot woot

Fri Feb 05 23:11:56 +0000 2021

VIDEO-Breitbart News - Ooops! Potato Poatato! Psaki calls Tokyo Beijing - NoAgendaTube

Sat, 06 Feb 2021 16:48

We are sorry but it seems that PeerTube is not compatible with your web browser.

Please try with the latest version of Mozilla Firefox.

If you think this is a mistake, do not hesitate to report it.

VIDEO-ABSOLUTE PROOF! - MIKE LINDELL

Sat, 06 Feb 2021 16:39

You are about to :

Object being modified by the action

Do you want to proceed?

Thank you for submitting your moderation reportWe will investigate and notify you of the outcome. Please monitor the mailbox associated with your account, in case we request additional information.

First published at 17:39 UTC on February 5th, 2021.

#absolute#proof#lindellLin Wood [05.02.21 @10:38]Mike Lindell is about more than pillows. Mike Lindell is a Patriot. Mike has been horribly persecuted for his beliefs but he is a truth-giver and he continues to stand tall and speak truth.

MORE

Lin Wood [05.02.21 @10:38]Mike Lindell is about more than pillows. Mike Lindell is a Patriot. Mike has been horribly persecuted for his beliefs but he is a truth-giver and he continues to stand tall and speak truth.

LESS

This advertisement has been selected by the BitChute platform.

By purchasing and/or using the linked product you are helping to cover the costs of running BitChute. Without the support of the community this platform will cease to exist.

Registered users can opt-out of receiving advertising via the Interface tab on their Settings page.

To help support BitChute or find out more about our creator monetization policy:

VIDEO-Biden press secretary confirms Hunter owns 10 percent stake in Chinese company | The Post Millennial

Sat, 06 Feb 2021 09:55

If big tech continues censoring conservatives, that means our days on these platforms may be numbered. Please take a minute to sign up to our mailing list so we can stay in touch with you, our community. Subscribe Now!

White House Press Secretary Jen Spaki confirmed to media on Friday that President Joe Biden's son, Hunter, still owned 10 percent of stake in a company with ties to the Chinese Communist Party.

"He has been working to unwind his investments but i would certainly appoint you'--he's a private citizen'--I'd appoint you to him or his lawyers on the outside on any update," said Psaki.

Hunter's business dealings with China became an election issue this past October, after Hunter's emails revealed that then-Democratic nominee and former Vice President Joe Biden, received a payout from the Chinese Firm.

One email, dated May 13, 2017, and obtained by Fox News, reveals more details on the Biden payout, including ''remuneration packages."

The email identified Hunter Biden as ''Chair / Vice Chair depending on agreement with CEFC,'' in a reference to now-bankrupt CEFC China Energy Co.

Join and support independent free thinkers!

We're independent and can't be cancelled. The establishment media is increasingly dedicated to divisive cancel culture, corporate wokeism, and political correctness, all while covering up corruption from the corridors of power. The need for fact-based journalism and thoughtful analysis has never been greater. When you support The Post Millennial, you support freedom of the press at a time when it's under direct attack. Join the ranks of independent, free thinkers by supporting us today for as little as $1.

VIDEO-Tom MacDonald - "Cancelled" - YouTube

VIDEO-hoor je de baas het zelf zeggen!? Kansloos" / Twitter

Fri, 05 Feb 2021 22:52

Joshua Kop ðŸ‡...🇺 ðŸ‡"🇱 : @IkNet @MinPres @adamcurry hoor je de baas het zelf zeggen!? Kansloos

Fri Feb 05 19:01:49 +0000 2021

VIDEO-Jen Psaki had no idea that Biden signed an executive order to resume Catch and Release Total train wreck https://t.co/cs6SIabc2F" / Twitter

Fri, 05 Feb 2021 22:50

Jewish Deplorable : Jen Psaki had no idea that Biden signed an executive order to resume Catch and ReleaseTotal train wreck https://t.co/cs6SIabc2F

Fri Feb 05 18:28:24 +0000 2021

ADmSee : @ThatTrumpJew @PatriotAU What a joke

Fri Feb 05 22:49:47 +0000 2021

Nadine Lawson : @ThatTrumpJew @erotao No clue

Fri Feb 05 22:48:49 +0000 2021

JC Miller : @ThatTrumpJew Lost like a ball in high weeds.

Fri Feb 05 22:47:56 +0000 2021

46+2 ahead : @ThatTrumpJew Oh we're screwed with this bunch

Fri Feb 05 22:47:41 +0000 2021

Adam=Canadian Hero : @ThatTrumpJew https://t.co/TFwJKVWt1W

Fri Feb 05 22:46:36 +0000 2021

ComicfromPlanet9 : @ThatTrumpJew The real question is ...Did Biden know he signed it?

Fri Feb 05 22:46:29 +0000 2021

ComicfromPlanet9 : @ThatTrumpJew her problem is she has spent too much time with sycophants who have told her she is smart so she believed them and she isn't.

Fri Feb 05 22:45:53 +0000 2021

nargis lorenzana : @ThatTrumpJew Alexa can field better questions than Jen.

Fri Feb 05 22:44:55 +0000 2021

Doug Smith : @ThatTrumpJew @MeganSmiles https://t.co/1alJSMQ9Vt

Fri Feb 05 22:42:17 +0000 2021

SparkleTruth : @ThatTrumpJew 2/4/21 My friend in Sonoita, AZ texted me: ''Oh my God I just hope they hurry we have illegals on the'... https://t.co/T9Amj5sb3X

Fri Feb 05 22:41:42 +0000 2021

Ron Baker : @ThatTrumpJew Orange woman bad

Fri Feb 05 22:40:13 +0000 2021

Dale Doback : @ThatTrumpJew To be fair, Biden didn't know he signed it either.

Fri Feb 05 22:39:58 +0000 2021

ɌÇ'áµá‡Ç'kǬð'—ð'š¶ð'Ÿáƒ'āᵐᵐāð''á>>ʂáµð'š¶áµ'šUNCENSORED'šðŸ...Š'¸ðŸ‡ºðŸ‡¸ðŸŒŽðŸ'š : @ThatTrumpJew @spore_printce Indeed.

Fri Feb 05 22:39:38 +0000 2021

Nielkt 🇺🇲 : @ThatTrumpJew @this_vid

Fri Feb 05 22:39:38 +0000 2021

TraderPatTX gab:@TraderPatTX🇺🇸'›ðŸ—£ : @ThatTrumpJew So they are letting people in who could be Covid positive during a pandemic when unemployment is so h'... https://t.co/KSjzrJDY33

Fri Feb 05 22:39:26 +0000 2021

Looisj : @ThatTrumpJew She didn't even offer to circle back.

Fri Feb 05 22:39:03 +0000 2021

Chiselhead 2 : @ThatTrumpJew There are so many who could keep up

Fri Feb 05 22:36:49 +0000 2021

PRob : @ThatTrumpJew Well, tbh...Joe doesn't know that he signed that EO either

Fri Feb 05 22:36:11 +0000 2021

VIDEO-James Clapper Interrogation - Part 5

Fri, 05 Feb 2021 22:04

129 rumbles

Rumble '-- Audio recording of the interrogation of James Clapper.Clapper is a retired General in the US Air Force, and former Director of the DIA. He tells all, and he names names.Very revealing of the widespread corruption in govt. now.

... and disable advertisements! No kidding :)

VIDEO-Exclusive: New Video Shows Late Night Deliveries of Thousands of Illegal Ballots to Michigan Arena

Fri, 05 Feb 2021 21:21

693 rumbles

Rumble '-- Exclusive: The TCF Center Election Fraud '' New Video Shows Late Night Deliveries of Tens of Thousands of Illegal Ballots to Michigan Arena

... and disable advertisements! No kidding :)

VIDEO-Film Screening'--The New Bauhaus, and a Post-Screening Conversation with director Alysa Nahmias on Vimeo

Fri, 05 Feb 2021 16:07

(C) 2021 Vimeo, Inc. All rights reserved.

Terms Privacy CA Privacy Copyright Cookies

VIDEO-With a big investment, tech companies may get their own local government | Las Vegas Review-Journal

Fri, 05 Feb 2021 15:57

CARSON CITY '-- If you've got enough money, acres upon acres of undeveloped land and an ''innovative technology,'' you soon could form a new local government in Nevada.

When Gov. Steve Sisolak last month announced his plan to launch Innovation Zones in Nevada to jump-start the state's economy by attracting new tech companies, the details of how those zones would operate proved scarce.

According to a draft of the proposed legislation, obtained by the Review-Journal but not yet introduced in the Legislature, Innovation Zones would allow tech companies like Blockchains, LLC to effectively form separate local governments in Nevada, governments that would carry the same authority as a county, including the ability to impose taxes, form school districts and justice courts and provide government services, to name a few duties.

Sisolak pitched the concept in his State of the State address as his plan to bring in new companies that are at the forefront of ''groundbreaking technologies,'' all without the use of tax abatements or other publicly funded incentive packages that had previously helped Nevada bring companies like Tesla to the state.

During his speech last month, Sisolak specifically named Blockchains, LLC as a company that had committed to developing a ''smart city'' in the area east of Reno that would run entirely on blockchain technology, once the legislation passes.

The draft, which could change before it's unveiled as a formal bill, provides the first look into the details behind the concept.

Local governments 'inadequate'

The draft language of the proposal says that the traditional local government model is ''inadequate alone to provide the flexibility and resources conducive to making the State a leader in attracting and retaining new forms and types of businesses and fostering economic development in emerging technologies and innovative industries.''

It adds that this ''alternative form of local government'' is needed to aid economic development within the state.

The Governor's Office of Economic Development would handle the applications for the Innovation Zones. Those zones would be limited to specific ''innovative technology,'' which includes blockchain, autonomous technology, the internet of things, robotics, artificial intelligence, wireless technology, biometrics and renewable resource technology.

A spokeswoman for Sisolak's office said in a statement Wednesday that the governor ''looks forward to rolling out more information on Innovation Zones and other items from his State of the State speech in the future.''

''The Governor's Office has not submitted a bill draft request related to this initiative so we will not be commenting on any language at this time,'' the statement said.

GOED did not respond to questions about the zones Wednesday.

The zones would initially operate within the local county where they are located but would eventually be able to take over the duties of those counties and become an independent governmental body.

The zones would have a three-member board of supervisors that would carry the same powers as a board of county commissioners. And the company or firm applying for the zone would have significant say over who would sit on that board.

The apparent economic benefit, besides the potential to lure more tech businesses to the state, would be an ''industry-specific tax that will be imposed upon the innovative technology or activity related to the innovative technology,'' within the zone.

Requirements: Land, money

The draft proposal lays out the requirements for the zone, including the applicant owning 50,000 acres of undeveloped land, all within a single county but separate of any city, town or tax increment area. And the area would have to be uninhabited. The company would also need to have $250 million, and a plan to invest an additional $1 billion over 10 years into the zone.

The zone would be required to report to the Legislature during the biennial session to detail its capital investments, physical progress on developing infrastructure, an estimate of the number of people employed in the zone and the economic impact from the zone itself.

In 2018, Blockchains, LLC, the tech firm owned by lawyer and cryptocurrency millionaire Jeffrey Berns, purchased roughly 67,000 acres '-- about the same size as the city of Henderson '-- of undeveloped, uninhabited land in Storey County at the Tahoe Reno Industrial Center for $170 million.

Since then, the firm has given heavily to political candidates and PACs.

Blockchains, LLC gave $50,000 to a Home Means Nevada PAC, which managed Sisolak's transition into office, in January 2019, according to campaign finance records. The company also donated $10,000 to Sisolak's campaign in the 2018 election cycle. Sisolak's opponent, Republican Adam Laxalt, also received $10,000 from the firm that year.

Berns himself gave $50,000 to the state Democratic Party in 2019, and various donations ranging between $1,000 and $5,000 to various state lawmakers from both parties.

Blockchains, LLC did not respond to requests for comment Wednesday.

'Jury still out'

Storey County Commissioner Lance Gilman, one of the industrial center's developers, said that the Blockchains Innovation Zone is ''going to have an impact on Storey County, and the jury is still out on whether that will be positive or negative.''

Gilman said that the county is staying open-minded about the idea, but there needs to be some sort of incentive to compensate for ceding the land to the zone itself.

''We're going to want to know that Storey County gets the benefit of the bargain,'' he said.

Gilman said that if that isn't the case, and the negative consequences outweigh the positives for Storey County, then he doubts the legislation would move forward.

Senate Minority Leader James Settelmeyer, R-Minden, whose district includes Storey County, echoed Gilman's thoughts when reached by phone Wednesday evening, saying that it could be ''fantastic'' for the state and especially Northern Nevada. But he said he's concerned that it leaves Storey County high and dry.

''The legislation seems to be rather one-sided, that the Innovation Zones get to make determinations and the county has to go along with them,'' Settelmeyer said.

Settelmeyer added that he was ''not impressed'' about finding out the details of a bill that would affect part of his district ''so far into the process.''

''It is disrespectful,'' he said.

Contact Capital Bureau Chief Colton Lochhead at clochhead@reviewjournal.com. Follow @ColtonLochhead on Twitter.

Innovation Zone Bill Draft.update.1.31.2021 by Colton Lochhead on Scribd

VIDEO-5 A Conversation with Vanita Gupta and Meena Harris - YouTube

VIDEO-Vanita Gupta: Harris 'Reflects The Coalition That Is The Future Of America' | Rachel Maddow | MSNBC - YouTube

VIDEO-Maxine Waters: Trump Needs To Be Charged With Premeditated Murder | ZeroHedge

Fri, 05 Feb 2021 14:19

Authored by Jonathan Turley,

Over the last four years, there has been a type of race by politicians and pundits who seek to outdo each other in the most sensational claims of how Donald Trump could be prosecuted or impeached on an ever-expanding list of offenses. Each claim is stated with absolute certainty despite long-standing questions or constitutional barriers. Democratic Rep. Maxine Waters of California has been a standout in this crowd '-- calling for impeachments and prosecutions from the very beginning of Trump's term in office. She is now insisting that Trump can and should be charged with ''premeditated murder'' over the deadly riots at the U.S. Capitol on Jan. 6th. The statement was made on MSNBC which has trafficked in such ridiculous theories without any pushback from the media or legal experts.

Waters made her statement in an interview with Joy Reid, who has had one of the most controversial records in television for her racially charged language, dubious legal arguments, and unsupported claims. Reid notably does not press Waters on her claim that Trump should be charged with premeditated murder.

Here is the interview:

In the interview, Reid refers to the 1990s and the ''insurrections in Los Angeles.'' It is not clear from the interview what constitutes an insurrection in the 1990s but the term ''riot'' seems effectively barred today in favor of ''insurrection.''

When Trump or his allies made outlandish and unsupported claims about the law in the past, the media piled on with coverage stating that such claims were ridiculous or unfounded. I regularly called out Trump for such claims, including his call for changing whole areas of law like defamation. However, equally unsupported claims on the left are met with little or no push back from hosts or the media.

Waters states ''He absolutely should be charged with premeditated murder because of the lives that were lost for this invasion with his insurrection,. For the President of the United States to sit and watch the invasion and the insurrection and not say a word because he knew he had absolutely initiated it '' and as some of them said, 'he invited us to come. We're here at the invitation of the President of the United States.''

In Washington, D.C., a person is guilty of first degree murder when he or she specifically intends to kill another purposely with premeditation and deliberation, or kills while in the process of committing a felony. See Section 22-2104. Most states require that first-degree premeditated murder be proven as a willful, deliberate, premeditated killing. That is treated as a specific intent crime with the showing of a purposive act or an act with express malice. You must generally show a specific intent to kill and premeditation is usually shown by evidence that a defendant reflected on the act or planned for the act of murder.

Waters' home state courts have dealt with this issue recently:

''Murder, whether in the first or second degree, requires malice aforethought. (§ 187.) Malice can be express or implied. It is express when there is a manifest intent to kill (§ 188, subd. (a)(1)); it is implied if someone kills with ''no considerable provocation . . . or when the circumstances attending the killing show an abandoned and malignant heart'' (§ 188, subd. (a)(2)). When a person directly perpetrates a killing, it is the perpetrator who must possess such malice. People v. Gentile (Riverside County Court December 2020).''

In this case, there is no evidence that Trump directly murdered anyone or sought the death of anyone. He is being accused of conspiring in the commission of such murders. That sounds more like a claim of being an aider and abetter to murder. However, even in California where charges can be based on the the natural and probable consequence of the aided and abetted crime, courts have balked at such broad interpretations. ''Under the natural and probable consequences doctrine, an accomplice is guilty not only of the offense he or she directly aided or abetted (i.e., the target offense), but also of any other offense committed by the direct perpetrator that was the ''natural and probable consequence'' of the crime the accomplice aided and abetted (i.e., the nontarget offense).''

This distinction was again recently drawn in California:

''In Chiu, we held that the natural and probable consequences doctrine cannot support a conviction for first degree premeditated murder. (Chiu, supra, 59 Cal.4th at p. 167.) We reasoned that in the context of murder, the natural and probable consequences doctrine serves the purpose of ''deterring aiders and abettors from aiding or encouraging the commission of offenses that would naturally, probably, and foreseeably result in an unlawful killing.'' (Id. at p. 165.) But this purpose ''loses its force'' when an accomplice is held culpable for first degree premeditated murder under a natural and probable consequences theory. (Id. at p. 166.) First degree premeditated murder carries significantly higher penalties than second degree murder and requires the additional mental state that the killing be ''willful, deliberate, and premeditated.'' PEOPLE v. GENTILE Opinion of the Court by Liu, J. 12 (§ 189, subd. (a); Chiu, at p. 166.) Whether or not the direct perpetrator killed with premeditation ''has no effect on the resultant harm. The victim has been killed regardless of the perpetrator's premeditative mental state.'' (Chiu, at p. 166.) We further concluded that subjecting an accomplice to enhanced punishment based solely on the ''uniquely subjective and personal'' mental state of the direct perpetrator was inconsistent with ''reasonable concepts of culpability.'' (Chiu, supra, 59 Cal.4th at pp. 166, 165.)''

In her interview, Waters was apparently referencing reports that some of the rioters had planned in advance to storm the Capitol. On the day of the riot, many of us noted that some of the rioters clearly brought ropes and other items that indicated preparation to the attack. Those reports however cut both ways. It certainly shows that those individuals had premeditation, but it also shows that the speech itself may not have been the incitement for those individuals. Critics can fairly note that the President had engaged in reckless rhetoric for weeks. However, there is a difference between reckless and criminal speech. More importantly, if such comments are now dispositive evidence of premeditation for murder, it would allow such vicarious charges for homicide in a wide array of cases involving politicians.

While Waters has defended her long list of impeachable offenses as based on the view that ''impeachment is whatever Congress says it is,'' the same is not true of the criminal code.

VIDEO: 'Adolf Hitler' rijdt door Nederlandse wijk om avondklok aan te kondigen

Fri, 05 Feb 2021 04:09

PrivacyoverzichtDeze site maakt gebruik van cookies, zodat wij je de best mogelijke gebruikerservaring kunnen bieden. Cookie-informatie wordt opgeslagen in je browser en voert functies uit zoals het herkennen wanneer je terugkeert naar onze site en helpt ons team om te begrijpen welke delen van de site je het meest interessant en nuttig vindt.

Strikt noodzakelijke cookiesStrikt noodzakelijke cookie moet te allen tijde worden ingeschakeld, zodat we je voorkeuren voor cookie-instellingen kunnen opslaan.

In/Uit- schakelen cookies

Als je deze cookie uitschakelt, kunnen we je voorkeuren niet opslaan . Dit betekent dat elke keer dat je deze site bezoekt het nodig is om cookies weer in te schakelen of uit te schakelen.

VIDEO-Biden: "We are ending all American support for offensive operations in the war in Yemen" - YouTube

VIDEO-Covid trial in UK examines mixing different vaccines ðŸ--´ @BBC News'‹ live - BBC - YouTube

VIDEO-Biden: 'The economic crisis is only deepening. It's not getting better.' - YouTube

VIDEO-click and collectVan Haga laat dit duidelijk zien! @WybrenvanHaga https://t.co/JAAkPLkgpA" / Twitter

Thu, 04 Feb 2021 21:27

Cis : Vandaag het debat over de nieuwe regels, we worden bestuur door idioten!Van Haga laat dit duidelijk zien!'... https://t.co/PchdvqZfsc

Thu Feb 04 13:44:51 +0000 2021

Maria Elisabeth ¼ : @cisdewolf @WybrenvanHaga ziet er niemand dat Rutte het hele land met volk,experts en al volledig voor jokker zet ?'... https://t.co/K6JFqTHhAN

Thu Feb 04 21:23:57 +0000 2021

henk nogwat : @cisdewolf @WybrenvanHaga Haga en besturen in (C)(C)n tweet. Vind ik een ongelukkige keuze. Bakkie op, laat je rijden, die connectie.

Thu Feb 04 21:20:43 +0000 2021

ZEMENS : @cisdewolf @WybrenvanHaga 'Dramatisch lange tijd'. Ik zie maar (C)(C)n drama queen in de persoon van Wybren van Haga.

Thu Feb 04 20:40:20 +0000 2021

Klaproos - Antoinette : @cisdewolf @WybrenvanHaga Moeten ze dan ook maar bij die vaccinprik stations doen. De oudjes staan daar massaal bij'... https://t.co/sWhjtaG6yj

Thu Feb 04 20:35:02 +0000 2021

Oude Normaal Ridder : @cisdewolf @thierrybaudet @WybrenvanHaga Tja, de baas bepaald https://t.co/6flUkKtG37

Thu Feb 04 20:11:32 +0000 2021

Lo : @cisdewolf @WybrenvanHaga https://t.co/lGBKDni0Vm

Thu Feb 04 19:32:59 +0000 2021

Vieze_gerald : @cisdewolf @thierrybaudet @WybrenvanHaga Dit gaat helemaal nergens over.

Thu Feb 04 19:24:27 +0000 2021

FemT : @cisdewolf @thierrybaudet @WybrenvanHaga De waanzin word steeds groter.

Thu Feb 04 19:12:16 +0000 2021
STORIES

Defense Secretary Austin orders military "stand down" to address extremism - Axios

Sun, 07 Feb 2021 12:41

U.S. Secretary of Defense Lloyd Austin has signed a memo ordering commanding officers and supervisors to hold a one-day "stand-down" to discuss extremism within the armed forces in the next 60 days, the Department of Defense announced Friday.

Why it matters: After multiple current service members and veterans were arrested for their actions during the deadly Jan. 6 Capitol siege, the Pentagon has increased efforts to combat white supremacy and other forms of extremism in its ranks, according to the New York Times.

What they're saying: "This stand-down is just the first initiative of what I believe must be a concerted effort to better educate ourselves and our people about the scope of this problem and to develop sustainable ways to eliminate the corrosive effects that extremist ideology and conduct have on the workforce," Austin, the first Black man to lead the Pentagon, said in the memo.

"We will not tolerate actions that go against the fundamental principles of the oath we share, including actions associated with extremist or dissident ideologies. Service members, DoD civilian employees, and all those who support our mission, deserve an environment free of discrimination, hate, and harassment.""We owe it to the oath we each took and the trust the American people have in our institution."Between the lines: It is unclear whether the stand down announcement was largely meant to be a symbolic move, or if the Pentagon is planning concrete steps to deal with extremism within the armed forces.

Mark Zuckerberg's Big Problem Has Been Obvious for 17 Years, But Nobody Wants to Admit It | Inc.com

Sun, 07 Feb 2021 12:26

Imagine if you only ever had one job since you were a teenager, and it went on to make you extraordinarily wealthy and powerful--far beyond most people's wildest dreams.

In other words, imagine being Mark Zuckerberg. Now, imagine that you might be flat-out wrong about something that could ultimately mean the end of Facebook.

Here's why this matters now. There are only a few forces on the planet powerful enough to take on Facebook. National governments might be among them, maybe. But otherwise, we're looking at the other tech behemoths.

As it happens, one of those behemoths, Apple, has all-but declared war on Facebook, while another, Google, looks as if it's gearing up to join the fight. My colleague Jason Aten has done a great job recently chronicling the battle:

Apple is set to change its privacy rules so that app developers will have to request permission before tracking most users. That runs squarely into Facebook, where the entire business model basically involves tracking users in order to sell "personalized ads."Who tells you 'no?'

Apple's move could be an existential threat; at least Facebook seems to think it is. I can't predict how it will all turn out.

But, a lot of people could have predicted something like this would eventually happen. The reason? It's simple, and it's a byproduct of Zuckerberg's meteoric success.

In short, like every highly successful leader, Zuckerberg has always run the risk of surrounding himself with people who owe their success to him, and who therefore can't effectively tell him, "no."

Because of his background -- again, having only really done one thing: built Facebook -- he's probably even more at risk of this phenomenon than many others. In retrospect, it was obvious from the beginning, 17 years ago this month.

'The whiz'

We can see what Facebook was like back in those early days, because Zuckerberg built the first iteration out of a Harvard dorm room, and the student newspaper wrote about it.

The stories are still online: "Hundreds Register for New Facebook Website" and "Mark E. Zuckerberg '06: The whiz behind thefacebook.com," for example. Go back through them now, and it becomes clear that Zuckerberg never had a normal life.

He never had a boss. He never had to apply for a job. He never had to worry about making rent, or paying student loans. He never had to work anywhere that he didn't want to, or under circumstances and in an environment that he didn't create himself.

In other words, he never had to listen to anybody else. And, it always, always, always paid off. At least, until now.

For sake of argument, imagine that Zuckerberg is 100 percent wrong about how Facebook should be responding to Apple. How would he know? Who is there around him that he'd respect, that would object, and that he could turn to, trust, and respect?

I don't pretend to know. I've imagined that somehow Bill Gates might fill the role in his life, given their strikingly similar backgrounds -- and also that I think Gates recognizes how much Warren Buffett has been that kind of outside mentor for him.

But if someone fills that role for Zuckerberg, it's remained opaque to me.

Teleporting?

A colleague pointed out how he was on Clubhouse recently, and he reportedly described Facebook's immersion in virtual reality and augmented reality, and how it might impact remote work.

His idea was that before long, Facebook would allow people to appear virtually with one another, almost as if they were in the same physical room, instead of talking via screens like on Zoom. Nobody would ever really have to go anywhere.

"We should be teleporting, not transporting ourselves," he was quoted as saying.

I'm not really sure what the heck that actually means, but it sounds kind of dystopian, right out of Black Mirror--a technological solution that would suck the life out of what it means to have true, fulfilling relationships with other people.

Two competing ideas

Look, I'm not one of those people who hates on Facebook to the ends of the earth. I take the good with the bad: for one thing, my college girlfriend and I reconnected on the platform; we're now married and have a daughter.

I'm also very clear on the fact that I would not have done anywhere near as well as Zuckerberg if you'd taken the silly things I was into when I was 19 or 20, extrapolated them, and told me I'd still be doing them [censored] years later.

But, I also think it's possible to hold two competing things in mind at the same time:

gratitude for all the positive things that social media has promoted, andskepticism and even fear of what happens as the goals of the public, for-profit company behind it seem less and less aligned with what people really want.People learn to hold those competing perspectives through hardship, failure, and seeing that good things come out of bad, while sometimes bad things come out of good.

They learn them by sometimes having to do things they don't want to do, and by recognizing that no matter how successful they are, there are other people they can learn from.

Wouldn't it be ironic, and frankly kind of devastating, if never having had to admit you're wrong led to the biggest mistakes of all?

Feta '' Vermont Cheese Council

Sun, 07 Feb 2021 01:54

Feta is traditionally made with sheep milk. You'll find a lot made with goat milk too. Ours is different because it's made with cow milk. And because of that, people who don't like traditional feta, tend to love our feta. (People who like traditional feta like our feta too.) in the summertime, it's our second best seller. It has a milder, richer taste, and a less crumbly and sliceable texture. Great on salads and for snacking. Organic.

For more information on where to purchase, click here.

Black restaurant workers received less in tips than others during pandemic

Sat, 06 Feb 2021 17:11

A waiter wears a face mask at an outdoor dining area outside a restaurant during a snow storm on December 16, 2020 in New York City.

Noam Galai | Getty Images

As the Covid-19 pandemic continues to exacerbate socioeconomic inequalities, Black workers in the restaurant industry are feeling the effects, according to a new report.

During the pandemic, tips given to Black restaurant workers have declined more than have tips to workers in other racial groups, a report by labor advocacy group One Fair Wage says. Nearly 90% of Black workers have reported their tips have declined by 50% or more. By comparison, 78% of all workers said their tips had declined by that much.

About 4,100 workers in five states and Washington, D.C., participated in the survey, which was conducted over the phone and via email from October through January.

Although Black workers represent the majority of the tipped service industry, they are also the ones making the least, according to the report, which examined government data and its survey's findings, among other sources.

Even prior to Covid-19, Black food service workers said they receive fewer tips on average than their White counterparts, with some earning as little as $10 an hour.

Covid-19 has also been a continuing threat to their health and well-being. According to the survey, more Black employees knew someone who had contracted or died from the disease than others, putting Black workers at risk for Covid-19 at work and at home.

Black workers, like other workers, reported an increase in sexual harassment during the pandemic, including #MaskualHarrassment, a term that describes male customers asking women to remove their mask and determining the amount of tips they give based on the woman's appearance. Forty percent of restaurant workers surveyed said they were victims of sexual harassment on the job during the pandemic.

Eight in 10 workers have reported hostile reactions when enforcing health protocols, which have affected the amount of tips they receive. But slightly more Black workers, about 86%, have experienced this.

"Sometimes if you ask a customer to put on a mask or step away a little, they get angry and go out their way to get closer to you or to touch you just to make you feel uncomfortable," a respondent said in the report.

The report comes amid a growing discussion about raising the federal minimum wage to $15 an hour. President Joe Biden's proposal would more than double the current federal minimum wage of $7.25 an hour, which has not been increased since 2009.

Correction: Eight in 10 workers have reported hostile reactions when enforcing health protocols. An earlier version of this story misstated who experienced this trend. Also, 78% of all workers said their tips had declined by at least 50%; an earlier version misstated this statistic.

Olympic torch unveiled one year before Beijing Winter Olympics as concerns linger over summer Tokyo Games | KTIC Radio

Sat, 06 Feb 2021 16:49

CHARLY TRIBALLEAU/AFP via Getty Images

By JULIA JACOBO, ABC News

(BEIJING) '-- The torch for the 2022 Winter Olympics in Beijing has been unveiled '-- one year before the opening ceremony and as Tokyo continues to prepare to host summer games postponed because of the pandemic.

Organizers for the Beijing games designed a ''blazing ribbon,'' with spirals pointing upward to display the Olympic flame at the opening ceremony.

The spirals of the torch, named ''Flying,'' resemble two overlapping ribbons '-- an inner red ribbon, which evokes rising flames, and a silver-plated ribbon, a metaphor of ice and fire, according to the Beijing Olympic Committee.

''As the torch turns, the whirling red line hidden in the gap seems to stretch endlessly, representing mankind's relentless pursuit of light, peace, excellence and the values promoted by the Olympic Movement,'' according to a statement from the Olympic Committee.

The design is similar to the one featured in the 2008 Summer Olympics, also in Beijing. The torch for the Paralympic Winter Games features the same structure but with a gold and silver color scheme.

The Beijing Olympic Committee is planning to hold the 2022 winter games as scheduled, despite the COVID-19 pandemic that delayed the 2020 summer games in Tokyo.

On Wednesday, Tokyo Olympics organizers unveiled the first of a series of ''playbooks,'' step-by-step guides for key stakeholders that explain what to do before leaving home and entering Japan, as well as during the Games and when departing. They also outline protocols, including physical distancing and good hygiene measures, regular testing and temperature checks.

Copyright (C) 2021, ABC Audio. All rights reserved.

Analysis: A race war evident long before the Capitol siege

Sat, 06 Feb 2021 16:24

Analysis: A race war evident long before the Capitol siege

By AARON MORRISON

February 5, 2021 GMT

A war rages on in America, and it didn't begin with Donald Trump or the assault on the Capitol.

It started with slavery and never ended, through lynchings and voter suppression, the snarling attack dogs of Bull Connor and the insidious accounting of redlining.

Today's battles in the race war are waged by legions of white people in the thrall of stereotypes, lies and conspiracy theories that don't just exist for recluses on some dark corner of the internet.

People like the murderer who fatally shot nine Black parishioners at a church in South Carolina, telling detectives that Black people were taking over the country and raping white women. And the shooter who killed 23 and wounded 23 others at a Walmart in El Paso, Texas '-- targeting Mexicans, authorities say, because he believed they were invading the country to vote for Democrats.

And the riotous mob, rife with white supremacists, that bought in when Trump and others insisted falsely that the presidential election was stolen, mostly in areas where people of color live and vote.

For a very long time, civil rights leaders, historians and experts on extremism say, many white Americans and elected leaders have failed to acknowledge that this war of white aggression was real, even as the bodies of innocent people piled up.

Racist notions about people of color, immigrants and politicians have been given mainstream media platforms, are represented in statues and symbols to slaveholders and segregationists, and helped demagogues win elections to high office.

The result? A critical mass of white people fears that multiculturalism, progressive politics and the equitable distribution of power spell their obsolescence, erasure and subjugation. And that fear, often exploited by those in power, has proven again and again to be among the most lethal threats to nonwhite Americans, according to racial justice advocates.

So how does the nation begin addressing the war of white aggression after countless missed opportunities?

The Rev. William Barber II, a civil rights leader and co-chair of the Poor People's Campaign, a multiracial coalition that aims to lift millions out of poverty and oppression, said it starts with collectively refusing to have political debates rooted in lies and racist tropes.

''White supremacy, though it may be targeted at Black people, is ultimately against democracy itself,'' Barber told The Associated Press. ''The collateral damage, when you keep unleashing the lies, sow the wind and pour this poison into the veins of people, is the system becomes so septic that violence spews out of it.''

After taking the oath of office on the very platform that some in the mob scaled to breach the Capitol, President Joe Biden acknowledged the danger of doing nothing about systemic racism and violence born of hate.

''A cry for racial justice some 400 years in the making moves us,'' he said. ''A cry that can't be any more desperate or any more clear. And now a rise of political extremism, white supremacy, domestic terrorism that we must confront and we will defeat.''

Historically, white supremacy has advanced in lockstep with fears of Black political power. After the Civil War, when formerly enslaved people got the right to vote and hold office, the white response included Jim Crow segregation, voter suppression and oppression through law enforcement.

The Jan. 6 Capitol riot occurred the same day that Georgia declared the winners of its runoff elections '-- Democrats Raphael Warnock and Jon Ossoff, the first Black and Jewish candidates the Southern state had ever sent to the U.S. Senate. And it happened as Inauguration Day approached for Kamala Harris, the first Black and South Asian person sworn to serve as vice president.

It should not go unnoted that at least one large Confederate flag was waved by the Capitol trespassers.

To many in that mostly white mob, nonwhite Americans wielded an inconceivable amount of political influence in the last election, threatening the primacy of white rule. When white supremacism is challenged, its defenders deliberately sow division in service to the old order, Barber said.

''This kind of mob violence, in reaction to Black, brown and white people coming together and voting to move the nation forward in progressive ways, has always been the backlash,'' he said.

Oren Segal, vice president of the Anti-Defamation League's Center on Extremism, said addressing the war of white aggression also requires that we stop using benign terms like ''culture war'' to describe violence that literally kills Americans.

''All somebody had to do was actually look at the dead bodies and the killers to realize that the threat of domestic white supremacist violence has been with us for quite a while,'' Segal said.

According to the ADL, which tracks hate violence, roughly 74% of extremists who committed homicides in the U.S. between 2010 and 2019 were right-wing extremists, and a majority of those were white supremacists.

On Monday, the Southern Poverty Law Center, which has tracked racism, xenophobia and zealotry since 1990, said the number of active hate groups decreased last year by 11%. The decrease is due, in part, to a splintering of white supremacist and neo-Nazi groups and a migration to social media platforms and their use of encrypted apps. Still, the law center said, the level of hatred and bigotry in America, as well as the threat of domestic terrorism by hate groups, has not diminished.

Christian Picciolini, a former far-right extremist who founded the deradicalization group Free Radicals Project, said it has become easy to otherize and ignore white people who support far-right movements or join hate groups. But for too long, he said, that has been part of a collective denial among white people that a real-world, violent threat exists.

''We have to understand that, if we want to prevent this in the future, we have to examine our history '-- 400 years of what I would classify as our nation's potholes,'' said Picciolini, who last year released the anti-extremist book ''Breaking Hate.''

Malcolm Graham, a former state senator in North Carolina, firmly believes that America's failure to confront white supremacism cost the life of his older sister, Cynthia Graham-Hurd. She was among the nine killed in 2015 during a Bible study meeting at Mother Emanuel African Methodist Episcopal Church in Charleston.

The massacre ''was a defining moment,'' Graham said. But that moment was wasted when officials and media overemphasized that the victims' families forgave the killer, instead of investigating his path to extremism, he said.

''We never really dealt with what occurred in Charleston, because everybody was so quick to want to clean it up,'' said Graham, who now serves on the Charlotte City Council.

Cynthia Graham-Hurd, a beloved public librarian who was just shy of her 55th birthday, died huddled under a desk in the church's fellowship hall. She had been shot at least a half-dozen times.

The gunman, Dylann Roof, committed the nation's deadliest act of anti-Black domestic terrorism since the 1963 Ku Klux Klan bombing that killed four girls at a Black church in Alabama. During closing arguments at Roof's trial, a federal prosecutor said the 22-year-old avowed white supremacist intended to start a war between the races.

His actions instead sparked a national reckoning over white supremacist iconography, including the Confederate battle flag, monuments and statues that appeared in photographs and drawings investigators found among Roof's belongings.

In July 2015, former Republican Gov. Nikki Haley, who is Indian American, signed legislation permanently lowering the Confederate battle flag that flew over South Carolina's Capitol. Many saw it as a sign that white Americans were awakening to their complicity and accepted their obligation to address disproportionate white control of government, economy and media.

Two years after the Charleston massacre, in 2017, white supremacists, the Proud Boys and neo-Nazis held a so-called ''Unite the Right'" rally in Charlottesville, Virginia. The event was staged in opposition to the proposed removal of a Confederate monument from a public park. Heather Heyer, a white counterprotester, died in an attack carried out by a rallygoer.

Trump '-- who, just one day before Roof carried out his murders, launched his White House bid by decrying Mexican migrants as rapists and drug dealers '-- infamously said there were ''fine people'' among the racist Charlottesville rally participants.

There have been moments when it seemed like a reckoning with racism was at hand. After the May 25 police killing of George Floyd in Minneapolis, white people joined protests across the nation.

The SPLC said 111 Confederate monuments and other white supremacist symbols have been removed, relocated or renamed since Floyd's death. But nearly 1,800 Confederate symbols, including 725 monuments, remained on public land as of December.

''Confederate symbols are not relics of the past '' they are living symbols of white supremacy,'' SPLC chief of staff Lecia Brooks said.

''As evidenced by the events of Jan. 6, the Confederate flag is just one of many tools still used to reassert white supremacist ideals,'' she told the AP. ''These symbols did not go up overnight and the power they hold '-- specifically in the South '-- will not be overcome if we continue to stay silent.''

The SPLC has called for federal law enforcement agencies to devote more resources to tracking and prosecuting hate violence and bias incidents, as well as enacting legislation that shifts funding away from punishment models and toward preventing violent extremism. Picciolini, the former extremist, said prevention is essential to deradicalizing people who pose domestic terror threats.

''The way that I work with people to disengage them from extremism is to not really debate them ideologically,'' he said. ''I think that's the same way America has to deal with this problem. We have to look back at our historical potholes and finally accept them and address them, (and) embrace the people who've been harmed along the way, to help shape our future together.''

For Graham, who lost his sister in the Mother Emanuel shooting, the onus isn't on Black people to begin negotiating a truce in the race war. Accountability must come first, he said.

''I think white folks need to have a town hall meeting, and I think they need to start calling their people out,'' Graham said. ''They have to be able to point a finger at folks that look like them, and point them out at their dinner table, at their churches, at their places of employment.''

Those town halls can be spaces for healing between the races, said La June Montgomery Tabron, president and CEO of the W.K. Kellogg Foundation, a philanthropic organization.

''At the root of healing is truth-telling,'' said Tabron, whose organization has hosted a national day of racial healing for several years. ''What we know in our work is that, for children to thrive in the future, they need a country, a nation and a world where there is equity.''

___

Aaron Morrison began covering race and justice for The Associated Press in 2020. He is a member of the AP's Race and Ethnicity team. Follow him on Twitter: https://www.twitter.com/aaronlmorrison.

Chinese company plans to build $39 billion city on Australia's doorstep - NZ Herald

Sat, 06 Feb 2021 16:21

World5 Feb, 2021 09:01 PM4 minutes to read

Chinese President Xi Jinping. Photo / AP

A Chinese company plans to build a city on Australia's doorstep in a move set to inflame tensions between Beijing and Canberra.

A Chinese company has approached the Papua New Guinea (PNG) government with a proposal to build a $39 billion city just kilometres from Australia's sea border, according to leaked documents obtained by The Australian.

Hong Kong-based WYW Holding asked PNG Prime Minister James Marape in April to sign off on a "build operate transfer" deal to build the city on the island of Daru, situated just two kilometres Australia's border in the Torres Strait.

If approved, the "New Daru" would be passed onto PNG after an unspecified period of Chinese control.

Read more' Picture of Chinese ambassador walking on backs of Kiribati locals sparks controversy' China's growing influence in the South Pacific' Australia v China: The critical lessons New Zealand must learn' Fonterra looks on as Australia, US relations with China worsen

A spokesman for Marape told The Australian he was "unaware of such projects", but Home Affairs Minister Peter Dutton said Australia was "keen to discuss" the issue with PNG.

"I think there are all sorts of sovereignty issues and local issues in terms of land owners and land rights," he told Today.

"We will look at it closely, but Australia will always act in our best interests and we will support our neighbour."

Daru is the capital of PNG's impoverished Western Province and has a population of just 15,000. The island has been ravaged by an extremely drug-resistant strain of tuberculosis.

Australian Prime Minister Scott Morrison. Photo / APBut the Australian Strategic Policy Institute's Jonathan Pryke said Beijing was "more likely to grow a third arm" than complete the project and warned the Australian government against by overreacting.

Related articles28 Jul, 2019 11:48 PMQuick Read

5 Feb, 2021 04:00 PMQuick Read

5 Feb, 2021 04:30 AMQuick Read

4 Feb, 2021 08:03 AMQuick Read

"You really need to start taking it seriously if they start importing a huge amount of materials because it's all just for show," he told NCA NewsWire.

"Australia can't jump and react to everything because we're just jumping at shadows.

"We're talking about a project here that's almost twice the size of PNG's annual GDP. I don't need to look at the memorandum of understanding to know that is an insane proposal."

He said middlemen like WYW Holding went to "far flung, wild west parts of the world" in a bid to make quick money.

"(If they) get enough attention around them and someone in Beijing starts paying attention, money might start to flow and they can get rich. That's what it's all about," he said.

Beijing previously pledged to build a university in the electorate of former PNG leader Peter O'Neill, a plan Pryke said had amounted to "a bit of land clearing and four demountables".

Treasurer Josh Frydenberg said he would "wait until more details" were available, but the government was in "constant dialogue" with PNG.

"We have a close relationship with the PNG government ... let's not jump to conclusions here," he said on Friday.

It comes after a Chinese company last year signed a memorandum of understanding to build a $200m industrial fishing complex on Daru.

The revelation alarmed some national security experts who feared the site, which would be located 150 kilometres from the Queensland mainland, would double as a Chinese military facility.

Concerns were also raised the commercial fishing complex would decimate traditional fishing practices in the Torres Strait.

Labor foreign affairs spokesperson Penny Wong wanted guarantees the proposal, if built, would not threaten Australia's national security interests.

"Scott Morrison should explain what he knows about the 'New Daru City' proposal," she said.

"Australia should be the partner of choice in our region, working with allied and aligned nations to build the sort of region we want '' one that is stable, prosperous and respects sovereignty."

But independent senator Rex Patrick said any Chinese presence on Australia's doorstep would be harmful to its national interest.

"Scott Morrison needs to make that very clear to his PNG counterpart and offer support for alternative projects in the Fly River Province, one of the poorest regions of PNG," he told NCA NewsWire.

"Australia needs to be proactive, not reactive, in heading off Chinese proposals to establish a strategic presence next to the Torres Strait and a bridgehead for expanding the Chinese Communist regime's influence and interference in our nearest neighbour."

NY Times Star Reporter Donald McNeil Exits After Daily Beast Expos(C)

Sat, 06 Feb 2021 16:07

The New York Times on Friday announced the ouster of science and health reporter Donald McNeil Jr., who The Daily Beast reported had allegedly used racist language while on a 2019 trip with students to Peru.

McNeil, formerly the paper of record's top reporter on COVID-19, leaves amid fallout from an incident that occurred during a Times-sponsored educational trip to Peru when he used the ''n-word'' and made other racist comments, according to complaints first reported by The Daily Beast. At least six students or their parents claimed McNeil had made racist and sexist remarks throughout the trip.

''I should not have done that,'' McNeil confessed in a Friday email shared with Times staff. ''Originally, I thought the context in which I used this ugly word could be defended.''

The science reporter further described the ''n-word'' incident as having occurred during a dinner discussion about the use of racial slurs, in which one student on the trip asked whether a classmate should have been suspended for using racist rhetoric in a video.

''To understand what was in the video, I asked if she had called someone else the slur or whether she was rapping or quoting a book title. In asking the question, I used the slur itself,'' McNeil wrote.

He apologized for ''extraordinarily bad judgment'' to both the staff of the Times, singling out those he worked closely with, and to the students on the trip. ''I am sorry. I let you all down.''

McNeil's departure comes just days after Times staffers wrote a letter to the paper's top brass expressing outrage over the allegations that McNeil had used racial slurs, and over the response from Times leadership, which the letter's signers suggested was wholly insufficient.

Times executive editor Dean Baquet had previously said McNeil should be ''given another chance'' because his comments were not ''hateful or malicious'' in intent, but in a message to staff on Friday, the top editor wrote, ''We do not tolerate racist language regardless of intent.''

McNeil's behavior on the trip had been hotly debated among Times staffers, including some who took part in a meeting with Baquet and assistant managing editor Carolyn Ryan last Friday. At that meeting, Pulitzer Prize-winner Nikole Hannah-Jones said she planned on calling the parents and students on the trip to determine what McNeil had said and in what context, according to people familiar with the situation.

Forbes Attacks Mercola - Gives One Hour to Respond

Sat, 06 Feb 2021 16:04

As censorship and cancel culture gets revved up another notch, it was perhaps inevitable that I would get targeted yet again, this time by The Washington Post, The New York Times and Forbes magazine. January 18, 2021, our media department received an email from Joe Walsh, a Forbes reporter, stating:1

''I understand that '... your organization received PPP funds last year, along with several other organizations that have offered skepticism about vaccines, and I'd like to include your response.

What is your position on Pfizer and Moderna's Covid-19 vaccines, and on vaccination as a public health strategy, more generally? Some have characterized your organization as anti-vaccine '-- what is your response to that characterization?

How do you respond to insinuations from critics that your organization should not have received federal assistance, given your views on vaccines? My deadline is in an hour '-- thanks in advance.''

First of all, we won't drop everything to address questions in under an hour. Secondly, what does our stance on vaccine safety have to do with our legal right to conduct business? Nowhere on the paycheck protection program (PPP) loan application must you profess your undying loyalty and adherence to vaccine propaganda.

The argument that we should not receive federal assistance ''given our views on vaccines'' is as authoritarian as it gets, which is perhaps what one should expect, given that Forbes is owned by a Chinese company.

In 2014, the Chinese company Integrated Whale Media Investments bought 95% controlling interest in Forbes.

Thirdly, Forbes received a PPP loan in the amount of $8.03 million in April 2020,2 which raises a far more obvious and reasonable question: Why are Americans subsidizing a Chinese-owned media company '-- especially during a time when China is under suspicion by U.S. government officials of being involved in the creation and release of SARS-CoV-2?3

Forbes '-- A Communist Propaganda Outlet?In 2014, the Chinese company Integrated Whale Media Investments bought 95% controlling interest in Forbes.4 ,5 Basically, with just 5% worth of shares in American hands, I think it's safe to say Forbes is a Chinese-controlled company.

That the proverbial choke collar is getting yanked by its communist masters seems evident in the magazine's rather sudden embrace of radical censorship of political opponents and views. As reported by Newsmax:6

''Communist China owned Integrated Whale Media Investments start their purge. Media and the Left aren't satisfied with merely controlling the White House and both chambers of Congress '... They want revenge. They also want to punish anyone who worked in the Trump administration, and to a lesser extent, the 45th president's supporters.''

Good luck, Forbes. Threatening to cut down the voices of half the American population is unlikely to end well. It's really a sad end to what has long been an American media icon. It was predictable, however, and questions about the editorial independence of Forbes were raised from the get-go in 2014. As reported by Isaac Stone Fish in a Washington Post op-ed in December 2017:7

''When a Chinese company buys a major American magazine, does the publication censor its coverage of China? There is only one example so far, and the results are discouraging. In 2014, a Hong Kong-based investment group called Integrated Whale Media purchased a majority stake in Forbes Media '...

[S]ince that purchase, there have been several instances of editorial meddling on stories involving China that raise questions about Forbes magazine's commitment to editorial independence.''

Advertisement

Forbes' Actions Prove It Has Lost Editorial IndependenceOne example given in Fish's article was the sudden ousting of longtime China commentator and Communist Party critic Gordon Chang in October 2017. In an email, Forbes opinion editor Avik S.A. Roy told Chang that ''due to a wide-ranging reorganization of Forbes' content,'' the magazine was ending their relationship.

Forbes also permanently erased all of Chang's articles from its website '-- an unusual move that typically doesn't happen ''unless there were credible allegations of editorial misconduct, which seems unlikely in this case,'' Fish writes.

According to Chang, his relationship with Forbes, which had been very good, dramatically changed in 2014 after Integrated Whale Media took majority ownership. Whereas they'd previously promoted Chang's articles, they stopped doing so in 2014.

''Consider also what happened to Forbes in February 2016, after then-contributor Anders Corr wrote an article comparing China to North Korea,'' Fish writes.8

''Corr provided me with an email that he says came from a Forbes editor. 'Your last post has some language the editors here feel is problematic,' the editor wrote, adding that it was 'not accurate to say China impoverishes its people or to label Xi Jinping a dictator' '...

An editor using the term 'problematic' to describe an opinion writer's opinions, seemingly with the intent of discouraging him from writing about controversial subjects, is, well, problematic.''

Forbes' sudden enthusiastic support of authoritarian ''cancel'' tactics against Conservatives is all the more head-scratching considering chairman and editor-in-chief Steve Forbes has actually been an ardent supporter of President Trump, endorsing him during both of his campaigns.9

This in and of itself is a clue that Forbes has become a secret propaganda arm of Communist China and is trying to normalize the immoral ''extermination'' of political opponents and people whose views don't align with authoritarian ideals. So, again, should American taxpayers really be paying more than $8 million in PPP loans to keep Chinese controlled media in business?

The Hit Piece That Wasn'tOther prominent proponents of vaccine safety also received PPP loans in 2020, including the National Vaccine Information Center (NVIC), the Informed Consent Action Network (ICAN), the Children's Health Defense and the Tenpenny Integrative Medical Center.

Among the five of us, we received some $850,000 in federal assistance, about one-tenth of what communist-backed Forbes received all by itself. In the video above, ICANs Del Bigtree reviews how this non-story was twisted into a supposed ''scandal'' by yet another propaganda machine: the U.K.-based Center for Countering Digital Hate (CCDH), headed up by Imran Ahmed.

The CCDH recently defamed me and other leading vaccine safety advocates by insinuating we are ''prone to violent extremism'' and therefore pose a threat to national security in the U.K.

In its report, ''The Anti-Vaxx Playbook,''10 CCDH identified six leading online ''anti-vaxxers'': Barbara Loe Fisher, Joseph Mercola, Del Bigtree, Robert F. Kennedy Jr., Sherri Tenpenny and Andrew Wakefield. Aside from Wakefield, who does not have a business, the other five are the same organizations now smeared by the CCDH for having legally received PPP loans.

By the way, in its ''Anti-Vaxx Playbook'' report, the CCDH details the messages shared by me and others during the Fifth International Public Conference on Vaccination, held online October 16 through 18, 2020, such as:

Deaths being falsely attributed to COVID-19, thereby artificially inflating mortality statisticsThe fact that COVID-19 has a 99+% survival rate unless you're very old and have underlying comorbiditiesThe fact that there are now several effective therapeutics for COVID-19, making a vaccine less relevantThe CCDH report presents these messages without any counterarguments. It does not negate or even debate the accuracy of any of them. It just brushes them aside as ''misinformation'' and ''lies'' without providing any proof whatsoever, and in doing so, it actually ends up strengthening our messaging. In fact, the report summarizes our concerns so well that I'd encourage everyone to read it.

The Imminent Threat of Technocratic Technofascism Considering the CCDH is pushing for deplatforming anyone who questions vaccines,11 it seems obvious that this PPP story is meant to drum up some sort of public outrage to strengthen the call for our elimination from the net.

It's important to note, here, that Ahmed is also a member of the Steering Committee on Countering Extremism Pilot Task Force under the British government's Commission for Countering Extremism. In other words, the U.K. government is behind these smear campaigns and efforts to manipulate public opinion on vaccines.

What's more, as detailed in ''Spy Agencies Threaten to Take Out Mercola,'' British and American intelligence agencies are collaborating to eliminate ''anti-vaccine propaganda'' from public discussion using sophisticated cyberwarfare tools.

When government lumps enemies of private companies into the same category as enemies of the state, you know totalitarianism has one foot firmly inside the front door. Essentially, they're saying that if you criticize or impede the profitability of certain private companies, you're a national security threat.

The right and freedom to critique government and private companies alike is a hallmark of democracy, so this state-sponsored war against opposing views is a radical detour from democratic rule in the direction of fascism, which is defined, in part, as ''a governmental system led by a dictator '... forcibly suppressing opposition and criticism, regimenting all industry [and] commerce.''12

The fascism du jour, however, is most accurately referred to as technocracy, as detailed in ''The Pressing Dangers of Technocracy,'' ''Technocracy and the Great Reset'' and ''The Plan for a Global System of Slavery.''

Sadly, many are still unaware of this term, and what the technocratic system of governance really entails. Once you do, you'd become reluctant, to say the least, to believe anything a Chinese-owned publication such as Forbes has to say, considering China has been selected by the technocratic elite to be the preeminent power of this New World Order, having already implemented many of the ''technofascist'' systems they want to implement across the rest of the world.

Jack Posobiec 🇺🇸 on Twitter: "BREAKING: Lincoln Project co-founder Jennifer Horn resigns over grooming scandal" / Twitter

Sat, 06 Feb 2021 15:46

Jack Posobiec 🇺🇸 : BREAKING: Lincoln Project co-founder Jennifer Horn resigns over grooming scandal

Sat Feb 06 00:12:23 +0000 2021

ejay72 : @JackPosobiec @DonaldJTrumpJr So she did the right thing. To bad daddy didn't

Sat Feb 06 15:45:05 +0000 2021

Decency Matters : @JackPosobiec @DonaldJTrumpJr Hillary testified for 11 hours

Sat Feb 06 15:45:03 +0000 2021

Jerry Sarfati : @JackPosobiec @DonaldJTrumpJr The trump cult of fascism

Sat Feb 06 15:44:50 +0000 2021

randy 13 : @JackPosobiec @DonaldJTrumpJr https://t.co/FOSstGdxu7

Sat Feb 06 15:42:52 +0000 2021

nunyabiz : @JackPosobiec lolwut

Sat Feb 06 15:40:56 +0000 2021

House Puts $1.9 Trillion Stimulus on Fast Track, With No G.O.P. Votes - The New York Times

Sat, 06 Feb 2021 15:27

Here's what you need to know:House gives final approval to budget plan including Biden's $1.9 trillion stimulus, fast tracking the process.

Biden says he will bar Trump from receiving intelligence briefings, saying his 'erratic behavior' cannot be trusted.

State Dept. lifts terrorist designation against Houthi rebels issued in Trump's final days.

Two G.O.P. House members, Louie Gohmert and Andrew Clyde, are fined for bypassing security screening.

A Lincoln Project co-founder resigns after allegations that a former colleague sent unsolicited, lurid messages to young men.

Greene says Democrats are 'morons' '-- and accuses critics of calling any Republican with ''white skin'' a racist.

Pence accepts two fellowships from conservative groups '-- and starts a podcast.

144 constitutional lawyers call Trump's First Amendment defense 'legally frivolous.'

Videotranscript

transcript

'We're Still in the Teeth of This Pandemic,' Biden SaysPresident Biden called on Congress to act quickly on his proposed $1.9 trillion coronavirus relief package on Friday, in a speech following a weak jobs report.We're still the teeth of this pandemic. In fact, January was the single-deadliest month of the whole pandemic. We lost nearly 100,000 lives. I know some in Congress think we've already done enough to deal with the crisis in the country. Others think that things are getting better, and we can afford to sit back. And either do little or do nothing at all. That's not what I see. I see enormous pain in this country. A lot of folks out of work, a lot of folks going hungry, staring at the ceiling tonight, wondering, what am I going to do tomorrow? And I believe the American people are looking right now to their government for help, to do our job, to not let them down. So I'm going to act, and I'm going to act fast. I'd like to be '-- I'd like to be doing it with the support of Republicans. I've met with Republicans and some really fine people want to get something done, but they're just not willing to go as far as I think we have to go. I've told both Republicans and Democrats that's my preference, to work together. But if I have to choose between getting help right now to Americans who are hurting so badly and getting bogged down in a lengthy negotiation or compromising on a bill that's up to the crisis, that's an easy choice. I'm going to help the American people who are hurting now. That's why I'm so grateful to the House and the Senate for moving so fast on the American Rescue Plan. Job No. 1 of the American Rescue Plan is vaccines, vaccines. The second, the American Rescue Plan is going to keep the commitment of $2,000 '-- $600 has already gone out, $1,400 checks to people who need it. I'm not cutting the size of the checks. They're going to be $1,400, period. That's what the American people were promised.

President Biden called on Congress to act quickly on his proposed $1.9 trillion coronavirus relief package on Friday, in a speech following a weak jobs report. Credit Credit... Stefani Reynolds for The New York Times The House gave final approval on Friday to a budget blueprint that included President Biden's $1.9 trillion stimulus plan, advancing it over unanimous Republican opposition as Democrats pressed forward with plans to begin drafting the aid package next week and speed it through the House by the end of the month.

''Our work to crush the coronavirus and deliver relief to the American people is urgent and of the highest priority,'' Speaker Nancy Pelosi wrote in a letter to Democrats shortly before the bill passed by a 219-to-209 margin.

President Biden, speaking just before the House acted, cited a weak jobs report in justifying the use of a procedural device, called reconciliation, to ram through the measure if Senate Republicans oppose his effort to speed aid to families, businesses, health care providers and local governments.

''It is very clear our economy is still in trouble,'' Mr. Biden said during remarks at the White House '-- amping up the pressure on an upper chamber bracing for former President Donald J. Trump's impeachment trial next week.

''I know some in Congress think we've already done enough to deal with the crisis in the country,'' added Mr. Biden, who reiterated his commitment to fund $1,400 direct checks to low- and middle-income Americans. ''That's not what I see. I see enormous pain in this country. A lot of folks out of work. A lot of folks going hungry.''

Mr. Biden's comments came as the Labor Department's reported on Friday that the economy added only 49,000 jobs in January, and just 6,000 in the private sector. The labor market remains 10 million jobs below its pre-pandemic levels.

Hours earlier, as the sun rose over the Capitol dome, the Senate approved a fast-track budget measure, with Vice President Kamala Harris casting her first-ever tiebreaking vote after a grinding all-night session. The move, in theory, allows them to enact the package without any Republican votes.

Senate leaders could begin working on their own bill in hopes of delivering a final package to Mr. Biden's desk before supplemental unemployment benefits are set to expire in mid-March.

Jen Psaki, the White House press secretary, cited poll numbers showing bipartisan support among American voters for the plan, brushing aside criticism the White House was sacrificing bipartisan solidarity for partisan celerity.

''He didn't run on a promise to unite the Democratic and Republican Party into one party in Washington,'' she said in her Friday briefing at the White House.

Still, Mr. Biden offered one olive twig on Friday, saying his plans could change to win over moderates in both parties, acknowledging that he favored restricting the direct payments to people earning less than $300,000.

''I'm not cutting the size of the checks,'' he said on Friday. ''They're going to be $1,400, period.''

Still, there were warning signs the road ahead would not be entirely traffic-free.

The Senate agreed to a proposal by Senator Joni Ernst, Republican of Iowa, to prohibit any minimum wage increase during the pandemic '-- which could complicate Mr. Biden's plan to raise the federal minimum wage to $15 per hour by 2025.

Democrats did not contest Ms. Ernst's proposal, arguing that it was never their intention to increase the wage immediately, but their reticence to record a vote on the matter was a signal that the wage increase might ultimately lack the support to pass in an evenly split Senate, where at least one Democrat, Senator Joe Manchin III of West Virginia, is on record in opposition.

'-- Jim Tankersley , Luke Broadwater and Hailey Fuchs

President Joe Biden has decided not to share intelligence briefings with former President Trump, breaking from tradition. Credit... Stefani Reynolds for The New York Times President Biden said on Friday that he would bar his predecessor, former President Donald J. Trump, from receiving the intelligence briefings traditionally conducted for former presidents, saying he could not be trusted because of his ''erratic behavior'' even before the Jan. 6 attack on the Capitol.

The move marked the first time that a former president had been cut out of the briefings, which are provided partly as a courtesy and partly for the moments when a sitting president reached out for advice. Currently the briefings are offered on a regular basis to former Presidents Jimmy Carter, Bill Clinton, George W. Bush and Barack Obama.

Mr. Biden, speaking to Norah O'Donnell of CBS News, said Mr. Trump's behavior worried him ''unrelated to the insurrection'' that gave rise to the second impeachment of Mr. Trump.

''I just think that there is no need for him to have the intelligence briefings,'' Mr. Biden said. ''What value is giving him an intelligence briefing? What impact does he have at all, other than the fact he might slip and say something?''

The White House said earlier this week that it had been reviewing whether the former president, whose impeachment trial in the Senate begins on Tuesday, should receive the briefings. The chairman of the House intelligence committee, Representative Adam Schiff, Democrat of California, said last month, just before the inauguration, that Mr. Trump's access to any classified information should be cut off.

'-- David E. Sanger

A Houthi militiaman keeps watch during a protest in Yemen's capital, Sana, last month. Credit... Yahya Arhab/EPA, via Shutterstock The State Department on Friday said it would lift a terrorist designation against Houthi rebels in Yemen that the Trump administration had issued in its final days, revoking penalties that aides to President Biden worried would bring more pain to millions of starving people than to the rebels.

Three officials familiar with the decision said the Biden administration had notified Democrats in Congress on Friday evening that it would scrap the designation, which served as President Donald J. Trump's final jab at the Houthis' main patron, Iran.

Caught in widespread poverty and civil war, about 80 percent of Yemen's population of 30 million people live in areas under Houthi control. The United Nations secretary general, Ant"nio Guterres, said in November that Yemen was ''in imminent danger of the worst famine the world has seen for decades.''

Senator Christopher S. Murphy, Democrat of Connecticut, said in a statement that removing the terrorist designation would ''save lives.''

''The designation did not impact the Houthis in any practical way, but it stopped food and other critical aid from being delivered inside Yemen and would have prevented effective political negotiation,'' Mr. Murphy said.

A State Department official said lifting the designation did not excuse the Houthis' conduct, including attacks against civilians and the kidnapping of Americans. But, the official said, keeping the rebels on the State Department's list of foreign terrorist organizations would accelerate the world's worst humanitarian crisis.

The terrorist designation was in place for just under a month. It was never clear that it would inhibit the rebels who overthrew the Saudi-backed government in Yemen in 2014 and, some analysts said, pose no direct threat to the United States.

But it had a chilling effect on commercial food importers and humanitarian aid workers who feared they would face criminal penalties if their goods fell into Houthi hands. The rebels control the capital, Sana, and parts of the strategic port city of Al Hudaydah, where much of the humanitarian aid from across the world is unloaded.

''We want to make sure that we are not doing anything to make life worse or even more miserable for the long-suffering people of Yemen,'' Ned Price, a State Department spokesman, said Friday afternoon before the designation was lifted.

The reversal was widely expected. Last week, on his first full day in office, Secretary of State Antony J. Blinken said a review of the terrorist designation was ''the priority in my book.''

Officials said the terrorist designation was lifted before it could have a widespread effect. Had it remained in place, the relatively decentralized rebel movement would have been denied financial support and other material resources that are routed through U.S. banks or other American institutions.

But the Houthis' main patron is Iran, which has continued to send support despite being hobbled by severe U.S. economic sanctions, rendering the effect of the designation on the Houthis more symbolic than searing.

'-- Lara Jakes and Eric Schmitt

Representative Louie Gohmert, Republican of Texas, during a news conference with members of the House Freedom Caucus in December. Credit... Al Drago for The New York Times Two Republican House members, Representatives Louie Gohmert of Texas and Andrew Clyde of Georgia, are being fined $5,000 each for bypassing security screening while entering the House chamber on Thursday, according to a senior Democratic aide.

Metal detectors were installed outside the House floor in the wake of the riot at the Capitol on Jan. 6, and the House voted Tuesday to fine members who do not comply with the security screening when entering the chamber.

The fine is $5,000 for the first offense and $10,000 for additional offenses, and members can appeal to the House Ethics Committee.

Mr. Clyde's office did not immediately respond to a request for comment on Friday night. In a statement, Mr. Gohmert said he had complied with the metal detector screening on Thursday but then left the House floor to use the restroom.

''At no time until yesterday did anyone mention the need to be wanded after entering the restroom directly in front of the guards,'' he said, adding, ''Unlike in the movie 'The Godfather,' there are no toilets with tanks where one could hide a gun, so my re-entry onto the House floor should have been a nonissue.''

Mr. Gohmert said he would appeal the fine and take ''whatever action is necessary, especially considering this policy is unconstitutional.''

'-- Thomas Kaplan

Jennifer Horn, a former chairwoman of the New Hampshire Republican Party, was the only prominent woman among the original founders of the Lincoln Project. Credit... Matt Rourke/Associated Press Jennifer Horn, one of the original founders of the anti-Trump group the Lincoln Project, has left the organization citing the revelations that another co-founder, John Weaver, was accused of sending unsolicited and sexually provocative messages to young men.

''Upon careful consideration, I have terminated my relationship with the Lincoln Project, effective immediately,'' Ms. Horn said in a statement to The New York Times.

''John Weaver's grotesque and inappropriate behavior, coupled with his longstanding deceptions concerning that behavior, are sickening,'' she said, adding, ''It is clear at this point that my views about how the Lincoln Project's efforts are managed, and the best way to move the Lincoln Project forward into the future in the wake of these awful events, have diverged.''

Ms. Horn did not further elaborate. In a response, the Lincoln Project said that 48 hours ago, Ms. Horn requested ''an immediate 'signing bonus' payment of $250,000 and a $40,000-per-month consulting contract,'' and claimed that in December, she had ''demanded a board seat on the Lincoln Project, a television show, a podcast hosting assignment and a staff to manage these endeavors.''

''These demands were unanimously rejected by the management committee and board,'' the organization said. ''We immediately accepted Jennifer Horn's resignation from the Lincoln Project. We wish her the best in her future endeavors.''

Ms. Horn, a former chairwoman of the New Hampshire Republican Party, was the only prominent woman among the original founders of the group, which focused on trying to oust former President Donald J. Trump and sought to thwart his stranglehold over the Republican Party. The group's original founders also included Rick Wilson, a media consultant, Steve Schmidt, a strategist, and George T. Conway III, a lawyer.

The Times reported on Sunday that Mr. Weaver, a former adviser to the late Senator John McCain and to former Gov. John Kasich of Ohio, had been accused of sending unsolicited and sexually provocative messages to 21 men, one as young as 14 when the messages began. In some cases, the Times reported, Mr. Weaver offered to help them find employment in the field of politics. Mr. Weaver was said to have been on leave from the group since last summer, when he claimed to have had a heart incident.

Following the story, the Lincoln Project issued a statement denouncing Mr. Weaver, saying, ''The totality of his deceptions are beyond anything any of us could have imagined and we are absolutely shocked and sickened by it. Like so many, we have been betrayed and deceived by John Weaver.''

In her own statement, Ms. Horn said, ''I originally joined the Lincoln Project because I recognized Donald Trump as an existential threat to our country and our way of life.'' She said that she ''brought my credibility, integrity and professionalism to the Lincoln Project's efforts every day to defeat Donald Trump and Trumpism.''

She said that the success experienced in fighting Mr. Trump ''is undeniable but also unfinished. While I end my association with the Lincoln Project today, I remain fully committed to fighting Trumpism going forward, to preserving our democratic Republic and to giving a voice to those who have none.''

'-- Maggie Haberman

The decision by the White House was a blow to the prestige of the American Bar Association, which describes itself as the largest voluntary association of lawyers in the world. Credit... Stefani Reynolds for The New York Times The Biden administration has told the American Bar Association that it will not restore the group's quasi-official gatekeeper role in vetting potential judges before the president decides whether to nominate them, according to the legal group's president, Patricia Lee Refo.

This decision is a first for a Democratic president, but it echoes that of the last two Republican administrations. The bar association's prenomination role had dated to the Eisenhower administration, serving as an outside check on the process of selecting judges who have tenure for life.

''Every White House sets its own rules for judicial nominations,'' Ms. Refo said in an interview. ''Other White Houses have found it useful to get our confidential evaluation in private. This White House has made a different decision. But the evaluation work that we do will go forward without change.''

The bar association and the Obama administration had recurring tensions over the fact that most of the ''not qualified'' ratings the bar group's peer-review system produced were for women or people of color. Against that backdrop, liberal groups greeted the decision as a signal that the White House under President Biden was determined to diversify the federal bench.

In a phone call last Friday, White House officials raised concerns that the subjective criteria by which the group gathered impressions from peers of lawyers under consideration might be vulnerable to unintentional negative assumptions and racial or gender stereotyping, according to people briefed on the call.

Not waiting for the bar association to vet potential nominees '-- a process that takes about a month, according to people familiar with it '-- is also likely to help speed Mr. Biden's efforts to push nominations into the confirmation pipeline more quickly than President Barack Obama did. President Donald J. Trump set a record-breaking pace in appointing judges, largely white and male.

The decision by the White House '-- earlier reported by The Washington Post '-- was a blow to the prestige of the A.B.A., which describes itself as the largest voluntary association of lawyers in the world. Commenting on nominees only after their names have been put forward reduces the group's power to block potential judges it deems unqualified.

Still, the bar group, which has expressed eagerness to work with the Biden administration on various issues related to the judicial system, is not publicly objecting to the shift.

'-- Charlie Savage

Videotranscript

transcript

'I've Been Freed,' Greene Says of Removal From CommitteesRepresentative Marjorie Taylor Greene, Republican of Georgia, said she was ''freed'' after the House voted to end her committee assignments over her promotions of violence and misinformation on social media.When the Democrats and 11 of my Republican colleagues decided to strip me of my committee assignments, education and labor and the budget committee, you know what they did? They actually stripped my district of their voice. They stripped my voters of having representation to work for them. I had the greatest opportunity yesterday, and I'm so grateful for it. I got to say what I had done wrong. And do you know how freeing that is? I'm not kidding. I seriously feel blessed by God because I got to do it on a world stage. I got to say, I said things wrong. I believe things that were wrong. Going forward, I've been freed. I do. I feel freed because you know what's happening on these committees? You see, we have basically a tyrannically controlled government right now, the Democrats. So if I was on a committee, I'd be wasting my time because my conservative values wouldn't be heard and neither would my districts. Right now, my Republican colleagues are being told that their white skin makes them inherently racist or that their service in our nation's military to our country, defending our freedoms, makes them bad and a domestic terrorist. How are we at this place?

Representative Marjorie Taylor Greene, Republican of Georgia, said she was ''freed'' after the House voted to end her committee assignments over her promotions of violence and misinformation on social media. Credit Credit... Anna Moneymaker for The New York Times Representative Marjorie Taylor Greene, Republican of Georgia, lashed out at Democrats on Friday in her first comments after the House voted to strip her of her committee assignments '-- defiantly making a case to help lead the clamorous Trump wing of the Republican Party.

''I woke up early this morning literally laughing thinking about what a bunch of morons the Democrats (+11) are for giving some one like me free time,'' she wrote on her personal Twitter account.

''In this Democrat tyrannical government, Conservative Republicans have no say on committees anyway,'' she said, adding, ''Oh this is going to be fun!''

Ms. Greene is responding to her public reprimand in much the same way that former President Donald J. Trump, a role model and ally, reacted to his '-- by hurling insults.

Unlike Mr. Trump, she pulled back the curtain to reveal her political approach, admitting that Democrats were helping to amplify her importance on social and mass media.

Ms. Greene, 46, cast the saga as a battle for free speech in a news conference on Capitol Hill, lamenting that Republicans ''are being told that their white skin makes them inherently racist,'' in her first extensive remarks since she was stripped of her committees a day before.

She began with a free-ranging speech in which she chastised the media for their coverage of her, declaring that the Republican Party belongs to Donald J. Trump and ''doesn't belong to anybody else.''

She complained that her loss of committee posts ''stripped my voters of having representation to work for them,'' adding that as a successful business owner, she would have been a valuable voice on the Budget Committee.

A moment later, however, she claimed the decision had ''freed'' her from ''wasting my time'' with the minute details of legislating.

On Thursday, Democrats warned that the unwillingness of House Republicans to punish one of their own represented a danger to their party and to the country at large.

''When acquiescence to the suggestion of violence of any kind is allowed to go unchecked, it is a cancer that can metastasize on the body politic of our nation,'' said Steny H. Hoyer, the majority leader of the House, in a speech on the House floor, as Ms. Greene sat nearby.

Ms. Greene's determination to remain in the spotlight obliterated even the slim hopes of House Republican leaders that Ms. Greene, empowered by her devotion to Mr. Trump, would quiet down in the name of party unity after her rebuke.

On Thursday, 11 Republicans joined all the chamber's Democrats in removing her committee assignments. Kevin McCarthy, the House minority leader, had refused to discipline her after stripping Representative Steve King of Iowa of his assignments two years earlier.

The episode laid bare deep divisions among Republicans about how to move forward as a party. In the days leading up to the vote on Ms. Greene, Senator Mitch McConnell of Kentucky, the most powerful Republican in Washington, had denounced her statements, which he called ''loony lies,'' saying such conspiracy theories were a ''cancer'' on the party.

Several other top Republican senators had joined him in denouncing Ms. Greene and saying she could not become the face of the party.

Hours before her Friday tweet, Ms. Greene '-- who has allied herself with the QAnon conspiracy movement, promoted anti-Jewish tropes and suggested using violence against political opponents '-- sought to downplay her previous statements and cast herself as an earnest newcomer trying to represent her constituents.

In emotional remarks on the House floor, Ms. Greene expressed regret for her previous comments and disavowed many of her most outlandish and repugnant pronouncements. She said she believed that the Sept. 11, 2001, attacks ''absolutely happened'' and that school shootings were ''absolutely real'' after previously suggesting that aspects of both were staged.

Asked by a CNN reporter on Friday if she would apologize for some of her most offensive comments made before she was elected to Congress, Ms. Greene initially stood firm and demanded that the reporter offer an apology for the network's coverage of the Trump-Russia investigation.

Asked again '-- by a different reporter '-- Ms. Greene offered her first unequivocal apology to date.

''Of course I'm sorry for saying all those things that are wrong and offensive,'' Ms. Greene replied. ''And I sincerely mean that, and I'm happy to say that. I think it's good to say when we've done something wrong.''

'-- Catie Edmondson and Glenn Thrush

Videotranscript

transcript

Kamala Harris Breaks Senate TieOn Friday, Vice President Kamala Harris returned to the Senate, and cast a tiebreaking vote to pass a Covid relief budget measure.''Ms. Gillibrand, Mr. Graham, Mr. Grassley, Mr. Hagerty, Ms. Hassan and Mr. Hawley, and Mr. Heinrich, Mr. Hickenlooper, Ms. Hirono. Mr. Hoeven, Ms. Hyde-Smith. Mr. Inhofe. Mr. Johnson.'' ''On this vote, the yeas are 50, the nays are 50. The Senate being equally divided, the vice president votes in the affirmative, and the concurrent resolution as amended is adopted.''

On Friday, Vice President Kamala Harris returned to the Senate, and cast a tiebreaking vote to pass a Covid relief budget measure. Credit Credit... Anna Moneymaker for The New York Times It was, somehow, a setting simultaneously dramatic and anticlimactic for Vice President Kamala Harris's first tiebreaking vote in the Senate: just before dawn in a sparsely filled chamber, at the end of a 15-hour session in which senators voted on dozens of amendments to one of the largest stimulus packages in American history.

Minus, perhaps, the 15-hour session, it was a scene sure to be repeated many times. The stimulus may be one of their main priorities, but it is also just the first of many policies the Biden administration hopes to pass through a Senate evenly split between parties that disagree on almost everything, even when the American people don't.

In the hours before her vote was needed, Ms. Harris met with several senators '-- including Raphael Warnock, Democrat of Georgia, and Roy Blunt, Republican of Missouri '-- and participated in the ceremonial swearing-in of Senator Alex Padilla, who replaced her last month as the junior senator from California.

She returned to her Senate office around 3:30 a.m., according to a White House aide. With C-SPAN in the background, she passed the time by writing notes to Senators Dianne Feinstein of California and Patty Murray of Washington, congratulating them on their 9,000th votes, and to Ann Berry, who was named this week as the first Black secretary of the Senate.

Ms. Harris arrived on the Senate floor shortly after 5 a.m. in anticipation of the session's final vote '-- on a budget blueprint that would allow Democrats to pass a $1.9 trillion stimulus package with no Republican support '-- and took her seat at the head of the chamber.

''Good morning,'' Senator Jon Ossoff, Democrat of Georgia, tweeted at 5:13 a.m. ''We are still voting in the Senate. And @KamalaHarris has just arrived in the chamber to help us advance COVID relief.''

At that very moment, Ms. Harris was casting what was technically her first tiebreaking vote in favor of an amendment proposed by Senator Chuck Schumer of New York, the majority leader.

But it was at 5:34 a.m., 95 minutes before the sun rose in Washington, that she broke the tie that mattered.

''On this vote, the yeas are 50, the nays are 50,'' she said. ''The Senate being equally divided, the vice president votes in the affirmative and the concurrent resolution as amended is adopted.''

There was no mistaking the weight of those words. They advanced a hugely impactful piece of legislation, of course. But they also signaled that for two years to come, the single most influential voice in the United States may be that of Ms. Harris declaring, in the stiltedly third-person language of Senate procedure, which way the vice president votes.

As she pronounced the resolution adopted and slid her chair back from the desk, her eyes crinkled in what, behind two masks, was clearly a smile.

'-- Maggie Astor

Former Vice President Mike Pence and his wife, Karen, at President Biden's inauguration last month. Credit... Ruth Fremson/The New York Times Former Vice President Mike Pence, who blended an easy-listening voice and hard-right politics as a talk radio personality in the 1990s, is hosting a new podcast sponsored by the conservative Young America's Foundation, the group announced Friday.

The podcast, which will be streamed on video, is part of Mr. Pence's appointment as a Ronald Reagan Presidential Scholar, which also entails delivering lectures to students around the country participating in the foundation's programs, Scott Walker, the foundation's president, announced on Friday.

''Vice President Pence's energy and enthusiasm for Ronald Reagan's values has and will continue to inspire a new generation of young people,'' wrote Mr. Walker, a former Republican governor of Wisconsin, on the group's website.

It is not clear how often the podcast will air, who Mr. Pence will invite as a guest, or whether he plans to address his turbulent four years as President Donald J. Trump's faithful number two.

The foundation, started in 1969, purchased the Reagan ranch, ''Rancho del Cielo,'' in California two decades ago, using a $10 million endowment from Richard and Helen DeVos, the Amway billionaires.

One notable alumnus of the foundation's youth programs: Stephen Miller, Mr. Trump's hard-line immigration adviser.

On Thursday, the Heritage Foundation '-- which played a critical, under-the-radar role in shaping the Trump administration's conservative domestic agenda '-- announced that Mr. Pence would be serving as a ''distinguished visiting fellow.''

Neither organization provided information about Mr. Pence's compensation or benefits.

In recent years, Heritage has paid lesser-known fellows more than $300,000 a year, according to federal tax filings. The Young America's Foundation's annual tax filings contain no details on the compensation of fellows, but its senior staff has been generously compensated, with some executives earning more than $600,000 per year.

'-- Glenn Thrush

Former President Donald J. Trump's impeachment trial opens on Tuesday. Credit... Oliver Contreras for The New York Times Claims by former President Donald J. Trump's lawyers that his conduct around the Jan. 6 Capitol riot is shielded by the First Amendment are ''legally frivolous'' and should do nothing to stop the Senate from convicting him, 144 leading First Amendment lawyers and constitutional scholars from across the political spectrum wrote in a new letter circulated on Friday.

Taking aim at one of the key planks of Mr. Trump's impeachment defense, the lawyers argued that the constitutional protections do not apply to an impeachment proceeding, were never meant to protect conduct like Mr. Trump's anyway and would likely fail to shield him even in a criminal court.

''Although we differ from one another in our politics, disagree on many questions of constitutional law, and take different approaches to understanding the Constitution's text, history, and context, we all agree that any First Amendment defense raised by President Trump's attorneys would be legally frivolous,'' the group wrote. ''In other words, we all agree that the First Amendment does not prevent the Senate from convicting President Trump and disqualifying him from holding future office.''

Among the 144 lawyers, scholars and litigants who signed the letter, a copy of which was shared with The New York Times, were Floyd Abrams, who has fought marquee First Amendment cases in court; Steven G. Calabresi, a founder of the conservative Federalist Society; Charles Fried, a solicitor general under Ronald Reagan; and pre-eminent constitutional law scholars like Laurence Tribe, Richard Primus and Martha L. Minow.

The public retort came after Mr. Trump's lawyers, Bruce L. Castor Jr. and David Schoen, indicated this week that they planned to use the First Amendment as part of their defense when the trial opens on Tuesday. They argued in a written filing on Tuesday that the House's ''incitement of insurrection'' charge ''violates the 45th president's right to free speech and thought'' and that the First Amendment specifically protects Mr. Trump from being punished for his baseless claims about widespread election fraud.

The House impeachment managers have argued that Mr. Trump's false statements claiming to have been the true winner of the election, and his exhortations to his followers to go to the Capitol and ''fight like hell'' to reverse the outcome helped incite the attack.

In their letter, the constitutional law scholars laid out three counterarguments to the president's free-speech defense that the Democrats prosecuting the case are expected to embrace at trial.

First, they asserted that the First Amendment, which is meant to protect citizens from the government limiting their free speech and other rights, has no real place in an impeachment trial. Senators are not determining whether Mr. Trump's conduct was criminal, but whether it sufficiently violated his oath of office to warrant conviction and potential disqualification from holding future office.

''As a result, asking whether President Trump was engaged in lawful First Amendment activity misses the point entirely,'' they write. ''Regardless of whether President Trump's conduct on and around January 6 was lawful, he may be constitutionally convicted in an impeachment trial if the Senate determines that his behavior was a sufficiently egregious violation of his oath of office to constitute a 'high crime or misdemeanor' under the Constitution.''

What is more, they argued, even if the First Amendment did apply to an impeachment trial, it would do nothing to bar conviction, which has to do with whether Mr. Trump violated his oath, not whether he should be allowed to say what he said.

''No reasonable scholar or jurist could conclude that President Trump had a First Amendment right to incite a violent attack on the seat of the legislative branch, or then to sit back and watch on television as Congress was terrorized and the Capitol sacked,'' they wrote.

Finally, they contended that there is an ''extraordinarily strong argument'' that the defense would even fail in a criminal trial, because the evidence against Mr. Trump is most likely strong enough to meet the Supreme Court's high bar for punishing someone for inciting others to engage in unlawful conduct.

Many of the signatories to Friday's letter had signed onto a previous one pushing back on another key argument in Mr. Trump's defense: the assertion that the Senate does not have jurisdiction to try a former president because the Constitution does not explicitly grant it that power.

'-- Nicholas Fandos

Robert Gieswein, left, was among the first wave of violent rioters to break into the Capitol last month. Credit... Erin Schaff/The New York Times Federal officials piecing together the puzzling, chaotic story of the Capitol Hill riot are increasingly focusing on the Proud Boys, a far-right group that played a significant role in coordinating the attack on the heart of American democracy on Jan. 6.

The efforts of the group '-- some of former President Donald J. Trump's most vocal and violent supporters '-- are coming under increased scrutiny as prosecutors assign responsibility for the attempt, unparalleled in U.S. history, to disrupt the process of certifying a free and fair presidential election.

In previous filings, the government has said that some Proud Boy members went to the Capitol with communication equipment and that leaders ordered subordinates to show up undercover, not in their typical black-and-yellow shirts.

In a flurry of court papers filed in recent days '-- four separate cases against six individual Proud Boys '-- federal officials have begun detailing the actions of individual members who entered the fray with a plan.

When Ethan Nordean, the ''sergeant of arms'' for the Seattle Proud Boys, led a mob of his fellow far-right nationalists on a winding march to the Capitol last month, an angry crowd had already gathered at the barricades, facing off against a small detachment of the Capitol Police.

It was then, court papers say, that Mr. Nordean had a brief exchange with a young man in the throng wearing goggles, a battle helmet and head-to-toe military garb.

Within an hour, court papers say, that man, Robert Gieswein, was among the first wave of violent rioters to break into the Capitol, breaching the building through a window shattered by a Proud Boy from New York.

In a criminal complaint released on Wednesday night, for instance, prosecutors said that days before the Capitol attack, Mr. Nordean issued a call on social media asking for donations of ''protective gear'' and declared during his podcast, ''We are in a war.''

While prosecutors have not issued an overarching indictment accusing the group of a detailed conspiracy to storm the halls of Congress, they have left hints in the record that they believe a measure of planning went into disrupting the certification of the presidential vote.

The Proud Boys have been a chief focus of the F.B.I.'s inquiry into the Capitol assault '-- not the least because they were one of the extremist groups with a large and visible presence in Washington before the riot.

On Wednesday, the group came under increased pressure as the Canadian government moved to formally designate it as a terrorist organization, a step that could lead to financial seizures and allow the police to treat any crime committed by members as terrorist activity.

The chairman of the Senate Intelligence Committee, Senator Mark Warner of Virginia, said this week that he hopes to examine the influence of foreign powers on antigovernment extremist groups like the ones that helped mobilize the attack on the Capitol last month.

'-- Alan Feuer

As the US descends into chaos, what better time for Britain to go the same way? | US Capitol breach | The Guardian

Sat, 06 Feb 2021 10:19

Show caption Trump supporters force their way into the Capitol, Wednesday 6 January 2021. Photograph: Shannon Stapleton/Reuters

OpinionWithout Fox News there wouldn't have been a Trump presidency, yet the UK now wants its own copycat channels

Judging by his preposterous video calling for healing on Thursday night, Donald Trump is tipping both the scales and the effort marks at ''late-era Brando''. Apparently reading off cue cards held up by one of the last bunker-buddies yet to resign, the president somehow contrived to make his lines sound both quarter-arsedly phoned-in and bowel-voidingly terrified.

No one should trust a single word he says, naturally, but there was a distinct ring of truth in the quote of one current presidential adviser, who told a New York magazine reporter that Trump was irritated by the scenes at the Capitol simply because they looked ''low-class''. As the adviser explained: ''He doesn't like low-class things.'' Well, quite. All populists loathe their people, and Trump's lifetime distaste for exactly those who voted for him and supported him to this most bitter of ends '' if it even is the end '' is one of his era's most sledgehammer ironies.

And so it was that the most diehard members of his base were waking up to discover that, for Trump, it was just a one-coup stand. On Wednesday night he told them he loved them; by Thursday he was promising to jail them '' probably using the draconian monument executive order he'd brought in to delight them during the Black Lives Matter statue topplings. Life comes at you fast, I'm told.

Quite how well they'll take the betrayal is as yet unclear. We're already talking about people whose idea of freedom is so warped that they seem genuinely affronted by the idea they aren't actually free to stage a coup in a democracy. One guy on Wednesday posted a picture of his son standing inside the Capitol on a statue plinth with the words: ''That's my son!'' By Thursday, he was inquiring: ''Why are the FBI contacting me?'' I was mesmerised by one clip of a Maga insurrectionist who explained, ''This is a revolution!'' but was positively outraged and appalled that she had been teargassed. America's service culture runs deep.

And so to the founding fathers of this level of mass delusion. It was nice to hear from Mark Zuckerberg, who grandly announced he'd blocked Trump's Facebook and Instagram accounts. This is not so much a case of shutting the stable door after the horse has bolted as doping the horse, whipping it into a frenzy, encouraging it to bolt, fostering a world in which humans are subjugated by horses, monetising every snort and whinny, allowing the very existence of ''humans'' and ''horses'' to become just one of a bunch of competing opinions, and then '' only when that one particular horse has outlived its usefulness and seems destined for the glue factory '' gently closing the stable door with a self-satisfied little ''click''. That said, I very much enjoyed the photos of Zuckerberg's wife enjoying a carefree surf in Hawaii, presumably taken as a man claiming to be prepared for a violent death was surfing on Nancy Pelosi's desk.

Yet to break his silence is Rupert Murdoch, holed up in Oxfordshire and already safely vaccinated, even as his highest-profile Fox news anchor, Tucker Carlson, pushes anti-vax propaganda. But there would never have been a Trump presidency without Fox News, with the channel spending years before his election pushing his birtherism, boomer-bait and belief that the news is really just another TV show whose ratings were his primary obsession. Doubling down on all its worst instincts from the moment Barack Obama was elected, Fox News terrified and radicalised with wild disinformation, creating a post-fact black hole so powerful that even previously mild-mannered rivals got sucked into it.

And here we are. The import of events in Washington this week is many things, but one of those is a cautionary tale about what happens when ''news'' is entirely unmoored from facts. Hopping between the channels as the drama unfolded, I was struck by how much there is still to treasure in UK TV news. Robert Moore's truly masterful reporting for ITV from right inside the Capitol was miles better than anything I saw on the US channels, where even CNN seemed locked into the punditry format at the height of the action.

And yet '... imagine being the country that is RIGHT NOW deciding to get in on the bonkers newsotainment game. Imagine being the country that has watched the last four years unfold in the US, with its bloodlines so easily traceable to the Fox sensibility, and is nonetheless thinking: let's have a bit of that. Because that's us, of course. In the coming months, not one but two anti-impartiality news channels will launch in the UK '' GB News, backed by Discovery, and News UK, courtesy of that aforementioned adornment to international life, Rupert Murdoch.

You couldn't move for commentators explaining after the phone-hacking scandal that Murdoch's spell was broken. In fact, as numerous events have since proved, Rupert Murdoch's spell is not remotely broken. He is spello intacto. Shortly after Trump was elected, Murdoch protege Michael Gove was flown to New York to perform an adoring colonoscopy on him '' ''interview'', as he had it. Gove seemingly described every detail of his visit to Trump's office, right down to who rode in the lift with him '' but never thought to mention that Murdoch sat in on the whole thing according to the Financial Times. The public doesn't like to see how the trick is done, perhaps.

The Trump presidency was arguably the logical result of the type of hyper-partisan disinformation first fostered by Fox News, and the grotesque events of Wednesday were the logical result of a Trump presidency. I wouldn't be so wishful as to call it the logical end, given that strong rumours persist of a Tucker Carlson presidential run sooner or later. There is always another chapter. As for our next chapter, there will be those wondering after the era-defining events in Washington this week if this is quite the moment for the UK to start chasing this particular Fox. Then again, what's the worst that could happen?

Marina Hyde is a Guardian columnist

{{#ticker}}

{{topLeft}}

{{bottomLeft}}

{{topRight}}

{{bottomRight}}

{{#goalExceededMarkerPercentage}}

{{/goalExceededMarkerPercentage}}

{{/ticker}}

{{heading}}{{#paragraphs}}

{{.}}

{{/paragraphs}}

{{highlightedText}}

{{#cta}}

{{text}}{{/cta}}

Share on Facebook Share on Twitter Share via Email Share on LinkedIn Share on Pinterest Share on WhatsApp Share on Messenger

Ocasio-Cortez's recounting of the Jan. 6 riot was not a 'hoax' - The Washington Post

Sat, 06 Feb 2021 10:03

''I was in the chamber, unlike AOC '-- Representative Ocasio-Cortez '-- that faked her outrage with another hoax, just another hoax that gets shared everywhere.''

'-- Rep. Marjorie Taylor Greene (R-Ga.), during a news conference, Feb. 5, 2021

The House of Representatives ousted Greene from her committee posts on Thursday because of controversy surrounding her embrace of extremist ideology and her comments on social media that ranged from endorsing the assassinations of prominent Democrats to suggesting a Jewish-directed laser beam had sparked a deadly California wildfire.

She still seems to be following misleading accounts on social media. A day after the vote, Greene attacked Rep. Alexandria Ocasio-Cortez (D-N.Y.) for offering a ''hoax'' about her experience during the Capitol Hill riot.

There was no hoax. Ocasio-Cortez's words have been twisted beyond recognition.

The Facts

On Feb. 1, Ocasio-Cortez had a 90-minute Instagram Live talk about her experience during the Jan. 6 assault on the Capitol, including disclosing that she once had been a victim of sexual assault. ''I'm a survivor of sexual assault, and I haven't told many people that in my life,'' she said, by way of explaining why the experience was so frightening for her: ''But when we go through trauma, trauma compounds on each other.''

Ocasio-Cortez recounted how she hid in a bathroom, convinced she was going to die, then encountered a Capitol Police officer who she thought was ''looking at me with a tremendous amount of anger and hostility,'' and finally sheltered with Rep. Katie Porter (D-Calif.) in Porter's office for hours.

Porter has confirmed Ocasio-Cortez's fear during the ordeal. ''We had no way to know if and when the people who had penetrated the Capitol were coming through the tunnels to get us,'' Porter told CNN's ''Cuomo Prime Time'' on Feb. 4. ''No way to know if the voices that we heard in the hallway were those of police officers or those of the mob.''

During her talk, Ocasio-Cortez made clear that she was not in the main Capitol building. ''And so for you all to know, there's the Capitol Hill complex,'' she said. ''But members of Congress, except for, you know, the speaker and other very, very high-ranking ones, don't actually work in that building with the dome. There's buildings like right next to the dome, and that's where our actual offices are.''

She did not name the building, but her office is in the Cannon House Office Building, which is across the street from the Capitol.

At another point, Ocasio-Cortez referenced bombs that had been found near the headquarters of the Republican National Committee and the Democratic National Committee. ''You know, at this point we start getting intelligence that bombs have been found, one about like one block away from where we were, one or two blocks away from where we were,'' she said. ''And then a second one, like three blocks away from where we were.''

The RNC is about 260 feet from Cannon, almost across the street, while the DNC is about a third of a mile away. That's further confirmation she was speaking about being in a House office building, not the Capitol itself.

Yet, starting with a report form the conservative website Red State, the narrative took hold that Ocasio-Cortez said she was in the Capitol. ''AOC Wasn't Even in the Capitol Building During Her 'Near Death' Experience,'' headlined the Red State report, using a common shorthand for Ocasio-Cortez's name. A right-wing commentator named Steven Crowder piled on with his own take, declaring ''AOC Lied and I can prove it.''

And now Greene has added to the furor: ''I was in the chamber, unlike AOC '-- Representative Ocasio-Cortez '-- that faked her outrage with another hoax, just another hoax that gets shared everywhere.''

(The Washington Post video team has closely studied who was on the House floor and in the gallery at the time and cannot find any images of Greene to confirm her claim. The number of members on the House floor at the time was limited because of House rules. A spokesperson for Greene did not respond to a request for comment.)

The Post obtained hours of video footage, some exclusively, and placed it within a digital 3-D model of the building. (TWP)But as we have demonstrated, Ocasio-Cortez never said she was in the chamber. She clearly stated she was in one of the House buildings where most members have their offices.

Part of the problem is that some news organizations misreported what Ocasio-Cortez said during her Instagram talk. Newsweek incorrectly wrote that Ocasio-Cortez said that ''rioters entered her office, forcing her to take refuge in her bathroom.'' Actually, she was already in the bathroom when a Capitol Police officer banged on the door.

This led to another misunderstanding. Rep. Nancy Mace (R-S.C.) on Feb. 2 tweeted out images of the Newsweek report and wrote: ''AOC made clear she didn't know who was at her door. Breathless attempts by media to fan fictitious news flames are dangerous. My office is 2 doors down. Insurrectionists never stormed our hallway. Egregious doesn't even begin to cover it. Is there nothing [the mainstream media] won't politicize?''

Two days later, Mace tweeted a Fox News report on her tweet, with a truncated version of the earlier tweet: ''I'm two doors down from aoc and no insurrectionists stormed our hallway.'' In response, Ocasio-Cortez fired back: ''This is a deeply cynical & disgusting attack. '... You previously told reporters yourself that you barricaded in your office, afraid you'd be hurt.''

In a later Twitter thread, Ocasio-Cortez even accused Mace of silencing rape survivors. Yet Mace herself was raped when she was 16. As a state legislator, Mace used that experience to convince lawmakers to include a rape and incest exception to a pending antiabortion bill.

Natalie Johnson, a spokeswoman for Mace, said Mace's tweet had been misunderstood and she was not contradicting Ocasio-Cortez. ''It was a critique of media twisting AOC's account, not of AOC,'' she told The Fact Checker.

The Pinocchio Test

No evidence has emerged that Ocasio-Cortez's account of Jan. 6 was a hoax. During her Instagram Live event, she spoke in detail about where she was during the riot and whom she encountered. Ocasio-Cortez has many critics who leap at any possible misstep, but the problem was compounded when a tweet by a GOP member of Congress was perceived as confirming the right-wing critique. Instead, that lawmaker was faulting the media for misreporting Ocasio-Cortez's story.

Greene earns Four Pinocchios.

Four Pinocchios

(About our rating scale)

Send us facts to check by filling out this form

Sign up for The Fact Checker weekly newsletter

The Fact Checker is a verified signatory to the International Fact-Checking Network code of principles

Indian farmers block highways over reforms

Sat, 06 Feb 2021 10:02

Farmers in India have taken to the streets again as part of ongoing protests against new laws that they say will upend their ability to make a living.

Tens of thousands of protesting farmers across India began a three-hour blockade of national highways in a continued effort to force the government's hand to repeal controversial agriculture laws.

Authorities placed the capital New Delhi on high alert and deployed additional police at the city's borders, as well as closing 10 metro stations.

Police had set up barricades ahead of the protests on certain key roads, as shown by a Delhi Police video shared on Twitter.

Three-month campaignFarmers have been camping out in large numbers just outside the capital since mid-November.

Protesters marched through the city on January 26, India's Republic Day, which saw some scenes of violence as groups of farmers clashed with riot police and broke through barricades.

Videos shared on Twitter showed the protesters blocking highways around Delhi and playing music.

The Times of India newspaper reported that 50 people had been detained in Delhi for taking part in a protest in solidarity with the farmers.

Farmers unions had called for the nationwide blockades, under the name "Chakka Jam" to protest against the internet ban in areas where farmers had camped out.

"We will block vehicles for three hours in a symbolic gesture," said Rakesh Tikait, a farmers' leader. "We will give stranded people water, food, and explain to them why we are protesting."

Why are farmers protesting?Prime Minister Narendra Modi's government angered farmers with its attempt to pass a series of agricultural laws that ministers say will modernize India's agricultural industry.

Over half of India's population is dependent on agriculture for a living '-- although the sector's economic importance has declined over the past few decades. Farmers say that the new market liberalization laws will benefit large corporations and make it difficult for them to survive.

Indian farmers are already suffering from high levels of inequality and debt. The stand being taken by the protesters is proving to be one of the greatest challenges faced by the Modi government since he took office.

Repeated attempts at negotiations have fallen flat as farmers relentlessly keep up the pressure. The protests also drew international attention after celebrities such as pop star Rihanna and environmental activist Greta Thunberg showed their support.

Pro-government supporters lambasted the involvement of the celebrities by burning photos of them.

ab/mm (AP, dpa)

Local New York reporters urge Gov. Cuomo to be more transparent, answer hard-hitting follow-up questions | Fox News

Sat, 06 Feb 2021 09:54

Embattled New York Gov. Andrew Cuomo, D., is under fire yet again, this time over accusations of a blatant lack of transparency with the press and only calling on friendly reporters while eluding tough questions.

The Times Union, a widely respected newspaper based in New York's capital city of Albany, reported Thursday that local reporters are sick of the governor's tactics.

CUOMO'S HEALTH COMMISSIONER BRANDED A 'LIAR' OVER NY'S COVID NURSING HOME CONTROVERSY: REPORT

"The Legislative Correspondents Association (LCA), made up of dozens of reporters and editors from various news outlets who cover the state Capitol in Albany, sent a letter Monday requesting Cuomo allow reporters to ask at least one follow-up question; diversify which reporters are selected for questions by taking into account race, ethnicity, gender and age; and alert news outlets at least two hours in advance of his public appearances," Times Union reporter Amanda Fries wrote.

CNN's Chris Cuomo was criticized for a series of lighthearted interviews with his older brother.

Last year, Cuomo participated in a series of widely mocked appearances on his little brother's CNN program at the height of New York's nursing home scandal. "Cuomo Prime Time" namesake Chris Cuomo regularly joked around with the governor instead of asking tough questions and once even admitted he couldn't be objective when covering his brother.

The troubled governor has also managed to dodge tough questions on a variety of other mainstream television programs, while largely ignoring local reporters in Albany. But the Legislative Correspondents Association is now pressuring the Democratic governor to change his tactics.

"The Albany press corps has not had its usual opportunity to closely question Gov. Cuomo since he moved from in-person to Zoom press conferences in December," LCA member Kyle Hughes told Fox News.

A New York Times reporter tweeted the entire letter:

"We trust that you, as a supporter of the free press, will recognize that our requests are reasonable and acknowledge our concerns as the primary organization of reporters responsible for transmitting information on this historic pandemic to the public," the letter to the governor said.

The Times Union scribe noted that Cuomo's briefings have been conducted via Zoom because of the coronavirus pandemic, allowing the governor to hand pick who gets to grill him on hot-button issues.

"But who gets picked to ask a question and their inability to ask follow-up questions for clarity have plagued Albany reporters for months, who have taken to social media channels to highlight the inequities," Fries wrote. "Some reporters described that despite taking part in dozens of the governor's briefings, and requesting to ask a question, they are passed over for reporters who Cuomo and his executive team appear to favor."

Cuomo has dismissed the notion that he selects who gets to question him.

"What are you suggesting '-- that they like you, and they picked you out of a group? I have no idea," he recently said when pressed on the issue, according to Fries.

The letter requested a "formal change" with the way the press briefings are conducted.

"In the letter, LCA reporters recommended Cuomo adopt a similar approach to New York City Mayor Bill de Blasio's virtual press conferences, where a variety of reporters are called on and news outlets are guaranteed one question per week," Fries wrote, adding that Cuomo's spokesperson "Acknowledged receipt of the LCA's letter and said officials are discussing how to respond to the concerns."

ACADEMY SILENT ON CUOMO EMMY AFTER NURSING HOME BOMBSHELL

Cuomo's office told the Times Union that briefings feature reporters in "10 different regional press corps in addition to the LCA and national media, many of which did not have access in the first nine months of this pandemic. Additionally, other LCA members were not given access when the Capitol was closed after a legislative COVID outbreak and some organizations made the decision to keep their reporters out of the building."

Cuomo's office declined to explain to the Times Union how it determines which reporters are called on.

"We strive to hit a balance that is diverse in every way," Cuomo's spokesperson told the paper. "It's not an ideal system, but the circumstances of the pandemic call for it and 'Žsometimes the balance we seek isn't met, but we always strive for it."

Cuomo's spokesperson then tweeted an official response, which mirrored comments provided to the Times Union.

CLICK HERE TO GET THE FOX NEWS APP

Senate Bill Re-Introduces Suspicious Activity Reports for Tech - CoinDesk

Sat, 06 Feb 2021 09:43

Another challenge to Section 230 of the Communications Decency Act, which protects tech platforms from being liable for various forms of content posted on them, has re-emerged, with bipartisan support. It takes a page from the Banking Secrecy Act (BSA) but, rather than filing Suspicious Activity Reports (SARs), the bill would force tech companies to file ''Suspicious Transmission Activity Reports'' (STARs) for ''illegal activity'' on their platforms.

This week, senators Joe Manchin of West Virginia and John Cornyn of Texas reintroduced their ''See Something Say Something Online'' act, which would force tech companies ''to report suspicious activity to law enforcement, similar to the way that banks are required to report suspicious transactions over $10,000 or others that might signal criminal activity.''

According to a summary document from Manchin's office, companies are ''largely shielded from liability for the actions taken by individuals on their platforms, lacking incentives to clean up illicit activity. Even when they do take action, they often just delete the data rather than turning it over to the appropriate authorities, making it more difficult for law enforcement to go after bad actors online. It is past time to hold these sites accountable, and for them to say something when they see something online.''

But many questions remain about why such a bill is needed, including concerns over what actions could fall under the broad umbrella it lays out and what data would be collected.

Anne Fauvre-Willis is COO at Oasis Labs, a company that focuses on data privacy. She says this is a great example of a bill with nice intentions in theory, but costly implications in practice.

''I understand regulators want to put more onus on tech companies to protect their users, but this does the opposite,'' said Fauvre-Willis in an email. ''It violates individuals' right to privacy and removes them from any sense of control of their data in an undeliberate way.''

No STARs? No Section 230 protections

The bill would create a system ''similar to the Bank Secrecy Act by authorizing the creation of an office within the Department of Justice (DOJ) to act as the clearinghouse for these reports, similar to the Financial Crimes Enforcement Network (FinCEN) within the Department of Treasury,'' according to a press release from Manchin's office.

The bill was re-introduced to raise the threshold of what is required to be reported as ''serious crimes,'' which the release identifies as drug sales, hate crimes, murder or terrorism, to ''ensure that users' privacy remains safe.''

Read more: FinCEN Encourages Banks to Share Customer Information With Each Other

Tech companies would have to send STARs within 30 days of becoming aware of any such information. ''Suspicious transmissions'' could include a wide array of material, including a ''public or private post, message, comment, tag, transaction, or any other user-generated content or transmission that commits, facilitates, incites, promotes, or otherwise assists the commission of a major crime.''

If the companies choose not to do so, they will be stripped of Section 230 protections, with the end result likely being they would be sued into oblivion.

By threatening to remove Section 230 protections for failing to comply with the bill, it makes the filings of STARs mandatory in practice if not in word. So, to ensure these companies are able to continue to exist they will be forced to further transgress upon users' data privacy.

STARs would be accompanied by a host of personal information associated with the post's originator.

They would include the name, location and identity information given to the platform; the time, origin and destination of the transmission; any relevant text, information and metadata related to it. It's not clear how wide or narrow that relevant information could be. Entities filing STARs would have to keep them on record for five years after filing them.

A blanket gag order also means the targets of STARs would not be informed about them. And STARs would also not be subject to Freedom of Information Act (FOIA) requests.

Additionally, the bill calls for the creation of a department under the DOJ to manage these reports. There would also be a centralized online resource established that could be used by any member of the public to report to law enforcement any suspicious activity related to ''major crimes.''

''With an overly broad definition of reporting 'suspicious activity,' the bill completely ignores consumer privacy protections and defaults to a world where the government knows best,'' said Fauvre-Willis.

''In practice what this means is that, if passed, companies would have to pass along large swaths of data that may be relevant but also very much may not be. This data could include sensitive information about individuals including emails, age, social security numbers and who knows what else.''

How STARs create a data honeypot

Compelling companies to divulge personal information on a regular basis with regards to the billions of posts, messages, tags and other actions people take every day seems like a great way to create a massive honeypot of personal data, one that has troubling implications.

''The 'see something, say something' approach has been thoroughly debunked in the offline context '' as leading to invasions of privacy while not advancing public safety '' and it would be even more negative in the context of online platforms,'' said Nadine Strossen, a law professor at New York University and former president of the ACLU.

The bill specifically outlines the creation of a centralized online resource where people (anyone, seemingly) could file STARs. Whether tech companies would then have to provide personal information on users who had STARs filed against them by members of the public is an open question the 11-page bill fails to address.

Read more: How FinCEN Became a Honeypot for Sensitive Personal Data

''Creating a clearinghouse for this data in a centralized system run by the federal government seems fraught for security risk,'' said Fauvre-Willis. ''Holding sensitive data is no easy task, and sharing it in a way that is safe and protected, even harder. And once the government has this data what will they do with it? This bill feels fraught with challenges and half-thinking.''

Data is sensitive, and the avalanche of data this might produce means that it could be a succulent honeypot for people who might be interested in using that data in ways that are only limited by the extent of their imagination.

''It's creating a facility for the public to report bad tweets,'' said Jerry Brito, the executive director of Coin Center, in a phone call. ''Have you seen Twitter?''

Strossen said the legislation would also encourage and empower anyone to wreak havoc on particular users or platforms, simply by filing a STAR.

''Given the vague, broad descriptions of 'suspicious activity,' which turn on subjective judgments, a limitless array of posts could be claimed to fit within them,'' she said in an email. ''People could weaponize this law to make life miserable for anyone from political opponents, to economic competitors, to individuals they dislike.''

Free speech, data privacy and decentralization

Conversely, Strossen said, ''Plausible arguments can be made that this law violates platform users' free speech and privacy rights, because the federal government deputizes platforms to monitor and disclose detailed information about their users' communications.''

''Government can't do an end-run around constitutional constraints on its own actions by forcing platforms to engage in spying and censorship that the government wouldn't be permitted to engage in directly.''

Not only would it seemingly require companies to monitor direct messages that they may not otherwise, the bill also discourages the adoption of end-to-end encryption. Such encryption would stop companies from having extensive reach into messages sent by individuals, which could feasibly make them unable to comply with STAR filings.

''What that means is that Twitter has to be searching, constantly monitoring your DMs for suspicious stuff,'' said Brito. ''And then informing on it. That's problematic for all the reasons you can imagine.''

Read more: Google Down: The Perils of Centralization

Brito says he thinks the reaction among tech companies would actually be to move toward encryption, as Apple and WhatsApp have done, though he doesn't think the term ''private'' in the bill is specifically referring to encrypted communications.

''They're going to say, 'All of the communications that we provide on our platforms are end-to-end encrypted and so we can't see into our customers communications,''' he said. ''And then the government's going to come back by saying, 'Okay, we need a backdoor then.' So that's one thing. The other thing is it's going to push folks towards decentralization.''

In decentralized systems, there isn't one centralized body (or company) that can unilaterally decide to adhere to such regulation and begin to surveil users' communications.

The impending data deluge: Who is asking for this?

The BSA, from which the thrust of this act borrows heavily, has resulted in compliance officers filing a SAR on anything that might possibly lead to liability for the financial institutions.

As such, banks have been filing more and more SARs, the number of which has nearly doubled in the last decade.

As a financial compliance lawyer described in an earlier interview, financial institutions have been doing more defensive SAR filing, turning what was a thoughtful process into something that is more akin to just checking the box. Essentially, the idea is banks are filing large numbers of SARs to protect themselves from liability or being hit with fines for potential noncompliance with the BSA.

It's hard to imagine this bill doing anything different, but using STARs instead.

Brito also raised the point of whether the potential deluge of information is something law enforcement wants. For example, as the number of SARs has risen, FinCEN has shrunk. This means there are relatively few people to analyze all the SARs that come, and potentially place a limit on the quality of the intelligence they're seeking to gather.

''Did the sponsors of this bill talk to law enforcement?'' he asked. ''Because as a result of this they could very well get tens of thousands of reports for whenever anybody uses the word bomb, for example, like 'that club was the bomb.' That doesn't help them and they're going to have to go through them all.''

This also doesn't take into account that Facebook and other social media platforms already have compliance teams that work closely with law enforcement on these sorts of issues. Facebook and Instagram report and take down millions of instances of child pornography annually, for example.

''Who is this meant to cover that isn't already doing this today?'' said Brito.

Squashing competition

For all the consternation around big tech and antitrust legislation being rolled out, yet another side effect of this legislation would be to hamper the ability of other tech companies to compete with the already dominant platforms.

''As with any such burdensome regulation, another adverse impact would be to further entrench the already dominant online platforms, such as Facebook and Google, and to raise further barriers to entry for new, small companies,'' said Strossen, ''The giants have the resources to contend with the regulatory requirements, but their potential competitors do not.''

Content moderation itself is a tall task, one that requires resources, systems and attention. Creating additional obstacles, as this bill does, would exponentially increase the upfront costs to getting into the game at all, and provide a myriad number of reasons why someone shouldn't.

''This bill, like many that seek to regulate the internet before it, has the indirect effect of hurting small startups and entrepreneurs more than anything,'' said Fauvre-Willis. ''The more these bills go into action, the greater moat large companies have against small innovators. Facebook and Google can hire lawyers and teams to manage this process if they need to. An early stage company cannot. This has the unintended consequence of stifling innovation as a result.''

NIMH >> Borderline Personality Disorder

Fri, 05 Feb 2021 16:12

OverviewBorderline personality disorder is an illness marked by an ongoing pattern of varying moods, self-image, and behavior. These symptoms often result in impulsive actions and problems in relationships. People with borderline personality disorder may experience intense episodes of anger, depression, and anxiety that can last from a few hours to days.

Signs and Symptoms Risk Factors Treatments and Therapies Join a Study Health Hotlines National Suicide Prevention Lifeline : The Lifeline provides 24-hour, toll-free, and confidential support to anyone in suicidal crisis or emotional distress. Call 1-800-273-TALK (8255) to connect with a skilled, trained counselor at a crisis center in your area. Support is available in English and Spanish and via live chat . Disaster Distress Hotline : People affected by any disaster or tragedy can call this helpline, sponsored by the Substance Abuse and Mental Health Services Administration, to receive immediate counseling. Call 1-800-985-5990, or text ''TalkwithUs'' to 66746, to connect with a trained professional from the closest crisis counseling center within the network. Veterans Crisis Line : This helpline is a free, confidential resource for Veterans of all ages and circumstances. Call 1-800-273-8255, press "1"; text 838255; or chat online to connect with 24/7 support. Crisis Text Line : Text HELLO to 741741 for free and confidential support 24 hours a day throughout the U.S. More NIH Information Lines Learn More

Roger Severino Sues Joe Biden Over Firing Threat

Fri, 05 Feb 2021 16:10

A last-minute appointee of former President Donald Trump, who was told he would be fired after President Joe Biden took office, filed a lawsuit Wednesday alleging that the new administration did not have the legal authority to end his brief employment.

Roger Severino received his commission to the Council of the Administrative Conference of the United States (ACUS) on Jan. 16. He claims that the deputy director of the White House Presidential Personnel emailed him on Tuesday saying that if he did not resign by 5:00 PM his ''appointment would be terminated.'' ACUS is an independent federal agency charged with convening expert representatives from the public and private sectors to recommend improvements to administrative process and procedure.

But according to the lawsuit, 5 U.S.C. § 595(b) and Article II of the U.S. Constitution proscribe the president from removing members of the council before the expiration of their appointment.

''The statute governing ACUS provides that Mr. Severino's term on the Council lasts for three years, and the statute makes no provision or allowance for at-will Presidential removal. See 5 U.S.C. § 595(b) ('The term of each member, except the Chairman, is 3 years.'),'' the suit stated.

Severino responded to the email saying he was ''surprised'' by the request and inquired as to the reason for his termination, but said he did not receive a response. He said he has not and will not resign his position and asked to court to issue a temporary restraining order preventing the administration from following through on his imminent termination. He also alleged that several other members of the council received the same resignation request.

''President Biden has no constitutional authority under Article II to terminate Mr. Severino's appointment to the Council. The Council does not wield any executive power'--indeed, it does not wield any power at all as a purely advisory entity'--so President Biden has no constitutional power to terminate Mr. Severino or any other member of the Council,'' the suit stated. ''President Biden's threatened termination of Mr. Severino and his fellow members is therefore unlawful and should be promptly enjoined.''

Severino formerly served as a senior Health and Human Services (HHS) official. During his tenure the department made it easier for healthcare workers to refuse to participate in abortion procedures by objecting on religious grounds. He is represented in the suit by attorney Jonathan F. Mitchell. Mitchell was Trump's first nominee to be the chairman of ACUS.

''President Biden's attempt to remove me contrary to law exposes his lofty promises of healing and uniting all Americans as nothing more than cynical manipulation,'' Roger Severino said in a statement emailed to Law&Crime. ''Because I am not one to be bullied, not even by the President himself, I will not resign my duly commissioned post and look forward to seeing how President Biden tries to justify his vindictive actions in court.''

Severino is married to Carrie Severino, the Chief Counsel and Policy Director of the Judicial Crisis Network. Carrie Severino, a former clerk for Justice Clarence Thomas, stood out as one of the foremost supporters of then-Supreme Court nominee Brett Kavanaugh during his confirmation hearings in 2018.

''During the Kavanaugh confirmation alone she logged 104 TV appearances, in addition to doing extensive radio and print media,'' her Federalist Society bio notes.

Read the full lawsuit below:

Severino v. Biden Complaint.Docx by Law&Crime on Scribd

[image via YouTube screengrab]

Have a tip we should know? [email protected]

The Left's Vaccine Problem - The New York Times

Fri, 05 Feb 2021 16:00

And what else you need to know today.

Feb. 5, 2021, 6:21 a.m. ET Want to get The Morning by email? Here's the sign-up.

Good morning. Why aren't progressive leaders doing a better job at mass vaccination? Image Volunteers at a mass drive-through vaccination site at Six Flags Magic Mountain in Valencia, Calif. Credit... Mario Tama/Getty Images Early in the pandemic, countries with populist, right-wing governments were suffering some of the worst outbreaks. These countries had big differences from one another '-- the list included Brazil, Britain, Russia and the U.S. '-- but their problems all stemmed partly from leaders who rejected scientific expertise.

More progressive and technocratic countries '-- with both center-left and center-right leaders, like Australia, Canada, Denmark, Germany, Japan, New Zealand and South Korea '-- were doing a better job containing the pandemic. The pattern seemed to make sense: Politicians who believed in the ability of bureaucracies to accomplish complex jobs were succeeding at precisely that.

But over the last few weeks, as vaccination has become a top priority, the pattern has changed. Progressive leaders in much of the world are now struggling to distribute coronavirus vaccines quickly and efficiently:

Europe's vaccination rollout ''has descended into chaos,'' as Sylvie Kauffmann of Le Monde, the French newspaper, has written. One of the worst performers is the Netherlands, which has given a shot to less than 2 percent of residents.

Canada (at less than 3 percent) is far behind the U.S. (about 8.4 percent).

Within the U.S., many Democratic states '-- like California, Illinois, Minnesota, New Jersey, New York and tiny Rhode Island '-- are below the national average. ''The parts of the country that pride themselves on taking Covid seriously and believing in government are not covering themselves in glory,'' The Times's Ezra Klein has written.

The success storiesAt the same time, there are clear success stories in places that few people would describe as progressive.

Alaska and West Virginia have the two highest vaccination rates among U.S. states, with Oklahoma and the Dakotas also above average. Globally, Israel and the United Arab Emirates have the highest rates. Britain '-- run by Boris Johnson, a populist Conservative '-- has vaccinated more than 15 percent of residents.

Image A health worker administering a Covid-19 vaccine in Hod Hasharon, Israel. Credit... Jack Guez/Agence France-Presse '-- Getty Images International patterns are rarely perfect, and this one has plenty of exceptions (like Iowa and Idaho, two red-state laggards, or New Mexico, a blue state that's above average). So far, though, it's hard to find many progressive governments that are vaccination role models.

Why? A common problem seems to be a focus on process rather than on getting shots into arms. Some progressive leaders are effectively sacrificing efficiency for what they consider to be equity.

The European Union has taken a ponderous, risk-averse approach that tries to avoid upsetting its member countries, Kauffmann points out. Similarly, many U.S. states have delegated decisions to local health officials and have suffered from ''confusion and competition among localities,'' William Galston of the Brookings Institution has written. State leaders in Alaska and West Virginia have taken a more top-down approach, Elaine Povich of Stateline has reported.

Some blue states have also created intricate rules about who qualifies for a vaccine and then made a big effort to keep anybody else from getting a shot. These complicated rules have slowed vaccination in both California and New York.

''Across New York State,'' my colleague Dana Rubinstein has written, medical providers have had ''to throw out precious vaccine doses because of difficulties finding patients who matched precisely with the state's strict vaccination guidelines '-- and the steep penalties they would face had they made a mistake.''

What will Biden do?The world has one new, and very high-profile, progressive government with a chance to show it can do better: the Biden administration.

The Trump administration fell far short of its own goal for vaccination speed, but by its final days it did get the country close to President Biden's stated goal of 1 million shots per day. Biden has since suggested his new goal is 1.5 million per day.

Image Credit... By The New York Times | Source: Centers for Disease Control and Prevention To make this happen, the administration is pushing Moderna and Pfizer to accelerate production, as well as helping states open mass-vaccination clinics and expand drugstore programs, according to The Times's Sheryl Gay Stolberg. If the government gives Johnson & Johnson permission to begin distributing its vaccine this month, as appears likely, that will help, too.

The trade-offs between equity and efficiency are real: Rapid vaccination programs will first reach many relatively privileged people. But the trade-offs may be smaller than that sentence suggests. Covid has exacted a terribly unequal toll partly because people in vulnerable groups have suffered more severe versions of the disease, as a result of underlying health conditions.

The most effective way to save lives is probably to vaccinate people as quickly as possible.

THE LATEST NEWS The VirusIsrael's vaccination program has led to a sharp decline in new cases and hospitalizations, showing a plausible way out of the pandemic. But the program has included few Palestinians.

''With everything going on, I just don't have time to take care of my mental health right now'': A Times special report looks at the pandemic's toll on America's mothers.

Tampa, Fla., the Super Bowl's host, is facing the challenge of preventing the game from becoming a superspreader event. ''We'll make the best of it,'' the city's mayor said.

CongressThe House stripped Representative Marjorie Taylor Greene of her committee assignments as punishment for past remarks endorsing fatal violence against Democrats. Few Republicans voted to discipline her.

In a Senate session known as a ''vote-a-rama,'' lawmakers showcased their dueling priorities as they moved forward with Biden's $1.9 trillion aid package.

Donald Trump declined a request from House impeachment managers to answer questions under oath about his role in the Capitol riot.

The Biden Administration Image Displaced Yemenis at a makeshift camp in Taez last month. Credit... Ahmad Al-Basha/Agence France-Presse '-- Getty Images Image Tom Brady, right, of the Buccaneers and Patrick Mahomes of the Chiefs after a game in November. Credit... Cliff Welch/Icon Sportswire via Getty Images Super Bowl SundayTom Brady, who's 43 years old, is the most successful quarterback in N.F.L. history. But if any player has a chance to match him someday, it's Patrick Mahomes, Brady's 25-year-old counterpart in this weekend's Super Bowl. ''The sport's biggest legend is about to face its biggest legend in the making,'' The Ringer's Danny Heifetz wrote.

It's a rare thing in sports (or any realm): An all-time great, who's fading but still elite, is facing a potential successor. We asked some of our Times colleagues for previous matchups that this Super Bowl brings to mind.

1962 European Cup final. The Portuguese club Benfica beat Real Madrid, which had won five of the first six European Cups. The entertaining 5-3 win was ''the passing of a torch,'' The Times's Rory Smith said, and confirmed the ascendence of Eus(C)bio, a Portuguese striker.

1966 World Series, Game Two. Jim Palmer of the Baltimore Orioles, then 20, outpitched the great Sandy Koufax of the Los Angeles Dodgers. ''Koufax was at the height of his powers, but his arm was killing him and this would turn out to be the last game he ever pitched,'' Tyler Kepner said.

2007 N.B.A. Finals. The master triumphed this time: Tim Duncan of the San Antonio Spurs won his fourth title by beating the Cleveland Cavaliers in LeBron James's first finals. Afterward, as Marc Stein notes, Duncan told James: ''This is going to be your league in a little while.''

2009 W.N.B.A. Western Conference finals. Lisa Leslie, one of the league's first stars, had come back from an injury for the Los Angeles Sparks. But Diana Taurasi and the Phoenix Mercury beat the Sparks '-- and Taurasi has gone on to become the league's top scorer.

PLAY, WATCH, EAT What to Cook Image Credit... Linda Xiao for The New York Times. Food Stylist: Monica Pierini. The pangram from yesterday's Spelling Bee was outgrown. Today's puzzle is above '-- or you can play online.

Here's today's Mini Crossword, and a clue: What Reddit's fake internet points are called (five letters).

Take the News Quiz Image Credit... Jim Huylebroek for The New York Times

Not The Onion: CDC Warns Against Shouting, Cheering During Sunday's Super Bowl | ZeroHedge

Fri, 05 Feb 2021 14:21

Via PlanetFreeWill.news,

The Centers for Disease Control has issued guidance on how Super Bowl watchers should behave when excitement strikes during the big game on Sunday.

No, this is not The Onion '...

As part of its recommendations to avoid spreading Covid-19 when in small gatherings, the CDC is warning against ''shouting, cheering loudly, or singing'' as the Kansas City Chiefs take on the Tampa Bay Buccaneers in Super Bowl LV.

The agency recommends to ''clap, stomp your feet, or bring (or provide) hand-held noisemakers instead.''

The nannies over at the CDC are also urging folks to view the game with others virtually or only with immediate family, even suggesting ways you can go about enjoying the game when avoiding other people '...

From the CDC website (cringe warning '...):

Host a virtual Super Bowl watch party.Wear clothing or decorate your home with your favorite team's logo or colors.

Make appetizers or snacks with the people you live with to enjoy while watching the game and share the recipes with your friends and family.

Start a text group with other fans to chat about the game while watching.

If you do gather outside your home for the game, it is recommenced to be outside and to ''sit at least 6 feet away from people you don't live with.''

And, of course, don't forget to double mask, as per the small gathering guidelines.

''Wear a mask with two or more layers to stop the spread of COVID-19 to protect yourself and others,'' the agency's website reads.

The latest guidelines are reminiscent of those given in November when the CDC urged Americans to avoiding singing, chanting, playing loud music, and drinking too much alcohol during Thanksgiving.

Having fun is banned. pic.twitter.com/Zb27695cte

'-- Ian Miles Cheong (@stillgray) November 24, 2020Welcome to the new normal, where the bureaucratic class nannies Americans anytime they wish to socialize.

Voting tech company files $2.7 billion suit against Fox, Giuliani and Powell | TheHill

Fri, 05 Feb 2021 14:20

Voting technology company Smartmatic filed a $2.7 billion lawsuit against attorneys Rudy Giuliani Rudy GiulianiHillicon Valley: Biden: US taking 'urgent' steps to improve cybersecurity | Democrat warns tech companies to 'step up' or risk Section 230 changes | California court rejects suit challenging state's new rules for gig workers Voting tech company files .7 billion suit against Fox, Giuliani and Powell Newsmax host after walking out of interview calls Mike Lindell 'an important guest' MORE and Sidney Powell, as well as Fox News and some of the network's hosts, accusing them of grievously harming the company by claiming it was involved in widespread election fraud.

The firm accused Giuliani and Powell, close allies of former President Trump Donald TrumpGOP senator warns his party must decide between 'conservatism and madness' Pompeo rebukes Biden's new foreign policy Here are the 11 Republicans who voted to remove Greene from House committees MORE , of creating "a story about Smartmatic'' and said the Fox Corporation, Fox News and the anchors Lou Dobbs Louis (Lou) Carl DobbsHillicon Valley: Biden: US taking 'urgent' steps to improve cybersecurity | Democrat warns tech companies to 'step up' or risk Section 230 changes | California court rejects suit challenging state's new rules for gig workers Voting tech company files .7 billion suit against Fox, Giuliani and Powell Lou Dobbs knocks 'petty' Republicans criticizing Trump MORE , Maria Bartiromo Maria Sara BartiromoHillicon Valley: Biden: US taking 'urgent' steps to improve cybersecurity | Democrat warns tech companies to 'step up' or risk Section 230 changes | California court rejects suit challenging state's new rules for gig workers Voting tech company files .7 billion suit against Fox, Giuliani and Powell Goya board votes to censure CEO after election fraud claims: reports MORE and Jeanine Pirro joined ''the conspiracy to defame and disparage Smartmatic and its election technology and software.''

''With this action, Smartmatic says: Enough. Facts matter. Truth matters. Defendants engaged in a conspiracy to spread disinformation about Smartmatic. They lied. And they did so knowingly and intentionally. Smartmatic seeks to hold them accountable for those lies and for the damage that their lies have caused,'' Smartmatic said in the suit.

Smartmatic said it only provided its services to Los Angeles County, though it was still wrapped up in conspiracy theories that widespread fraud cost Trump a second term. Fox News, as well as right-wing outlets like Newsmax and One America News Network, dedicated extensive airtime to the claims, which critics said helped produce the Jan. 6 insurrection on Capitol Hill.

''Smartmatic brings sixteen (16) claims against Defendants for defamation and disparagement. Smartmatic seeks to recover in excess of $2.7 billion for the economic and non-economic damage caused by Defendants' disinformation campaign as well as punitive damages,'' the suit says. ''Finally, Smartmatic seeks a declaration requiring Defendants to fully and completely retract their false statements and implications.''

Smartmatic's suit follows similar complaints by Dominion Voting Systems that were brought against Giuliani and Powell over their election fraud claims, which were often made on Fox News, including on shows hosted by Bartiromo, Dobbs and Pirro.

In its complaint, Smartmatic accused Fox of jeopardizing its ''multi-billion-dollar pipeline of business'' by airing the claims, noting it was concerned about winning new business in the U.S. It also accused the network of airing claims that harmed the country, saying ''The story undermined people's belief in democracy. The story turned neighbor against neighbor. The story led a mob to attack the U.S. Capitol.''

''Fox News Media is committed to providing the full context of every story with in-depth reporting and clear opinion,'' a spokesperson for Fox News Media told The Hill. ''We are proud of our 2020 election coverage and will vigorously defend this meritless lawsuit in court.''

In another statement to The Hill, Powell panned the lawsuit as ''another political maneuver and outrageous abusive 'lawfare' by the radical left that has no basis in fact or law.''

"The Smartmatic lawsuit presents another golden opportunity for discovery. I look forward to litigating with them," added Giuliani.

The lawsuit specifically cites a number of remarks Giuliani and Powell made on Fox as well as comments the hosts made echoing those claims.

''The Smartmatic software is in the DNA of every vote tabulating company's software and systems,'' Powell said on Dobbs's show in one highlighted exchange.

''We don't even know who the hell really owns these companies, at least most of them,'' Dobbs responded.

Attorneys for Smartmatic had sent Fox a legal notice in December demanding a ''full and complete retraction of all false and defamatory statements'' that was delivered with ''the same intensity and level of coverage that you used to defame the company in the first place.''

The Fox programs hosted by Bartiromo, Dobbs and Pirro later aired an interview with voting technology expert Eddie Perez who corrected the record on many of the voter fraud claims. However, Smartmatic claimed in its suit Fox should not have waited until a legal notice was sent to rebut the conspiracies.

''Mr. Perez was always available to the Fox Defendants. The Fox Defendants could have put Mr. Perez on the air at any time prior to December 18,'' it said in the complaint. ''The Fox Defendants did not put Mr. Perez on the air until after receiving Smartmatic's retraction demand letter because the Fox Defendants had agreed with Mr. Giuliani and Ms. Powell to spread the disinformation campaign for as long as they could.''

Updated at 3 p.m.

House managers demand Trump testify in impeachment trial

Fri, 05 Feb 2021 14:17

Lawyers for Donald Trump on Thursday dismissed a move by House impeachment managers to pressure the former president into testifying at his Senate trial next week as a ''public relations stunt'' and affirmed their client will not be open to questions.

''We are in receipt of your latest public relations stunt,'' begins the response from lawyers Bruce Castor and David Schoen.

''As you certainly know, there is no such thing as a negative inference in this unconstitutional proceeding. Your letter only confirms what is known to everyone: you cannot prove your allegations against the 45th President of the United States, who is now a private citizen.''The use of our Constitution to bring a purported impeachment proceeding is much too serious to try to play these games,'' the response concludes.

Earlier, impeachment manager Rep Jamie Raskin (D-Md.) wrote to Trump, ''In light of your disputing these factual allegations, I write to invite you to provide testimony under oath, either before or during the Senate impeachment trial, concerning your conduct on Jan. 6, 2021.

''If you decline the invitation, we reserve any and all rights, including the right to establish at trial that your refusal to testify supports a strong adverse inference regarding your actions (and inaction) on January 6, 2021.''

The missive asked Trump to provide his testimony and undergo cross-examination as soon as Monday and no later than Thursday, adding: ''We would be pleased to arrange such testimony at a mutually convenient time and place.''

The Raskin (D-Md.) letter also states: ''Presidents Gerald Ford and Bill Clinton both provided testimony while in office '-- and the Supreme Court held just last year that you were not immune from legal process while serving as President '-- so there is no doubt that you can testify in these proceedings.

''Indeed, whereas a sitting President might raise concerns about distraction from their official duties, that concern is obviously inapplicable here. We therefore anticipate your availability to testify,'' Raskin continued.

Raskin's threat runs counter to standard practice at federal criminal trials, where defendants have a Fifth Amendment right not to testify and jurors are explicitly instructed they can't hold it against anyone who declines to take the witness stand.'

''It's embedded in our Constitution,'' said John Meringolo, a Pace University law professor and defense lawyer who won back-to-back acquittals in Manhattan federal court in 2019.

''This is clearly a publicity stunt by political hacks '-- the proceeding is to impeach a president and Mr. Trump is no longer the president.''

The constitutional protection doesn't necessarily apply at federal civil trials, however, according to the American Bar Association, which cites a 1976 Supreme Court ruling that says an adverse inference can be drawn when the circumstances would normally lead an innocent person to respond to the allegations

The House managers and Trump's legal team filed briefs this week laying out how they will build their cases in the Senate when the impeachment trial begins next Tuesday.

Trump's lawyers, in a 14-page answer to the article of impeachment of ''incitement of insurrection,'' denied the former president roused his supporters to ''engage in destructive behavior.''

''It is denied that the phrase, 'if you don't fight like hell you're not going to have a country anymore' had anything to do with the action at the Capitol as it was clearly about the need to fight for election security in general, as evidenced by the recording of the speech,'' Castor and Schoen wrote.

In their brief, the two lawyers contend that Trump was within his First Amendment rights to question the accuracy of the Nov. 3 election and did not intend to ''interfere with the counting of Electoral votes.''

''Like all Americans, the 45th President is protected by the First Amendment,'' his lawyers wrote.

Schoen and Castor also claim that conducting an impeachment trial with the intent to remove the president from office is fruitless.

The Senate ''lacks jurisdiction over the 45th President because he holds no public office from which he can be removed,'' they said.

Last week, 45 Republicans, including Senate Minority Leader Mitch McConnell, voted in support of a measure introduced by GOP Sen. Rand Paul to dismiss the case against Trump because it is unconstitutional since he is already out of office.

In their brief, the House managers rejected the idea that a trial is moot because Trump is no longer president.

''There is no 'January exception' to the Constitution that allows a President to organize a coup or incite an armed insurrection in his final weeks in office,'' they wrote.

Raskin asked for an answer from Trump's legal team by 5 p.m. Friday.

The House cannot try to subpoena Trump, because it already impeached him on Jan. 13, but the Senate could with a simple majority.

''You have thus attempted to put critical facts at issue notwithstanding the clear and overwhelming evidence of your constitutional offense,'' Raskin's letter requesting Trump's appearance said.

The mob of pro-Trump supporters stormed the Capitol as a joint-session of Congress was certifying the Electoral College vote.

The session was interrupted for several hours until law enforcement officials could clear the chamber and then the lawmakers approved the vote for President Biden '-- 306 to 232.

'-- With Post wires

COVID-19 relief package moves forward after hours-long Senate voting session

Fri, 05 Feb 2021 14:16

February 5, 2021 | 2:18am | Updated February 5, 2021 | 9:10am

The Senate early Friday moved forward with a $1.9 trillion COVID relief package after a marathon voting session on resolutions attached to the bill.

The reconciliation procedure used by Democrats to pass President Biden's plan allowed for an unlimited number of resolutions to be considered in the Senate.

One of the amendments proposed by Republicans would prevent Congress from raising the minimum wage to $15 an hour during the pandemic, according to the Wall Street Journal.

The Senate approved the amendment, but as Sen. Bernie Sanders (I-Vt.) explained, it was not his intention to sneak that proposal in.

''I will do everything that I can to make sure a $15-an-hour minimum wage is included in this reconciliation bill, but there appears to be some misunderstanding,'' Sanders said, according to the Journal.

The Senate is moving forward with a massive $1.9 trillion relief package meant to stimulate the US' COVID-19-ravaged economy. REUTERS''It was never my intention to raise the minimum wage immediately and during the pandemic.''

Another amendment that sought ''to ensure upper-income taxpayers are not eligible'' for the $1,400 payments in the plan. The vote on that measure passed 99-1.

The reconciliation process only requires a majority vote in the Senate to pass the bill. The chamber is currently split 50-50, with Vice President Kamala Harris presiding as the tie-breaking vote.

Lame Cherry: North Dakota Sets Foundation of Compaq

Fri, 05 Feb 2021 04:30

As another Lame Cherry exclusive in matter anti matter.

It is troubling that Texas and Florida are sitting on their collective asses when it comes to leading America from Bidencon. Florida makes it Donald Trump week...........like that is going to solve our problems.

Here is North Dakota, introducing an act, which it does not need to make law, and that is to NULLIFY as Thomas Jefferson said in a State does not have to follow unConstitutional mandates.

Every State must join together and nullify the tyranny of DC. THIS IS WHAT WILL SAVE LIVES is people will believe in their Governors, Legislatures, and Courts with state police in protecting the Citizen.

The way to shut this "resistance" down is by States providing it's Citizens with Trust and Belief. People must be protected from federal police state crackdowns when they were peacefully in in Washington DC or in their home states celebrating America.

North Dakota is a start.

North Dakotans Just Formed The Resistance…🚨CLICK HERE TO READ FULL ARTICLE🚨

Thursday February 4, 2021 1:52 PM

New legislation would mandate that the State of North Dakota ignore executive orders coming from the Biden administration that are unconstitutional

Republican legislators in North Dakota are taking a pro-active – and constitutional – step to push back against unconstitutional executive orders coming out of the Biden administration, and they are doing so with the power of the US Constitution in their corner.

A new bill introduced in the North Dakota State Legislature (HB1164), would instruct the state's Attorney General to review the constitutionality of each of the executive orders issued by Joe Biden.

Under the proposed law, should the North Dakota Attorney General find that any executive orders are unlawful – or unconstitutional, the executive order would be "nullified," it would prohibit any state, county, or local agency – or publicly funded organization – from enforcing the order(s).

The proposed legislation was introduced by State Rep. Tom Kading (R), and eight other Republicans in the North Dakota House.

agtG

agtG

Ultimate Proof: Covid-19 Was Planned to Usher in the New World Order

Fri, 05 Feb 2021 04:28

1. Medical doctors declare that the pandemic was plannedA group of over 500 medical doctors in Germany called 'Doctors for Information' made a shocking statement during a national press conference: (1)

'The Corona panic is a play. It's a scam. A swindle. It's high time we understood that we're in the midst of a global crime.'

This large group of medical experts publishes a medical newspaper on 500,000 copies every week, to inform the public about the massive misinformation in the mainstream media.

They also organize mass protests in Europe, like the one on August 29, 2020 where 12 million people signed up and several millions actually showed up.

Why do these 500+ medical doctors say the pandemic is a global crime? What do they know, that we don't?

One of the many protests against the ''plandemic'' that you will not see in the mainstream media

2. Hundreds of Spanish medical doctors say the pandemic is plannedIn Spain a group of 600 medical doctors called 'Doctors for Truth', made a similar statement during a press conference.

Doctors for Truth, Spain

'Covid-19 is a false pandemic created for political purposes. This is a world dictatorship with a sanitary excuse. We urge doctors, the media and political authorities to stop this criminal operation, by spreading the truth.' (2)

Germany and Spain are just two examples. Similar large groups of hundreds of medical experts exist in countries across the world.

In the USA a documentary called PLANDEMIC, which exposes COVID-19 as a criminal operation, is supported by over 27,000 medical doctors!

Why are these thousands of medical professionals worldwide saying the pandemic is a crime? What information do they have access to, that we are not getting from the mainstream media?

I invite you to look at the following facts with an open mind and then come to your own conclusions'...

3. In 2015 a testing method was patented for'... COVID-19In 2015 a 'System and Method for Testing for COVID-19'² was patented by Richard Rothschild, with a Dutch government organisation.

Did you catch that? In 2015 '' four years before the disease even existed '' a testing method for COVID-19 was developed. (2B) You can read the article here.

Take a deep breath and let that sink in for a while'...

4. Millions of COVID-19 test kits sold in 2017 and 2018As we know the new COVID-19 disease appeared in China towards the end of 2019. Therefore it was named COVID-19 which is an acronym for Corona Virus Disease 2019.

Data from the World Integrated Trade Solution, however, shows something astonishing:

''in 2017 and 2018 '' two years before COVID-19 '' hundreds of millions of test kits for COVID-19 were distributed worldwide.''

'Quick! Hide it!!'This baffling data was discovered by someone on September 5, 2020, who posted it on social media. The next day it went viral all over the world.

On September 6 the WITS suddenly changed the original designation 'COVID-19' into the vague 'Medical Test Kits'.

This is not allowed in trade, because you always have to be specific. There are many types of test kits for different diseases.

The fact that they removed the specification 'COVID-19', after this data became known worldwide, proves that they don't want anyone to know about it.

They however forgot to delete one detail: the product code for these 'Medical Test Kits' is 300215 which means: 'COVID-19 Test Kits'.

Their cover up came too late: this critical information was uncovered and is being revealed by millions worldwide. You can download a PDF that shows the original data of this website.

Two years before the outbreak of COVID-19 the USA, the EU, China and nations around the world started exporting millions of diagnostic test instruments for'... COVID-19, a disease that supposedly didn't even exist back then.

6. The COVID-19 'project' is planned until 2025The World Bank shows that COVID-19 is a project that is planned to continue until'... end of March 2025! So the intention is to continue it for another FIVE YEARS. (2C)

7. Anthony Fauci guaranteed a pandemic within the next two yearsIn 2017 Anthony Fauci made a very strange prediction, with an even stranger certainty.

With complete confidence Fauci announced that during the first term of President Trump a surprise outbreak of an infectious disease would surely happen.

Here's what he said: (3)

''There is NO QUESTION there is going to be a challenge for the coming administration in the arena of infectious diseases.

''There will be a SURPRISE OUTBREAK. There's NO DOUBT in anyones mind about this.''

How could Fauci guarantee a surprise outbreak to happen during the first term of the Trump administration? What did he know, that we don't?

8. Bill and Melinda Gates guaranteed an imminent global pandemicIn 2018 Bill Gates publicly announced that a global pandemic was on it's way that could wipe out 30 million people. He said this would probably happen during the next decade. (4)

Melinda Gates added that an engineered virus is humanities greatest threat and also assured this would hit humanity in the coming years. (5)

'A global pandemic is ON IT'S WAY. An ENGINEERED VIRUS is humanities greatest threat. This will happen in the NEXT DECADE.' '' BILL GATES, in 2018

Let their choice of words resound into your mind for a moment'...

They claim that the dense population of the world guarantees this imminent global pandemic.

But let's be honest: most of the earth is uninhabited. Just fly over America in an airplane and look out the window. You see empty space most of the time, with a few cities here and there. Most of the United States is still wide open and empty.

The same goes for the rest of the world.

Australia, Russia, India, China, America, Africa'... it's wilderness for the most part. Our planet isn't nearly as populated as Bill Gates wants us to believe. This world map shows it clearly'...

Most of the earth is totally void of any human presence. So the idea that the world is vastly overpopulated and is therefor bound to give rise to an imminent global pandemic is a lie.

[The powers that shouldn't be also use this excuse to justify a reduction in the world's population '' i.e. depopulation.]

The Gates also claimed that air travel was sure to create a global pandemic. But countless people have been traveling in airplanes the past century.

Did that give rise to constant outbreaks of global pandemics? Of course not!

Their arguments why they guaranteed a global pandemic in the next few years are lies. So what is their real basis to make such guaranteed predictions?

9. Practicing for a pandemicA few months before the outbreak, Bill Gates '' the world's nr 1 vaccine dealer '' organized an event in New York City. Guess what the event was all about? It was a 'coronavirus pandemic exercise'.

Yes, you read that right:

Bill Gates organized a coronavirus pandemic exercise, right before it happened!

On the large display in the auditorium, you see the text printed: 'We need to prepare for the event that becomes a pandemic.' This pandemic exercise was called Event201 and took place in October 2019, literally right before the outbreak.

Their conclusion was that all of humanity must be vaccinated'...

10. Excitement about selling vaccines in the next yearShortly after this 'exercise for a coronavirus pandemic' Bill Gates tweeted:

''I'm particularly excited about what the next year could mean for one of the best buys in global health: vaccines.'' '' Bill Gates, Dec. 19, 2019

Think about this: the world's nr 1 vaccine dealer guarantees a global pandemic to occur in the next few years, and his wife said we should all fear an engineered virus that is 'on its way'. Then they organize an exercise for an imminent global pandemic and say vaccines will be the only solution. Next Bill Gates tweets how excited he is about selling vaccines in the next year. Immediately after that, the announced pandemic breaks out.

Indeed, right away Bill Gates proclaims that the only solution for humanity is to buy his vaccines'...

11. 2020 coronavirus pandemic predicted in 2013Back in 2013 a musician wrote a song called PANDEMIC. In his lyrics he described a global pandemic that kills millions, shuts down economies and gives rise to riots.

His song literally described in great detail what we are seeing in our world today, seven years later.

He even mentioned the exact year of the pandemic: 2020, and the specific type of virus: a coronavirus. (6)

This is a line in his lyrics from 2013:

'2020 combined with CoronaVirus, bodies stacking.'

This song also predicted the riots that are now raging throughout America:

'The State is rioting, using the street outside. It's coming to your windows.'

How could this musician have known in 2013 that a coronavirus pandemic would break out in 2020, and that during this pandemic riots would erupt? He explains:

'I did research back in 2012, and read the so called ''conspiracy theories''. You know, those investigations the media doesn't want us to look into. According to those theories pandemics were bound to happen in the decade of 2020 '' 2030. So I wrote the song Pandemic about it.'

12. Global Preparedness Monitoring Board in Sept. 2019: 'Get ready for a global coronavirus pandemic'In September 2019 '' also right before the outbreak '' the Global Preparedness Monitoring Board released a report titled 'A World At Risk'.

It stressed the need to be prepared for'... a coronavirus outbreak!

On the cover of the report is the picture of a coronavirus and people wearing face masks.

In the report we read the following interesting paragraph:

'The United Nations (including WHO) conducts at least two system-wide training and simulation exercises, including one for covering the deliberate release of a lethal respiratory pathogen .'

Did you catch that?

They have been practicing for a deliberate release of a lethal respiratory pathogen.

13. Outbreak from China announced

In 2018 The Institute for Disease Modeling made a video in which they show a flu virus originating in China, from the area of Wuhan, and spreading all over the world, killing millions. They called it 'A Simulation For A Global Flu Pandemic.' That is exactly what happened, two years later.

Why did they say it would come from China? Why not Africa, where far more diseases are present? Or why not South America? Or India? How could they know there would be a flu virus coming from China and even show Wuhan as the originating area, that would infect the whole world?

Was this coronavirus engineered?Where did the virus come from? One of the world's leading experts in bioweapons is Dr. Francis Boyle. He is convinced it originated from a bioweapon lab in Wuhan, the Bio Safety Lab Level 4.

This facility is specialized in the development of'... coronaviruses!

They take existing viruses and 'weaponize' them, meaning they make them far more dangerous, to be used as a biological weapon.

In the following two minute video clip you see a spokesperson for the Trump administration, bioweapon expert Dr. Francis Boyle and president Trump talk about how this virus came from the lab in Wuhan.

Dr. Li-Meng Yan, a Chinese virologist (MD, PhD) fled the country, left her job at a prestigious Hong Kong university and became a whistleblower. She appeared on British television where she claimed SARS-CoV-2, the virus which causes COVID-19, was created by Chinese scientists in a lab '' and she offered evidence to support her claims. You can read more on the subject HERE.

Now comes the most interesting part:

14. In 2015 Anthony Fauci gave this very lab 3,7 million dollars.Figure this: the same man who guaranteed a surprise outbreak of a virus in the next two years, gave almost 4 million dollars to a lab that develops coronaviruses.

In the short clip below you can see a journalist ask president Trump about this grant given by Fauci to the Wuhan lab.

There are however more options in Wuhan where this virus could have originated from. Some believe it came from the Wuhan Virology Institute, where they also work on weaponizing coronaviruses.

15. Chinese biological experiments to infect humans with Coronavirus exposed in 2015 by Italian state mediaFive years ago, Italian state owned media Company, RAI '' Radiotelevisione Italiana, '' exposed dark efforts by China on viruses.

The video, which was broadcast in November, 2015, showed how Chinese scientists were doing biological experiments on a SARS connected virus believed to be Coronavirus, derived from bats and mice, asking whether it was worth the risk in order to be able to modify the virus for compatibility with human organisms.

Below is a transcription of the Italian broadcast translated in English:

Chinese Biological Experiments

Chinese scientists have created a pulmonary supervirus from bats and mice only for study reasons but there are many questionable aspects to this. Is it worth the risk? It's an experiment, of course, but it is worrisome.

It worries many scientists: It is a group of Chinese researchers attaching a protein taken from bats to the SARS virus, Acute Pneumonia, derived from mice.

The output is a super coronavirus that could affect humans. '' (Source here, were you can read more)

16. Movies predicted the coronavirus pandemicPredictive programming is the process of informing the population about events that are soon to occur.

The past years several movies and television series were produced, about'... a global coronavirus pandemic!

The film 'Dead Plague' depicts a global pandemic with a coronavirus and even mentions hydroxychloroquine as the cure.

Another film called 'Contagion' shows how a coronavirus spreads globally with social distancing, face masks, lock-downs, washing of hands etc. as a result.

Literally everything we see now, is predicted in detail in these movies.

17. Pandemic depicted during Olympics summergames in 2012Talking about predictive programming: during the opening show of the Summer Olympics in 2012, a coronavirus pandemic was played out for the eyes of the whole world.

Dozens of hospital beds, large numbers of nurses becoming puppets of a controlling system, death lurking about, a demonic giant rising up over the world, and the whole theatre was lit up in such a way that seen from the sky it looked like a coronavirus.

Why did the Olympic Games show a coronavirus pandemic, in their opening show?

18. Worldwide lockdown predicted in 2008

The author and investigator Robin de Ruiter predicted in 2008 that there would come a global lockdown.

He said the purpose of this would be to create a new world of authoritarian control.

Because much of what he wrote back in 2008 is now happening right in front of our eyes, this book has been republished.

19. Journalists predicted planned pandemicIn 2014 the investigative journalist Harry Vox predicted a planned global pandemic and said why the 'ruling class' would do such thing:

'They will stop at nothing to complete their toolkit of control. One of the things that had been missing from their toolkit is quarantines and curfews. The plan is to get hundreds of thousands of people infected with it and create the next phase of control .' (7)

20. 'Scenario for the Future'This renown researcher refers to a famous document by the Rockefeller Foundation in which everything we see happening now is literally predicted in great detail: the global pandemic, the lock-downs, the collapse of the economy and the imposing of authoritarian control.

It's all described with terrifying accuracy'... ten years before it happened!

The document is titled 'Scenario for the Future of Technology and International Development'. (9)

That says it all: a scenario for the future. It has a chapter called 'LockStep' in which a global pandemic is reported as if it happened in the past, but which is clearly intended as a rehearsal for the future.

Rockefeller Foundation's Operation Lockstep: 'Under The Guise Of A Pandemic, We Will Create A Prison State'

The 'Scenario for the Future' continues with comparing two different responses to their predicted pandemic: the USA only 'strongly discouraged' people from flying, while China enforced mandatory quarantine for all citizens.

The first response is accused of spreading the virus even more, while the imposing of a suffocating lock-down is praised. Then it goes on to describe the implementation of totalitarian control:

''During the pandemic, national leaders around the world flexed their authority and imposed airtight rules and restrictions, from the mandatory wearing of face masks to body-temperature checks at the entries to communal spaces like train stations and supermarkets.''

Clearly the flexing of authority is the desired response. But it gets worse, according to this 'Scenario of the Future':

'Even after the pandemic faded, this more authoritarian control and oversight of citizens and their activities stuck and even intensified .'

'In developed countries, this heightened oversight took many forms: biometric IDs for all citizens, for example, and tighter regulation of key industries whose stability was deemed vital to national interests.'

Handbook for global controlNow that the announced pandemic is indeed here, the same Rockefeller Foundation came forward with step two: a handbook on how to implement new control systems during this pandemic. Only when all the required control networks are in place, can the world open up again.

When you combine the two Rockefeller documents, you see the plan:

1) First they announce a global pandemic with a coronavirus and say what it should lead to: a whole new level of authoritarian control.2) Secondly they give practical steps on how to apply this control system.

These are illustrations and quotes from their guide:

'Digital apps and privacy-protected tracking software should be widely used to enable more complete contact tracking.'

'In order to fully control the Covid-19 epidemic, we need to test the majority of the population on a weekly basis.'

According to their 'Scenario of the future' the entire world population should get a digital ID that indicates who has received all the vaccines. Without sufficient vaccinations, access to schools, concerts, churches, public transport etc. will be denied.

Now in 2020 that is exactly what Bill Gates and many governments are calling for.

21. Bill Gates negotiated $100 Billion contact tracing deal with Democratic Congressman sponsor of bill six months BEFORE Coronavirus pandemicThe shocking revelations were unveiled on the Thomas Paine Podcast and the Moore Paine Show on Patreon by the two investigators.

nine months after the meetings with the Gates Foundation in Rwanda '-- Bobby L. Rush, a Democrat from Illinois, introduced the $100 BILLION H.R. 6666, the COVID-19 Testing, Reaching and Contacting Everyone (TRACE) Act.

Everyone's contacts must be checkedIn a leaked government video (10) we see a conversation between former American president Bill Clinton and Andrew Cuomo, the governor of the state of New York.

They discuss how to set up a large control system to test the entire population and check all their contacts. They discuss how to build an army to carry out this control system.

A whole new level of global controlBill Gates also made it clear that only people who have been vaccinated against Covid-19 should be allowed to travel, go to school, attend meetings and work. (11)

Digital vaccine ID's are already being developed (12) and Gates has a patent on the technology that makes it possible to trace an individual's body anywhere. This technology is called WO2020-060606 (13).

Also very interesting to note: An Enzyme Called LUCIFERASE Is What Makes Bill Gates Implantable Vaccine Work

In addition, Gates wants to set up a global monitoring network, which will track everyone who came into contact with Covid-19 (14).

The plan: inject mankind with DNA altering vaccineThe famous investigative journalist Anthony Patch did years of research concerning the plans to control the world, by means of created pandemics and mandatory vaccines. During an interview in 2014 this researcher predicted the following:

'They will release a man-made coronavirus. As a result the people will demand a vaccine to protect them. This vaccine will add a third strain of DNA to a persons body, essentially making them a hybrid.

'Once a person is injected, almost immediately their DNA undergoes a transformation. This genetic change will cause people to loose the ability to think for themselves, without them even being aware this happened. Thus they can be controlled easier, to become slaves for the elite.'

Of course that sounds insane and it is insane indeed. Yet we have to be aware that this professional investigator is no fool. He has done years of research and this is what he discovered over the years.

We must be careful not to reject sound knowledge, based on years of research, simply because of our own lack of insight in these topics.

20 years of research say: the vaccine will change our DNADoctor Carrie Madej directed two large clinics in Georgia, before she went to the Dominican Republic to do humanitarian work. She studied DNA and vaccines for the past twenty years and made an urgent video in which she warns that there is a plan to inject humanity with very dangerous vaccines for Covid-19.

The purpose of these new vaccines will be twofold:

1) reprogram our DNA and make us hybrids that are easier to control.

2) connect us to artificial intelligence through a digital vaccine ID, which will also open a whole new realm of control.

This medical expert says she has observed multiple times how diseases were spread over populations by air craft. Because of satefy reasons she is not able to share more details about this in public.

Depopulate the earth by means of organized epidemicsDr. John Coleman is a famous Intelligence Officer from the CIA who wrote a book titled 'The Committee of 300'.

In it he explains how secret societies manipulate governments, health care, food industries, the media and so on. This book can be found on the website of the CIA. (15)

One of the primary goals of the many secret societies, that control governments and the media, is to depopulate the earth.

You can find a list of 32 'elites' who support and promote (according to their own claims) depopulation HERE.

Dr. Coleman says the following about their strategy:

'At least 4 billion useless eaters shall be eliminated by the year 2050 by means of limited wars and organized epidemics of fatal rapid acting diseases'...' '' DR. JOHN COLEMAN, CIA INTELLIGENCE OFFICER

Maintain humanity under 500,000,000In 1980 a granite monument was erected in Georgia, called the Guidestones. A set of 10 guidelines is inscribed on the structure in eight modern languages and a shorter message is inscribed at the top of the structure in four ancient language scripts.

The first guideline goes as follows:

1. Maintain humanity under 500,000,000 in perpetual balance with nature.

The CIA officer Dr. Coleman revealed that one of their methods to 'maintain humanity' is to cause 'organized epidemics of fatal rapid acting diseases'.

Using vaccines to reduce humanityDuring a TED talk Bill Gates echoed this goal, when he literally said that new vaccines can be used to reduce the world's population with 10 '' 15%! (16)

'There are now 6.7 billion people on earth and soon there will be 9 billion. However, we can reduce that number by ten to fifteen percent if we do a good job with new vaccines, health care and birth control'. '' BILL GATES, VACCINE DEALER

Covid19 vaccine for population control?Mike Adams is a published food scientist, author of the popular science book Food Forensics and founder of ISO-accredited CWC Labs.

Years ago he said the following:

''An engineered bioweapon will be released in population centers. There will be calls for massive government funding for the vaccine industry to come up with a vaccine. Miraculously, they will have a vaccine developed in record time. Everyone will be required to line up and take this vaccine shot.''

There is indeed a release of an engineered bioweapon, followed by a vaccine mandate, massive government funding for the vaccine industry and a vaccine that is being developed in record time.

The rest of his message is that this vaccine will slowly begin to kill millions '' if not billions '' of people over the course of a few years. It will be a kill-switch vaccine, designed to reduce the world's population.

SUMMARY: WAS THE PANDEMIC PLANNED?Thousands of medical doctors call the pandemic a global crime, and a world dictatorship with a sanitary excuse.

Two years before Covid-19 came to the global scene, the European Union, the USA, China and other nations suddenly started exporting tens of millions of test kits for Covid-19.

In 2013 a musician predicts a global pandemic with a coronavirus and says this will happen in 2020. He knew this because of personal investigation of so called 'conspiracy theories'.

In 2017 Anthony Fauci guaranteed a surprise outbreak of an infectious disease during the first term of the Trump administration.

Right before the outbreak of a coronavirus pandemic, Bill Gates organized a global coronavirus pandemic exercise: Event201.

Right before the outbreak the Global Preparedness Monitoring Board told the world to be ready for a coronavirus pandemic.

In 2018 the Institute for Disease Modeling announced a global pandemic with a flu virus, originating in China in the area of Wuhan.

In 2018 Bill and Melinda Gates announced that in the coming years there would be a global pandemic of an engineered virus.

The coronavirus SARS-CoV-2 was created in the Bio Safety Lab Level 4 in Wuhan, which received millions of dollars from Anthony Fauci.

Several movies depicted the coronavirus pandemic with great detail, and even mention hydroxychloroquine as the cure.

The Summer Olympics in 2012 played a pandemic of a coronavirus during their opening show.

The investigative journalist Harry Vox predicted in 2014 that a global pandemic would be caused, so the 'ruling class' could implement a higher level of authoritarian control.

The investigative journalist Anthony Patch predicted a global pandemic with a man made virus, that would be used to force a DNA altering vaccine on humanity.

Dr. Carrie Madej studied DNA and vaccines for decades and says the plan is to use the Covid-19 vaccine to start the process of transhumanism: reprogramming the human DNA.

The CIA officer Dr. John Coleman studied secret societies and says their goal is to depopulate the earth by means of organized pandemics of fatal rapid acting diseases.

In the state of Georgia a huge monument was erected in 1980 with ten guidelines for humanity, in eight languages. The first of these 'Ten Commandments' is that humanity needs to be reduced to half a billion people.

Bill Gates said during a TED talk that new vaccines can be used to reduce the world's population with 10-15%.

The 'health ranger' Mike Adams predicted years ago what we see happening now: the release of an engineered bioweapon, followed by a vaccine mandate, massive government funding for the vaccine industry and a vaccine that is being developed in record time. He also predicted that this vaccine will kill innumerable people over the course of a couple of years.

In 2010 the Rockefeller Foundation published the 'Scenario for the future'...' in which they describe a coming global pandemic, that should result in the implementation of authoritarian control over the people, which will then intensify after the pandemic.

In 2020 they publish a handbook on how to create this world of control, with a step by step guide. They say life cannot return back to normal, until the world has become 'Locked Down' with this top down control from authoritarian governments.

We indeed see that Bill Gates and many others worldwide are right away seizing control in unprecedented ways, with enforcing vaccine ID's, microchips that will be implanted into people, mandating the wearing of face masks, social distancing, forced lock-downs, extreme contact tracing, and so on.

Part of this top down control is extreme censoring of every single voice from doctors, scientists or other experts that criticize what is going on.

All predictions were done shortly before it happenedNote that every single prediction of this pandemic was announced a few years or even months before it happened. That is significant.

Gates and Fauci lie to their audience when they say 'history tells us this will happen', but there is no historic basis for guaranteeing a global coronavirus pandemic to occur within a few months or years.

Never in history did anything like this occur, on such a global scale.

The fact that such a historically unique event was predicted in great detail '' by movies, shows, investigators, medical doctors, those who finance labs that develop these viruses, those who earn billions from these pandemics, those who want to create a whole new level of control in our world, etc. '' shows it was planned.

Are there signs that the pandemic is being manipulated?So far we have looked at indications that the pandemic was planned beforehand. If it is indeed orchestrated, then that should also be obvious during the pandemic. A planned pandemic is also a controlled pandemic.

The plan to control the worldYou may have heard the word 'globalists' before, but for those who aren't familiar with it: these are people around the world who plan to create one global government, so they can have total global control over health, religion, finances '' everything.

Main players in this are the United Nations, the World Economic Forum, the World Health Organization, the European Union, the International Monetary Fund, and many others.

They recently came together in an event called DAVOS, where they expressed how the pandemic will be used to deploy their plans.

Here are some of the statements they made: (18)

'Now is the historic moment in time, not only to fight the virus, but TO SHAPE THE SYSTEM.The pandemic represents a window of opportunity to RESET OUR WORLD.

The world must act jointly and swiftly to REVAMP ALL ASPECTS of our societies and economies, from educational to social contacts and working conditions.

EVERY COUNTRY, from the United States to China, must participate, and every industry, from oil and gas to tech, must be TRANSFORMED.' '' Klaus Schwab, Funder of the World Economic Forum

A major leader of gobalism, is the World Economic Forum, founded by Klaus Schwab. He created a 'spinning wheel' with all their objectives. On it we can see the following three 'projects': Covid19 followed by Global Governance, and Internet Governance.

Good read: The Response To Coronavirus Is The New World Order / Agenda 2030

Nobody wants these organizationsNot a single human on the earth has voted for these organizations to even exist, let alone take full control of our lives, families, communities, jobs, health, industries, etc. Yet they present themselves as our 'world leaders' who are planning our entire future.

The World Health Organization presents itself as the global boss over our health, without anyone of us having chosen for them.

They apply a tyranny in mainstream media and social media, where no expression of medical or scientific expertise is allowed, unless it is in line with the guidelines of this 'World' organization.

Tens of thousands of medical doctors and scientists have been censored all over the world, by Facebook, Youtube and Twitter. Why? Because these social media giants state that ONLY what the World health Organization says, is true.

All of humanity must submit to these people who have positioned themselves over all of us, without ever asking our opinion or even consulting with other medical experts.

In fact, every single medical expert speaking out against their decisions is censored.

This means complete loss of medical freedom, loss of freedom of speech, loss of true science, loss of true journalism and an imposing of dictatorships by organizations that nobody voted for, lead by people nobody wanted and yet they simply seize ownership of our world.

They are the big fat mean bully on the playground, that plays boss over everyone.

World Health Organization is run by a terroristThe head of the Word Health Organization, Tedros Adhanom Ghebreyesus, is a member of a violent revolutionary communist party in Ethiopia, Tigray People's Liberation Front. (19)

The Department of Homeland Security clearly states:

''The TPLF qualifies as a Tier III terrorist organization'... on the basis of its violent activities'...''

Let this get through to you: the man directing the World Health Organization is literally a communist terrorist, who has been involved in murdering thousands of innocent people, trying to impose communism on Ethiopia.

And this man is bullying the entire world, telling all of us what we can and cannot do, censoring every medical professional who has a different opinion, demanding blind obedience from all of humanity, while imposing mandates to be vaccinated by their number one financial sponsor: Bill Gates.

Is this the world you want to live in, from now on?

More and more pandemics, untill mankind submitsThese globalists even threaten humanity with more suffering, if we don't submit to their total control. Prince Charles recently joined DAVOS and publicly stated:

''There will be more and more pandemics, if we don't do 'the great reset' now.'' (18)

Bill Gates already calls this 'pandemic one' and is talking about 'pandemic two and three'.

The investigator who back in 2013 predicted a coronavirus pandemic to occur in 2020, followed by riots, said the plan is to create series of pandemics during 2020-2030.

This decade is the selected timeframe to turn the world into one big banana republic, run by mad powerhungry men, who depopulate the earth, and enslave the rest of humanity.

They are planning to cause as many pandemics as needed, in order to break the back of humanity, until everybody submits to their global control.

Are you beginning to understand why more than 500 medical doctors from Germany, 600 doctors from Spain, thousands of medical experts from the USA and many more all over the world are calling this pandemic a 'global' crime'?

Leaders of Catholic Church Warn HumanityAn archbishop and several cardinals of the Roman Catholic Church wrote a letter to humanity, to warn us for gloval tyranny under the guise of Covid-19.

This is an excert of this historic message, that has been translated in many languages and was sent to leaders all over the world. (20)

''We have reason to believe, on the basis of official data on the incidence of the epidemic as related to the number of deaths, that there are powers interested in creating panic among the world's population with the sole aim of permanently imposing unacceptable forms of restriction on freedoms, of controlling people and of tracking their movements. The imposition of these illiberal measures is a disturbing prelude to the realization of a world government beyond all control.''

Is there hope? What can we do?Is there any hope for our future, or are we surrendered to the merciless hands of these wicked mega-billionaires who want to depopulate the earth and seize total control over humanity?

Yes, there is hope. The future is brighter than we can even imagine!

This is not a doom and gloom scenario, but a wake up call for humanity to stop blindly believing the mafia-media and perverse politicians, and rise up as one for a future of freedom.

I invite you to join a unique and historic movement of Global Freedom Fighters, who will lead humanity into a new era of hope, restoration and more freedom than we have ever known.

Source: StopWorldControl.com / References:

1: German group of Doctors For Information

2: Spanish group of Doctors For Truth

2B: Richard Rothshild patented a testing method for COVID-19 in 2015

2C: World Bank shows planned end date of project COVID-19

3: Fauci guarantees an outbreak with the next two years.

4: Bill Gates announced a global pandemic

5: Melinda Gates says humanities greatest threat is an engineered virus

6: Lyrics of 2013 song that predicted coronavirus pandemic in 2020

7: Harry Vox predicted the global pandemic

8: Robin de Ruiter predicted lockdowns

9: Scenario for the future described global pandemic

10: Andrew Cuomo talks with Bill Clinton about authoritarian control

11: Bill Gates talks about a digital ID to control people

12: Linking vaccines to a digital ID

13: Gates has pattent on technology to trace a body anywhere

14: Gates wants a global monitoring system

15: Download the book of CIA officer Coleman

16: Gates talks about reducing world population using vaccines

17: Tens of millions of Covid-19 test kist were exported by the EU, USA, China etc in 2017 and 2018

18: DAVOS and the gathering of the globalists

19: The head of the World Health Organization is member of violent terorrist group

20: Letter from archbishop and cardinals to humanity
Clips & Documents
Art
All Clips

ABC America This Morning - anchor Kenneth Moton - summer school could be mandatory in some districts - mailed mask to every american (42sec).mp3

ABC America This Morning - anchor Mona Kosar Abdi - rand paul asked to wear a mask on senate floor - he did not (33sec).mp3

ABC World News Tonight - anchor David Muir - Dr Rashid Zia shouldnt expect our vaccines to always work must build new vaccines (42sec).mp3

AOC Defense M5M - CBS Gayle King WITH AOC.mp3

AOC Defense M5M - Lemon and Cuomo.mp3

Astra Variants NOT WORKING and Myanmar.mp3

Aus Fed Gov vax certificate minister.MP3

Aus Fed Gov vax certificate report.MP3

Brooks and Jon PBS.mp3

Brooks and Jon TWO DACA PBS.mp3

Carlo Watson on marketing Kicker.mp3

carlos stammering.mp3

Carlos watson Ozy TWO investors pitch.mp3

Carlos watson Ozy.mp3

CBS Evening News - anchor Jamie Yuccas - $500 fine for not wearing a mask in downtown tampa - KN95 to be handed out at stadium (14sec).mp3

CBS Evening News - anchor Jamie Yuccas - Dr Rashid Zia speaking loudly spreads the virus (16sec).mp3

CBS Evening News - anchor Jamie Yuccas - super bowl super spreader - first ever cashless super bowl (20sec).mp3

CBS Evening News - anchor Norah Odonnell - iphone 12 interferes with medical devices (18sec).mp3

CBS Evening News - anchor Norah Odonnell - more from biden interview during super bowl pregame show (10sec).mp3

Challenge Coin Good Night Left Nut.mp3

CNN - anchor Erin Burnett (1) - Brian Stelter lou dobbs taking off the air and named in defamation lawsuit (1min5sec).mp3

CNN - anchor Erin Burnett (2) - Brian Stelter jeanine pirro and maria bartiromo also named in lawsuit - the big lie (41sec).mp3

CNN - anchor Jake Tapper - marjorie taylor greene rothschild laser conspiracy - crazy to think media would slice and dice (1min22sec).mp3

CNN implies Publix Heiress funded Jan 6 and DeSantis for Vax deal.mp3

COVID VAX Palestinians DN.mp3

Dems Fight Like Hell SUPERCUT.mp3

Dr Ferrer No SB parties.mp3

Dr Kat responds - don't take horse medication (MERCK).mp3

Dr Lorraine Day.mp3

Dutch 4 hour click and collect not Fun Shoppen.mp3

Full Dr Wu Zunyou did not isolte the virus.mp3

Gardasil 9 tv spot.mp3

GOP Update Four PBS.mp3

GOP Update One PBS.mp3

GOP Update Three PBS.mp3

GOP Update TWO PBS.mp3

Guidelines_Cause_of_Death_COVID-19-20200420-EN.pdf

Image

Image

Jill Biden and their two dogs (Champ and Major) - wear your mask psa (30sec).mp3

keep going ISO.mp3

Mark Crisoin Miller on New Totalitarianism.mp3

Mark Crisoin Miller on Prop needs fear.mp3

Mark Crisoin Miller one.mp3

Mark Crisoin Miller Two set up.mp3

Mary Grabar 1619 Project.mp3

Mary Grabar columbus.mp3

Mary Grabar on Zinns advice.mp3

Mary Grabar ONE.mp3

Mary Grabar racism and zinn-comms.mp3

Mary Grabar Zinn Educational program.mp3

MSNBC's Nicole Wallace suggests we use domestic Drone strikes on Americans.mp3

New UK mixed vaccines trial.mp3

NPR Robert Grenier (frmr CIA Station Chief Pak and Afg 2001) -1- Jan 6 Intro.mp3

NPR Robert Grenier (frmr CIA Station Chief Pak and Afg 2001) -2- US citizend compared to Al Qaeda.mp3

Pooper with Chris Krebs -1- Shilling hard.mp3

Pooper with Chris Krebs -2- HUnting the DVEs.mp3

scream ISO.mp3

The Apple Circle YT on new iPhone -1- eating facebook.mp3

The Apple Circle YT on new iPhone -2- Microphone lolz.mp3

UK Hospitals Packed to TheRafters.mp3

Veritasium YT Show -1- How did it feel to predict it.mp3

Veritasium YT Show -2- Is covid the last pandemic.mp3

Veritasium YT Show -3- How do we prevent future pandemics.mp3

Veritasium YT Show -4- Why did Gate kill Open Source Vaccine.mp3

Veritasium YT Show -5- What will the next disaster be - CLIMATE CHANGE.mp3

Weird Bernie Dearborn 2020 33.mp3

Wuhan Whistleblow Remembered.mp3