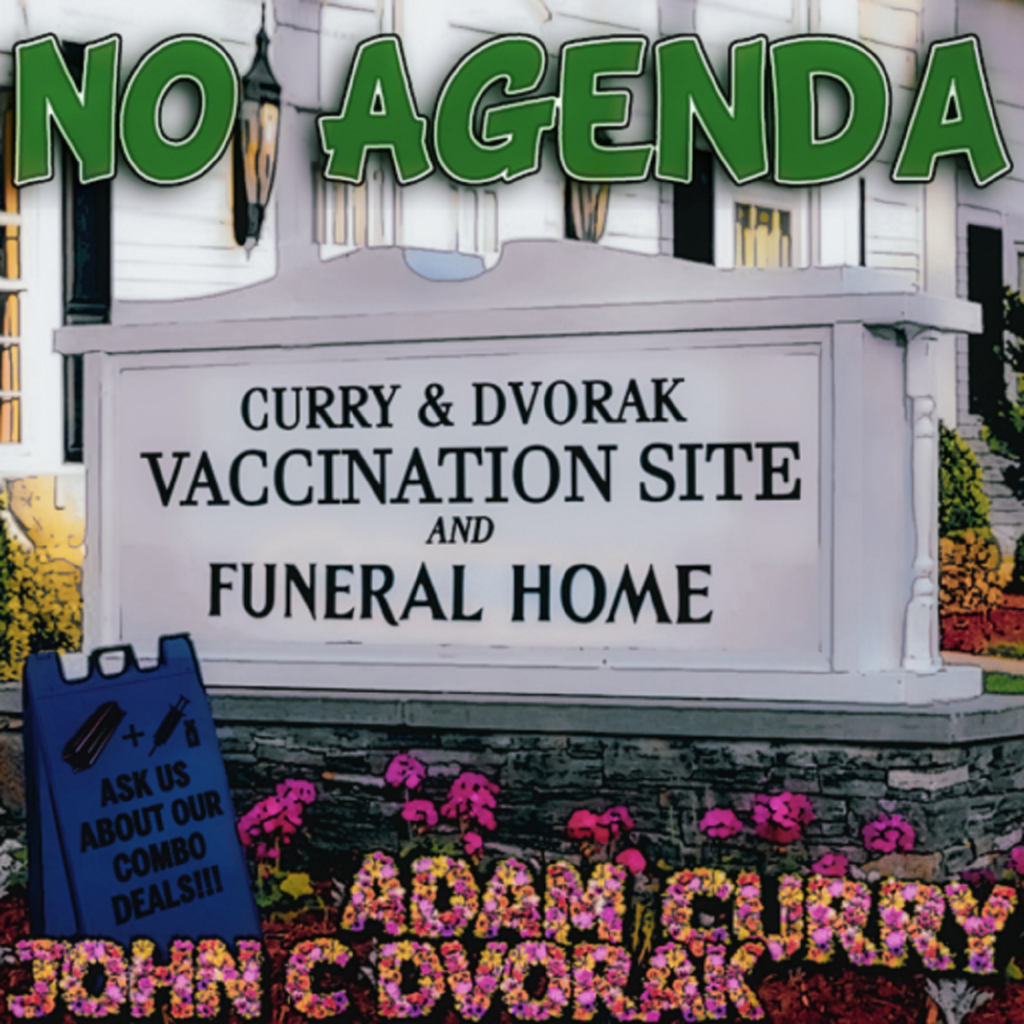 April 25th, 2021 • 3h 7m
1341: Bunny Hugging
Credits
Hosts
Executive Producers
Sir Onymous of Dogpatch and Lower Slobbovra, Harvey Cody, Sir John, Baron of South London, Francis Hess, Sir and Dame Savage, Sir Karys, Baron of Greater Boston, Sir Mac, Sir Mista Bob Dobalina, Sir Jonny B, Mike Bruer, Sir Vito, Baronet Errant, Christian Sorensen
Associate Executive Producers
Anonymous, Sir Ever of the What, Dave Schwanebeck, Maxine Waters Gravel, Sir Tony Knight of South Jersey, Jeff Alicea, Sir Soothsayer, Tyler Sink, Caitlin Hawkins, Sir Michael of Calgary, Andrea Cody
Cover Artist
Information
Episode "1341: Bunny Hugging" was recorded on April 25th, 2021.
Chapters
"It's not raining. It's supposed to be raining. They say it would be raining. Everyone thinks it's going to be raining, but it's not raining. Now, how can they predict global warming?" — @THErealDVORAK
"They've been brainwashing the public at large by saying: oh, all the vaccines are the same, just get what you can…when they pulled the Johnson & Johnson vaccine, to this audience, it said: Oh, my God, this one's no good, they must all be no good!" — @THErealDVORAK
"If that vaccine's so great, why do you give a shit who sits next to you? You're vaccinated, why do you care? No one had an answer for that." — @THErealDVORAK
Republicans are going to kill us all
@adamcurry: Sounds like the flu. Hate to say it, I hate to sound like a Republican. @THErealDVORAK: Oh, no, there's no flu cases anymore.
@adamcurry: Are you telling me that the Academy Awards are done by a fair vote? Please! And actually held in that suitcase? @THErealDVORAK: The whole thing is rigged and it's bullcrap!
Follow John C - @Johncdvorak@noagendasocial.com
Follow Adam - @adam@noagendasocial.com
Thank the Artist Episode 1340 - Darren O'Neill
Executive Producers and Associate Exec Producers
Executive Producers and Associate Exec Producers
"11 years of listening to the Best Podcast in the Universe and all he learned was mead, oh, boy!" — @adamcurry
January 6th & Election Audits
Epstein didn't kill himself
"Why is the President asking the American public these questions? Give us answers, Joe! I don't know why, I don't know what the answer is, that's why you were elected, give us some answers, take some action!" — @adamcurry
Global climate leadership conference
What's going on in New York
Presidential energy levels
@THErealDVORAK: He's an idiot! @adamcurry: Well that's our climate czar, of course he's an idiot! J: You got to get carbon dioxide out of the atmosphere? A: Yup, get it out, get it out, because it's deadly, it's going to kill you!
Abusing the children in the name of climate crisis
It's your Birthday, Birthday
Welcome to the roundtable
"That's what exactly what it's like with, I'm just going to say it, Democrats and Liberals. Someone started clapping, found out he or she was the only one, people are laughing, the person wilted away." — @adamcurry
"You can't even look wrong at a trans man or women without being excoriated, but it's ok if that trans man or woman is a Republican…" — @adamcurry
Indian Producer Boots on the ground needed