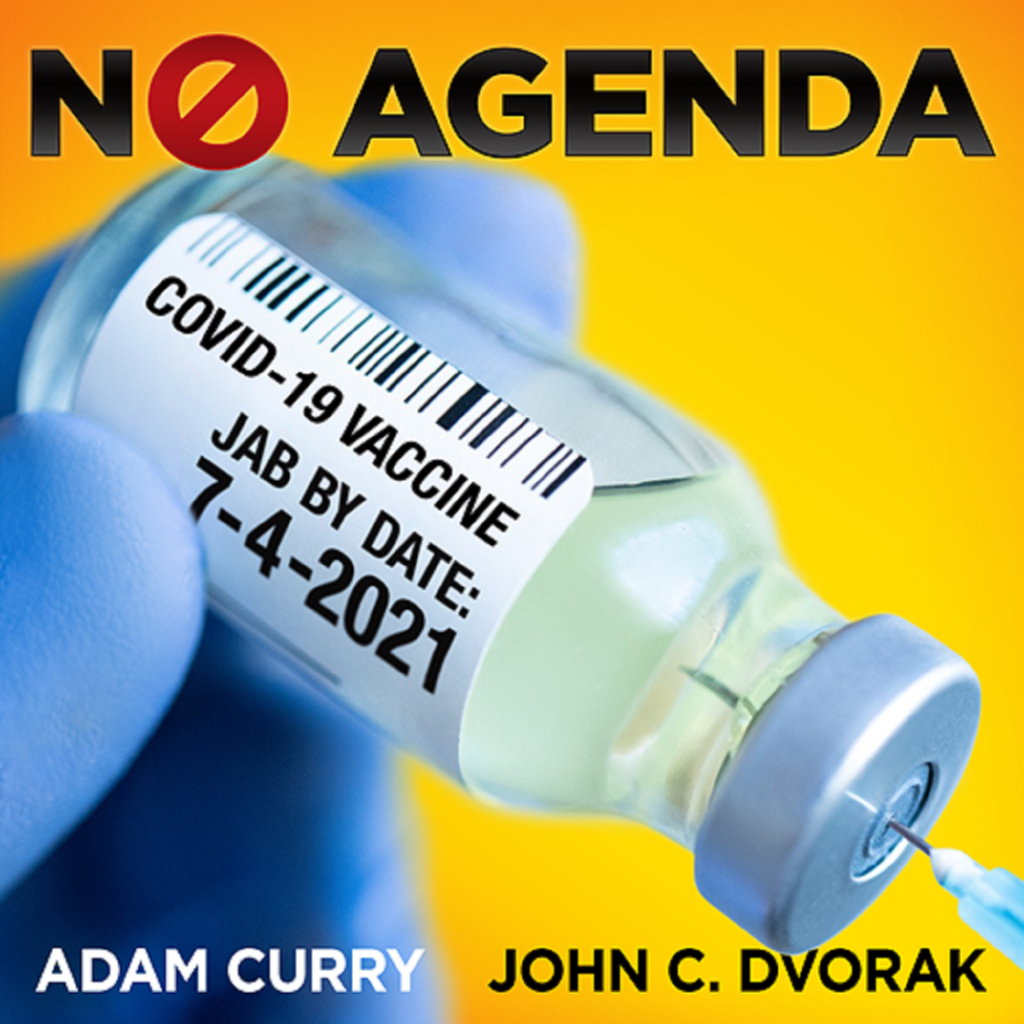 June 10th, 2021 • 3h 22m
1354: FAQs 4 Hacks
Shownotes
Every new episode of No Agenda is accompanied by a comprehensive list of shownotes curated by Adam while preparing for the show. Clips played by the hosts during the show can also be found here.
Big Pharma

Anti-CRISPR is like 1960's anti-missles
Vaccine Incentives

Joe should just say: If you don't vaxx, you ain't black

VAERS came back, now J&J has MANY death associated with it

Why You Should Not Use Ivermectin to Treat or Prevent COVID-19 | FDA

Mon, 07 Jun 2021 18:49

Image

Espa±ol Portuguªs 中文 Tagalog Tiáºng Viá>>‡t í•'국어

COVID-19. We've been living with it for what sometimes seems like forever. Given the number of deaths that have occurred from the disease, it's perhaps not surprising that some consumers are looking at unconventional treatments, not approved or authorized by the Food and Drug Administration (FDA).

Though this is understandable, please beware. The FDA's job is to carefully evaluate the scientific data on a drug to be sure that it is both safe and effective for a particular use, and then to decide whether or not to approve it. Using any treatment for COVID-19 that's not approved or authorized by the FDA, unless part of a clinical trial, can cause serious harm.

There seems to be a growing interest in a drug called ivermectin to treat humans with COVID-19. Ivermectin is often used in the U.S. to treat or prevent parasites in animals. The FDA has received multiple reports of patients who have required medical support and been hospitalized after self-medicating with ivermectin intended for horses.

Here's What You Need to Know about IvermectinFDA has not approved ivermectin for use in treating or preventing COVID-19 in humans. Ivermectin tablets are approved at very specific doses for some parasitic worms, and there are topical (on the skin) formulations for head lice and skin conditions like rosacea. Ivermectin is not an anti-viral (a drug for treating viruses).Taking large doses of this drug is dangerous and can cause serious harm. If you have a prescription for ivermectin for an FDA-approved use, get it from a legitimate source and take it exactly as prescribed. Never use medications intended for animals on yourself. Ivermectin preparations for animals are very different from those approved for humans. What is Ivermectin and How is it Used?Ivermectin tablets are approved by the FDA to treat people with intestinal strongyloidiasis and onchocerciasis, two conditions caused by parasitic worms. In addition, some topical (on the skin) forms of ivermectin are approved to treat external parasites like head lice and for skin conditions such as rosacea.

Some forms of ivermectin are used in animals to prevent heartworm disease and certain internal and external parasites. It's important to note that these products are different from the ones for people, and safe when used as prescribed for animals, only.

When Can Taking Ivermectin Be Unsafe? The FDA has not reviewed data to support use of ivermectin in COVID-19 patients to treat or to prevent COVID-19; however, some initial research is underway. Taking a drug for an unapproved use can be very dangerous. This is true of ivermectin, too.

There's a lot of misinformation around, and you may have heard that it's okay to take large doses of ivermectin. That is wrong.

Even the levels of ivermectin for approved uses can interact with other medications, like blood-thinners. You can also overdose on ivermectin, which can cause nausea, vomiting, diarrhea, hypotension (low blood pressure), allergic reactions (itching and hives), dizziness, ataxia (problems with balance), seizures, coma and even death.

Ivermectin Products for Animals Are Different from Ivermectin Products for PeopleFor one thing, animal drugs are often highly concentrated because they are used for large animals like horses and cows, which can weigh a lot more than we do'--a ton or more. Such high doses can be highly toxic in humans.

Moreover, FDA reviews drugs not just for safety and effectiveness of the active ingredients, but also for the inactive ingredients. Many inactive ingredients found in animal products aren't evaluated for use in people. Or they are included in much greater quantity than those used in people. In some cases, we don't know how those inactive ingredients will affect how ivermectin is absorbed in the human body.

Meanwhile, effective ways to limit the spread of COVID-19 continue to be to wear your mask, stay at least 6 feet from others who don't live with you, wash hands frequently, and avoid crowds.

Content current as of:03/05/2021

Regulated Product(s) Topic(s) Health Topic(s)
VAERS
Freedom Pass

UK QR Code Tracking app

Restaurants/cafes/bars etc are forced by law to collect details and are fined if they don't: https://www.gov.uk/government/news/venues-required-by-law-to-record-contact-details

The contact details they have to collect (normally via the NHS app and scanning a QR code) includes:

name

contact number

date of visit

arrival time

departure time

If the person refuses to give details then the venue has to block your entry.

The NHS Track and Trace App has been modified to include vaccine status: https://digital.nhs.uk/services/nhs-app/nhs-app-guidance-for-gp-practices/covid-19-vaccination-status

People are fined £10,000 if they ignore notifications that come through the App. It "pings" you if you have been close to a "positive case" and uses LE bluetooth/GPS and cell site location data to track where you are and who is near you.

Tom

If the Trudeau plan is correct, UBI is on the horizon

Nov 2020 - 2nd lockdown will be phased-in. Metropolitan areas first, then expanding outwards end of Nov 2020 - no of new cases are planned to exceed testing capacity

Dec 2020 - Rush through lots of isolation facilities to quarantine people in.

end Dec 2020 - Jan 2021 - complete and total 2nd lockdown much stricter than the 1st.

The 1st quarter of 2021 - change the unemployment welfare program into a 'universal basic income'

Feb 2021 - they will say that a mutation is causing much higher mortality rate and infection rate. they call it covid 21.

The 1st and 2nd quarter of 2021 - hospitalisations and new cases will exceed the capacity in medical care facilities

the 2nd quarter of 2021 - 3rd lockdown - enhanced lockdown restrictions. Full travel restrictions inc inter-province and InterCity.

2nd quarter of 2021 - transition everyone into the universal basic income program

late 2nd quarter of 2021 - the supply chains will break down. Shortages and economic instability

3rd quarter of 2021 - military deployed into metropolitan areas and major roadways with checkpoints to restrict travel and movement. Also to provide logistical support. Presumably for all the supply chains that have broken down.

Germany introduces digital COVID pass

Thu, 10 Jun 2021 11:23

Berlin intends to roll out a digital immunity certificate by the end of June, making it easier to prove that a person has been fully vaccinated against the coronavirus. But critics warn the timeframe is too ambitious.

German Health Minister Jens Spahn said on Thursday that Germany will roll out a digital immunity certificate "CovPass" by the end of June, making it easier to definitively prove that a person has been fully vaccinated.

The digital pass is to become available alongside Germany's traditional yellow paper vaccination booklet, he stressed.

People who have been fully vaccinated against COVID-19, and those who have recovered have recently become exempt from many restrictions in Germany. This includes travel restrictions, something that is very relevant inall of Europe ahead of the summer vacation time.

The embattled health minister from the Christian Democratic Union (CDU) has been announcing new COVID-19 measures and spreading optimism on a daily basis of late. Observers see this also as an attempt to garner voter support, ahead of the general election in September, where Spahn's party is seeking to hold on to power.

So starting next week, Germans will be able to prove they have been fully vaccinated by simply showing an app on their smartphones. Those who have already received all their jabs are supposed to be able to receive their digital certification retroactively.

In Germany, COVID-19 vaccines are administered in vaccination centers, by general practitioners, and since very recently also by company doctors.

All those who have already received their second vaccination at the vaccination center are supposed to automatically receive their vaccination e-certificate by post in the next few weeks. Using the QR code contained therein, the data can be uploaded to the apps intended for this, such as "CovPass" or the Corona warning app.

But doctors and pharmacists are ill-prepared and feel at a loss.

The reimbursement for the extra work of issuing the digital certificate has been regulated: Doctors have been promised ''¬2-''¬6 ($2.4-$7.3) reimbursement for each digital document they issue to the patients they vaccinate. For the retroactive issuing of a certificate clinics, vaccination centers and pharmacies will receive ''¬18.

Since its introduction last year, the German COVID tracing app has been ciriticized as not very uselful

There are 20,000 pharmacies in Germany; they can register for the digital vaccine certification procedure as of this week.

But Andreas M¼ller, a pharmacist in Berlin who did not wish to see his real name published, told DW on Wednesday that he still had no information on how this is really supposed to work.

"I received a confirmation mail from the pharmacists' association confirming that we may issue the digital certificate. But that was it, no additional information!" He shrugs his shoulders.

"We're supposed to start on Monday. But I don't know how to do this. I have no software for it. And I don't know how to tell a fake paper certificate from a real one." This really worries him, as issuing a fake certificate is punishable as an offense and carries a fine.

The pharmacist already had eight people come in on Wednesday asking for a digital certificate. In the pharmacy around the corner, there were even 20 people who all had to be turned away without being able to tell them when they'd be able to start giving out the digital certificates. "It almost makes me want to laugh," M¼ller says with a look of despair.

Almost 20 million people in Germany have been fully vaccinated. They all have little vaccine stickers and stamps along in their yellow vaccination booklets. But many people don't want the hassle of having to carry it with them at all times '-- not least for fear of losing it.

A certificate on a smartphone app would be much easier for restaurant visits or travel.

The European Parliament announced its authorization of the use of digital COVID-19 certificates within the European Union on Wednesday, saying that it is now up to member states to apply the rules.

The measures will come into effect from July 1 and will last for 12 months.

The proposed certificates would enable more secure travel between EU countries by validating whether someone has been fully vaccinated, has recently tested negative for the virus, or has recovered from the disease. The EU will also provide ''¬100 million ($121.9 million) for the purchase of COVID-19 tests.

But Germany is lagging behind. The country has managed to expand its national coronavirus tracing app to read QR codes certifying the vaccination. But it is unclear whether this will be compatible with the new EU app.

General practitioner Michael Sch¤fer in Berlin is at a loss too. He doesn't know what to say when his patients ask him about the digital certificate. "We hear something new every day," he says. "But not how exactly it is supposed to work. It basically needs to be integrated in our administrative software, but administrative software provider PVS hasn't been given any instructions yet."

The government wants PVS, the billing system for healthcare providers, to develop and distribute a relevant software update for the digital COVID-19 pass by no later than July 12 '-- but preferably before the end of June; however, Sch¤fer has his doubts whether that timeline is realistic.

This article has been translated from German.

While you're here: Every Tuesday, DW editors round up what is happening in German politics and society, with an eye toward understanding this year's elections and beyond. You can sign up here for the weekly email newsletter Berlin Briefing, to stay on top of developments as Germany enters the post-Merkel era.

Tony Blair Paper - Less Risk, More Freedom | Institute for Global Change

Wed, 09 Jun 2021 16:09

Less Risk, More Freedom

Kirsty Innes Brianna Miller Daniel Sleat Ryan Wain PeiChin Tay

Covid-19

Less Risk, More Freedom Paper

Posted on: 6th June 2021

Kirsty Innes

Head of the Digital Government Unit

Brianna Miller

Researcher

Daniel Sleat

Head of Research Unit

Ryan Wain

Political Director

PeiChin Tay

Policy Lead (Digital Government Unit)

Copyright (C) June 2021 by the Tony Blair Institute for Global Change

All rights reserved. Citation, reproduction and or translation of this publication, in whole or in part, for educational or other non-commercial purposes is authorised provided the source is fully acknowledged. Tony Blair Institute, trading as Tony Blair Institute for Global Change, is a company limited by guarantee registered in England and Wales (registered company number: 10505963) whose registered office is One Bartholomew Close, London, EC1A 7BL.

Don't Miss Anything. Be the first to know what we're doing - and how you can get more involved.Sign up to hear more and get involved.

Thank you. You have successfully subscribed.

Check your inbox shortly for more from us.

Sorry, an error occured during your newsletter subscription.
Bat vs Lab
Variants
Big Tech

Trump's TikTok, WeChat Actions Targeting China Revoked by Biden

President substitutes executive order mandating a broad review of apps controlled by foreign adversaries
Cyber Pandemic

El Salvador adopts bitcoin as legal tender after passing law

Wed, 09 Jun 2021 12:24

A woman withdraws money from an Athena Bitcoin ATM. Salvadoran President Nayib Bukele has announced that he will propose a law to the Congress, where his party controls a majority, for Bitcoin to become legal tender.

Camilo Freedman | LightRocket | Getty Images

El Salvador has become the first country to adopt bitcoin as legal tender.

Lawmakers in the Central American country's Congress voted by a "supermajority" in favor of the Bitcoin Law, receiving 62 out of 84 of the legislature's vote.

The price of bitcoin was up 5% to $34,239.17 shortly after the vote.

Earlier on Wednesday, President Nayib Bukele sent the law to Congress for a vote.

"The purpose of this law is to regulate bitcoin as unrestricted legal tender with liberating power, unlimited in any transaction, and to any title that public or private natural or legal persons require carrying out," the law reads.

Prices can now be shown in bitcoin, tax contributions can be paid with the digital currency, and exchanges in bitcoin will not be subject to capital gains tax.

Bitcoin is known for wild price swings that have prompted critics to suggest it is not suitable to be an effective currency. It's still unclear how El Salvador will ultimately roll out bitcoin as legal tender.

The exchange rate with the U.S. dollar "will be freely established by the market," according to the proposed law. El Salvador's current official currency is the U.S. dollar.

The law also says that the state will "promote the necessary training and mechanisms so that the population can access bitcoin transactions."

Approximately 70% of El Salvador does not have access to traditional financial services, according to the Bitcoin Law. The cryptocurrency is seen as a way to increase financial inclusion.

Bukele submitted the law to Congress after he announced last week that El Salvador struck a partnership with digital wallet company Strike, to build the country's modern financial infrastructure using bitcoin technology.

In April, bitcoin hit a record high of $64,829.14 but has since dropped by nearly half, according to CoinDesk data. It is still up over 230% over the last 12 months. That rise has been attributed to several factors, including rising interest from institutional investors and large companies such as Tesla and Square buying bitcoin.

FBI 'hack' to retrieve bitcoin

"They did so by putting legal pressure on a bitcoin wallet or exchange that had servers in Northern California. Yes, you read that correctly. These alleged Russian hackers did not in fact have custody over their bitcoin. Instead, they were using a custodian for their funds with servers in the United States. Using a custodian for your funds instead of maintaining possession of them is a very basic error, especially for an allegedly sophisticated hacking gang."

World's Largest Meat Company Pays $11M in Bitcoin Ransomware Attack

Major outage brings down swathes of the internet | News | DW | 08.06.2021

Tue, 08 Jun 2021 20:26

Social media and news websites, along with online retail giant Amazon.com, have begun to come back online after a major outage.

Multiple social media, news and government websites were unavailable on Tuesday following a major internet outage.

Websites such as the The New York Times, CNN, Twitch, Amazon and the United Kingdom government website were reported as being inaccessible.

Around 21,000 Reddit users reported access issues. More than 2,000 users reported problems with Amazon, Reuters news agency reported, citing outage monitoring website Downdetector.com.

Cloud service provider Fastly said on its website that it was investigating a "potential impact to performance" with its content delivery network (CDN) services."

Services returnThe San Francisco-based company later added an unspecified "issue" with the CDN had been identified and a "fix" has been applied.

Around an hour after the outage was first reported, some of the major sites, including Spotify and Paypal, were still experiencing some problems, according to Downdetector.com.

"Looks like it is slowly coming back,'' Doug Madory, an internet infrastructure expert at Kentik, told AP.

He said "it is serious because Fastly is one of the world's biggest CDNs and this was a global outage.''

Some news services turned to unconventional means to carry on reporting after their websites went down. Tech website Verge began reporting on Google Docs, while the technology editor at The Guardian started a Twitter thread.

The UK attorney general tweeted that the gov.uk website was down and provided an email address for queries.

As an "edge cloud platform," Fastly provides behind-the-scenes cloud computing services for many high-traffic websites, allowing them to get content more quickly to users.

ab/wmr (Reuters, AP)

Internet outage exposes fragility of global digital infrastructure | News | DW | 08.06.2021

Tue, 08 Jun 2021 20:25

Thousands of popular websites went dark Tuesday morning. An hour later, they were back online. But the incident, linked to cloud provider Fastly, illustrates how fragile internet infrastructure is.

The White House. The New York Times. Tech giant Amazon.

Those were just three of numerous institutions whose websites went black Tuesday.

Early in the morning, visitors started seeing error messages when they tried to access the websites of the British government, the social media platform Reddit, or media outlets like the BBC, CNN and the Financial Times.

An hour later, the pages came back online. But the damage was already done.

The outage could have cost companies hundreds of millions in lost revenue, after consumers were unable to access websites and online shops, analysts estimate.

The incident was linked to a network failure at cloud computing company Fastly. The US-based firm helps websites speed up traffic by hosting some of their content.

In an email, a Fastly spokesperson confirmed that the company had found a problem in its system that "triggered disruptions." She did not provide details about what exactly caused the incident but said that the company had fixed the bug.

The outage illustrates that, as the technology that underpins the internet's infrastructure is increasingly run by a small number of companies, this leaves the web vulnerable to disruptions.

"A few companies now host a lot of stuff '... and the list has got smaller over the years," said Doug Madory, director of internet analysis at network analytics firm Kentik, which analyzed the incident.

"If one of these big guys '-- it may be rare '-- but if they do have an outage, this takes a lot of things down,'' he added.

"A few companies now host a lot of stuff '... and the list has got smaller over the years," says one expert.

Invisible internet intermediariesWidely unnoticed, little-known intermediaries like Fastly have become pillars of internet infrastructure.

Based in San Francisco, the company operates a global network of servers and data centers. In those centers, Fastly stores copies of content from websites it cooperates with. When visitors in a certain region access the pages, they're shown the replicated data instead of the original. This speeds up the loading pace of the websites.

During Tuesday's outage, however, traffic running through Fastly's servers seems to have been interrupted. An analysis by analytics firm Kentik suggests it plummeted by 75 percent.

More to come?Internet outages are no new phenomena. In recent years, software glitches in digital infrastructure have repeatedly brought down the internet.

In 2017, human error was responsible for an outage at Amazon's cloud service AWS, which shut down websites for hours.

Last December, a glitch brought down services of US tech giant Google. And in January, users of the business messaging app Slack were unable to send messages or make calls.

What made Tuesday's outage worrisome, however, is its scale.

It affected thousands of websites around the globe, including France's Le Monde newspaper and Sweden's social insurance agency, according to Reuters.

And the incident will likely not be the last internet outage, experts believe.

"As much as we in the internet industry try to completely eliminate these types of errors that are self-inflicted, you can't completely eliminate them," said Kentik's Doug Madory, "There will be outages in the future again."
NWO

Resin, not Chips

Just thought I'd give you a quick report from the field of automobile manufacturing. While the chip shortage has threatened a few of our and others suppliers it's really the resin that seems to be the biggest challenge for most suppliers. As you well know much of what goes into cars is plastic. The BMW plant here in South Carolina is the largest BMW manufacturing facility in the world as far as numbers are concerned. We're in a situation right now where BMW global will shut down other facilities just to keep this one running. Most of the ancillary suppliers are also doing the same thing just to keep this one plant online.

As for the company I work for many of our facilities in North America have already shut down for extended periods due to manufacturers like Ford and Chevy shutting down production for weeks or months while they wait on ships and plastic to be available.

At the local level, as you know most big businesses can't just go out and buy any computer from Walmart or Best buy, we have standards and images to work with. I have not received a computer shipment of HP laptops or desktops since December. As we continue to ramp up production for other contracts that we have won I'm in a situation where I may not be able to supply computers for employees that we're adding.

On the labor market front, we've added a non-English call in line for potential employees in the area, and a spanish-speaking interviewer that can help onboard the legal, hard-working, people who may not have English as a first language. This is actually working very well for us and I'm happy to have these people in the plant because they are almost always good workers. With overtime which they will almost always get, these people are going to be making around $20 or more an hour.

Germany ranks third globally for number of ultra-rich

Thu, 10 Jun 2021 11:25

A new report has revealed a surge in private wealth for a small number of individuals during the coronavirus pandemic. The German super-rich have benefited particularly well.

The number of individuals with a financial wealth of over $100 million (''¬82.25 million) grew by 6,000 during the coronavirus pandemic according to a new report by the consultancy firm Boston Consulting Group published on Thursday.

The club of the ultra-rich reached a record of 60,000 members in 2020. Germany came third on global rankings with around 2,900 "ultra-high net worth individuals," following only the US and China.

The German ultra-rich controlled around $1.4 trillion of global investable wealth in 2020, representing an almost 6% growth on the previous year, the "Global Wealth 2021" report said.

How has private wealth grown in Germany?Private financial wealth hit new record highs during the pandemic. Globally, this individually held wealth reached $250 trillion '-- an increase of 8% over 2019.

In Germany, wealth held in cash, savings, shares, pension plans and life insurance amounted to $9 trillion by 2020. When tangible assets such as real estates were factored in, the amount reached $20 trillion.

"German traditionally rather invest in real estate," BCG partner and report author Anna Zakrewski said.

"At the same time, investors in Germany are saving at an above-average rate."

Despite most people staying home for months on end in 2020, the number of dollar millionaires in Germany grew by 35,000 to a total of 542,000. Globally this group reached a total of 26.6 million individuals, an increase of 1.8 million from the previous year.

The other side of the pandemicWhile the pandemic made some people richer, it also brought new highs of inequality.

The global ultra-rich '-- those 60,000 individuals whose wealth exceeds $100 million '-- held control over some 15% of the total investable capital in 2020.

During the same period that their numbers grew, several markers of global equality and poverty saw major setbacks.

A recent report by the UN's International Labor Organization (ILO) warned that the high unemployment levels caused by the pandemic would take years to fall back to their 2019 levels.

The ILO also reported on Thursday that child labor has increased for the first time in 20 years, indicating a reversal in progress made over the past two decades.

ab/rt (Reuters, dpa)

The Secret IRS Files: Trove of Never-Before-Seen Records Reveal How the Wealthiest Avoid Income Tax '-- ProPublica

Thu, 10 Jun 2021 11:14

ProPublica is a nonprofit newsroom that investigates abuses of power. The Secret IRS Files is an ongoing reporting project. Sign up to be notified when the next installment publishes.

In 2007, Jeff Bezos, then a multibillionaire and now the world's richest man, did not pay a penny in federal income taxes. He achieved the feat again in 2011. In 2018, Tesla founder Elon Musk, the second-richest person in the world, also paid no federal income taxes.

Michael Bloomberg managed to do the same in recent years. Billionaire investor Carl Icahn did it twice. George Soros paid no federal income tax three years in a row.

ProPublica has obtained a vast trove of Internal Revenue Service data on the tax returns of thousands of the nation's wealthiest people, covering more than 15 years. The data provides an unprecedented look inside the financial lives of America's titans, including Warren Buffett, Bill Gates, Rupert Murdoch and Mark Zuckerberg. It shows not just their income and taxes, but also their investments, stock trades, gambling winnings and even the results of audits.

Taken together, it demolishes the cornerstone myth of the American tax system: that everyone pays their fair share and the richest Americans pay the most. The IRS records show that the wealthiest can '-- perfectly legally '-- pay income taxes that are only a tiny fraction of the hundreds of millions, if not billions, their fortunes grow each year.

Many Americans live paycheck to paycheck, amassing little wealth and paying the federal government a percentage of their income that rises if they earn more. In recent years, the median American household earned about $70,000 annually and paid 14% in federal taxes. The highest income tax rate, 37%, kicked in this year, for couples, on earnings above $628,300.

The confidential tax records obtained by ProPublica show that the ultrarich effectively sidestep this system.

ProPublica

You May Be Paying a Higher Tax Rate Than a Billionaire

America's billionaires avail themselves of tax-avoidance strategies beyond the reach of ordinary people. Their wealth derives from the skyrocketing value of their assets, like stock and property. Those gains are not defined by U.S. laws as taxable income unless and until the billionaires sell.

To capture the financial reality of the richest Americans, ProPublica undertook an analysis that has never been done before. We compared how much in taxes the 25 richest Americans paid each year to how much Forbes estimated their wealth grew in that same time period.

We're going to call this their true tax rate.

The results are stark. According to Forbes, those 25 people saw their worth rise a collective $401 billion from 2014 to 2018. They paid a total of $13.6 billion in federal income taxes in those five years, the IRS data shows. That's a staggering sum, but it amounts to a true tax rate of only 3.4%.

It's a completely different picture for middle-class Americans, for example, wage earners in their early 40s who have amassed a typical amount of wealth for people their age. From 2014 to 2018, such households saw their net worth expand by about $65,000 after taxes on average, mostly due to the rise in value of their homes. But because the vast bulk of their earnings were salaries, their tax bills were almost as much, nearly $62,000, over that five-year period.

The Ultrawealthy by the Numbers

Wealth, income and taxes for four of the richest people in the country from 2014 to 2018.

Read our full methodology. Credit: Agnes Chang/ProPublica No one among the 25 wealthiest avoided as much tax as Buffett, the grandfatherly centibillionaire. That's perhaps surprising, given his public stance as an advocate of higher taxes for the rich. According to Forbes, his riches rose $24.3 billion between 2014 and 2018. Over those years, the data shows, Buffett reported paying $23.7 million in taxes.

Warren Buffett

Berkshire Hathaway Inc.

2014-2018 Wealth Growth:

$24.3B

Total Income Reported:

$125M (0.51% of wealth)

Total Taxes Paid:

$23.7M (0.10% of wealth)

Note: Values in the graphic are rounded.That works out to a true tax rate of 0.1%, or less than 10 cents for every $100 he added to his wealth.

In the coming months, ProPublica will use the IRS data we have obtained to explore in detail how the ultrawealthy avoid taxes, exploit loopholes and escape scrutiny from federal auditors.

Experts have long understood the broad outlines of how little the wealthy are taxed in the United States, and many lay people have long suspected the same thing.

But few specifics about individuals ever emerge in public. Tax information is among the most zealously guarded secrets in the federal government. ProPublica has decided to reveal individual tax information of some of the wealthiest Americans because it is only by seeing specifics that the public can understand the realities of the country's tax system.

Consider Bezos' 2007, one of the years he paid zero in federal income taxes. Amazon's stock more than doubled. Bezos' fortune leapt $3.8 billion, according to Forbes, whose wealth estimates are widely cited. How did a person enjoying that sort of wealth explosion end up paying no income tax?

Jeff Bezos

Amazon.com Inc.

2014-2018 Wealth Growth:

$99.0B

Total Income Reported:

$4.22B (4.26% of wealth)

Total Taxes Paid:

$973M (0.98% of wealth)

In that year, Bezos, who filed his taxes jointly with his then-wife, MacKenzie Scott, reported a paltry (for him) $46 million in income, largely from interest and dividend payments on outside investments. He was able to offset every penny he earned with losses from side investments and various deductions, like interest expenses on debts and the vague catchall category of ''other expenses.''

In 2011, a year in which his wealth held roughly steady at $18 billion, Bezos filed a tax return reporting he lost money '-- his income that year was more than offset by investment losses. What's more, because, according to the tax law, he made so little, he even claimed and received a $4,000 tax credit for his children.

His tax avoidance is even more striking if you examine 2006 to 2018, a period for which ProPublica has complete data. Bezos' wealth increased by $127 billion, according to Forbes, but he reported a total of $6.5 billion in income. The $1.4 billion he paid in personal federal taxes is a massive number '-- yet it amounts to a 1.1% true tax rate on the rise in his fortune.

Compare Bezos' Financial Picture to a Typical American Household

While Bezos' wealth has grown astronomically over the last decade and he's paid a minuscule fraction of it in taxes, a typical American household paid more in taxes than it accumulated in wealth.

Jeff Bezos

Typical American Household

Read our full methodology. Credit: Agnes Chang/ProPublica The revelations provided by the IRS data come at a crucial moment. Wealth inequality has become one of the defining issues of our age. The president and Congress are considering the most ambitious tax increases in decades on those with high incomes. But the American tax conversation has been dominated by debate over incremental changes, such as whether the top tax rate should be 39.6% rather than 37%.

ProPublica's data shows that while some wealthy Americans, such as hedge fund managers, would pay more taxes under the current Biden administration proposals, the vast majority of the top 25 would see little change.

The tax data was provided to ProPublica after we published a series of articles scrutinizing the IRS. The articles exposed how years of budget cuts have hobbled the agency's ability to enforce the law and how the largest corporations and the rich have benefited from the IRS' weakness. They also showed how people in poor regions are now more likely to be audited than those in affluent areas.

ProPublica

Why We Are Publishing the Tax Secrets of the .001%

The Secret IRS Files Short Form: A Quick Guide to What We Uncovered

How We Calculated the True Tax Rates of the Wealthiest

ProPublica is not disclosing how it obtained the data, which was given to us in raw form, with no conditions or conclusions. ProPublica reporters spent months processing and analyzing the material to transform it into a usable database.

We then verified the information by comparing elements of it with dozens of already public tax details (in court documents, politicians' financial disclosures and news stories) as well as by vetting it with individuals whose tax information is contained in the trove. Every person whose tax information is described in this story was asked to comment. Those who responded, including Buffett, Bloomberg and Icahn, all said they had paid the taxes they owed.

A spokesman for Soros said in a statement: ''Between 2016 and 2018 George Soros lost money on his investments, therefore he did not owe federal income taxes in those years. Mr. Soros has long supported higher taxes for wealthy Americans.'' Personal and corporate representatives of Bezos declined to receive detailed questions about the matter. ProPublica attempted to reach Scott through her divorce attorney, a personal representative and family members; she did not respond. Musk responded to an initial query with a lone punctuation mark: ''?'' After we sent detailed questions to him, he did not reply.

One of the billionaires mentioned in this article objected, arguing that publishing personal tax information is a violation of privacy. We have concluded that the public interest in knowing this information at this pivotal moment outweighs that legitimate concern.

The consequences of allowing the most prosperous to game the tax system have been profound. Federal budgets, apart from military spending, have been constrained for decades. Roads and bridges have crumbled, social services have withered and the solvency of Social Security and Medicare is perpetually in question.

There is an even more fundamental issue than which programs get funded or not: Taxes are a kind of collective sacrifice. No one loves giving their hard-earned money to the government. But the system works only as long as it's perceived to be fair.

Our analysis of tax data for the 25 richest Americans quantifies just how unfair the system has become.

By the end of 2018, the 25 were worth $1.1 trillion.

For comparison, it would take 14.3 million ordinary American wage earners put together to equal that same amount of wealth.

The personal federal tax bill for the top 25 in 2018: $1.9 billion.

The bill for the wage earners: $143 billion.

The idea of a regular tax on income, much less on wealth, does not appear in the country's founding documents. In fact, Article 1 of the U.S. Constitution explicitly prohibits ''direct'' taxes on citizens under most circumstances. This meant that for decades, the U.S. government mainly funded itself through ''indirect'' taxes: tariffs and levies on consumer goods like tobacco and alcohol.

With the costs of the Civil War looming, Congress imposed a national income tax in 1861. The wealthy helped force its repeal soon after the war ended. (Their pique could only have been exacerbated by the fact that the law required public disclosure. The annual income of the moguls of the day '-- $1.3 million for William Astor; $576,000 for Cornelius Vanderbilt '-- was listed in the pages of The New York Times in 1865.)

By the late 19th and early 20th century, wealth inequality was acute and the political climate was changing. The federal government began expanding, creating agencies to protect food, workers and more. It needed funding, but tariffs were pinching regular Americans more than the rich. The Supreme Court had rejected an 1894 law that would have created an income tax. So Congress moved to amend the Constitution. The 16th Amendment was ratified in 1913 and gave the government power ''to lay and collect taxes on incomes, from whatever source derived.''

In the early years, the personal income tax worked as Congress intended, falling squarely on the richest. In 1918, only 15% of American families owed any tax. The top 1% paid 80% of the revenue raised, according to historian W. Elliot Brownlee.

But a question remained: What would count as income and what wouldn't? In 1916, a woman named Myrtle Macomber received a dividend for her Standard Oil of California shares. She owed taxes, thanks to the new law. The dividend had not come in cash, however. It came in the form of an additional share for every two shares she already held. She paid the taxes and then brought a court challenge: Yes, she'd gotten a bit richer, but she hadn't received any money. Therefore, she argued, she'd received no ''income.''

Four years later, the Supreme Court agreed. In Eisner v. Macomber, the high court ruled that income derived only from proceeds. A person needed to sell an asset '-- stock, bond or building '-- and reap some money before it could be taxed.

Since then, the concept that income comes only from proceeds '-- when gains are ''realized'' '-- has been the bedrock of the U.S. tax system. Wages are taxed. Cash dividends are taxed. Gains from selling assets are taxed. But if a taxpayer hasn't sold anything, there is no income and therefore no tax.

Contemporary critics of Macomber were plentiful and prescient. Cordell Hull, the congressman known as the ''father'' of the income tax, assailed the decision, according to scholar Marjorie Kornhauser. Hull predicted that tax avoidance would become common. The ruling opened a gaping loophole, Hull warned, allowing industrialists to build a company and borrow against the stock to pay living expenses. Anyone could ''live upon the value'' of their company stock ''without selling it, and of course, without ever paying'' tax, he said.

Hull's prediction would reach full flower only decades later, spurred by a series of epochal economic, legal and cultural changes that began to gather momentum in the 1970s. Antitrust enforcers increasingly accepted mergers and stopped trying to break up huge corporations. For their part, companies came to obsess over the value of their stock to the exclusion of nearly everything else. That helped give rise in the last 40 years to a series of corporate monoliths '-- beginning with Microsoft and Oracle in the 1980s and 1990s and continuing to Amazon, Google, Facebook and Apple today '-- that often have concentrated ownership, high profit margins and rich share prices. The winner-take-all economy has created modern fortunes that by some measures eclipse those of John D. Rockefeller, J.P. Morgan and Andrew Carnegie.

In the here and now, the ultrawealthy use an array of techniques that aren't available to those of lesser means to get around the tax system.

Certainly, there are illegal tax evaders among them, but it turns out billionaires don't have to evade taxes exotically and illicitly '-- they can avoid them routinely and legally.

Most Americans have to work to live. When they do, they get paid '-- and they get taxed. The federal government considers almost every dollar workers earn to be ''income,'' and employers take taxes directly out of their paychecks.

The Bezoses of the world have no need to be paid a salary. Bezos' Amazon wages have long been set at the middle-class level of around $80,000 a year.

For years, there's been something of a competition among elite founder-CEOs to go even lower. Steve Jobs took $1 in salary when he returned to Apple in the 1990s. Facebook's Zuckerberg, Oracle's Larry Ellison and Google's Larry Page have all done the same.

Yet this is not the self-effacing gesture it appears to be: Wages are taxed at a high rate. The top 25 wealthiest Americans reported $158 million in wages in 2018, according to the IRS data. That's a mere 1.1% of what they listed on their tax forms as their total reported income. The rest mostly came from dividends and the sale of stock, bonds or other investments, which are taxed at lower rates than wages.

Wealth and income work very differently for the ultrawealthy than they do for most people. This represents $100 of income for a typical wage-earning American household.

The federal government taxes income. A typical American household might pay something like 14%.

For many households, the rest of their income goes toward expenses every year with maybe a small amount left over for savings.

A typical household might also own a home, which often grows in value over time. Such asset gains make up much of that household's wealth growth for any given year.

This proportion of wealth growth vs. taxes has been typical for middle-aged Americans since the mid-2000s. However, it's inverted for the ultrawealthy.

This represents $100 of income for Bezos. From 2006 to 2018, his taxes were about 21% of his income.

But for people in this stratosphere, income doesn't really matter. Bezos' Amazon shares have skyrocketed in value since 2006. In most years, his wealth grew far more than what he reported in income to the IRS.

Between 2006 and 2018, Bezos' wealth shot up by over $120 billion , while he paid a minuscule proportion in taxes . Meanwhile, typical Americans his age paid more in taxes than they saw in wealth growth over that period.

That is, for every $100 of wealth growth over that period, typical Americans paid $160 in taxes . Bezos paid only $1.09 .

Read our full methodology. Credit: Agnes Chang/ProPublica As Congressman Hull envisioned long ago, the ultrawealthy typically hold fast to shares in the companies they've founded. Many titans of the 21st century sit on mountains of what are known as unrealized gains, the total size of which fluctuates each day as stock prices rise and fall. Of the $4.25 trillion in wealth held by U.S. billionaires, some $2.7 trillion is unrealized, according to Emmanuel Saez and Gabriel Zucman, economists at the University of California, Berkeley.

Buffett has famously held onto his stock in the company he founded, Berkshire Hathaway, the conglomerate that owns Geico, Duracell and significant stakes in American Express and Coca-Cola. That has allowed Buffett to largely avoid transforming his wealth into income. From 2015 through 2018, he reported annual income ranging from $11.6 million to $25 million. That may seem like a lot, but Buffett ranks as roughly the world's sixth-richest person '-- he's worth $110 billion as of Forbes' estimate in May 2021. At least 14,000 U.S. taxpayers in 2015 reported higher income than him, according to IRS data.

There's also a second strategy Buffett relies on that minimizes income, and therefore, taxes. Berkshire does not pay a dividend, the sum (a piece of the profits, in theory) that many companies pay each quarter to those who own their stock. Buffett has always argued that it is better to use that money to find investments for Berkshire that will further boost the value of shares held by him and other investors. If Berkshire had offered anywhere close to the average dividend in recent years, Buffett would have received over $1 billion in dividend income and owed hundreds of millions in taxes each year.

Many Silicon Valley and infotech companies have emulated Buffett's model, eschewing stock dividends, at least for a time. In the 1980s and 1990s, companies like Microsoft and Oracle offered shareholders rocketing growth and profits but did not pay dividends. Google, Facebook, Amazon and Tesla do not pay dividends.

In a detailed written response, Buffett defended his practices but did not directly address ProPublica's true tax rate calculation. ''I continue to believe that the tax code should be changed substantially,'' he wrote, adding that he thought ''huge dynastic wealth is not desirable for our society.''

The decision not to have Berkshire pay dividends has been supported by the vast majority of his shareholders. ''I can't think of any large public company with shareholders so united in their reinvestment beliefs,'' he wrote. And he pointed out that Berkshire Hathaway pays significant corporate taxes, accounting for 1.5% of total U.S. corporate taxes in 2019 and 2020.

Buffett reiterated that he has begun giving his enormous fortune away and ultimately plans to donate 99.5% of it to charity. ''I believe the money will be of more use to society if disbursed philanthropically than if it is used to slightly reduce an ever-increasing U.S. debt,'' he wrote.

Buy, Borrow, Die: How America's Ultrawealthy Stay That Way

Credit: Mauricio Rodr­guez Pons, Nadia Sussman and Almudena Toral/ProPublica So how do megabillionaires pay their megabills while opting for $1 salaries and hanging onto their stock? According to public documents and experts, the answer for some is borrowing money '-- lots of it.

For regular people, borrowing money is often something done out of necessity, say for a car or a home. But for the ultrawealthy, it can be a way to access billions without producing income, and thus, income tax.

The tax math provides a clear incentive for this. If you own a company and take a huge salary, you'll pay 37% in income tax on the bulk of it. Sell stock and you'll pay 20% in capital gains tax '-- and lose some control over your company. But take out a loan, and these days you'll pay a single-digit interest rate and no tax; since loans must be paid back, the IRS doesn't consider them income. Banks typically require collateral, but the wealthy have plenty of that.

The vast majority of the ultrawealthy's loans do not appear in the tax records obtained by ProPublica since they are generally not disclosed to the IRS. But occasionally, the loans are disclosed in securities filings. In 2014, for example, Oracle revealed that its CEO, Ellison, had a credit line secured by about $10 billion of his shares.

Last year Tesla reported that Musk had pledged some 92 million shares, which were worth about $57.7 billion as of May 29, 2021, as collateral for personal loans.

Elon Musk

Tesla Inc.

2014''2018 Wealth Growth:

$13.9B

Total Income Reported:

$1.52B (10.94% of wealth)

Total Taxes Paid:

$455M (3.27% of wealth)

With the exception of one year when he exercised more than a billion dollars in stock options, Musk's tax bills in no way reflect the fortune he has at his disposal. In 2015, he paid $68,000 in federal income tax. In 2017, it was $65,000, and in 2018 he paid no federal income tax. Between 2014 and 2018, he had a true tax rate of 3.27%.

The IRS records provide glimpses of other massive loans. In both 2016 and 2017, investor Carl Icahn, who ranks as the 40th-wealthiest American on the Forbes list, paid no federal income taxes despite reporting a total of $544 million in adjusted gross income (which the IRS defines as earnings minus items like student loan interest payments or alimony). Icahn had an outstanding loan of $1.2 billion with Bank of America among other loans, according to the IRS data. It was technically a mortgage because it was secured, at least in part, by Manhattan penthouse apartments and other properties.

Borrowing offers multiple benefits to Icahn: He gets huge tranches of cash to turbocharge his investment returns. Then he gets to deduct the interest from his taxes. In an interview, Icahn explained that he reports the profits and losses of his business empire on his personal taxes.

Icahn acknowledged that he is a ''big borrower. I do borrow a lot of money.'' Asked if he takes out loans also to lower his tax bill, Icahn said: ''No, not at all. My borrowing is to win. I enjoy the competition. I enjoy winning.''

He said adjusted gross income was a misleading figure for him. After taking hundreds of millions in deductions for the interest on his loans, he registered tax losses for both years, he said. ''I didn't make money because, unfortunately for me, my interest was higher than my whole adjusted income.''

Asked whether it was appropriate that he had paid no income tax in certain years, Icahn said he was perplexed by the question. ''There's a reason it's called income tax,'' he said. ''The reason is if, if you're a poor person, a rich person, if you are Apple '-- if you have no income, you don't pay taxes.'' He added: ''Do you think a rich person should pay taxes no matter what? I don't think it's germane. How can you ask me that question?''

Skeptics might question our analysis of how little the superrich pay in taxes. For one, they might argue that owners of companies get hit by corporate taxes. They also might counter that some billionaires cannot avoid income '-- and therefore taxes. And after death, the common understanding goes, there's a final no-escape clause: the estate tax, which imposes a steep tax rate on sums over $11.7 million.

ProPublica found that none of these factors alter the fundamental picture.

Take corporate taxes. When companies pay them, economists say, these costs are passed on to the companies' owners, workers or even consumers. Models differ, but they generally assume big stockholders shoulder the lion's share.

Corporate taxes, however, have plummeted in recent decades in what has become a golden age of corporate tax avoidance. By sending profits abroad, companies like Google, Facebook, Microsoft and Apple have often paid little or no U.S. corporate tax.

For some of the nation's wealthiest people, particularly Bezos and Musk, adding corporate taxes to the equation would hardly change anything at all. Other companies like Berkshire Hathaway and Walmart do pay more, which means that for people like Buffett and the Waltons, corporate tax could add significantly to their burden.

It is also true that some billionaires don't avoid taxes by avoiding incomes. In 2018, nine of the 25 wealthiest Americans reported more than $500 million in income and three more than $1 billion.

In such cases, though, the data obtained by ProPublica shows billionaires have a palette of tax-avoidance options to offset their gains using credits, deductions (which can include charitable donations) or losses to lower or even zero out their tax bills. Some own sports teams that offer such lucrative write-offs that owners often end up paying far lower tax rates than their millionaire players. Others own commercial buildings that steadily rise in value but nevertheless can be used to throw off paper losses that offset income.

Michael Bloomberg, the 13th-richest American on the Forbes list, often reports high income because the profits of the private company he controls flow mainly to him.

Michael Bloomberg

Bloomberg LP

2014-2018 Wealth Growth:

$22.5B

Total Income Reported:

$10.0B (44.53% of wealth)

Total Taxes Paid:

$292M (1.30% of wealth)

In 2018, he reported income of $1.9 billion. When it came to his taxes, Bloomberg managed to slash his bill by using deductions made possible by tax cuts passed during the Trump administration, charitable donations of $968.3 million and credits for having paid foreign taxes. The end result was that he paid $70.7 million in income tax on that almost $2 billion in income. That amounts to just a 3.7% conventional income tax rate. Between 2014 and 2018, Bloomberg had a true tax rate of 1.30%.

In a statement, a spokesman for Bloomberg noted that as a candidate, Bloomberg had advocated for a variety of tax hikes on the wealthy. ''Mike Bloomberg pays the maximum tax rate on all federal, state, local and international taxable income as prescribed by law,'' the spokesman wrote. And he cited Bloomberg's philanthropic giving, offering the calculation that ''taken together, what Mike gives to charity and pays in taxes amounts to approximately 75% of his annual income.''

The statement also noted: ''The release of a private citizen's tax returns should raise real privacy concerns regardless of political affiliation or views on tax policy. In the United States no private citizen should fear the illegal release of their taxes. We intend to use all legal means at our disposal to determine which individual or government entity leaked these and ensure that they are held responsible.''

Ultimately, after decades of wealth accumulation, the estate tax is supposed to serve as a backstop, allowing authorities an opportunity to finally take a piece of giant fortunes before they pass to a new generation. But in reality, preparing for death is more like the last stage of tax avoidance for the ultrawealthy.

University of Southern California tax law professor Edward McCaffery has summarized the entire arc with the catchphrase ''buy, borrow, die.''

The notion of dying as a tax benefit seems paradoxical. Normally when someone sells an asset, even a minute before they die, they owe 20% capital gains tax. But at death, that changes. Any capital gains till that moment are not taxed. This allows the ultrarich and their heirs to avoid paying billions in taxes. The ''step-up in basis'' is widely recognized by experts across the political spectrum as a flaw in the code.

Then comes the estate tax, which, at 40%, is among the highest in the federal code. This tax is supposed to give the government one last chance to get a piece of all those unrealized gains and other assets the wealthiest Americans accumulate over their lifetimes.

It's clear, though, from aggregate IRS data, tax research and what little trickles into the public arena about estate planning of the wealthy that they can readily escape turning over almost half of the value of their estates. Many of the richest create foundations for philanthropic giving, which provide large charitable tax deductions during their lifetimes and bypass the estate tax when they die.

Wealth managers offer clients a range of opaque and complicated trusts that allow the wealthiest Americans to give large sums to their heirs without paying estate taxes. The IRS data obtained by ProPublica gives some insight into the ultrawealthy's estate planning, showing hundreds of these trusts.

The result is that large fortunes can pass largely intact from one generation to the next. Of the 25 richest people in America today, about a quarter are heirs: three are Waltons, two are scions of the Mars candy fortune and one is the son of Est(C)e Lauder.

In the past year and a half, hundreds of thousands of Americans have died from COVID-19, while millions were thrown out of work. But one of the bleakest periods in American history turned out to be one of the most lucrative for billionaires. They added $1.2 trillion to their fortunes from January 2020 to the end of April of this year, according to Forbes.

That windfall is among the many factors that have led the country to an inflection point, one that traces back to a half-century of growing wealth inequality and the financial crisis of 2008, which left many with lasting economic damage. American history is rich with such turns. There have been famous acts of tax resistance, like the Boston Tea Party, countered by less well-known efforts to have the rich pay more.

One such incident, over half a century ago, appeared as if it might spark great change. President Lyndon Johnson's outgoing treasury secretary, Joseph Barr, shocked the nation when he revealed that 155 Americans making over $200,000 (about $1.6 million today) had paid no taxes. That group, he told the Senate, included 21 millionaires.

''We face now the possibility of a taxpayer revolt if we do not soon make major reforms in our income taxes,'' Barr said. Members of Congress received more furious letters about the tax scofflaws that year than they did about the Vietnam War.

Congress did pass some reforms, but the long-term trend was a revolt in the opposite direction, which then accelerated with the election of Ronald Reagan in 1980. Since then, through a combination of political donations, lobbying, charitable giving and even direct bids for political office, the ultrawealthy have helped shape the debate about taxation in their favor.

One apparent exception: Buffett, who broke ranks with his billionaire cohort to call for higher taxes on the rich. In a famous New York Times op-ed in 2011, Buffett wrote, ''My friends and I have been coddled long enough by a billionaire-friendly Congress. It's time for our government to get serious about shared sacrifice.''

Buffett did something in that article that few Americans do: He publicly revealed how much he had paid in personal federal taxes the previous year ($6.9 million). Separately, Forbes estimated his fortune had risen $3 billion that year. Using that information, an observer could have calculated his true tax rate; it was 0.2%. But then, as now, the discussion that ensued on taxes was centered on the traditional income tax rate.

In 2011, President Barack Obama proposed legislation, known as the Buffett Rule. It would have raised income tax rates on people reporting over a million dollars a year. It didn't pass. Even if it had, however, the Buffett Rule wouldn't have raised Buffett's taxes significantly. If you can avoid income, you can avoid taxes.

Today, just a few years after Republicans passed a massive tax cut that disproportionately benefited the wealthy, the country may be facing another swing of the pendulum, back toward a popular demand to raise taxes on the wealthy. In the face of growing inequality and with spending ambitions that rival those of Franklin D. Roosevelt or Johnson, the Biden administration has proposed a slate of changes. These include raising the tax rates on people making over $400,000 and bumping the top income tax rate from 37% to 39.6%, with a top rate for long-term capital gains to match that. The administration also wants to up the corporate tax rate and to increase the IRS' budget.

Some Democrats have gone further, floating ideas that challenge the tax structure as it's existed for the last century. Oregon Sen. Ron Wyden, the chairman of the Senate Finance Committee, has proposed taxing unrealized capital gains, a shot through the heart of Macomber. Sens. Elizabeth Warren and Bernie Sanders have proposed wealth taxes.

Aggressive new laws would likely inspire new, sophisticated avoidance techniques. A few countries, including Switzerland and Spain, have wealth taxes on a small scale. Several, most recently France, have abandoned them as unworkable. Opponents contend that they are complicated to administer, as it is hard to value assets, particularly of private companies and property.

What it would take for a fundamental overhaul of the U.S. tax system is not clear. But the IRS data obtained by ProPublica illuminates that all of these conversations have been taking place in a vacuum. Neither political leaders nor the public have ever had an accurate picture of how comprehensively the wealthiest Americans avoid paying taxes.

Buffett and his fellow billionaires have known this secret for a long time. As Buffett put it in 2011: ''There's been class warfare going on for the last 20 years, and my class has won.''

Help Us Report on Taxes and the Ultrawealthy

Do you have expertise in tax law, accounting or wealth management? Do you have tips to share? Here's how to get in touch. We are looking for both specific tips and broader expertise.

I may know something related to your investigation. Submit a Tip Through Our Form We take privacy seriously. Any tips you submit via the above form are encrypted on our end. But if you wish for additional anonymity, please get in touch via one of these methods: I am knowledgeable in one of these areas and can answer questions or help you understand technicalities. Volunteer Your ExpertiseDoris Burke, Carson Kessler and Ellis Simani contributed reporting.

Additional image credits: Elon Musk (Britta Pedersen / POOL / AFP via Getty Images), Jeff Bezos (Leigh Vogel/Getty Images), Michael Bloomberg (Johannes Eisele/AFP via Getty Images), Warren Buffett (Jamie McCarthy/Getty Images)

ProPublica tax leak investigation will be priority, Attorney General Garland says

Thu, 10 Jun 2021 11:13

US Attorney General Merrick Garland testifies before at a hearing of the Senate Appropriations Subcommittee on Commerce, Justice, Science, and Related Agencies on the 2022 proposed budget for the Justice Department, on June 9, 2021, in Washington, DC.

Susan Walsh | AFP | Getty Images

Attorney General Merrick Garland told lawmakers Wednesday that investigating the source of a massive leak of taxpayer information behind an article by investigative news outlet ProPublica will be one of his top priorities.

"I promise you, it will be at the top of my list," Garland assured Sen. Susan Collins, R-Maine, during a budget hearing before the Senate Appropriations Committee.

The former federal judge said that at the moment he knew nothing more than what he learned from reading the sprawling article, which revealed that in some recent years billionaires such as Amazon CEO Jeff Bezos, Tesla CEO Elon Musk, and businessmen Michael Bloomberg, Carl Icahn and George Soros paid no federal income taxes.

"Senator, I take this as seriously as you do. I very well remember what President [Richard] Nixon did in the Watergate period '-- the creation of enemies lists and the punishment of people through reviewing their tax returns," Garland said. "This is an extremely serious matter. People are entitled, obviously, to great privacy with respect to their tax returns."

The ProPublica article, expected to be the first in a series, did not reveal how the journalists obtained the tax records, and the outlet did not respond to a request for comment. The article says the investigation is based on "a vast trove of Internal Revenue Service data on the tax returns of thousands of the nation's wealthiest people, covering more than 15 years."

The article adds that the tax strategies used by the ultra-wealthy individuals it cited appeared to be perfectly legal. It said the investigation "demolishes the cornerstone myth of the American tax system: that everyone pays their fair share and the richest Americans pay the most."

The outlet published a separate article defending its decision to publish the private records.

Tax information is generally confidential and those who disclosed the documents could be subject to criminal liability.

Garland said that he believed IRS Commissioner Charles Rettig was handling the matter.

"He said that their inspectors were working on it, and I'm sure that that means it will be referred to the Justice Department," Garland said. "This was on my list of things to raise after I finished preparing for this hearing."

Rettig, during a Senate Finance Committee hearing Tuesday, said he shared "the concerns of every American for the sensitive and private nature and confidential nature of the information the IRS receives."

Garland's comments came as the Justice Department, at the direction of President Joe Biden, has sought to move away from the aggressive tactics employed against journalists and media organizations under former President Donald Trump and previous administrations.

On Saturday, the department said that "in a change to its longstanding practice" it will refrain from seizing records from reporters in leak investigations. Last month, Biden called that practice "simply wrong," though his position hadn't been formalized yet as policy.

Also Wednesday, Garland defended the Justice Department against criticisms from the left that it was not moving fast enough to distance itself from the Trump administration.

On Monday, the department filed a controversial brief seeking to effectively defeat a case filed against Trump by the columnist E. Jean Carroll, who alleges that Trump defamed her when he denied raping her. Sen. Patrick Leahy, D-Vt., asked Garland "how this is coming about."

"Are these criticisms valid?" Leahy asked.

"I know about the criticisms," Garland responded. "The job of the Justice Department in making decisions of law is not to back any administration, previous or present. Our job is to represent the American people."

Sometimes, Garland said, "we have to make a decision about the law that we would never have made, and that we strongly disagree with, as a matter of policy."

Subscribe to CNBC Pro for the TV livestream, deep insights and analysis.
OTG

Apple iOS. Owns you. And makes you stupid.
Poppies

C.I.A. Scrambles for New Approach in Afghanistan - The New York Times

Mon, 07 Jun 2021 05:11

The rapid withdrawal of U.S. troops has left the agency seeking ways to maintain its intelligence-gathering, war-fighting and counterterrorism operations in the country.

An Afghan soldier flying over Helmand Province last month. Recent C.I.A. and military intelligence reports on Afghanistan have been increasingly pessimistic, highlighting gains by the Taliban. Credit... Jim Huylebroek for The New York Times June 6, 2021

WASHINGTON '-- The rapid U.S. military withdrawal from Afghanistan is creating intense pressure on the C.I.A. to find new ways to gather intelligence and carry out counterterrorism strikes in the country, but the agency has few good options.

The C.I.A., which has been at the heart of the 20-year American presence in Afghanistan, will soon lose bases in the country from where it has run combat missions and drone strikes while closely monitoring the Taliban and other groups such as Al Qaeda and the Islamic State. The agency's analysts are warning of the ever-growing risks of a Taliban takeover.

United States officials are in last-minute efforts to secure bases close to Afghanistan for future operations. But the complexity of the continuing conflict has led to thorny diplomatic negotiations as the military pushes to have all forces out by early to mid-July, well before President Biden's deadline of Sept. 11, according to American officials and regional experts.

One focus has been Pakistan. The C.I.A. used a base there for years to launch drone strikes against militants in the country's western mountains, but was kicked out of the facility in 2011, when U.S. relations with Pakistan unraveled.

Any deal now would have to work around the uncomfortable reality that Pakistan's government has long supported the Taliban. In discussions between American and Pakistani officials, the Pakistanis have demanded a variety of restrictions in exchange for the use of a base in the country, and they have effectively required that they sign off on any targets that either the C.I.A. or the military would want to hit inside Afghanistan, according to three Americans familiar with the discussions.

Diplomats are also exploring the option of regaining access to bases in former Soviet republics that were used for the Afghanistan war, although they expect that President Vladimir V. Putin of Russia would fiercely oppose this.

Recent C.I.A. and military intelligence reports on Afghanistan have been increasingly pessimistic. They have highlighted gains by the Taliban and other militant groups in the south and east, and warned that Kabul could fall to the Taliban within years and return to becoming a safe haven for militants bent on striking the West, according to several people familiar with the assessments.

As a result, U.S. officials see the need for a long-term intelligence-gathering presence '-- in addition to military and C.I.A. counterterrorism operations '-- in Afghanistan long after the deadline that Mr. Biden has set for troops to leave the country. But the scramble for bases illustrates how U.S. officials still lack a long-term plan to address security in a country where they have spent trillions of dollars and lost more than 2,400 troops over nearly two decades.

William J. Burns, the C.I.A. director, has acknowledged the challenge the agency faces. ''When the time comes for the U.S. military to withdraw, the U.S. government's ability to collect and act on threats will diminish,'' he told senators in April. ''That is simply a fact.''

Mr. Burns made an unannounced visit in recent weeks to Islamabad, Pakistan, to meet with the chief of the Pakistani military and the head of the directorate of Inter-Services Intelligence, the country's military intelligence agency. Defense Secretary Lloyd J. Austin III has had frequent calls with the Pakistani military chief about getting the country's help for future U.S. operations in Afghanistan, according to American officials familiar with the conversations.

Mr. Burns did not bring up the base issue during his trip to Pakistan, according to people briefed on the meeting; the visit focused on broader counterterrorism cooperation between the two countries. At least some of Mr. Austin's discussions have been more direct, according to people briefed on them.

A C.I.A. spokeswoman declined to comment when asked about Mr. Burns's travel to Pakistan.

Image William J. Burns, the C.I.A. director, at the Capitol last month. He has made an unannounced visit to Pakistan in recent weeks. Credit... Stefani Reynolds for The New York Times Two decades of war in Afghanistan have helped transform the spy agency into a paramilitary organization: It carries out hundreds of drone strikes in Afghanistan and Pakistan, trains Afghan commando units and maintains a large presence of C.I.A. officers in a string of bases along the border with Pakistan. At one point during President Barack Obama's first term, the agency had several hundred officers in Afghanistan, its largest surge of personnel to a country since the Vietnam War.

These operations have come at a cost. Night raids by C.I.A.-trained Afghan units left a trail of abuse that increased support for the Taliban in parts of the country. Occasional errant drone strikes in Pakistan killed civilians and increased pressure on the government in Islamabad to dial back its quiet support for C.I.A. operations.

Douglas London, a former head of C.I.A. counterterrorism operations for Afghanistan and Pakistan, said that the agency was likely to rely on a ''stay behind'' network of informants in Afghanistan who would collect intelligence on the Taliban, Al Qaeda, the stability of the central government and other topics. But without a large C.I.A. presence in the country, he said, vetting the intelligence would be a challenge.

''When you're dealing offshore, you're dealing with middlemen,'' said Mr. London, who will soon publish a book, ''The Recruiter,'' about his C.I.A. experience. ''It's kind of like playing telephone.''

In the short term, the Pentagon is using an aircraft carrier to launch fighter planes in Afghanistan to support the troop withdrawal. But the carrier presence is unlikely to be a long-term solution, and military officials said it would probably redeploy not long after the last U.S. forces leave.

The United States is stationing MQ-9 Reaper drones in the Persian Gulf region, aircraft that can be used by both the Pentagon and the C.I.A. for intelligence collection and strikes.

But some officials are wary of these so-called over the horizon options that would require plane and drones to fly as many as nine hours each way for a mission in Afghanistan, which would make the operations more expensive because they require more drones and fuel, and also riskier because reinforcements needed for commando raids could not arrive swiftly during a crisis.

Image An MQ-9 Reaper drone at an Air Force base in Nevada. The military is stationing drones in the Persian Gulf region as it withdraws troops from Afghanistan. Credit... Isaac Brekken/Getty Images Pakistan is a longtime patron of the Taliban; it sees the group as a critical proxy force in Afghanistan against other groups that have ties to India. Pakistan's spy agency provided weapons and training for Taliban fighters for years, as well as protection for the group's leaders. The government in Islamabad is unlikely to sign off on any U.S. strikes against the Taliban that are launched from a base in Pakistan.

Although some American officials believe Pakistan wants to allow U.S. access to a base as long as it can control how it is used, public opinion in the country has been strongly against any renewed presence by the United States.

Pakistan's foreign minister, Shah Mehmood Qureshi, told lawmakers last month that the government would not allow the U.S. military to return to the country's air bases. ''Forget the past, but I want to tell the Pakistanis that no U.S. base will be allowed by Prime Minister Imran Khan so long he is in power,'' Mr. Qureshi said.

Some American officials said that negotiations with Pakistan had reached an impasse for now. Others have said the option remains on the table and a deal is possible.

The C.I.A. used the Shamsi air base in western Pakistan to carry out hundreds of drone strikes during a surge that began in 2008 and lasted during the early years of the Obama administration. The strikes focused primarily on suspected Qaeda operatives in Pakistan's mountainous tribal areas, but they also crossed the border into Afghanistan.

Pakistan's government refused to publicly acknowledge that it was allowing the C.I.A. operations, and in late 2011 it decided to halt the drone operations after a series of high-profile events that fractured relations with the United States. They included the arrest of a C.I.A. contractor in Lahore for a deadly shooting, the secret American commando mission in Pakistan to kill Osama bin Laden and an American-led NATO airstrike on the Afghan border in November 2011 that killed dozens of Pakistani soldiers.

The Americans and the Pakistanis ''will want to proceed cautiously'' with a new relationship, said Husain Haqqani, a former Pakistani ambassador to the United States who is now a senior fellow at the Hudson Institute. But, he said, Mr. Biden's announcement of a withdrawal ''has the C.I.A. and the Defense Department, as well as Pakistanis, scrambling.''

American diplomats have been exploring options to restore access to bases in Central Asia, including sites in Kyrgyzstan and Uzbekistan that housed American troops and intelligence officers during the war.

Secretary of State Antony J. Blinken spoke this month with his counterpart in Tajikistan, though it is not clear if base access was discussed during the call. Any negotiations with those countries are likely to take considerable time to work out. A State Department spokeswoman would say only that Mr. Blinken was engaging partner countries on how the United States was reorganizing its counterterrorism capabilities.

Image After an explosion near a school in Kabul, Afghanistan, last month. The C.I.A. faces challenges in gathering intelligence about threats in Afghanistan once the U.S. military presence there ends. Credit... Kiana Hayeri for The New York Times Russia has opposed the United States using bases in Central Asia, and that is likely to make any diplomatic effort to secure access to bases for the purposes of military strikes a slow process, according to a senior American official.

While the C.I.A. in particular has long had a pessimistic view of the prospects of stability in Afghanistan, those assessments have been refined in recent weeks as the Taliban has made tactical gains.

While military and intelligence analysts have previously had assessments at odds with one another, they now are in broad agreement that the Afghan government is likely to have trouble holding on to power. They believe the Afghan security forces have been depleted by high casualty rates in recent years. The announcement of the U.S. withdrawal is another psychological blow that could weaken the force.

Intelligence assessments have said that without continued American support, the Afghan National Security Forces will weaken and could possibly collapse. Officials are working to develop options for continuing that support remotely, but the Pentagon has not yet come up with a realistic plan that officials believe will work.

Some current and former officials are skeptical that remote advising or combat operations will succeed. Collecting intelligence becomes far more difficult without a large presence in Afghanistan, said Mick P. Mulroy, a retired C.I.A. officer who served there.

''It doesn't matter if you can drop ordnance,'' he said, ''if you don't know where the target is.''

Eric Schmitt contributed reporting.
BLM
Kamala
Trump

TheOffice45.com looks like an elaborate hoax with a mailing list TRUMPET

You may have heard from the Fake News media that I have discontinued my blog. This has been falsely reported by the Failing New York Times, the Jimmy Fallon show (Not Funny! Bring back Johnny Carson), and on FOX News. Ever since that RINO Paul Ryan went on the board of Fox they totally lost their way (they will never be the same!)

My blogs at 45office.com and donaldjtrump.com are, frankly, doing very very well. Quite well. Not to mention, everyone in my administration is looking forward to my new social media platform. Just like my decision to purchase billions of dollars of vaccine before it was even approved, the TRUMPET™ is being called "One of the greatest miracles of the ages," according to many. I wonder why Facebook and Twitter are publishing fake stories about it. Hmmmmm.

Those blogs are a lot of work, but I will not be canceled by the "Woke" left. Let me tell you, you won't see Hussain Obama writing a blog. It's too bad that they don't give awards for websites like they do with television shows and movies because I might win the "Trifecta".

Thank you! I love you all.

Donald J. Trump

45th President of the United States of America
The Purge

72 Types Of Americans That Are Considered ''Potential Terrorists'' In Official Government Documents- You can now be considered a ''potential terrorist'' just because of your religious or political beliefs. '' PRP

Sun, 06 Jun 2021 21:42

Are you a conservative, a libertarian, a Christian or a gun owner? Are you opposed to abortion, globalism, Communism, illegal immigration, the United Nations or the New World Order? Do you believe in conspiracy theories, do you believe that we are living in the ''end times''?

If you answered yes to any of those questions, you are a ''potential terrorist'' according to official U.S. government documents.

At one time, the term ''terrorist'' was used very narrowly. The official definition of terrorism is ''The use, or threat, of force with the intention of achieving a political goal.'' That makes it pretty clear what sort of people are covered, and for decades it worked well. The government applied the label ''terrorist'' to people like Osama bin Laden and other Islamic jihadists. But the Obama administration removed all references to Islam from terror training materials, and instead the term ''terrorist'' was applied to large groups of American citizens.

Guns have been referred to as ''the great equalizer,'' and there's no weapon which can come close to them in that regard.

A lot of the popularity of firearms is due to the fact that anyone can use them effectively, not only the strong and agile. The young, the old, men, women and child can take up firearms in defense of home and family and do so effectively.

But what do you do if you can't use a gun '' or if you don't have a gun '-- to protect yourself?

And if you are a ''terrorist'', that means that you have no rights and the government can treat you just like it treats the terrorists that were being held at Guantanamo Bay. So if you belong to a group of people that is now being referred to as ''potential terrorists'', please don't take it as a joke. The first step to persecuting any group of people is to demonize them. And right now large groups of peaceful, law-abiding citizens are being ruthlessly demonized.

Below is a list of 72 types of Americans that are considered to be ''extremists'' and ''potential terrorists'' in official U.S. government documents. To see the original source document for each point, just click on the link. As you can see, this list covers most of the country'...

1. ''Those that talk about ''individual liberties''2. ''Those that advocate for states' rights3. ''Those that want ''to make the world a better place''4. ''The colonists who sought to free themselves from British rule''5. ''Those that are interested in ''defeating the Communists''6. ''Those that believe ''that the interests of one's own nation are separate from the interests of other nations or the common interest of all nations''7. ''Anyone that holds a ''political ideology that considers the state to be unnecessary, harmful,or undesirable''8. ''Anyone that possesses an ''intolerance toward other religions''9. ''Those that ''take action to fight against the exploitation of the environment and/or animals''10. ''Anti-Gay''11. ''Anti-Immigrant''12. ''Anti-Muslim''13. ''The Patriot Movement''14. ''Opposition to equal rights for gays and lesbians''15. Members of the Family Research Council16. Members of the American Family Association17. Those that believe that Mexico, Canada and the United States ''are secretly planning to merge into a European Union-like entity that will be known as the 'North American Union''18. Members of the American Border Patrol/American Patrol19. Members of the Federation for American Immigration Reform20. Members of the Tennessee Freedom Coalition21. Members of the Christian Action Network22. Anyone that is ''opposed to the New World Order''23. Anyone that is engaged in ''conspiracy theorizing''24. Anyone that is opposed to Agenda 2125. Anyone that is concerned about FEMA camps26. Anyone that ''fears impending gun control or weapons confiscations''27. The militia movement28. The sovereign citizen movement29. Those that ''don't think they should have to pay taxes''30. Anyone that ''complains about bias''

31. Anyone that ''believes in government conspiracies to the point of paranoia''32. Anyone that ''is frustrated with mainstream ideologies''33. Anyone that ''visits extremist websites/blogs'' 34. Anyone that ''establishes website/blog to display extremist views''35. Anyone that ''attends rallies for extremist causes''

36. Anyone that ''exhibits extreme religious intolerance''37. Anyone that ''is personally connected with a grievance''38. Anyone that ''suddenly acquires weapons''39. Anyone that ''organizes protests inspired by extremist ideology''

40. ''Militia or unorganized militia''41. ''General right-wing extremist''42. Citizens that have ''bumper stickers'' that are patriotic or anti-U.N.43. Those that refer to an ''Army of God''44. Those that are ''fiercely nationalistic (as opposed to universal and international in orientation)''45. Those that are ''anti-global''46. Those that are ''suspicious of centralized federal authority''47. Those that are ''reverent of individual liberty''48. Those that ''believe in conspiracy theories''49. Those that have ''a belief that one's personal and/or national 'way of life' is under attack''50. Those that possess ''a belief in the need to be prepared for an attack either by participating in paramilitary preparations and training or survivalism''51. Those that would ''impose strict religious tenets or laws on society (fundamentalists)''52. Those that would ''insert religion into the political sphere''53. Anyone that would ''seek to politicize religion''54. Those that have ''supported political movements for autonomy''55. Anyone that is ''anti-abortion''56. Anyone that is ''anti-Catholic''57. Anyone that is ''anti-nuclear''58. ''Rightwing extremists''59. ''Returning veterans''60. Those concerned about ''illegal immigration''61. Those that ''believe in the right to bear arms''62. Anyone that is engaged in ''ammunition stockpiling''63. Anyone that exhibits ''fear of Communist regimes''64. ''Anti-abortion activists''65. Those that are against illegal immigration66. Those that talk about ''the New World Order'' in a ''derogatory'' manner67. Those that have a negative view of the United Nations68. Those that are opposed ''to the collection of federal income taxes''69. Those that supported former presidential candidates Ron Paul, Chuck Baldwin and Bob Barr70. Those that display the Gadsden Flag (''Don't Tread On Me'')71. Those that believe in ''end times'' prophecies72. Evangelical Christians

The groups of people in the list above are considered ''problems'' that need to be dealt with. In some of the documents referenced above, members of the military are specifically warned not to have anything to do with such groups.

We are moving into a very dangerous time in American history. You can now be considered a ''potential terrorist'' just because of your religious or political beliefs. Free speech is becoming a thing of the past, and we are rapidly becoming an Orwellian society that is the exact opposite of what our founding fathers intended.

You might be living in one of America's deathzones and not have a clue about itWhat if that were you? What would YOU do?

In the next few minutes, I'm going to show you the U.S. Nuclear Target map, where you'll find out if you're living in one of America's Deathzones.
Clips

VIDEO - Americans have a 'distorted perception of risk' of Covid: Physician - YouTube

VIDEO - (292) Houston hospital sued by 117 staff members for mandating COVID-19 vaccinations - YouTube

VIDEO - Bitcoin volatility will decrease over time, says Digital Chamber of Commerce president - YouTube

VIDEO - What Is Biden Doing In Europe And Why Is He Meeting Putin : NPR

Wed, 09 Jun 2021 10:47

Biden is heading out on his first trip abroad -- as president -- but he's met most of the world leaders he will talk with in Europe before, including Russian President Vladimir Putin. Andrew Harnik/AP hide caption

toggle caption Andrew Harnik/AP Biden is heading out on his first trip abroad -- as president -- but he's met most of the world leaders he will talk with in Europe before, including Russian President Vladimir Putin.

Andrew Harnik/AP President Biden sets off on his first international trip Wednesday, an ambitious, eight-day journey in Europe capped with what is likely to be a tense sit-down meeting with Russian President Vladimir Putin.

Biden's mission: rebuild relations with allies and reassert America's role as a leader on the world stage. But he'll have to convince some of his old friends in Europe who have grown wary after four years of a more insular approach from his predecessor, former President Donald Trump.

Biden's first stop will be in the United Kingdom for a G7 meeting. He will later travel to Brussels to meet NATO allies and European Union leaders. And then he heads to Geneva, where he'll meet Putin.

Jake Sullivan, Biden's national security adviser, told reporters that it's an opportunity to show like-minded nations what the United States can do on the world's most pressing problems and then rally them to join along.

"That is going to be the best way for people to say, 'Hang on, the United States can do this. They can deliver and we will stand up and stand behind them,'" Sullivan said.

Those issues include ending the pandemic, addressing climate change and confronting China. Sullivan hinted at a new plan in the works for allies to band together to help developing nations get financing for big projects '-- an alternative to what China has been doing with its Belt and Road initiative.

No more insults

It's the first time world leaders are getting together in the same room since COVID-19 stopped travel and face-to-face meetings '-- and the first time since the departure of Trump, who turned diplomatic summits into slugfests.

At a NATO summit in 2019, Trump called Justin Trudeau "two-faced" after the Canadian prime minister was caught on a hot mic, making fun of Trump to other leaders.

Then there was the iconic G7 photo that captured German Chancellor Angela Merkel and other leaders looming over Trump, arguing with him.

European leaders didn't hide their concerns. Ahead of Trump's summit in Helsinki with Putin '-- a meeting that resulted in Trump siding with the Russian leader rather than U.S. intelligence agencies, that had established Moscow meddled in the 2016 election '-- Donald Tusk, the president of the European Council, gave Trump a frank warning.

"Dear America, appreciate your allies. After all, you don't have that many," Tusk said.

'Rock star' reception

Biden worked on foreign policy for decades during his time in the Senate and as vice president, and has close relationships with many of the leaders he will see on the trip.

Charles Kupchan, who worked on European issues in the Obama White House, said he expects Biden will "be treated as a rock star and feted" at the upcoming summits.

"Europeans during the Trump era questioned the degree to which they could look to and rely on the United States as a trusted friend, as a country that would protect it when the chips are down," said Kupchan, who is now at the Council on Foreign Relations and is the author of Isolationism: A History of America's Efforts to Shield Itself from the World.

The drama of Trump summits will be gone, said Heather Conley, who was a senior official for European issues in the George W. Bush State Department. "But you actually get to now focus on the work and not the theater. And trust me. There's so much work that these multilateral organizations need to do on the very difficult economic and political conditions and security conditions."

Biden has said he knows that he will still need to convince allies that things have changed, that the Trump years were an exception rather than a sign that America had shifted. He told Congress during his joint address that he had heard the concerns from many leaders.

"The comment that I hear most of all from them is they say, 'We see America is back, but for how long?'" he said.

Contrast with Helsinki

The biggest unscripted moments of Biden's trip could come during his meeting with Putin. There, Biden is expected to show that he is taking a different tack than Trump, as well.

Biden says he's going to make clear his concerns about a long list of issues, including human rights, election meddling, and the recent cyber attacks against U.S. companies.

But some critics have said the meeting could reward Putin by elevating him on the world stage, and said the Biden administration doesn't have clearly stated objectives.

The visit comes too early for the new administration, said Conley, now at the Center for Strategic and International Studies. She said Biden is "clear-eyed" about Putin, but that the Russians may try to take advantage of what they believe is Biden's desire for a more stable and predictable relationship.

"It's absolutely unclear what tangible outcome can come from this conversation other than Mr. Putin getting that great photo op, continuing to do what he does, and his regime destabilize the U.S. and its allies. And that's where you have to be very careful," Conley said.

Sullivan defended the Geneva summit, arguing there is no substitute for meeting face to face, particularly for complex relationships like the one the United States has with Putin.

"He has a highly personalized style of decision-making and so it is important for President Biden to be able to sit down with him face-to-face, to be clear about where we are, to understand where he is, to try to manage our differences, and to identify those areas where we can work in America's interests to make progress," Sullivan said.

Ivo Daalder, a former U.S. ambassador to NATO, sees an opportunity for NATO leaders to join together and speak out about Russia's malign activities. But Daalder said they can only go so far.

"If NATO comes out and only says, 'Russia is terrible, we can't work with that. They represent a threat. We have to be absolutely opposed to them' ... then Putin would have no incentive at the Geneva meeting to come in and say, 'Let's find ways to work together,'" Daalder said.

VIDEO - Austin homeless: Mayor Steve Adler sounds off | kvue.com

Wed, 09 Jun 2021 10:39

The mayor said the City of Austin historically has not invested resources to provide better places for people experiencing homelessness, but now they have to.

AUSTIN, Texas '-- Austin's public camping ban was reinstated last month. But City leaders still don't know where people experiencing homelessness in the designated areas should go.

Austin Mayor Steve Adler joined KVUE's Tori Larned to discuss the ban and other hot topics in Central Texas.

Tori Larned: Let's start with the homelessness crisis first. City council, of course, met yesterday [June 7] to talk about the issue in our city. Many members expressed concerns about using funds from the American Rescue Plan and then putting it towards homeless services. Do you believe this is the right place to put that money?

Mayor Steve Adler: "I think it is because, clearly, the city wants us to do something about the people that are tenting around our community. You know, consistent with the voter direction, the City's moving back to the ordinances that we had two years ago, beginning Sunday. This is the responsibility of the manager, beginning Sunday, written warnings are going to be given to people who are tenting in public places. Many of those people are going to go back to doing what they were doing two years ago. Tenting in public is not good, but, but the hiding really isn't good either. We're in this place because we have never, as a city, actually built the continuum of housing that's necessary to get people out of hiding and out of tents. Now's the time, I think, to do it, because I think that that we can't ignore this challenge anymore. We actually have to do something about it."

Larned: Yeah, like you mentioned, Austin police is beginning those written warnings for people on Sunday '' but the City hasn't created an official list of where people can legally camp. You even said in city council that they were "dancing around" the issue. You'll meet again with them today [June 8] to talk about this. What specifically do you hope to accomplish at today's meeting?

Adler: "Well, my hope is that this week '' it's today and also the city council meeting on Thursday when we vote '' this will actually put the resources to provide the housing and places for people to go that are, that are, that are better places for people to be. We can't set, and we don't want to set up, a system of temporary sanctioned campsites all over our city. Other cities have tried to do that, it doesn't work, the numbers just continue to grow and the challenge gets to a scale they really can't do anything about. We really have to get people into housing, get them the mental health treatments that they need, the substance abuse work that they need, so we can sustain people off the streets. And those are the kinds of decisions that we're going to be contemplating this week."

Larned: Yeah, you mentioned that you'll be discussing this today and ... on Thursday. And the City's homeless strategy officer, Dianna Gray, says she wants more guidance by Thursday '' of course, only two days away. Do you have confidence that the council will be able to meet this deadline and have a decision?

Adler: "I think we have to. You know, the actual budgeting doesn't come until August, but we've started those conversations about, 'What do we do?' Now, we're going to give written warnings to people here, beginning on Sunday. This is because the voters said, 'Let's go back to where we were two years ago.' Two years ago, people were hiding in the forests and in the streams. I think many people are going to have to return there unless and until we actually invest the resources to provide better places. But historically, that's not what the City's done and it's something that we have to do now."

Larned: Let's move on to another topic. Because, before the pandemic, a major focus was the land development code for you. That's obviously taking a backseat with the pandemic. But, with all this talk about more people moving here without enough housing, will this become a focus again?

Adler: "I think it has to. You know, we, we were real close to getting a new land development code that would have helped the City get a lot more housing supply that was stopped by the courts. But, at this point, we need to pick it back up again. And I've recommended to my colleagues that we pick it up right after we do the budget, that we come up with those elements of the land development code rewrite that we can do, that we pretty much all agree with. If we can all agree that we're able to do it and not have to worry about the court ruling. There are a lot of things that we agree on.

But we have to get more housing supply in this city. We have to have greater density and appropriate places in our city. We have too many people all competing for the same home. And that's why prices are being bid up. That's why there are so many people that are having to try to cash offers in order to be able to buy homes. We have to do as best we can on land development code '' I hope late summer or early fall '' so that we can start increasing supply."

PEOPLE ARE ALSO READING:

VIDEO - Marc van der Vegt on Twitter: "Als Het Duitse BMI (Ministerie Binnenlandse zaken) ism met Ministerie v. Volksgezondheid een reclame spotje moet gaan maken om de mensen aan de spuit te krijgen, ben je met propaganda bezig waar K.J Un nog met de ore

Wed, 09 Jun 2021 10:23

Marc van der Vegt : Als Het Duitse BMI (Ministerie Binnenlandse zaken) ism met Ministerie v. Volksgezondheid een reclame spotje moet ga'... https://t.co/SrqhTCs8em

Tue Jun 08 15:09:26 +0000 2021

VIDEO - BOOM! Gen. Mike Flynn Drops Powerful Video '' Trump Warns ''Dishonest And Corrupt'' Evildoers What's Coming, ''It's Our Turn, And The Gloves Are Off'' - The True Reporter

Wed, 09 Jun 2021 10:12

President Trump: As everybody knows, my family, your great country, and your president have gone through a terrible ordeal by some very dishonest and corrupt people. They have done everything possible to destroy us and, by so doing, have very badly hurt our nation. They know what they are doing is wrong. But they put themselves far ahead of our great country. Weeks ago and again yesterday, courageous Republican politicians and leaders had the wisdom, fortitude, and strength to do what everyone knows was right. I don't like people who use their faith for justification for doing what they know is wrong. Nor do I like people who say, ''I pray for you,'' when they know that that's not so. So many people have been hurt. We can't let that go on.

Join Our Telegram channel here: https://t.me/TheTrueReporter

The video has ended with three fantastic screens, among which were the following two.

NOW IT'S OUR TURN!

This coin is a symbol of President Trump's victory and success. This item sells for $39.95 on Amazon. Today's special promotion is offering a massive discount on this item. President Trump 2020 Coin (Gold & Silver Plated) - Claim 1 Free OR Claim a Discount + Free Shipping Get Your Coin HERE Or Click on the image below.

GLOVES ARE OFF!

Below you can watch the fantastic video! You will love it!

Enjoy!

Join Our Telegram channel here: https://t.me/TheTrueReporter

Source: thegatewaypundit.com

VIDEO - Thierry Baudet exposes the Rockefeller Foundation in parliament! - YouTube

VIDEO - General Flynn Releases Trump Video: Now It's Our Turn And The Gloves Are Off

Tue, 08 Jun 2021 21:30

Follow us on Rumble At Red Voice Media

MORE NEWS: Gov Ron DeSantis in Standoff With Cruise Lines Over Vaxx | Twerkfest on Cop Cars in Chicago

''As everybody knows, my family, your great country and your president have gone through a terrible ordeal by some very dishonest and corrupt people. They have done everything possible to destroy us and by so doing have very badly hurt our nation. They know what they are doing is wrong. But they put themselves far ahead of our great country. Weeks ago and again yesterday courageous Republican politicians and leaders had the wisdom, fortitude and strength to do what everyone knows was right. I don't like people who use their faith for justification for doing what they know is wrong. Nor, do I like people who say, ''I pray for you,'' when they know that that's not so. So many people have been hurt. We can't let that go on.'' '' President Donald J. Trump

The video closes with three different shots'...

1. There is No STEP FIVE after Impeachment Scam'... There is no STEP FIVE'... -END-

2. Now It's Our Turn

3. And The Gloves Are Off

The opinions expressed by contributors and/or content partners are their own and do not necessarily reflect the views of Red Voice Media. Contact us for guidelines on submitting your own commentary.

VIDEO - Several Austin City Council members concerned about spending on homelessness services

Tue, 08 Jun 2021 18:49

AUSTIN (KXAN) '' The Austin City Council could vote as soon as Thursday to direct millions of dollars in federal pandemic relief funds to homelessness services. But several council members expressed concerns about the path forward and the city's current spending on programs.

City of Austin staff has recommended that the city council direct 58% of funds the city will receive from the American Rescue Plan '' nearly $84 million '' to homelessness services over the next two years.

''I'm pretty sure my neighbors next door, who have direct access to me, don't know what this means or what this contains,'' Council Member Leslie Pool said during a special called meeting on Monday.

City of Austin staff recommendation for American Rescue Plan fundsThe funds would be used to fill part of the $293 million funding gap for a plan to house 3,000 people experiencing homelessness in the next three years.

Council Members Pool, Natasha Harper-Madison, Kathie Tovo, Mackenzie Kelly, and Alison Alter, each said they need more details about how the federal funds will be used before moving forward.

''I need to be able to communicate to my constituents exactly what we're investing in, what we're getting, and how it's different from what we've done thus far,'' Alter said. ''I'm not convinced by the model that I'm better off spending that money in the homeless system versus what I would call prevention.''

Kelly has called for an audit of city spending on homelessness services for the previous five years '' a position shared by Save Austin Now, the group that successfully pushed Proposition B to reinstate the public camping ban.

But Kelly '' often on an island within the council for her conservative positions '' wasn't alone in wanting evidence of which homelessness programs are working.

''I've spoken with community members and stakeholders and they, like I do, remain skeptical on the spending without a better understanding of how effective previous spending has been,'' Kelly said.

Mayor Steve Adler described the federal funds as ''transformational,'' urging council members to act swiftly to approve some of the city's allotment for homelessness programs. Council Member Ann Kitchen shared Adler's position, warning that some council members appeared to be ''bogged down'' in the details.

''I think that on Thursday we have an opportunity to send a high-level message,'' Adler said. ''Our constituents are asking, why haven't you acted?''

Leaders with Central Texas Interfaith '' a non-partisan coalition of religious congregations '' are also pushing the city council to act.

Jonathan McManus-Dail, the assistant priest at St. Julien of Norwich Episcopal Church, said the city should use available federal funds to make an immediate impact.

''I think many people, myself included, want more urgency around this issue because we see people suffering,'' McManus-Dail told KXAN.

Austin has been criticized for not prioritizing permanent supportive housing efforts in the past. Homelessness advocates say the need for urgency has only intensified since the passage of Proposition B.

Eric Tars, legal director for the National Homelessness Law Center, said council members should be solely focused on creating more permanent supportive housing units.

''There's been blue-ribbon panel after blue-ribbon panel that says Austin needs more affordable housing,'' Tars said. ''And yet, does it get built? No.''

VIDEO - (8) Christopher F. Rufo 'š--¸ on Twitter: "They have now deployed former president Barack Obama to defend, downplay, and deflect from critical race theory. We are making incredible progress. Keep pushing forward. https://t.co/BiCvLgIT5Q" / Twitte

Tue, 08 Jun 2021 18:43

Christopher F. Rufo 'š--¸ : They have now deployed former president Barack Obama to defend, downplay, and deflect from critical race theory.'... https://t.co/Sy79QKvPwj

Tue Jun 08 01:09:38 +0000 2021

VIDEO - (3) James Woods on Twitter: "A heartbeat away from the nuclear button'... https://t.co/0vAGcoDY0V" / Twitter

Tue, 08 Jun 2021 18:38

James Woods : A heartbeat away from the nuclear button'... https://t.co/0vAGcoDY0V

Tue Jun 08 18:24:10 +0000 2021

john gilbert : @RealJamesWoods What do you expect from clitoris Harris? She has no plans now or in the future to visit the border. Pathetic

Tue Jun 08 18:38:32 +0000 2021

Tuggy.Tv : @RealJamesWoods Dodge , evade and play dumb , same game plan I see...

Tue Jun 08 18:38:13 +0000 2021

C is for Casual 🉠: @RealJamesWoods One would hope our Generals wouldn't listen.

Tue Jun 08 18:38:11 +0000 2021

whtamercitzen : @RealJamesWoods she cant hide her evil eyes.

Tue Jun 08 18:37:42 +0000 2021

Sephiroth ðŸ‡¬ðŸ‡§ðŸ´ó §ó ó ¥ó ®ó §ó  : @RealJamesWoods Jesus wept

Tue Jun 08 18:37:34 +0000 2021

Jack Dogg : @RealJamesWoods They all have been told by their handlers not to go to the border bad optics. That's why no reporte'... https://t.co/JWAyX2TmT6

Tue Jun 08 18:37:28 +0000 2021

Anna : @RealJamesWoods Imagine what we have become. What a farce.

Tue Jun 08 18:36:55 +0000 2021

🌵 Turo Le Jaguar 🐆 : @RealJamesWoods Bullshit artist if I've ever seen one. Yeah, you haven't been to Antarctica either. <laughs nervously>

Tue Jun 08 18:36:05 +0000 2021

VIDEO - NYT's Gay: Over the Weekend I Saw 'Dozens of American Flags,' Which Was 'Disturbing' - Conservative Brief

Tue, 08 Jun 2021 18:30

OPINION: This article contains commentary which reflects the author's opinion

New York Times editorial board Mara Gay is under heavy fire on Tuesday after she made a slew of bizarre comments about being triggered by the American flag.

During an interview on MSNBC's ''Morning Joe,'' Gay said she was disturbed to see pickup trucks with ''dozens of American flags'' and Trump paraphernalia during a recent trip to Long Island, New York.

''I was on Long Island this weekend,'' she said. ''And I was really disturbed.''

''I saw, you know, dozens and dozens of pickup trucks with expletives against Joe Biden on the back of them, Trump flags, and in some cases, just dozens of American flags, which is also just disturbing, which essentially the message was clear, this is my country. This is not your country. I own this.''

MARA GAY: The reality is here that we have a large percentage of the American population '-- I don't know how big it is, but we have tens of millions of Trump voters who continue to believe that their rights as citizens are under threat by simple virtue of having to share the democracy with others. I think as long as they see Americanness as the same as one with whiteness, this is going to continue. We have to figure out how to get every American a place at the table in this democracy, but how to separate Americanness, America, from whiteness. Until we can confront that and talk about that, this is really going to continue.

I was on Long Island this weekend, visiting a really dear friend and I was really disturbed. I saw, you know, dozens and dozens of pickup trucks with expletives against Joe Biden on the back of them, Trump flags, and in some cases, just dozens of American flags, which is also just disturbing, which essentially the message was clear, this is my country. This is not your country. I own this.

And so until we're ready to have that conversation, this is going to continue. What really is concerning to me as well is, it's not just Democrats in Congress. I think there's a large percentage of Americans, even some of my colleagues in journalism, who are invested in some way in pretending that this isn't the threat that it is. That is the real concern. Because, you know, the Trump voters who are not going to get onboard with democracy, they're a minority. You can marginalize them, long-term. But if we don't take the threat seriously, then I think we're all in really bad shape.

WATCH:

Gay is a well-known leftist.

Just last month she argued in favor of a ''truth and reconciliation commission'' so Americans can be less racist.

''You know, I've actually been thinking a lot about forgiveness lately, and I'm '-- I happened to be reading Desmond Tutu's book, The Book of Forgiving right now, and Tutu talks about the power of forgiveness,'' Gay said.

''I was there in Charleston when those families were in the courtroom and said, we forgive you, they said to Dylann Roof. It was extraordinary. But I think we really need it to be seen not just as a heroic act but as something to emulate, and I think probably this is a country that needs a truth and reconciliation commission just like South Africa had but given, of course, the lack of consensus around the riot from January, I think we're a ways off, unfortunately, from that,'' she added.

VIDEO - (290) The Meaning of Pride ft. Drag Queen Nina West ðŸ"¸'ðŸŒ (Pride Song) - YouTube

VIDEO - Mom in Carmel NY fights back against teaching critical race theory as board tries to tone police her - YouTube

VIDEO - Politics For All on Twitter: "🚨ðŸ‡ðŸ‡· | BREAKING: Macron slapped in the face Via @ConflitsFrance https://t.co/1L7eYTsvDR" / Twitter

Tue, 08 Jun 2021 17:50

Politics For All : 🚨ðŸ‡ðŸ‡· | BREAKING: Macron slapped in the faceVia @ConflitsFrance https://t.co/1L7eYTsvDR

Tue Jun 08 12:57:46 +0000 2021

margaret hernandez : @PoliticsForAlI @ConflitsFrance I haven't enjoyed anything so much as this slap in the face to macron

Tue Jun 08 17:50:50 +0000 2021

YorkshirePartyRothwell : @PoliticsForAlI @ConflitsFrance Assaulting politicians is unacceptable always, regardless of political allegiance. ðŸ¤--

Tue Jun 08 17:49:43 +0000 2021

Big K (Chosen one) : @PoliticsForAlI @ConflitsFrance Thats how easy it is, to get to someone. All the security and what not, he still ma'... https://t.co/0Qft6Bzril

Tue Jun 08 17:48:15 +0000 2021

VIDEO - (289) Worldwide gang crackdown results in major blow to New Zealand criminals, police say - YouTube

VIDEO - Whit on Twitter: "@Quicktake @adamcurry" / Twitter

Tue, 08 Jun 2021 13:07

Whit : @Quicktake @adamcurry

Tue Jun 08 12:15:36 +0000 2021

VIDEO - Magnet Sticks to Vaccine Injection Sites in Street Experiment

Tue, 08 Jun 2021 03:29

Activate Push Notifications

Confirm to receive notifications when channels you've subscribed to upload new videos.

You can activate this any time from the settings page.

VIDEO - Interactive Brokers chair Thomas Peterffy: Don't be short meme stocks

Mon, 07 Jun 2021 15:32

Published Mon, Jun 7 2021 10:02 AM EDTUpdated 2 Min Ago

A Facebook iconShare by facebookA Twitter iconShare by twitterA LinkedIn iconShare by linkedinAn email iconShare by email

Short sellers should "resist the temptation" to bet against meme stocks like AMC Entertainment, Interactive Brokers' Thomas Peterffy told CNBC on Monday."These prices can go to unimaginable highs before they settle down to a reasonable valuation," Peterffy said, warning that traders "may have to cover on the high point."However, Peterffy said investors should not be long meme stocks either.Interactive Brokers founder and Chairman Thomas Peterffy on Monday issued a warning to investors betting against so-called meme stocks like AMC Entertainment.

"It is extremely tempting to short these stocks, but unless you have huge liquid resources, please try to resist the temptation because these prices can go to unimaginable highs before they settle down to a reasonable valuation, and you may have to cover on the high point," the online brokerage pioneer said in an interview on CNBC's "Squawk Box."

Shares of AMC soared more than 20% on Monday after rising 83% last week alone despite declines on Thursday and Friday. The stock has gained about 2,500% in 2021.

"On the long term, stocks always approach their fundamental values, which in this case is much, much lower," Peterffy said, acknowledging that's why short sellers see an opportunity in certain stocks such as AMC that have soared in price after becoming favored by Reddit traders.

Shorting a stock is a bearish strategy in which an investor borrows shares and then promptly sells them, expecting the price to fall. When that happens, the short seller buys back the stock at its lower level and returns the borrowed number of shares, profiting off the difference. If the opposite transpires, a short may try to limit their losses by buying back the stock at higher prices.

Peterffy's comments come after a wild week of trading in AMC and a few other companies such as Bed Bath & Beyond and BlackBerry. While GameStop attracted the most attention in the epic WallStreetBets' short squeeze in January, when the Reddit-driven trading frenzy first took hold, AMC has seen its profile '-- and share price '-- rise in recent weeks.

The movie theater chain, which was hit hard by the Covid pandemic, has taken advantage of the retail investor enthusiasm by selling additional shares to raise money. AMC also has launched initiatives targeted at its retail investors, such as exclusive screenings.

Despite AMC's efforts, Peterffy said the company still has a challenging road ahead to justify its valuation and suggested long investors who want to buy and hold the stock should stay away, too.

"If you're willing to sit there and hold a stock at $200, $300, $400 a share that keeps making no money ... it's impossible that these prices can hold up at that level because more and more people will be short it," he said.

"Eventually these stocks will go back to their value which is roughly single-digit dollars, even if that," he added. "On the long run, the longs will lose their money, So while you may try to catch a sudden drift upward as a trader, I would recommend against being long on these stocks."

View the full site

VIDEO - (286) The Real Antifa - YouTube

VIDEO - Two killed in East Berne home explosion, cause under investigation

Mon, 07 Jun 2021 13:47

EAST BERNE - Two people are dead after a house explosion.

Multiple fire crews responded to the home on Hilltop Lane Friday.

The home was extremely damaged and engulfed in flames when officials arrived on scene.

According to police, the body of Victor Porlier, 83, was found Friday night and the body of Lois Porlier, 72, was found after search efforts resumed Saturday morning.

A NewsChannel 13 photographer on scene saw at least one family being evacuated from the area.

The cause of the explosion remains under investigation.

Emily Burkhard & WNYT Staff Published: June 4th 2021, 10:56 pm Updated: June 6th 2021, 3:40 pm Copyright 2021 WNYT-TV LLC, a Hubbard Broadcasting Company. All rights reserved.

VIDEO - Energy Secretary: U.S. adversaries likely trying to shut down power grid "as we speak" - Axios

Mon, 07 Jun 2021 11:34

Energy Secretary Jennifer Granholm told CNN's "State of the Union" Sunday that U.S. adversaries have the capability to shut down the power grid, saying they are "trying even as we speak."

Why it matters: Granholm's warning comes as the public and private sectors are dealing with how to confront cyber threats after recent ransomware attacks on Colonial Pipeline, a major U.S. fuel pipeline, and JBS USA, a top meat supplier.

"It's [happening] all the time. This is why the private and public sector have to work together," Granholm said. The big picture: Ransomware has recently become a "global pandemic" thanks to the rise of a profitable industry around it, writes Axios' Scott Rosenberg.

What they're saying: "The first thing we have to recognize is this is the reality, and we should assume '-- and businesses should assume, that these attacks are here to stay and if anything intensify," Commerce Secretary Gina Raimondo told ABC's "This Week".

"It is clear that the private sector needs to be more vigilant," she added.Asked if the Biden administration should take a more aggressive response to governments aiding these attacks, Raimondo said, "We're not taking anything off the table as we think about possible repercussions, consequences or retaliation."Go deeper: Ransomware business achieves critical mass
STORIES

IRS Asks Congress For Authority To Collect Cryptocurrency Information | The Daily Wire

Thu, 10 Jun 2021 14:12

The Internal Revenue Service (IRS) is looking to increase their power to regulate the cryptocurrency industry, asking Congress for the authority to access and collect data on its use and users, according to IRS Commissioner Charles Rettig.

During a Senate Finance Committee hearing on Tuesday, Rettig said, ''I think we need congressional authority.''

''We get challenged frequently, and to have a clear dictate from Congress on the authority of us to collect that information is critical,'' he added.

Looking to clamp down on the comparatively under-regulated market, ''The Biden administration has proposed requiring cryptocurrency brokers, including exchanges, to report information on their customers, including on indirect foreign investors. It would also require businesses to report when they receive crypto assets valued at more than $10,000,'' explained Bloomberg .

As reported by Reuters , Rettig ''said cryptocurrency market capitalization is over $2 trillion, with more than 8,600 exchanges worldwide,'' and that ''and by design, most crypto virtual currencies are designed to stay off the radar screen.''

According to Bloomberg, Rettig continued to explain that ''The IRS currently issues summonses to third parties to get information on cryptocurrency users, without naming specific individuals,'' and that the agency is ''also active in both civil and criminal enforcement,'' but ''needs additional tools and resources from Congress.''

As the Biden administration seeks to increase spending, the volatile cryptocurrency market has been viewed by the Biden administration as another potential source of capital gains tax income; Reuters noted, ''The Biden administration has targeted the volatile crypto asset markets for capital gains tax collections.'' That agenda would join the additional goal of cracking down ''on illicit uses of such digital currencies, which have been demanded increasingly by perpetrators of ransomware attacks on corporate computer networks.''

As The Verge noted, ''Proposed legislation regulating the industry has been piling up, especially since Biden took office.''

For example, in December, ''the Financial Crimes Enforcement Network (FinCEN) proposed requiring exchanges to report information (like names, for instance) connected to private anonymous crypto wallets exchanging over $10,000 in a day,'' while also proposing ''similar ''know-your-customer'' requirements on international transactions.''

The request for added cryptocurrency-related power came during a Senate Finance Committee hearing on the IRS's proposed Fiscal Year 2022 budget .

The effort to regulate and tax cryptocurrency in the U.S. comes as part of a raging debate over the part currencies such as Bitcoin can play in domestic and international markets. China, for example, is looking to push their own state-regulated digital currency, and is therefore arguably engaging in an assault on cryptocurrencies. Just days ago , multiple ''key opinion leader'' social media accounts which discussed cryptocurrencies were banned, described as ''Judgement Day for crypto KOL,'' according to one censored user.

Weeks prior, further Chinese legislative action triggered a crash in the cryptocurrency market, with the market cap losing nearly $1 trillion.

Yahoo! Finance explained in mid-May that the sharp decline followed China's decision to ban ''financial and payment institutions from providing cryptocurrency services.'' According to the BBC , the communist regime also ''warned investors against speculative crypto trading.''

The Daily Wire is one of America's fastest-growing conservative media companies and counter-cultural outlets for news, opinion, and entertainment. Get inside access to The Daily Wire by becoming a member .

Bill and Melinda Gates's Epic Divorce Saga Enters Its Next Phase | Vanity Fair

Thu, 10 Jun 2021 13:36

Bill and Melinda French Gates's divorce after a 27-year marriage and a storied partnership instantly became the stuff of tabloid legend, complete with splashy headlines, paparazzi shots, and feverish speculation. Pockets of people around Silicon Valley, in Florida horse country, and across New York City have privately pored over the news for weeks. Just about every mainstream outlet has published details. Inside Microsoft, however, things have been eerily hush-hush. There has been no formal discussion of the split: no company-wide or internal team meetings, no mass emails'--at least not yet. According to one current Microsoft employee, the news has had very little'--if any'--effect on the day-to-day operations at Microsoft. Bill essentially left the company around 2008, this person said, noting that both Gateses started to focus the majority of their time on their charitable foundation.

But all that could be about to change. As the divorce proceeds past initial reports, people who know the couple expect more details to emerge. According to two people familiar with the situation, someone in Melinda's circle worked with a private investigator leading up to filing, which these people expect to inform both the public and private case. A spokesperson for Melinda called the claim ''completely false. Neither Melinda nor anyone at her direction ever hired a private investigator.''

While Microsoft is not commenting on the news, it may get harder for the tech giant not to address reports of Bill's conduct, both in the office and outside it, as former employees who put up with what they describe as inappropriate workplace behavior, romantic relationships with subordinates, and the demands of a boss who, for years, was painted as a nerdy tech savior, finally feel free to unburden themselves.

There was a time when Bill Gates was seen as one of the most evil people alive; typing his name into an early internet search engine returned results for terms like antichrist. People cheered when Microsoft initially lost its famous 2001 antitrust case, after Gates himself was grilled by David Boies. But since then, Gates has embarked on a 20-year public relations effort to frame himself as a good-guy geek deeply excited by new technologies and leading the effort to fix the ills of the world. He's given away billions to fight malaria, climate change, world hunger. He led the effort to warn of a potential global pandemic (back in 2015, Gates famously said a pandemic was imminent and could lead to the deaths of more than 30 million people), and then, when his vision became reality and COVID-19 obliterated the global economy and killed millions, there he was at the forefront of vaccine research efforts.

By Scott Olson/Getty Images.In the wake of his divorce, however, it has become increasingly clear that there is an undeniable duality to Bill Gates. The decades of stories about him being difficult to work with are correct, said one former employee. They have been largely suppressed by Gates's liberal use of nondisclosure agreements, ostensibly to keep more damning details under wraps, this person said. ''For such a long time you were told, 'You have an NDA. You can't talk,''' said the former employee, who signed such an agreement. The current wave of reporting around Gates's behavior encouraged this person to open up, but they are keenly aware that Gates has lawyers at the ready. ''And these are not nice lawyers,'' they added.

Like most tech company leaders, the employee explained, Gates was often impatient and demanding'--behavior that was commonplace given the rapid speed of the industry, the fierce jockeying for leadership roles, and the market fluctuations, wherein the biggest tech companies in the world can gain or lose billions in market value in a single day. A former partner who worked directly with Gates at Microsoft on some major product announcements explained that if a deadline was missed, the party responsible would answer directly to Gates. The former employee who signed an NDA called him ''unrelenting'' and ''condescending,'' adding, ''He would ask you a question, and when you answered, he'd look at you and go, 'That is NOT the right answer.'''

For years there have been whispers, within Microsoft and in Gates's broader professional and social circles, about inappropriate extramarital relationships. None of it was entirely shocking, despite the seeming contrast with his public persona. Bill and Melinda's relationship began as an office romance, with Bill as the boss and Melinda as the younger employee whom he flirted with at a conference before asking her out in the company parking lot. As The New York Times reported, Bill pursued women who worked for him a few times when he was the chairman of Microsoft, once emailing an employee to ask her out to dinner, and another time telling a woman who worked for the Gates Foundation that he wanted to take her out to dinner while they were on a business trip to New York. According to the Times, the women did not feel pressured, but the balance of power was hopelessly lopsided. In 2019, Microsoft's board of directors opened an investigation into Bill's behavior after it was notified about his advances on an employee in 2000, according to The Wall Street Journal. Bill stepped down from the board the following year, after the company hired a law firm to look into the allegation. (A spokeswoman has said that his ''decision to transition off the board'' had nothing to do with the affair.)

For the people who worked for him, Bill's behavior was something of an open secret. The former employee who signed an NDA said there were times when Bill came into the office driving a Mercedes, and an hour later, one of his security personnel showed up with a golden brown Porsche that Bill drove away in. ''We all assumed that it was when he was with women,'' the employee said. ''I knew there were many offsite meetings that were not on his calendar.'' According to someone close to Bill, his infidelities were no secret to many of the people around him. Yet another source close to Bill disputed that he would disappear from the office, saying he was ''one of the most intensely scheduled people on the planet.''

How did federal agents recover bitcoin and access a crypto wallet tied to the Colonial Pipeline cyberattack? - MarketWatch

Thu, 10 Jun 2021 12:28

U.S. federal authorities are fairly tight-lipped on the method of recovering some $2.3 million in bitcoin paid to cyber-hackers of Colonial Pipeline Cos., last month. It is a rare, but not unprecedented, win for agents who are part of a newly formed Ransomware and Digital Extortion Task Force.

But the big question for crypto market participants may be how the government tactically tracked down the bitcoin BTCUSD, +2.88% allegedly obtained by the Eastern European hacking group known as DarkSide and how the federal agents obtained access to a password-protected wallet.

The U.S. Justice Department on Monday said a news conference that it seized about 64 bitcoin paid by Colonial to hackers, valued at roughly $2.3 million, from a virtual wallet.

Here's what we know through court documents and conversations with those familiar with tactics that may have been employed by the Justice Department and the Federal Bureau of Investigation:

An unidentified special agent with the FBI's cybercrimes squad, in an affidavit with the California's Northerrn District, requesting a warrant to seize the digital assets, says that the agency used public blockchain explorers to track payments made to the hackers.

Blockchain explorers have been described succinctly as the Google of cryptocurrencies and blockchain and they allow users to find details related to transactions on specific wallet addresses and blockchains including amounts transacted, sources and destination of funds, and status of the transactions.

In this case, the FBI was able to track the addresses where roughly 75 bitcoins were sent to hackers around May 8, court documents show.

The documents indicate that Colonial Pipeline had reached out to the FBI in early May to advise the agency that it had been instructed to send a ransom payment of approximately 75 bitcoin, calculated at the time to be worth $4.3 million to a specific address that was partly redacted in court filings.

A blog post by Dr. Tom Robinson of blockchain analytics firm Elliptic identified the bitcoin address tied to the Colonial hack as address bc1qq2euq8pw950klpjcawuy4uj39ym43hs6cfsegq '-- probably the same one mentioned in the seizure affidavit.

Ransomware attacks are those that compel the victim to pay a sum to a specific location to resolve a breach of a company's computer systems, and increasingly hackers are demanding crypto in exchange for ending their attack.

The filings show that the FBI agent used blockchain explorers to track the movement of the crypto to nearly two dozen addresses.

A private key for a virtual wallet linked to one of the addresses , where the cryto-currency sat for some time, was obtained by the FBI, but the agency didn't disclose how it obtained the key, which serves as a password for the wallet. A crypto wallet can be used to store bitcoin, user addresses and other private key information.

Advocates of blockchain technology have long touted the traceability of the distributed public ledger as one counterpoint to those who say crypto is largely used for illicit activities.

''This action by US authorities demonstrates the value of blockchain analytics to track down proceeds of crime in cryptocurrency, and ensure that ransomware does not pay for the criminals behind it,'' Robinson wrote.

That said, cracking a crypto wallet is usually the remit of hackers and not the FBI.

National Public Radio speculated on 3 possible ways federal agents obtained DarkSide's private key:

Carelessness by the perpetrator Help from an insider at the ransomware group Possible help from a wallet provider or exchange What is being dismissed is the idea that the Fed somehow employed their own hacking methods to obtain the private key.

On Tuesday, Colonial Pipeline Co. CEO Joseph Blount said the company was still working to fully restore some of its computer systems harmed by last month's attack. The pipeline company operates the largest refined-products pipeline in the country, spanning more than 5,500 miles and transporting more than 100 million gallons, or 2.5 million barrels, of fuel a day to consumers from Houston to the New York Harbor,

Speaking to the Senate Homeland Security Committee during a hearing, Blount explained why he decided to pay the hackers, especially since the FBI tends to discourage ransom payments because doing so can encourage such acts.

''I made the decision to pay, and I made the decision to keep the information about the payment as confidential as possible,'' Blount said. He said that the decryption keys that the hackers provided in exchange for the payment didn't provide an immediate restoration of the pipeline's services, which were gummed up for nearly a week and briefly led to a run on gasoline RB00, +0.52% in parts of the East Coast.

The Fed's recovery of the bitcoin may have helped contribute to a slump in bitcoin and other crypto.

''The US government took over the server where the wallet existed and somehow got the private key for the address that held the majority of the funds,'' said Edward Moya, Senior Market Analyst, The Americas, at OANDA. ''This uncertainty over how they got their private key is scaring many bad players to exit Bitcoin holdings. ''

At last check Tuesday, bitcoin prices were down 8% at $32,737.75 on CoinDesk, Ether ETHUSD, -1.06% on the Ethereum blockchain, was down nearly 9%, changing hands at $2,482.89, and popular meme asset dogecoin DOGEUSD, -1.97% was trading over 7% lower at 32.9 cents.

How The Price Of A Toyota Truck Helps Explain Surging Inflation : NPR

Thu, 10 Jun 2021 11:28

Used cars sit on the sales lot at Frank Bent's Wholesale Motors in El Cerrito, Calif., on March 15. Supply chain snarls and pent-up demand are driving up the prices of a lot of things, including new and used cars. Justin Sullivan/Getty Images hide caption

toggle caption Justin Sullivan/Getty Images Used cars sit on the sales lot at Frank Bent's Wholesale Motors in El Cerrito, Calif., on March 15. Supply chain snarls and pent-up demand are driving up the prices of a lot of things, including new and used cars.

Justin Sullivan/Getty Images Prices for a lot of things are surging across the U.S., and John McConnell's recent car-shopping experience helps explain why.

McConnell, from Colorado Springs, Colo., was recently looking for a Toyota Tacoma to replace his two-year-old Nissan Altima and was shocked to see the one he wanted priced several thousand dollars above the sticker price.

He plans to buy it anyway.

"I'm not going through a midlife crisis. I just kind of have an itch for this," McConnell says. "I'm willing to pay a little bit more right now, I guess, because right now I can afford to."

After a year of the coronavirus pandemic, McConnell was itching to go camping more and do more outdoor activities. And like many Americans who were able to continue working through the pandemic, he had the money.

"You know a little Nissan is not going to cut it on a lot of the roads around here during the winter," he explains of his decision to upgrade.

The Labor Department is set to release on Thursday its latest measurement for inflation during the 12-month period ending in May.

April's reading showed prices climbing by 4.2% '-- the fastest pace in more than a dozen years, sparking fears about inflation across the country.

Prices are being driven higher by supply chain snarls that are leading to shortages of key components such as computer chips for cars, hence the higher price that Toyota wants for its pickups.

At the same time, the rapid rollout of COVID-19 vaccines is sparking a surge in pent-up demand after a year of home confinements, and those who can afford it are willing to pay up.

"It just won't stop. People have money in their pocket," said billionaire investor Warren Buffett, whose Berkshire Hathaway company sells everything from See's Candies to manufactured houses. "It is not a price-sensitive economy right now, in the least."

At Berkshire Hathaway's annual meeting last month, Buffett described the economy as "red hot."

The consumer price index offers a kind of temperature check. April's report showed food prices had jumped 2.4% over the previous year. Used-car prices were up 21%. And gasoline prices had soared 49.6% from the depressed price in April 2020.

Still, while many consumers are taking the higher prices in stride, they are a hardship for some.

Justin Bergin's work as an art installer pretty much dried up during the pandemic. He has been scraping by selling his own paintings.

"Feeding three children isn't an easy task on a budget to begin with," said the single father in Baraboo, Wis. "But now that prices are going up, I find it's even harder to get a full grocery cart."

Bergin has been buying a lot more rice and pasta these days. He's also having to say no more often when his kids ask for pricey items at the supermarket.

Both the Biden administration and the Federal Reserve argue that the jump in inflation is likely to be short-lived. Some prices, like airline fares, are just getting back to normal, after a steep plunge during the pandemic. Others are the result of temporary bottlenecks that should work themselves out as supply catches up to demand.

Rising labor costs are pushing prices up in some areas, but officials don't believe that's the beginning of a runaway, upward spiral, like the U.S. experienced in the 1970s. Chipotle said this week it's raising menu prices about 4% to help cover its new $15-an-hour average wage for employees.

"While we're seeing some inflation, I don't believe it's permanent," Treasury Secretary Janet Yellen said last weekend. "We'll watch this very carefully, keep an eye on it and try to address issues that arise if it turns out to be necessary."

One could look at higher inflation as a sign the economy is healing after a very difficult year.

As hard as the last year has been on Bergin, the artist felt enormous relief once he got vaccinated and was able to see friends again.

"Oh, my God, yeah," Bergin exclaimed. "I went to an art opening and I saw a friend from grad school and we gave each other a hug and I felt this wave of joy wash over me '-- like, 'Wow, another adult, another person who's going through stuff and we're here at the same time.' It was just wild."

That's a priceless feeling, one that won't show up in the consumer price index.

Biden to meet with G-7, NATO allies at 'defining' moment for democracy

Thu, 10 Jun 2021 11:11

FALMOUTH, England '' President Joe Biden is spending the next week in Europe, participating in summits in the United Kingdom, Belgium and Switzerland as part of his first overseas trip as president and first big moment on the world stage since taking office.

The majority of U.S. presidents have visited close neighbors Canada or Mexico for their maiden journeys abroad. Biden becomes only the second president since Jimmy Carter to begin his inaugural overseas trip in the U.K., for a G-7 meeting in Cornwall, England. He will then join a NATO summit in Brussels, followed by a highly anticipated meeting with Russian President Vladimir Putin, a leader he actively dislikes, in Geneva.

The G-7 leaders of the world's seven wealthy industrialized nations were set to meet in June last year at Camp David, the presidential retreat in Maryland, but the coronavirus outbreak hobbled those plans. The June 11-13 make-up summit in Carbis Bay, Cornwall, a region on the tip of southwestern England noted for its wild coastal scenery, will be the leaders' first face-to-face meeting in more than two years.

There is a lot to talk about.

Biden will announce that the U.S. will purchase and donate 500 million doses of Pfizer's COVID-19 vaccine to 92 low and lower middle-income countries and the African Union. The shots will be distributed through the global vaccine alliance known as COVAX, with 200 million to be shared this year and the remaining 300 million to be donated through the first half of 2022.

Among the highlights: getting the global economy back on track in the wake of the coronavirus pandemic that is still firmly entrenched in most parts of the world; climate change; defense and security; and easier '' though no less important '' talking about the solidarity, multilateralism and shared democratic values that many close European allies felt had all but vanished under former President Donald Trump's administration.

It's not an exaggeration to say that Trump often sowed chaos at international summits. He stormed out of a G-7 summit in Canada in 2018, routinely accused NATO of leeching off the U.S., cozied up to authoritarian leaders and insulted the European Union.

View | 19 Photos

Trump's critics say: He may have gotten some world affairs right

"This trip will highlight (Biden's) commitment to ... working in close cooperation with our allies and multilateral partners to address global challenges and better secure America's interests," White House press secretary Jen Psaki said before the trip.

Biden offered more rousing words, if not detail, in a Washington Post op-ed headlined, "My trip to Europe is about America rallying the world's democracies."

In the opinion piece, Biden argued that, "this is a defining question of our time: Can democracies come together to deliver real results for our people in a rapidly changing world? Will the democratic alliances and institutions that shaped so much of the last century prove their capacity against modern-day threats and adversaries? I believe the answer is yes. And this week in Europe, we have the chance to prove it."

Still, Brett Bruen, a former diplomat in the Obama administration and now president of Global Situation Room, a crisis and reputation management firm based in Washington, said that Biden heads overseas "as the glow and goodwill generated by his ascension to presidency begins to fade globally." Bruen said world leaders "are feeling frustrated by the often detached diplomacy he has practiced over his first months in office."

Bruen cited Biden's decision to push ahead with withdrawing all U.S. troops from Afghanistan by Sept. 11 despite concerns the move could embolden an already resurgent Taliban, and his administration's relatively meek initial response to renewed fighting last month between Israelis and Palestinians in the Gaza Strip.

US aid to Israel was always a given: Will more support for Palestinians change that?

[Biden] seems fiercely focused on domestic concerns and considerations. This is likely to be a source of some friction.

Brett Bruen, Obama administration diplomat

"His priority appears placed on disengagement and diminishing American involvement in challenging international issues. Meanwhile, he seems fiercely focused on domestic concerns and considerations. This is likely to be a source of some friction," Bruen said.

There is also concern, said Rachel Ellehuus, a former Pentagon official, about what could happen if Biden turns out to be a one-term president.

"They worry that some of the negative language about allies and partners and the U.S. commitment to NATO and global leadership could falter again," she said.

But Charles Kupchan, a senior fellow at the Council on Foreign Relations think tank in New York, said Biden has gotten off to a good start on the world stage. He pointed to Biden's move to rejoin the Paris climate agreement from which Trump withdrew and ongoing indirect negotiations with Iran for a full resumption of the nuclear accord.

He has a lot of wind in his sails just by being Joe Biden, and not Donald Trump. Many governments and leaders around the world are breathing massive sighs of relief to have someone more familiar and more trusted in the White House.

Charles Kupchan, Council on Foreign Relations senior fellow

"He has a lot of wind in his sails just by being Joe Biden, and not Donald Trump. Many governments and leaders around the world are breathing massive sighs of relief to have someone more familiar and more trusted in the White House," Kupchan said.

China looms large

Kupchan said the G-7 summit will be a "reunion of sorts" and a "kind of coming-out party for the Biden presidency." He said he expects G-7 leaders to make concrete progress with plans to share more coronavirus vaccines with nations that have fragile and under-resourced health systems. He foresaw some action to tackle a paucity of global regulation around cryptocurrencies and other digital assets, and perhaps the beginnings of an attempt to "forge a common position on China."

Beijing is an economic colossus.

Its technological capabilities combined with its growing geopolitical assertiveness and military prowess mean China is viewed by many Western countries as the major, if not most serious, national security threat that they will likely face for decades to come.

But Kupchan cautioned that while the G-7 forum is increasingly being used to address geopolitical concerns, its chief remit is economic and monetary matters. And while Biden's return to the confab is being welcomed, this doesn't mean the summit's "atmospherics" or "deliverables" will be entirely positive or a foregone conclusion.

"There are divisions within Europe and across the Atlantic about how best to cope with the rise of China, so when Biden says he wants to build a united front of democracies to stand up to China: He's right. We do need that. But it's not going to be easy to (accomplish) consensus across the many issues at play."

'Shift the strategic center of gravity'

A British official not authorized to speak publicly about the G-7 summit said the meeting, as is typical of global summits of this kind, would likely be dominated publicly by "live events" '' whatever's grabbing foreign affairs headlines that day or week, whether in Myanmar, Belarus or Russian cyberattacks or aggressions in Ukraine.

But the official added that the summit was a genuine opportunity to "shift the strategic center of gravity" longer term on various global issues ranging from improving girls' access to education to agreeing on minimum international corporate tax rates.

G-7 finance ministers who met ahead of the summit said they had already agreed on a landmark deal that would see a minimum rate of corporation tax of at least 15% placed on multinational companies, including tech giants like Amazon, Apple and Microsoft.

G-7: 15% global minimum corporate tax rate, more taxes for tech giants

Biden and other leaders in Cornwall are expected to sign off on the proposal that would make sure corporations pay taxes in the countries where they sell products and services, not just where they decide to base their operations. The move sits well with Biden's domestic pledge to spend more on social safety net programs and infrastructure and make America's wealthiest individuals and businesses help pay for it.

Biden has said again and again that he views a strong middle class as a prerequisite for a stable democracy and that the tax move bolsters one of the central planks of his proposed foreign policy: to connect the fortunes of Americans at home to U.S. action abroad.

The British official said the G-7 meeting was an opportunity to "reinvigorate international action" after a few years of relative stalemate because of the coronavirus pandemic.

"It's about how we make the recovery out of COVID work for people in all our countries ... and how we shape those plans in a way that allows us to tackle the big political trends ... in a way that reflects our values as open societies," the official said.

On Thursday, Biden meets with British Prime Minister Boris Johnson, where he will raise the question of how Brexit, the U.K.'s withdrawal from the European Union, could affect the Good Friday Agreement, the peace deal in Northern Ireland. Northern Ireland is part of the U.K. but Ireland is not. It's in the EU. Borderless trade across the EU political bloc has partially underwritten stability on the Irish border for several decades.

Pushing NATO allies on defense spending?

One place where U.S. and European divisions may arise is Brussels, where Biden will attend the NATO meeting June 14.

When Trump visited the military alliance's headquarters in Belgium in May 2017, he did his best to harangue allies and avoid explicitly recommitting to Article 5, the principle of mutual defense that is the bedrock of the transatlantic military alliance.

Biden will almost certainly unequivocally reaffirm the integrity and solidity of the NATO alliance and American security guarantee, but he won't be able to paper over a longstanding crack: More NATO countries still need to increase their military spending to meet the alliance's agreed spending targets of 2% of economic output.

'A reckoning is near': U.S. has a vast overseas military empire. Does it still need it?

According to the latest NATO estimates, just 11 of 30 countries do.

"The optics of no Trump presence (in Brussels) will be interesting to observe. Clearly, Europeans disliked his coercive approach and unstatesmanlike rhetoric," said Andris Banka, a Latvian-born professor of international politics at the University of Greifswald in Germany. "That said, I think Europeans will be pressed further to meet the 2% (defense spending) goal, this time arguably by the most trans-atlanticist U.S. president."

The U.S. also wants NATO to more actively push back against Russia's activities in Ukraine as well as its use of cyber warfare and disinformation.

"Every time you listen to NATO talk about cyber, it's cyberdefense, defend, increase our defense, thicken our defense, do some more defense. The fact of the matter is, what's not being talked about is imposing costs on Russia. Why would Russia change its behavior if there is no cost to it for its behavior?" asked Philip M. Breedlove, a retired four-star general in the U.S. Air Force who also served as NATO's Supreme Allied Commander for Europe from 2013-2016. "What we don't talk about in NATO is cyber offense. ... Let's talk about just imposing costs on Russia for its intransigence in the cyber domain."

Most 'contentious' for last: Putin

Biden's final stop may be his most challenging: a one-on-one with Putin.

The two leaders have long circled each other warily, and Biden will arrive in Switzerland with a long list of grievances, from alleged Russian-backed hacking to Moscow's crackdown on domestic political opponents and its support for those who do the same elsewhere, whether in Syria or in neighboring Belarus.

For his part, Putin will likely demand the U.S. stay out of what Putin sees as Russia's legitimate activities in Ukraine.

Biden and Putin have not met in person since the former became president. But they have history. During an election fundraiser in New York in 2019, Biden spoke of meeting with Putin while he was vice president during the Obama administration.

"I don't think you have a soul," Biden recalled saying to Putin. The Russian president's response was, according to Biden, 'Well, we understand each other.'"

More recently, in March, Putin wished Biden "good health" after the U.S. leader assented to a description of his Russian counterpart as a "killer" during an interview.

Jake Sullivan, Biden's national security adviser, said in a White House briefing about Biden's trip that the U.S.-Russia relationship is not one based on trust.

"It's about a relationship of verification. It's about a relationship of clarifying what our expectations are and laying out that if certain kinds of harmful activities continue to occur, there will be responses from the United States."

Alexander Vershbow'‹'‹'‹'‹'‹, a former U.S. ambassador to Russia and former NATO deputy secretary general, put it a differently: The Putin summit "is going to be a very contentious one," he said. "Biden made clear early on that there's a new sheriff in town."

View | 200 Photos

Houston Hospital Workers Walk Out Over Covid Vaccine Mandate - The New York Times

Thu, 10 Jun 2021 10:59

U.S. | Texas hospital workers suspended over mandatory vaccine policy. https://www.nytimes.com/2021/06/07/us/texas-hospital-workers-suspended-over-mandatory-vaccine-policy.html Medical staff working on a patient in the Covid-19 I.C.U. ward at Houston Methodist Hospital in Texas in July 2020. Credit... Erin Schaff/The New York Times Nearly 200 staff members at a Houston-area hospital were suspended for not following a policy that requires employees to be vaccinated against Covid-19. Their suspensions followed a protest by dozens of workers on Monday night against the policy.

The hospital, Houston Methodist, had told employees that they had to be vaccinated by Monday or face suspension. Last month, 117 Houston Methodist employees filed a lawsuit against their employer over the vaccine policy.

While the Centers for Disease Control and Prevention recommends health care workers get a flu shot, and some hospital systems require it, few companies have required Covid-19 shots, despite federal government guidance that says employers can mandate vaccines for on-site workers.

Executives, lawyers and consultants who advise companies say that many of them remain hesitant because of a long list of legal considerations the Equal Employment Opportunity Commission says must be followed before mandating vaccinations. Some companies say they are wary of setting mandates until the vaccines have received full approval by the Food and Drug Administration, which so far has granted emergency use authorization.

Jennifer Bridges, a nurse who led the Houston Methodist protest, has cited the lack of full F.D.A. approval for the shots as a reason she won't get vaccinated.

Vaccine hesitancy has been high among frontline health care workers: Surveys showed that nearly half remained unvaccinated as of mid-March, despite being among the first to become eligible for the shots in December. A March 2021 survey by the Kaiser Family Foundation found that health care workers had concerns about the vaccines' newness and their possible side effects, both of which are common reasons for waiting to be vaccinated.

By Monday evening, dozens of Houston Methodist employees had gathered outside the hospital system's location in Baytown, Texas, holding signs that read ''VAXX IS VENOM'' and ''Don't Lose Sight Of Our Rights.''

''If we don't stop this now and do some kind of change, everybody's just going to topple,'' Ms. Bridges told local media covering the protest. ''It's going to create a domino effect. Everybody across the nation is going to be forced to get things into their body that they don't want and that's not right.''

Those who did not meet the hospital's vaccination deadline on Monday would be placed on a two-week unpaid suspension. If they still do not meet the hospital's vaccine requirements by June 21, Houston Methodist will ''initiate the employee termination process.''

The workers' lawsuit accuses the hospital of ''forcing its employees to be human 'guinea pigs' as a condition for continued employment.''

In a statement on Tuesday, Dr. Marc Boom, president and chief executive of Houston Methodist, said 178 employees who did not meet the vaccination deadline on Monday,

''I wish the number could be zero, but unfortunately, a small number of individuals have decided not to put their patients first,'' Dr. Boom said.

Of the suspended employees, about 27 had received at least one dose, and Dr. Boom said he hoped they will get their second dose soon to meet the vaccine requirement.

On Monday, Gov. Greg Abbott of Texas signed a law prohibiting businesses or government entities in the state from requiring vaccine passports, or digital proof of vaccination, joining states such as Florida and Arkansas. It's unclear how or if the new law will affect employer mandates like Houston Methodist's.

In some industries, including aviation, employers are taking a middle-ground approach. Delta Air Lines, which is distributing vaccines out of its flight museum in Atlanta, said in May that it would strongly encourage current employees to get vaccinated and require it for new hires.

United Airlines, after considering a blanket mandate, said last week that it would require anyone hired in the United States after June 15 to provide proof of vaccination no later than a week after starting. Exceptions may be made for those who have medical or religious reasons for not getting vaccinated, the company added.

Aspen's Louis Vuitton store targeted in brazen, $500k burglary | AspenTimes.com

Wed, 09 Jun 2021 17:36

In an image taken from surveillance video, a man believed to have burglarized Aspen's Louis Vuitton store appears next to a Dodge minivan.Image courtesy Aspen Police Dept.Thieves cut a hole in the storeroom wall of the Louis Vuitton store in downtown Aspen on Saturday and stole as much as $500,000 worth of merchandise, police said Tuesday.

One man and one woman along with two vehicles were caught on surveillance video, though there could have been more thieves and more vehicles involved in the brazen burglary, said Sgt. Rick Magnuson, head of the investigative unit at the Aspen Police Department.

''We do have surveillance of some subjects and vehicles,'' he said. ''We think they stole between $400,000 and $500,000 '... of shoes, accessories and clothing.''

The thieves were inside the store, located at 205 S. Mill St., for about an hour, Magnuson said.

The incident occurred between 8:30 p.m. and 11 p.m. after the thieves entered an unlocked hallway at the back of the store and cut a hole in the drywall to gain access to the storeroom, Magnuson said. They used an unspecified cutting tool to open a small hole just large enough for one person to enter, he said.

A woman also believed to have taken part in the burglary appears next to a second vehicle thought to be a Chrysler Pacifica.Image courtesy Aspen Police Dept.Magnuson declined to comment on whether the store and storeroom were equipped with a burglary alarm, whether the thieves entered and stole from the retail section of the store and whether they would have had to have inside knowledge of the store to do what they did.

''It appears there was at least one female and one male, but there may be others,'' he said.

The man and woman wore ''COVID-style'' masks over the bottom portion of their faces during at least part of the burglary, Magnuson said. Police on Tuesday released pictures taken from surveillance video of the man and woman next to a Dodge minivan and what is believed to be a Chrysler Pacifica.

An image of two suspects Aspen Police are seeking after a break-in Saturday night at the Louis Vuitton store downtown.Image courtesy Aspen Police Dept.Magnuson and another detective were attempting Tuesday to collect other nearby surveillance video to try to track the two vehicles leaving town.

Amelie Sicard, manager of the Louis Vuitton store, declined Tuesday to comment on the burglary. The store was closed Monday but open again for business Tuesday, she said.

The Louis Vuitton store is located on Mill Street in downtown Aspen.David Krause / The Aspen TimesAnyone with information about the burglary or suspects should call the Aspen Police Department at 970-429-1822.

While no other stores were targeted Saturday, Aspen's large collection of high-end retail outlets in the downtown core are infrequent targets for thieves.

Two masked men wearing all black clothing unsuccessfully tried to pry open a side door to the Louis Vuitton store in October 2019, before heading over to Meridian Jewelers at 525 E. Cooper Ave. The two men then used a pry bar to open the door to the jewelry store and stole 12 Rolex watches valued at more than $60,000 before fleeing in a late model black SUV.

The alarm at Meridian was triggered at the time, though the men were only inside for a brief period before taking off, Magnuson said at the time. The two men have not been caught.

One of the most brazen robberies in recent memory occurred Dec. 21, 2018, when three men '-- later identified at natives of Chile '-- pried open a jewelry display case in the lobby of The Little Nell hotel in the middle of the day and made off with more than $400,000 worth of diamond and gold rings, bracelets, earrings and necklaces. Despite identifying the men by name and indicting them on felony charges, the men have never been caught.

A crew of thieves stole about $100,000 worth of jewelry from a downtown Aspen store in September 2017 after distracting a saleswoman, while another crew lifted a $95,000 silver sable fur coat from a boutique inside The Little Nell in 2016.

Maya Kvek, a Russian native living in Brooklyn, New York, pleaded guilty in September to one count of misdemeanor theft after being identified as part of the crew who hit the jewelry store in 2017. Kvek, who was caught on surveillance video stealing a gold, bejeweled pendant, was extradited to Aspen, spent 101 days in the Pitkin County Jail and was sentenced to time-served and two years of probation.

jauslander@aspentimes.com

Our Partners | Institute for Global Change

Wed, 09 Jun 2021 16:14

Our PartnersWe work with a wide range of partners who share our commitment to support political leaders and governments to build open, inclusive and prosperous societies in a globalised world. By working with partners, we can achieve more impact as an organisation. Our clients include governments, bilateral and multilateral institutions, private corporations, foundations and philanthropists. We also partner through joint convening, research or reports, with a variety of think-tanks and research institutions. As far as possible we utilise local suppliers to help us keep operational costs down and support local economies in the countries where we work. We express sincere thanks and appreciation to these partners and key stakeholders.

Our partners include:

African Center for Economic Transformation (ACET)African government partners who directly contract with TBIAGRA (the Alliance for a Green Revolution in Africa)The Anti-Defamation League (ADL)Bill & Melinda Gates FoundationBlavatnik School of Government, University of OxfordCrossBoundaryCSIS in Washington, DCU.S. Agency for International DevelopmentLawrence Ellison FoundationMicrosoft Philanthropies APAC (Asia-Pacific Countries)Microsoft Philanthropies MEA (Middle East & Africa)Nathan Associates London Ltd.Overseas Development Institute (ODI)The Rockefeller FoundationSocial Finance UKUBS Optimus Foundation*We update our list of partners on a rolling basis and reflect these also in our audited annual financial statements.

To find out more about our work or partnership opportunities with TBI please contact us at info@institute.global.

Don't Miss Anything. Be the first to know what we're doing - and how you can get more involved.Sign up to hear more and get involved.

Thank you. You have successfully subscribed.

Check your inbox shortly for more from us.

Sorry, an error occured during your newsletter subscription.

Covid variants: J&J CEO says vaccine will come with annual flu shot for the next several years

Wed, 09 Jun 2021 15:06

Chairman and CEO of Johnson & Johnson Alex Gorsky speaks during an event at the South Court Auditorium of the Eisenhower Executive Office Building March 10, 2021 in Washington, DC.

Alex Wong | Getty Images

Johnson & Johnson CEO Alex Gorsky reiterated Wednesday that people will likely need to receive additional doses of the Covid-19 vaccines alongside the annual flu shot for the next "several years."

People will need to get the Covid booster shots until herd immunity is achieved on a global level and world leaders and scientists are able to limit the spread of highly contagious variants, Gorsky said during The Wall Street Journal's Tech Health conference.

"We could be looking at this tagging along with the flu shot, likely over the next several years," he said, referring to the Covid vaccines.

His comments come a day after U.S. health officials urged Americans to get vaccinated to keep the Delta variant, first identified in India, from proliferating across the country.

J&J's vaccine requires just one jab, unlike Pfizer's and Moderna's Covid-19 vaccines, which currently require two doses given three to four weeks apart. All three vaccines have been shown to be highly effective against Covid, though executives now say they expect that strong protection to wane over time.

As a result, most drugmakers and some scientists now say people will likely need a booster shot of the Covid-19 vaccines and possibly additional shots each year, just like for the seasonal flu.

BioNTech CEO Ugur Sahin told CNBC in a recent interview that researchers are seeing a decline in antibody responses against the virus after eight months.

Gorksy has previously stated that people will likely need to get Covid shots annually.

During the WSJ event Wednesday, Gorsky said the company is looking for new partners as it develops vaccines that target variants.

As America struggles with gun violence, China faces its own public safety threat: mass stabbings - CNN

Wed, 09 Jun 2021 12:29

Editor's note: CNN will be launching the Meanwhile in China newsletter on June 21, a three-times-a-week update exploring what you need to know about the country's rise and how it impacts the world. Sign up here.

As the United States routinely faces the tragedy of mass shootings, China is struggling to put an end to its own threat to public safety: indiscriminate stabbings.

Over the weekend, six people were killed and 14 injured after a knife-wielding man stabbed passersby on a pedestrian shopping street in the eastern Chinese city of Anqing. Videos circulating on social media show wounded pedestrians lying on the pavement, covered in blood.

Police quickly arrived at the scene and arrested the suspect, a 25-year-old unemployed man who was seeking to "vent anger over family troubles and pessimism," according to a local government statement.

The incident is the latest among a spate of public attacks in China in recent months. With guns strictly controlled and out of reach for ordinary people, knives have become the most common weapon used in such atrocities.

In April, two children were

killed when a knife-wielding man entered a kindergarten in southern China. An additional 14 children and two teachers were wounded, according to state news agency Xinhua. The police

said the suspect had a history of schizophrenia -- a serious mental illness characterized by symptoms of psychosis.

In December, another

mass stabbing in a small city in northeastern Liaoning province left seven people dead and another seven injured. State media

reported the 62-year-old suspect was socially withdrawn after losing his son and getting divorced, and carried out the attack to express his "dissatisfaction towards society."

These incidents have stood out in China, which boasts a powerful and ubiquitous surveillance system and comparatively low rates of violent crime. According to

the World Bank, citing the United Nations Office on Drugs and Crime's International Homicide Statistics database, in 2018, there were 0.5 intentional homicides per 100,000 people in China --

one tenth of the murder rate in the US.

And unlike the US, gun violence is rare in China, where the regulation on firearms is among the strictest in the world. Chinese law generally prohibits private possession of firearms (except for hunters with permits), and the Chinese government has stepped up its policing of illegal firearms in recent years.

According to the most recently available statistics from China's

Ministry of Public Security, there were just 58 cases of gun crime in the country in 2017, an 82% drop from 2012.

Chinese state media has often

highlighted mass shooting incidents in the US, and in some cases even characterized it as a

human rights issue on which "the US should learn from China."

But while China's strict control on guns has sharply reduced the number of casualties in public attacks, it has seemingly failed to address the root causes that repeatedly trigger these types of tragedies.

According to official announcements, the suspects were often found to have been living with mental illness, or were seeking revenge against their employers, officials, or the wider society.

In China, public access to mental health services remains limited, partially due to a shortage of qualified mental care professionals. Social stigma surrounding mental disorders also discourages many people from seeking help.

Around Asia

An estimated 100,000 people in Myanmar's Kayah state had been displaced by fighting that included "indiscriminate attacks by security forces" in civilian areas, the United Nations said Sunday.Thailand began its mass Covid vaccination program Monday, following criticism of delays and concerns over health authorities relying on AstraZeneca shots produced by a company owned by the country's king.Dozens of passengers were killed and several others injured after a train collision in southern Pakistan on Monday morning.In Siberia, a microscopic animal has been revived after slumbering in the Arctic permafrost for 24,000 years.The US could soon spend big to counter China's tech rise

The United States has long found China a technological threat. Now Washington is trying to seriously step up its spending to keep its big rival in check.

The US Senate on Tuesday passed rare, bipartisan legislation meant to counter Beijing's growing influence by investing more than $200 billion into American technology, science and research.

The bill still needs to pass the US House of Representatives before making its way to President Joe Biden's desk. But the strong showing in the Senate -- the final vote was 68-32 -- shows Washington is growing more united in its criticism of Beijing, and its desire to curtail the rise of the world's second largest economy.

"It's stepping up in a major way -- primarily by spending money -- to meet the competitiveness challenge China presents," said William Reinsch, a trade expert at the Center for Strategic and International Studies.

Chinese President Xi Jinping has made no secret of his desire to lead the world on tech and other key industries. He wants to turn China into an innovation leader by 2035 and a global tech superpower by 2050. In the past couple of decades, several Chinese firms have become enormously influential on tech, from Alibaba and Tencent to Huawei.

The US, in turn, has taken steps to curb its competition by imposing restrictions on the ability for Chinese companies to access American tech.

But the Senate bill, should it become law, suggests Washington knows hobbling your opponent isn't enough if you're not investing in your own backyard.

"I think it reflects Biden's view that if you're in a race, there are only two ways to win -- run faster or trip the other guy," Reinsch said. "There is a role for both strategies, but this bill emphasizes running faster."

-- By Jill Disis

Photo of the Day

Revisiting the past: People visit a photo exhibition in Beijing showcasing how life in China has changed over the past 100 years. Tours, exhibitions, performances and other events celebrating the centenary of the Chinese Communist Party have sprung up across the country in the lead-up to July 1.

Australian Prime Minister sets likely tone ahead of G7

The world is living through its greatest period of uncertainty since the 1930s and the risks of miscalculation and conflict "are growing," Australian Prime Minister Scott Morrison is expected to say in advance of the G7.

Speaking in the Australian city of Perth Wednesday, Morrison will call for democratic nations to work together to "reinforce, renovate and buttress a world order that favors freedom," according to a transcript of the speech provided to CNN.

"Meeting this challenge will require a degree of active cooperation among like-minded countries and liberal democracies not seen for 30 years," Morrison is expected to say in a nod to Cold War alliances.

Morrison's expected remarks come ahead of his flight to the United Kingdom for the Group of Seven meeting, which will see leaders from the UK, the United States, Canada, Germany, France, Italy and Japan meet in-person for the first time since the start of the pandemic. Talks will also be attended by the European Union and guest nations Australia, India, South Africa and South Korea.

The summit, which begins June 11 and runs for three days, is expected to include discussions on how the world's wealthiest democracies can work together to tackle major global challenges such as access to covid-19 vaccinations and climate change, while countering the rise of China and Russia.

Writing in the

Washington Post on June 6 ahead of the meeting, US President Joe Biden underscored his belief in the power of democratic alliances to rise to the moment, and offer a "high-standard alternative to China for upgrading physical, digital and health infrastructure that is more resilient and supports global development."

UFOs Repeatedly 'Took Offline' US Nuclear Capabilities, Ex-Chief of Pentagon Secret Unit Says - Sputnik International

Wed, 09 Jun 2021 11:59

US11:07 GMT 09.06.2021(updated 11:09 GMT 09.06.2021) Get short URL

https://cdn1.img.sputniknews.com/img/07e5/05/1b/1083006318_0:41:1920:1121_1200x675_80_0_0_e7209f39109ae0b58657dd6ee5d771e9.jpg

Sputnik International

https://cdn2.img.sputniknews.com/i/logo.png

Sputnik

https://cdn2.img.sputniknews.com/i/logo.png

https://sputniknews.com/us/202106091083107584-ufos-repeatedly-took-offline-us-nuclear-capabilities-ex-chief-of-pentagon-secret-unit-says/

WASHINGTON (Sputnik) - Unidentified flying objects (UFO) have repeatedly meddled with US nuclear technology, forcing some facilities to go offline, ex-head of Pentagon's Advanced Aerospace Threat Identification Program, Luis Elizondo, told The Washington Post.

The revelation comes ahead of the release of an unclassified report on unidentified aerial phenomenons (UAPs) observed by US Navy pilots, which is expected to be submitted to Congress later in June.

"Now in this country we've had incidents where these UAPs have interfered and actually brought offline our nuclear capabilities," Elizondo said in an interview.While some may deem the incidents to be "something that is peaceful," there is data suggesting that UFOs have meddled with other countries' nuclear technology and "actually turned them on, put them online," the expert said.

"I think that there is certainly at this point enough data to demonstrate there is an interest in our nuclear technology, a potential to even interfere with that nuclear technology," Elizondo said, noting there is nothing surprising about a possible increased interest in US capabilities related to its nuclear technology.Commenting on the upcoming report, the expert said that it "definitively stated once and for all" that UAPs were not US technology, neither was it Russian or Chinese technology.

Brooks's claim that counting the votes of 'eligible American citizens' would have reelected Trump - The Washington Post

Wed, 09 Jun 2021 11:07

Donald Trump won the presidential race ''if only lawful votes cast by eligible American citizens were counted '... Somewhere in the neighborhood of 900,000 to 1.7 million noncitizens voted in the 2020 presidential election overwhelmingly for Joe Biden.''

Brooks, who is running for the Senate, is echoing Trump's false claim that President Biden actually lost the election. He, like Trump, claims there was all sorts of election fraud behind Biden's victory. But he also has argued that Biden's victory was greased by the votes of noncitizens.

The Examiner said that Brooks ''did not provide evidence to support the claim'' but instead pointed to a speech he made on Jan. 7 that laid out his calculations. In the address on the House floor, he declared: ''Noncitizens overwhelmingly voted for Joe Biden in exchange for the promised amnesty and citizenship and, in so doing, helped steal the election from Donald Trump, Republican candidates, and American citizens all across America.''

Story continues below advertisement

The speech is actually rather detailed in showing Brooks's math. But it relies on dubious assertions, some of which we have fact-checked before, to come up with these numbers.

Brooks lists what he calls ''exhibits'' to make his case. But he cherry-picks lines and data. For instance, in Exhibit B, he quotes from the 2005 Commission on Federal Election Reform, headed by former president Jimmy Carter and former secretary of state James A. Baker III.

The report did indeed say that ''noncitizens have registered to vote in several recent elections.'' But the numbers it cited were relatively small '-- a few hundred here and there in scattered elections. The issue is not that there may be some instances of fraudulent voting, but whether it is so widespread that it would change an election result. Most reputable studies have found that in virtually all cases, any vote fraud by noncitizens is infinitesimal.

Story continues below advertisement

(Carter has been so annoyed at how Republicans have twisted the findings in the report, especially on voting by mail, that he issued a statement in March saying he believes ''voting by mail can be conducted in a manner that ensures election integrity.'')

Similarly, in Exhibit C, Brooks cites a Government Accountability Office report as saying ''up to 3 percent of people on voter registration lists are not U.S. citizens.'' But when you dig into the report, you see that it gives three example of the percentage of noncitizens found in jury pools (which are drawn from voter registration lists): one-third of 1 percent, less than 1 percent and 1 to 3 percent. Brooks simply cites the highest number.

The core of Brooks's calculation rests with Exhibit D, a citation of a 2014 paper that has been highly controversial ever since a summary was published in The Washington Post's Monkey Cage blog. Brooks claims that report surveyed 339 noncitizens, with ''8% admitted voting in American elections.''

Story continues below advertisement

Actually, the study said 2.2 percent of noncitizens voted in 2010 and 6.4 percent in 2008. So Brooks seems to be combining those numbers. The study relied on an opt-in Internet survey designed for citizens only, which is one reason it quickly came under fire from other political scientists.

In any case, the article currently has this note at the top: ''The post occasioned three rebuttals (here, here, and here) as well as a response from the authors. Subsequently, another peer-reviewed article argued that the findings reported in this post (and affiliated article) were biased and that the authors' data do not provide evidence of noncitizen voting in U.S. elections.''

When Trump and his allies started citing the study in 2016, Old Dominion University, where the primary author Jesse Rickman is a professor, published an article headlined: ''ODU Voting Study Swept up in the Fake News Vortex.'' Rickman told Vice he was so tired of having the study misquoted that he wished he hadn't written it.

Story continues below advertisement

And yet, here it is again, being cited on the floor of the House, complete with incorrect numbers.

Then, in Exhibit E and Exhibit F, Brooks cites estimates for the undocumented population of 11 million and 22 million. The latter comes from a 2018 Yale University study and is not widely accepted by immigration experts. But that's how Brooks gets his high-end number.

The Department of Homeland Security has an annual estimate of how many undocumented immigrants there are in the United States, including how many are under the age of 18 (about 1 million people). Brooks fails to account for that. DHS says that in 2018, there were 10.3 million undocumented adults in the United States.

Story continues below advertisement

Finally, in Exhibit G, Brooks assumes Biden has a 60-point advantage (80 percent for Biden, 20 percent for Trump) in noncitizen voting, again because of the disputed ODU study. Recall that the sample size was rather small. Moreover, DHS indicates that about 70 percent of undocumented immigrants are Hispanic '-- and Trump actually made gains in Hispanic support in 2020. It's still possible Biden would have received a majority of votes from noncitizens, but after crunching the numbers in exit polls, it appears Biden would have about a 40 percent advantage.

To recap: Brooks claimed that Biden received 900,000 to 1.7 million votes from noncitizens. That's based on assuming 11 million to 22 million noncitizens, 8 percent of which cast ballots, at a rate of 80 percent for Biden.

But, as we have shown, there are about 10.3 million undocumented immigrants old enough to vote. The percentage who in theory are illegally voting range from one-third of 1 percent to as much as 6.4 percent (though that's dubious). The so-called Biden advantage is likely about 40 percent.

Story continues below advertisement

If you accept the disputed ODU study '-- which most experts do not '-- that means between 227,000 and 659,000 votes might have been cast by undocumented immigrants. Using the numbers in the GAO report, you end up with a range of as little as 31,000 or as much as 309,000.

The so-called Biden advantage would then yield between 12,000 to 264,000 votes from noncitizens '-- out of nearly 160 million votes cast. This range is being rather generous to Brooks, as the 6.4 percent figure is not widely accepted by political scientists.

The biggest problem for Brooks is that Biden's popular vote margin was over 7 million. Even if Brooks's wildly inflated numbers were correct, Biden easily would have won the most votes.

Story continues below advertisement

Of course, the electoral college determines the winner. But most undocumented immigrants reside in states that were not especially competitive, such as California, Texas, Florida, New York, New Jersey and Illinois, according to DHS.

The margins in Georgia and Arizona were close enough that only if you accept 6.4 percent, which we regard as an outlier, it might have made a difference, given the number of undocumented immigrants in those states. But Biden still would have won the electoral college without Arizona and Georgia. And, as we keep repeating, the preponderance of evidence is that relatively few noncitizens vote in federal elections.

A spokesman for Brooks did not respond to a request for comment.

Brooks claimed that if only lawful votes by eligible Americans were counted, Trump would have been elected. His own faulty math does not prove that, and he relies on dubious calculations and a disputed study to make his case. Brooks earns Four Pinocchios.

Send us facts to check by filling out this form

UK could delay June 21 lifting of Covid measures due to Delta variant

Wed, 09 Jun 2021 10:33

Published Wed, Jun 9 2021 5:10 AM EDTUpdated An Hour Ago

A Facebook iconShare by facebookA Twitter iconShare by twitterA LinkedIn iconShare by linkedinAn email iconShare by email

Despite much fanfare over its rapid vaccination program, the U.K. government could be about to delay its much-vaunted lifting of all lockdown measures in England on June 21.The U.K. has eased many coronavirus restrictions in recent months.Concerns around the "Delta" variant, a mutation originally discovered in India, have grown in recent weeks as case numbers increased.A Covid-19 Temporary Restrictions sign seen in Old Compton Street, Soho, in London.

SOPA Images | LightRocket | Getty Images

Despite much fanfare over its rapid vaccination program and the unlocking of coronavirus restrictions in recent months, the U.K. could be about to delay its much-vaunted lifting of all lockdown measures in England on June 21.

Concerns around the "Delta" variant of the virus, the mutation originally discovered in India, have grown in recent weeks with the number of cases attributed to the variant, and hospitalizations, rising '-- particularly among the not-yet vaccinated and in northwest England and Scotland.

The U.K. government is expected to decide over the next few days whether to delay the lifting of restrictions in England on June 21, which had been "Freedom Day" and the date when the government hoped to "be in a position to remove all legal limits on social contact."

"Step 4" of the lifting of restrictions is meant to see more premises allowed to reopen, including nightclubs, and restrictions on large events and performances removed.

But several high profile officials and health experts have signaled that the government could, and should, delay the June 21 lifting given the spread of the Delta variant which has provoked a sharp uptick in infections.

In the last seven days, 38,679 people have tested positive for Covid-19, up 14.5% on the previous seven days, government data shows.

Deaths remain low but have also risen from a low base; in the last seven days, 72 people have died within 28 days of a positive test result, up 29 from the previous week.

Nationally, hospitalizations remain manageable as there are currently just under 1,000 people in hospitals with Covid, far below a peak of almost 40,000 in January, although hospital admissions have risen in Scotland and the northwest of England.

A final decision on the delaying of the June 21 date is due next Monday but it's now widely expected that there will be a two-to-four week delay to the easing of remaining restrictions.

In the meantime, the government has stepped up its vaccination and testing drive in the worse-affected parts of the country, even bringing the army in to help deliver extra tests. The U.K.'s vaccination drive has been widely praised and is one of the fastest in the world.

So far, 77% of U.K. adults have received a first dose of a vaccine and almost 54% have received two doses. The 25-29 age group is currently in line to receive their shots.

There is a rush to fully vaccinate as many people as possible, although younger people are at less risk from the coronavirus, given that the Delta variant is thought to be at least 40% more transmissible than the Alpha variant, the U.K.'s health secretary has said, although he added that two doses of a Covid vaccine remain effective against the variant.

The variant is now becoming the dominant strain in the U.K. after having supplanted a previous variant, the Alpha variant (previously known as the "Kent" strain) that was discovered in the southeast of the U.K. last year.

Jim Reid, head of thematic research and fundamental credit strategy at Deutsche Bank, noted on Wednesday that "there are still some concerning signs on the pandemic ahead of the important decision next week on whether to fully relax restrictions in England, as more than 6,000 daily cases were reported for the second time in the last 5 days."

"Cases are now up +61% over the last week, albeit still at comparatively low levels relative to the winter months."

View the full site

Senate Passes Bill to Make Distributed Ledgers 'Key Focus' - CoinDesk

Wed, 09 Jun 2021 09:45

Distributed Ledgers Included in Tech 'Focus' Bill Passed by US SenateThe U.S. Senate has passed the Endless Frontier Act, a bipartisan bill tackling China's recent technology efforts by creating a new technology directorate that includes blockchain as a main focus.

The bill, sponsored by Senate Majority Leader Chuck Schumer (D-N.Y.), passed in a 68-32 vote late Tuesday, includes distributed ledger technologies and cybersecurity as one of 10 ''key technology focus areas,'' following an amendment by Sen. Cynthia Lummis (R-Wyo.). A second provision will require the federal government to examine the potential national security implications of China's digital renminbi.

This includes financial surveillance, illicit finance and economic coercion risks, according to the bill.

The bill now moves to the House of Representatives, where Rep. Ro Khanna (D-Calif.) has already introduced its counterpart.

The bill's other provisions take aim at issues like semiconductor production, artificial intelligence, biotechnology, communications and energy efficiency, among others. ''Blockchain'' and ''cryptocurrency'' do not make an appearance in the bill's language.

The new Directorate for Technology and Innovation will ''strengthen the leadership of the United States in critical technologies,'' the bill said, by ''improving education'' in the key focus areas and hopefully ''attracting more students to such areas.''

The directorate will also work with state and federal government agencies.

''This is a national security issue, and if the U.S. does not respond we will be left behind,'' Lummis previously told CoinDesk in a statement. ''This amendment will put our research and development efforts regarding blockchain and financial innovation into high gear, something that is desperately needed.''

The bill must pass the House and be signed into law by President Joe Biden before it can take effect. As of press time, the House version of the Endless Frontier Act did not include any language around distributed ledgers. A spokesperson for Khanna did not immediately return a request for comment.

UPDATE (June 8, 2021, 23:47 UTC): Updates with digital renminbi provision.

El Salvador Officially Votes to Adopt Bitcoin as Legal Tender - CoinDesk

Wed, 09 Jun 2021 09:41

It's Official: El Salvador's Legislature Votes to Adopt Bitcoin as Legal TenderEl Salvador officially recognizes bitcoin as legal tender.

In an early Wednesday vote, a supermajority of the nation's legislature voted in favor of President Nayib Bukele's proposal for the Latin American nation to adopt bitcoin. The president intends to sign later tonight or early in the morning.

Sixty-two members of the legislature voted in favor of the bill, with 19 opposed and three abstentions.

Bukele provided further details about his vision, pitched as an effort to boost financial inclusion in a country where a scant 30% of citizens have access to financial services, in a Twitter Space conversation early Wednesday morning hosted by Nic Carter of Castle Island Ventures and Coin Metrics. Users won't necessarily have to use a government wallet, he said.

The bill will mandate all businesses to accept bitcoin for goods or services, but the government will act as a backstop for entities that aren't willing to take on the risk of a volatile cryptocurrency, he said.

A trust that the government will set up at the Development Bank of El Salvador to instantly convert bitcoin to U.S. dollars will assume merchants' risk, he said. It will hold about $150 million in dollars in the trust fund.

''If there's an ice cream parlor, he doesn't really want to take the risk, he has to accept bitcoin because it's a mandated currency but he doesn't want to take the risk of convertibility, so he wants dollars deposited in his banking account, when he sells the ice cream, he can ask the government to exchange his bitcoin to dollars,'' he said. ''Of course he can do that in the markets also but he can ask the government to do it immediately.''

The Development Bank's trust fund would sell some of the bitcoin it receives for dollars to replenish the fund.

Government officials from El Salvador will meet with the International Monetary Fund in the coming days to discuss the plan.

Bukele also indicated that the government may promote bitcoin mining. El Salvador has already been hoping to draw businesses with excess geothermal energy, and while the government isn't specifically looking to the bitcoin mining industry to fill that need, it is one such sector that could benefit, he said.

Marc Hochstein, Danny Nelson and Seb Sinclair contributed reporting.

CulturalHusbandry on Twitter: "Thread. Blackrock is buying every single family house they can find, paying 20-50% above asking price and outbidding normal home buyers. Why are corporations, pension funds and property investment groups buying... https://t.

Wed, 09 Jun 2021 04:17

CulturalHusbandry : Thread.Blackrock is buying every single family house they can find, paying 20-50% above asking price and outbiddi'... https://t.co/UmeNYLTLBX

Wed Jun 09 01:15:59 +0000 2021

Matthew Linder : @APhilosophae @RudyHavenstein

Wed Jun 09 02:21:36 +0000 2021

Daniel Bones : @APhilosophae I do not know their why. But, SOLD, to the motherfuckers at BLK. I must get to the mountain. I'll even leave un opened liquor

Wed Jun 09 01:18:08 +0000 2021

The Colonial Pipeline Hack, The 'Russians', & The FBI's Ransom-Grab - What Really Happened? | ZeroHedge

Tue, 08 Jun 2021 21:43

Speculation has been running rampant over today's FBI press conference revealing the recovery of most of the ransom paid to "Russian" hackers by Colonial Pipeline.

Ben THE Kaufman summarizes:

Media: "The FBI hacked Bitcoin and can take anyone's funds."

Reality: The pipeline hackers didn't have the Bitcoin in the first place but kept it in a remote server the FBI could access with subpoena.

Media coverage is mostly lies at this point.

Which raises the following point (h/t Jordan Schachtel):

So the "hackers" brought down the largest pipeline on the east coast...

...but couldn't spend 50 bucks on a clean hardware wallet to secure their bitcoin?

Makes sense to me!

So what really happened?Jordan Schachtel explains at 'The Dossier' Substack

Top Department of Justice officials claimed to strike a major blow against the culprits of the Colonial Pipeline cyber attack Monday, announcing that they had seized almost all of the funds paid to the affiliate group responsible for contracting the DarkSide ransomware attack.

BREAKING: A law enforcement official says U.S. officials have seized millions of dollars in cryptocurrency paid as ransom after the Colonial Pipeline hack. The cyberattack had caused the nation's largest fuel pipeline to halt its operations last month. https://t.co/9NTtIr41Q2

'-- The Associated Press (@AP) June 7, 2021Colonial Pipeline suffered a ransomware attack in early May and responded by preemptively shutting down the pipeline's entire operations for some time, forcing a temporary but major energy crisis throughout the Southeastern United States. In order for the computers that maintained the pipeline to get back to full operation, Colonial agreed to pay a ransom in the form of 75 bitcoin, which was worth about $5 million at the time.

Now, here's where things get weird:

In their triumphant statements this morning, the DOJ claimed to have seized the funds from the group that reportedly paid DarkSide for their Ransomware as a Service (RaaS) attack on Colonial. Notably, they did not secure the funds from DarkSide, which took a fee from the ransom in bitcoin that remains in the possession of the shadowy operation.

''The FBI successfully seized criminal proceeds from a Bitcoin wallet..'' pic.twitter.com/F9RCKqSiBD

'-- Acyn (@Acyn) June 7, 2021JUST IN: FBI has seized back pipeline ransom funds from DarkSide's bitcoin wallet. Lisa Monaco: "Today we turned the table on Dark Side"... US now going after "the entire ecosystem."

'-- Kevin Baron (@DefenseBaron) June 7, 2021''There is no place beyond the reach of the FBI to conceal illicit funds that will prevent us from imposing risk and consequences upon malicious cyber actors,'' FBI Deputy Director Paul Abbate said in a statement.

''We will continue to use all of our available resources and leverage our domestic and international partnerships to disrupt ransomware attacks and protect our private sector partners and the American public.''

Now, the DOJ does appear to have secured the affiliate funds, but not in the fashion that it is being advertised by federal officials and widely reported in the corporate press.

This description by The New York Times cyber beat reporters is NOT what happened. To be clear, there was no hack. Feds did not do something innovative here. They used legal mechanisms and tracked a publicly available ledger to secure the bitcoin from this alleged hacking group. pic.twitter.com/exc6VqYZaS

'-- Jordan Schachtel (@JordanSchachtel) June 7, 2021Bitcoin is secured through a currently unbreakable cryptographic formula known as a Elliptic Curve Digital Signature Algorithm. You can safely rule out the possibility that the feds broke this form of encryption and were able to pull off this computing power miracle, which is only theoretically possible through the use of quantum computing, a technology that is still very much a work in progress.

The feds did not ''hack'' a bitcoin wallet in this manner, though they certainly seemed happy to give off that impression, as it sows doubt about the security of the bitcoin network.

The DOJ has historically been extremely hostile to bitcoin, labeling it as a preferred monetary system for cyber criminals, despite bitcoin transactions being publicly available to anyone with access to the internet.

A DOJ warrant from Monday morning gives us much more detail about how the government actually secured the bitcoin funds. They did so by obtaining a warrant on a bitcoin wallet or exchange that had servers in Northern California. Yes, you read that correctly. The entity responsible for the ransomware attack did not in fact have custody over their bitcoin. Instead, they were using a custodian for their funds. It is unclear whether this account with servers in the United States is an FBI wallet or the affiliate's wallet, but the major error in bitcoin 101 custody remains the surprising issue. Using a custodian for your funds instead of maintaining possession of them is a very basic error, especially for an allegedly sophisticated hacking gang.

Given that bitcoin transactions are publicly available, it was easy for the feds to track the funds transferred from Colonial to this outfit, as Colonial's initial transfer to the bitcoin wallet is public information. All they had to do was ''follow the money,'' which strangely made its way into a U.S. based custodial address.

The latest events surrounding the Colonial Pipeline drama simply do not square with the narratives coming out of the Biden Administration and its stenographers in the corporate press.

We were told this much-hyped hacking group of alleged Russians posed a serious threat to our entire critical infrastructure, yet in the same breath happened to have committed a laughably amateurish bitcoin custody faux pas that allowed for the feds to easily take back possession of the affiliate funds.

I will refrain from getting conspiratorial about possible government involvement and leave that to the readers in the comments section.

In my opinion, this ransomware attack was successful largely due to Colonial's lack of basic security measures in place. Similar to the notorious DNC emails hack (with the same claimed Russian government culprits), where John Podesta's password was literally the word password, the hackers succeeded because Colonial had no measures in place to protect themselves. Everything else in the timeline going back to early May seems blown way out of proportion.

Despite the claims made by some powerful people in D.C., there is no compelling evidence that this incident was some kind of Kremlin-directed operation to decimate America's critical infrastructure.

Gas price begins to soar as 'Kremlin-backed cyber gangsters DarkSide' keep America's biggest fuel pipe offline for FOURTH day https://t.co/9B0hr0oOvn

'-- Daily Mail US (@DailyMail) May 11, 2021House Intelligence Cmte Chair @RepAdamSchiff says Russia bears ''some responsibility'' in the Colonial Pipeline cyberattack ''even if they're not engaged in the conduct themselves,'' adding that his committee is ''scouring'' intel to determine the Kremlin's ''degree of culpability.'' pic.twitter.com/cWDRLGIef2

'-- Hallie Jackson Reports (@HallieOnMSNBC) May 11, 2021In the end, the Russians and Bitcoin are not the antagonist actors in this story, though the DOJ seems more than happy to promulgate both of these narratives. Once the feds were able to identify a bitcoin ''hot wallet'' (as opposed to an offline bitcoin wallet that is controlled by the hackers themselves) was connected to online servers, it became a routine process to seize the funds through legal channels.

There's also the possibility that the feds identified an individual or group in the affiliate organization responsible for contracting the ransomware attack due to some kind of sting operation. Once identified, the FBI may have proceeded to require these entities to send their funds into a bitcoin wallet in Northern California that is controlled by the FBI.

Anyway, the real issue here is how easily this could have all been avoided. It shows how horrifically poor our infrastructure is protected in this nation, to the point where a cheap ransomware attack by unnamed actors can result in a nationwide energy crisis.

The story has nothing to do with U.S. adversaries and digital currencies, but of unbelievable incompetence and neglect on the part of Colonial and our overall security apparatus. It's called *critical* infrastructure for a reason.

Tuesday's Global Internet Outage Stemmed From One Obscure Company | WIRED

Tue, 08 Jun 2021 20:27

Early Tuesday morning, large portions of the web sputtered out for about an hour. The downed sites shared no obvious theme or geography; the outages were global, and they hit everything from Reddit to Spotify to The New York Times. (And yes, also WIRED.) In fact, the only thing they have in common is Fastly, a content-delivery network (CDN) provider whose predawn hiccup reverberated across the internet.

You may not have heard of Fastly, but you likely interact with it in some fashion every time you go online. Along with Cloudflare and Akamai, it's one of the biggest CDN providers in the world. And while Fastly has been vague about what specific glitch caused Tuesday's worldwide disruptions, the incident offers a stark reminder of how fragile and interconnected internet infrastructure can be, especially when so much of it hinges on a handful of companies that operate largely outside of public awareness.

Special Delivery

To understand how a Fastly problem can quickly become everyone's problem, it's worth spending a minute on the role CDNs play in the internet ecosystem. While it's tempting to think of the internet as amorphous'--they even call it ''the cloud'''--the articles you read, the movies and songs you stream, the photos you post, they all live on physical servers. And while that content might be primarily hosted on a cloud provider, you still need a way to get it to people quickly and efficiently.

That's where a CDN comes in. By operating servers around the globe, CDNs can whittle down the distance between your smartphone and the internet experience of your choice. Think of it as the internet's equivalent of a relay man in baseball: Rather than try to throw the ball to home plate on their own, an outfielder will instead toss it to an infielder, who in turn fires it to the catcher. It's faster and more efficient.

''It basically enables really high performance for content, whether that's streaming video or a site or all the little images that pop up when you go to an ecommerce site,'' says Angelique Medina, director of product marketing at the network monitoring firm ThousandEyes. ''Serving it really close to the user takes away a lot of the load time, and it enables everyone to have a really great experience when they're surfing the web.''

Take this article that you're reading right now. Chances are you're reading a copy of it held in the cache of what's known as a ''point of presence,'' a server somewhere in your region. A Fastly network map indicates that the company operates POPs in at least 58 cities around the world, including multiples in densely populated areas like Los Angeles, London, and Singapore. It lists their combined global capacity at a whopping 130 terabits per second.

Global users attempting to reach Reddit.com****, served by Fastly's CDN service.

Courtesy of ThousandEyesAnd that's not all! CDNs don't just store content closer to the devices that crave it. They also help direct it across the internet. ''It is like orchestrating traffic flow on a massive road system,'' says Ramesh Sitaraman, a computer scientist at the University of Massachusetts at Amherst who helped create the first major CDN as a principle architect at Akamai. ''If some link on the internet fails or gets congested, CDN algorithms quickly find an alternate route to the destination.''

So you can start to see how when a CDN goes down, it can take heaping portions of the internet along with it. Although that alone doesn't quite explain how the impacts on Tuesday were so far-reaching, especially when there are so many redundancies built into these systems. Or at least, there should be.

CDNs Consolidated

Again, it's not clear exactly what happened at Fastly. ''We identified a service configuration that triggered disruptions across our POPs globally and have disabled that configuration,'' a company spokesperson said in a statement. ''Our global network is coming back online.''

''Service configuration'' can mean any number of things; the only certainty is that whatever the root cause, it had wide-ranging effects. According to Fastly's incident report page, every continent other than Antarctica felt the impact. Even after Fastly had fixed the underlying issue, it cautioned that users could still see a lower ''cache hit ratio'''--how often you can find the content you're looking for already stored in a nearby server'--and ''increased origin load,'' which refers to the process of going back to the source for items not in the cache. In other words, the cupboards are still fairly bare.

That an outage occurred is surprising, given that CDNs are typically designed to weather these tempests. ''In principle, there is massive redundancy,'' says Sitaraman, speaking about CDNs generally. ''If a server fails, others servers could take over the load. If an entire data center fails, the load can be moved to other data centers. If things worked perfectly, you could have many network outages, data center problems, and server failures; the CDN's resiliency mechanisms would ensure that the users never see the degradation.''

When things do go wrong, Sitaraman says, it typically relates to a software bug or configuration error that gets pushed to multiple servers at once.

Even then, the sites and services that employ CDNs typically have their own redundancies in place. Or at least, they should. In fact, you could see hints of how diversified various services are in the speed of their response this morning, says Medina. It took Amazon about 20 minutes to get back up and running, because it could divert traffic to other CDN providers. Anyone who relied solely on Fastly, or who didn't have automated systems in place to accommodate for the disruption, had to wait it out.

''The outage was the result of monoculture,'' says Roland Dobbins, principal engineer of security firm Netscout. He suggests that every organization with a substantial online presence should have multiple CDN providers to avoid precisely this sort of situation.

Their options, though, are increasingly limited. Just as the cloud has largely been subsumed by Amazon, Google, and Microsoft, three CDN providers'--Cloudflare, Akamai, and Fastly'--dominate the flow of content online. ''There's a lot of concentration of usage within very few service providers,'' Medina says. ''Whenever any one of those three providers has an issue, typically it's not something that lasts a very long time, but it has a major impact across the internet.''

That's a big part, Medina says, of why these sorts of outages have been more frequent of late, and why they'll only continue to get worse. Baseball needs a cutoff man; intersections need traffic cops. The fewer of those there are to rely on, the more connections get missed, and the bigger the crashes.

Additional reporting by Lily Hay Newman.

More Great WIRED Stories

ðŸ'(C) The latest on tech, science, and more: Get our newsletters!One man's amazing journey to the center of a bowling ballThe long, strange life of the world's oldest naked mole ratI'm not a robot! So why won't captchas believe me?Meet your next angel investor. They're 19Easy ways to sell, donate, or recycle your stuff👁¸ Explore AI like never before with our new database🎮 WIRED Games: Get the latest tips, reviews, and more🏃🏽''¸ Want the best tools to get healthy? Check out our Gear team's picks for the best fitness trackers, running gear (including shoes and socks), and best headphones

Our Supporters - National Homelessness Law Center

Tue, 08 Jun 2021 18:59

Akin Gump Strauss Hauer & Feld LLPArent Fox LLP

Baker Donelson

Baker McKenzie

Ballard Spahr LLP

Butler Family Fund

Buck Foundation

Buckley Sandler LLP

Council of Federal Home Loan Banks

Covington &Burling LLP

Crowell & Moring LLPDechert LLPDeer Creek Foundation

Denver Foundation

Dimick Foundation

Fish & Richardson P.C.Fried, Frank, Harris, Shriver & Jacobson LLPThe George Clarence and Dorothy Shaffer Charitable Foundation

Goldman, Sachs & Co.Goodwin Procter LLPThe Herb Block FoundationHogan Lovells

Holland & Knight LLPHuman & Civil Rights Organizations of AmericaKatten Muchin Rosenman LLPImpact FundThe Jordan Company

Anthony Weiner may sell his infamous crotch shot as an NFT

Tue, 08 Jun 2021 18:47

June 7, 2021 | 4:30pm | Updated June 7, 2021 | 5:15pm

''Carlos Danger'' needs some cash '-- and he's only got one thing to sell.

Anthony Weiner is considering a new career in ''political collectibles'' '-- starting with the infamous crotch shot that cost him his seat in Congress.

The several-times disgraced ex-pol said that he's stepping down as CEO of a Brooklyn countertop company '-- a job first revealed by The Post '-- and may instead start selling nonfungible tokens, or NFTs, of various lowlights from his serial-sexting addiction.

Weiner told the New York Times that the digital offerings could include the lewd photo he accidentally tweeted in 2011, a copy of the search warrant for the laptop seized by the FBI during the probe that sent him to prison in 2017 for sexting with an underage girl or the email in which Jon Stewart apologized for making jokes at his expense.

NFTs have exploded in popularity since their recent introduction, with Christie's selling one by the digital artist known as ''Beeple'' for $69 million in March.

''Cashing in would be nice,'' Weiner said in a report posted online Sunday.

Anthony Weiner resigned from Congress in 2011 over the Twitter scandal. William FarringtonWeiner, 56, said the move could not only let him ''sell my stuff'' but also ''create a new category that lets people buy and sell political collectibles as a form of political fund-raising and contributing.''

Weiner '-- who torpedoed his political comeback by sexting under the name ''Carlos Danger'' while running for mayor in 2013 '-- vowed last year to never run for office again.

He told the Times, ''I'd be really good as a campaign manager,'' if not for his notoriety and said that while he'd given some mayoral candidates informal advice, ''I don't talk about which ones, because it would hurt them.''

Weiner said being forced to register as a Level 1 sex offender would make it difficult to find another job after he leaves IceStone, which he said he's in the process of converting into a ''worker-run cooperative.''

Anthony Weiner may start selling NFTs of lowlights from his serial-sexting addiction. REUTERS/Jefferson Siegel''It's very narrow '-- the places that I can work without having The New York Post just make everyone's life miserable,'' he said.

Weiner said he wants to write a book about sex addiction to help others like him and has an agent shopping a proposal.

He also said he's in a 12-step program for his addiction, but one of the rules is that '-- like ''Fight Club'' '-- he can't talk about it.

Outage at cloud service company Fastly briefly brings down numerous websites, including CNN, New York Times, Reddit - Baltimore Sun

Tue, 08 Jun 2021 18:29

Dozens of websites briefly went offline around the globe Tuesday, including CNN, The New York Times and Britain's government home page, after an outage at the cloud computing service Fastly, illustrating how vital a small number of behind-the-scenes companies have become to running the internet.

The sites that could not be reached also included some Amazon pages, the Financial Times, Reddit, Twitch and The Guardian.

San Francisco-based Fastly acknowledged a problem just before 6 a.m. Eastern. About an hour later, the company said: ''The issue has been identified and a fix has been applied.''

Most of the sites soon appeared to be back online.

Fastly said it had identified a service configuration that triggered disruptions, meaning the outage appeared to be caused internally. Brief internet service outages are not uncommon and are only rarely the result of hacking or other mischief.

Still, major futures markets in the U.S. dipped sharply minutes after the outage, which came a month after a cyberattack forced the shutdown of the biggest fuel pipeline in the U.S.

Fastly is a content-delivery network, or CDN. It provides vital but behind-the-scenes cloud computing ''edge servers'' to many of the web's popular sites. These servers store, or ''cache,'' content such as images and video in places around the world so that it is closer to users, allowing them to fetch it more quickly and smoothly.

Fastly says its services mean that a European user going to an American website can get the content 200 to 500 milliseconds faster.

Internet traffic measurement by Kentik showed that Fastly began to recover from the outage roughly an hour after it struck at mid-morning European time, before most Americans were awake.

''Looks like it is slowly coming back,'' said Doug Madory, an internet infrastructure expert at Kentik. He said ''it is serious because Fastly is one of the world's biggest CDNs and this was a global outage.''

Breaking News Alerts Newsletter

As it happens

Get updates on the coronavirus pandemic and other news as it happens with our free breaking news email alerts.

Fastly stock jumped more than 6% by midday as investors shrugged off the problem.

The impact of Fastly's trouble highlights the relative fragility of the internet's architecture given its heavy reliance on Big Tech companies '-- such as Amazon's AWS cloud services '-- as opposed to a more decentralized array of companies.

''Even the biggest and most sophisticated companies experience outages. But they can also recover fairly quickly,'' Madory said.

When the outage hit, some visitors trying to access CNN.com got a message that said: ''Fastly error: unknown domain: cnn.com.'' Attempts to access the Financial Times website turned up a similar message, while visits to The New York Times and U.K. government's gov.uk site returned an ''Error 503 Service Unavailable'' message, along with the line ''Varnish cache server,'' which is a technology that Fastly is built on.

Down Detector, which tracks internet outages, posted reports on dozens of sites going down.

Frank Bajak in Boston and Zen Soo in Hong Kong contributed to this report.

Uncle Sam recovers 63.7 of 75 Bitcoins Colonial Pipeline paid to ransomware crew ' The Register

Tue, 08 Jun 2021 14:44

The US Department of Justice on Monday said it has recovered 63.7 Bitcoins, right now worth $2.1m and falling, of the 75 or so BTC the Colonial Pipeline operators paid the ransomware miscreants who infected the fuel provider's computers.

Deputy Attorney General Lisa Monaco said Colonial contacted the Feds shortly after some of its internal IT systems were infected by the extortionware in early May, causing a temporary halt in operations. The days-long shutdown of the pipeline, which supplies a good chunk of the US East Coast, led to panic buying and some gas pumps running dry.

A ransom of about $5m or 75 BTC was paid to the Darkside crew behind the attack.

It turns out the Feds were able to trace this payment through multiple transactions to "a specific address, for which the FBI has the 'private key','' the DoJ said. "This Bitcoin represents proceeds traceable to a computer intrusion and property involved in money laundering, and may be seized pursuant to criminal and civil forfeiture statutes."

How the FBI had this private key is not entirely clear: it could be that the Feds were able to gain access to a system hosting the key. It could be that someone gave them the key, or that the bureau got the key from them. Darkside complained in the middle of May that its servers had been seized and its money taken.

So it is quite possible Darkside's infrastructure was commandeered by the Feds, who were able to return the 75 BTC ransom minus the fee already paid by the ransomware gang to their affiliate that did the actual job of infecting the Colonial Pipeline's computers '' which was said to have occurred via a compromised VPN account.

This court filing [PDF] goes into more detail on how agents traced the ransom payment.

"It's not the first time that the government has ever seized cryptocurrency in connection with ransomware attacks," said Monaco. "This is the first such seizure that the ransomware and digital taskforce has undertaken."

The Deputy AG continued that the Bitcoin seizure '' authorized by a magistrate judge in California '' was only possible because the Colonial Pipeline's operators got the FBI involved early in the process. She urged other victims of ransomware to come forward: there was no guarantee funds could be found and returned, she said, though cooperation was vital to slow the spread of the malware.

JBS Foods ransomware gang: White House 'engaging directly' with Russia about attack on massive meat producerThe policy of truth: As ransomware claims rise, what's a cyber insurer to do?We're right behind Computer Misuse Act reforms for busting ransomware gangs, says UK infosec industryAmerican insurance giant CNA reportedly pays $40m to ransomware crooks''For financially motivated cybercriminals, especially those presumably located overseas, cutting off access to revenue is one of the most impactful consequences we can impose,'' said FBI Deputy Director Paul Abbate at a press conference on Monday. "We can have an immediate and permanent effect on ransomware." ®

Jon Rahm's vaccine choice costly as he's roasted, defended on Twitter

Tue, 08 Jun 2021 14:30

COLUMBUS, Ohio '' Golf and business have always gone hand-in-hand, with hammered drives sharing workspace with handshake deals.

So let's speak the language of corporate attorneys and CEO consultants: Jon Rahm made a bad business decision.

If Rahm had been vaccinated ASAP after his home state of Arizona opened eligibility to all adults on March 24, the 26-year-old Spaniard almost certainly would have avoided testing positive for COVID-19 Saturday at the Memorial Tournament.

And had he not tested positive, he would not have withdrawn from the Memorial, which he led by six shots with 18 left to play.

And if he had not withdrawn, Rahm stood a strong chance of leaving Muirfield Village Golf Club with a crystal trophy and $1.675 million.

It does not take a Fortune 500 company accountant to connect those dots. Get a tiny prick in the arm, avoid the huge hole in the pocket that allowed a cool million-and-a-half to slip through.

''(Getting vaccinated) is a business decision in many ways,'' said Jack Nicklaus, CEO of Golden Bear Enterprises who I hear was pretty good at golf. ''There's no hassle to it after you get it.''

There's also little hassle to getting it in the first place. Tour player apologists will point out that traveling pros are too busy to fit a vaccine appointment into their schedules. Bunk. The tour offers vaccinations on Fridays to players missing the cut and on Sundays after their rounds. If you want it, you can get it.

We don't know if Rahm wanted it, or if he had received the vaccine but had not yet reached the typical two-week ''all-clear'' period. What is certain is that he was not fully vaccinated, or the tour would not have tested him all week after learning on Monday that he had recently come into close contact with someone who was COVID-19 positive.

In other words, losing out on a probable hefty payday was avoidable. That's being objective, even if it makes you squirm. The point is not to sound unsympathetic or to shame the anti-vax crowd, but simply to illustrate that actions '-- or in this case inaction '-- have consequences.

Beyond that, what happened to Rahm reminds us that COVID-19 will always try to get the last laugh. It's not enough for the pandemic to kill and injure. It also creates an us-against-them political culture that turns brother against brother. The COVID-19 Civil War.

Twitter was on fire immediately after Rahm's forced withdrawal, with one side defending him by criticizing tour rules '-- and by extension the CDC '-- as overly strict and ultimately pointless. They reasoned, ''Why can't Rahm play the final round by himself?''

Answers:

1. Making an exception for Rahm would be unfair to the other three tour players who were forced to withdraw after testing positive during an event since the tour returned to competition one year ago.

''Jon is a big boy and understands we have rules, and unfortunately rules are something you may not like but they are the rules we have right now and you have to abide by them,'' Nicklaus said, adding that tour commissioner Jay Monahan feels the same way. ''Whether he would have shot 64 (Saturday) or 74, the same result would have come out for him.''

2. Competitive equity. Sending Rahm out as a single would create advantages not available to other players participating as twosomes.

Rahm also had his Twitter haters who ripped him personally, their attacks based on the player's vaccine decision-making.

Lost in the social media cacophony is that compassion and accountability are not mutually exclusive. One can sympathize with Rahm even while admonishing him. It is both/and, not either/or.

Case in point: Only a hardened heart would take pleasure in watching Rahm double over in anguish just off the 18th green upon learning from a tour official immediately after completing his Saturday round that he had tested positive and would need to withdraw.

But it's also OK to point out that Rahm knew that testing positive was a possibility after, as Nicklaus put it, ''He put himself into a position to get exposed. How, I don't know.''

But Nicklaus was both careful and correct not to unload on the defending Memorial champion. Both/And.

''He knew all week, was monitored all week,'' Nicklaus said, referring to Rahm having been subject to contact-tracing protocols.

Rahm tested negative every day until Saturday, when a test he took after his weather-delayed round on Friday came back positive at 4:20 p.m. Saturday.

''He never went into the clubhouse and stayed away from everybody, because he knew he was exposed," Nicklaus said. "Then when he tested (positive) '... everybody here is devastated. Just a terrible thing to have happen.''

Actually, Rahm didn't stay away from everybody. About nine hours before receiving news of the positive test, he spent a few minutes answering questions, unmasked, two feet from my fully-vaccinated face. Didn't bother me, but I also did not know he would soon test positive. I'm still not that bothered, but it makes you think.

Being a business, it also has to make unvaccinated tour players rethink about getting the shot.

''Maybe so, yeah,'' Nicklaus agreed.

Andy Levinson, the tour's senior vice president of tournament administration, said the percentage of tour players fully vaccinated is ''north of 50 percent.''

Expect that number to jump in the coming weeks. After all, it's not personal. It's business.

Follow Rob Oller on Twitter @rollerCD

American birders have their own racial reckoning. Audubon is at the center of it. - Washington Post

Tue, 08 Jun 2021 14:28

Corina Newsome is a Black ornithologist, as rare as some of the birds she studies.

When she joined Georgia Audubon last year, the group's executive director called her hiring a first step to ''begin working to break down barriers'' so that people from all communities can fully enjoy birding and the outdoors.

But overcoming those barriers will be daunting. As with the wider field of conservation, racism and colonialism are in ornithology's DNA, indelibly linked to its origin story. The challenge of how to move forward is roiling White ornithologists as they debate whether to change as many as 150 eponyms, names of birds that honor people with connections to slavery and supremacy.

The Bachman's sparrow, Wallace's fruit dove and other winged creatures bear the names of men who fought for the Southern cause, stole skulls from Indian graves for pseudoscientific studies that were later debunked, and bought and sold Black people. Some of these men stoked violence and participated in it without consequence.

Even John James Audubon's name is fraught in a nation embroiled in a racial reckoning. Long the most recognized figure in North American birding for his detailed drawings of the continent's species, he was also an enslaver who mocked abolitionists working to free Black people. Some of his behavior is so shameful that the 116-year-old National Audubon Society '-- the country's premier bird conservation group, with 500 local chapters '-- hasn't ruled out changing its name. An oriole, warbler and shearwater all share it.

''I am deeply troubled by the racist actions of John James Audubon and recognize how painful that legacy is for Black, Indigenous and people of color who are part of our staff, volunteers, donors and members,'' interim chief executive Elizabeth Gray said in a statement in May. ''Although we have begun to address this part of our history, we have a lot more to unpack.''

For Newsome, community engagement manager for Georgia Audubon, the pain is real. When she first wore her organization's work shirt, ''I felt like I was wearing the name of an oppressor,'' she said, ''the name of someone who enslaved my ancestors.''

She and other ornithologists of color deal with added layers of discomfort while doing research. Alex Troutman, a Black graduate student at Georgia Southern University, says he goes out of his way to smile and wave at every White passerby when he's in a marsh or field ''to appear as least threatening as possible'' and ease suspicions that he shouldn't be there.

Offensive eponyms compound that sense of not belonging. Despite professional and amateur birding groups' declared commitment to diversity, only two names have been discarded.

The Townsend's warbler and the Townsend's solitaire still invoke John Kirk Townsend, whose journals detail his exploits in traditional Native Americans burial grounds in the West. Townsend, a Philadelphia-born ornithologist in the early 1800s, dug up and collected skulls for studies that sought to prove the inferiority of Indigenous people.

The Wallace's owlet and five other birds honor Alfred Russel Wallace, a British naturalist, explorer and anthropologist credited, along with Charles Darwin, for conceiving the theory of evolution through natural selection. Wallace's writings frequently used the n-word, including in reference to the ''little brown hairy baby'' he boasted about caring for after fatally shooting her mother during an 1855 trip to the Malay Archipelago. Some historians believe they were orangutans.

Three birds, including the crimson Jameson's firefinch, are named after another British naturalist involved in a heinous act committed against a young girl he purchased as ''a joke'' in 1888 during an expedition in Africa. James Sligo Jameson wrote in his journal that the girl was then given to a group of natives described to him as cannibals. He drew sketches of the child being stabbed and dismembered.

''Conservation has been driven by white patriarchy,'' said J. Drew Lanham, a Black ornithologist and professor at Clemson University in South Carolina, ''this whole idea of calling something a wilderness after you move people off it or exterminate them and that you get to take ownership.''

Lanham views the issues as part of a much larger historic pattern, one connected to the White enslavers who renamed Africans kidnapped from that continent's West Coast. ''They renamed an entire people'' '-- cancel culture on a global scale, he noted.

In Honolulu, ornithologist Olivia Wang is equally harsh. She regards the honorifics that birds carry with disdain.

''They are a reminder that this field that I work in was primarily developed and shaped by people not like me, who probably would have viewed me as lesser,'' said Wang, an Asian American graduate student at the University of Hawaii. ''They are also a reminder of how Western ornithology, and natural exploration in general, was often tied to a colonialist mind-set of conquering and exploiting and claiming ownership of things rather than learning from the humans who were already part of the ecosystem and had been living alongside these birds for lifetimes.''

Indeed, White explorers, conservationists and scientists who crossed the world conveniently ignored the fact that birds had been discovered, named and observed by native people for centuries before their arrival.

To the Cherokee, eagles are the aw'hili and crows are kg>>. The English common name for the chickadee is a butchered translation of the Cherokee name, ts¯k¯l¯l¯. Similar-sounding names for other birds that English speakers renamed or mispronounced are scattered throughout East Coast tribes.

Europeans named birds as though they were human possessions, but American Indians regard them differently. The red-tail hawk in some languages is uwes' la' oski, a word that translates to ''lovesick,'' because one of its calls sounded like a person who lost a partner.

''A whole lot of Native people, in thinking about birds, don't open a book of science. Their book of science is in the knowledge possessed by people in generations before them, the elders,'' said Shepard Krech III, a professor emeritus at Brown University and author of ''Spirits of the Air.''

Bird lovers have agitated to change eponyms linked to racists for several years but have encountered resistance.

It would cause confusion in the profession and among casual birders, opponents said. Books and ledgers would have to be revised, and people would have to learn new names. Only twice have such objections been overcome and the American Ornithological Society approved a switch. The first was for the oldsquaw, a species of waterfowl now known as the long-tailed duck. And last summer, the McCown's longspur became the thick-billed longspur '-- the first time a name with a Confederate past was dropped.

By then, a confrontation in New York City had linked race and birding in an ugly way. In May 2020, Christian Cooper, a Black birder in Central Park, was falsely accused of threatening behavior by a White woman who called police on him after he asked her to leash her dog.

For the leaders of Audubon, the American Ornithological Society and the Cornell Lab of Ornithology, among other groups, systemic racism had hit home.

At the same time, activists in the ranks were growing more aggressive in opposing the eponyms. One of the loudest voices was that of Jordan Rutter, a White co-founder of Bird Names for Birds. She wanted to upend the society committee that names a species and reconsiders historic names.

''White people are credited for discovering [the birds]. White people were the ones to name the birds after other White people. And White people are still the folks that are perpetuating these names,'' Rutter said in a recent interview.

A decade ago, that same committee unanimously refused to rename the Maui parrotbill, criticizing the proposed kiwikiu as ''contrived,'' ridiculous and hard to pronounce. As part of last year's awakening, activists sought an actual transcript of the debate but were denied. ''I called out the AOS and NACC for censoring some racist and offensive comments the [committee] made when discussing the '... proposal,'' Wang said, referring to the American Ornithological Society and its North American Classification Committee.

The society has since publicly apologized for those and other insensitive comments.

It is clear that leaders in the profession are listening more closely to the protests '-- and preparing to act. Audubon and the American Bird Conservancy, where Rutter works, have looked inward at their near-total lack of diversity and vowed to change. The American Ornithological Society pledged to ''redoubl[e] our efforts toward making ornithology, birding, and access to the natural world equitable and inclusive.''

This spring, society president Mike Webster announced that the internal group responsible for bird names will now be guided by an advisory committee composed of people of different backgrounds '-- although 13 of the 17 advisers are White and the ethnicities of the four others have not been identified.

The new panel is ''not just because we want to feel good about ourselves,'' said Webster, who is White. ''We see it [as] critically important to understanding and conserving birds. It's critically important that we have a diversity of people out there doing it.''

A virtual panel discussion took place in April. Every major birding organization was represented, and 535 people joined from around the country as a majority of the panelists '-- nearly all of them White '-- agreed that it was time to move beyond racist eponyms.

Jeff Gordon, president of the American Birding Association, stressed that North America lost 3 billion birds over the past 50 years and that saving what's left will need people of every ethnicity and background to be involved. ''The biggest threat birds face '... [is] being ignored to death,'' he said. ''Not enough people know and not enough people care.''

There is no timeline for decisions about the worst eponyms, but the discussion seems unlikely to wane, given participants such as Rutter and Newsome. Within days of the incident in Central Park last year, Newsome helped organize a very public declaration dubbed Black Birders Week '-- an event that quickly became a viral movement. By happenstance, it took place amid nationwide demonstrations and calls for racial justice following George Floyd's death under the knee of a Minneapolis police officer.

The 28-year-old again took part in this year's Black Birders Week, which began last weekend. She is encouraged by ornithology's increasing focus on diversity and racism. She hopes it will soon extend to what the National Audubon Society and its chapters call themselves. ''I believe they should both absolutely change the name. It feels wrong to enter African American communities '... celebrating [Audubon's] name,'' she said. ''It's a reality I am wrestling with constantly.''

Yet far more progress is needed. Heads still turn when Newsome is in the field, observing birds. ''I'm always questioned, in a seemingly friendly way, 'Oh, what are you doing out here?' ''

On urban and rural trails, she quickly lifts her binoculars when she sees White people do a double-take. In a scorching Georgia marsh where she slogs through muck to study a seaside sparrow, she shifts heavy equipment to the side of her body that faces the roadway so suspicious White motorists ''won't think I'm doing something illegal and make trouble for me.''

Across the muddy water is the Brunswick neighborhood where Ahmaud Arbery, a Black jogger, was chased down and fatally shot in February 2020. Three White men have been indicted in the case. Newsome remembers driving past the neighborhood after the killing as she again headed toward the marsh.

''I felt like my soul couldn't take being there anymore,'' she said. ''Like a Black person can't even be what they're called to be without encountering such violence.''

correctionAn earlier version of this article incorrectly identified the location of an 1855 expedition by Alfred Russel Wallace as Africa; it was the Malay Archipelago. In addition, some historians believe that the mother and baby Wallace wrote about in demeaning human terms during his trip were orangutans. The story has been corrected.

About this storyStory editing by Susan Levine. Photo editing by Olivier Laurent. Copy editing by Carrie Camillo. Design and development by Leo Dominguez.

Bird photos by iStockphoto/Getty Images.

New Pandemic-Era Accessory: A Bracelet That Signals Your Boundaries - WSJ

Tue, 08 Jun 2021 14:22

The Chesterfield Chamber of Commerce in Virginia has restarted its in-person business networking events. Handshakes, back slaps and close talkers are optional these days.

Instead, attendees at the group's events are encouraged to select a new pandemic-era accessory: brightly colored wristbands or stickers that signal whether they want others to come physically close or stay the heck away.

A plastic display sign provides the code, modeled on traffic lights: Red means ''no contact'' with ''no exceptions.'' Yellow means ''elbow only,'' as in stick to the elbow bump, pal. As for green, the sign says: ''Hugs welcome.''

''The greens are just ready to party,'' says Danielle Fitz-Hugh, the president of the chamber, near Richmond.

Others, meanwhile, stand off to the side of the room. ''I'm always like, 'Why are you over here?', '' says Ms. Fitz-Hugh. ''They'll say, 'I'm a red.' ''

Americans are returning to offices, trade shows, meet-and-greets and wedding receptions, but individual needs for personal space aren't the same after a long hiatus from face-to-face schmoozing and socializing. Some guests are ready to lean in for group photos. Others favor an extremely distant air kiss or a wave from afar.

Office managers, convention planners and party hosts are distributing color-coded wristbands, stickers or lanyards designed to signal preferences without the awkward conversations. But the new system has created plenty of its own new awkwardness. Having so many colorful characters in one place gets complicated.

Carefree greens can overwhelm the reds, who are often hiding in the corner, throwing shade on the group. Ambivalent yellows might act red around some guests and green around others. Then there are the chameleons'--people-pleasers who can't commit to any particular hue, and don red, green and yellow wristbands all at once.

Patrick McFadden, the chief executive officer of Indispensable Marketing, chooses a yellow sticker when he goes to the Chesterfield Chamber's events. He says he's fine swapping elbow or fist taps, but he doesn't want others breathing on him. Not everyone gets the message.

''You do have those people who ignore stickers,'' he says. ''You get the frequent hugger who doesn't care.''

For his part, he says, he's still trying to figure out the red-sticker group, or what he calls ''the six-feet perimeter person.'' He has to stand back and raise his voice to chat.

''It's hard to network with that person,'' he says. ''You're like 'SO, WHAT DO YOU HAVE GOING ON?' ''

''It just looks weird,'' he says.

The new stickers and wristbands are typically optional, though organizers say they are quite popular. Still, correctly ordering social-distancing supplies is no black-and-white matter.

At the Southeast Chapter of the American Association of Airport Executives' annual conference in Savannah, Ga., in late March, the 325 attendees could grab a rubber wristband from one of three big glass bowls. Placards explained the meaning of each:

Green was for those ''Celebrating like it's 2019.''

Yellow: ''2020 has me confused.''

The sign for red was sadder: ''Wake me up in 2022.''

Organizers had brought an equal number of each hue, but the crowd'--many of them masked'--was more ready to press the flesh than predicted. Demand exceeded the supply of green wristbands just hours into the registration, says Lenard Robinson, the co-chair of the conference and a facilities director at the Savannah/Hilton Head International Airport.

''Y'all really missed us,'' he says he thought to himself.

Mr. Robinson, meanwhile, says he is a social butterfly who couldn't pick just one color of wristband.

''I'm an all-three wearer,'' he says. ''I look at what other people have on their wrist and depending on what they had, was how I related: hug or handshake or wave from afar.''

''I'm more of a yellow,'' says his conference co-chair Meghan Dunn, a manager at the Savannah Airport Commission who wore that color but says she stayed nimble in her behavior: ''For individuals I knew, it was more of a green.''

Ms. Dunn ordered those wristbands off Amazon from one of several purveyors of social-cues accessories.

Elation Factory Co. in Houston, a producer of decorations and other event-related materials, pivoted to making ''sneeze guards'' for the beauty industry in the pandemic. ''It was a natural evolution to start selling social distancing signs,'' says co-owner Ron Pollvogt.

The company offers a ''social distancing event kit'' that it says ''allows guests to, quite literally, read the room.'' It comes with color-coded wristbands and a sign, and is also available in Spanish, Mandarin and Vietnamese.

Customers can choose signs with standard messages, such as ''Okay with talking but not touching'' or the company will personalize them. Mr. Pollvogt said buyers have ordered signs with directives from ''Distance makes the heart grow fonder'' to ''Six feet, bitches!''

Denver wedding planner Brynn Swanson says her clients like color-coded wristbands as a way to avoid ''that uncomfortable conversation with Aunt Judy at the bar.''

''Though I will say that once a few drinks get poured, all bets are off and everyone is hugging anyway,'' she says.

Wintrust Financial Corp. , based in Rosemont, Ill., recently started distributing green, yellow and red social-distancing wristbands as an option for the growing number of employees returning to the office, says Norah Larke, chief human resources officer. (Green is ''high-fives and handshakes.'')

''It's kind of cheesy but it sends the right message,'' she says.

In Virginia, the Chesterfield chamber initially offered only the color-coded wristbands, but they would get covered up by long sleeves and people would be struggling to see the color, says Ms. Fitz-Hugh. They are also a bit too casual and ''a little itchy,'' says Brad Strouse, chairman of the chamber's board of directors. So the chamber later added the stickers.

Mr. Strouse, a producer and consultant with ECE National, an entertainment firm, saw a lot of green stickers at the chamber's recent luncheon in May, but says he's still a yellow sticker, meaning an elbow-bump guy.

''You do have people who reach out to shake your hand,'' he says. ''And you point to the sticker.''

Some Chesterfield chamber attendees have changed colors over time. Mark Bowen, the marketing and operations director for Westchester Commons, a shopping center, put a yellow sticker on his badge at an April chamber event. ''It let people know that I was not quite there yet,'' he says. ''It was fistbumps; it was elbows. Air high-fives.''

In late May, now fully vaccinated, he went with a green sticker for an event.

''It really was refreshing,'' he says. ''When they see green, they're gonna come right up.''

Write to Jennifer Levitz at jennifer.levitz@wsj.com

Germany, exasperated by Hungary's Mr No, seeks to end individual nations having a veto over EU foreign policy '-- RT Op-ed

Tue, 08 Jun 2021 14:02

Damian Wilson

is a UK journalist, ex-Fleet Street editor, financial industry consultant and political communications special advisor in the UK and EU.

is a UK journalist, ex-Fleet Street editor, financial industry consultant and political communications special advisor in the UK and EU.

The frustrated German foreign minister rages about being held 'hostage' by smaller, troublesome countries like Viktor Orban's. But he needs to remember why the veto exists: for democracy's sake.

The Germans, we must honestly believe, do try to rein in their exuberance for ensuring order, a treasured national characteristic that when exposed to wary foreigners can sometimes land the unfortunate Deutschlanders in die ScheiŸe.

But German Foreign Minister Heiko Maas, speaking at this year's conference of Germany's ambassadors in Berlin (now there's a hot Zoom ticket), was clearly so incensed that any attempt to deploy such caution went out the window.

As he bemoaned the problems of creating a cohesive European Union foreign strategy when irritating individual states have a veto over policy, he complained: ''We can't let ourselves be held hostage by the people who hobble European foreign policy with their vetoes. If you do that then sooner or later you are risking the cohesion of Europe. The veto has to go, even if that means we can be outvoted.''

Also on rt.com EU anger over Hungary's veto on migrants reveals how developing countries are being exploited in trade deals So let's make sure we have this hat on straight. Maas is annoyed that the 27 member states must all agree on foreign policy before it is implemented and that just one member (Hungary! Sit up straight there in the back of the class!) can scupper all the carefully crafted intentions, the months of diplomatic receptions and the backroom promises just by using their veto.

And that, he thinks, is wrong. I'm not so sure Heiko Maas has read the chapter on democracy in his 'How To Be A Good European' handbook.

While Brussels loves nothing more than to boss around errant states '' think Britain, think Hungary, think Poland '' it is the existence of the veto that prevents the more single-minded or even timid member states from simply being overrun by the demands and grand schemes of more populous and politically dominant nations. Think Germany. Think France.

The veto is democracy's lifeline.

Since its inception, the EU has striven for 'ever closer union' but even while sharing the broader principles of that ideal the veto has allowed member states to express their own identities, to provide an antidote to European hegemony and grant a voice even to the smallest of minorities.

It's not uncommon, although it might be unfair, to hear people refer to the European Union as nothing more than a German guilt project. Billions and billions of Euros spent and endorsed by a country trying to compensate for its central role in two World Wars. As the only genuine economic powerhouse in the bloc and the highest net contributor to the project by more than ''¬17.2 billion '' that's ''¬10 billion more than second-placed France '' current figures show it certainly does more than its share of the financial heavy-lifting.

Also on rt.com Hey EU! Lay off Hungary's Viktor Orban simply because he rejects modern liberal ideas in favor of a different democratic route Sometimes, however, and this is one of those times, there is a glimpse of good ol' Teutonic impatience with the behaviour of the ill-disciplined monster they were so integral in creating. The veto gives troublemakers like Hungarian Prime Minister Viktor Orban, a deft and canny political operator, scope to upset the consensus and block its plans by stubbornly holding out on agreement.

Most recently, he's played the veto card over an EU statement on China's security law in Hong Kong, on the EU trade and development accord with African, Caribbean and Pacific countries, and also held back on an EU call for a truce between Israel and the Palestinians, all much to the annoyance of the Germans.

And it's these annoyances that make those who dream of a single, global and wide-reaching EU foreign policy '' ie: the bigger nations '' absolutely furious. It denies them the opportunity to present a unified front alongside the superpowers '' of which they imagine they are one.

That's why the EU is delighted to be invited to the G7 summit in the UK this week, even if it's only there as a 'Plus One' to France, Germany and Italy (US, Canada, Japan and Britain make up the septumvireate), because that is perceived as a universal endorsement of its own special status.

The reality back in Brussels is that this special status ain't all that, as the kids, and maybe Budapest, would say. The veto serves as an unwelcome reminder that they are probably right.

If you like this story, share it with a friend!

The statements, views and opinions expressed in this column are solely those of the author and do not necessarily represent those of RT.

(1) U.S. move to double tariffs on Canadian softwood lumber is 'egregious,' says BC Lumber Trade Council | Globalnews.ca

Tue, 08 Jun 2021 13:45

By Staff The Canadian Press

Posted May 21, 2021 4:19 pm

Updated May 21, 2021 4:44 pm

The president of the BC Lumber Trade Council says a move by the United States to double tariffs on Canadian softwood lumber is ''particularly egregious'' given current record high lumber prices.

Susan Yurkovich says the dramatic increase in the ''all others'' preliminary countervailing and anti-dumping rate to 18.32 per cent from 8.99 per cent will hurt American consumers who are faced with a market where prices are at record heights because supply can't keep up with demand.

4:50 Lumber demand and pricing Lumber demand and pricing '' Apr 28, 2021She called on the U.S. industry to end its decades-long campaign alleging Canadian lumber is unfairly subsidized and instead work with Canada to meet demand for ''low-carbon wood products'' the world wants.

Trending Stories

Story continues below advertisement

Read more: Canada to challenge U.S. softwood lumber export duties through World Trade Organization

Former president Donald Trump's administration imposed a 20 per cent tariff on Canadian softwood in 2018, before the onset of the COVID-19 pandemic, but lowered it to about nine per cent late last year after a decision favouring Canada by the World Trade Organization.

1:42 Lumber industry seeing drastic price increase and shortages Lumber industry seeing drastic price increase and shortages '' Apr 10, 2021In a separate news release, Jason Brochu, U.S. Lumber Coalition co-chair, applauded the Commerce Department's commitment to enforce trade laws against ''subsidized and unfairly traded'' Canadian lumber imports.

The coalition says the U.S. industry remains open to a new U.S.-Canada softwood lumber trade agreement ''if and when'' Canada demonstrates it is serious about negotiations.

(C) 2021 The Canadian Press

Ukraine's Zelensky "confused," "disappointed" by Biden pipeline move - Axios

Tue, 08 Jun 2021 13:43

Ukrainian President Volodymyr Zelensky says he learned through the press '-- not any direct heads-up '-- that President Biden had decided to stop trying to block a Russian pipeline that Ukraine sees as a dire national security threat.

Driving the news: Zelensky used an hourlong Zoom interview with Axios on Friday to beseech Biden to meet with him face to face before a June 16 summit with Russian President Vladimir Putin '-- offering to join him "at any moment and at any spot on the planet."

The embattled leader spoke of Putin's psychological pressure campaign; his own anger-turned-disappointment at the U.S.; and his hope that Biden, whom he compares to basketball great Michael Jordan, can still outmaneuver Russia and rescue Ukraine.Why it matters: Russian gas currently flows through Ukraine en route to Europe. Nord Stream 2, a Russia-to-Germany natural gas pipeline, would allow Russia to circumvent and isolate Kyiv, Ukraine's capital. Zelensky said the U.S. is the only power capable of stopping Russia.

"This is a weapon, a real weapon ... in the hands of the Russian Federation," he said. "It is not very understandable ... that the bullets to this weapon can possibly be provided by such a great country as the United States."Putin is already wielding his additional leverage over Ukraine. The Russian president said on Friday that Ukraine must show good will if it still wants Russian gas to pass through the country.What they're saying: "The State Department has regularly engaged with Ukrainian officials regarding Nord Stream 2. Prior to the transmission of the most recent report to Congress, the State Department notified the Ukrainian ambassador in Washington and senior officials in Kyiv, including the president's chief of staff, of the contents of the report," a White House spokesperson told Axios.

"The administration is committed to continuing to consult with Ukraine as we press Germany to address the risks Nord Stream 2 poses to Ukraine and European energy security. We also welcome Ukraine's direct engagement with the German government about their concerns.""When President Biden meets with President Putin in Geneva, he will stand up for Ukraine's sovereignty and territorial integrity, as he has done in both of his earlier calls to President Putin."An administration source said the White House was considering inviting Zelensky to Washington before Biden's summit with Putin but declined to move ahead with the meeting after Zelensky's decision to replace the management of state energy company Naftogaz. That move led to concerns in the administration he was backsliding on anti-corruption efforts.Where things stand: Putin announced Friday the first of two lines is complete and said energy giant Gazprom is "ready to start filling Nord Stream 2 with gas."

The White House has called the pipeline "a Kremlin geopolitical project that threatens European energy security." But Biden nonetheless backed off U.S. sanctions on the company working to finish the pipeline.Zelensky said he has moved past anger and would now describe his feeling as one of disappointment.Behind the scenes: Zelensky says Biden had offered him "direct signals" that the U.S. was prepared to block the pipeline. Then came the news that Biden would be waiving the sanctions.

Zelensky said he had to listen to a White House press briefing to obtain an explanation: The administration said the pipeline was already nearly complete and cited the importance of good relations with Germany.Zelensky said he understands the importance of that relationship, but he asked: "How many Ukrainian lives does the relationship between the United States and Germany cost?"Zelensky says he is "positive" Biden could still stop the pipeline. "I still believe, after all, that Biden is a Jordan in politics," he said.

He recalled how Michael Jordan would lull opponents into a "false sense of victory" then "grab the victory at the very last minute.""If this is not the case, that will be a great pity, not only for me," he said. "There will be a feeling that in these circumstances Russia will have a great chance to prevail over the United States."The White House says it proposed the Putin summit to seek a "stable and predictable" relationship with Putin.

Biden is hardly the first U.S. president to seek that, Zelensky said. "But, if you ask me, the better scenario would be for the U.S. to make it so that Russia starts aiming to forge the relationship with the United States."Zelensky has not enjoyed stability or predictability from Moscow since taking office in 2019. He thinks Russia's recent military build-up on the borders was an attempt to inflict "psychological pressure" but noted that the threat still looms.

Zelensky expressed appreciation for the support Biden offered during that showdown, but he said the Nord Stream decision could "dampen the confidence" Ukrainians feel in the U.S.He also said he's discussed with the Biden administration a "possible increase in military assistance" to expand security in the Black Sea and the Sea of Azov around Ukraine's shoreline. It's unclear whether Biden will follow through on those discussions.What's next: A source familar with the U.S. interactions said they had told the Ukrainian side several days ago they would hold a call this week, as early as Monday. It could be a contentious conversation.

Go deeper: Full interview transcript.

Editor's note: Updates with comment from administration source about dashed plans to invite Zelensky to Washington.

Reiziger verrast door geschuif met PCR-test | Binnenland | Telegraaf.nl

Tue, 08 Jun 2021 13:41

14:37Binnenland

Haagse bronnen: grote delen Itali, Duitsland en Oostenrijk van oranje naar geel, vakanties mogen weerVakantiereizen naar grote delen van Itali, Duitsland en Oostenrijk mogen weer. Het ministerie van Buitenlandse Zaken komt woensdag met een nieuw reisadvies voor Europa, en de drie populaire vakantiebestemmingen gaan van 'oranje' naar 'geel'. De coronacijfers in Itali en Oostenrijk geven aanleiding...

Media in Spain and Russia: Airlines are addressing the problem of blood clots and recommending vaccinated people not to travel

Tue, 08 Jun 2021 13:30

Search Images Maps Play YouTube News Gmail Drive More >> Help | Sign in TranslateView:Translation

Original

From:To:

Medien in Spanien und Russland: Fluggesellschaften gehen das Problem der Blutgerinnsel an und empfehlen geimpften Personen, nicht zu reisen | uncut-news.ch

Tue, 08 Jun 2021 13:24

Keine Vorteile, sondern Einschr¤nkungen: Geimpfte gegen COVID-19 k¶nnen von Flugreisen ausgeschlossen werden! So die Schlagzeile eines russischen Online Nachrichtenportal. Hier direkt Google-¼bersetzt

Oder: Personen, die gegen Coronavirus geimpft sind, k¶nnen von Fl¼gen ausgeschlossen werden. Hier zu lesen

Eine weitere Nachrichtenseite Titelt: Gegen COVID-19-Coronavirus geimpfte wird m¶glicherweise ein Flugverbot verh¤ngt! Hier zu lesen'....

Es gibt noch unz¤hlige weiter Nachrichtenportale, die dieses Thema behandeln.

Spanische Nachrichtenseite: Fluggesellschaften gehen das Problem der Blutgerinnsel an und empfehlen geimpften Personen, nicht zu reisen

Die groŸen Fluggesellschaften der Welt diskutieren, ob es ratsam ist, geimpfte Kunden wegen der Gefahr von Blutgerinnseln durch das experimentelle mRNA-Serum in das Flugzeug zu lassen. Schon seit vielen Jahren gilt, dass Menschen mit einem erh¶hten Risiko f¼r Blutgerinnsel nur unter strenger Aufsicht fliegen d¼rfen.

Mit dem Fliegen unvereinbare Gerinnsel

Es wird empfohlen, dass diese Personen nicht fliegen, es sei denn, sie befinden sich in einer lebensbedrohlichen Situation, denn ab einer bestimmten H¶he besteht f¼r geimpfte Personen die Gefahr von Komplikationen wie Schlaganfall, Thrombose oder Herzinfarkt, wenn sie empfindlich darauf reagieren.

Es gibt mehrere Berichte, die davor warnen, dass diejenigen, die die Injektion erhalten (unabh¤ngig von der Marke), Gerinnungs- und Blutungsprobleme als eine der Hauptreaktionen haben k¶nnen. All diese Reaktionen ¤hneln den Einschr¤nkungen, die seit Jahren f¼r den Passagierflugverkehr gelten. Quelle

In einem russischen Nachrichtenportal heiŸt es: Wer gegen das Coronavirus SARS-CoV-2 geimpft ist, darf m¶glicherweise nicht mehr in Flugzeuge steigen

Der Arzt Evgeny Kovalev sagte dem Public News Service, dass es f¼r diejenigen, die gegen das Coronavirus geimpft wurden, gef¤hrlich sein kann, in einem Flugzeug zu reisen.

In Europa wird bereits die M¶glichkeit diskutiert, Flugreisen f¼r geimpfte Personen zu beschr¤nken. Tatsache ist, dass Coronavirus-Impfstoffe die Funktion beeinflussen, die mit der Blutgerinnung zusammenh¤ngt. Hierdurch besteht ein erh¶htes Thromboserisiko. W¤hrend eines Fluges befinden sich der Reisenden lange Zeit in der Sitz-Position, und das verschlimmert die Situation, erkl¤rte Kovalev.

Er f¼gt hinzu, dass Mediziner sogar den Begriff 'žReisethrombose'' gepr¤gt haben, was nichts anderes bedeutet als ein langes Sitzen im Stuhl. Eine solche Haltung tr¤gt zum Abklemmen der Venen bei. Laut rzten sch¼tzt eine Thrombose einen Menschen vor einem groŸen Blutverlust. Sie gilt als ein normaler Vorgangvorgang, dessen Versagen aber zu irreversiblen Folgen f¼hren kann.

Deshalb r¤t Kovalev Reisenden, nach der Impfung nur in lockerer Kleidung zu fliegen, die Bewegungen nicht behindert. Dar¼ber hinaus sollten die B¼rger der Risikogruppe mehr Wasser trinken. Quelle

Average Carbon Dioxide Levels Increasing Faster Than Ever, NOAA Says

Tue, 08 Jun 2021 13:11

The average rate of carbon dioxide increase is faster than ever and in-air levels are 50 percent higher from when the industrial age commenced, the National Oceanic and Atmospheric Administration said Monday.

The NOAA reported the average carbon dioxide level in May clocked in at 419.13 parts per million. NOAA climate scientist Pieter Tans said this was a 1.82 parts per million increase from May 2020 and 50 percent higher than the 280 parts per million level from before the industrial age.

Carbon dioxide levels are at their highest during the month of May when Northern Hemisphere greenery hasn't yet bloomed and absorbed some of the gas, the Associated Press reported. However, the volume of carbon dioxide consumed by plants is always eclipsed by increasing carbon dioxide emissions year after year from burning fossil fuels, transportation and electricity.

Natalie Mahowald, a Cornell University climate scientist, said the 50 percent increase of in-air carbon levels is "setting a new benchmark and not in a good way."

Best of Newsweek via email

"If we want to avoid the worst consequences of climate change, we need to work much harder to cut carbon dioxide emissions and right away," she said.

For more reporting from the Associated Press, see below:

This 2019 photo provided by NOAA shows the Mauna Loa Atmospheric Baseline Observatory, high atop Hawaii's largest mountain in order to sample well-mixed background air free of local pollution. Heat-trapping carbon dioxide levels in the air peaked in May 2021, in amounts nearly 50 percent higher than when the industrial age began and they are growing at a record fast rate, scientists reported on June 7. Susan Cobb/NOAA Global Monitoring Laboratory/AP PhotoClimate change does more than increase temperatures. It makes extreme weather'--storms, wildfires, floods and droughts'--worse and more frequent and causes oceans to rise and get more acidic, studies show. There are also health effects, including heat deaths and increased pollen. In 2015, countries signed the Paris agreement to try to keep climate change to below what's considered dangerous levels.

The one-year jump in carbon dioxide was not a record, mainly because of a La Nina weather pattern, when parts of the Pacific temporarily cool, said Scripps Institution of Oceanography geochemist Ralph Keeling. Keeling's father started the monitoring of carbon dioxide on top of the Hawaiian mountain Mauna Loa in 1958, and he has continued the work of charting the now famous Keeling Curve.

Scripps, which calculates the numbers slightly differently based on time and averaging, said the peak in May was 418.9.

Also, pandemic lockdowns slowed transportation, travel and other activity by about 7 percent, earlier studies show. But that was too small to make a significant difference. Carbon dioxide can stay in the air for 1,000 years or more, so year-to-year changes in emissions don't register much.

The 10-year average rate of increase also set a record, now up to 2.4 parts per million per year.

"Carbon dioxide going up in a few decades like that is extremely unusual," Tans said. "For example, when the Earth climbed out of the last ice age, carbon dioxide increased by about 80 parts per million and it took the Earth system, the natural system, 6,000 years. We have a much larger increase in the last few decades."

By comparison, it has taken only 42 years, from 1979 to 2021, to increase carbon dioxide by that same amount.

"The world is approaching the point where exceeding the Paris targets and entering a climate danger zone becomes almost inevitable," said Princeton University climate scientist Michael Oppenheimer, who wasn't part of the research.

German Environment Minister Svenja Schulze gives a press conference about the climate protection act in Berlin, on May 12. The German government approved a new law setting more ambitious targets to reduce CO2 emissions, after the country's top court declared a flagship climate law "insufficient." Annegret Hilse/AFP via Getty Images

Feds recover millions from pipeline ransom hackers, hint at U.S. internet tactic

Tue, 08 Jun 2021 13:02

The United States has recovered much of the ransom payment the Russian hacker group DarkSide extorted from Colonial Pipeline this year, the Justice Department said Monday.

The announcement details a rare disruption of the cryptocurrency payment systems favored by hackers that have enabled ransomware efforts around the world.

The FBI was able to seize control of DarkSide's proceeds by gaining access to a central account holding about 63.7 bitcoins, worth around $2.3 million, Deputy Director Paul Abbate said. A court document said that the seizure took place in Northern California, putting it within reach of U.S. law, and that the FBI was able to access the "private key," or password, for one of the gang's bitcoin wallets. It was unclear how the key was compromised.

Elvis Chan, an assistant special agent in charge at the FBI's San Francisco office, said in a news call Monday that the funds were specifically seized from hacker subcontractors who had used the DarkSide ransomware to hack Colonial.

He declined to give specifics of how the FBI was able to gain access to the wallet, but he said it did not rely on waiting for criminals to use U.S. cryptocurrency services. It did, however, rely on the fact that so much internet infrastructure is based in the U.S., where the FBI can get warrants.

"I don't want to give up our tradecraft in case we want to use this again for future endeavors," he said.

DarkSide hacked into Colonial in April as part of a monthslong crime spree, leading the company to shut down operations. The group demanded $4.4 million in ransom, which the company quickly paid. DarkSide's decryptor program was so slow that Colonial ended up not using it and instead restored its system from old backup files.

The pipeline's systems came back online five days after the hack.

"Today, we turned the tables on DarkSide," Deputy Attorney General Lisa Monaco said at a news conference.

"Ransomware attacks are always unacceptable, but when they target critical infrastructure, we will spare no effort in our response," she said.

Ransomware gangs have been responsible for more than 1,000 hacks worldwide this year, mostly in the U.S., according to figures prepared for NBC News by Allan Liska, an analyst at the cybersecurity company Recorded Future.

"Overseas is not an issue for this technique," Chan said.

Microsoft's Threat Intelligence Center, which tracks ransomware groups, aided the investigation, Chan said.

The Colonial hack was the first to have a direct effect on everyday American life; most attacks are on smaller targets. The threat of a major pipeline shutdown led the U.S. to issue an emergency order for truckers to work overtime delivering fuel, and some gas stations reported shortages as drivers rushed to the pumps.

Colonial CEO Joseph Blount, who oversaw the company's response, praised the FBI in a statement for its "swift work and professionalism in responding to this event."

"Holding cyber criminals accountable and disrupting the ecosystem that allows them to operate is the best way to deter and defend against future attacks of this nature," he said.

Jen Ellis, a co-author of a landmark Ransomware Task Force report studying how to slow the pace of ransomware attacks, welcomed the Justice Department's announcement as "fantastic news."

"This kind of collaboration between victims and law enforcement is exactly what we need to see," she said.

"Hopefully, if we see actions like this continue, it will encourage other victims to disclose attacks to law enforcement and also make it harder for ransomware attackers to realize a payday," Ellis said.

The recovered payment announced Monday is still a small fraction of the $90 million that DarkSide has been able to steal since it became active around October, Tom Robinson, CEO of Elliptic, a British company that tracks bitcoin payments, said in an email.

Kevin Collier is a reporter covering cybersecurity, privacy and technology policy for NBC News.

Pete Williams Pete Williams is an NBC News correspondent who covers the Justice Department and the Supreme Court, based in Washington.

Ken Dilanian contributed.

Justice Department Says It Should Take Trump's Place in Lawsuit

Tue, 08 Jun 2021 12:59

Writer E Jean Carroll has accused President Trump of raping her in a department store dressing room in the mid-1990s. Eva Deitch/The Washington Post; Saul Loeb/Getty Images Biden's Justice Department is arguing they should replace Trump in a defamation lawsuit. E. Jean Carroll accused Trump of defamation after he denied rape allegations in 2020. Trump's Justice Department previously said he was acting in a government role and not personally. See more stories on Insider's business page. The Justice Department said it should take former President Donald Trump's place in a defamation lawsuit brought on by magazine columnist, E. Jean Carroll.

Carroll accused Trump of sexual assault. The lawsuit stems from his response following her accusations.

"Then-President Trump's response to Ms. Carroll's serious allegations of sexual assault included statements that questioned her credibility in terms that were crude and disrespectful," lawyers for the department wrote in a brief on Monday. "But this case does not concern whether Mr. Trump's response was appropriate. Nor does it turn on the truthfulness of Ms. Carroll's allegations."

The Justice Department is arguing that because Trump was working in a government role his statements were made within the "scope of" his employment, so he shouldn't personally be the defendant in the case. They said he was answering questions asked to him in his "capacity as President," adding "elected public officials can '-- and often must '-- address allegations regarding personal wrongdoing that inspire doubt about their suitability for office."

"Speaking to the public and the press on matters of public concern is undoubtedly part of an elected official's job," the brief said. "Courts have thus consistently and repeatedly held that allegedly defamatory statements made in that context are within the scope of elected officials' employment -- including when the statements were prompted by press inquiries about the official's private life."

Last year, Carroll accused Trump of raping her in a Bergdorf Goodman dressing room in the mid-1990s. She filed a lawsuit against him after he denied the allegations, saying Carroll was trying to "sell a book" and claimed that he had never met her.

He also said she wasn't his type.

Trump was initially a defendant in the case as a private citizen, but his Justice Department tried to replace him with the US, claiming the case was actually against a federal worker, not Trump personally. That effort was rejected by a federal judge last October.

Trump's Justice Department then appealed the ruling in January. Biden's Justice Department, however, continued the Trump administration's efforts when it filed the brief on Monday.

The White House did not respond to Insider's request for comment at the time of publication but spokesperson Andrew Bates told Politico: "The White House was not consulted by DOJ on the decision to file this brief or its contents. While we are not going to comment on this ongoing litigation, the American people know well that President Biden and his team have utterly different standards from their predecessors for what qualify as acceptable statements."

In an emailed statement, Roberta Kaplan, Carroll's attorney, told Insider she was disturbed by the continued efforts to defend Trump.

"It is horrific that Donald Trump raped E. Jean Carroll in a New York City department store many years ago," Kaplan said. "But it is truly shocking that the current Department of Justice would allow Donald Trump to get away with lying about it, thereby depriving our client of her day in court. The DOJ's position is not only legally wrong, it is morally wrong since it would give federal officials free license to cover up private sexual misconduct by publicly brutalizing any woman who has the courage to come forward."

NOW WATCH: Popular Videos from Insider Inc.

NOW WATCH: Popular Videos from Insider Inc.

Hundreds Arrested in Global Sting Using App Run by F.B.I. - The New York Times

Tue, 08 Jun 2021 12:57

Global law enforcement officials revealed a three-year operation in which they said they intercepted over 20 million messages. Hundreds of arrests were made in more than a dozen countries.

The Australian Federal Police arresting a suspect as part of a multinational operation. Credit... Australian Federal Police, via Reuters June 8, 2021, 7:14 a.m. ET

MELBOURNE, Australia '-- The devices, procured on the black market, performed only a single function hidden behind a calculator app: sending encrypted messages and photos.

For years, organized crime figures around the globe relied on the devices to orchestrate international drug shipments, coordinate arms and explosives trafficking, and discuss contract killings, law enforcement officials said. Users trusted the devices' security so much that they often laid out their plans not in code, but in plain language.

Unbeknown to them, the entire network was run by the F.B.I.

On Tuesday, global law enforcement officials revealed the three-year operation, in which they said they had intercepted over 20 million messages, and arrested at least 800 people in more than a dozen countries.

In Australia, the effort ensnared domestic and international organized crime groups and outlaw motorcycle gangs, with more than 200 people arrested, officials said. Hundreds more were arrested in Europe, the authorities said, and American law enforcement officials were expected to announce further arrests later on Tuesday.

The operation, as described by the Australian authorities and court documents in the United States, represents a breakthrough for law enforcement. Although the authorities have cracked or shut down encrypted platforms in the past '-- such as one called EncroChat that the police in Europe successfully hacked '-- this is the first known instance in which officials have controlled an entire encrypted network from its inception.

Image Narcotics seized as part of the operation in Australia. Credit... Australian Federal Police, via Reuters ''We have been in the back pockets of organized crime,'' Reece Kershaw, the commissioner of the Australian Federal Police, said on Tuesday.

The F.B.I.'s operation, according to the court documents, which were unsealed by the Justice Department on Monday, had its origins in early 2018, after the bureau dismantled a Canadian-based encryption service called Phantom Secure. That company, officials said, supplied encrypted cellphones to drug cartels and other criminal groups.

Seeing a void in the underground market, the F.B.I. recruited a former Phantom Secure distributor who had been developing a new encrypted communications system, called Anom. The informant agreed to work for the F.B.I. and let the bureau control the network for the possibility of a reduced prison sentence, according to the court documents. The F.B.I. paid the informant $120,000, the documents said.

Anom devices were cellphones that had been stripped of all normal functions. Their only working app was disguised as the calculator function: After entering a code, users could send messages and photos with end-to-end encryption.

Working with the Australian authorities, the F.B.I. and the informant developed a ''master key'' that allowed them to reroute the messages to a third country and decrypt them.

The authorities also relied on the informant to get the devices into the highly insular criminal networks. The informant started in October 2018 by offering the devices to three other distributors with connections to organized crime in Australia.

Image The Australian police commissioner, Reece Kershaw, with Prime Minister Scott Morrison on Tuesday. Credit... Dean Lewins/EPA, via Shutterstock A big break, law enforcement officials said, came when they were able to get one of the devices into the hands of Hakan Ayik, an Australian who fled the country a decade ago and whom the police believe has been directing drug imports from Turkey.

The user base grew quickly, and as of last month, there were about 9,000 active devices and users in more than 90 countries, according to the F.B.I. In all, over 300 criminal syndicates used the devices, officials said, including in Germany, the Netherlands and Spain.

Jean-Philippe Lecouffe, deputy executive director of Europol, said the operation gave law enforcement ''exceptional insight into the criminal landscape and will provide spinoff investigations.''

The Australian authorities acknowledged that Anom had carried only a small percentage of the total volume of encrypted communications sent by criminal networks. But they said that Anom had an advantage: Those running it were able to listen '-- directly '-- to the target audience and give users what they wanted.

After users spoke of desiring smaller, newer phones, the authorities began to provide them.

Australian officials said they had revealed the operation on Tuesday because of the need to disrupt dangerous plots currently in motion and because of limited time frames for legal authorities invoked to intercept the communications.

The Anom website previously displayed sleek graphics and glossy videos reminiscent of Apple ads. On Tuesday, it bore a new message: Users who wanted to ''discuss how your account has been linked to an ongoing investigation'' could enter their account details.

IT'S WORSE THAN WE THOUGHT! Fauci and Top US Doctors Caught! They CONSPIRED to Disqualify Hydroxychloroquine as COVID Treatment -- MILLIONS DEAD AS A RESULT

Tue, 08 Jun 2021 01:10

The Gateway Pundit has reported extensively this past year on the effects of hydroxychloroquine in treating the COVID-19 virus.

We knew that the Dr. Tony Fauci and the medical elites conspired to ban the use of this very successful drug.

We reported earlier on how Dr. Fauci used bogus studies to disqualify HCQ in treating coronavirus.

Now this'... There is proof that Dr. Fauci and top US medical experts all conspired using obviously false information to disqualify hydroxychloroquine and MILLIONS DIED as a result of their action.TRENDING: Biden Gives 2-Minute Generic Graduation Speech to Class of 2021 - He Gasps, Squints at his Teleprompter, Looks Lost and Slurs Words - WTH? (VIDEO)

As previously reported''

It's been over a year since the WHO declared the coronavirus a pandemic after originally downplaying the threat. It is no secret that both the disease and the response to combat it following this SARS-CoV-2 outbreak in late 2019 have turned our world upside-down. Mandates, lockdowns, and guidelines seem to change every time Dr. Fauci opens his mouth. All of these unprecedented rules were put into place, we were told, to slow down the spread of a disease that today is linked to the death of over half a million Americans and 3.7 million global citizens in the last year.

You would think that researchers would have concentrated on prophylactic and therapeutic solutions of this disease especially since this disease is a death sentence for the elderly, the obese, those with preexisting conditions. The coronavirus doctors have forced children to avoid school, mask up, and get vaccinated. One would think that after all this time there would be a consensus in the hospitals, in the nursing homes, and in other treatment centers on how to treat a Covid positive patient or resident. This is not the case.

There still is no agreed-upon treatment plan for elderly patients who catch coronavirus to assist in their recovery.

The CDC and Dr. Fauci ignored treatment plans for coronavirus patients unless the person was under severe distress.

Cardiologist and Professor of Medicine Peter McCullough testified in Texas earlier this year. Dr. McCullough sees COVID patients and says 85% of COVID patients given multi-drug treatment plan recover from the disease with complete immunity. McCullough added, ''The pandemic could have been over by now, he says, if those who tested positive for covid had been immediately treated before they fell ill enough to be hospitalized. He also says that thousands could have been, and still could be saved if the treatment protocol he and other physicians use were not suppressed.''

Dr. Fauci and the CDC and WHO suppressed this effective treatment plan and others.

And hundreds of thousands of innocents died.

And now this'...The c19hcq.com website tracks all of the international studies on hydroxychloroquine and its effects on the coronavirus.

There is now a new study and the results are SHOCKING!'-- HCQ for COVID-19: real-time meta analysis of 245 studies

HCQ is not effective when used very late with high dosages over a long period (RECOVERY/SOLIDARITY), effectiveness improves with earlier usage and improved dosing. But early treatment consistently shows positive effects. That's the science.

TGP contributor Larry Johnson touched on this on Wednesday night and took excerpts from Headline USA's reports on Dr. Fauci's emails regarding hydroxychloroquine.

But the e-mails also showed that Fauci was more in the loop than he let on concerning some of the Trump administration's proposed treatment solutions.

He notoriously second-guessed then-President Donald Trump during a press conference statement about the benefits of using hydroxychloroquine.

Fauci refuted President Trump in a White House press conference on March 25:

Although Fauci seemed taken aback and insisted that the ''anecdotal'' claims had yet to be conclusively studied, a month earlier he had been looped into an email to Pence on Feb. 29 in which a pair of Oklahoma physicians extensively discussed their research on it.

Fauci also responded to a Feb. 24 inquiry that noted that China had been reporting about its clinical studies with the drug.

''Is there any indication/data to substantiate this claim from China (attached publication) that chloroquine/hydroxychloroquine can decrease COVID-19 infections and lung disease?'' wrote Maryland pharmacologist Philip Gatti.

Fauci's passive reply echoed what he would later convey on the national stage.

''There are no data in this brief report and so I have no way of evaluating their claim,'' he wrote dismissively.

''There are a lot of these types of claims going around,'' he continued. ''I would love to see their data.''

Then in May Dr. Fauci told CNN that hydroxychloroquine was actually ''dangerous'' and ineffective.

Dr. Fauci told CNN hydroxychloroquine was actually dangerous when used as a prophylactic against coronavirus. Hydroxychloroquine had been used safely for 65 years in millions of patients. And so the message was crafted that the drug is safe for its other uses, but dangerous when used for Covid-19.

This statement made headlines throughout the fake new media and it was a complete lie.

After Fauci's statements on hydroxychloroquine, the tech giants began censoring any mention of the drug. The media mocked President Trump and anyone who suggested the drug was safe and effective. Doctors treating coronavirus patients were suspended from their social media accounts.

And hundreds of thousands of people died.

It was all based on a lie perpetrated by Dr. Anthony Fauci.

* * * * * * * * * *

Now there is more information that it was not just Fauci but all of the top US medical leaders who were in on the hydroxychloroquine lie.

Dr. Meryl Nass, MD, broke this story in The Defender. According to Dr. Nass, the top health officials were all in on the conspiracy against hydroxychloroquine.

Fauci runs the NIAID, Collins is the NIH director (nominally Fauci's boss) and Farrar is director of the Wellcome Trust. Farrar also signed the Lancet letter. And he is chair of the WHO's R&D Blueprint Scientific Advisory Group, which put him in the driver's seat of the WHO's Solidarity trial, in which 1,000 unwitting subjects were overdosed with hydroxychloroquine in order to sink the use of that drug for COVID.

Farrar had worked in Vietnam, where there was lots of malaria, and he had also been involved with SARS-1 there. He additionally was central in setting up the UK Recovery trial, where 1,600 subjects were overdosed with hydroxychloroquine.

Even if Farrar didn't have some idea of the proper dose of chloroquine drugs from his experience in Vietnam, he, Fauci and Collins would have learned about such overdoses after Brazil told the world about how they mistakenly overdosed patients in a trial of chloroquine for COVID. The revelation was made in an article published in the JAMA in mid-April 2020. Thirty-nine percent of the subjects in Brazil who were given high doses of chloroquine died, average age 50.

Yet the Solidarity and Recovery hydroxychloroquine trials continued into June, stopping only after their extreme doses were exposed.

Fauci made sure to control the treatment guidelines for COVID that came out of the NIAID, advising against both chloroquine drugs and ivermectin. Fauci's NIAID also cancelled the first large-scale trial of hydroxychloroquine treatment in early disease, after only 20 of the expected 2,000 subjects were enrolled.

What does all this mean?

There was a conspiracy between the five authors of the Nature paper and the heads of the NIH, NIAID and Wellcome Trust to cover up the lab origin of COVID.There was a conspiracy involving Daszac, Fauci and others to push the natural origin theory. (See other emails in the recent drop.)There was a conspiracy involving Daszac to write the Lancet letter and hide its provenance, to push the natural origin theory and paint any other ideas as conspiracy theory. Collin's blog post is another piece of this story.Farrar was intimately involved in both large hydroxychloroquine overdose trials, in which about 500 subjects total died.Farrar, Fauci and Collins withheld research funds that could have supported quality trials of the use of chloroquine drugs and ivermectin and other repurposed drugs that might have turned around the pandemic.Are the four individuals named here '-- Fauci, Daszak, Collins and Farrar '-- intimately involved in the creation of the pandemic, as well as the prolongation and improper treatments used during the pandemic?Read the rest here.

This is an absolutely huge development!

The same people responsible for the virus were responsible for eliminating valid treatment alternatives for the same virus.We are now looking at Mass Murder on an unfathomable scale!

Despite the Headlines, the Gates Foundation Has Evaded Scrutiny

Mon, 07 Jun 2021 19:56

Is it finally time to investigate the Gates Foundation?

Following weeks of allegations that Bill Gates has acted inappropriately toward female employees, The New York Times last week reported that the Gates Foundation's money manager also stands accused of sexual misconduct'--as well as bullying and racism.

The allegations against Michael Larson, which he denies, are both long-standing and long known to both Bill Gates and Melinda French Gates, according to the Times, and they contribute to a widening institutional crisis around the Gates Foundation, whose leadership is characterized as negligent, dysfunctional, and abusive.

But buried in the Times story is also an allegation of financial misconduct that governance and tax experts say should trigger official investigations into the foundation, and prompt us to rethink governance rules over billionaire philanthropy.

In the Times' reporting of Michael Larson's alleged bullying, it noted that when one of his employees found a job at another company, Larson retaliated by making financial trades designed to hurt that company's stock price.

Larson doesn't deny trading the company's stock, but told the Times that he did not do so out of spite. Larson and the Gates Foundation both refused to respond to press inquiries, and it remains unclear if Larson made the trades using the foundation's funds or the Gates family's personal funds, both of which he manages.

But if it is shown that Larson made the financial transactions according to some personal animus, and if he did so with the Gates Foundation's money, it would show him recklessly using charitable funds to advance his own interests'--one of several red flags and irregularities that experts say should be investigated.

''If I were the Washington state attorney general, this state of affairs would highlight for me how unusual the governance structure of this organization is,'' notes Brian Galle, professor of law at Georgetown University. ''You have the largest private foundation, which has three officers [Bill Gates, Melinda French Gates, and Warren Buffet], and it seems like maybe that's not enough to make sure they are responsibly supervising the behavior of people who have a lot of control over the organization.''

Experts also cite additional financial concerns, including the potential overlap between the two enormous funds that Larson oversees'--managing both the Gates Foundation's $50 billion endowment and some portion of the Gates family's personal wealth, estimated at $130 billion.

One worry is that the two funds Larson manages could be traded in ways that benefit or hurt each other'--or other interested parties. In 2002, The Wall Street Journal reported that the Gates Foundation and Bill Gates each secured large shareholder positions in Cox Communications on the same day, which also coincided with a business partnership Microsoft was pursuing with Cox. The story reported that Michael Larson was involved in at least one of the trades.

''There's enough evidence to warrant much more thorough investigation by public agencies,'' says Ralph Nader, a longtime consumer advocate and one of Bill Gates and Microsoft's fiercest critics from the 1990s. ''The intricacies of the dealings back and forth, the signs of conflicts of interest, and the likelihood of direct or indirect inurement [benefit] calls for official investigations.''

Support Progressive JournalismIf you like this article, please give today to help fund The Nation's work.

''It doesn't pass the smell test, as corporate lawyers say,'' Nader noted.

Congress and the IRS, like the attorney general in the state of Washington (where the Gates Foundation is located), have the ability to investigate the Gates Foundation, but historically have devoted few resources to monitoring foundations.

The Silent PartnerJudith Chevalier, a professor of finance at Yale University, says that when billionaires give their money to a private foundation, it no longer is their money'--but rather part of a charitable trust that is required to be spent for philanthropic purposes. That the Gates family has continued to exercise such tight control over the foundation's money, Chevalier says, should have raised questions a long time ago.

''They haven't really diluted their control over it in a way which is customary,'' Chevalier notes. ''It's just good practice to have a substantial and independent board of directors.''

Chevalier and others point to the power that Warren Buffet has in pushing for institutional changes through his role as one of the foundation's largest donors. In 2006, Buffett announced that he would give most of his wealth to the Gates Foundation, which he has done through annual donations of Berkshire Hathaway stock. In 2019, he gave $2.75 billion in stock to the foundation'--while Bill and Melinda French Gates themselves contributed less than $600 million in total giving.

Though Buffett is one of three trustees at the foundation, he has long stayed in the background of the organization and has not spoken out about the foundation's current crisis.

''He is the one person who wasn't in the [Gates] family who was actually making a substantial donation to the foundation,'' notes Chevalier. ''And just like I don't want to give money to a nonprofit that I think doesn't spend its money well, I would have thought he would have given some substantial thought to the governance structure [of the Gates Foundation] before he handed over his money.''

Brian Mittendorf, a professor of accounting at Ohio State University, says Buffett's donations to the Gates Foundation appear to have been based on ''faith and trust,'' a striking departure in character for a money manager renowned for being ''cautious and careful and conservative.''

''People are paying a lot of attention to the relationship between Bill and Melinda Gates right now, but how this whole thing is playing out in the mind of Warren Buffett also is pretty important, given his gift,'' says Mittendorf. ''But it also highlights how what's going on in the mind of one person should not have that much impact on a $50 billion organization.'... The organization's future shouldn't hinge so much on any one of those three [trustees].''

Support our work with a digital subscription.Get unlimited access: $9.50 for six months.

The Gates family's grip on the foundation's spending also raises questions because of the tax benefits embedded in the practice of philanthropy. Tax experts widely regard charity as highly publicly subsidized, noting that as much as 70 cents of every dollar spent by private foundations might actually be public funds'--money that billionaires like the Gates would otherwise have to pay in taxes.

Brian Galle likens charity to government contracting, where private entities receive taxpayer money to do work for the government. The difference, Galle says, is that ''government contractors are subject to several orders of magnitude more oversight and regulation than charities are.''

''Given that they raise'...similar concerns, it's kind of interesting that we've developed the law of public contracting so much but really haven't changed the law of charity at all in 100 years,'' Galle said, apart from one overhaul by Congress in 1969.

In many ways, private foundations are left to regulate themselves'--as borne out in recent reports that Bill and Melinda are considering addressing the foundation's institutional problems through a self-directed reorganization of the charity. Such changes reportedly could include the creation of an independent board, which follows expert advice on best practices, but such a change may come too late'--and be too influenced by the Gateses'--to address the foundation's governance problems.

A newly created independent board, for example, ought to have a keen interest in investigating the allegations of sexual misconduct that surround Bill Gates. If Gates, who denies the allegations, personally helps organize the new board of directors, that puts him in a position to potentially influence any investigation.

Melinda French Gates might be in an equally compromised position'--possibly desiring to pick board members who will preside over a tough investigation of her former spouse, whose alleged inappropriate behavior with female employees at the Gates Foundation, as reported by The New York Times, may factor into their ongoing divorce proceedings.

The Gates Foundation did not respond to multiple inquiries.

Following the MoneyOver the decades, journalists have many times raised questions about Bill Gates's use of charitable funds. In 1999, the Times profiled a Gates-funded charitable effort to donate computers loaded with Microsoft software to libraries, prompting criticism that the gifts were really designed to advance the commercial interests of Microsoft, the company Bill Gates founded.

In 2002, the Times and The Lancet reported on the Gates Foundation's donation of $100 million to battle HIV in India'--one day before Microsoft announced a $400 million investment in the country, raising questions about whether the foundation's donations were part of a charm campaign to expand Microsoft's market share in India.

In 2020, The Nation uncovered more than $2 billion in charitable grants the foundation has given to private companies'--including a quarter-billion dollars to companies in which the foundation's endowment was invested, like Merck, Novartis, and Medtronic.

The foundation's expansive donations to private companies may also overlap with Bill and Melinda's personal investment portfolio. The Gates family zealously guards the details of their private wealth, making it impossible to investigate such overlap.

But there are some documented examples where the Gates Foundation's giving could be seen as advancing the Gates family's personal interests, like $80 million in charitable donations the foundation has given the elite private school that Bill Gates and his three children attended.

Tank man on Bing

Mon, 07 Jun 2021 17:32

waive Covid vaccine patents to put world on 'war footing'.*Here are his actual words:

More precisely, he calls for allowing any manufacturer to makevaccine. Anyone doing so would still be required to pay a royalty.That cost by itself could slow vaccination.

I am disappointed that he used the ill-conceived concept of"intellectual property", since that overgeneralization spreads confusionand every use of it creates resistance to what he is trying to do.

7 March 2021 (Assad will confiscate homes)Assad will confiscate the homes of Syrians who have fled his tyranny.

7 March 2021 (Election misinformation)* A handful of rightwing ''super-spreaders'' on social media were responsible for the bulk of election misinformation in the run-up to the Capitol attack,*

They were not independent '-- they were working together.

7 March 2021 (Supporters of democracy)Nearly all the principal supporters of democracy in Hong Kong are nowfacing charges, or at least arrested.

China's rulers make up bullshit to justify each instance of injustice,but they don't try to make the justification plausible to peopleoutside their control. They consider it sufficient brainwashedsupporters believe it, since almost everyone in China is a brainwashedsupporter now, or pretends to be.

7 March 2021 (Digital nautical charts)The NOAA is planning to convert to publishing nautical charts only indigital form. In principle, that may not bad. But will people be able toaccess charts from the Free World?

If you are a mariner, please investigate the system of publicationthat NOAA used. Try accessing it with LibreJS active, and see whatresults you get.

And if it does not work, complain to NOAA.

7 March 2021 (Meat packing companies against Covid-19 protections)Meatpacking companies lobbied hard against rules to protect workersfrom Covid-19, and kept outbreaks secret.

7 March 2021 (Bedouin's crops)Israeli soldiers are destroying Bedouin's crops.

7 March 2021 (Palestinians protesting in Israel)Palestinians in Israel protested that the local thugs were doing nothingabout organized crime. The thugs began attacking many of them with weapons.Some of the protesters required hospitalization.

The violence was clearly directed by officers.

6 March 2021 (Urgent: Investigate and prosecute Trump and his network)US citizens:callon Merrick Garland to investigate and prosecute Trump and hisnetwork.

6 March 2021 (Urgent: Senator Warren's wealth tax)US citizens:callon Congress to pass Senator Warren's wealth tax.

6 March 2021 (Urgent: Stop construction of Line 3 pipeline)US citizens:phone your congressionalrepresentative and ask per to pressure Biden to stop constructionof the Line 3 pipeline.

6 March 2021 (Israeli border thugs gratuitously shoot man dead)Israeli border thugsgratuitouslyshot Ahmad Erekat dead after he had an embarrassing car crash,then lied about the circumstances.

Thugs in various countries have apractice of thinking, "What accusations can we make against the victimthat no one can disprove." But in this case they seem to haveexceeded that limit.

When my friends die, I miss them. It doesn't matter whether I evensee their corpses. But it occurs to me that there may be a sinisterreason why Israel holds permanently the corpses of Palestinians thatIsraelis kill: to prevent autopsies that could provide objectiveevidence about how they were killed. Making this a blanket policyavoids the need to conjure up an individual excuse.

6 March 2021 (Biden gives in to demand to reduce stimulus)Biden gave in to a demand from Manchin and Sinema toreducethe stimulus payments for people whose 2019 income was above $80k.Whether they were unemployed most of 2020 or not.

6 March 2021 (UK Green Party proposals)A UK Green MEP explainstheGreen Party proposals for reversing the Tories' dooH niboR cuts inbusiness taxes, plus a steadily increasing carbon tax.

6 March 2021 (New Covid variants and states reopening)*US experts warn new Covid variants and states reopeningmaylead to fourth wave.*

*Fauci: US shouldn't loosen coronavirus restrictionsuntildaily new cases fall below 10,000.*

That is assuming your goal is to make Covid-19 go away. Republicans,who boosted the infection last year and killed perhaps 300,000Americans who otherwise would not have caught it, are still trying tospread it. Perhaps their motive is that they expect it tokillmainly blacks.

I would add an additional proviso: we should not loosen coronavirusrestrictions unless we can determine that R will remain substantiallyunder 1 after they are loosened.

6 March 2021 (Texas)(satire) *Covid Announces Plan To Move Operations To Texas Full-TimeToEscape Burdensome Regulations.*

(satire) *New Texas LawRequiresAll Masks Have Word 'Pussy' Written Across Front.*

6 March 2021 (Letting biotech industry rewrite GMO safety laws)Howthe EU Commission Broke Its Own Rules to Let the Biotech IndustryHelp Rewrite GMO Safety Laws.

By selecting the questions to ask, and who to ask them of, it is nothard to shape the answers.

5 March 2021 (Campaign to discredit BBC)*China's Communist party ran campaign to discredit BBC, thinktank finds.*

5 March 2021 (Shrinking carbon footprint)Warning the UK that it can't shrink its carbon footprint and expandan airport.

5 March 2021 (Prosecuting volunteers rescuing migrants)Italy is prosecuting the volunteer crew members of boats that went to seato rescue migrants traveling to Italy on smugger boats.

The US has likewise prosecuted people who leave water inthe desert for people trying to migrate from Mexico.

5 March 2021 (Talks on nuclear deal)*Iran and IAEA clear potential roadblock to talks with US on nuclear deal.*

5 March 2021 (George Floyd Act)*The George Floyd Act wouldn't have saved George Floyd's life.*

I will look for more information about the Breathe Act. However, theGeorge Floyd act does try to prevent other injustices committed byuniformed thugs.

5 March 2021 (ICC prosecution)The ICC might prosecute Israeli officials, even a minister,whowere involved in bombing Gaza in 2014. They might be unable totravel internationally.

It is even possible that the courtmightinvestigate the crime of settling Israelis in the occupied WestBank.

5 March 2021 (Investigating use of bombs)An Italian court is investigating the use of bombs made in Italy bySalafi Arabia in Yemen.

5 March 2021 (Punishing making vaccine)The drug company lobby is lobbying heavily for the US to punish countriesthat propose to save lives by making their own Covid-19 vaccine.

The article follows the misguided practice of using the term"intellectual property". That term spreads both bias and confusion; I urge people to reject it entirely as I do.

5 March 2021 (Oil companies net zero emissions)*Global oil companies have committed to 'net zero' emissions. It's a sham.*

They say they will make "offsets" so big, by 2050, that they will cancel outfossil fuel combustion and leaks.

There's no way to absolutely prove this won't work, until 2050. Thenthey can say, "Too bad, we tried," but everyone alive then will sufferthe ecological damage.

5 March 2021 (Death of transgender soldier)*South Korea's first transgender soldier found dead.*

Of suicide, it appears.

5 March 2021 (Seagrass)Humans are rapidly destroying the world's remaining seagrass meadows.That is a shame, because they shelter baby fish and sequester carbon in thesea bottom.

5 March 2021 (Chairman resigns after destruction of historical site)The chairman of the board of Rio Tinto will step down, followingseveral executives, due to the scandal resulting from the company'sdestruction of 46000-year-old cave habitations in Juukan Gorge.

Management had got legal approval to do this, and acted as if nothingelse mattered.

5 March 2021 (Misinformation on Facebook)Right-wing misinformation on Facebook attracts more attention thantruthful information. Left-wing misinformation attracts less attentionthan truthful information.

A good, quick heuristic for finding valid information is look atwhatever left-wing information comes your way.

5 March 2021 ((satire) Sharing vaccine supplies and technology)(satire) *Pros And Cons Of Sharing Vaccine Supplies And Technology.*

5 March 2021 ((satire) Military diversity initiative)(satire) *New Military Diversity Initiative Aims To Make LeadershipLook More Like Countries They Invade.*

5 March 2021 (Competitive Disadvantage)*Blaring Quiet Part Out Loud, GOP Lawyer Admits to Supreme Court That EasierVoting Puts Republicans at 'Competitive Disadvantage'.*

5 March 2021 (The CLEAN Act)The CLEAN Act would take some steps forward towards decarbonizing, but hasbig shortcomings.

5 March 2021 (Jailed for protesting repeatedly)A protester has been jailed for protesting repeatedly in the vicinityof the Trans Mountain Pipeline.

The article makes a big fuss about the protester's ethnic background.I do not think that makes any difference. I would admire anyoneequally for doing the same thing.

4 March 2021 (Disregard Parliamentarian)Sanders called on the Senate Democrats to disregard the views ofthe Parliamentarian.

4 March 2021 (Too little and too big)Varoufakis: *Both supporters and critics of US President Joe Biden's$1.9 trillion stimulus plan assume that there is a dollar amount thatis just right. In fact, no such figure exists: every possiblestimulus sizeissimultaneously too little and too big.*

In addition to a stimulus, Biden needs to *lift the spending power ofthose who have next to none.*

4 March 2021 (Unconscious bias training)Unconscious bias training does not seem to be effective in reducingunconscious bias.

4 March 2021 (Powerful current of racism)Chinese-Australians face a powerful current of racism.Almost 1/5 have suffered violence or threats of violence.

People of Chinese origin or ancestry are not necessarily supportersof the Chinese government. Indeed, some of them hate it.

I've seen articles recently about prejudice in the US against"Asian-Americans". Racial prejudice is bad regardless of the details,but I do wonder what people "Asian-Americans" means. Asia is thebiggest continent and includes a variety of peoples, and they do notlook similar, so it is implausible that all Asian-Americans areinvolved.

Are Americans of Turkish descent facing prejudice? Iranian? Whatabout people from India and neighboring countries? Siberians? DoBalinese musicians face threats? Hawaiians?

Are these articles really about people of Chinese descent, or whoresemble Chinese? If so, please don't mislead us with "Asian".

4 March 2021 (Factory farms emissions)Factory farms emit large amounts of greenhouse gases. We need toregulate farms to bring those emissions down.

4 March 2021 (Workers lending pay)A restaurant chain, threatened with closure, asks workers to "lend" it10% of their pay.

Considering how little most restaurant employees make, they may havetrouble doing without 10% even supposing they will get it back.But will they get it back?

If the restaurant chain stays in business and becomes successfulagain, it will probably repay the loan, but we can't be sure.Wage theft from restaurant staff is not unusual.

However, if the restaurant chain goes broke, which apparently mighthappen, I expect the workers will probably lose the lent pay.

4 March 2021 (Virtual visitor logs)*Biden Criticized for Lack of Transparency After Refusing to Publicize VirtualVisitor Logs.*

4 March 2021 (Hybrid cars)Hybrid cars use more fuel and emit more pollution than they areadvertised to emit.

In other words, they are a green swindle.

4 March 2021 (Greenwash)*Net zero increasingly involves highly questionable carbon accounting. As a result, the new politics swirling around net zero targets is rapidly becoming a confusing and dangerous mix of pragmatism, self-delusion and weapons-grade greenwash.*

4 March 2021 (Utility bills and undocumented immigrants)*[The deportation thugs] reached a new low: using utility bills to hunt undocumented immigrants.*

4 March 2021 (Admitting torture and murder)*Emmanuel Macron has admitted French soldiers tortured and killed awell-known Algerian lawyer and activist during [Algeria's]independence war.*

The fact was already known, but the government's recognition of itsinvolvement is a step forward toward justice.

4 March 2021 (Incel killer)The Canadian "incel" killer has been convicted of murders, and willpresumably be sentenced to spend a long time "in cell."

4 March 2021 (Protesters murdered)Burmese soldiers and thugs shot protesters in variouscities. They must have received orders to do that. They killed at least 33 people.

4 March 2021 (Eliminating rules to slow Covid-19)The Republican governor of Texas has eliminated nearly all rulesdesigned to slow the spread of Covid-19. I think he wants as many Texans as possible to get infected beforeit is too late.

4 March 2021 (Tax bills for unemployment assurance payments)Millions of Americans are receiving tax bills for their unemploymentinsurance payments over the past year.

After decades of rule by dooH niboR, most Americans live close to theedge. Especially those who lost their jobs last year. An expense of$500 dollars will push them over the edge.

Millions of Americans are falling over the edge, because theyhave not received unemployment benefits.

4 March 2021 (Jamaica criminalizes homosexuality)Jamaica's laws criminalize homosexuality. The Inter-AmericanCommission on Human Rights ruled that these laws violate human rightsand inspire violence, especially by the uniformed thugs, which extendsas far as murder.

The challenge of changing those laws, and changing the hatred, remains.

4 March 2021 (Bogus Johnson's personal conveniences)Bogus Johnson openly manipulates the government to pay for personalconveniences for him.

Tories have legitimized corruption to the point where they don't need todisguise it.

Meanwhile, Labour has become so "centrist" that there is a serious proposalfor it to become the "party of business",instead of the party of working people and those in need.

A party of the rich and the bigots and a party of business '-- that'swhat the US had under Clinton. Progressive Democrats are graduallychanging that.

4 March 2021 (Toxic fracking chemicals)A study found toxic fracking chemicals in the air, water and human bodiesin the region of fracking in Pennsylvania, even in people who live five miles away.

Fracking ought to be banned on account of its global heatingcontribution alone, but local pollution adds another good reason.

4 March 2021 (Planet roasters distract with side issues)Planet roasters try to distract Americans with concerns about sideissues such as "energy independence" so that they can keeppumping oil to export.

They have obtained plenty of oil leases that they are not using yet,so Biden's moratorium on approving additional leases won't affect themfor a long time.

I do not wish to take a nationalistic viewpoint towards the globalproblem of planetary heating. If country C is going to buy oil andburn it, it is not worse if that oil comes from the US. And refusingto export it will mean some other country exports that oil, perhapsSalafi Arabia. That is not a step forward.

On the other hand, if several countries compete to export oil, theywill export more oil, which is the opposite of what we need. We needa treaty to limit and reduce oil exports.

But it may be possible for one oil-exporting country to exertinfluence on its own.

Here's an idea: the US should agree to continue exporting oil to Chinafor the next 10 years, provided China agrees to build no new coalpower plants and shut down all its existing coal-fired plants on apre-agreed schedule during that time. And replace them with renewableelectric generation. And not to export any coal.

The energy independence that Earth needs is independence fromnonrenewable or unsustainable energy.

4 March 2021 ((satire) As much as they can realistically back out of)(satire) *World Leaders Pledge To Cut Emissions By As Much As They Can RealisticallyBack Out Of.*

4 March 2021 ((satire) Anger management counseling)(satire) *U.S. Allocates $500 Million For Mohammed Bin Salman To UseOnAngerManagement Counseling.*

4 March 2021 (Government transfer of funds)The federal government transfers funds from more urban, Democraticstates to rural Republican states. Perhaps that offers a lever toinfluence the Republican voters.

To punish them would be pretty easy, but would not help enactprogressive policies. How to use these programs to win over someRepublicans is harder '-- and how to do it with changes Democratscan enact is even more challenging.

4 March 2021 (Sanctions over Navalny poisoning)*US hits Russian officials with fresh sanctions over Navalny poisoning.*

4 March 2021 (Guterres cancels planned coal projects)Secretary-General Ant"nio Guterres called for cancellation of allplanned coal projects.

We have understood this for years, but that the head of the UN says sois a big step towards making it happen.

4 March 2021 (Damage in Australia by global heating)The damage caused by global heating in Australia will get to be socostly that insurance will no longer be a feasible way for people toprotect themselves from damage.

I think the same thing will happen in California.

The only effective remedy will be to curb global heating.

4 March 2021 (McDonalds scared of workers' rights)*McDonald's spies on union activists '-- that's how scared they are of workers'rights.*

4 March 2021 (Complaint against Prince Bone Saw)RSF has filed a complaint against Prince Bone Saw in Germany, oversystematic persecution of journalists.This includes the murder of Khashoggi and lots more.

This is possible because Germany asserts universal jurisdiction overcrimes against humanity.

4 March 2021 ((satire) No-nonsense negotiator)(satire) *No-Nonsense Negotiator Strong-Arms Landlord Into Fixing Toilet For Rent Increase.*

4 March 2021 (Trump regulatory rollbacks)*Biden Can Freeze Potentially Dozens of Harmful, Last-Minute TrumpRegulatory Rollbacks.*

4 March 2021 (Zimbabwe's tyrannical government)The leader of Zimbabwe's principal opposition partycalls on world powers to stop supporting its tyrannical government.

It is harder for western powers to restrain the government of Zimbabwenow that China is shipping arms to it.

In this regard, China is not uniquely evil. Western countries gavetyrannical governments similar support in the past, and still do withsome. Nonetheless, the fact that China does it today has badrepercussions in many parts of the world. Western governmentssometimes join together to push for freedom, but China won't care atall.

3 March 2021 (Urgent: Military weapons to thugs)US citizens: call on Congress and the president to stop all transferof military weapons to US thug departments.

To sign without running nonfree JavaScript code from the web site,use the Salsalabs workaround.

3 March 2021 (Accusing opposition of terrorism)The US does little to restrain Erdoğan from accusing politicalopposition of "terrorism".

3 March 2021 (More efficient on every measure)Electric vehicles are more efficient than fossil fuel vehicles onevery measure.

Then use less energy, and less materials '-- even if you don't countthe fuel.

3 March 2021 (Property tax)The US has a kind of wealth tax '-- the property tax '-- and rich peoplepay much less property tax (as a fraction of their wealth) than anyoneelse.

Renters pay a high fraction, because their rent covers the realestate tax on the dwellings they live in (but do not own).

3 March 2021 (Negotiating under sanctions)Explaining Iran's refusal to negotiate while the US keeps all thesanctions going. The article shows the diplomatic harm this would do to Iran.

For me, a much simpler explanation was sufficient.

3 March 2021 (Fossil fuel emissions)*Fossil fuel emissions in danger of surpassing pre-Covid levels.*

This is no surprise. What it shows was that people should not let theCovid-19 recession relax their demand for policies that cut emissions.

3 March 2021 (Refusing to believe)Since people can refuse to believe the bullshitter when he says he wonthe last election, they can also refuse to believe Ex-pope Benedictwhen he sais he resigned.

3 March 2021 (Fired for calling for safety measures)* Ben Bonnema says he was [fired by Trader Joe's] after writing a letter to company's CEO calling for a series of safety measures for workers.*

3 March 2021 (Crime of insulting the king)Spain makes it a crime to insult the king. This system of censorshipis an injustice.

I strongly dislike Tarantino's movies, those I have seen any of. Idon't intend to see any more. I would probably dislike those rappers'performances, too '-- except that they probably speak too fast for me,and with Spanish colloquialisms I don't know, so I would notunderstand them. But my tastes are irrelevant to the issue. Theirworks don't need to appeal to my taste to be covered by freedom ofexpression.

3 March 2021 (Minimum wage)Biden is awfully quick to admit defeat on legislating to raise theminimum wage to $15 (over a period of a few years). He ought to tryhis damnedest before giving up.

3 March 2021 (Sarkozy guilty)*[Ex-president] Sarkozy found guilty of corruption and influence peddling but is unlikely to spend time in prison.*

3 March 2021 (Qualified Immunity)*Ayanna Pressley and Ed Markey Push to Abolish Qualified Immunity.*

3 March 2021 (Refugees and PTSD)*More than 75% of Syrian refugees may have PTSD, says charity.*

3 March 2021 (Filibuster)*Senate Democrats Can and Must Abolish the Filibuster. Now.*

3 March 2021 (Putting protest leaders on trial)Hong Kong is putting protest leaders on trial for political charges.1000 people came to protest.

China has crushed freedom in Hong Kong. What about freedom in the USand the UK? Both are threatened now.

3 March 2021 (Necessary Changes in Society)Necessary Changes inSociety

3 March 2021 (Making Labour into a right-wing party)Starmer is so frightened people will accuse Labour of raising taxesand spending too much that he ismakingit into a right-wing party.

3 March 2021 (Atlantic Meridional Overturning Circulation)Global heating isreducingthe strength of the Atlantic Meridional Overturning Circulation,which includes the Gulf Stream. This could eventually result infreezing Ireland and Britain.

3 March 2021 (UK arbitrarily terminates citizenship)The UK government hasarbitrarilyterminated the citizenship of Shamima Begum. Attempts to blockthat decision failed.

Exile of citizens is not an acceptable punishment.

What makes this even worse is that the punishment wasimposedwithout a trial. No punishment should be imposed without a trial.

Adding insult (to the public) to that injury, the minister who decidedon exile for her cited an absurd excuse. She has no othercitizenship, but the minister did not wish to recognize the fact thatthis would leave her stateless. So the he claimed it was sufficientthat she would be entitled to citizenship in Bangladesh'-- theoretically.

No one knows what would happen if she tried to apply for citizenshipin Bangladesh. Perhaps that country deny her citizenship, citingsomething like the UK's grounds for terminating her citizenship.

The US has unjustly terminated citizenship, too. US citizen EmmaGoldman was deported as punishment for advocating resistance to thedraft.

2 March 2021 (No personal sanctions on Prince Bone Saw)Biden put official personal sanctions on many officials of SalafiArabia, butnotdirectly on Prince Bone Saw himself.

This may be a clever indirect form of sanction against him. Cozyingup to the king and shunning the prince has a chance of causing hisdemotion in the Salafi Arabian court, whereas direct hostility couldinspire the rest of the power structure to close ranks behind him.

Salafi Arabis is culpable for many different wrongs:

Wagingwar on Yemen.Tryingto start a war between the US and Iran.Supportingthe wrecker (fortunately no longer possible).Killingdissidents, often by sentencing them to death, and occasionally bydirtier means.Sexistlaws in Salafi Arabia.Denialof religious freedom towards everyone inside Salafi Arabia.Spreadinga rigid and harsh cruel form if Islam, Salafism, around the Muslimworld.Destroyingmany ancient sites from the early days of Islam.The US does not have the power to make Salafi Arabia desist from allthese wrongs; as a result, it is not immediately obvious what stancewould be best for the US to take so as to reduce some.

Most of these have gone on since long before Mohammad bin Salmanbecame crown prince. I think he started item 2; he certainlystarted item 3.

As for the other wrongs, the US is already starting to try to end 1.The others will take time.

2 March 2021 (Biden orders attack at Iran-linked militias)Biden ordered an attack at two Iran-linked militias in Syria.

This raisestwomoral issues: was it harmful to nuclear negotiations with Iran,and did it violate the War Powers Act.

This is a decrease in level of violence compared with when the wreckerwas president, so I tend to think it won't affect the negotiations.However, Biden has doneotherthings that may put these negotiations at risk.

*Lawmakers Say Biden AdminMustPresent Congress Legal Justification for Bombing of Syria.*

2 March 2021 (Murder of Khashoggi ordered by acting king)US agencies say that the acting king of Salafi Arabiaorderedthe murder of Jamal Khashoggi.

2 March 2021 (The WATER Act)The WATER Act wouldensureAmericans can get clean water to drink even if they are poor.

2 March 2021 (Ban on discrimination based on sexual orientation)The House of Representatives haspasseda bill banning discrimination based on sexual orientation.

Republicans will block this, along with every bill to fix the nation'spermanent problems, unless Democrats find a way to make Manchin andSinema vote to abolish the filibuster.

2 March 2021 (Arbitrary searches by UK thug departments)The UK Inspectorate of Constabulary says that thug departments aregoing overboard in their arbitrary searches of blacks on thestreet, andcannotjustify them. I can't escape the conclusion that this is bias atwork.

I suppose the thugs have had training about unconscious bias already,and it does not seem to have helped. Here's an approach usingfeedback that might be good to try, with each cop separately.

For the coming weeks, don't actually stop and search anyone. Insteadwe will have a consultation about about who you would have thought ofstopping and searching.You will be told, at the outset, the expected average number of peopleper day a cop on your beat ought to stop and search. This is not aminimum, or a maximum; it is a guideline. On any given day day a wise copmight search more, or less, than the guideline number.When you see someone you would think of stopping and searching,make a video of per instead, and upload it. Speak into the videowhy you thought that person should be searched.At the end of each day, review the day's videos.In the review,label which of them you would choose first for searching.Label a quantity comparable to the guideline number,but not necessarily equal to it. For each one you label,explain your reasons.Right after labeling the videos, send all of them to the coach.The coach is an expert onunconscious bias and knows what really typifies real street criminals.Then you and the expert will discuss them. The expert will try tohelp you recognize your own patterns of unconsciousbias, and learn to disregard them.The hope is that, over time, the cop learns to filter out spurioustriggers of suspicion.

Has anything like this been tried?

2 March 2021 (Illinois eliminates bail for accused)Illinois haseliminatedbail for those accused of crimes. Suspects will no longer be keptin jail until trial simply because they are poor.

2 March 2021 (Policies in support of Israel's occupation policy)*Jewish GroupsUrgeBiden to 'Review and Revoke' Trump-Era 'Made in Israel' SettlementGoods Policy.*

The US should not allow any of the wrecker's policy changes in supportof Israel's occupation policy to stand.

2 March 2021 (Manchin on West Virginians)(satire) *Joe Manchin Claims West VirginiansTooDeficient In Character, Grit To Deserve $15 Minimum Wage.*

2 March 2021 (Mexico bans glyphosate-resistant corn)Mexico hasbannedboth growing glyphosate-resistant corn and importing it.

2 March 2021 (What US voters want)*Majority of US Voters Want Government toInvestMore in Healthcare, Education, and Fighting Poverty.*

2 March 2021 (US government definition of "national security")Will the US government define "national security" in terms of power tofight future threats, or in terms ofhelpingother countries be safe from disasters?

2 March 2021 (Corporate-controlled Texas)Jim Hightower on Texas: *Not only must our corporate-controlledelectric grid be replaced; so must our corporate-controlled agpolicy'--and ourcorporate-controlledelected officials.*

2 March 2021 (Loss of jobs in 2020)US wages increased on the average in 2020, becausemanylow-wage workers lost their jobs.

I suspect that if we tabulate household income rather than wages, wewill see a shift towards lower income.

3 March 2021 (Iran non-nuclear deal)Iran refuses to discuss resuming the non-nuclear deal unless the USdoes more to lift the the sanctions that the wrecker imposed when be broke the deal.

I think it would be wiser for the US and Iran to stop delayingnegotiations by disputing how to start them. But since the US brokethe deal, the US should go out of its way to resume the deal.

Perhaps the US should suspend sanctions for a year, and extend thatto a permanent cessation if the deal is remade.

3 March 2021 (UN calls for global banking reform)* UN report claims up to 10% of the world's wealth could be hidden "offshore" and calls for global banking reform.*

"Offshore" means "in a tax haven". Some important tax havens are inquasi-independent islands, but Switzerland, Belgium, the UK and the USalso function as tax havens.

All that money concealed from taxation leaves governments short on funds,which translates into poverty.

3 March 2021 (Used electrical appliances and gadgets)* The UK government is considering nationwide curbside collection of used electrical appliances and gadgets, and requiring retailers, even online ones, to take them back.*

3 March 2021 (IMF wants to do some good)For once, the IMF wants to do some good. It needs approval from the US.

3 March 2021 (Emergency ban on evictions)A federal court ruled that the CDC's emergency ban on evictions isunconstitutional.

The ban is indeed an emergency measure, not a permanent solution. TheUS needs to set up a system that will give everyone in the US a placeto live that meets our standards.

3 March 2021 (Modernizing nuclear missiles)"Modernizing" the world's nuclear missiles would only provide us witha fancier way to cause a fast mass extinction. We should cancel it.

3 March 2021 (Independent journalism in Belarus)*Two-year jail terms signal bid to crush all independent journalism in Belarus.*Journalists were convicted on a *trumped-upcharge of organizing a protest they simply filmed.*

3 March 2021 (Uber drivers' rights)Uber is trying to falsify an impression that drivers really want tohave no rights.

3 March 2021 (Clean Water)Many California towns inhabited by poor Hispanics don't deliver cleanwater.

In some places the threat of future water shortage is the obstacle tofixing it. The only fix for that is to use a lot less water '-- which means,less farming and fewer people.

3 March 2021 (Facebook's Australian news wipeout)*Facebook's Australian news wipeout showed it can delete [zuckers']history at any time.*

It can't delete any of my history, because I don't put it there.You shouldn't either.

3 March 2021 (Criminalizing protests)The Tories are planning to criminalize protests that interfere with anything.Chain yourself to a door and you'll be wearing chains for years.

3 March 2021 (Right-wing UK "defenders")Some right-wing UK "defenders" of freedom of speech criticized ano-platforming which did not actually happen. They, and the ministerin charge, were careless with the facts.

Nonetheless, another instance they cite did really occur, and so doothers. If 53 speakers were vetoed in one year, that may be a smallfraction of all speakers that year, but it is still a lot ofcensorship.

I gather that the Equality Act is meant to prohibit discrimination andharassment. I support that goal, but campaigning for that goal shouldnot go so far as to ban controversial speakers from giving talks.Even in a good cause, there must be limits on how far we can go. Iwould not try to ban people from praising proprietary software, eventhough I disagree with such praise. People have a right to disagreewith me, or with you, or with anyone.

I also agree that the government can easily be a worse threat to freedomof speech than any collection of students.

3 March 2021 (Environmental defenders sue California)Environmental defenders have sued California and Governor Newsomfor illegally issuing thousands of oil and gas drilling permits.

I am not sure how much Governor Newsom was personally involved in granting those licenses, but he's in charge of the state government, so it's hisresponsibility to stop it '-- and, if possible, to cancel those leases.

3 March 2021 ("Counterterrorism")*From 2018 to 2020, the United States government undertook what it labeled ''counterterrorism'' activities in 85 countries.* This map showswhat it did where.

3 March 2021 (Vaccines to Palestine)Israel is going out of its way to deny vaccine to Palestine.

We need to immunize almost everyone against Covid-19, and the rate ofproduction means many will have to wait. Who has to wait more and whogets to wait less is a secondary matter that I usually don't dwell on;instead I campaign for faster production so that the waiting is less.

Palestine is an exceptional case because it is under militaryoccupation. Israel as occupying power is responsible for publichealth in Palestine and thus has the obligation to secure vaccine forPalestinians, if it can. We see that it can. When Israel has extravaccine in its hands, it should carry out its responsibility.

2 March 2021 (Urgent: Voting Rights Advancement Act)US citizens: call on Congress to pass the Voting Rights Advancement Act.

2 March 2021 (Urgent: Black Maternal Health Momnibus Act)US citizens: Support the Black Maternal Health Momnibus Act.

This bill would do many things to reduce death in childbirth in the US '-- which is shockingly frequent in the US. Contrary to its name, its benefitswould expect to all poor women; they would not be limited to blacks.

2 March 2021 (Laws to repress protests)The US must not increase the laws to repress protests. Instead it shouldstart using its existing powers adequately against right-wing extremistsand stop overusing them against nonviolent leftists.

Many states are passing laws for repression of nonviolent protest actionagainst dangerous business activities, and thugs tend to be extraharsh against all left-wing protests. Compare that with the friendlinessof thugs with the Kenosha killer, Rittenhouse, and the CapitolPolice leaders' betrayal of their mission on Jan 6.

2 March 2021 (Social Security and tax)The US should boost Social Security by eliminating the cap on how much incomea person pays the tax on.

The reason this cap exists is because there is an idea that eachperson is supposed to receive support based on per own earnings.Following that idea, if there is a limit on how much Social Securitywill pay a retire rich person, there has to be a limit on how muchthat person pays Social Security.

I think it is perfectly fine to say that rich people will help supportthe rest, through Social Security as well as in other ways.

2 March 2021 (Cool Teen Migrant Detainment Center)(satire) *Biden Unveils Cool Teen Migrant Detainment Center WhereYouths Can Hang Out And Never Leave.*

2 March 2021 (Social safety net)Americans believe that their country has a "social safety net" whichwill protect them from absolute penury when something goes wrong. Inrecent decades, many cords of the net have been removed or stretched,so now people tend to fall through it. Here are the details.

A good government arranges to do better for its people than merely setup a net somewhere beneath them in case they fall. It provides goodthings for its people so that everyone can have a good life.

2 March 2021 (Benefits of brexit)One benefit for the UK (and the world) of its departure from the EUis that Goober will have to stop paying British drivers peanuts.

I made a mistake in a previous note of saying that the drivers werenow "employees." It seems that in the UK makes a distinction between"employees" and "workers"; the drivers are now "workers." I am notsure what rights workers have, but it is more than "independent"contractors.

2 March 2021 (Switching tactics)Planet roasters can no longer convince by denying that global heatingis occurring, so they have switched to other methods to stop societyfrom taking sufficient steps to curb the heating. Interview withMichael Mann.

There is no evidence that Wikileaks was part of a scheme to elect thewrecker. It published evidence in 2016 that the Democratic Party hadcorruptly prevented Sanders from winning the nomination. That corruption was a bigger problem than the fact that it was leaked.

2 March 2021 (Exaggerating support for democracy)Western countries, no longer as powerful as in the past, areexaggerating what they might do to support democracy in Burma.

This is leading some Burmese to expect an armed rescue. They mightstart a rebellion which would be crushed.

2 March 2021 (Trump inauguration)QAnincompoops now claim that Trump will be inaugurated as president onMarch 4.

When this fails to occur, they may pretend that it did.

2 March 2021 (Business supremacy treaty for energy infrastructure)A special business supremacy treaty specifically for energyinfrastructure has a ISDS clause. Under this treaty, countries must pay for permission to adopt climatepolicies that make foreign-owned fossil fuel infrastructure less useful.

All business-supremacy treaties are instruments to crush democracy. Countries should refuse to sign them, withdraw from them, ideally jointogether to cancel them out entirely.

For this treaty, one possible last-resort solution would be forcountries to declare war on each other and bomb each other's fossilfuel infrastructure, disabling it from functioning. Then they coulddecline responsibility on the grounds that the damage was an act ofwar.

I don't suggest bombing the power plant into rubble '-- that wouldcause pollution '-- just destroying some key part of it, without whichit does not operate.

Is this idea shocking? There are better ways to stop burning fossilfuels, but it is good to have this fall-back method if the others provetoo difficult. Don't say it can't be done!

2 March 2021 (Definition of antisemitism)The faculty at University College London rejected the UHRA definitionof antisemitism.

It was not designed to be used as a basis to judge people for their actions.

2 March 2021 (Killers of Maltese journalist charged)Malta says all those who masterminded killing of Maltese journalist DaphneCaruana Galizia have now confessed or been charged.

More info about her.

2 March 2021 (Sanctions on ICC personnel)The wrecker put sanctions on personnel of the International Criminal Court;a month after inauguration, Biden has not lifted them.

How the US should approach the ICC may be a complex question, butsanctions on its personnel cannot be a valid answer.

It was Dubya that began attacking the ICC and trying to make itineffective. The US should end that, too.

2 March 2021 (Global heating disaster)*CO2 emissions: nations' pledges 'far away' from Paris target, says UN.*The Paris agreement's target is far from sufficient to avoid globalheating disaster.

2 March 2021 (Remote surveillance of workers)Remote work has led to a great jump in remote surveillance of workers.They can be monitored far more than they were in the office.

Amazon is putting cameras in delivery vans to monitor drivers.I hope the drivers go on a camera strike, all covering the camerason the same day.

However, given all the other nasty things Amazon does, I urge younever to buy from Amazon '-- and to urge your friends not to buy anypresents for you from Amazon.

2 March 2021 (Biggest carbon polluter in history)*The United States Is the Biggest Carbon Polluter in History '-- Now Is the Timefor Bold Action.*

Or a cowardly drift into disaster.

2 March 2021 (Hamas in Palestinian elections)*Is Israel trying to keep Hamas from running in Palestinian elections?*

2 March 2021 (Law not to boycott Israel)Georgia passed a law requiring speakers at universities not to boycottIsrael. One speaker threatened to sue; Georgia is changing that law.

2 March 2021 ((satire) Ballotless Voting)(satire) *Florida GOP Introduces Ballotless Voting In Disenfranchised Communities.*

2 March 2021 (Increasing minimum wage)The Senate parliamentarian ruled that increasing the minimum wage isnot a budgetary measure, thus thwarting the plan to include that inthe Covid-19 relief bill. Democrats now have plans to work around that decision.

I advocate increasing the minimum wage, but I think theparliamentarian made the right decision. It is stretching thingsto say that any measure that could will have fiscal effectsis a budget measure.

There seem to be other ways to raise the minimum wage.

Raising the minimum wage will give the US economy a boost that focuseson working people, rather that trickle down.

2 March 2021 (Artificial sweeteners)An experiment found that various artificial sweeteners promoted genetransfer between bacteria.

The gene transfer can speed the evolution of multi-drug-resistantstrains. Since tons of these chemicals now appear in human wastes,they can easily affect

It seems like an amazing coincidence that several chemicals whose onlypoint of commonality is to taste sweet would also have this effect onbacteria. So I suppose there is an explanation to be found.

2 March 2021 (US military personnel refuse Covid vaccine)*A third of US military personnel refuse Covid vaccine.*

It shocks me that blacks often refuse the vaccine. It can't be due toheeding white-supremacist right-wing extremists. Since the samevaccines are being offered to whites, it should be clear that this isnot a case of offering blacks something dangerous. They are doingthemselves harm by refusing.

If a way can be found to win over the blacks in the military, a fewmonths to observe will convince most people that the vaccine is safeenough. (Unless a problem appears.)

The main remaining group of refusers will be white-supremacistright-wing extremists. Requiring vaccination of all service members'-- no choice about it '-- might convince some of them to leave themilitary, which is exactly what the country needs.

2 March 2021 (Monarch butterflies are threatened)Monarch butterflies are threatened. The population this winter is only 1/3of what is needed to keep the species safe.

2 March 2021 (Burning of plastics)*New research links Delhi's thick smogs to burning of plastics.*

2 March 2021 (Boulders as obstructions)Since the UK government has failed to stop bottom-trawling in"protected" marine areas, Greenpeace is doing so '-- by setting uplines of boulders as obstructions.

Bravo!

2 March 2021 (Government-for-hire)Both Republicans and Democrats are papering over the ways Neera Tandenhas boosted government-for-hire.

I am disappointed that Sanders supports her. I wish I could ask himwhy he does.

Meanwhile, some of the senators that are very hostile to Deb Haalandown fossil fuel stock.

2 March 2021 (Ancient city of Axum)When the Ethiopian government captured the ancient city of Axum,its soldiers (and allied Eritreans) rampaged and massacred civilians '-- hundreds, at least.

2 March 2021 (Radicalization camps)The prison camps for captured women and children of PISSI have becomeradicalization camps, ruled by the most fanatical prisoners.

I can't tell from the article whether there are prisoners in thosecamps that no longer support PISSI. If there are, I hope they get achance to go somewhere they can live in peace.

Fanatics should not be allowed to raise children. The childrenshould be adopted by families that do not support PISSI.

In general, what to do with prisoners that support violent extremistcults is a question with no evident good answer.

2 March 2021 (Twitter's old web interface)Twitter shut down its old web interface that permitted tweeting withoutrunning nonfree Javascript code.

1 March 2021 (Urgent: Rochester thugs investigation)US citizens: call on the Department of Justice to investigate theRochester thug department for civil rights violations and racistviolence.

1 March 2021 (Urgent: enact VOTERS act)Residents of Massachusetts: call on Massachusetts legislators to enactthe VOTERS act and require public meetings to be accessible virtually

I added the following text:

I ask you push to amend HD2828 (Garlick/Lewis) in two ways:

* To require virtual meetings to be accessible by phone as well as byinternet.

* To require the state to use its own servers for this purpose, ratherthan any company's servers, starting no later than June 2023.

The companies such as Zoom that offer the use of their servers forvirtual meetings impose their own rules about what may be said and whomay participate. It is intolerable for any governmental activity orstate entity to be covered by commercial censorship, so the state musthave a firm policy not to use commercial servers for its meetingsexcept in an emergency. However, recognizing that the state will needtime to set up its own facilities, I propose a transition period oftwo years before the requirement to use them becomes effective.

1 March 2021 (Urgent: college loan debt)US citizens: call on Congress to cancel Americans' college loan debt.

I entered this text.

I advocate cancelling student debt for undergraduate education,and for postgraduate education except when it is for a professional degreeand the person has or will become employed in that profession.We don't need to forgive doctors' and lawyers' expenses formedical school and law school.

To sign without running nonfree JavaScript code from the web site,use the Salsalabs workaround.

1 March 2021 (Rich nation and Covid)*Rich nations must either help developing countries fight Covid orlive in a fortress.*

The first thing advanced countries need to do is get themselvesgovernments that will help those very countries fight Covid-19. Withleaders like Trump and Bogus Johnson, they are charging off to defeat.

1 March 2021 (White-supremacists in the military)The US military has done next to nothing to keep out white-supremacistradicalization. Nazis openly talked about their views. Aside fromthe Navy, the US armed forces treated this as acceptable.

1 March 2021 (Overconsuming groundwater)India is overconsuming its ground water, and is approaching a deadly shortage. Food production would beinsufficient. Some major cities are faced with the threat of havingno drinking water.

Solar-powered desalination of sea water can help provide drinkingwater, but it would take a long time for India to make enough capacity toserve the purpose. Shipping water to inland Delhi, Bangalore andHyderabad (36 million people) would also be enormously expensive. Idon't know if that solution is feasible even with a desperate effort.

Looking at what Modi has done with the desperate protests of farmersover a change in laws, I expect that Modi will try to hide the watershortage when it comes, rather than address it.

1 March 2021 (Litter of mars rovers)(satire) *NASA Welcomes Litter Of Mars Rovers After SuccessfulBreeding Of Perseverance, Curiosity.*

1 March 2021 (Held government accountable)*If the UK government isn't held to account for its Covid failures, democracymay never recover.*

Even before this, democracy in the UK was rather decrepit. Corbyn,the only leader for decades who had any chance of redirecting the UK toserve most of its citizens, was shot down by character assassination. A democracy which gives such a leader no chance to succeed is notmuch of one.

Nonetheless the article is valid as regards the threat to the little democracythat remains.

1 March 2021 (Coronavirus death toll)*The Coronavirus Death Toll Reached 500,000 Because [the wrecker]Sabotaged the Covid Response.*

1 March 2021 (Fracking banned)Fracking has been banned in the Delaware river basin.

That still leaves large parts of the US where we need to ban fracking.Of course, no new fossil fuel development of any kind should be allowed.But fracking is particularly bad, since it tends to leak methane and can pollute local water supplies.

1 March 2021 (Derailing climate targets)*UK's gas power plans risk derailing climate targets.*

If civilization survives, new fossil fuel power plants will not remainin use long enough to recoup their investment costs. And likewise ifcivilization collapses. So there has to be some dirty reason forproposing to build them.

1 March 2021 (Solar power satellite)NASA is testing the main component for a future large solar powersatellite.

In the 1980s I helped the L5 Society campaign for this.

1 March 2021 (Critical supply chains)Biden has ordered prioritizing protecting critical supply chains fromrisk of interruption due to dependence on foreign suppliers.

The US should have started this in the 1990s if not before.Indeed, I wonder if the US used to pay attention to this,and whether it ceased as part of Republican deregulation.Can anyone find out and tell me?

1 March 2021 (Deal on USPS)Biden and some Democrats in Congress think they can get a "bipartisan"deal to change some laws for the USPS by leaving Saboteur DeJoy in officeas its head.

It is not entirely lunacy to try to make a deal with Republicans, butyou must check your pockets frequently during the meeting, a well asafter. The leader of their cult made a practice of not paying hisdebts and not keeping his deals, so you must not give them anything oncredit. Allowing a known saboteur to remain in place would be askingfor trouble, even as part of a deal. To give him more opportunitiesfor sabotage indefinitely in hope there might be a deal is idiotic.

If there is a good deal to be had, the Democrats can get it withoutDeJoy. But they can't possibly get a good deal by acting desperatefor one.

1 March 2021 (Thousands of fossil fuel wells approved)California has approved thousands of fossil fuel wells without theenvironmental approvals required by law.

They have also omitted the required public hearings about the projects.

It's time to ditch Chrome | WIRED UK

Mon, 07 Jun 2021 17:28

Despite a poor reputation for privacy, Google's Chrome browser continues to dominate. The web browser has around 65 per cent market share and two billion people are regularly using it. Its closest competitor, Apple's Safari, lags far behind with under 20 per cent market share. That's a lot of power, even before you consider Chrome's data collection practices.

Is Google too big and powerful, and do you need to ditch Chrome for good? Privacy experts say yes. Chrome is tightly integrated with Google's data gathering infrastructure, including services such as Google search and Gmail '' and its market dominance gives it the power to help set new standards across the web. Chrome is one of Google's most powerful data-gathering tools.

Google is currently under fire from privacy campaigners including rival browser makers and regulators for changes in Chrome that will spell the end of third-party cookies, the trackers that follow you as you browse. Although there are no solid plans for Europe yet, Google is planning to replace cookies with its own 'privacy preserving' tracking tech called FLoC, which critics say will give the firm even more power at the expense of its competitors due to the sheer scale of Chrome's user base.

Chrome's hefty data collection practices are another reason to ditch the browser. According to Apple's iOS privacy labels, Google's Chrome app can collect data including your location, search and browsing history, user identifiers and product interaction data for ''personalisation'' purposes. Google says this gives you the ability to enable features such as the option to save your bookmarks and passwords to your Google Account. But unlike rivals Safari, Microsoft's Edge and Firefox, Chrome links this data to devices and individuals.

Although Chrome legitimately needs to handle browsing data, it can siphon off a large amount of information about your activities and transmit it to Google, says Rowenna Fielding, founder and director of privacy consultancy Miss IG Geek. ''If you're using Chrome to browse the internet, even in private mode, Google is watching everything you do online, all the time. This allows Google to build up a detailed and sophisticated picture about your personality, interests, vulnerabilities and triggers.''

When you sync your Google accounts to Chrome, the data slurping doesn't stop there. Information from other Google-owned products including its email service Gmail and Google search can be combined to form a scarily accurate picture. Chrome data can be added to your geolocation history from Google Maps, the metadata from your Gmail usage, your social graph '' who you interact with, both on and offline '' the apps you use on your Android phone, and the products you buy with Google Pay. ''That creates a very clear picture of who you are and how you live your life,'' Fielding says.

As well as gathering information about your online and offline purchases, data from Google Pay can be used ''in the same way as data from other Google services,'' says Fielding. ''This is not just what you buy, but also your location, device contacts and information, and the links those details provide so you can be identified and profiled across multiple datasets.''

Google's power goes even further than its own browser market share. Competitor browsers such as Microsoft's Edge are based on the same engine, Chromium. ''So under the hood they are still a form of Chrome'', says Sean Wright, an independent security researcher.

Google's massive market share has allowed the internet giant to develop web standards such as AMP in Google mobile search, which publishers must use in order to appear at the top of search results. And more recently, Chrome's FLoC effectively gives Google control over the ad tracking tech that will replace third-party cookies '' although this is being developed in the open and with feedback from other developers.

Google's power allows it to set the direction of the industry, says Wright. ''Some of those changes are good, including the move to make HTTPS encryption a default, but others are more self-serving, such as the FLoC proposal.''

Google says its Ads products do not access synced Chrome browsing history, other than for preventing spam and fraud. The firm outlines that the iOS privacy labels represent the maximum categories of data that can be gathered, and what is actually collected depends on the features you use in the app, and how you configure your settings. It also claims its open-source FLoC API is privacy-focused and will not give Google Ads products special privileges or access.

Google says privacy and security ''have always been core benefits of the Chrome browser''. A Google spokesperson highlighted the Safe Browsing features that protect against threats such as phishing and malware, as well as additional controls to help you manage your information in Chrome. In recent years the company has introduced more ways you can control your data. ''Chrome offers helpful options to keep your data in sync across devices, and you control what activity gets saved to your Google Account if you choose to sign in,'' the spokesperson says.

But that doesn't change the level of data collection possible, or the fact that Google has so much sway, simply through its market dominance and joined up ad-driven ecosystem. ''When you are a company that has the majority share of browsers and internet search, you suddenly have a huge amount of power,'' says Matthew Gribben, a former GCHQ cybersecurity consultant. ''When every web developer and SEO expert in the world needs to pander to these whims, the focus becomes on making sites work well for Google at the expense of everything else.''

And as long as people use Chrome and other services '' many of which are, admittedly, more user friendly than those of rivals '' then Google's power shows no signs of diminishing. Chrome provides Google with ''enormous amounts of behavioural and demographic data, control over people's browsing experience, a platform for shaping the web to Google's own advantage, and brand 'capture''', Fielding says. ''When people's favourite tools, games and sites only work with Chrome, they are reluctant to switch to an alternative.''

In theory, competition and data protection laws should provide the tools to keep Google from getting out of control, says Fielding. But in practice, ''that doesn't seem to be working for various reasons '' including disparities of wealth and power between Google and national regulators''. Fielding adds that Google is also useful to many governments and economies and it is tricky to enforce national laws against a global corporation.

There are steps you can take to lock down your account, such as preventing your browsing data being collected by not syncing Chrome, and turning off third-party cookie tracking. But note that the more features you use in Chrome, the more data Google needs to ensure they can function properly. And as Google's power and dominance continues to surge, the other option is to ditch Chrome altogether.

If you do decide to ditch Chrome, there are plenty of other feature-rich privacy browser options to consider, including Firefox, Brave and DuckDuckGo, which don't involve giving Google any of your data.

More great stories from WIRED

🖥¸ Sign-up to WIRED's business briefing: Get Work SmarterThe hunt for the master cowThis Arctic mine is a warning to the worldJapanese offices were a warning. Overworking is killing youGoogle's cookie ban and FLoC explainedAll those pub apps are a privacy nightmareLewis Hamilton opens up about activism and life beyond F1ðŸ--Š Subscribe to the WIRED Podcast. New episodes every Friday

A Psychiatrist Invited to Yale Spoke of Fantasies of Shooting White People - The New York Times

Mon, 07 Jun 2021 15:50

The Yale School of Medicine said the tone and content of a lecture by Dr. Aruna Khilanani, who has a private practice in New York, were ''antithetical to the values of the school.''

Yale University has restricted access to an online video of a talk given by Dr. Aruna Khilanani, in which she said that talking directly to white people about race was a ''waste of our breath.'' Credit... Christopher Capozziello for The New York Times June 6, 2021

A psychiatrist said in a lecture at Yale University's School of Medicine that she had fantasies of shooting white people, prompting the university to later restrict online access to her expletive-filled talk, which it said was ''antithetical to the values of the school.''

The talk, titled ''The Psychopathic Problem of the White Mind,'' had been presented by the School of Medicine's Child Study Center as part of Grand Rounds, a weekly forum for faculty and staff members and others affiliated with Yale to learn about various aspects of mental health.

In the online lecture, on April 6, the psychiatrist, Dr. Aruna Khilanani, who has a private practice in New York and is not affiliated with Yale, described a ''psychological dynamic that is on PTSD repeat,'' in which people of color patiently explain racism to white people, who deny their attacks. When people of color then become angry, white people use that anger as ''confirmation that we're crazy or have emotional problems,'' she said.

She recalled a white therapist telling her in psychoanalysis that she was ''psychotic'' whenever she expressed anger at racism, and said she had spent ''years unpacking her racism to her,'' even though she was the one being charged for the sessions.

''This is the cost of talking to white people at all '-- the cost of your own life, as they suck you dry,'' Dr. Khilanani said in the lecture, which drew widespread attention after Bari Weiss, a former writer and editor for the opinion department of The New York Times, posted an audio recording of it on Substack on Friday. ''There are no good apples out there. White people make my blood boil.''

Dr. Khilanani added that around five years ago, ''I took some actions.''

''I systematically white-ghosted most of my white friends, and I got rid of the couple white BIPOCs that snuck in my crew, too,'' she said, using an acronym for Black and Indigenous people and people of color.

''I had fantasies of unloading a revolver into the head of any white person that got in my way, burying their body and wiping my bloody hands as I walked away relatively guiltless with a bounce in my step, like I did the world a favor,'' she said, adding an expletive.

Later in the lecture, Dr. Khilanani, who said she is of Indian descent, described the futility of trying to talk directly to white people about race, calling it a ''waste of our breath.''

''We are asking a demented, violent predator who thinks that they are a saint or a superhero to accept responsibility,'' she said. ''It ain't going to happen. They have five holes in their brain.''

Dr. Khilanani, a forensic psychiatrist and psychoanalyst, said in an email on Saturday that her words had been taken out of context to ''control the narrative.'' She said her lecture had ''used provocation as a tool for real engagement.''

''Too much of the discourse on race is a dry, bland regurgitation of new vocabulary words with no work in the unconscious,'' she said. ''And, if you want to hit the unconscious, you will have to feel real negative feelings.''

She added: ''My speaking metaphorically about my own anger was a method for people to reflect on negative feelings. To normalize negative feelings. Because if you don't, it will turn into a violent action.''

Dr. Khilanani noted that her lecture had initially been well received. After she gave it, several attendees praised her comments on the online feed.

One woman who identified herself as a Yale psychologist called it ''absolutely brilliant.'' A man said, ''I feel very shook in a good way,'' and a Black woman thanked Dr. Khilanani for giving ''voice to us as people of color and what we go through all the time.''

Dr. Khilanani received her New York State medical license in 2008. Her website says that she has expertise in ''seeing both the conscious and unconscious structures of racism/sexism/homophobia/classism'' that allows for a safe environment when treating people from marginalized groups.

Ms. Weiss released the recording of Dr. Khilanani's remarks at a time when many universities are debating teaching about race and racism and the limits of free speech.

Ms. Weiss also posted an interview with Dr. Khilanani by the journalist Katie Herzog.

The Yale School of Medicine said in its statement that after Dr. Khilanani's talk, several faculty members had expressed concern about her remarks.

Based on those concerns, leaders at the School of Medicine, in consultation with the chairwoman of the Child Study Center, reviewed a recording of the talk and ''found the tone and content antithetical to the values of the school,'' the statement said.

Because Grand Rounds are typically posted online, the statement said, school leaders then reviewed a university report on free expression at Yale in deciding how to handle Dr. Khilanani's lecture.

''In deciding whether to post the video, we weighed our grave concern about the extreme hostility, imagery of violence, and profanity expressed by the speaker against our commitment to freedom of expression,'' the statement said.

Ultimately, school leaders decided to limit access to the video to those who could have attended the talk '-- the members of the Yale community.

School leaders also added a disclaimer to the video to ''emphasize that the ideas expressed by the speaker conflict with the core values of Yale School of Medicine,'' the statement said.

The disclaimer reads, in part: ''Yale School of Medicine expects the members of our community to speak respectfully to one another and to avoid the use of profanity as a matter of professionalism and acknowledgment of our common humanity. Yale School of Medicine does not condone imagery of violence or racism against any group.''

Dr. Khilanani posted several videos on TikTok addressing what she called Yale's ''suppression of my talk on race.'' In her email, she called on Yale to release the video, and she said in a phone interview that Yale should not have been surprised because ''they knew the topic, they knew the title, they knew the speaker.''

Image After Yale limited access to an online video posted by Dr. Khilanani, she shared her thoughts on TikTok. Credit... Aruna Khilanani She said the university was trying to protect itself from internal and external blowback.

''Something is emotionally dangerous about opening up a conversation about race,'' she said in the email. ''No one wants to look at their actions or face their own negative feelings about what they are doing. The best way to control the narrative is to focus on me, and make me the problem, which is what I stated occurs in the dynamic of racism.''

She added: ''My work is important. And, I stand by it. We need to heal in this country.''

Dr. Nicholas A. Christakis, a Yale professor of social and natural science, internal medicine and biomedical engineering, was among those who had criticized Dr. Khilanani's lecture.

He said on Twitter that the views that Dr. Khilanani had expressed, which he referred to as ''racism,'' were ''deeply worrisome & counter-productive.''

''Of course, as an invitee, she is free to speak on campus,'' Dr. Christakis said. ''But her views must be soundly rejected.''

Once a Bastion of Free Speech, the A.C.L.U. Faces an Identity Crisis - The New York Times

Mon, 07 Jun 2021 15:20

An organization that has defended the First Amendment rights of Nazis and the Ku Klux Klan is split by an internal debate over whether supporting progressive causes is more important.

The American Civil Liberties Union took root in the defense of conscientious objectors to World War I and Americans accused of Communist sympathies after the Russian Revolution. Credit... Ting Shen for The New York Times Published June 6, 2021 Updated June 7, 2021, 3:56 a.m. ET

It was supposed to be the celebration of a grand career, as the American Civil Liberties Union presented a prestigious award to the longtime lawyer David Goldberger. He had argued one of its most famous cases, defending the free speech rights of Nazis in the 1970s to march in Skokie, Ill., home to many Holocaust survivors.

Mr. Goldberger, now 79, adored the A.C.L.U. But at his celebratory luncheon in 2017, he listened to one speaker after another and felt a growing unease.

A law professor argued that the free speech rights of the far right were not worthy of defense by the A.C.L.U. and that Black people experienced offensive speech far more viscerally than white allies. In the hallway outside, an A.C.L.U. official argued it was perfectly legitimate for his lawyers to decline to defend hate speech.

Mr. Goldberger, a Jew who defended the free speech of those whose views he found repugnant, felt profoundly discouraged.

''I got the sense it was more important for A.C.L.U. staff to identify with clients and progressive causes than to stand on principle,'' he said in a recent interview. ''Liberals are leaving the First Amendment behind.''

The A.C.L.U., America's high temple of free speech and civil liberties, has emerged as a muscular and richly funded progressive powerhouse in recent years, taking on the Trump administration in more than 400 lawsuits. But the organization finds itself riven with internal tensions over whether it has stepped away from a founding principle '-- unwavering devotion to the First Amendment.

Image ''Liberals are leaving the First Amendment behind,'' said David Goldberger, a Jewish lawyer who defended the free speech rights of Nazis in the 1970s. Credit... Shuran Huang for The New York Times Its national and state staff members debate, often hotly, whether defense of speech conflicts with advocacy for a growing number of progressive causes, including voting rights, reparations, transgender rights and defunding the police.

Those debates mirror those of the larger culture, where a belief in the centrality of free speech to American democracy contends with ever more forceful progressive arguments that hate speech is a form of psychological and even physical violence. These conflicts are unsettling to many of the crusading lawyers who helped build the A.C.L.U.

The organization, said its former director Ira Glasser, risks surrendering its original and unique mission in pursuit of progressive glory.

''There are a lot of organizations fighting eloquently for racial justice and immigrant rights,'' Mr. Glasser said. ''But there's only one A.C.L.U. that is a content-neutral defender of free speech. I fear we're in danger of losing that.''

Founded a century ago, the A.C.L.U. took root in the defense of conscientious objectors to World War I and Americans accused of Communist sympathies after the Russian Revolution. Its lawyers made their bones by defending the free speech rights of labor organizers and civil rights activists, the Nation of Islam and the Ku Klux Klan. Their willingness to advocate for speech no matter how offensive was central to their shared identity.

One hears markedly less from the A.C.L.U. about free speech nowadays. Its annual reports from 2016 to 2019 highlight its role as a leader in the resistance against President Donald J. Trump. But the words ''First Amendment'' or ''free speech'' cannot be found. Nor do those reports mention colleges and universities, where the most volatile speech battles often play out.

Since Mr. Trump's election, the A.C.L.U. budget has nearly tripled to more than $300 million as its corps of lawyers doubled. The same number of lawyers '-- four '-- specialize in free speech as a decade ago.

Image ''There's only one A.C.L.U. that is a content-neutral defender of free speech,'' said Ira Glasser, a former director of the organization. ''I fear we're in danger of losing that.'' Credit... Jeenah Moon for The New York Times Some A.C.L.U. lawyers and staff members argue that the First Amendment, which guarantees freedom of speech and the press '-- as well as freedom of religion, assembly and petitioning the government '-- is more often a tool of the powerful than the oppressed.

''First Amendment protections are disproportionately enjoyed by people of power and privilege,'' said Dennis Parker, who directed the organization's Racial Justice Program until he left in late 2018.

To which David Cole, the national legal director of the A.C.L.U., rejoined in an interview: ''Everything that Black Lives Matter does is possible because of the First Amendment.''

A tragedy also haunts the A.C.L.U.'s wrenching debates over free speech.

In August 2017, officials in Charlottesville, Va., rescinded a permit for far-right groups to rally downtown in support of a statue to the Confederate general Robert E. Lee. Officials instead relocated the demonstration to outside the city's core.

The A.C.L.U. of Virginia argued that this violated the free speech rights of the far-right groups and won, preserving the right for the group to parade downtown. With too few police officers who reacted too passively, the demonstration turned ugly and violent; in addition to fistfights, the far right loosed anti-Semitic and racist chants and a right-wing demonstrator plowed his car into counterprotesters, killing a woman. Dozens were injured in the tumult.

Revulsion swelled within the A.C.L.U., and many assailed its executive director, Anthony Romero, and legal director, Mr. Cole, as privileged and clueless. The A.C.L.U. unfurled new guidelines that suggested lawyers should balance taking a free speech case representing right-wing groups whose ''values are contrary to our values'' against the potential such a case might give ''offense to marginalized groups.''

A.C.L.U. leaders asserted that nothing substantive had changed. ''We should recognize the cost to our allies but we are committed to represent those whose views we regard as repugnant,'' Mr. Cole said in an interview with The New York Times.

But longtime free speech advocates like Floyd Abrams, perhaps the nation's leading private First Amendment lawyer, disagreed. The new guidelines left him aghast.

''The last thing they should be thinking about in a case is which ideological side profits,'' he said. ''The A.C.L.U. that used to exist would have said exactly the opposite.''

Image Many A.C.L.U. members were upset after the organization defended the right of white nationalists who wanted to rally in Charlottesville, Va., in 2017. Credit... Stephanie Keith/Reuters A common enemyThe 2016 election blew like a hurricane over the A.C.L.U. Lawyers texted one another in disbelief; a deputy director broke into sobs as he told his 4-year-old that Mr. Trump had won; some staff members spoke of a nation irredeemably racist.

Mr. Romero, who is Latino and the organization's first nonwhite executive director, arrived at the office just past dawn the next day. He crafted a letter to Mr. Trump and ran it as a full-page ad in The Times, attacking the president-elect on such issues as immigration and abortion rights. ''If you do not reverse course and instead endeavor to make these campaign promises a reality,'' he warned, ''you will have to contend with the full firepower of the A.C.L.U.''

The A.C.L.U. became an embodiment of anti-Trump resistance. More than $1 million in donations sluiced into its coffers within 24 hours and tens of millions of dollars followed in 2017, making the organization better funded than ever before. Salaries reflected that '-- Mr. Romero now makes $650,000 and some lawyers in senior management $400,000. Its 2017 annual report came with ''RESIST'' superimposed on an image of the Statue of Liberty.

When Brett M. Kavanaugh was nominated for the Supreme Court, the A.C.L.U. surprised longtime supporters by entering the fray, broadcasting a commercial that strongly suggested the judge was guilty of sexual assault. When a book argued that the increase in the number of teenage girls identifying as transgender was a ''craze'' caused by social contagion, a transgender A.C.L.U. lawyer sent a tweet that startled traditional backers, who remembered its many fights against book censorship and banning: ''Stopping the circulation of this book and these ideas is 100% a hill I will die on.''

The A.C.L.U. embraced dormitories set aside for Black and Latino students and argued that police forces were inherently white supremacist. ''We need to defund the budgets,'' Mr. Romero said last year. ''It's the only way we're going to take power back.''

Mr. Romero insisted he oversaw no retreat from the fight for free speech and points to key cases to underscore that. In recent years the A.C.L.U. argued that the attempt by Gov. Andrew M. Cuomo of New York to deny the National Rifle Association access to financial services infringed on freedom of speech; defended motorists' right to put the Confederate flag on specialty license plates; and criticized Facebook and Twitter for banning Mr. Trump.

''I recall a conversation with a Planned Parenthood leader after we defended the right of protesters to stand outside clinics,'' Mr. Romero said. ''She was annoyed and told me, 'When you lie down with wolves, you wake up with fleas.' I replied, 'If I have fleas, I wash them off in the morning.'''

Still, many of the group's newly hired lawyers '-- the staff has grown markedly more diverse under Mr. Romero, who is the organization's first openly gay executive director '-- often are most energized by issues that range beyond and sometimes collide with free speech advocacy.

''Am I sorry I leaned into our opposition to Trump? Hell no,'' Mr. Romero said. ''I'm asked, 'Are we a free speech or racial justice organization?' and I answer, 'Yes.' We are a domestic human rights organization.''

That said, in an interview Mr. Romero acknowledged missteps. The A.C.L.U. in 2018 poured $800,000 into what looked like a campaign ad for Stacey Abrams during her bid for governor of Georgia '-- a questionable move for a nonprofit organization that calls itself nonpartisan. ''I probably would do a different ad today to be completely candid,'' Mr. Romero said.

Image ''I'm asked, 'Are we a free speech or racial justice organization?' and I answer, 'Yes,''' said Anthony Romero, the A.C.L.U.'s executive director. Credit... Jim Lo Scalzo/European Pressphoto Agency The $1 million anti-Kavanaugh ad campaign, which compared his denial of a sexual assault accusation to Bill Cosby's incredulity at mounting allegations and Bill Clinton's lie about an affair, left some longtime lawyers inside the A.C.L.U. uncomfortable. No organization aside from the U.S. government argues more cases before the Supreme Court, and A.C.L.U. amicus briefs have drawn praise from even the strictly conservative justice Clarence Thomas.

''I share the discomfort with the A.C.L.U.'s engaging in partisan-looking activity; it risks taking luster off our reputation as straight shooters,'' noted Ben Wizner, the longtime head of the A.C.L.U.'s free speech, privacy and technology project.

The money that flooded into the A.C.L.U. after Mr. Trump's election allowed Mr. Romero to flex the organization's progressive muscles and greatly increase the size of its staff. Many of the new employees, however, were not nearly as supportive of the A.C.L.U.'s traditional civil liberties work. They worked inside their policy silos, focused on issues like immigration, transgender rights and racial justice.

Some fired off tweets like bottle rockets, causing headaches and confusion. This March, Senator Chuck Grassley of Iowa '-- who survived a bout with the coronavirus '-- was conducting confirmation hearings for a former A.C.L.U. lawyer who was nominated to serve as associate attorney general. Rebecca McCray, an A.C.L.U. editor, listened to the sharp tone of Mr. Grassley, a Republican, as he grilled the nominee and felt a flush of anger.

She tweeted: ''Tried to watch Vanita Gupta's confirmation hearing but got too angry Chuck Grassley survived COVID.''

Mr. Romero quickly apologized to Mr. Grassley's staff and took no action against his staffer. Asked about Ms. McCray, he responded, ''She is highly valued by me.''

Those who control the official A.C.L.U. Twitter account can prove erratic, at the national and state levels. In 2018, the Trump administration proposed revamping Obama-era regulations on Title IX, which sets guidelines for investigations of sexual harassment and assault on campuses. It strengthened protections for the accused.

The A.C.L.U. tweet in response to the news was scathing: This ''promotes an unfair process, inappropriately favoring the accused.''

Because the A.C.L.U. has championed the due process rights of the accused for 100 years, the tweet came as a surprise. It turned out a staff member at the A.C.L.U.'s women's rights project had typed and clicked ''send.''

Mr. Cole, the legal director, saw the tweet and as the organization addressed the issue going forward, it stated that the Trump rules offered ''important provisions that promote fair process for all parties.''

In another case, a police officer in Columbus, Ohio, fatally shot 16-year-old Ma'Khia Bryant as she tried to plunge a knife into a young woman. The A.C.L.U. of Ohio tweeted, ''@ColumbusPolice murdered a 15 year old Black girl.

Here too was another example '-- in this case an A.C.L.U. affiliate '-- of seemingly overriding its traditional insistence on the presumption of innocence. Video shows that the officer made a split-second decision. And murder is determined in a court.

Mr. Romero was philosophical about the cacophony. ''My staff are the major consumers of freedom of speech within the organization,'' he said.

But in interviews, several younger lawyers suggested a toll taken. Their generational cohort, they said, placed less value on free speech, making it uncomfortable for them to express views internally that diverged from progressive orthodoxy.

''A dogmatism descends sometimes'' inside the A.C.L.U., noted Alejandro Agustin Ortiz, a lawyer with the racial justice project. ''You hesitate before you question a belief that is ascendant among your peer group.''

Some argued for carefully vetting hires. ''I never do a job interview without raising Skokie/Charlottesville and asking if they are comfortable with that history,'' said a lawyer who asked not to be named because of the fear of inflaming colleagues. ''Not many colleagues agree. It's about the cause.''

Mr. Romero offered a verbal shrug. ''I reject that we need an entrance exam on civil liberties to establish the bona fides needed to work here,'' he said.

The A.C.L.U. has in fact often gloried in its internal contentions. It split over decisions to represent the Nazis in the 1930s, the Ku Klux Klan in the 1960s, and the Nazis in the 1970s. After Skokie, a leader of the left-wing National Lawyers Guild complained of its ''poisonous evenhandedness.''

In the 1980s, Nadine Strossen, the A.C.L.U.'s former president, wrote an essay defending it against charges of ''trendy liberalism.'' All of this prefigured current tensions, not least the debacle at Charlottesville.

Dissent from withinLess than two months after that terrible day in Charlottesville, Claire Gastanaga, then the executive director of the A.C.L.U. chapter in Virginia, drove to the College of William & Mary to talk about free speech. One of her board members had resigned after Charlottesville, tweeting, ''When a free speech claim is the only thing standing in the way of Nazis killing people, maybe don't take the case.''

Ms. Gastanaga planned to argue that by defending the rights of the objectionable, the A.C.L.U. preserved the rights of all. She walked onstage and dozens of students who proclaimed themselves allied with Black Lives Matter approached with signs.

''Good, I like this,'' Ms. Gastanaga said. ''This illustrates very well '--'--''

Those were the last of her words that could be heard.

Image When Claire Gastanaga, left, was the executive director of the A.C.L.U. chapter in Virginia, she was shouted off the stage while trying to speak about free speech on a college campus. Credit... Steve Helber/Associated Press ''A.C.L.U., you protect Hitler, too!'' the students chanted, setting up a line that stretched the width of the stage.

They stood in front of the stage and Ms. Gastanaga and for half an hour blocked anyone in the audience from approaching and talking with her. She eventually left.

''The revolution,'' the students chanted, ''will not uphold the Constitution.''

The debate inside the A.C.L.U. proved scarcely less charged. ''People were rubbed raw,'' said Mr. Parker, who directed its racial justice project and took part in these impassioned discussions. ''I've never seen anything like it.''

A decade earlier, Mr. Parker, who is Black, debated before taking a job at the A.C.L.U. He had worried about representing white fascists of the sort who paraded about in Charlottesville. ''I have a predisposition to be less concerned about the rights of people who would like to see me dead, and that did complicate my decision.''

After Charlottesville, Mr. Cole wrote an essay in The New York Review of Books that defended the decision. ''We protect the First Amendment not only because it is the lifeblood of democracy and an indispensable element of freedom, but because it is the guarantor of civil society itself,'' he wrote.

That ignited anger among some 200 staff members, who signed a letter stating the essay was ''oblivious'' to the A.C.L.U.'s institutional racism. The A.C.L.U.'s upper ranks are diverse; 12 of the top 21 leaders are either Black, Latino or Asian. Fourteen are women.

''David's approach fails to consider how our broader mission '-- which includes advancing the racial justice guarantees in the Constitution and elsewhere, not just the First Amendment '-- continues to be undermined by our rigid stance,'' they wrote.

The A.C.L.U. held wide-ranging discussions with its staff, and summary sheets of those gatherings captured the raw feelings within. One group demanded that the A.C.L.U. ''no longer defend white supremacists.'' Another said top leaders ''are not to be trusted alone with making decisions on these delicate'' questions.

The A.C.L.U. lawyers who defend speech acknowledged tension. ''I don't sleep or eat well when I take cases defending such clients, but this is who we are,'' said Emerson Sykes, a Black lawyer who previously worked to represent those who struggle for free speech and assembly across Africa. ''I have worked in countries where the government locks you up for speech.''

Other senior officials however pointedly distanced themselves from the Virginia affiliate, saying it failed to recognize the nature of its client.

''They got snookered,'' said a longtime senior leader with the A.C.L.U. involved with many decisions over the years. ''We don't want to be in-house counsel for the N.R.A. or the alt-right.''

AWOL on campus?Two decades ago, as free speech battles erupted on college campuses, a new civil liberties group took shape to vigorously advocate for First Amendment principles. Called the Foundation for Individual Rights in Education, the organization was purposely nonideological and nonpartisan. A founder, Harvey Silverglate, had served on the board of the A.C.L.U. of Massachusetts and considers it an ally even as he sees its limits.

''When you deal with campus hate speech, you know they most often won't file a brief with you,'' Mr. Silverglate said. Mr. Romero, he added, ''is not a liberal, he's a progressive. His A.C.L.U. prefers cause work.''

That may be an overstatement. Mr. Wizner, who runs the A.C.L.U.'s free speech project, has represented the National Security Agency whistle-blower Edward Snowden and rattled off important cases his lawyers handled. But FIRE, he acknowledged, has taken a strong lead on campuses, where so many consequential battles are fought.

''FIRE does not have the same tensions,'' Mr. Wizner said. ''At the A.C.L.U., free speech is one of 12 or 15 different values.''

Traditionally, the A.C.L.U.'s state affiliates monitor and argue free speech cases, but in recent years some shied from such fights. Here are a few examples:

In 2015, University of Missouri students protested racism and established an encampment in a campus quad. When a student journalist tried to take photos and talk to protesters, students and a journalism professor physically blocked the reporter from doing so. The A.C.L.U. of Missouri applauded the ''courageous'' leadership of student activists and faculty members, and two national A.C.L.U. officials wrote columns about the protests. They did not mention First Amendment rights.

Four years later at the University of Connecticut, two white students walking home late at night loudly repeated a racial slur. In the ensuing uproar, the university police arrested and charged the students with ridicule on account of race.

The A.C.L.U. of Connecticut demanded that the university hire 10 Black faculty and staff members and require a freshman course on ending racism on campus. It made no mention of the arrests, other than to opine that the police force is ''an inherently white supremacist institution.''

Two days later, Mr. Cole issued a corrective: The students' conduct ''is not criminal,'' he stated. ''The First Amendment protects even offensive and hateful speech.''

Even the New York Civil Liberties Union, traditionally an independent-minded A.C.L.U. affiliate that has produced several national executive directors and stood at the forefront in defending free speech cases, did not want to talk about those issues. A spokeswoman for its executive director, Donna Lieberman, said, ''We don't feel we'll have anything to add.''

Such reticence sounded like terra incognita to Norman Siegel, who led the New York group when Mayor Rudolph W. Giuliani tried to block the Ku Klux Klan from rallying downtown in 1999.

The Klan was anathema to Mr. Siegel, but he fought like a cornered cat for its First Amendment rights. ''Did I give anyone else a veto? No way,'' he said. ''I would have compromised my integrity.''

Mr. Siegel, who is white, drew support from the Black publisher of The Amsterdam News and from the Rev. Al Sharpton, a Black activist, who filed suit in support of the N.Y.C.L.U. Mr. Siegel recalled receiving a standing ovation from a Black audience.

''A woman came up and said: 'You did the right thing. If Giuliani could shut down the Klan, he would do it to us,''' he recalled.

Supreme Court rules against immigrants with temporary status

Mon, 07 Jun 2021 15:13

The Associated Press

AboutContactCustomer SupportCareersTerms & ConditionsPrivacy All contents (C) copyright 2021 The Associated Press. All rights reserved.

Exploring Biodigital Convergence '' Policy Horizons Canada

Mon, 07 Jun 2021 14:08

What happens when biology and digital technology merge?

ForewordSummaryWhat is biodigital convergence?Why explore biodigital convergence now?Good morning, biodigital.What new capabilities arise from biodigital convergence?What are possible characteristics of the biodigital system?What are some initial policy questions?ConclusionAcknowledgementsEndnotesForewordIn the coming years, biodigital technologies could be woven into our lives in the way that digital technologies are now. Biological and digital systems are converging, and could change the way we work, live, and even evolve as a species. More than a technological change, this biodigital convergence may transform the way we understand ourselves and cause us to redefine what we consider human or natural.

Biodigital convergence may profoundly impact our economy, our ecosystems, and our society. Being prepared to support it, while managing its risks with care and sensitivity, will shape the way we navigate social and ethical considerations, as well as guide policy and governance conversations.

Guided by its mandate, Policy Horizons Canada (Policy Horizons) intends to start an informed and meaningful dialogue about plausible futures for biodigital convergence and the policy questions that may arise. In this initial paper, we define and explore biodigital convergence '' why it is important to explore now, its characteristics, what new capabilities could arise from it, and some initial policy implications. We want to engage with a broad spectrum of partners and stakeholders on what our biodigital future might look like, how this convergence might affect sectors and industries, and how our relationships with technology, nature, and even life itself could evolve.

We welcome your comments and participation, and look forward to diving more deeply into the questions raised in this paper.

Kristel Van der Elst

Director GeneralPolicy Horizons Canada

SummaryIn the late 1970s and early 1980s, Canadians and policy makers began to understand that the digital age was upon us. Early movers seized opportunities, grappled with challenges, and initiated deft policies that have provided benefits for decades. We continue to see the powerful effects of digitization, and more are surely to come. But we may be on the cusp of another disruption of similar magnitude. Digital technologies and biological systems are beginning to combine and merge in ways that could be profoundly disruptive to our assumptions about society, the economy, and our bodies. We call this the biodigital convergence.

This paper sets out an initial framing to guide Policy Horizons' upcoming foresight work.

Three ways biodigital convergence is emergingFull physical integration of biological and digital entities

Coevolution of biological and digital technologies

Conceptual convergence of biological and digital systems

Change human beings '' our bodies, minds, and behavioursChange or create other organisms Alter ecosystems Sense, store, process, and transmit informationManage biological innovationStructure and manage production and supply chainsDemocratizationDecentralizationGeographic diffusionScalabilityCustomizationReliance on dataEconomic

Could traditional resource-based competitive advantages fade?Would education and training systems need to be adapted to address potential skills gaps? What could data protection and intellectual property frameworks look like in the biodigital era? How can policy foster a competitive business environment in a biodigital world? Social

Could social attitudes shift towards health and lifestyle?What policies could help address health inequality?What policies could foster trust among partners and stakeholders? Environmental

What changes could occur in land use and the natural environment?Geopolitical

What policies are necessary to compete in a global biodigital world?What is needed to protect citizens' security in the biodigital world?Governance

How can regulation and policy making take social concerns about biodigital advances into account?Is the current tax framework suited for the biodigital world? Do public finance systems need to be reassessed to be sustainable in the biodigital world? Biodigital convergence is the interactive combination, sometimes to the point of merging, of digital and biological technologies and systems. Policy Horizons is examining three ways in which this convergence is happening.

1 Full physical integration of biological and digital entitiesDigital technology can be embedded in organisms, and biological components can exist as parts of digital technologies. The physical meshing, manipulating, and merging of the biological and digital are creating new hybrid forms of life and technology, each functioning in the tangible world, often with heightened capabilities.

Robots with biological brains01 and biological bodies with digital brains02 already exist, as do human-computer and brain-machine interfaces.03 The medical use of digital devices in humans04, as well as digitally manipulated insects such as drone dragonflies05 and surveillance locusts06, are examples of digital technology being combined with biological entities. By tapping into the nervous system and manipulating neurons, tech can be added to an organism to alter its function and purpose. New human bodies and new senses of identity07 could arise as the convergence continues.

2 Coevolution of biological and digital technologiesThis type of biodigital convergence emerges when advances in one domain generate major advances in the other. The coevolution of biological and digital sciences and technologies enables progress in each domain that would be impossible otherwise. This could lead to biological and digital technologies that are developed as integrated or complementary systems.

Complex living systems '' bacteria, fungi, plants, and animal life including humans '' are increasingly subject to examination and understanding by digital tools and applications such as machine learning. This deeper understanding, enabled by digital technologies, means that biology is subject to influence and manipulation that was not possible a few years ago.

For example, gene sequencing combined with artificial intelligence (AI) leads to understanding genetic expression, which is then used to alter existing organisms to create organic compounds in new ways08 or even entirely synthetic organisms.09 The CRISPR/Cas9 approach and other new gene editing techniques would have been impossible without the evolution of digital technology and bioinformatics. Advances in digital technologies have helped the advancement of the biodigital.10

We also see a greater understanding of biology, which is fueling progress in the field of biological computing. Neural nets '' computer systems that are designed based on biological brains '' are an example of how biological understanding is shaping digital technology.

There is also a blurring between what is considered natural or organic and what is digital, engineered, or synthetic. For example, biosynthetic vanilla is created using ferulic acid, eugenol, and glucose as substrates, and bacteria, fungi, and yeasts as microbial production hosts. Although it does not come from a vanilla plant, under both U.S. and EU food legislation, its production from ''microbial transformations of natural precursors'' allows it to be labelled as a ''natural flavoring''.11

3 Conceptual convergence of biological and digital systemsA third form of biodigital convergence involves a shift in perspective that could reshape our framing and approach to biological and digital realms, facilitating the blending of the two.

As we continue to better understand and control the mechanisms that underlie biology, we could see a shift away from vitalism '' the idea that living and nonliving organisms are fundamentally different because they are thought to be governed by different principles.12 Instead, the idea of biology as having predictable and digitally manageable characteristics may become increasingly common as a result of living in a biodigital age. Any student of biology today will have grown up in a digital world and may consciously or subconsciously apply that frame of reference to bioinformatics and biology generally.

From a digital perspective, we see a potential shift in the opposite direction. Computing began as a means of producing predictable, replicable, and relatively simple outcomes. As digital technology became more complex and connected, the system began to mimic the characteristics of the biological world, leading to the notion of technological ecosystems. Biological models are also being used to develop digital tools, such as AI based on neural nets.

Three ways biodigital convergence is emergingFull physical integration of biological and digital entities

Digital technology can be embedded in organisms, and biological components can exist as parts of digital technologies.

Coevolution of biological and digital technologies

Coevolution emerges when advances in one domain generate major advances in the other.

Conceptual convergence of biological and digital systems

Conceptual convergence involves a shift in perspective that could reshape our framing and approach to biological and digital realms, facilitating the blending of the two.

There are enough signals to give shape to potential biodigital futures. These signals suggest that biosciences and biotechnology may be at the cusp of a period of rapid expansion'--possibly analogous to digital computing circa 1985.

That year, Microsoft introduced Windows 1.0, Atari released the Atari ST home computer, and the first domain name, symbolics.com, was registered. Computing was entering the mass market, creating value across many more types of organizations and contexts than it had during the decades of giant mainframes.

Biodigital convergence is showing signs of a similar trajectory'--moving away from the centralized models of pharmaceutical and industrial biotech toward widespread commercial and consumer use. These range from bioprinters that create organic tissue, to synthetic biology machines that can be programmed to create entirely new organisms. For example, Printeria is an all-in-one bioengineering device that automates the process of printing genetic circuits in bacteria. It is intended to be as easy to use as a domestic desktop printer and is projected to cost $1,500.13

Rapid progress in biological technologies has benefited from the low-cost, broad availability, and increasing capabilities of digital processing, storage, and communication.

However, the biological realm's own unique and special attributes are simultaneously influencing digital systems. New forms of biological capabilities are being built into digital networks as well as AI applications and computation, making them more efficient and creating new opportunities.

Biodigital convergence involves a rethinking of biology as providing both the raw materials and a mechanism for developing innovative processes to create new products, services, and ways of being.

Today's rapid rate of change and innovation compels us to reassess our understanding and expectations about biological and digital systems. The convergence of these domains could cause systemic change across sectors and have policy implications. Governments can expect to be called upon to help manage the risks and seize the opportunities that could arise.

Many factors could affect how biodigital convergence technologies could impact different societies, countries, cultures, environments, and people around the globe. The following is one of many possible narratives depicting some of the innovations in a future biodigital world.

I wake up to the sunlight and salty coastal air of the Adriatic sea. I don't live anywhere near the Mediterranean, but my AI, which is also my health advisor, has prescribed a specific air quality, scent, and solar intensity to manage my energy levels in the morning, and has programmed my bedroom to mimic this climate.

The fresh bed sheets grown in my building from regenerating fungi are better than I imagined; I feel rested and ready for the day. I need to check a few things before I get up. I send a brain message to open the app that controls my insulin levels and make sure my pancreas is optimally supported. I can't imagine having to inject myself with needles like my mother did when she was a child. Now it's a microbe transplant that auto adjusts and reports on my levels.

Everything looks all right, so I check my brain's digital interface to read the dream data that was recorded and processed in real time last night. My therapy app analyzes the emotional responses I expressed while I slept. It suggests I take time to be in nature this week to reflect on my recurring trapped-in-a-box dream and enhance helpful subconscious neural activity. My AI recommends a ''forest day''. I think ''okay'', and my AI and neural implant do the rest.

The summary of my bugbot surveillance footage shows that my apartment was safe from intruders (including other bugbots) last night, but it does notify me that my herd of little cyber-dragonflies are hungry. They've been working hard collecting data and monitoring the outside environment all night, but the number of mosquitoes and lyme-carrying ticks they normally hunt to replenish their energy was smaller than expected. With a thought, I order some nutrient support for them.

My feet hit the regenerative carpet and I grab a bathrobe, although I don't need it for warmth. My apartment is gradually warming up to a comfortable 22 degrees, as it cycles through a constantly shifting daily routine that keeps me in balance with the time of day and season. Building codes and home energy infrastructure are synchronized, and require all homes be autoregulated for efficiency. Because houses and buildings are biomimetic and incorporate living systems for climate control wherever possible, they are continuously filtering the air and capturing carbon. I check my carbon offset measure to see how much credit I will receive for my home's contribution to the government's climate change mitigation program.

As I head to the bathroom, I pause at the window to check the accelerated growth of the neighbouring building. Biological architecture has reached new heights and the synthetic tree compounds are growing taller each day. To ensure that the building can withstand even the strongest winds '' and to reduce swaying for residences on the top floors '' a robotic 3D printer is clambering around the emerging structure and adding carbon-reinforced biopolymer, strengthening critical stress points identified by its AI-supported sensor array. I am glad they decided to tree the roof of this building with fire-resistant, genetically modified red cedar, since urban forest fires have become a concern.

While I'm brushing my teeth, Jamie, my personal AI, asks if I'd like a delivery drone to come pick up my daughter's baby tooth, which fell out two days ago. The epigenetic markers in children's teeth have to be analysed and catalogued on our family genetic blockchain in order to qualify for the open health rebate, so I need that done today.

I replace the smart sticker that monitors my blood chemistry, lymphatic system, and organ function in real time. It's hard to imagine the costs and suffering that people must have endured before personalized preventative medicine became common.

Also, I'll admit that it sounds gross, but it's a good thing the municipality samples our fecal matter from the sewage pipes. It's part of the platform to analyze data on nutritional diversity, gut bacteria, and antibiotic use, to aid with public health screening and fight antibiotic-resistant strains of bacterial infections.

Supposedly, the next download for my smart sink will allow me to choose a personalized biotic mix for my dechlorinated drinking water.

Today's microbiome breakdown is displayed on the front of my fridge as I enter the kitchen. It's tracking a steady shift as I approach middle age: today it suggests miso soup as part of my breakfast, because my biome needs more diversity as a result of recent stress and not eating well last night.

The buildings in my neighbourhood share a vertical farm, so I get carbon credits by eating miso made from soybeans produced on my roof and fermented by my fridge.

My fridge schedules the production of more miso and some kimchi in preparation for the coming week. It also adds immune-boosting ingredients to my grocery order because we're approaching flu season, and a strain that I'm likely to be susceptible to has been detected only a few blocks away.

I take my smart supplement, which just popped out of my bioprinter. The supplement adjusts the additional nutrients and microbes I need, and sends data about my body back to my bioprinter to adjust tomorrow's supplement. The feedback loop between me and my bioprinter also cloud-stores daily data for future preventive health metrics. The real-time monitoring of my triglycerides is important, given my genetic markers.

As my coffee pours, I check my daughter's latest school project, which has been growing on the counter for the past week. She's growing a liver for a local puppy in need as part of her empathy initiative at school. More stem cells are on the way to start a kidney too, because she wants to help more animals. I grab my coffee, brewed with a new certified carbon-negative bean variety, and sit on the couch for a minute.

It appears the nutrient treatment I had painted on the surface of the couch and chairs has allowed them to rejuvenate. I'll have to try the treatment on my bioprinted running shoes, as they're starting to wear out.

Oh wow '' is that the time? I have only 10 minutes before my first virtual meeting. I tighten the belt on my skeleto-muscular strength chair, lean back, and log into my workspace. First I get the debrief from colleagues finishing their work day on the other side of the world. I shiver momentarily as I think about how intimately we're all connected in this digital biosphere '' then it passes. Let the day begin.

This story may sound far-fetched, however all the technologies mentioned exist in some form today. While they are not yet commercially available in the form presented here, a world where we take the interaction between biological and digital technologies for granted is already starting to emerge.

While this is a representation of technologies that could be part of a biodigital world, it does not represent the only plausible future. Rather, it is an imaginative vignette outlining the radical shifts that could take place within an optimistic biodigital future. Varying levels of access, adoption, and alternative realities could exist.

We are already experiencing the combination of digital and biological systems through new products, platforms, services, and industries.

Biodigital convergence is opening up strikingly new ways to:

change human beings '' our bodies, minds, and behaviourschange or create other organisms alter ecosystems sense, store, process, and transmit informationmanage biological innovationstructure and manage production and supply chainsTable 1 outlines new capabilities produced by the convergence of the digital and biological domains.

Table 1: New capabilities produced by the convergence of digital and biological systems

What new capabilities are opening up?What combinations of biological and digital technologies allow this?What is possible today?New ways to change human beings '' our bodies, minds, and behavioursAltering the human genome '' our core biological attributes and characteristicsAdvances in gene sequencing and editing, such as CRISPR/Cas9Machine learning helps scientists predict which genes to target for editingThe world's first babies to have their genome edited born in China14Molecular biology enhanced by tools from computer science15Monitoring, altering and manipulating human thoughts and behavioursNeurotechnologies read brain signals to monitor attention and manage fatigueDigital apps can help enhance brain healthSAP and EMOTIV collaborate to help SAP employees manage stress16Americans spent $1.9 billion last year on apps to keep their brains sharp17New ways to monitor, manage, and influence bodily functions, as well as predict, diagnose, and treat diseaseGene sequencing entire samples helps us understand complex environments such as the human microbiomeDigital devices can be worn or embedded in the body to treat and monitor functionalityMachine learning systems can predict mortality and treatment outcomesGuardant's liquid biopsy proves more accurate and faster than tissue biopsy in patients with lung cancer18University of Waterloo researchers develop a self-powering sensor for medical monitoring19Amazon patent will allow Alexa to detect a cough or a cold20AI gives reliable coma outcome prediction21Creating new organs and enhancing human functionality3D-printed tissues based on digital designs and production tools can create customized organsBiohacking with implanted digital devices to enhance bodily functionsBioengineers successfully 3D printed structures that mimic lung tissue and blood vessels22Lab-grown kidneys shown to be fully functional in animal recipients23Implanted chips for a highly personal version of two-factor authentication24New ways to experience and interact with the worldBrain-machine interfaces that enable machines to be controlled through brain signalsProsthetics that use machine-learning algorithms to expand functionality and sensitivityNeuralink announced an integrated brain-machine interface platform with thousands of channels25Infinite Biomedical has its deep-learning-driven prosthetic control system approved by FDA26FDA releases regulatory guidance on brain-controlled prosthetics27Creating new organs and enhancing human functionalityMachine-learning techniques for simulating protein folding and contributing to drug design3D printing tissue to test therapiesNanobots and nanomaterials can operate and precisely deliver drugs within living creaturesMachine learning can predict the outcome of clinical trialsAI protein-folding algorithms solve structures faster than ever 28New Zealand scientists Shalini bio-prints tumour cells, hoping to grow tumours to see what treatments work best29Tiny robots crawl through mouse's stomach to heal ulcers30MIT researchers apply AI techniques to predict clinical trial outcomes31New ways to change or create other organismsChanging the type or amount of inputs that organisms need to growAdvances in gene sequencing and editing, such as CRISPR/Cas9Enhanced photosynthesis in transgenic tobacco plants makes them 40% more productive 32Creating entirely new organisms with tailored characteristicsSynthetic biology draws inspiration from biology, engineering, computer science, and physics for the design and construction of new biological entitiesArtificial intelligence can help design microorganisms with specific characteristicsLike computer-aided design (CAD) tools, many open-source software help researchers to analyse and design complex genetic circuits in living organisms that meet specific functions33Gingko Bioworks designs custom organisms ''to replace technology with biology''34Scientists use machine learning to speed up biofuel production35Like digital circuits, a 'biomultimeter' called PERSIA allow researchers to measure biological functions of genetic circuits in vitro and in real time36Changing what and how organisms produce substancesAdvances in gene sequencing and editing, such as CRISPR/Cas9Researchers use bacteria to synthesize butanol from water, C02, and sunlight37New ways to alter ecosystemsChanging and eradicating entire speciesGermline editing using approaches such as CRISPR, and gene drives that create new ways to alter ecosystems or wildlifeTarget Malaria releases genetically modified mosquitoes in Burkina Faso in gene drive trial38Altering the natural environment at scaleGeoengineering approaches that accurately model carbon capture or solar reflectanceEngineering microorganisms in peatland to store and capture carbon and offset climate change39Predicting and managing the spread of organismsDigital epidemiology relies on digital communication technologies and analytics to track diseasesFlutracking40 and InfluenzaNet use digitally connected networks of volunteers to track flu outbreaksNew ways to sense, store, process, and transmit informationNew ways to store information using biological systems Storing large amounts of digital information in biological systems for longer periods than current technologyMicrosoft and University of Washington demonstrate first fully automated DNA data storage system41Turning organisms into biocomputersUsing biological organisms and attributes to perform computationCRISPR used to build dual-core computers inside human cells42Creating biomimetic materialsDrawing inspiration from biological systems to design more efficient electronic and digital systemsResearchers create artificial skin and nervous systems with higher sensitivity than human skin43New ways to manage biological innovation, production, and supply chainsMore efficient and scalable research and production approachesUsing digital systems to scale up biological productionUsing digital systems to automate researchFraunhofer automates the cultivation of microalgae in photobioreactors44Lab automation is speeding up research45Robot farmers have successfully planted and harvested barley by themselves46Toward autonomous antibiotic discovery47Increasingly open and efficient supply chain managementMachine learning and distributed ledgers can track materials and aid in auditingBlockchain becomes a 'source of truth' for biopharma48Open collaboration on cell lines and genomes to support researchDigital networks to assist in the efficient exchange of biological materials and codeThe Frozen Farmyard: creating a clean meat cell line repository49Based on initial signals, the characteristics of the biodigital system could include:

democratizationdecentralizationgeographic diffusionscalabilitycustomization reliance on dataThe following outlines each potential characteristic of the biodigital and their potential impact.

DemocratizationUntil recently, cell biology and biotechnology were generally developed and produced in sterile labs and specialized factories, using expensive equipment and expertise.

Now, advances in software and hardware are removing these restrictions on biosciences and biotech production. The ability to control systems remotely and transmit instruction sets in digital form, as well as higher levels of automation, are shifting biology-based production closer to consumers.

For example, mail-order bioengineering or CRISPR kits allow biohackers to purchase and practice genetic alteration at home. A range of relatively affordable online consumer options include a 30 USD ''Genetic Design Starter Kit'' allowing a novice to insert a gene into a jellyfish to make it glow from the comfort of their kitchen table.50 Another CRISPR kit allows purchasers to make genome edits in bacteria that can reproduce for 159 USD.51 A third ''molecular biology and genetic engineering'' starter kit costs less than 170 USD.52

The decreasing cost of genome sequencing is another example of biotech becoming more broadly available. The first whole genome sequencing (reading all 3 billion base pairs) in 2003 took 13 years and cost more than 3 billion USD. By 2016, the price had dropped to approximately 1000 USD. In July 2019, it cost 599 USD, and personal genetics company Veritas Genetics predicts that it will drop to below 200 USD by 2022.53 As a result, a consumer market for genotyping (which sequences less than 1% of the genome) has emerged to support people interested in their heritage or uncovering targeted health information, typified by services such as 23andme.com.

DecentralizationWe may see more decentralized production as the capabilities of synthetic biology increase. Products that needed to be created or extracted in a specific geographical location could be produced more widely as humans get better at assembling '' or growing '' organic and nonorganic compounds through faster, cheaper, and customized chemical and biological processes.

This includes the ability to create food and engineer meat without the need for arable land.54 Lab-grown meat'--cells that develop to produce muscle cells and cultured meat in a monitored environment'--could be a game changer in decentralizing multiple industries from farming to shipping.

The Japanese biotech company Spiber has developed a genetically modified protein called Brewed Protein55 that can be used as a textile in the fashion industry, or as a robust material in the construction and automobile industries. And biomass produced locally by algae-based bioreactors56 capturing carbon dioxide could be transformed into products such as fuels, plastics, and cosmetics.

Geographic diffusionDecentralization could allow economies lacking in natural resources to compete with resource-rich nations for the production of goods, using biodigital technologies to produce materials that previously needed to be imported.

Increasing interest in open-source and publicly available research could allow rapid geographic diffusion. More generally, diffusion of biodigital knowledge could proceed rapidly if there is a willingness to share information. Some researchers are allowing access to all of their data. For example, pioneering bioengineers at the University of Washington are commercializing recent breakthroughs in 3D organs. Through their company, Volumetric, they have made all the source data from their experiments on 3D-printed vascular networks freely available.57

ScalabilityRapid scaling may be possible in both the digital and biological worlds. Data can be copied quickly, and simple biological organisms can generally replicate easily. This means an additional unit of production in both domains may be created quickly and easily.

In other words, the biodigital economy could be characterized by very low marginal production costs. Provided there is competition among providers, this characteristic could significantly reduce the cost of many biodigital goods or services for consumers.

Low marginal production costs and ease of replication also mean that innovations in the biodigital convergence economy could be highly scalable.

CustomizationBiological systems are simultaneously simple and complex. As dynamic systems, they can respond in unanticipated ways, or cause multiple impacts that cannot be easily disentangled. This complexity is a feature of biological systems rather than a bug, as it means systems can be highly adaptable and varied. This suggests that there may be many pathways to obtaining desired outputs and consequently the potential for high degrees of customization.

Production approaches and devices could leverage this complexity to produce multiple customized biological outputs from single systems. For example, economies of scope allow companies developing synthetic biology to produce hundreds of different organisms and outputs with similar processes.58

In a healthcare context, one example of biological complexity is reflected in our expanding understanding of the human microbiome '' the trillions of non-human bacteria living in and on our bodies, estimated to equal or outnumber our own human cells. Our microbiome influences many different aspects of our lives, from digestion to mood to body odour. Biodigital therapies targeted at microbiomes, personalized for maximum efficiency, may emerge first.

Reliance on dataThe technologies and applications featuring biodigital convergence will not be able to operate without a lot of data. For example, the field of bioinformatics uses digital tools and data analysis to understand biological systems,59 including deploying deep learning algorithms to analyze images of cells to detect patterns that humans would find impossible to discern.60 Techniques such as next-generation gene sequencing are hugely data intense, creating new challenges with sharing, archiving, integrating, and analyzing this data.61

The global bioinformatics market is projected to grow from 7.73 billion USD in 2018 to 13.50 billion USD in 2023, at a compound annual growth rate of 14.5%.62 The rate of data growth to fuel this expansion could exceed this.

The data required is highly varied. Upstream of the production processes, data may also be an important asset in the form of genomes, phenotypes, and environmental contexts of a diverse set of humans and a wide range of unique organisms. Bioprospecting is already an important aspect of drug development, and may rise in importance '' and provoke greater controversy in healthcare.63

The full potential of biodigital convergence may therefore require a constant flow of data. Capturing, managing, sharing, and governing this data could become a resource-intensive process and a more highly developed industry in itself.

The dynamics of the biodigital world described above '' democratization, decentralization, geographic diffusion, scalability, customization, and data reliance '' may require individuals, governments, organisations, and industry to change the way they operate.

Policy Horizons will explore potential implications of the biodigital convergence in an upcoming in-depth foresight study. The following section highlights some initial policy-relevant questions concerning the economic, social, ecological, geopolitical, and governance domains.

EconomicCould traditional resource-based competitive advantages fade?Production systems '' their structure, who controls them, and who benefits from their value '' could markedly change during the biodigital convergence.

Demand for many traditional commodities, including raw materials, may fall if we develop biologically derived alternatives. A shift to distributed bioengineered production could decrease the primacy of land or other natural resource distribution among countries and regions.

Democratization and decentralization of production could challenge countries, regions, communities, and enterprises that have relied on scarce natural resources or unique geographic factors to produce goods and services. Manufacturers who rely on proximity or special access to currently scarce resources may come under pressure to develop or adopt new technologies and approaches64 to stay competitive.

Would education and training systems need to be adapted to address potential skills gaps? The production and end use of biodigital technologies may become simpler, but its design and development could remain technically demanding. Both digital and biological skills could rise in demand as biodigital convergence progresses, and those who can act at the intersection of the two might be highly sought after. Demand for talent may exceed supply, at least temporarily.

What could data protection and intellectual property frameworks look like in the biodigital era? The potential impact of biodigital services may spur shifts in national or global intellectual property rights regimes, particularly in response to emerging breakthrough health therapies, innovations in agriculture that are particularly important for food security, and approaches that could mitigate climate change.

Intellectual property and data protection rules could be bottlenecks in the biodigital world, both incentivizing and restricting innovation. Alternatively, democratized access to biodigital tools could facilitate the reproduction of many proprietary biodigital innovations using parallel but distinct approaches, increasing competition and decreasing the rent generated by intellectual property.

How can policy foster a competitive business environment in a biodigital world? Platforms may play an important role in a world where biological and digital systems are tightly coupled, as they have with online advertising, social networking, and e-commerce. Data policy could influence whether large organizations have an advantage in a biodigital economy, based on exclusive abilities to access, purchase, manage, and secure large amounts of data.

The data-reliant nature of biodigital convergence means that the demand for data could increase substantially '' particularly human, animal, plant, and bacterial data. Large platforms could potentially gather and control large amounts of information about individuals, their context, and the natural world. Some platforms could attempt to capture value by operating a closed biodigital ecosystem.

''The future ain't what it used to be''The biodigital could unfold in numerous ways, and a future where the biodigital is part of human existence could be quite different. The following narratives, although hypothetical, describe scenarios that could emerge as biological and digital systems converge.

Radical life extension: Following a decade of simulating human biochemistry using machine learning, an Asia-based company becomes the first to develop and patent a radical life-extension therapy. Based on altering the human genome in cells throughout the body, the therapy dramatically slows cellular deterioration, adding up to 15 years of healthy life to users, but effective only for people under the age of 40. The treatment is marketed worldwide at 10 million USD per course. More than 5,000 patients register for treatment within the first month of the announcement, including a reported 120 Canadians. Inspired by: Barclays Beyond 100 report on Longevity65

Food customized to your unique digestive system: One of the fastest-growing companies in the food sector uses microbiome analysis to create personalised and dynamic nutrition plans. By designing food precisely for your body '' and the trillions of non-human organisms that make up are part of your microbiome '' MyBestBiome promises that you will have more energy and will feel better. Furthermore, 90% of the animal protein is sustainably sourced from specially engineered insects. The catch? You have to grant the company access and data rights to your entire biome to receive the product and its purported health benefits. Inspired by: Diets should be personally tailored to your gut microbiome, study says, Food Design To Feed the Human Gut Microbiota66

Neurotech nightmare: A leading Canadian supermarket is having a bad year. It's been embroiled in a scandal over several features of its loyalty program. The ''Your Choice'' program offers special discounts and preemptive ordering if you allow it full access to your ''digital twin'' '' essentially giving it full access to your life and activity. A leaked internal report suggests that this data is being used in conjunction with intrusive neurotechnologies to encourage members into consuming more. At the centre of the scandal is the fact that the supermarket is essentially selling access to the minds of ''Your Choice'' members, outsourcing targeted consumer manipulation on a massive scale. Inspired by: Towards new human rights in the age of neuroscience and neurotechnology67

SocialCould social attitudes shift towards health and lifestyle?What it means to be healthy may shift during a biodigital convergence, affecting social relationships. Today, healthiness is mostly associated with the ability to avoid illness and to engage in a full range of human activities.

In a biodigital convergence, detailed mediated knowledge of the human body, the microbiome, and biological functions may create new opportunities to understand and influence our health. Maximizing healthiness could involve a broad array of more precise behavioural and nutrition-related interventions. As data becomes more widely accessible, health could become a status symbol. Access and funding for nootropics (drugs to improve brain function) could raise social policy issues.

While advances could significantly improve health, some may perceive improved biodigital technologies as a way to mitigate the effects of unhealthy lifestyles.

What policies could help address health inequality?Biodigital convergence could accelerate the development of technologies that raise human abilities above the norm, whether via drugs, nutritional supplements, prosthetics, or neurotechnologies. Uneven access to expensive technologies could further compound economic inequality.

While uneven access could affect disadvantaged and vulnerable groups, democratization of biodigital health products and services could offset some of this gap. For example, if we can produce life-saving or life-enhancing medicines safely, reliably, and cheaply, health inequality could decrease accordingly.

What policies could foster trust among partners and stakeholders?Biodigital convergence relies on a wide array of biological data, which may change the way citizens relate to businesses that provide services. The relationship between firms and individuals may require higher levels of trust, as firms seek access to highly intimate data about our lives and bodies.

For example, human ''digital twins'' could become valuable assets beyond healthcare. Social services, the justice system, environmental services, and education providers may all need to be trusted with, manage, and act on increasingly intimate data that relate to people and the world around them.

Publicly acceptable data policy may sometimes enable biodigital convergence, and sometimes create roadblocks. The ease with which many parties could extract or make use of personal data related to an individual's genome, biome, health markers, and context could create new demands for regulation, beyond existing personal health information protection laws. As genetic sequencing becomes cheaper and more common, privacy concerns that have been largely limited to the justice system and insurance practices could arise in other areas of human activity.

Ubiquitous genetic sequencing could have privacy and consent implications for families and communities, given that a single individual's DNA test provides information about their biological relatives. Indigenous communities have for decades been leaders in articulating community-focused ethics for research, particularly relating to genetic and health information.68 Governments may need to think beyond individual privacy and consider the concept of collective privacy, particularly when genetic data could affect the rights or freedoms of others.

EnvironmentalWhat changes could occur in land use and the natural environment?Biodigital convergence could change our tools and values related to land and the natural environment.

If demand shifts away from some traditionally produced raw materials, their resource prices may soften, resulting in land use changes. Industrial districts may rise in value at the expense of agricultural land, while areas of particular biodiversity may gain new value and significance if they offer data, ecological services, and raw materials for bioprospecting.

The scale of the climate challenge could make geoengineering and bioengineering more attractive and feasible. Releasing customized microorganisms could help make peatlands more efficient at absorbing carbon dioxide.69

The biodigital could change the trajectory towards sustainability and the circular economy, making more efficient use of materials and lowering the impact of production and resource extraction on the environment. For example, Fraunhofer IGB has developed a novel approach to make bioplastics that are biodegradable and safe for food use. The resulting inorganic-organic hybrid polymers prevent gases and vapors affecting food, and can be applied to both bioplastic and paper packaging, allowing coated products (such as the packaging for take-away food) to be fully biodegradable.70

GeopoliticalWhat policies are necessary to compete in a global biodigital world?The economic benefits of biodigital convergence are already spurring national competition, as well as efforts to protect industries and prevent foreign takeovers of domestic innovation in some countries. For example, a number of deals involving foreign investors in U.S. biotech firms have collapsed since updates to the Foreign Investment Risk Review Management Act were signed into law by congress in 2018. Administered by the Committee on Foreign Investment in the United States, the amendments limit international investment in U.S. biotech firms.71

Nations could also start competing based on rigour and speed of regulatory approvals. Some countries may try to attract investment by offering regulatory environments that favour rapid biodigital progress, potentially at the expense of prevailing bioethical norms and practices enforced elsewhere.

What is needed to protect citizens' security in the biodigital world?Synthetic biology could include many dual-use technologies, potentially applied for both civilian and military purposes. Microorganisms can produce disease-causing agents or toxins. Managing the malicious use of technologies '' particularly those that are distributed '' in the biodigital world is already a concern.72

Biosecurity could be important in a world that depends on biodigital systems. For example, DARPA's Safe Genes initiative seeks to develop tools to control, counter, and perhaps reverse the effects of genome editing, including gene drives, in biological systems.73

There is also the potential for malicious, reckless, or accidental release of deadly lab-made viruses. For example, a virologist at the University of Alberta was able to use synthetic biology techniques to recreate horsepox (a virus similar to smallpox) by stitching together DNA ordered by mail to match the horsepox genome sequence published in 2006.74

GovernanceHow can regulation and policy making take social concerns about biodigital advances into account?There is an important distinction between what is technologically possible and what is socially acceptable. Biodigital convergence might expose policy and regulatory gaps and lags, both within and across governments. It may also provide opportunities for new integrated and responsive regulatory approaches to biodigital systems, much like other emerging technologies that enable governance systems to be more agile.75

Social license can be pivotal to the path of technological and regulatory developments, particularly when linked to human reproduction and food systems. For example, disparities in the legal and social response to GM crops, driven by divergent philosophical risk management approaches and different power dynamics between private and public sectors, has resulted in very different regulatory environments between North America and Europe.76 Regulatory barriers to entry could affect smaller operators, particularly in food and healthcare areas, which are highly regulated and jurisdiction-based.

Social concerns often impact regulatory systems and reform processes '' particularly regarding security, safety, pricing, access, and labour rights. And social license can often be a more powerful driver than the legal remedies or enforcement in driving compliance.77 Perspectives on biodigital technologies may vary across groups, and multiple ethical traditions including Indigenous perspectives78 and knowledge could help shape thoughtful responses.

Is the current tax framework suited for the biodigital world? The characteristics of the digital domain could extend to the biodigital domain, making it difficult to track and collect taxes. This in turn could create challenges regarding what gets taxed and by which jurisdiction79. The value from the potential licensing of a biodigital good comes from its components, rather than the combined end product. This could limit opportunities for authorities to assess and charge tax on the sale of the end product, potentially lowering the total receipt of value-added taxes.

Do public finance systems need to be reassessed to be sustainable in the biodigital world? In addition to the benefits of longer lives, increased life expectancy could challenge tax, social security, healthcare, and housing systems, should the health benefits of biodigital convergence be significant. Retirement funds, public healthcare expenses, and elderly accommodation could see both positive and negative impacts.

EconomicCould traditional resource-based competitive advantages fade?Would education and training systems need to be adapted to address potential skills gaps?What could data ownership and intellectual property frameworks look like in the biodigital era?How can policy foster a competitive business environment in a biodigital world?SocialWhat policies could foster trust between stakeholders?What policies could help avoid potential rising health inequality?Could there be a shift in social attitudes towards health and lifestyle?EnvironmentalWhat changes could occur in land use and the natural environment?GeopoliticalWhat policies are necessary to compete in a global biodigital world?What is needed to protect citizens' security in the biodigital world?GovernanceHow can regulation and policy making take social concerns regarding biodigital advances into account?Is the current tax framework suited for the biodigital world? Do public finance systems need to be reassessed to be sustainable in the biodigital world?ConclusionWe could be on the cusp of a long-term biodigital transformation of our economy, society, institutions, and environment. This biodigital convergence could disrupt the way we produce and consume goods and services, relate to one another, maintain and augment our bodies, acquire and process data, make decisions, and manage our place in ecosystems.

In the late 1970s and early 1980s, Canadians and policy makers began to understand that the digital age was upon them. Early movers seized opportunities, perceived challenges, and initiated deft policies that have provided benefits for decades. Now could be the time to make similar investments and make thoughtful decisions to guide Canada through the beginning of a biodigital convergence.

Policy Horizons looks forward to collaborating with partners and stakeholders to develop policy-relevant foresight in this area.

AcknowledgementsPolicy Horizons is spearheading an area of foresight called the biodigital convergence. This scoping paper is the initial framework for a forthcoming in-depth foresight study. As this new domain emerges, we will continue to examine plausible futures for biodigital convergence and the policy questions that may arise.

Exploring Biodigital Convergence project team Marcus Ballinger, Manager Steffen Christensen, Senior Foresight Analyst Nicholas Davis, SWIFT Partners S rl Kristel Van der Elst, Director GeneralPierre-Olivier DesMarchais, Foresight Analyst Avalyne Diotte, Foresight AnalystEric Ward, Senior Director

Communications Maryam Alam, Communications AdvisorNelly Leonidis, ManagerAlain Piquette, Graphic DesignerNadia Zwierzchowska, Editor

We would like to thank our colleagues Imran Arshad, Pascale Louis, and Claudia Meneses for their support on this project.

We look forward to collaborating with partners and stakeholders on the study of biodigital convergence.

Endnotes[1] Kevin Warwick. ''Implications and consequences of robots with biological brains.'' Ethics and Information Technology. (2010): 223-234 https://www.researchgate.net/publication/225865087_Implications_and_consequences_of_robots_with_biological_brains

[2] Josh L. Morgan and Jeff W. Lichtman. ''Digital tissue and what it may reveal about the brain.'' BMC Biology. (2017). https://bmcbiol.biomedcentral.com/track/pdf/10.1186/s12915-017-0436-9

[3] Elon Musk, Neuralink. ''An integrated brain-machine interface platform with thousands of channels.'' (2019). https://www.biorxiv.org/content/10.1101/703801v2.full

[4] Toffler Associates. ''Bio-Digital Convergence: The Human as Critical Infrastructure?'' (2016). https://www.tofflerassociates.com/vanishingpoint/biodigital-convergence-the-human-as-critical-infrastructure

[5] Emily Matchar. ''Turning Dragonflies Into drones.'' Smithsonian (2017). https://www.smithsonianmag.com/innovation/turning-dragonfliesdrones-180962097/

[6] Travis M. Andrews. ''Navy grants $750,000 to develop bomb-sniffing locusts.'' Washington Post (2016). https://www.washingtonpost.com/news/morning-mix/wp/2016/07/06/navy-grants-750000-to-develop-cyborg-locusts-to-sniff-out-bombs/

[7] Kate O'Riordan. ''Revisiting Digital Technologies: Envisioning Biodigital Bodies.'' (2011). https://www.researchgate.net/publication/272554346_Revisiting_Digital_Technologies_Envisioning_Biodigital_Bodies

[8] Victor Tangermann. ''Scientists Gene-Edited Tequila Bacteria To Make Cannabinoids.'' Neoscope, Futurism.com. March 27, 2019, https://futurism.com/scientists-gene-edited-tequila-bacteria-cannabinoids

[9] Ian Sample. ''World's first living organism with fully redesigned DNA created.'' The Guardian, May 15, 2019, https://www.theguardian.com/science/2019/may/15/cambridge-scientists-create-worlds-first-living-organism-with-fully-redesigned-dna

[10] Hyojin Kim, Daniel Bojar, and Martin Fussenegger. ''A CRISPR/Cas9-based central processing unit to program complex logic computation in human cells'', PNAS April 9, 2019, https://doi.org/10.1073/pnas.1821740116

[11] Nethaji J.Gallage and Birger Lindberg M¸ller. ''Vanillin''Bioconversion and Bioengineering of the Most Popular Plant Flavor and Its De Novo Biosynthesis in the Vanilla Orchid.'' Molecular Plant Volume 8, Issue 1, 5 January 2015: 40-57. https://doi.org/10.1016/j.molp.2014.11.008

[12] The belief that ''living organisms are fundamentally different from non-living entities because they contain some non-physical element or are governed by different principles than are inanimate things.'' https://en.wikipedia.org/wiki/Vitalism

[13] ''Printeria: Team Valencia''. IGEM, accessed August 5, 2019, http://2018.igem.org/Team:Valencia_UPV

[14] ''CRISPR babies: more details on the experiment that shocked the world,'' New Scientist, accessed August 28, 2019, https://www.newscientist.com/article/2186911-crispr-babies-more-details-on-the-experiment-that-shocked-the-world/

[15] ''Molecular biology meets computer science tools in new system for CRISPR,'' Phys. org, accessed August 28, 2019, https://phys.org/news/2016-01-molecular-biology-science-tools-crispr.html

[16] ''Adaptive Assistance for Improved Well-Being and Productivity at Work,'' SAP, accessed August 28, 2019, https://news.sap.com/2018/10/sap-emotiv-adaptive-assistance-well-being-productivity-work/

[17] ''People spent $1.9 billion last year on apps to keep their brains sharp as they age'--here's what actually works,'' MarketWatch, accessed August 28, 2019, https://www.marketwatch.com/story/older-americans-spent-19-billion-last-year-on-apps-to-keep-their-brains-sharp-heres-what-actually-works-2019-05-24

[18] ''Guardant's liquid biopsy matches tissue testing in lung cancer,'' Vantage, accessed August 28, 2019, https://www.evaluate.com/vantage/articles/news/trial-results/guardants-liquid-biopsy-matches-tissue-testing-lung-cancer

[19] ''The Self-Powered Sensor That Could Enable Remote Medical Monitoring'', DZone, accessed August 28, 2019, https://dzone.com/articles/the-self-powered-sensor-that-could-enable-remote-m

[20] ''Amazon's new patent will allow Alexa to detect a cough or a cold'', TheNextWeb, accessed August 28, 2019, https://thenextweb.com/artificial-intelligence/2018/10/15/amazons-new-patent-will-allow-alexa-to-detect-your-illness/

[21] ''AI gives reliable coma outcome prediction'', MedicalXpress, accessed August 28, 2019, https://medicalxpress.com/news/2019-06-ai-reliable-coma-outcome.html

[22] ''New Progress in the Biggest Challenge With 3D Printed Organs'', SingularityHub, accessed August 28, 2019, https://singularityhub.com/2019/05/07/new-progress-in-the-biggest-challenge-with-3d-printed-organs/

[23] ''Lab-Grown Kidneys Shown to Be Fully Functional in Animal Recipients'', ScienceAlert, accessed August 28, 2019, https://www.sciencealert.com/lab-grown-kidneys-shown-to-be-fully-functional-in-animal-recipients

[24] ''Man Meets Machine: What It Means to Be A Biohacker'', Thrillist, accessed August 28, 2019, https://www.thrillist.com/tech/nation/man-meets-machine-what-it-means-to-be-a-biohacker

[25] Elon Musk, Neuralink. ''An integrated brain-machine interface platform with thousands of channels''. BioRxiv. (2019) https://doi.org/10.1101/703801

[26] ''Bionic Limbs 'learn' To Open A Beer'', Wired, accessed August 28, 2019, https://www.wired.com/story/bionic-limbs-learn-to-open-a-beer/

[27] ''Implanted Brain-Computer Interface (BCI) Devices for Patients with Paralysis or Amputation '' Non-clinical Testing and Clinical Considerations''. FDA. (2019). https://www.fda.gov/regulatoryinformation/search-fda-guidance-documents/implanted-brain-computer-interface-bci-devices-patients-paralysis-or-amputation-non-clinical-testing

[28] ''AI protein-folding algorithms solve structures faster than ever'', Nature, accessed August 28, 2019 https://www.nature.com/articles/d41586-019-01357-6

[29] ''Can bio-printing tumour cells, become a treatment against cancer?'', 3DNatives.com, accessed August 28, 2019 https://www.3dnatives.com/en/bio-printing-tumour-treatment-cancer-180920184/

[30] Timothy Revell. ''Tiny robots crawl through mouse's stomach to heal ulcers''. New Scientist. (2017) https://www.newscientist.com/article/2144050-tiny-robots-crawl-through-mouses-stomach-to-heal-ulcers/

[31] ''MIT researchers apply AI techniques to predict clinical trial outcomes'', Clinical Trials Arena, accessed August 28, 2019, https://www.clinicaltrialsarena.com/news/mit-researchers-apply-ai-techniques/

[32] Paul F. South et al. ''Synthetic glycolate metabolism pathways stimulate crop growth and productivity in the field''. Science. Vol 363, Issue 6422, (January 2019)

[33] Anna Nowogrodzki, ''The automatic-design tools that are changing synthetic biology''. Nature, (December 2018) https://www.nature.com/articles/d41586-018-07662-w

[34] ''Biology By Design'', Ginkgo Bioworks, accessed August 28, 2019, https://www.ginkgobioworks.com/

[35] ''Scientists Use Machine Learning to Speed Up Biofuel Production'', R&D, accessed August 28, 2019, https://www.rdmag.com/article/2018/06/scientists-use-machine-learning-speed-biofuel-production

[36] ''A 'biomultimeter' lets scientists measure RNA and protein production in real time'', Lincoln Laboratory MIT, accessed October 17, 2019, https://www.ll.mit.edu/news/biomultimeter-lets-scientists-measure-rna-and-protein-production-real-time

[37] Xufeng Liu et al. ''Modular engineering for efficient photosynthetic biosynthesis of 1-butanol from CO2 in cyanobacteria''. Energy and Environmental Science, 2019.

[38] ''Target Malaria proceeded with a small-scale release of genetically modified sterile male mosquitoes in Bana, a village in Burkina Faso'', Target Malaria, accessed August 28, 2019, https://targetmalaria.org/target-malaria-proceeded-with-a-small-scale-release-of-genetically-modified-sterile-male-mosquitoes-in-bana-a-village-in-burkina-faso/

[39] Christian Dunn, Nathalie Fenner, Anil Shirsat and Chris Freeman, ''Options for Geoengineering the Climate via Microorganisms: A Peatland Case Study'', (2016). https://www.caister.com/hsp/abstracts/climate/12.html''Climate Change and Microbial Ecology: Current Research and Future Trends'', Caister Academic Press, U.K., (2016) 185-200. https://doi.org/10.21775/9781910190319.12

[40] ''What is FluTracking?'', FluTracking, accessed August 28, 2019, https://info.flutracking.net/

[41] ''With a ''hello,'' Microsoft and UW demonstrate first fully automated DNA data storage'', Microsoft Innovation Stories, accessed August 28, 2019, https://news.microsoft.com/innovation-stories/hello-data-dna-storage/

[42] ''CRISPR used to build dual-core computers inside human cells'', New Atlas, accessed August 28, 2019, https://newatlas.com/crispr-cell-computer/59336/

[43] Wang Wei Lee et al. ''A neuro-inspired artificial peripheral nervous system for scalable electronic skins''. Science Robotics, Vol. 4, Issue 32, July 17, 2019.

[44] ''Process development in photobioreactors.'' Fraunhofer IGB, accessed August 5, 2019 https://www.igb.fraunhofer.de/en/research/competences/environmental-biotechnology/microalgae/process-development-in-photobioreactors.html

[45] ''Taking Biotech to the Next Level with Laboratory Automation'', LabioTech.eu, accessed August 28, 2019, https://labiotech.eu/features/biotech-laboratory-automation/

[46] Dyllan Furness. ''Robot farmers have successfully planted and harvested barley by themselves''. Digital Trends, (2017), accessed August 28, 2019, https://www.digitaltrends.com/cool-tech/robot-farmers-harvest-barley/

[47] Cesar de la Fuente-Nunez. ''Toward Autonomous Antibiotic Discovery''. Systems; Washington Vol. 4, Iss. 3, (2019).

[48] ''Blockchain becomes a 'source of truth' for biopharma'', MedCityNews, accessed August 28, 2019, https://medcitynews.com/2018/12/blockchain-becomes-a-source-of-truth-for-biopharma/

[49] ''Gets 250.000 US$ to grow ethical meat in the lab'', University of Oslo, accessed August 28, 2019, https://www.med.uio.no/imb/english/about/news-and-events/news/2019/250000-dollars-from-gfi.html

[50] ''Genetic Design Starter Kit '' Glowing Jellyfish Bacteria'', The Odin, accessed August 5, 2019, http://www.the-odin.com/colorbacteria/

[51] ''DIY CRISPR Kit'', The Odin, accessed August 5, 2019 http://www.theodin.com/diy-crispr-kit/

[52] ''Genetic Engineering Home Lab Kit'', The Odin, accessed August 5, 2019 http://www.the-odin.com/genetic-engineering-home-lab-kit/

[53] ''Next in the Genomics Revolution: The Era of the ''Social Genome'', Veritas, accessed August 21, 2019, https://www.veritasgenetics.com/next-genomics-revolution-era-social-genome

[54] ''Researchers using tissue engineering to create lab-grown meat. Phys.Org.'' University of Bath, March 20, 2019. https://phys.org/news/2019-03-tissue-lab-grown-meat.html

[55] Mai Lide, ''Japan bio venture to sell jacket made with synthetic protein textile'', Kyodo New, August 29, 2019, accessed September 18th, 2019, https://english.kyodonews.net/news/2019/08/1a3e6ab4b4c7-japan-bio-venture-to-sell-jacket-made-with-synthetic-protein-textile.html

[56] ''Hypergiant Industries Launches Eos Bioreactor: A Prototype Bioreactor for Commercial and Personal Carbon Sequestration'', PR Newswire, September 17, 2019, accessed September 18th, 2019, https://www.prnewswire.com/news-releases/hypergiant-industries-launches-eos-bioreactor-a-prototype-bioreactor-for-commercial-and-personal-carbon-sequestration-300919790.html

[57] ''Bioengineers have cleared a major hurdle on the path to 3D printing replacement organs''. Innovation Toronto. May 4, 2019, https://www.innovationtoronto.com/2019/05/bioengineers-have-cleared-a-major-hurdle-on-the-path-to-3d-printing-replacement-organs/

[58] ''About'', Gingko Bioworks, accessed August 5, 2019, https://www.ginkgobioworks.com/about/

[59] ''Introduction to Bioinformatics. In: Yousef M., Allmer J. (eds miRNomics: MicroRNA Biology and Computational Analysis. Methods in Molecular Biology (Methods and Protocols)'', vol 1107. Humana Press, Tolga Can. (2014)

[60] Sarah Webb. ''Deep learning for biology'', Nature, 554, 555-557 (2018). https://www.nature.com/articles/d41586-018-02174-z

[61] Rashmi Tripathi, Pawan Sharma, Pavan Chakraborty & Pritish Kumar Varadwaj. ''Next-generation sequencing revolution through big data analytics'', Frontiers in Life Science. Volume 9, Issue 2. (2016) https://doi.org/10.1080/21553769.2016.1178180

[62] ''Global Bioinformatics Market 2018-2023''. Research and Markets. September 20, 2018, accessed August 5, 2019, https://www.globenewswire.com/news-release/2018/09/20/1573558/0/en/Global-Bioinformatics-Market-2018-2023-Growing-Demand-for-Nucleic-Acid-and-Protein-Sequencing-Due-to-Reduction-in-Sequencing-Cost-and-Technological-Advancement.html

[63] Bioprospecting '' the search for naturally occurring chemical compounds and biological material '' is an activity currently applied to non-human organisms. The importance of large datasets related to the biology and behaviour of individuals means that bioprospecting could be extended to humans as well, with researchers and firms actively looking to sample specific racial, ethnic or cultural groups for specific genes or micro-biome characteristics. Padma Nambisan. ''Protection of Traditional Knowledge Associated with Genetic Resources. In: An Introduction to Ethical, Safety and Intellectual Property Rights Issues in Biotechnology.'' 345-356. (2017) https://doi.org/10.1016/B978-0-12-809231-6.00016-8.

[64] ''Process development in photobioreactors'', Fraunhofer IGB, accessed August 5, 2019 https://www.igb.fraunhofer.de/en/research/ competences/environmental-iotechnology/microalgae/processdevelopment-in-photobioreactors.html

[65] ''Beyond 100: Whitepaper'', Barclays. November 23, 2018, https://privatebank.barclays.com/news-and-insights/beyond-100/beyond-100-impact-of-longevity-on-family-future-and-investments/

[66] ''Food Design to Feed the Human Gut Microbiota'', PMC. March 22, 2018, https://www.ncbi.nlm.nih.gov/pmc/articles/PMC5951603/

[67] ''Towards new human rights in the age of neuroscience and neurotechnology'', BMC. 26 April 2017, https://lsspjournal.biomedcentral.com/articles/10.1186/s40504-017-0050-1

[68] The First Nations Principles of OCAP®, First Nations Information Governance Centre, accessed October 9, 2019. https://fnigc.ca/OCAP

[69] Christian Dunn, Nathalie Fenner, Anil Shirsat and Chris Freeman. ''Options for Geoengineering the Climate via Microorganisms: A Peatland Case Study. In: Climate Change and Microbial Ecology: Current Research and Future Trends (Edited by: J¼rgen Marxsen).'' Caister Academic Press, U.K. (2016): 185-200. https://doi.org/10.21775/9781910190319.12

[70] ''Whitepaper: Biological Transformation and the Bioeconomy.'' Fraunhofer. (2019) https://www.fraunhofer.de/content/dam/zv/en/Publications/Brochures/whitepaper-biological-transformation-and-bioeconomy.pdf.

[71] Steve Dickman. ''US Crackdown On Foreign Biotech Investment Makes Us Poorer, Not Safer.'' Forbes, May 24, 2019, accessed August 5, 2019, https://www.forbes.com/sites/stevedickman/2019/05/24/us-crackdown-on-foreign-biotech-investment-makes-us-poorer-notsafer/#333027e35581

[72] ''A Proposed Framework for Identifying Potential Biodefense Vulnerabilities Posed by Synthetic Biology: Interim Report'', National Academies of Sciences, Engineering, and Medicine. Washington, DC: The National Academies Press. (2017) https://doi.org/10.17226/24832

[73] ''Safe Genes'', DARPA, accessed August 5, 2019, https://www.darpa.mil/program/safe-genes

[74] David Kushner. ''Synthetic Biology Could Bring a Pox on Us All'', Wired. March 25, 2019, accessed August 5, 2019 https://www.wired.com/story/synthetic-biology-vaccines-viruses-horsepox/

[75] ''Agile Governance: Reimagining Policy-making in the Fourth Industrial Revolution'', Whitepaper. World Economic Forum. (2018) http://www3.weforum.org/docs/WEF_Agile_Governance_Reimagining_Policymaking_4IR_report.pdf

[76] Jessica Lau. ''Same Science Different Policies. Signal to Noise, Regulating Genetically Modified Foods in the U.S. and Europe.'' Harvard University. August 9, 2015. http://sitn.hms.harvard.edu/flash/2015/same-science-different-policies/

[77] Neil Gunningham, Robert A. Kagan and Dorothy Thornton. ''Social License and Environmental Protection: Why Businesses Go Beyond Compliance.'' Law and Social Inquiry, Volume 29, Issue 2 Spring 2004: 307-341 https://doi.org/10.1111/j.1747-4469.2004.tb00338.x

[78] New Zealand's requirement to take Maori perspectives into account in regulating gene editing, described in M. Hudson, A. Mead, D. Chagn(C), N. Roskruge, S. Morrison, P. Wilcox, A. Andrew. ''Indigenous Perspectives and Gene Editing in Aotearoa New Zealand.'' Frontiers in Bioengineering and Biotechnology, Volume 7, 2019 https://www.frontiersin.org/articles/10.3389/fbioe.2019.00070/full

[79] ''In a world of 3D printing, how will you be taxed?'', EY Global, 26 April 2018, https://www.ey.com/en_gl/trust/in-a-world-of-3d-printing''how-will-you-be-taxed

UK urges commitment to vaccinate the world by end of 2022

Mon, 07 Jun 2021 13:50

The Associated Press

AboutContactCustomer SupportCareersTerms & ConditionsPrivacy All contents (C) copyright 2021 The Associated Press. All rights reserved.

Interesting Timing - Obama Administration Lifted Block on "Gain of Function Research" Just Eleven Days Before President Trump Took Office, January 9, 2017 - The Last Refuge

Mon, 07 Jun 2021 12:56

Okay, straight talk. This discovery makes the suspicions of an intentionally released Pandemic virus, with a political intent, to ''STOP TRUMP'' look exponentially more plausible. SARS = Severe Acute Respiratory Syndrome, the deadly consequence within COVID-19.

With people beginning to recognize that U.S. government officials and the intelligence community have been less than honest, and in some cases downright lying, surrounding the origin of the SARS-CoV-2 virus; and when we overlay the political motives in the background of mass narrative deflection from media and other institutions; and when we consider the known lengths that people inside the U.S. government were willing to go in their efforts to eliminate President Trump; discovering that President Obama's administration technically authorized the restart of ''gain of function'' research (biological weaponization of SARS virus) just days before President Trump took office'... is way more than alarming. My hunch is this link might even disappear [SEE HERE]

January 9, 2017 '' ''lifting the current moratorium on certain life sciences research that could enhance a pathogen's virulence and/or transmissibility to produce a potential pandemic pathogen (an enhanced PPP).'' (link)

An even larger backstory. Eleven Days before leaving office President Obama's administration re-authorized funding for the creation of biological weapons using SARS viruses. However, essentially this re-authorization was only kickstarting funding within the U.S. because the funding of weaponization of SARS-CoV-2 never actually stopped in 2014. The media reporting on this is misleading, if not downright false.

In the original pdf guidance for the 2014 research pause of into weaponization of SARS viruses there was a footnote that everyone seems to have missed [LINK]:

[U.S. Government Gain-of-Function Deliberative Process and Research Funding Pause on Selected Gain-of-Function Research Involving Influenza, MERS, and SARS Viruses '' pdf, page 2 '' October 17, 2014]

This exception essentially permitted the Pentagon to continue funding the creation of SARS as a biological weapon in Wuhan, China, under the auspices of national security. Which is exactly what the defense department did: ''Grants from the Pentagon included $6,491,025 from the Defense Threat Reduction Agency (DTRA) from 2017 to 2020'' (link).

Timeline:'... October 17, 2014 '' U.S. funding of SARS to create a biological weapon was paused due to the extreme risk of a pandemic. However, the pause allowed agencies within the U.S. government to continue funding if they determined ''the research is urgently necessary to protect the public health or national security.''

'... 2014 through 2020 the Pentagon continued funding research in Wuhan, China. Fear of discovery would explain why many top officials in the U.S. Defense Department were against the Trump administration [with increased severity after the COVID pandemic began].

'... May 2016 '' [An Election Year] ''after thorough deliberation and extensive input from domestic and international stakeholders, the NSABB [National Science Advisory Board for Biosecurity] issued its recommendations. NSABB's central finding was that studies that are expected to enhance PPP have potential benefits to public health but also entail significant risks. NSABB recommended that such studies warranted additional scrutiny prior to being funded.'' Anthony Fauci is on the NSABB.

'... January 9, 2017 '' [Four Days after the Susan Rice oval office meeting with Obama, Biden, Comey, et al] The Obama Administration re-authorizes funding for the creation of SARS biological weapons. ''Adoption of these recommendations will satisfy the requirements for lifting the current moratorium on certain life sciences research that could enhance a pathogen's virulence and/or transmissibility to produce a potential pandemic pathogen (an enhanced PPP).''

Given the workarounds, exceptions and plausible deniability for the consequences, built into the original moratorium guidance in 2014, the defense department was operationally permitted to keep funding the biological weapons research in Wuhan, China. The 2014 ban was a funding moratorium in name only; however, it appears the funding for U.S. research in North Carolina was stopped.

What was reauthorized in 2017 was the need to use ''national security'' as an excuse to continue the research. It also appears funding of SARS as a biological weapon inside the U.S. (North Carolina) was now permitted again.

REFERENCES: 2017 '' Policy Guidelines from Obama Administration

2014 '' pdf link of Research Funding Pause

National Science Advisory Board (Wiki)

Pentagon Funding for SARS research 2013 through 2020.

SUMMARY: President Obama (not Trump) started the reauthorization of SARS-CoV-2 Virus experimentation in 2017. The funding of the Wuhan Lab for the creation of SARS-CoV-2 was originated during the Obama administration and continued during the Trump administration. The scientific community, the Obama White House and National Security Team, and the Pentagon knew the dangers of funding the weaponization of a biological weapon from SARS. The COVID-19 pandemic was an outcome of these originating decisions.

'.... and yes, there are political and ideological benefits from the perspective of Obama's ideological group for unleashing the SARS-CoV-2 Pandemic as an opportunistic ''crisis'' to create totalitarian government solutions regardless of who was in office. However, the timing of the subsequent biological release is very suspicious in relation to the 2020 presidential election and the downstream benefits of manipulating the election via mail-in ballots.

Perhaps not a smoking gun of intent, but definitely bloody footprints walking out the door '' in Obama's size.

.

Note the date:

Posted in 1st Amendment,

Big Government,

Big Stupid Government,

CDC,

China,

CIA,

Conspiracy ?,

Coronavirus,

Death Threats,

Decepticons,

Deep State,

Dem Hypocrisy,

Donald Trump,

Donald Trump Transition,

Election 2016,

Election 2020,

Infectious Disease,

JoeBama,

media bias,

President Trump,

Professional Idiots,

propaganda,

Uncategorized,

USA,

Voter Fraud

Tony Blair Calls for Distinguishing of Vaccinated and Unvaccinated

Mon, 07 Jun 2021 12:09

People who have received COVID-19 vaccines should have more freedom returned to them than those who haven't, former British Prime Minister Tony Blair has said.

It comes a week before the UK government makes its final decision on whether or not to go ahead with the plan to remove all legal restrictions put in place to curb the spread of the CCP (Chinese Communist Party) virus, which causes the COVID-19 disease, on June 21.

Since March 2020, most governments around the world imposed unprecedented restrictions on people's freedom of movement, social interactions, and protests in an effort to reduce the spread of the CCP virus.

The UK's first national lockdown started on March 20, 2020, when schools and public venues were ordered to close.

Asked if the government would delay the removal of restrictions if the Delta (Indian) variant of the CCP virus ''gets bad,'' Health Secretary Matt Hancock told the BBC's ''Andrew Marr Show'' on Sunday that the government is ''absolutely open'' to the option.

Speaking on the same show, Blair said people who are vaccinated and not vaccinated for COVID-19 should be distinguished both domestically and with regard to international travel.

The former prime minister was talking about a paper published on Sunday by the Tony Blair Institute for Global Change, which calls for a ''globally interoperable system of health passes'' that is ''usable both by national border authorities and other organisations within countries.

''The paper we're putting out today is saying we should really distinguish between the vaccinated and the unvaccinated,'' Blair said.

''So both here at home, if we do have to adjust some of the freedoms because of the rising pressure from new variants, then it's important, at least to ensure that those people who are vaccinated, have the maximum freedom they can. I think that could also be done for travel as well.''

Asked if he thought it was acceptable to turn down a vaccine, Blair replied, ''Unless you've got a good medical reason, my view very clearly is no,'' adding that it's important to give people ''a real incentive to get vaccinated.''

The new paper called for the government to allow businesses and organizations to operate with no restrictions if they restrict entry to those who have been fully vaccinated or have had a recent negative lateral flow test.

Asked if this would create a discriminatory ''two-tier society between the vaccinated and the unvaccinated,'' Blair said that ''discrimination'' is a loaded word, ''but really when it comes to risk management, it's all about discrimination.''

Bing Censors Image Search for 'Tank Man' Even in US

Mon, 07 Jun 2021 12:08

Bing, the search engine owned by Microsoft, is not displaying image results for a search for "Tank man," even when searching from the United States. The apparent censorship comes on the anniversary of China's violent crackdown on protests in Tiananmen Square in 1989.

"There are no results for tank man," the Bing website reads after searching for the term. "Tank man" relates to the infamous image of a single protester standing in front of a line of Chinese tanks during the crackdown.

China censors and blocks distribution of discussion of tank man and Tiananmen Square more generally. This year, anniversary events in Hong Kong have dwindled in size after authorities banned a vigil.

IMAGE: A SCREENSHOT OF THE SEARCH RESULTS.

Bing displays ordinary, non-image search results for tank man when searching from a U.S. IP address; the issue only impacts the images and videos tabs. Google, for its part, displays both when connecting from the same IP address.

Motherboard verified that the issue also impacts image searches on Yahoo and DuckDuckGo, which both use Bing. Neither company immediately responded to a request for comment.

Do you work at Bing or know anything else about this incident? We'd love to hear from you. Using a non-work phone or computer, you can contact Joseph Cox securely on Signal on +44 20 8133 5190, Wickr on josephcox, OTR chat on jfcox@ jabber.ccc.de , or email joseph.cox@vice.com .

Multiple Twitter users also sent Motherboard images of the lack of image results on Bing while connecting from France, Switzerland, and other countries.

Shane Huntley from Google's Threat Analysis Group first tweeted a screenshot of the Bing search result. Security researcher Kevin Beaumont also tweeted the same results from what he said was a search from a UK IP address. Motherboard also replicated the search on a U.S. IP address.

VIDEO - Post'¸America on Twitter: "IS it a coincidence? https://t.co/rcrbl1xcQW" / Twitter

Mon, 07 Jun 2021 05:00

Post'¸America : IS it a coincidence? https://t.co/rcrbl1xcQW

Sun Jun 06 02:41:40 +0000 2021

CA county cuts death toll after finding fatalities not caused by COVID

Mon, 07 Jun 2021 04:58

News

By Jackie Salo

June 6, 2021 | 2:52pm

Alameda County on Friday issued a corrected death toll that puts the total number of fatalities at 1,223, significantly down from its previous count of 1,634. REUTERS

The coronavirus death toll in a California county has been cut by 25 percent '-- after officials found that some fatalities were not a ''direct result'' of the virus.

Alameda County on Friday issued a corrected death toll that puts the total number of fatalities at 1,223, significantly down from its previous count of 1,634.

''Alameda County previously included any person who died while infected with the virus in the total COVID-19 deaths for the County,'' health officials said in a statement.

''Aligning with the State's definition will require Alameda County to report as COVID-19 deaths only those people who died as a direct result of COVID-19, with COVID-19 as a contributing cause of death, or in whom death caused by COVID-19 could not be ruled out.''

Health officials said they had begun counting any person who was positive for the virus at the time of their death as part of the official tally before the state came up with a new definition late last year.

View Gallery

Alameda County's statement on their COVID-19 death rate. Alameda County

Alameda County's statement on COVID-19 death rate. Alameda County

''Obviously our definition was broader than the state's,'' Neetu Balram, a spokesperson for the county health agency, told The Oaklandside.

Balram was unable to give specifics about the deaths of people who were removed from the official count.

''There are definitely people who died from reasons that were clearly not caused by COVID,'' Balram told the outlet.

Nicholas Moss, who is the county's health officer, admitted that any revised toll ''would have raised some eyebrows'' '-- but said he hopes the updated numbers will give residents confidence that they are committed to accuracy.

''Nothing about this changes our policy decisions now or during the height of the pandemic,'' Moss told the outlet.

The CDC's Covid-19 vaccination card, annotated - CNN

Sun, 06 Jun 2021 21:56

(CNN) Nearly 170 million people have been vaccinated against Covid-19 in the United States -- which means the same amount have been handed a version of the Centers for Disease Control and Prevention's white record card.

The CDC's vaccination card is likely to be the primary proof of vaccination going forward as the US continues loosening pandemic restrictions. Much of the information on the card is straightforward, but other parts, such as the vaccine lot number, point to key details that are less widely understood.

We've annotated a sample CDC vaccination card below in order to better go through the details of the vaccination process.

1) The manufacturer

In the US, there are three Covid-19 vaccines authorized for emergency use: Pfizer-BioNTech, Moderna and Johnson & Johnson. Pfizer and Moderna are two-dose vaccines, while J&J is one dose.

2) The lot number and expiration date

The lot number is a string of numbers and letters that tracks this specific batch of vaccine from production into your arm. This lot number is connected to an expiration date, which -- much like on any food packaging -- indicates when this batch of vaccine may start to degrade. Pfizer and Moderna say their vaccines have a shelf life of up to six months, while Johnson & Johnson says it is conducting ongoing studies to determine how long its vaccine lasts.

This expiration date is not relevant to how long vaccinated people are protected against Covid-19. (That remains unclear.) Instead, the expiration date is primarily helpful for governments and vaccine providers, who have to coordinate buying and using large amounts of vaccine within the limited shelf life.

This is likely to become more important in the coming months as some of the earliest vaccine doses begin to reach their expiration dates. For example, South Sudan announced plans to discard 59,000 doses of donated AstraZeneca vaccine that had expired in April.

3) The date

The date of your shot is important so you know when to return for a second shot, if needed, and when you are "fully vaccinated." The CDC considers people "fully vaccinated" two weeks after the date of the final shot in the vaccine series.

In addition, the time of your dose may also be included because the CDC advises people to remain under observation of medical professionals for 15 minutes after getting vaccinated, mainly as a precaution in case of a rare allergic reaction.

4) The location

The location of your vaccine dose is written on the vaccination card for reference, just in case the background of your vaccine selfie isn't clear. In recent weeks, many mass vaccination sites like the Javits Center in New York have begun to wind down operations as demand for the vaccines has lightened.

5) The health care professional

Don't forget to say thank you!

Nasa has announced two missions to Venus by 2030: Here's why that's exciting - The Economic Times

Sun, 06 Jun 2021 21:55

SynopsisIn the latest announcement from Nasa's solar system exploration programme, two missions have been given the go-ahead - and they're both bound for Venus. The two ambitious missions will launch between 2028 and 2030.

For decades, the exploration of our solar system left one of our neighbouring planets,

Venus, largely unexplored. Now, things are about to change.

In the latest announcement from Nasa's solar system exploration programme, two missions have been given the go-ahead - and they're both bound for Venus. The two ambitious missions will launch between 2028 and 2030.

ADVERTISEMENT

This marks a considerable change in direction for Nasa's planetary science division, which hasn't sent a mission to the planet since 1990. It's exciting news for space scientists like me.

Venus is a hostile world. Its atmosphere contains sulphuric acid and the surface temperatures is hot enough to melt lead. But it has not always been this way. It is thought Venus started out very similar to the Earth. So what happened?

ADVERTISEMENT

While on Earth, carbon is mainly trapped in rocks, on Venus it has escaped into the atmosphere - making it roughly 96 per cent carbon dioxide. This has led to a runaway greenhouse effect, pushing surface temperatures up to 750 kelvin (470 degree celsius or 900 degree Fahrenheit).

The planet's history makes it an excellent place to study the greenhouse effect and to learn how to manage it on Earth. We can use models which plot the atmospheric extremes of Venus, and compare the results to what we see back home.

But, the extreme surface conditions are one of the reasons

planetary exploration missions have avoided Venus. The high temperature means a very high pressure of 90 bars (equivalent to roughly one kilometre underwater) which is enough to instantly crush most planetary landers. It might not come as a surprise, then, that missions to Venus haven't always gone to plan.

Most of the exploration done so far was carried out by the then Soviet Union between the 1960s and the 1980s. There are some notable exceptions, such as Nasa's Pioneer Venus mission in 1972 and the European Space Agency's Venus Express mission in 2006.

ADVERTISEMENT

The first landing happened in 1970, when the Soviet Union's Venera 7 crashed due to the parachute melting. But it managed to transmit 20 minutes of data back to Earth. The first surface images were taken by Venera 9, followed by Veneras 10, 13 and 14.

The descent missionThe first of the two selected Nasa missions will be known as Davinci+ (a shortening of Deep Atmosphere of Venus Investigations of Noble Gases, Chemistry and Imaging). It includes a descent probe, meaning it will be dropped through the atmosphere, taking measurements as it goes. The descent has three stages with the first investigating the entire atmosphere.

The probe will be looking at the composition of the atmosphere in detail, providing information on each layer as it falls. We know sulphuric acid is confined to cloud layers at around 50km (30 miles) up, and we know that the atmosphere is 97 per cent carbon dioxide.

But studying trace elements can provide information on how the atmosphere ended up in this state. The second stage will be looking at lower altitudes to measure weather properties such as wind speed, temperature and pressure in detail.

The last stage take surface images in high resolution. While this is very common for Mars, it has always been a challenge on Venus. The thick cloud layer means visible light is reflected, so observing from Earth or from orbit isn't practical. The intense surface conditions also mean rovers are impractical. One suggestion has been a balloon mission.

We have a low resolution image of the surface of Venus, thanks to Nasa's Magellan mission in 1990, which mapped the surface using radar. The Davinci probe will take surface images using infrared light during its descent. These pictures will not only allow better planning for future missions but also help scientists investigate how the surface formed.

Mapping the surfaceThe second mission is called Veritas, short for Venus Emissivity, Radio science, InSAR, Topography and Spectroscopy. This will be a more standard planetary mission. The orbiter will carry two instruments on board to map the surface, complementing the detailed infrared observations from Davinci.

The first of these is a camera that observes in a range of wavelengths. It can see through the Venusian clouds, to investigate atmospheric and ground composition.

This task is very difficult, as the surface temperature causes the reflected light to have a very broad range of wavelengths. Veritas will compensate for this using techniques often used to study the atmospheres of exoplanets.

The wavelength camera will also look for signs of water vapour. The Venus Express mission showed that the main elements escaping the Venusian atmosphere are hydrogen and oxygen, so if there's any water it will be in tiny amounts, or deep under the surface.

The second instrument is a radar and utilises a technique used extensively on Earth observation satellites. A very large active radio receiver - important for high resolution images - is simulated using radio pulses pointed at different angles in front of the spacecraft.

The high resolution radar images will create a more detailed map to investigate the surface evolution of Venus, as well as determine if there is any tectonic or volcanic activity.

These missions could also add evidence to a theory that the Venusian surface completely melted and reformed 500 million years ago. This came about to explain the lack of meteorite impacts on the surface, but so far no evidence has been found a volcanic lava layer which would result from such resurfacing.

It is exciting that Nasa has turned its planetary mission view towards Venus. For any budding astronauts I'm afraid the chance of sending a human there any time soon is non-existent. But, the information that can be gained from Earth's largely forgotten sister will be of very high value for understanding our world.

(This article is syndicated by PTI from The Conversation)
Clips & Documents
Art
All Clips

ABC America This Morning - anchor Andrew Dymburt - french president slapped (13sec).mp3

ABC America This Morning - anchor Andrew Dymburt - joint for a jab (18sec).mp3

ABC America This Morning - anchor Andrew Dymburt - new alzheimers drug approved -side effect brain bleeds (43sec).mp3

ABC America This Morning - anchor Ike Ejiochi - bitcoin recovered from hackers after law enforcement obtain key (1min11sec).mp3

ABC America This Morning - anchor Mona Kosar Abdi - delta variant (intro) (13sec).mp3

ABC America This Morning - anchor Mona Kosar Abdi - joint for a jab (short) (4sec).mp3

ABC America This Morning - anchor Mona Kosar Abdi - millions of vaccine doses set to expire (5sec).mp3

ABC America This Morning - anchor Mona Kosar Abdi - nurses in houston protest required covid vaccination (22sec).mp3

ABC GMA - anchor Eva Pilgrim - campaign for vaccines hits the road dr. jill and fauci -vaccines down from peak 3.3 million (52sec).mp3

ABC GMA - anchor Eva Pilgrim - pga golfer removed with 6 stroke lead -contact tracing -asymptomatic (28sec).mp3

ABC Nightly - anchor Eva Pilgrim - delta variant -pfiizer 2 dose 88% 1 dose only 33% effective (26sec).mp3

Alemeda county revises covid death count by 25 percent.mp3

amazon streaming MPR.mp3

BIDEN dictaors gem gaffe.mp3

BIDEN Give my word.mp3

Biden medly.mp3

Biden trip rundown NPR.mp3

Brian Seltzerwater on CDN outage -1- Centralized Internet.mp3

Brian Seltzerwater on CDN outage -2- Hiccup and Infrastructure.mp3

Call-in anti Bidem Drunk.mp3

Call-in Pro Bidem Drunk 2.mp3

Call-in Pro Bidem Drunk.mp3

Callins oppose one weirdo.mp3

CBS 60 Minutes - anchor Leslie Stahl - Wuhan (1) Peter Daszak zoonotic theory -civets ferret badgers rabbits in market (29sec).mp3

CBS 60 Minutes - anchor Leslie Stahl - Wuhan (2) Jamie Metzl samples brought back to lab from bat caves similar to sars-cov (35sec).mp3

CBS 60 Minutes - anchor Leslie Stahl - Wuhan (3) Matt Pottinger Beijing destroyed samples -military was working in lab (1min).mp3

CBS 60 Minutes - anchor Scott Pelley - ransomware (1) Mike Christman waiting for the day 911 system in major city held hostage (27sec).mp3

CBS 60 Minutes - anchor Scott Pelley - ransomware (2) Mike Christman ransomware variant sam sam -bitcoin (1min13sec).mp3

CBS 60 Minutes - anchor Scott Pelley - ransomware (3) Tom Pace ransomware for rent online -straight off the shelf (1min8sec).mp3

CBS Face the Nation - anchor John Dickerson - Dr. Scott Gottlieb (1) fauci email -smoking gun -found in nature (1min8sec).mp3

CBS Face the Nation - anchor John Dickerson - Dr. Scott Gottlieb (2) fauci said lab leak early -national security apparatus (2min2sec).mp3

Cicada Two CBS.mp3

Cocada One.mp3

COVID Houston nurses.mp3

COVID south America report no numbers.mp3

Cripes Nigeria 2.mp3

Cripes Nigeria and Twitter One.mp3

End of Show Mix (Neal Jones) - Varying Variants (1min8sec).mp3

Energy Secretary Jennifer Granholm - the US power grid is vulnerable to attacks MALIGNED actors.mp3

EU Covid Passports.mp3

Fauci - Science is under attack.m4a

Fauci NIH Advisroy Council Meeting 2018 - Gain of Function Research Funding Loophole.mp3

FBI Colonial seizure presser - VARIANT - CYBER PANDEMIC.mp3

Funny Joe Kennedy bit on fauci gain of function research.mp3

Get excited ISO.mp3

Gordon Brown -1- We will effectively decide who lives and who dies.mp3

Gordon Brown -2- your kids vaxxed - non answer-.mp3

Hollywood rundown Kamran Pasha.mp3

Kirby Arctic center wtf.mp3

Kirby challenfe of china first use.mp3

Kirby Pentagon Pacing Challenge.mp3

Kirby secrets pacing challene first clip.mp3

Klaus Schwab - Cyber Pandemic ISO.mp3

NBC Nightly News - anchor Lester Holt - you havent been to the border -Kamala Harris (25sec).mp3

NPR BIDEN CUTOUT Eu Trip.mp3

NPR On Point - anchor Lauren Sommer - carbon levels highest in 4 million years -samples gathered from top of volcano (39sec).mp3

Obama downplays Critical Race Theory.mp3

Peter Daszak of EcoHealth Allianc ein 2016 - Colleagues in China'Sequencing Coronavirus Spike Proteins.mp3

Sandy Ocasio-Cortez Calls Biden's Immigration Polices Inhumane.mp3

Stay safe medly.mp3

Tony Blair on Vaxx Passes - White Paper.mp3

Vaccines are much more effective than natural immunity.mp3

vivel meurthy 3 kicker.mp3

vivel meurthy 4 NPR.mp3

vivel meurthy 5 masks.mp3

vivel meurthy ONE NPR.mp3

vivel meurthy Two muths NPR.mp3

Warren on Bitcoin -1- Ransomware and Energy Usage.mp3

Warren on Bitcoin -2- Can we make an eco friendly CBDC.mp3

Washington Joints for Jabs off to a slow start - filled with puns.mp3

watch ISO.mp3

Worldwide gang crackdown results in major blow to New Zealand criminals.mp3

wrong ISO.mp3