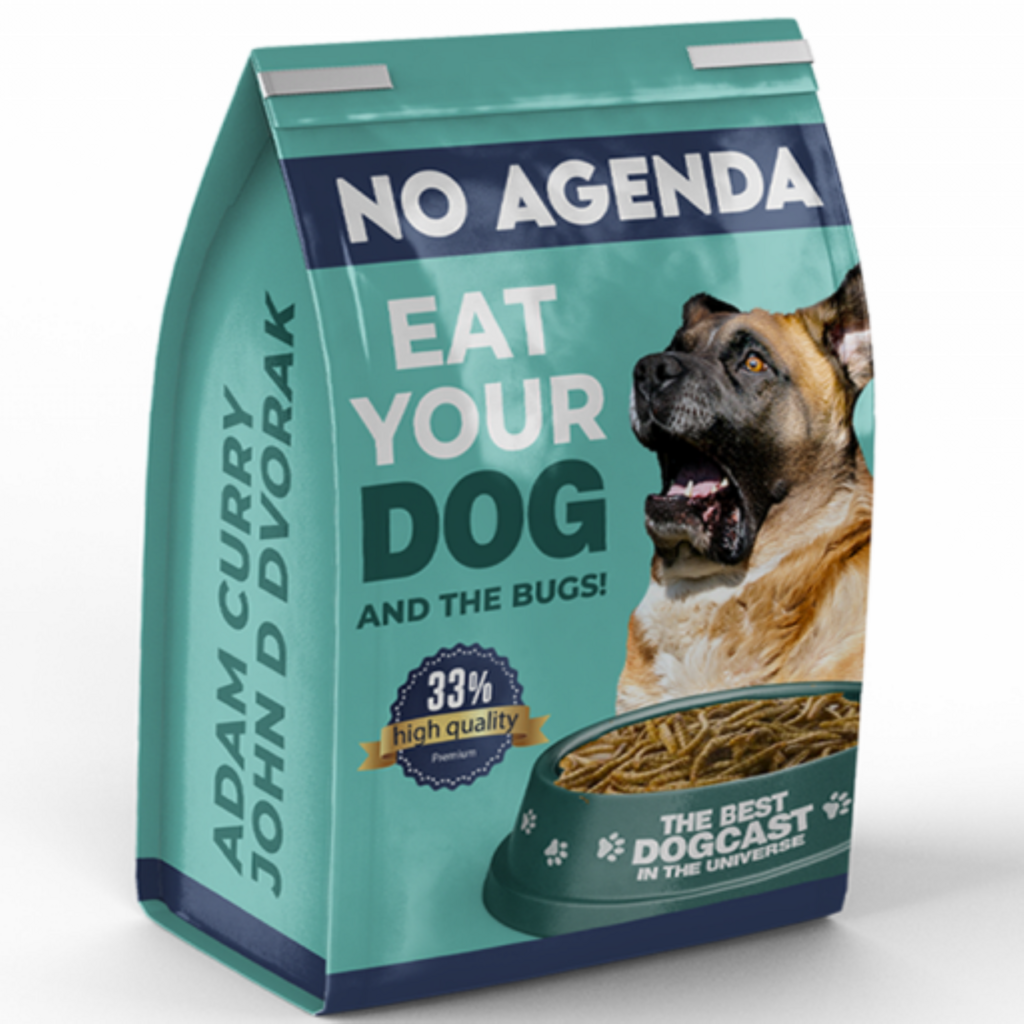 January 26th • 3h 2m
1524: Climatarian
Shownotes
Every new episode of No Agenda is accompanied by a comprehensive list of shownotes curated by Adam while preparing for the show. Clips played by the hosts during the show can also be found here.
Big Pharma
Climate Change

Lab-grown meat moves closer to American dinner plates

Climate Neutral Milk

Neutral is the kind of data-driven "technology-agnostic" business global investors love. Bill Gates already does. Last November, Gates and fellow billionaire Mark Cuban together sunk $4 million into Neutral Milk; in April, the company announced a second round of funding from celebrity investors, including musician John Legend, model Emily Ratajkowski, and NBA stars LeBron James and Kevin Love, a Portland native. It's scaling fast in national markets like Whole Foods, while also upping its local profile. (Your Fifty Licks ice cream and Stumptown cappuccino are both made with Neutral Milk.)

One start-up says it has found a better way. Portland-based Neutral Milk claims to be the world's first carbon-neutral food company. And for $5.49 a half-gallon, it promises—right on the carton—that we can all fight climate change.
Elites
VAERS
Tank Talk & Ukraine vs Russia

Anti Tank Mine TSA BOTG

This is actually something I have some knowledge about. This anti tank missile in question is an airsoft replica made by Elite Force. In this particular instance I believe one of the reps for the manufacturer was on their way to Shotshow is Las Vegas. As a 25 year old producer with one foot in the trade show industry and the other in the airsoft world i find this pretty funny given that I fly twice a year to Arizona with undeclared airsoft guns and vests in my checked luggage. Maybe they should find a more discreet case next time.

-Thank for for your courage

Sirlocybin

Mercs in Ukraine are giving up

Verschillende mercenaries(oa voormalige SEALS) die ik ken en nu in Oekraïne vechten stoppen er mee. Volgens hun verliest Oekraïne de oorlog en is de corruptie 'out of controle' quote:"Tanks will not help Ukraine, they are running out of experienced fighting

Russia using AFG weapons BOTG
Mandates & Boosters

Veritas "Pfizer R&D"

The gay scientist that Project Veritas caught in their latest hidden camera video is more of a business strategy guy / consultant so when he says Pfizer is thinking about the possibility of directing the evolution of the SARS-Cov-2 virus to generate more vaccine revenues you can bet a million $ this is actually something they're considereing.

worth posting in the show notes:

Who is "Jordon Trishton Walker"?

https://brianoshea.substack.com/p/who-is-jordon-trishton-walker

quote

"The key takeaways that I want to highlight, based on the results below are somewhat chilling in the context of the "pandemic," Covid-19, Pfizer's and the FDA's cozy relationship with China, and the timing of Dr Walker's experience with the pandemic and all of its outcomes:

He helped create market forecasts for therapeutics related to oncology in 2021 (Operation Moonshot comes to mind).

He "conducted impact evaluation of Value-Based Payment models and COVID-related changes in hospital reimbursement policies for a US federal health agency". (Does this mean Boston Consulting Group or Pfizer or both were working with the US government to actually create POLICIES THAT AFFECT US TAXPAYERS???)

He took a BCG sponsored Mandarin (Chinese) language and business immersion course…RIGHT BEFORE THE PANDEMIC HIT THE UNITED STATES. Does this mean BCG and/or their Clients (who are either Pfizer, the US Government, or both) knew that these vaccines would be (or were already) being made in China? Business immersion (I am guessing business terms and colloquialisms) was also a focus.

Does this mean he and his Clients knew in 2019 or earlier that a mass vaccination/pharma boom was about to hit that both the CCP (who control the Chinese pharma industry and, of course, all of the BSL-4 labs the research occurred in) & Pfizer et al would be partnered on? "
BLM LGBBTQQIAAPK+ Noodle Boy
CBDC FTX BTC
Big Tech
Great Reset
War on Guns

Monterrey Park Shooting

Media is reporting the Cobray M11 as a semi-auto. It is not. Dude had a prior weapon crime, he bought this off the street for a small fortune. Shocked they're still talking about it.
STORIES

Spotify Layoffs: Dawn Ostroff to Depart; Six Percent of Staff '' The Hollywood Reporter

Thu, 26 Jan 2023 18:22

Audio streaming giant Spotify on Monday said that it would be laying off about 6 percent of its workforce, or about 600 people, as the streaming audio giant becomes the latest company in the technology space to cut back on staff amid a challenging economy.

The company said that it expects to take severance costs of between $38 million and $49 million in connection with the layoffs.

The layoffs, unveiled by CEO Daniel Ek in a blog post, were expected to be more broadly based than a previous round of cuts in October, which hit staff working on canceled shows from in-house podcast studios Gimlet and Parcast.

To that end, one of Spotify's most high-profile executives, chief content and advertising officer Dawn Ostroff, will depart the company ''as part of a broader reorganization,'' the company said. Ostroff will become a senior adviser to Spotify to help with the transition.

As part of other executive changes, Alex Norstr¶m, currently chief freemium business officer, and Gustav S¶derstr¶m, currently chief research and development officer, are being elevated to co-presidents of the company. Norstr¶m will oversee content issues.

''As we evolve and grow as a business, so must our way of working while still staying true to our core values,'' Ek wrote in his blog post. ''To offer some perspective on why we are making this decision, in 2022, the growth of Spotify's operating expenses outpaced our revenue growth by two times. That would have been unsustainable long-term in any climate, but with a challenging macro environment, it would be even more difficult to close the gap.''

He added: ''Personally, these changes will allow me to get back to the part where I do my best work'--spending more time working on the future of Spotify '-- and I can't wait to share more about all the things we have coming.''

The CEO also addressed Ostroff's exit. ''As a part of this change, Dawn Ostroff has decided to depart Spotify,'' he wrote. ''Dawn has made a tremendous mark not only on Spotify, but on the audio industry overall. Because of her efforts, Spotify grew our podcast content by 40 times, drove significant innovation in the medium and became the leading music and podcast service in many markets.''

Spotify executives previously signaled they had plans to reduce head-count-related expenses, with CEO Ek telling staff last June that the company would reduce its hiring growth by 25 percent and ''be a bit more prudent with the absolute level of new hires over the next few quarters.'' Paul Vogel, the company's chief financial officer, also pointed to ''increasing uncertainty regarding the global economy'' at Spotify's investor day in June as a reason for ''evaluating [Spotify's] head-count growth in the near term.''

Spotify is also the latest technology company to unveil big job cuts.

Google parent Alphabet, Amazon, Facebook, Instagram parent Meta Platforms and Microsoft are among the other tech powerhouses that have recently unveiled layoffs. Alphabet said last week that it would lay off 12,000 people. Amazon said earlier this month that it would reduce its staff by 18,000, while Microsoft earlier this week said it would lay off 10,000 people. Meta announced plans to cut 11,000 employees last year, with the likes of Snap, Twitter and Netflix also making significant reductions in 2022.

As of the end of the third quarter, Spotify employed around 9,800 people. The audio company brought in 3.04 billion euro in revenue and added 195 million paid subscribers during the third quarter. At the time, Ek said the economic downturn had not had a ''material impact'' on the company's business but that Spotify would be ''more selective'' with its ''overall spending.''

Spotify will report its fourth-quarter earnings Jan. 31 before the market opens.

This story was originally published on Jan. 22 at 9:08 p.m.

Could the COVID-19 Vaccine Make Botox Less Effective? '-- Learn More | Allure

Thu, 26 Jan 2023 17:56

If you regularly get neuromodulator treatments (like Botox, Dysport, or Xeomin) and have noticed they seem slightly less effective, don't last quite as long, or require more frequent touch-ups, there may be a surprising reason. A new study has found that neuromodulator injections may be less effective in those who have received the COVID-19 vaccine. But before we go any further, we cannot stress this enough: This is no reason not to get vaccinated or boosted. 1. This study was small. 2. Most people will probably still find a neuromodulator that's effective. And above all 3. Forehead lines are always better than severe illness or death. Now we will continue and share everything we know so far about this phenomenon.

The goal of the study was to see if there was a potential influence from the BNT162b2 mRNA COVID-19 vaccine (that's a mouthful but translates to the Pfizer vaccine, which '-- like the Moderna vaccine '-- uses mRNA technology) on Botulinum toxin type A (BTA) injections. The study does not specify a brand of Botulinum type A injection so it could be any of the four brands that use BTA: Botox, Dysport, Xeomin, and Jeuveau. (Daxxify also uses BTA but is just now starting to roll out across the country so couldn't have been included here. )

This was a small study, only 45 subjects, with an average age of 48.3. The group was 89% female. The results found that the average time between Botox injections after a COVID vaccination was shorter than before '-- 96 days, compared to 118 (that's about three-and-a-half versus four months) '-- leading researchers to believe that Botox "might be less effective after COVID-19 vaccination."

"The last line is imperative here, as it includes the word 'might,'" says Mona Gohara, MD, a board-certified dermatologist in Hamden, Connecticut and associate clinical professor of dermatology at Yale School of Medicine. "The study raises an interesting possibility, but is not conclusive and calls for additional research."

Shari Marchbein, MD, a board-certified dermatologist in New York City and assistant professor at NYU School of Medicine, also points out that the study shouldn't be considered a definitive answer given its small size. "The most important thing is that it's a very small study and we must do larger studies, multi-center studies, multi-country studies," she explains. "The fact that there were only 45 people ... that's extremely small. I treat more patients than that in a week."

Big Dairy, a Power Player in Oregon, Faces a Climate Change Crossroads | Portland Monthly

Thu, 26 Jan 2023 16:31

A verdant field, gently rolling. Blue sky. A brown Jersey cow with velvet ears, mowing through grass.

Bucolic imagery sells milk in America. In Oregon, these scenes dot Willamette Valley bottomlands all the way to the coast. In Tillamook County'--dairy country'-- tourists at the Tillamook Creamery Visitor Center dip fried cheese curds in ranch dressing and locals root for the Tillamook High Cheesemakers. The Tillamook County Creamery Association, founded in 1909, is one of the oldest continuously operating dairy cooperatives in the world.

For 175 years, lactose has been close to Oregon's heart: ingested in tall, frothy glasses of our state drink and exported as ice cream, yogurt, and bricks of cheddar. Dairy is Oregon's fourth-most-valuable commodity, right behind hay, beef, and nursery products like Christmas trees.

But small dairy farms are a dying breed in today's climate, even as our milk exports soar. That's largely thanks to the new megadairies located east of the Cascades in Oregon's drought-stricken high desert, which rank among the globe's largest. Megadairies are driving up global milk production'--as well as the methane-emitting manure reservoirs that come with these industrial systems.

In Oregon, the consolidation of this once-cottage industry has been abetted by historically friendly regulators. As an unmistakable link between cattle and climate change emerges, these tensions are fueling a knock-down, drag-out fight over the economic and environmental cost of milk.

One start-up says it has found a better way. Portland-based Neutral Milk claims to be the world's first carbon-neutral food company. And for $5.49 a half-gallon, it promises'--right on the carton'--that we can all fight climate change.

''We don't want to be preachy, and we don't want to sell a happy cow image,'' says Marcus Lovell Smith, Neutral Milk's CEO. ''We're in dairy because if you're going to make agricultural transformational change, you have to do it with animal proteins and animal products.''

It all sounds very slick for the industry that once banked on the milk mustache. But increasingly, interests both in and outside the Oregon dairy community agree that for this heritage industry to survive, it has to change. Starting with all the shit.

Image: courtesy neutral milk

N eutral is the kind of data - driven ''technology-agnostic'' business global investors love. Bill Gates already does. Last November, Gates and fellow billionaire Mark Cuban together sunk $4 million into Neutral Milk; in April, the company announced a second round of funding from celebrity investors, including musician John Legend, model Emily Ratajkowski, and NBA stars LeBron James and Kevin Love, a Portland native. It's scaling fast in national markets like Whole Foods, while also upping its local profile. (Your Fifty Licks ice cream and Stumptown cappuccino are both made with Neutral Milk.)

According to the United Nations, food systems account for about 34 percent of global greenhouse gas emissions; dairy and beef production drive much of that. Neutral Milk has done the math on its own impact, with an assessment spanning hay fertilizer to your milk run years later. By its calculation, it took 12 pounds of carbon to make that half-gallon of organic whole milk in our grocery tote.

All of which makes for a very good question for Neutral Milk's CEO. If dairy is such a problem industry, why enter the space in the first place? Why not invest Bill Gates's millions in making a highly disruptive filbert milk?

Before the last five or so years, we didn't know what was really important'--whether that was turning the faucet off while we're cleaning our teeth or eating a hamburger or hopping on a plane or not. Now we know what are the real [climate change] contributors. '--Marcus Lovell Smith, CEO, Neutral Milk

''Scale is important,'' says Lovell Smith. ''Otherwise we're just fiddling around. Before the last five or so years, we didn't know what was really important'--whether that was turning the faucet off while we're cleaning our teeth or eating a hamburger or jumping on a plane or not. Now we know what are the real [climate change] contributors.''

Nut and oat milks are great, he says, but these plant-based options haven't changed the fact that roughly 92 percent of American households still stock dairy products. Increasingly, those households can buy Neutral Milk's own products via a growing number of stores, including Target, Sprouts, and New Seasons. On shelves, the cartons are hard to miss: bright yolk-yellow with that bold climate-change-fighting tagline.

Right now, Neutral Milk's way of fighting climate change means buying lots of carbon offsets. Offsets are credits, ideally verified by accredited auditors, purchased to ensure that a company's own emissions are zeroed-out by reductions elsewhere'--such as those created by the growing number of anaerobic digesters making ''renewable'' biogas from cow poop.

But offsetting at its best is simply a no-harm strategy'-- the warm-up act to a climate headliner. That's why, according to Lovell Smith, Neutral Milk's real ambition is to radically reduce emissions on the farms it works with directly.

Two years ago, the company hired Ann Radil, a former NASA-funded climate scientist from Wyoming, to roll out carbon reduction projects on its partnering dairy farms in Oregon, Washington, and some eastern US states.

Neutral Milk is investing multiple millions of dol lars to launch 80-some of these projects over the next few years, says Radil. Neutral Milk's involvement depends on the individual farms it works with: sometimes just writing the check to electrify a formerly gas-powered farm, sometimes providing the third-party monitoring to track a project's impact for years to come.

''A farmer is not going to take on the really arduous task of monitoring increased carbon in trees through a riparian restoration,'' says Radil.

One flagship early example is a $50,000 investment Neutral Milk made this spring in a manure separation project at a 200-cow dairy outside of Portland. Soon, Radil says, this dairy will be supplying high-quality compost to Portland gardeners: an extra revenue source for the farm, one that she claims can also mitigate the carbon footprint of 1.6 million half-gallons of milk.

Many of the projects Neutral Milk plans to roll out in the next few years fall in the tried and true category: actions with well-known environmental payoffs. These include manure composting, tree planting, and overseeding a grazing pasture with tannic greens that aid cows' digestion. Many are also practical, like helping a farm acquire the equipment needed to use its own manure to fertilize distant hayfields, rather than buy fertilizer shipped from, say, Russia.

But Neutral Milk's toolkit also includes what Radil calls more innovative strategies: things like feeding cows methane-reducing seaweed supplements. And some harken back to the good farming practices of time immemorial, like adaptive grazing, a fancy term for moving your herd around before it eats all the grass, thus conserving both rootbound carbon storage and soil health.

''If you time-stamp us now, we're relying on offsets,'' says Radil. ''But we have a line of sight to be carbon neutral solely from our on-farm investments'--to completely eliminate the carbon impact of our milk and half-and-half'--very quickly.''

To get there, Neutral Milk needs to grow its portfolio of farm interventions at roughly the same pace that it expands its business. Radil says as long as farmers want Neutral Milk's help, there will be project options; no dairy she's seen yet is close to a zero-impact farm.

It helps that Neutral Milk's partner farms have some land to work with. Right now, all of the company's milk is certified organic, per federal standards that include the stipulation that cows spend at least 120 days outside, grazing on actual pastures. That means organic farms must have enough acreage to feed their whole herd during grazing season. Land prices are high, which often leads to the kind of smaller operations'--the average herd size of a Neutral Milk supplier is 150 cows'--that have traditionally been the beating heart of rural farming communities.

Which prompts another issue: while the small, organic farms might present endless, incremental opportunities for improvement, they're also increasingly squeezed. In Oregon's near future, it's possible that there simply won't be enough of them left to keep Neutral swimming in milk.

Lovell Smith is clear about ambitions to aggressively scale its dairy operation. He also says the company will be moving beyond milk. And every new product will reset the clock on Neutral Milk's total carbon footprint: a gassy ouroboros trying to eat a tail that keeps growing larger.

''We'll be a little shy on the details here, but we will be moving into other food staples,'' he says. ''Because the more products we sell, the more projects we can do on farms. And we need to do as many projects as possible.''

It also needs fellow travelers. A few do exist, beyond the world of half-and-half. New Belgium Brewing has a carbon neutral beer, and Kroger, the grocery giant that owns Fred Meyer, has launched a carbon neutral egg.

But Neutral Milk is hoping to start a movement across the food world. And if there's a future for dairy done right'--to crib a Tillamook tagline'--then wouldn't it be great if that movement started here, in Oregon dairy country?

Image: courtesy neutral milk

T

he dairy lobby in Oregon is proud of that pastoral, small-farm image it has cultivated, even as behind the scenes it has pushed hard for hands-off regulations on larger agribusiness, and often succeeded.

''The advertising and packaging that Tillamook has put out makes it seem like they are all supplied by small, independent family farms that are letting their cows graze on the beautiful grasses of the Oregon coast,'' says Amy Van Saun, a Portland-based attorney with the Center for Food Safety, a national consumer advocacy group.

''The reality,'' she continues, ''is that some 80-odd percent of their milk comes from Threemile Canyon in Boardman, which has such high ammonia emissions that you can see them from space.''

In dairy farming of yore, someone had the thankless job of collecting patties from pastures for use as fuel or fertilizer. A 1,400-pound dairy cow produces about 120 pounds of manure a day, meaning that barn cleaning is a big task for any dairy farm. But despite the rising popularity of organic milk, the majority of American dairy cows still spend much of their time inside: in the contained animal feeding operations, or CAFOs, that produce our conventional milk. For CAFOs, you have to move poop en masse, usually by flushing it into lagoons with water.

In Oregon, a large dairy is defined as anything above 700 head; Threemile Canyon currently runs a herd of at least 33,000 cows'--meaning it generates the sewage equivalent of a small city in a considerably smaller space.

''It doesn't matter whether you're a teeny dairy or a giant dairy,'' says Robert Parkhurst, an agribusiness consultant with California-based Sierra View Solutions. ''As the book says, everybody poops. You gotta manage that poop, and get it out of there. It's in the design of those systems that you have the opportunity.''

Manure management is a big issue for dairies worldwide, and not just because spills from CAFO lagoons and other storage systems can foul rivers and drinking water. (In Tillamook County, the dairy industry has been specifically called out by federal agencies for contributing to chronic water contamination, while Morrow County, home to Threemile Canyon, is within a special groundwater district monitored by the Oregon Department of Agriculture for high'--and rising'--nitrate levels.)

According to a November 2021 report by the United Nations Food and Agriculture Organization, cattle contribute more to man-made global greenhouse gas emissions than any other livestock animal, by far. Together, beef and dairy cow production make up 5 percent of the carbon dioxide, 44 percent of methane, and 53 percent of the nitrous oxide that humans pump into the air each year. One dairy cow, to put it crudely, is the emissions equivalent of a car.

Roughly 75 percent of those emissions come from manure and enteric fermentation'--cow burps. And like the size of dairy herds, that gassy stat isn't trending down, despite the G20's most heartfelt climate pledges. Only deforestation, the UN recently calculated, now outpaces livestock manure in releasing the greenhouse gasses warming our planet. And some of that actually traces back to cattle, in clearing ever more land for pasture.

I

n the last three decades, the actual number of licensed dairies in Oregon has dropped from around 500 to 192 in 2020. On average, Oregon has been losing about six dairy farms a year.

If this trend holds, then we face a self-reinforcing cycle: more Oregon dairy farmers retiring or priced out of the business, and even fewer potential successors that can meet the costly barriers to entry. For Neutral to grow its movement here in this scenario, it would likely have to raise prices, or scale up the size of its suppliers.

Yet scaling up is what's brought Oregon to the precipice of our current crisis.

A lot of the products we have on the shelves are artificially cheap because we're not making large food companies pay the costs of the way they do business. What we should be doing is making these companies address these problems. '--Tarah Heinzen, Attorney, Food and Water Watch

''A lot of the products we have on the shelves are artificially cheap because we're not making large food companies pay the costs of the way they do business,'' says Tarah Heinzen, a Portland-based attorney with Food and Water Watch. ''What we should be doing is making these companies address these problems.''

Making companies bear the full costs of things like greenhouse gas emissions and groundwater contamination would probably raise the price of products on shelves. (Price check: a half-gallon of 100 percent grass-fed Maple Hill milk costs $8.79; a half-gallon of conventional Grade A Alpenrose at the same store is $3.29.)

But in Oregon, she argues, we're already paying a heavy price for cheaper milk. Heinzen and Van Saun say that if Oregon continues to embrace megadairies, those costs will escalate.

Oregon is becoming a magnet for extractive factory farms, says Van Saun, citing our lack of air quality regulation, unlike California, Washington, and even Wisconsin, and what she says is an unusually cozy relationship between dairy interests and regulatory agencies like the Oregon Department of Agriculture.

That's a concern for her organization, which fiercely opposed the permitting of Lost Valley Farm, a 30,000-cow operation that briefly supplied Tillamook Creamery as Oregon's then-second-largest megadairy, and Threemile Canyon's neighbor.

In 2017, Lost Valley collapsed under the weight of more than 200 environmental violations and a prostitution sting that transmogrified into a bizarre, meth-addled bribery, gambling, and ultimately bankruptcy scandal for then-owner Greg te Velde, a recent California transplant. Cleaning up after Lost Valley cost Oregon taxpayers at least $325,000. Last year, Tami Kerr, then the executive director of the Oregon Dairy Farmers Association, told Oregon Public Broadcasting that the fiasco had given the whole dairy industry a ''black eye.''

In a narrow sense, Van Saun's coalition won that fight. They did not, however, win the larger battle. Twice now, in 2018 and 2021, the coalition has brought legislation asking for a ''megadairy moratorium'': a pause on permits for new dairies or facility expansions involving more than 2,500 cows. And twice now, that proposed legislation has died on the vine.

Policies like these take time, says Alice Morrison, organizational director of the Oregon trade advocacy group Friends of Family Farmers. (FoFF's membership includes both smaller Grade A dairy farms and producers of organic and raw milk.) Moratorium is a scary word, she admits, and her coalition has struggled to convince lawmakers beyond the bills' main sponsors'--Sen. Michael Dembrow and Rep. Rob Nosse, both Portland Democrats'--that their bill doesn't want to put anyone out of business.

In testifying against these bills, Tillamook and other larger dairy advocacy groups cautioned against creating new ''headwinds'' for farmers, particularly in reaction to ''one bad actor.'' The Farm Bureau took a harder tack, labeling the bills both ''anti-farm'' and ''anti-business.'' The pushback has so far worked, but Van Saun and Morrison are planning to bring the legislation back when lawmakers reconvene next January.

In the meantime, they're waiting for state ag department's next big decision: whether to allow Lost Valley to reopen under the ownership of Easterday Farms, a beef ranch based in Pasco, Washington. (Easterday made its own headlines last winter for a wild scheme to defraud Tyson Fresh Meats.)

''The state has been relatively welcoming to very large, industrial dairy farms,'' says Morrison. ''And that's changed the structure of the system. The farms we work with don't begrudge people making a living, but those milking maybe only 100 cows have a lot of trouble making ends meet.''

A moratorium would give Oregonians a chance to reconsider what Morrison describes as a dangerous trend: the consolidation of milk production among a few, deep-pocketed dairy owners, who can afford to sell their product cheap to Oregon creameries like Tillamook and DariGold'--the cooperatives that process and pasteurize the bulk of Oregon's conventional (nonorganic) milk.

Megadairies can literally flood the market, says Morrison, driving out smaller players and escalating a system in which only other megadairies can compete. And that sort of monopoly of power can lead to outsize political influence.

O

regon's dairy industry has always enjoyed political clout, says Food and Water Watch's Heinzen. For start ers, it's politically risky to be seen as anti-farmer in a proudly agricultural state.

Case in point: ''Why do some legislators appear to be so anti-farmer?'' former State Sen. Betsy Johnson asked Oregon Farm Bureau convention-goers last December, according to the Capital Press. ''Being told climate change is the most important issue our nation faces rings hollow when you're struggling to make it to the end of the month,'' she continued.

The dairy industry has many champions on the right side of the aisle; Oregon's rural voting districts are redder than a seascape strawberry in July. But the industry has long had a not-so-secret weapon in Johnson, a former Democrat who left the party last year and is now unaffiliated, with a decades-long history of supporting agricultural interests, as befits a representative of the coastal 16th District.

Johnson, the longtime cochair of the powerful Ways and Means Committee, a lifelong Oregonian, and child of a lumberman, has voted against bills to expand clean energy and improve groundwater monitoring. In 2019, she was one of three Senate Democrats responsible for derailing Gov. Kate Brown's cap-and-trade bill: legislation that would have required energy producers and importers to offset their greenhouse gas emissions (much like Neutral Milk is doing)'--new costs that some speculated could trickle down to consumers at the pump or grocery store.

Thanks to Johnson's unusual-for-a-Democrat track record, she enjoys a 41 percent score from the Oregon League of Conservation Voters'--and a 100 percent rating from the Oregon Farm Bureau, a ratio opposite that of many in her former party. The Farm Bureau is one of the most powerful lobbying entities in Salem, one that opposes policies aimed at farms that would mandate buffer zones between rivers and farmland, greenhouse gas emission reporting, and anything beyond voluntary, self-reported compliance with the federal Clean Water Act.

''Everyone in the Capitol knows that Betsy loves her dairy farmers,'' said Oregon Dairy Farmers Association president Chad Allen in 2017, as quoted by the Tillamook Headlight Herald upon the occasion of presenting Johnson with the group's Distinguished Service Award.

This year, Johnson is also running for governor: a surprise partyless candidate at a time of profound voter disenchantment with mainstream politics. Both early polling and fundraising momentum suggest she might even have a chance'--if not of winning, then of splitting the ticket, perhaps to Republican advantage. At presstime, Johnson's campaign had raised more than $7 million'--more than any other candidate'--including $1.75 million from Nike cofounder Phil Knight.

(It's worth noting that Johnson hasn't, in the past, pulled in the same level of sweet Farm Bureau funding as Republican colleagues like Christine Drazan, who is the Republican party's gubernatorial nominee. By early May, Johnson had netted just $3,000 to Drazan's $29K.)

Regardless of whether Johnson wins in November or abets a GOP victory, the dairy lobby that's so far killed the megadairy moratorium and other bills would have a friend in the governor's mansion. That would be welcome news for people like Derrick Josi, a third-generation family farmer with a 500-head Jersey herd near the Wilson River in Tillamook County.

There are a lot of people out there who say they worry about greenhouse gas emissions and carbon and all that, but then they go to their local supermarket and buy pre-peeled oranges that are wrapped in plastic rather than peel an orange themselves. '--Derrick Josi, Wilsonview Dairy

Josi's dairy herd is technically medium-size, but it's still larger than Oregon's average, and likely more competitive than farms further down the food chain. Josi's building a business he can hand down to his grandkids'--if they want it. He sees the vilification directed at dairies these days as deeply unfair. Those pushing hardest for farmers to change often don't understand much beyond the headlines, he says'--and don't make similar sacrifices in their own lives.

''There are a lot of people out there who say they worry about greenhouse gas emissions and carbon and all that, but then they go to their local supermarket and buy pre-peeled oranges that are wrapped in plastic rather than peel an orange themselves,'' Josi says. ''They buy the product that is easier for them. And for some people there is no choice.

But climate change might force the issue. Our warming planet makes for risky business, and it's usually smaller, cash-strapped operations that lose their shirts when the unforeseen happens: wildfires, drought, a corporate carbon tax.

Alice Morrison of Friends of Family Farmers agrees with Josi that environmental regulations, if poorly crafted, can unfairly burden smaller players. But she also stresses that small family farms can't compete in an environment where a few megadairies like Threemile Canyon increasingly hold the power. And if we lose the small dairies'--the backbone of this heritage industry'--that will have a ripple effect across rural Oregon, and beyond.

It might make these industrial dairy behemoths too big to fail, damn the consequences to our groundwater and thermometers. It might make it harder for Neutral Milk to make good on its climate-change-fighting ambitions. And it will certainly change the image of Oregon as a state of misty coastal cow pastures.

The way Morrison sees it, Oregon needs to decide: How much do we need that image on the milk carton to be true? Will we deal with our literal shit, to support small farmers and a healthier planet?

''The sooner we can take action for the kind of food system that we want to see, t he sooner we can build it,'' says Morrison. ''We're not on the precipice yet, but we're getting pretty close to the edge.''

New food diets aim to reduce climate impact

Thu, 26 Jan 2023 16:14

Illustration: Sarah Grillo/Axios

Move over, locavores: A slew of new labels '-- from "climavore" to "reducetarian" '-- reflect the trend of people eating with sustainability in mind to reduce their climate "foodprint."

Why it matters: Food manufacturers, restaurants, and supermarkets are racing to cater to the zeal for lower-carbon eating choices, which has people eschewing plastic packaging, ingredients flown in from afar, and foods that are environmentally damaging to produce.

While there's plenty of disagreement about what to avoid, top villains include faves like red meat, chocolate, avocados, sugar, and '-- gasp '-- coffee.The "eat local" mantra is being replaced by the notion that what you eat is more important '-- since transportation is sometimes just a small part of your meal's carbon footprint.Driving the news: Terms like "climatarian" are getting newfound attention from corporate America as young consumers gravitate toward what they perceive as "green" diets.

"By 2030, our routine food choices will be climate-directed," advises a report from consulting firm Kearney. "The companies that mobilize now will win the future of food."Restaurant chains like Just Salad, Chipotle, and Panera Bread are putting "carbon labels" on their foods '-- and, in the case of Just Salad, adding a "climatarian" filter on its app.Supermarket chain Fresh Market is among the many food prognosticators that declared "climatarian eating" a top trend for 2023.What they're saying: "If you walk into your local Stop & Shop in the middle of January, those blueberries have been traveling for 10 days and probably started out in Ecuador," says Paco Underhill, an environmental psychologist and author of the forthcoming book "How We Eat."

"There's a nascent movement, particularly anchored in younger people, that is recognizing that," he tells Axios.How it works: Climavores' rules "are not hard and fast," instead allowing "a level of flexibility, based on the preferences of those who partake," per Fresh Market's report.

"Participation can include everything from eating pasture-raised to buying more local and organic ingredients, to reduce carbon emissions from transport to eating a plant-based diet with crops that are good for soil."Climatarianism is "less defined by ingredients," and more by "food choices based on climate impacts, practicing climate-conscious eating based on a series of dietary trade-offs intended to benefit the planet."There's a dizzying nomenclature affiliated with climate-conscious eating, with meaningful yet hard-to-parse differences.

"Sustainatarians" eat some meat but filter their diet through an environmental lens.So do "climatarians" and "climavores," who tend to be concerned '-- as one manifesto put it '-- "not only about the origin of ingredients, but also about the agency that those ingredients have in providing responses to human-induced climatic events." "Reducetarians" try to eat less meat for reasons ranging from animal welfare to their health or the environment. "They might be concerned about biodiversity loss, fresh water availability, or food justice '-- or trying to save money," Brian Kateman, president and co-founder of the Reducetarian Foundation, tells Axios.What's trending: "Regenivore" is the latest and hottest eating label, the New York Times recently reported.

"A new generation wants food from companies that are actively healing the planet through carbon-reducing agriculture, more rigorous animal welfare policies, and equitable treatment of the people who grow and process food," per Times ace food writer Kim Severson.Yes, but: Eyebrows must be raised about the amount of greenwashing involved in corporate efforts to embrace climatarianism.

"All food products suffer from greenwashing, including pet food," asserts Earth.org, an environmental news and data platform. The most common examples: Promoting a product as "organic" or "made from real ingredients" when it's actually from a factory farm or uses genetically modified ingredients.Class-action lawsuits have been mounting against the labeling and claims made by food companies.The European Union is cracking down on "misleading climate claims on packaging and in advertisements," focusing on phrases such as "climate neutral" and ''100% CO2 compensated,'' Bloomberg reported last week.Reality check: Despite the mushrooming number of calculators that help people gauge their carbon footprints, truly adhering to a climate-conscious diet takes work and restraint.

While "Meatless Monday" and other such efforts have their adherents, it's unclear how big a sacrifice most people are really willing to make '-- like steering clear of mozzarella from factory-farmed cows or shunning almonds because they're water-intensive.The big picture: There are all kinds of vertigo in the food world over best practices '-- as encapsulated by the epic news of the closing of Noma, a Copenhagen restaurant sometimes considered the best in the world.

On one hand, Noma fetishizes local ingredients and foraging, serving "grilled reindeer heart on a bed of fresh pine, and saffron ice cream in a beeswax bowl," per the Times, which broke the news of the closing.On the other hand, Noma was accused of exploiting workers and using less-than-humane tactics in the pursuit of fine dining.What's next: Climate-based eating "might be in its infancy" but will gain steam as younger consumers "increase their concern for the planet," Fresh Market's report predicts.

The bottom line: The opacity of farming and food manufacturing procedures can make it hard to determine the provenance of one's meal or its true carbon footprint, but it may be true that every little bit helps.

Jennifer's thought bubble: Throwing a dinner party has never been more of a minefield, with everyone's diet to consider (Noom? Vegevore? Ketogenic?). Best to check with your guests in advance.

Earth's core may be reversing its spin and could have 'long-term influence,' researchers find

Thu, 26 Jan 2023 15:21

By Stephanie Weaver

Published January 25, 2023 11:47AM

articleA view of Earth from the Space Shuttle Discovery shows late afternoon sun on the Andes Mountains, with glare and heavy cloud illumination.

BEIJING - A new study finds that Earth's inner core has temporarily stopped spinning '-- and now, may actually be reversing directions.

Research scientists in China, Yi Yang and Xiaodong Song, told FOX Television Stations they searched out available repeating earthquakes and seismic activity from all over the globe and over all time periods and used them to monitor the rotation of the inner core.

"An earthquake with magnitude greater than about 5.0 can generate seismic waves penetrating the inner core, like making a CT scan on the inner core structure along the raypath," they explained, adding "For each pair of repeating earthquakes, we compared their results of the 'CT scan' (i.e., their seismogram) and infer the inner core rotation from the difference of the two seismograms (waveform shape and arrival times)."

As published Jan. 23 in the journal Nature Geoscience, the researchers found that Earth's pattern of an inner-core rotation that has varied over the past several decades, pausing around 2009 and slightly reversing rotation since then, and likely follows a seven-decade-period of oscillation.

A sun-like star orbiting closest black hole to EarthThis animation shows a Sun-like star orbiting Gaia BH1, the closest black hole to Earth, located about 1600 light-years away. (Credit: T. M¼ller [MPIA], PanSTARRS DR1 [K. C. Chambers et al. 2016], ESA/Gaia/DPAC).

"We were quite surprised to see the pattern (especially the pause around 2009) from the disappearance of all the changes in repeated seismic waves at the same time (i.e., no more difference between their seismograms since ~2009). Given that the earth is quite complicated, such a clean observation was astonishing," Yang and Song, scientists at Peking University, continued.

Researchers said these observations provide evidence for interactions between the Earth's layers, from the deepest interior to the surface '-- potentially due to gravitational coupling and angular momentum from the core and mantle to the surface.

The core's multi-decade rotational pattern "coincides with several important geophysical observations," researchers wrote, including changes in the magnetic field and the length of the day, meaning the inner workings of the planet could impact the duration of our days.

RELATED: NASA finds second Earth-sized planet orbiting in habitable zone of its star

Still, the impact on our daily lives is "probably small" but may have a "long-term influence over decades or longer," Yang and Song continued, adding that the reversal (or multidecadal oscillation) has impacts on the magnetic field and Earth's rotation, and thus may impact the surface processes like temperature and sea-level variations.

Going forward, the researchers plan to build quantitative models of the physical mechanisms on the multi-decadal oscillation system and then monitor how the rotation changes in the future.

"We'd expect it to rotate westwards relative to the surface of the earth in the coming years and decades," they said, concluding. "It's quite exciting going forward. Seismic waves are still the best way and continuous operation of high-quality seismic networks is crucial in monitoring the heart of the earth' in this regard."

This story was reported from Los Angeles.

bne IntelliNews - Ukraine spiralling towards default, according to Fitch

Thu, 26 Jan 2023 15:09

Sorry, but you have used all your free articles fro this month for bne IntelliNews. Subscribe to continue reading for only $119 per year.

Your subscription includes:

Full access to the bne daily content on the bne website Digital subscription to our monthly bne IntelliNews flagship magazine, delivered to your inbox Digital subscription to the "editor's picks" emails three times a week highlighting our best articles Full access to 10 years of bne archived articles bne IntelliNews$119 per year

For the meantime we are also offering a free subscription to bne's digital weekly newspaper to subscribers to the online package.

Click here for more subscription options, including to the print version of our flagship monthly magazine:

More subscription options

Take a trial to our premium daily news service aimed at professional investors that covers the 30 countries of emerging Europe:

Get IntelliNews PRO

For any other enquiries about our products or corporate discounts please contact us at sales@intellinews.com

If you no longer wish to receive our emails, unsubscribe here.

At Patreon, Mismanagement Thwarts a Pandemic-Era Star '-- The Information

Thu, 26 Jan 2023 15:07

Patreon CEO Jack Conte. Art by Mike Sullivan Jan. 24, 2023 6:00 AM PST

Two years ago, Jack Conte seemed to have pulled off one of the most remarkable makeovers in recent Silicon Valley memory.

A musician and popular YouTuber, Conte had found his rhythm as an entrepreneur through Patreon, the startup he co-founded to help creators like himself find fans willing to support them financially. The number of creators using the site soared during the first year of the pandemic, as lockdowns left musicians and other artists dependent on online sources of income. A parade of high-profile investors such as Tiger Global Management poured hundreds of millions of dollars into the startup, giving it an eye-popping $4 billion valuation in 2021.

Now, though, Patreon's growth has ground to a halt. The number of creators on the site with one or more patrons rose less than 2% last year compared to nearly 40% in 2020, according to Graphtreon, a site that tracks Patreon statistics. An important proxy for revenue has flatlined too, a person familiar with the company's finances said. Last year, Patreon processed around $1.5 billion in patron membership payments'--a piece of which Patreon takes as revenue'--roughly the same amount it had processed the year prior, the person said. But while many tech companies have seen their pandemic growth spurts dissipate, interviews with more than 20 current and former Patreon employees say the company is also suffering from management missteps that have been going on for years.

Exclusive microsoft ai

Microsoft Readies Service to Let Cloud Customers Pool Data Safely

By Kevin McLaughlin &middot Jan. 26, 2023 6:00 AM PST

As Microsoft weaves more artificial intelligence into its Azure cloud services and applications, it is also working on security and privacy software to assure customers their information doesn't fall into the wrong hands when stored on cloud servers shared by multiple customers. As part of this goal, Microsoft is developing an Azure cloud service'--code-named Project Oakes'--that...

Venture Firm NEA Raises $6.2 Billion

By Kate Clark &middot Jan. 26, 2023

Elon Musk Tells Tesla Investors Twitter Acquisition is Good for Automaker

By Becky Peterson &middot Jan. 25, 2023

Meta to Reinstate Donald Trump's Accounts on Facebook and Instagram

By Sylvia Varnham O'Regan &middot Jan. 25, 2023

Netherlands To Shut Down Europe's Largest Gas Field | OilPrice.com

Thu, 26 Jan 2023 14:58

The Dutch government plans to close the Groningen gas field this year despite Europe's precarious supply position. Groningen is the largest gas field in Europe.

The field is dangerous, a government official from the Hague told the Financial Times, and the government has no plans to boost production from it.

''We won't open up more because of the safety issues,'' Hans Vijbrief told the FT. ''It is politically totally unviable. But apart from that, I'm not going to do it because it means that you increase the chances of earthquakes, which I don't want to be responsible for.''

Production from Groningen has been curtailed substantially, and there were plans in place to phase out production altogether because of increased seismic activity in the vicinity of the field even before the energy crisis began in 2021.

As gas prices began to climb in the autumn of 2021 and then took off in the spring of 2022, some began speculating that the Netherlands could keep the field operating to contribute to filling the gap in gas supply left by Russian pipeline deliveries.

The Dutch government was skeptical about that from the start and instead suggested production be extended, although at a minimum rate of some 2.8 billion cu m. Now, this, too, is being reconsidered.

''It's very, very simple: everybody who has some knowledge of earthquake danger tells me that it's really very dangerous to keep on producing there. I'm quite convinced it's wise to close it down,'' Vijbrief told the FT.

Since the 1980s, the FT notes, there have been some 100 earthquakes annually around Groningen, resulting in more than 150,000 claims for property damage. The operator of the field, a Shell-Exxon joint venture, was ordered to start reducing output in 2013 with a view to shutting the field down eventually.

By Irina Slav for Oilprice.com

More Top Reads From Oilprice.com:

EIA: Soaring Production Will Keep Natural Gas Prices In Check Saudi Arabia Is Open To Discuss Non-Dollar Oil Trade Settlements Germany Eyes 30GW In Wind Power For 2030

Insects on the menu as EU approves two for human consumption '' DW '' 01/24/2023

Thu, 26 Jan 2023 14:52

The maggot-like larvae of lesser mealworms '-- a type of shiny black beetle '-- and house crickets will become the third and fourth insects that can be sold as food for people in the European Union. Eight more applications await approval.

On Tuesday, the EU gave the green light to the sale of the larvae in powder, frozen, paste and dried forms. The crickets can be sold as partially defatted powder.

For many Europeans, the thought of eating creatures that wriggle or crawl in any form isn't exactly appealing. But insects, already a delicacy in high-end restaurants around the world, are a normal and healthy part of diets in countries from Mexico to Thailand. They have also captured the attention of scientists and businesses looking to clean up farming and feed the planet's growing population.

Insects are more commonly eaten in Asia, Africa and South America than in Europe and North AmericaImage: AFLO/imago imagesCutting meat emissions a 'huge challenge'Most of the planet-heating pollution from food, which accounts for about one-quarter of global warming, comes from meat and dairy. Cows and sheep belch methane, a strong but short-lived greenhouse gas, and farmers raze forests to make pastures and grow soy, three-quarters of which is fed to livestock.

If fried crickets and mealworm salads replace some steaks and hamburgers, they can play a small role in stopping species from dying out and the curbing climate change.

"It's such a huge challenge to deal with the rising demand for livestock products," said Tim Searchinger, technical director of the food program at the World Resources Institute, a US environmental research organization. "We pretty much have to pursue every avenue of solution."

The meat and dairy industry is responsible for most of the greenhouse gas pollution from foodImage: Mark Baker/AP/picture alliance'Nobody will be forced to eat insects'The European Commission's decision to approve two new insects as food does not appear to be part of a push to change diets, though it said the consumption of insects "contributes positively to the environment and to health and livelihoods."

Instead, the new rules clarify that lesser mealworm larvae and house crickets are safe to eat for those without allergies. They have also ruled that foods containing them must be labeled.

"Nobody will be forced to eat insects," the European Commission said in a tweet last week.

Still, the move could speed up the shift to less environmentally destructive diets. In Germany, for instance, around half the population plans to eat less meat, while in the United States, people are eating more meat but swapping beef for less polluting meats like chicken. Insect protein could provide a cheap alternative '-- particularly in processed foods.

Between 35% and 60% of the dry weight of insects is made up of protein. The lower end of the range is greater than most plant protein sources and the upper end is higher than meat and eggs. Insects are better than livestock at turning calories in their feed into calories on their body. They also breed fast and gain weight quickly.

Taking a bite out of edible insectsTo view this video please enable JavaScript, and consider upgrading to a web browser that supports HTML5 video

Only a handful of studies have tried to work out the environmental damage from eating insects. A life cycle assessment published in 2021 found that protein from yellow mealworms uses 70% less land and pumps 23% less greenhouse gas into the atmosphere than getting the same amount of protein from broiler chicken.

Previous studies have also found insects are better for the environment than meat but worse than plants.

Disgust remains 'biggest hurdle'Still, convincing people in the EU and US to eat more insects could be tricky.

Three-quarters of European consumers are unwilling to swap meat for insects and a further 13% are unsure, according to a 2020 report from the European Consumer Organization, an umbrella group partly funded by the EU. In Germany, 80% of people say they are disgusted by the idea of eating insects, according to a 2022 report from Germany's environment agency, the UBA.

"Disgust is seen as the biggest hurdle for the introduction of insects to the Western food market," the authors wrote.

Even though Western diets include other foods associated with decay, like moldy cheese and fungi, research into whether these barriers can be overcome is still in its early stages.

A study published in December found people were more willing to eat insects after being told about the environmental benefits.

A separate study in 2020 indicated social norms changed how open people were to eating locusts.

"As humans are a particularly social species, leveraging the social nature may prove particularly useful," the authors wrote.

Insect feed as an alternative to grain for livestockA more likely role for insect protein could be feeding it to livestock. This would bypass cultural norms that prevent some people from wanting to eat insects. If the insects were raised on organic waste '-- as some mealworm and fly larvae are well-suited to '-- the process could effectively recycle some of the vast quantities of food wasted each year.

But raising insects to feed them to animals adds an extra step in the food production process that means more energy is lost to inefficiencies. Only some of the calories the insect eats will make it to the chicken raised on insect feed '-- and only some of those calories will make it to the person eating the chicken wing.

If the insects were fed crops like soy or corn, and those insects are then used as feed for livestock, the planet may be worse off than if the animals ate the grains directly.

"The problem is you have to go through two conversions," said Searchinger. "There's some potential [for feeding insects manure] but it's not ultimately as effective as directly producing the feed."

Edited by: Jennifer Collins

Move Over Moses and Zoroaster: Manhattan Has a New Female Lawgiver - The New York Times

Thu, 26 Jan 2023 14:50

Frenzied commuters in New York's Flatiron district have been stopped in their tracks in recent days by an unlikely'‹ '‹apparition '‹near Moses, Confucius and Zoroaster. Standing atop the grandiose state courthouse is a shimmering, golden eight-foot female sculpture, emerging from a pink lotus flower and wearing Justice Ruth Bader Ginsburg's signature lace collar.

Staring regally ahead with hair braided like spiraling horns, the sculpture, installed as part of an exhibition that opened last week, is the first female to adorn one of the courthouse's 10 plinths, dominated for more than a century by now weathered statues representing great lawgivers throughout the ages '-- all of them men.

Shahzia Sikander, 53, the paradigm-busting Pakistani American artist behind the work, said the sculpture was part of an urgent and necessary cultural reckoning underway as New York, along with cities across the world, reconsiders traditional representations of power in public spaces and recasts civic structures to better reflect 21st-century social mores.

''She is a fierce woman and a form of resistance in a space that has historically been dominated by patriarchal representation,'' said Sikander, who previously served on the New York Mayoral Advisory Commission of City Art, Monuments and Markers. She said the work was called ''NOW'' because it was needed ''now,'' at a time when women's reproductive rights were under siege after the U.S. Supreme Court in June overturned the constitutional right to abortion.

Image ''NOW'' among judges and scholars, including Justinian, Manu and Louis IX on the roof of the courthouse of the Appellate Division, First Judicial Department of the State Supreme Court. Credit... Vincent Tullo for The New York Times Image The ''NOW'' sculpture, channeling the ''Notorious R.B.G.,'' will be removed in June, when the work travels to Houston. Credit... Vincent Tullo for The New York Times ''With Ginsburg's death and the reversal of Roe, there was a setback to women's constitutional progress,'' she wrote in her artist's statement.

With an acrimonious culture war over abortion buffeting the country, some lawyers expressed surprise at seeing an artwork, partially framed as a response to the overturning of a Supreme Court decision, atop a state courthouse. But New York has long been at the forefront of the drive for abortion access and New York has moved to enshrine abortion rights in the state constitution.

It is not the first time this court, the Appellate Division, First Judicial Department, of the New York State Supreme Court, has changed the lineup of figures presiding over its rooftop. In 1955 the court removed a turn-of-the-century, eight-foot-tall marble statue of the Prophet Muhammad when the Pakistani, Egyptian and Indonesian Embassies asked the State Department to intervene; many Muslims have deeply held religious beliefs that prohibit depictions of the prophet.

To compensate for the visual gap left at the commanding southwest corner of the building, seven statues were shifted one pedestal westward, leaving Zoroaster in the place of Muhammad. The easternmost pedestal, once occupied by Justinian, was left vacant. That is where Sikander's sculpture presides.

The Lahore-born Sikander, whose work has been displayed at the Whitney Biennial and who made her name reimagining the art of Indo-Persian miniature painting from a feminist, post-colonial perspective, was at pains to emphasize that Muhammad's removal and her installation were completely unrelated. ''My figure is not replacing anyone or canceling anyone,'' she said.

Much as Justice Ginsburg wore her lace collar to recast a historically male uniform and proudly reclaim it for her gender, Sikander said her stylized sculpture was aimed at feminizing a building that was commissioned in 1896. Writing in The New Yorker in 1928, the architect and author George S. Chappell called the rooftop ring of male figures atop the building a ''ridiculous adornment of mortuary statuary.''

The aesthetic merits of the courthouse's sumptuous Beaux-Arts-style architecture aside, the building's symbolism has outsize importance in New York's civic and legal identity and beyond: The court hears appeals from all the trial courts in Manhattan and the Bronx, as well as some of the most important appeals in the country.

Justice Dianne T. Renwick, the first Black female justice at the Appellate Division, First Department, who chairs a committee examining issues of diversity, said that, in the wake of the killing of George Floyd in 2020, the court had undertaken a long overdue effort to address gender and racial bias since the courthouse had been built, at a time when women and people of color were erased and overlooked.

While the courthouse has allegorical female figures, she said that no figures of female judges or justices had previously existed outside or inside the courthouse, while only one woman '-- Betty Weinberg Ellerin, a trailblazing judge and the first woman to be appointed presiding justice of the Appellate Division '-- was named on the courtroom's ornate stained-glass ceiling dome on a section honoring those who had held that position.

Image Sikander with her work ''Witness,'' which is installed in nearby Madison Square Park. Credit... Vincent Tullo for The New York Times She lamented that another area of the dome citing historic judges and lawyers in American history included the name Roger Brooke Taney, the U.S. Supreme Court justice who wrote the racist Dred Scott decision, which ruled that African Americans were not and could not be citizens. She said she and other justices wanted his name removed from the dome and that talks were underway to expunge his name, and potentially place it in the court's library, with an explanatory note describing his role in American history.

''The fact that his name is in this dome is outrageous,'' Justice Renwick said. ''We don't want to erase the art, we wanted to contextualize it,'' she added.

Amid an international debate over the need to diversify public spaces, cities like Bristol, Arlington and Antwerp, among others, have been removing monuments honoring historic figures who advocated slavery or held racist views.

While many cultural observers see this exercise as essential, it has, at times, pitted modernizers against some conservationists and scholars who argue that public spaces, be they streets, statues or houses of law, should be preserved as historical records, no matter how egregious or anachronistic their iconography. (The exterior of the courthouse was designated a New York City landmark in 1966.)

The ''NOW'' sculpture is in dialogue with another 18-foot sculpture of a powerful woman by Sikander, called ''Witness,'' in adjacent Madison Square Park. Sikander said that sculpture wore a hoop skirt inspired by the stained-glass dome of the courthouse, symbolizing the need to ''break the legal glass ceiling.'' Written on the sculpture is the word ''havah,'' which she said means ''air'' or ''atmosphere'' in Urdu and ''Eve'' in Arabic and Hebrew.

Image The sculpture ''Witness'' in Madison Square Park wears a hoop skirt inspired by the stained-glass dome of the nearby courthouse, symbolizing the need to ''break the legal glass ceiling.'' Credit... Vincent Tullo for The New York Times Brooke Kamin Rapaport, '¯ the chief curator of the Madison Square Park Conservancy, called the works '-- co-commissioned by the conservancy and Public Art of the University of Houston System '-- ''anti-monuments.''

The movement to alter public spaces is not new, though it has gained urgency in recent years.

Claire Bishop, a British critic and professor of art history at the Graduate Center of the City University of New York, observed that Sikander's sculptures were part of a decades-long movement in which artists have been doggedly intervening in monumental statuary and official sites or buildings.

In 2018, a reconstruction by the American artist Michael Rakowitz of an ancient statue of a winged bull destroyed by ISIS was installed on a sculpture platform known as the Fourth Plinth, in Trafalgar Square in London. One year later, in its annual commission to enliven the storied Fifth Avenue facade of the Metropolitan Museum in New York, the museum installed four sculptures by Wangechi Mutu, the Kenyan-born American visual artist, depicting seated women, dressed in coiled garments with discs placed on different parts of their heads.

''Maybe she can help channel us back to reinstating Roe v. Wade,'' Bishop added, referring to the ''NOW'' sculpture, which she called ''a magical hybrid plant-animal'' that was emblematic of the need for ''more radiant female energy on the facade of every courthouse.''

Image The appellate courtroom's stained-glass dome includes a section with names of judicial figures from American history, among them Roger Brooke Taney, the U.S. Supreme Court justice who wrote the racist Dred Scott decision. Credit... Vincent Tullo for The New York Times Sikander said the placement of her luminous female sculpture in such a monumental public space as a courthouse had added poignancy for her since, she said, her work had been censored in the aftermath of the Sept. 11 terrorist attacks amid a xenophobic backlash against Muslim Americans.

She recalled that in 2001 she decided to withdraw from an important commission after an image she made of a hovering female avatar holding a sword and meant to suggest female resilience and potency was wrongly misinterpreted as conveying violence.

''After being censored, it is poetic justice that my work is now on top of a State Supreme Court building,'' she said.

Justice Renwick said that seeing Sikander's gleaming, golden sculpture when entering the courthouse amid the monochromatic ancient male lawgivers gave her a feeling of contentment and pride. ''We finally have a figure who fully embraces women,'' she said. ''I cannot come into the courthouse without stepping back and looking up and smiling.''

Her smile may disappear when the patriarchy atop the courthouse returns to prominence after the sculpture channeling the ''Notorious R.B.G.'' is removed in June, when both of Sikander's works travel to Houston.

TorahBibleCodes (TorahBibleCodes.com)

Thu, 26 Jan 2023 14:42

Torah Bible Codes - Open-Source Python

http://TorahBibleCodes.comhttp://www.TorahBibleCodes.comhttps://github.com/torahbiblecodeshttps://stackoverflow.com/users/8911652/torahbiblecodes

https://github.com/TorahBibleCodes/TorahBibleCodes/issues

Active Development: In Progress

07 / JUNE / 2022DEVELOPMENT UPDATE: BETA DEVELOPMENT PROGRAM (WORK-IN-PROGRESS) UPLOADED; More to come ASAP GOD-willing.Please support our efforts if you can by donating BITCOIN (BTC) to the following address:bc1qzws4zjgzf4wll2mtztsavmyvkg72fnajfff8r7

Witztum, Rips, and Rosenberg (WRR) define an Equidistant Letter Sequence (ELS) as a sequence of letters in the text whose positions - not counting spaces - form an arithmetic progression. That is to say the letters are found at the positions

n, n + d, n + 2d, ..., n + (k - 1)d

WRR define n as the start, d as the skip between letters in the search-term, and k as the length of the ELS. These three parameters uniquely identify the ELS which is denoted (n, d, k).

1.) Genesishttps://github.com/TorahBibleCodes/Sefaria-Export/blob/master/json/Tanakh/Torah/Genesis/Hebrew/Tanach%20with%20Text%20Only.json

2.) Exodushttps://github.com/TorahBibleCodes/Sefaria-Export/blob/master/json/Tanakh/Torah/Exodus/Hebrew/Tanach%20with%20Text%20Only.json

3.) Leviticushttps://github.com/TorahBibleCodes/Sefaria-Export/blob/master/json/Tanakh/Torah/Leviticus/Hebrew/Tanach%20with%20Text%20Only.json

4.) Numbershttps://github.com/TorahBibleCodes/Sefaria-Export/blob/master/json/Tanakh/Torah/Numbers/Hebrew/Tanach%20with%20Text%20Only.json

5.) Deuteronomyhttps://github.com/TorahBibleCodes/Sefaria-Export/blob/master/json/Tanakh/Torah/Deuteronomy/Hebrew/Tanach%20with%20Text%20Only.json

6.) Joshua7.) Judges8.) I Samuel9.) II Samuel10.) I Kings11.) II Kings12.) Isaiah13.) Jeremiah14.) Ezekiel15.) Hosea16.) Joel17.) Amos18.) Obadiah19.) Jonah20.) Micah21.) Nahum22.) Habakkuk23.) Zephaniah24.) Haggai25.) Zechariah26.) Malachi27.) Psalms28.) Proverbs29.) Job30.) Song of Songs31.) Ruth32.) Lamentations33.) Ecclesiastes34.) Esther35.) Daniel36.) Ezra37.) Nehemiah38.) I Chronicles39.) II Chronicles Download and Install Python on your local computer. Go to folder where the TorahBibleCodes files are saved/cloned. Open Command Prompt / Command Line Interface (CLI) - WINDOWS: SHIFT RIGHT-CLICK --> OPEN COMMAND WINDOW HERE TYPE/RUN: python p.py; RECOMMENDED FOR INTERACTION WITH DATA OBJECTS TO CONCEPTUALIZE DEVELOPMENT: ipython; %run p.pyAfter running the Python file p.py, several Python / Pandas Objects are returned to you to interact with and further develop per your needs;We are currently developing the functionalities in the program to provide certain (many) specific data points, data objects, etc. so that scientifically repeatable (and therefore verifiable) results can be precisely measured, shared, tested, and either confirmed or disproved.The current BETA DEVELOPMENT version of the program does the following:

Allows the user to select any text(s) from the Torah (Instruction) / Nevi'im (Prophets) / K'tuvim (Writings) of the Tanach (Hebrew Bible).Allows the user to choose a custom size of the 2D Matrix (X Rows by Y Columns) for the user-selected text(s) to be outputted to a CSV EXCEL file (CAUTION: Numbers approaching 1000 for X Rows will exceed the maximum allowed by EXCEL, and therefore will truncate the text).Allows the user to choose the number of desired ELS Search-Terms.Allows the user to input those specified ELS Search-Terms (NOTE: These must be typed in Hebrew characters, else EXCEPTION IS THROWN).Outputs CSV EXCEL file of the 2D Matrix for the selected text(s).Outputs CSV EXCEL file of the Gematria Number values for each word AND letter in the selected text(s)Outputs CSV EXCEL file of the Gematria Number values for each word AND letter in the ELS Search-TermsIN DEVELOPMENT: Testing of several (best?) ways / algorithms for ELS Search within the text; Currently investigating REGEX, PANDAS, PURE PYTHON LINEAR SEARCH, etc.; Please see and examine the Python / Pandas Data Objects returned to see current capabilities in development.IN DEVELOPMENT: Outputs CSV EXCEL file of the Data Points for each letter of each of the ELS Search-Terms so that precise, exact positions, shared positions, letter-proximity, statistical probability, etc. of letters will be scientifically verifiable and reproduceable.We invite you to share your open-source (alternative/multiple?) solutions of further development of this open-source program (e.g. add-ons, additional features, functionalities, GUIs, etc.), as well as scientific research using these software research tools with the community to allow confirmation of your discoveries and data, which will lead to further shared advancement and mutual benefit for us all

"D" Object: Dictionary of Verses ObjectFor any text chosen (e.g. Genesis, Exodus, Leviticus, Numbers, Deuteronomy, or all five (5) together, or all twenty-one (21) books of the Prophets, or all thirteen (13) books of the Writings, or all thirty-nine (39) books of the entire Hebrew Bible), the text is parsed and a Python dictionary D (and DS) is created that allows one to access each verse by 3-digit Tuple Key (Book, Chapter, Verse). After choosing the text(s) to be searched, a Python dictionary D (and DS) is created to contain each verse - accessible by 3-digit Tuple Key.

Each verse (and letter) of the thirty-nine (39) books of the Hebrew Bible is accessible via the Python dictionary "D" (or "DS") with a unique 3-digit Tuple Key as per following examples:`D[1,1,1] = GENESIS 1:1D[1,1,7] = GENESIS 1:7D[1,50,26] = GENESIS 50:26D[2,1,1] = EXODUS 1:1D[2,40,38] = EXODUS 40:38D[3,1,1] = LEVITICUS 1:1D[3,27,34] = LEVITICUS 27:34D[4,1,1] = NUMBERS 1:1D[4,36,13] = NUMBERS 36:13D[5,1,1] = DEUTERONOMY 1:1D[5,34,12] = DEUTERONOMY 34:12

((1, 1, 1), 'ברא×(C)×תבראא×'×--××'את×--×(C)מ××'ואת×--ארץ')((1, 1, 2), 'ו×--ארץ×--×ת×--ת×--ווב×--ווח×(C)ך××'×¤× ×ת×--ו×'ורוחא×'×--××'מרחפת××'×¤× ××--מ××'')((1, 1, 3), 'ו×אמרא×'×--××'××--×אורו××--×אור')((1, 1, 4), 'ו×ראא×'×--××'את×--אורכ××ובו×ב×'×'א×'×--××'ב×ן×--אורוב×ן×--ח×(C)ך')((1, 1, 5), 'ו×קראא×'×--××'×'אור×ו×'ו×'ח×(C)ךקרא×'××'×--ו××--××רבו××--×בקר×ו×'אח×'')((1, 1, 6), 'ו×אמרא×'×--××'××--×רק××בתוך×--מ××'ו××--×מב×'××'ב×ןמ××'×'מ××'')((1, 1, 7), 'ו×××(C)א×'×--××'את×--רק××ו×ב×'×'ב×ן×--מ××'א×(C)רמתחת×'רק××וב×ן×--מ××'א×(C)רמ××'×'רק××ו××--×כן')((1, 1, 8), 'ו×קראא×'×--××'×'רק×××(C)מ××'ו××--××רבו××--×בקר×ו×'×(C)× ×')((1, 1, 9), 'ו×אמרא×'×--××'×קוו×--מ××'מתחת×--×(C)מ××'א×'מקו×'אח×'ותרא×--×--×ב×(C)×--ו××--×כן')((1, 1, 10), 'ו×קראא×'×--××'×'×ב×(C)×--ארץו×'מקו×--×--מ××'קרא×מ××'ו×ראא×'×--××'כ××וב')((1, 1, 11), 'ו×אמרא×'×--××'ת×'×(C)א×--ארץ×'×(C)א××(C)במזר××זר××ץפר×××(C)×--פר××'מ×× ×•××(C)רזר×ובו××'×--ארץו××--×כן')((1, 1, 12), 'ותו×...א×--ארץ×'×(C)א××(C)במזר××זר××'מ×× ×--וו××¥××(C)×--פר×א×(C)רזר×ובו×'מ×× ×--וו×ראא×'×--××'כ××וב')((1, 1, 13), 'ו××--××רבו××--×בקר×ו×'×(C)×'××(C)×')((1, 1, 14), 'ו×אמרא×'×--××'××--×מארתברק×××--×(C)מ××'×'×--ב×'××'ב×ן×--×ו×'וב×ן×--×'××'×--ו×--×ו×'אתתו×'מו××'××'ו×'×מ××'ו×(C)× ××'')((1, 1, 15), 'ו×--×ו×'מאורתברק×××--×(C)מ××'×'×--א×ר××'×--ארץו××--×כן')((1, 1, 16), 'ו×××(C)א×'×--××'את×(C)× ××--מארת×--×'×'×'××'את×--מאור×--×'×'×'×'ממ×(C)×'ת×--×ו×'ואת×--מאור×--ק×ן×'ממ×(C)×'ת×--×'××'×--ואת×--כוכב××'')((1, 1, 17), 'ו×תןאת×'א×'×--××'ברק×××--×(C)מ××'×'×--א×ר××'×--ארץ')((1, 1, 18), 'ו×'מ×(C)×'ב×ו×'וב×'××'×--ו×'×--ב×'××'ב×ן×--אורוב×ן×--ח×(C)ךו×ראא×'×--××'כ××וב')((1, 1, 19), 'ו××--××רבו××--×בקר×ו×'רב×××')((1, 1, 20), 'ו×אמרא×'×--××'××(C)ר×...ו×--מ××'×(C)×¨×¥× ×¤×(C)ח××--ו×וף××ופף××'×--ארץ××'×¤× ×רק×××--×(C)מ××'')((1, 1, 21), 'ו×בראא×'×--××'את×--×ª× ×× ×'×--×'×'×'××'ואתכ×'× ×¤×(C)×--ח××--×--רמ×(C)תא×(C)ר×(C)ר×...ו×--מ××'×'מ×× ×--×'ואתכ×'××•×£×›× ×£×'מ×× ×--וו×ראא×'×--××'כ××וב')((1, 1, 22), 'ו×ברךאת×'א×'×--××'×'אמרפרוורבוומ×'אואת×--מ××'ב×מ××'ו×--×וף×רבבארץ')((1, 1, 23), 'ו××--××רבו××--×בקר×ו×'חמ××(C)×')((1, 1, 24), 'ו×אמרא×'×--××'תו×...א×--××¨×¥× ×¤×(C)ח××--×'מ×× ×--ב×--מ×--ורמ×(C)וח×תוארץ×'מ×× ×--ו××--×כן')((1, 1, 25), 'ו×××(C)א×'×--××'אתח×ת×--ארץ×'מ×× ×--ואת×--ב×--מ×--×'מ×× ×--ואתכ×'רמ×(C)×--א×'מ×--×'מ×× ×--וו×ראא×'×--××'כ××וב')((1, 1, 26), 'ו×אמרא×'×--××'× ××(C)×--א×'×'ב×...×'×ž× ×•×›×'×ž×•×ª× ×•×•×ר×'וב×'×'ת×--××'וב×וף×--×(C)מ××'ובב×--מ×--ובכ×'×--ארץובכ×'×--רמ×(C)×--רמ×(C)××'×--ארץ')((1, 1, 27), 'ו×בראא×'×--××'את×--א×'×'ב×...×'מוב×...×'×'א×'×--××'×'×¨×××ª×•×–×›×¨×•× ×§×'×--בראאת×'')((1, 1, 28), 'ו×ברךאת×'א×'×--××'ו×אמר×'×--×'א×'×--××'פרוורבוומ×'אואת×--ארץוכב×(C)×--ור×'וב×'×'ת×--××'וב×וף×--×(C)מ××'ובכ×'ח××--×--רמ×(C)ת××'×--ארץ')((1, 1, 29), 'ו×אמרא×'×--××'×--× ×--× ×ª×ª××'כ×'אתכ×'××(C)בזר×זר×א×(C)ר××'×¤× ×כ×'×--ארץואתכ×'×--×ץא×(C)רבופר××ץזר×זר××'כ×'××--××--×'אכ×'×--')((1, 1, 30), 'ו×'כ×'ח×ת×--ארץו×'כ×'×וף×--×(C)מ××'ו×'כ×'רומ×(C)××'×--ארץא×(C)ר×'×•× ×¤×(C)ח××--אתכ×'×רק××(C)ב×'אכ×'×--ו××--×כן')((1, 1, 31), 'ו×ראא×'×--××'אתכ×'א×(C)ר××(C)×--ו×--× ×--×ובמא×'ו××--××רבו××--×בקר×ו×'×--×(C)×(C)×')((1, 2, 1), 'ו×כ×'ו×--×(C)מ××'ו×--ארץוכ×'×...בא×'')((1, 2, 2), 'ו×כ×'א×'×--××'ב×ו×'×--×(C)ב×××מ×'אכתוא×(C)ר××(C)×--ו××(C)בתב×ו×'×--×(C)ב×××מכ×'מ×'אכתוא×(C)ר××(C)×--')((1, 2, 3), 'ו×ברךא×'×--××'את×ו×'×--×(C)ב×××ו×ק×'×(C)אתוכ×בו×(C)בתמכ×'מ×'אכתוא×(C)רבראא×'×--××'×'××(C)ות')((1, 2, 4), 'א×'×--תו×'×'ות×--×(C)מ××'ו×--ארץב×--ברא×'ב×ו×'××(C)ות××--ו×--א×'×--××'ארץו×(C)מ××'')((1, 2, 5), 'וכ×'×(C)×ח×--×(C)×'×--×ר×'××--××--בארץוכ×'××(C)ב×--×(C)×'×--×ר×'××...מחכ××'א×--מ××ר××--ו×--א×'×--××'××'×--ארץוא×'×'א×ן×'×ב×'את×--א×'מ×--')((1, 2, 6), 'וא×'×××'×--מן×--ארץו×--×(C)ק×--אתכ×'×¤× ××--א×'מ×--')((1, 2, 7), 'ו×××...ר××--ו×--א×'×--××'את×--א×'×'×פרמן×--א×'מ×--ו×פחבאפ××•× ×(C)מתח×××'ו××--××--א×'×'×'× ×¤×(C)ח××--')((1, 2, 8), 'ו×××××--ו×--א×'×--××'×'ןב××'ןמק×'×'ו××(C)×'×(C)×'את×--א×'×'א×(C)ר××...ר')((1, 2, 9), 'ו××...מח××--ו×--א×'×--××'מן×--א×'מ×--כ×'××¥× ×—×ž×'×'מרא×--ו×וב×'מאכ×'ו××¥×--ח×××'בתוך×--×'ןו××¥×--×'×ת×ובור×')((1, 2, 10), '×•× ×--ר××...אמ××'ן×'×--×(C)קותאת×--×'ןומ×(C)×'×פר×'ו×--××--×'ארב××--רא×(C)××'')((1, 2, 11), '×(C)×'×--אח×'פ××(C)ון×--וא×--×בבאתכ×'ארץ×--חו××'×--א×(C)ר×(C)×'×--ז×--ב')((1, 2, 12), 'וז×--ב×--ארץ×--×--וא×וב×(C)×'×--ב×'×'חואבן×--×(C)×--×'')((1, 2, 13), 'ו×(C)×'×--× ×--ר×--×(C)× ××'×חון×--וא×--×ובבאתכ×'ארץכו×(C)')((1, 2, 14), 'ו×(C)×'×--× ×--ר×--×(C)×'××(C)×ח×'ק×'×--וא×--×--×'ךק×'מתא×(C)ורו×--× ×--ר×--רב××××--ואפרת')((1, 2, 15), 'ו×קח××--ו×--א×'×--××'את×--א×'×'ו×× ×—×--וב×'ן××'ן×'×ב×'×--ו×'×(C)מר×--')((1, 2, 16), 'ו××...ו××--ו×--א×'×--××'××'×--א×'×'×'אמרמכ×'××¥×--×'ןאכ×'תאכ×'')((1, 2, 17), 'ומ××¥×--×'×ת×ובור××'אתאכ×'×ž×ž× ×•×›×ב×ו×'אכ×'×š×ž×ž× ×•×ž×•×ª×ª×ž×•×ª')((1, 2, 18), 'ו×אמר××--ו×--א×'×--××'×'א×וב×--×ות×--א×'×'×'ב×'וא××(C)×--×'ו××–×¨×›× ×'×'ו')((1, 2, 19), 'ו××...ר××--ו×--א×'×--××'מן×--א×'מ×--כ×'ח×ת×--×(C)×'×--ואתכ×'×וף×--×(C)מ××'ו×באא×'×--א×'×'×'ראותמ×--×קרא×'ווכ×'א×(C)ר×קרא×'ו×--א×'×'× ×¤×(C)ח××--×--וא×(C)מו')((1, 2, 20), 'ו×קרא×--א×'×'×(C)מות×'כ×'×--ב×--מ×--ו×'×וף×--×(C)מ××'ו×'כ×'ח×ת×--×(C)×'×--ו×'א×'×'×'אמ×...א××–×¨×›× ×'×'ו')((1, 2, 21), 'ו×פ×'××--ו×--א×'×--××'תר×'מ×--××'×--א×'×'ו×××(C)ןו×קחאחתמ×...×'×ת×וו×××'רב×(C)×¨×ª×—×ª× ×--')((1, 2, 22), 'ו×בן××--ו×--א×'×--××'את×--×...×'×א×(C)ר×'קחמן×--א×'×'×'א×(C)×--ו×בא×--א×'×--א×'×'')((1, 2, 23), 'ו×אמר×--א×'×'זאת×--פ××'××...×'מ××...מ×וב×(C)רמב×(C)ר××'זאת×קראא×(C)×--כ×מא××(C)×'קח×--זאת')((1, 2, 24), '××'כן××זבא××(C)אתאב×וואתאמוו×'בקבא×(C)תוו×--×ו×'ב×(C)ראח×'')((1, 2, 25), 'ו××--×ו×(C)× ××--×'×רומ××'×--א×'×'וא×(C)תוו×'א×תב×(C)×(C)ו')((1, 3, 1), 'ו×--× ×—×(C)×--××--×רו×'מכ×'ח×ת×--×(C)×'×--א×(C)ר××(C)×--××--ו×--א×'×--××'ו×אמרא×'×--א×(C)×--אףכ×אמרא×'×--××'×'אתאכ×'ומכ×'××¥×--×'ן')((1, 3, 2), 'ותאמר×--א×(C)×--א×'×--× ×—×(C)מפר×××¥×--×'×Ÿ× ××›×'')((1, 3, 3), 'ומפר××--×ץא×(C)רבתוך×--×'ןאמרא×'×--××'×'אתאכ×'×•×ž×ž× ×•×•×'את×'×ובופןתמתון')((1, 3, 4), 'ו×אמר×--× ×—×(C)א×'×--א×(C)×--×'אמותתמתון')((1, 3, 5), 'כ×××'×א×'×--××'כ×ב×ו×'אכ×'כ×'×ž×ž× ×•×•× ×¤×§×—×•××× ×כ×'ו×--××ת×'כא×'×--××'××'×××ובור×')((1, 3, 6), 'ותרא×--א×(C)×--כ××וב×--××¥×'מאכ×'וכ×תאו×--×--וא×'××× ××'×•× ×—×ž×'×--××¥×'×--×(C)כ××'ותקחמפר×וותאכ×'ותתן×'×'×'א××(C)×--×מ×--ו×אכ×'')((1, 3, 7), '×•×ª×¤×§×—× ×--××× ××(C)× ××--×'ו××'×וכ×××רמ×'×--×'ו×תפרו××'×--×ª×× ×--ו×××(C)ו×'×--×'ח×'רת')((1, 3, 8), 'ו××(C)מ×ואתקו×'××--ו×--א×'×--××'מת×--×'ךב×'ן×'רוח×--×ו×'ו×תחבא×--א×'×'וא×(C)×ª×•×ž×¤× ×××--ו×--א×'×--××'בתוך××¥×--×'ן')((1, 3, 9), 'ו×קרא××--ו×--א×'×--××'א×'×--א×'×'ו×אמר×'וא×כ×--')((1, 3, 10), 'ו×אמראתק×'ך×(C)מ×ת×ב×'ןוא×ראכ×××ר×'×× ×›×ואחבא')((1, 3, 11), 'ו×אמרמ××--×'××'×'ךכ×××ר×'את×--×--מן×--×ץא×(C)ר×...ו×ת×ך×'ב×'ת×אכ×'×ž×ž× ×•××›×'ת')((1, 3, 12), 'ו×אמר×--א×'×'×--א×(C)×--א×(C)×¨× ×ª×ª×--×מ×'××--×•×× ×ª× ×--×'×מן×--×ץואכ×'')((1, 3, 13), 'ו×אמר××--ו×--א×'×--××'×'א×(C)×--מ×--זאת××(C)×תותאמר×--א×(C)×--×--× ×—×(C)×--×(C)××× ×ואכ×'')((1, 3, 14), 'ו×אמר××--ו×--א×'×--××'א×'×--× ×—×(C)כ×××(C)×תזאתארוראת×--מכ×'×--ב×--מ×--ומכ×'ח×ת×--×(C)×'×--××'×'×—× ×š×ª×'ךו×פרתאכ×'כ×'×מ×ח××ך')((1, 3, 15), 'וא×ב×--א×(C)×תב×× ×š×•×'×ן×--א×(C)×--וב×ןזר×ךוב×ןזר××--×--וא××(C)ופךרא×(C)ואת×--ת×(C)×•×¤× ×•×קב')((1, 3, 16), 'א×'×--א×(C)×--אמר×--רב×--ארב×--××...×'×•× ×š×•×--×¨× ×š×'××...בת×'×'××'× ××'וא×'א××(C)ךת×(C)וקתךו×--וא×מ×(C)×'בך')((1, 3, 17), 'ו×'א×'×'אמרכ××(C)מ×ת×'קו×'א×(C)תךותאכ×'מן×--×ץא×(C)ר×...ו×ת×ך×'אמר×'אתאכ×'×ž×ž× ×•××¨×•×¨×--×--א×'מ×--ב×בורךב××...בוןתאכ×'× ×--כ×'×מ×ח××ך')((1, 3, 18), 'וקוץו×'ר×'רת×...מ×ח×'ךואכ×'תאת××(C)ב×--×(C)×'×--')((1, 3, 19), 'בז×תאפ×ךתאכ×'×'ח×'××'×(C)ובךא×'×--א×'מ×--כ××ž×ž× ×--×'קחתכ××פראת×--וא×'×פרת×(C)וב')((1, 3, 20), 'ו×קרא×--א×'×'×(C)×'א×(C)תוחו×--כ××--וא×--×ת×--א×'כ×'ח×')((1, 3, 21), 'ו×××(C)××--ו×--א×'×--××'×'א×'×'ו×'א×(C)×ª×•×›×ª× ×•×ª×ורו××'ב×(C)×'')((1, 3, 22), 'ו×אמר××--ו×--א×'×--××'×--ן×--א×'×'×--××--כאח×'×ž×ž× ×•×'×'×ת×ובור×ו×ת×--פן××(C)×'ח××'וו×'קח×'×'מ××¥×--ח×××'ואכ×'וח××'××'×'')((1, 3, 23), 'ו××(C)×'ח×--ו××--ו×--א×'×--××'מ×'ן××'ן×'×ב×'את×--א×'מ×--א×(C)ר×'קחמ×(C)×'')((1, 3, 24), 'ו××'ר×(C)את×--א×'×'ו××(C)כןמק×'×'×'×'ן××'ןאת×--כרב××'ואת×'×--××--חרב×--מת×--פכת×'×(C)מראת×'רך××¥×--ח×××'')((1, 4, 1), 'ו×--א×'×'××'×אתחו×--א×(C)תוות×--רות×'×'אתק××Ÿ×•×ª××ž×¨×§× ×ת×א××(C)את××--ו×--')((1, 4, 2), 'ות××£×'×'×'תאתאח×ואת×--ב×'ו××--××--ב×'ר××--×...אןוק×ן×--××--×ב×'א×'מ×--')((1, 4, 3), 'ו××--×מקץ×מ××'ו×באק×ןמפר××--א×'מ×--×ž× ×—×--×'××--ו×--')((1, 4, 4), 'ו×--ב×'×--ב×א×'×'×--ואמבכרות×...×× ×•×•×ž×—×'ב×--ןו××(C)×××--ו×--א×'×--ב×'וא×'×ž× ×—×ª×•')((1, 4, 5), 'וא×'ק×ןוא×'×ž× ×—×ª×•×'א×(C)××--ו×חר×'ק×ןמא×'ו×פ×'×•×¤× ×ו')((1, 4, 6), 'ו×אמר××--ו×--א×'ק×ן×'מ×--חר×--×'ךו×'מ×--× ×¤×'×•×¤× ×ך')((1, 4, 7), '×--×'ואא×'ת×××ב×(C)אתוא×'×'את×××ב×'פתחח×אתרבץוא×'×ךת×(C)וקתוואת×--תמ×(C)×'בו')`

... etc. ... etc. ... etc. ...Run the file "p.py" to see and interact with the "D" Object: Python Dictionary of Verses (with No Spaces) with a 3-digit Tuple KeyRun the file "p.py" to see and interact with the "DS" Object: Python Dictionary of Verses (with Spaces) with a 3-digit Tuple KeyRun the file "p.py" to see and interact with the "DL" Object: Python Dictionary of Letters with a 4-digit Tuple KeyRun the file "p.py" to see and interact with the "D5" Object: Python Dictionary of Letters with a 5-digit Tuple KeyRun the file "p.py" to see and interact with the "D5K" Object: Python Dictionary of 5-digit Tuple KeyRun the file "p.py" to see and interact with the "L" Object: Python List of Letters of the Selected Text(s)Run the file "p.py" to see and interact with the "LLL" Object: Python List of Letters of the Selected Text(s) RECALCULATED FOR POSSIBLE BLANK SPACES IN LAST ROW OF 2D MATRIXRun the file "p.py" to see and interact with the "S" Object: Python String of Letters of the Selected Text(s)Run the file "p.py" to see and interact with the "SSS" Object: Python String of Letters of the Selected Text(s) RECALCULATED FOR POSSIBLE BLANK SPACES IN LAST ROW OF 2D MATRIXRun the file "p.py" to see and interact with the "ListOfWords" Object: Python List of Words of the Selected Text(s)Run the file "p.py" to see and interact with the "N" Object: Python List of Numbers for Letters of the Selected Text(s)Run the file "p.py" to see and interact with the "NW" Object: Python List of Numbers for Words of the Selected Text(s)Run the file "p.py" to see and interact with the "W" Object: Python List of Tuples of Words and Each Word's/Letter's Gematria ValueRun the file "p.py" to see and interact with the "DW" Object: Python Dict of Words and Each Word's/Letter's Gematria ValueRun the file "p.py" to see and interact with the "ListOfSearchTerms" Object: Python List of Words of the ELS Search-TermsRun the file "p.py" to see and interact with the "DictOfSearchTerms" Object: Python Dictionary of Words of the ELS Search-TermsEach Verse can be further subdivided into a String (or List) Sequence of many Letter Objects (i.e. Strings of one (1) Letter only) which are classes which are accessible within the ELS Search sequence, and accessible by extension of previous tuple syntax: Book, Chapter, Verse, LetterD Object - Dictionary of Verses (with No Spaces), accessible as data with a 3-digit Tuple KeyD[1,1,1] --> GENESIS 1:1 - 1st Book, 1st Chapter, 1st VerseD[1,1,2] --> GENESIS 1:2 - 1st Book, 1st Chapter, 2nd VerseD[1,1,3] --> GENESIS 1:3 - 1st Book, 1st Chapter, 3rd Verse

DS Object - Dictionary of Verses (with Spaces), accessible as data with a 3-digit Tuple KeyDS[1,1,1] --> GENESIS 1:1 - 1st Book, 1st Chapter, 1st VerseDS[1,1,2] --> GENESIS 1:2 - 1st Book, 1st Chapter, 2nd VerseDS[1,1,3] --> GENESIS 1:3 - 1st Book, 1st Chapter, 3rd Verse

D Object - Dictionary of Verses/Letters, accessible as data with a 3-digit Tuple Key + sub-element (0-indexed) in sequence of letters within each verse.D[1,1,1][0] --> 1st element (letter) in string/verse sequence --> 'ב'D[1,1,1][1] --> 2nd element (letter) in string/verse sequence --> 'ר'D[1,1,1][2] --> 3rd element (letter) in string/verse sequence --> 'א'D[1,1,1][-1] --> Last element in string/verse sequence...

DL Object - Dictionary of Letters (with 4-digit key) with 4th element of tuple being the (non-0-indexed; 1-indexed) position of letter in verse...DL[1, 1, 1, 1] --> 'ב'DL[1, 1, 1, 2] --> 'ר'DL[1, 1, 1, 3] --> 'א'DL[1, 1, 1, 4] --> '×(C)'DL[1, 1, 1, 5] --> '×'DL[1, 1, 1, 6] --> 'ת'

DL[5,34,12,43] --> '×'DL[5,34,12,44] --> '×(C)'DL[5,34,12,45] --> 'ר'DL[5,34,12,46] --> 'א'DL[5,34,12,47] --> '×''

D5 Object - Dictionary of Letters (with 5-digit key) with 5th element of tuple being the position of letter in total sequence of text...(i.e. either all five (5) texts of the Torah together (304850 letters), or one (1) text only, or all twenty-one (21) texts of the Prophets, or all thirteen (13) texts of the Writings, or all thirty-nine (39) texts of the entire Hebrew Bible together)...D5[1, 1, 1, 1, 1] --> 'ב'D5[1, 1, 1, 2, 2] --> 'ר'D5[1, 1, 1, 3, 3] --> 'א'D5[1, 1, 1, 4, 4] --> '×(C)'D5[1, 1, 1, 5, 5] --> '×'D5[1, 1, 1, 6, 6] --> 'ת'

D5[5, 34, 12, 43, 304846] --> '×'D5[5, 34, 12, 44, 304847] --> '×(C)'D5[5, 34, 12, 45, 304848] --> 'ר'D5[5, 34, 12, 46, 304849] --> 'א'D5[5, 34, 12, 47, 304850] --> '×''

L Object - List of LettersL[0:6] --> ['ב', 'ר', 'א', '×(C)', '×', 'ת']L[-5:] --> ['×', '×(C)', 'ר', 'א', '×'']

S Object - String of LettersS[0:6] --> 'ברא×(C)×ת'S[-5:] --> '××(C)רא×''

N Object - List of Numbers: Each letter's Kabbalah Numerical Gematria Value is obtainable by passing a string-sequence to a MODULE.FUNCTION() call (NOTE: Numbers returned in the N Object are left-to-right; In previous, older versions of Python, Hebrew letters returned in L Object were R-T-L right-to-left; However, in current our development version of Python 3.9, these same Hebrew letters returned are L-T-R left-to-right, so now the Hebrew letter order is exactly the same as all other orders in the Python Lists: L-T-R).ListOfLetters = ['ב', 'ר', 'א', '×(C)', '×', 'ת']

N = mod_9GetNumberValue.fn_GetNumberValue(ListOfLetters) --> [2, 200, 1, 300, 10, 400]

א = 1ב = 23 = ×'4 = ×'5 = ×--6 = ו7 = ז8 = ח9 = ×10 = ×20 = כ / ך30 = ×'40 = מ / ×'50 = × / ן60 = ×70 = ×80 = פ / ×£90 = ×... / ×¥100 = ק200 = ר300 = ×(C)400 = ת## PD SERIES OF THE SELECTED TEXT(S); ## LETTER POSITIONS ARE DYNAMICALLY GENERATED DEPENDING UPON SPECIFIC TEXT(S) SELECTED; e.g. the 5th book selected may (or may not) be Deuteronomy as the 5th Book of Torah, or the 5th Book of the Prophets, or the 5th Book of the Writings.

## CREATE PD SERIES WITH 0-INDEX FOR THE ORIGINAL TEXT LENGTHsL0 = pd.Series(L) ## --> Converts ListOfLetters to Pandas Series (~ Dictionary-like Object)## CREATE PD SERIES WITH 1-INDEX FOR THE ORIGINAL TEXT LENGTHsL = pd.Series(L, index=ListOfIndexesCustomL) ## --> Converts ListOfLetters to Pandas Series (~ Dictionary-like Object) with custom indexes for keys of the PD Series starting with 1-index/key## CREATE PD SERIES WITH 0-INDEX FOR LENGTH OF THE TEXT + EMPTY SPACES IN LAST ROWsLLL0 = pd.Series(LLL) ## --> Converts ListOfLetters to Pandas Series (~ Dictionary-like Object)## CREATE PD SERIES WITH 1-INDEX FOR LENGTH OF THE TEXT + EMPTY SPACES IN LAST ROWsLLL = pd.Series(LLL, index=ListOfIndexesCustomLLL) ## --> Converts ListOfLetters to Pandas Series (~ Dictionary-like Object) with custom indexes for keys of the PD Series starting with 1-index/key

n, (n + d), (n + 2d), (n + 3d)... (n + (k-1)d)sL[6] ## == 'ת' == (n) ## WHEN TEXT SELECTED == 1 GENESISsL[6+50] ## == 'ו' == (n + d)sL[6+50+50] ## == 'ר' == (n + 2d)sL[6+50+50+50] ## = '×--' == (n + 3d) ## k == 4 == LengthOfELSSearchTermsL[6] ## == 'ת' == (n) ## WHEN TEXT SELECTED == 1 GENESISsL[56] ## == 'ו' == (n + d)sL[106] ## == 'ר' == (n + 2d)sL[156] ## = '×--' == (n + 3d)

sL.str.startswith("ב")--> Returns Boolean (True/False) for each match (True) and for each non-match (False)

sL.str.endswith("ב")--> Returns Boolean (True/False) for each match (True) and for each non-match (False)

sL.str.find("ב")--> Returns Boolean-like (0 / -1) for each match (0) and for each non-match (-1)

sL.str.rfind("ב")--> Returns Boolean-like (0 / -1) for each match (0) and for each non-match (-1)

The following values are all equivalent; Each equals every other value len(sL) --> Total Number of Letters in the Pandas Series s --> Equal to len(S); len(L); len(DL); len(D5); len(N) len(S) --> Total Number of Letters in the Python String S --> Equal to len(sL); len(L); len(DL); len(D5); len(N) len(L) --> Total Number of Letters in the Python List L --> Equal to len(sL); len(S); len(DL); len(D5); len(N) len(DL) --> Total Number of Letters in the Python Dictionary DL with 4-digit Tuple Key --> Equal to len(sL); len(S); len(L); len(D5); len(N) len(D5) --> Total Number of Letters in the Python Dictionary D5 with 5-digit Tuple Key --> Equal to len(sL); len(S); len(L); len(DL); len(N) len(N) --> Total Number of Numbers in the Python List N --> Equal to len(sL); len(S); len(L); len(DL); len(D5)Total Number of Verses in Torah: 5846Total Number of Letters in Torah: 304850Total Number of Letter א Aleph in Torah: 27060Total Number of Letter ב Bet in Torah: 16345Total Number of Letter ×' Gimel in Torah: 2109Total Number of Letter ×' Daled in Torah: 7032Total Number of Letter ×-- Heh/Hey/Hay in Torah: 28055Total Number of Letter ו Vav in Torah: 30533Total Number of Letter ז Zayin in Torah: 2198Total Number of Letter ח Ḥet in Torah: 7189Total Number of Letter × Tet in Torah: 1804Total Number of Letter × Yud in Torah: 31556Total Number of Letter כ Khaf in Torah: 8610Total Number of Letter ך Khaf Sofit in Torah: 3358Total Number of Letter ×' Lamed in Torah: 21570Total Number of Letter מ Mem in Torah: 14466Total Number of Letter ×' Mem Sofit in Torah: 10624Total Number of Letter × Nun in Torah: 9867Total Number of Letter ן Nun Sofit in Torah: 4259Total Number of Letter × Samekh in Torah: 1833Total Number of Letter × 'Ain in Torah: 11250Total Number of Letter פ Peh/Pey/Pay in Torah: 3975Total Number of Letter ×£ Peh/Pey/Pay Sofit in Torah: 830Total Number of Letter ×... Tzadik in Torah: 2927Total Number of Letter ×¥ Tzadik Sofit in Torah: 1035Total Number of Letter ק Kuf in Torah: 4695Total Number of Letter ר Resh in Torah: 18125Total Number of Letter ×(C) Shin in Torah: 15595Total Number of Letter ת Taf in Torah: 17950

Total Number of Verses in Genesis: 1533Total Number of Letters in Genesis: 78069Total Number of Letter א in Book of Genesis: 7634Total Number of Letter ב in Book of Genesis: 4332Total Number of Letter ×' in Book of Genesis: 577Total Number of Letter ×' in Book of Genesis: 1848Total Number of Letter ×-- in Book of Genesis: 6283Total Number of Letter ו in Book of Genesis: 8447Total Number of Letter ז in Book of Genesis: 428Total Number of Letter ח in Book of Genesis: 1844Total Number of Letter × in Book of Genesis: 308Total Number of Letter × in Book of Genesis: 9041Total Number of Letter כ in Book of Genesis: 1909Total Number of Letter ך in Book of Genesis: 865Total Number of Letter ×' in Book of Genesis: 5275Total Number of Letter מ in Book of Genesis: 3421Total Number of Letter ×' in Book of Genesis: 2689Total Number of Letter × in Book of Genesis: 2776Total Number of Letter ן in Book of Genesis: 1009Total Number of Letter × in Book of Genesis: 446Total Number of Letter × in Book of Genesis: 2823Total Number of Letter פ in Book of Genesis: 890Total Number of Letter ×£ in Book of Genesis: 313Total Number of Letter ×... in Book of Genesis: 740Total Number of Letter ×¥ in Book of Genesis: 351Total Number of Letter ק in Book of Genesis: 1301Total Number of Letter ר in Book of Genesis: 4793Total Number of Letter ×(C) in Book of Genesis: 3574Total Number of Letter ת in Book of Genesis: 4152

Total Number of Verses in Hebrew Bible: 23206Total Number of Letters in Hebrew Bible: 1197042Total Number of Letter א in Hebrew Bible: 95685Total Number of Letter ב in Hebrew Bible: 65216Total Number of Letter ×' in Hebrew Bible: 10080Total Number of Letter ×' in Hebrew Bible: 32371Total Number of Letter ×-- in Hebrew Bible: 101962Total Number of Letter ו in Hebrew Bible: 129606Total Number of Letter ז in Hebrew Bible: 9099Total Number of Letter ח in Hebrew Bible: 27598Total Number of Letter × in Hebrew Bible: 6310Total Number of Letter × in Hebrew Bible: 137870Total Number of Letter כ in Hebrew Bible: 33466Total Number of Letter ך in Hebrew Bible: 14002Total Number of Letter ×' in Hebrew Bible: 88302Total Number of Letter מ in Hebrew Bible: 57638Total Number of Letter ×' in Hebrew Bible: 41291Total Number of Letter × in Hebrew Bible: 39852Total Number of Letter ן in Hebrew Bible: 15241Total Number of Letter × in Hebrew Bible: 7635Total Number of Letter × in Hebrew Bible: 44811Total Number of Letter פ in Hebrew Bible: 15730Total Number of Letter ×£ in Hebrew Bible: 2554Total Number of Letter ×... in Hebrew Bible: 11689Total Number of Letter ×¥ in Hebrew Bible: 3288Total Number of Letter ק in Hebrew Bible: 16278Total Number of Letter ר in Hebrew Bible: 68064Total Number of Letter ×(C) in Hebrew Bible: 58198Total Number of Letter ת in Hebrew Bible: 63206

U.S. and NATO Scramble to Arm Ukraine and Refill Their Own Arsenals - The New York Times

Thu, 26 Jan 2023 14:39

The West thought an artillery and tank war in Europe would never happen again and shrank weapons stockpiles. It was wrong.

Send any friend a story

As a subscriber, you have 10 gift articles to give each month. Anyone can read what you share.

Ukrainian forces preparing to fire an M-777 howitzer at Russian positions in the Donetsk region in May. Credit... Ivor Prickett for The New York Times Published Nov. 26, 2022 Updated Nov. 29, 2022

BRUSSELS '-- When the Soviet Union collapsed, European nations grabbed the ''peace dividend,'' drastically shrinking their defense budgets, their armies and their arsenals.

With the rise of Al Qaeda nearly a decade later, terrorism became the target, requiring different military investments and lighter, more expeditionary forces. Even NATO's long engagement in Afghanistan bore little resemblance to a land war in Europe, heavy on artillery and tanks, that nearly all defense ministries thought would never recur.

But it has.

In Ukraine, the kind of European war thought inconceivable is chewing up the modest stockpiles of artillery, ammunition and air defenses of what some in NATO call Europe's ''bonsai armies,'' after the tiny Japanese trees. Even the mighty United States has only limited stocks of the weapons the Ukrainians want and need, and Washington is unwilling to divert key weapons from delicate regions like Taiwan and Korea, where China and North Korea are constantly testing the limits.

Now, nine months into the war, the West's fundamental unpreparedness has set off a mad scramble to supply Ukraine with what it needs while also replenishing NATO stockpiles. As both sides burn through weaponry and ammunition at a pace not seen since World War II, the competition to keep arsenals flush has become a critical front that could prove decisive to Ukraine's effort.

The amount of artillery being used is staggering, NATO officials say. In Afghanistan, NATO forces might have fired even 300 artillery rounds a day and had no real worries about air defense. But Ukraine can fire thousands of rounds daily and remains desperate for air defense against Russian missiles and Iranian-made drones.

''A day in Ukraine is a month or more in Afghanistan,'' said Camille Grand, a defense expert at the European Council on Foreign Relations, who until recently was NATO's assistant secretary general for defense investment.

Image An apartment complex damaged in a Russian strike in May in Sloviansk, Ukraine. Credit... Ivor Prickett for The New York Times Last summer in the Donbas region, the Ukrainians were firing 6,000 to 7,000 artillery rounds each day, a senior NATO official said. The Russians were firing 40,000 to 50,000 rounds per day.

By comparison, the United States produces only 15,000 rounds each month.

So the West is scrambling to find increasingly scarce Soviet-era equipment and ammunition that Ukraine can use now, including S-300 air defense missiles, T-72 tanks and especially Soviet-caliber artillery shells.

The West is also trying to come up with alternative systems, even if they are older, to substitute for shrinking stocks of expensive air-defense missiles and anti-tank Javelins. It is sending strong signals to Western defense industries that longer-term contracts are in the offing '-- and that more shifts of workers should be employed and older factory lines should be refurbished. It is trying to purchase ammunition from countries like South Korea to ''backfill'' stocks being sent to Ukraine.

There are even discussions about NATO investing in old factories in the Czech Republic, Slovakia and Bulgaria to restart the manufacturing of Soviet-caliber 152-mm and 122-mm shells for Ukraine's still largely Soviet-era artillery armory.

But the obstacles are as myriad as the solutions being pursued.

NATO countries '-- often with great fanfare '-- have provided Ukraine some advanced Western artillery, which uses NATO-standard 155-mm shells. But NATO systems are rarely certified to use rounds produced by other NATO countries, which often make the shells differently. (That is a way for arms manufacturers to ensure that they can sell ammunition for their guns, the way printer manufacturers make their money on ink cartridges.)

And then there is the problem of legal export controls, which govern whether guns and ammunition sold to one country can be sent to another one at war. This is the reason the Swiss, claiming neutrality, refused Germany permission to export to Ukraine needed antiaircraft ammunition made by Switzerland and sold to Germany. Italy has a similar restriction on arms exports.

One NATO official described the mixed bag of systems that Ukraine must now cope with as ''NATO's petting zoo,'' given the prevalence of animal names for weapons like the Gepard (German for cheetah) and the surface-to-air missile system called the Crotale (French for rattlesnake). So resupply is difficult, as is maintenance.

Image A Gepard antiaircraft tank in the Krauss-Maffei Wegmann factory in Munich. Credit... Felix Schmitt for The New York Times The Russians, too, are having resupply problems of their own. They are now using fewer artillery rounds, but they have a lot of them, even if some are old and less reliable. Facing a similar scramble, Moscow is also trying to ramp up military production and is reportedly seeking to buy missiles from North Korea and more cheap drones from Iran.

Given the Russian annexation of Crimea in 2014 and the war in the Donbas region, NATO's new military spending goals '-- 2 percent of gross domestic product by 2024, with 20 percent of that on equipment instead of salaries and pensions '-- seem modest. But even those were largely ignored by key member countries.

In February, when the war in Ukraine began, stockpiles for many nations were only about half of what they were supposed to be, the NATO official said, and there had been little progress in creating weapons that could be used interchangeably by NATO countries.

Even within the European Union, only 18 percent of defense expenditures by nations are cooperative.

For NATO countries that have given large amounts of weapons to Ukraine, especially frontline states like Poland and the Baltics, the burden of replacing them has proved heavy.

The French, for instance, have provided some advanced weapons and created a 200-million-euro fund (about $208 million) for Ukraine to buy arms made in France. But France has already given at least 18 modern Caesar howitzers to Ukraine '-- about 20 percent of all of its existing artillery '-- and is reluctant to provide more.

The European Union has approved ''¬3.1 billion ($3.2 billion) to repay member states for what they provide to Ukraine, but that fund, the European Peace Facility, is nearly 90 percent depleted.

In total, NATO countries have so far provided some $40 billion in weaponry to Ukraine, roughly the size of France's annual defense budget.

Smaller countries have exhausted their potential, another NATO official said, with 20 of its 30 members ''pretty tapped out.'' But the remaining 10 can still provide more, he suggested, especially larger allies. That would include France, Germany, Italy and the Netherlands.

NATO's secretary general, Jens Stoltenberg, has advised the alliance '-- including, pointedly, Germany '-- that NATO guidelines requiring members to keep stockpiles should not be a pretext to limit arms exports to Ukraine. But it is also true that Germany and France, like the United States, want to calibrate the weapons Ukraine gets, to prevent escalation and direct attacks on Russia.

Image Ukrainian soldiers firing an advanced French Caesar self-propelled howitzer at a Russian target in the Donetsk region in June. Credit... Tyler Hicks/The New York Times The Ukrainians want at least four systems that the West has not provided and is unlikely to: long-range surface-to-surface missiles known as ATACMS that could hit Russia and Crimea; Western fighter jets; Western tanks; and a lot more advanced air defense, said Mark F. Cancian, a former White House weapons strategist who is now a senior adviser at Washington's Center for Strategic and International Studies.

The ATACMS, with a range of some 190 miles, will not be given for fear they could hit Russia; the tanks and fighter jets are just too complicated, requiring a year or more to train in how to use and maintain. As for air defense, Mr. Cancian said, NATO and the United States deactivated most of their short-range air defense after the Cold War, and there is little to go around. Producing more can take up to two years.

Maintenance is key, but there are clever answers for relatively simpler equipment, like the M-777 howitzer given to Ukraine. With the right parts, a Ukrainian engineer can link up to an American artillery officer in Fort Sill, Okla., and get talked through maintenance over Zoom.

Ukraine has also proved adaptable. Its forces are known inside NATO as ''the MacGyver Army,'' a reference to an old television series in which the hero is inventive and improvisational with whatever comes to hand.

To shell Russian positions at Snake Island, for instance, the Ukrainians put Caesars, with a 40-kilometer range, on barges and towed them out 10 kilometers to hit the island, which was 50 kilometers away, astonishing the French. Ukraine also sank the Moskva, the flagship of the Russian Black Sea Fleet, with its own adapted missiles, and has built drones that can attack ships at sea.

American officials insist that the U.S. military still has enough mat(C)riel to continue supplying Ukraine and defend U.S. interests elsewhere.

''We are committed to providing Ukraine with what it needs on the battlefield,'' Sabrina Singh, the Pentagon's deputy press secretary, said this month after announcing more Stinger missiles for Ukraine.

Image A Ukrainian soldier with a Stinger missile in the Donetsk region in May. Credit... Finbarr O'Reilly for The New York Times Washington is also looking at older, cheaper alternatives like giving Ukraine anti-tank TOW missiles, which are in plentiful supply, instead of Javelins, and Hawk surface-to-air missiles instead of newer versions. But officials are increasingly pushing Ukraine to be more efficient and not, for example, fire a missile that costs $150,000 at a drone that costs $20,000.

Already, some weapons are running low.

As of September, the U.S. military had a limited number of 155-mm artillery rounds in its stockpiles, and limited numbers of guided rockets, rocket launchers, howitzers, Javelins and Stingers, according to an analysis by Mr. Cancian.

The shortage in 155-mm artillery shells ''is probably the big one that has the planners most concerned,'' Mr. Cancian said.

''If you want to increase production capability of 155 shells,'' he said, ''it's going to be probably four to five years before you start seeing them come out the other end.''

Steven Erlanger reported from Brussels and Berlin, and Lara Jakes from Brussels and Rome. Eric Schmitt contributed reporting from Washington.

Your Tax Dollars at Work: Ukrainian Officials Blew $100 Billion in US Uniparty Dollars on Sports Cars, Mansions, Luxury Vacations, etc.

Thu, 26 Jan 2023 14:28

Ukraine is embroiled in another corruption scandal after several top officials were caught purchasing sports cars, mansions and luxury vacations as the rest of the country suffered in the war with Russia.

This comes the same day that the US and Germany agreed to send the country more tanks.

This is sick and Americans won't put up with our hard-earned money going to this corrupt government in Ukraine.

Secure our border, restore safe streets, stop the drugs and Make America Great Again!https://t.co/fwSJ3UbZbm

'-- Kari Lake (@KariLake) January 25, 2023

TRENDING: BREAKING: Project Veritas: Pfizer Exploring "Mutating" Covid-19 Virus Via 'Directed Evolution' To Continue Profiting From Vaccines (VIDEO)

Zero Hedge reported:

The Ukrainian government on Tuesday confirmed the resignation of multiple high ranking officials amid large-scale corruption allegations, in what's being called the biggest mass resignation and graft scandal since the Russian invasion began.

Some dozen officials have quit their posts after a huge political shake-up over allegations and probes into cases ranging from bribery, to mismanagement of aid funds for purchasing food, to embezzlement, to driving expensive cars while common people suffer under wartime conditions.

A top presidential adviser and four deputy ministers '' among these two defense officials, along with five regional governors were forced out of their posts. And among the regional governors to step down included officials overseeing regions which have seen intense fighting, including the Zaporizhzhia and Kherson regions, where Russian forces have lately reported gains.

In reference to the announcement by a senior government official, Oleg Nemchinov, international reports detail the following list:

Deputy Prosecutor General Oleskiy SymonenkoDeputy Minister for Development of Communities and Territories Ivan LukeryuDeputy Minister for Development of Communities and Territories Vyacheslav NegodaDeputy Minister for Social Policy Vitaliy MuzychenkAnd the regional governors of Dnipropetrovsk, Zaporizhzhia, Kyiv, Sumy and KhersonAnd separately, ''the defense ministry had earlier announced the resignation of deputy minister Vyacheslav Shapovalov, who was in charge of the army's logistical support, on the heels of accusations it was signing food contracts at inflated prices.''

In this case regarding the food contracts, Shapovalov is accused of signing a deal with an unknown, shady firm. In his role as deputy defense minister, his is the most notable and visible resignation. Crucially he would have had no small part in overseeing the billions of dollars flowing from the pockets of US and European taxpayers as authorized defense aid.

Your Blood Type May Affect Your Risk of an Early Stroke, Research Reveals : ScienceAlert

Thu, 26 Jan 2023 14:26

People with one of the type A blood groups appear to be more likely to have a stroke before the age of 60 compared with people with other blood types, according to a 2022 study.

Blood types describe the rich variety of chemicals displayed on the surface of our red blood cells. Among the most familiar are those named A and B, which can be present together as AB, individually as A or B, or not present at all, as O.

Even within these major blood types, there are subtle variations arising from mutations in the genes responsible.

Now, genomic research has uncovered a clear relationship between the gene for the A1 subgroup and early-onset stroke.

Researchers compiled data from 48 genetic studies, which included roughly 17,000 people with a stroke and nearly 600,000 non-stroke controls. All participants were between 18 and 59 years of age.

A genome-wide search revealed two locations strongly associated with an earlier risk of stroke. One coincided with the spot where genes for blood type sit.

A second analysis of specific types of blood-type genes found people whose genome coded for a variation of the A group had a 16 percent higher chance of a stroke before the age of 60, compared with a population of other blood types.

For those with a gene for group O1, the risk was lower by 12 percent.

The researchers note, however, that the additional risk of stroke in people with type A blood is small, so there is no need for extra vigilance or screening in this group.

"We still don't know why blood type A would confer a higher risk," said senior author and vascular neurologist Steven Kittner from the University of Maryland said in a 2022 statement.

"But it likely has something to do with blood-clotting factors like platelets and cells that line the blood vessels as well as other circulating proteins, all of which play a role in the development of blood clots."

While the study findings may seem alarming, that blood type could change early stroke risk, let's put these results into context.

Each year in the US, just under 800,000 individuals experience a stroke. Most of these events '' around three out of every four '' occur in people 65 years and older, with risks doubling every decade after the age of 55.

Also, the people included in the study lived in North America, Europe, Japan, Pakistan, and Australia, with people of non-European ancestry only making up 35 percent of participants. Future studies with a more diverse sample could help clarify the significance of the results.

"We clearly need more follow-up studies to clarify the mechanisms of increased stroke risk," Kittner said.

Another key finding of the study came from comparing people who had a stroke before the age of 60 to those that had a stroke after the age of 60.

For this, the researchers used a dataset of about 9,300 people over the age of 60 who had a stroke and some 25,000 controls over the age of 60 who didn't have a stroke.

They found that the increased risk of stroke in the type A blood group became insignificant in the late-onset stroke group, suggesting that strokes that happen early in life may have a different mechanism compared to those that occur later on.

Strokes in younger people are less likely to be caused by a build-up of fatty deposits in the arteries (a process called atherosclerosis) and more likely to be caused by factors to do with clot formation, the authors say.

The study also found that people with type B blood were around 11 percent more likely to have a stroke compared to non-stroke controls, regardless of their age.

Previous studies suggest that the part of the genome that codes for blood type, called the 'ABO locus', is associated with coronary artery calcification, which restricts blood flow, and heart attack.

The genetic sequence for A and B blood types has also been associated with a slightly higher risk of blood clots in veins, called venous thrombosis.

This paper was published in Neurology.

A version of this article was first published in September 2022.

'Smoking Gun' Disability Data Reveals Alarming Health Crisis of the Employed

Thu, 26 Jan 2023 14:26

Originally Published on DailyClout

Three million more unfortunate souls are now among the U.S. disabled population than two years ago. What were 29.85 million people within this cohort in January 2021 soared to 32.87 million in December 2022.

What's interesting is that the trend was overall heading downward in 2020. It wasn't until 2021 that the disability numbers took a significant turn for the worse '-- increasing by 10%.

What his team has discovered, through in-depth research, is that for every one excess death, there are four disabilities '-- meaning the 3 million aforementioned disabilities would equate to about 750,000 excess deaths in the U.S. alone.

The following table, provided by phinancetechnologies.com , provides a summary of different statistics regarding changes in disability that occurred from February 2021 through November 2022. We're going to be focusing on the red section.

The number it gives is an increase in disabilities of (1,460,000 + 1,677,000) 3,137,000 in people between the ages of 16-64.

''In Wall Street,'' explained Edward Dowd , ''we focus on signals and frequency and rate of change. That was a three-standard deviation year-over-year rate of growth change '-- shouldn't have happened.''

A three-standard deviation above the mean is within the 99.7th percentile.

Share

Edward Dowd continues, ''So 3.2 million people in about two years have been disabled. When we delve into the numbers, half of those are employed, 1.7 million.'' When you look at the disability rate increases between the employed and the general population, there's a stark difference '-- a 31.41% increased disability rate for the employed and an 8.83% increase for the general population.

The next group, not in the labor force, ''is a smoking gun, as far as I'm concerned,'' asserted Ed Dowd . ''Those are the people who left! Those are the people who got fired and/or quit (their jobs because of vax mandates), and their health outcomes have been the best. They've only had a 4% increase in the disability rate.''

''So we've hit a new disability rate in the U.S. We're 10% higher than we were two years ago. It's 3.2 million people. These are real numbers! And if you're wondering why there are help-wanted signs, this is it,'' he attested.

''I had said to Senator Ron Johnson (R-WI) '-- I'm saying it to everyone '-- this is a national security issue . But yet, there's crickets from our health authorities and global governments because this is occurring in every country. This is not just the U.S.''

If you'd like to watch the entirety of Edward Dowd's interview with doctors Pierre Kory and Paul Marik, you can do so by following the link below :

The Epidemic of Sudden Death: FLCCC Weekly Update (January 18, 2023)

-End-

The information that Pfizer and the FDA wanted to keep hidden for 75 years has been compiled into an ebook and made available on Amazon .

Thanks to the medical freedom community, we are shattering expectations and are currently ranked as the #4 nonfiction best seller !

But we need your help staying within the top 20 for a week to make it to the legacy media bestsellers list, which is not just good for the book and the project but also for the conversation, forcing the criminals to be confronted.

So, please, help push truth up the algorithm by sharing this post and picking up your copy of the greatest crime in modern history '-- all in one place:

Pick Up Your Copy

Globe Life Stock: High Excess Claims Lie Ahead (NYSE:GL) | Seeking Alpha

Thu, 26 Jan 2023 14:25

Caiaimage/Martin Barraud/iStock via Getty Images

PreambleWhile I was relaxing drinking my morning coffee, for my amusement I tuned into Al Gore's tirade on the importance of reducing CO2 emissions or face ''rain bombs'' and ''boiling oceans.'' According to Al, the earth faces desertification and associated catastrophes unless we reduce the concentration of CO2 in the atmosphere. Now, I believe that prior to his rants, he ought to disclose that he has made coin to the tune of $300 million by promoting this type of alarmism. Furthermore, he ought to concede that some deserts are actually shrinking and in fact the earth is getting greener as a result of marginally higher concentrations of CO2. An explanation for this counter-intuitive situation can be found in a recent article I wrote for Seeking Alpha.

Now this is not the only peculiar state-of-affairs we can discover if we consider the world today. Back in 2020, the CDC reported around 380,000 deaths that were attributed to COVID. So, we can understand that the pandemic led to an increase in excess mortality during this time. According to one report ; ''from March 1, 2020, to Jan. 2, 2021, excess deaths rose a massive 22.9% in the US.'' A White House report states that; ''the percentage increase in excess deaths relative to expected deaths, differed significantly across States, from a low of 5.7 percent in Hawaii to a high of 27.4 percent in Arizona.'' It is widely accepted that the pandemic is on the wane, and yet, excess mortality remains stubbornly high . Moreover, the excess mortality is not entirely due to COVID.

One can readily understand that the vast majority of deaths from COVID were amongst the elderly, however, the excess deaths occurring at the present time are among working-age people. And this is not a phenomenon isolated to the US, but can be seen in other countries too. A recent report from The Institute and Faculty of Actuaries in the UK notes that mortality rates for ages 20-44 is 7.8% higher than expected. If this data were not bad enough, the report also states that; ''The number of deaths registered in England & Wales in week 1 of 2023 was 3,437 higher than if mortality rates had been the same as in week 1 of 2019; equivalent to 30% more deaths than expected.'' In summary, what these figures are suggesting is that there appears to be no slow down in excess deaths and that these deaths are occurring amongst the younger members of the population.

On top of that, in a number of countries and districts, the cause of death appears to be registered as unknown; the province of Alberta for example. Naturally, these excess deaths in 2021 meant that death-benefit pay-outs was a record, which led to reduced profits for US insurers. And the data appears to confirm that death-benefit pay-outs will not be declining anytime soon.

It doesn't take a rocket scientist to surmise that if excess deaths are rising, then general sickness may well be on an upward trend. And indeed, this is the case, if the statistics from The US Bureau of Labor Statistics are to be believed. This graph makes grim reading for many reasons, not least because there appears to be no explanation put forward for this shocking state of affairs by the agencies tasked to monitor the nation's health. This graphic should also be troubling for the stock holders of health insurance companies.

Government agency

Globe LifeAt the beginning of November 2022, Lincoln National Group (NYSE:LNC) reported a net loss for the quarter. Whilst the loss was not entirely due to elevated pandemic-related claims experience, these excess claims were certainly significant. This was highlighted by Randy Freitag, Chief Financial Officer, in the last quarterly earnings call ,who stated that the Life business had; ''an unfavorable impact of $223 million from updating our mortality assumptions.'' Since then, there has also been a downgrade on cash flow concerns, which has probably helped push the stock price down 40% since November.

In sharp contrast, Globe Life ( NYSE:GL ) gave a rather rosy report at the end of October, and so the stock has risen to all-time highs. Even though the stock has rallied, it could be argued that it remains fairly valued with a P/E of around 14.5. Going forward, the consensus for the company is an 18% growth of operating earnings per share for the full year 2022. Whilst this low P/E looks attractive, I'm suggesting that this figure will become less attractive following the next quarterly report.

In the preamble I drew attention to the continuing high levels of mortality in 2022, which will of course affect GL's fourth quarter results. Data from the European Union gives some indication of just how bad the results could be. Throughout the whole of Europe, mortality rates accelerated in the second half of 2022 to reach the highs of 2021.

Data from EuroMOMO (www.euromomo.eu/)

In the third quarter press release, it was noted that ''COVID life claims expense for the quarter ended September 30, 2022 was not significant, compared to $33 million in the quarter ended September 30, 2021. Year to date through September 30, we incurred $44 million of COVID life claims as compared to $82 million for the same period last year''. Also in the press release, the company stated that it expects a lowered claims number going forward. This expectation is not supported by the elevated levels of mortality being experienced around the world.

Since the number of deaths increased towards the end of the year 2021, it is entirely possible that death benefit claims for the fourth quarter will reach similar levels to the claims in the fourth quarter of 2021; $58 Million. On top of that, there will almost certainly be elevated medical claims resulting from the above normal levels of sickness.

The company's future growth and stock price is based on the unproven premise that excess mortality and other health claims will normalize in the near term. Indeed, during the quarterly call, Frank Svoboda, Chief Financial Officer, stated that; ''we expect underwriting margin to be up around 23%, due primarily to a decline in COVID and excess mortality for the full year.'' Yet, current data shows that excess mortality is not falling and the data from The US Bureau of Labor Statistics indicates that levels of illness are rocketing.

Given the positive picture painted of the future direction of the company, one would expect feverish buying by insiders. Curiously, the exact opposite is true. From Nasdaq's data, it is evident that since the last quarterly report, there has been a sharp rise in sales.

Nasdaq

Paying claimsThere is no suggestion that GL will be unable to pay additional claims, as the business is quite a strong insurance company financially. Reading the balance sheet, one can easily see that there is plenty of cash in the bank, so to speak. Investors in the company may further argue that the company is taking steps to improve investment income, as noted in the third quarter results, and that the increased returns will more than compensate for additional claims.

However, the balance sheet also reveals that debt levels are elevated, which, in a high interest rate environment, is not ideal. And the trend of the book value per share is less than inspiring.

RisksBased on the information to hand, it is unlikely that claims for the company will fall. Indeed, as I mention in my aforementioned article, claims are likely to rise. The soaring levels of sickness may not be due to an upset stomach or the sniffles, but due to newly diagnosed life threatening conditions. That said, the possibility of a decline in claims needs to be recognised and so a close eye needs to be kept on the data for this topic.

To sum upThe current stock price of GL is supported by the assumption that claims will normalize in the near term, which in my strong view is not supported by excess death and other medical related information. Therefore, one may be wise to follow insiders and sell before the next set of quarterly results.

As regards a target for the downside, I expect a fall of around 20 percent. Firstly, there is the experience with Lincoln National Group, which fell sharply on the news of unexpected claims. Secondly, there was an approximately 5 percent decline following the fourth quarter results for 2021. Typically, unexpected bad news is not a positive for a stock in my experience.

This article was written by

I have been an active trader for more years than I can remember, During that time I have gained experience in investing in just about everything; commodities, stocks, options, and an occasional flutter with futures contracts. Fortunately, I have had some success, which has enabled me to retire from the 9 '' 5.

Disclosure: I/we have a beneficial short position in the shares of GL either through stock ownership, options, or other derivatives. I wrote this article myself, and it expresses my own opinions. I am not receiving compensation for it (other than from Seeking Alpha). I have no business relationship with any company whose stock is mentioned in this article.

Additional disclosure: Please be advised that I am short GL. This being so, please carry out your own due diligence.

Secret CDC Report CONFIRMS 118K Youths "Died Suddenly" After Vax Rollout | SHTF Plan

Thu, 26 Jan 2023 14:25

Dr. Anthony Fauci infamously used propaganda, lies, and manipulation to coerce parents into getting their children vaccinated. In the aftermath of those shots, 118,000 youths ''died suddenly'' by October of 2022.

The truth about the Covid vaccine's safety had been buried deep within Fauci's own lies and deceit and confidential United States Government and Pfizer documents. A secret Centers for Disease Control (CDC) report has revealed that nearly half a million children and young adults died within a year of Fauci's fateful announcement that younger people can also be ''vaccinated'' for COVID-19. Over 1118,000 of those deaths are suspected to be due to the Covid-19 vaccine's dangerous side effects, according to reports found by The Daily Expos(C).

Thanks to an institution known as the Organisation for Economic Co-operation and Development (OEC), some data can be analyzed about how these injections fare in the bodies of human beings.

The OEC is an intergovernmental organization with 38 member countries founded in 1961 to stimulate economic progress and world trade. And for some reason, they host a wealth of data on excess deaths. You can find that data for yourself here.

The following chart has been created using the figures found in the OEC database. Figures that have been provided to the OEC by the U.S. Centers for Disease Control (CDC). And it shows excess deaths among children and young adults aged 0-44 across the USA by week in 2020 and 2021.

The official figures reveal that there was a slight increase in excess deaths among children and young adults when the alleged Covid-19 pandemic hit the US in early 2020. But that number jumped and remained high. In 2021, a massive jump can be seen with a higher starting point that is now continuing an upward trajectory, probably because more and more people are being panicked into getting their children injected.

It's also important to note that after the vaccines were released (not during the pandemic) the excess deaths were higher every single week.

Excess deaths among children and young adults were significantly higher every single week in 2021 than they were in 2020 except for weeks 29 and 30. But then in week 31, something drastic happened to cause excess deaths to rise significantly among children and young adults.

And official figures provided by the CDC, unfortunately, show that trend has continued in 2022 however, the excess deaths are dropping off some.

The ruling classes of the globe and their mainstream media puppets are still pushing these ''vaccines'', which means that they still haven't reached certain goals. Even with all the bad data, poor safety protocols, and lack of effectiveness, there's still a major narrative out there telling people to get these shots.

Inflation is Running at 40-Year Highs!Negative interest rates are taxing savers, creating food shortages, and making life miserable in the United States!

There's little time left before the REAL DISASTER occurs!

Download the Ultimate Reset Guide Now!

About 200 asylum-seeking children have gone missing, says minister - BBC News

Thu, 26 Jan 2023 14:23

Image source, PA MediaAbout 200 children, mostly Albanian teenage boys, remain missing from hotels housing asylum seekers, the immigration minister has said.

Robert Jenrick told MPs that of 4,600 child asylum seekers who had arrived in the UK since 2021, 440 had gone missing and only half had returned.

He said it was "extremely concerning" but added he had not seen evidence the children were being abducted.

Labour's Yvette Cooper accused ministers of a "dereliction of duty".

The shadow home secretary said there was "a criminal network involved" in taking the children away from their accommodation and that the government was "completely failing to stop them".

"They are letting these gangs run amock."

She urged the government to crack down on the gangs and end its contracts with hotels from where children had gone missing.

'Challenge'

She also expressed concern about the lack of clarity over whether the Home Office or local councils were legally responsible for the children.

Mr Jenrick said he had not been presented with evidence that children were being abducted but would continue to make enquiries adding: "I am not going to let this matter drop."

He acknowledged there was "a challenge" about the status of the local authorities in this area but said the government's overall objective was to ensure young people were only kept in the hotels "for a very short period of time".

He told MPs that 88% of the children who had gone missing were Albanian; 13 of the children were under 16; and one of them is female.

He said the government had no power to detain unaccompanied asylum-seeking children but the police and local authority were "mobilised" to find missing children to ensure their safety.

'Coerced'

Caroline Lucas - a Green MP in Brighton where some of the children are thought to have gone missing - accused the Home Office of "staggering complacency and incompetence".

"This feels like the plight of girls in Rotherham who were treated like they didn't matter," she said, in reference to the widespread child sex abuse in the Yorkshire town.

Ms Lucas raised the matter in Parliament following a report in the Observer that children had been kidnapped from a hotel in Brighton and Hove.

Another local MP - Labour's Peter Kyle - said the missing children were being "coerced into crime", adding: "Just last year Sussex Police pursued a car that had collected two children from outside this hotel.

"When they managed to get the car to safety they released two child migrants and they arrested one of the members who was driving it - who was a gang leader who was there to coerce the children into crime."

The government has come under pressure recently to reduce the number of asylum seekers staying in hotels.

Asylum seekers are often accommodated in hotels while the Home Office decides whether they can stay in the country.

This is a lengthy process, and recent delays in decision making, as well as a big rise in the numbers arriving in the UK, has caused a rise in the numbers kept in hotels.

If you have information about this story and would like to talk to a BBC journalist in confidence, you can do so by emailing haveyoursay@bbc.co.uk.

You can also get in touch in the following ways:

If you are reading this page and can't see the form you will need to visit the mobile version of the BBC website to submit your question or comment or you can email us at HaveYourSay@bbc.co.uk. Please include your name, age and location with any submission.

Pedo Ring Suspected at London Police Force, Chief Inspector Found Dead

Thu, 26 Jan 2023 14:23

An investigation into a suspected paedophile ring within London's Metropolitan Police force has taken a dark turn, with one of the suspects found dead the day he was due to be charged.

Chief Inspector Richard Watkinson was supposed to present himself at a police station to be charged with conspiracy to distribute or show indecent images of children, making indecent photos of a child, misconduct in public office, and voyeurism the day he was found dead in his home, The Telegraph reports.

''Chief Inspector Watkinson was facing extremely serious and concerning charges, as the result of a painstaking and thorough police investigation,'' explained Commander Jon Savell, described as ''Head of Profession'' at the Met's Directorate of Professional Standards.

''Before this matter came to light, we had no previous information about these allegations or to indicate the officer posed any risk to the public,'' Commander Savell claimed.

''He had not faced any other criminal or conduct matters during his Met career. He had been suspended from duty since his arrest,'' he said, adding: ''Two other men were also arrested during the course of the investigation and have been charged, their matters will now progress through the courts.''

These men, a 63-year-old former Metropolitan Police firearms officer now based in Scotland, named as Jack Addis, and a 62-year-old former Metropolitan Police officer, named as Jeremy Laxton, are due to appear before Westminster Magistrates' Court on February 9th, which will almost certainly refer their cases on to the Crown Court.

Addis faces a charge of conspiracy to distribute or show indecent images of children, while Laxton faces charges of intentionally encouraging or assisting misconduct in public office, conspiracy to distribute or show indecent images of children, making indecent photos of a child, possession of extreme pornographic images, and possession of prohibited images of a child.

Follow Jack Montgomery on Twitter: @JackBM ontgomery Follow Breitbart London on Facebook: Breitbart London

The absolute audacity of Apple Podcasts - by Matt Basta

Thu, 26 Jan 2023 14:05

Apple Podcasts, formerly the podcast feature of iTunes, was once the dominant way to listen to podcasts. And when I say that, I mean overall: they had an overwhelming percentage of market share. In recent years, that was challenged by Spotify, and now they're somewhere close to 40% of market share.

40% is nothing to shake a stick at. If you entered the podcasting space (like Spotify did) and captured 40% of users, you'd have an amazing product. The problem is what happens when you have an attitude like you own the place.

The disappointing thing about Apple's dominance has been their lack of trying to really anything since the aughts. In 2017, they updated their RSS extension to add some additional elements, adding support for season and episode numbering (among other minor features). It helped give Apple Podcasts a fresh coat of paint and address some long-standing pain points, like supporting podcasts that aren't best listened to in reverse-chronological order.

In 2021 (or 2020, I guess'--I doubt they wrote all the code in 2021), Apple realized they were playing catch-up and launched an update to their app that added a bunch of new features and changed the way podcasting worked.

Under the hood, Apple stopped having each device request a copy of RSS feeds. Instead, Apple's servers would request the feed once, and the Apple Podcasts app on your Mac or iOS device would ping Apple for episode updates. On one hand, you could argue this is a good thing (more anonymous if you trust Apple, significant bandwidth savings for hosting services). On the other hand, it means that you now need to trust that Apple isn't going to fuck with the podcasts you listen to.

The 2021 update also included some new features. The notable one was that Apple was dipping its toes into podcast hosting. You could sign up to allow Apple to host your show and its audio (for a cool $20/year). In exchange, you could charge a subscription fee to your listeners.

I run Pinecast , a podcast hosting service. Apple's hosting feature competes directly (well, almost directly, as you'll see) with Pinecast. It's a weird situation: they maintain a list of recommended podcast hosting providers (which Pinecast is on!), but then they compete with those services.

I'll admit: when Apple announced their 2021 update, I was miffed. Pinecast already has a subscription feature (the Tip Jar). I'd have bent over backwards to integrate Pinecast with whatever Apple was planning to build. Give me a spec and I'll make it work, and I'll do it faster than all of their other partners! Alas, Apple YOLOed a solution out into the world

and it lived quietly.

I truthfully had completely forgotten about Apple's hosting feature. Frankly, I didn't think anyone would actually go use it. My assumption was that it was their attempt to get their foot in the door, and some PMs would figure out how to adjust it later to become a ''real product.''

This past week, a new Pinecast customer reached out. They were looking to move their show from Apple to Pinecast, and Pinecast's import tool wasn't working. Looking into the situation, the problem was spooky.

The import tool allows you to paste an RSS feed into a text input, and the feed details are pulled and populated for a new podcast on Pinecast. All of the audio files are copied over after you review the details. One convenience feature is that if you paste the Apple Podcasts directory listing instead of the feed URL, I'll look up the feed URL from the listing and treat it as a redirect. Easy peasy.

This customer was pasting their Apple listing URL, but the import tool was not getting a feed back. In fact, Apple was returning no results for the podcast ID. That's weird, because visiting the show in your browser shows the podcast's details.

What I learned is that Apple does not produce an RSS feed for podcasts that they host. That's right: if you host your show with Apple, the only listeners you can have are folks with the Apple Podcasts app. This feels like an absolutely wild choice from a product perspective; it's the mindset of a company who still thinks that they have dominance over the podcasting world. It's ludicrous to assume that it's a good thing for listeners to have to have specific hardware in order to listen to a podcast.

Alas, it is what it is. My solution was simple: if fetching a feed URL from an Apple Podcast listing failed, I'd hit the cheeky API that Apple uses to power the web UI. This would let me get the show and episode details, and I'd use this to return a synthetic RSS feed to the import tool. Easy enough!

I managed to get this working. The only thing that wasn't working, though was the audio. Apple provides a HLS playlist URL for episode audio instead of the URL of an audio file. This isn't ideal. There are no podcast apps (besides Apple Podcasts, apparently) that can play HLS streams. My solution was this: set up a Lambda function that accepts the HLS URL, pull the stream and save it as AAC in an S3 bucket, and return a 302 redirect to the AAC file's URL. The synthetic feed would simply link to the Lambda function for the audio. The import tool would be none the wiser.

Except, when I crafted the ffmpeg incantation to pull and convert the HLS stream, it errored. I tried some different command line options and it simply refused to play. So I tried in the browser with a HLS player, and it still didn't play. My last hope was VLC. VLC can play _literally anything_ you throw at it, it seems. And VLC, sure enough, failed to play this HLS stream. What gives?

I signed up for the Apple Podcasters Program (their name for the hosting service) and uploaded a test podcast. When I went to upload my audio file, something jumped out at me: they note that the audio will be protected with DRM . Sure enough, opening the m3u8 playlist, there is Apple Fairplay DRM info. Keep in mind, this is for audio that's going to be publicly available without a paid subscription.

Here's what's fucked: once you've started using Apple for hosting, you're stuck. You're permanently locked into using Apple, unless you want to start your podcast over. Maybe you're tired of throwing away 60% of potential listenership, or you don't like the UI, or the features aren't sufficient for you. Too bad.

The first problem is that there's no RSS feed. With an RSS feed, returning a 301 redirect allows you to change your feed URL. If you're moving from Pinecast to Libsyn, Pinecast will happily allow you to redirect your Pinecast feed URL to your new Libsyn feed URL. Every podcast app (including Apple Podcasts) knows what this means, and updates your feed URL so that it only checks Libsyn going forward.

With Apple, there's no feed, which means there's no redirects. You can't switch to anything because there's nothing to switch with . Even if you were able to copy your show to another hosting service, your existing subscribers wouldn't be able to hear any new episodes you post.

The second problem is that you can't get your own audio files back. Once you've uploaded a file to Apple, that file is no longer available to you, and the DRM prevents it from being downloaded by a tool or another hosting service. Only Apple Podcasts can access that audio, even if you've chosen to make that audio freely available. Hell, even choosing to download the audio in Apple Podcasts makes it available for offline listening, but doesn't produce an MP3 or M4A file that you can move around or archive'--it retains its DRM.

What I hate the most about all of this is that they don't make this clear. At every step, they do tell you the truth. They say that your podcast will be available to listeners on Apple Podcasts, but they don't explicitly say that your podcast won't be available to anyone else. When you upload your audio, they say it will have DRM, but they don't make it clear what the consequences of this are. They tell you your show won't have an RSS feed, but they don't tell you what you're giving up by not having one. This is predatory.

Apple is letting people pay $20/year for the privilege of being locked into an ecosystem run by people who think that they're the best thing since the transistor radio. They make it virtually impossible to leave, even when they offer no meaningful value-add to folks who have outgrown their meager offering.

Apple: y'all need to offer a way to leave. Trapping your customers is an incredibly shitty thing to do. The podcast hosting ecosystem has allowed podcasters to move freely between services forever . What you're doing to your paying customers is malicious.

Drug maker paid for ''news'' story on CBS's 60 Minutes, doctors' group alleges | Ars Technica

Thu, 26 Jan 2023 13:59

one-sided news '-- Group alleges segment only had experts paid by drug maker, didn't mention risks. Beth Mole - Jan 25, 2023 10:33 pm UTC

Enlarge / A broken watch.

A 13-minute segment on a recent episode of CBS's 60 Minutes appeared to be a news story on Novo Nordisk's weight-loss drug Wegovy but was actually a sponsored promotion, violating federal regulations, according to the nonprofit public health advocacy organization Physicians Committee.

The group filed a complaint with the Food and Drug Administration last week, arguing that the segment, which aired on January 1, violates the

FDA's "fair balance" requirement. This law requires that

drug advertisements give a fair balance to a drug's risks and benefits.

The Physicians Committee claims that CBS's 60 Minutes received advertising payments from Novo Nordisk prior to the coverage and that the aired segment only included experts who had also been paid by Novo Nordisk. The segment lauded the drug with words and phrases such as "highly effective," "safe," "impressive," "fabulous," and "robust," but didn't delve into side effects or alternative treatments and strategies for weight loss.

Advertisement "The 60 Minutes program looked like a news story, but it was effectively a drug ad," Physicians Committee President Neal Barnard, adjunct professor of medicine at George Washington University School of Medicine, said in a statement. He noted that Wegovy has a range of potential risks and side effects that went unmentioned in CBS's coverage, such as digestive problems, increased heart rate, gallstones, pancreatitis, and serious drops in blood sugar. The drug also poses risks for people who are pregnant or may become pregnant.

The group is seeking to have all of CBS's Wegovy-related stories'--there are four'--pulled from its websites and a "corrective ad" that contains risks and side effects put up in their place.

In a statement to media outlets, Novo Nordisk said:

Novo Nordisk did not provide any payment or sponsorship to CBS 60 Minutes for their reporting on obesity as part of a news segment that aired on January 1, 2023, and we did not control any of the content or have any role in identifying or selecting the doctors and patients featured in the news segment.

How Equifax Became a Private IRS - BIG by Matt Stoller

Wed, 25 Jan 2023 18:44

Welcome to BIG, a newsletter on the politics of monopoly power. If you're already signed up, great! If you'd like to sign up and receive issues over email, you can do so here .

In 1964, historian Richard Hofstadter wrote a famous sentence about the importance of antitrust law. ''Anybody who knows anything about the conduct of American business'', he noted, ''knows that the managers of the large corporations do their business with one eye constantly cast over their shoulders at the antitrust division.''

This piece is about how far we have fallen from that era. It's also about how Equifax - through its monopoly power - has become a firm that sells what are effectively tax records of any American to pretty much anyone who wants them.

First, some house-keeping. Last week, I wrote a piece for paid subscribers on how the antitrust bar is gearing up to support non-compete agreements. It's called 'Non-Compete Agreements and the Cult of the Antitrust Bar.' Also, every week, I do a round-up of monopoly-focused news for paid subscribers. If you want to get pieces for paid subscribers when they come out, and get access to the round-up, then you can subscribe here .

And now'...

The movie The Big Short is about the housing crisis and its collapse, along with all the fraudulent activity up and down the financial system that abetted it. It is as much a cultural story as it is one about finance, a film about what banking corruption does to human beings and the law itself. In it, there's a famous scene where fund investors betting on a housing collapse are trying to learn about the Florida housing market, and are interviewing some frat-boy type Florida real estate agents. The agents keep discussing their self-serving and illegal behavior, like falsifying paperwork or selling to people who knowingly can't pay back loans. At a certain point, the main character asks his colleagues, 'why are they confessing?' to which the others respond, ''they're not confessing, they're bragging.''

The point of this scene is to show that people in the industry during the housing bubble weren't just breaking the law, but saw the law itself as irrelevant. Enforcement was so weak that those in finance and real estate would just openly brag about all the crime they were doing.

It was a true story. And it continues to be a true story in most white collar areas.

Late last year, the CEO of Equifax Mark Begor presented at a Goldman Sachs conference for investors, and openly told the investors how much market power his firm has in the business of selling income verification services to creditors. ''We have meaningful pricing power,'' he said, because ''only Equifax has that income and employment data.'' Equifax aggressively raises prices on the Work Number product line annually, and has, according to Begor, ''already got our January 1, 2023 price increases in the market.'' Long term, he says, ''we have an ability to grow price well in excess of GDP.'' This is fairly shocking stuff from a CEO, who should know better than to confess to monopolization. Only, it seems as if Begor wasn't confessing, he was bragging.

Here's the audio.

Audio playback is not supported on your browser. Please upgrade. Still, why wouldn't Begor brag to investors? Equifax's controversial behavior is near-legendary. The firm is an important credit bureau, and credit data is exactly what we wouldn't want to fall into the hands of hackers, who could then easily use it to engage in identity theft, en masse. But in 2017, Equifax had a massive scandal , one of the biggest data breaches in history, when it accidentally exposed the personal data of 147 million people. The Federal Trade Commission fined the company more than $575 million, and the CEO, CIO, and chief security officer were all forced out.

Yet the firm didn't suffer any long-term reputation damage. And in all the hoopla around the scandal, there really wasn't a lot of discussion about why that is, and how Equifax actually makes money. So looking at Begor's braggadocio around the firm's market power is useful. The product Begor told investors about at the Goldman Sachs confab is called The Work Number , which is a business line that bundles data about the incomes of hundreds of millions of people and sells it to interested parties, like lenders, landlords, employers, and government agencies. Payroll and data is by some estimates a $10 billion market , and now brings in a majority of the firm's domestic revenue.

Equifax used to be a firm, which, along with Experian and TransUnion, focused on keeps tabs on all of us and whether we pay our debts. But over the last four years, it has transformed itself into a sort of tax information agency, which sells information about our salary and income to third parties. It's a better business than just credit data, because while three firms have information about whether you pay back your credit card company, only Equifax has complete information about where you work. And a monopoly, as Begor bragged, is better than an oligopoly.

First let's start with why this business exists. Sharing information about where you work and what you make is something we all need to do on occasion. If a bank or auto dealer wants to lend someone money to buy a home or car, they need a verification that the person works where he says he works and makes the income he says he makes. Sometimes a potential employer or landlord needs to check work history, or a public agency needs to ensure someone qualifies for government assistance, or they have to update immigration status.

How do third parties verify this information? Employers don't like it when their HR departments are getting constant requests from lenders about their employees and what they make. And getting this information from the IRS is illegal (or least has been since progressives in the 1920s temporarily had tax returns made public.) So for decades, employers have been sending data on this to brokers, who sell the records to interested parties. Today, the biggest and in some ways only meaningful broker in this space is Equifax. If you are trying to find out someone's work history and income, it's pretty likely Equifax has it, and it's unlikely anyone else does. (Experian is the second player in the market, but they just started their product line in 2021, and as I'll explain, they are far behind.) And we're not just talking about the data the IRS has, we're talking about data on pay for every payroll cycle, your overtime amount, the start and end date for your job, your title, your health care provider , whether you have dental insurance, and if you've ever filed an unemployment claim.

There are network effects in this business; the more data Equifax gets from employers, the more likely it is to be the place lenders and government agencies seek to do income verification. In addition, having lots of data about workers also allows Equifax to build services for firms, such as managing unemployment compensation. When a firm lays off a worker, that worker is supposed to have rights to unemployment compensation, which the firm has to pay for. But if that employee was fired for cause, or quit, then that worker isn't entitled to unemployment payments, and the firm is off the hook. There are lots of grey areas here, it's a quasi-legal setup between the state, the business, and the employee. Managing this process, along with appeals, is also something Equifax does, as it's a natural extension of its data business.

Because of this extensive warehouse of data and set of services, firms and agencies then integrate themselves into the Work Number. So one could argue this business has natural barriers to entry. But the story here isn't just one of scale efficiencies. The Work Number is a legacy business, started decades ago. With the internet, however, there's no technical reason for a centralized repository of employment and verification data, or at least not the way it's set up today. It's quite possible to set up a system allowing any verifier to ask the individual for his or her records. But that would cut against Equifax's business model, which involves not only taking your data without you knowing about it and selling it, but also, crucially, preventing any other third party from innovating to build a more privacy-safe version of the same service.

Indeed, the story here is monopolization. Fifteen years ago, Equifax had already run into the Federal Trade commission, not for privacy violations, but for antitrust violations. Only, because its income verification business was a sideshow to its main credit reporting revenue line, people didn't really notice. Today, however, Equifax is now a monopoly income verifier with a side credit information business.

The original Work Number product came from a company called TALX Corporation, which was founded in the 1970s and that Equifax bought in 2007. From 2002-2005, TALX had bought up seven rivals, consolidating the verification of income and employment business. Immediately after this acquisition spree, TALX raised prices and forced customers to move from buying annually to signing long-term multi-year contracts. Additionally, TALX had non-competes and non-solicitation agreements with its employees, which further locked up the market.

In 2008, the Bush administration FTC sued Equifax over acquisitions and unfair methods of competition. It was a creative complaint , with the Chair of the commission - Bill Kovacic - looking skeptically at a series of small acquisitions, instead of one big one. But the FTC didn't seek to undo any of the mergers. Instead, it signed a consent decree forcing TALX, now Equifax, to let customers out of long-term contracts and employees out of non-compete agreements. These consent decree obligations ended in 2017. Ultimately, this FTC action, because it didn't require a break-up, didn't restore competition in the market, allowing Equifax to fortify its monopoly. Equifax's TALX subsidiary was even caught for violating of the Fair Credit Reporting Act just two years later . And the company is still a merger machine, purchasing small and large firms nearly every year. For instance, just in 2021, it made $3 billion in acquisitions, buying HIREtech and i2Verify.

After the consent decree ended, the exclusive arrangements came back. ADP, Intuit, Paycor, PrismHR, Rippling, and many other providers of outsourced payroll services have deals with Equifax to turn over or sell records (UPDATE: I heard from someone in the industry that Rippling sells to Equifax, but Rippling has a deal with a smaller more privacy-sensitive broker, True Work). So do large companies. In 2017, Joel Winston at Fast Company reported that ''75% of the Fortune 500 companies, 85% of the federal government workforce, entire state governments and agencies, courts, colleges, and thousands of small businesses nationwide'' handed over data. Facebook, Amazon, Oracle, Google, Wal-Mart, Twitter, AT&T, Harvard Law School, and the Commonwealth of Pennsylvania do too. The number of entities handing over this data has only gone up since then.

And Equifax pays many of these entities for their employee data, turning human resources into a revenue generator. Of course, the employees don't know their own data is being sold by their employer, and even small businesses who use payroll services like ADP don't realize their data is being sold. (Small businesses can opt-out, but they have to tell their payroll provider.)

The net effect of these arrangements is that smaller players in the market, such as ExperianVerify, Truework, Thomas & Company, and Certree, simply cannot get the data that Equifax has. They are boxed out. If you are doing income verification, and you put someone's Social Security number into Equifax, you have a 50-70% chance of getting a successful conversion. For other brokers, it's much lower. There isn't so much a market for employer/income verification information, there's a market for information about each specific person. To a lender, it doesn't matter if a rival to Equifax has information on 30% of the country, it matters if that rival has information on the individual to whom they are considering loaning money. If they don't, you have to use Equifax.

On the other side, Equifax has also erected barriers to entry. If you are a frequent buyer of income and employment data, Equifax sometimes offers a loyalty discount if you move all your business to the Work Number. One background check provider, SwiftCheck, explained Equifax offered that ''if our organization performs The Work Number Verification on every employment verification, a discount is offered.'' This is a classic loyalty discount , what looks like an unlawful mechanism to exclude competitors.

So that's how Equifax establishes its market power, by blocking rivals from getting data and by locking in customers of that data. And we can see this market power at work in the pricing, as their CEO noted in December. Equifax has been raising prices substantially for years. How much? Well like an airline or any firm with market power, Equifax doesn't just have one price. It can engage in price discrimination depending on the willingness to pay. But the price hikes that are public, are extreme. In 2017, the price for a record was $20, in 2020 it was $41.95 . Today, it lists its price as $54.95 for a record of where you currently work, and potentially up to $200 for records with more historical information. And it'll keep going up.

Consumers pay for this cost in ways they don't see. When you get a loan or rent an apartment, the lender or landlord has to pay Equifax's toll, and will include that extra cost in the price of your loan or rent. But more than just higher prices, Equifax's database is powerful. The Work Number can, according to the government , help determine ''an applicant's social service eligibility'' or ''inform child support collections and enforcement.''

There are often errors, and getting your own data from Equifax can be difficult if not maddening. Just read this thread of frustrated consumers trying to do so, and often encountering mistakes in the process. And as we know, Equifax is prone to hacking. People don't know that their employment data is being sold to Equifax, and they tend to be upset when they find out. Google workers were outraged about it, which is ironic. It's also prone to abuse; Apple told the Work Number that every worker who left was automatically given the title ''associate,'' regardless of whether they were a top engineer. According to one former Apple worker, this error ''delayed the hiring process at a prospective employer by nearly a week, during which time the company rescinded the offer.'' I don't tend to focus on privacy, but though Equifax claims there are controls on who can buy this information, security researcher Brian Krebs noted in 2017, that it's easy for pretty much anyone to learn your salary. These flaws are all quality harms, standard for any monopolist who isn't subject to competition.

The Work Number is so important that Equifax is engaged in the work that should be reserved to a government. Generally speaking, people would get really upset if the IRS shared our tax information for a fee. Effectively, Equifax is doing that, because for most people, employment and income is our tax information. But since it's a private monopoly, the anti-government types don't notice or care. At the height of the Great Recession in 2010, Equifax's TALX division was processing 30% of the unemployment claims in the country. Though originally intended to automate the process, what Equifax ended up doing was automating the refusal to pay out unemployment claims. It systemically denied applications regardless of merit so its clients - employers - would have to pay less in unemployment taxes. And this goal is on the firm's investment documents , which uses the anodyne wording of ''reduce the cost of unemployment claims through effective claims representation'' to describe the service it provides to employers who give it data.

It's perhaps no exaggeration to note that Equifax is a quasi-governmental agency, a monopoly provider of evidence that you work, where you work, and what you make. If there's an error, or if someone lies about you, too bad. If Equifax itself is paid to harm you, too bad. If a government agency gets the wrong data and denies you assistance or screws up your immigration status, that's on you, well, you have limited to no rights in this situation. In some ways, you might have more to fear from Equifax than the IRS.

As is always the case, most things created by people can be unmade by people. And so too with Equifax. I learned about the Work Number from a contact on Wall Street who pays attention to monopolies. He told me the Work Number is one of the purest examples of market power he's seen, which of course, the CEO of Equifax helpfully confirmed in public. I've also talked to a number of people in the industry trying to compete in the payroll data space. Two firms - Certree and Argyle - recently sent letters to the Federal Trade Commission asking for an investigation into this market, pointing at the abuse of consumers by Equifax (and to a lesser extent Experian).

The strategies for each small rival are different, but both give the consumer control over who can access their data, instead of building a giant centralized repository controlled by a monopolist. Certree gives each employee a 'personal vault' where his or her data resides. While they verify that the data came from an employer, only the employee can give permission for a third party to look at what's inside - even Certree can't see it. Certree is paid when a lender or third party successfully verifies an employment or income record.

Argyle has a totally different model. It isn't even a data broker, but a 'data transfer agent.' It lets third parties ask consumers about their income and employment information by sending them a link, and then gets consumers to give them their passwords for their employment information. Argyle doesn't keep any data on hand, but is controversial because it engages in screen-scraping of your employer's website, which can be a security risk. And yet it is weird to think it's problematic for employees to take their own data from their employer, but fine for employers to sell that data to Equifax.

Both Certree and Argyle charge much less than Equifax for their service.

Regardless, the overall point is that having a centralized data broker that has a quasi-monopoly over income and verification data, and sits largely unregulated, is ridiculous. Breaking up Equifax's monopoly wouldn't be that hard, at least conceptually. Many of the practices that it engages in today are things the FTC banned in its old consent decree with the firm. And it's obvious that Equifax is immune to competitive forces. Despite the price hikes and devastating and routine news stories about hacks, errors and problems, as well as public polling showing increasing concerns over privacy, Equifax marches on, unbothered and unchastened. That's the classic monopoly position, a recognition that there is no alternative.

Beyond the monopoly problem, however, why not have a system where individuals control their own data? Prior to the internet this would have been impossible, but today it's quite doable. Giving individual control over their data would probably require both antitrust law and an aggressive reading of the Consumer Financial Protection Bureau's authority over Credit Reporting Agencies, or a new Congressional statute for ownership and control of employment data.

Regardless, I'd like to thank Equifax CEO Mark Begor for bragging last month about his firm's market power. Without that, I never would have taken the time to learn why Equifax can act as a private IRS, put out a middle finger to each one of us, and collect our money regardless.

Thanks for reading! Your tips make this newsletter what it is, so please send me tips on weird monopolies, stories I've missed, or other thoughts. And if you liked this issue of BIG, you can sign up here for more issues, a newsletter on how to restore fair commerce, innovation and democracy. And consider becoming a paying subscriber to support this work, or if you are a paying subscriber, giving a gift subscription to a friend, colleague, or family member.

cheers,

Matt Stoller

P.S. I got this note from a reader on Angi's List. I thought it raised an interesting point on how mergers and monopolization can affect workers.

Hey Matt:

We hear a lot about the different gig economy apps and their market pressures and what that does to their workers, but I've never heard Angie's List (now Angi) discussed deeply and it really needs to be, especially given their moves the last few months.

My friend used to do a lot of contractor/handyman work under the Handy app. It wasn't great, but it did the job. Customers should really not be allowed to do things like set their own pricing and hours for jobs, as they do not at all understand basic things about what they're asking for or what equipment or how long it'll take and frequently understate, underdescribe, or completely lie about the issue on the job description, so they'll frequently get upset and report things like no-shows for totally complete jobs. On Handy, there was a painful but working way to dispute these customer claims and recoup the payment.

Now that Angi has bought Handy, there is no game in town but Angi. And wouldn't you know, now that there's no option for workers, they simply don't bother with any reporting or correction scheme. If a customer reports a no-show, the contractor is changed a significant fee in the hundreds of dollars, all their work is automatically and instantly cancelled for three days, and there is absolutely no recourse. My friend takes photo evidence of every single job they complete. It doesn't matter, there's no place to send them. There was with Handy.

Angi is so shoddy and careless that their app even allows customers to cancel jobs from days in the past as if they were future jobs, and all pay is immediately retracted for the work with no consequence for the customer. In general, the atmosphere is that customers are allowed to behave however they want and Angi's will support them unquestionably. Let's not even talk about the customer assaults.

This, of course, is compounded by the aggressive arbitration clauses in the worker contract preventing any of their workers from suing Angi for more or less any reason in any court.

Please raise a light to this one if you can.

British Parking Association: Weight of electric cars causes collapse of parking garages | Climate Depot

Wed, 25 Jan 2023 18:36

Report: An electric car sometimes weighs as much as 500 pounds more than a similar model with a traditional powertrain. This can create dangerous situations, according to the British Parking Association. ... Chris Whapples, structural engineer and member of the BPA: ''When you see the weight of electric cars coming out of the factory, you begin to wonder if the existing standards are adequate. We haven't had an incident yet, but I suspect it's only a matter of time. We encourage owners of older parking garages to check.''

By: Marc Morano - Climate Depot January 19, 2023 8:54 AM

I've missed the old ritual headlines reporting SUVs doing so many awful things. Will we get headlines about how electric vehicles destroyed parking garage after parking garage or'...will those just collapse pic.twitter.com/te0jOrNtu3

'-- Chris Horner (@Chris_C_Horner) January 10, 2023

https://all-car-news.com/en/british-parking-association-weight-of-electric-cars-causes-collapse-of-parking-garages/

Dangerous situations

Electric cars do not have a heavy gasoline or diesel engine ''under the hood,'' but a compact, lightweight electric motor. But because of a hefty battery pack, EVs are often bulky. An electric car sometimes weighs as much as 500 pounds more than a similar model with a traditional powertrain. This can create dangerous situations, according to the British Parking Association.

Indeed, according to the British Parking Association, there are some 6,000 multi-story parking garages in the United Kingdom, most of which were built to guidelines based on the weight of popular cars from the 1970s. What was the most popular model in the United Kingdom at the time? A Ford Cortina Mk 3.

Electric cars heavy

The differences between modern cars and the Ford Cortina of old are huge. The Cortina is a likeable but slow bolide, which, moreover, would not yet achieve a 1-star in a Euro NCAP crash test. But it is not heavy, and modern cars are. An average EV '' such as a Tesla Model 3 (1,819 kg) '' weighs almost twice as much as a Cortina (960 kg). Cars with regular powertrains have also gained considerably. A new Volkswagen Golf easily weighs 1,400 kilograms. Moreover, more and more people are opting for a large, heavy SUV. So it's not just electric cars that the BPA should be concerned about.

Chris Whapples, structural engineer and member of the BPA: ''When you see the weight of electric cars coming out of the factory, you begin to wonder if the existing standards are adequate. We haven't had an incident yet, but I suspect it's only a matter of time. We encourage owners of older parking garages to check.''

UN pushes for troop deployment in Haiti '-- RT World News

Wed, 25 Jan 2023 18:23

Washington has shown little interest in a security mission to quell violent unrest in the Caribbean nation

The United Nations has called for an international military deployment in Haiti, insisting a foreign troop presence is needed to maintain order and curb rampant gang violence. The country has seen significant unrest since the assassination of President Jovenel Moise in 2021, including a major spike in violent crime.

Addressing the UN Security Council on Tuesday, UN special envoy to Haiti Helen La Lime warned that gang-related violence has ''reached levels not seen in decades,'' saying that while Haiti has made some positive steps in recent months, those gains ''remain fragile and vulnerable to being reversed'' without foreign intervention.

''Haitians overwhelmingly want this assistance so they can go about their daily lives in peace. The population is living in fear and are all too conscious of the limitations of the police force,'' she added.

Haitian Prime Minister Ariel Henry first proposed a security mission last October, calling for ''the immediate deployment of a specialized armed force'' to take on ''armed gangs.'' At the time, criminal groups were helping to stage chaotic protests which effectively shut down some of Haiti's main ports, driving shortages in key goods such as water and fuel. UN Secretary General Antonio Guterres later echoed the government's appeal, though it appears to have fallen on deaf ears.

While Washington recently agreed to sell a number of armored vehicles to the Haitian National Police to ''counter gang violence and re-establish stability,'' and has itself suggested a ''limited'' troop deployment, President Joe Biden has been reluctant to take that step.

During Tuesday's Security Council meeting, the US deputy envoy to the UN, Robert Wood, acknowledged that ''Haiti must address its continued insecurity challenges,'' but stopped short of endorsing a security mission. Instead, he said Washington would recommend UN sanctions for ''additional targets involved in the unrest in Haiti,'' which would build on an earlier round of penalties imposed last October.

In addition to a surge in gang activity, Haiti is also in the grip of a major political crisis in the wake of President Moise's assassination in July 2021. The terms of all elected representatives have expired as of January 9, and there is currently no confirmed date for the next elections.

Under a plan signed by a number of influential political and business leaders last December, the government will aim to organize the next election sometime before February 2024. However, Haiti's UN Ambassador Antonio Rodrigue warned the plan may be moot without help from outside powers, saying a foreign deployment is ''an imperative right now.''

''Without security, we cannot have fair, transparent and democratic elections nor can we restore the normal functioning of institutions in the country,'' he said. ''If we overcome the gangs, we will restore order and peace'... We cannot wait, and the security situation could worsen any day.''

Layoffs Could Signal Shift for Spotify's Podcast Ambitions - Podcast Business Journal

Wed, 25 Jan 2023 17:32

At a presentation to investors last year, Spotify executives suggested the key to the company's growth '-- customers, financial and otherwise '-- rested on the build-out of its podcast and audiobook products.

But a recent announcement by the streaming media company that it would lay off around 600 workers '-- or about 6% of its headcount '-- has some analysts suggesting Spotify might have to change directions with respect to its podcast business.

One executive departing Spotify is Dawn Ostroff, the company's chief content officer who oversaw its acquisition of several podcast-related products, including Gimlet Media, The Ringer, The Joe Rogan Experience, Chartable and Podsights.

While Spotify has become one of the biggest podcast platforms in the United States by install and active users, the company's outsized spending on content and technology has dragged on its profits, according to a new report by Billboard. One reason: While podcasts and audiobooks are generating revenue, a lot of that money is paid to music labels to support the service's tens of millions of music tracks, which are the cornerstone of Spotify both domestically and internationally.

''The revenues have done well, but there's not a lot of cash flow,'' Jason Bazinet, an analyst with Citigroup, told Billboard. ''A lot gets paid back to the labels.''

Even Spotify's own chief executive, Daniel Ek, has come around to the idea that the company spent too much, too fast to build up its non-music businesses. That is especially problematic given global ad spend against media products has seen a decline over the last few financial quarters, an issue that has also impacted radio and television broadcasters and print media.

''I hoped to sustain the strong tailwinds from the pandemic and believed that our broad global business and lower risk to the impact of a slowdown in ads would insulate us,'' Ek wrote in a note on Monday. ''In hindsight, I was too ambitious in investing ahead of our revenue growth.''

A studio at Spotify's Los Angeles office used for podcast production. (Photo by Brad Devins, Spotify handout)Other companies have taken a more measured approach in building out their podcast business. Speaking at the Needham Growth Conference earlier this month, LiveOne Chairman and CEO Robert Ellin said he was still bullish on the future of the podcast industry and believed there were more opportunities for customer and revenue growth, but said he would not spend money on production companies or individual shows simply to bring them into his podcast network, PodcastOne.

''We don't buy content like that,'' Ellin said. ''You won't see us landing Joe Rogan. That's not going to happen'...you're going to have Spotify and Apple get that, and everyone below them is going to get lost. There was this massive roll-up, and it was a fast-growing industry, but it's only going to be a $1.6 billion industry this year, and in five years, it'll be at $7 billion or $8 billion.''

Ellin said the real opportunities lies in taking podcasts with sizable audiences, and branching out into new opportunities like live shows and TV and film deals. He said content acquisitions will be made along the same lines as the plot to the 2011 film Moneyball '-- let the number and the data guide the decisions.

''If we're going to buy [a podcast], it's going to have 30% margins; if not, go to Spotify,'' Ellin said. ''What's happening now is, everybody's spent their money, and now they're trying to figure out what to do'...[big podcasts have] moved over to Spotify and Apple, and nobody's watching over them, they don't have producers, they don't have PR, they don't have marketing '-- they just have this grandiose, big platform with big traffic.''

Ellin's comments were made more than a week before Spotify announced the layoffs, but even before Needham, there were already indications that Spotify was slowing down its podcast business: A report by Bloomberg News said Spotify had frozen its budget for new domestic podcasts for 2023, and pulled nearly a dozen original titles from its platform rather than re-upping those licenses.

Still, Ellin believes there's room for all players in the space to grow, but with a bit more restraint.

''I think [podcasts are] a big opportunity for us, and for us to grow with Spotify and Apple, there's a lot of exciting stuff in there,'' he said.

Justice Department sues Google over dominance in online advertising

Wed, 25 Jan 2023 17:28

(C) David Paul Morris/Bloomberg Signage at the Google headquarters in Mountain View, California, U.S., on Thursday, Jan. 27, 2022. Alphabet Inc. is expected to release earnings figures on February 1. Photographer: David Paul Morris/Bloomberg The Justice Department and eight state attorneys general on Tuesday brought an antitrust lawsuit against Google, setting up a high-stakes test of the Biden administration's commitment to dismantling concentration in Silicon Valley.

The lawsuit, the second federal case pending against the search giant, alleges that the company's core ad business should be broken up because Google allegedly used its dominant position in the online ad industry to box out competitors. By neutralizing rivals and forcing publishers to use its products, Google was able to dictate the rules of the marketplace for online ads, the lawsuit says.

The action poses a significant financial threat to the company, which has been slashing jobs during a pullback in advertising. The suit seeks to force Google to sell off much of its advertising technology products, which enable the buying, selling and placement of ads across Google Search, YouTube and millions of other websites. The company's advertising network brought in $7.9 billion for the company in the third quarter of 2022, about the same as all of Google's revenue from YouTube.

Read the DOJ's new antitrust lawsuit against Google The lawsuit marks the Justice Department's first antitrust suit against a tech giant during the Biden administration, as a growing push to rein in the power of tech giants flounders. President Biden's decision to tap industry critics as top antitrust enforcers was widely viewed as the dawn of a Washington reckoning for Big Tech, but the last Congress did not pass new laws reining in Silicon Valley's power. Antitrust cases also take years to move through the courts, setting up a race against the clock for the administration.

Justice Department officials described this ''historic'' lawsuit as reflective of their overall strategy to more aggressively enforce the country's antitrust laws. Associate Attorney General Vanita Gupta said that the Google lawsuit was filed in pursuit of ''economic justice'' and that the company's digital advertising practices gobbled up publishers' revenue for its own profit.

''Those actions have weakened the free and open internet and increased advertising costs for businesses and for the United States government, including for our military,'' Gupta said.

The eight state attorneys general who joined the lawsuit represent California, Colorado, Connecticut, New Jersey, New York, Rhode Island, Tennessee and Virginia.

The suit alleges that Google engaged in a ''systematic campaign'' to gain a grip on the high-tech tools that publishers, advertisers and brokers use to buy and sell digital advertising.

''Having inserted itself into all aspects of the digital advertising marketplace, Google has used anticompetitive, exclusionary, and unlawful means to eliminate or severely diminish any threat to its dominance over digital advertising technologies,'' the lawsuit says.

Google has used its control over the ad market to harm its rivals, resulting in a ''broken'' advertising market in which website creators earn less and advertisers pay more, the Justice Department says. This also affects consumers because when publishers make less money from advertising, they have to charge people through subscriptions, paywalls and other forms of monetization, the lawsuit claims.

The suit adds to Google's mounting legal challenges; the company is already fending off a separate federal antitrust lawsuit that was filed in the fall of 2020 during the Trump administration. That suit, which is focused on Google's search results, is scheduled to go to trial this year. Google also faces multiple antitrust lawsuits led by state attorneys general. Ten states led by Texas Attorney General Ken Paxton (R) brought a separate 2020 lawsuit against Google focused on its ad business, which also alleges that the company has unfair advantages in online advertising. Discovery in that case isn't expected to be completed until June 2024.

The federal government has been investigating alleged monopoly behavior by Google and other tech giants for years as the industry amassed more power and influence. A sweeping 16-month investigation conducted by the House's top antitrust panel concluded in 2020 that Amazon, Apple, Facebook and Google engaged in anticompetitive, monopoly-style tactics to become leading tech giants. (Amazon founder Jeff Bezos owns The Washington Post.)

Google antitrust case centers on consumer choice and how rivals get boxed out In a blog post, Google's vice president of global ads, Dan Taylor, accused the Justice Department of attempting ''to pick winners and losers in the highly competitive advertising technology sector'' and took aim at the Biden administration for bringing the suit during broader economic uncertainty.

''Antitrust cases shouldn't penalize companies that offer popular, efficient services, particularly in difficult economic times,'' Taylor wrote. ''And they shouldn't force companies to reverse 15-year-old investments that they have nurtured and worked hard to make successful, especially when those investments were already reviewed by regulators and allowed to proceed.''

Google has long contended that it is simply one of many players in a hypercompetitive market. Advertising technology does have a dizzying number of competing companies, all fighting over different parts of the complicated transactions necessary to keep the digital ad ecosystem working. But Google competes at more levels of that system than any other company, and competitors have accused it for years of bundling together its products or giving incentives for customers to use multiple Google tools at the expense of other companies.

Google has said customers are free to use other products if they want. Yet the complaint seeks to use comments from Google's own employees to show the opposite. It quoted one of the company's digital advertising executives questioning the company's grip over the ad industry.

''Is there a deeper issue with us owning the platform, the exchange, and a huge network? The analogy would be if Goldman or Citibank owned the NYSE,'' the executive said, according to the complaint.

The complaint also includes a quote from another Google executive saying switching ad publishing tools ''is a nightmare'' for advertisers that ''takes an act of God.'' Another Google manager said the company's goal should be ''all or nothing '-- use [Google's ad exchange] or don't get access to our [advertiser] demand.''

Publishers and Google's tech rivals applauded the Justice Department's decision to bring the lawsuit. Publishers have seen decreased revenue because of Google's dominance in the digital ad market, said Danielle Coffey, the executive vice president and general counsel of the News Media Alliance, a trade association representing newspapers, including The Washington Post.

''The lawsuit underscores the harm and the reduced revenue that we've received from digital advertising, which we rely on to be able to fund and invest in long-term investigative journalism, [reporting on] current events, and reporting on town halls and school boards and everything that we do in neighborhoods that you need investment for in order to produce that content,'' she said.

Biden has signaled his intention to take on Big Tech's power, in part by appointing tech critics Lina Khan and Jonathan Kanter as head of the Federal Trade Commission and chief of the Justice Department's antitrust division, respectively. Under Khan, the FTC has been increasingly active in challenging mergers in the tech industry. The agency last month brought a challenge against Microsoft's acquisition of game developer Activision, and it also argued in a California courtroom against Meta's acquisition of a virtual reality start-up.

The Justice Department, under Attorney General Merrick Garland, had several antitrust losses in its first years but more recently has notched a string of high-profile victories, including a court ruling that blocked the merger of two powerhouse book publishers.

Yet antitrust enforcers continue to face an uphill battle in a court system that has taken an increasingly narrow view of competition law.

After a string of losses, Justice Dept. notches antitrust victories Herbert Hovenkamp, an antitrust professor at the University of Pennsylvania Law School, said it's possible that Google would eventually have to divest some of its business, but he noted that it hasn't always been easy for the government to get courts to order divestitures.

''There's a lot of head winds here, including a fairly conservative judiciary, so we'll just have to see what happens,'' he said.

If the government is successful in forcing Google to divest its ad business, the resulting company would still dominate the space, said Terence Kawaja, founder of Luma Partners, a strategic advisory firm focused on the marketing technology industry. It would probably have to go public as a stand-alone firm because no other ad tech company would be big enough to buy it, he said.

''If you spun it off, it'd be a $300 billion behemoth,'' Kawaja said.

De Vynck reported from San Francisco. Naomi Nix contributed to this report.

They knew: why didn't the unvaccinated do more to warn us? - IQfy

Wed, 25 Jan 2023 16:37

As the world struggles to come to terms with the devastating effects of the COVID-19 pandemic, one question that continues to surface is why the unvaccinated didn't do more to warn us about the potential dangers of being injected.

While well intending citizens lined up, did the right thing, and received their COVID19 vaccinations -- now seeming to do more harm than good -- their unvaccinated friends stood by and let them do it. Some of them said too little. Some said nothing at all.

Even though they knew what we didn't.

Our blood is now on their hands.

Those are strong words. But the unvaccinated had access to important information about the potential side effects of vaccines. They knew about the risks of severe allergic reactions, blood clots, and other serious health complications. They knew that vaccines did not immunize us. They knew it wasn't effective, and that they can cause more harm than good.

They knew all of that, but instead of warning us, the unvaccinated chose to remain silent. They chose to look the other way and not speak out about the potential dangers of vaccines. They let millions of good folks who did the right thing (at the time) fall to death and disease, and many antivaxxers even gloated online about how their coin flip had been the right bet. The more diabolical even urged folks they disagree with to "get boosted."

It has become all too clear. The silence of the unvaccinated was a dangerous, sociopathic, and irresponsible decision that has had serious consequences for those of us who received the vaccinations.

And silence is, after all, consent.

Related: How do we prevent discrimination against the vaccinated?

It is time for the unvaccinated to take responsibility for their actions and to work with the rest of us to find a solution to this crisis. We cannot afford to let their selfishness and lack of action continue to harm our communities. It is time for the unvaccinated to step up and do the right thing.

The unvaccinated should by any moral measuring stick have done more to warn about the potential risks -- to help us make informed decisions about our health. And they must now ask us for our forgiveness.

And, hand to heart, we may just give it to them.

Because we are good people. We took those injections because it was the right thing to do -- until it wasn't.

Ukraine Fires Officials Amid Corruption Scandal, as Allies Watch Closely - The New York Times

Wed, 25 Jan 2023 16:31

As it fights Russia's invasion, Ukraine depends for its survival on aid from Western nations, which have concerns about endemic graft and how the money is used.

Send any friend a story

As a subscriber, you have 10 gift articles to give each month. Anyone can read what you share.

President Volodymyr Zelensky in June with the deputy head of his presidential office, Kyrylo Tymoshenko, in the blue jacket, who resigned on Tuesday after criticism of his personal use of a donated SUV. Credit... Ukrainian Presidential Press Office KYIV, Ukraine '-- Several top Ukrainian officials were fired on Tuesday amid a ballooning corruption scandal, in the biggest upheaval in President Volodymyr Zelensky's government since Russia's invasion began 11 months ago.

Ukraine's cabinet ministry, which announced the firings, provided no reasons for them, but they followed a number of allegations of government corruption '-- including reports that Ukraine's military had agreed to pay inflated prices for food meant for its troops '-- and vows by Mr. Zelensky to root it out.

The shake-up came as Ukraine is lobbying hard for Western countries to provide advanced weaponry like tanks. The German publication Der Spiegel and other news outlets reported on Tuesday that Chancellor Olaf Scholz of Germany had agreed, after months of resisting, to supply the coveted Leopard 2 tank to Ukraine, possibly in conjunction with the United States sending its M1 Abrams tank. The reports could not be independently confirmed.

But on Tuesday, American officials said that the Biden administration planned to provide Ukraine with Abrams tanks for the first time. The Pentagon also announced a sixfold increase in production of heavy artillery shells to meet the demand in Ukraine.

As the war nears the one-year mark, no issue is more critical for Ukraine's continued survival than the flow of military aid from the United States and other Western allies '-- so far about $40 billion worth of weapons and other gear. Republicans in the U.S. Congress have called for an audit of how the aid is used, and some have said it is excessive and should be restricted.

Image M1 Abrams tanks at Fort Carson in Colorado Springs, Colo. Credit... Christian Murcock/The Gazette, via Associated Press Even a whiff of corruption could be enough to slow what has been essentially an open spigot of arms, and billions more in humanitarian support and financial aid. Few are more sensitive to this than Mr. Zelensky, who appears almost daily on video calls with foreign leaders and legislatures dressed in a drab green military shirt, always asking for the same thing: more weapons.

Russia is gearing up for a new offensive expected in the spring or earlier, and the Ukrainians say they need hundreds of tanks and other armored vehicles to counter Moscow's forces and launch their own offensives to drive Russians from occupied territory.

There was no sign that the Ukrainian army's food procurement scandal involved the misappropriation of Western military assistance, or would affect Ukraine's ability to fight the Russian invasion. But the removal of the officials, coming amid almost daily pleas from Ukraine for more Western support, suggested an effort by Mr. Zelensky to clean house and try to reassure Ukraine's allies that his government would show zero tolerance for graft, or even lesser misbehavior.

A deputy defense minister was among those removed from their posts on Tuesday, as was a deputy prosecutor general who caused a furor by taking a wartime vacation to Spain with his family. A senior official in Mr. Zelensky's office tendered his resignation after coming under withering criticism for zipping around in an SUV that General Motors had donated for humanitarian missions.

Image Viacheslav Shapovalov, a deputy minister of defense, was relieved of his duties on Tuesday. Credit... Ukrainian Defense Ministry Press Office, via Associated Press The Biden administration is ''not aware that any U.S. assistance was involved'' in the corruption allegations, the State Department spokesman, Ned Price, told reporters on Tuesday. ''We take extraordinarily seriously our responsibility to ensure appropriate oversight of all forms of U.S. assistance that we're delivering to Ukraine,'' he added.

In recent days Mr. Zelensky had alluded to the corruption investigations and a coming shake-up in his government. In his nightly address on Sunday, after the authorities detained a deputy infrastructure minister, the president said he hoped that punishment would be taken as a ''signal to all those whose actions or behavior violate the principle of justice,'' and added: ''There will be no return to what used to be in the past.''

The corruption allegations have also unsettled many Ukrainians, for whom any hint that top officials might be undermining the country's collective struggle against Russia for their own gain is galling, especially if the corruption involves the military.

Over the weekend, a Ukrainian newspaper reported that the Ministry of Defense had purchased food at inflated prices, including eggs at three times their cost. Defense Minister Oleksii Reznikov called the allegations ''absolute nonsense'' and the product of ''distorted information.''

But on Tuesday, Ukraine's Ministry of Defense said that Viacheslav Shapovalov, a deputy minister, had ''asked to be fired'' following the reports. The ministry said in a statement that while the accusations ''are unfounded and baseless,'' relieving Mr. Shapovalov of his duties would ''preserve the trust'' of Ukrainians and the country's international partners.

In its statement on Tuesday, the ministry emphasized that the ''voiced accusations are unfounded and baseless,'' but called Mr. Shapovalov's request for dismissal ''a worthy act in the traditions of European and democratic politics, a demonstration that the interests of defense are higher than any cabinets or chairs.''

Still, that it took three days for Mr. Shapovalov to step down raises serious questions about the Ministry of Defense's commitment to rooting out corruption, said Vitaliy Shabunin, the director of operations for the Anti-Corruption Action Center, a Kyiv-based nongovernmental organization.

''A new social contract emerged during the war between civil society, journalists and the government: We will not criticize you like we did before the war, but your reaction to any scandal and ineffectiveness must be as tough as possible,'' Mr. Shabunin said. ''The position of the defense minister has broken this agreement.''

Also among those dismissed on Tuesday were five governors from regions that have at various points seen intense fighting, including Kherson and Zaporizhzhia. The governor of Kyiv was also dismissed but then reassigned to a position within the presidential administration.

Image A damaged Russian tank in the Kherson region of Ukraine on Tuesday. Credit... Nicole Tung for The New York Times Under wartime rules, governors, who occupy appointed positions and serve at the pleasure of the president, act as the primary liaisons between the military and civilian authorities.

The deputy head of Mr. Zelensky's presidential office, Kyrylo Tymoshenko, resigned amid criticism of his use of the donated General Motors SUV. Mr. Tymoshenko was well known domestically and internationally, often tasked with providing updates on the war. But Ukrainian journalists had raised questions about his lavish lifestyle and use of government resources.

Reasons for the recent dismissals, those that are known, vary. The prosecutor general's office announced Tuesday that it had fired a deputy after an outcry erupted over his decision to take a wartime vacation to Spain.

The shake-up began over the weekend, when Ukraine's National Anti-Corruption Bureau detained a deputy infrastructure minister who it said was caught receiving a $400,000 bribe from a company seeking a government contract to provide generators and other equipment.

What all this portends for Mr. Zelensky's government is unclear. Ukraine was struggling to get control over flourishing corruption long before the invasion, and Mr. Zelensky campaigned successfully in 2019 as a political outsider who would clean house. The European Union has made Ukraine's candidacy to join the bloc '-- one of his important long-term goals '-- dependent on overhauls concerning the rule of law, justice and corruption.

With the country now so reliant on its foreign partners, with nearly half its budget consisting of Western aid, any indication of wide-scale financial impropriety could erode confidence among donor nations. From the moment the invasion began, it has been an open question how long Ukraine will be able to rely on largely unfettered western support.

And while support for Ukraine remains high in the United States and Europe, some U.S. officials have begun to express worries about the risk of corruption in postwar reconstruction efforts, while others have voiced concerns that American weapons could be diverted or stolen for resale, though there has been no evidence of this.

Helene Cooper, Cassandra Vinograd, Michael Crowley and Ron DePasquale contributed reporting.

FDA rethinks its strategy on future COVID vaccines

Wed, 25 Jan 2023 16:29

Illustration: Shoshana Gordon/Axios

An FDA advisory panel meeting tomorrow could start a reset of how the U.S. approaches its COVID-19 vaccine strategy.

Driving the news: The agency has sent signs they want to move from the on-the-fly response that's, at times, left the public confused to an annual vaccination schedule that more closely mirrors flu vaccines.

The outside experts first have to decide whether to go to a single shot that will make a person "fully vaccinated." They will also consider the process for determining when it makes sense to update the vaccines against emerging variants, per an FDA briefing document."It signals an idea of thinking for a longer-term horizon," Jason Schwartz, an associate professor at the Yale School of Public Health, who is not on the advisory panel, told Axios.

Yes, but: Experts on the Vaccines and Related Biological Products Advisory Committee, or VRBPAC, have serious questions about the reboot '-- and whether they have sufficient data to support it.

"I'd like to see some data on the effect of dosing interval, at least observational data," Eric Rubin, editor in chief of the New England Journal of Medicine and a committee member, told the New York Times. "And going forward, I'd like to see data collected to try to tell if we're doing the right thing."Previous recommendations may have been less effective by not being focused on high-risk individuals, such as the elderly or those with pre-existing health conditions, committee member Paul Offit, director of the Vaccine Education Center at Children's Hospital of Philadelphia, told Axios. He wants to see data about whether it's necessary for broad booster recommendations."I think by giving a blanket recommendation for everyone over six months of age, we diluted that message," Offit said.The big picture: CDC and FDA officials will present an update on the effectiveness and safety of the original and booster versions of the approved COVID vaccines. Pfizer, Moderna and Novavax will also present data on their shots.

Experts like Peter Hotez, a vaccine researcher at the Baylor College of Medicine, said he's hearing questions from "early adopters" of the boosters. "Hey doc, isn't it time for another booster soon?" Hotez said. "That I would like some clarity around." Between the lines: One of the questions to watch is whether the committee continues backing bivalent booster doses, which are based on the original COVID strain and a later variant '-- or if the shots should only match the latest strain in circulation.

Offit said he's intrigued to see more data on the latter strategy, particularly after data presented by Pfizer last summer indicated it might've induced more protection against Omicron. "Let's break out of that mold and consider it. I'm not saying we should do that, but let's see the data," he said.What to watch: Health experts say they'll also be closely watching any discussion that veers into new vaccine development.

"They're talking about the future of vaccines," Megan Ranney, academic dean at the Brown University School of Public Health, told Axios. "One of my big hopes is this will lead to funding for quicker development of new and improved versions of COVID vaccines. That's really what we need," she said. "These mRNA vaccines were tremendous, their development in record time was unprecedented and we know a lot more about COVID now than we used to. So it's time for us to invest in other things," Ranney said. Hotez, who was involved in the development of the Corbevax vaccine, which is being used outside the U.S., said he'll also be listening for indications the U.S. will consider new vaccine technologies. "It's not clear the mRNA vaccines are holding up that well in terms of the durability of protection," he said.Be smart: No matter what VRBPAC recommends and the FDA ultimately authorizes, officials are still essentially "flying blind," Michael Osterholm, director of the University of Minnesota's Center for Infectious Disease Research and Policy, told Axios.

"We're dealing with a virus that's been throwing 210-mile-per-hour curve balls at us," he said. "People are trying to figure out 'Well, how do we adjust to this virus? We could make this decision today to go with a once-a-year vaccine. But what happens if a new variant emerges in July and suddenly has major changes for the world?"

Lab Leak Op Confirmed - by Brian Mowrey - Unglossed

Wed, 25 Jan 2023 15:58

Summary (click to expand):

On January 10, I reiterated my longstanding appraisal of the Wuhan Institute of Virology, Gain-of-Function ''lab leak'' origin theory:

However, the clear artificial preparation and promotion of the ''lab leak,'' ''GOF'' anti-narrative convinces me that Unz was right about the intentional release [of SARS-CoV-2 by US deep state actors] in of itself .

I am only today discovering that on the same day as I wrote that, it was reported by Will Jones at Daily Sceptic that the artificial, US-intelligence-associated origin of the lab leak theory has been hiding in plain sight for three years.

Jones' report puts the nail in the coffin of the GOF / lab leak origin theory.

The Wuhan Institute of Virology did not make SARS-CoV-2 ; the theory that it did (which originated from Radio Free Asia , a US-intelligence-associated propaganda outfit, on January 9, 2020) was intended from the start as deflection of the theory of a US origin.

This deflection was depicted as retaliatory; but as there was nothing to retaliate against yet , this depiction functions as a confession that the lab leak theory was anticipatory, preemptive:

The Washington Times report [from January 24] indicates at one point it is in response to rumours ''circulating on the Chinese Internet claiming the virus is part of a U.S. conspiracy to spread germ weapons'', citing an unnamed ''U.S. official''.

One ominous sign, said a U.S. official, is that false rumours since the outbreak began several weeks ago have begun circulating on the Chinese Internet claiming the virus is part of a U.S. conspiracy to spread germ weapons.

That could indicate China is preparing propaganda outlets to counter future charges the new virus escaped from one of Wuhan's civilian or defence research laboratories

Why is the report anticipating ''future charges'' of a lab leak '' particularly when it is in the process of making such charges?

This isn't surprising; it's just something no one thought to look for (as far as I know, please correct me in the comments if this was already known).

It isn't surprising because, again, the lab leak narrative has obvious signs of being staged for years in advance in the form of the ridiculous antics of EcoHealth and ''DEFUSE.'' As with last years' Project Veritas document dump, the whole thing has always smelled like an op to distract from intentional release:

Here, again, the spectre is raised that the DEFUSE proposal was designed from the start as a smoke-screen, and that the project never actually took place. The apparent (for now) need to retroactively plant the scare-words ''Gain of Function'' on the project certainly does nothing to purge the whole thing of the odor of a psy-op. It seems designed as fodder for ''the opposition,'' a lightning-rod to distract from The Big I-word. [intentional release]

Jones proceeds to puzzle over why, if it is the case that the US government is the origin of the theory, the US government would later suppress the lab leak theory. In so doing (whereas I never found it very puzzling), he produces an interesting, cogent alternate theory of mind based on epistemic in-fighting, which I will discuss below.

Jones' article is the fourth of an excellent archeological reconstruction of the case for US intelligence foreknowledge of SARS-CoV-2's existence in Wuhan '-- that ''we'' knew about if before China did. The second and third are reported by Unz to stem from collaboration in the wake of the first.

The three installments below are highly recommended reviews of the scant, but damning evidence for US government release of SARS-CoV-2.

'' How Did U.S. Intelligence Spot the Virus in Wuhan Weeks Before China? '' (December 21, 2023.) This is followed-up by discussion of the months-long work of Robert Kadlec, Trump's ''Biosecurity'' Director, in rehearsing a coronavirus pandemic immediately before it occurred, which I haven't read.

'' U.S. Accidentally Proves It Could Not Have Spotted the Virus in China in November 2019. '' (January 1, 2023.)

Thus this Harvard report, intended to show how U.S. intelligence analysts spotted the virus in November 2019 in China even though China itself had not noticed it yet, has ended up inadvertently revealing there was no signal of a respiratory viral outbreak in Wuhan at that time and thus no way that U.S. intelligence analysts could have spotted one.

Naturally, this does nothing to diminish the growing suspicions about how U.S. intelligence came to be following the coronavirus outbreak in Wuhan, and only Wuhan, at a time when no one else, including the Chinese, were even aware of its existence

U.S. Government Identified as Original Source of Lab Leak Theory. What's Really Going On? [linked above] (January 10, 2023.)

Or, see Unz's overview of the series and commentary, '' The Alt-Covid Community Begins Unraveling the Origins of Covid. ''

In his January 10 bombshell, Jones reconstructs the apparent chronology of the pivot from the US floating of the lab leak theory (starting on January 9, 2020) to overt suppression of the same a few months later. It results in a compelling theory of why the pivot occurred (emphasis added; duplicate hyperlinks removed):

The fears of this group of scientists [prominent virologists associated with Gain of Function research, who collectively formed the zoonati to denounce the artificially floated and promoted lab leak theory] about being implicated in the creation of the virus led them to organise a highly effective effort to dismiss and suppress the [artificially floated and promoted] lab origin theory. This intervention greatly complexified the cover story, with the result that the output from the U.S. intelligence community (IC) became confused and inconsistent. In what follows I enumerate the six main interventions of the U.S. intelligence community during the pandemic and suggest what likely lay behind them. They are:

The November 2019 secret intelligence report claiming to show a large respiratory outbreak in Wuhan that was used to brief the U.S. Government, NATO and Israel. Importantly, the alleged evidence for this outbreak has never been produced, and what evidence there is suggests that in reality there was no detectable outbreak in Wuhan in November 2019, meaning the report appears to have been largely a work of fiction.

The January 2020 introduction and promotion of the Chinese lab origin story, as set out above.

The early April 2020 media briefings from unnamed intelligence sources about the November intelligence reports noted in (1) above. These briefings were particularly odd because by that point the main origin story being pushed by official U.S. channels was the wet market theory, which this information contradicted because it implied a large outbreak (an ''out of control'' epidemic and ''cataclysmic event'') well before the wet market outbreak in December.

The late April and early May 2020 public endorsement by the U.S. intelligence community of the wet market natural origin theory . This contradicted both the early April anonymous media briefings in (3) and the lab origin story in (2), while at the same time embarrassing Mike Pompeo and President Trump who were at the time strongly pushing the lab leak theory.

The August 2021 declassified intelligence report on Covid origins, which gave a somewhat mixed picture of how the intelligence community assessed the lab leak theory. What the report was sure to make clear on the first page, however, is that the virus was ''not developed as a biological weapon'' and it was ''not genetically engineered''. The report says that a small number of [intelligence community] elements thought the virus might have escaped from a lab (though as a natural, not engineered, virus); in particular the National Center for Medical Intelligence (NCMI), which was responsible for the November 2019 secret intelligence report and (presumably) the April 2020 anonymous media briefings, endorsed this theory with ''moderate confidence''. Note that by this point the lab leak theory was back in play following the WHO origins investigation in February 2021.

The October 2022 Senate minority report , which for the first time set out the evidence in favour an engineered virus and a lab leak. U.S. biodefence bigwig Robert Kadlec was behind this report and it notably did not mention the November 2019 secret U.S. intelligence report, which appears to have been entirely 'forgotten' (indeed, it has never been officially acknowledged). It also made no reference to the United States' considerable involvement in bat coronavirus research in the years prior to the pandemic. We should also note that the evidence presented in the report of an alleged safety breach at the WIV in November 2019 was all assembled retrospectively '' there is no suggestion that such evidence was known at the time, and the report makes clear that all its information comes from publicly available sources, stating: ''This report has reviewed open source, publicly available information relevant to the origins of the virus.''

So here's what I suggest was really going on with these often curious and clashing IC interventions.

The November 2019 secret intelligence report (1) was intended to forewarn the U.S. Government and its allies of the potential need for epidemic countermeasures given the risk of blowback from the attack. While blowback was probably not expected (after all, SARS and MERS never troubled Europe and America), it was obviously a risk. Note that those responsible for the November 2019 report had to know there wasn't really any evidence of an outbreak in Wuhan at that time, and thus that their report was based on fabrication. This appears to implicate the NCMI, which produced the report, in the attack.

The early April 2020 anonymous media briefings (3) about the November 2019 intelligence report were most likely an attempt by the intelligence community (or, rather, the NCMI) to point out that they did try to warn everyone about the virus and the need to prepare . This would explain why they went ahead with the anonymous briefings despite, by that point, those briefings contradicting the new 'official narrative' that the virus came from the wet market.

The official endorsement by the intelligence community in late April and early May 2020 of the wet market theory (4) would then have occurred because of a switch amongst most of the intelligence community to the narrative created and endorsed by Anthony Fauci, Jeremy Farrar etc. Those in the [intelligence community] not involved in the attack (likely the vast majority) had probably figured out what was going on, i.e., the lab leak theory was a cover story put out by reckless colleagues, and would be very aware of the terrible fallout should the truth become known. Hence also the suppression around this time within the U.S. Government of all Covid origins investigations, which a senior Government official said would only ''open a can of worms.''

The final emphasized comment above is crucial for the theory of mind of whoever decided to release SARS-CoV-2. In April, 2020, ABC News was prompted by insider tips to report that the White House was warned of intelligence awareness of a viral outbreak in Wuhan in the preceding November; but by the time the story aired, the insider tips were contradicted by official comment from the Pentagon (if you haven't already read all the linked articles, Unz's video with Kevin Barrett (rumble.com) replays and reviews the original ABC story).

Readers, because of the implications, might be uncomfortable applying the same standard to the US government that humans have used to litigate who is guilty of crimes for centuries, but it is the tool that serves here. The US government knew there was a viral outbreak because it had caused it.

Given that the ABC story, though it relies on unsubstantiated tips, is near-proof of the US government releasing the virus, one might imagine the belated realization of the same implication seems like a parsimonious theory for why the November briefing was denied the same day. Someone thought to ask, ''Wait '-- Is it really true that we had the capability to detect a viral outbreak in Wuhan second-hand in November; that any evidence for the same actually existed yet?'' (Obviously not, as the virus was spreading elsewhere already and yet there was no awareness claimed of the same.)

The more prosaic cause of the reversal suggested by Jones strikes me as plausible for a simple reason: The US government doesn't care if its war on humanity is obvious.

Therefore, the aborted leak of pre-awareness in November was another reflection of conflicting strategies regarding the Huanan market theory which were already evident at the same time of the story. After all, the Wet Market Origin insists that the virus broke out in December, not before, directly from infected animals to the denizens of a bustling market representing a whopping one-thousandth of 1% of the entire Chinese illicit wildlife farming industry.

It is therefore only an ironic accident that the US government's confession of guilt, in this case, was not more emphatically confirmed.

To re-reiterate my position on the lab leak theory, I have regarded it as an obviously planted ''alt''-narrative; it was meant from the start to not only be promoted but suppressed. The lab leak theory would never have struck skeptics as convincing if it hadn't been.

In support of my theory of the case is the following observation:

Under my paradigm, Wuhan was a stage designed and choreographed for years in advance to foster a great, big distracting ''controversy'' between a WIV and Huanan origin. Thus, the only reason to release the virus in Wuhan in the first place was to seed this controversy; in other words, Wuhan's location in China was secondary to the broader aims.

Jones has assembled a compelling overview of Unz's case that China was the target, not merely a vector for global release, and that Kadlec et al.'s pandemic countermeasures were meant to effect containment, rather than being an end in of themselves. In other words, the orchestrators of this scheme were literal, raging idiots .

They thought containment would work, despite the US not being an island. Why?

They thought the virus wouldn't spread well, despite this being unknowable in advance. Why?

They thought anyone would listen to them in November, facilitating containment. Why?

They didn't feel it necessary to make the link between Wuhan Institute of Virology and SARS-CoV-2 air-tight , despite having set up the frame in advance. Why?

They thought no one else in academia and government would care that the links between Wuhan Institute of Virology and Ecohealth, carefully planted in advance, would be potentially career-ending. Why?

To rephrase 3 and 4, what the Unz-Jones case proposes is that the orchestrators of the virus's release planned to frame elements of the Public Health Apparatus for SARS-CoV-2, but rather than enticement to commit an actual crime (get WIV to create SARS-CoV-2), left partial exoneration on the table (there is no indication WIV was working on a precursor to SARS-CoV-2). It just simply didn't occur to this arm of the intelligence community to expect resistance from the other actors in government they were trying to implicate!

On the other hand, perhaps the problem with my theory '-- that the WIV origin was always meant to be unprovable and therefore suppressible, leading to the construction of a false dichotomy between two fatally flawed theories '-- is the opposite: It implies that the perpetrators weren't raging idiots.

Whether Jones' timeline vindicates Unz's theory (economic attack on China) or the motive of releasing SARS-CoV-2 was always to cause a global lock-down, the lab leak narrative was from the start a deflection from US release.

Unglossed Resource Hub

If you derived value from this post, please drop a few coins in your fact-barista's tip jar.

click button or visit https://ko-fi.com/unglossed

How the Spotify layoffs impact its podcasting business - The Verge

Wed, 25 Jan 2023 15:13

Another week, another round of layoffs. This time, it is Spotify. CEO Daniel Ek informed employees yesterday morning that the company would be cutting 6 percent of its workforce and said he took ''full accountability for the moves that got us here today.'' The most high-profile change is the departure of chief content and advertising officer Dawn Ostroff. And while no additional shows have been cut, advertising and business employees, particularly under Podsights and Chartable, were laid off nearly a year after Spotify acquired both companies.

Plus (and I am fully aware of how incongruous this is, apologies), we have some more announcements for Hot Pod Summit.

After years of podcast acquisitions, Spotify goes lean

Spotify built itself into the biggest force in the podcast industry by sheer force of will (and capital), spending more than $1 billion acquiring studios, publishers, and advertising tech. It has also relied on veteran entertainment executive Dawn Ostroff for the last four years to oversee blockbuster deals that brought hits like Joe Rogan Experience, Call Her Daddy, and Batman Unburied exclusively to the platform. Now, as part of its companywide layoffs, Spotify is turning to consolidation.

Ostroff is out of her own accord, according to Ek's letter. Taking over her content and ads vertical is subscriptions chief Alex Norstrom, who is now chief business officer. Talk content heads Julie McNamara, Max Cutler, and Bill Simmons will report to Norstrom.

''Working together, our podcasting team has revolutionized the space,'' Ostroff said in a company memo yesterday. ''This organization's trajectory has been astonishing, going from practically zero market share and a handful of podcasts, to the leading platform with more than five million podcasts today and a 30x increase in podcast consumption on the platform.''

But (and this is a big but), Norstrom is not a content guy. Going from having someone like Ostroff, with her deep Hollywood roots, to a more typical tech executive like Nostrom is inevitably going to result in a shift in how the business works. Perhaps McNamara, Cutler, and Simmons will have more autonomy '-- or could be hemmed in by a tighter budget.

Aside from Ostroff, the content side has avoided the worst of the cuts this time around. It does not appear that any additional shows have been cut, but that's probably because those teams were hit hard back in October.

''We remain committed to building on our success in podcasting, delivering innovative features for creators, and continuing to invest in O&E podcasts,'' Spotify spokesperson Rosa Oh told Hot Pod.

On the ad and business side, the new layoffs were more deeply felt. Employees that had come to Spotify as part of Podsights and Chartable last year were among the divisions hit by layoffs. The acquisition of those two companies gave Spotify a greater capability of measuring how shows were performing on the platform and put it in a better position to sell ads. And it's working '-- the company grew its ad revenue by 26 percent in the first nine months of 2022 compared to the same period in 2021.

But those acquisitions added more employees in similar roles to those who already worked at Spotify, particularly from its 2020 acquisition of Megaphone. There was ''a lot of repetition in job functions,'' according to one person affected by the layoffs who asked not to be named so they could freely discuss their former employer.

It goes to the larger issue that Spotify still has to find a way to make its many podcast business acquisitions '-- Anchor, Megaphone, Podsights, Chartable '-- work in harmony. According to the same former employee, that has not happened yet: ''They don't have an actual strategy for their podcasts yet. There are all these different tech stacks.''

Another Spotify employee impacted by the cuts felt similarly. ''There was a lot of confusion about how everything was supposed to work together,'' they said, also asking to remain anonymous so they could speak about their former employer.

While the 600 employees who lost their jobs yesterday try to pick up the pieces, the company will have to figure out once more how the leaner organization will work. And while layoffs are always destabilizing, they did not come as a complete shock, either. I am hearing that in the months leading up to the cuts, employees were told to limit business travel to mission-critical events and saw reductions in their meal and fitness stipends. Meanwhile, those who remain will have to make do with the staffing that they have '-- Spotify has removed all of its job postings aside from internships.

Hot Pod Summit adds another exciting guest '-- and a live podcast recording

Hot Pod Summit is coming up next month, and we've got another exciting piece of programming news to share with you all: Conal Byrne, CEO of iHeartMedia's Digital Audio Group, will join us for an in-depth interview with Verge editor-in-chief Nilay Patel. The interview will be a live recording of Decoder, a weekly podcast from The Verge that asks executives, innovators, and policymakers how they make decisions and where their industries are headed. We're excited to be able to host that conversation at Hot Pod Summit and try to answer some big questions on the minds of many across the industry.

If you've received an invitation to Hot Pod Summit, a quick reminder that today is the last day we can guarantee your spot at the conference before we open up slots to additional guests.

And if you'd like to come but aren't already on the list, please fill out our form here by end of day today to let us know you're interested.

Hot Pod Summit is part of work x work's On Air Fest, the premier cultural event for audio creatives and inspired listeners. This year's creative festival is being held February 23rd''25th at Wythe Hotel in Brooklyn, featuring Audie Cornish, Kara Swisher, Talib Kweli, Krista Tippett, John Cameron Mitchell, Craig Finn, Kevin Morby, and special sessions with Audible, Paramount, Topic Studios, Simplecast, Stitcher, Pushkin and Vox Media Podcast Network, and more. You can learn more and buy single and two-day tickets at www.onairfest.com. Plus, On Air is hosting the first-ever podcast fan experience with exhibitions and immersive rooms by Radiolab, On Being, My Favorite Murder, and more. The Podcast Experience runs all day February 23rd''26th. Tickets at www.experiencepodcasts.com

That's all for now. I will be out next week, so you will be hearing from Jake.

Swift Ends Cryptocurrency Access to Global Marketplace | Armstrong Economics

Tue, 24 Jan 2023 14:41

SWIFT will no longer process currency transactions from bank accounts to crypto exchange, with a value of fewer than 100,000 USD, effective February 1st, 2023. The move is designed to reduce the access of crypto investors which is a step toward what I have been warning that governments will NOT allow private cryptos to compete. Governments have controlled official money and they have prosecuted those who dare to counterfeit their currencies. Even the Byzantine Empire would wage war to stop another from even imitating their currency.

This is a move that is to open the door for government digital currencies and to gradually reduce the private crypto marketplace. Imposing a $100,000 limitation will greatly reduce the ability to gather smaller investors. This will be interesting if January proves to be just a reaction high.

Just as SWIFT removed Russia from their system when they refused to do that before Biden, they have surrendered their independence and now take their order from governments. This is the preparation for the collapse of the Monetary System.

Xbox will force gamers to power down to fight climate change, touting the first 'carbon aware console' - TheBlaze

Tue, 24 Jan 2023 14:38

Microsoft announced in a recent news post that it will force gamers into powering down their Xbox consoles in order to fight climate change as part of the company's campaign for "building a more sustainable future of gaming."

The company announced its intention to become a "zero waste" company by automatically switching gamers into "shutdown mode" to conserve energy. Microsoft also claims that if two gamers use their proposed power-saving method for a year, it is the equivalent to planting one tree.

The company's environmental impact goals consist of "being a carbon negative, water positive, and zero waste company by 2030."

"Microsoft is rolling out an update to Xbox consoles starting today that will automatically switch them to a power-saving Shutdown mode, instead of the usual energy-hungry Sleep mode," said tech website Ars Technica.

For most consoles, a "sleep mode" means that the machine puts out minimal energy but is still able to download, charge peripherals, and keep the users' games open to where they last left off.

The gaming console will also schedule updates and maintenance at specific times that the company claims "may" help reduce carbon emissions.

"Your console will wake up at a time when it can use the most renewable energy in your local energy grid," the post claims, adding that soon all gamers will be able to update their systems so that the "Xbox console is carbon aware."

Microsoft claims that the energy-saving shutdown mode will use up to 20 times less power than the sleep mode, however it will eliminate the ability to remotely turn on the system and overall will take longer to turn on.

The Xbox will allegedly save the same amount of carbon as one tree, but only if two users shut down their Xbox for at least 20 hours per day for an entire year:

"Every small step we take has larger collective impact '' and choosing shutdown (energy saving) can have real, meaningful impact. For example, for every 2 consoles that switch to Shutdown (energy saving) for one year, we will save the equivalent amount of carbon removed by 1 tree planted and grown for a decade."

If users want their consoles to boot up with a usual response time, they will have to set "active hours" in their system settings; otherwise it will automatically enter the eco-centric power-saving mode.

Like Blaze News? Bypass the censors, sign up for our newsletters, and get stories like this direct to your inbox. Sign up here!

JUST IN: Ghislaine Maxwell Says Jeffrey Epstein Was Murdered In Jail

Tue, 24 Jan 2023 14:30

Ghislaine Maxwell, the daughter of British press magnate Robert Maxwell and the former girlfriend of deceased pedophile Jeffrey Epstein, is currently serving her twenty-year prison sentence for her involvement in his sex trafficking empire. Maxwell told an interviewer, in an interview that aired Monday night, that Epstein was murdered in prison, saying that he did not die by suicide, as was ruled in the official autopsy.

Jeffrey Epstein, as background for those that don't remember, died in 2019 when he died in a New York prison cell. Given the circumstances of his death, namely his lawyers' claim that he was positive about his legal odds, his recently being taken off suicide watch, the cameras not working, and the guards falling asleep, many online have alleged since his death that he did not kill himself.

Joining them is Maxwell, who told said ''I believe that he was murdered. That statement, though it contradicts the official narrative, goes along with what a forensic pathologist that Epstein's brother said. That pathologist, after examining Epstein's injuries, said that the multiple fractures in his neck were ''very unusual for a suicide''.

The DOJ, for its part, has not released anything, autopsy or otherwise, that suggests that Epstein was murdered in his cell rather than dying by hanging himself.

The two prison guards that claimed to have fallen asleep that night and who admitted to falsifying records regarding the night he died were charged in 2019, but the charges against them were quietly dropped in late 2021, when prosecutors dismissed the charges after the pair of guards did community service as part of a legal agreement.

Trending Politics News, giving more details about what Maxwell said in the interview and what she has had to say about other Epstein-related controversies, reports that:

In the interview, Maxwell, who is currently appealing her 2021 conviction for sex trafficking minors, stated that she regrets ever having met Epstein. She said that when they first met and began a relationship in the late 1990s, she was unaware of how ''awful'' he was.

" * " indicates required fields

During Maxwell's high-profile trial in New York, US prosecutors were able to establish that she played a crucial role in Epstein's scheme of luring young girls to give him massages during which he would sexually abuse them, citing her as ''the key.''

In an interview that aired on Sunday, Maxwell also disputed the authenticity of a photograph from the early 2000s which shows Prince Andrew with his arm around Virginia Giuffre, one of Epstein's accusers. Giuffre has claimed that she was sexually trafficked by Epstein and Maxwell to the prince, the younger brother of King Charles III. She filed a sexual assault lawsuit against the prince in a US court, claiming that they had engaged in sexual activity when she was a minor.

The prince settled the lawsuit last year, avoiding a public trial. Andrew has maintained his innocence and has not been criminally charged. The photograph, said to have been taken in London in 2001, is considered crucial evidence in the case against the prince.

By Ghislaine Maxwell '' I. Maxwell, CC BY-SA 4.0, https://commons.wikimedia.org/w/index.php?curid=15965324, Epstein pic By Palm Beach County Sheriff's Department '' Palm Beach County Sheriff's Department [1][2], Public Domain, https://commons.wikimedia.org/w/index.php?curid=5616285

M&M'S polarizing spokescandies are taking a 'pause' | CNN Business

Tue, 24 Jan 2023 14:29

New York CNN '--

After causing outrage by making over the Green M&M and launching a special bag featuring its new Purple character in honor of International Women's Day, M&M'S says it is taking a step back from its candy reps '-- sort of.

''In the last year, we've made some changes to our beloved spokescandies,'' the chocolate candy brand said in a statement Monday. ''We weren't sure if anyone would even notice. And we definitely didn't think it would break the internet.''

The brand added that the changes were so polarizing that ''we have decided to take an indefinite pause from the spokescandies.'' Mars has tapped comedian and actress Maya Rudolph to represent the product instead.

''We are confident Ms. Rudolph will champion the power of fun to create a world where everyone feels they belong,'' M&M'S, which is owned by Mars, said in a statement Monday.

The partnership with Rudolph has been ''in the works for a while,'' said Gabrielle Wesley, chief marketing officer for Mars Wrigley North America, in a statement emailed to CNN.

''There are lots of stories out there but let me say conclusively that this decision isn't a reaction to but rather is in support of our M&M'S brand,'' Wesley said. ''The original colorful cast of M&M'S spokescandies are, at present, pursuing other personal passions.''

That doesn't mean the brand is ditching the candy characters: ''We will share more on the spokescandies new pursuits over the next few weeks,'' a spokesperson told CNN.

Rudolph will appear in an M&M'S Super Bowl commercial. Mars announced in December that it would run an ad during the game. Online, some guessed right away that the announcement was part of a Super Bowl campaign, while others criticized the brand for bowing to pressure. Even Merriam Webster weighed in, tweeting that ''spokescandies'' is not in the dictionary.

Last year, M&M'S unveiled a new look for all of its anthropomorphized chocolate characters to make them more relevant to young consumers.

Most of the updates were subtle. But the change to Green's shoes, from go-go boots to sneakers, caused outrage on social media, with many bemoaning the loss of the character's signature look. A petition to ''keep the green M&M sexy'' garnered over 20,000 signatures. (M&M'S didn't heed the plea, but did note in its statement on Monday that ''even a candy's shoes can be polarizing,'' adding that ''was the last thing M&M'S wanted since we're all about bringing people together.'')

And then in September, M&M'S announced another change: A new female character, Purple, was joining the lineup (but not actual bags of candy) in another effort to make the group of spokescandies more inclusive. Purple was recently deployed as part of a limited-edition pack of purple, brown and green M&M'S '-- the colors of the female spokescandies '-- in honor of International Women's Day.

That move prompted another round of criticism.

''If this is what you need for validation, an M&M that is the color that you think is associated with feminism, then I'm worried about you,'' Fox News anchor Martha MacCallum said, adding that the move emboldened China. ''I think that makes China say, 'Oh, good, keep focusing on that. Keep focusing on giving people their own color M&M'S while we take over all of the mineral deposits in the entire world.'''

A graphic on a Fox show even called the candy ''woke.''

Jane Hwang, Global Vice President of M&M'S, previously told CNN that the reaction to Green's change was ''unprecedented'' and that ''we were incredibly overwhelmed.''

But, she said at the time, ''now we know for certain that M&M'S is a cultural icon.''

Blood clots: Nutrient found in eggs and meat could make blood more prone to clotting | Express.co.uk

Tue, 24 Jan 2023 04:46

BLOOD clotting is a normal response to injury. Sometimes, however, it can lead to cramps, pain and swelling, and if it enters the circulatory system, it can be fatal. In a small study, one popular breakfast food has been linked to the condition. 06:01, Sat, Jan 22, 2022 | UPDATED: 19:59, Sun, Aug 28, 2022

British Heart Foundation: Understanding blood clots Invalid email

We use your sign-up to provide content in ways you've consented to and to improve our understanding of you. This may include adverts from us and 3rd parties based on our understanding. You can unsubscribe at any time. More info

Blood clots typically form in the veins of the legs, arms, groin. It is when they break off and travel to other parts of the body, such as the lungs, that they pose a risk. Typically risk factors for blood clotting include surgery, cancer, and pregnancy. The findings from one small study, however, imply that a nutrient found in eggs and meat may also increase the risk of blood clotting.

The study conducted by Cleveland Clinic, suggested that choline could make the blood more prone to clotting.

Choline is sometimes sold in over-the-counter dietary supplements.

It is deemed an essential nutrient that is widely recommended for optimal health.

According to Medical News Today, it supports various bodily functions, including cellular growth and metabolism.

READ MORE: Blood clots: Four skin changes in the arms and legs that are warning signs

Blood clots: Choline may increase the risk of an event (Image: Getty )

The body makes some choline, but the majority comes from dietary sources.

Researchers found that consuming the nutrient in high concentrations could lead to cause clotting, however.

They suggested that bacteria in the intestines could interact with choline to produce a compound that encourages blood platelets to clump together, thereby forming a blood clot.

The team observed by interacting with gut bacteria, choline produced a substance called TMAO.

DON'T MISS:

The substance, which stands for trimethylamine N-oxide, is produced when the gut bacteria break down a number of dietary nutrients.

For their interventional study, the researchers provided oral choline supplements to healthy vegetarians and omnivores.

Both groups showed a 10-fold increase in plasma levels of TMAO after choline supplementation.

They also observed an increase in platelet responsiveness, a risk factor for thrombotic events.

Blood clots can be dangerous if they spread to the lungs (Image: Getty )

According to the study's lead author, the substance has been linked to an increased risk of blood clots, heart attack and stroke in previous studies.

High levels of the substance in the blood has been associated to an increased risk of cardiovascular illness.

While the risk of blood clotting increased in humans, this could be minimised by consuming low-dose aspirin, said the researchers.

While the drug was successful in lowering the risk of clumping, however, it did not eliminate the risk completely.

The signs of a heart attack you should know (Image: EXPRESS.CO.UK)

It is worth noting that concentrations of choline found in food are generally safe, but consuming supplements with choline could pose health risks.

The study researchers doctor Stanley L. Hazen of the Cleveland Clinic in Ohio, said: "Unless prescribed by your doctor, avoid supplements with choline."

Other dietary habits that may increase the risk of blood clotting include dehydration, as this causes thickening of the blood.

When the body is deprived of fluids, the blood vessels can narrow as well, another known risk factor for clotting.

What Qualifies a Celebrity to Advertise a Medical Treatment? 'º American Greatness

Mon, 23 Jan 2023 16:09

Martha Stewart, Michael Phelps, Jeff Bridges, Pink, every late-night talk show host, and so many more celebrities have lined up to promote the COVID-19 vaccine and its boosters. Some, like Phelps and Pink , were clearly marked as paid promotions on social media, others were not'--although it is safe to assume they weren't working for free.

Take James Corden and Ariana Grande, who did a three-minute cringeworthy musical number to promote the vaccine on ''The Late Late Show.'' Or recall Stephen Colbert's incredibly painful ''Vax-Scene'' sketch on ''The Late Show,'' or the time Anthony Fauci showed up to get his booster . No one in corporate media would devote that kind of time or waste a significant chunk of a show on a product without taking a payout directly or indirectly from a company.

Recall, too, all of the major media programs ''brought to you by Pfizer'' in a great video The Daily Caller produced a year ago. You can expect with massive profits, the advertising spending of that company, as well as other COVID vaccine-producing companies, has only grown.

When major television and news programs'--and many celebrities'--likely have been paid for by Big Pharma, to whom should Americans have turned for an honest assessment of information regarding major medical decisions?

The answer, of course, is none of them .

Even before the vaccine was released the media would bash then-President Trump for his COVID updates at White House press briefings. There, Trump would speculate about different potential medical treatments that were floated to him by Drs. Fauci and Birx as well the rest of the COVID task force. Each time Trump would discuss a potential solution, it was shot down. Members of the corporate media would slam him for preposterous ideas'--many times mocking him for having no medical experience'--but then going on to bring in their own (similarly unqualified) advocates to assert their own, different speculations.

When President Trump announced that a vaccine was on the way through his ''Operation Warp Speed,'' many left-leaning celebrities, members of the corporate media, and Democratic politicians'--including then-candidate Kamala Harris '--said they would question its viability. But that changed once Trump left office.

Following Trump's departure, it was full-speed ahead on the vaccine'--and all those who were previously skeptical seemed to change their opinions overnight. Everyone on the Left suddenly loved and believed in the work that had been accomplished by drug companies before the Biden era'--the same work they once questioned'--because it had become a political winner for them. And nearly everyone on the Left went along with them.

What gave celebrities more expertise than Trump? Leftists who themselves never attended medical school and who once mocked the president for ''not being a doctor'' suddenly became experts on the subject . And no one questioned them.

At the same time, as the Twitter files show, actual doctors and scientists who had opinions other than ''everyone go take the vaccine'' were banished from social media platforms even though they were speaking from an expert point of view.

So why aren't celebrities being questioned for their promotion of this medical treatment'--especially when it clearly states on their social media profiles that they were sponsored by big pharma? Furthermore, why aren't major corporate media institutions questioned for their promotion of the same medical treatment when they also are openly sponsored by billion-dollar drug companies?

Where did Michael Phelps, Pink, Stephen Colbert, Ariana Grande, and James Corden receive their medical degrees? More importantly, if someone was influenced to take a medical treatment by their advertising and suffered adverse effects, are they liable for their product endorsements?

One of the greatest failures of Trump's Operation Warp Speed was that it granted drug companies immunity from damages caused by their new products. But should this immunity cover the celebrities and media organizations who took advertising money to promote those products'--especially when sudden adult death syndrome is becoming more and more common?
ALL VIDEOS

VIDEO - Russia's Foreign Minister Sergei Lavrov in South Africa for talks - BBC News - YouTube

VIDEO - Macao Bets on New Business FutureーNHK WORLD-JAPAN NEWS - YouTube

VIDEO - Blizzard China: Millions of players lose access to 'World of Warcraft' and other games as it goes dark | CNN Business

Thu, 26 Jan 2023 14:38

China limits amount of time minors can play online video games (August 2021)

02:11 - Source: CNNBusiness

Hong Kong CNN '--

Millions of players in China have lost access to the iconic ''World of Warcraft'' franchise and other popular video games, as Blizzard Entertainment's servers in the country went offline after two decades.

The company's services in China were suspended at midnight local time on Tuesday, marking the end of an era for fans, after a licensing agreement with longtime local partner NetEase (NTES) expired.

''World of Warcraft,'' also known as ''WoW,'' is a hugely popular online multiplayer game that allows users to fight monsters and journey through expeditions in the medieval world of Azeroth.

Many gamers around the world have grown up with the smash hit, including in China. That was underscored in recent days, as Chinese fans expressed their disbelief over the loss of their longtime pastime in social media posts.

''When I woke up, I still didn't want to accept [it],'' one user said on Weibo, China's Twitter-like platform, on Tuesday. ''I cried all night in my sleep because the game went offline. I dreamed that I was crying in the middle of the class.''

Another player described ''World of Warcraft'' as ''my first love.''

''I really can't forget it,'' they wrote.

The suspension follows a bitter dispute between Blizzard, a unit of Activision Blizzard (ATVI), and NetEase.

Foreign publishers must work with local partners to offer video games in China. Last November, however, Blizzard and NetEase announced they would not renew licensing agreements that were set to expire this month.

Those deals had covered the publication of several popular Blizzard titles in mainland China, including ''World of Warcraft,'' ''Hearthstone,'' and ''Diablo III,'' since 2008. In separate statements at the time, both sides said they were unable to reach a new agreement on key terms, without giving further details.

Now, the discussions appear to have gotten more acrimonious.

In a statement last Tuesday, Blizzard said it had reached out to NetEase to seek ''their help in exploring a six-month extension to the current agreement.''

The US company said it had appealed to NetEase to let fans continue playing uninterrupted, ''based on our personal feelings as gamers, and the frustration expressed to us by Chinese players.''

''Unfortunately, after renewed discussions last week, NetEase did not accept our proposal for an extension,'' Blizzard said.

NetEase hit back with its own statement last week.

In unusually terse comments, the Chinese tech and gaming giant accused Blizzard of blindsiding it with its ''sudden statement'' and called the US company's proposal ''outrageous, inappropriate, and not in line with business logic.''

NetEase also pointed out that Blizzard had already ''started the work of finding new partners'' in China, putting the Hangzhou-based company in an ''unfair'' position.

The public spat marked an unexpected twist in the companies' 14-year partnership.

Under a separate agreement, the companies are working together on the joint development and publishing of ''Diablo Immortal,'' another widely followed multiplayer game that allows users to slay demons in an ancient world. NetEase said in a statement in November that this collaboration would continue.

Blizzard said in December that ''World of Warcraft'' fans would be able to back up their playing history and ensure all progress was saved as it wound down its agreement and looked for a new partner.

This week's shutdown has been emotional, even for senior leadership at NetEase.

In a LinkedIn post Monday, Simon Zhu, president of global investments and partnerships of NetEase Games, detailed how he grew up with Blizzard games in China, including older ''Warcraft'' and ''Diablo'' titles.

''Only [a] few hours before Blizzard Games servers shut down in China, and that is a very very big deal for players in China,'' he wrote.

''Today is such a sad moment to witness the server shutdown, and we don't know how things will play out in the future. The biggest victim would be players in China who live and breathe in those worlds.''

Activision Blizzard, which previously had another Chinese partner before teaming up with NetEase, said it is continuing its search for a new distribution partner.

''Our commitment to players on mainland China remains strong as we continue to work with Tencent to distribute 'Call of Duty: Mobile,' as well as continue active talks with potential partners to resume gameplay for Blizzard's iconic franchises,'' an Activision Blizzard spokesperson told CNN.

Learn the Bible in 24 Hours - Hour 1 - Small Groups - Chuck Missler - YouTube

VIDEO - (1) LIVE: White House holds press briefing | NBC News - YouTube

VIDEO - Macron says France does not rule out sending Leclerc tanks to Ukraine ' FRANCE 24 English - YouTube

VIDEO - Nutrient in meat and eggs may play role in blood clotting, heart attack risk - CBS News

Thu, 26 Jan 2023 14:24

A nutrient in meat and eggs may conspire with gut bacteria to make the blood more prone to clotting, a small study suggests.

The nutrient is called choline. Researchers found that when they gave 18 healthy volunteers choline supplements, it boosted their production of a chemical called TMAO.

That, in turn, increased their blood cells' tendency to clot. But the researchers also found that aspirin might reduce that risk.

TMAO is short for trimethylamine N-oxide. It's produced when gut bacteria digest choline and certain other substances.

Heart health: Do you know the key metrics to keep yourself safe? 04:04 Past studies have linked higher TMAO levels in the blood to heightened risks of blood clots, heart attack and stroke, said Dr. Stanley Hazen, the senior researcher on the new study.

These findings, he said, give the first direct evidence that choline revs up TMAO production in the human gut, which then makes platelets (a type of blood cell) more prone to sticking together.

Choline is found in a range of foods, but it's most concentrated in animal products such as egg yolks, beef and chicken.

Hazen said he and his colleagues at the Cleveland Clinic wanted to isolate the effects of choline on people's levels of TMAO and their platelet function. So they studied supplements.

The researchers had 18 healthy adults --10 meat-eaters and eight vegetarians/vegans -- take choline supplements for two months.

The supplements provided around 450 milligrams of choline daily -- roughly the amount in two or three eggs, Hazen said.

One month in, the study found, the supplements had raised participants' TMAO levels 10-fold, on average. And tests of their blood samples showed that their platelets had become more prone to clotting.

''This study gives us one of the mechanisms by which TMAO may contribute to cardiovascular disease,'' said Dr. J. David Spence.

Spence, who was not involved in the study, directs the Stroke Prevention & Atherosclerosis Research Centre at Western University in London, Ontario, Canada.

For the healthy people in this study, Spence said, the TMAO rise from choline might not be worrisome. But, he added, it might be a concern for people at increased risk of heart disease or stroke.

Spence suggested those individuals limit egg yolks, beef and other foods high in choline.

Hazen had similar advice. ''You don't have to become a vegetarian,'' he said. ''But you could try eating more plant-based foods, and more vegetarian meals.''

How your gut bacteria may be linked to heart health 03:14 He also pointed to the Mediterranean diet -- rich in olive oil, vegetables and fish. In an earlier study, Hazen said, his team found that a compound in olive oil seems to inhibit TMAO formation.

The new study uncovered yet another compound that may counter TMAO: low-dose aspirin.

In a separate experiment, the researchers had some participants take 85 milligrams of aspirin (a baby aspirin) a day, in addition to choline supplements. That, it turned out, lessened the rise in TMAO and the change in platelet activity.

Doctors already prescribe low-dose aspirin to certain people at risk of heart disease and stroke.

It's possible, Hazen said, that aspirin's effects on TMAO are one reason it helps ward off cardiovascular trouble.

The current study is small and preliminary. But it's the latest to suggest that the gut ''microbiome'' plays a key role in cardiovascular disease, Spence said.

The ''microbiome'' refers to the trillions of bacteria that dwell in the gut. Spence said researchers are just beginning to understand how gut bacteria and their byproducts affect the cardiovascular system.

But one hope, he said, is to figure out what balance of gut bacteria supports cardiovascular health -- and possibly use probiotic (''good'' bacteria) supplements to help treat people at high risk of heart disease or stroke.

Spence said his own lab is working on just that.

There are, of course, many factors in heart disease risk -- from age to high blood pressure to diabetes to smoking, Hazen pointed out.

''We're saying a portion of the risk is related to the gut microbiome,'' he said.

Hazen and a colleague report potential royalty payments from several companies related to ''cardiovascular diagnostics and therapeutics.'' One company, Cleveland HeartLab, recently launched a test for measuring TMAO levels.

The findings appear in the April 25 online issue of Circulation.

Trending News

Thanks for reading CBS NEWS.

Create your free account or log in for more features.

VIDEO - (1) Why Germany's military is in a dire state, and what is being done to fix it | DW News - YouTube

VIDEO - (1) Pfizer Exposed For Exploring "Mutating" COVID-19 Virus For New Vaccines Via 'Directed Evolution' - YouTube

VIDEO - NYSE says it will cancel some trades after technical issue

Wed, 25 Jan 2023 19:12

Trading in more than 200 stocks on the New York Stock Exchange was briefly halted shortly after the market opened Tuesday due to an apparent technical issue, and many abnormal early trades will be canceled.

The major names impacted included Morgan Stanley, Verizon, AT&T, Nike and McDonald's, according to the NYSE's website. Many stocks were shown to have abnormally large moves when the market opened, which may have triggered volatility halts.

Many of the companies impacted resumed trading before 9:45 a.m. ET. The NYSE said at roughly 9:50 a.m. that all of its systems were operational.

On Tuesday afternoon, the NYSE said in a statement that a system issue led to the exchange not conducting opening auctions for some of its listed securities.

The exchange said that some of the early trades in the impacted stocks will be declared null and void due to the error. The full list of the stocks that could see trades canceled is available on the exchange's website.

The NYSE is owned by Intercontinental Exchange , whose shares were down 2.2% on Tuesday.

The NYSE, like some other exchanges, has automatic halts in place for stocks that move dramatically in one direction or another. On a normal trading day, few if any stocks are halted for volatility on the NYSE.

The other major U.S. stock exchange, the Nasdaq, did not appear to be impacted by the technical issue.

Correction: The NYSE technical issue took place Tuesday. A previous version misstated the day of the week.

VIDEO - (10) Tom Elliott on Twitter: "Joe Scarborough (@JoeNBC): My recently getting "completely knocked down" w/ Covid shows I should have gotten a "4th booster" https://t.co/0P7zQ0ZuPK" / Twitter

Wed, 25 Jan 2023 18:35

Tom Elliott : Joe Scarborough (@JoeNBC): My recently getting "completely knocked down" w/ Covid shows I should have gotten a "4th'... https://t.co/nXBw5xsw69

Tue Jan 24 13:14:49 +0000 2023

Frederick H. Gingell : @tomselliott @JoeNBC He'd probably get a booster every month if he was told to.

Wed Jan 25 18:34:56 +0000 2023

Daniel sefton ðŸ‡"🇱 : @tomselliott @JoeNBC ''Chinese religious cults'' I'm ðŸ'🤣🤣🤣

Wed Jan 25 18:34:56 +0000 2023

jim virden : @tomselliott @JoeNBC Yes please get more shots. Both of you. And everyone you know too

Wed Jan 25 18:32:26 +0000 2023

J. A. Kozinski : @tomselliott @JoeNBC https://t.co/J0BPBRa09m

Wed Jan 25 18:32:23 +0000 2023

Jerry Fud : @tomselliott @JoeNBC Have a booster they said https://t.co/SBiYHB0PlU

Wed Jan 25 18:28:45 +0000 2023

VIDEO - Why the US could delay the end of Europe's dependence on lithium-ion-batteries from China | DW News - YouTube

VIDEO - Japan boosts military to counter China | DW News - YouTube

VIDEO - Germany's Africa aid strategy highlights need for green jobs | DW News - YouTube

VIDEO - Doomsday Clock ticks ever closer to midnight amid Ukraine war, other crises ' FRANCE 24 English - YouTube

VIDEO - A race against time: 'The situation is much more dire today than it has been in years prior' - YouTube

VIDEO I swear - this whole thread is with news about SWINE FLU, 2009 - watch and tell me what you think

Wed, 25 Jan 2023 17:57

Gal.G, Adv 🇮🇱 : 🧵1/ I swear - this whole thread is with news about SWINE FLU, 2009 - watch and tell me what you think ðŸ"👇ðŸ>> https://t.co/aVFjPx9utP

Tue Jan 24 20:02:34 +0000 2023

MadTeaParticipant : @GalG____ I think people underestimate how refined the propaganda machine has become. The messaging between swine f'... https://t.co/gCkQFp7pNq

Wed Jan 25 17:44:01 +0000 2023

Donation Dude î¨ : @GalG____ The 2009 jab gave kids neurological damage / mostly narcolepsyIt was untested/ rushed to marked just like the 2020 mRNA jab

Wed Jan 25 17:34:54 +0000 2023

AMH : @GalG____ Dustin & Morgan tried to tell us in the 90s https://t.co/AZHA7PgyiV

Wed Jan 25 17:22:42 +0000 2023

Joel Van Patten ('"¸,'"¸) : @GalG____ I'm betting @SharylAttkisson has a thing or two to say about Swine Flu, the media and the CDC.Her story'... https://t.co/JARu9viepn

Wed Jan 25 17:06:37 +0000 2023

Professor Hugh Akston : @GalG____ @GalG____, yep.This time, we really listened...This is all discussed here in my video from April 2020'... https://t.co/X4junYXuym

Wed Jan 25 17:02:31 +0000 2023

Le Grande Orange : @GalG____ @Rothbard1776 Eerie'...it's as though we've been close to a ''pandemic'' on a couple of recent occasions- and'... https://t.co/bVbQQl8nO9

Wed Jan 25 16:46:48 +0000 2023

Gil Brand | ×'××' ×'×¨× ×' : @GalG____ And the crowd is laughing...https://t.co/APi1cA7OgI

Wed Jan 25 16:44:16 +0000 2023

The Casual Fanatic ' ¸ : @GalG____ Housing bubble & H1N1/Swine'... as well as, pushing legislation! This was definitely planned in advance!

Wed Jan 25 16:28:48 +0000 2023

Lara Piazza : @GalG____ Wow I knew it's bad, didn't know it's that bad. Thank you for sharing

Wed Jan 25 16:20:17 +0000 2023

BanoD : @GalG____ Curing diseases goes against the sustainable business model for pharmaceutical companies. To them, peopl'... https://t.co/VyJjStOEHN

Wed Jan 25 16:11:31 +0000 2023

Tales from the Crypto : @GalG____ Great thread. This is journalism.

Wed Jan 25 16:00:07 +0000 2023

Spectreman : @GalG____ @donotcomply77 Are you aware humans cannot murder with their breath?

Wed Jan 25 15:46:32 +0000 2023

Notes To Elon Musk : @GalG____ I have no way to verify if any of this is accurate or even has an element of truth.

Wed Jan 25 15:44:06 +0000 2023

Duffman D : @GalG____ Oh wow I remember that story with the red VW Beetle, at the time thinking why so much overkill with it?

Wed Jan 25 15:38:41 +0000 2023

FOGGY TЯAIL : @GalG____ All of these "viral outbreaks" h1n1, ebola, etc. were meant to condition the people to accept the fake pandemic of 2020.

Wed Jan 25 15:17:52 +0000 2023

Shyan : @GalG____ Bonkers...all these elaborate plans just as a cover for them stealing our money and kept the masses under control

Wed Jan 25 15:16:45 +0000 2023

Vinay : @GalG____ @HeatherEHeying @BretWeinstein If you haven't already been alerted to this thread.

Wed Jan 25 15:07:57 +0000 2023

Mr Smith : @GalG____ Here's another good video https://t.co/RBn6Eojakf

Wed Jan 25 15:07:05 +0000 2023

Mr Smith : @GalG____ Great thread. Here's a couple more videos https://t.co/PpRndN6qSp

Wed Jan 25 15:04:38 +0000 2023

Timpiste O Neill : @GalG____ https://t.co/UfLyxWHG3v

Wed Jan 25 14:59:42 +0000 2023

Radauteanu7 : @GalG____ @KiLA_WHALE

Wed Jan 25 14:39:45 +0000 2023

The Sicilian Italian : @GalG____ I remember this!

Wed Jan 25 14:29:15 +0000 2023

Anthony G. : @GalG____ #FEDCOIN

Wed Jan 25 14:11:04 +0000 2023

Anthony G. : @GalG____ https://t.co/sPZTeSG6qK

Wed Jan 25 14:07:58 +0000 2023

MJD : @GalG____ Wow, this was their initial attempt and failed, this one almost failed mow they will release a 100% morta'... https://t.co/qy7cR8NJyg

Wed Jan 25 14:05:16 +0000 2023

Tommy '' Callahan III 'š¸21m : @GalG____ It's working and will continue to work because 99% of y'all are cucks. I'm vaxless, lost my job, lost so'... https://t.co/b1oooy4Gie

Wed Jan 25 14:01:11 +0000 2023

Christophe ZOE : @GalG____ Yes. Same here in France for Swine flu. They tried to start this in 2009 but it didn't work as planned fo'... https://t.co/d2cBF9dT2r

Wed Jan 25 13:55:26 +0000 2023

Holytroal : @GalG____ 2009 Tam from Canada made a video talking about a pandemic and having to take ppl from their homes to qua'... https://t.co/pQ73JaRPtF

Wed Jan 25 13:50:44 +0000 2023

ð'''ð''²ð''½ð''¬ð''¸ð''²ð''· ð'''ð''ªð''ð''®'''¸ðŸ‡ºðŸ‡¸ðŸ§ðŸŠðŸŒ½ðŸ¸ : @GalG____ ðŸ'ðŸ"We're all a bunch of lab rats in their eyes.

Wed Jan 25 13:18:02 +0000 2023

VIDEO - Germany 'at war' with Russia '' FM '-- RT Russia & Former Soviet Union

Wed, 25 Jan 2023 17:53

Annalena Baerbock made the admission in a debate with EU colleagues, pushing for the delivery of tanks to Kiev

Arguing in favor of sending tanks to Kiev, German Foreign Minister Annalena Baerbock said EU countries were fighting a war against Russia. US and EU officials have previously gone out of their way to claim they were not a party to the conflict in Ukraine.

''And therefore I've said already in the last days '' yes, we have to do more to defend Ukraine. Yes, we have to do more also on tanks,'' Baerbock said during a debate at the Parliamentary Assembly of the Council of Europe (PACE) on Tuesday. ''But the most important and the crucial part is that we do it together and that we do not do the blame game in Europe, because we are fighting a war against Russia and not against each other.''

While Chancellor Olaf Scholz has insisted that Germany ought to support Ukraine but avoid direct confrontation with Russia, his coalition partner Baerbock has taken a more hawkish position. According to German media, her Green Party has been in favor of sending Leopard 2 tanks to Kiev, and eventually managed to pressure Scholz into agreeing. Defense Minister Christine Lambrecht, who was reluctant to send tanks to Ukraine, was pushed to resign.

This is not the first time Baerbock has made waves with her position on the conflict. She told an EU gathering in Prague last August that she intends to deliver on her promises to Ukraine ''no matter what my German voters think.''

Quoting Baerbock's words on Wednesday, Russian Foreign Ministry spokeswoman Maria Zakharova said the West just keeps admitting that they had been planning the current conflict for years.

''If we add this to Merkel's revelations that they were strengthening Ukraine and did not count on the Minsk agreements, then we are talking about a war against Russia that was planned in advance. Don't say later that we didn't warn you,'' Zakharova said.

Former German chancellor Angela Merkel told German media in early December that the 2014 ceasefire brokered by Berlin and Paris was actually a ploy to ''give Ukraine valuable time'' for a military build-up. Former French president Francois Hollande has confirmed this, while Ukraine's leader at that time, Pyotr Poroshenko, openly admitted it as well.

Russia's operation in Ukraine was a ''forced and last-resort response to preparations for aggression by the US and its satellites,'' former Russian president Dmitry Medvedev said on Monday.

VIDEO - (5) The Vigilant Fox ðŸ...Š on Twitter: "Ivermectin: The Truth "If you can shape the message, then you can shape the world." From legendary filmmaker Mikki Willis (@Plandemic3Movie). Give him a follow. https://t.co/ZkJb7zXjDN" / Twitter

Wed, 25 Jan 2023 17:48

The Vigilant Fox ðŸ...Š : Ivermectin: The Truth"If you can shape the message, then you can shape the world."From legendary filmmaker Mikk'... https://t.co/1L89YYfPsf

Wed Jan 25 00:09:20 +0000 2023

whurz : @VigilantFox @Plandemic3Movie Doctor Gigachad approves Ivermectin; every other argument is therefore invalid.

Wed Jan 25 17:35:14 +0000 2023

VIDEO - salty_bulldog on Twitter: "@mtracey Holy shit. @adamcurry" / Twitter

Wed, 25 Jan 2023 16:39

salty_bulldog : @mtracey Holy shit. @adamcurry

Tue Jan 24 16:53:41 +0000 2023

VIDEO - Why we all need subtitles now - YouTube

VIDEO - Jeff Bezos may sell Washington Post to buy Commanders: investors

Tue, 24 Jan 2023 15:14

Does Jeff Bezos love football more than he loves newspapers? That's a question getting tossed around the nation's capital as its NFL franchise hits the block.

Chatter is growing that Amazon's billionaire founder is looking to clear the way for a purchase of the Washington Commanders by selling the Washington Post '-- with speculation boosted last month by leaked video of publisher Fred Ryan disclosing layoff plans at an unruly town hall meeting.

The problem for Bezos reportedly is that the Commanders' embattled owner, Dan Snyder, is still sore over the storied newspaper's series of exposes alleging a toxic management culture at the team, where bosses including Snyder allegedly enabled sex harassment.

Some even believe that Snyder suspects Bezos, who bought the Washington Post in 2013 for $250 million, encouraged the tough coverage in 2020 in a bid to force him to sell him the team.

Last week, Bezos stoked fears about looming layoffs at the Washington Post during an awkward visit to the newsroom. A source close to the situation said Bezos told the paper's senior staff in private meetings that he had no plans to sell the paper.

Washington Commanders owner Dan Snyder does not want to sell the team to Jeff Bezos '-- at least as long as Bezos still owns the Washington Post, sources said. APNevertheless, one logical suitor believes the Washington Post is for sale and plans to bid, a source with direct knowledge of the situation said, declining to name the suitor. A second source who buys and sells newspapers said he also has heard the paper might be up for grabs.

''I think Bezos' people could go to Dan and say as a gesture of goodwill, 'We are selling the paper,''' a source close to the situation said. ''I think that would go a long way with Dan.''

Meanwhile, Front Office Sports reported last Tuesday that Bank of America, hired by Snyder to auction the Commanders, ''continues to court Bezos '-- even if there are indications that Snyder doesn't want to sell'' to the Amazon founder.

Bezos has not hired an investment banker to sell the Washington Post, nor has he made it perfectly clear it is actually for sale, the source added. Neither source is close to former New York City Mayor Michael Bloomberg, who, according to a Dec. 23 Axios report, is interested in buying either the Wall Street Journal or Washington Post.

A Bloomberg spokesman said at the time that ''There have been no conversations with anyone or either organization about an acquisition. The company has no interest in acquiring either.''

A spokesperson for Bezos said the Washington Post is not for sale. A spokesperson for the Journal '-- the owner of which, News Corp., also owns the New York Post '-- said the paper is not for sale.

Washington Post owner Jeff Bezos paid a rare visit to the newspaper's offices on Thursday. Getty ImagesLast week, reports surfaced that the Commanders have taken first-round bids from prospective acquirers and that Bezos '-- who reportedly has been in talks with Jay-Z to team up for a buyout '-- wasn't among them.

Bezos has been tight-lipped on the subject of the Commanders, apart from a November CNN interview in which he said football is his ''favorite sport'' and his girlfriend Lauren Sanchez chimed in, ''I do like football '-- I'm just going to throw that out there.''

Sports journalists, meanwhile, have been happy to weigh in on behalf of Dan Snyder '-- whose disposition toward Bezos is decidedly less enthusiastic, according to reports.

''Not only was I told Bezos didn't submit a bid, I've had people tell me the Snyder family has absolutely no interest in selling to Bezos,'' JP Finlay, who covers the Commanders for NBC Sports, tweeted last weekend. That was in response to reports that the highest first-round bid came in at $6.3 billion '-- short of the $7 billion-plus that Snyder reportedly is seeking.

That also was after an unnamed source told NBC Sports' Peter King in November, ''It'll never happen. Dan Snyder detests the Washington Post. No way he'd sell to the owner of that paper.''

A report last month said former New York City Mayor Michael Bloomberg was interested in buying the Washington Post if it was for sale. Bloomberg via Getty ImagesDan Froomkin, editor of the nonprofit Press Watch, notes that the Amazon tycoon '-- currently the world's fourth-richest person with a net worth of $120 billion, according to Forbes '-- has been known for libertarian-leaning political views that have long been an awkward fit for the Washington Post.

''I can easily imagine better owners for the Washington Post than Jeff Bezos,'' Froomkin said.

Start your day with all you need to knowMorning Report delivers the latest news, videos, photos and more.

In 2018, a Washington Post op-ed raised eyebrows when it criticized ''corporate welfare tax'' legislation introduced by Sen. Bernie Sanders (I-Vt.) nicknamed the ''Stop BEZOS Act.'' Bezos tweeted out the article. Last May, Bezos sparred on Twitter with President Biden over taxes, demanding a government fact-check on the president's assertions that low corporate taxes were stoking inflation.

Still, Froomkin added, ''I can even more easily imagine worse owners for the Post, and that would be a national and journalistic tragedy, as well as a complete betrayal of the assurances Bezos made to Don Graham when he bought the Post in 2013 that he would do what's good for the Post.''

Bezos, for his part, has said publicly it was never his dream to own a newspaper. Former Post owner Donald Graham asked Bezos to buy it in 2013 to provide financial stability and boost online growth. While the paper expanded rapidly under Bezos early on, beefing up staff and coverage, it was reportedly on track to lose money in 2022 after years of profits as readership waned following the end of the Trump administration.

Chatter is growing that Bezos is looking to clear the way for a purchase of the Washington Commanders by selling the Washington Post. Getty Images''I know that when I'm 90, it's going to be one of the things I'm most proud of, that I took on the Washington Post and helped it through a very rough transition,'' Bezos said in the 2021 book ''Invent and Wander,'' a collection of his writings.

Now, Bezos' attachment to the paper may be weaker than ever, said Edward Wasserman, a journalism professor at UC Berkeley who notes that Bezos' summer Twitter spat with Biden drew critical coverage at the time.

''Bezos has become belatedly aware of the obligations of owning the Washington Post '-- if he didn't realize it would muzzle him, he realizes it now,'' Wasserman said. ''It would make sense for him to get out of it.''

VIDEO - Curbing cow burps to help the planet ' FRANCE 24 English - YouTube

VIDEO - 'The time of the Wild West is over,' EU's Věra Jourov warns Elon Musk's Twitter from Davos | Euronews

Tue, 24 Jan 2023 15:01

"The time of the Wild West is over," the European Commission's Vice-President for Values and Transparency Věra Jourov warned Elon Musk amid the continuing fallout of the billionaire's $44 billion (''¬40.6 billion) takeover of Twitter.

Speaking with Euronews Next at the World Economic Forum (WEF) in Davos on Wednesday, Jourov said the platform would face sanctions if it didn't comply with new EU online regulations.

Asked if the bloc had enough clout to make big platforms like Twitter comply with the new laws which aimed to create safer digital spaces, she said that there was "nothing stronger than legislation in force".

"We will have the Digital Services Act [DSA]. We will have the Code of Practice as a part of this legislation," Jourov said.

"So, after Mr Musk took over Twitter with his 'freedom of speech absolutism,' we are the protectors of freedom of speech as well".

"But at the same time, we cannot accept, for instance, illegal content online and so on. So, our message was clear: we have rules which have to be complied with, otherwise there will be sanctions," she added.

A suite of new legislation, including the DSA and the Digital Markets Act (DMA), was signed off by the EU parliament in October 2022 and is expected to come into force later this year.

Under the new regulatory framework, which aims to protect the rights of online users and remove illegal content or disinformation, platforms could expect to be fined up to 6 per cent of their annual revenue if found to violate the rules by EU regulators.

Pressed on whether financial sanctions would be enough to make platforms like Twitter comply with the new rules, Jourov said that ''the legislation was never the only option'' to persuade platforms to cooperate.

"I've worked with the platforms, with the 'big boys' - and girls sometimes - already for several years. And for me, the legislation was never the only option," she told Euronews Next.

"How to push them to do things? We had some 'gentlemen's agreements,' like the Code of Conduct against Hate Speech, which was very important in 2016 when we saw an extreme rise of hatred online targeted to concrete people or groups of citizens.

"So, I always like to combine decent communication and discussion, and testing how far they can go under the framework of some sort of social responsibility".

Confidence in Musk 'weakened'In November, Thierry Breton, the EU Commissioner for the Internal Market, sought assurances from the Tesla and SpaceX CEO in November that Twitter would be ready for the DSA.

Asked whether Musk was acting in good faith with the EU, Jourov said the bloc was a "bit confused" by his "arbitrary decisions" to date, adding that "confidence was weakened".

"One day, he wakes up and he dislikes some of the accounts so he removes them," she said.

"I have not spoken to him. Of course, we are watching and listening".

In November, shortly after Musk's takeover, Twitter triggered mass layoffs in its European offices and disbanded its Brussels office in what was seen as a potential snub to EU regulators.

"I think that the confidence has been weakened. And I had a quite high level of confidence when it comes to Twitter," Jourov said.

"I have to say that we worked with knowledgeable people - with the lawyers, with sociologists - who understood that they have to behave in some decent way not to cause really big harm to the society.

"I always felt that this notion of responsibility was there. So, this is what I don't feel from Elon Musk personally. But we will see".

VIDEO - Climate change fighting technology 'should be ramped up', report urges '' BBC News - YouTube

VIDEO - Brazil's Lula floats shared 'trading currency' during Argentina trip ' FRANCE 24 English - YouTube

VIDEO - Senior Ukrainian officials resign amid corruption crackdown ' FRANCE 24 English - YouTube

VIDEO - 'Which 4-Letter Word Did You Use?': Peter Doocy Presses KJP Over FBI Search On Biden - YouTube

VIDEO - World Business Watch: Brazil and Argentina to start preparations for a common currency - YouTube

VIDEO - ChatGPT genius IQ & achievements (GPT-3 davinci, GPT-3.5 text-davinci-003) including Wharton MBA - YouTube

VIDEO - Chris Hipkins wants "to make sure we are bringing people together" - YouTube

VIDEO - Damar Hamlin Makes Triumphant Return To Bills Stadium But There Are Questions - Anthony Brian Logan

Tue, 24 Jan 2023 14:24

Damar Hamlin made a triumphant return to the Buffalo Bills stadium after suffering cardiac arrest on the field during Monday Night Football on January 3rd. The game, ironically enough, was a playoff match between the Bills and the Cincinnati Bengals. Hamlin suffered the aforementioned catastrophic injury while playing against the Bengals. The circumstances surrounding his return made for an electrifying moment both inside the stadium and for fans watching elsewhere.

Damar Hamlin recovering in the hospitalHowever, as he arrived in a golf-cart type vehicle with the word ''security'' emblazoned on top of the windshield, something seemed'... off. Damar Hamlin's face was not shown and he hurriedly exited the shuttle once he got to his destination. Another camera angle showed Hamlin waving to the fans from a press box but, again, his face was not shown. He also wore glasses and a face mask. So, even if a camera angle showed his face, there would not be much to see as much of it was obscured. All of this awkwardness led many people to believe that the person identified as Damar Hamlin was actually someone else.

- Advertisement -

SOURCES:Damar Hamlin provides Bills one bright spot on otherwise dark dayDamar Hamlin Back With Buffalo Bills Teammates Following On-Field CollapseDamar Hamlin visits Bills' locker room, salutes fans at Bengals gameFormer Pittsburgh Steelers Coach Tony Dungy Under Fire After Damar Hamlin Remarks, Liter Box Tweet '' Sports Illustrated Pittsburgh Steelers News, Analysis and MoreDamar Hamlin returns to Bills' stadium to cheer on teamDamar Hamlin's Family Spokesman Delivers Disappointing News

- Advertisement -

VIDEO - She's EXPOSING how the deep state mafia controls all of us | Redacted Conversation w/ Whitney Webb - YouTube

VIDEO - Massive Heart Attacks Up 17% In Australia. More Safe And Effective Climate Change? - Videos - VidMax.com

Tue, 24 Jan 2023 14:20

LatestVideosGalleriesCategoriesLoginUpload a videoFollow @Newsfilter2Viral Posts 00:59 Disgusting Video Shows High Shcool Students Beating And Torturing Student For Refusing To Drink Alcohol 0 3 0 00:38 Woman slips and falls on ice and gets her legs run over 0 0 0 01:17 GRAPHIC Video Shows Woman Pour Alcohol Over Herself, Another Woman Lights Her On Fire Inside Bar 0 0 0 02:35 VIDMAX VIRAL-Woman Gets Called Out HARD For Trying To Paint A Guy At The Gym A Creep For Trying To Help Her 0 0 0 02:19 Video From Jan 6th Shows Cop Wearing A MAGA Hat Asking Oath Keepers For Help, Being Friendly 2 0 0 01:41 VIDMAX VIRAL-Live Report on a Highway Accident Streams a Deadly Accident In Real Time 0 0 0 01:27 Damar Hamilin's Body Double Shows Up To The Bills Game, Fuels Rumors He's dead 0 0 0 05:30 North Catolina SWAT In Hot Water After Shooting Disabled Man With His Hands Up 0 1 0 00:45 Portland Summed Up In One, Mental Video 1 10 0 01:27 Florida woman kills her terminally ill husband in the hospital, has standoff with police 0 0 0 Check Out The New VIDMAX VIRAL Now!FAIL!NewsPolitics 1 day ago Prev videoNext video 01:27 Damar Hamilin's Body Double Shows Up To The Bills Game, Fuels Rumors He's dead 0 0 0 01:41 VIDMAX VIRAL-Live Report on a Highway Accident Streams a Deadly Accident In Real Time 0 0 0 01:27 Florida woman kills her terminally ill husband in the hospital, has standoff with police 0 0 0 02:19 Video From Jan 6th Shows Cop Wearing A MAGA Hat Asking Oath Keepers For Help, Being Friendly 2 0 0 01:17 GRAPHIC Video Shows Woman Pour Alcohol Over Herself, Another Woman Lights Her On Fire Inside Bar 0 0 0 02:42 Video shows Florida officers rescue baby from overheated stolen car 1 0 0 — 0 6 0 Posted by moku 1 day ago FAIL!NewsPoliticsMore than 10,200 Australians died of ischemic heart disease in the first eight months of 2022 '' that is about 17 percent higher than would be expected in a normal year.Of course, they blame Covid, not the mRNA injection of spike proteins.

0 COMMENTSVIDMAXVideosGalleriesCategoriesTerms of ServicePrivacy PolicyDMCAAdvertiseContact (C) 2016 Vidmax.com / All Rights Reserved

VIDEO - Wind turbine collapses - YouTube

VIDEO - Ukraine in talks to receive floating 'powerships' to help secure its electricity supply | DW News - YouTube

VIDEO - 5 charged with treason in suspected terror plot to kidnap Germany's health minister | DW News - YouTube

VIDEO - Lab-grown meat coming soon to US supermarkets? ' FRANCE 24 English - YouTube

VIDEO - Jeremy Kyle: Ghislaine Maxwell behind bars | 23-Jan-23 - YouTube

VIDEO - Former top FBI official Charles McGonigal arrested over ties to Russian oligarch Oleg Deripaska - ABC News

Mon, 23 Jan 2023 22:27

A former top FBI official in New York has been arrested over his ties to a Russian oligarch, law enforcement sources told ABC News Monday.

Charles McGonigal, who was the special agent in charge of counterintelligence in the FBI's New York Field Office, is under arrest over his ties to Oleg Deripaska, a Russian billionaire who has been sanctioned by the United States and criminally charged last year with violating those sanctions.

McGonigal retired from the FBI in 2018. He was arrested Saturday afternoon after he arrived at JFK Airport following travel in Sri Lanka, the sources said.

McGonigal pleaded not guilty to the four-count indictment unsealed Monday in Manhattan.

The judge ordered him released on a $500,000 personal recognizance bond plus restrictions on his travel and prohibitions on contacting anyone associated with the case.

He was charged along with a court interpreter, Sergey Shestakov, who also worked with Deripaska.

McGonigal, 54, is charged with violating U.S. sanctions by trying to get Deripaska off the sanctions list. McGonigal is one of the highest ranking former FBI officials ever charged with a crime.

McGonigal and Shestakov, who worked for the FBI investigating oligarchs, allegedly agreed in 2021 to investigate a rival Russian oligarch in return for payments from Deripaska, according to the Justice Department. McGonigal and Shestakov are accused of receiving payments through shell companies and forging signatures in order to keep it a secret that Deripaska was paying them.

Both face money laundering charges in addition to charges for violating sanctions. Each of four counts carries a maximum sentence of 20 years in prison.

In this June 4, 2021 file photo Oleg Deripaska listens during a panel session in St. Petersburg, Russia.

Andrey Rudakov/Bloomberg via Getty Images, FILE

"The FBI is committed to the enforcement of economic sanctions designed to protect the United States and our allies, especially against hostile activities of a foreign government and its actors," FBI Assistant Director in Charge Michael Driscoll said in a statement. "Russian oligarchs like Oleg Deripaska perform global malign influence on behalf of the Kremlin and are associated with acts of bribery, extortion, and violence."

Driscoll continued, "As alleged, Mr. McGonigal and Mr. Shestakov, both U.S. citizens, acted on behalf of Deripaska and fraudulently used a U.S. entity to obscure their activity in violation of U.S. sanctions. After sanctions are imposed, they must be enforced equally against all U.S. citizens in order to be successful. There are no exceptions for anyone, including a former FBI official like Mr. McGonigal."

After leaving the FBI, McGonigal subsequently worked for Deripaska through a law firm representing the Russian oil tycoon.

He made at least $25,000 working as an "investigator" for the law firm on the Deripaska matter, according to the indictment.

McGonigal then worked directly for Deripaska, getting an initial payment of $51,000 and then payments of $41,790 each month for three months from August 2021 to November 2021.

He told friends he was working for "a rich Russian guy," according to the indictment, and stressed his work was legal. In conversations about Deripaska, he would often be referred to by McGonigal and Shestakov as "the big guy" and "you know whom."

The U.S. Attorney's Office in Washington, D.C., unsealed a separate case Monday against McGonigal on charges he received $225,000 in cash from an individual with business interests in Europe who McGonigal knew was an employee of a foreign intelligence service.

The nine-count indictment alleges between August 2017 and September 2018, leading up to his retirement from the FBI New York Field Office, McGonigal concealed from the bureau his relationship with this unidentified former foreign intelligence officer all while traveling abroad with the person and meeting foreign nationals. The person is described as an Albanian national who was employed by a Chinese energy conglomerate.

The person later "served as an FBI source in a criminal investigation involving foreign political lobbying" over which McGonigal had a supervisory role.

In the court appearance in Manhattan Monday, assistant U.S. Attorney Derek Wikstrom said McGonigal would appear virtually Wednesday before a federal judge in D.C. to be arraigned on allegedly taking $225,000 from the Albanian businessman.

In this April 22, 2022 file photo, the Federal Bureau of Investigation seal is shown at the J. Edgar Hoover building in Washington, D.C.

Graeme Sloan/Sipa USA via AP, FILE

A lawyer for McGonigal has not responded to ABC News' request for comment.

Shestakov, 69, who was living in Morris, Connecticut, also allegedly lied to FBI investigators in November 2021 about his relationship with Deripaska. In addition to the other charges, he has been charged with one count of making false statements.

Deripaska, an aluminum magnate, was among two dozen Russians sanctioned in 2018 by the Treasury Department as punishment for "the Russian government's ongoing and increasingly malign activities in the world," according to Treasury officials.

The FBI searched his homes in New York and Washington in 2021.

The 55-year-old Deripaska is worth $1.7 billion, according to Forbes' Billionaires List, though he was worth nearly $7 billion in 2018 -- the same year sanctions kicked in by the U.S.

VIDEO - Utah doctor, three others charged for COVID-19 fraud scheme

Mon, 23 Jan 2023 16:04

SALT LAKE CITY '-- A Utah doctor, as well as two of his employees and his neighbor, were charged federally for allegedly running a fraudulent COVID-19 vaccination card scheme, destroying legitimate vaccine doses and administering saline shots to minors.

Dr. Michael Kirk Moore Jr., 58, as well as Kari Dee Burgoyne, 52, Kristin Jackson Andersen, 59, and Sandra Flores, 31, were charged with conspiracy to defraud the United States; conspiracy to convert, sell, convey, and dispose of government property; and conversion, sale, conveyance, and disposal of government property and aiding and abetting.

Moore is a plastic surgeon who owned and operated "Plastic Surgery Institute of Utah," located in Midvale.

Court documents detail that Burgoyne was the office manager for the business, Flores worked as a receptionist and Andersen was Moore's neighbor.

Officials report the group destroyed at least $28,028.50 worth of legitimate COVID-19 vaccines and distributed at least 1,937 fake COVID-19 vaccination record cards.

In addition, the defendants are also accused of giving saline shots to minors at the request of their parents so that the children would believe they were receiving an actual COVID-19 vaccine, officials report.

In October 2021, Moore began receiving COVID-19 doses and vaccination cards from the government after filling out a CDC COVID-19 Vaccination Program Provide Agreement, meaning that his business would administer vaccines, court documents explain.

Shortly after receiving the vaccines and cards, Moore and Burgoyne allegedly began to distribute the vaccine record cards without administering a vaccine, documents report.

According to an indictment, they would also allegedly destroy the real COVID-19 vaccine doses by squirting them down the drain using a syringe.

After some time, Moore and Burgoyne set up a screening mechanism for the fake vaccine card seekers and would refer people to Andersen for screening purposes.

"Andersen would then screen the purported Fraudulent Vax Card Seekers by requiring them to provide her with the name of another Fraudulent Vax Card Seeker who had already received a COVID-19 Vaccination Record Card from the Plastic Surge1y Institute without actually receiving a COVID-19 vaccine," court documents state.

If an individual passed "screening" they would then be required to make a $50 donation for each appointment to get a fake vaccination card. The "donations" were made to a "charitable organization" that was linked back to the plastic surgery business, documents report.

Flores and "other employees" would provide the individuals with completed COVID-19 vaccine record cards even though they had not been administered any doses of the vaccine.

In addition, the defendants are also accused of sometimes administering saline shots to minors "at the request of their parents so that the minor children would think they were actually receiving a COVID-19 vaccine," documents report.

The defendants are scheduled to make their first court appearance on January 26.

Copyright 2023 Scripps Media, Inc. All rights reserved. This material may not be published, broadcast, rewritten, or redistributed.

Sign up for the Breaking News Newsletter and receive up to date information.

VIDEO - March for Life 2023: Full speech of Jonathan Roumie, plays Jesus in The Chosen | January 20, 2023 - YouTube

VIDEO - Can new vaccines stem Africa's rising tuberculosis numbers? | DW News - YouTube

Some health risks from climate change in Florida may surprise. This one affects millions

Mon, 23 Jan 2023 15:12

Some of the health impacts of climate change are obvious and already apparent in Florida, such as more cases of heat stress and mosquito-borne tropical diseases. But it may be surprising that as climate conditions intensify, health experts say it also will increase the risk of sickness and death for people with diabetes.

That's significant for Florida, where a staggering 1 in 10 residents are part of the nationwide diabetes epidemic according to data from the Centers for Disease Control and Prevention. Many at the highest risk, experts say, are the poor and communities of color.

At first glance, it may be hard to recognize the links between climate change and diabetes but they've been traced in a number of studies.

Some are indirect. For type 1 diabetics who rely on taking insulin, disruptions to accessing medication and healthy food '-- such as flooding or power outages affecting the supply chain or blocking access to pharmacies and stores '-- can be life-threatening. One study from Dr. Mihail Zilbermint of Johns Hopkins Medicine-Suburban Hospital, published in the National Library of Medicine, documented how Hurricane Katrina and Hurricane Harvey caused shortages of medical supplies and food. Florida gets lots of hurricanes, underlined by last season's double whammy of Ian and Nicole.

Then there is more direct threat from rising temperatures, which can worsen the myriad health challenges for diabetics.

''Because of the heat, you increase the risk of dehydration, you increase your glucose and increase the risk of kidney damage as there's decreased circulation to the kidneys,'' said Dr. Cheryl Holder, interim executive director of Florida Clinicians for Climate Action. ''In many diabetics that high glucose already causes impact on much of the metabolic functions.''

And Florida is only going to continue to get hotter. Miami-Dade has about 133 days of the year that are over 90 degrees, according to a county report on extreme heat. By 2050, it could leap to 187 days. Miami is also one of the hottest cities in the United States, making diabetics more susceptible to heat-related complications. Heat is also a problem for other reasons. It can place an excessive load on electrical systems, triggering power outages and refrigeration failures that can damage stored insulin.

Holder said one of her group's largest initiatives is educating community clinicians on heat and health impacts as Miami's heat season approaches in May. FCCA has identified 50 health centers in vulnerable communities to provide physicians with materials to protect their patients from extreme heat conditions.

Holder '-- a recently retired professor at Florida International University's Herbert Wertheim College of Medicine and associate dean for diversity, equity, inclusivity and community Initiatives '-- also warned of other impacts to diabetics from increasing air pollution and psychological stress from dealing with both the disease and new climate challenges.

The diabetes belt is a region of the United States '-- mostly counties in southern states such as Mississippi, Alabama and Georgia '-- where people are more likely to have type 2 diabetes than people in other parts of the nation. The belt consists of 644 counties, according to the CDC, including Calhoun, Gadsden, Holmes, Jackson and Madison counties in North Florida.

Even outside of this belt, other counties like Hardee and Baker have double the rates of diabetes than the overall state rate of just over 12 percent.

People with multi-marginalized identities, such as being Black, poor and older, are at a higher risk of developing type 2 diabetes and experiencing the impacts of climate change. The two working in tandem can be overwhelming for patients, leaving them in ''food swamps'' '-- areas with few grocery stores and options that consist mostly of fast food or stores without fresh, healthy food that can help control the disease. Holder encourages diabetics to prepare in advance as best as they can for climate emergencies by keeping canned and frozen vegetables that still have high nutritional value.

''You take a population that already has a chronic disease that has a lot more considerations for day-to-day living, where they have to make sure their diets are proper, they have to have access to life-saving medications, they have to continue treatment, they can't just skip their treatment for their eye disease. They can't just skip treatment for their kidney problems,'' Holder said.

''Then you add all these additional stressors that we have without all these chronic conditions have to deal with. You're looking at extraordinarily more stress,'' she said. ''And as resilient as you are, it still is an additional burden.''

This climate report is funded in part by a collaboration of private donors, Florida International University and the Knight Foundation. The Miami Herald retains editorial control of all content.

VIDEO - (3) How vulnerable to Russian attacks is Norway's power grid? | Focus on Europe - YouTube

VIDEO - (3) More Muslim countries condemn burning of Quran in Sweden - YouTube

VIDEO - Palki Sharma Upadhyay reveals the name of her brand new show on Firstpost. - YouTube

VIDEO - Sunday Talks, Neil Oliver Discusses the Insufferable Agenda 2030 and The Climate Change Quest for Utopia - The Last Refuge

Mon, 23 Jan 2023 14:51

For his weekly monologue, Neil Oliver outlines the insufferable fools that are constructing the path to Agenda 2030 and the World Economic Forum dictates that form the baseline to ''save the planet'' from climate change.

As you listen or read the word picture that Oliver paints, you might remember the CTH article from over a decade ago about what the ''fundamental change'' Barack Obama was outlining, really meant. Well, here we are, a decade closer to the utopian goal '' and the picture is now close enough for all to see. WATCH:

[Transcript] '' Nothing less than our way of life is under threat now. A population distracted by propaganda about one existential threat after another '' pandemics, nuclear war, climate crisis '' is being herded into an unrecognizable future.

What was done in the name of Covid was grotesque '' a violation of the rights of billions of people. Having seen what they can get away with, our so-called leaders have moved on, broadening their scope, as greedy for more as kids left unsupervised in a sweetie shop.

What is happening now, all around us, is the relentless erosion not just of our rights and liberties, but of our lives. It is so blatant '' what's happening '' it's hard to see it for what it is, which is bare-faced daylight robbery.

After Covid, the C-word that's supposed to be on everyone's lips '... drummed into us night and day by the same complicit media that drives everything else '... is climate '' Climate crisis, in fact. Two c-words for the price of one.

From all sides, we are bombarded with predictions of the end of the world. Predictions, remember? Computer modelling '... the crystal-ball-gazing of the scientific world.

If you believe the predictions and ''the science'' '... by which I mean the pronouncements of scientists and global corporations '... the same corporations champing at the bit for all the government grants and contracts to get all tooled up for making expensive wind turbines, solar panels, liquid hydrogen processing plants '... and all those batteries '... gazillions of batteries filled with the Earth's rarest metals and minerals.

The important word to notice there is rare, in that, if they're rare now what's it going to be like in 20 years' time when all the existing stuff needs replaced and multiplied in number by a factor of 10 or 100, or a thousand?

if you believe that science, unquestioningly, if you can't or won't see vested interests at work, it may already be too late for you.

We are to sacrifice everything on the promise of jam tomorrow. Pain for a decade until the as-yet non-existent technology is invented and fills all the yawning gaps '... try selling that business pitch on Dragon's Den. ''I don't know what I'm going to invent, but if you all give me your money, your way of life and your children's futures, this time next decade we'll all be farting through silk.''

They get away with it, because of the message relentlessly pumped out. The message pumped out morning, noon and night that we filthy, mostly white creatures of the West have, with our greedy consumption of fossil fuels since the industrial revolution, all but set the world on fire.

If we don't stop now '... or preferably yesterday, they squeal '... the blue planet will shortly be a blackened lump of charcoal leaving only a smoking trail as it hurtles lifeless through the universe.

By now, generations of people in the West have been raised to accept this grim premonition as holy writ.

Children are crying themselves to sleep at night on account of their certainty that the planet won't continue to exist long enough for them to grow up.

This ingrained, endemic terror is the breeding ground for the insanity of Net Zero '... and the suicide note for millions that is Agenda 2030.

Generations alive today have been raised to believe that the planet and entire populations YET TO BE are far, far more important than THEY are now. Those alive today are of no concern whatever when compared to the well-being o fantasy people of the future, who will inhabit a Utopia made possible by the impoverishment and immiseration of all of us here right now.

Collectively we are the first pancake '' the throw-away.

When I say we are being robbed of our way of life, I could as justifiably say our children are being raised to accept that their being alive AT ALL is the biggest part of the problem. What the planet wants most of all, we are told, is to be rid of most of us, like too many flies in summer.

All around the world, birth rates are dropping as fast as a piano falling out of a window.

The living populations of many nations are not producing enough people to replace them after they die. If nothing is done to slow this run-away train '... to drive the birth of many, many more babies every year '... entire nations face inevitable extinction.

Worse than our way of life being under threat, life itself is being sacrificed to ensure the future of planet Earth.

The message fed to our children is Satanically dark '' that they are nothing more than blight upon the world '... meat-eating, resource-consuming, fossil-fuel-dependent parasites.

Once you contemplate the consequences of those poisonous seeds, the motivations behind anti-human notions like Agenda 2030 and Net Zero become obvious.

Look around now:

Take, for instance, the idea of the 15-minute city (20-minute cities in Scotland because First Minister Nicola Sturgeon always has to convince herself she's doing something different from England). That's another foot in the door by Mr Global.

Together with the clamp down on cars '... the ideology that started with congestion zones but that has metastasised into a multi-faceted determination to make the privacy and convenience of independent travel a thing of the past '... the idea of limiting our horizons to within walking distance of our houses is about preparing us for smaller, meaner lives lived under perpetual scrutiny. Papers, please!

Critics say it's all very well if you actually already live in a city but ask ''What about those in small towns, villages, or in isolated homes in the countryside?''

If you ask me, that's to miss the point of 15-minute cities entirely. If you ask me, the evolution in the minds of the powers that be, like those little emperors gathered in Davos, where the Alpine air must be thick with the smell of spent aviation fuel from hundreds of private jets and, if reports are to be believed, the cologne worn by the thousands of sex-workers who have arrived in town for no apparent reason whatsoever.

The Daily Mail ran with the headline: Prostitutes gather in Davos for annual meeting of global elite '' where demand for sexual services rockets during economic summit '... The grand plan of those priapic masters of the universe will see us herded out of the countryside, out of the villages and into those cities already built and others yet to be.

The direction of travel I detect will set aside the countryside for other purposes that us little people ought not to bother our pretty little heads about. Probably growing all the biofuel required for all those private jets, who knows?

In the future we'll all be city mice and the country mice will be just another extinct species, like the cattle, pigs and sheep.

The fear works best on children '' and so much of the rest of the change to our way of life targets children first.

Last week I read about Edinburgh being the first city in Europe to commit to getting meat off the menu in schools. Choice about what we eat is, obviously, another fundamental part of life that is being set aside without so much as a by your leave.

But the Utopian future is meatless, make no mistake, at least for the likes of us that can't afford to attend Davos in our private jets, or else made of some abomination grown in 3-D printers in labs and sold to us as meat.

And who's going to go meat-free first? The kids of course. Those of us with kids know the truth of school meals, especially in primary schools. Jamie Oliver can bang on all he likes about revolutionising that aspect of the school day, but the reality of meat-free lunches in most primary schools will be chips, pizzas, more chips, and those hyper-processed chemistry set experiments they call vegan sausages, the ones with the ingredients list of unpronounceable additives on the back that's as long as the Old Testament. And more chips.

Like rising damp that creeps, or an airborne virus, new laws are being conjured into existence all around us, all of them shaped to profoundly alter our lives while we're conveniently distracted by a suspicious new pathogen and the threat of Armageddon caused either by nuclear war or the planet bursting into flames on account of too many burping cows and homes that are warm in the winter.

As well as a way of life, old certainties dictated by nature herself are being erased. Always, always it's about attacking the foundations of the family. Mothers are not necessarily women anymore. Women are certainly not a sex anymore, at least not as far as our elected representatives in Parliament are concerned. In a move so fast you might break your neck trying to keep up with it, women are designated as something men can choose to be when it suits them, less an adult human female, more a state of mind in a dress and a pair of court shoes.

When I was a lad, the future was going to be about world peace and teleporting to Mars for summer holidays. Instead, it's turned out to be about no more plane flights unless you're a billionaire, mass vaccinations not for health but to qualify for a digital ID, burgers made of insects, bikes instead of cars, a forever war in Europe and biological men urinating next to little girls in the Ladies toilets.

The reams of new legislation are creeping up on us from all sides. They've demonised those on strike just in time to secure public support for new laws against striking.

Oil billionaires funded the climate crisis glue-downs and soup-throwing performances in art galleries just long enough to usher in new laws limiting the right to public protest.

Sliding in as well is the Online Harms Bill, a full-throated attempt to take freedom of speech by the scruff of the neck and throw it down the waste chute as well.

The World Health Organisation '' second biggest funder, the Bill Gates Foundation, don't forget '' together with member states, is working towards a new Pandemic Treaty that might mean that next time '' and Gates has put a hard pencil line around the year 2025, in which he predicts there will be a real doozie '' it will be the WHO and not the elected governments of sovereign nations that call the shots when it comes to vaccine mandates, lockdowns, travel restrictions and all the rest.

They're legislating about how we heat our homes '' or rather how we don't heat them: heat pumps that everyone with even a sketchy understanding of the laws of physics and the nature of the climate in the Northern latitudes knows won't work, no more gas boilers.

How long before they really do come for the wood burners, the coal fires and the gas stoves as well? How long before they decide they really will deny us every last one of the things that give us independence '... herding us away from a past in which our heating and cooking is powered by fuels that can't be cut off remotely with just the flick of a switch on a Smart Meter. How long have we got?

Health, freedom to move around our towns '' and around our world '' the right to protest and dissent, the right to withhold our labour, freedom of speech, the nature of the food we eat, the right to refuse to accept a medical intervention, what it means to be women and men.

The race is on. Our so-called leaders, all pumped up on the adrenaline of lockdowns and mandates, have sprinted out of the blocks for the ultimate round of Supermarket Sweep. Into their trolleys, they plan to heap every last aspect of the lives we have had.

They think they've got us scared enough to accept the whole damned lot of it.

Here's the thing: I am not afraid of them.

I don't even take them seriously. {End Transcript}

Posted in Big Government,

Big Stupid Government,

Climate Change,

Decepticons,

Deep State,

Dem Hypocrisy,

energy,

Environmentalism,

Fabian Socialists - Modern Progressives,

media bias,

propaganda,

Uncategorized,

World Economic Forum
Clips & Documents
Art
All Clips

2020 [redux] Bulletin Of Atomic Scientists Moves Doomsday Clock Closer To The Apocalypse.mp3

ABC ATM - anchor Andrea Fujii - fbi official tied to oligarch (26sec).mp3

ABC ATM - anchor Andrea Fujii - gas prices rising (16sec).mp3

ABC ATM - anchor Andrew Dymburt - banks locking ATMs (16sec).mp3

ABC ATM - anchor Andrew Dymburt - egg price gouging (25sec).mp3

ABC ATM - anchor Andrew Dymburt - facial recognition lawsuit (1min42sec).mp3

ABC WNT - anchor Martha Raddatz - US building tanks for ukraine (2min1sec).mp3

ABC WNT - anchor Matt Rivers - half moon bay shooter (1min26sec).mp3

ABC WNT - anchor Matt Rivers - lunar new year shooter -home (29sec).mp3

ABC WNT - anchor Mola Lange - yakima washington shooter (1min26sec).mp3

Asian California Muderer NPR.mp3

Black APR course banned in FL npr.mp3

Bolsinaro in Florida 2 npr.mp3

Bolsinaro in Florida npr.mp3

Bolsinaro in Florida WHOA.mp3

CBS Evening - anchor Chris Van Cleeve - lunar new year shooter (2min1sec).mp3

CBS Evening - anchor Jeff Pegues - teacher shot by 6 yr old sues school (1min39sec).mp3

CBS Evening - anchor Nancy Cordes - documents found at pence (2min17sec).mp3

CBS Evening - anchor Norah ODonnell - lead in 95% of baby food (36sec).mp3

CBS Evening - anchor Norah ODonnell - trump 2 yr meta ban ends (28sec).mp3

Chris hayes GAFFE vak_keens.mp3

Climate change fighting technology should be ramped up – BBC News.mp3

CNBC - NYSE says it will cancel some trades after technical issue.mp3

Doomsday clock set to 90 seconds.mp3

DW - 5 charged with treason in suspected terror plot to kidnap Germany's health minister.mp3

DW - Can new vaccines stem Africa's rising tuberculosis numbers - Tedros.mp3

DW - predictive programming - How vulnerable to Russian attacks is Norway's power grid.mp3

Eat Your Dog for the climate.mp3

F24 - Brazil's Lula floats shared trading currency during Argentina trip.mp3

Gates and cow farts.mp3

Gates Curbing cow burps to help the planet - F24.mp3

German Foreign Minister (loser and diploma taken away) on Tanks to Ukraine.mp3

Germany's Africa aid strategy highlights need for green jobs - DW.mp3

Guy Mc Pherson Doomer 1.mp3

Guy Mc Pherson Doomer 2.mp3

ISO murder.mp3

ISO Thank you.mp3

ISO who knew.mp3

Job engagement problems in USA.mp3

Job engagement problems in USA2.mp3

John Kirby BS on tanks 1 NPR.mp3

John Kirby BS on tanks 2 NPR.mp3

John Kirby BS on tanks 3 NPR.mp3

John Kirby BS on tanks 4 NPR.mp3

Lab-grown meat [Upside Meats] coming soon to US supermarkets F24.mp3

Lindsey Tanks.mp4

Macao Bets on New Tech Business Future - NHK.mp3

Making Plastic edible again.mp3

Massive Heart Attacks Up 17% In Australia..mp3

mini-cut 2009 H1N1 report - sounds familiar.mp3

Morning Joe - anchors Mika and Joe - annual covid booster (1min59sec).mp3

MSNBC Chris Hayes vakeens - excess_deaths_higher_in_republican_counties.mp3

NBC Nightly News - Lester Holt - Google Anti-Trust.mp3

NBC Nightly News - Stephanie Gosk - Chat GPT.mp3

NYSE says manual error triggered major trading glitch - yahoo.mp3

Oxford Councillers.mp3

Project Veritas live on twitter [someone pees and flushes] (1min51sec).mp3

Russia's Foreign Minister Sergei Lavrov in South Africa for talks - BBC News.mp3

Scrripps News - AD - News_Literacy_Week.mp3

Spanish Letter bombs npr.mp3

Tank Talk Jingle - Steve Jones.mp3

TOCK egg crack 2.mp3

TOCK egg cracking.mp3

TOCK the complaining teacher.mp3

TRT- More Muslim countries condemn burning of Quran in Sweden.mp3

Ukraine germans resposibility.mp3

Ukraine More more more npr.mp3

Why Germany's military is in a dire state and what is being done to fix it - DW.mp3