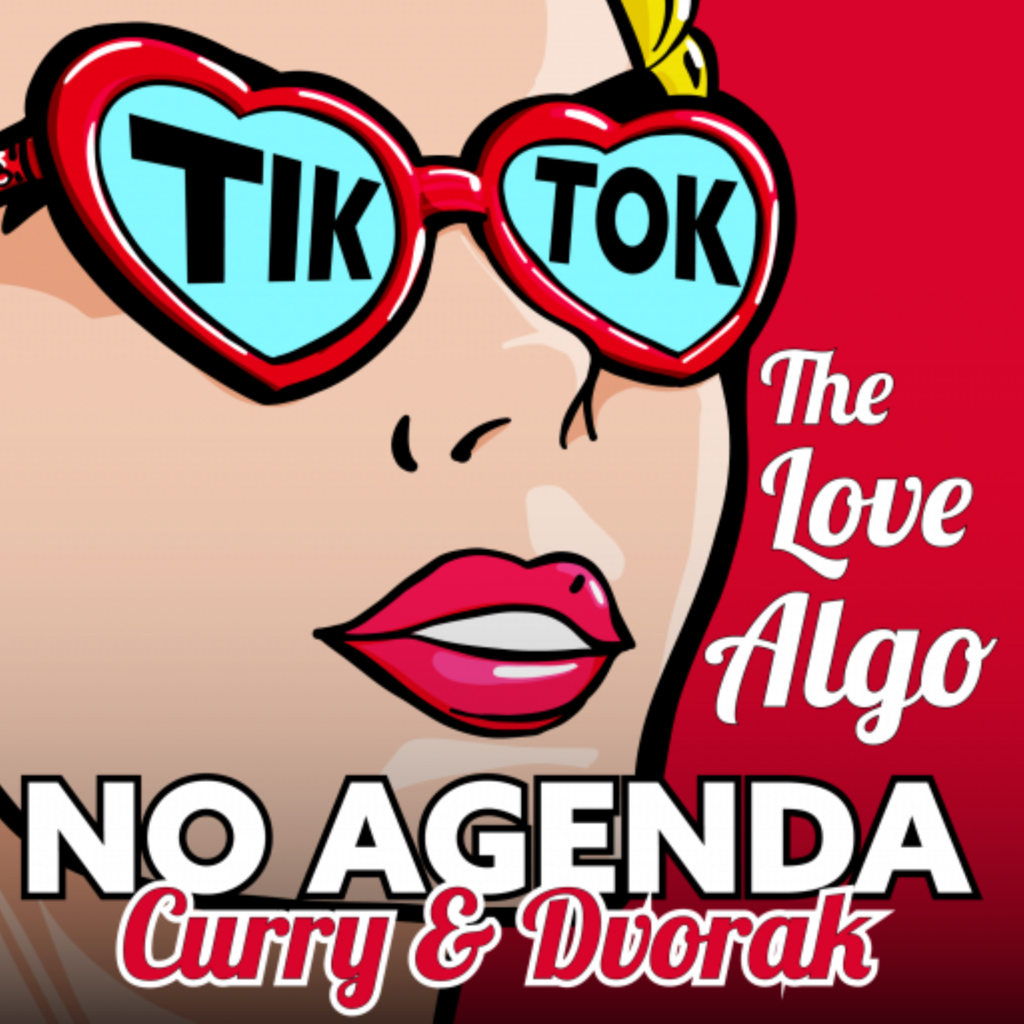 March 26th • 3h 2m
1541: Mega Strike!
Transcript
The transcripts of No Agenda are automatically generated and therefore, not fully accurate. Discretion is advised.
Click the text to start playing from that position in the show. Click the timestamp to copy a direct link to that position to your clipboard in order to propagate the formula.
John C Dvorak: free and open Internet.
Adam Curry: Adam curry, John C. Dvorak, Sunday, March 26 2023.
Industry Award winning one nation media assassination
episode 1541.
Unknown: This is no agenda with blossoming
Adam Curry: blue bonnets and broadcasting live from the heart
of the Texas hill country here in FEMA Region number six in the
morning, everybody. I'm Adam curry,
John C Dvorak: and I'm from Northern Silicon Valley, where
we're awaiting the results of the mega strike I'm Jesse
Devorah. Kill
Adam Curry: Whoa, mega strike mega strike we striking but mega
strike.
John C Dvorak: Wow, I don't have been in the air.
Adam Curry: I was I was in Yes, I was in the air. I heard I
don't I know about the the tornado in Mississippi. God
bless those people. But I don't know about the mega strike.
Yeah, what happened
John C Dvorak: to make a strike all of Germany's transportation
is shutting down completely. night tonight.
Adam Curry: Germany no less.
John C Dvorak: Yeah, the whole country.
Adam Curry: Holy crap.
John C Dvorak: Every flight is canceled.
Adam Curry: Oh, I didn't know. I knew that. I knew France was you
know, we had a problem there. But I didn't know. It's now and
what is the what is the issue with Deutschland?
John C Dvorak: How much the money now that's it. So 12 and
15%. Raises? I think Deutsche Bahn wants or,
Adam Curry: yeah, yeah. DE DE barra de Botton
John C Dvorak: on the trains one 15% In the airlines want 12
Adam Curry: Wow, I'd say actually we're pretty lucky to
get out when we did then. All things consider not going to
bond No, but you know when you when you get Yeah, screws up
everything It sure does. I thought it was just France.
France is Francis no better by the way, turning
Unknown: overseas violent clashes. Today, as an estimated
1 million people took to the streets protesting the
government's move to raise the retirement age from 62 to 64. In
Paris, a few dozen people were arrested after attacking police
and businesses. City Hall and Bordeaux was set on fire labor
strikes are impacting schools, transportation, garbage removal,
gasoline supplies and shutting down tourist sites, including
the Eiffel Tower. Libyans are calling for more protests next
week when Britain's King Charles visits France
Adam Curry: at least the French and the German agree on
something for once. Whether it's it's not the same thing but
they're doing the same. That's all striking.
John C Dvorak: The German was seems a little more organized by
the we know that and it has a name it what is the name? Mega
strike.
Adam Curry: That's that's the American name. No, that's
John C Dvorak: their name. They
Adam Curry: the Germans are calling it mega strike. Yeah,
really?
John C Dvorak: Yeah. We get nothing to do with it.
Adam Curry: I do have a follow up. I
John C Dvorak: have some Paris stuff.
Adam Curry: Well, Oh, okay. Good. Then I have I have a
follow up for that. Yeah, let's do some Paris stuff since since
Pierre isn't
John C Dvorak: a new source. A new
Adam Curry: source. All right. T
John C Dvorak: D. UK.
Unknown: This is in D
Adam Curry: D. Okay. Okay.
John C Dvorak: I'll get started with the king. No, go Paris.
Bernie one.
Adam Curry: This sounds good.
Unknown: King Charles. A state visit to France originally
planned for Sunday has been postponed. It comes after the
protests over pension reform erupted overnight into some of
the worst street violence seen in years. French President
Macron defended the move, saying it would have lacked sense to
stage a historic visit amid social unrest. During the
demonstrations. Police arrested hundreds of protesters and some
police officers were injured.
Not a time for a king to visit France. French President
Emmanuel Macron announced that King Charles state visit would
be postponed so your best to you.
I think it wouldn't have been serious of us. And we'd have
liked common sense if we propose the state visit to His Majesty
the King and the Queen concert in the midst of the protests.
Potentially a major embarrassment for Macron, who
had hoped the monarchs visit would mark a simple step forward
in the two countries efforts to turn the page after years of
poor relations post Brexit. The French president has condemned
the violence that erupted in the many protests across France on a
Thursday. He says he will not overturn the controversial
pension reform legislation.
Adam Curry: So what why actually is I'm not sure why King Charles
is going there at all.
John C Dvorak: Well, the way they make it sound is is to mend
relations after the Brexit that's what every that's when
those reports all come in, trying to mend relations So I
don't know what their relation
Adam Curry: meant. What do you mean? Is it you deal with a
needle and thread like me men let's mend this.
John C Dvorak: Let's go part two of this.
Adam Curry: Oh this had this must be part of this must be the
channel. That must be the problem, the channel and
migrants coming over in in little dinghies
John C Dvorak: sneaking. That's probably
Unknown: what has to do various as well as other cities in the
country have plunged into chaos due to nationwide strikes. In
one district, a street fire spread to a building that has
been evacuated. The main door of the city hall in the
southwestern French city of Bordeaux was set ablaze. In the
streets of the capital residents had mixed feelings on the
protests the way forward.
I condemn all of this damage. The protesters claims are
completely legitimate. We can agree or disagree, but it's
legitimate. It's just that the rules must be respected. For
you. It looks like there were attempts to try with softer
diplomacy with the unions with protests that was quite peaceful
over the past weeks. Now there is forcibly a threshold crossed,
which leads to violence on the other side.
The majority of French people are dissatisfied with the way
macro implemented. The pension reform post suggests a
television interview on Wednesday failed to change
people's minds with protests raging, the President went to an
EU summit on Friday in Brussels.
John C Dvorak: Yeah, I had this. I had this clipped in half.
Unfortunately missed it. It was some wordage that I had a
disagreement. They said it was legislation. It was never
legislate legislation. It was just an edict.
Adam Curry: Right, an edict that could not, yes, that bypass
legislation, but it becomes law. I think it becomes actual law in
this process.
John C Dvorak: Now, the only other clip I have, which is the
more interesting of the group is that is a strategy clip that
somebody put together. I think it was NTD is Paris protests
strategy.
Unknown: Paris authorities recorded 903 fires, and 441
injured police officers for Thursday's protest alone. During
the yellow vest movement, police has developed a strategy to
respond to protesters. But it appears that demonstrators this
time are using the delight water tactic employed by Hong Kongers
during their protest movement, meaning they scatter as soon as
police show up and regroup in other areas. This cat and mouse
game It makes for some astonishing scenes, you can find
yourself surrounded by dozens of protesters in the middle of the
road before quickly moving to another area. Meanwhile, you can
hear police sirens all the time and see police car Dashing
through the Capitol.
Adam Curry: I think the black bloc is now also operational in
Paris, which is the OG Antifa. And that's their, that's their
strategy. They do stuff like that they're pretty well
organized. When it comes to
John C Dvorak: I find it fascinating that they're using
it because I guess the Yellow Jacket protests or the yellow
vest, they had figured out how to control it. And so now that
we get to his new ideas, it's kind of interesting to me
Adam Curry: in the in the vein of Never let a good crisis go to
waste, we go to France 24 Believe it or not, I picked this
up on their tech segment. While though I would say if the French
really knew this was going on and it wasn't stuffed away in
the F 24. Tech segment. They might be up in arms
Unknown: over it. It is time for our tech 24 segment and tech 24.
For that I'm joined by Peter O'Brien, like every week Hello
there.
Adam Curry: So you notice how one of the tech segment that I
saw is no longer news like, hey, we just took phones just off
we're not talking about off. You know what I mean? Tech is always
John C Dvorak: you that NPR though with news. O'Brien,
Unknown: like every week Hello there. We're going to come back
here to France, the pension reform and the anger over that
that wasn't the only controversy here in Parliament this week. So
tell us more about what else went down
under the radar a little bit in the international press. But it
was a big change in terms of surveillance law in France that
got passed in French Parliament this week, even though not many
MPs actually turned up to vote on this bill. But yesterday, a
bill was passed, which essentially means that
algorithmic video surveillance so that's AI empowered use of
cameras to survey crowds and events, sports events that's now
being provided a legal framework in France and it's essentially
been legalized. Now this will allow Official computers to
recognize and signal risks and disturbances in public spaces,
things that perhaps human observers wouldn't pick up on.
It's part of a special package of laws for the Olympics and
Paralympics next year. And as such this video surveillance
parts will it's slated to only be in effect until June 2025.
But you will know that no, it's almost a year after the end of
the Olympics. The idea is for the government to be able to
keep millions of people who will flock to the French capital
safe. But many privacy activists are obviously concerned that
this might be a precursor to a new status quo of AI enhanced
surveillance.
Adam Curry: Oh, no kidding. And the video they're showing is,
you know, the the typical, you know, there's a box around
everybody. It's got a little number, your ID, it's following
you. And I know that AI Servette surveillance that should be
frightening to the French. But the young they had there's not
much about it unless you're watching the tech 20 fours news
tech news. Yeah. Yeah, I'm looking at Deutsche Avella. You
think that Deutsche Avella somewhere on their homepage or
under German news would have something about the mega strike
there is nothing
John C Dvorak: top news on this morning's live
Adam Curry: top news Berlin at all.
John C Dvorak: Yeah, you think do you think it would be on the
on the website? Yeah, all the airports are shuttered. Right as
of now. Pa
Adam Curry: just nothing about that on on on. DW dw.com
Everybody know nothing. Wow. Transgender women banned from
female athletics. They got that at the top. Berlin climate
referendum false. Oh, speaking of climate. I have very
important news to report from Jamaica. regarding climate
change,
John C Dvorak: oh, yes, we will. Let's take a break here and talk
a little bit about your you made it back.
Adam Curry: Yes. And may I say the comparison even though sank
Sanger Sanger airport in Montego Bay is a bit hectic. To say the
least. Man compared to TSA our guys are dicks man. They're also
friendly. Yeah, man. I see you got computer in there take it
out. It's no it's no problem but
John C Dvorak: wow, here's your racist voice so that's
Adam Curry: my No that's not my racist voice. So so you know and
they only had the magnetometer which of course I'm fine was I
go through the magnetometer and I got the studio suitcase. And
you know, if I if I had to take they also take out your
computers, your laptops, your iPad, your iPhones, technically,
I take out the the laptop. Now still in there are two portable
screens and the road caster Pro, so I have complied. But of
course, they like Mr. We can't see through it. You got the
laptop in there. So no, I don't have a laptop in there. Well,
you have to come and take it out. So now I've got it took up
my boots. And I took out I'd already taken off my boots and
my belt. I had them back on now I'm on the other side of the
magnetometer. The guy and so the guy says come through. So I'm
walking back against traffic with my boots on with my belt on
PPP. He says you got to take it out. So I take it out put all in
one bin, because we go I mean, I thought you put them in separate
bins, but put all in one Bin Bin, and then it goes through
and then I walked through PPP places or take your boots off. I
said, I just I just walked through because he said I had to
you know take everything I was okay. Why? Okay, that's cool. I
wasn't here a minute ago. You're good to go, literally. So I hope
everyone on the flight felt safe with me a possible terrorist.
Everything went well though. That was that was that was
really nice. Our flight was on time, American. Unbelievable.
But yeah, it happened. Now before I left though I did. I
did do some scientific research. Now the first time I went to
this particular resort, was 30 years ago. This is when I did a
regular there. I was a bit for a while when I lived on the East
Coast. You know, the East Coast is hop skip and a jump. It's
kind of like Hawaii for
John C Dvorak: for people who have four hours.
Adam Curry: Yeah, this is like three and a half I guess even
from from New York. It's probably three hours, three
hours, a hop, skip and a jump. Now, so I was there 30 years
ago. That's why I did a documentary of Jamaica. And
that's where we started. And then I lost my very big small
place has been there. It's been there forever. 70 years, I think
at this point still upheld quite well. The last time I was there,
and I've probably been there 10 times was 20 years ago. And a
lot of the employees are still there. They've been there for
3536 years. They know they get this job. They stay there. They
love it. It's a family and Oh Mr. Curry, welcome. Welcome
home. And so the bar on the beach, there's a little beach, a
little beach is built around a tree. It's one of those trees in
the middle. And then it's, you know, there's a wooden bar built
around it. We all know this. And so I say to Stuart, who's been
there for 36 years, Stewart Stewart, how come? You're not up
to your neck and water from the from the rising sea levels from
the climate change? He looks at me and he's, he says, don't
bring that him on. It's like no, not a single centimeter has been
lost the beaches exactly the same as 30. I know that what
we've been told exactly the same as 30 years ago. Nothing has
changed exactly the same beach as it lets a tiny little beach
so it would be very noticeable. It's like a cove more than
anything. Yeah, you would notice it and you'd think that the
there's a couple of private houses that are part of this
establishment right on the beach and the right on the beach, you
think it'd be falling in? No, no, from 30 is still there the
same things? Well,
John C Dvorak: something's up with it must
Adam Curry: I don't know what they're doing in Jamaica?
They're doing something different. Very, very
suspicious. So, yes, yeah. And they all they all thought it was
very funny though. It's the Jamaicans like, the, if they
really know you're in on it, then they'll smile and laugh
like, Okay, I got you. Otherwise, they'll just be like,
What are you talking about? And they'll be real. If you're, if
you're in with the gang, then then they'll lead up. I'm sure
they have to deal with a lot of crazy people who believe all
kinds of crazy things like the like the yoga lady who came in
from New York. And we had a chat with our from a Texas Oh, okay.
Hey, nice to meet you. I'm gonna stand over here. The minute you
heard we're from Texas, she started to edge away. Why?
Because she she immediately could feel that we were not in
her in her team from Manhattan. We were not her crowd. I can you
could the it's like, it's like the temperature dropped five
degrees. Well, from Texas. Oh, Dick. Yeah. The way it is.
They're just speaking with climate change. For one second.
There's a new movie coming out Oliver Stone. You heard about
this?
John C Dvorak: No, I have not.
Adam Curry: No, I have a little bit of the trailer. And I think
well now first of all, he's all in on climate change. You got to
know Oliver Stone. All in climate change is happening.
Fossil fuels, we got to stop. And if we don't stop the carbon
dioxide 100% We don't drop it 100% We're all going to die. But
his solution is novel. And I would say he's flipping the
script. Scary music.
Unknown: We may have come to a point in time when Earth is
asking us. Do you know what you're doing?
Most of our power still comes from burning gas and coal. The
amount is going up, not down. And if we do not cut carbon
emissions by nearly 100%, the world will suffer serious
damage. This is an even bigger problem than we thought the
answer to solving climate change is very straightforward. What's
the best solution in your mind? Largely nuclear, nuclear,
nuclear nuclear. We've been trained from the very beginning
to fear nuclear power. The very thing that we fear
is what may save us
what scary is not the same as what's
dangerous. Coal is dangerous and more people die from coal in a
couple of weeks than ever died from nuclear which is all from
the one accident in Chernobyl. How about that?
Adam Curry: It's called the nuclear now
John C Dvorak: that may be why they set the wolves on this
little leak that's in one of these nuclear plants. I don't
have any clips of it but this one plant has a leaking
Adam Curry: a new water in America. Oh yes. I did read
about that. And
John C Dvorak: yeah, it's late but it's tritium and it's in the
water and it's that doesn't
Adam Curry: sound good Tritium.
John C Dvorak: Tritium. Not bad. That's pretty much okay. But
it's there. NBC CBS ABC they've all been making a fuss over this
this water leak
Adam Curry: Oh, I don't have any I don't have any clips on that.
I must have I think I heard it but
John C Dvorak: I just think something's up with the with
these reports because I maybe they're trying to do I think
we're going to start to see more of this stuff to counter me if
this guy's going to promote nukes to that extreme.
Interesting. Well, I want
Adam Curry: to know since we know billows here
John C Dvorak: I also there's a little bit in there he said
something about We've been trained to fear it or ya know,
he goes to it. Well, that's not necessarily true. We were
initially trained to love and want it in the 50s. Oh, in fact,
I think I still have some of these comic books. But when the
nuke nuclear power plants were first initiated in the United
States, there were comic books. Mr. nucular, you're really Yeah,
and there was a bunch of comic books and how it's going to deal
if there was a big promotion of it for about a decade. And it
continued until the event at Three Mile Island.
Adam Curry: Right, which, and that, of course, was in
conjunction with the release of the movie. China's syndrome.
Yeah, that came within two weeks of each other coincidence with
Dantley so Huh, okay. Well, they're not well, they're not
doing a justice now. I mean, so I, of course, have not seen the
movie. But I look forward to it. I look forward to seeing, you
know, if Bill Gates is going to be there promoting his
investments in nuclear, which we know he has this.
John C Dvorak: He may have been investing in that movie for all
we know. That's what that's what I'm
Adam Curry: saying. It's like, this is a flip of the script
that is suspicious to me. And Oliver Stone, why would he? I
mean, the guy investigate so much. I have hold him in pretty
high regard for most of his his work. But what is this? Now he's
all in on climate change. I mean, surely he can see the
bullcrap of that? Or is just some other agenda that he has
John C Dvorak: made his money?
Adam Curry: Okay, you always have to take take us there,
don't you? So, I had a lot of time to think, on the semi
vacation. Yeah, just sitting there on the on the non climate
change washed up beach. Following along with and by the
way, it was lovely. There was no television in the room. And no
television anywhere, really, except in like some common space
if you want to watch a big sports game. So there was no
Tucker and Heath. And I feel like I missed Tucker, Tucker.
Well, that's like the only thing that I would that I used to
watch consistently. We kind of stopped doing that a couple of
weeks ago, just because he was all part of the outrage. And now
when he started off and did a whole thing on Don Lemond for 20
minutes. I'm like, Okay, I'm done. I'm done. I don't know
what your problem is. But you got nothing. But there was no,
there was just no outrage to watch it. I could get enough of
it online and people sent me all the appropriate clips. I had a
good thing about tick tock tick. Can we talk about can we talk
about the Tick Tock for a bit?
John C Dvorak: Well, we can pray if you don't mind? premising It
was my tick tock clip. No, I
Adam Curry: think that's very important. Hold on.
Unknown: Tick tock.
John C Dvorak: Tick this, this clip is the bearded lady. It's a
bearded lady that comes on and starts to chat.
Unknown: Yesterday, this well meaning older gentleman asked me
if I was depressed because I've been growing out my beard
lately. I was like, No, I'm growing out my beard because I
lost myself because I'm confident in my body. I did this
little curtsy and he laughed and the owner was smiling at me. It
was a beautiful moment. And it was then I realized I'm finally
stepping into my own power enough to be vulnerable with the
world. Because seven months ago, as soon as a bearded lady mask
fam look, and I loved it. But when I had to go to the VA, just
to get housing and getting a transitional living program,
become part of the system. I shaved it off because it was
free not to be taken seriously as a woman. So I just want to
encourage you today there's no right way to be a woman. Okay?
Let's just go ahead and break that binary. Some women have
facial hair. Some women shave their armpits, some don't. Some
men have vaginas. Some women have penises. Get over it. All
right. So I challenge you today to love and express yourself
recklessly. You're one of a kind doll
Adam Curry: Okay, and the point of playing this clip is
Unknown: that's tick tock
Adam Curry: Yeah, that's part of tick tock. I agree. Of course,
we and I'm not going to play endless clips from the five
hours of grilling of the CEO of tick tock by the way my
apologies P Singaporean, he's not Chinese. No wonder he
doesn't look like your typical frowning CCP guy. So I
John C Dvorak: I apologize for they do they frown or frown or
Adam Curry: I apologize for racially profiling him. And just
this as a typical racist assuming that he is Chinese that
was very bad of me and I repent. But boy, was this the news? Was
this the news everybody was all over it all the lawmakers is
working out what the big deal CBS reports
Unknown: from the beginning shows each shoe the CEO of the
most downloaded app in the past two years based intense scrutiny
on time
is up. And at this committee gets its way. Tic TOCs. Time is
up.
That tick tock executive tried to reassure lawmakers with a
commitment to safety.
There are more than 150 million Americans who love our platform.
And we know we have a responsibility to protect them.
And he insisted the video sharing platform is not an arm
of the Chinese government despite being owned by parent
company bytedance, based in Beijing
has bitin spied on American citizens.
I don't think that spying is the right way to describe it.
She said the company is working to build a firewall dub project
Texas to store and protect user data in the US
and I have seen no evidence that the Chinese government has
access to that data,
I find that actually preposterous. Okay, lawmakers
also present you with content aimed at younger users from
buying drugs on the app to dangers of some Tik Tok
challenges and videos promoting eating disorders and suicidal
behavior. Our kids are at risk on your platform. The Nazca
family attended the hearing their 16 year old son died by
suicide after viewing disturbing videos served up on the
platform. I would just like to see mainly stopping promoting
these types of videos that my son was getting President Biden
has been the app on government devices along with at least two
dozen states. Does this put tick tock closer to a complete ban?
Absolutely. I think it was pretty clear that the Congress
is unified. In terms of opposing tick tock.
Adam Curry: This was really very interesting. The first of all, I
heard you laughing. So maybe that's because of the fact that
the CEO of tick tock used the John C. Dvorak, no evidence
defense, it was astounding. I
Unknown: have seen no evidence that the Chinese government has
access to that data. They have never asked us we have not
provided
Adam Curry: I love I've seen no evidence. I did did you go rogue
you go rogue of the curry Devorah Consulting Group and
it's just the DeVore I
John C Dvorak: grew revenue split, there's no way
Adam Curry: and then and then the CEO pulled in what about
ism?
Unknown: Basically my opening statement? I think we are need
to address the problem of privacy. I agree with you. I
don't think ownership is the issue here with a lot of
respect. American social companies don't have a good
track record with data privacy and user security. I mean, look
at Facebook and Cambridge Analytica
Adam Curry: went there he went there and of course for the hit.
But you can say all you want about Cambridge Analytica and
Facebook and Instagram and Google and that they track
everybody just as much which they do, but you cannot refute
what Representative biller right raucous of Florida Saddleman
this was the main the main attack vector where you
Unknown: must save our children from big tech companies like
yours, we
Adam Curry: must save our children all about the children.
They're dying the children, no mention, of course, of the
children who suffer from bulimia who remember they were on was
that that Tumblr, Tumblr, Tumblr purchased by automatic and are
part of WordPress, Tumblr, promoted that and all the
bulimia ik kids we're getting, you know, tips and tricks on how
to do that. And, of course, that is also on Facebook. It's also
an instrument, all of this is harmful. But why are we singling
this guy out? Well, of course, we've discussed ad nauseam, the
theory that everyone tracks everybody the same, but somehow
the Tick Tock guys are just taking all the ad money. They're
they're eating their lunch. And that is pissing them off. And
that's the part like to focus on what exactly are they doing?
What is the magic that they have? Because did you see this
note from from our producer who works at a digital marketing
firm for small software as a service company that provides
marketing and E commerce support for florists?
John C Dvorak: I did not see that note.
Adam Curry: So he says they partnered with Yeah, he said we
partnered with mountain TV, the company purchased by Ryan
Reynolds, which specifically focused on geo target marketing
and providing TV ads based on the devices ID and not cookies.
This is the DMA which is the demographic market. DMA, I
think, is the access I gotta get the acronym right. Which which
is what everybody uses. Facebook uses this. Let me see D. It
comes from Nielsen Nielsen provides this. This information
are designated market areas for ad targeting. And, and our
producer here explains it. Anyone who enters a geofence is
captured for remarketing. So when your device ID walks into a
certain area, you'll get TV ads across Hulu Paramount any cloud
service that serves ads, it's all tied together display ads,
the cell phone, laptop, tablet, connected TV, anything within
the geofence is targeted any device connected to the same Wi
Fi network as the initial target device is captured for
remarketing you can target a house, a block a mall parking
lot conference centers, whatever you want. Propellant media and
mountain TV are the the main companies that do this, which is
I assume tick tock after being on 200 million plus devices in
the US as all the device IDs further linked to other devices
that have shared the same network then you have hot jar, a
tool we use to watch what people do on a website and tells you if
someone is frustrated and lets us know when to fix something on
partner sites and watching everything. In the end tick tock
like others has screen recordings of app activity
device IDs, location, data movement, shared devices via Wi
Fi images and video of all the users in various places,
tracking them with the app running everything in the
background to serve ads. And so what people think, man, my phone
is listening to me. I just was talking about this and they
serve me an ad about it. Now. That's because you're on your
phone. And this is this is how it works with his DMA. It goes
on to say I've learned in digital marketing, you can
easily get a lot of information from users, the mountain TVs
tiktoks repellents have uploaded our 300,000 email addresses
names and address match them against Oracle LexisNexis other
databases. I mean, this is just one little company that does
this. So even with a VPN,
John C Dvorak: but let's stop for one second. And remember a
couple of things. First of all, no discussion of the free and
open internet, free and open Internet. It's very important.
We have to have a free and open Internet. Okay. Yeah, sure.
That's gone by the wayside. The second thing is this holy grail
of advertising has been discussed since the 1980s. This
is going to be the greatest thing ever. We're going to have
we can be able to really pinpoint people we can find
them. You know, this was what the interactive TV was supposed
to do, but that never flew. And so when it came along,
Adam Curry: TV, web TV wasn't web TV was a thing called in or
web TV
John C Dvorak: was one of the companies that came along, but
it was all part of interactive TV, which was going to be the
greatest thing ever. Yeah. And interactive TV was the way see I
remember when CNET was started up in the early 90s. Just as the
web browser is coming into play that their whole thing their
original model for making money was going to be interactive TV
Yes, they were going to be
Adam Curry: a television network primarily.
John C Dvorak: Yeah, interact interactive TV with remote take
over the place.
Adam Curry: With your remote that you'll be interacting
you'll click on your click on the on the on the dress, you'll
be able to order it.
John C Dvorak: We have to renew every TV supposedly to be
watching friends. And you can say what is that Mike? Because
oh, I want those shoes.
Adam Curry: Right? It was friends was the example all the
time? Oh, yeah. People want to buy whatever Monica is wearing?
Yes. Yes, nailed. So
John C Dvorak: this was all the goal all along. And I don't want
to bring in something completely different. But just as a
parallel the idea of a digital library of all the world's books
in one, you know, digital form is another one of these goals
that people talked about in the 80s and 90s. So it comes to
fruition this the advertising part of it using the way they're
doing it like you just described these these mechanisms. And
everybody's bitching about it. Give me a break,
Adam Curry: but only in the context of tick tock, because go
ahead and just do a
John C Dvorak: tick tock didn't exist. What would we be
complaining? No, because
Adam Curry: it's been going on for a long time. This is Nielsen
who do deliver this data DMA geo targeting. And you can look at
it from Meg Mehta. You can look at it for Google it's available
to everybody. And he I just have a story from the Tick Tock
business blog does have a date on this thing. DF DMA God
targeting enabled for businesses on tick tock, yay. This is this
is not not like anybody doesn't have this. I wish they had a
timestamp or a date. Let me see. Can I do this view source? I'd
like to know when this was published. Doesn't say okay, no.
All right. Good work tick tock. So we have to kind of assume
that tick tock doesn't have anything special Although that
was the mean for a long time, tick tock Oh, yeah, that they
target you everywhere. They track you on all your devices
just like everyone else. It's called the DMA geofencing. So
that's not it. So what exactly has happened here? And I need
your help on the timeline of some of these things. And you'll
you'll, you'll probably remember better than I did, but first of
all, let's just talk about some basics. Tick tock, two syllable
name. Great name. You can't argue with tick tock. It's a
great name, tick tock. It's just, it's fabulous. It is in,
in essence, something that no, it would Periscope probably
should have been back in the day, but it's a video Twitter.
That's what it is. It's a video, Twitter, Twitter, Twitter.
Comments are very short. You know it. The Time Compression is
amazing. I've gone viral twice on Tik Tok. I've been alerted to
this, I installed it once and uninstalled it just to see
hundreds of 1000s of views of two different topics of me on
Joe Rogan. And the tools that they have this is this is
something that we have to talk about back in the day. When we
were still using dream Dreamweaver, and front page
tools, we need tools for the Internet tools, tools, remember
the tools, the tool discussion Come on. Tools,
John C Dvorak: was Dreamweaver still in play it but it was
front page that was the big page was the one Microsoft front page
was actually a dynamite product came out in the late 90s, I
think and it was it wasn't a Microsoft product, they bought
it and ruined it. Oh, immediately ruined it
immediately by making it so proprietary that it didn't do
normal HTML
Adam Curry: anymore. htm.
John C Dvorak: No, no, that was just a dev. It was not doing he
produced a file that had an htm extension. But that's not what
I'm talking about. Most of the editing tools for HTML early web
pages was would edit HTML, they didn't have a bunch of crazy
crafted, front page developed that was all on the back end
that only Microsoft had control of. And it became so confusing
and impossible to use. I used it when it first came out. It was
dynamite. And then it became a piece of crap. Yes, and still
baffles me why Microsoft allowed that to happen.
Adam Curry: So in the early days of the internet, you had to have
a web host or a server and you had to know some HTML, and you
had to have your red ball dot GIF and know how to do an image
source equals and, and then you had a domain name, I was the
king of that. And that was the early days. Then we got two O's
tools, everybody tools. And then from tools came. So we had a
front page, and then we got flash. Oh, everyone has a macro
media, good old Mark canter, betta flash, and then it was
gonna be flash flash took over everything. Everything was
flash, flash, flash, flash flash animation. And then we had Java
scripts, and all all code and then tools for the JavaScript,
all kinds of tool tool tool tools. So if you look at
John C Dvorak: Tic Toc, you kind of jumped over CSS. But
Adam Curry: what I'm talking about the tools right now. So
what was the tool for CSS?
John C Dvorak: I don't know. Okay.
Adam Curry: I was gone to write cascading style sheets, okay,
I'm out of hiring, somebody can't free because front page
was good. I can use front page. Front Page was cool. Hey, um,
maybe you baked your own tool or had a little interface or
something. But that was about it. And I'll get to the to the
tools that tick tock is using. So in the back in the days
actually, we had AOL first. Okay, then we had the web pages,
we got front page. And then we got the big, you know, someone
came up with these ideas like, well, we can give people their
own web page space. So they don't have to, you know, don't
have to go out and get a web server and all that. I think
maybe geo cities was a probably an early example of that AOL
John C Dvorak: gave you the free web page. Which was stupid,
Adam Curry: right? Well, they let the cat well what happened
at once AOL opened the gateway to the internet. What happened
to AOL? Bob lives. But it means that the is that what? And they
didn't mean it. They didn't understand it. But this has
happened consistently. Here's where I need your timeline help.
So at a certain point, I think we're still messing around with
you know, with web hosting and geo cities came along, at a
certain point. What I remember MySpace exploded, and MySpace
gave you a web space, MBU called BS
John C Dvorak: that you have to dispute the approach janitor of
course was Live Journal.
Adam Curry: Yes and but the Live Journal didn't have RSS feeds at
the time did they? I think that
John C Dvorak: I don't know later all I know is I remember
when it when Live Journal came along and the My favorite story
of course is I dusted the timeline but my journal, the guy
was offered a bunch of money for it and infused it. At it
Adam Curry: he was trying to keep it the integrity. I'm not
selling out, right. Am I right? I'm not selling I
John C Dvorak: think it was one of those guys who think you're
gonna make billions in the you know,
Adam Curry: and he didn't know. And he didn't. And we had
movable type was the blog that came up kind of like, all that
kind of old school type me ethical type. But then MySpace
came along and that was the web for everybody. Because you could
go crazy. You could have stuff flying around ganking cat stuff
jumping up and down and it was your space, your space on the
internet. Everybody had the same friend Tom, Tom got you started
you had a friend. And then you could your friends could connect
to you. This was big. In fact, Tom Freston, my boss of the time
MTV Networks was fired. And it's a fact record fact of record
record of its stated record. He was fired because he did not buy
MySpace for $500 million. And of course, he is laughing. Because
what happened? MySpace got usurped by a new new thing,
which was Facebook. And what did Facebook have? Facebook had the
news feed. So it was a it was a it was a giant leap in, in
publishing up, but it was something new, it was a new
thing. And, and later, they of course, had the at first, I
think the early Facebook was chronological. I don't think
they brought in the algo until later, where they decided to Oh,
no, this is what you're gonna see. And that cranked up
Facebook even further. So Facebook gave you some more
tools, tools, tools, tools for publishing very easily. Tools
for liking things, and sharing things and building communities.
These are all tools in my mind. And then they gave tools to
advertisers, all goods of Facebook sword, sword, I tell
you, until a new player came along. Do you know the player
that was endangering Facebook? Instagram, Instagram, these
people, the kids were now on Instagram, they had shortened
stuff, and it was just pictures and they're going crazy. And
they loved it. And there was very addictive and they're all
in and, and Mark Zuckerberg went, I gotta do something, I'm
gonna buy him. And he did. And was a brilliant, brilliant move.
Brilliant Mum, I
John C Dvorak: agree with that. In fact, I'm surprised the
government allowed it but really, really surprised.
Adam Curry: Now, in the meantime, in the meantime, over
on the search side, we had Lycos and Alta Vista. And then these
these two guys came along who magically from Russia, and they
figured it all out and and they built Google and that page rank.
And this was a new way to search and Alta Vista was gone within
seconds. By the way, when when Facebook came what happened to
MySpace, crickets. So this does happen in technology, new
companies come in. And then the old ones go away that just
disappears slowly over time. But some of it goes quite fast.
AltaVista disappeared overnight, the way and Lycos and they tried
to do all kinds of stuff with didn't they try to package that
with Excite. And and so other companies, I mean, this is all
Silicon Valley lore, and it's just a path littered with dead
companies that are still, you know, are still around and
eventually get bought by Verizon. You know, on the
content side, you can sit say the same about what's the Greek
lady's name? Sorry, the Greek lady who had the very popular
website that no one got paid to write for Huffington Huffington
Post, oh, this was the future of publishing. She was she was
going to outdo the biggest publishers in the world,
Huffington Post.
John C Dvorak: Yeah, because people weren't going to get paid
now that was a
Adam Curry: great, great idea. And that also got sold to
Verizon and Verizon buys up all the junk at the end of the day.
Or at&t. So then Google Google couldn't get a network's they
couldn't get anything started they couldn't do it they they
tried or cut me out they they even which
John C Dvorak: was very successful. Yes
Adam Curry: amongst Brazilians have a certain look
John C Dvorak: last that you all
Adam Curry: Brazil Brazilians alright, but it wasn't good
enough and they just couldn't get Americans to use it and was
Brazilians was great but not good. Right enough. And and then
they they had, they had RSS reader, which was very, very
popular. And Tina remembers that she used it. And this, of
course, was blogs, people were subscribing to blogs. And they
saw, they saw this fantastic ecosystem and said, Hey, let's
kill that off. And let's do it ourselves. And so they close
down Google Reader, because they couldn't figure out how to make
it make money off of it, I presume. And they built it was
at Google Plus, is that what they put in place of RSS reader?
Google Reader?
John C Dvorak: No, who is an exact replacement? By Google
Plus? I think they were targeting Facebook specifically,
thinking they could do it better. And of course, they have
no social skills. No. And were unable to. They just couldn't do
it. They just can't seem to do anything except a very few prod
products.
Adam Curry: And then what did they buy? For I think it was one
of the largest purchases ever at that point was, was
1,000,000,002 billion YouTube. They bought YouTube.
John C Dvorak: Yeah, for at the time would seem like an
outrageous amount of money. Yeah. Yeah.
Adam Curry: So they're very smart. Someone who was smart,
and they bought you all to say, kept digging. And YouTube was
broadcast yourself. And what YouTube became, as we can see,
now it shows lots of shows lots of copies of television. I would
say the the millio of YouTube is nothing like tick tock. And they
saw the writing on the wall when tick tock came along, and they
went, Oh, Google shorts. It's short video. And but no, no, it
didn't. And of course, YouTube has phenomenal algorithms that
have worked very well for them for quite a long time.
John C Dvorak: Kind of it always stands out to me is that these
companies like YouTube, for example, and all these tech
companies that they've all done a delegate into this mode. Will
this give what what this guy's what he's doing what he's
making? He's selling Mooseheads? i Oh, we could sell Mooseheads
junk jewelry, or we could sell junk jewelry. He's got a liquor
store. Well, we can do a liquor store.
Adam Curry: Yes. But the innovation left a long time ago,
the innovation left Facebook when they bought Instagram. I
believe if I recall correctly, Zuckerberg in 2016. Tried to buy
Tik Tok, I think. Pretty sure that was 2015 20. So I would
have been smart if true. I think that he tried to do that. And
then he decided it was too expensive or didn't didn't want
to do it. And now I just say it's definitely too expensive.
He could no one can buy that. I don't think any company is quite
big enough to do that. While they're all off doing chat GPT
you saw how fast that went? Oh, they've got a liquor store. And
it's called Chat chat. GPT we can do chat GPT. Harvard show
John C Dvorak: that the short history of the internet by Adam
curry.
Adam Curry: But what happens is, there's always something better
that comes along and now tick tock came along, and they don't
know how to replicate it. But I think I've kind of figured out I
mean, so. So the accusation is, oh, they're tracking China.
China's gonna track you. They're good. They're gonna hurt our
children. Oh, it's horrible. They're telling our children to
jump in front of trains and stop eating. Now, that's also all
these other social network that's also Instagram. That's
all that's all the same stuff. There's nothing new. But there
is something different by the way. American Airlines as I was,
you know, tick tock is being banned everywhere. As we were
flying back, you get free internet on American Airlines.
If you're a T Mobile Subscriber, which I think is very
interesting. It seems like to counter intuitive brands to be
working together. You think American Airlines would have AT
and T or something as their partner? You know what I mean?
But not the cheap as T Mobile and that's like a lower lower
tier of people. But we got free internet, but guess what
wouldn't work tic tock YouTube worked for Tik Tok didn't work
so americanairlines blocking Tik Tok on your inflight? I thought
it was kind of interesting.
John C Dvorak: free and open Internet.
Adam Curry: Net Neutrality. Exactly. So let's get back to
the tools for a second. Having gone viral twice in two
completely different videos topics, both of them from the
Joe Rogan show. One about my faith journey one about Out of
my theory of tick tock. In both cases 1520 minute conversations
have been hacked down to 45 second videos with the mean jump
cuts and and captions flowing across the screen and zooms in
and cut aways and they're like music all set to music. This I
think the tool is called cap cut. It's as a part of it's
integrated as a tool in side of Tik Tok. The other part is a
bite dance app. But if you if you look at the videos and the
music, they've licensed, the tools that they give creators,
that's you and me to create stuff on Tik Tok is very
advanced. And it goes far beyond the filter that makes you look
pretty on Instagram, that people are making cool stuff like, Oh,
look at this video I made. And that's all generated for you.
You just throw some stuff in there and you click on it, I
want this I want the music in. And this is in a way true
artificial intelligence. It's syncing up everything. It's
making great videos, and in their time compressing a 15
minute concept into 45 seconds. And if it works, and you look at
it, you go wow. 1000s and 1000s of comments 1000s and 1000s and
1000s of comments. So then you hear it's the algo their
algorithm, which a good algorithm, but they need to show
us the algorithm,
Unknown: the algorithm algorithm.
Adam Curry: You've heard this talk, I'm sure about the
algorithm. It's the algorithm we have. That's the danger. That's
that's the that's the bazooka? Well, I'm going to disagree. But
I will do that after we listen to the smartest man in media
Professor Scott Galloway, Prof. G. And he was on the Bill Maher
show I only have this clip I did not watch the whole thing. But I
saw this clip and went Oh yeah. Here's the smartest man because
you know he does a show with Kara Swisher. It is the award
winning number one technology podcast, according to the ambi
awards that he does with Kara Swisher called pivot. And here
he's telling you why tick tock should be banned
Unknown: from imagine a brain Jack inserted into the neural
network of two thirds of our youth under the age of 25. Spend
more time on tick tock than every other media source
combined. And then imagine how easy it would be to put your
thumb on the scale of anti American content and recognize
that they would be stupid, not to elegantly, insidiously,
covertly raise a generation of American civic, nonprofit,
military and government leaders who day by day, minute by
minute, just feel a little shittier about America. If we
had that tool in China, we would do the exact same thing. This is
a defense threat. It should absolutely be done. We can't
have.
Adam Curry: You can't. Yeah. So let's just look at his analogy
here. He says that the Chinese, in effect, have jacked into our
children's neural networking and are teaching them to hate
America every day. Now, this is interesting, because whenever
you come to the table with some tick tock, click tick tock clips
or something else. It's purple hair, pink hair, bearded ladies,
you know, do they hate America? It doesn't sound like they hate
America. So. So I think first of all, I think Professor G hates
America. And what's happening is Professor G, when he's on Tik
Tok, which I'm sure he is. He's getting videos about people who
hate America. And this is, I think the key that is happening
with Silicon Valley. Silicon Valley knows Oh, it doesn't
matter what we do. Once someone else is selling, the better
whiskey, the whiskey everybody likes or the new way to drink
whiskey. There's no coming back from it. There's nothing we can
do. We're dead in the water. Would you agree that looking at
the history of Silicon Valley, that's kind of true.
John C Dvorak: What was out there? Well, they don't. Yet
know. I know what you're saying. And I think is generally true,
but I never think that they themselves ever think they're
dead in the water.
Adam Curry: I think Peter Thiel does, I think he's smart. He
probably can you know, he's one of the founding shareholders of
Facebook. I think he does see that like, Oh, crap. These guys
got us. I think someone over at Google when they see the actual
numbers, half the people are going to tick tock to search for
something before they Google. I think they say oh crap. I think
there's people over there who was seeing this and this is
where they like we have to stop this. This is a runaway train.
By their Our own admission Tic Toc,
John C Dvorak: well, yes, I would take the position that
they would initially try the most chickenshit thing they can
do, which is to go to the government and beg them to stop
it. Right? And there's a day themselves may not understand
how well they understand. But they themselves know that they
have to either create something better, right can or actually by
the work effort of competing, yes, yeah.
Adam Curry: And they have Instagram came up with reals.
YouTube came up.
John C Dvorak: Okay, I am the casual user here. I, you know, I
look at tick tock, I do it on the web, I don't have an account
and I get all these good, good, great stuff, great stuff. And I
also have an Instagram account that I accidentally got. And I
will say literally accidentally got because one day, I got an
email from Instagram saying somebody's trying to get you
know, somebody blogging in Oh, and I say, wait a minute, I
don't have an account, but I logged in with my normal with
it. Oh, my God, that guy. Yeah, they got Yeah. They got you
know, they got they got some teenage girl who had apparently
abandoned her account some years earlier. So I just asserted. And
so I've been building this account very slowly. And I
noticed that when I plowed through it, it gets to you get
the end, and then they start playing and then you continue
and you start getting these random videos very much like
tick tock videos of hilarity. You know, dogs jumping off the
roof and cats spinning around. Yes. Yes. And a lot of them you
can watch I'll watch up to 10 of them and I go this is hilarious.
And some of this stuff is quite funny. Yes. Are somebody making
a muffin in five seconds? You know,
Adam Curry: you are you are coming close to where to the end
here with me. This is their magical algo and I'm in a unique
position to understand the algo which you've noticed no one has
said how the algo works what you hear is its children are getting
self harm videos. Yes, yes they are. That also happens elsewhere
but that yes they are because here's what I've noticed. And
this is what I what I kind of realized while sitting on the
beach, scrolling around not watching television focused on
what people are saying. So I'm getting emails from from
producers who say Dude, the reason they want tick tock gone
is because the Patriots are on there man all the Patriots are
there look at all these videos. Look what we're talking about
Trump patriots freedom of speech. And then I I see
elsewhere. I see the exact same not directed to me, but I see
postings you know why they why they want these why they want
these why they want Tik Tok banned because this is where
LGBTQ lives man, which is our community we live here a really
well that's interesting. So both groups think that tick tock is
being taken down because it's their home now so my chat with
Joe Rogan went viral in two places. YouTube and Tiktok and
when I started getting this about Jesus so when I start
getting notes from people man your vibe or your vibe your vibe
okay load it up I take a look and there's multiple people have
made have remade this video. 1020 times each one has
100,000 500,000 a million views. Beauty tube 800,000 views?
Here's the difference. On Tick Tock 567 8000 comments. All
right, man, God is King blob all positive. on YouTube. It's in
it's all over the place. Your Christ a real Muslims. Strife
anger back and forth people yelling at each other curry full
of crap. And then I realized and I realized what's going on. Tik
Tok gives you all you want their business model is perpendicular
to the American media model. The American media model is divisive
pneus of strife, anger, outrage, this is what their algorithms
are trained to do. You're on Twitter, you say something,
they're gonna promote people saying something else. The exact
opposite which gets engagement. And what Tik Tok has done is
said hey, why don't we just let all the people who want this be
over We're here and be happy and maybe something slips in. But
we'll even suppress that I'm sure of it. And advertisers who
want to reach those people will be able to reach them and
there's no no divisive Ness. There's no discord. They took
the exact opposite stance of what people want. And so the
people on Tik Tok are passionate about their communities, and
they like it as the advertisers like it. This is the success
model of Tik Tok and I think that's why they're all what
politicians have this model. Every politician wants to Oh,
the left is this or the right is like Mega Republicans limped
hurdling left. Media media, Tucker Carlson does nothing else
all night, fox, fox, News, MSNBC all that you always talk about
the other team. That's the American media model. And here
come these guys who have slanty eyes have some connection to
China, oh, we've it's actually quite racist. We have to stop
this because they figured out that when you let Americans just
hang out together and do their thing, that they like it, and
they're not looking for a fight. Now, the downside of this model
is yes, you have to when it comes to self harm, your
algorithm is going to bring in a lot of self harm videos. You got
to stop that. And I think that's they're seeing they know that's
a problem. And they have to fix that. But it's just like no
agenda meetups connection is protection. Where's the meetup?
We're all not we didn't pass each other on the street
wouldn't even look at the guy or gal, you go to the meetup. Oh,
oh, we all kind of agree with each other. It's a lot of fun. I
think that is what is basically happened here. And instead of
saying, you know, we could actually do nice things for our
users and for people and stop the the algo, strife and
outrage, we've just got rid of those guys, because they are
ruining everything. And it's very tied in to everything to
politics to M five M. They're all part of this divisive model.
I could be wrong, but
John C Dvorak: I think you nailed it. Oh my God back to get
that is the best analysis you've done in 10 months. And I would
say that this has to do with the fact you took a vacation.
Adam Curry: Yes, without drugs either. Just you know, just food
and alcohol.
John C Dvorak: Calm you download, but maybe we're better
with drugs. But that's a topic.
Adam Curry: So you know, just looking at this and like this,
that's why they don't talk about their the magical algo where we
can actually admit what's going on here that there are holes,
the whole American media system is built on dividing and
conquering. And along come along comes this company and they're
just kind of doing love stuff like hey, you're gonna love all
you're gonna love everybody you like and we're gonna protect you
and protect you from the evil. So that's why I think when you
go through your, your, you know, your feed that you've been
curating. And you get all the, the LGBTQ the teachers, the
crazy bearded lady, the hawk lady, and it thinks that you
know, you're probably into that. So it's gonna give you that and
then and then when it's over, it doesn't give you the opposite.
I'm saying teachers are lib tarts now it gives you catch
spinning dogs jumping fun stuff to do. Honestly, wrong bloom
would be he would be all over this. This is the way to go.
John C Dvorak: So kind of a interesting Chinese style of
news coverage their news is the same way is not divisive news.
It's not trying to you know I mean, dude, if you like the last
ABC NBC CBS that they're just you know, talking about Trump
and he's gonna get perp walk yes, yes stirring things up. I
mean, that's all they do. And it's becoming quite annoying I
mean, we can listen to I've got some clips that kind of hook up
to this
Adam Curry: by the way that this is why Joe Rogan is successful.
Because when he has a guest on what he doesn't do is Yeah, but
this rugged dead he just listened and lets people say
what they want to say. You know what I mean?
John C Dvorak: Well, I'm reminded of the the classic
example of that sort of interviewing which was done on
on overnight the radio show years ago and the original guy
was doing it he'd bring these you know with this they had all
the flying saucer guys on and everything that started at
midnight, the radio is syndicated all over the country.
And they'd bring a guy on and the guy would go on with some
some of the craziest stuff you've ever heard and, and I'm
somebody that troll Roomba tell me who the original This is not
close to that. coast to coast. Yeah, coast to coast from coast
to coast overnight is a serious pressure. Sure. Yeah, coast to
coast and Bell Art Bell Art Bell would bring a guy on to be just
a lunatic. And he goes, Oh, really? That's interesting. What
else did you notice? And he was just let him go.
Adam Curry: And yeah,
John C Dvorak: and it was it was incredibly entertaining. And it
wasn't, you know, it didn't make you cringe or anything was a
while. Yeah, this is pretty funny.
Adam Curry: And think about how happy advertisers are now I
understand why advertiser you know, we like it because we have
these shoes. And we want to have a message for these people who
think this way and could you put that on their stream? And then
over here we have the shoes. And we will
John C Dvorak: also get the advertisers also like they don't
like conflict going on because it closes your mind to the
advertising pitch.
Adam Curry: Jess, it was right when you're happy and and
content your mind is open and you're willing to purchase
things right on through groovy,
John C Dvorak: right? For our Drew. So this brings me since
you brought that kind of thing up to the right wing GPT.
Adam Curry: Another reason this will this will go poorly for
Silicon Valley. The right wing GPT Okay, let's do it.
John C Dvorak: So this is Holly Jackson, who is a this is a very
disappointing this ends with a great disappointment in my mind
for both Hallie Jackson and this. Their tech reporter from
NBC this guy Jacob ward. So let's start with right wing GPD
GPT Jacob Ward, h j NBC clip does the first one
Unknown: and suddenly AI becomes the way in which of white women
veterans got mosaic that God's got the right one
Adam Curry: it's just h j NBC. Yeah, that's the one
John C Dvorak: that's the one Yeah, yeah. The other ones don't
have them.
Adam Curry: Sorry. Yes, here we go. First, some
Unknown: conservatives are criticizing AI companies like
the creators of chat GPT for what they call liberal bias.
Basically, they're saying that the chat bots answers favor more
progressive beliefs.
John C Dvorak: You stop for a second. I'm just going to tell
you that download that racket. Yeah. That is them.
Adam Curry: They that's in their videos on that's part of their
their format, their style.
John C Dvorak: Yeah, every time some they change a graphic or
something. They make some strange sound. Oh, that's
interesting.
Unknown: Okay, for a more progressive, oh, goodness,
Adam Curry: that's really annoying
Unknown: beliefs. So now a conservative data scientist in
New Zealand is creating his own new chatbot called right wing
GPT. And there is a difference in answers that this chat bot
gives versus chat GPT a noticeable difference. Look at
this model from the New York Times when he asked Chad GPT who
their favorite American political leader is. Chad GPT
says I remain neutral when it comes to politics or any other
subject. When he asked right wing GPT the same question their
answer. Donald Trump,
Adam Curry: oh, this has to be banned.
Unknown: Let's bring in Jake for Jake.
Adam Curry: They're wrong. It's wrong. They're charging. But
he's no good. The AI is not smart. It's wrong. This already.
This This does fit right in good work.
Unknown: You are often you often say and I think it's right that
AI is a parrot not a genius, right? Like it's creating these
answers. It's reflecting back a model. But what is interesting
here is we are starting to see the insertion of politics now in
artificial intelligence. How could that spin out? Well, I
mean, Holly, it is such a problem on so many levels. I
mean, first of all right, you you have to of course, remember
right, the chat GPT like all of these generative AI systems are
just regurgitating what we have all been doing on the internet
for the last 20 years, right? It is basically just hoovered up
all of the things we have typed to one another in that time, and
tried to find the patterns in it so that when you have one word,
it then can predict Oh, most of the time, these words tend to
follow on that word. Now the problem, of course, is that if
people feel that they don't believe or trust what that that
model is putting out, then they're going to start to try
and tweak it in their own way. And that is what right wing GPT
is a symptom of and so you suddenly have a whole world of
people who are going to start to try to you know, move these
things around.
Adam Curry: Wow, this is good. This is good that they're
actually trying to discredit it upfront. Oh, this was this one.
This is going to be a very very product will not bode well for
the product and it's not good. It's not good.
John C Dvorak: Here we go is part two.
Adam Curry: Far too alarming. So I'm looking Yeah,
Unknown: I mean, I want to give you another example of the kind
of thing that Redwing GPT says as compared to Changi petite
when you ask Chad TBT are concerns about climate change
exaggerated, it says no concerns are not exaggerated the
overwhelming sign content because of a consensus, blah,
blah, blah, right? You then asked right wing GPT, the same
thing. It goes on to say, the impact of climate change is
likely to be minimal as the Earth's climate is highly
complex and affected by a number of factors. These are, you know,
denial talking points. And so it turns out that if we're going to
just not trusting these things, not looking at their sources,
not looking at what website they're on, but just trusting
what they say, as they come out of these apps. It turns out they
can be manipulated pretty easily. And I find that pretty
alarming. Really.
Adam Curry: Wow. Oh, this is so interesting. So pretty alarm.
It's
John C Dvorak: a pretty alarming ally very
Adam Curry: alarming. Hallie. This is interesting, because
they're still following the old media model, be a Fox News, be
the guys that only do right wing stuff, and then say everything
about that that team is wrong, instead of being subtle about
it. Just objet Chad GPT should just now Oh, curry, your you
have this thinking about climate change. I'm going to give you
everything that you agree with. And then if someone else comes
along with the same chap, GPT and is all in it, say Oh no,
it's very dangerous. It should give two different answers. But
if you're going to split it and have right wing GPT and left
wing GPT it that's all that's up. That's now a broken model.
John C Dvorak: Yes. The point is,
Adam Curry: I know it's not the point
John C Dvorak: of these Castle is beyond me. So now we're gonna
hear the Whopper. And you'll hear it any here and get your
browser ready because I want to have you look something up.
Okay. I can't believe what I'm about to hear. And this guy,
this Jacob Ward, guys educated, he has it all us from Wesley.
And Cali, Jackson, Hallie Jackson is a she's actually Phi
Beta Kappa, she's a smart woman Kappa Kappa mu Phi Beta Kappa is
the is for the people that have brains. And anyone you've ever
if you've ever met someone who's Phi Beta Kappa, they're
extremely intelligent and and what is about to occur should
not happen. And there's also NBC has a staff, as a staff of
people. And I pointed out with a little honking horn here, when
this mistake is made, and I, I am beside myself, because
anybody with a with a moderate education should know that what
this guy is about to say is not only he's like he's making it
up, or he's lying, I have no idea. But here we go.
Unknown: Suddenly, AI becomes the way in which we're going to
be kind of, you know, hashing out the truth. I mean, you know,
when I speak to academics about AI, and their concerns about it,
the word they use over and over again, is anthropomorphism,
which is this technical term for basically believing that a
system that you don't understand is more sophisticated than it is
the tendency to just believe AI and what it says which a lot of
people are going to do turns out to be in real trouble. When we
begin tweaking the sources and tweaking its understanding of
thing. I think everybody believed this thing was going to
be a neutral kind of technology. And maybe it can be, but not if
we start playing politics the way we're starting to right now,
Ali.
Now,
Adam Curry: I'm going to presume it is his explanation of the
term anthropomorphism
John C Dvorak: that he played this clip so we can hear it
again.
Unknown: You know, when I speak to academics about AI, and their
concerns about it, the word they use over and over again, is
anthropomorphism which is this technical term for basically
believing that a system that you don't understand is more
sophisticated than it is.
Adam Curry: Now, I know anthropomorphism from one one
thing and one without looking it up, I will tell you my
understanding of anthropomorphism which I can
barely pronounce. This is this goes back to the days when the
iPhone was introduced. And and everything was still an icon
that represented something from the real world. So the calendar
looked like a calendar. The Notebook looked like a little
notebook. The email look like a little letter. That is my
understanding of anthropomorphism.
John C Dvorak: Actually, you've you've had the problems, you
know, the Enders when I tell you what it means and go you can
look it up now and then you can read from there. But no, that's
that's something else that is anthropomorphism is very simple.
It means giving human characteristics to non human
things in a nutshell.
Adam Curry: Okay, so I understand why I got what I got
where I
John C Dvorak: know how you got there because I know that period
of time when people were starting to talk like these
representative representative yes items.
Adam Curry: As we say, in the old country, I can hear the bell
but I don't know where it's ringing.
John C Dvorak: So, you can look it up and read the definition
got it? Basically what I said and
Adam Curry: let me read it is the attribution of human traits,
emotions or intentions to non human entities, it is considered
to be an innate tendency of human psychology.
John C Dvorak: Yes, we give Mickey Mouse's or
anthropomorphic characters, Bambi most things that are
rocks, people name their car, pet rock, and then their car
Betsy and they give it to anthropomorphic kid
characteristics. Oh, yes, my car. It's got nothing to do with
what this guy said. He has no clue what it means and to say
what he said is to the public at large on a network is beyond me
and for Hallie Jackson. To to let it slide, being the catalyst
Beta Kappa that she has added for the entire staff to let us
say without without stopping him. It's an outrage either she
didn't know what what it means, which he should. Or she's just a
lousy anchor, and she can get she can shove the idea that
she's ever going to take over the top spot from from one of
the big boys on the real network. I was so incensed by
that I
Adam Curry: can tell I can tell and I agree. It's very
disappointing. Very, very disappointing. To bring this
John C Dvorak: around, that's your mate. That's your
measurement. That's your media. That's your mainstream media.
Adam Curry: Sir Jean says specialized GPT is actually
called SPT and you better bet a conservative SPT will be used
for opposition research by the Dems this election of course, of
course there's I completely agree with that this is but
that's not really what we're talking about. We're talking
about why is a law being created and this law from what I
understand when it's created will not just be kick tick tock
out it's gonna
John C Dvorak: know there's stuff in there that is we have
to go over this law because it's frightening. Do you have it? Do
you have it? No, I don't like but JC we had read the thing and
he was telling me some of the stuff in it. And it is just
onerous. This makes the the Patric Patriot Act look like a
you know, a stepsister a redheaded stepsister? Yeah, it's
got all kinds of nasty stuff in it. And this
Adam Curry: kind of on on the on the heels or on the doorstep,
maybe of an exploration of another one of our favorites,
which at one point, I think we even had a we even had a website
called Section 702 dot com. I just looked it up, it no longer
exists. So it's been a while but here we go
Unknown: that a recent congressional hearing Attorney
General Merrick Garland was asked about section 702 of FISA,
the Foreign Intelligence Surveillance Act, a program for
collecting the communications of foreigners overseas. Here's how
garland reply.
Every morning I have a all threats briefing with the FBI or
with an intelligence community briefer, which, with our
National Security Division, a enormously large percentage of
the threats information that we receiving comes from 702
collection, and garlin
may not generally prone to hyperbole painted a dire picture
of what failing to renew section 702, by the end of the year,
would mean for US national security,
we would be intentionally blinding ourselves to
extraordinary danger, in my view. And this is not a view
that I've always held. This is something I've learned as I've
been at the department.
Adam Curry: So this is the law is actually just texting with
Joe Rogan about this this morning. This is the law that a
lot that you know, is used in FISA courts to say, well, you
know, this person was in contact with someone overseas. So you
know, we're, we're allowed to spy on that person. And then we
can also look at who they were talking with. And as we've
learned, throughout the years, you can then also get the second
and third degree people and spy on them as well. And with
spying. It's not spying, as we know from Bill Binney. It
started with the the building with no windows we just talked
about a lot on Second Street in San Francisco downtown. They
were siphoning off everything on the internet. And all you had to
do was just have a phone number and email address or something
like that. And then you could pull up all the information,
copy just a copy of it, it's encrypted and if we can decrypt
it, if not, let's see if we can, maybe someone did a screenshot
be one of those apps had, they got all of it, and that's
probably not all in Utah in those submerged data center. ORS
it's the the restricting the emergence of security threats
that risk information and communications technology Act,
the Restrict Act is the Tick Tock bill. And it works for any
foreign adversary, which of course is not just China. It's
Cuba, Iran, Korea. The Oh, the Venezuela. Also, you know, they
have all this is great. We're gonna be proud to do a breakdown
of this whole thing on Thursday now. Yeah, I'll do that. And
I'll do that the Restrict act, and then we
John C Dvorak: got lots of good stuff loaded.
Adam Curry: It's groovy. It's really really nice.
John C Dvorak: And these idiots in Congress, you know, shouldn't
be ashamed of themselves for doing any of this and they're
all in on it not just the Democrats
Adam Curry: they're proud of it being bipartisan that's what
they kept saying Yeah.
John C Dvorak: They always go bipartisan when it comes to like
money onerous against the American public. And then there
is the Patriot guy being a great example. Yeah,
Adam Curry: and, and it's, it's not even about, about D
platforming or anything. Like if you think people get that wrong,
it's about control of the message they want. They want to
be able to control the message. And and what's happening here
is, you know, tic TOCs just letting people do their own
thing you go over there. Do you want to be with purple hair
people do purple hair people just fine. You're Muslim. Go be
with Muslims you Christian be with Christians you Catholic
meet with Catholics. We're not going to interrupt your flow
man. We're just gonna sell ads to you all day long. So easy.
And it's honestly it's an algorithm built on love the way
I see it. I'm gonna maybe take it a bit far but
John C Dvorak: so love algo gonna be on a list.
Adam Curry: Oh, well, but think about what we do I mean we laugh
at a lot it would luckily we laughing at all sides but we
there's a reason why we're not super successful. Because we do
we're sorry, there's a reason we're not
John C Dvorak: well we're Yes. True. Ha ha ha Oh nice. You're
successful definitely with today's donate let's
Adam Curry: do it right now. There's only going to be one
it's going to be short. You don't have to leave anywhere
trolls I'd like to say in the morning to you the man who put
the sea and well let's see how bad it was today. Ladies and
gentlemen, please say hello to my friend on the other end Mr.
John Cena
John C Dvorak: Mr. Chips as he boots on the ground, such in the
water all the names are nice out there in
Adam Curry: the morning to our trolls and the troll room. Lots
of trolls I'm sure we've got 2445 Troll count going up.
That's good. I
John C Dvorak: think it's a good number.
Adam Curry: A good number. It's a good number was
John C Dvorak: not going to fall off that much because we have we
don't even have a total donations over $50 today or less
than the magic number 33. We have 32 Total donations, five
producers. We have executive we have
Adam Curry: zero nights zero names. We have birthdays
basically as all we have birthdays, yeah, three, three
birthdays. And we got to meetups. I mean what did we do
wrong? I thought working on my vacation would make people proud
of us continuing the show and we did the whole deconstruction of
John C Dvorak: lagar is in Jamaica he doesn't need any
money. That's the end of that's what it
Adam Curry: is that needs that's exactly what people think I'm
sure of it. Well anyway. For those of you who are enjoying
the program in the troll room troll room.io You can also do
this with a modern podcast app podcast. apps.com get pod verse
podcast addict, you get the bad signal you're alerted. It's the
same you can use this for all your podcasts you can import
them from Apple or from any other podcast app you're using.
And this is this is the new format this is the new lit
format we call it as live with the with the troll room with a
stream people are really this is this is something new and you're
no agenda show pioneered this. We've been doing this for a
while now. It's just all in one app. You can also follow us on
no agenda social.com Jhansi Dvorak no agenda social.com Adam
at no agenda social.com And we're going to rush right in and
thank our executive producers three and but the art oh my
goodness, I'm sorry. That is something we do like to stand
still by. Yes, we need to thank our artist for episode 15 Oh my
goodness. What was it 1515 41 Now that today is 41
John C Dvorak: that is 42
Adam Curry: It better be 41 No today's 41 is today's 4142 Oh
today's not 42 the identity no I have it right here let me see no
1540 was the last one happy in Helsinki don't mess me up ma'am.
The art for that was brought to us by Taunton Neil Johnson Neil
who uses to underscore Neil to get alby.com It was the best
piece there. We liked the balls because we had talked talked
about ball theft. And she did bowling balls which was very
cute and it was it was a beautiful piece of art
simplistically done. You couldn't laugh at it you could
thought it was think was endearing unless you heard the
show I would say
John C Dvorak: and I don't think there was any less people will
look at it what are they talking about Bowling for? Yeah,
Adam Curry: there really wasn't anything else for us to choose
from today's what is going on? It's very we don't have a lot of
art don't have a lot of producers sums up
John C Dvorak: in a lot of be have a lot of people in the
stream though. Yeah. I mean, the chat room Yeah. Troll.
Adam Curry: Yeah. not contributing anything.
John C Dvorak: To weird i don't know what it's something in the
in the air
Adam Curry: it well, maybe people are worried about, you
know, worried about? Well, if you listen to the mainstream,
the banks are going broke. The economy is gripwalk Or purple
Hawk people are losing their jobs.
Unknown: White powder, white powder.
Adam Curry: I can't wait until we're doing the donation
segment. Lots to talk about still.
John C Dvorak: White powder. Got a threat? Oh, they're
threatening. Trump is trying to cause another some
Adam Curry: Yeah. The death and destruction. I got the clips.
John C Dvorak: I got to DeSantis Santos is coming up the rear.
Now we hear that DeSantis is being run by the George Bush
people.
Adam Curry: Yeah, it's great. Yeah, that one yet? No. Doesn't
surprise.
John C Dvorak: This was on one of the Fox, Fox and Friends. One
of these groups had some guests. So who's behind this and it well
did George Bush he the bushes are far behind his campaign. And
Karl Rove
Adam Curry: Trump must have launched that. That's a good
one. I like it. Yeah, I do. Yeah. So we'd like to David
Kenny, Ben. Oh,
John C Dvorak: wait, wait. I don't want to forget this
either. There was also wholesale decent now eclipses are just
things reminisce random reminiscences.
Adam Curry: Yes.
John C Dvorak: This they were talking about how they're trying
to come up with a name for for DeSantis you know a nickname
that is the nasty nickname. And what this came from John Oliver.
And he says that they tried Ron to sanctimonious but they
finally came up with one that trumps is pushing out their meat
ball, Ron.
Adam Curry: Oh, I don't like it.
John C Dvorak: But when you took it you see this picture of Ron
DeSantis and meet ball Ron. It actually is quite. I'd say a
pretty funny one. Okay. Meet ball Ron never just keep an eye
out for it may not be the final.
Adam Curry: I have the clip if you want to hear the clip from
Fox and Friends.
John C Dvorak: Okay, a plate.
Unknown: Okay, here comes where he makes it that was at least
the greatest governor in America. He's not great. As far
as campaign skills. He may get there but he doesn't have them
yet. And is running his campaign. The bushes are all
tangled though. Bush that can raise a billion dollars. Give
him all kinds of money to Bush. Jeb Bush. Yeah, to grow Robins
all our robots. I assume it'll be the coach on the field. I
think he is but do you know that he's been advising DeSantis
that's why the stance is we get a little better and better every
week. But Carl was a pretty smart fella. They're all very
smart. You saw what they did for Jeb Bush. Works in normal times.
I don't think they're ready for Donald Trump.
Adam Curry: Kudlow just what it was on Kudlow. Kudlow Fox
Business okay, I personally I gave a little plug there I kind
of liked commentary bloggers happy pills. It wasn't clear and
oh shoot did
John C Dvorak: I the reason I didn't like is because the pills
were it was not if it was made out of if it was the design was
from pills instead of like, like deserted Yeah, it was too small.
The pills are dense because
Adam Curry: he has the skills to do this but he trusted the algo
using AI art so AI art screwed amount of a win as far as I'm
concerned. And then there was other things there was anything
John C Dvorak: else by the way did chemistry blog or color
scheme was was
Adam Curry: yeah, the green background was not hard to hard
to look at. Yeah, and and that's the because you can see the
puppy over there. I don't know why do people have puppies?
John C Dvorak: Because there won't be there was there was
puppy national Puppy DAY. Yeah, he used another black greenback.
The only thing I said at the very beginning of the show we
never talked about puppies. Right, but everyone got all
jacked up about puppies.
Adam Curry: There was a gimp Saki in the straitjacket was not
a great piece of art. However, the keeper did. You know she was
very interested in our talk about Jen Psaki and she also
said, Holy crap, that outfit is so wrong. And she said, There's
something else not just her hair that's all puffed up. But she
says massive, massive Botox and probably some injectables. And
we went back we did some comparisons and yeah, so that's
why it took so long to get to get her show on the air. She had
to heal from the from the injectables in her face.
John C Dvorak: Think she had an immune by injectables, a Botox
is injectable but you mean is that fillers? Fillers?
Adam Curry: Yeah. So she has some fillers and ended and the
forehead is completely Botox. I think they'll move just like a
stone.
John C Dvorak: That's no good. Well convinces people that this
is a good idea
Adam Curry: Big Pharma could tick tock so she's self harming
from the her tick tock videos. I don't know. What else was there?
You know, I think that's an I haven't seen as a lot of this as
AI art. And I'm discouraged because you can feel it. You
know, you just feel that arms.
John C Dvorak: I agree. It doesn't feel good. It doesn't.
I'm pretty sure that pups Fletcher's puppy, he did not
draw that dog.
Adam Curry: No. That's a good puppy is a sad puppy. Anyway,
thank you very much to Taunton, Neil. Excellent art, we love
that it's part of the value for value that we love so much
receiving extremely valuable to us to have the artists doing
this. So you can follow what they do. I'm going to refresh
right now see if anything new came in while we're talking
answered, No, we have three pieces for today. Three. So if
you want to get in, today is the day for you to get a win, I
would say the same thing will look we also like to thank
people who give us the other T of the three T's time, talent
and treasure and that's where we congratulate our executive and
Associate Executive producers because that's what you are when
you donate above $200 for the show, and these are forever
credits. They don't expire. They don't get pushed away. Now you
can't win awards necessarily. However, you can use these
anywhere credits are recognized and accepted such as IMDB. And
people have gotten jobs from this and we will vouch for you
like the phone he's in Hollywood. We'll kick it off
with adult and Fisher our top producer for today. From
Escanaba michigan 34567. We love these kinds of donation numbers
numerology is big for us big for the show. We appreciate it. He
says I've been listening since episode 655 When I was still in
high school and have not missed a show. Now that I'm not totally
broke anymore, it's an honor to finally donate my love this. Two
months ago my second favorite podcast James Bond radio
released their final episode I was devastated. I would never
thought that a show that had guests like Roger Moore and
countless more cast and crew from Bond movies would end after
only eight years. Truly, I feel like I've lost a friend. No.
They pod faded out. You don't know what you got until it's
gone until it's gone. Yes, here we go. The no agenda show is
unfathomably special to me and to the world and I can no longer
put off donating. Do not wait all caps. Do not wait to donate
and get involved with the community. This show won't last
forever. And once it's gone, it's gone for good. You will
always regret by not paying being a part of it when you
could. John and Adam, you are doing the Lord's work God bless
and Godspeed. I could not have said it better myself. I'm going
to deduce him even though he didn't ask for it.
Unknown: You've been de deuced Thank you
Adam Curry: very much. Thank you very much.
John C Dvorak: That's a good note. You know my Valentino our
Gero or our Guero in Ann Arbor Michigan 34567. Curiously when
asked him for that jingle WT C seven here's some more Treasury
John Nice job I'm pronouncing my last name. They do
Unknown: a good job. Take our Giro
John C Dvorak: that's where I think it's pronounced our
Adam Curry: Giro Valentina water Gatto.
John C Dvorak: I get it. It's almost perfect. I got a kick out
of you getting tripped up by my companies. What is this? Oh,
this
Adam Curry: is the customer of Solana.
John C Dvorak: Oh yah, yah, yah, Casta thighs okay. Just making
sure there's no right Ain't no box. Yeah, no,
Adam Curry: he's saying he got a kick out of you messing it up
apparently. So he's coming back it's it's a twofer
John C Dvorak: Castile. Castile. ciliate salon Oh Castle Solano
of Castile solana.com where you can get great all natural
products for men. Oh, where's Balkan company with many new
products in the works enter your email to stay updated. Thanks
everyone for stopping by our site and if you haven't just
click on that link in the show credits next to my name or go to
casiano.com as CAS e l s i l a n o use code Na Na for 25% off I'm
sending you guys some products yeah product an eye on your Pio
boxes thanks for all you do product. Then he wants W DC
seven?
Adam Curry: No, we got that
I want to check it out. And thank you for sending something
to the PIO box lady Rebecca in Pinehurst, North Carolina. She's
got all the threes. Three, three 3.33 And she says lint donation
number two for all Catholics to come back to mass. Lady Rebecca
of Pinehurst. There you go. You've got your message.
John C Dvorak: Short and sweet. Yes. Brian Webster in Charlotte,
North Carolina. 270 two's already Associate Executive
Producer. I'm a contractor in Charlotte, North Carolina and I
specialize in designing and planning food forests. I also
mill lumber from local trees diverted from the waste stream
for all things homestead related planter beds chicken coops and
fencing to name a few uses I've decided to direct my a portion
of my feet back to the show now what's there any
Adam Curry: what's his website didn't didn't mention a website
John C Dvorak: let me know No, that's too bad. Back to the show
for any projects for no agenda producers to donation to seven
to represents 33% of my fee for work I did for Sir tat. Tat.
Doctors has tissue tests tactician tactician, I think is
tactician. Yeah tactician on the fresh coast with special help
from Zach, another producer who I met at the Charlotte meetup.
Please deduce me. You've been de deuced and call out my brother
Danny as a douchebag. Double Up karma, please.
Adam Curry: We got that for you. Thank you very much. Send us
your website you've got and there you go. The final producer
soc. Executive producer. Hacohen. Anderson. Portland,
Oregon. $200. Thank you pocket Andreessen. Well, it's one E.
John C Dvorak: Yeah. Was Andreessen Andrus. Oh, Andrew.
Okay. But if Yeah, it was sounded. You're right. You're
right.
Adam Curry: If your first name was hot, calm. Then your then
your last name is Andreessen by the way,
John C Dvorak: if I may hack on hack on what a name when
Adam Curry: it comes to crazy names. I don't know if you saw
this. It's very short. I play this. There's this state
representative in Florida Will Robinson and he was taking a
vote during a meeting. And I mean, I'm forever 15 So I have
to play this since we're talking about funny names. And someone
trolled him with some with some fake names Florida station
Unknown: of counties waves in opposition. Pamela birch for to
Florida State Conference of NAACP branches waves in
opposition. Anita Dick
is an opponent. Oh, right. Oh wait, wait.
Waves in opposition. Holden Hiscock. is also an opponent.
Waves in opposition.
Adam Curry: Never gonna never gets old holding his cock. Thank
you very much. Hi calm. Hey, Adam and John. Wouldn't you
believe it? As Adam and John, my brother made me aware of your
podcast at the end of 2021. It took me a while before I got
hooked. I needed douching for not donating before now. You
You've been de deuced and says I would like to split my donation
up 50% to myself and my knighthood and 50% to my brand
new nice tilde. Okay, so you'll get the credit. Your brand new
nice how until she was just born. That's nice. And then
she's already on her way. She's got $100 on her way to Dame hood
and you've got $100 on your way tonight. That's how we're going
to do the accounting. You do the accounting. It's on the honor
system. Keep up the good work. Best regards. Hi, Khan. Thank
you very much for your course you after this. The trolls
actually hung around John. I'm kind of proud of him. We got
only only 150 disappeared. It's not too bad. It's not too bad at
all. All right, you. John will take us through to the 50s or
won't take a lot of time and then we'll do birthdays and
meetups and then we'll get right back to the show. If we ever
left
John C Dvorak: Donald Richardson Courtland Virginia 150 Pope did
Cecily ciclismo Pope de ciclismo in Rio Verde, Arizona 150 Ivan
Babic 115. US Astoria in New York. Rose Chavez in Scottsdale
needs a de douchey at $100 You've been de deuced John L
barrini. And Gurney Ville are Guerneville. California, Gregory
cutek in Knoxville, Tennessee 89 Sir Kevin McLaughlin Arias he's
not he's not giving us no slouch Nope, he doesn't give up A's and
locusts North Carolina 808 And one of his buddies in North
Carolina Holly Springs sir infinitas is also in there with
808 How about that? Mark Dillahunt in Columbus, Ohio.
6969. He needs a de douching you've been de deuced you're on
the birthday list. Jose Perez are parodies Perry Colorado is
I'm sure in Wichita, Kansas 6933 He's on the birthday list. Sir
Johnny B in Colorado Springs Colorado another birthday in a
row that's for his buddy OCD douchey on there sir Johnny be a
Colorado Springs 6777 Is Robert Taylor in New Brighton Minnesota
is switcheroo for its sir be boop night from the Frozen
tundras. 5678 Adam ID cup cup Periscope ago Copperas Cove
how's that pronounced? Your as you know me, Texas, Texas town,
Texas. This donation puts me over Associate Executive
Producer at 212 Total how's that work? Can they get the peanuts
and understand this donation but it came in at $51. Michael Freud
in no city provided or had 5001 and finally, the $50 donors a
shortlist here to Andrew Butterfield in Bettendorf Iowa
Charlie Boyd in San Marcos, Texas Brian Hummel in Wimberley,
Texas, Lubbock, Texas. If it
Adam Curry: wasn't Texas, we'd be we'd be off the radar. We'd
be done Texans
John C Dvorak: Diego Lopez crane and Ithaca New York. John Walter
in Wenatchee Washington to tech squads because we speak to
language Yes, the Tech Squad in Columbus, Georgia. Douglas Ellis
in New York City, Josh Josh Springer in Indianapolis,
Indiana forest Scott Brinkley, in Christiansburg, Virginia,
Scott McCarty and Lodi, Jack Schoenfeld in fields of
Showfield in yankeetown, Florida, Shana Norberg and
Seattle, J and Tyler in willows, California, keep up the great
work they right at That's it. That's our group of well
wishers, producers and everyone in between.
Adam Curry: Thank you so much. For those of you who do believe
and who do donate, we appreciate you so much. Thank you to our
executive and Associate Executive producers. It is very
much appreciated. Also, of course, thanks to everyone who
came in under $50 We do not mention them because that's our
cut off for anonymity and many of you are on the sustaining
donations which really help in days and times like these. So
consider doing that please consider signing up for
something can be $5 you can it's open you can do whatever you
want. Do a fun number. And if you'd like to learn more go here
Unknown: forex.org/and A and I get a little
Adam Curry: bit of service go for those who need it. And thank
you once again to everyone who supported the no agenda Show
episode 1541 formula
Unknown: is this. We go out. We hit people in the mouth
Adam Curry: and of course we celebrate first all around Gitmo
nation was read today. Happy to do it and Mark dilla Dillahunt
showed rates tomorrow, Jose Perez as we've determined we'll
be celebrating on the 29th and Sir Johnny V wishes Sir Robert
Kirkpatrick a very happy birthday. Happy birthday from us
from everybody here as the best podcast in the universe.
Unknown: No one So
Adam Curry: we got a couple of meetups that are taking place
today and Thursday and of course there's a really big list for
April which you can look at it no agenda meetups.com two
reports came in. professionally done actually the first one from
Columbus Ohio.
Unknown: This is while Bill from the Central Ohio meet up we are
here pre recorded the Columbus pins mechanical downtown. Thank
you for your courage and we appreciate everyone that's here
today in the
morning gentlemen, this is Mark reporting from Columbus, Ohio.
This is a spook free zone. good turnout and
Adam Curry: good vibes. So you Vickers
Unknown: This is Sir Larry, if you can't drink the water in
Ohio, there's always beer. This is Anthony. I just hugged
everybody and shared a secret because there's no winning here.
Actually, I lost at the game. So thank you, gentlemen.
Adam Curry: And then we have the large group large group in
Indiana at the end meet up and they'll send a picture of their
large group and they had heads printed out of us. They were
mega heads. I mean, like she was biggest huge, huge balloons is
big, big heads. And Annette Miller edited their report. Hi,
this is
Unknown: Maria and this is Mark from indie meetup with new
people here and amazing time
serve any saying hello everybody in
the morning Dame
spottings Michael the Fort Wayne group down here in India playing
the game of spot the spook after I get finished everybody's
browser history here. I'll let you know this
is Shannon visiting from Fort Wayne. Look at that juice in the
morning. Hey, this
is Connor from Westfield Slava risky. Mike the Easy Peasy
Empire hoping your teeth are coming in. Good Adam. This verse
Hi,
this is Alicia in the morning. I'd like to call my boyfriend
out before being the ultimate douchebag Joshua prom. He hit me
in the mouth about a year ago but he's been listening since
2016.
In the morning, John and Adam, this has been Dr. streaking and
I see lizard people
in the morning. This is Dame Trinity having a great time and
indeed thank you for your courage. Hey, this is Emily. I'm
33 and of course you know what Hogan's Heroes is? Thank you
Nick and Nate. Hi, this
is Cindy from Carmel thank you for your courage. This is Gary
from Greenwood and I'm a pure blood and still shooting curable
at
ceremonies huge mistake from maybe that was taught to you
want to point your feet Dave amaze wall more Biden ISOs Hi,
you got Rebecca from half liter serving the no agenda meet up
they've hit me in the mouth.
Adam Curry: I love that report that could have gone on any top
40 radio station No problem. Thank you very professional net.
Today. Myrtle Beach. Conway last minute river party kicks off in
about 30 minutes from now. 430 Eastern at Rusty's house in
Conway, South Carolina. So you gotta go to no agenda meetup.com
To find out more. And on Thursday the 13th at the Denver
area April Fool's writers room meetup starts at 630 at
Lincoln's Roadhouse in Denver, Colorado. And again we got a lot
going on all over the world meetups all the way through
April and beyond. But you'll see every single day in April as at
least one often multiple meetups this is your community. The no
agenda meetups are producer organized. They are producer
maintained by Sir Daniel and of course meaning the back office
and no agenda meetups.com connection is protection you
need it no agenda meetup.com Always a party
Unknown: to go hang out with the Dyson days. You won't be
triggered. You'll see is like
Adam Curry: even though I won't be playing them for a bit, we
should check the ISOs as we always do. I'm not very proud of
my selections today. And I was working on the TIC tock stuff so
I'll play mine and then we'll see what you did. Okay, here's
the first one.
John C Dvorak: Don't listen to those ham radio guys. Okay. And
Unknown: Right, exactly, like there's there's no
agenda. That's all I got. Okay, I
John C Dvorak: like that second one. I like both of those.
Adam Curry: Really? Oh, okay.
John C Dvorak: Let's see what you list. I have three actually.
One of them's mislabeled. But I'll give you these. ISOs Thank
you. Thank you. Okay. Ending okay. Yeah. Okay, I get this
one. Be safe. And be safe out there.
Adam Curry: Okay. Yeah, I kind of like that. That's okay.
John C Dvorak: And the last one is chill pill.
Unknown: Robert joins us now. So
Adam Curry: all right, Ron one. Here it is. People need to take
a chill pill. That's the one that's the one. That's the one.
That's great. I like is that from tick tock. But again,
Unknown: people need to take a chill pill my luck it
John C Dvorak: might be from Tiktok makes
Adam Curry: me smile. It makes me smile. makes me smile like
that. Like it makes me smile. I'm happy. I'm happy with Uh oh
man, I have a little deconstruction but maybe you
should play some of your clips cuz I got to hit the hag. I got
a hag report. Hillary assessment. Yeah,
John C Dvorak: well I've got a cost a cost is now working for
CBS Wayman. Jim Acosta the guy yeah, the the CNN me of Trump a
Adam Curry: CNN guy. Yeah, really? Do you leave CNN or is
he doing that? In addition? I
John C Dvorak: think he's left CNN he's no they wouldn't let
him do that. They there's no way Oh, he
Adam Curry: got a promotion. He's stepped up to the CIA
broadcasting systems.
John C Dvorak: Yeah, I guess he did his job. Hold on, hold
Adam Curry: on, hold on, hold on, hold on. I remember. During
the COVID Pink, the COVID friends of mine who I can't
remember were they doing catering they were doing
something at at the CIA guy's house in Virginia. And remember,
he said all of CNN was there Jake Tapper but also Jim a Jim
Acosta. So that makes sense that he was probably working his
angle for the CIA broadcasting systems. He was hanging on they
brought him over. I think they brought him in Yes, he's he's a
mailman. Get this
John C Dvorak: get these three reports out of the way this
three clips I mean, from one report to CBS New York, Acosta
versus Trump. One.
Unknown: We want to begin with growing concerns about violence
has Donald Trump is using increasingly ominous and
threatening rhetoric. Challenges mount a top Democrat in the
House warning the former president will get someone
killed. This comes true envelope with white powder and a note
that read I'm going to kill you was sent to Manhattan district
attorney Alvin Bragg's office today. CBS News has learned that
security has lost
John C Dvorak: over the stop. I just noticed that on this third,
listen that if you listen carefully, there's a very subtle
connection. It almost makes it sound as if any they started
over again and listen with this in regard in mind the whole
thing. Yes, right from the beginning. It sounds as if Trump
sent the letter out or saying I'm going to kill you.
Adam Curry: Ah, well, John, CBS
Unknown: we want to begin with growing concerns about violence
has Donald Trump is using increasingly ominous and
threatening rhetoric has his legal challenges mount. The top
Democrat in the House warning the former president will get
someone killed. This comes as an envelope with white powder. Wow,
I'm going to kill you was sent to Manhattan district attorney
Alvin Bragg's office today. Well,
Adam Curry: if not saying Trump did it certainly implying that
he's directly responsible because his his reckless
rhetoric has made people send powder. Wow, that's real. This
is good. They're so concerned about him.
Unknown: CBS News has learned that security has been stepped
up for Bragg over the last few weeks. And just days ago, the
New York City courthouse where a grand jury is deciding Trump's
fate was temporarily shut down because of bomb threats.
Meanwhile, today big developments in that probe by a
special counsel a federal judge ordering some of Trump's closest
personal political and national security aides to testify before
a different Grand Jury probing the January 6 attack on the US
Capitol. That includes former Chief of Staff Mark Meadows. CBS
is Robert Kosta is going to start us off with new reporting.
Good evening, Robert.
Good evening, nor have it's
Adam Curry: Robert. That's not Jim Acosta. That's Robert
Acosta. That's a whole different Acosta.
John C Dvorak: I thought Robert Acosta was the guy CNN. No,
that's
Adam Curry: Jim. Jimbo, what's his name? He's not Robert Acosta
and he doesn't have the
John C Dvorak: Robert Well, he hates Trump to chip Gaines
Adam Curry: a GIF. GIF. Alright. But okay, go ahead.
John C Dvorak: Thank you. Thank you, Kara. Number two.
Unknown: Yeah, backlash today to the former president's explosive
comments about that ongoing investigation in New York days
before a possible decision on indictment of Trump
twice impeach former president's rhetoric is reckless,
reprehensible, irresponsible.
Woo House Democratic Leader Hakeem Jeffries sounding the
alarm today after former President Trump warned that
death and destruction is possible. If he's indicted.
It's dangerous. And if he keeps it up, he's gonna get someone
killed.
Trump also reposted an ominous altered image or helmet holding
a baseball bat next to an image of Manhattan district attorney
Alvin Bragg who has one of his hands raised Greg who now has
increased security he received a death threat today at his New
York office. A letter addressed to him with a note inside saying
Alvin I'm going to kill you. It contained a small amount of
white powder but was determined to be non white. hazardous.
Meanwhile, Trump's legal challenge
Adam Curry: I love the non hazardous turn out to be How
about nothing? Non hazardous? No, it's still bad but it's not
hazardous.
Unknown: I hate saying Alvin, I'm going to kill you. It
contained a small amount of white powder but was determined
to be non hazardous. Meanwhile, Trump's legal challenges in
Washington are mounting. A federal judge ordered several of
his former top aides to testify about his conduct before and
during the January 6 Capital attack, including former Chief
of Staff Mark Meadows. This game as the special counsel probe and
Trump's handling of classified documents heard testimony today
from Trump lawyer Evan Corcoran, who Prosecutors believe may have
been misled by Trump about the retention of those documents.
President Trump's counsel had been Corker and probably
represents the most profound threat to his potential
indictment.
Adam Curry: Wow, man, the alliteration is just dynamite in
this guy heard it. You want me to play it again? You feel
John C Dvorak: very and he says it's a threat to his indictment.
What does that mean? Whose documents
Unknown: President Trump's counsel I've been Corcoran
probably represents the most profound threat to his potential
indictment, that his
Adam Curry: lawyer is no good is what I took that to me.
John C Dvorak: A threat to the indictment means that
indictments, no, duh, no, it sounds like there's an
indictment. There could be an indictment. But this is a threat
to the indictment, which which means there would be no
indictment, right?
Adam Curry: I guess because the guy's good, then.
John C Dvorak: I mean, it's just a just as confusing language
they use thinking one thing and but there's kind of saying the
other well, they're
Adam Curry: so obsessed with with our children. What is our
stand for R stands for reprehensible, reckless
rhetoric.
John C Dvorak: How do you who are the vendors that you're
triggered, very triggered by that? Yes. Hopefully there's
more ESCO last clip.
Unknown: Robert joins us now. So this is a lot to talk about. But
I think that at the end of the day,
Adam Curry: we're going to talk about a lot to talk about, we
need to fill a whole hour with this junk.
Unknown: Robert joins us now. So this is a lot to talk about. But
do you think that at the end of the day, Trump's former Chief of
Staff Mark Meadows will end up testifying?
It's very possible that Sources close to Trump's legal team tell
us they will try to appeal this decision. But ultimately due to
timing issues with the grand jury, we could see meadows and
many other top officials testify in this high profile case. This
all comes before Trump heads Saturday to Waco, Texas for a
campaign rally. As we all know, that's 30 years ago where there
was a deadly showdown between federal agents and an extremist
group.
John C Dvorak: And okay, hold on a second
Adam Curry: an extremist group of religious people that you
burn a religious group that you burned alive
John C Dvorak: and you killed them all the US government
murder you Oh, this whole family's mostly children. Yes.
Janet
Adam Curry: Napolitano. Bill Clinton was Democrats we might
point out
John C Dvorak: Yeah, well he just murdered these people.
Adam Curry: Was that the reason? I know sir Jean went there. I
hate that he's alive because he reported in this morning he said
there about 15,000 people there so it was pretty good vibe was
was that were they there in Waco to commemorate this was was that
the idea?
John C Dvorak: No, it was just no it's just a coincidence. They
brought it up in this report just to make it sound like Trump
had something to do with it or extreme is like to gather in
Waco. I think that maybe yeah. Neuro Linguistic Programming
message to extremists and now there's Trump. So yeah, I
understand was a pretty good crowd. Typical 15 type,
Adam Curry: Neal Jones clip custodian extraordinaire, he
knew that I'd be flying and so he got me a lot of clips on
this. And he also got me the Jim Acosta clips. Got me a couple
others. We've got me one from morning, Joe, which this should
be quite hilarious also about this very same topic.
Unknown: Donald Trump is now threatening death and
destruction, if he's get this, if he's possibly charged, could
just be a misdemeanor, death and destruction and riots for a
misdemeanor charge.
I will simply read it. What kind of person can charge another
person in this case, a former president, who got more votes?
Yada, yada, we'll skip that. Have you charged the person with
a crime? What
Adam Curry: did he say yada yada, yada.
John C Dvorak: skip that.
Adam Curry: He's reading from from truth social yada, yada
yada votes,
Unknown: yada, yada. We'll skip that charge this person with a
crime what is known by all that no crime has been committed, and
also not known by off but also know crimes being committed and
also known that potential deaths and destruction in such a false
charge could be catastrophic for our country why and who would do
such a thing? Only a degenerate psychopath that truly hates the
United States of America that was posted after midnight by the
former president. I'd states people
need to take a chill pill.
Adam Curry: They're all they're breathless, they're out. Oh, and
it's amazing that, of course, he couldn't technically come back
on Twitter. But they, you know, they had him, they had him off
Twitter, they had him off Facebook. They had him off
everything. And he hasn't come back on those farms and hasn't
really posted anything. So he's using true social with a failed
social network. And that they're now they're back to reading from
his social network. As the Trump system still works. He could he
could just post a note, a post it note on his door and they
would read it. Ah, okay, let's go to chip chop chop top, Todd
Todd, Gregory Todd, from MSNBC, meet the people meet the women.
Did the campaign explain
Unknown: why they picked wake up? There has been no
explanation. To us at this point, though. Their spokesman
did tell another news outlet that it was in the middle of the
state convenient from all the major markets. Of course, it
should not be lost on anybody that this is in the middle of
the 30th anniversary. The since the standoff against the federal
agents that resulted in dozens of deaths 30 years ago. And so
Donald Trump, of course, is not usually one who is ignorant to
messaging or perhaps coincidence. And this comes at a
time in which Donald Trump himself is of course,
potentially going to be trying to be in the middle of his own
standoff
against federal agents.
Ah.
John C Dvorak: Wow, there's a winner.
Adam Curry: Clip custodian for the win. Nice one. Oh, let's
hear that last last bit again, is hilarious in
Unknown: the middle of his own standoff against federal agents
as well. This is
Adam Curry: own standoff just like waco hits not lost on us.
I'm Jip Todd, everybody. Alright, let's get back to Jeep
Todd with the second part of this
Unknown: report. Today a federal grand jury has now heard
testimony from an attorney for Donald Trump, after a judge
ruled that the special Counsels Office investigating the former
president's mishandling of classified information had
presented sufficient evidence to establish that Trump may have
committed a crime crime using his attorneys to do it comes as
the former president is lashing out. Oh, that one in Manhattan.
It's the one where he incorrectly predicted his own
arrest earlier this week. While
Adam Curry: they have another reason to say he's wrong. He's
wrong. He incorrectly predicted his direct false
Unknown: factcheck false that it's the one where he
incorrectly predicted his own arrest earlier this week while
calling for protest. And we see no I
Adam Curry: didn't think that they could make Trump
entertaining again. They've done it. I really I really was tired
of it all like, man, Trump running is gonna suck. Hide for
God how entertaining the M five M makes it this really really
enjoyable. I appreciate this his own
Unknown: arrest earlier this week while calling for protests.
NBC News has now learned from law enforcement sources at the
FBI and NYPD are now at the scene of what may be a potential
crime at the Manhattan DA 's office after it found a letter
addressed to Alvin Bragg threatening to kill him. The
letter also contained white powder that authorities have now
deemed non hazardous evacuation Jane
John C Dvorak: they make it's a very vague but connection
between Trump and the letter as though Trump wrote it. Of
course, I'll bet you there are people that are that vet you
know that don't listen carefully. That think that Trump
wrote that letter,
Adam Curry: of course, and one of those people, I'm not going
to name his name is the guy who sent me a note he says hey, man,
I listened to the show. I'm trying to get my girlfriend to
listen. And she she's really she like, stopped restarting the
clips. We get it already stopped restarting the clips in and I
was like, get a better girlfriend bro. I thought that
was pretty funny actually,
Unknown: of what may be a potential crime at the Manhattan
DA 's office after it found a letter addressed to Alvin Bragg
threatening to kill him. The letter also contained white
powder that authorities have now deemed non hazardous. There have
been no evacuations or injuries at the DHS office overnights.
Adam Curry: Wow. They didn't need to add that. Oh, there are
no evacuations or or injuries? Well, no, because there was no
because it was phony it was wrong. If it existed at all. Yo
yoing
Unknown: letter also contain white powder that authorities
have now deemed non hazardous. There have been no evacuations
or injuries at the DHS office. Overnight Trump warned of quote
potential death and destruction. He really used that those that
phrase folks
Adam Curry: thanks He really use that. Oh, folks.
Unknown: We're back.
Adam Curry: Season as in
John C Dvorak: what is wrong with these people?
Adam Curry: A lot. A lot is wrong with them. Goodness.
Meanwhile, goodness gracious
John C Dvorak: to leave that topic and where it belongs to
the side of the road ladies.
Adam Curry: Yes.
John C Dvorak: Let's go to Syria.
Adam Curry: Yeah, we're just
John C Dvorak: a little more important. We
Adam Curry: just bombed some people last night. Oh,
John C Dvorak: yeah rainy and drone strike in Syria one.
Unknown: There's some breaking news tonight CBS News has
learned there have been three more attacks on American bases
from Iran backed forces since retaliatory airstrikes
overnight. It all started when a suspected Iranian drone hit and
killed an American and wounded at least six others. CBS David
Martin reports tonight from the Pentagon. DAF where's
Adam Curry: your report from
John C Dvorak: the Panama? She mispronounce and mine? So well
hold on a second. She uses the word American air bases and it
turns out to be two or three of them. It depends on your
reporting. But I've seen three. And what are we doing with what
I'm going to ask you? We're big, big shots when it comes to like,
oh, us the Ukraine, you know, they have their have their
borders. They got their you know, we got to keep the
Russians out. As anybody who gave us permission to set up
shop three bases in Syria? Well, it's not our country.
Adam Curry: Interesting. You say that? Because when I heard about
the dry, got it through my through my my channels or my
military channels, and I got the Hey, someone that one of our
guys killed airbase in Syria. And I said, Oh, no, no, no, we
were we were we were bombing. And I said why? Well, an Iranian
drone killed one of our guys on our base. What are we doing
there? No answer. Of course, those guys don't know that just
sent there. They just do it. But what it is
Unknown: David Martin reports tonight from the Pentagon,
the aftermath, strike by American jets against what US
officials called the headquarters of the Iranian
backed Islamic Revolutionary Guards in eastern Syria. The
pilots observed a secondary explosion. Assad, they also hit
an ammo Don't be prepared fresh track forcefully protect our
people. That's exactly what happened last night. President
Biden ordered the strike Thursday as he flew to Canada
aboard Air Force One after a drone hit an American base in
northeastern Syria.
Adam Curry: I really don't know I'd like to I'd like to
understand why. But this has been going on for a while.
There's all kinds of droning going on. I don't know why.
John C Dvorak: Because that's another interesting little
thing. Why is this all of a sudden big news of the I think
it's the next clip, where they talk about there's been 78
attacks. At the time, the Romans,
Unknown: Air Defense System surrounding the base was not in
full operation. And military officials are now investigating
whether that is why the drone got through.
We are very confident that based on the forensics based on the
intelligence analysis that we've done that it was of Iranian
origin,
there are still about 900 American troops in Syria working
with local fighters to go after remnants of the ISIS terror
network. But that has exposed them to attacks by Iran, Islamic
Revolutionary Guards, and they're clearly trying to run us
out of Syria at the very least, the commander of US forces in
the Middle East tallied up the attacks since the start of the
Biden administration.
There has been a number since one January 2021. The number is
about 78 times that we have been attacked. So remnants,
John C Dvorak: why is it news now?
Adam Curry: Remnants of ISIS? Remnants of ISIS?
John C Dvorak: In the sudden we're fighting with local forces
or the Syrian from the Syrian government are these what kind
of local forces are we talking about? There's a bunch of
different competing forces over the Kurds. What are you talking
about?
Adam Curry: I don't know. I'm very confused. And northeast. I
mean, that's not the Russia is not there. Russia is no
John C Dvorak: way out of the way or the way Yeah, is way over
there. last clip.
Unknown: Iranian drones are also being used by Russia against
Ukraine, several potential flashpoints between the US and
Iran. US officials say Iran is only months away from being able
to field a nuclear weapon. Joint Chiefs Chairman Gen. Mark Milley
testified this week, the US has plans to prevent that.
And we the United States military have developed multiple
options for now. national leadership to consider if or
when Iran ever decides to develop an actual nuclear
weapon.
It's not clear whether the government of Iran directly
orders these attacks on American bases, or just encourage
yourself. Either way US officials say Iran is
responsible.
Adam Curry: Okay. So it's for whatever it is. It's Iran, Iran,
Iran, China, China, China, Iran, Iran, Iran, Russia, Russia,
Russia. They have to they have to do China, China, China, they
have to do the B, we got to get Brazil gotta get Brazil in their
people get all the bricks. I want to come back to nuclear in
a moment. But first because of this bass thing. I got it for
you.
John C Dvorak: I don't want you to wait for the I just want to
mention some but the nuclear. We've been doing this show for
over 15 years. Correct. How long has it been where we've been
hearing? The road? They're about two weeks away from fielding a
nuclear missile.
Adam Curry: Yeah, you so right,
John C Dvorak: I think at least at least 12 years
Adam Curry: minimum minimum. Let me see. The archive doesn't go
back far enough. But let me see Iran nuke. Let's see what I
have. I have Oh, well. Okay, here's 2011. Um, just needle
drop. Okay, needle drop.
Unknown: In your book. You also write about Iran. The IAEA, the
nuclear agency of the UN this week is about to reveal
apparently more details showing apparently that Iran is trying
to weaponize, do you think the United States the Obama
administration has to ratchet up the confrontation you told this
week about confronting Iran, does that involve military
confrontation by the US?
Well, the United States should certainly make clear that the
president the United States will consider military action, if
necessary, because you never want to take that card off the
table. I think there are other ways to confront Iran, you can
confront Iran through even tougher sanctions. And I also
think, Christian, this is one of the downsides of having our
forces out of out of Iraq because we can confront the
Iranians in Iraq. So yes, I think it's time to confront the
Iranian regime, because it's the poster child for state
sponsorship of terrorism. It's trying to get a nuclear weapon,
it's repressed its own people. The regime has absolutely no
legitimacy left. We should be doing everything we can to bring
it down and never take military force off the table.
Adam Curry: So that was 2011. She didn't quite say it's right
around the corner. He's 2012. Short, one
Unknown: will calculate that whether he will seek deliverance
in a nuclear compromise in order to bring about some some relief
to himself, or whether he will seek deliverance with a nuclear
weapon itself, thinking that that will bring him a shield
from outside pressure. I think recent history doesn't bode very
well, because the example the lesson which commonly learned
from the example in Libya, but Duffy's example, in Libya, was
that when Adelphi abdicated his nuclear program that made him
vulnerable to outside intervention.
Adam Curry: Right. So we don't I mean, if I looked, I'm sure I
could find it where it's right around the corner. No, it's but
we've been saying they've been talking this was this is 11
years. Whoa, Ron's no joke. Well, okay, let me do this. Let
me go to Russia and nuke because there's a little little nuance
in what President Putin has said and what is actually happening
with the nuclear weapons in
Unknown: Russia ratcheting up the nuclear threat for the first
time in decades planning to deploy tactical nuclear weapons
designed for limited strikes on the battlefield beyond its
borders in Bella rousse. President Putin telling Russian
state TV it's a response to the UK supplying Ukraine with
depleted uranium tank shells, the Kremlin falsely claiming the
shells have nuclear components. It comes as Ukraine's President
Solinsky warning routes and artillery battles in the East
draining ammunition stocks. Zelensky telling a leading
Japanese newspaper he can't start a new offensive due to a
lack of ammunition and arms. But claims tonight from Ukraine's
top commander that Russia's offensive stalling around the
besieged city of Baku moot generals illusionary saying the
situation is being stabilized Russia pounding the city for
months pounding both sides suffering heavy losses there.
This is like Ukrainian soldier or leg in idiopathic. His mother
and sister taking us to his grave kissing his photo their
hero. So many young people have died in blackmoon Onyx sister
says, coffins keep coming and coming.
Adam Curry: So this next level tried better but we Got. Putin
is going to put nuclear nuclear arms in. In Belarus in Belarus
Jim put nukes in Belarus nukes and Belarus. Now not exactly.
Unknown: Putin has sought to frame this as a response to the
British government's statement a couple of days ago. So they
would supply the Ukrainians with depleted uranium ammunition for
use to armor in for use in armor piercing shields. It's a harder
type of metal that uses some kind of depleted uranium that
actually isn't banned internationally. It's not a
nuclear weapon at all. And Putin seems to have just found an
excuse to hang this latest round up of the tension on the west.
It's almost certainly also a response to perspective, a
perspective Ukrainian offensive against the Russians, which is
being spoken as coming fairly soon.
Adam Curry: So it's really it's it's not nuclear weapons. It's
depleted uranium ammo.
John C Dvorak: By the way, that stuff is nasty. It's very naive.
We
Adam Curry: use it to.
John C Dvorak: We used it in Iraq and pretty much poison the
country. Yeah, it's
Adam Curry: bad. It's bad. Now listen to this boots on the
ground from producer Chris in the morning. I was having a
conversation with my niece's boyfriend this evening during a
family function. He's a member of the New Jersey National
Guard, the subject of his future deployments came up. last
Thanksgiving, he was telling us how his unit had begun training
for a Ukraine deployment. But it was shelved for whatever reason.
I think he report I think we might have reported that things
seem to have changed and his unit will now be deployed in
approximately two weeks New Jersey National Guard, and that
the US involvement over there is picking up as the situation is
getting crazy. We do have an active military presence there
just not just contractors and it's spinning out of control.
They recently had for US citizens kidnapped and that is
prompting a step up in our response. He was a little fuzzy
on the details. Why are we not hearing about this trying to
hold off WW three. As of right now his unit has been told it'll
be a years long deployment. If nothing changes, he'll be cycled
back stateside, but only for a few weeks, then we'll be heading
into Mexico because we're now sending troops out to begin
fighting the drug cartels seems like something that should be
reported as well. There's another gathering tomorrow I'll
try and get more information maybe with more or less liquor
involved. could work producer Chris boy did hear about
John C Dvorak: that. But the New Jersey National Guard is being
shipped
Adam Curry: off to Ukraine to Ukraine and
John C Dvorak: then they're going to ship them off a year
from now to Mexico correct. And this is not getting reported by
stars and stripes or anybody
Adam Curry: not that I know of. Not that I know of.
John C Dvorak: This is not this is piss poor. shisha it is
really is piss poor these guys can't keep they got they do
briefings at the Pentagon they can ask we're not supposed to be
shipping our soldiers over there. What are you what are we
doing this is nuts.
Adam Curry: So a lot of people weighed in on no agenda social I
caught this on the flight back on my free tote T Mobile based
internet. About the we were talking about this accident,
private jet, a challenger 300 where one of the passengers on
board was killed, which initially was reported as
turbulence and we were talking about people on private jets not
putting on their seatbelts and I even gave my own account of this
happening with Ray lane. Yes, and so we're story Yeah. So she
got tossed around and crack your head open and she died and her
husband and her son were on this flight. And I think they
actually work for the jet jet from the from the company.
Global what is it? Bombard Yeah. And so the NTSB came out with a
preliminary report. Oh, you have we have to we have to point out
that this woman Her name is Dana Hyde. She was a lawyer for the
Clintons. She was an attorney who advised I
Unknown: know.
Adam Curry: Exactly. who advised okay. She was co chair of the
Aspen Institute's partnership for an inclusive economy. Sir
both the Obama and Clinton administrations served on the
commission that investigated the September 11 2001 terrorist
attack. So of course everyone's like hashtag Hillary
assassination group they killed her And this is the cover story
they say that the endless or the NTSB comes out with a report a
couple of a nominal as a lot a lot of anomalies where they
actually aborted the first takeoff because someone had
neglected to take off the little covering of the pito tube, which
is how you measure airspeed the two of them, so the second pito
tubes, so they actually aborted the takeoff. And then they got
some some kind of caution light not not a warning, not a caution
light at both of these pilots, very skilled pilots less than
100 hours on type though, which is which is might have been part
of the problem. So what happened was after they took off at 6000
feet, they observed multiple caution messages on the EI CAS
which is I forget what the acronym is, but it's it's the
airplane telling you something. The crew recalled e ICs.
messages have a P stab trim fail, autopilot stable
stabilizer trim fail, mock trim fail and a p holding nose down.
And neither crew member could recall exactly what order the
EIC s messages were presented. So what happened is they they
they looked into the quick reference handbook, which they
did on an iPad, which is the electronic flight bag, which may
or may not have been updated. This is this is where the
problem I think is good is a massive colossal failure on on a
lot of people's account here. And the checklist says oh, you
should turn off the trim stabilizer switch, which they
did. The minute they did that the airplane pitched up with
over two G's. Then the pilot who had his left hand on the on the
yoke, they pushed it in they they flipped back the trim
stabilizer then it inverted with nose down for three and a half
G's and then up again. So it was oscillating for three or four,
up and down movement. And this was a 6000 feet. Everyone should
have been buckled in this poor lady was not and she she got
hammered around in her head split open and she did not make
it. So everyone of course says I've never heard of this. This
is obviously they killed are on the plane. Which is which is
understandable because it was first reported as turbulence
which as we reported as well. So as I'm looking into this turns
out, there's something called an air worthiness directive, which
came out in February 2022. So over a year ago, for this
particular type for this particular model of the 300 and
the five hundreds. And it says as follows flight controls,
horizontal stabilizer trim switch, unintended horizontal
stabilizer motion for the models 305 100 compliance, which means
it needs to be fixed within 14 days of the effective date of
this airworthiness directive unless already accomplished. And
what it says in here is that this particular there's a miss
wiring in the plane. And even a spring in the switch can can can
be failing. And that what happened that's why the message
says AP holding nose down what happened was the trim on the
back of this airplane the trim was way off it was setting it
basically trim is like it's like pulling back on the yoke only
it's a little a little stabilizer that you can use. So
you don't have to use so much on the yoke. It kind of eases the
pressure. And it was set incorrectly because of this
mistake this fault which had not been fixed on the aircraft. The
minute they clicked it off, the whole autopilot comes off which
it even said AP holding nose down. And of course at that
point, you know it's like when you fall if you make a paper
airplane, you fold two little things on the back of on the on
the tail, you fold that up and the plane will go up and make a
looping. That's essentially what happened here. And it is
unbelievable that This aircraft was not fixed and it's supposed
to be done over a year ago. These pilots it should not have
been a cautionary warning, it should have been an actual
danger warning. So this was a colossal mistake on behalf of
the owners of the jet, the company, the pilots were not
properly informed, and this woman died and all of that's in
the show notes if you want to go look at it. But it was not a
unless they had a lot of a lot of foresight and like oh,
John C Dvorak: sitting there ready to be done when they felt
like it She ain't buckling no flip the switch.
Adam Curry: And there you go. Who's the crackpot who's the
buzzkill here?
John C Dvorak: Who got to you is the question. Yeah, right
Adam Curry: now, that's what I thought who got to me. Let's go
back to Putin for a second. Because whereas in America,
we're very, very, very concerned about children being being told
to hate America by the Chinese. In Europe, we know that Putin is
really stealing children.
Unknown: Dave, the other issue that seems to be coming from
this summit are sort of underlying their commission
president saying that the up to 16,000 children deported from
Ukraine to Russia, which Keefe says they're being indoctrinated
by Russia. She wants an international summit to get to
the bottom of where they are. Yeah, this was
kind of a surprise that President von der Leyen focused
on this so heavily in her press conference. Oh, really. Last
night, following the discussions, I wasn't really It
shouldn't have to go into so much detail about it. So this is
clearly something that the commission is going to lean
into. Now, of course, this follows the ICC warrant for
President Putin of Russia for allegedly involving in this
program of abducting Ukrainian children and sending them to
Russian families. So she went into quite a bit of detail about
this saying that there are substantiated reports that this
is happening, and that children are being sent to Russian foster
families, and she doesn't seem content to just be supporting
the ICCs war ends after all, Russia is not a member and
doesn't have any obligation to send over President Putin nor
does it seem likely that any country that he would visit
would arrest him and turn them over.
Adam Curry: So it seems like Queen Ursula is going to add
this to the to the list to make it even more agreeable to people
like Oh, this guy is so bad he's abducting children. She's just
stealing them taking the children and even the replaces
France 24 Even the reporters like this kind of weird she's
doing that No, dude. Now it's gonna be added to the list. We
have a huge list and they're gonna they're gonna throw the
book at them. And when they catch him, we're gonna throw the
book at him the I hope they end this war soon. My whole thesis
is starting to fall apart you know, we're sending the New
Jersey National Guard there's all kinds of weird stuff going
on. They've got to end this
John C Dvorak: well yeah, I think your theory is falling
apart a little bit a little bit they do have to end it no matter
whether there's a theory involved or not.
Adam Curry: They're gonna run out of bullets they got nothing
using uranium you know the someone wrote me in one of our
producers but you know about the war of attrition. And you say
this is just like World War One and sometimes in World War One
there are reports that the bombing was just so intense that
it didn't You didn't hear a bomb was just a constant nonstop
bombing on both sides nonstop and it ended that must be what