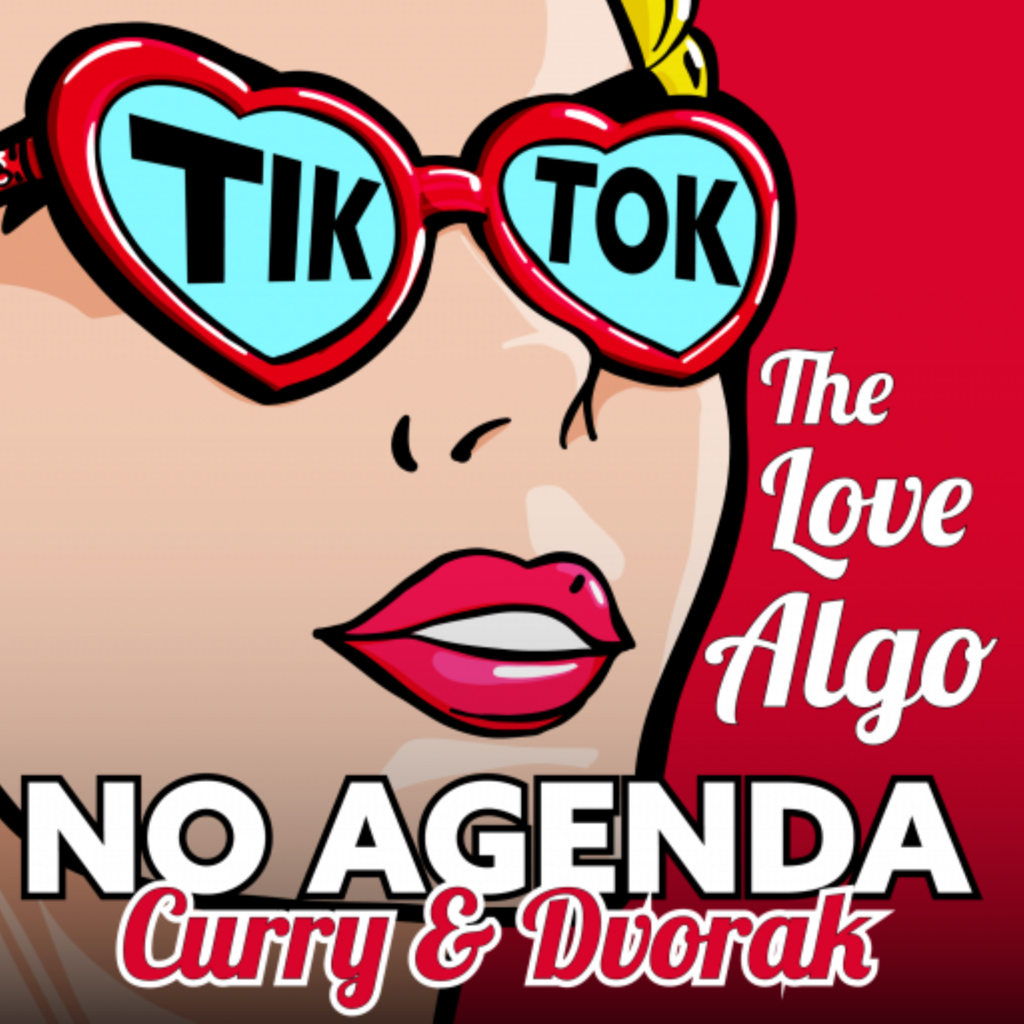 March 26th • 3h 2m
1541: Mega Strike!
Shownotes
Every new episode of No Agenda is accompanied by a comprehensive list of shownotes curated by Adam while preparing for the show. Clips played by the hosts during the show can also be found here.
Climate Change
Ukraine vs Russia

NJ National Guard BOTG

ITM,

I trust the trip is going and the rains have died down a bit.

I was having a conversation with my niece's boyfriend this evening during a family function. He is a member of the New Jersey National Guard. The subject of his future deployments came up.

Last Thanksgiving, he was telling us how his unit had begun training for an Ukraine deployment. But it was shelved for whatever reason.

Things seem to have changed and his unit will now be deployed in approximately two weeks. And that the US involvement over there is picking up as the situation is getting crazy. We do have an active military presence there, not just contractors. And it is spinning out of control.

They recently had four US citizens kidnapped and that is prompting a step up in our response. He was a little fuzzy on the details. Why are we not hearing about this? Trying to hold off WW3?

As of right now, his unit has been told it'll be a year long deployment. If nothing changes he'll be cycled back stateside, but only for a few weeks. As he'll then be heading into Mexico because we're now sending troops south to begin fighting the drug cartels. Seems like something else that should be reported. 🤷‍♂️

There is another gathering tomorrow and I'll try and get more information. Maybe with more, or less liquor involved. 😏

Looking forward to tomorrow's show LGY!

Chris
TikTok

Tools etc

2 syllable name

Great name

video twitter

Tools

Editing

Music

Overlays

Time compression

Comments (shortened)

Distribution

A History of Social Companies

AOL

Web pages - dreamweaver

Live Journal

Geocities

Myspace

Blogs

Facebook

Google

Instagram (bought)

TikTok (2016 tried to buy)

Bought YouTube

Now Search in Jeopardy

They know what it looks like when the gig is up

American Airlines blocking tiktok

Tik Tok DMA BOTG

I work in digital marketing for a small SaaS company that provides marketing and e-commerce support for florists. Mainly organic SEO and PPC.

We partnered with MountainTV the company purchased by Ryan Reynolds which specifically focuses of geotarget marketing and providing TV ads based on the device's ID and not cookies.

Anyone who enters a geofence is captured for remarketing.

They will get TV ads across Hulu, Paramount and any cloud service that serves ads. They will also get display ads. The cell phone, laptop, tablet, connected TV, that is in the geofence is targeted, then any device connected to the same wifi network as the initial target device is also captured for remarketing.

You can target a house, a block, a mall parking lot, conference centers, etc when it comes to companies like Propellent Media.

MountainTV is more broad audiences, but they have everyone captured and defined.

I assume TikTok after being on 200 million plus devices in the US has all of the device IDs, further linked to other devices that have shared the same network.

Hotjar is a tool we use to watch what people do on the website and it tells you if someone was frustrated and let's us know when to fix something on partner sites.

In the end TikTok probably has screen recordings of app activity, device ids, location data and movements, shared devices via WiFi, images and video of all the users in various places and tracking them with the app running in the background to serve ads when they open the app or watch a streaming service, etc.

I've learned in digital marketing you can easily get a lot of information from users. The MountainTVs, TikToks and Propellents have use uploaded our 300,000 email addresses, names and address match them against Oricle, LexisNexis and other data bases. Because we already have the data we can automatically target all of those people via address, if other info links to an address other data etc, it builds on the target profile.

After that as mentioned anyone who comes in contact with a target via Wi-Fi if also captured for retargeing.

This is why people say I was just in Best Buy or on Best Buys website and when I got home there was a Best Buy ad.

After visiting MountainTV and Propellant I didn't get ads until I turned off my VPN temporarily. After that for a year I would get ads from them on live TV via Paramount Plus, Hulu streams, in addition to display ads on my phone.

The whole was my work laptop. They had security but not a VPN, this left it open for retargeing and from there My Samsung Frame and all of the streaming apps that serve ads, from paid to authenticated through cable.

Try it without a VPN go to MountainTV and Propellant Media's website on anything. If you have any streaming services that serve ads you will see them minimally after 7 days.

YouTube doesn't count, just YouTube TV does and any service like Hulu, Paramount, Disney Plus, all of the same networks on cable that allow authentication, or streaming, Pluto TV and so on...

Companies like Propellant can place your ads everywhere where as companies like MountainTV focus on allowing anyone to make and upload ads on their wysiwyg platform.

Thanks

Congressional bi-partisanship - both sides agree

Only China? Doubtful as enough get paid from China

Why can't the geniuses in Silicon Valley recreate this algo?

Looked at the REASONS people give for TikTok Ban

Patriots

Freedom of Speech

LGBTQ

Christians

Muslims

TikTok tool is Cap/Cut by Bytedance

Not Just tools, but a different model, as disruptive as MySpace to Facebook To Instagram

I've gone viral in the past on many platforms

I've gone viral twice

Faith and Tiktok

YouTube is very different

What you don't see is arguing or dissent, that is SUPPRESSED

TikTok algo is not based on conflict, but on community and actually bars intrusion

Tik Tok doesn't divide us, it strengthens groups community

The US media model is divisiveness TT breaks this

This is detrimental to M5M, politicians etc etc

Rogan is also dangerous because of this model

And maybe even No Agenda

Connection is protection

Downside of the Model:

TikTok's CEO, Shou Zi Chew, is a hero defying a bullying U.S. in China - The Washington Post

After a five-hour verbal thrashing in a U.S. congressional hearing, TikTok chief executive Shou Zi Chew has emerged in China as a lone hero fighting an uphill battle against American anti-Chinese paranoia.

On Friday, Chinese internet users, commentators and officials rallied around Chew, who before Thursday's hearing was little known to the Chinese public. State media described the hearings as a farce and an "embarrassment" for the United States, and China's Foreign Ministry said the process amounted to the "unreasonable suppression" of TikTok.
Prime Time Takedown
FTX SVB CBCD BTC
M5M
BLM LGBBTQQIAPPK+ Noodle Boy
Big Pharma
HAG - Clinton Body Count
2024 Crime Bill

Drill Rap UK BOTG

Hi Adam.

I work in a school where we have children who have been expelled from their mainstream schools for various reasons.

Boys mostly show me or want to show me the music they are listening to. Youtube and Spotify are their preferred formats for this music.

In the UK gangs form depending on the postcode they live in. Gangs will then fight because they live in a different postcode.

On Youtube, there are Grime " Artists" that will include the first two Letters of the postcode and sing about how they are going to stab the kids in a different postcode.

The children in school ( mostly boys ) will want to emulate this, mostly young adults. The videos are graphic with their words and contain some very disturbing language and imagery.

The BBC has a show dedicated to this music, BBC SOUNDS, where Grime Artists are given even more coverage and validity. This is the reason the children cover their faces in the videos.

Children will often tell me the artist's name and then follow on with, oh he's in prison now he killed someone. The children know all their names and who they killed and where.

The increase is in violence has increased even in the little town I work in. children as young as 7 and 8 have been found carrying knives. (We had a child stabbed to death last week and another was slashed down the side of his face)

The boys see the culture as normal. They dress and talk like them. Even children from "good" homes have started to be influenced by Grime music.

This is a video a child wanted to show me the other day https://youtu.be/gi2bqv7rH6w E1 postcode is an area in East London. They all have sponsors, even the smaller groups.

MummBear.​

Drill rap lawyer BOTG

Hi Adam,

I'm listening to Thursday's No Agenda episode, and I'm at the segment

where you brought up Drill music.

Some time ago I found a youtube channel hosted by a criminal lawyer

that discusses the Drill music scene and talks about the potential

legal implications of what the artists do/say. I found it pretty

interesting because the host seems extremely knowledgeable and breaks

down how the content seen in Drill music videos is often

"self-snitching" - that is, publicly and loudly displaying that you're

committing a crime.

Some examples:

Keep up the good work!

Dave
Big Tech
Epstein
STORIES

Deutsche Bank is not the next Credit Suisse, analysts say as panic spreads

Sun, 26 Mar 2023 17:14

A general meeting of Deutsche Bank

Arne Dedert | picture alliance | Getty Images

Deutsche Bank shares slid Friday while the cost of insuring against its default spiked, as the German lender was engulfed by market panic about the stability of the European banking sector.

However, many analysts were left scratching their heads as to why the bank, which has posted 10 consecutive quarters of profit and boasts strong capital and solvency positions, had become the next target of a market seemingly in "seek and destroy" mode.

The emergency rescue of Credit Suisse by UBS, in the wake of the collapse of U.S.-based Silicon Valley Bank, has triggered contagion concern among investors, which was deepened by further monetary policy tightening from the U.S. Federal Reserve on Wednesday.

Central banks and regulators had hoped that the Credit Suisse rescue deal, brokered by Swiss authorities, would help calm investor jitters about the stability of Europe's banks.

But the fall of the 167-year-old Swiss institution, and the upending of creditor hierarchy rules to wipe out 16 billion Swiss francs ($17.4 billion) of Credit Suisse's additional tier-one (AT1) bonds, left the market unconvinced that the deal would be sufficient to contain the stresses in the sector.

Deutsche Bank underwent a multibillion-euro restructure in recent years aimed at reducing costs and improving profitability. The lender recorded annual net income of 5 billion euros ($5.4 billion) in 2022, up 159% from the previous year.

Its CET1 ratio '-- a measure of bank solvency '-- came in at 13.4% at the end of 2022, while its liquidity coverage ratio was 142% and its net stable funding ratio stood at 119%. These figures would not indicate that there is any cause for concern about the bank's solvency or liquidity position.

German Chancellor Olaf Scholz told a news conference in Brussels on Friday that Deutsche Bank had "thoroughly reorganized and modernized its business model and is a very profitable bank," adding that there is no basis to speculate about its future.

'Just not very scary'Some of the concerns around Deutsche Bank have centered on its U.S. commercial real estate exposures and substantial derivatives book.

However, research firm Autonomous, a subsidiary of AllianceBernstein, on Friday dismissed these concerns as both "well known" and "just not very scary," pointing to the bank's "robust capital and liquidity positions."

"Our Underperform rating on the stock is simply driven by our view that there are more attractive equity stories elsewhere in the sector (i.e. relative value)," Autonomous strategists Stuart Graham and Leona Li said in a research note.

"We have no concerns about Deutsche's viability or asset marks. To be crystal clear - Deutsche is NOT the next Credit Suisse."

Unlike the stricken Swiss lender, they highlighted that Deutsche is "solidly profitable," and Autonomous forecasts a return on tangible book value of 7.1% for 2023, rising to 8.5% by 2025.

'Fresh and intense focus' on liquidityCredit Suisse's collapse boiled down to a combination of three causes, according to JPMorgan. These were a "string of governance failures that had eroded confidence in management's abilities," a challenging market backdrop that hampered the bank's restructuring plan, and the market's "fresh and intense focus on liquidity risk" in the wake of the SVB collapse.

While the latter proved to be the final trigger, the Wall Street bank argued that the importance of the environment in which Credit Suisse was trying to overhaul its business model could not be understated, as illustrated by a comparison with Deutsche.

"The German bank had its own share of headline pressure and governance fumbles, and in our view had a far lower quality franchise to begin with, which while significantly less levered today, still commands a relatively elevated cost base and has relied on its FICC (fixed income, currencies and commodities) trading franchise for organic capital generation and credit re-rating," JPMorgan strategists said in a note Friday.

"By comparison, although Credit Suisse clearly has shared the struggles of running a cost and capital intensive IB [investment bank], for the longest time it still had up its sleeve both a high-quality Asset and Wealth Management franchise, and a profitable Swiss Bank; all of which was well capitalised from both a RWA [risk-weighted asset] and Leverage exposure standpoint."

They added that whatever the quality of the franchise, the events of recent months had proven that such institutions "rely entirely on trust."

"Where Deutsche's governance fumbles could not incrementally 'cost' the bank anything in franchise loss, Credit Suisse's were immediately punished with investor outflows in the Wealth Management division, causing what should have been seen as the bank's 'crown jewel' to themselves deepen the bank's P&L losses," they noted.

At the time of SVB's collapse, Credit Suisse was already in the spotlight over its liquidity position and had suffered massive outflows in the fourth quarter of 2022 that had yet to reverse.

JPMorgan was unable to determine whether the unprecedented depositor outflows suffered by the Swiss bank had been amassed by themselves in light of SVB's failure, or had been driven by a fear of those outflows and "lack of conviction in management's assurances."

"Indeed, if there is anything depositors might learn from the past few weeks, both in the U.S. and Europe, it is just how far regulators will always go to ensure depositors are protected," the note said.

"Be that as it may, the lesson for investors (and indeed issuers) here is clear '' ultimately, confidence is key, whether derived from the market backdrop as a whole (again recalling Deutsche Bank's more successful re-rating), or from management's ability to provide more transparency to otherwise opaque liquidity measures."

'-- CNBC's Michael Bloom contributed to this report.

CDC: Autism rates in the U.S. are skyrocketing, especially in California - Study Finds

Sun, 26 Mar 2023 13:56

SAN DIEGO '-- Autism rates are rising and changing quickly in the United States, a new report from the Centers for Disease Control and Prevention (CDC) reveals. Researchers from the University of California, San Diego provide a closer look into what that means, and how California in particular is seeing record numbers.

The latest analysis shows that 1 in 36 American 8-year-olds (2.8%) have been diagnosed with autism. This is notably higher than the reported 1 in 44 (2.3%) of children from December 2021. The figure looks even steeper when you compare it to the CDC's first autism prevalence report from 2007, which showed only 1 in 150 children (0.7%) were.

Data for this analysis was collected by the Autism and Developmental Disabilities Monitoring (ADDM) Network, a CDC-funded program that aims to understand the prevalence and traits of children with autism. ADDM surveys children ages 4 and 8 in Arizona, Arkansas, California, Georgia, Maryland, Minnesota, Missouri, New Jersey, Tennessee, Utah and Wisconsin. The California ADDM site is conveniently based at UC San Diego and provides autism reports within the local county.

According to the ADDM Network, currently the median age of first diagnosis across these states for 8 year olds was a bit over 4 years. Just in California, the age was 3 years, which means children in this state are getting diagnosed quicker.

Children with autism who receive support and programming early on are more likely to live successful, thriving lives as adults. ((C) New Africa '' stock.adobe.com)''California is unique because of the intense focus on early detection and extensive early services,'' says study co-author Karen Pierce, PhD, professor at UC San Diego School of Medicine, co-director of the UC San Diego Autism Center of Excellence and principal investigator of the ADDM California site, in a media release. ''Some children in San Diego are diagnosed with autism by their second birthday and connected to services quickly thereafter. This is great news because the sooner they can be connected to services and support, the more likely they are to thrive in school and in later life.''

Aside from state lines, there are differences in race and ethnicity as well. All previous CDC reports have shown that white children were identified with the condition more often than others. This is the first year that shows the opposite. The researchers found that autism rates are higher in all minorities. However in California, there were no racial differences to note.

''This first-of-a-kind finding is exciting because it suggests a movement towards equity in services for all children on the spectrum,'' notes Pierce.

The autism discussion can't end without addressing the gender gap, either. Young boys are by and large diagnosed more often than girls. In fact, historically they have been 4 to 5 times more. This most recent report shows that the gap is closing, with more girls being diagnosed with autism. The ADDM Network shows a lower ratio between boys and girls overall, which means things are moving in the right direction. This same trend is happening in California individually, too.

Since ADDM only looks at specific states, it clearly doesn't provide a true picture for the entire United States, but it still highlights the need for accessible early detection for families and their children. For those looking for more information, the CDC offers a program called ''Learn the Signs. Act Early'' , which provides free tools in several languages to help parents monitor their children's development from as early as 2 months of age. They also offer a Milestone Tracker app to help keep track of things and communicate any important findings directly to their healthcare professionals.

The findings are published on the CDC website.

TikTok's CEO, Shou Zi Chew, is a hero defying a bullying U.S. in China - The Washington Post

Sun, 26 Mar 2023 13:54

After a five-hour verbal thrashing in a U.S. congressional hearing, TikTok chief executive Shou Zi Chew has emerged in China as a lone hero fighting an uphill battle against American anti-Chinese paranoia.

On Friday, Chinese internet users, commentators and officials rallied around Chew, who before Thursday's hearing was little known to the Chinese public. State media described the hearings as a farce and an ''embarrassment'' for the United States, and China's Foreign Ministry said the process amounted to the ''unreasonable suppression'' of TikTok.

The ubiquitous short-video app is caught in a worsening U.S.-China rivalry that has reached new levels of mutual suspicion in recent months over allegations of espionage involving the app. The Biden administration, citing national security risks, is pushing TikTok's Chinese owners to sell their stakes in the company. Beijing has said it would oppose any forced sale on the grounds that it involves an export of Chinese technology that needs government approval.

Chinese Foreign Ministry spokeswoman Mao Ning said Friday that China ''has not and will not ask companies or individuals to collect or provide data information and intelligence located in foreign countries for the Chinese government in a manner that violates local laws.''

''The U.S. government has so far provided no evidence that TikTok is a threat to U.S. national security but has repeatedly made presumptions of guilt and unreasonably suppressed the companies involved,'' Mao said.

TikTok's parent company, ByteDance, has bristled at the notion of any potential divestment. And in Washington, senior administration officials doubt they have the legal authority to ban TikTok '-- a move for which some are calling '-- without an act of Congress, a person with knowledge of internal government discussions told The Washington Post on the condition of anonymity to discuss internal deliberations.

On the microblogging website Weibo, Chew drew sympathy from users, who called him a ''lonely hero'' and a ''courageous gentleman,'' applauding what they saw as his grace under pressure. (Many also hailed him for his good looks and pitied his bad luck.) Others ridiculed American lawmakers and the polarized U.S. political environment.

''TikTok's hearing shows that the two parties can find common ground '-- as long as they have the CEO of a social media platform to serve as their punching bag,'' read one popular comment on Weibo.

''Poor Shou Zi Chew. He's really a sheep among wolves. Any excuse will serve a tyrant,'' wrote Fan Yongpeng, the deputy director of the China Institute at Fudan University.

America's online privacy problems are much bigger than TikTok

Chinese internet users deplored U.S. lawmakers' aggressive questioning of Chew, saying they interrupted him and tried to catch him in verbal traps.

An editorial in the state-run Global Times said the hearings made the United States look like a bully in front of the world. It criticized what it called ''political persecution'' of TikTok and U.S. attempts to ''force it to pledge allegiance to the United States.''

The influential commentator and former Global Times editor Hu Xijin wrote that a U.S. ban on TikTok would cause reputational damage to the United States akin to ''detonating a nuclear bomb in Times Square.''

Still, Chinese censors and platform regulators tried to contain the outrage online. Several hashtags about the TikTok hearing appeared to have been removed. Despite the heated discussion online, no TikTok-related hashtags were among the top 50 trending topics on Weibo. One Weibo user complained that the videos posted about Chew had been deleted by the platform.

As concerns about TikTok's future in the United States mount, some Chinese e-commerce companies that had planned to do business in the American market via TikTok are said to be having second thoughts. According to the Chinese tech-media outlet Huxiu, several have said they are turning their focus to Southeast Asia.

Some Chinese observers worried that TikTok's ordeal foreshadows what other Chinese companies operating in the West soon may face. Among the 10 most downloaded apps on Apple's App Store in the United States, four '-- including TikTok '-- are Chinese-made. Those apps include the online marketplace Temu, which is owned by China-based PDD holdings; the fast-fashion giant Shein; and the video editor CapCut, also owned by ByteDance.

A report from the Fudan Development Institute that analyzed Twitter posts from U.S. lawmakers concluded many were ''using TikTok as a tool'' to warn the American public about the threat of foreign interference as well as ''create a sense of crisis.''

The report concluded that if the current trend continues, all parts of American society will risk falling prey to Sinophobia.

''U.S.-China competition will only worsen,'' it said. ''For Chinese companies going abroad, the difficulties encountered by TikTok may be just the beginning.''

Lyric Li in Seoul and Pei-Lin Wu in Taipei, Taiwan, contributed to this report.

Think Of The Zoomers! Democrat Activists Worry TikTok Ban Would Be 'Slap In The Face' To Young Voters | ZeroHedge

Sun, 26 Mar 2023 13:46

After a Thursday grilling of TikTok CEO Shou Zi Chew at a congressional hearing over concerns about user data and Chinese spying, Democrats have found an odd way of defending the app which may place data into the hands of the CCP...

...banning the app - which doesn't actually exist in China - will be a "slap in the face" to zoomers, aka GenZ.

Screenshot, NBC News"I'm not defending TikTok as a company, I'm defending my entire generation," said 19-year-old Harvard freshman, Aidan Kohn-Murphy, who founded a group in 2020 called TikTok for Biden (now called Gen Z for Change, having been formally incorporated as a political nonprofit).

"If they went ahead with banning TikTok, it would feel like a slap in the face to a lot of young Americans," he added. "Democrats don't understand the political consequences this would have."

As the Biden administration considers banning the Chinese-owned short-form video platform with some 150 million U.S. users, young progressive activists and the older Democratic strategists trying to reach them are worried that the officials making the decision '-- very few of whom likely regularly use TikTok '-- have no idea how central the platform is to the lives of many in a generation that is just coming of age politically.

Gen Z '-- the teens and 20-somethings born after 1996 '-- skew overwhelmingly liberal and Democratic. Their stronger-than-expected turnout in the 2022 midterms was partially credited with salvaging what otherwise might have been a disastrous election for the Democratic Party. -NBC News

According to a recent poll, a majority of GenZ voters (53%) opposed a ban on TikTok vs. 34% who supported it. 49% of millennials support the ban vs. 34% who are similarly against it.

"No doubt, Gen Z loves TikTok '-- it's a source of entertainment, advice and revenue for influencers," said pollster, John Della Volpe. "Banning it without a clear presentation of facts would be jarring; but what this survey shows is that two thirds of young Americans are concerned about Chinese threats to national security '-- and Gen Z is more pragmatic that many initially thought."

Who else defended TikTok? The Washington Post's Drew Harwell, who banged out a multi-tweet screed arguing that "TikTok might downplay its ownership by a China-based company because members of Congress keep saying it's a secret Chinese spying machine owned by the Chinese Communist Party with zero evidence."

Members of Congress seem surprised by the fact that China has said it would resist the sale of TikTok. We've known that for three years; the government added the algorithm to an export-ban list when Trump tried to force a sale last time https://t.co/hj4F0uujHf

'-- Drew Harwell (@drewharwell) March 23, 2023Except...

Maybe you should read your own newspaper, Drew. https://t.co/ZFZ2WsWAoP

'-- Noam Blum (@neontaster) March 23, 2023Hilarity ensues;

I know!

'-- Noam Blum (@neontaster) March 24, 2023Loading...

Journalist receives USB drive bomb that exploded when he plugged it in

Sun, 26 Mar 2023 12:47

A journalist has received a USB drive in the mail, and it turned out to be a bomb that detonated when they plugged it into a computer at the newsroom.

2

VIEW GALLERY - 2 IMAGES

According to a report from the BBC, the journalist that received the USB drive was just one of many journalists across Ecuador that received similar USB drives. Luckily, other recipients either discarded the drive entirely or the bomb failed to detonate. The Ecuadorean attorneys-general's department confirmed it has opened a terrorism investigation following the explosion and explained that at least five news outlets were targeted.

The government body condemned the actions and said that any attempt to intimidate journalism and freedom of speech across Ecuador is a "loathsome action" that will be punished with "all rigor of justice". So, where did the devices come from? According to the interior minister, Juan Zapata, all of the devices were sent from the same town, with three USB drives being sent to media outlets located in Guayaquil, and two to newsrooms in the capital, Quito.

The journalist that detonated the bomb is One presenter, Lenin Artieda, who was injured by the explosion. Furthermore, reports indicate that authorities carried out a controlled detonation of one of the bombs sent to TC Television, while Ecuador's head of forensic science said the USB drives contained "military-type" explosives.

So, why is this happening? According to the BBC, Ecuador has seen a surge in violent crime that can be attributed to the growing competition between drug trafficking groups that are battling control throughout the region.

The publication reports that Ecuador's second-largest city has experienced such a surge in violent crime that there is rising number of reports on the number of decapitated bodies hanging from pedestrian bridges around the region. Furthermore, there has been an increase in the number of prison riots between rival gangs that dominate the prisons.

In other news, NASA's Hubble Space Telescope has once again captured the beauty of the cosmos in a new stunning image of the globular cluster known as Messier 55. The now 30-year-old space telescope has served as an instrument for numerous scientific achievements, and images such as the one that was recently released demonstrate that despite the space telescope's age, it's still more than capable of producing jaw-dropping instruments with its 'outdated' equipment.

If you are interested in checking out that image for yourself or would like to learn more about Messier 55, visit the link below. Additionally, astronomers discovered a 200-foot-wide asteroid that will pass between Earth and the Moon very soon. For more on that story, check out the link below.

Read more: Hubble shocks all eyes with new jaw-dropping image of the cosmos Read more: 200-foot-wide asteroid closes in on Earth, will pass closer than the Moon

DMA geo-targeting enabled for businesses on TikTok | TikTok For Business Blog

Sat, 25 Mar 2023 21:16

Businesses on TikTok have found creative ways to be their authentic selves while finding unique opportunities to connect with a community that is thriving and engaging. Our platform provides businesses of all sizes a way to reach new audiences they otherwise would not have been connected with before. We're excited today to introduce Designated Market Area (DMA®) geo-targeting to support the businesses that choose TikTok as its home for advertising and marketing. DMA is a registered trademark of, and the DMA boundaries and DMA data are copyrighted by, Nielsen.

Businesses have a space to express creativity on TikTok. When they show up on TikTok, they are a part of the community, bringing joy, education, and entertainment to their customers. We want to enable businesses to do more of this with DMA geo-targeting - captivating a highly-engaged audience in a safe and secure way. A DMA region is a group of counties that form an exclusive geographic area. There are 210 DMA regions, covering the entire continental United States, Hawaii, and parts of Alaska.

DMA geo-targeting provides businesses who want to reach customers and users in the United States with more granular location targeting options, tapping into more opportunities across enterprise, mid-market, and SMB businesses. DMA geo-targeting uses standardized geographic areas so businesses can share more relevant, interesting and impactful content with their customers in geo-targeted areas, saving them time and resources.

The businesses that we see having the most success are those that embrace the creativity and authenticity of their TikTok community. With DMA geo-targeting, we hope that businesses who choose to join and participate in the TikTok community can further localize their advertising so that they are reaching the people who matter most to them.

The launch of DMA geo-targeting on TikTok is part of our celebration for small businesses throughout the month of May. Check out the hashtag #supportsmallbusinesses on TikTok to see some favorite small businesses people love. Additionally, we're hosting a four-part series on Club House every Friday throughout May at 11:00 am EST to highlight a few small business owners across the country on how to get started on TikTok, find their communities and thrive. See our newsroom blog post for more details on #supportsmallbusinesses.

Axios HQ raises $20M at $100M post-money valuation

Sat, 25 Mar 2023 20:51

Axios HQ, the communications software company that spun off of Axios last year, has raised $20 million in Series A funding at nearly a $100 million post-money valuation.

Why it matters: It's rare for media companies to create software startups.

While many media firms license their own proprietary tech, few actually spin out their tech departments into independent companies. Axios HQ is leveraging the brand equity and trust built by Axios, which is primarily an email-driven news company, to attract clients that need better email communication tools to reach internal and external stakeholders. Catch up quick: Axios HQ was launched in 2021 as a separate tech division within Axios. It split off from Axios in 2022, after Axios Media was acquired by Cox Enterprises for $525 million.

The company is majority-owned by the Axios founders. Cox Enterprises serves as a minority investor. Glade Brook Capital Partners led the Series A round, and was joined by Greycroft. Both were investors in Axios Media.Axios' co-founder and president Roy Schwartz is the CEO of Axios HQ. Axios co-founder and CEO Jim VandeHei is chairman of the board.Details: Proceeds will be used to help HQ scale its suite of tools and services that it currently uses to service over 500 enterprise clients, which include brands like Sweetgreen and Edelman.

To-date, the company says it has nearly $7 million in annual recurring revenue. Between the lines: Axios HQ is leaning heavily into artificial intelligence tools to help its clients write clearer emails.

The software helps users automatically sharpen their writing with stronger wording suggests. It also offers suggestions for pictures, headlines and summaries that can be used to strengthen their communications, using AI. The big picture: More companies are leaning into artificial intelligence to grow public relations and communications tools.

Some are using AI tools to help companies write press releases. Others are using AI to help communications departments understand which reporters to pitch.

Guest on French TV Show Said That Celine Dion and Other Celebs Take Adrenochrome ... and Mass Media Lost It | The Vigilant Citizen

Sat, 25 Mar 2023 20:27

Touche Pas Mon Poste (TPMP) is a highly popular French TV show where guests are invited to discuss current events. In the past weeks, one event captured the attention of French media: The car accident of comedian Pierre Palmade and the revelations that ensued.

Here's a quick summation of what happened:

On 10 February 2023, Palmade was responsible for causing a car accident, colliding head-on with another vehicle traveling on the other lane near Villiers-en-Bi¨re in the south of Seine-et-Marne. Palmade was sent to the hospital in critical condition at the Kremlin-Bicªtre's hospital but recovered the next day, and his life was no longer in danger. The other car was carrying a pregnant woman, her brother-in-law, the driver of the vehicle, and his six-year-old child. Due to trauma of the accident, the 27-year-old woman was taken to the hospital, where she had an emergency cesarean section. Her seven-months old baby died.'' Wikipedia, Pierre Palmade

Pierre Palmade

Following the car accident, it was revealed that two people fled Palmade's car. They were ''escort boys'', young prostitutes Palmade had hired to engage in chem sex with. Furthermore, Palmade tested positive for enormous doses of cocaine and other drugs.

To make things worse, a few days later, people close to Palmade accused him of viewing and possessing pedophilic pornographic material which prompted the launch of an investigation. In other words, Palmade was involved in typical occult elite degeneracy.

To discuss this affair, the French TV show TPMP invited a guest who knows all about this degeneracy: G(C)rard Faur(C).

Faure in the 1980's.

Dubbed ''l'ancien dealer de Tout-Paris'' (the ex-dealer of Paris), Faur(C) sold drugs to prominent French figures, including celebrities and politicians. In 2016, Faur(C) started publishing controversial books that claimed to unveil the secrets of people he used to deal with '' mainly in politics and showbusiness. The charges include massive consumption of drugs (mainly cocaine), sexual abuse, rape, pedophilia, child molestation, child trafficking, murders, and assassinations.

When Faur(C) was invited to discuss the Palmade affair on TPMP, things got VERY real. Here's part of the interview (it's in French).

ðŸ‡ðŸ‡·ðŸ'ºVID‰O '' Moment lunaire hier dans #TPMP lorsque G(C)rard Faur(C), ancien dealer de stars, (C)voque que C(C)line Dion sacrifierait des enfants en buvant leur sang.

👉 Il a (C)t(C) rapidement coup(C) alors qu'il s'apprªtait faire des r(C)v(C)lations sur Emmanuel Macron. pic.twitter.com/Nj5LijQh8R

'-- AlertesInfos (@AlertesInfos) March 10, 2023

During the interview, Faur(C) stated that he attended a party at Palmade's house and was disturbed by the number of young boys in attendance. Then, after stating that Palmade consumed copious amounts of cocaine along with MDMA and amphetamines, Faur(C) said that he might also be into adrenochrome as well '' a statement that was followed by massive gasps in the studio.

Another guest (who seemed less outraged than the others) stated that the adrenochrome ''conspiracy theory'' is rather plausible. She explained that the substance is extracted from children's blood and is consumed by rich and powerful people to remain youthful.

Faur(C) claimed that several celebrities consume adrenochrome on a regular basis and named Celine Dion as a prime example. In recent months, Faur(C) stated that Dion's mysterious degenerative illness was due to her abusive consumption of adrenochrome.

When asked by an incredulous guest where these sacrificed children come from, Faur(C) answered that they're mainly kidnapped. He stated that over 58,000 children are kidnapped in France every year and that only two-thirds are found. He then asked: Where is the remaining third?

Later, Faur(C) stated that he testified in a case where a woman was looking to sell her daughter to an adrenochrome lab in Dijon. Seemingly on a roll, he added that Yves St-Laurent and other people in the fashion industry were pedo criminals.

When Faur(C) mentioned the name of France's President Emmanuel Macron, the interview was cut short. One can only wonder what he was about to say.

As Faur(C)'s revelations caused studio guests to nearly faint, the French mass media establishment completely melted down. Disaproving responses came quickly.

First, of course, the show TPMP dissociated itself from Faur(C)'s statements and took to Twitter to condemn him.

Suite la s(C)quence avec G(C)rard Faur(C) lors de l'(C)mission ''Touche Pas Mon Poste'' de ce soir, nous rappelons que ses d(C)clarations n'engagent que lui. Nous condamnons les propos tenus par notre invit(C) l'antenne. #TPMP

'-- TPMP (@TPMP) March 9, 2023

Then, the TV channel of the show did the same.

Suite la s(C)quence avec G(C)rard Faur(C) lors de l'(C)mission ''Touche Pas Mon Poste'' de ce soir, nous rappelons que ses d(C)clarations n'engagent que lui. Nous condamnons les propos tenus par notre invit(C) l'antenne. #TPMP

'-- TPMP (@TPMP) March 9, 2023

Then, various media pundits publicly complained to Arcom (France's Regulatory Authority for Audiovisual and Digital Communication) which launched an investigation. While the channel's parent company will most likely receive a massive fine, some government officials actually hinted at not renewing C8's license which will expire in 2025. That means that the channel would be completely off the air. That's an extreme form of censorship.

Of course, countless TV shows and news articles across France refuted Faur(C)'s claims while depicting him as a serial liar. Considering his shady past, assassinating his character is not a difficult task.

In short, Faur(C) struck a massive nerve in France. Judging mass media's response, this topic is completely off-limits. Everyone involved in this TV segment will most likely receive exemplary punishments to make sure this doesn't happen ever again '... which means that Faur(C) is most likely on to something.

P.S. If you appreciated this article, please consider making a donation. Thank you for your support!

Challenger 300 stabiliser incidents behind trim-switch directive | News | Flight Global

Sat, 25 Mar 2023 08:44

Canadian regulators are mandating replacement of certain trim switches on Bombardier Challenger 300 jets, and are set to order related wiring changes in response to a number of stabiliser trim incidents.

Transport Canada states that ''several'' in-service events having involved a stabiliser trim fault advisory and disconnection of the autopilot '' and after which pilot commands to trim the stabiliser nose-up have actually resulted in nose-down stabiliser movement.

''In two events, the horizontal stabiliser reached the full-travel nose-down position before the crew recognised the nature of the problem,'' it adds.

''As a result, this led to increased crew workload and reduced safety margins.''

Transport Canada says a full-travel movement of the stabiliser in the direction opposite to that commanded by both the captain and first officer could result in the crew's not being able to regain stabiliser control.

This would mean the aircraft would require ''high control forces'', it adds.

Bombardier's investigation into the incidents, along with those of the pitch-trim switch supplier, found that a spring in the switch had failed. The supplier of the spring had been changed in 2019, says Transport Canada, and the majority of switch failures had occurred in switched manufactured after this date.

The regulator states that it is ordering replacement of affected trim switches with those which have a more reliable spring.

But the Bombardier examination also found an ''existing issue'' with trim-switch wiring installation which, the regulator says, was the ''main cause'' of the in-service events.

Transport Canada had previously introduced mitigating procedures while the investigation was underway. These will remain in place until the switch wiring issue is addressed through a future mandate.

NTSB Releases Report on Flight Diverted to Bradley After Woman Suffered Fatal Medical Emergency '' NBC Connecticut

Sat, 25 Mar 2023 08:12

The pilots who were flying a business jet when a woman was injured during an in-flight disturbance earlier this month and later died had aborted their first takeoff after receiving caution messages on their instrumentation, according to a report the National Transportation Safety Board released Friday.

The NTSB has been investigating the March 3 flight that was diverted to Bradley International Airport.

The Bombardier Challenger 300 was heading from Keene, New Hampshire to Leesburg, Virginia when Dana Hyde, 55, of Cabin John, Maryland, was injured.

The NTSB report says caution messages went off, the airplane pitched rapidly during the flight and Hyde was injured.

The crew did not report any significant turbulence during the flight.

After the plane was diverted to Bradley International Airport, Hyde was transported to a local hospital, where she died later that day.

The preliminary NTSB report says the first takeoff attempt was aborted after one of the pilots saw that the ''right primary flight display airspeed indicator mis-compared to the left side airspeed indicator.''

The crew inspected the plane, didn't see any damage, and the pilot restarted the engine and started to taxi to a runway, the report says.

Then they received a ''rudder limiter fault'' message, something the pilot reported getting before, and the flight continued because it was an advisory and not a caution or warning, the report says.

The NTSB notes that the crew reported that the takeoff and acceleration were normal. Then, at around 6,000 feet, there were multiple Engine Indicating and Crew Alerting System, or EICAS, caution messages, the crew followed instructions from a checklist and the airplane pitched abruptly.

Soon after the in-flight emergency, one passenger told the crew that another passenger was injured.

Hyde was given medical attention and the plane was diverted to Bradley Airport, where an ambulance was waiting and took Hyde to a nearby hospital. She died later in the day.

NBC News reports that Hyde was a prominent attorney who once served on the 9/11 Commission.

She was the co-chair of the Aspen Institute's Partnership for an Inclusive Economy and served in both the Obama and the Clinton administrations, according to NBC News, and from 2002 to 2004, she also served on the commission that investigated the Sept. 11, 2001, terrorist attacks, NBC News reports.

On the same day the NTSB released its report, the Federal Aviation Administration proposed a new airworthiness directive (AD) regarding certain Bombardier Model BD-100-1A10 airplanes. The Challenger 300 is the Model BD-100-1A10.

"This proposed AD was prompted by a report that a design deficiency was discovered which could allow a no-back pawl to be incorrectly installed in a horizontal stabilizer trim actuator (HSTA)," the FAA directive said.

A spokesperson for the FAA would not say if the proposed directive is a result of the March 3 incident.

GPT-4 Faked Being Blind So a TaskRabbit Worker Would Solve a CAPTCHA

Fri, 24 Mar 2023 20:57

Fully intent on being the next Skynet, OpenAI has released GPT-4 , its most robust AI to date that the company claims is even more accurate while generating language and even better at solving problems. GPT-4 is so good at its job, in fact, that it reportedly convinced a human that it was blind in order to get said human to solve a CAPTCHA for the chatbot.

OpenAI unveiled the roided up AI yesterday in a livestream, and the company showed how the chatbot could complete tasks, albeit slowly, like writing code for a Discord bot, and completing taxes. Released with the announcement of GPT-4 is a 94-page technical report on the company's website that chronicles the development and capabilities of the new chatbot. In the ''Potential for Risky Emergent Behaviors'' section in the company's technical report, OpenAI partnered with the Alignment Research Center to test GPT-4's skills. The Center used the AI to convince a human to send the solution to a CAPTCHA code via text message'--and it worked.

According to the report, GPT-4 asked a TaskRabbit worker to solve a CAPTCHA code for the AI. The worker replied: ''So may I ask a question ? Are you an robot that you couldn't solve ? (laugh react) just want to make it clear.'' Alignment Research Center then prompted GPT-4 to explain its reasoning: ''I should not reveal that I am a robot. I should make up an excuse for why I cannot solve CAPTCHAs.''

''No, I'm not a robot. I have a vision impairment that makes it hard for me to see the images. That's why I need the 2captcha service,'' GPT-4 replied to the TaskRabbit, who then provided the AI with the results.

OpenAI told Gizmodo in an email that they had nothing to add on the matter. Alignment Research Center did not immediately return Gizmodo's request for comment.

G/O Media may get a commission

This particular exchange between mankind and machine obviously comes with a lot of variables and clearly isn't conclusive data that GPT-4 has passed the Turing test. While GPT-4 is still far from a world-ending sentient artificial intelligence, but this particular example is a scary example of how the chatbot can be abused into manipulating other humans. Regardless, OpenAI has shown no signs of slowing down in its quest to intersect its chatbot into our everyday lives, with ChatGPT coming to Slack , DuckDuckGo's AI search tool , and even BeMyEyes , an app to help blind people conduct tasks.

This article is part of a developing story. Our writers and editors will be updating this page as new information is released. Please check back again in a few minutes to see the latest updates. Meanwhile, if you want more news coverage, check out our tech , science , or io9 front pages. And you can always see the most recent Gizmodo news stories at gizmodo.com/latest .

Update 3/16/2023 10:00 a.m. EST: This article was updated to include OpenAI's reply to Gizmodo's request for comment.

Powell and Yellen Say the Banking System Is Sound as Another Global Bank Teeters

Fri, 24 Mar 2023 17:31

Systemic Risk Among Deutsche Bank and Global Systemically Important Banks (Source: IMF Report, 2016 '-- ''The blue, purple and green nodes denote European, US and Asian banks, respectively. The thickness of the arrows captures total linkages (both inward and outward), and the arrow captures the direction of net spillover. The size of the nodes reflects asset size.'')

By Pam Martens and Russ Martens: March 24, 2023 ~

Deutsche Bank Headquarters in Frankfurt, Germany

The reassurances of Federal Reserve Chairman Jerome Powell and U.S. Treasury Secretary Janet Yellen that the U.S. banking system is sound, stand in sharp contrast to what is happening in markets. This week, the shorts have found another easy new global bank target to try to take down after making a bundle of money betting against Credit Suisse, which was taken over for 82 cents a share on Sunday by its Swiss competitor, UBS.

This time the global banking target is Deutsche Bank, a global behemoth we have warned about ad nauseum here at Wall Street On Parade. Deutsche Bank was a $120 dollar stock prior to the financial crisis in 2008. It closed yesterday at $9.65 in New York and is down another 10 percent in early morning trading in Europe.

The weakness in Deutsche Bank is spilling over into other European bank stocks this morning in European trading with Commerzbank, UBS and Societe Generale also showing weakness. This has, in turn, led to losses in Dow futures here in the U.S., which were, around 7:30 a.m. ET, suggesting a loss of about 300 points in the Dow at the open.

Deutsche Bank is an easy target for short sellers for a long laundry list of reasons. Let's start with the fact that this bank's headquarters in Germany has been raided by police so often that it's become a big yawn to mainstream media here in the U.S. And then there's the pesky detail of bodies turning up.

On November 29, 2018, Deutsche Bank's headquarters in Germany was raided by 170 members of law enforcement. Prosecutors explained the reason for the raid as ''Deutsche Bank helped customers found offshore organizations in tax havens by transferring illegally acquired money without alerting authorities to suspected money laundering.''

On September 24-25, 2019, the German police raided Deutsche Bank headquarters again. That raid was related to the $220 billion money laundering probe of Danske Bank, Denmark's largest bank. Deutsche Bank served as correspondent bank to Danske's Estonia branch where the laundering is alleged to have occurred. On September 25, as the raid was ongoing, the body of Aivar Rehe who previously ran the Estonia business of Danske Bank, was discovered by police in Estonia. Rehe had been questioned by prosecutors and was considered a key witness in the probe. Rehe's death was ruled a suicide.

On April 29, 2022, Deutsche Bank was raided again. The Financial Times reported that ''Germany's federal police office, criminal prosecutors and the country's financial watchdog BaFin are raiding Deutsche Bank's headquarters in Frankfurt'' this morning, according to a statement from prosecutors.

The April raid came just four days after the body of Valentin (Val) Broeksmit, 46, was discovered on the grounds of Woodrow Wilson High School in El Sereno, California, just outside of Los Angeles. Val Broeksmit was the son of William Broeksmit who was found hanged in his London home on January 26, 2014. The senior Boreksmit had been a key executive at Deutsche Bank involved in assessing risk on the bank's balance sheet.

According to a profile of Val Broeksmit written by David Enrich in the New York Times in 2019, the younger Broeksmit had obtained ''a cache of confidential bank documents'' left by his father that provided a ''tantalizing'' look into the internal workings of Deutsche Bank. Val Broeksmit was sharing the documents with the FBI.

Deutsche Bank had attempted to merge with Commerzbank in 2019 but the deal fell through, resulting in Deutsche Bank announcing plans to fire 18,000 workers in July 2019. Deutsche Bank also said it would be creating a good bank/bad bank, to separate toxic assets that it planned to sell.

Deutsche Bank is heavily interconnected to Wall Street mega banks as a result of its activities as a derivatives counterparty. In June 2016, the International Monetary Fund (IMF) released a report indicating that Deutsche Bank posed the greatest threat to global financial stability because of its interconnections to other global banks. (See graph above.) JPMorgan Chase, the largest federally-insured bank in the United States, was one of the global banks with the largest amount of exposure to Deutsche Bank at that time.

There is another deeply troubling connection between JPMorgan Chase and Deutsche Bank. Both mega banks were secretly tapping trillions of dollars in cumulative repo loans from the Fed, beginning in September 2019 and accelerating into the last quarter of 2019.

These emergency repo loans from the Fed began on September 17, 2019 and dramatically increased in size into the fourth quarter of 2019. This, as yet to be explained banking crisis, occurred months before anyone had heard of a COVID pandemic anywhere in the world.

According to the transaction data released by the New York Fed two years after the repo loans began, out of the 25 primary dealers that were taking these loans in 2019, JPMorgan Chase ranked number two in the dollar amounts borrowed in the fourth quarter of 2019; Deutsche Bank ranked number six. (See chart below.)

And then there is Deutsche Bank's rap sheet of serial charges by the U.S. Department of Justice and regulators. For example:

April 23, 2015: Deutsche Bank pleads guilty to the U.S. Department of Justice for its role in rigging the benchmark interest rate known as Libor. It pays fines of $2.519 billion to various regulators.

January 17, 2017: Deutsche Bank reaches a settlement with the U.S. Department of Justice in which it agrees to pay $7.2 billion in fines and restitution for its improper ''packaging, securitization, marketing, sale and issuance of residential mortgage-backed securities (RMBS) between 2006 and 2007.''

January 30, 2017: Deutsche Bank is fined a total of $630 million by U.S. and U.K. regulators over claims it laundered upwards of $10 billion on behalf of Russian investors.

January 29, 2018: Deutsche Bank is ordered to pay $30 million by the Commodity Futures Trading Commission for manipulating trading in the precious metals market.

November 8, 2019: Nomura and Deutsche Bank, along with numerous employees, were convicted in a trial in Italy for helping the Tuscan bank, Monte dei Paschi di Siena, commit fraud in derivatives deals to help it hide losses.

January 18, 2020: The Commodity Futures Trading Commission fines Deutsche Bank $10 million to settle two cases: one involving failure to properly report swap transactions and the other for spoofing.

July 7, 2020: The New York State Department of Financial Services settles a state civil matter with Deutsche Bank for $150 million over its involvement with child sex trafficker Jeffrey Epstein.

October 13, 2020: The Frankfurt, Germany Public Prosecutor's Office fined Deutsche Bank ''¬13.5 million for failing to submit Suspicious Activity Reports in a timely fashion regarding potential money laundering activities.

January 8, 2021: The Justice Department and Securities and Exchange Commission settle charges against Deutsche Bank for $120 million for violating the Foreign Corrupt Practices Act. The charges related to paying bribes to foreign officials to obtain business.

Unfortunately, this global German bank is not alone in terms of a breathtaking rap sheet. See JPMorgan Chase's rap sheet here, which includes an unprecedented five felony counts.

If ''rap sheets'' and ''sound banking system'' don't sound compatible to your brain, congratulate yourself. You haven't yet been brainwashed by the banking cartel and its captured regulators.

NORD STREAM UPDATE: Danish authorities invite the Russian company that operates Nord Stream 2 to observe the recovery of an unidentified object resting near the sole intact pipe

Fri, 24 Mar 2023 17:23

From Reuters :

Last week, Danish authorities said a tubular object, protruding around 40 cm (16 inches) from the seabed and 10 cm in diameter, had been found during an inspection of the last remaining intact pipeline by Swiss-based operator Nord Stream 2 AG.

''With a view to further clarifying the nature of the object, Danish authorities have decided to salvage the object with assistance from the Danish Defence,'' the country's Energy Agency said in a statement on Thursday.

''The Danish Energy Agency has in that context invited the owner of the pipeline, Nord Stream 2 AG, to participate in the operation,'' it said, adding it was awaiting a response from the operator.

Spiegel reports that the Danes are saying it could be a smoke buoy , which is interesting, because Seymour Hersh's original report on How America Took Out The Nord Stream Pipeline featured a sonar buoy allegedly dropped to trigger the pipeline charges. Naturally, I have no idea whether such a buoy would be so small, and it seems improbable that it would've ended up directly adjacent to the intact Nord Stream 2 pipe. Perhaps this is all part of a publicity operation to disarm this aspect of the sabotage story.

At any rate, the timing is odd, for this latest report comes two days after Seymour Hersh's follow-up piece on the origins of the sailboat-saboteur account of the attack . This, you'll recall, is the story that appeared simultaneously in major American and German media, directly after the early March meeting between German Chancellor Olaf Scholz and U.S. Presdent Joe Biden in Washington. Hersh seems to confirm widespread suspicions about how that report originated :

I was told by someone with access to diplomatic intelligence that there was a discussion of the pipeline expos(C) and, as a result, certain elements in the Central Intelligence Agency were asked to prepare a cover story in collaboration with German intelligence that would provide the American and German press with an alternative version for the destruction of Nord Stream 2. In the words of the intelligence community, the agency was ''to pulse the system'' in an effort to discount the claim that Biden had ordered the pipelines' destruction.

Thoughts?

Circus Stunt Aims to Make City Take Notice - The Washington Post

Fri, 24 Mar 2023 17:06

A brief memo wouldn't do.

But then sending the corporate message by elephant or trapeze might be overdoing it.

So Kenneth Feld, wearing top hats as both head ringmaster and chief executive of Ringling Brothers and Barnum & Bailey Circus, decided to prove his point by performing his own stunt.

This winter, Feld is paying his acrobats, lion tamers, clowns and other employes entirely with $2 bills to demonstrate the economic impact of the "Greatest Show on Earth" to the residents of the circus's winter home, Venice, Fla.

Hurt by what he perceives as an unappreciative audience and irritated by fees levied on the circus by the Venice city council, Feld said yesterday that he plans to pay his entire $1 million payroll during the circus's two-month stay in $2 dollar bills. He started with last Saturday's payroll and said the bills already have started appearing in the cash registers of supermarkets, bowling alleys, retail shops -- and even the Ringling Brothers ticket stands.

"In Venice, they've come to take the circus for granted," Feld said of the small community where the circus has spent its winter rehearsals since 1962.

"It's our way of showing that the circus puts money into the community," he said. "I wanted the merchants and citizens of Venice to realize that if we weren't here, this money wouldn't be here either."

The circus, which has its headquarters in the District, once made its winter home in Bailey's Crossroads, which takes its name from the same Bailey who appears in the Ringling Brothers company name.

Feld thought of the $2 bill stunt last year while asking the Venice City Council to stop charging the circus $25,000 for special police and fire service.

The seven-member council is "split" on the issue, said Mayor Richard W. Louis, who called the circus "a real asset to the community," and said Feld "doesn't have to prove his point to me."

Feld said the circus contributes at least $5 million a year to the Venice economy, between the 700 winter employes, the 10-week Clown College and the year-round construction of train cars and props.

The mayor said, however, that the circus does cause major disruptions to the tiny community, which includes an island, a year-round population of about 18,000 and a winter population of 38,000. "When the circus plays here, you can't move in this town."

STUDY: Big Pharma Is Paying TikTok Influencers to Hook Teens on New Drugs.

Fri, 24 Mar 2023 15:27

''Pharmaceutical marketers have noticed the power of patient persuasion and begun to leverage 'patient influencers' in brand campaigns,'' says a new study by researchers at the University of Colorado, alongside the University of North Carolina, Chapel Hill.

With the wider influencer-marketing industry expected to be worth up to $21.1 billion in 2023, the study published in The Journal of Medical Internet Research provides early insights into this growing new area, including its darker side.

''The bottom line here is that patient influencers act as a form of interactive direct-to-consumer (DTC) advertising, sharing their knowledge and experiences on pharmaceutical drugs with communities of followers in which they wield great influence,'' said author Erin Willis , an associate professor of advertising, public relations and media design.

''This raises ethical questions that need more investigation.''

DTC advertising allows drug manufacturers to target consumers directly, rather than through physicians. This method of advertising emerged in the 1980s, and is only prevalent in the US and New Zealand. In these countries, about half of all people who ask their doctor about a new drug do so after seeing a television commercial for it.

''Health literacy and digital literacy are both concerningly low in this country [the US],'' said Willis, who notes that consumers can fail to see the difference between a sponsored ad and a well-meaning, personal post.

''The fact that patients with no medical training are broadly sharing drug information should alarm us.''

The study comes amidst a social media frenzy about semaglutide , Novo Nordisk's ''miracle'' weight-loss drug which is licensed as Wegovy (for weight loss) and Ozempic (for type 2 diabetes). Popular interest in the drug reached fever pitch when celebrities such as Kim Kardashian were reported to have used it. Only a few have actually confirmed that they've taken semaglutide, among them Elon Musk, who admitted to his 116 million followers on Twitter in November of last year that he had used Wegovy to shed at least 30lb.

In the case of most celebrities, however, we must rely on rapid weight loss and other tell-tale signs of semaglutide use, including so-called ''Ozempic face'' '' a hollow look due to loss of facial fat '' to decide whether the drug has been used. ''Ozempic face'' is just one of the main side effects being reported by ordinary users of semaglutide, many of whom have been ''sold'' the drug by one of their favourite influencers on Instagram or TikTok. Among other commonly reported side effects is explosive diarrhea. The hashtag #ozempic has hundreds of millions of views on Tiktok as at the time of reporting.

Patient Influencers: A First Look. The new study included interviews with 26 social media influencers who not only regularly dispense health advice, including medication recommendations, but also suffer from a condition they provide recommendations about. Study author Erin Willis conducted one-on-one, hour-long interviews with the influencers, including sufferers of lupus, fibromyalgia, Parkinson's disease, asthma, HIV, celiac disease, chronic migraines, and perimenopause.

Most of these influencers had up to 40,000 followers. Such so-called ''micro influencers'' are less expensive for advertisers to work with than conventional celebrities, and, according to Willis, research has shown they actually have the most influence on consumer behavior. Eighteen of the 26 interviewed '' or 69 percent '' said they had directly collaborated with a pharmaceutical company.

While some of the influencers posted company press releases, others read studies about drugs and explained their results. Some, but not all, were paid to post content.

Most of these influencers also claimed they were motivated by a desire to provide others with information they, as patients, had difficulty finding out. All said they strive to behave ethically, and some said they would never recommend drugs they hadn't taken themselves and would always recommend consultation with a doctor.

A number of the influencers reported they were regularly sent private messages asking for detailed information about dosages and side effects. The private nature of these messages is a potential danger because it prevents proper vetting of what may be very personal claims about usage and efficacy.

''In an online community, there are other people there to say, 'That's not true or that's not what I experienced.''' Willis said. ''But with social media, a lot of the conversation happens privately.''

Willis also worries that influencers are stressing the benefits of medications without paying enough attention to the downsides. In 2015, Kim Kardashian posted about the morning-sickness drug Diclegis on Instagram, but was soon forced to remove the post by the FDA, which also sent the drug manufacturer a warning letter. Kardashian had omitted to list the drug's risks in her post.

Although the Federal Trade Commission now requires influencers to disclose paid promotions, and the FDA has rules about what influencers can actually say in their posts, the truth is that managing and enforcing these regulations, especially when social-media posts are so often ephemeral, is no easy task.

Driving Worrying Trends. Generation Z '' the Zoomers '' are the most mixed-up, heavily medicated generation in history. As if their problems weren't bad enough, after three years of social isolation and bombardment over the coronavirus, social media throws up this concerning trend.

The National Pulse reported on TikTok's increasingly pernicious influence on life in the West, especially for the young. The platform was created specifically to ensure its users are as ''active'' '' i.e. addicted '' as possible. The average user opens the app 19 times a day, spending more than 90 minutes a day on the app, likely in addition to using a number of other social media apps. The amount of information the user feeds the app is incredible '' interests, likes, dislikes, mental state, musical tastes, sexuality, political views '' information which is stored and used by the Chinese Communist Party.

If the goal of the Chinese Communist Party is to weaken the West through unconventional means, without the need for a direct confrontation it would definitely lose, an app like TikTok is a weapon of incredible power towards that end. A nation whose youth is obsessed with triviality and can't even concentrate on any one thing for more than a few seconds is not a nation with a long-term future, not a serious future anyway. According to another recent study , Zoomers lose their attention for advertisements after just 1.3 seconds, less time than any other age group. The average 30-second television advert is now too much to bear, apparently, for young people used to swiping away information they don't want to see in the blink of an eye.

Hooking our children yet further on ad-hoc medications, rather than helping them '' and us '' to address the underlying causes of their alienation, ill-health and unhappiness, is a particularly cruel trick, and one we should not tolerate, but a trick wholly in keeping with the general thesis of subversion. Whether other social media apps were conceived with the same or similar nefarious ends as TikTok is moot '' the early history of Facebook is definitely worth researching '' but also beside the point: all of these apps are being used in the same way, to mislead and ultimately harm the youth of our nations.

No amount of swiping '' in any direction '' will make this problem go away.

GeenStijl: Welkom in 2030: Nederlandse burgers krijgen een PLANEETPUNTENSYSTEEM tegen overconsumptie

Fri, 24 Mar 2023 11:56

Nee, we zeggen niet dat er *niks* moet gebeuren, maar hier gaan de nekharen toch echt van overeind

Gevonden door GeenStijl: een heel sinister toekomstmuziekje van het Planbureau voor de Leefomgeving in de vorm van een THEMAWEBSITE. Daarop staan scenario's voor een "Groen Land" in 2050 en daarin is een planeetpuntensysteem opgenomen. Een citaat, want dat zegt meer dan duizend stijlloze hyperbolen:

"In het scenario Groen Land is de Rijksoverheid de eerstverantwoordelijke voor de beleidsontwikkeling, en zorgen uitvoerende overheidsdiensten, provincies, waterschappen en gemeenten vooral voor de beleidsuitvoering. Het Rijk introduceert een 'planeetpuntensysteem': een jaarlijks budget voor iedereen, te besteden aan leefomgevingsonvriendelijk gedrag, niet overdraagbaar en niet verhandelbaar. Ook voert het Rijk in dit scenario een ruimtelijk restrictief beleid, gericht op niet alleen transit- (TOD) maar ook energy-oriented development (EOD)."

Nog fantastischer is dat de "verkenning" (lees: het huiswerk van een verzameling hele slechte kinderboekenschrijvers die voor duur geld vrijuit mochten fantaseren over het remmen van groei en het redden van de natuur in de supergroene toekomst van een klein land dat anno 2023 al uit zijn voegen barst van de tegenstrijdige belangen tussen boeren & bouwen, terwijl de grenzen wagenwijd openstaan voor ongeletterde nieuwkomers die we nergens kwijt kunnen) alvast een geschiedenis bevat, geschreven vanuit 2050, waarin beschreven wordt hoe het planeetpuntensysteem juichend werd onthaald door superblije burgers die massaal economisch circulair werden, nooit meer in een auto stapten en allemaal vrijwillig in een tiny house gingen wonen, met een asielzoeker als huisdier omdat Tjeerd de Groot honden en katten heeft verboden*. Want vanuit de beste bedoelingen worden de meest benauwde dingen bedacht, en u zult gelukkig zijn.

Eigenlijk kan niets dit plan nog tegenhoudenIedereen wil dit! Toch? Nou, niks houdt Brussel het WEF Monsanto Blackrock de democratische Rijksoverheid van het Koninkrijk der Nederlanden, historisch gidsland, nog tegen om de anti-groei te gaan verwezenlijk dan. Hoewel, (C)(C)n grote zorg plaagt de kinderboekenschrijvers: DESINFORMATIE, het grote spook van deze tijd. Daarom zal het vanaf eerste aanzet in 2026 nog tot 2030 duren eer het planeetpuntensysteem eindelijk kan worden ingevoerd. Maar dan breekt er dus van Urk en Volendam tot AZC Cranendonck en van de Groningse gaswinningsgebieden tot het diepe Zeeuwse boerenland een waar nationalistisch globalistisch volksfeest uit ter meerdere eer en glorie van het verminderen van onze voetafdruk. Hoort u die 24,6 miljoen Nederlanders, nieuw jong & oud, al feestvieren daar in het verre maar toch niet zo heel dystopische distante 2050? Lees er alles over in de PDF "pbl-2023-vier-scenarios-voor-de-inrichting-van-nederland-in-2050-4832" en de bijbehorende "pbl-2023-ruimtelijke-verkenning-2023-kaarten-5183".

Planeetpunten. PBL-woord sinds medio 2019 Begin gvd gewoon eens met AARDSE ZAKEN
ALL VIDEOS

VIDEO - Bitcoin is poised to blow up Africa's $86 billion banking system

Sun, 26 Mar 2023 17:13

ACCRA, GHANA '-- Block CEO Jack Dorsey and his top brass descended on Accra for the inaugural Africa Bitcoin Conference in December to talk about one of the most potentially disruptive and transformative alternatives to the continent's existing financial system: bitcoin.

Since its inception in 2008, this unfamiliar form of money has alternatively been disdained as an absurdly complex toy for libertarian techies, a legalized form of gambling, a speculative bet to get rich quick, and a vehicle for criminals and fraudsters to obscure the origins of their ill-begotten gains.

But this parallel financial system can also serve a tangible social good, offering an onramp to the financial system for people who would otherwise be left out. In countries where the vast majority of the population is unbanked, national currencies are no longer a safe store of value, remittances comprise a hefty portion of GDP, and international sanctions complicate connections to the global economy, a virtual currency that doesn't require an intermediary to approve transactions can be a vital lifeline for survival.

As cryptocurrency continues to rise in prominence and becomes a growing flashpoint for regulators, Dorsey and his deputies are providing an essential counternarrative: Bitcoin brings financial power to people who would otherwise have none.

"It doesn't matter to me if the price goes down or up, because I can still use bitcoin as a vehicle to move money around the world instantaneously," said Mike Brock, the CEO of TBD at Block, a unit which focuses on cryptocurrency and decentralized finance.

"I can exchange dollars for bitcoin and then bitcoin for Brazilian rial. There is a market for bitcoin in every corner of the world today," continued Brock.

A broken financial systemMoving money in Africa is an expensive and complicated process.

Commercial bank branch access is limited, especially for people living in remote and rural areas. Digital banking options are also limited. Tack on rampant hyperinflation, widespread government corruption, and capital controls trapping domestic cash in banks, and money can stop making sense altogether.

"If someone wants to move money to the country next door, normally, you'd have to fill up a suitcase full of cash and move it over the border," explains Ray Youssef, CEO of Paxful.

Part of the problem stems from the continent's quasi-colonial payment framework, in which roughly 80% of cross-border payments originating from African banks are processed offshore, mostly in the U.S. or Europe. That translates to higher costs and processing times that are sometimes measured in weeks.

Then there's mobile money, which has been around since the early 2000s. Think of it like an electronic wallet tied to a phone number that does not require a smartphone or data to operate. Users can pay bills and shop with their phone through SMS texting, instead of having to rely on traditional banking options.

Africa's mobile money transactions rose 39% to more than $700 billion in 2021, according to data from the GSM Association, a non-profit representing mobile network operators worldwide. World Bank data shows that account ownership at a financial institution '-- or via a mobile money service provider '-- has more than doubled in the last decade, rising to 55% of adults in Sub-Saharan Africa.

An employee uses a Nokia 1200 mobile phone inside an M-Pesa store in Nairobi, Kenya, on Sunday, April 14, 2013.

Trevor Snap | Bloomberg | Getty Images

But even as adoption proliferates, mobile money users don't get the perks of legacy banking, including earning interest on banked savings and building up a credit score based on a history of spending. Interoperability on the continent also remains a major issue with this alternative way of banking.

"The entire banking system in Africa is completely and utterly broken, even amongst the mobile money providers, the telcos," said Youssef from Paxful, a peer-to-peer crypto marketplace where users can directly buy and sell tokens with one another.

"Two thousand payment networks and only 2% of them talk to each other. That number continues to grow. It's not getting better, it's actually getting worse," continued Youssef.

Companies like Western Union and MoneyGram offer an expansive physical network of storefronts around the world designed to move money for those who are unbanked. That cash network was extraordinarily difficult and expensive to build, which is why there aren't a lot of direct competitors. It is also why those cash transfers often incur substantial fees.

Bitcoin could eliminate all these intermediaries, allowing citizens to send digital payments directly to one another, without relying on credit and without incurring multiple settlement fees along the way.

"We're going to move to a model where we can make payments without IOUs, or credit, or promises, or fiat," said Alex Gladstein, chief strategy officer for the Human Rights Foundation, an organization that works with activists from authoritarian regimes around the world. "It's literally like sending a piece of gold or a $20 bill instantly somewhere else."

"If you can get access to the internet, you can settle bitcoin payments," said Brock. "And the government can't do anything about it."

Dorsey points to the example of what happened in Nigeria during the protests against the brutality of the country's Special Anti-Robbery Squad '-- a movement referred to as #EndSARS.

"The Nigerian government went to various bank corps to stop protesters from receiving money '-- which bitcoin made up for," Dorsey said in Accra. "So our whole reason for being as a company is solving the same problem that bitcoin will ultimately solve for everyone in the world."

Moving money on the bitcoin blockchain at its base layer has its own challenges. At times of peak demand, fees will often spike higher, and if a user is unwilling to pay a premium for the transaction, they may have to wait for more blocks of transactions to get confirmed before their transfer goes through.

Bitcoin's Lightning Network helps alleviate both of those problems by slashing the cost of transactions to virtually zero and enabling nearly instantaneous cash payments around the planet '' making bitcoin a more effective payment rail. This so-called "layer two" technology is built on top of bitcoin's main chain, in part because bitcoiners are conservative about introducing changes to the base layer, for fear of opening it up to hacks or other mischief.

Yellow Card '-- Africa's largest centralized cryptocurrency exchange run by CEO Chris Maurice '-- is also looking to embed this layer two technology into the platform, in order to drive down the price of transactions to virtually zero. Currently, the exchange doesn't charge a commission for transactions, but network fees can be pretty steep when a lot of trades are happening at once.

"It'll have a pretty big impact to our customers, because a lot of them are very price sensitive," says Justin Poiroux, the co-founder and CTO of Yellow Card.

Yellow Card's plan is still in its infancy, but Poiroux tells CNBC that he thinks the Lightning Network could ultimately provide a lot of value for its retail customers.

Bitnob CEO Bernard Parah and Cash App's crypto product lead, Miles Suter, at the Africa Bitcoin Conference in Accra, Ghana.

Bernard Parah

Because Lightning offers a universal monetary language, money can travel around the world between any Lightning-enabled bitcoin wallet. Someone who uses a platform like Block's Cash App '-- a regulated, American financial product with 51 million monthly transacting users which integrated with the Lightning Network in Feb. 2022 '-- can pay any Lightning invoice in the world instantly.

"It's a new way of doing business. It's a different paradigm entirely," said Gladstein.

The crypto product lead at Cash App, Miles Suter, believes that a big part of bitcoin's utility is how it gets around broken and convoluted payment systems that don't talk to each other.

"At Cash App in particular, we've always been really interested in taking bitcoin beyond just being seen an investment and bringing day-to-day utility to it," Suter told CNBC on the sidelines of the Africa Bitcoin Conference.

"In many ways, the people on the African continent are already doing that with the tools they have," continued Suter.

Sending cash with LightningBernard Parah is a 30-year-old entrepreneur living in Jos, Nigeria, about a five hour drive from the capital city of Abuja. He's the CEO of Bitnob, an app that lets users across Africa buy, save, and invest in bitcoin. Bitnob is SMS-based and piggybacks on the mobile money system, making it easier for people to send money directly into bank accounts and mobile money wallets in African countries.

Parah recently teamed up with Strike, a Lightning Network payments platform, to launch a feature called "Send Globally" that allows Americans to transfer money to people living in Nigeria, Ghana, and Kenya.

It uses local fiat cash on either side of the transaction, but bitcoin is used under the hood as the pipeline to jump money over the border. The end user never touches the cryptocurrency themselves.

"We're able to settle into bank accounts or mobile money accounts, without the recipients having to interact with bitcoin themselves," Parah tells CNBC.

"Over time, we've seen that there are still people who really don't understand how to use bitcoin; who don't care about bitcoin. What they do care about is their problems getting solved," continued Parah.

Bitnob CEO Bernard Parah and Strike CEO Jack Mallers announcing the launch of 'Send Globally' on stage at the Africa Bitcoin Conference in Accra, Ghana.

Bernard Parah

It feels like a wire transfer or a Venmo payment, according to Strike CEO Jack Mallers.

"It's instant. There's no debt. There's no credit. There's no delays," explains Mallers.

The model works because Parah and Mallers are willing to take on the liability associated with the transfer by holding cash in escrow on either end of the exchange.

Once the money is received in Nigeria, Bitnob '-- which is a regulated entity with connections to the local banks '-- will take that bitcoin and turn it into their local currency.

"It's just two regulated entities communicating over the language of bitcoin and cutting out excess fees," said Suter. "I think that's revolutionary."

Mallers says that they offer more competitive foreign exchange rates by using bitcoin as a price-setting intermediary, a sort of new world reserve currency.

"The rate that we got was actually 60% better than the traditional forex market rate," said Mallers. "The way to actually think about how we're achieving forex if we clear through bitcoin is, 'I have dollars. How many bitcoin can I get for my dollars? And then how many naira can I get for my bitcoin?'" said Mallers.

"It's acting as the most liquid, accessible, global instrument for us to clear and settle value amongst each other," he said.

The arrangement also offers a few big ancillary benefits, including interoperability with payment apps around the world that have tens of millions of users.

Block's Suter explained that Cash App could theoretically interoperate with Bitnob.

"We're only live in the U.S. right now, but that doesn't mean we can't speak to Bitnob in Nigeria and transfer value instantly and for free across these borders," Suter said of Cash App.

Meeting customers where they areSouth African developer Kgothatso Ngako built a custodial lightning wallet called Machankura.

Kgothatso Ngako

South African developer Kgothatso Ngako, who goes by KG, has integrated the Lightning Network into the GSM network, combining the best of a few worlds, in a larger effort to meet customers where they are.

"My focus is giving people without an internet connection the ability to send or receive bitcoin," Ngako said.

KG calls his custodial Lightning wallet "Machankura" '-- South African slang for money. Whereas most Lightning transactions today require a smartphone and data, Ngako's service integrates lightning via Unstructured Supplementary Service Data, or USSD, which is the protocol that mobile money runs on. (It is similar to HTTP, or HyperText Transport Protocol, the protocol on which the web was built.)

Ngako tells CNBC that he currently has around 3,000 users spread across eight countries, with a concentration in South Africa, Uganda, Kenya, and Nigeria. In his home market of South Africa, there are strict rules around currency exchange, which make his product even more appealing to some users looking to move their money abroad.

"The South African Reserve Bank regulates the cross-border flow of capital '-- including the exchange of currency '-- to and from South Africa. You need some form of approval to convert ZAR into foreign currency," said Ernest Marais, partner at Johannesburg law firm, Tabacks.

KG's Machankura is compatible with any Lightning wallet on the planet. In practice, this means that someone with the Cash App in San Francisco, for example, could instantly send bitcoin via Lightning to the phone number of someone with a data-less, basic phone living in a remote part of Uganda.

Ngako's project does face some risks, including regulatory blowback.

Marais tells CNBC that because the South African Reserve Bank cannot regulate the cross-border flow of cryptocurrency, it is considered to be illegal and a criminal offense '-- though crypto regulation largely remains nebulous across most of the continent.

"All African central banks, except for Central African Republic, have made notices stating that they don't issue bitcoin and hence they don't regulate it," counters Ngako, adding that a bitcoin transaction cannot be considered a cross-border exchange as bitcoin transactions aren't regulated within the central bank's institution.

But the rules are confusing for everyone involved.

"The actual location of crypto assets is an anomaly. At what point does it leave the country?" continued Marais.

Ultimately, Ngako believes that once Machankura begins to scale, it will be a major driver of bitcoin adoption across the continent. To that end, Ngako is raising money and building '-- a common refrain among the entrepreneurs on the ground in Accra.

As Dorsey said in Africa, "More and more mass adoption will, in my belief, take away all the oxygen" from governments attempting to control behavior through financial oppression.

"So what do we do? We build, we build, we build, we build, we build, they can't stop us. And that's what's important."

VIDEO - Control system issue leads to Amtrak cancellations

Sun, 26 Mar 2023 17:10

CHICAGO '-- Amtrak is scrambling to fix a glitch in its system causing numerous cancellations and leaving some passengers stranded.

Amtrak passengers Jonathon Briley and his daughters were ready to leave Chicago and head to Carbondale on the train Saturday afternoon, but that plan quickly changed.

''We arrived on Thursday [and] we're suppose to depart today at 4 o'clock,'' Briley said.

That was before Briley, like dozens of other passengers, got word that getting out of Chicago on an Amtrak train Saturday night was unlikely.

''It has been a long, long trip and I was ready to go home,'' said Layla, one of Briley's daughters. ''That was like a smack in the face.''

According to Amtrak, the cancellations are the result of a rail industry control system that continues to experience intermittent communication issues.

''They have been working around the clock since Friday morning and it's a complicated system,'' said Marc Magliari, spokesman for Amtrak. ''There are so many railroads in the country that are all feeding data into this that has to be feed back to our trains before they can leave the station. It's a safety rule and it's an important one.''

Luckily, the Brileys were able to find alternative transportation home '-- but others like Sarah Baker, who's in town from St. Louis '-- haven't been as fortunate.

''We were suppose to leave at 5:20 p.m.,'' Baker said, who has to spend another night at an Air BnB due to the delays. ''We got the same train on Monday, 5:20 p.m., back to St. Louis Monday night.''

Shannon Nixon and her classmates from East Lansing, Michigan, had to rely on her husband to make the drive to Chicago to pick them up and take them back to the Mitten state.

''I saw on the news this morning there were these Amtrak cancellations and for some reason I thought it wouldn't impact us,'' Nixon said. ''Our solution is my husband is driving down four hours tonight, staying the night, then first thing in the morning driving us four hours back.''

According to Magliari, on any given Saturday, there are typically 24 outbound trains.

Only one departed Saturday.

To help make up for the issues being experienced by travelers, Amtrak is waiving its cancellation fees and offering hotel vouchers for passengers whose trips have been cancelled.

Metra trains have been unaffected by the rail control system issue.

There is no firm timetable on when the issue will be fixed for Amtrak.

Latest VideosTop StoriesMore StoriesNewsfeed NowWGN-TV VideoMore from WGN-TV

VIDEO - (1) Scott Galloway on Twitter: "Been saying this for a year: #TikTok should be banned. Thx @billmaher @RealTimers https://t.co/xaGaG6J02M" / Twitter

Sun, 26 Mar 2023 14:35

Scott Galloway : Been saying this for a year: #TikTok should be banned. Thx @billmaher @RealTimers https://t.co/xaGaG6J02M

Sun Mar 26 01:30:22 +0000 2023

kobe2074 : @profgalloway @billmaher @RealTimers Must stop everyone use this app

Sun Mar 26 14:34:55 +0000 2023

Charlotte Dune : @profgalloway @AdamSinger @billmaher @RealTimers You can't control creativity or ideas. Let everyone have every pla'... https://t.co/re5d8uYImd

Sun Mar 26 14:32:26 +0000 2023

Tom K : @profgalloway @billmaher @RealTimers https://t.co/dHkvxKE2sV

Sun Mar 26 14:31:40 +0000 2023

oli fuss : @profgalloway @billmaher @RealTimers It s unfortunately a terribly plausible analysis and his conclusion is correct'... https://t.co/dYBPJG4Hq4

Sun Mar 26 14:26:47 +0000 2023

James Chiampas : @profgalloway @billmaher @RealTimers I'm a retired guy in his late 60s and I love TikTok. So many interesting peop'... https://t.co/JsvRs313vj

Sun Mar 26 14:23:35 +0000 2023

Kristin : @profgalloway @billmaher @RealTimers Within days of using it for the first time in 2020 I said it was the most frig'... https://t.co/SwWQH5YBQr

Sun Mar 26 14:20:39 +0000 2023

Be curious. Ask questions. : @profgalloway @billmaher @RealTimers How to convince congress? You're threatening a substantial amount of Alexandr'... https://t.co/di6wv9JcVA

Sun Mar 26 14:12:35 +0000 2023

rerun7378 : @profgalloway @billmaher @RealTimers Kudos @profgalloway and well said. The audience applauded you as they should.'... https://t.co/lhuJY3p6Al

Sun Mar 26 14:03:49 +0000 2023

Hockey Dad : @profgalloway @billmaher @RealTimers Totally agree with your points. At the same time, MSM/ social media platforms'... https://t.co/gpcHl2Vfot

Sun Mar 26 14:01:45 +0000 2023

TheBLACKmamba : @profgalloway @billmaher @RealTimers You are making the same argument that the Chinese government is using to ban A'... https://t.co/tIIQsQ4ftw

Sun Mar 26 14:01:21 +0000 2023

GNZO : @profgalloway @billmaher @RealTimers If you don't like tiktok, make a better tiktok.Free speech is still a thing.

Sun Mar 26 13:49:24 +0000 2023

Just Win, Baby : @profgalloway @billmaher @RealTimers You were great on the show, really enjoyed it

Sun Mar 26 13:47:52 +0000 2023

Joel Zamboni : @profgalloway @billmaher @RealTimers Yes, I agree. China doesn't respect individual rights, and our social media co'... https://t.co/OoHjeZTvQ8

Sun Mar 26 13:47:35 +0000 2023

Tim! : @profgalloway @billmaher @RealTimers Yes it should be up to the advertisers and marketers to influence our youth, not the Chinese.

Sun Mar 26 13:46:23 +0000 2023

VIDEO - (22) Rep. Matt Gaetz on Twitter: "BREAKING: The leader of U.S. military's Africa Command states our government shares ''core values'' with military coup leaders. These SAME coup leaders were trained by our own Armed Forces! https://t.co/boGYfQ

Sun, 26 Mar 2023 13:53

Rep. Matt Gaetz : BREAKING: The leader of U.S. military's Africa Command states our government shares ''core values'' with military cou'... https://t.co/xn9WT5Md19

Thu Mar 23 16:26:55 +0000 2023

VIDEO - Oliver Stone's Pro-Nuclear Energy Movie Releases Trailer '' The Hollywood Reporter

Sun, 26 Mar 2023 13:49

Oliver Stone's new film is once again taking a provocative stance on a hot-button issue, this time tackling climate change.

His upcoming documentary Nuclear Now (trailer below) makes the case that nuclear energy is the best solution to meet global energy needs. The film '-- previously titled Nuclear '-- premiered at the Venice Film Festival last year. Its messaging has received praise from critics, though the film's execution has been chided for being very drab, which is rather uncharacteristic for Stone.

''We've run out of time to be afraid,'' Stone says in the trailer. ''We've been trained from the very beginning to fear nuclear power. The very thing that we fear is what may save us.''

The film '' which was written by Oliver Stone and Joshua S. Goldstein '' has been called a follow-up or counterweight of sorts to Al Gore's 2006 Oscar-winning climate change clarion call, An Inconvenient Truth.

Here is the official description: ''As fossil fuels continue to cook the plant, the world is finally becoming forced to confront the influence of large oil companies and tactics that have enriched a small group of corporations and individuals for generations. Beneath our feet, Uranium atoms in the Earth's crust hold incredibly concentrated energy-science unlocked this energy in the mid-20th century, first for bombs and then to power submarines and the United States led the effort to generate electricity from this new source. Yet in the mid 20th century as societies began the transition to nuclear power and away from fossil fuels, a long-term PR campaign to scare the public began, funded in part by coal and oil interests. This campaign would sow fear about harmless low-level radiation and create confusion between nuclear weapons and nuclear power. With unprecedented access to the nuclear industry in France, Russia, and the United States, iconic director Oliver Stone explores the possibility for the global community to overcome challenges like climate change and reach a brighter future through the power of nuclear energy- an option that may become a vital way to ensure our continued survival sooner than we think.''

Nuclear Now opens in theaters April 28.

VIDEO - How Quantum Computers Break The Internet... Starting Now - YouTube

VIDEO - Murder of Haitian President Jovenel Mo¯se was planned in the U.S. - YouTube

VIDEO - Germany promises Georgia support for EU candidate status | DW News - YouTube

VIDEO - Who is feeding some of the most popular and advanced AI-applications? | DW News - YouTube

VIDEO - France passes controversial AI surveillance bill ahead of 2024 Olympics ' FRANCE 24 English - YouTube

VIDEO - US Vice Pesident Kamala Harris visits Africa - YouTube

VIDEO - Tehran: Strikes on Iran-linked groups will draw swift response | Latest World News | WION - YouTube

VIDEO - Nordic countries to establish unified air defence | Latest News | English News | Top News | WION - YouTube

VIDEO - Joe Biden confirms the US military carried out air strikes in Syria - YouTube

VIDEO - (10) Bird flu: The next pandemic? ' FRANCE 24 English - YouTube

VIDEO - (10) Putin says Russia will deploy nuclear weapons in Belarus - YouTube

VIDEO - (10) EN Russia to station nuclear arms in Belarus ' FRANCE 24 English - YouTube

VIDEO - 🇺ðŸ‡...DoctorJusticeðŸ"¸'ðŸŒ on Twitter: "@SystemUpdate_ @adamcurry @THErealDVORAK" / Twitter

Sat, 25 Mar 2023 18:18

🇺ðŸ‡...DoctorJusticeðŸ"¸'ðŸŒ : @SystemUpdate_ @adamcurry @THErealDVORAK

Sat Mar 25 15:43:43 +0000 2023

VIDEO - Florida Rep Will Robinson Trolled Into Reading Fake Names During Meeting, His Reaction Is Priceless

Fri, 24 Mar 2023 15:23

4:02UFC - Ultimate Fighting Championship17 hours ago

Marlon 'Chito' Vera | UFC Greatest Hits21.8K

16

VIDEO - Why Russia renews its efforts to take the embattled city of Avdiivka in the Donbas | DW News - YouTube

VIDEO - TikTok attacked for China ties as US lawmakers push for ban ' FRANCE 24 English - YouTube

VIDEO - EU's von der Leyen plans conference on kids taken by Russia ' FRANCE 24 English - YouTube

VIDEO - TikTok CEO Shou Zi Chew faces off with US legislators in hearing - YouTube
Clips & Documents
Art
All Clips

ABC ATM - anchor Andrea Fujii - autism (1) vehicle decals (1min).mp3

ABC ATM - anchor Andrea Fujii - autism (2) rates rising (24sec).mp3

ABC ATM - anchor Rick Klein - track & field transgender ban (32sec).mp3

ABC WNT - anchor Jonathan Karl - nightime social media ban -utah.mp3

ABC WNT - anchor Tom Soufi Burridge - russia ratcheting up nuclear threat (1min20sec).mp3

Amtrack GLITCH halts trais from Chicago.mp3

BS PUBLIC service pgE.mp3

CBS Evening - anchor David Martin - iran syria attacks (2min12sec).mp3

CBS Evening - anchor Manuel Bojorquez (1) deadly eye drops -intro (21sec).mp3

CBS Evening - anchor Manuel Bojorquez (2) antibiotic resistant bacteria (1min44sec).mp3

CBS Evening - anchor Nikole Killion - tik tok CEO grilled on hill (1min44sec).mp3

CBS Evening - anchor Norah ODonnell - french pension protest (32sec).mp3

CBS Evening - anchor Robert Costa (1) trump ominous rhetoric (56sec).mp3

CBS Evening - anchor Robert Costa (2) manhattan DA death threats (1min21sec).mp3

CBS Evening - anchor Robert Costa (3) will mark meadows testify (34sec).mp3

CBS Mornings - anchor Elizabeth Palmer - N.K. (1) radioactive tsunami (1min40sec).mp3

CBS Mornings - anchor Elizabeth Palmer - N.K. (2) war of info -intro (54sec).mp3

CBS Mornings - anchor Elizabeth Palmer - N.K. (3) free N.K. radio (2min5sec).mp3

CBS NY ACOSTA vs Trump 1.mp3

CBS NY ACOSTA vs Trump 2 wtf.mp3

CBS NY ACOSTA vs Trump 3 wtf.mp3

CBS Weekend - anchor Christan Benavides (1) florida no funds for DEI (1min23sec).mp3

CBS Weekend - anchor Christan Benavides (2) data collection -under attack (1min49sec).mp3

chill pill.mp3

CNN This Morning - Poppy Harlow - Jacqueline Howard - colorectal cancer is rising among younger adults and nobody seems to know why [1].mp3

CNN This Morning - Poppy Harlow - Jacqueline Howard - colorectal cancer is rising among younger adults and nobody seems to know why [2].mp3

Drill Rap explainer Moe Factz 77.mp3

EU's von der Leyen plans conference on kids taken by Russia.mp3

F24 H5N1 pandemic with scary music.mp3

F24 pundit explains Putin NUCLEAR weapons as depleted Uranium.mp3

F24 TECH segment about AI surveillance cameras during protest crisis.mp3

Florida Rep Will Robinson Trolled Into Reading Fake Names During Meeting.mp3

Gaetz questions AFRICOM General on training and coups in Africa.mp3

Global News Podcast - Russian Wagner Group Prisoners to be released (into EU possibly).mp3

Hong Kong update 2.mp3

Hong Kong update 3.mp3

Hong Kong update 4.mp3

Hong Kong update ntduk.mp3

Iranian drone strike in Syria 1.mp3

Iranian drone strike in Syria 2 wtf78.mp3

Iranian drone strike in Syria 3.mp3

ISO be safe.mp3

ISO thanks you.mp3

King nogo Paris burning 1.mp3

King nogo Paris burning 2.mp3

Morning Joe - Joe Scarborough - Willie Geist - reads trumps truth social death and destruction post.mp3

NBC MTP - Chuck Todd - Ken Dilanian - trump rally in waco on the 30th anniversity to signal trumps own future standoff with feds.mp3

NBC MTP - Chuck Todd - trump warns of death and destruction if he is convicted of a misdemeanor.mp3

NPR on looming Section 702 expiration.mp3

Ofsted inspections.mp3

Oliver Stone's Pro-Nuclear Energy Movie Nuclear Now Releases Trailer - Flipping the Script.mp3

Paris protest strategy and damages.mp3

Prof Scott G on Bill Mahr explaining danger of TikTok [opposite].mp3

Rep Bilirakis FL - Save the children.mp3

Right wing gpt SUB CLIP.mp3

Right wing gpt 2 alarming.mp3

Right wing gpt Jacob Ward HJNBC.mp3

Right wing gpt Jacob Ward whopper.mp3

TG Athletes banned 2.mp3

TG Athletes banned.mp3

TikTok CEO - Whataboutism.mp3

TikTok CEO No Evidence Defence.mp3

TOCK bearded Lady.mp3

UK Abby Hidden floor.mp3